1 Red Kanjeevaram Saree, 4 Contrast Blouses
BY Meenu | 12 Jan, 2021 | 45858 views | 3 min read
A red Kanjeevaram is timeless and eternal. When we envision a South Indian Bride all decked up for her Muhuratham, it is in a bright red Kanjeevaram with a gorgeously adorned blouse and beautiful jewellery! A red with red is an everlasting combination and it works wonders.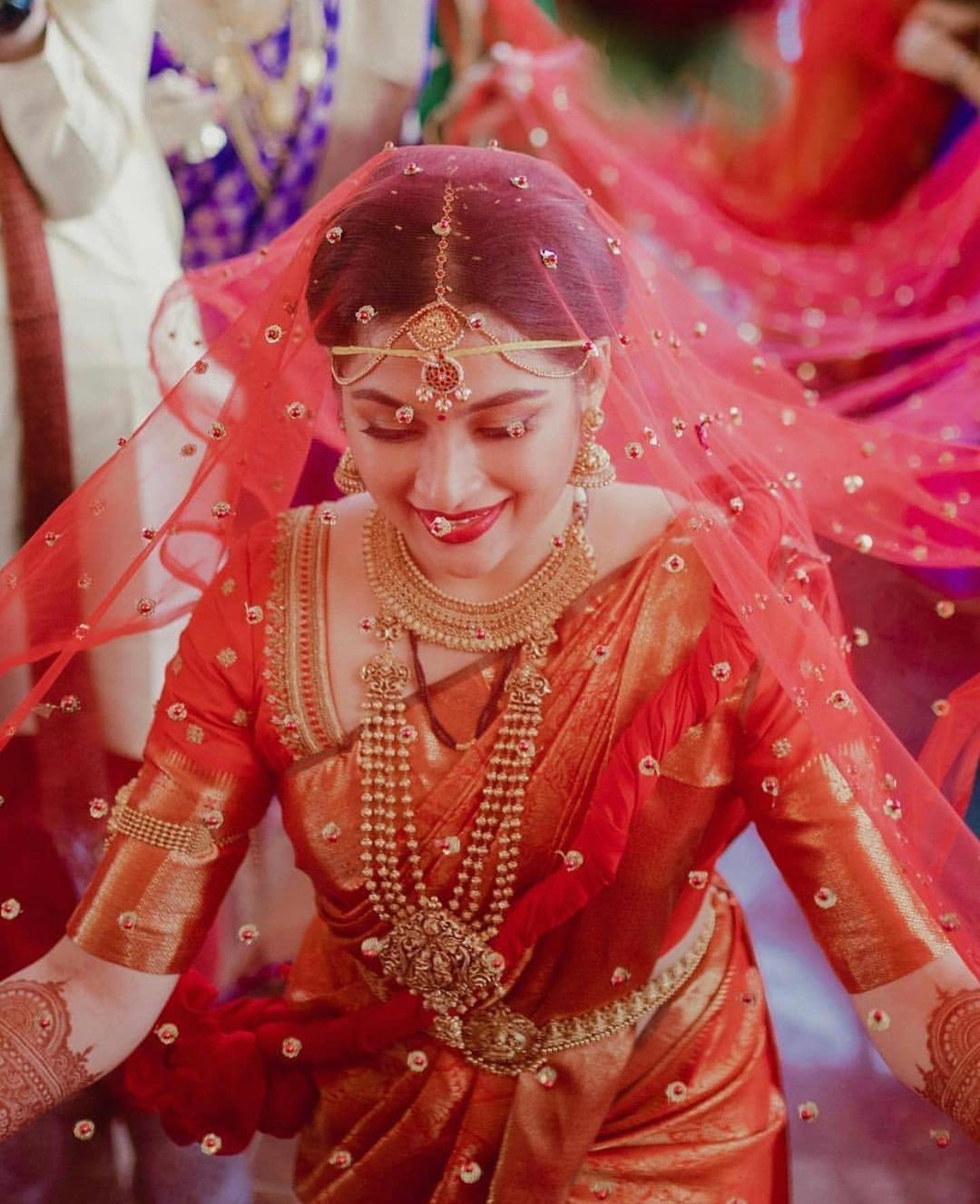 Image Via: Solstice Stories
However, red is not the only colour to opt for your blouse with your bridal kanjeevaram! You can choose to wear the traditional red and experiment with colours of your blouse to bring a pop to your whole outfit. If you are wondering how we plan on doing that, it is just by replacing the heavily embroidered red blouse with a blouse of a contrast color!!
A Green  Blouse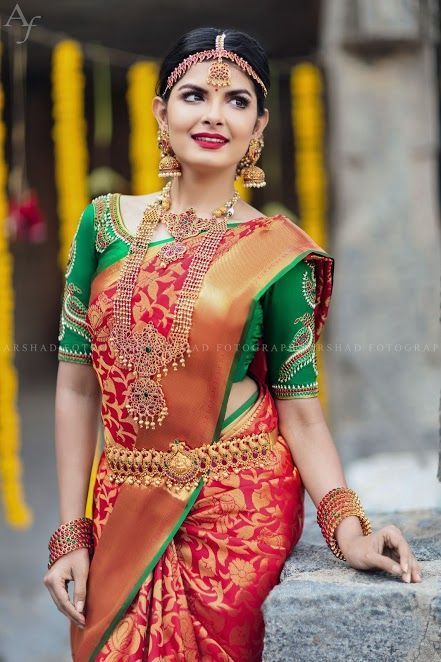 Image Via: Arshad Photography
The OG colors of temple jewelry, the jewel tones that work so perfectly well together are of ruby and emerald. So, how about recreating that in your outfit combination too? A deep green blouse paired with your red Muhurtham Kanjeevaram pattu saree is a look as classic as red on red.  This look is complete with heavy temple jewelry or antique gold jewellery. 
A Blue Blouse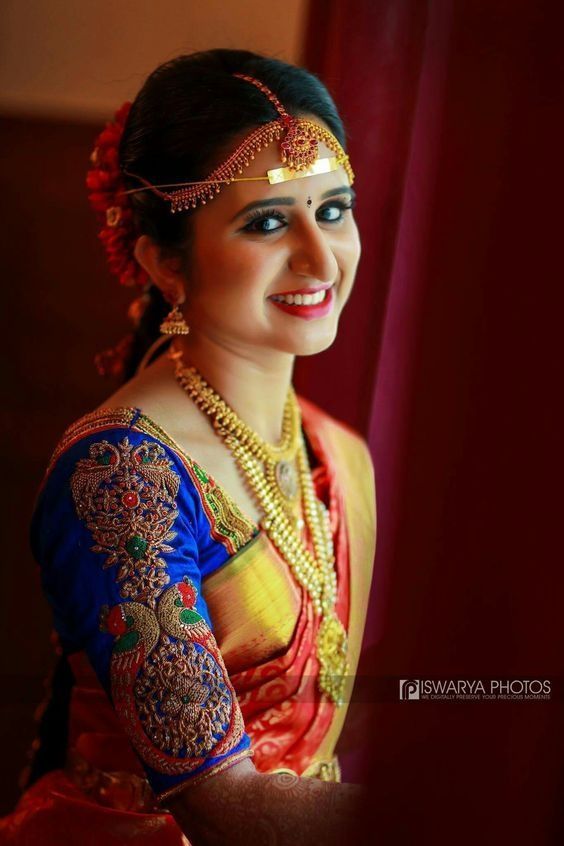 Image Via: Ishwarya Photos
If you are a bride who thinks blue does not have much of a place in bridal finery, think again. A royal blue or a deep blue blouse can do wonders to your overall look with a Red Kanjeevaram saree. You can either go for a plain blue blouse with gold piping making the blouse pop or a heavily embellished blue blouse or not make the whole look about the contrast blouse.
A Purple Tone Blouse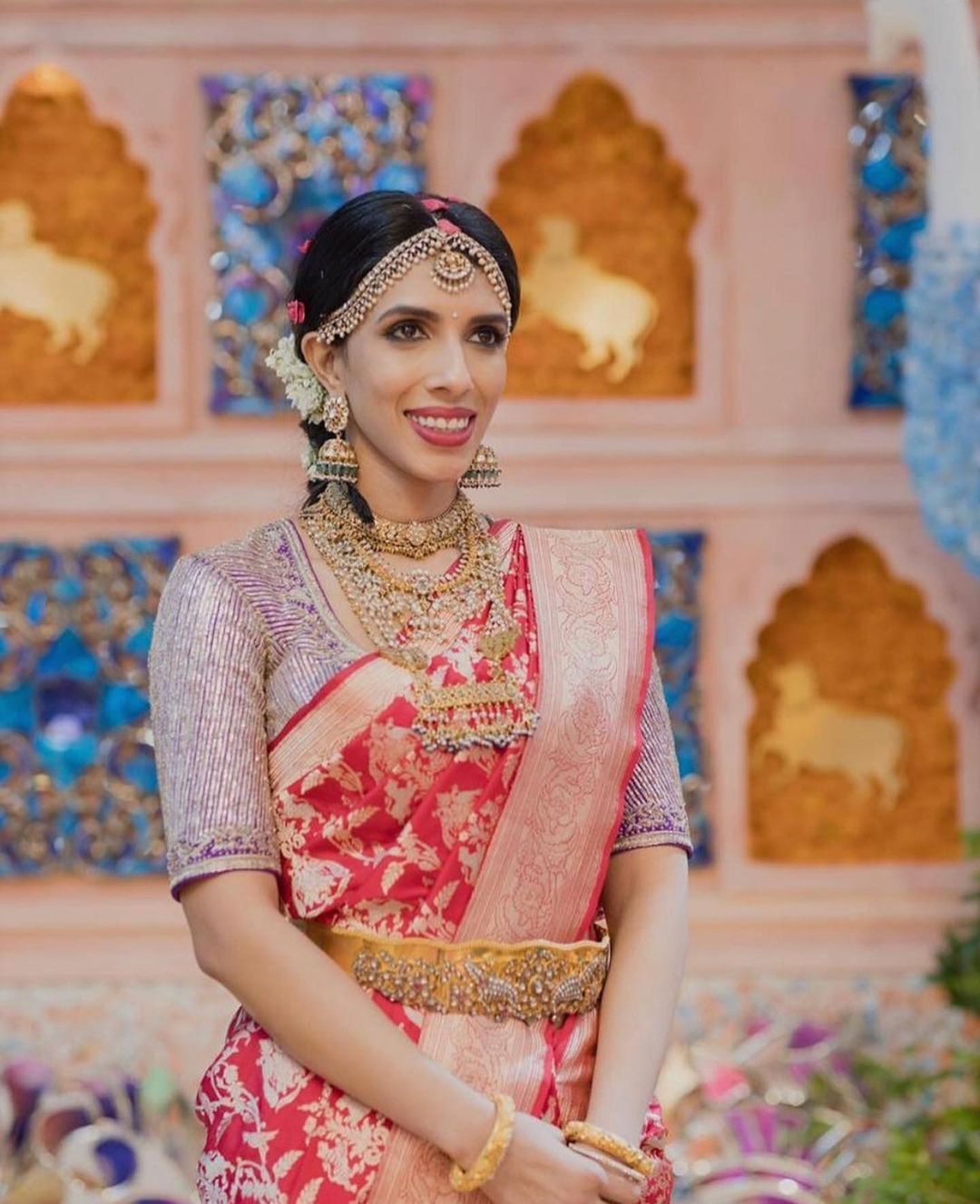 Image Via: OfficicialSandyArtistry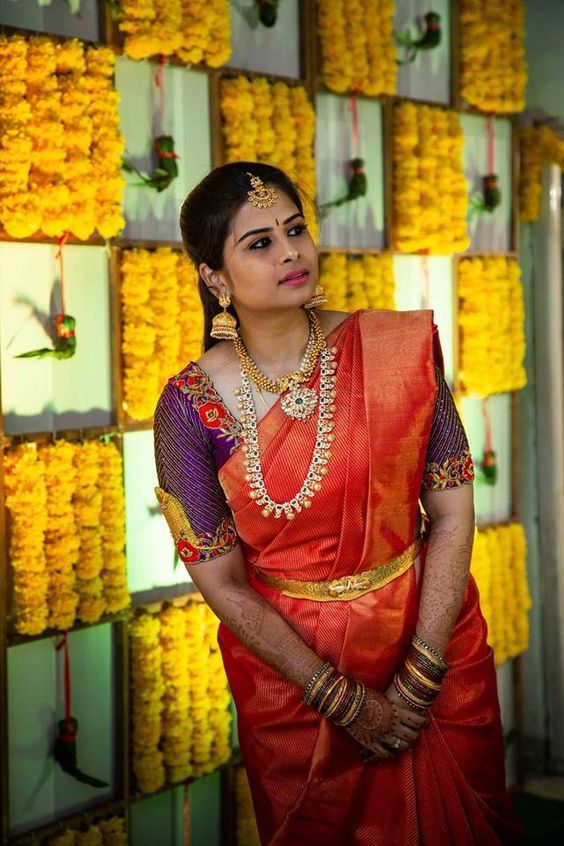 Image Via: Pinterest
This is quite not a regular contrast choice for  a red Kanjeevaram saree, but is making waves in the bridal circuit now!! We totally love how these two brides have done the blouses similarly yet differently. So a royal touch of purple with your Red Muhurtham Pattu gets a thumbs up!! Diamonds or gold this blouse is a perfect choice!
An Ivory Blouse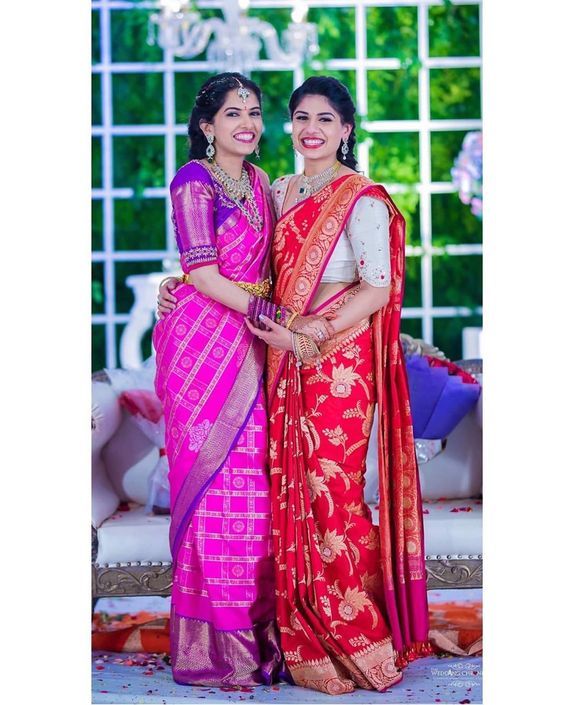 Image Via: Pinterest
A different choice, but a classic!! In fact a color that can work with most of the Kanjeevaram sarees in your wardrobe!! This is a choice which will help you elevate the saree to a different dimension!!  Works very well with gold jewelry.
Now that you know there are so many color choices for your blouse, so what are you waiting for? Click here and get your hands on a red kanjeevaram saree.
What would be your contrast blouse choice to give your bridal look a different spin?