10 Interesting Honeymoon Packages We Discovered For Your Honeymoon!
BY Apoorva | 06 Feb, 2018 | 2785 views | 5 min read
A honeymoon requires as much planning as a wedding does. But who has the time after all the lehenga trials, venue visits, and salon appointments? So, why not book a package that is all-inclusive and just sit back and relax (with a margarita or two!). And don't worry, you don't even have to go scouting for those packages, we've got the best ones for you!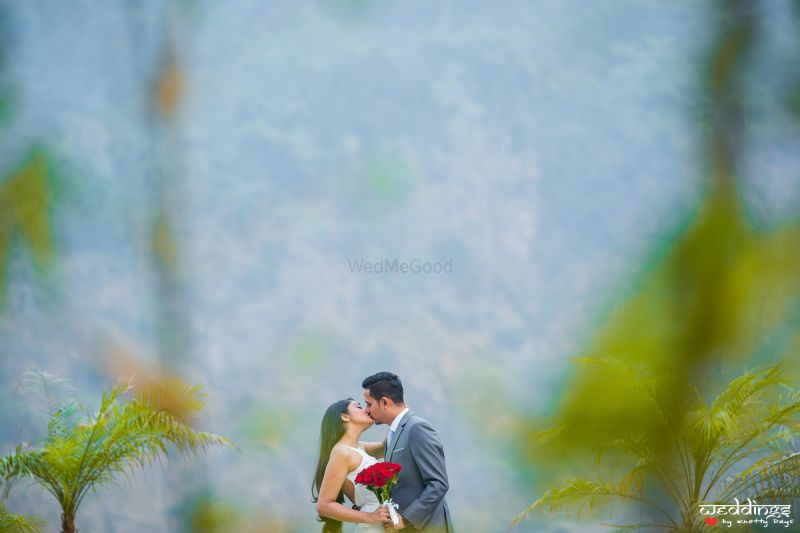 Image via Weddings by Knotty Days★ 4.9
The Maldives
All those lush sea green images that you see on Instagram come with a hefty price tag. With per night, rooms starting from Rs 30,000-40,000 at a decent resort will set you back at least by 5 lakhs for a honeymoon. This honeymoon package covers all your stay requirements, meals as well as transfers to Centara Ras Fushi Resort And Spa! If you book early, a round trip to Maldives will set you back by Rs 35,000 so you are looking at 4 days for just 1 lakh per head!
Cost per person- Rs. 73,294 onwards
Switzerland
Almost everyone wants to honeymoon in Switzerland. Then why not do it all? This package allows you to cover Lake Como, Engelberg, Interlaken, Geneva, Milan, Bern, Lucerne, Schaffhausen and Zurich in 7 days & 6 nights!  They cover all your flights, stay, internal travel and meal arrangements which is perfect.  So you can sit back and enjoy!
Cost per person – Rs 1,37,600 onwards

Rajasthan
Discover the colors of Rajasthan with this 7 nights 8 days package. This one is perfect for the ones who are looking for luxury on a budget. Indulge in true cultural and scenic beauty at Jaipur, Jodhpur, Jaisalmer, and Udaipur with all stays, airfare, meals, and transfers included. The sand dunes are calling!
Cost per person – Rs 40,789 onwards
Bali
Thinking of luxury yet wallet-friendly? Bali has to be your pick. This package covers all your room stays, all breakfasts, internal transfers and they even throw in a candlelight dinner and Balinese massage. How amazing is that?! A round trip to Bali will not be more than Rs 30,000 and plus meals which means you can actually have a great 5 days & 4 nights honeymoon at almost Rs 65,000 per person only!
Cost per person – Rs 16,499 onwards (without flights)
Europe (Austria, Hungary, and Czech Republic)
Set off for an unprecedented love trip with this 8 nights, 9 days Europe honeymoon package to hand-picked destinations of Austria, Hungary, and the Czech Republic. At just 105,000 per head, it will introduce you to the marvels and magic of these destinations and bring you closer to each other. With activities and tours inclusive, all you need to do is book your flight ticket and honeymoon!
Cost per person – Rs 105,000 onwards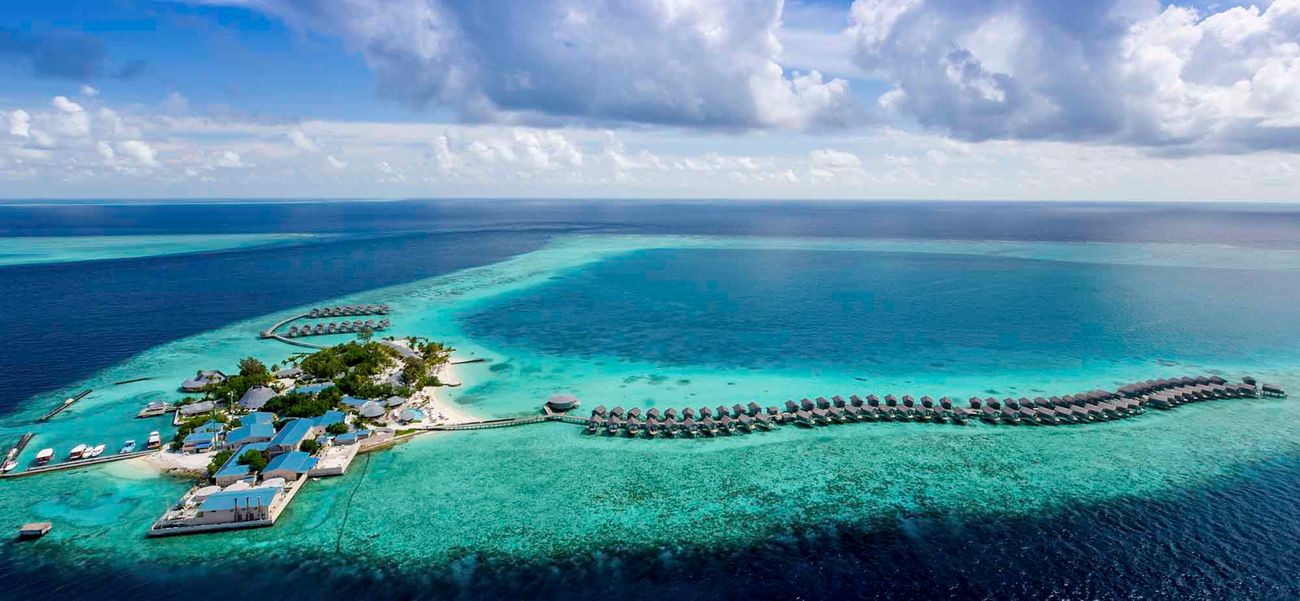 Image via 
Centara Ras Fushi Resort & Spa Maldives
Andaman & Nicobar
Want to travel some place closer to home? The Indian Oceans are here! This 7 days 6 nights package includes your airfare, all meals, tickets for all sightseeing, internal transport as well as all your stays. You can also scuba dive with various dive companies out there and experience the corals!
Cost per person –Rs 48,000 onwards
Australia
The land of the Oz awaits you!  Lose yourself in this 9 nights & 10 days Australia honeymoon package gift wrapped for you both. This 10-Day Australia honeymoon package includes visits to some of the most sought-after honeymoon destinations in Australia like Sydney, Cairns and Gold Coast, breakfasts, a cruise dinner, airport transfers, island cruises, sea world & movie world entries. At just 1,22,000 per person, this is total #honeymoongoals!
Cost per person – Rs 122,000 onwards
Seychelles
A beach person? Seychelles is calling especially with this honeymoon package! Let love bloom as you explore the Mahe Island, Praslin, and La Digue. Experience hassle-free transfers, luxurious accommodation, honeymoon hampers and delectable meals at Rs 59,000 per person for the whole of 7 days and 6 nights! Since it doesn't include airfare, the luxury week should set you back by Rs 90,000 per head which is a steal for Seychelles.
Cost per person – Rs 59,000 onwards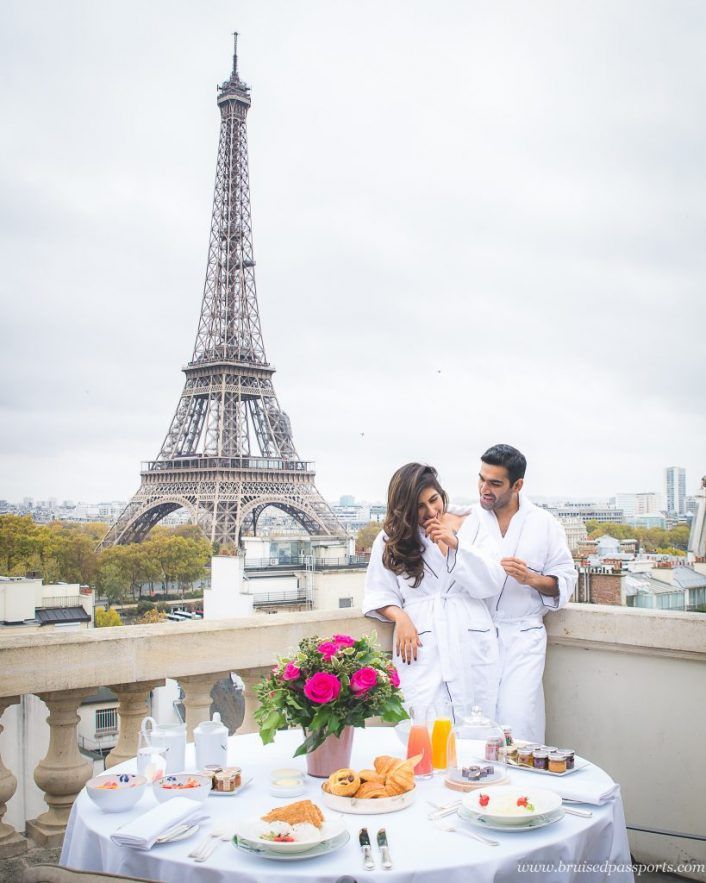 Image via Bruised Passports
Kashmir
Known as heaven on earth, the Valley of Kashmir sits snug and beautiful with its amazing charm. With its picture-perfect snow clad mountains, sparkling lakes with shikaras, a tuft of colorful tulips and beautiful valleys, we guarantee that your photos will need no filter! This 4 nights 5 days package includes all your stays, airfare and even houseboat accommodations at Srinagar, Pahalgam, and Gulmarg.
Cost per person – Rs 36,380 onwards
Vietnam
Cruise along the scenic shores of Halong bay with your spouse in this Vietnam honeymoon package. This 6 nights 7 days package allows you to embrace the natural beauty of Vietnam while touring Hanoi and Ho Chi Minh. All your meals, internal flights, transfers, taxes, and accommodation will be covered in this. So all you need to do is that book your own flights and the package takes care of the rest!
Cost per person – Rs 32,000 onwards