10 Basic Rules for Colour Contrasting Jewellery to the Outfit!
BY Sakshi | 05 Apr, 2017 | 83565 views | 4 min read
Contrasting jewellery is so in these days and looks totally fab! Brides these days do not have to stick to the same old traditional gold jewellery with their bridal outfit, but pick and choose from some trendy new-age jewellery which really stands out. We're in love with colour contrasting jewellery to make it stand out, and here are some tips and tricks to learn how to do that right!
Contrasting jewellery, but in the same colour family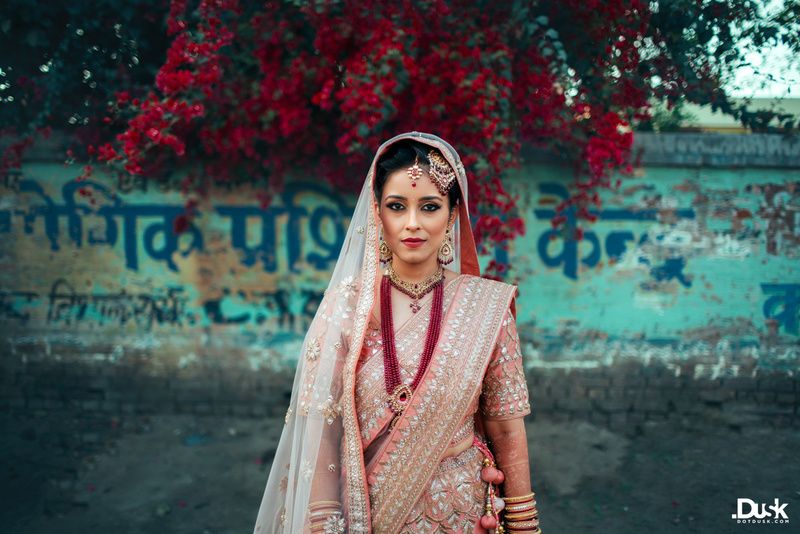 Image via DotDusk Studios★ 4.9
If you are wearing a light pink, peach, green, lilac or light blue lehenga, then you can opt for jewellery in the same hue, but darker and more contrasting so that it stands out against the lighter outfit. Jewellery with rubies or dark pink stones with a light pink or peach lehenga, dark green beads with a pista green outfit or blue stone jewellery with a pale blue outfit looks superb! When opting for such a contrast, a long necklace combined with a neutral shorter one works best otherwise there could be an overdose of colour.
Colour-blocking jewellery with the outfit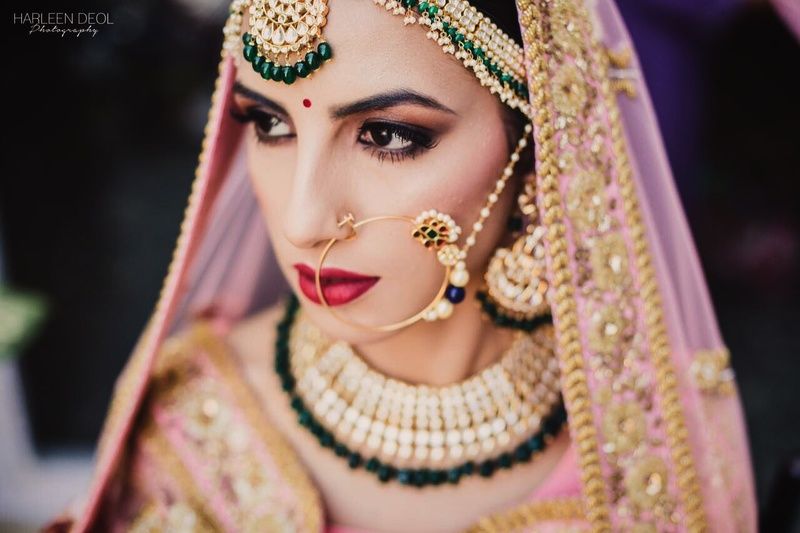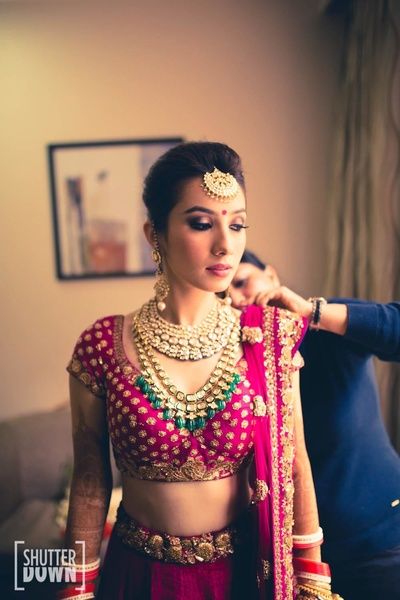 Image via Shutterdown - Lakshya Chawla★ 5  and Rehat Brar Bridal Makeup Artist★ 4.5
Contrasting the jewellery and the lehenga in completely different hues is also trending these days. Wearing an emerald necklace or one with green beads with a pink, peach, lilac, red or maroon lehenga looks great if this is the kind of look you want to go for!
Contrasting bright jewellery with a neutral outfit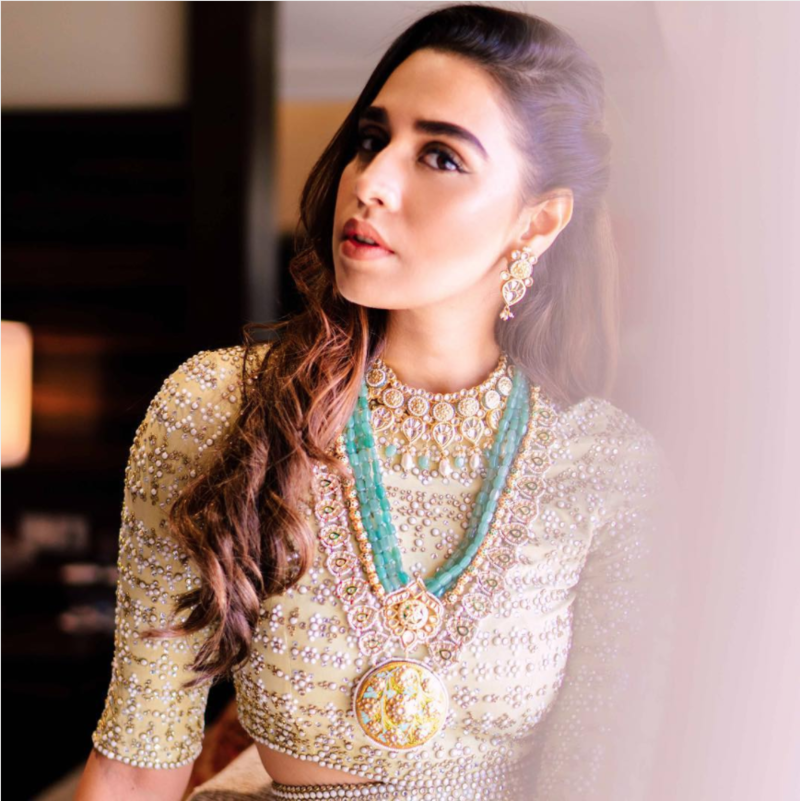 Image via Just Jewellery★ 5
If you are planning on wearing a neutral outfit- say a light grey, cream or off white lehenga, then contrasting jewellery in bright shades like turquoise, green, pink and blue work very well to add a pop of colour to the entire look.
Contrasting dark jewellery with a white outfit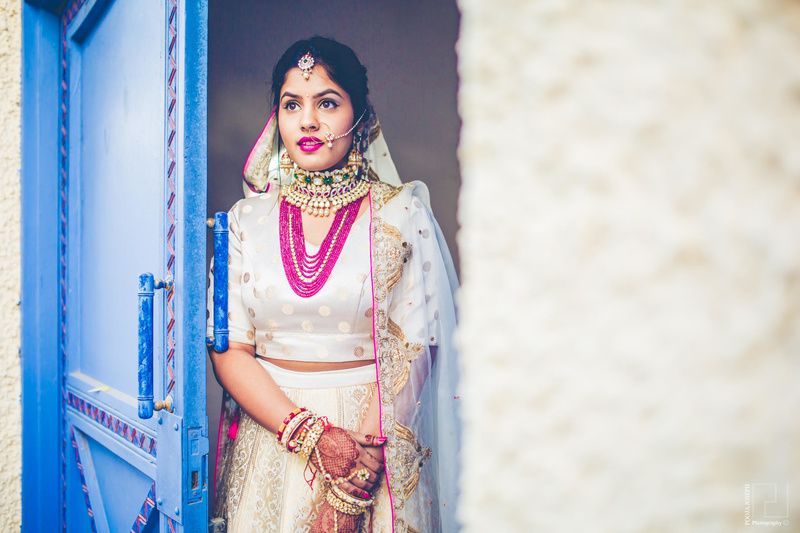 Image via Pooja Joseph Photography★ 5
A white outfit is like a clean slate, you can rock whatever jewellery you want with it! Jewellery with pink, green, blue or even red stones looks fab with a white bridal lehenga or saree!
Contrasting jewellery in an unusual hue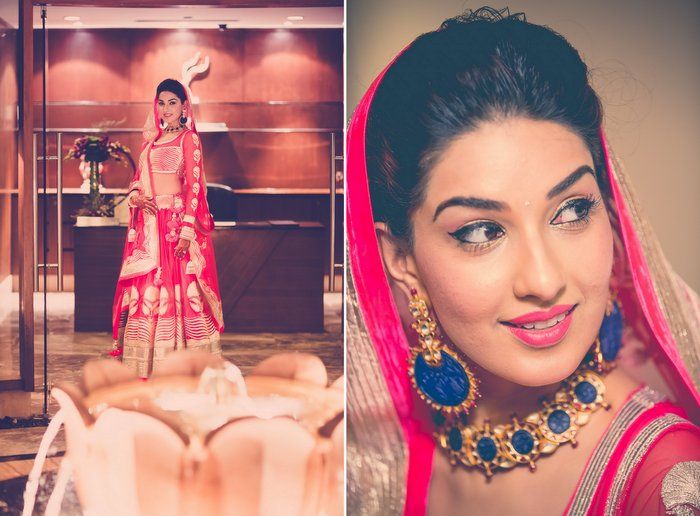 Image via Apala by Sumit★ 4.5
Most brides want their lehenga to stand out, but sometimes, when you combine jewellery in an unusual hue, you can make the jewellery stand out more! This bride combined her red bridal lehenga with bold blue jewellery, and it's such a unique look!
Adding pearls to break the monotony while adding contrast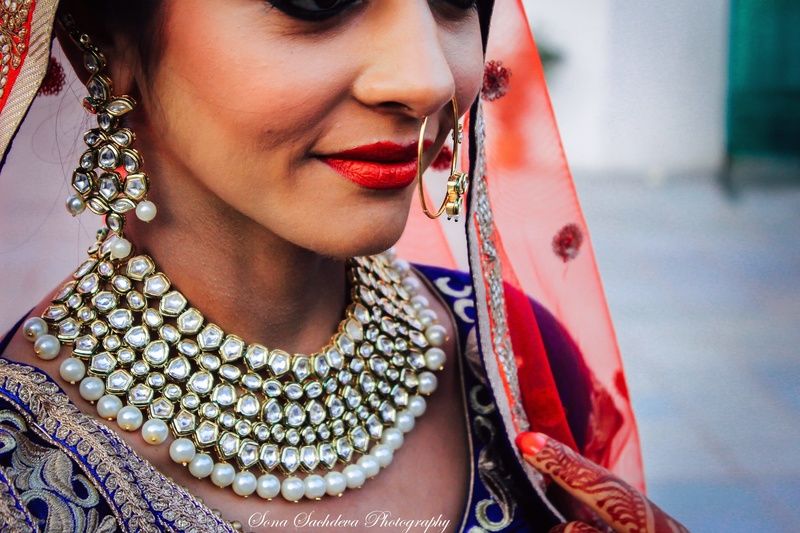 Image via Sona Sachdeva Photography★ 4.6
If you monotone shades are not your thing and want to keep your bridal look or the outfit very colourful, then pearls are a great way to go! Add a necklace that has pearls dangling at the end to keep the jewellery contrasting, but not OTT. This looks good with dark or bright coloured outfits like maroons and blues.
Matching the jewellery to the dupatta or the border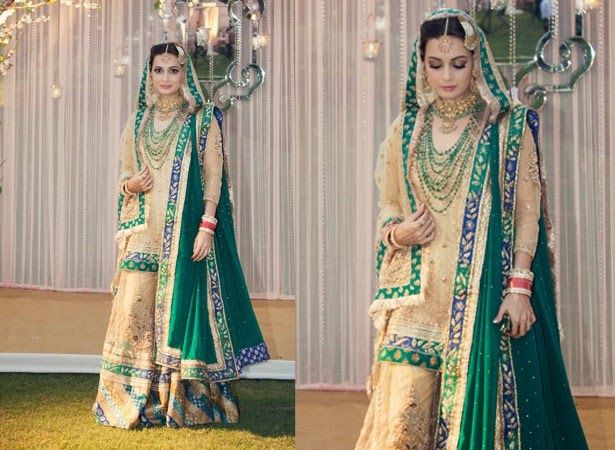 If the outfit has a contrasting border or dupatta, then matching the jewellery to that instead of keeping it neutral also looks good!
Contrasting with Diamond jewellery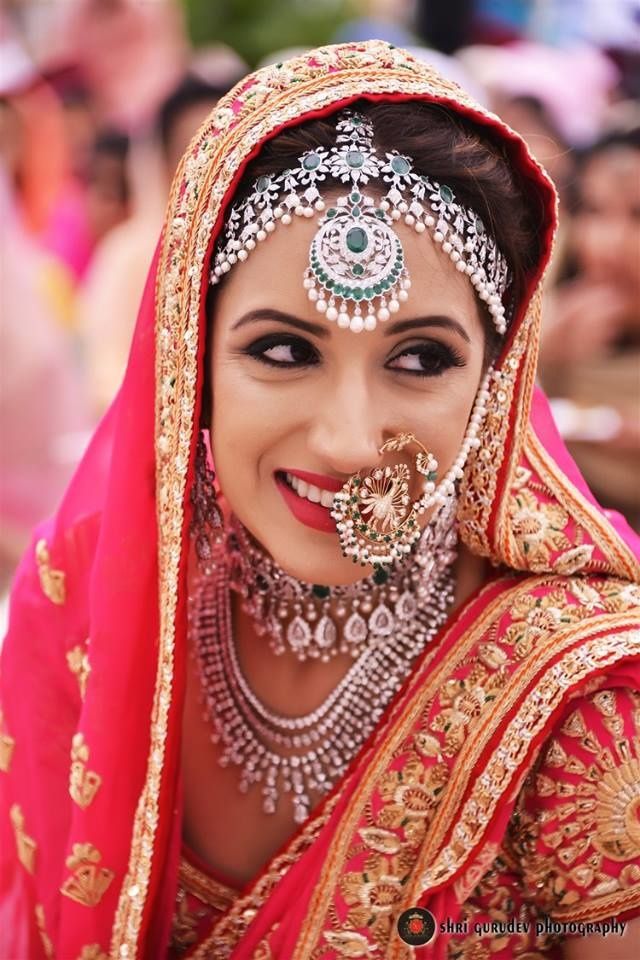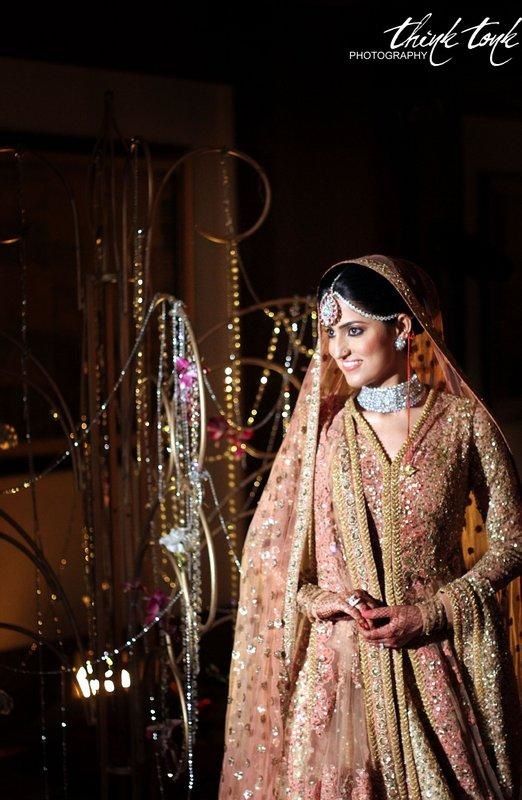 Photo Courtesy: Shri Gurudev Photographers★ 3.6  and Shivani and Jatin's Real Wedding
If your lehenga has sequin, stone or gota patti work, then diamond jewellery can look great with it too, without clashing. Diamond sets can look contrasting yet match with the work for a pretty bridal look. If the diamond set is studded with coloured stones like emeralds, rubies or sapphire, it can elevate the look altogether!
Contrasting with Temple jewellery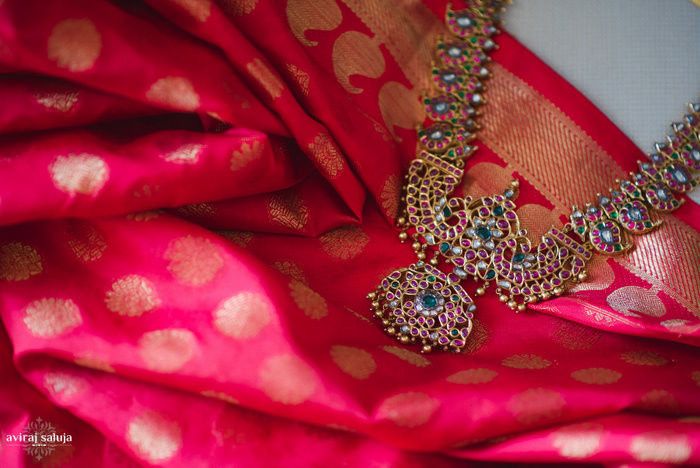 Image via Aviraj Saluja
There's nothing quite close to a solid temple jewellery set that shines all on its own! Temple jewellery with coloured stones or just with gold also looks stunning against pastel or bright bridal outfits which don't have too many colours!
Contrasting with Two-Tones: Gold + Silver mix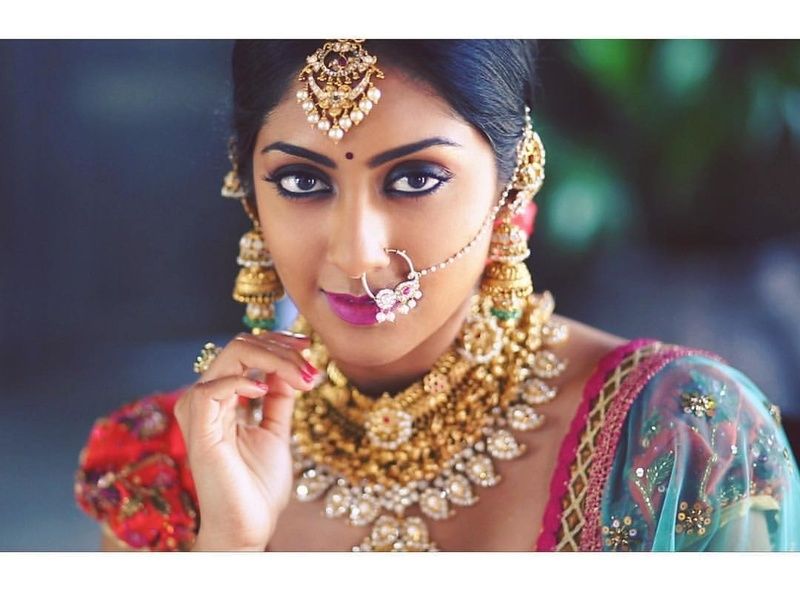 Image via Siro Make-up Studio - by Edward and Zing★ 4.8
How about you make sure the contrast is in the jewellery itself? Layered statement jewellery like say this one with kundan and gold with stones and pearls looks great as well, but make sure there is some element that matches the outfit- like say the gold with zardozi work or the diamond with sequin work. This is a good look to stand out in a red bridal lehenga, but make sure there isn't too much colour on the outfit as well!
So, any more doubts?