10 Modern Ways To Style Your Kanjeevaram Sari!
BY The WMG Bride | 19 Oct, 2014 | 47617 views | 5 min read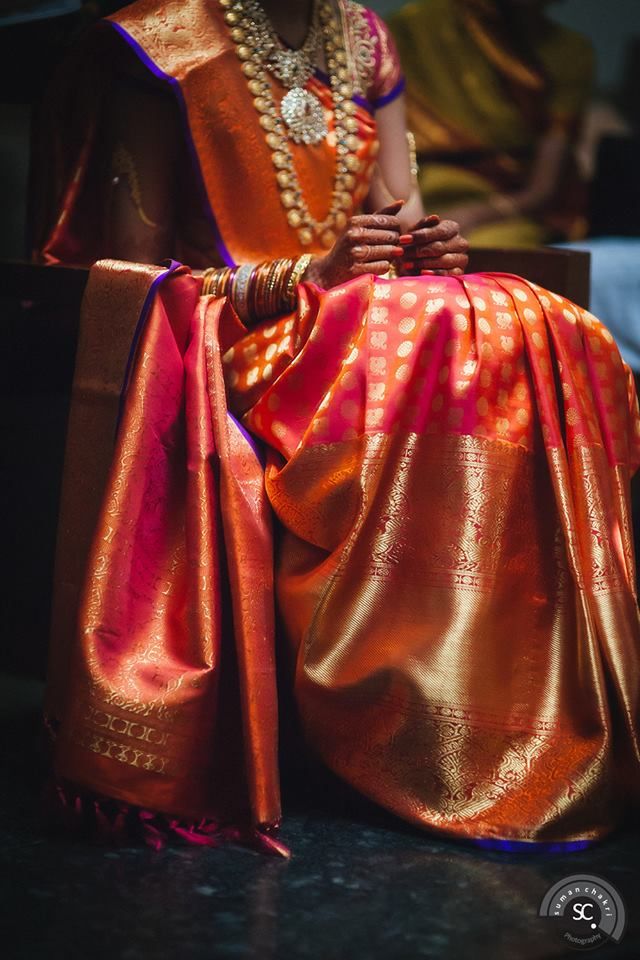 Photography: Suman Chakri. THAT is the most beautiful Kanji we have ever seen! Drool.
If you think Kanjis are for the older crowd or are too boring for your wedding trousseau , then you probably haven't seen them being sported in these ultra modern ways by the swish set in South India.
So how do you make that traditional woven 9 yard drape stand out? Simple! Style your Kanjeevaram differently! It's just about adding a little bit of a twist to the traditional! But since it is very heavy saree, it will need a lot of effort in keeping the saree in place. Plus, you wouldn't wanna ruin your precious with a lot of pins! What's also super cool is that these days you also get Kanjeevarams that already are semi-draped, with the pleats all set... all you need to do is manage to drape it around like a saree!
#1 . Styled with a full sleeved modern blouse | Modern, chic & contemporary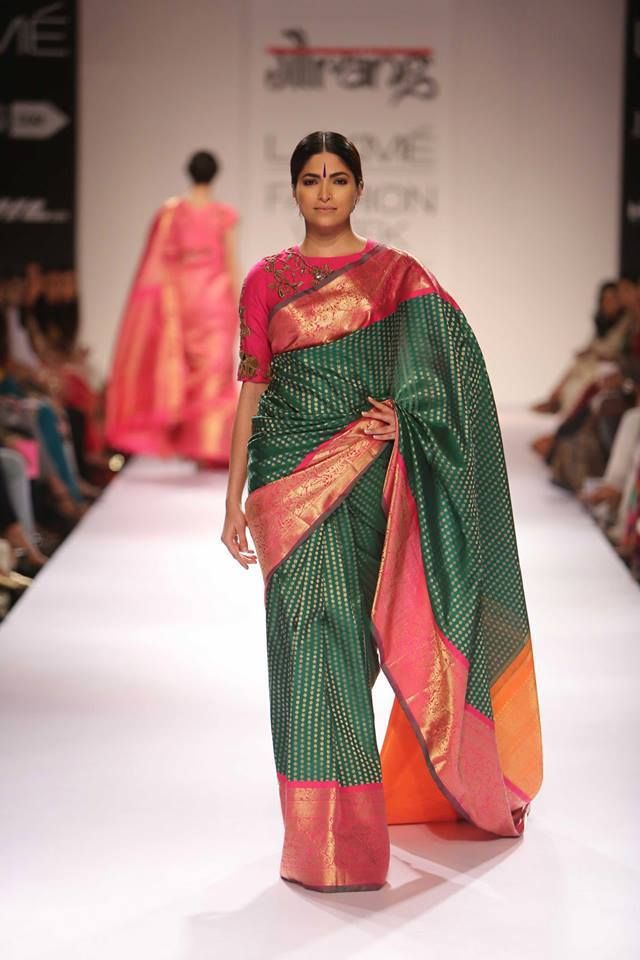 Right: Kanjivaram saree with blouse by Gaurang Shah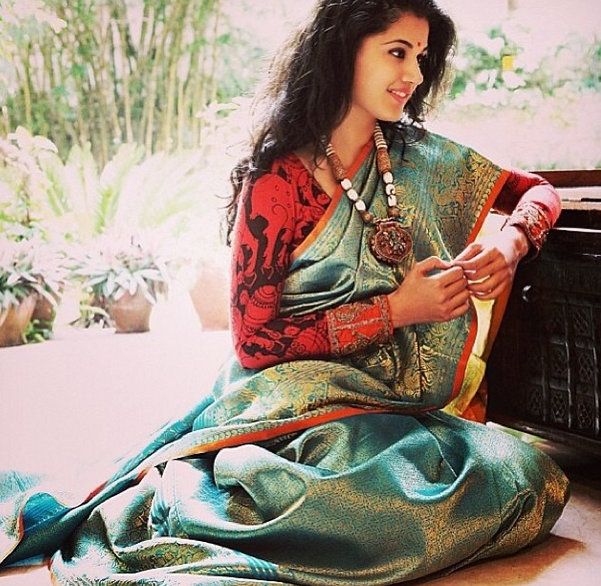 A printed blouse with a gorgeous teal blue Gaurang Shah Kanjivaram . The embroidery at the cuffs adds another interesting element.
#2 Pair it with the Jacket blouse  | Adding an Oomph factor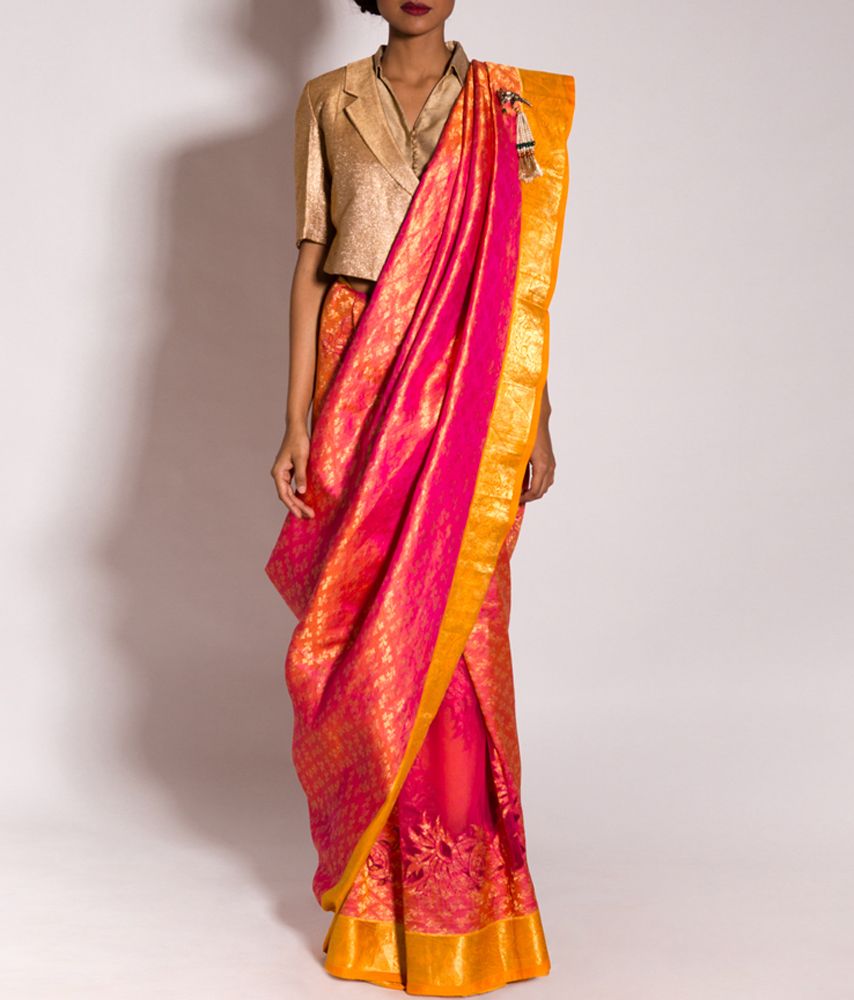 Left: Shilpa Reddy adds a whole lot of oomph factor to her Kanji by pairing it with a sleeveless jacket blouse
Right: Neeta Lulla saree with a gold jacket blouse.
 #3 . Get a gorgeous Kanjivaram dupatta and wear it with an anarkali / kurta| Trousseau must have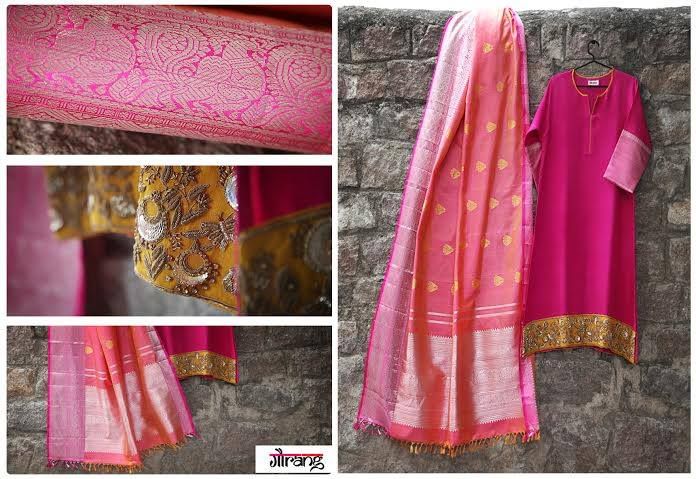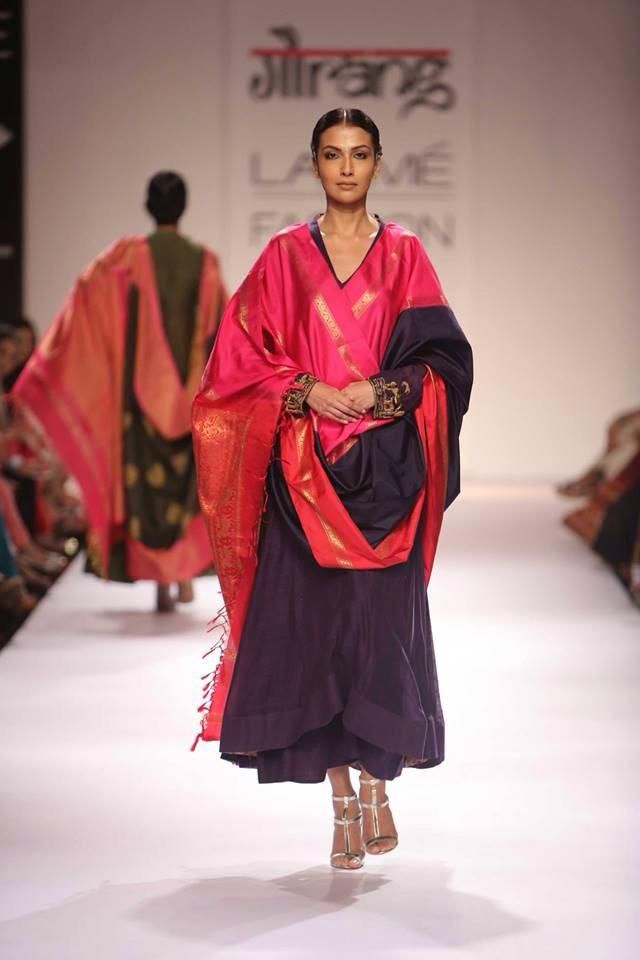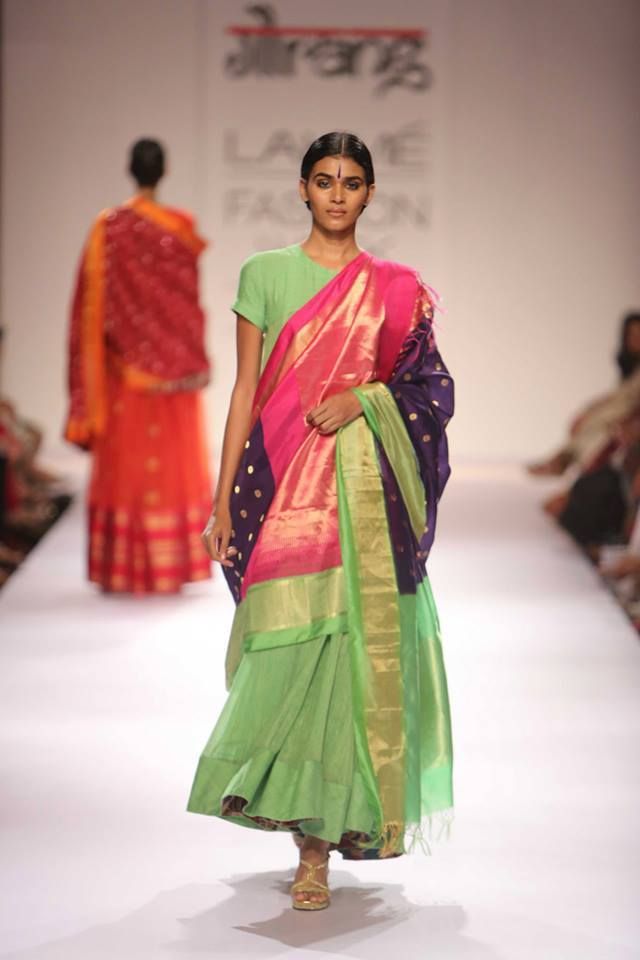 An outfit every bride needs in her closet.  A gorgeous, raw silk plain kurta paired maybe with pallazos and a contrasting, rich, Kanjivaram dupatta. The outfit above features pink on pink but think how effective a hot pink kanjivaram dupatta would be against a floor length raw silk black kurta. GORGEOUS !
#4. Wear it like a Lehenga Saree| South meets North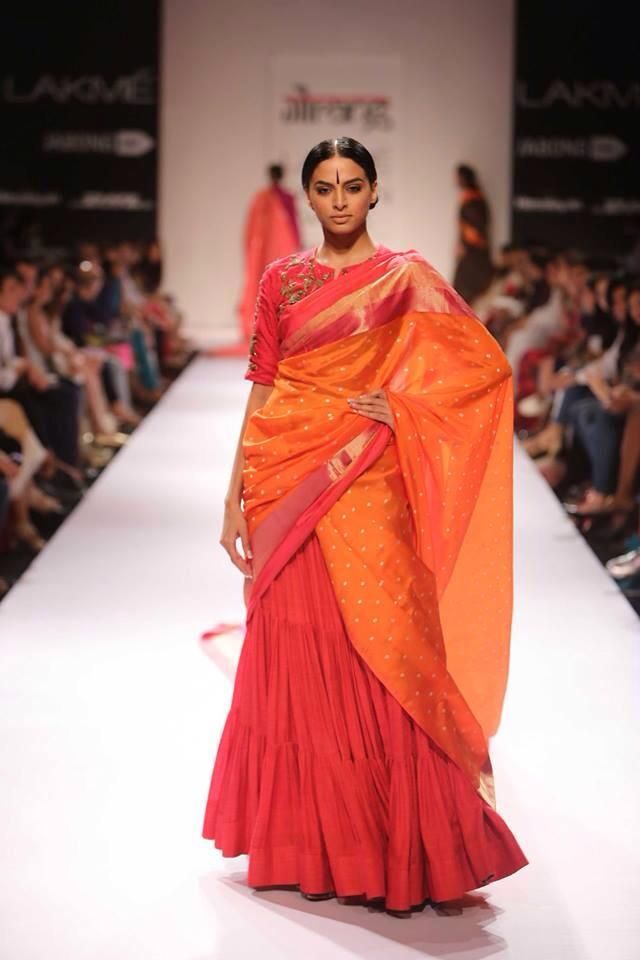 Think lehenga saree- with tiered pleats in maybe a different color and fabric, but the palla being a gorgeous Kanjivaram. This would be so gorgeous in pastel pink , tiered pleats with silver sequin work and a hot pink, rich kanjivaram pallu!
#5. Embroidered blouses | Adding richness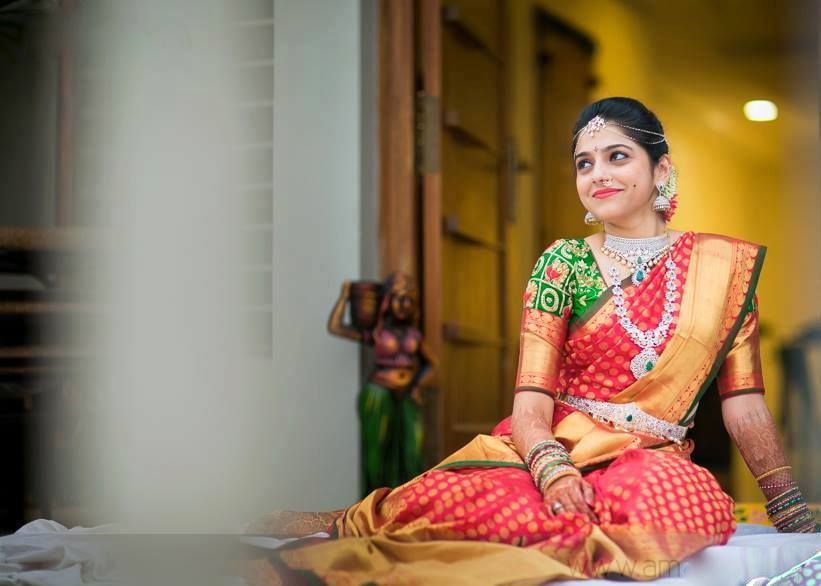 Photography: Amar Ramesh
Adore this pairing of a traditional Gaurang Shah Kanjivaram  with a green embroidered blouse with rose motifs
#6. Kanjivaram with a kurta | Experimentative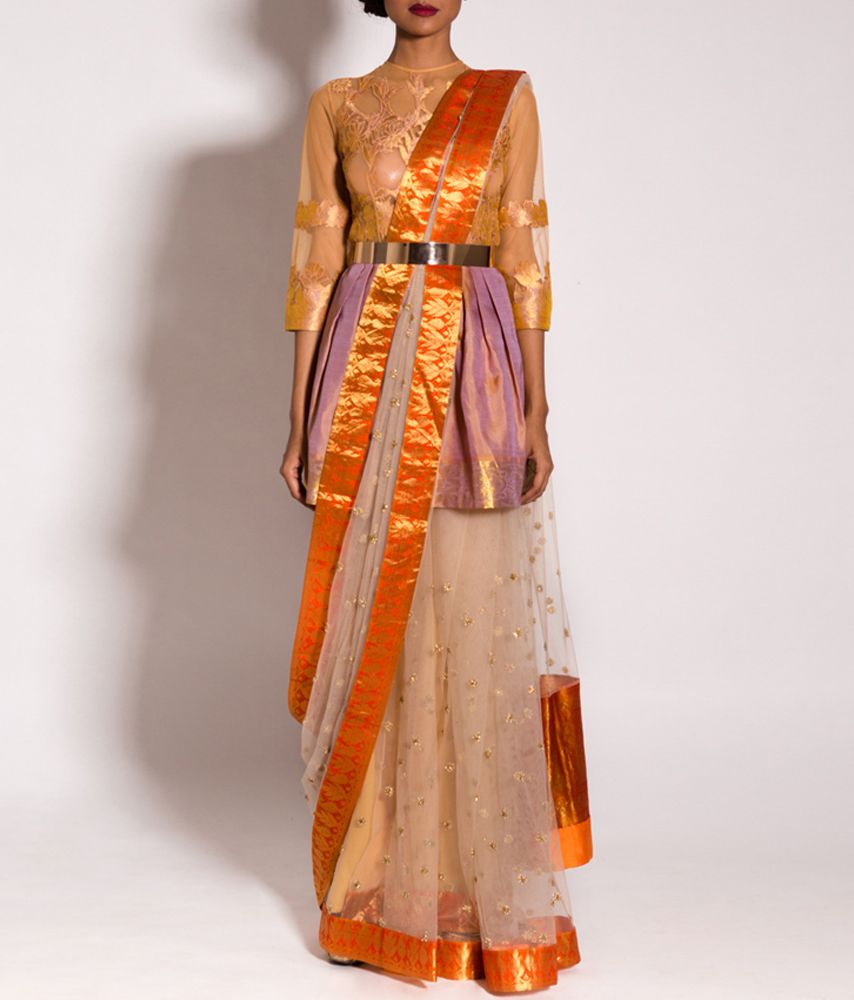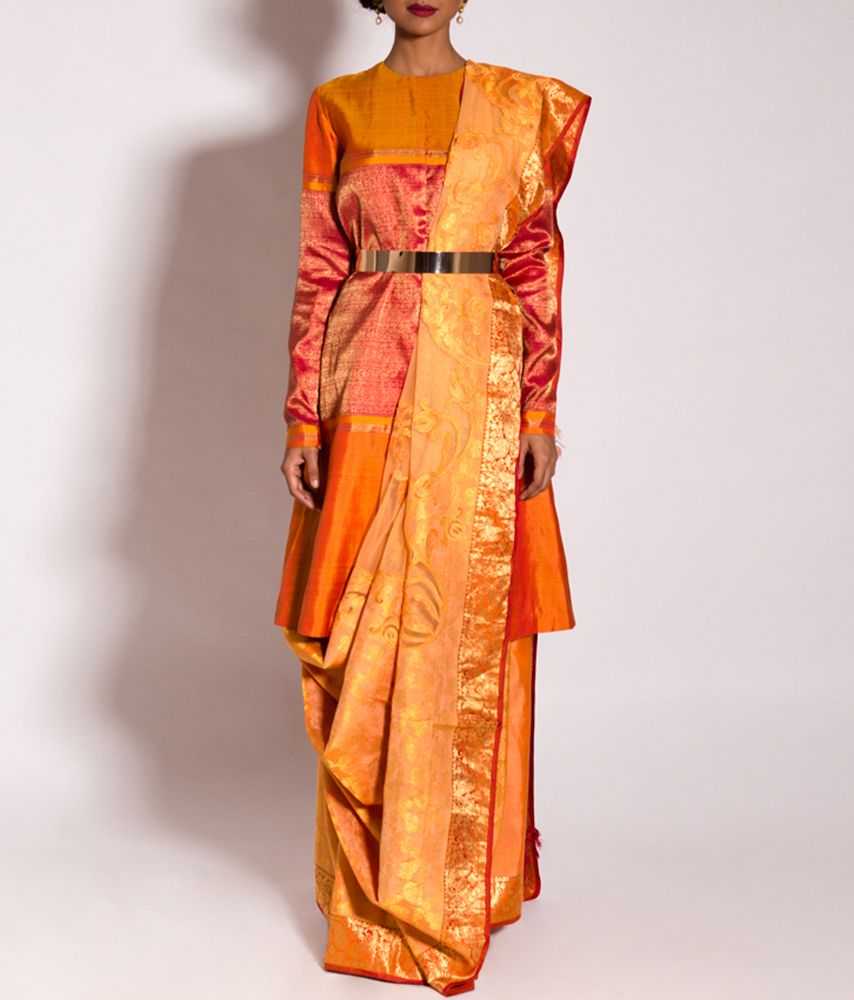 Neeta Lulla thinks you should pair your kanji with a kurta ! Not sure how we feel about that- will have to wait for Sonam Kapoor to debut this to see it on a person ;)
#7. A Kanjivaram Lehenga | Gorgeousness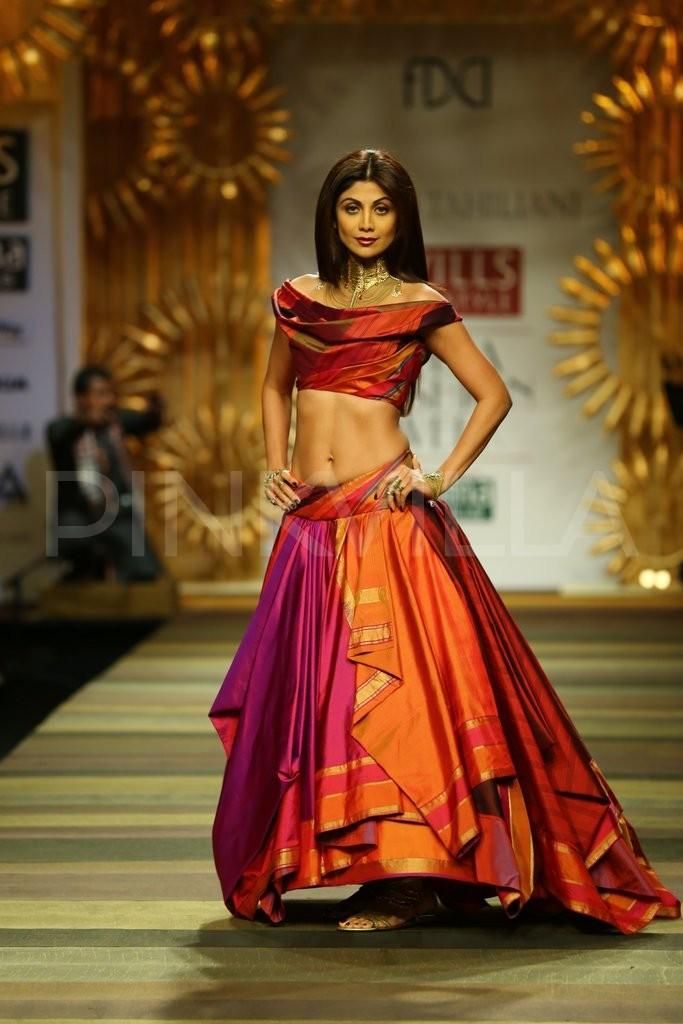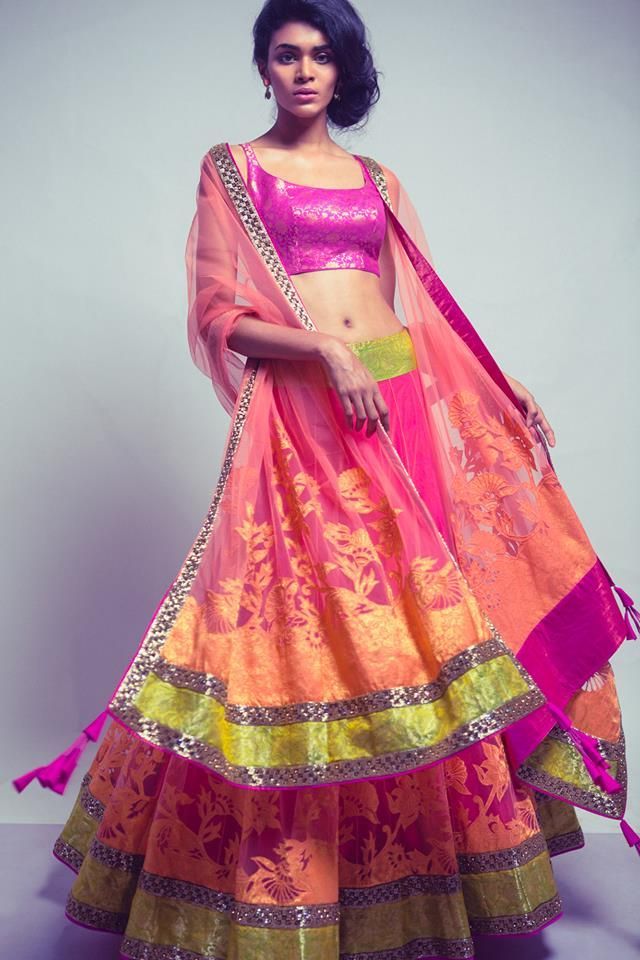 Left: Tarun Tahiliani showed a STUNNING Kanjivaram lehenga atfashion week last year.
Right: Neeta Lulla took Kanjivaram detailing on net and created an entire line of Kanjivaram inspired lehengas
#8, #9, #10. Alternate draping styles| To shake it up a bit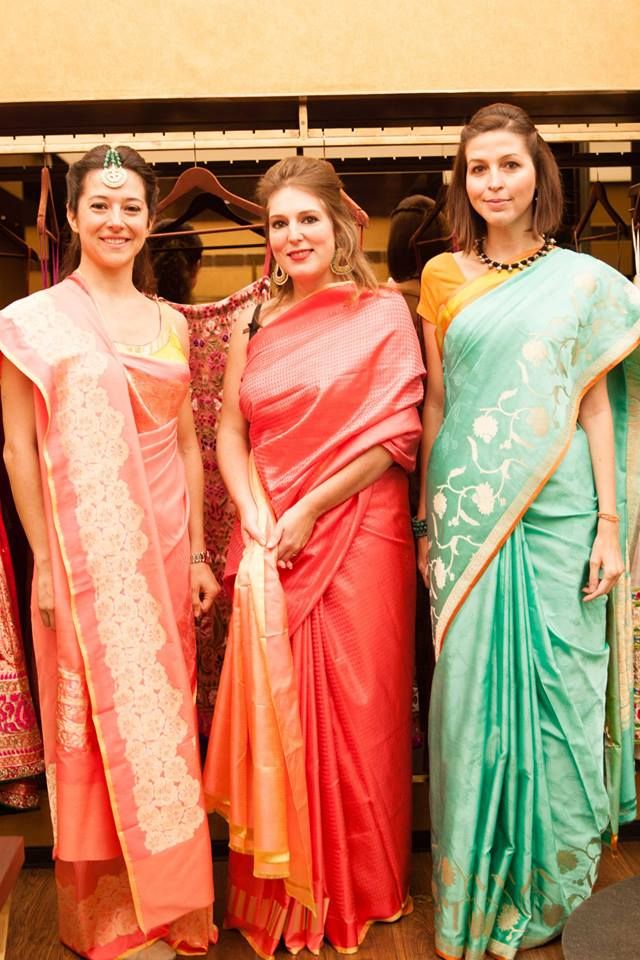 The Little Black book recently organised a styling session at Ekaya where participants were shown different ways to style a saree. See full album here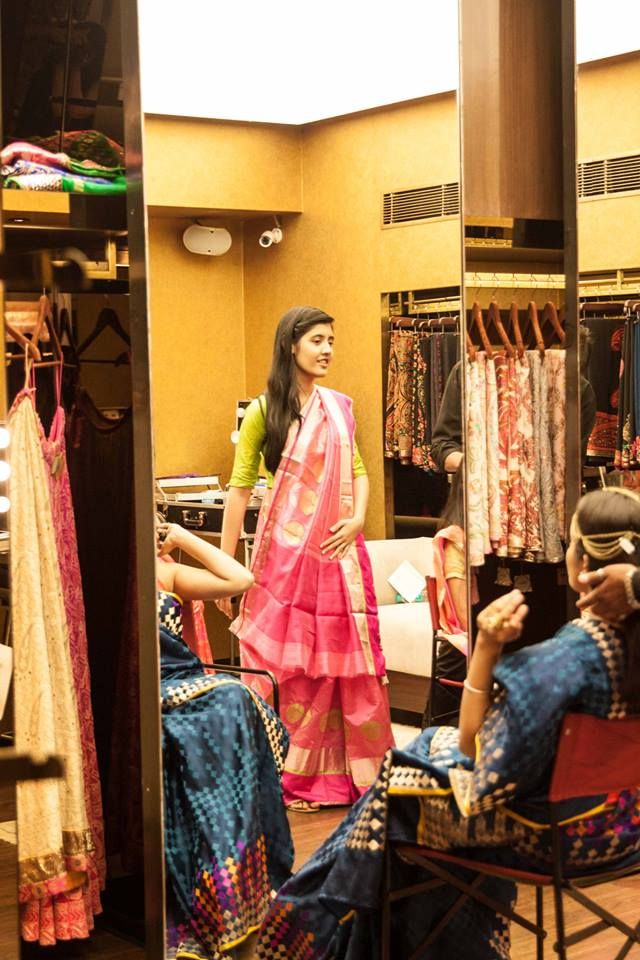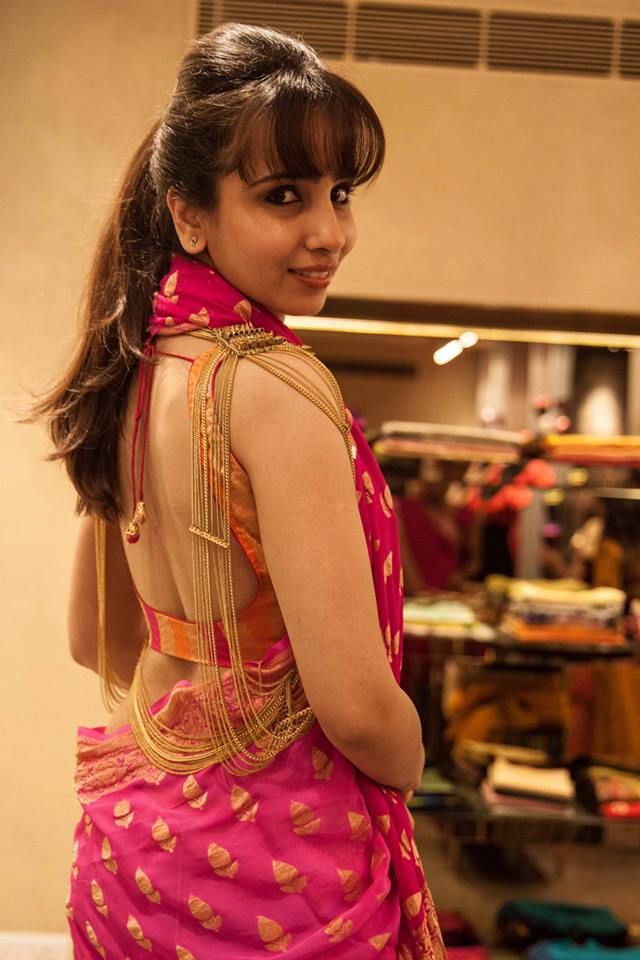 Some interesting drapes at the Ekaya- Little Black book styling session. Love the body chain element on the right. And there on the left - thedelhibride :) showing a Gujarati way of pinning a Kanji.
1. Another interesting way is to pleat the pallu and pin it. Then bring the tip of the pallu that hangs at the back to the front and tuck it near the belly. This is also a good way to show off a nice gold belt which is customary for some!
2. If your border is exceptionally pretty, then you can try the Mumtaz style of draping as well... this one is especially good for say, the sister of the bride... make the pallu thin showing off only the border and then pin it up, showing off that awesome figure!
3. There is also the double saree draping style... where you seamlessly drape two sarees together! Take maybe a golden and an off-white and golden Kanjeevaram together and drape them with each other... the end result is that you have one pallu over the left shoulder a little differently, and another pallu coming down on the right side. This is definitely a way that will make you stand out and is perfect for the winter season!
4. If the Kanjeevaram has a very nice and elaborate pallu that you want to show off on the front rather than the back, then do it the Gujarati style! This involves bringing the pallu from the back to the front on the right side, with the pallu flared out and pinned on the bottom on the left side of the belly. This is a good way for those people who want to hide a little extra fat.
5. If you want this special saree to give you a royal and regal look, or simply stand out, then you can also drape it in a way involving the pallu to look more like how one puts a dupatta across the neck. It comes down from the right side like the Gujarati way and then the end gets pinned up on the left shoulder. It gives the beautiful saree an extremel regal look.
So basically, when styling or draping a Kanjeevaram, keep certain things in mind... remember it is a very heavy saree with very traditional designs, so don't deviate too much to make it look trendy. Also, rethink the decision to wear strappy or barely-there blouses with Kanjeevarams, as they might not be able to hold such a heavy saree in place!
Contributed by Sakshi Saxena with Inputs from Mehak Sagar