10+ Pink Banarasi Lehengas That You Should Save For An Intimate Wedding
BY Garvita | 25 Aug, 2020 | 22625 views | 3 min read
One fact that no woman can deny is that Banarasi outfits are extremely gorgeous. Talk about wedding outfit inspiration, and the first image that pops in our heads is of a banarasi silk lehenga! Oh my, ethereal, to say the least!
With intimate weddings happening in full swing, a dilemma that we all go through is 'what to wear?'. And to help you with that we curated a magical list of drool-worthy pink banarasi lehengas, that'll serve you the right kind of inspo. Trust us, you won't be able to take your eyes off them!
So if you're a wedding guest, a sister of the groom and the bride-to-be, this post has something for each one of you. Go ahead, and bookmark the one you love!
1. The beauty of this pink Banarasi lehenga is truly unmatched!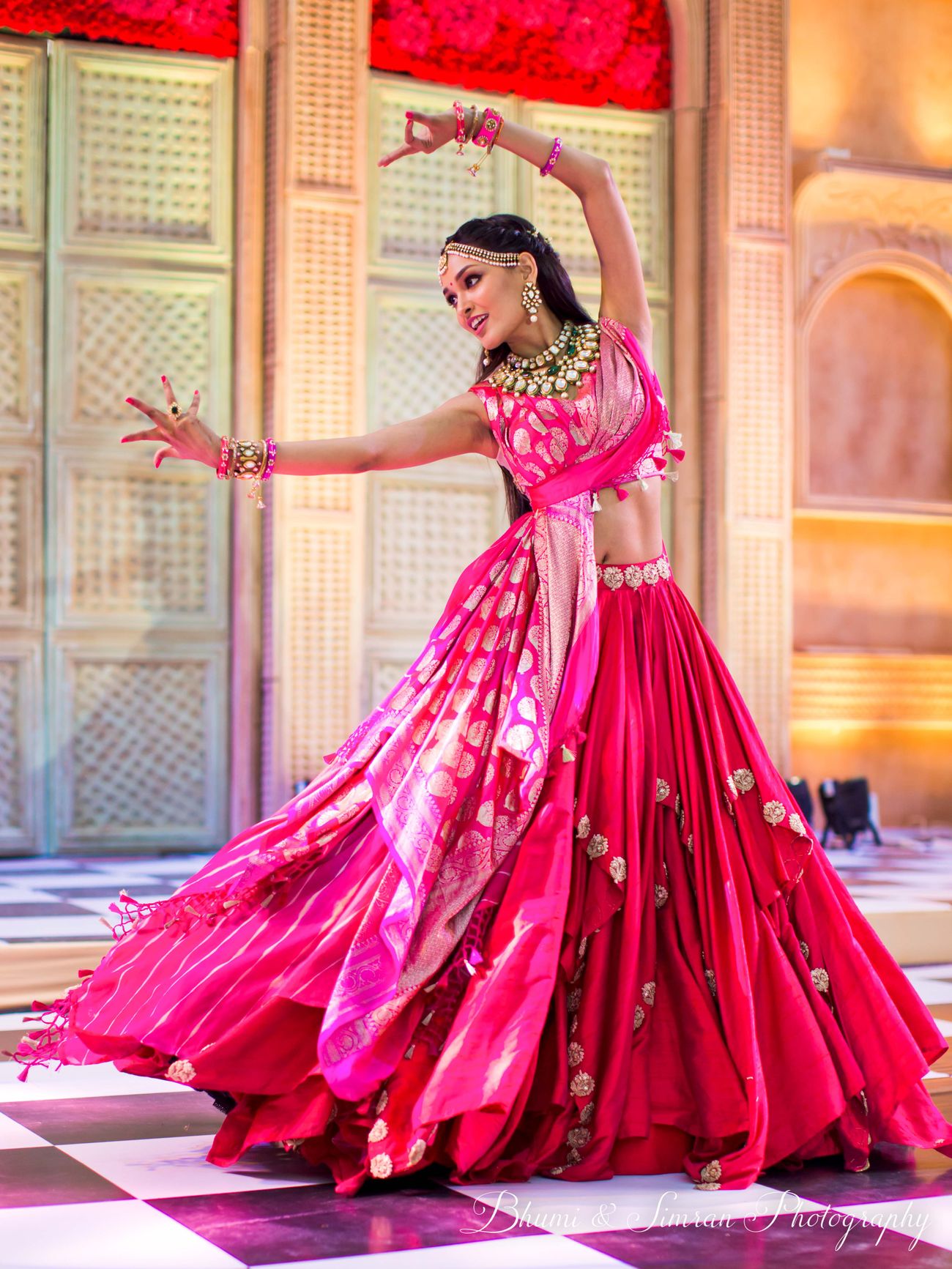 Image via Pranati & Ishan
As much as we loved that offbeat silhouette, we couldn't ignore the fuss-free styling
2. Calling all the brides getting married in COVID19 times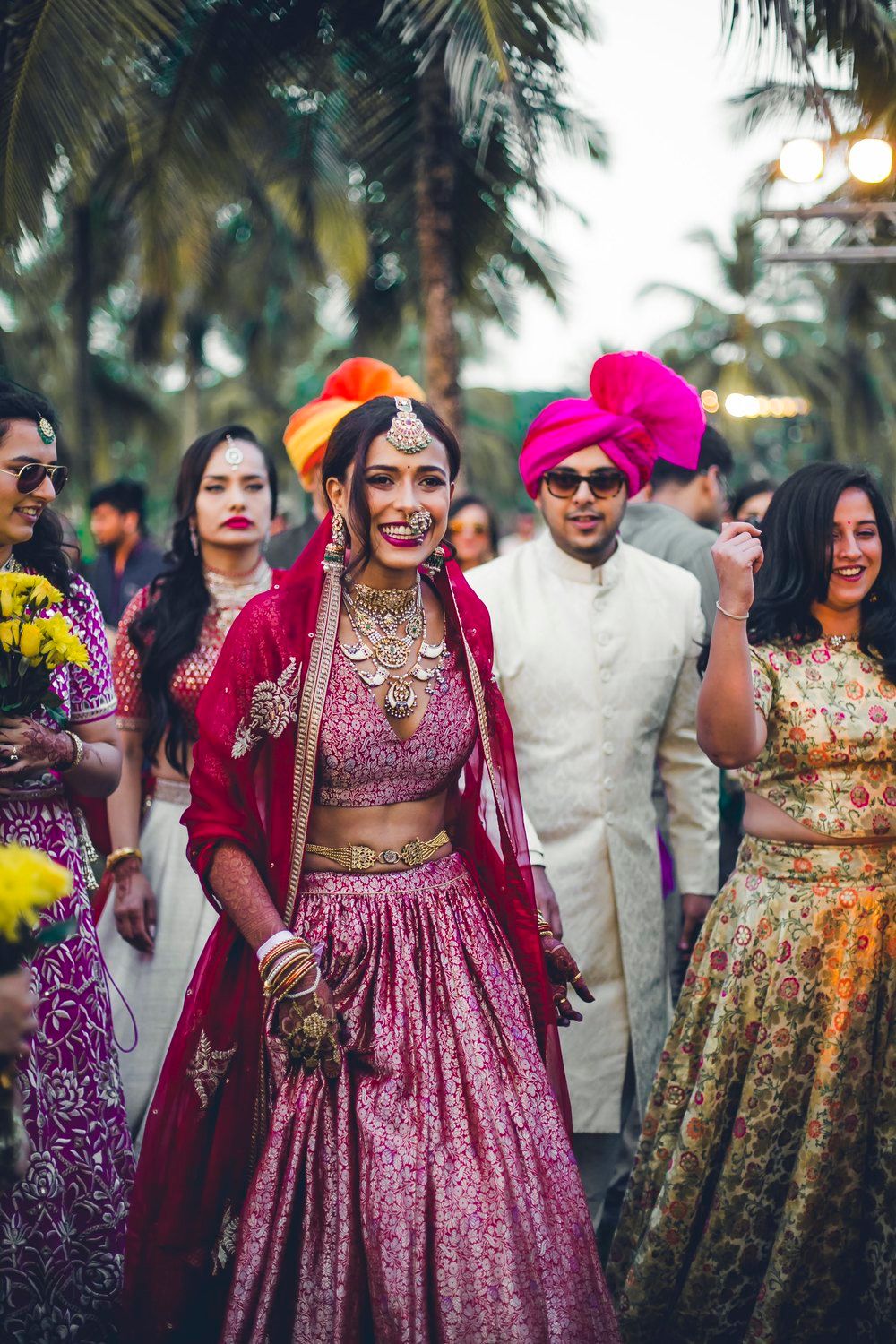 Image via The Photo Diary by Monisha★ 5
Nothing should deter you to dress up in the bridal lehenga of your dreams, and if you've always wanted to be a bride in a pink banarasi lehenga choli, then this is it!
3. An epic combination of class and vintage feels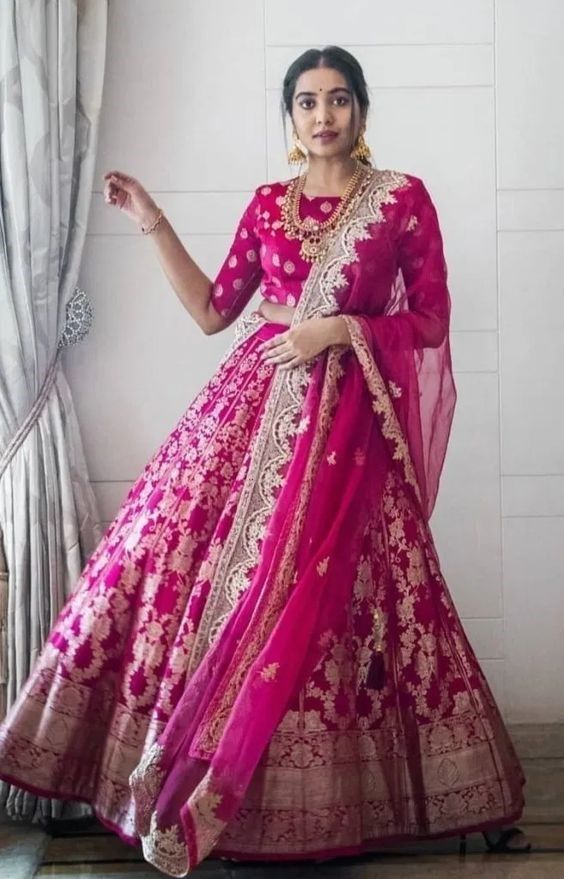 Image via Pinterest
This dark-pink hued banarasi lehenga choli is not too heavy but looks opulent.
4. Because a banarasi silk lehenga by Manish Malhotra is on every girl's wishlist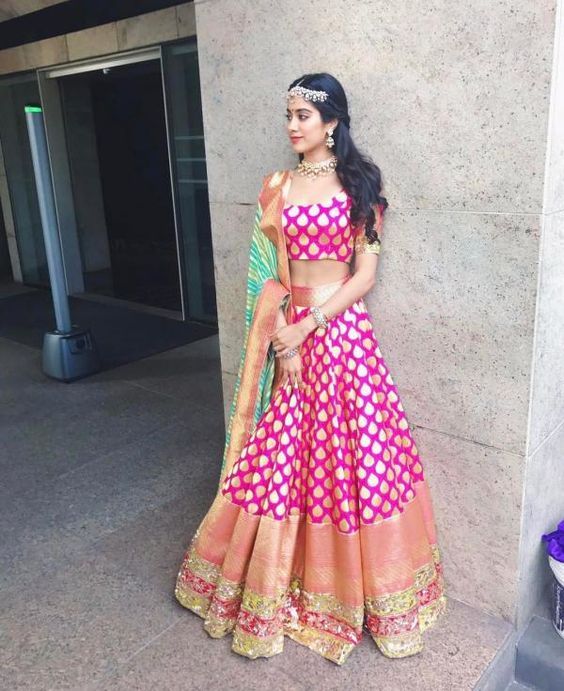 Image via Manish Malhotra
The outfit says everything, we don't even have to describe it! Right?
5. We're actually swearing by this dual-tone pure banarasi lehenga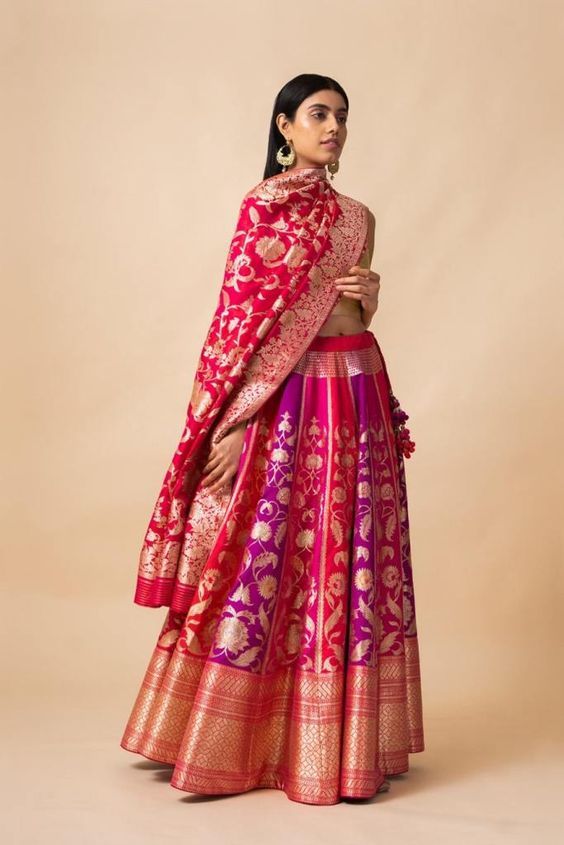 Image via Ekaya Banara
Don't wish to go monotone? Add a quirky hue from the same palette and voila.. all set!
6. Add a dash of modernity with a unique blouse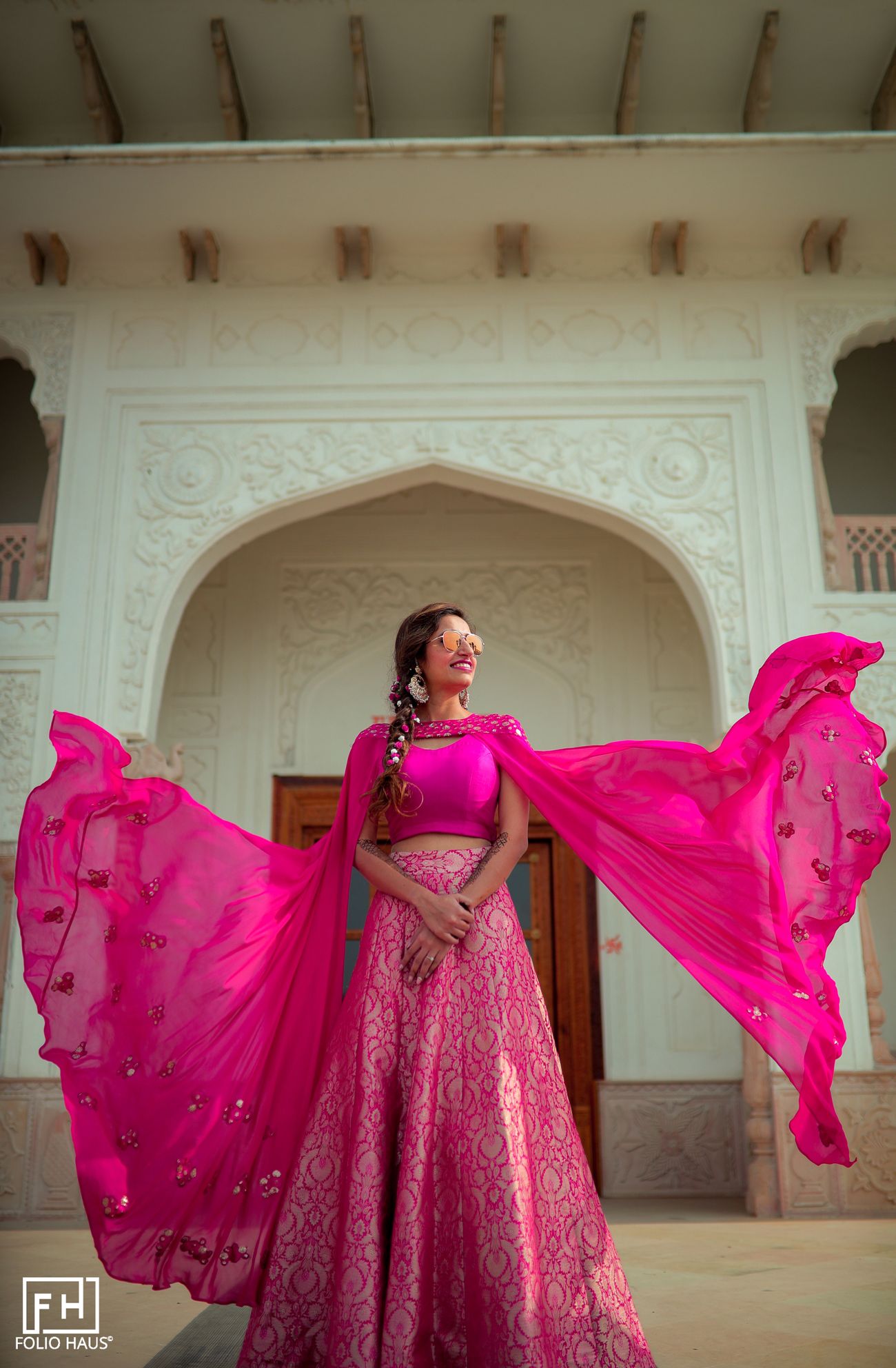 Image via Folio Haus
A banarasi lehenga choli doesn't have to be traditional all the time! Experiment for the modern vibe. Psst.. you can also play with your jewellery to keep it easy.
7. Balance between the simple blouse and heavy lehenga skirt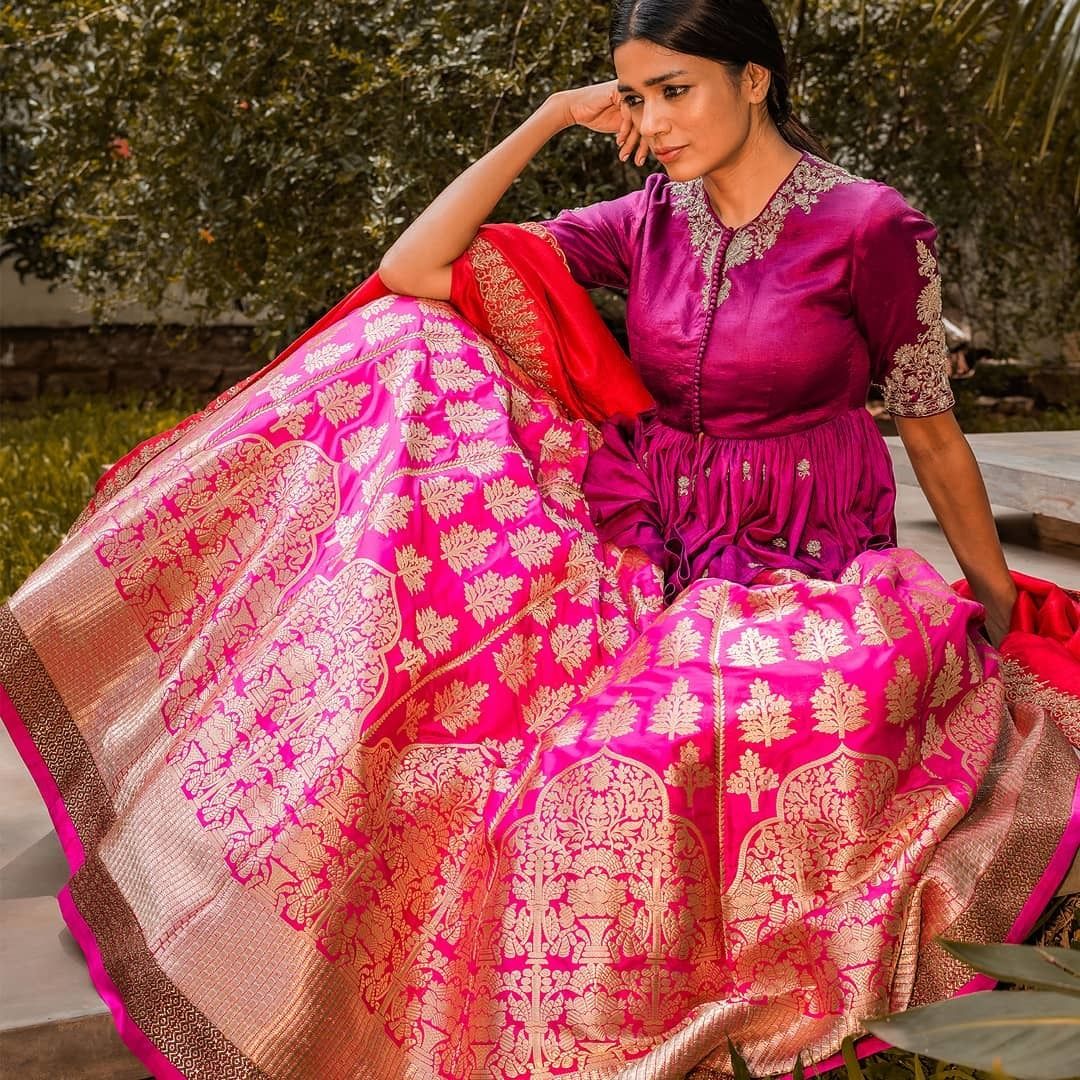 Image via Jayanti Reddy
.. is super satisfying! Isn't it?
8. *clicks* We know you got stuck at this one!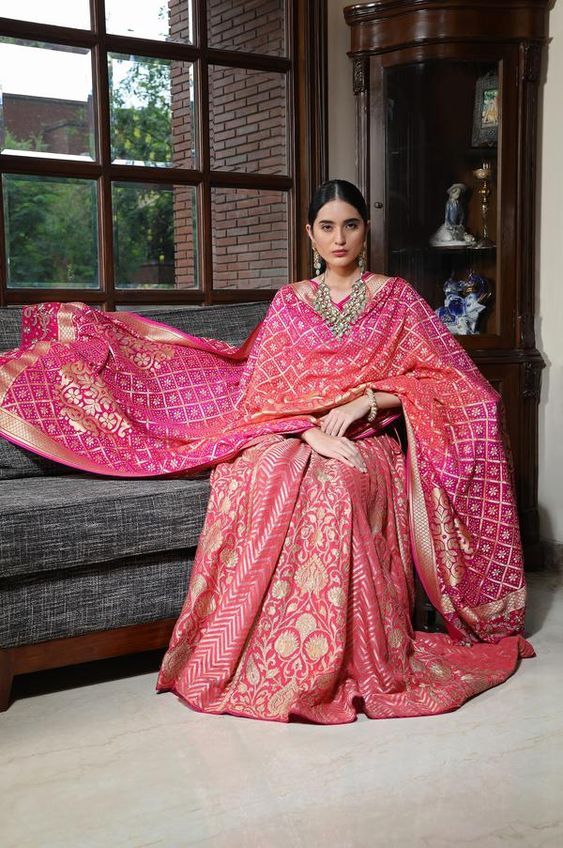 Image via Pinterest
Wondering how you'll get one stitched right now? We'd suggest you save some pictures of banarasi lehenga online and then finalise on the design, dupatta et al, to limit your access to the outside world. Tough time calls for tough decisions!
9. This ombre banarasi silk lehenga has our heart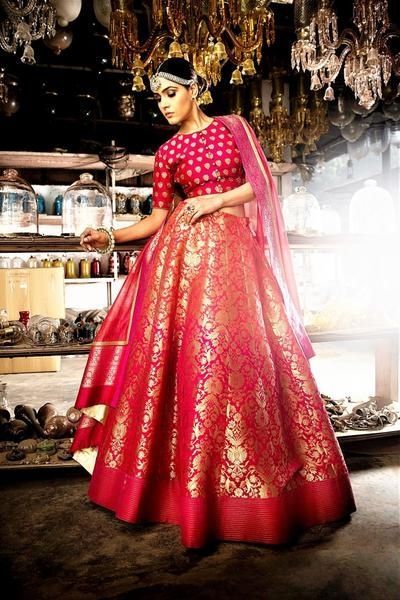 Image via Pinterest
One of our fav from the latest banarasi lehenga designs we spotted off lately. Told you we have something for everyone! Are your listening bridesmaids?
10. Nail your intimate wedding outfit with this one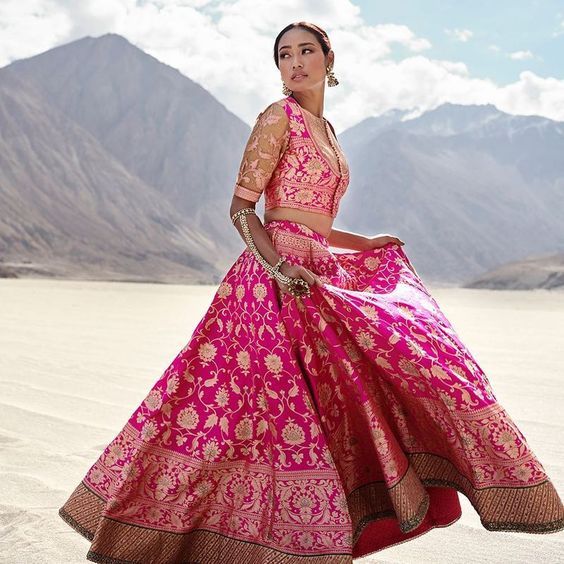 Image via Ritu Kumar★ 4.5
Another gorgeous find! Perfect for a bride.
11. This banarasi lehenga choli screams ethnicity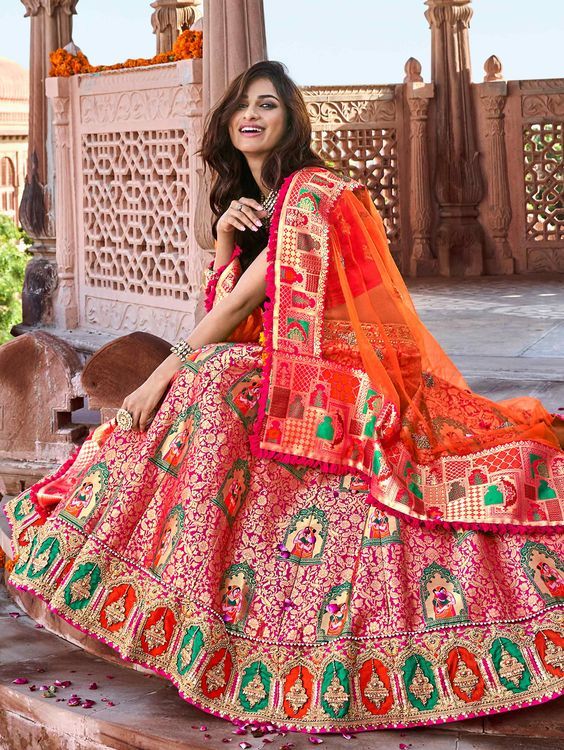 Image via Pinterest
For someone who wants to keep it traditional and OTT!
Whoa, don't know about you but we're definitely swooning over these lustrous pure banarasi lehenga designs. And with that, we hope all you brides-to-be found the one that'll help you look like a dream on your (micro)wedding.
ALSO READ - 25 Different Shades Of Pink We Spotted In Bridal Lehengas!