Powder Blue Lehengas That'll Make You Hit The SAVE Button
BY Garvita | 06 Jul, 2021 | 6373 views | 5 min read
Lately, we have been seeing a lot of brides wear pastels and pinks for their weddings. They look stunning indeed, but in that swarm of pinks, our eyes caught something different. What? BLUE LEHENGAS!
Powder blue lehengas have a special place in our hearts at WMG. There's something just so subtle yet unique about them and they create a timeless style statement, what say? We went snooping back in our WMG gallery and found prettiest brides who rocked this blue tone with panache!
Can't keep these blues at bay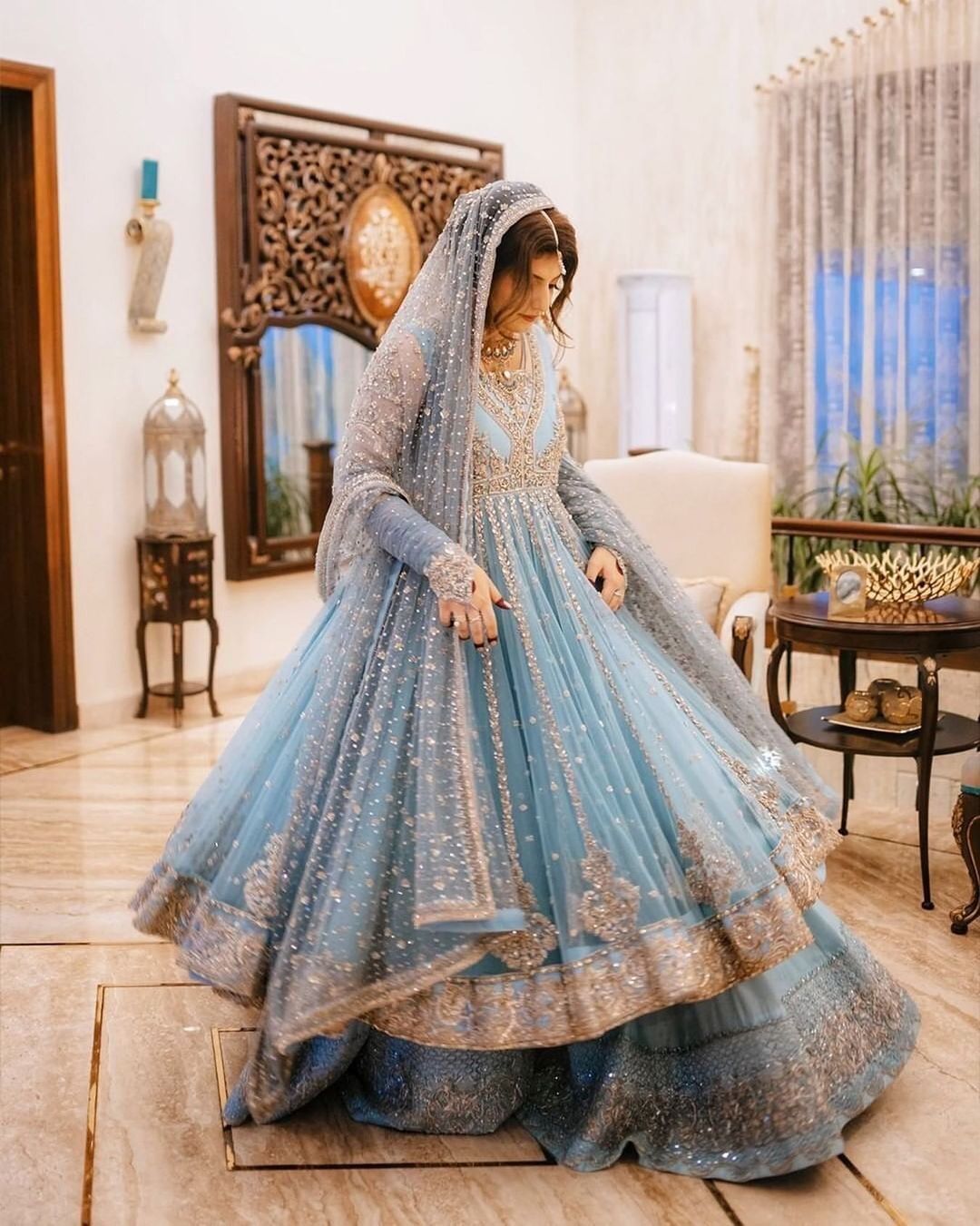 Image via @faizasaqlain
From the silhouette to the details, we saw magic just by looking at this outfit.
This bride who wore one at the Mehndi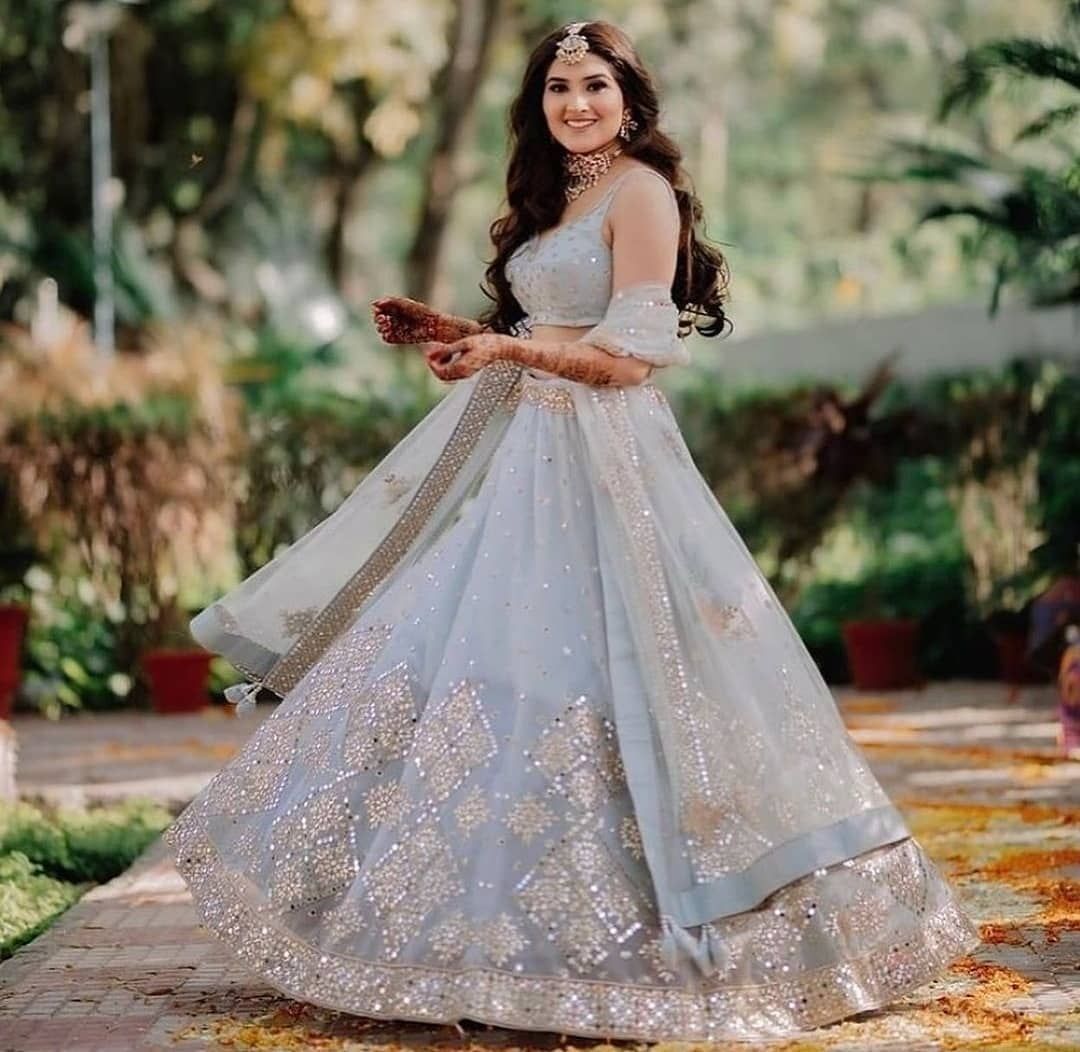 Image via Instagram
Planning to wear pastels for your intimate pre-wedding revelries? You should definitely give this shade a shot.
In awe of this off-shoulder style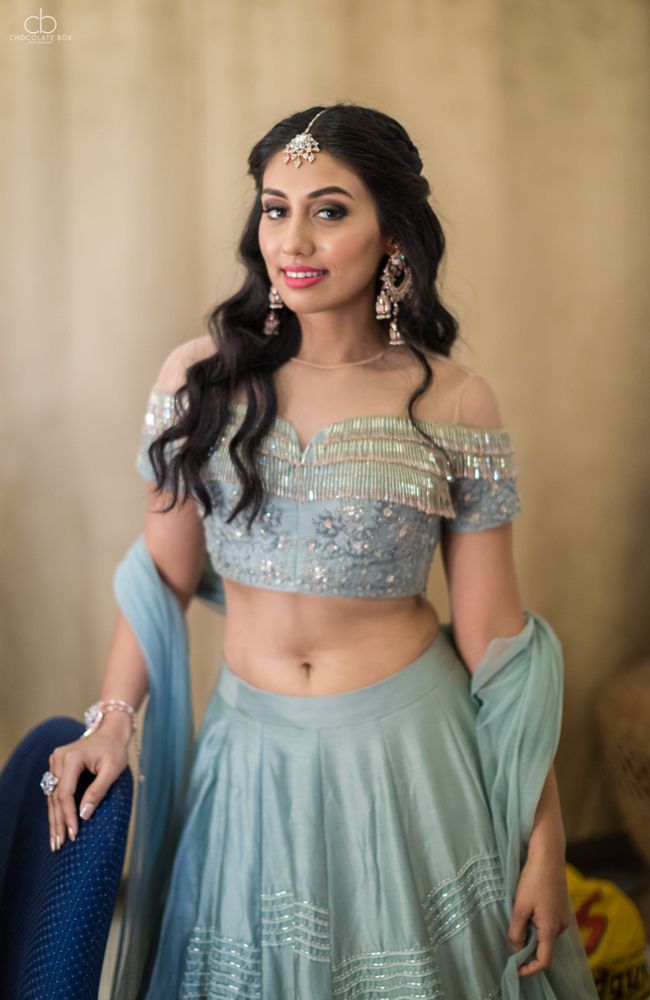 Image via Shivani & Parikshit
Dreamy, ain't it? Love how this lehenga exudes an elegant and sophisticated essence with that glam blouse design. Thumbs up from us!
Safe, intimate weddings and simple powder blue outfits are a vibe
Image via Megha and Jigar
Subtle and spectacular, this powder blue lehenga crafted with glimmering motifs will surely leave a lasting impression.
Want a powder blue, chevron lehenga with mirror work details?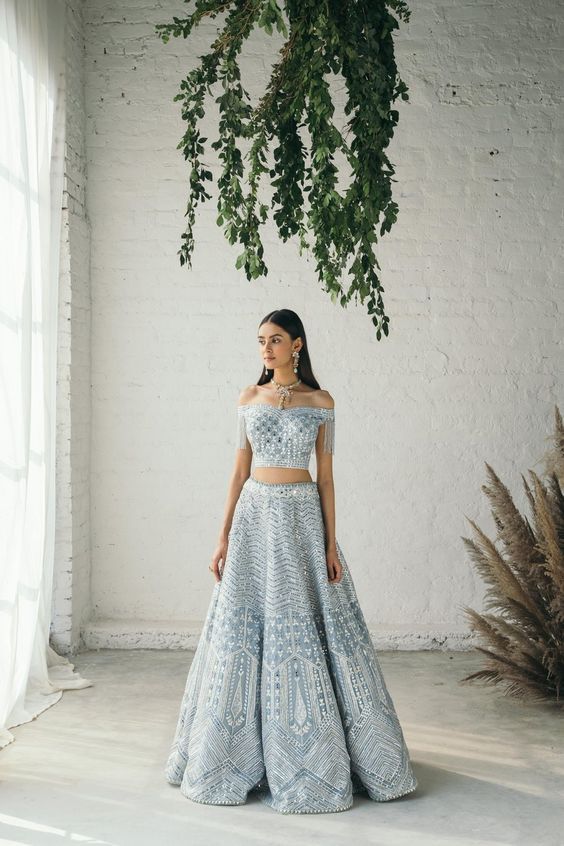 Image via Studio Iris
Big celebration or a small one, this organza lehanga will land you tons of compliments.
This bride nailed this hue with sass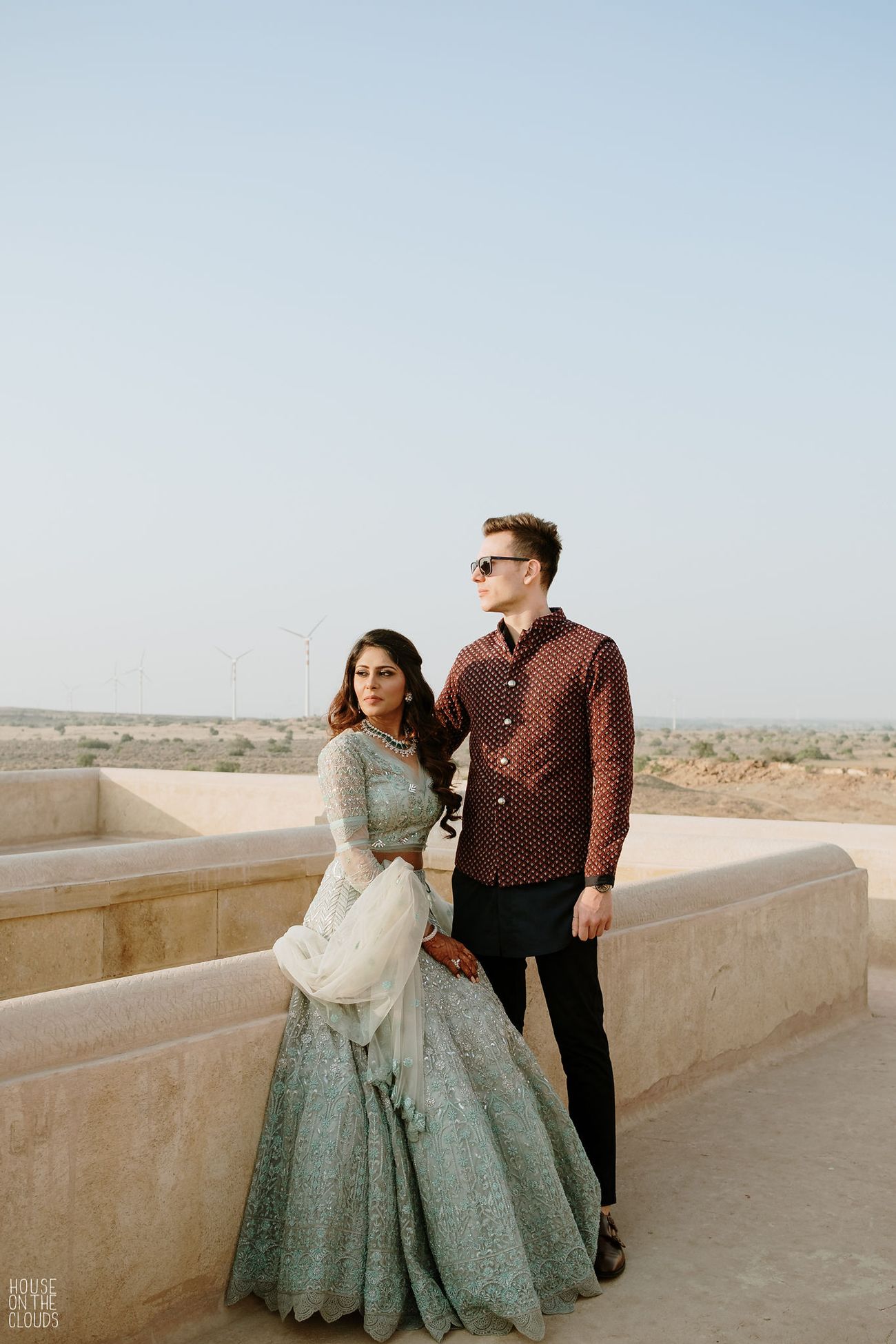 Image via Mansi & Samuel
The couple chose to take a contrast route at their Sangeet. Looks like, we need to create a fresh Pinterest board for it!
Oh boy, the silver foil work is hard to ignore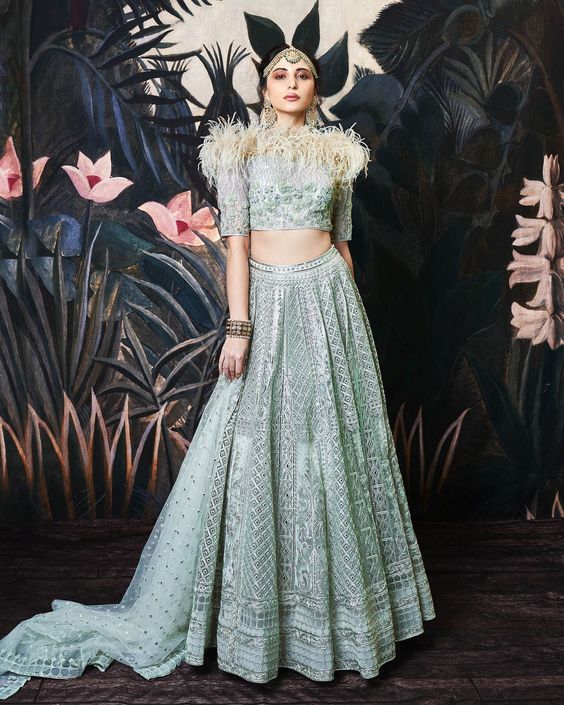 Image via Falguni Shane Peacock
Imagine entering in a masterpiece like this one, with your bride tribe hyping you up - wow, a sight to behold.
And this one's for a millennial bridesmaid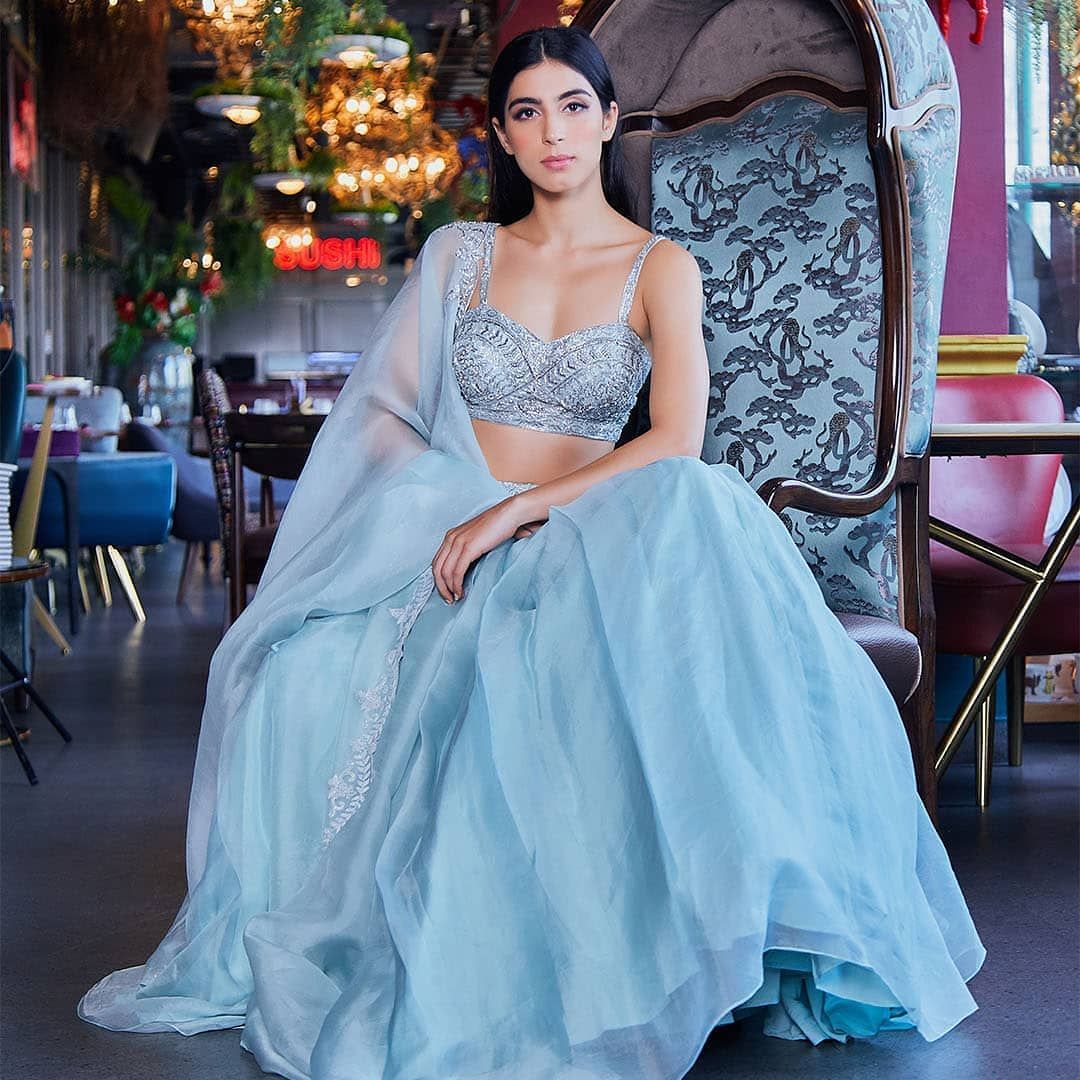 Image via sanskrit_hk
You know how modern bridesmaids prefer light, simple outfits and this one perfectly ticks off their expectations. Psstt.. it'll also help you with grooving (a little more) on the dance floor.
This Fashion Blogger Bride Who Chose A Powder Blue Gown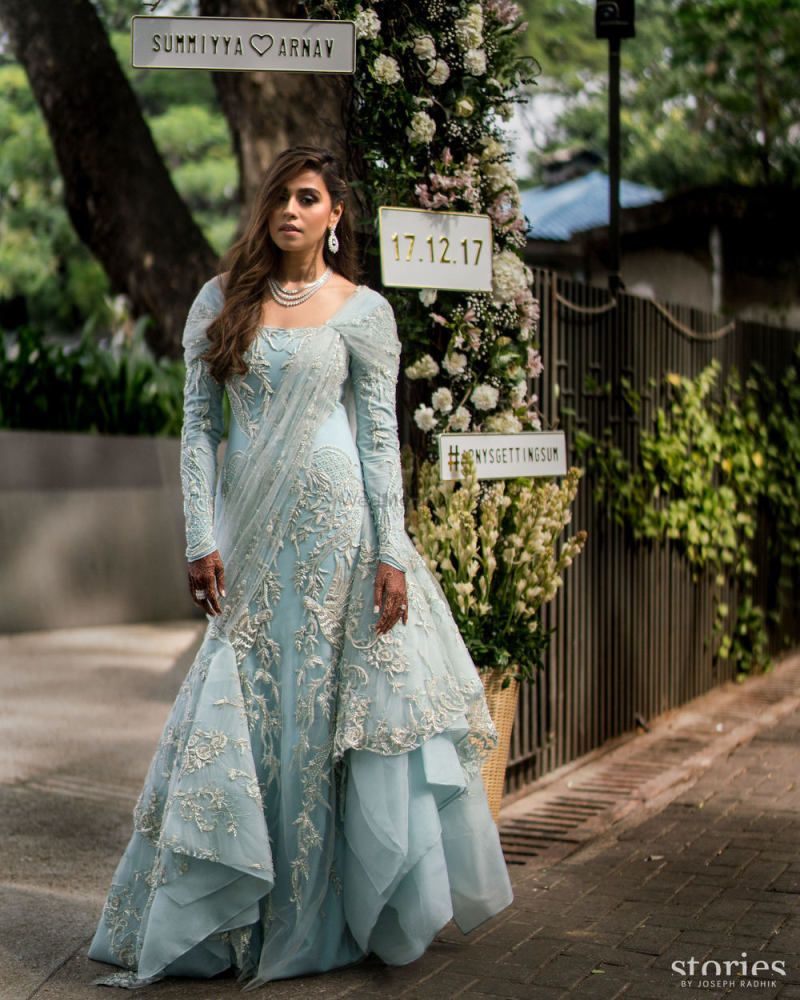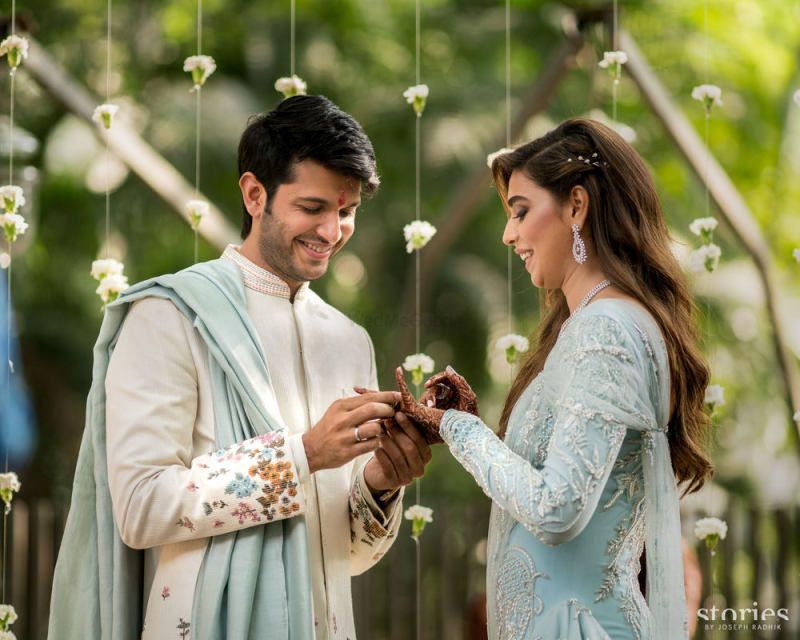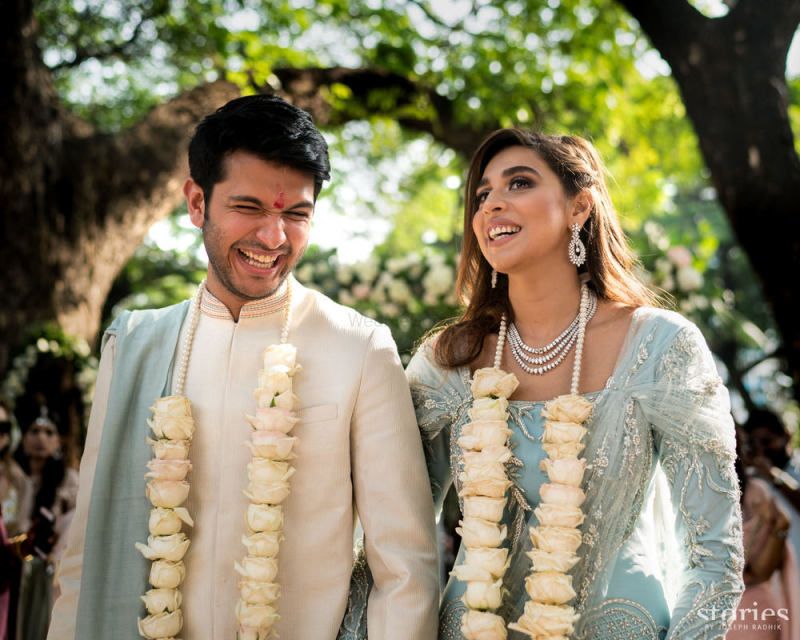 Photography by Stories By Joseph Radhik★ 4.5
Stylish, chic and fabulous - blogger Summiyya's morning wedding in a Gaurav Gupta ensemble was nothing short of a dream. What else do you expect from a fashion blogger?  Her powder blue gown with sequins was totally glam yet practical and made her wedding and the outfit a talk point on Instagram. Full points on coordinating the look with those white roses for the jaimala!
This Bride Who Paired Blue With Candy Pink Chooda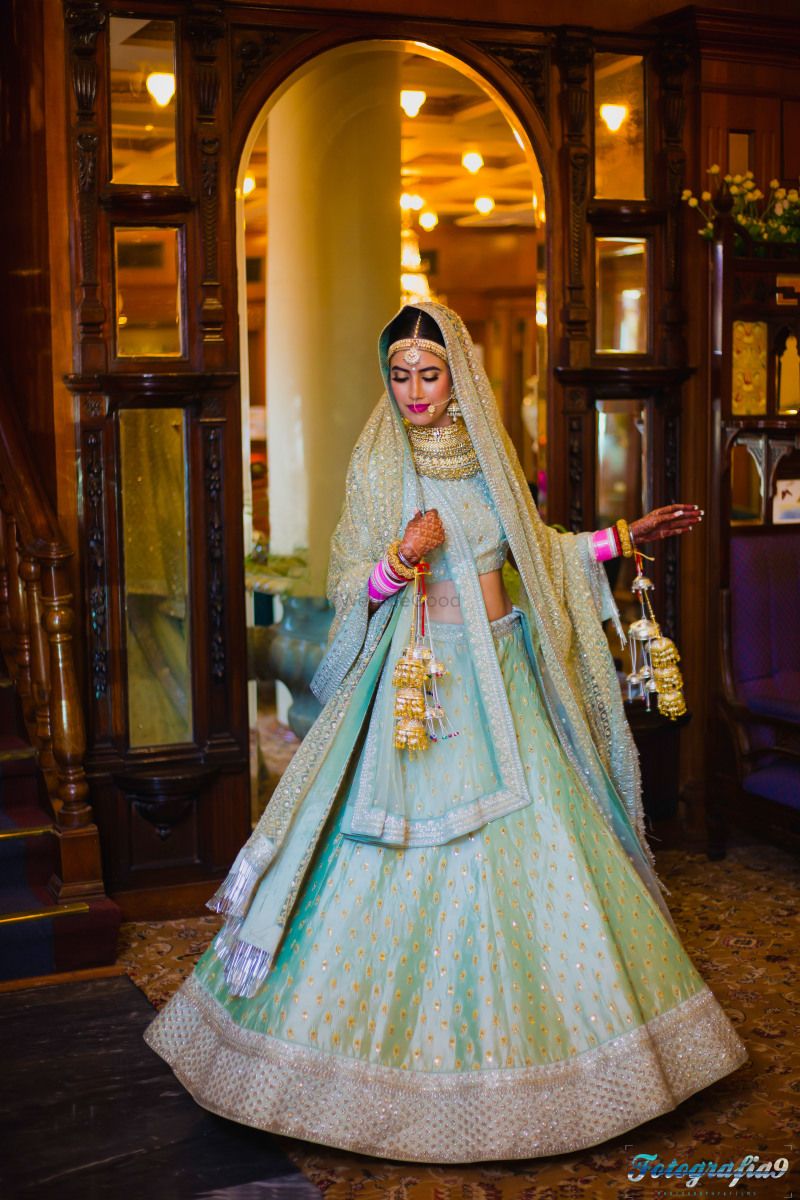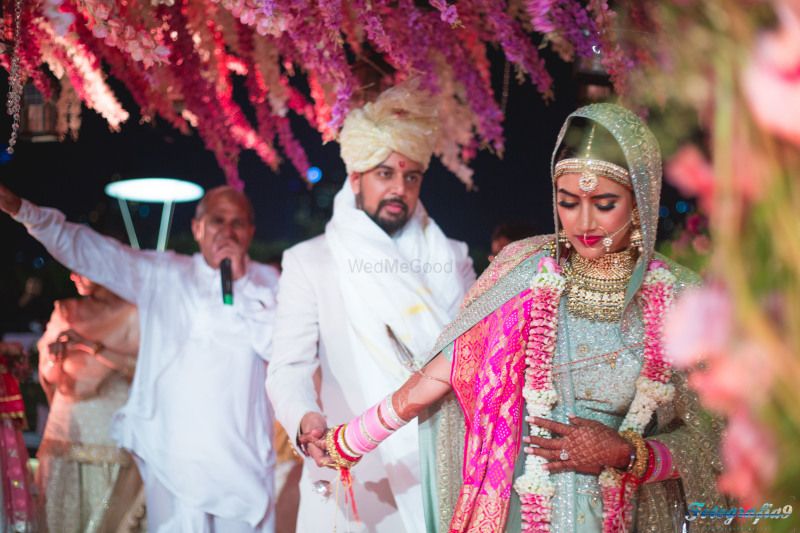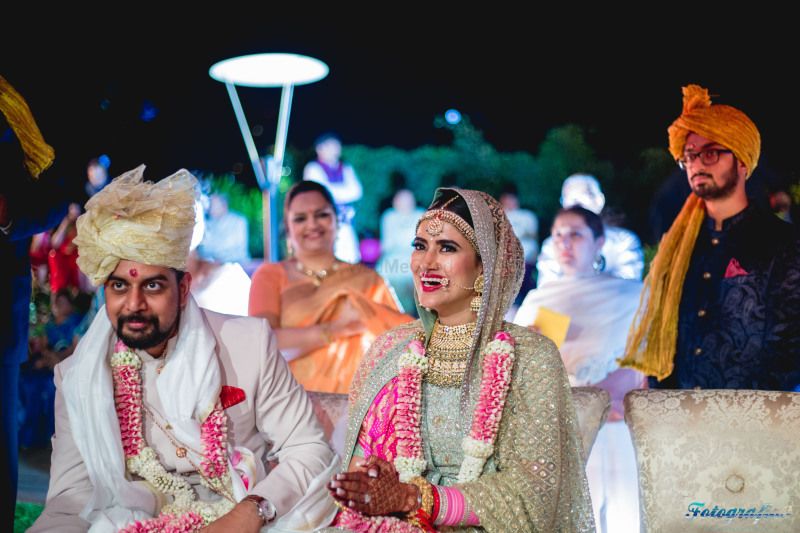 Photography by Fotografia9★ 4
 Just when you thought brides look good only in traditional outfits and colors, think again! The contrast of the golden choker perfectly complemented bride Alisha and her offbeat powder blue and gold ensemble. And that chooda in candy pink- oh so delicious!
This Bride Who Wore A Swarm Of Colors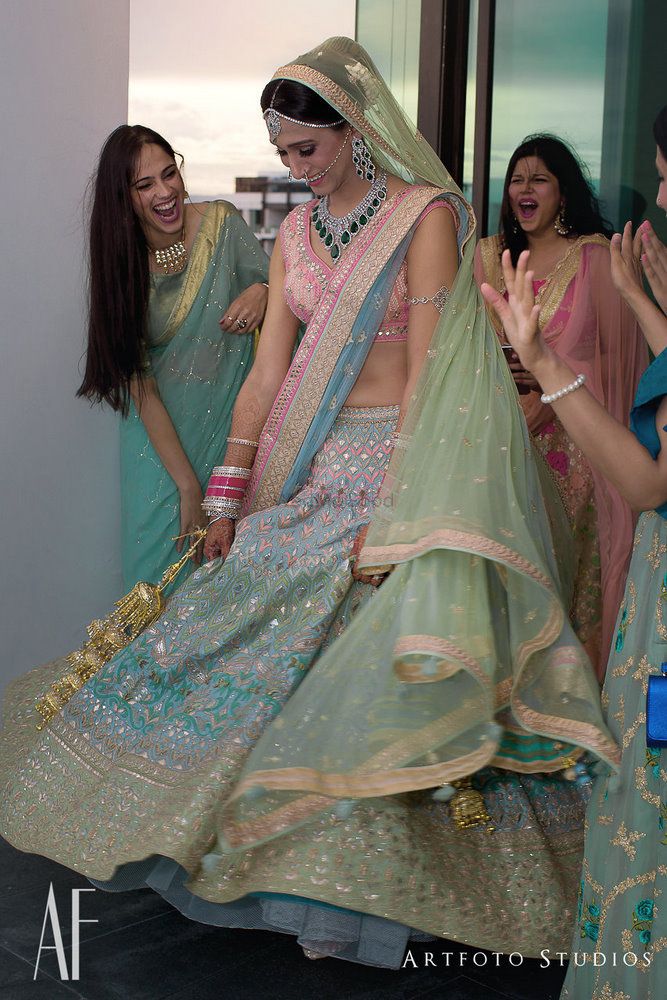 Pictures by Artfoto Studios★ 5
We love when a bride experiments. You guys know we also love a bride in pastels. When both these factors come together, it's nothing but sheer bliss! Look at that gorgeous combination of powder blue with mint green and pink. So much character- are we in heaven already?
This Bride Who Wore A Tasseld Powder Blue Outfit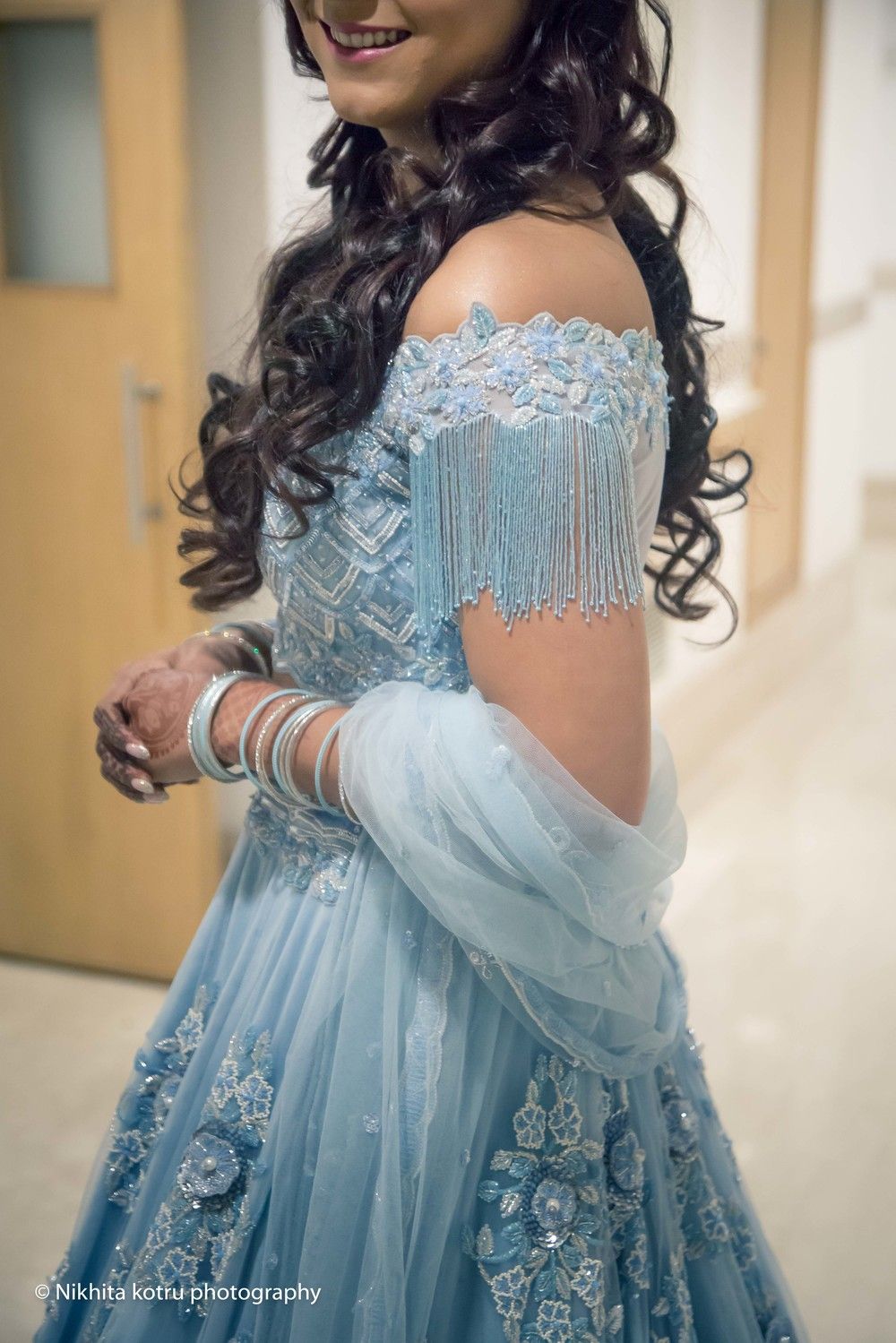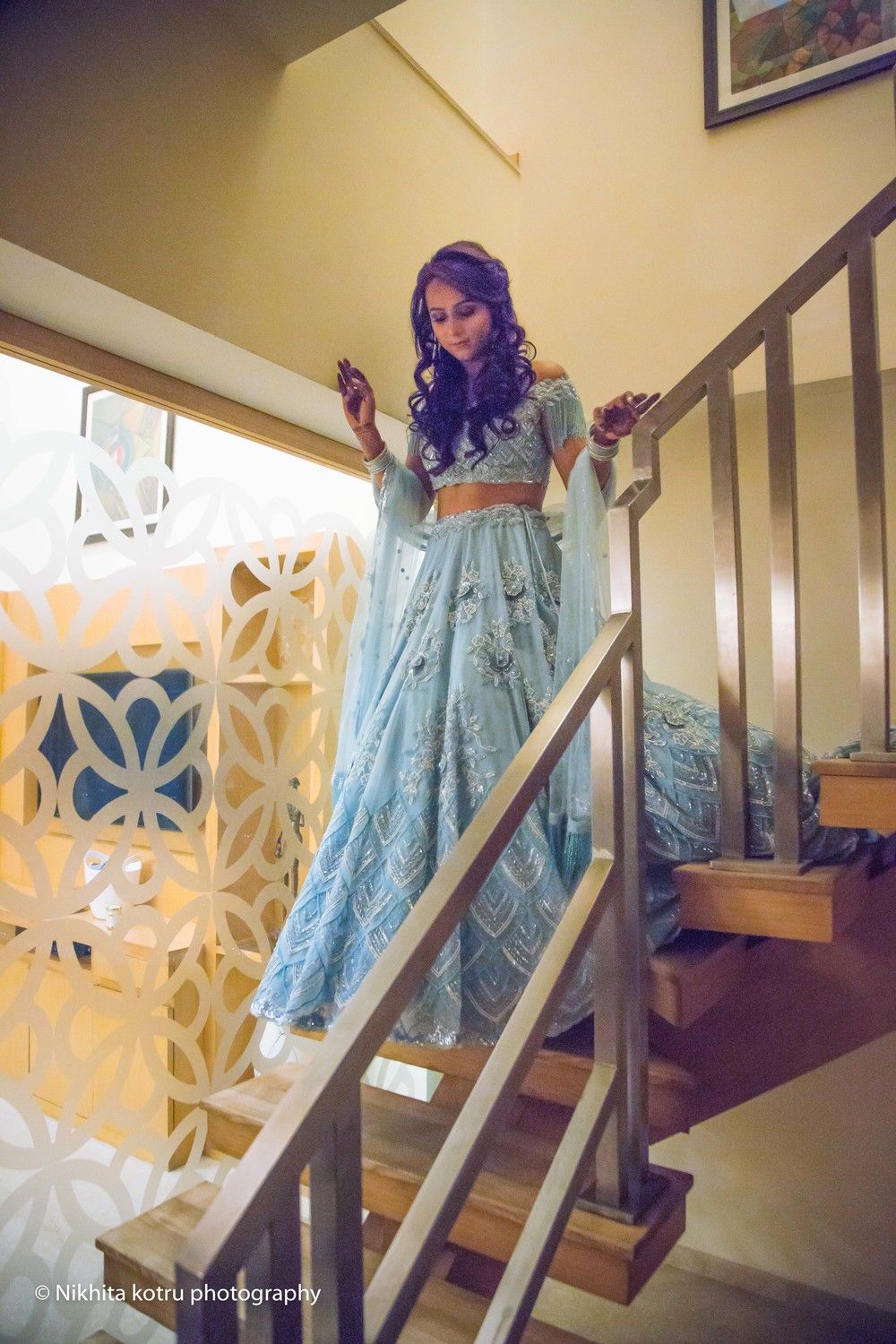 Photography by Nikhita Kotru Photography★ 5
Long, glam and flowing- Jyotsna wore this powder blue outfit for her engagement. Her outfit has all the ingredients for a stunning outfit - beads, tassels, net and sequins. May we say she has created a timeless look?
This Minimalist Bride In Powder Blue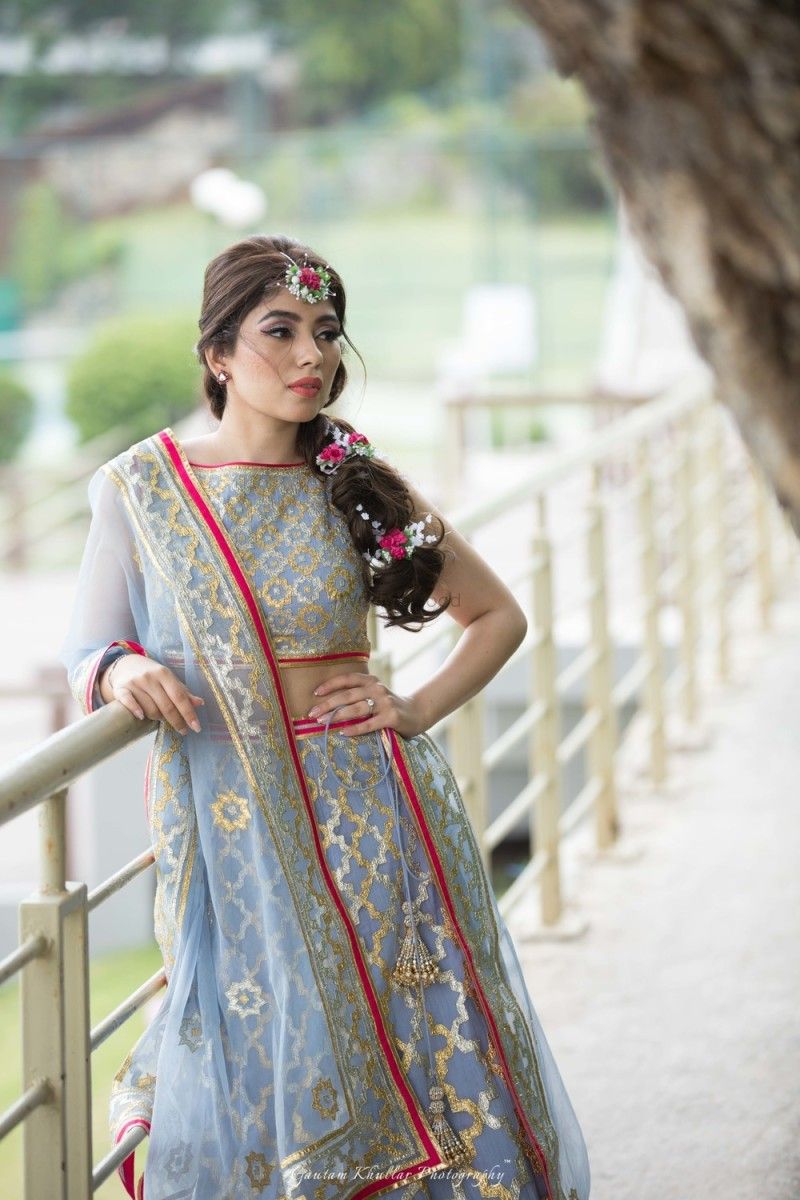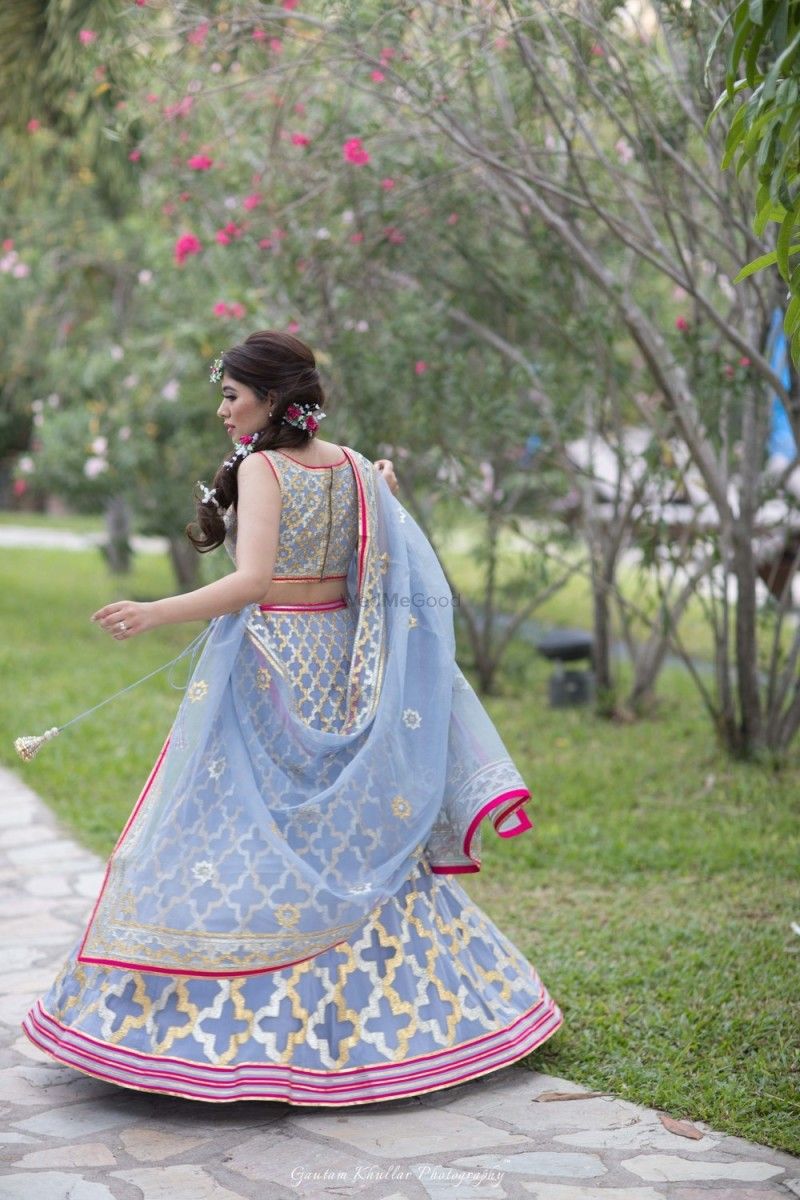 Photography by Gautam Khullar Photography★ 4.8
Simple, elegant and so pretty! This bride chose a minimalist outfit and paired it with flowers in her hair. We love Simrat's breezy mehendi look, don't you?
This Bride With A Hell Lot Of Shimmer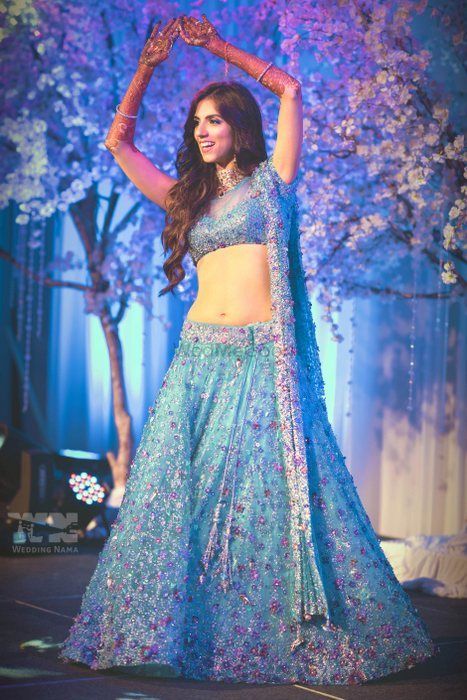 We love dancing brides like this one - a chiller vibe with happy smiles! And look at that shimmery lehenga with mauve sequins! We likey!
This Bride In A Princess-like Ensemble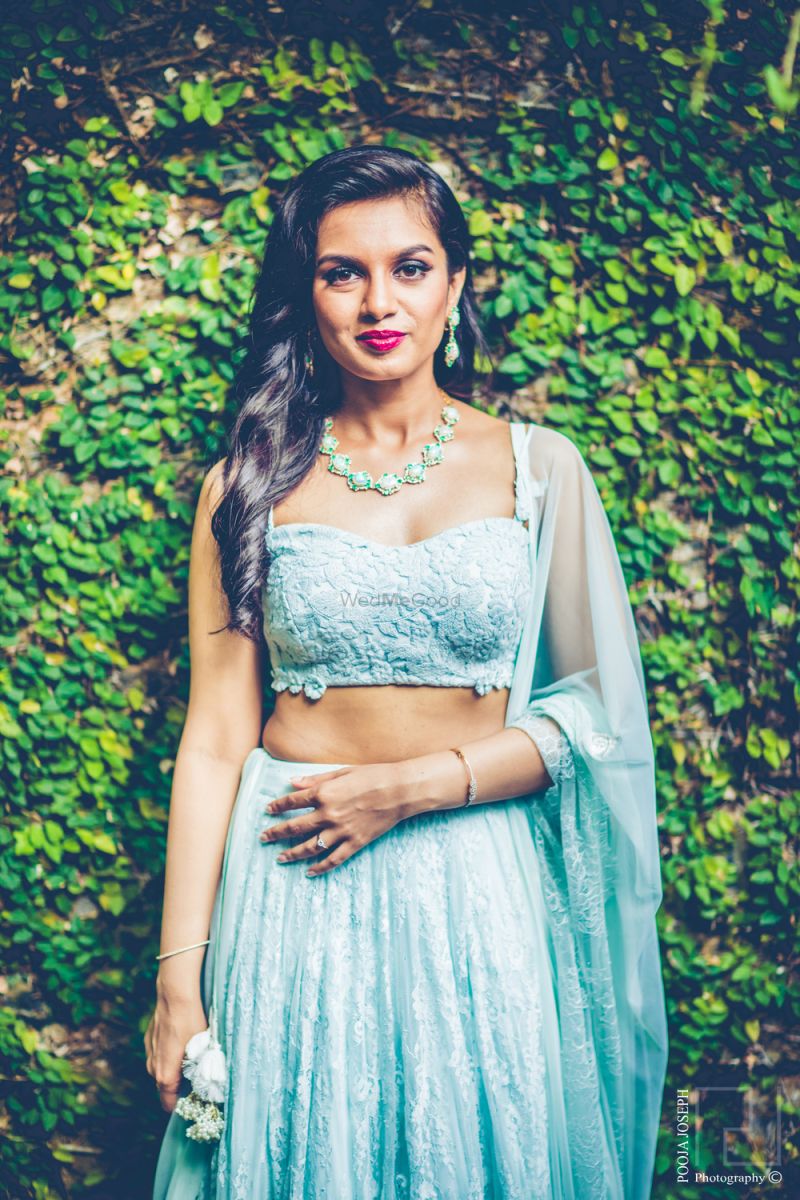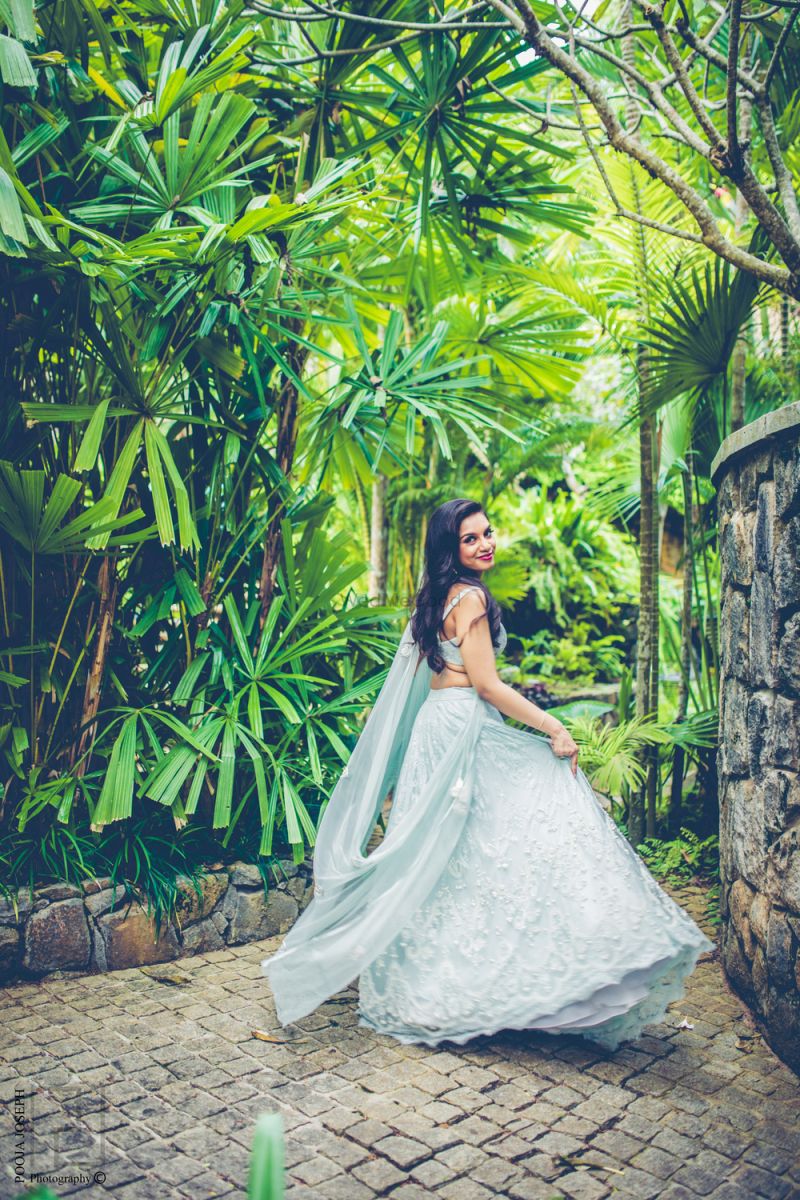 Photography by Pooja Joseph Photography★ 5
Bride Raga wore this minimalist powder blue for her engagement and shook us all!
This Bride In Powder Blue And Baby Pink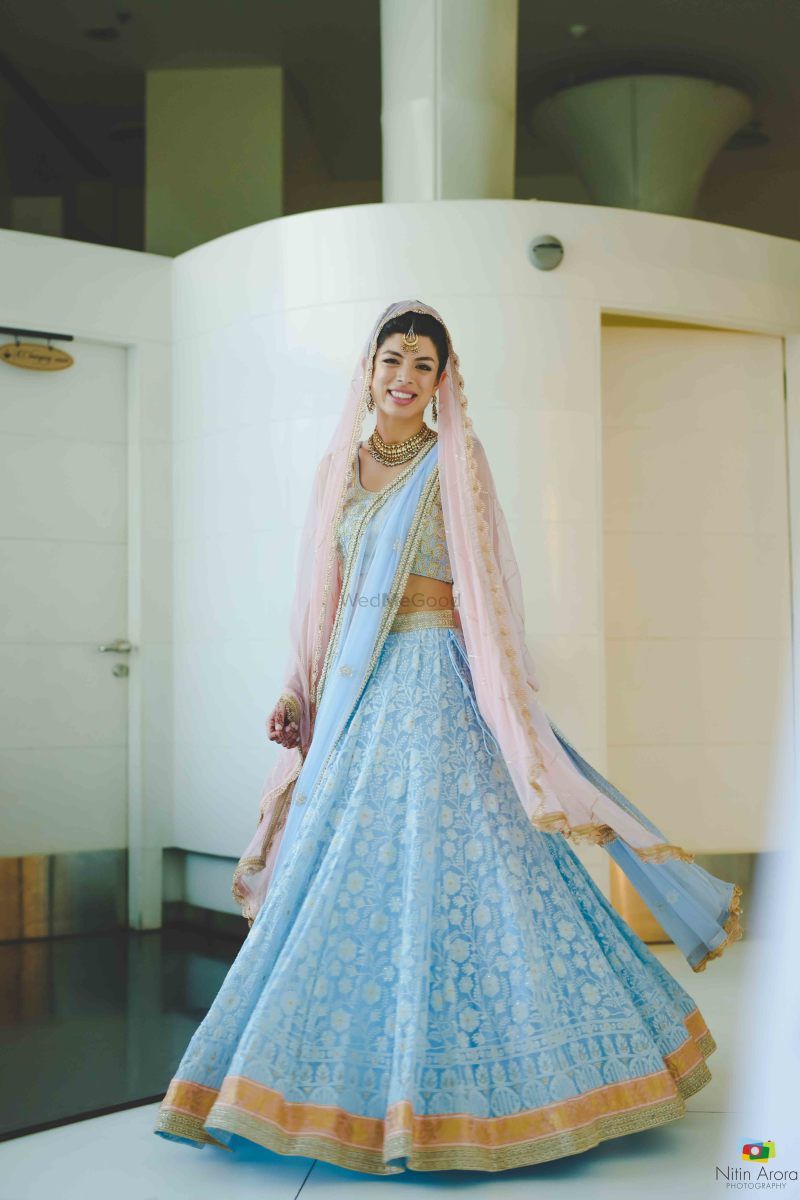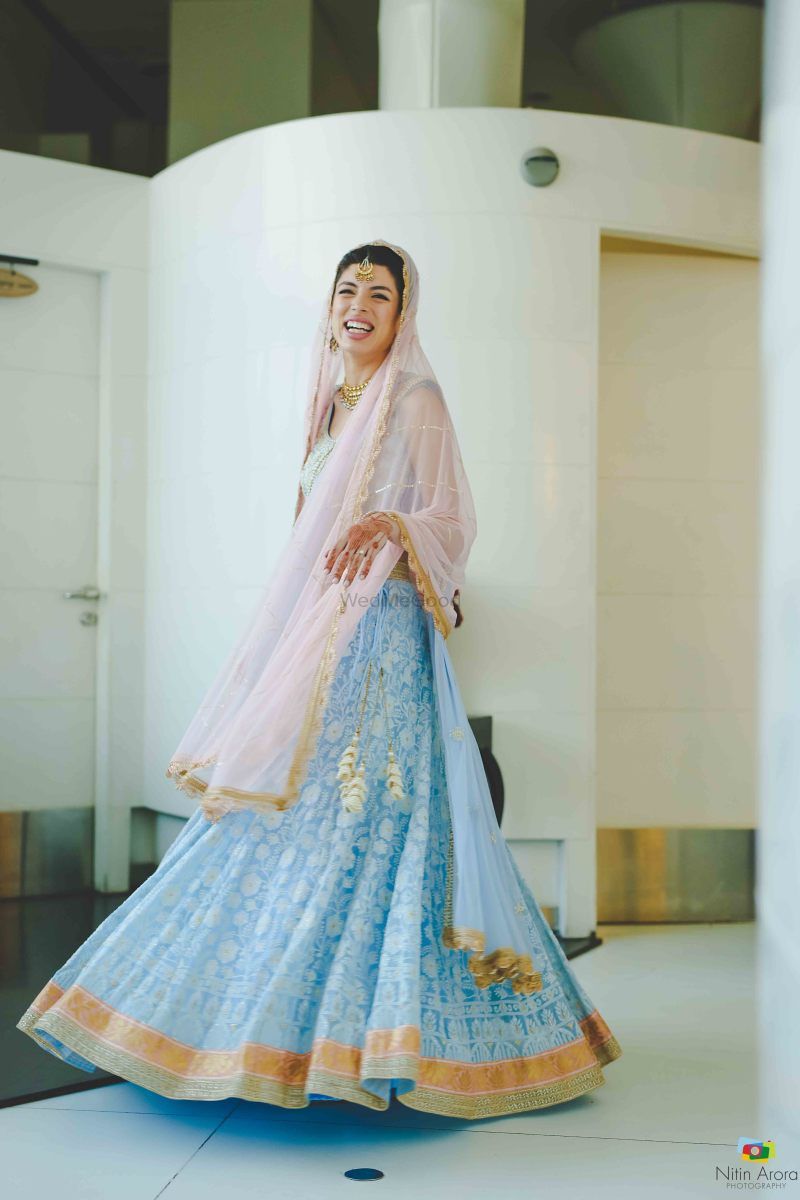 Photography by  Nitin Arora Photography★ 4.8
Thanks to this bride, blue and baby pink are officially our favourite color combinations! We love how this bride didn't go heavy with embellishments and jewelry and kept her look subtle and simple, ideal for a morning or a beach wedding!
 This Bride Who Wore Blue On Her Mehendi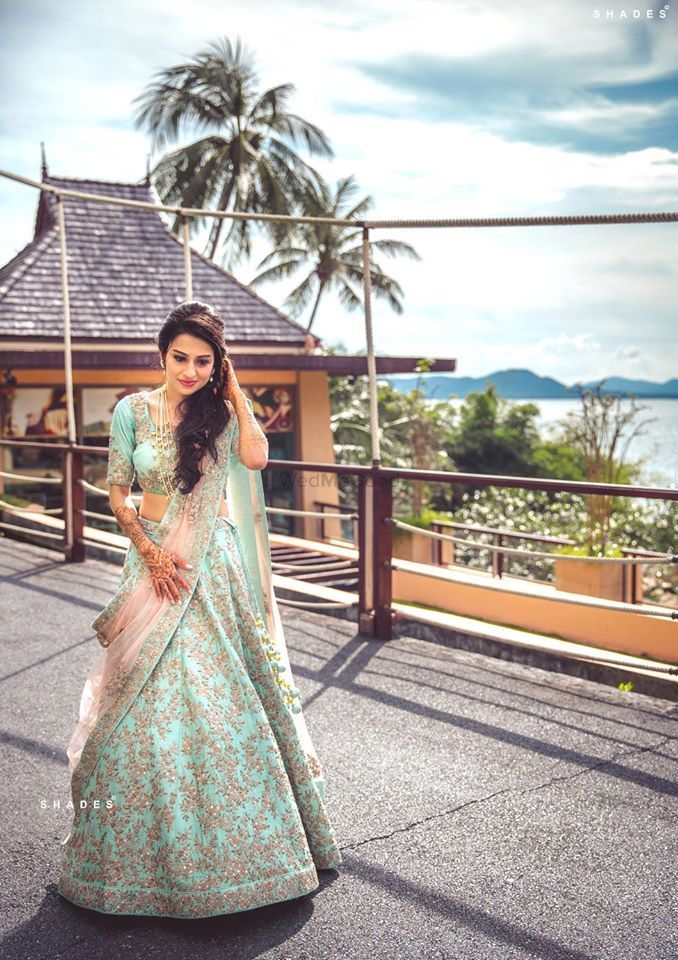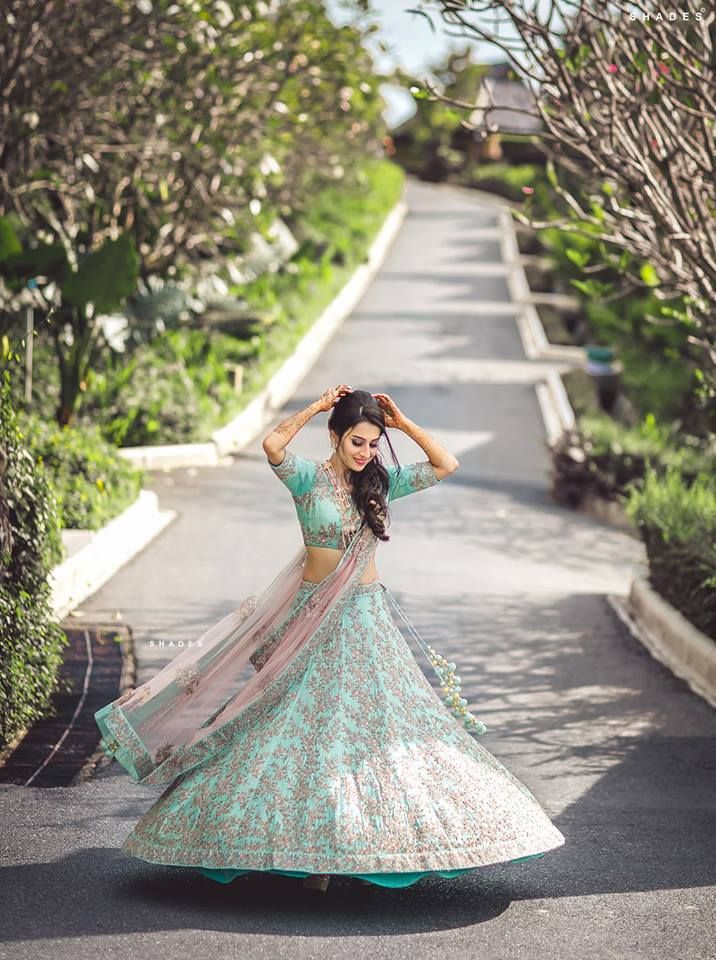 Photography by Shades Photography
This bride chose powder blue for her mehendi and paired it with light bubblegum pink, without looking OTT and that's some inspiration for you guys to gather!
This Matchy-Jewellery & Fab Outfit In Dusty Blue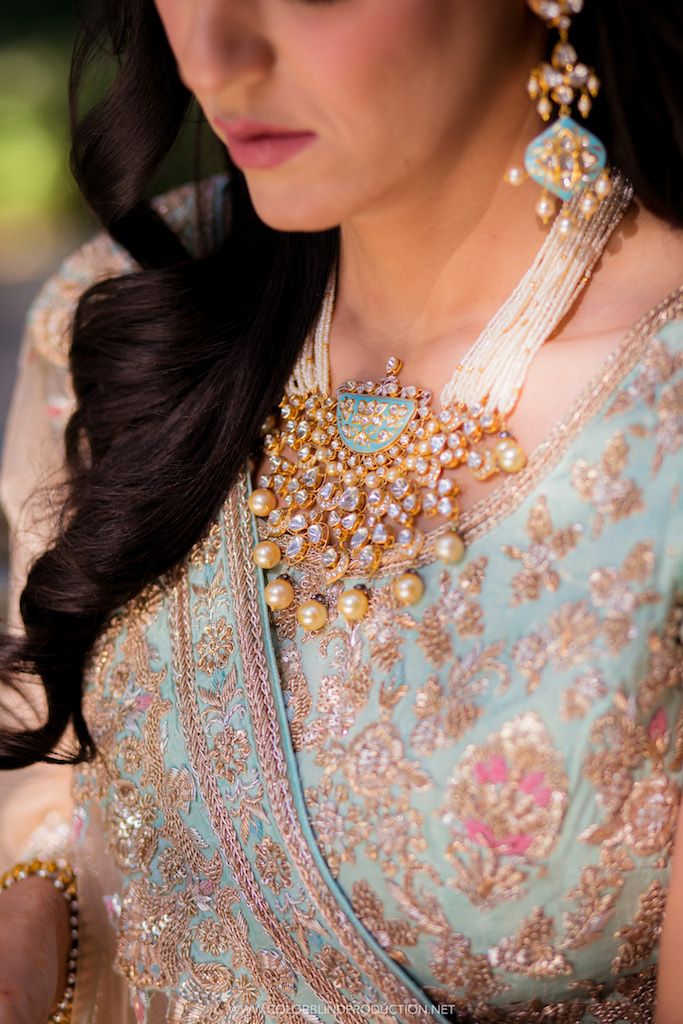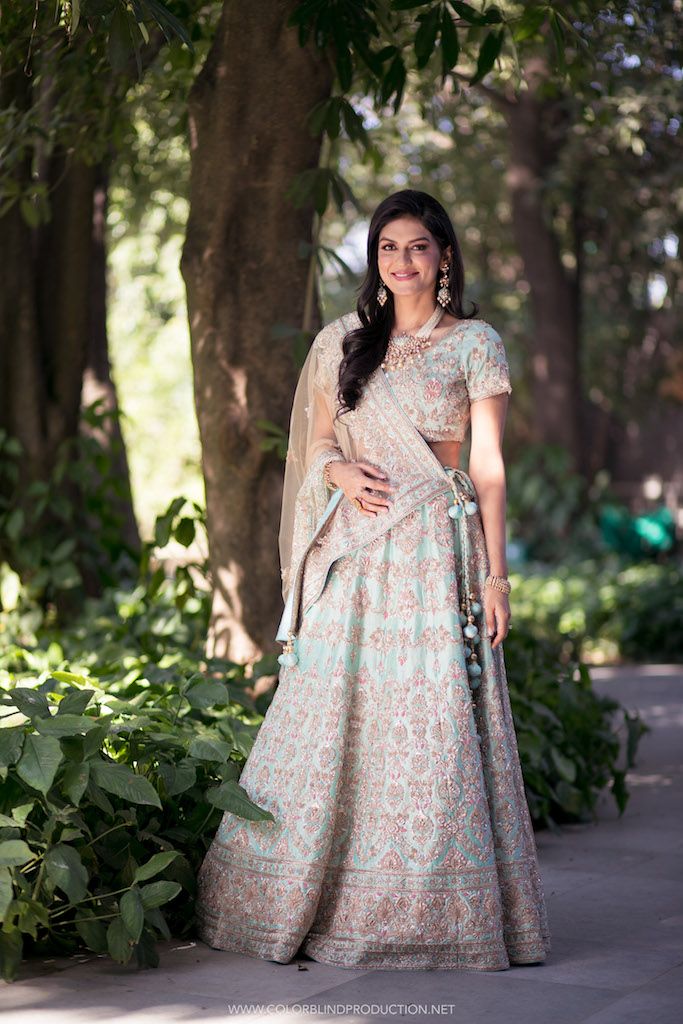 When you match your pretty enamel, Meenakari jewellery and it's heaven! Would you look at this beauty - a nice zardosi design with specks of pink. Swoon!
This Stunning Combination of Silver and Blue
We know silver and blue make a combination to die for, but this pretty, we wouldn't have imagined! Ah, this stunning blue lehenga with silver embroidery is a little glitter, some shimmer and a lot of elegance!
Which one is your favourite? 
ALSO READ - All The Shades Of Blue – Blue Lehengas That Took Our Breath Away!