35+ Mandala Mehendi Designs For The Lovers Of Old-World Charm!
BY Anupriya | 21 Jul, 2022 | 73979 views | 8 min read
In the age of Pinterest boards and WMG photo gallery that is brimming with new & edgy mehendi designs, if your heart still goes out for classics, we've got something that will satiate your hearts - The Mandala Mehndi Designs! Owing to their simplicity and old-world charm, mandalas are a major hit, not just amongst our brides but their main girls and mommies too. These concentric circles, often accompanied by florals & bootis, create a pattern so satisfying, that it is hard for a mehendi enthusiast to not give it a try. They serve something that every bride would cherish and would want a part of it in their mehndi design. Hence, we thought of sending some distractions your way, so you could start planning for your bridal mehendi. Check out these super alluring & fulfilling mandala mehendi designs, and screenshot the ones that grabbed your eyeballs.
Mandala mehendi designs for the OTT Brides
The mandala design details are hard to ignore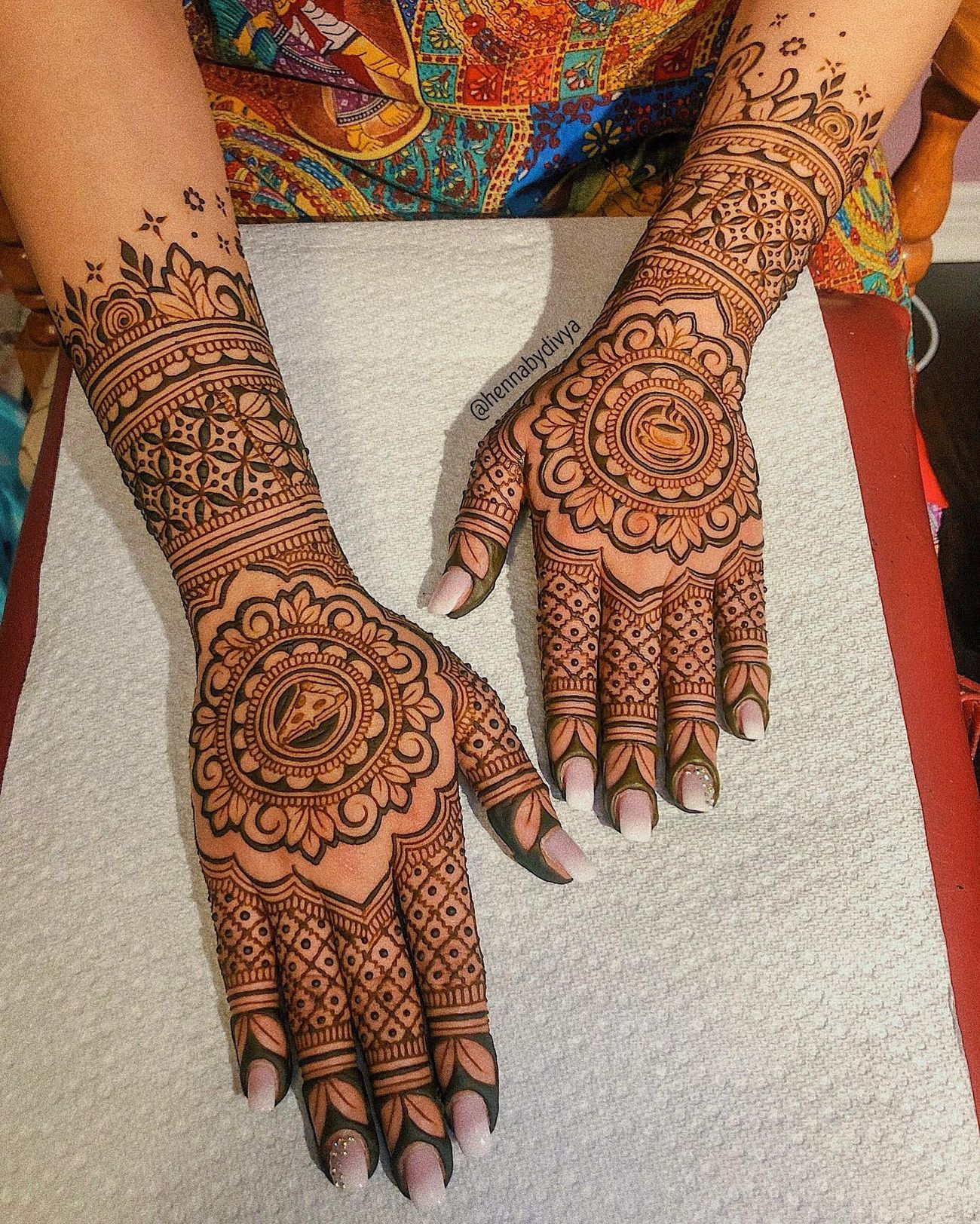 Image via Henna by Divya
Coffee & pizza, anyone? This classic mandala mehendi design with a dash of quirk is pure love.
We are here for the impeccable bridal henna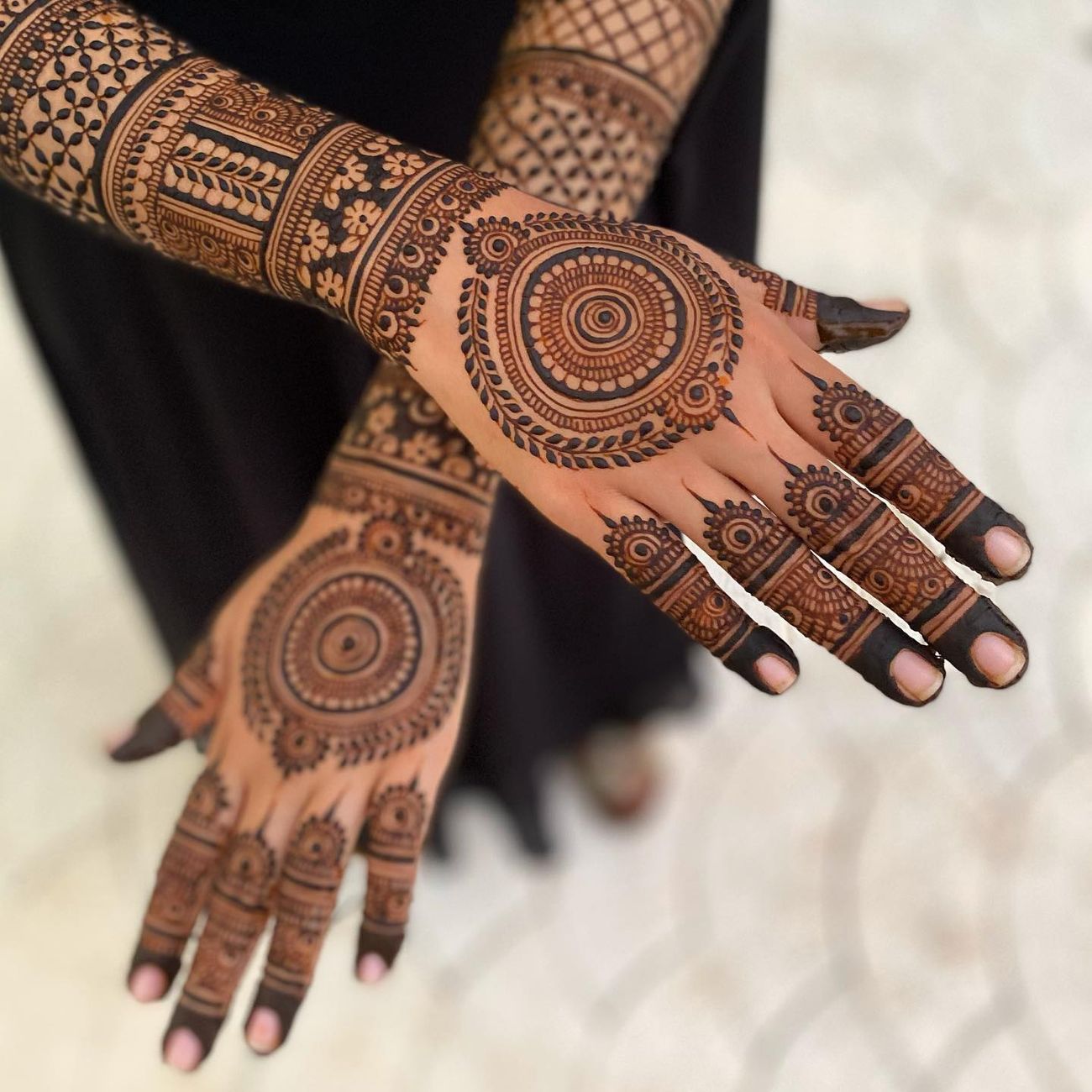 Image via mehandiby_isha
Accentuated with leaves and blooms, this mandala mehndi design spells elegance. Love how it's maximal yet extremely neat!
A classic mandala mehndi design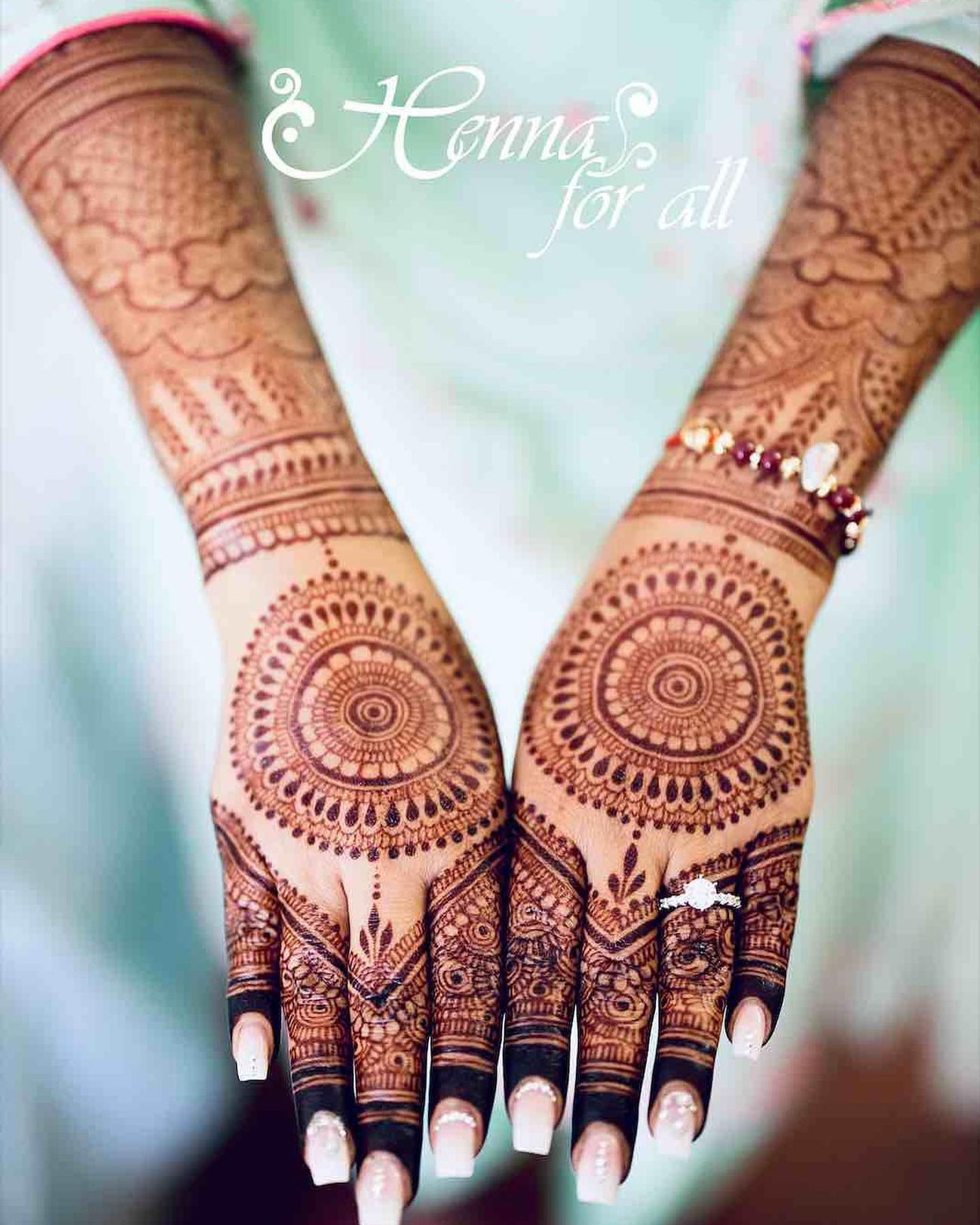 Image via hennaforallny
Well, a timeless old mehndi design is irreplaceable! So if you don't wish to experiment, save this without second thoughts.
Bridal mehandi design with floral charm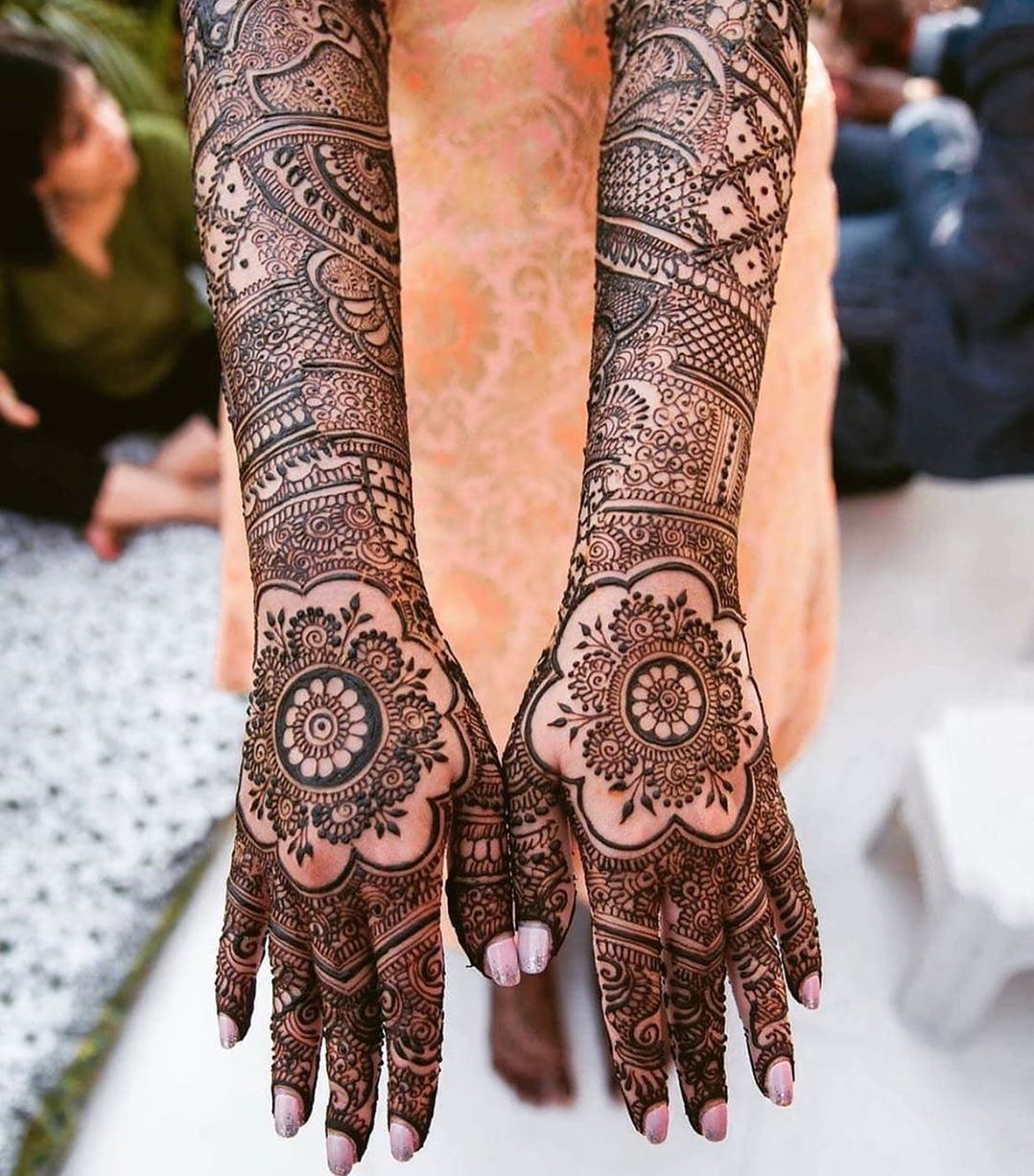 Image via Raju Mehandi Artist★ 4.9
Eyeing that back of the hand mehendi design featuring spaced out floral mandalas in the center! Looks so pretty! If you're one of those who want to combine floral with a bit of tradition, there you go..
This old mehndi design is about symmetry and intricacy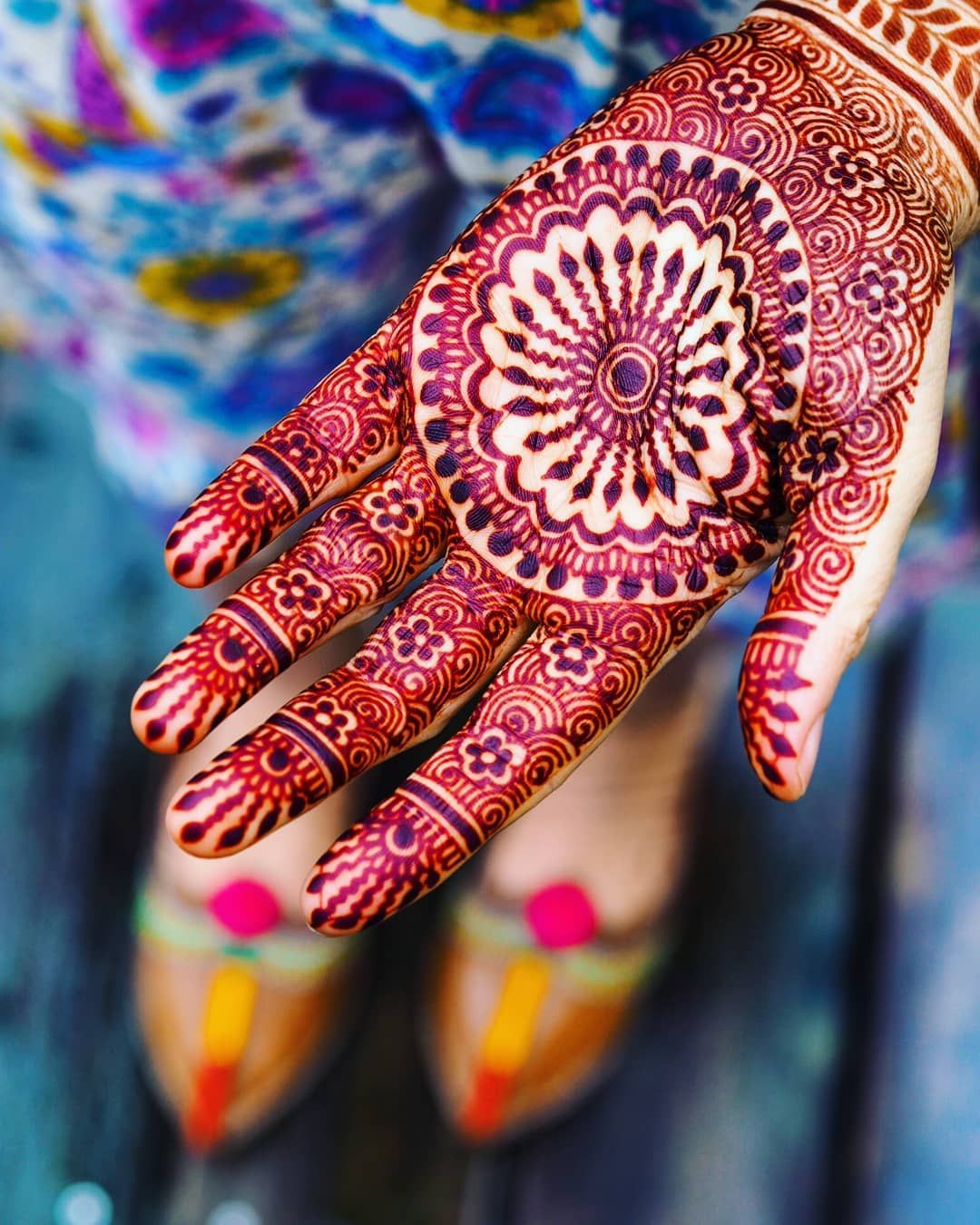 Image via Henna Lounge
Who else loves pitch dark henna stains? PS. Totally love how that mandala pops out so uniquely from that bridal mehendi design. Not to mix up a lot, just get repetitive simple mehndi design like this, ever so stylish
The voguish half & half mandala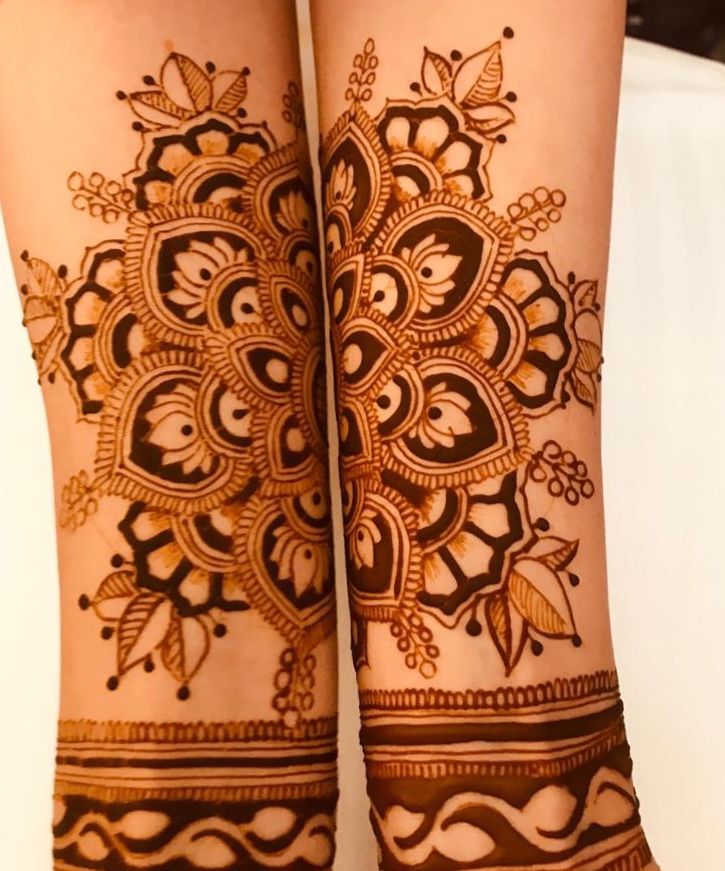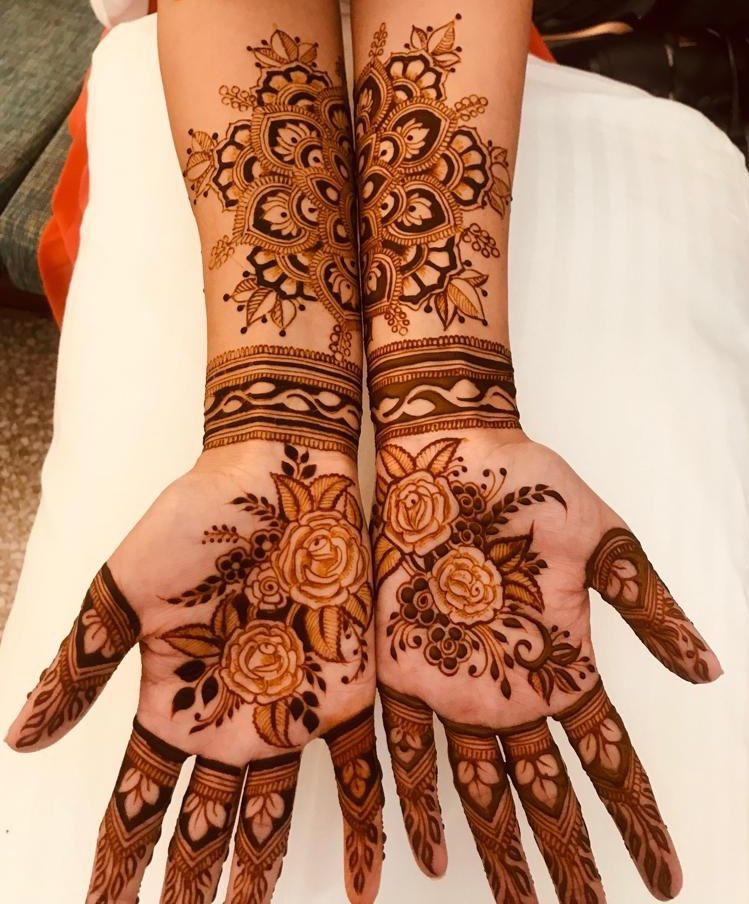 Image via Harin's Mehndi★ 4.5
If this out-of-the-box half & half mandala design doesn't go with your style, we don't know what will!  These partial thin lines with a hint of bold are all that's trending and would be a perfect bridal mandala henna design. It's a total stunner for our contemporary brides.
Elaborate henna details that look oh-so-stunning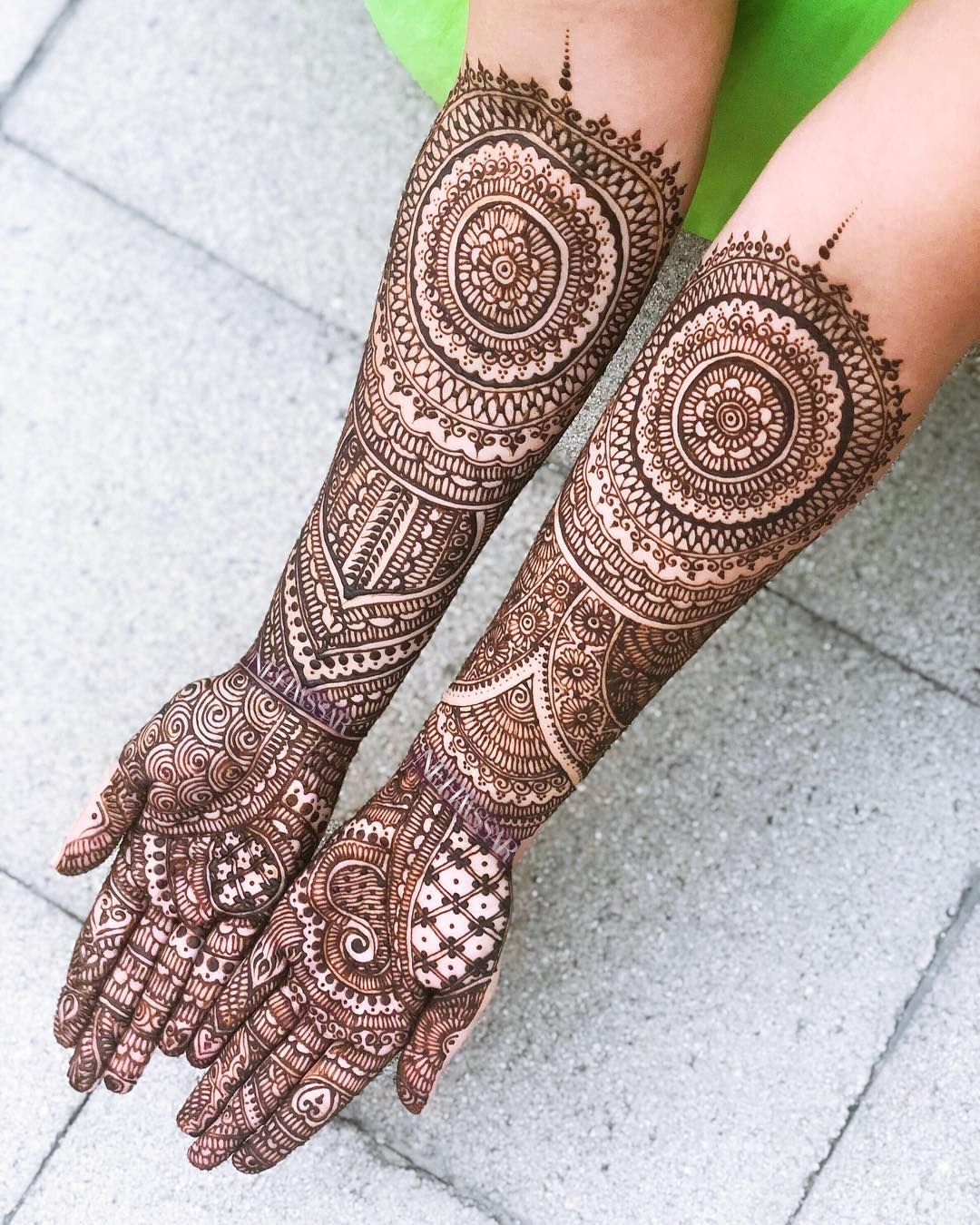 Image Neha Assar
Want to give the usual mandala mehendi designs a miss? How about you swear by this voguish one where the mandala is beautifully spread out across the arm! Fulfilling utmost priority to its history, this mandala mehendi design serves true to its tradition.
For the love of neat and clean patterns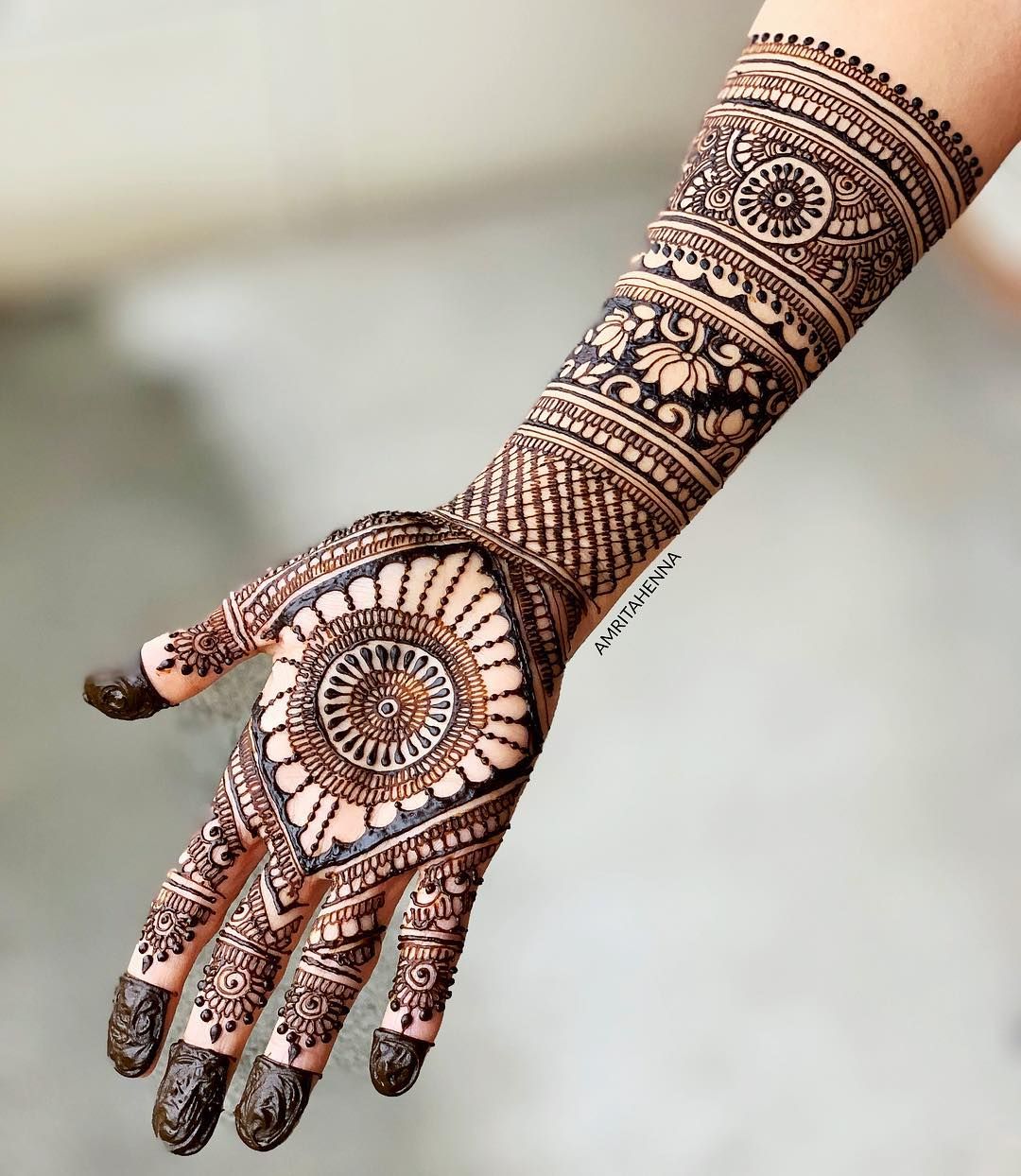 Image via Amrita Henna
Mandala mehendi designs on your mind? Check out this one with a mandala enclosed in a diamond!  Keep your hands full of intricate details and the tips of your fingers as classic as they could get. Isn't it effortlessly gorgeous?
Mehendi with mandala design that looks so Instagram-worthy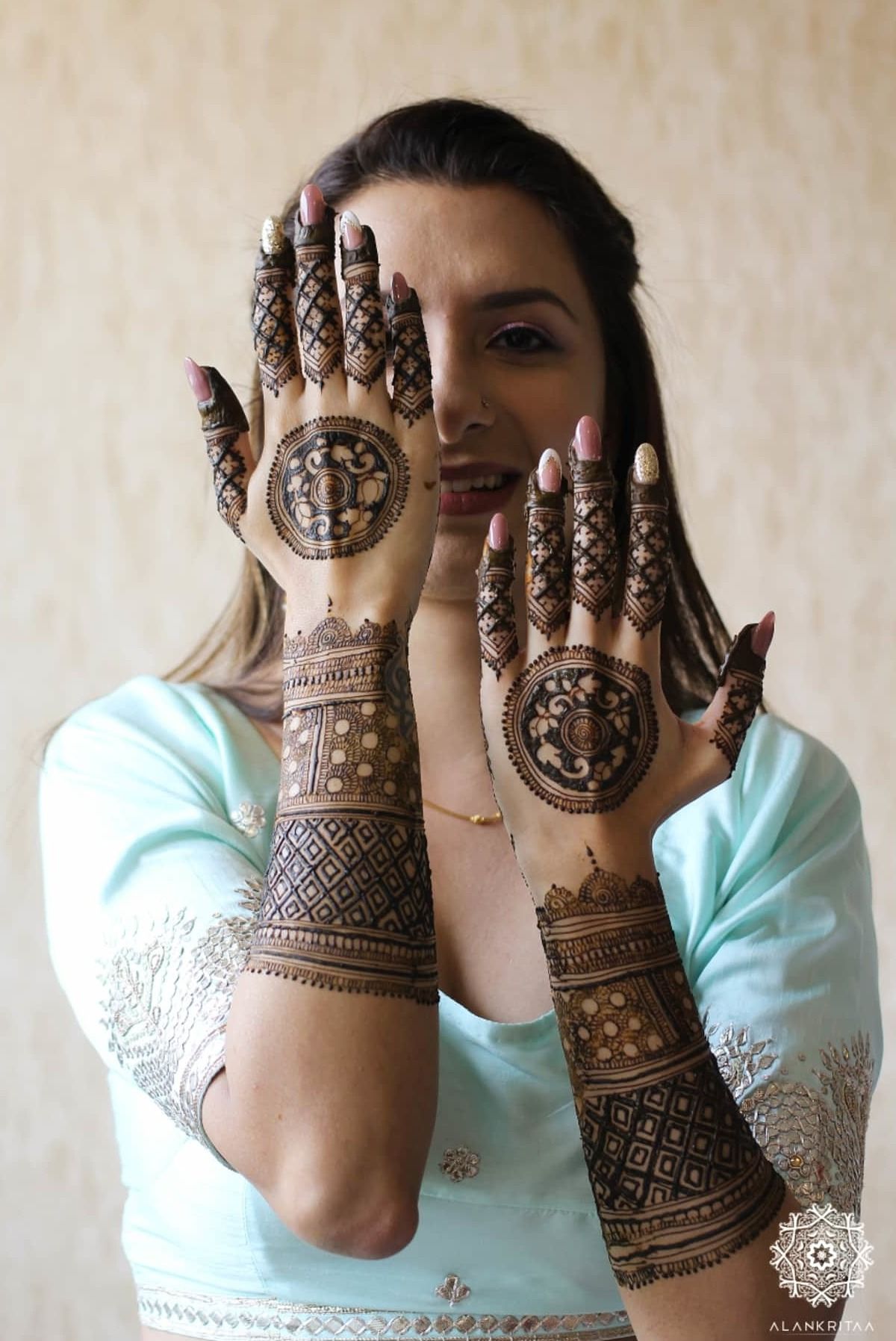 Image via Alankritaa★ 4.9
This full hand mehendi design with artsy mandala motifs will make for a great addition to your bridal glory! Absolutely oh-so-pretty makes it stylish and something a bride would definitely want on her hands.
An amalgamation of Mandalas, checks & all things pretty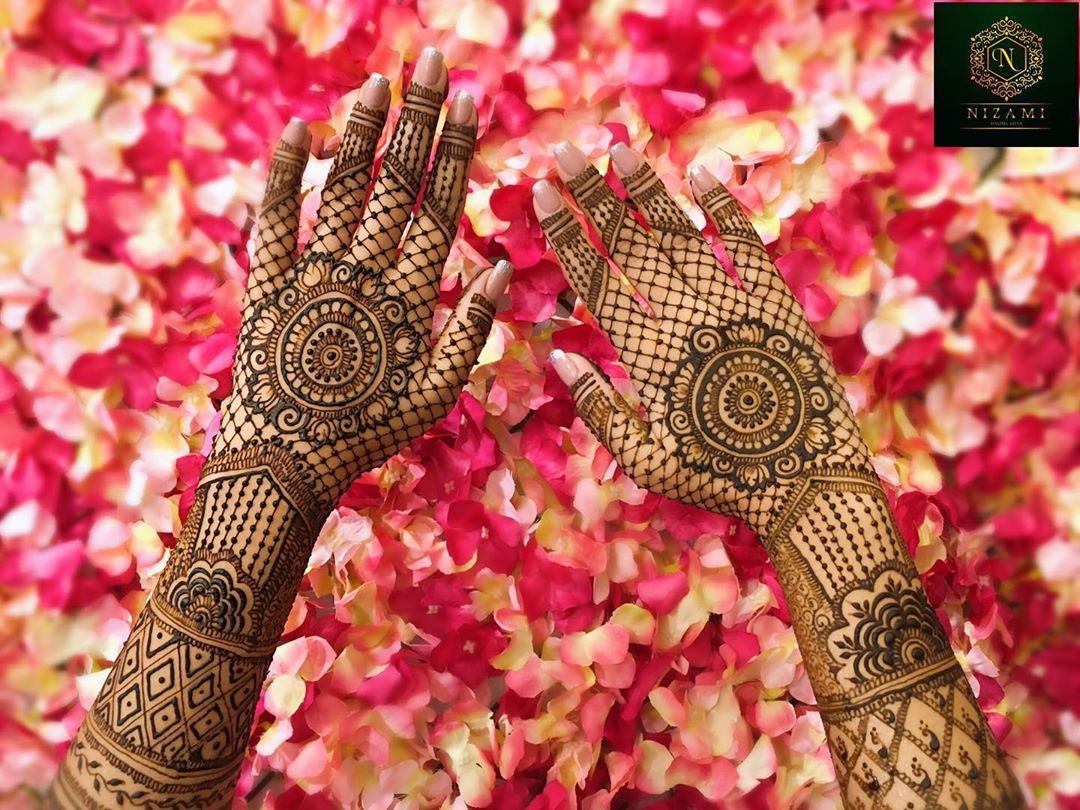 Image via Nizami Mehendi Arts★ 4.8
We are sold at the mere sight of this full hand mehendi design with detailed mandalas.
Floral mandala mehndi coupled with jaalwork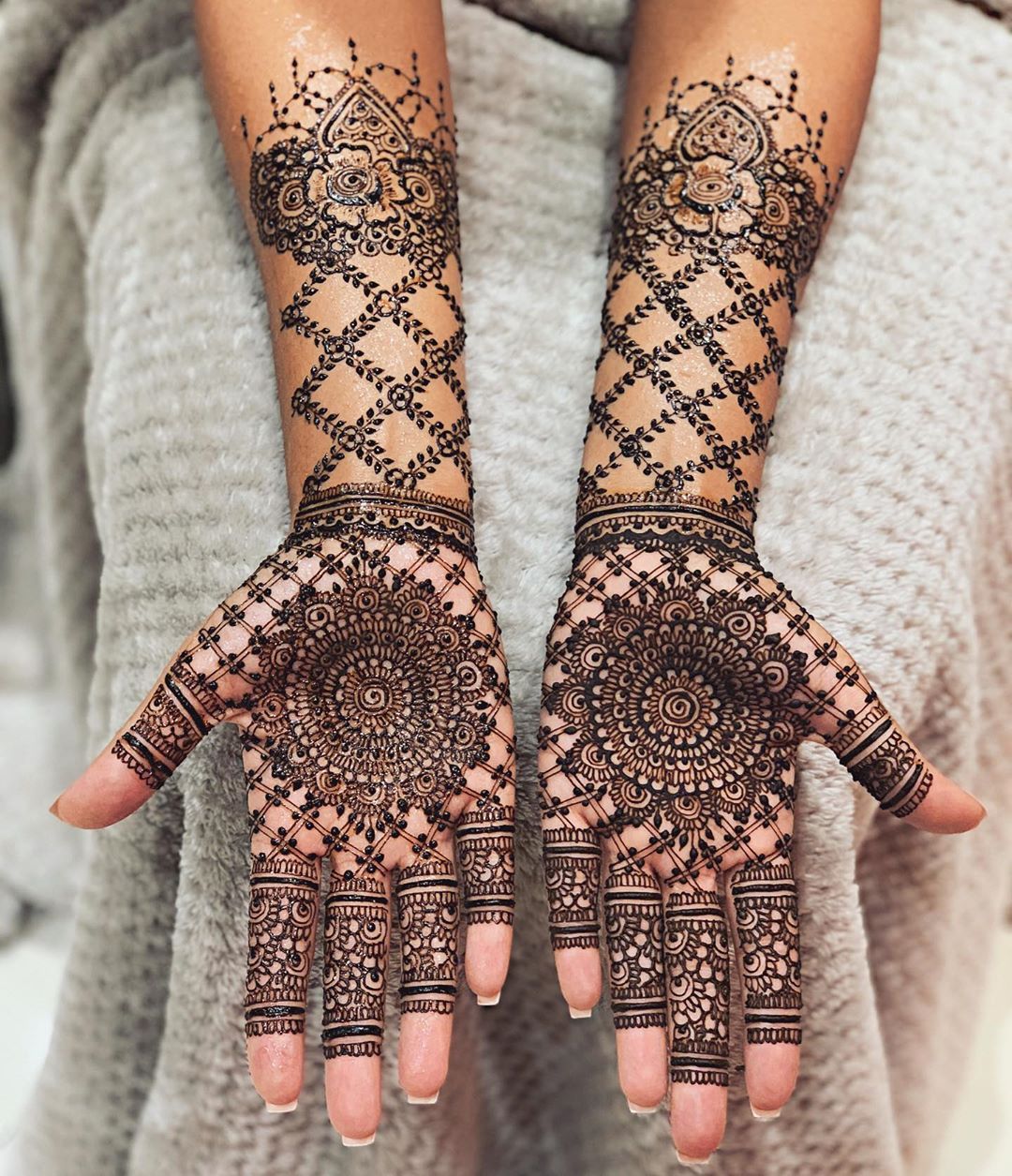 Image via Henna Mehendi London
This mandala mehendi design has the best of both worlds- Elegance, and details to die for! (One of the best mehendi designs so far!) Something that has no bounds on becoming a fav design
The evergreen, simple mandala mehndi with a touch of glam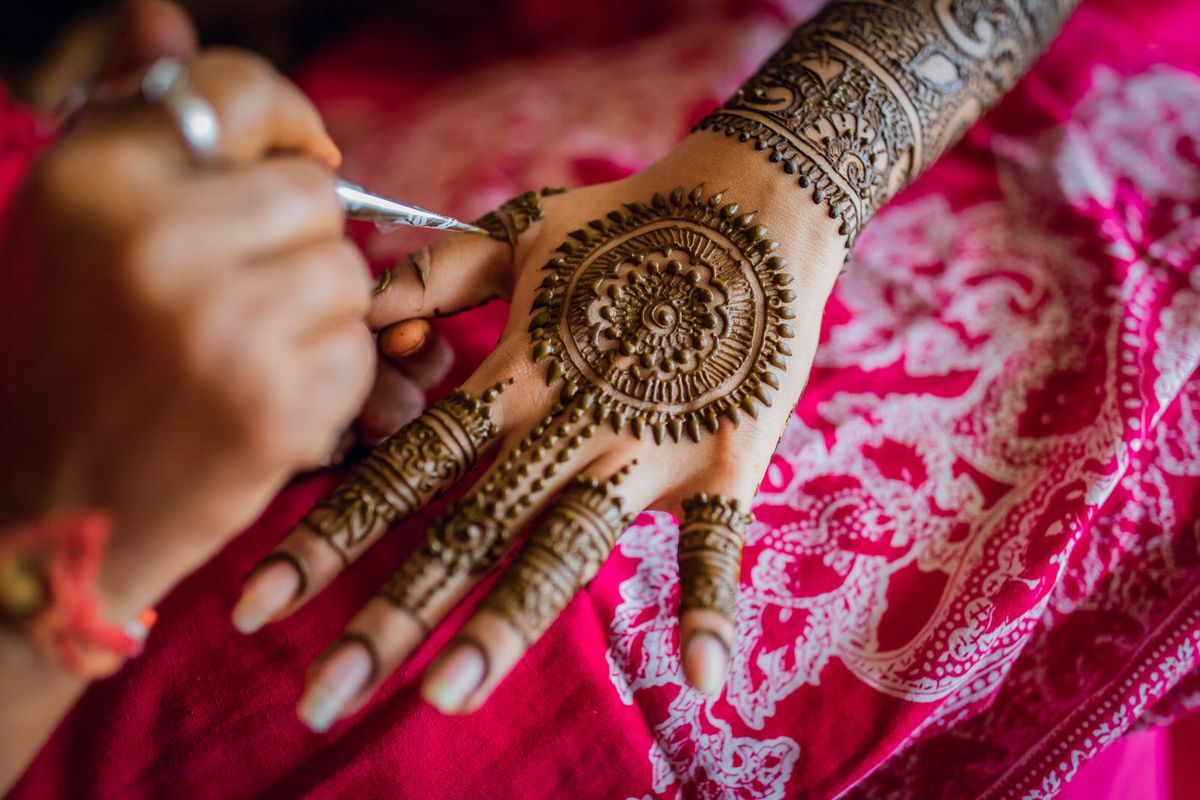 Image via Pixelena Studio★ 4.9
Loving the making of this mandala henna design to bits! This simple mandala mehendi design showcases simplicity and softness and perfectly fits into this category!
The ultimate combo of mandalas and portraits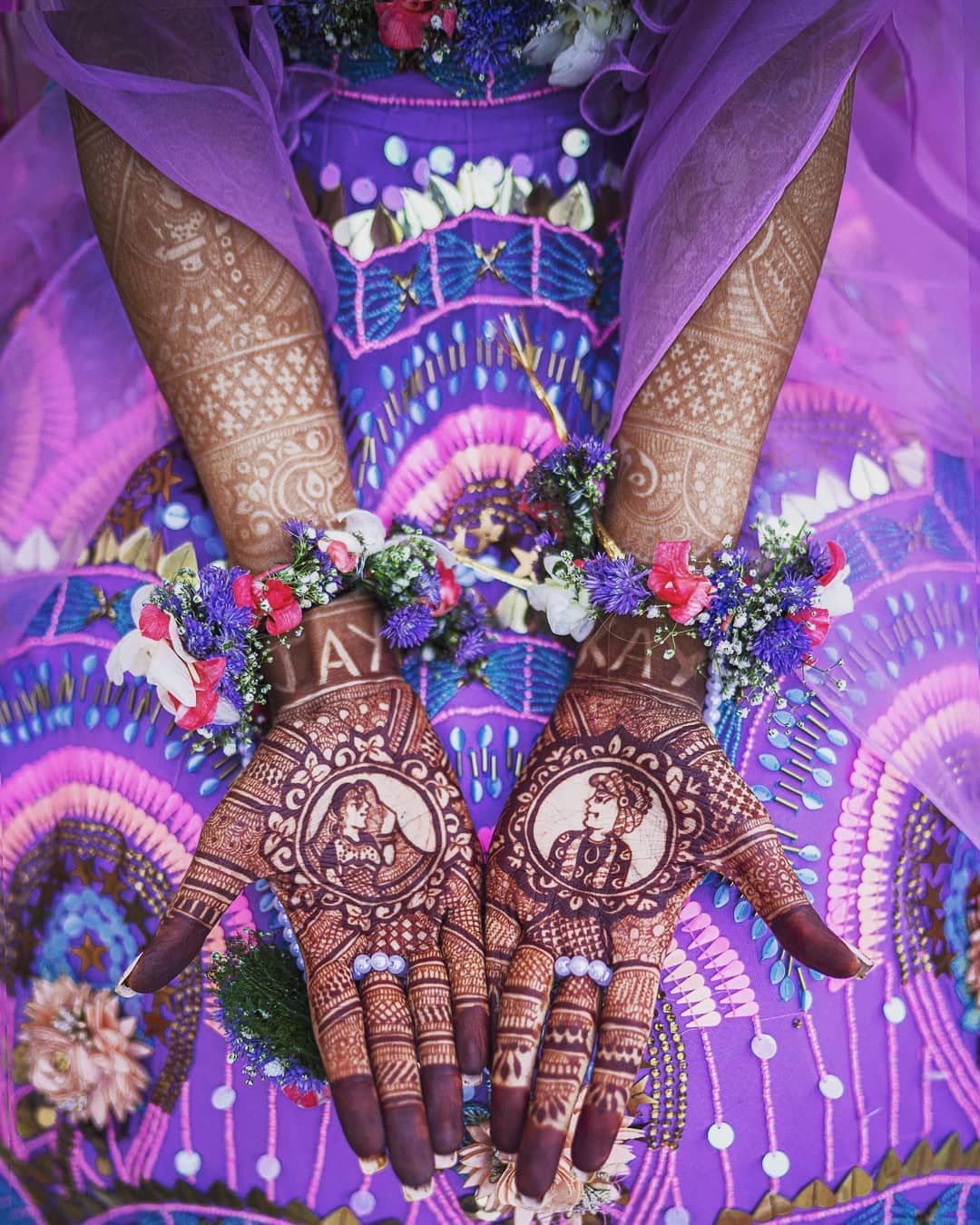 Image via Raju Mehandi Artist★ 4.9
A little personalisation does no harm. If this mandala mehendi design perked up with bride and groom portraits doesn't tug at your heartstrings, we don't know what will!
Mandala mehndi for the minimalist brides
Many times there are brides that do not want their hands full of henna and instead keep it a little simple, sober and minimal which is what is trending these days. Here are some bridal mandala mehendi designs for all the modern brides out there.
This mandala mehendi design instantly grabbed our attention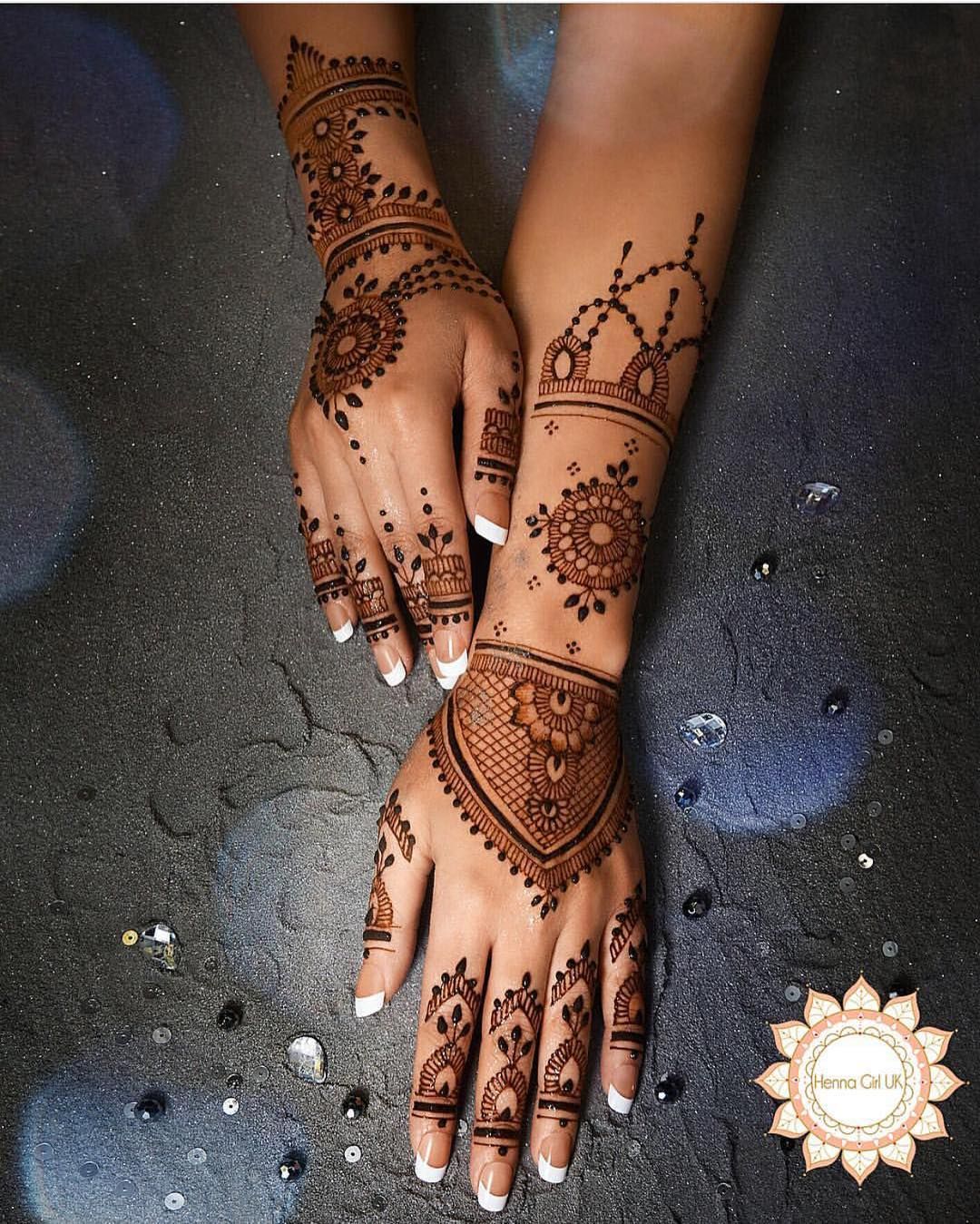 Image via @hennagirluk
We were smitten by the 'jewel' details. Also, this is a reminder that a fresh french manicure would look so ethereal with mandala design mehendi.
One with a hypnotic effect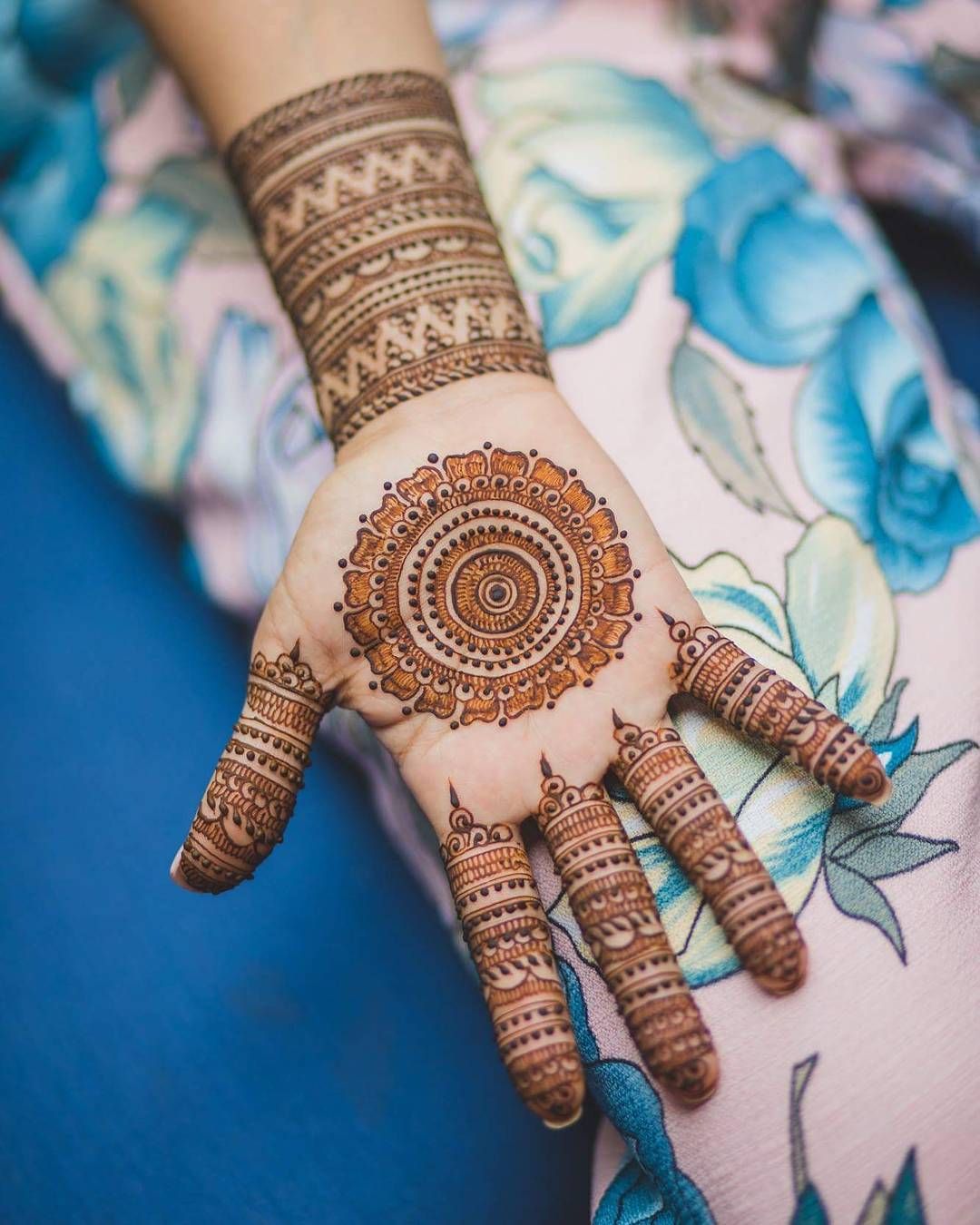 Image via The Lightsmiths★ 5
Mandala mehendi design that'll instantly catch your fancy! PS. Don't forget to hire a mehendi artist who can do this for you. Yet the elaboration of this design meets no bounds
When minimalism meets timeless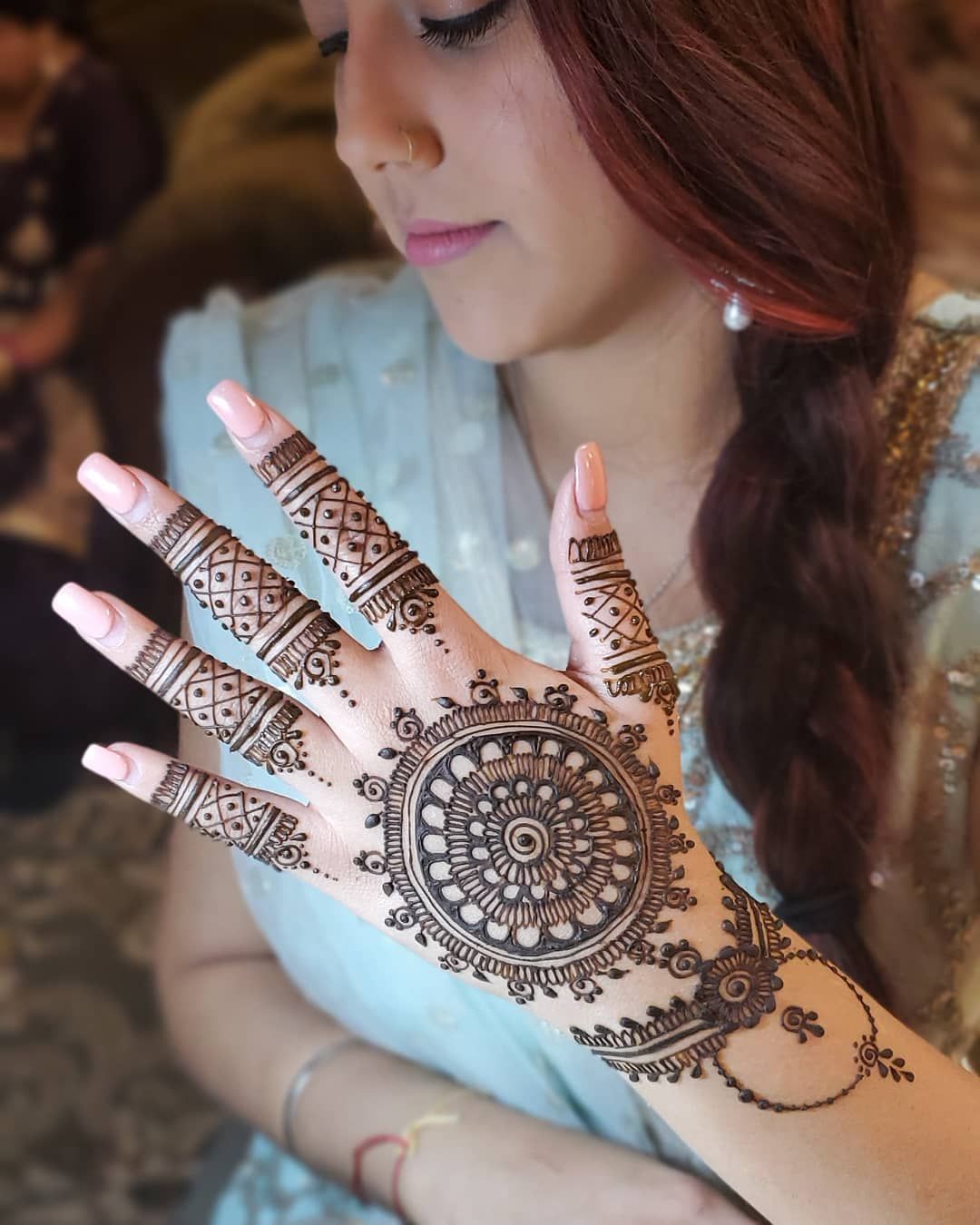 Image via Mehndi by Ravi
One can never go wrong with this simple mandala mehendi design that comes along with pretty ring finger patterns! A little different than the usual designs, find yourself a mehandi artist who mixes tradition with modernity.
 Mandala mehendi design with a paisley twist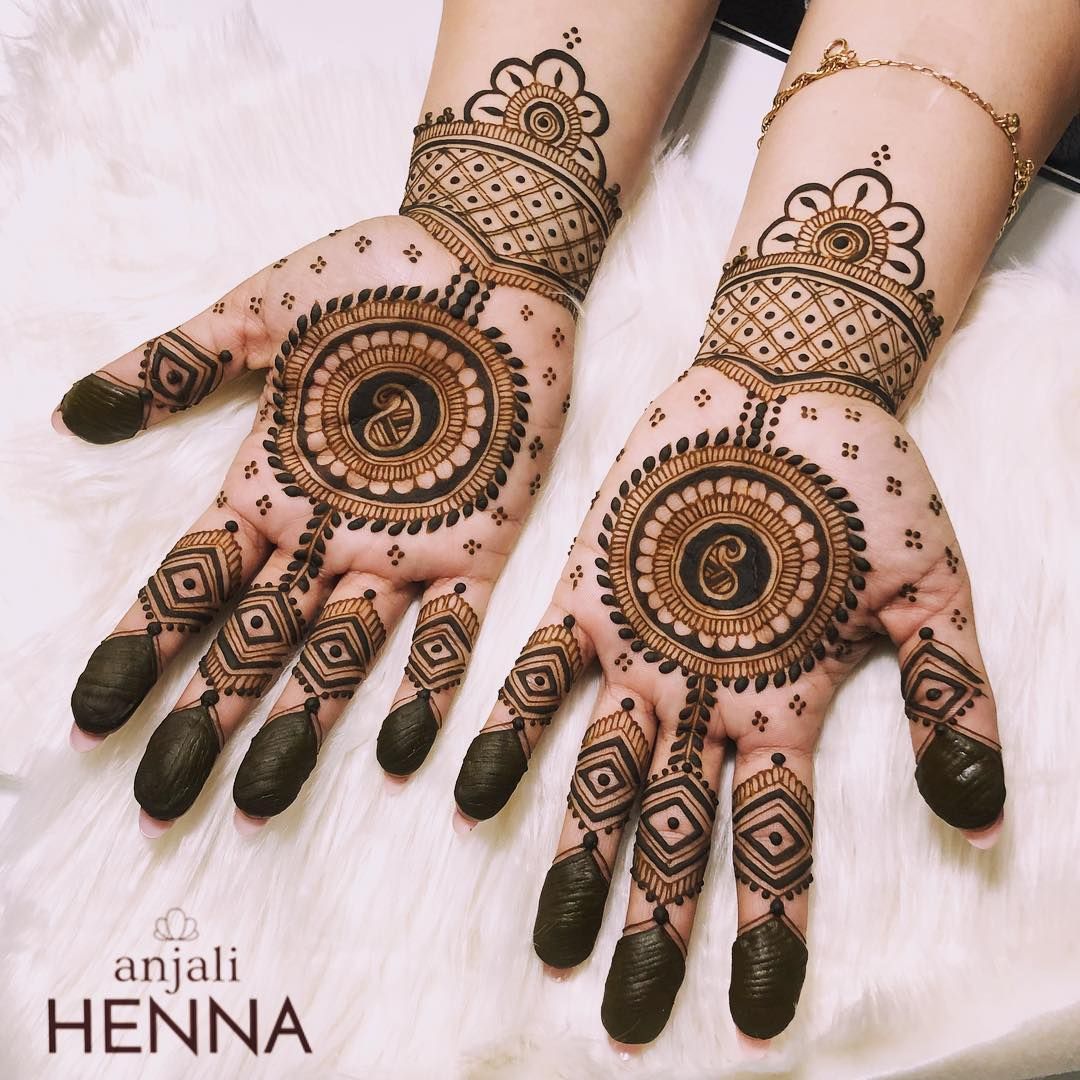 Image via Anjali Henna
We are majorly rooting for this mandala henna design subtly prettified with moroccan patterns. This mehndi design is filled with details yet keeps it so minimal. Guess a tick on your checklist
Old mehndi design with lotus and Arabic essence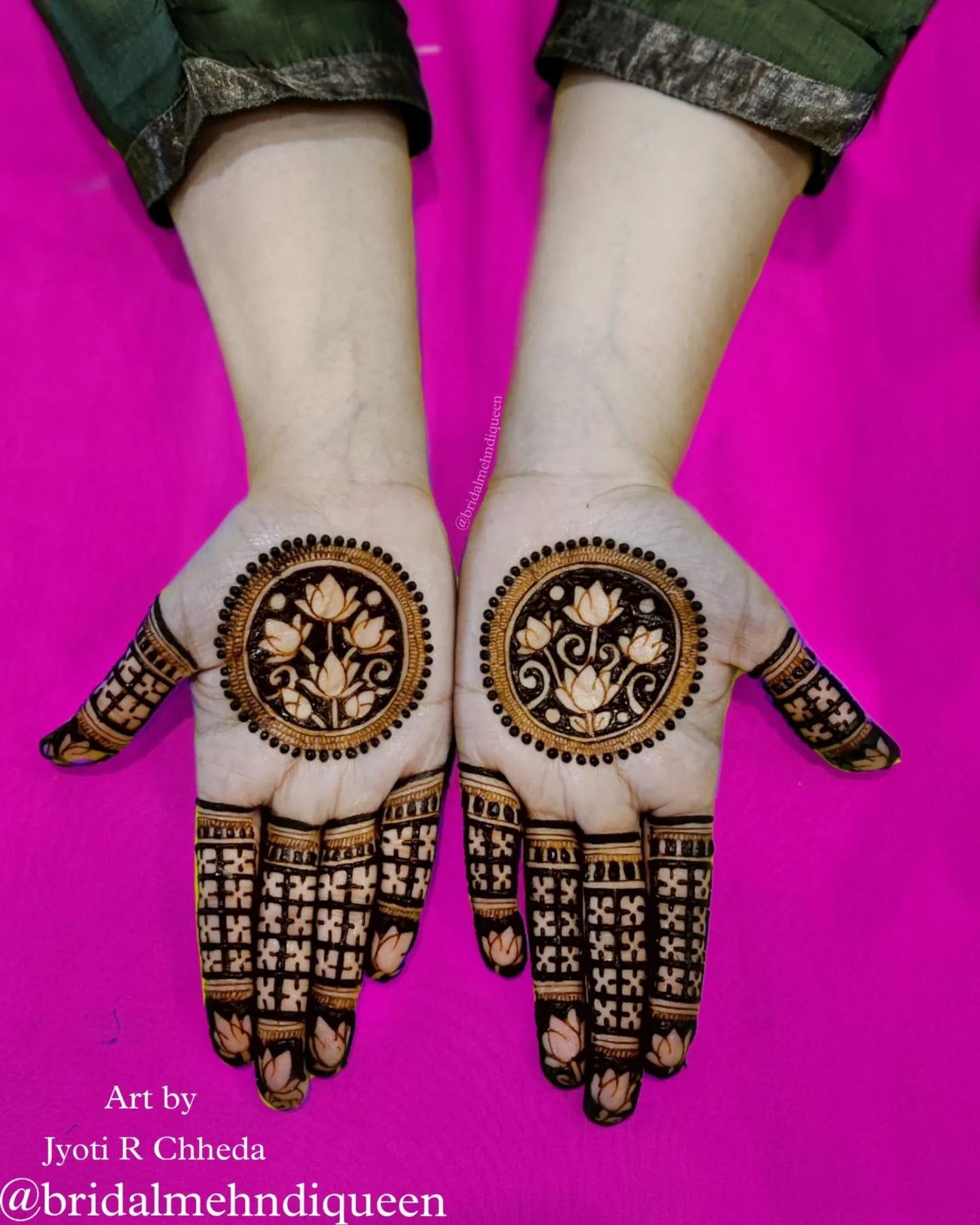 Image via @bridalmehndiqueen
This mandala mehndi design for the front hand should totally be your pick for its sheer gorgeousness! If you want your simple bridal henna to have a dark stain, this one will totally fit the bill.
One that's ideal for non-mehendi enthusiasts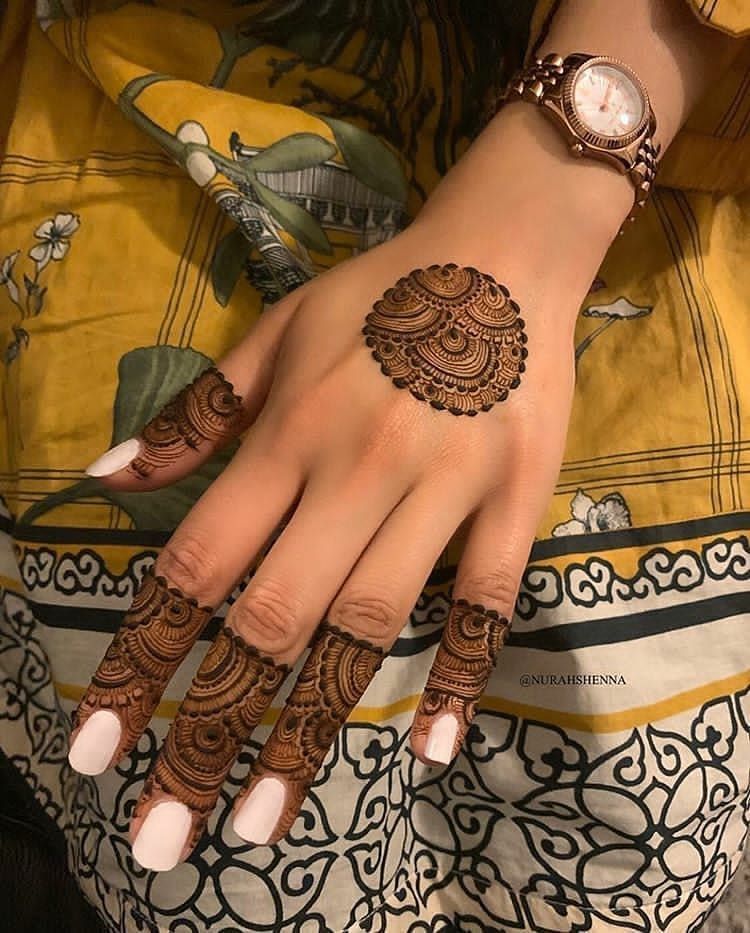 Image via Nurah's Henna
Not much of a Mehendi lover? This dainty mandala in the center with matching details on the fingertips will suit you the best.
More of minimalism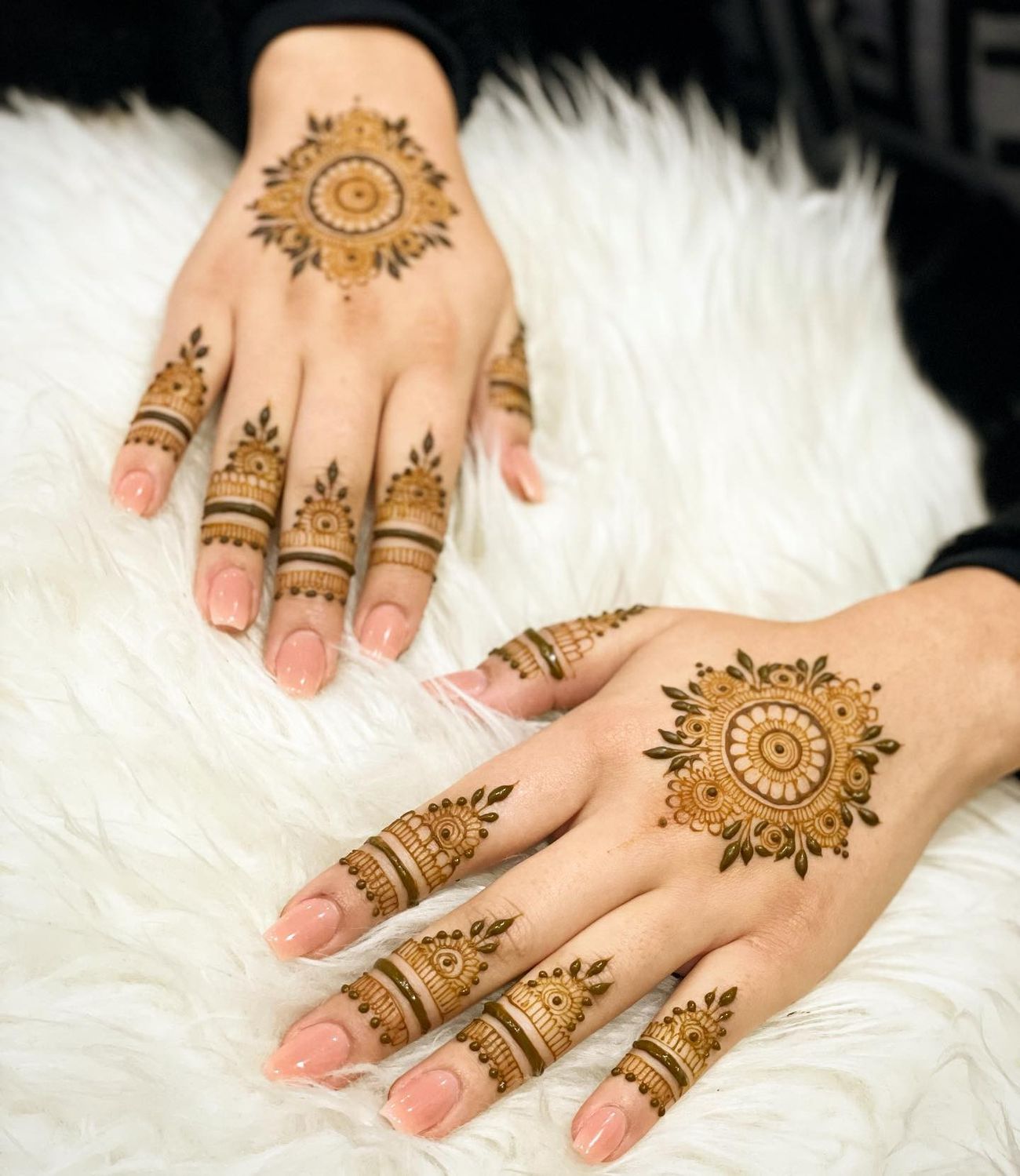 Image via @hennabyaleenax
Oh boy, we always love the traditional look mandalas give, and this simple old mehndi design is perfect for a roka, engagement, or an intimate wedding.
Another fusion of portrait and mandalas
Another design that is personalised and touches hearts to the core. This simple mandala mehendi design suits the best for a bride who's trying to keep it simple yet beautiful.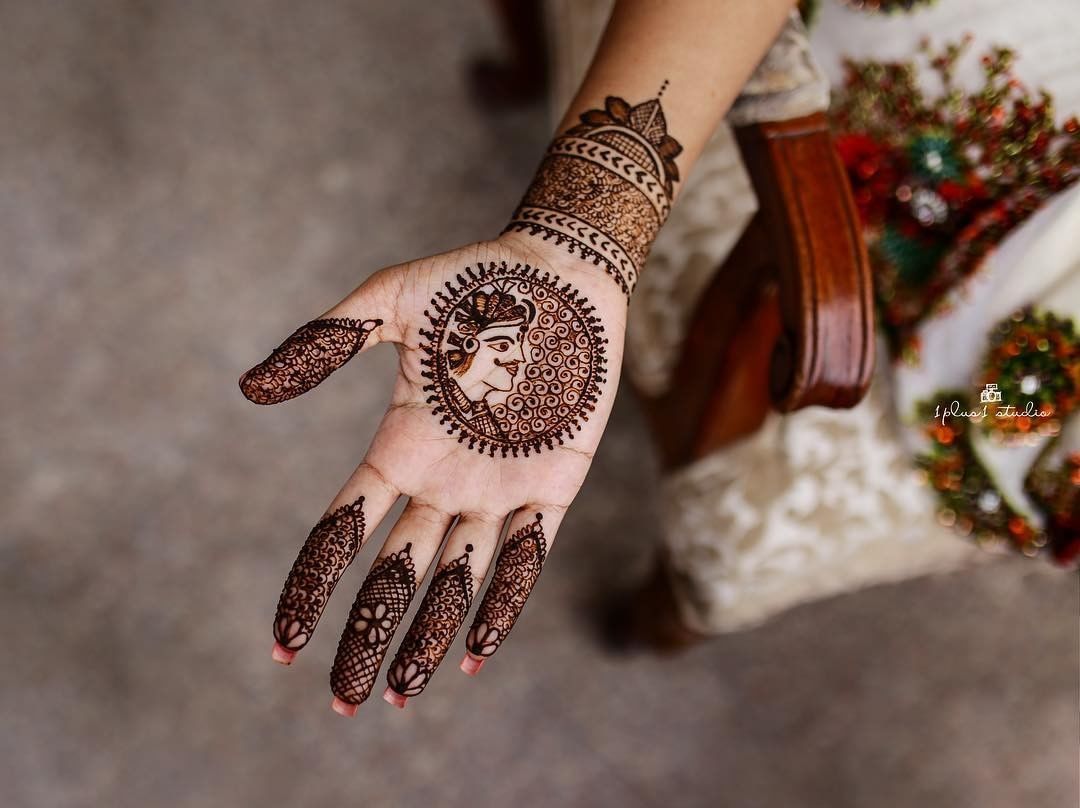 Image via 1plus1 Studio★ 5
Minimal yet voguish, this mandala mehendi is perfect for all those brides who don't wish to go overboard with their bridal henna design.
Classics never go out of fashion, here's proof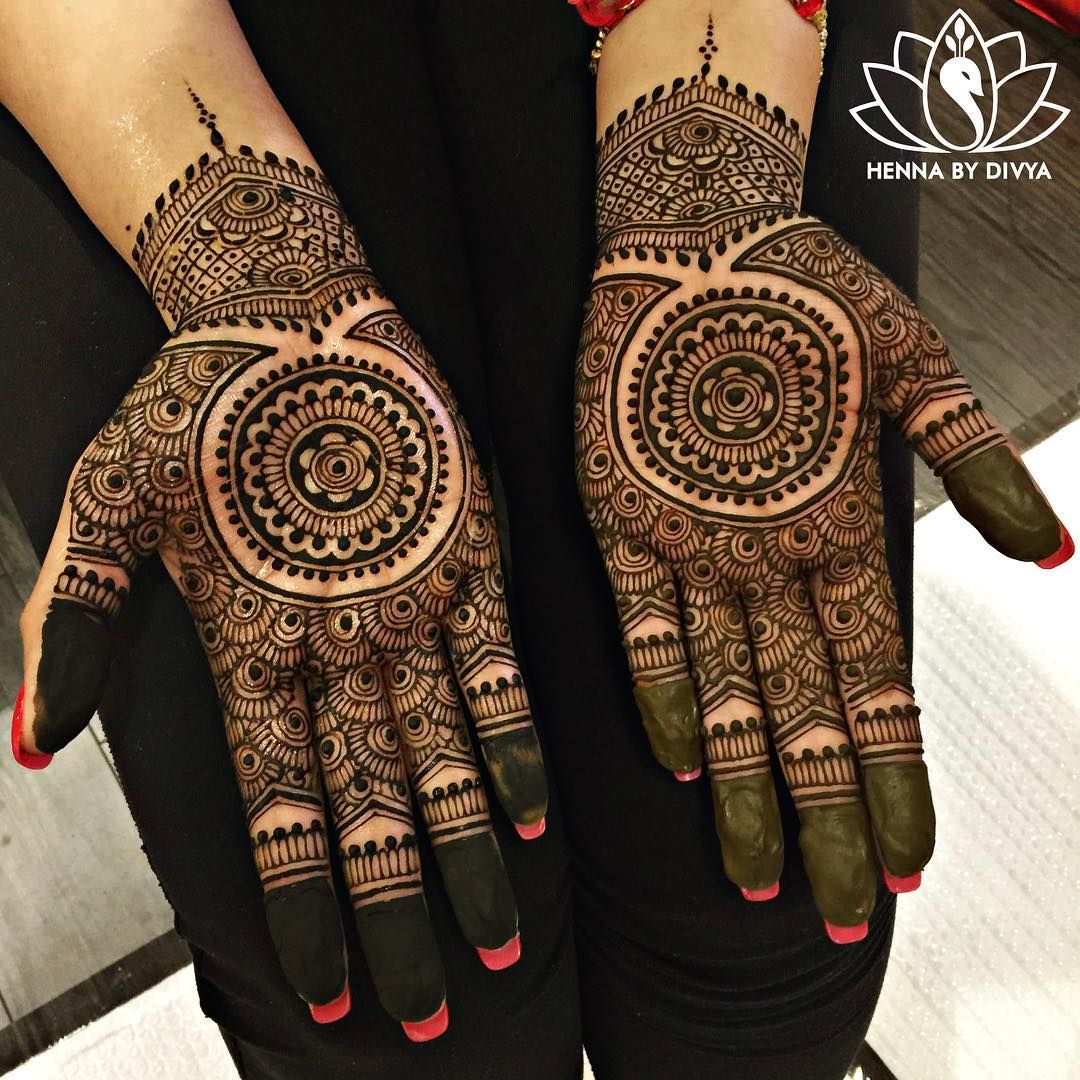 Image via Henna by Divya
We bet this classic mandala mehendi design with geometric shapes and swirling patterns will make it to your mood board!
How about a mandala mehndi design with a personal touch?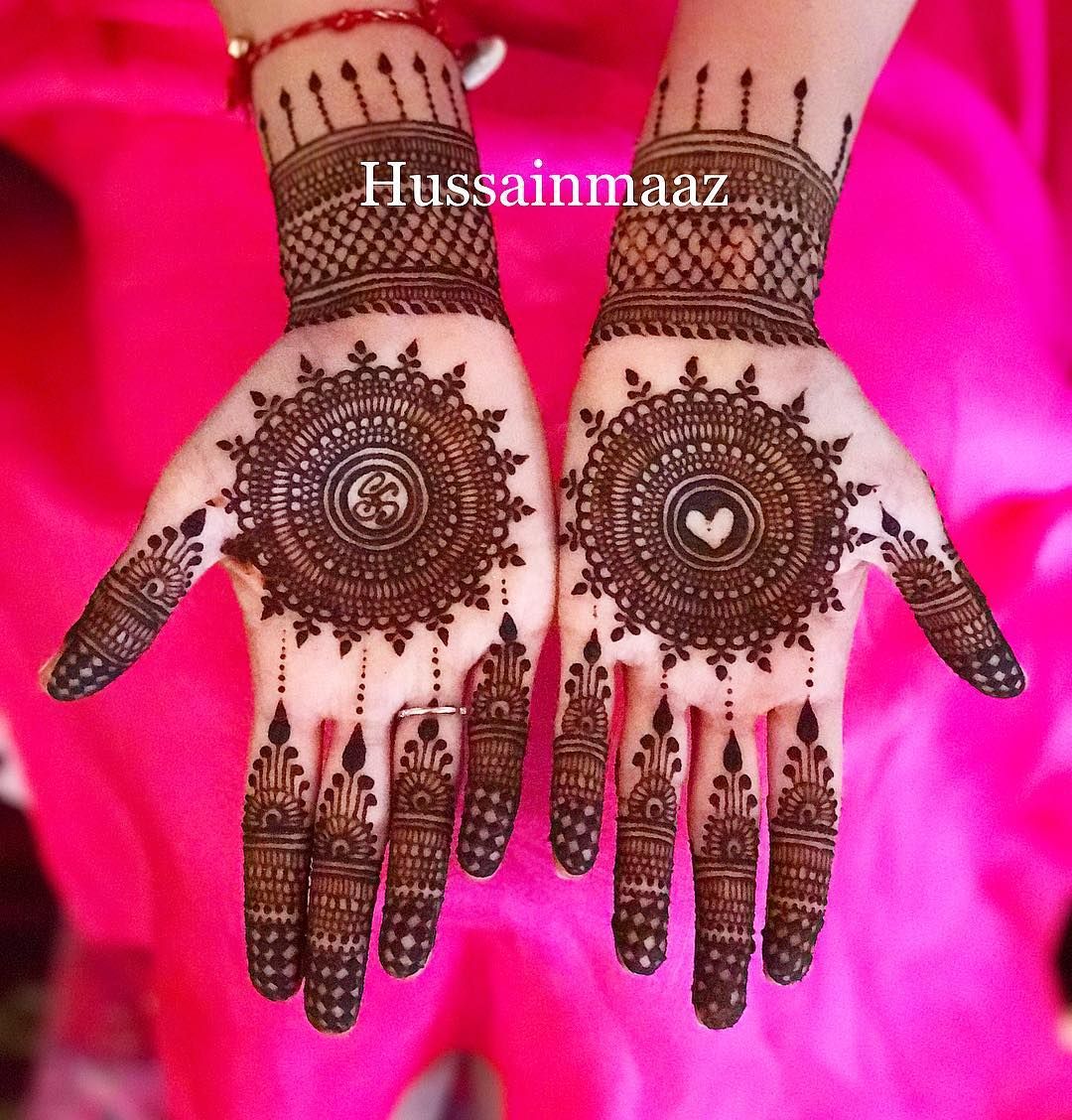 Image via Hussainmaaz
Totally adore the dainty heart motif & the initials of the couple that are beautifully seeded in the mandalas! For someone who wants to keep it simple and personalised, here's a mehndi design we have for you.
Mandala Mehendi for the bridesmaid & mothers of the bride
We are in awe of this bridal mehendi with a mandala design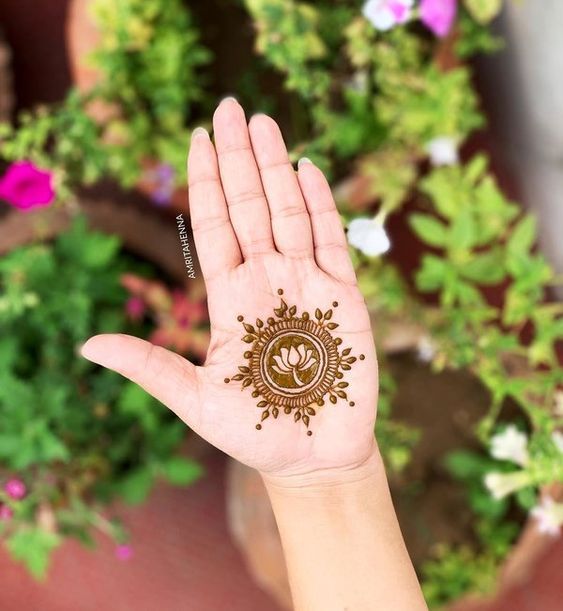 Image via Pinterest
From what we've noticed, a lot of bridesmaids stick to extremely simple mehndi designs when it comes to their BFF's wedding. Cause' you need no fuss while doing your bridesmaids' duties, right?
The intricacy looks phenomenal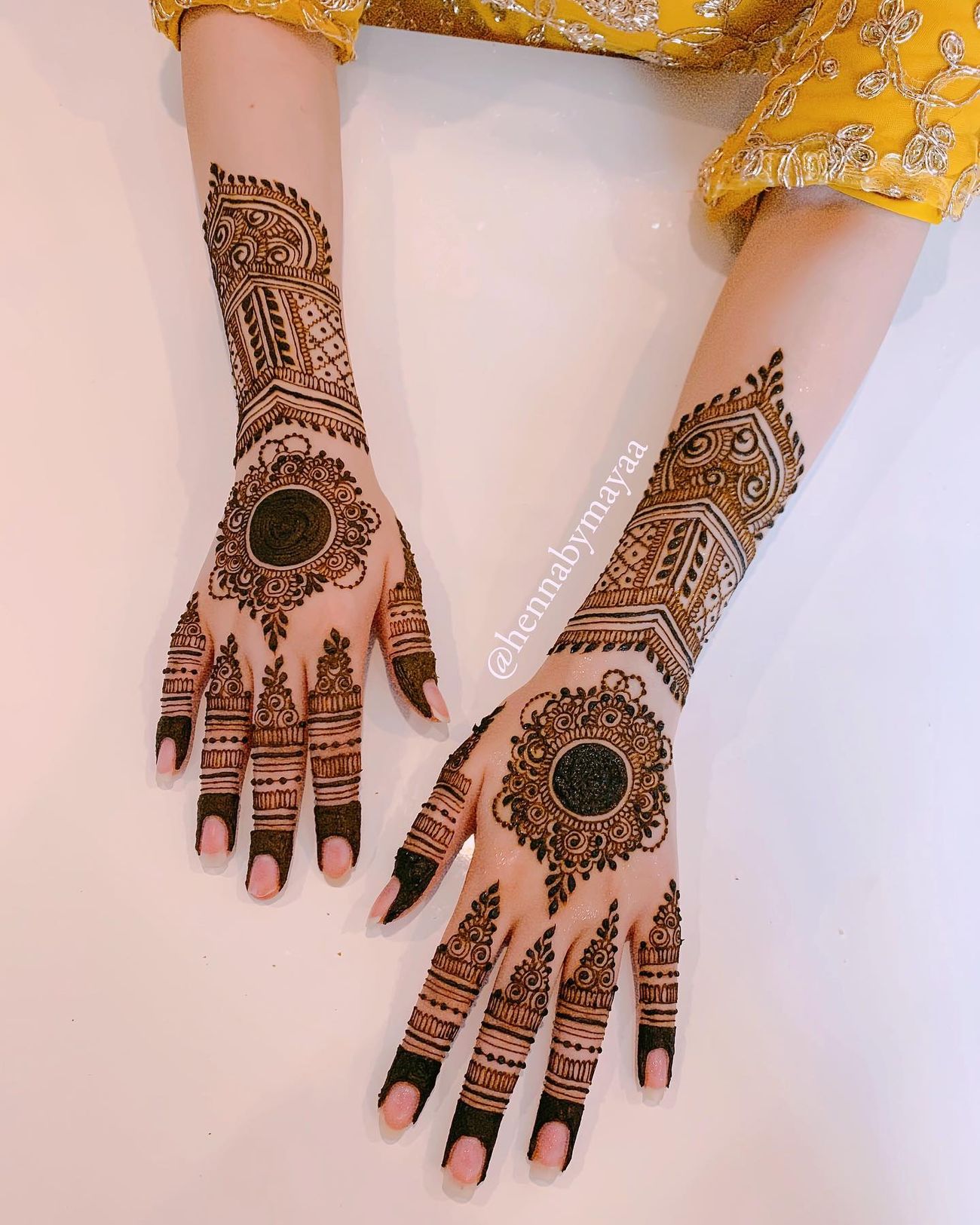 Image via @hennabymayaa
This easy mandala mehndi design is full of leaves, jaal, and dainty motifs; which adds a timeless vibe to it.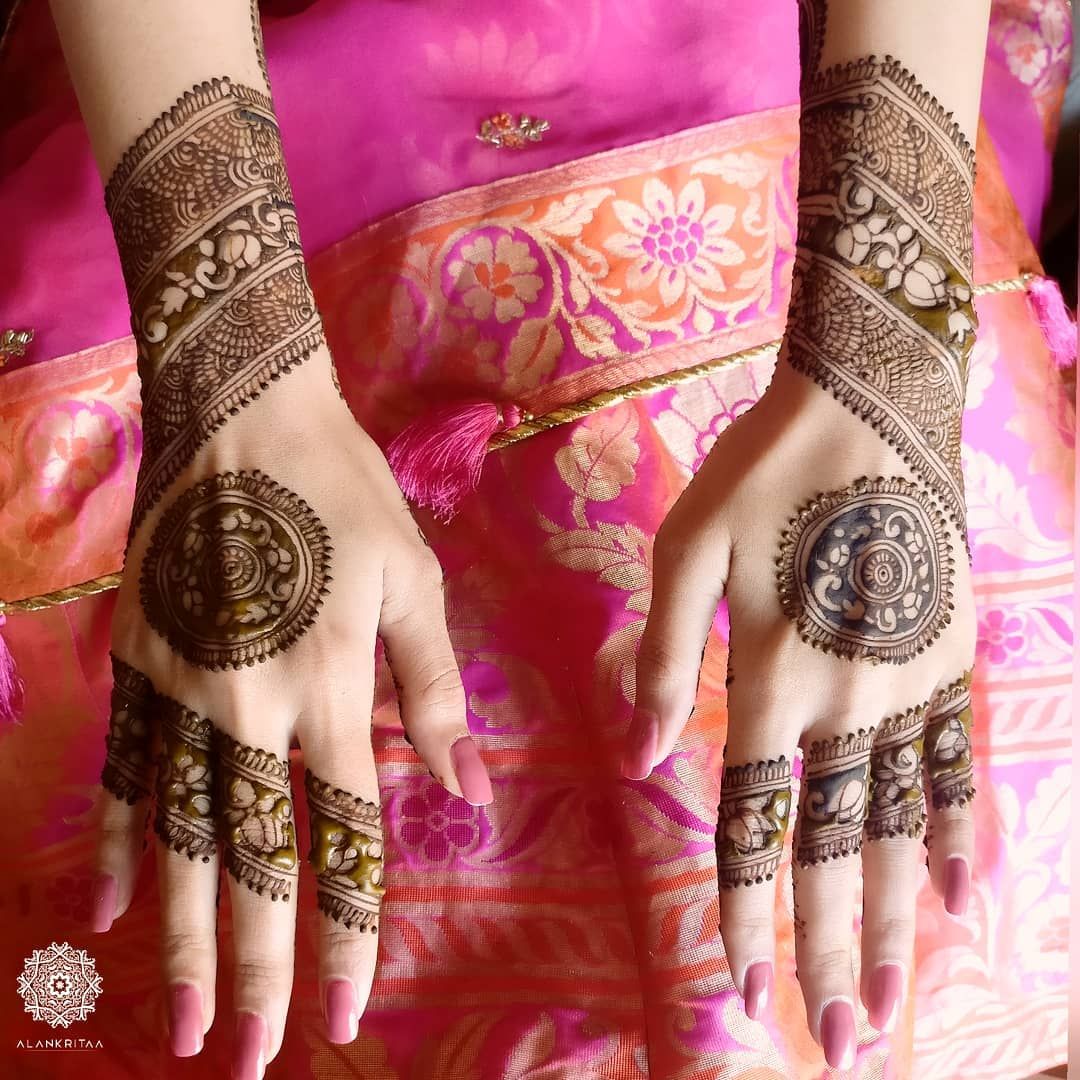 Image via Alankritaa★ 4.9
PSA to all the bridesmaids who were looking for a voguish mehendi design- Your rigorous hunt ends here! This astonishing back hand mehendi design does nothing other than making the heart thump!
Gram-worthy, ain't it?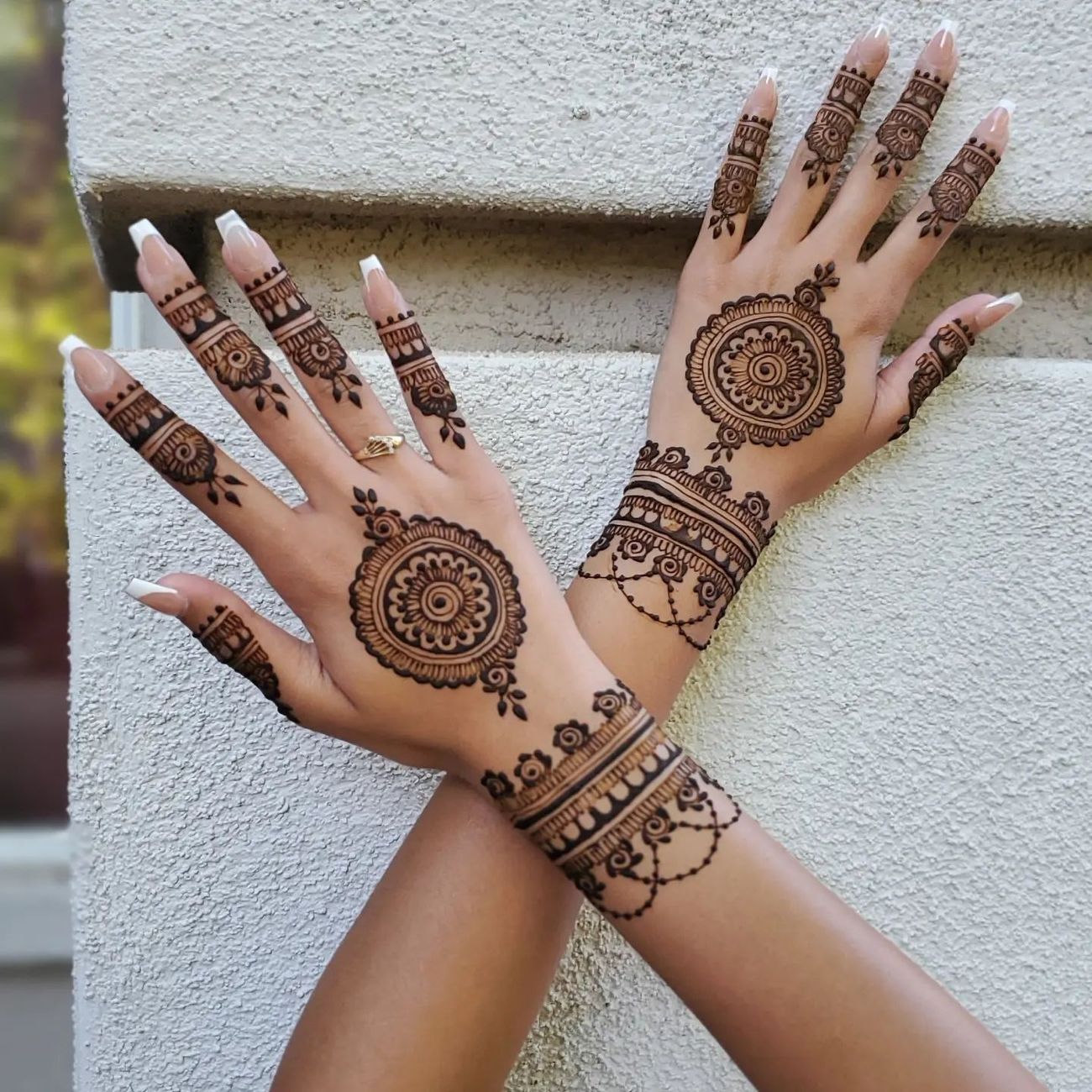 Image via mehndi_by_ravi
As much as we love jewel-like details, we're also in awe of the mandala being the center of attraction.
Floral mandala mehandi looks super impressive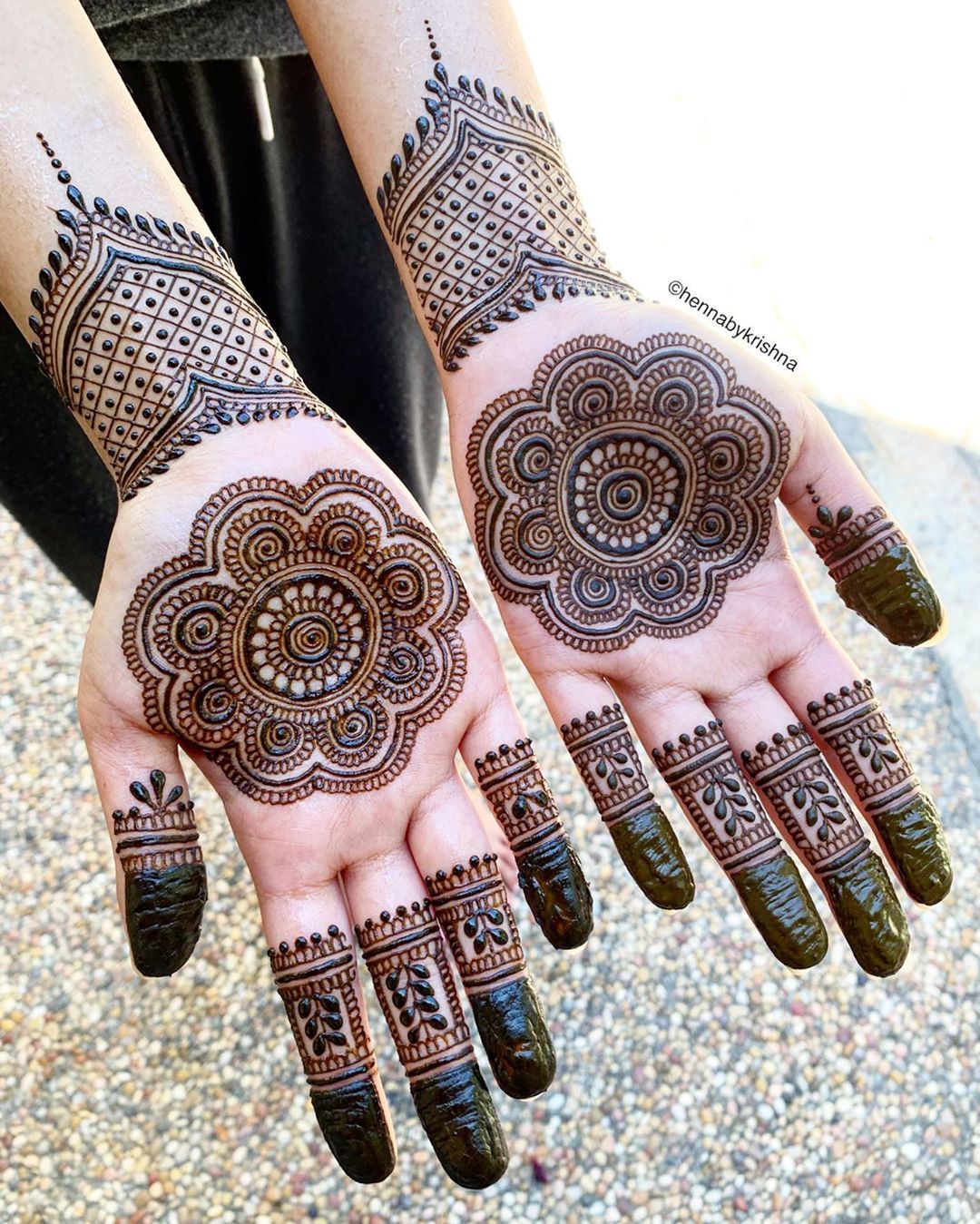 Image via Hennabykrishna
If you want your mehendi design to make the loudest noise, bookmark this one created with a medley of thick and thin strokes.
Allow us to drift your attention towards this one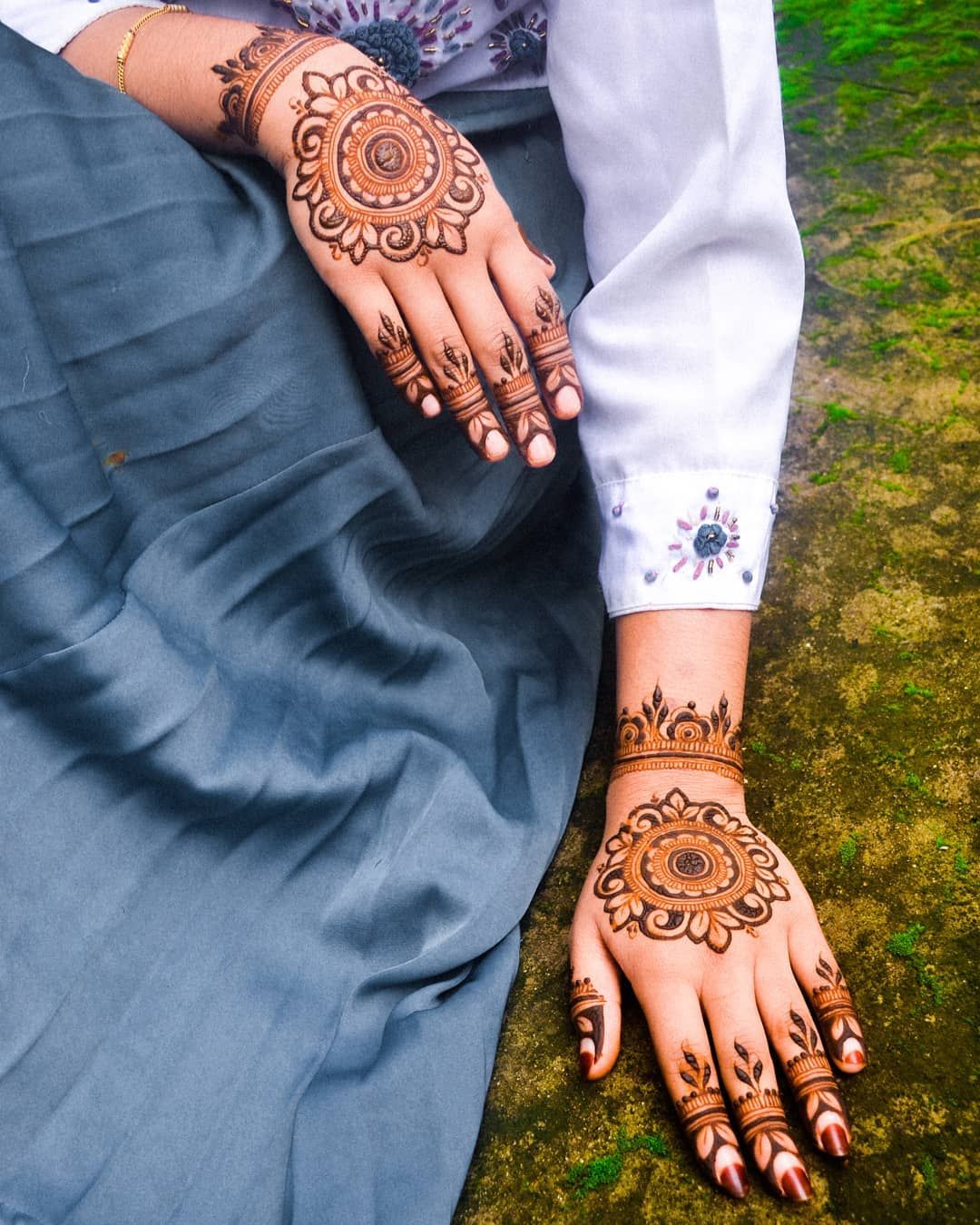 Image via henna_by_jenna_
If we had to define this mandala mehendi design in one word, we'd say magnificent.
This easy mandala design looks like a hand harness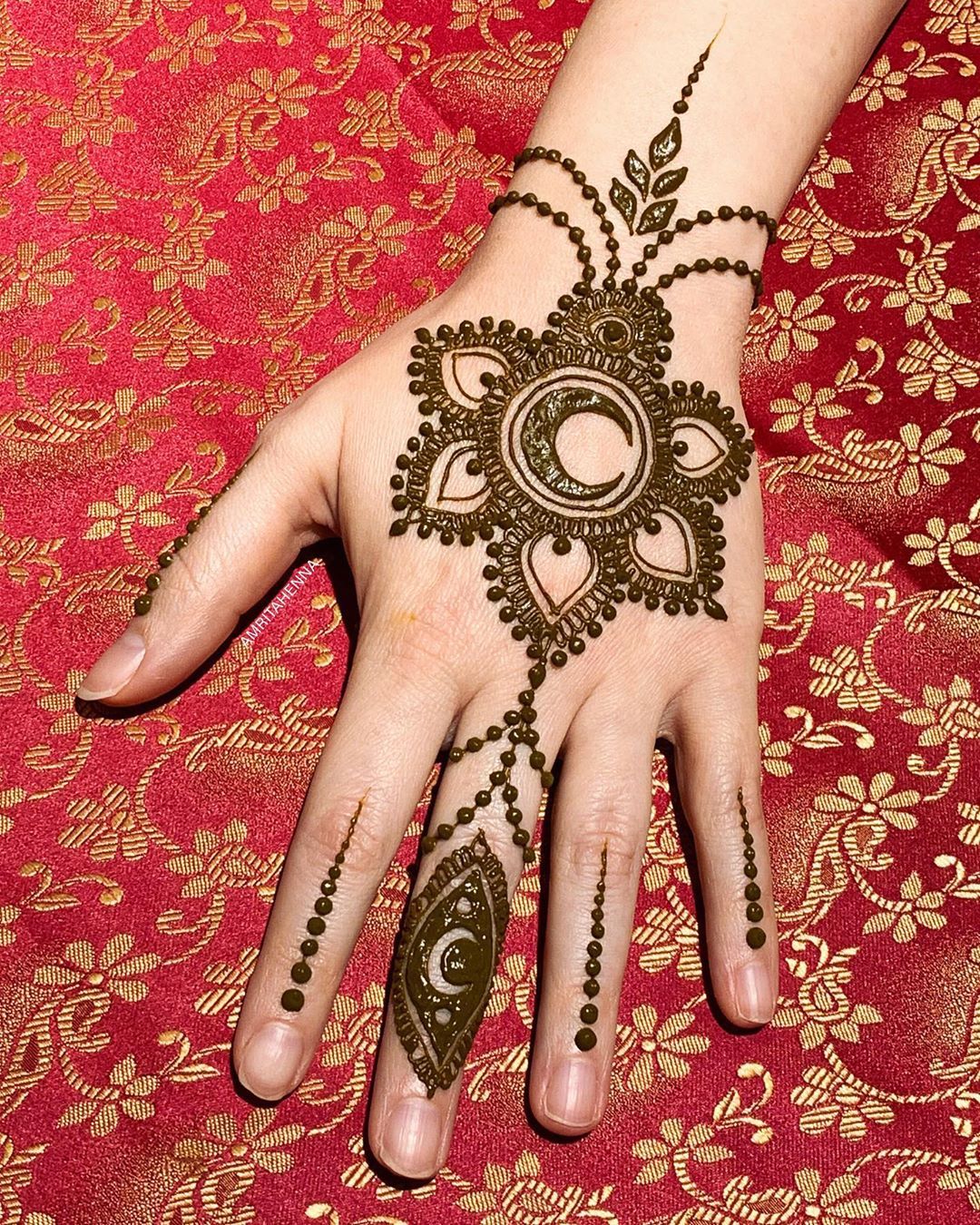 Image via Amrita Henna
This floral mandala turned into a haathphool mehendi design is our personal favorite!
Dainty mandalas accompanied with a burst of florals
Image via Divya Henna
If there's one mandala mehendi design that ticks off all our checkboxes, it is this stylish one that is created with such precision and finesse. This combination of florals, jaal, and mandala is as classy as it could get.
For those who go by the mantra 'Less is More'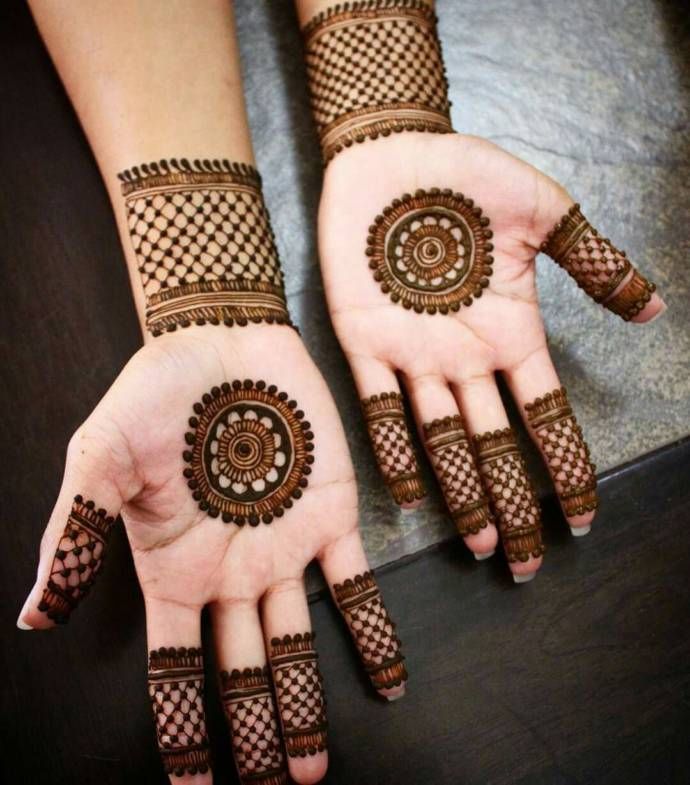 Image via Pinterest
Now, that's one timeless design that your mommies would definitely love. Especially for the simplicity, it exudes!
Mandala makeover for the back of your hands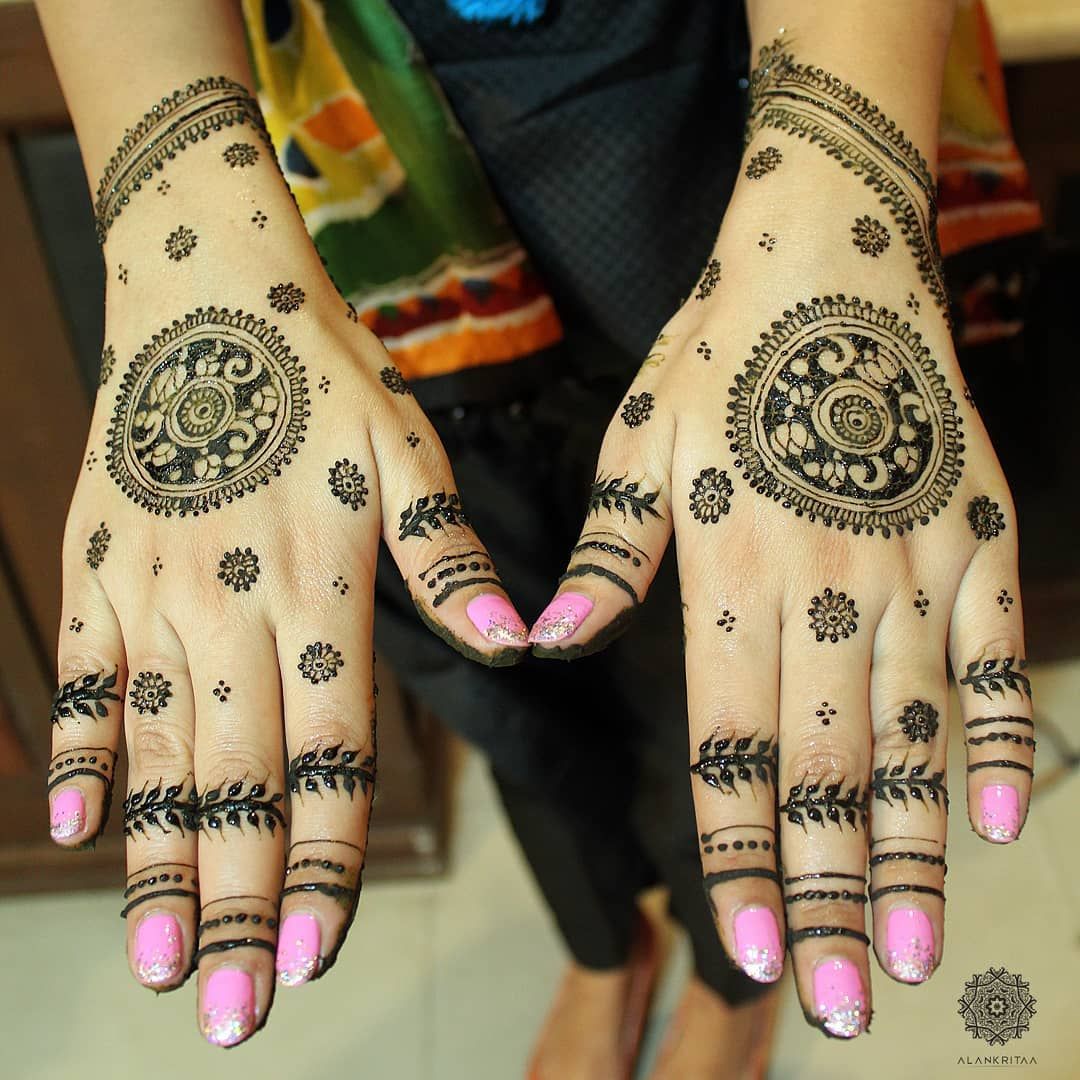 Image via Alankritaa★ 4.9
Elaborate mandalas coupled with dainty ones never looked this pretty!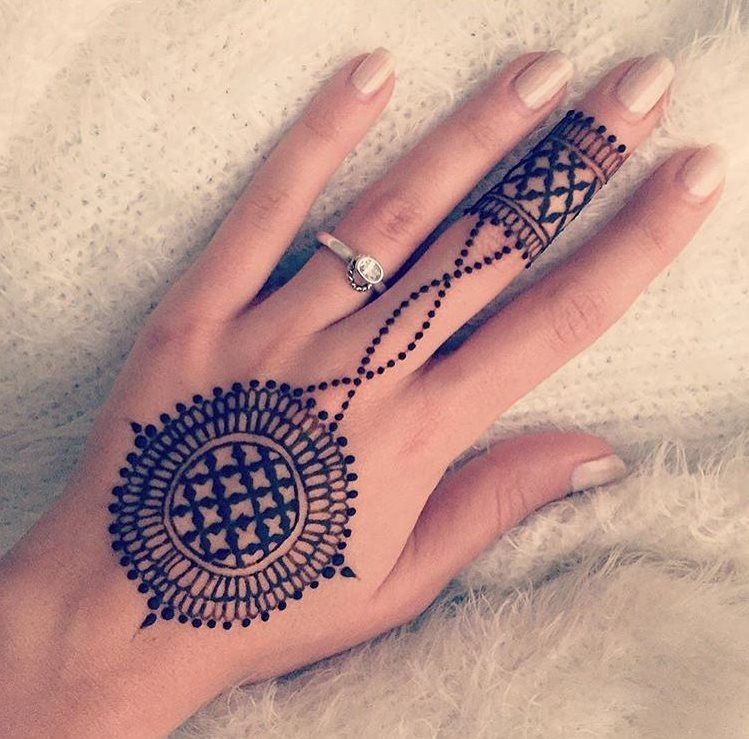 Image via Henna_sheike
Here's the quirkiest version of a mandala mehendi design! Isn't it?
Mandala overdose, because why not?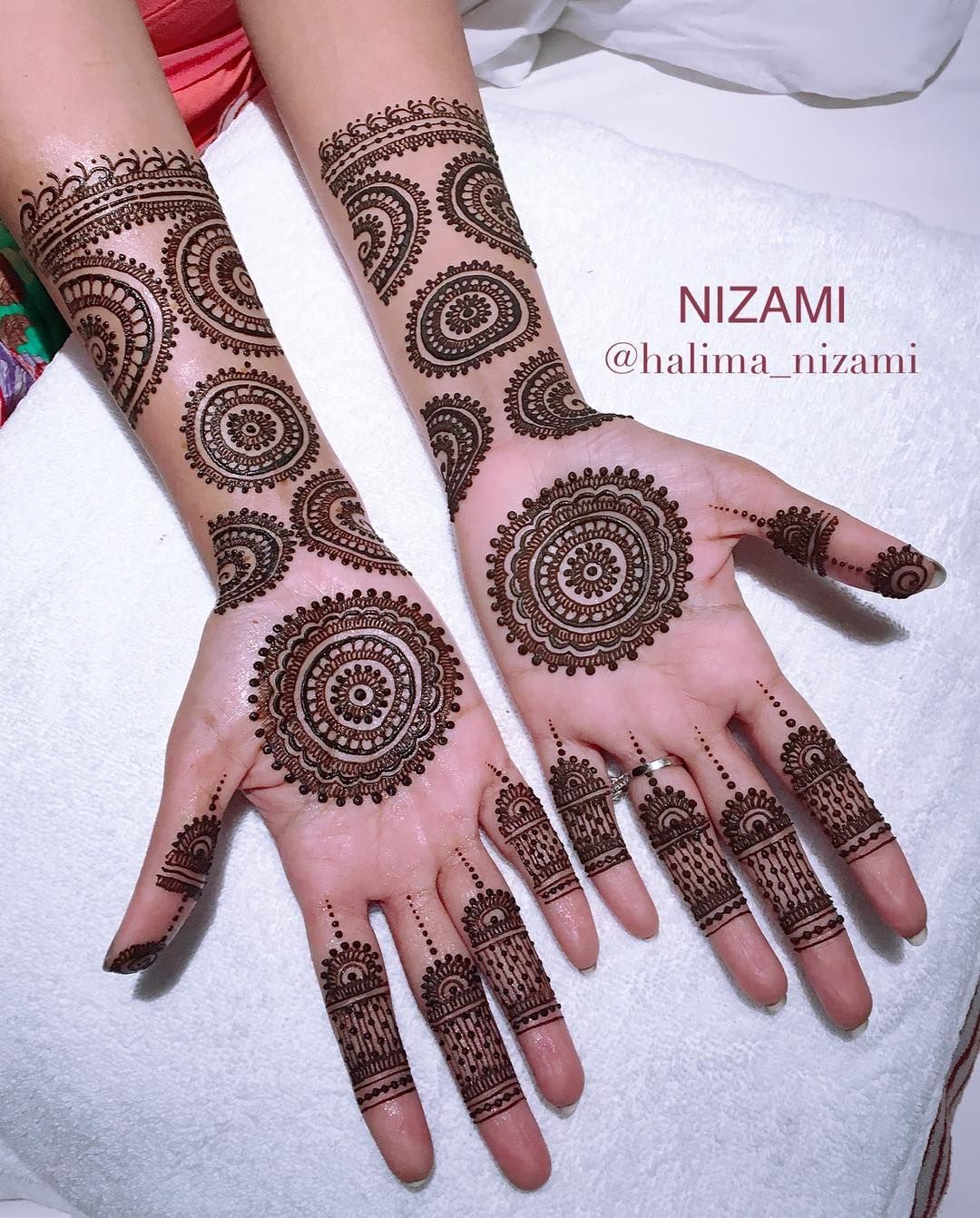 Image via Nizami Mehendi Arts★ 4.8
This one's officially the most Mandala-stic (*reads fantastic*) design we spotted on our Instagram feed! This henna mandala design serves truly its name and is simply gorgeous.
In awe of those simplistic red stains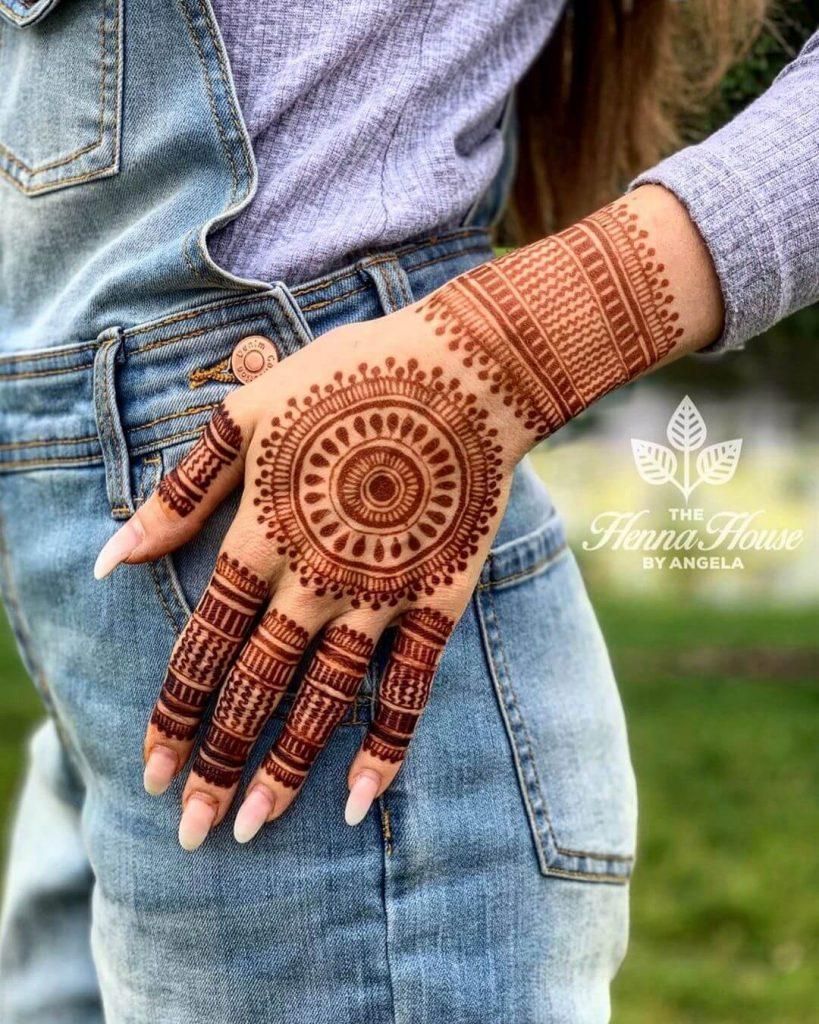 Image via The Henna House by Angela
Pin this one-of-a-kind mandala mehendi design already! Simplicity never goes out of style and this is the best out of those minimalistic mehndi designs that we have for you!
When your definition of 'minimal' is rightly etched onto your palms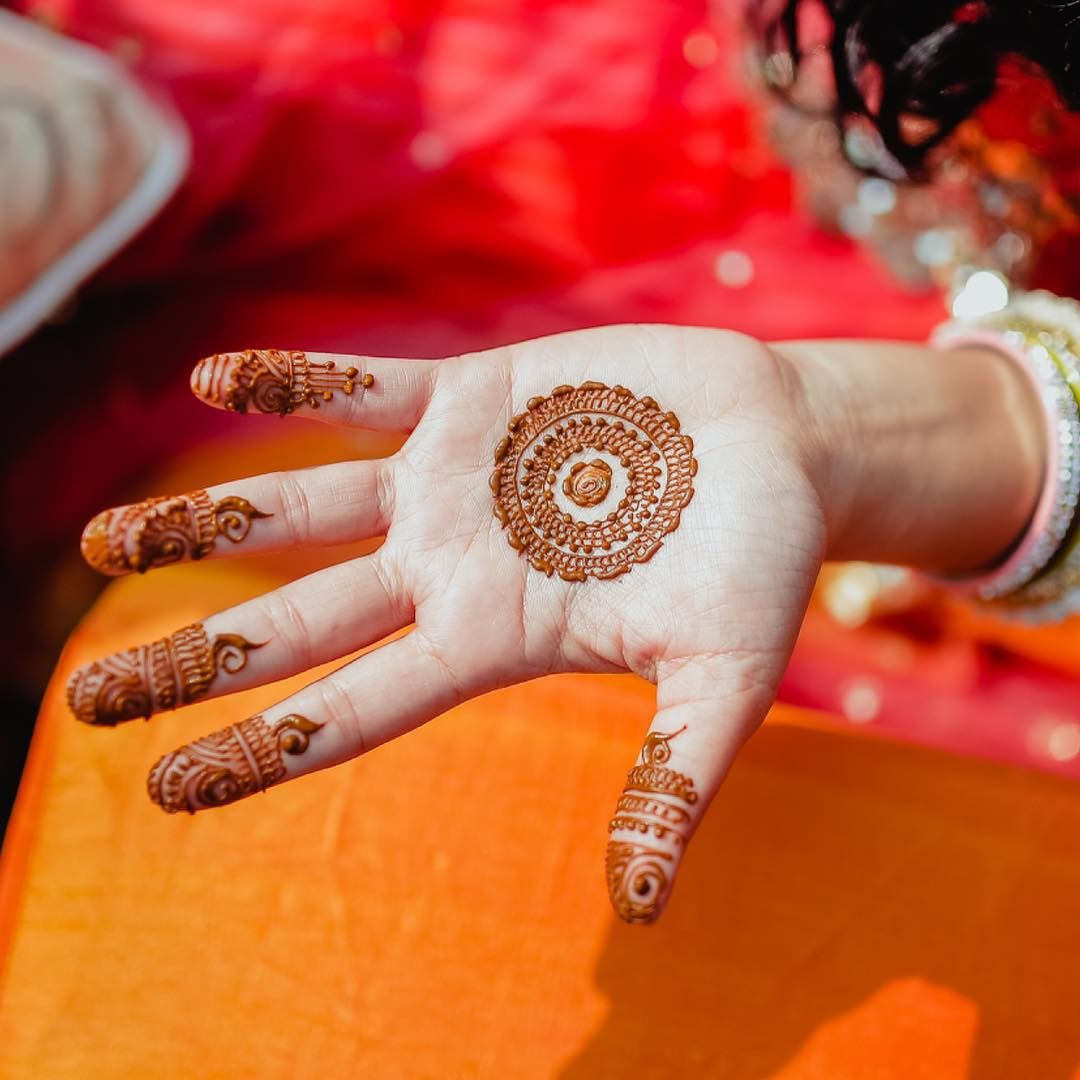 Image via Colorblind Production★ 5
You have to give this mandala mehendi design a try if you have a thing for dainty and delicate patterns.
Phew! That was one elaborate listicle. Now bookmark your favorite designs and don't forget to tag your bridesmaids and mommies too.