5 Dermatologists Tell Us: New Skin Treatments Brides Are Getting Done These Days!
BY Sakshi | 21 May, 2018 | 14204 views | 6 min read
Who doesn't want glowing beautiful skin on their big day? Well, we all do, but makeup cannot always do the job, especially if you are suffering from skin issues. Yes, sometimes, we need a little bit of help from the docs to make our skin look perfect, and there are quite a few new treatments which brides are opting for, which not only have amazing results but have less downtime too! So we asked some leading dermatologists to tell us their treatment of choice for 2018 brides, and here they are!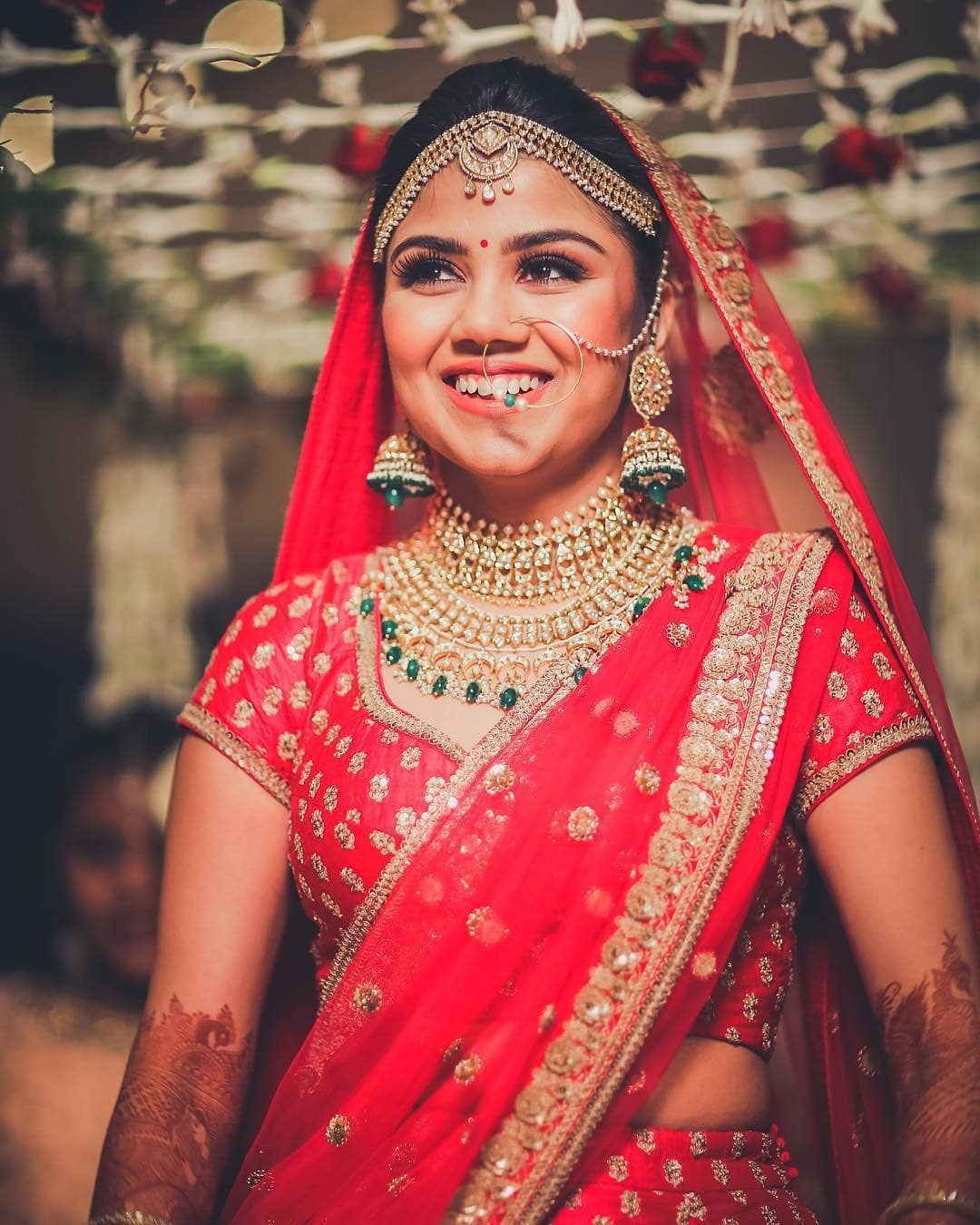 Image via Morvi Images Photography★ 5
Treatment: Skin Booster Injections.
Results: Skin Booster injections are an amazing way to enhance and hydrate your skin for the wedding and give you that elusive 'glow'. They contain contain hyaluronic acid that absorb several times its weight in water and hydrates and due to its light reflecting properties gives a beautiful radiance. Whether you have a clear complexion or not it will make you skin appear much more hydrated and your makeup also sits quite well. 
How it works: Skin is cleansed quite thoroughly and the product is injected by the expert in tiny micro injections after the skin has been numbed. This is followed by a massage so the product blends well into the skin.
Ideal time: If a bride is thinking of this treatment she should consult her dermatologist atleast 2-3 months ahead of the date. Depending on her skin condition she may need 2-3 syringes spread over 2 months.
Downtime: There is a downtime and recovery period of 3-4 days when you may feel some lumps and bumps in your skin but these can easily be massaged down. Some redness and occasional bruising might happen so allow some time for recovery.
Price Range: The treatment cost depends on the amount of syringes used. Each ml in a syringe can cost between 20-30k.
Treatment: Laser toning with carbon peeling.
Results: This helps to reduce pigmentation and give an instant glow. With successive steps of this treatment, the dull pigmented areas on the skin clear and brighter younger skin shows up. There is no downtime and you can attend your functions the very next day!
How it works: It involves cleansing the skin, targeting dark pigmented spots, freckles, post acne pigmentation and dull spots on the skin with the gentle yet powerful pigment reduction NdYAG laser, followed by carbon peel applied on the face to cleanse off impurities and damaged layers of the skin, followed by carbon peel removal with laser.
Ideal time: This can be done for 2 to 3 sessions before the big day, at intervals of 2 weeks between sessions.
Price Range: Rs. 8000 to 10000 for 1 session of full face with neck, 3 sessions pkgs at discounted rates are available. 3 sessions can do the job for the bride!
Treatment: Dermarolling.
How it works: Dermarolling is the process of using a derma roller, a roller with hundreds of tiny needles attached to it (picture a prickly lint roller) to clean your skin. It's a handheld device which is rolled over the skin. It's also called micro needling and is used on two types of skin: Scarred / hyperpigmented skin and the second, skin that is dull and lifeless. It's known to induce collagen production in depressed acne scars as well.
Results: Dermaroller helps with scars, pits, wrinkles and almost every other skin problem. Gives your skin new life!
Ideal time and Downtime: You will need between 3 to 6 sittings to see good results. And a minimum of 6 weeks is recommended between two treatments as it takes that long for new natural collagen to form - so it's a long drawn process that comes with exceptional results.
Price Range: Dermaroller treatments in India can cost anywhere between 1500 to 5000 depending on the reputation of the clinic.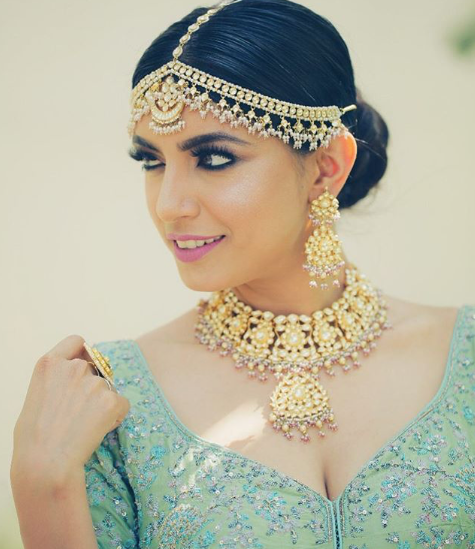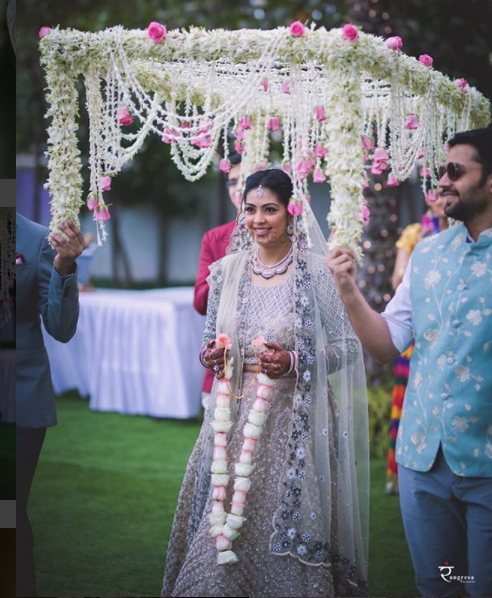 Pic via Raabta by Rahul; @rangresapictures
Brides undergo various treatments as per their skin condition and skincare goals. Brides having specific skin concerns undergo the following treatments.
For dry skin: A hydrating medi-facial restores elasticity and brightens the neck and Décolletage
For pigmentation or removal of sun spots: Advanced Q switched laser technology can be used to remove or lighten the appearance of pigmentation in the skin.
For acne marks: A salicylic acid, azelic acid or Black peel which is made from  Jasmine Acid can be used for micro exfoliation of the skin to treat the acne marks.
For removal of moles or skin tag: Radiofrequency, cryotherapy or advanced laser technology is used to remove these.
Ideal time: Brides generally should start preparing at least 3 to 6 months in advance, doing about 3 to 4 major treatments to see desired results.
Downtime: The newer advanced non-invasive treatments have no recovery time or downtime but results would depend on the treatment advised.
Price Range: A skin brightening session using an advanced Q switched laser would cost about 3000 to 4500 per session. Chemical peels cost in anywhere from 1500 to 2500 per session.
Treatment: Laser hair removal.
Results: It is a safe and effective way to permanently remove unwanted hair from any part of the body, especially the face for your wedding. It works on the face, hands, legs, chest, back, underarms, bikini area- you name it! Laser hair removal is the only option that gives a permanent solution to the problem of ingrown hair. LHR goes to the root of the problem. It destroys the follicle so there will not be any hair to be ingrown at all.
Ideal time: You need multiple sessions to completely get rid of all the hair. After every session, approximately 20% of your hair follicles are destroyed and the remaining comes back in the next cycle. On an average 6 to 8 sessions are needed. So plan ahead!
Downtime: There is no downtime if you choose a good laser machine. It is important to know which laser technology is being used to have minimum downtime and zero side effects. A technology treatment such as Primelase HR gives zero downtime, very mild redness which subsides in a few minutes.  
ALSO READ: "I Tried Dermarolling To Remove My Scars Before My Big Day And Here's The Lowdown"