5 Designer Labels For A Customised Bridal Kanjivaram Saree In Bangalore! *Including Deepika's Pick!
BY Sakshi | 22 Nov, 2018 | 14592 views | 3 min read
Deepika Padukone wore the most stunning Kanjivaramas on her wedding, and while we couldn't help but love the fact that she was styled by Sabyasachi, the sarees that she adorned herself with were from an old traditional label in Bangalore, which literally has a legacy of making beautiful silk sarees! So inspired by that, here are our top picks in Bangalore for a gorgeous bridal Kanjivaram!
House of Angadi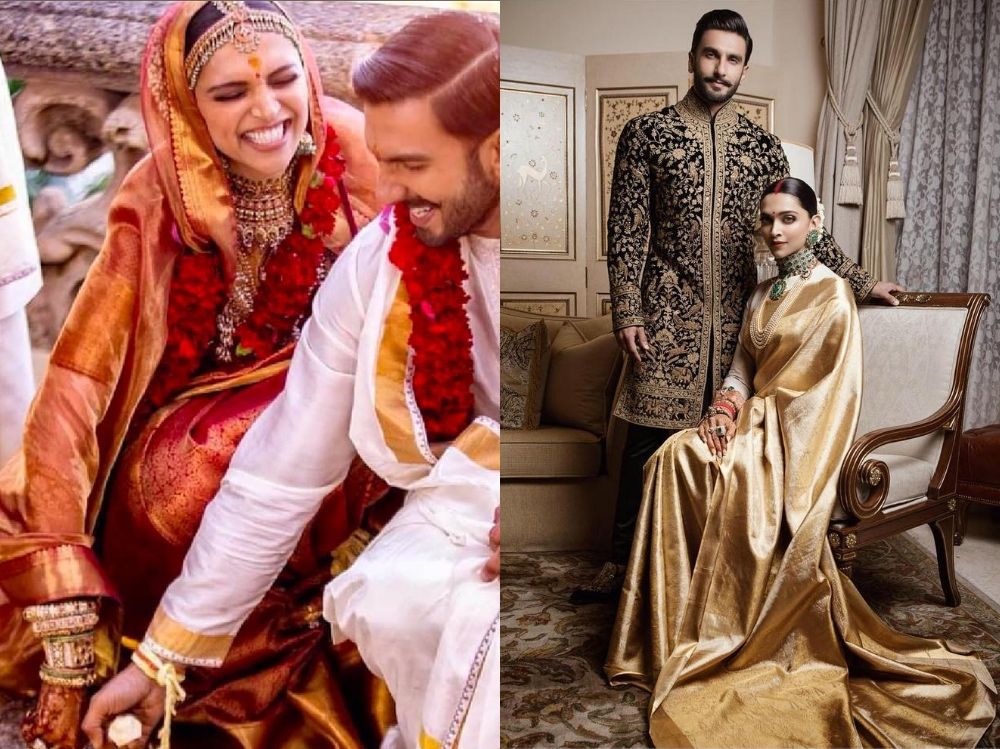 Deepika's choice for not one but two of her wedding functions! For her Konkani wedding, she wore a pure gold zari Kanjivaram brocade silk, with Gandaberunda (two-headed bird) motif. For the reception, she chose an Advaya pure zari gold Kanjivaram silk saree designed by K Radharaman from the House of Angadi. This is one label that has some beautiful Kanjivarams for just about any occasion, especially rich bridal ones! Curated handloom destination which boasts of 600 years of Angadi weaving heritage-yes, they are traditional weavers who are trying to keep the legacy alive! 
Check them out at 23, Sankey Road, Sadashiva Nagar.
Find out more on Instagram.
Gaurang Shah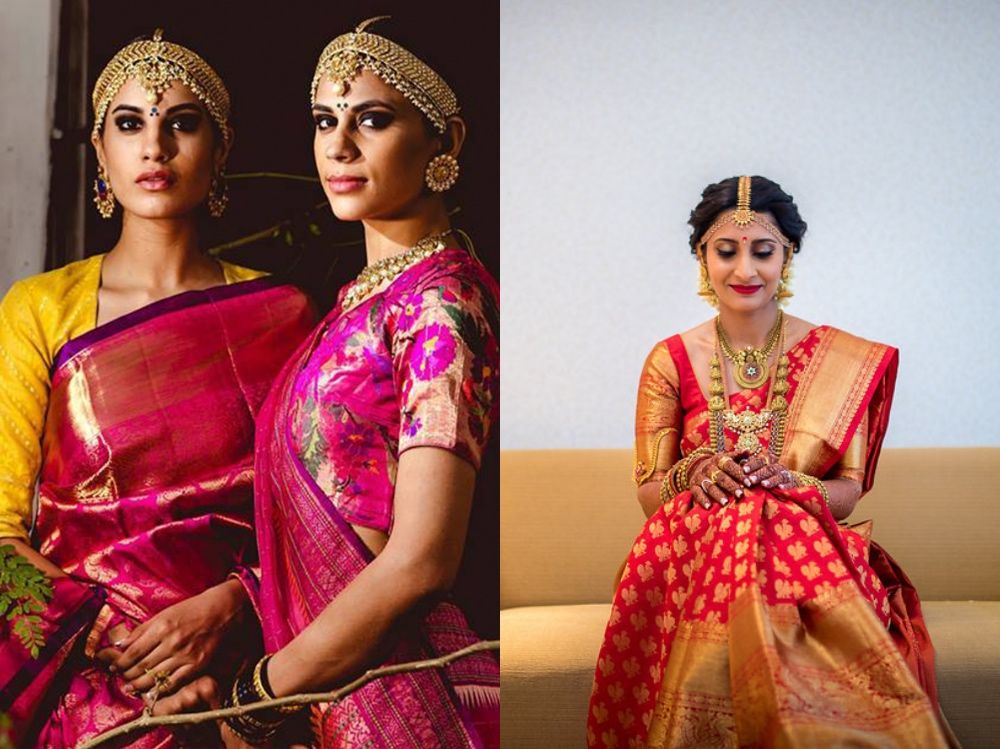 Second image via Nikhil Shastri★ 5  
He is another designer who really knows how to do silk sarees and Kanjivarams beautifully! Although he is a contemporary designer and big with Bollywood, his sarees are handcrafted, timeless and breathtaking, and surely something brides-to-be in Bangalore should check out for sure while doing their bridal shopping! They have some beautiful kanjivaram lehengas too and customising your own saree is also an option here, so its a win-win!
Check the label out at 67, Ist Floor, Lavelle Road.
Find out more on Instagram.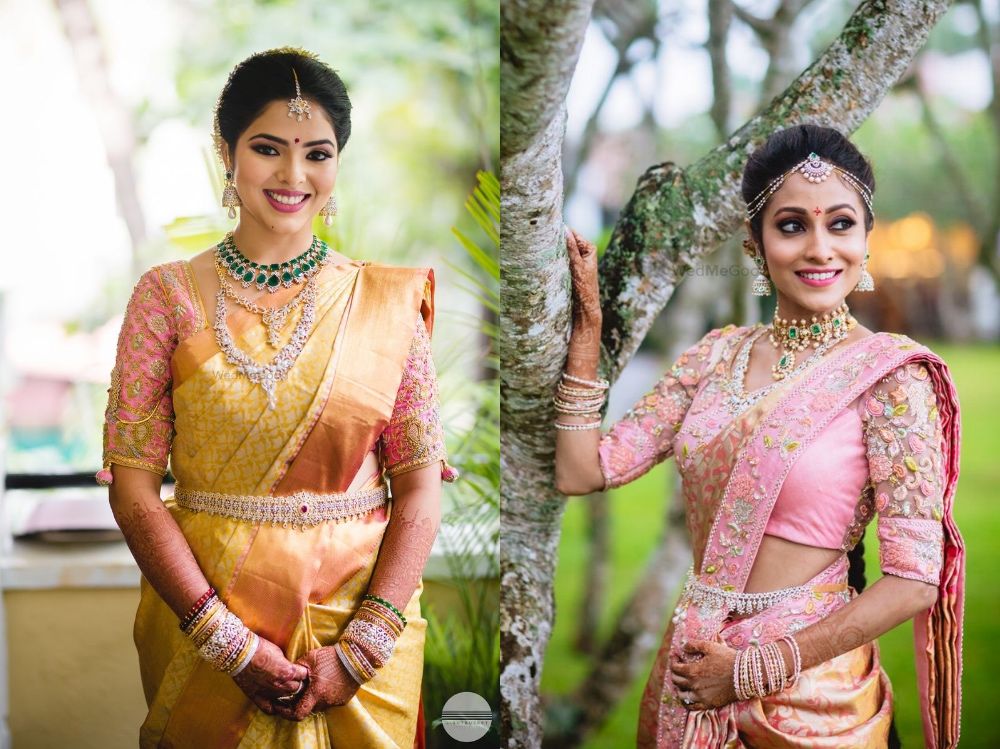 Now this is a refreshing new designer from Bangalore who has some gorgeous traditional and contemporary outfits for brides, including beautiful Kanjivaram sarees that can be customised and designed as per your liking! Plus, we've noticed a few Kanjivaram lehengas too, which are so perfect for new-age South Indian brides! 
Find out more on Instagram.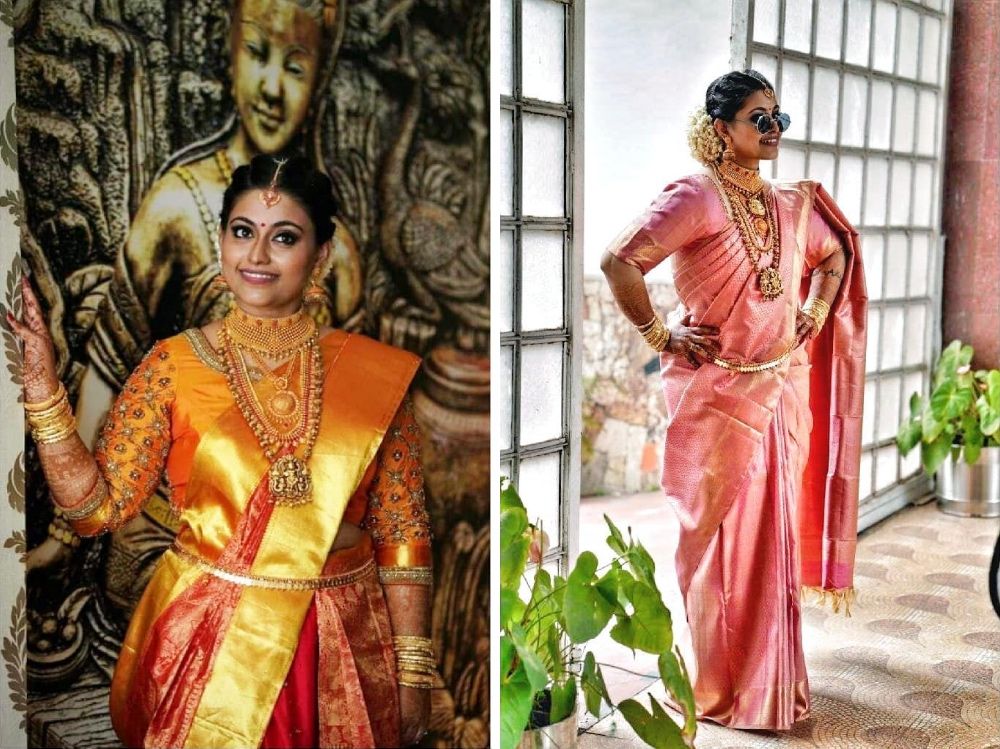 Image via drsneh6
This bride wore two gorgeous customised weaves by Deepika Govind, and we love how nice it looks while giving a twist to the traditional! From saree lehengas to some pretty traditional sarees, she's got a whole lot of designer wear that's great for modern South Indian or fusion brides!
 21/11, Craig Park Layout, Near-Kids Kemp, MG Road.
Find out more on Instagram.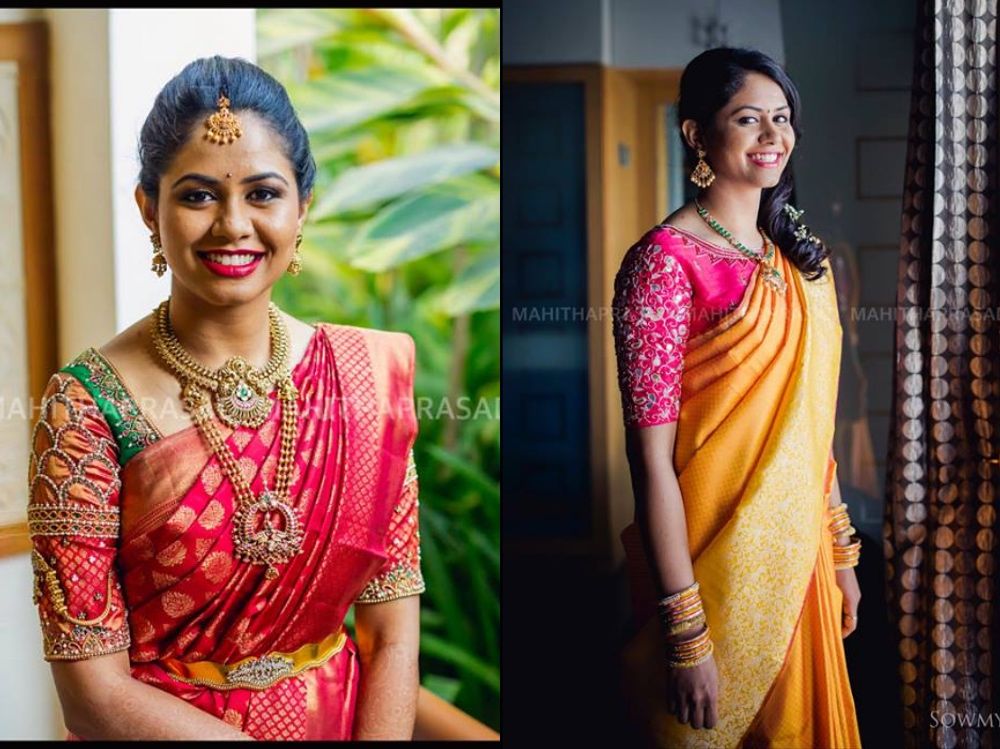 While she is a new-age designer who does a lot of contemporary stuff as well, we couldn't help but notice her beautiful sarees and blouses for brides too- pretty Kanjivarams in unique shades and love the contrasting blouses with embroidery too!
Check the label out at 27th Main Road, PWD Quarters.
Find out more on Instagram.
ALSO READ: Bridal Shopping in Bangalore? We Got Your Back, Girl!