6 Designers Tell Us : What To Avoid While Customising Your Outfit!
BY Sakshi | 05 Oct, 2017 | 5244 views | 3 min read
So you have your heart set on customising your dream bridal outfit- you even know exactly what you want, in what colour and which designer to do it for you! But what you don't realise that it may not turn out perfect despite all that! There are a few mistakes brides make when customising their perfect outfit, so we decided to ask the most ideal people what those are- the designers! So let's see what some of the leading bridal wear designers have got to say about that!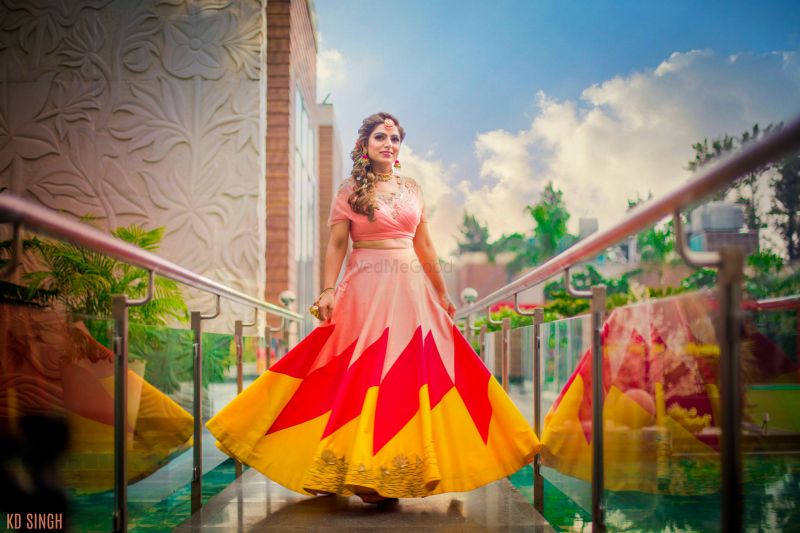 Image via KD Singh
Mistake 1: Getting fixated on one particular color
Anushree Reddy from Anushree Reddy★ 4.8 : "Some colour combinations work, some don't. While it's important to follow trends, you need to know which colours suit your body and skin, plus which colours work well together. But when you choose a designer whose work you like, make sure your suggestions work around their design sensibilities. Asking for a design or a colour that won't go with their work is a definite no-no."
Mistake 2: Choosing western bridal attire for main functions
Anjali Sharma from
ANJALISHARMA by French Curve
: ""I am old school when it comes to dressing a bride and I'd say the biggest mistake is to go for a western attire for any main function! An Indian bride carries off grandeur like none else and also looks the nicest in a tradional Indian ensemble, adorned with ornate jewelry. That is something all young brides could look at- experiment with funk during Mehndi and Sangeet and stick to the lavishness for the pheras and reception."
Mistake 3: Ordering an outfit 2 sizes too small in the hope of losing weight by the wedding
Riya Kodali from Riya Kodali Design House★ 4 : "The path to "I Do" is littered with missteps! One of which is trying to drop 2 sizes before their final fitting. You are customising the wedding dress of your dreams, but it's not quite a perfect fit on the real-life you, your plan- Order the dress 2 sizes too small, and then do whatever it takes to make it fit. Making a commitment to eat right and exercise is great whether you're planning your wedding. On the other hand, crash dieting and chaining yourself to the treadmill is a course likely to end in disaster and an ill-fitting gown."
Mistake 4: Blindly following trends
Asha Gautam
: "Some brides follow trends blindly irrespective whether the outfit will look good on them or not. Another thing is that they always hope they will lose weight and give measurements whereas during wedding diet goes for a toss and they end up gaining sometimes!"
Mistake 5: Narrow down focus, too many ideas can make it messy
Devnaagri
: "It is extremely crucial when you plan to customise your own outfit you keep one design aesthetic in mind, narrow down your focus. Sometimes too much is messy. Stay in tune with current colours. Absolute care is needed on the fit and finishing of the outfit. Nothing looks worse than an ill-fitted, unfinished product. Get this together and enjoy your personal statement outfit!"
Mistake 6: Consider the designer's expertise as well
Ghungat by Shaveta and Anuj
: "The biggest mistake brides make while customising their outfit is sometimes they end up following the trend but instead they should take the designer's expertise to pick the right colour for their skin tone and a right cut complimenting their body type."