6 Innovative ways to use Bangles in your wedding decor (DIY it!)
BY The WMG Bride | 22 Nov, 2015 | 6956 views | 2 min read
There are some symbols in Indian weddings, which , even if are done to death- always garner a wow factor. And while bangles are probably the most seen element on mehendi's, using them in innovative ways can form really great DIY decor ideas for your big day ! Here are 6 offbeat ways to use bangles to spice up regular decor :
Decor by: Aura By Gautam Vedi★ 5
Probably, the most innovative use of bangles so far, this three-tiered bangle chandelier is absolutely adorable and a definitely conversation starter on your mehendi!
---
 To give chairs some spunk
Photo via Aviraj Saluja from this multiculural Mumbai wedding
A little bit of spunk to your regular chair covers with colored bangles serving as a nice little photo-op. This is an easy DIY for yourself to do !
---
As DIY hangings from tree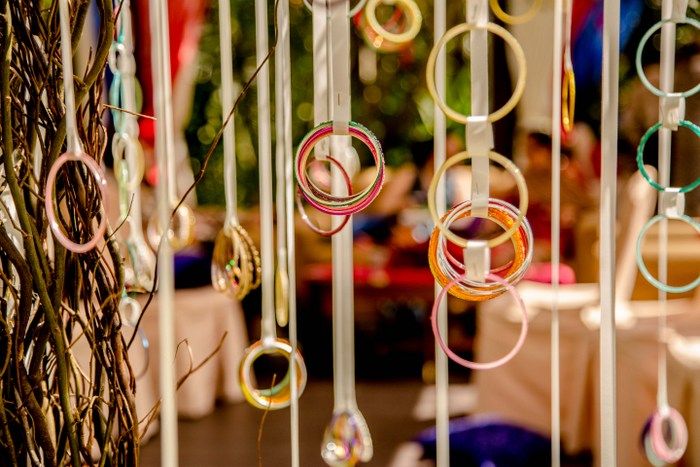 Photo via Wedred Studios★ 5 from Rasna and Chirayus wedding
One of our favourite DIY decor ideas is to hang ribbons from a tree with a bunch of bangles stapled at the end of it. Easy, peasy installation which draws eyeballs.
---
Photo via Joephoto from Maharani Weddings
Mini trees with bangles on each branch form as cute table centerpieces. You could also do lanterns but instead of candles have bangles spilling out from them.
---
Photo: East Coast Desi
Here is an easy way to decorate your home and any functions you would be having at home. Just stack bangles around a tealight for a super easy bangle candle stand . Use these as centerpieces or just strewn about the venue
---
 Bangles around boulsters
How cute are these mini bolster cushions around which stacks of bangles and laid?