7 Brilliant Ways You Can Change Your Look From Wedding to Reception!
BY Sakshi | 26 Jul, 2017 | 583 views | 3 min read
So for a lot of us, our wedding schedules are pretty packed. Especially in cases when the wedding is in the morning or in the day, and then there's a Reception the same day. Now guests have the luxury of going back to their rooms and changing for the event, or just getting some rest. But as a bride, things are crazy hectic, and you'll probably have to start getting ready for the Reception right after the wedding wraps up!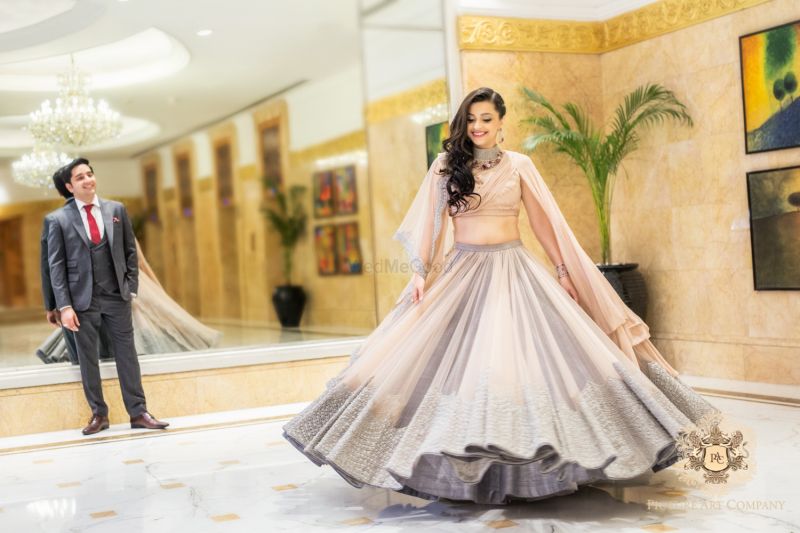 Image via Picture Art Company★ 3.9
So here are some quick hacks to transform your look from a Wedding to a Reception one, without wasting too much time and effort. All it requires is better planning!
Switch up the bottoms: Change into palazzos or dhoti pants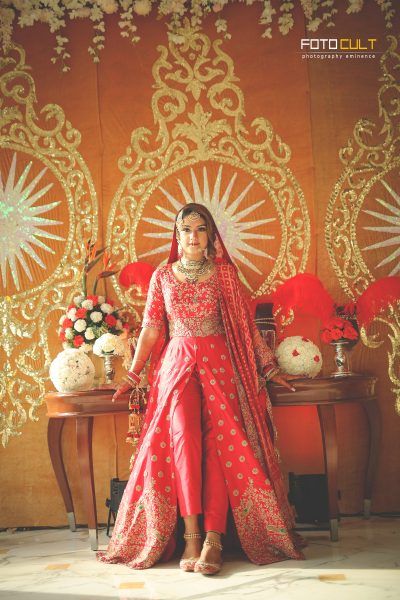 Image via Sue Mue★ 4.5 ; Foto Cult Photography★ 5
Not completely, just a bit! Keep the wedding blouse the same, but switch up the bottom and that means, switching up the heavy lehenga skirt for a sharara, cigarette or dhoti pants. 
Change Up Your Blouse: Make it a crop top or predraped.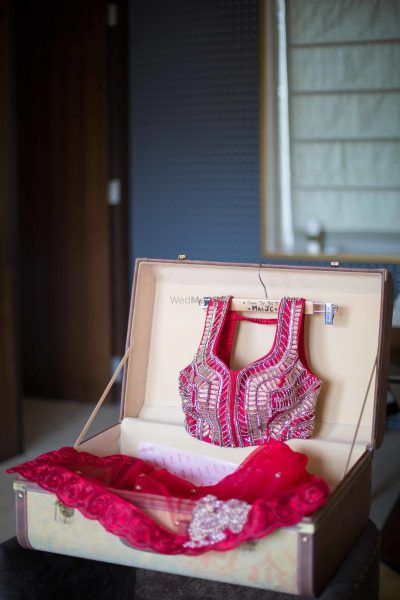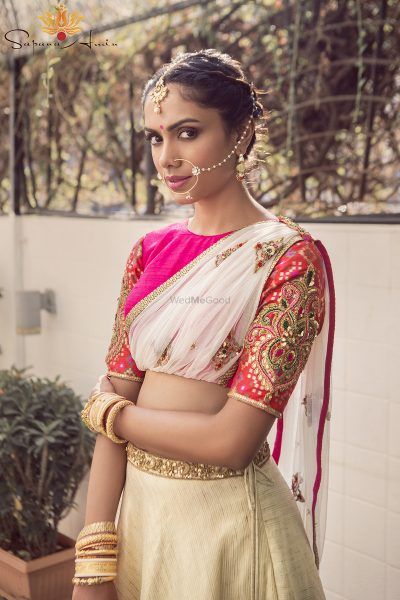 Pic via The Wedding Crasher★ 4.8 ; Sapana Amin★ 5
Another way to go is to keep the same lehenga skirt, and get a simpler crop top and ditch the dupatta all together. Since you went conservative with your wedding, it's best to go with a sexy blouse, bralettes (if you are bold), string noodle strap blouses and the list goes on. 
Add a floral waist belt & tuck your dupatta in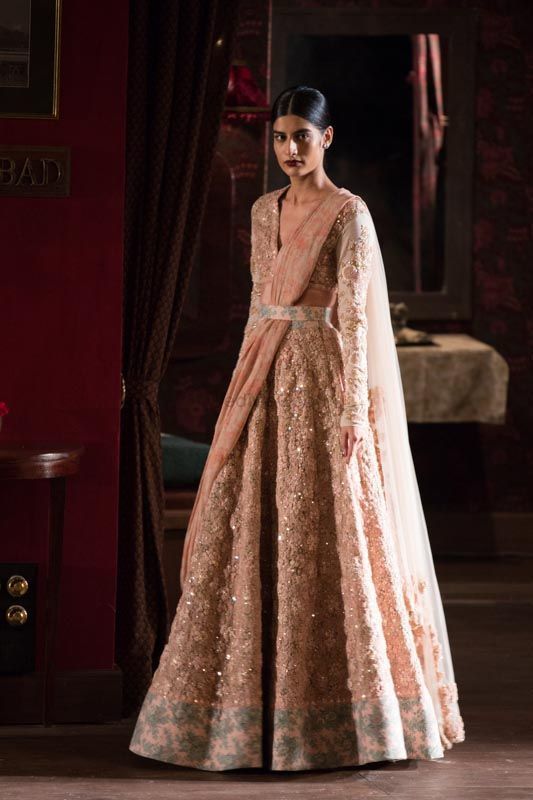 Dupattas are heavy, let's admit that. So remove the one on your head and tuck it into your waistbelt.
Add something casual to your outfit: Capes & Jackets Welcome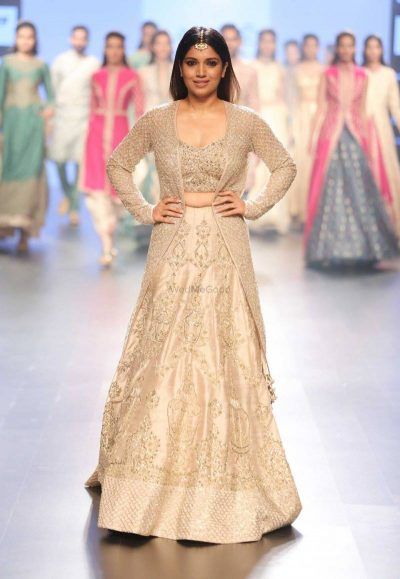 Image via SVA by Sonam and Paras★ 4.8 ; Happyframes★ 4.9
Ditch the dupatta, and get a blouse with an attached drape or a cape or even a jacket- that works really well too! Makes the look more relaxed and evening-appropriate for the Reception! 
Switch up the jewellery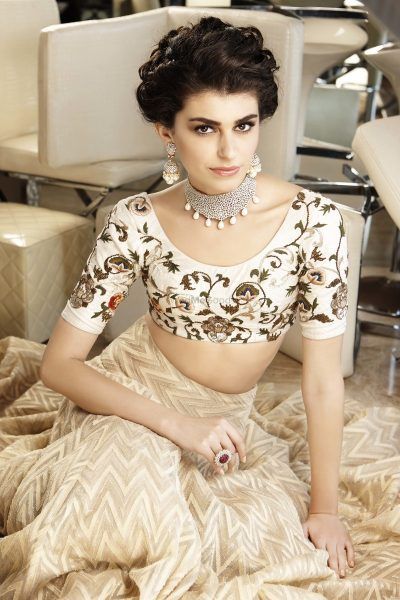 Image via Lights Camera Shaadi★ 5 ; Zema Fine Jewellery★ 5
Pick a jhoomer instead of the mathapatti you were wearing.
Take off one of the layered necklaces you wore for the wedding- wear either the choker or the long one- not both.
A simple diamond necklace also looks awesome!
Earrings matter too, so keep them simpler as well!
Lose the Nath and wear some new-age cocktail rings or hair acessories! 
Here's the difference makeup makes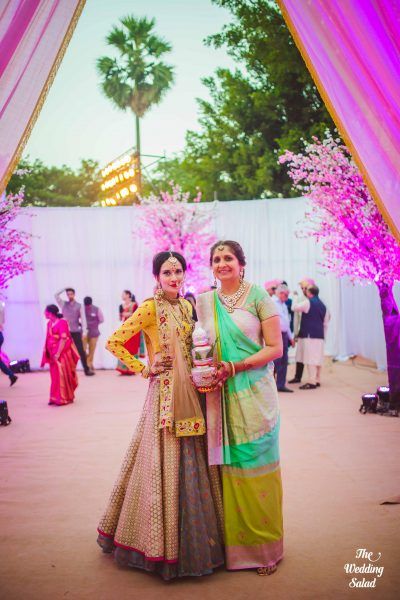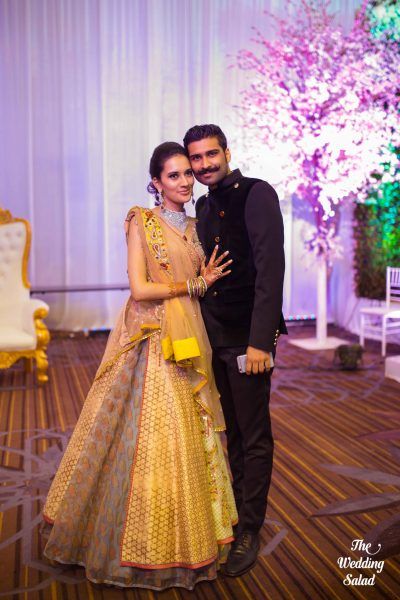 Image via Wedding Salad
Check out this pretty girl and how she switched the same lehenga around by a simple change of makeup. Gone were the red lips, hello smokey eyes and slicked back hair.
So be a pretty AND smart bride!
Wearing a saree for your reception is back in trend. You can take inspiration from these 15 brides who wore sarees for their wedding reception.