A Beautiful Jaipur Destination Wedding With A Bride Who Wore Custom Outfits
BY Aakanksha | 14 May, 2019 | 5549 views | 5 min read
15 years of togetherness, a gorgeous destination and a whole lot of fun, this wedding was all about the love the bride and the groom share! Sanwari made a gorgeous bride in a traditional red & dull pink lehenga while Ashish complimented her perfectly in an off-white sherwani. Add to that the photography by Ankit Goel★ 5 , and the wedding was nothing short of spectacular. 
Meet Sanwari & Ashish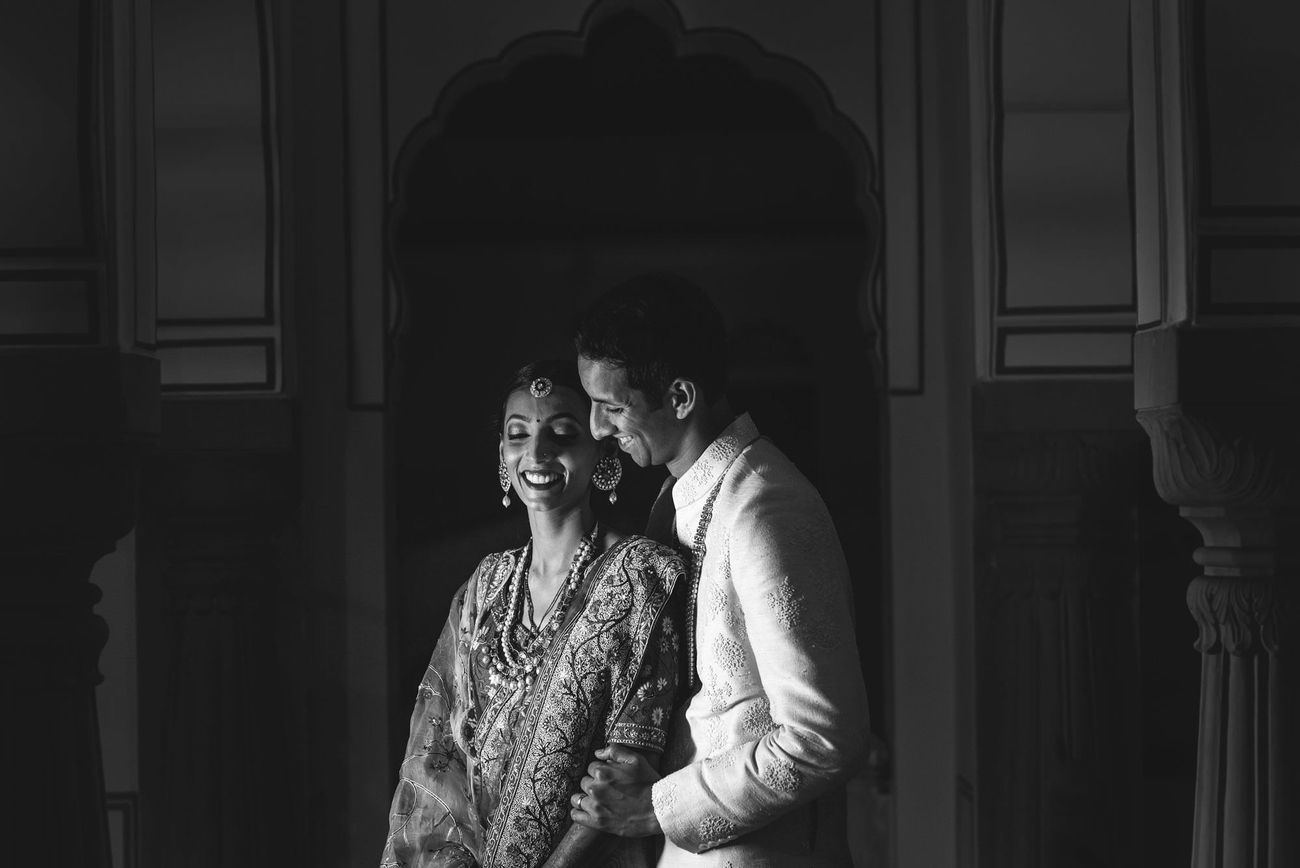 Sanwari tells us how she and Ashish grew up together and have now been together for almost 15 years, "Ashish and I went to the same school in Delhi and became friends there. Started dating in school and have been together since (going to be 15 years soon!)" 
The Mehendi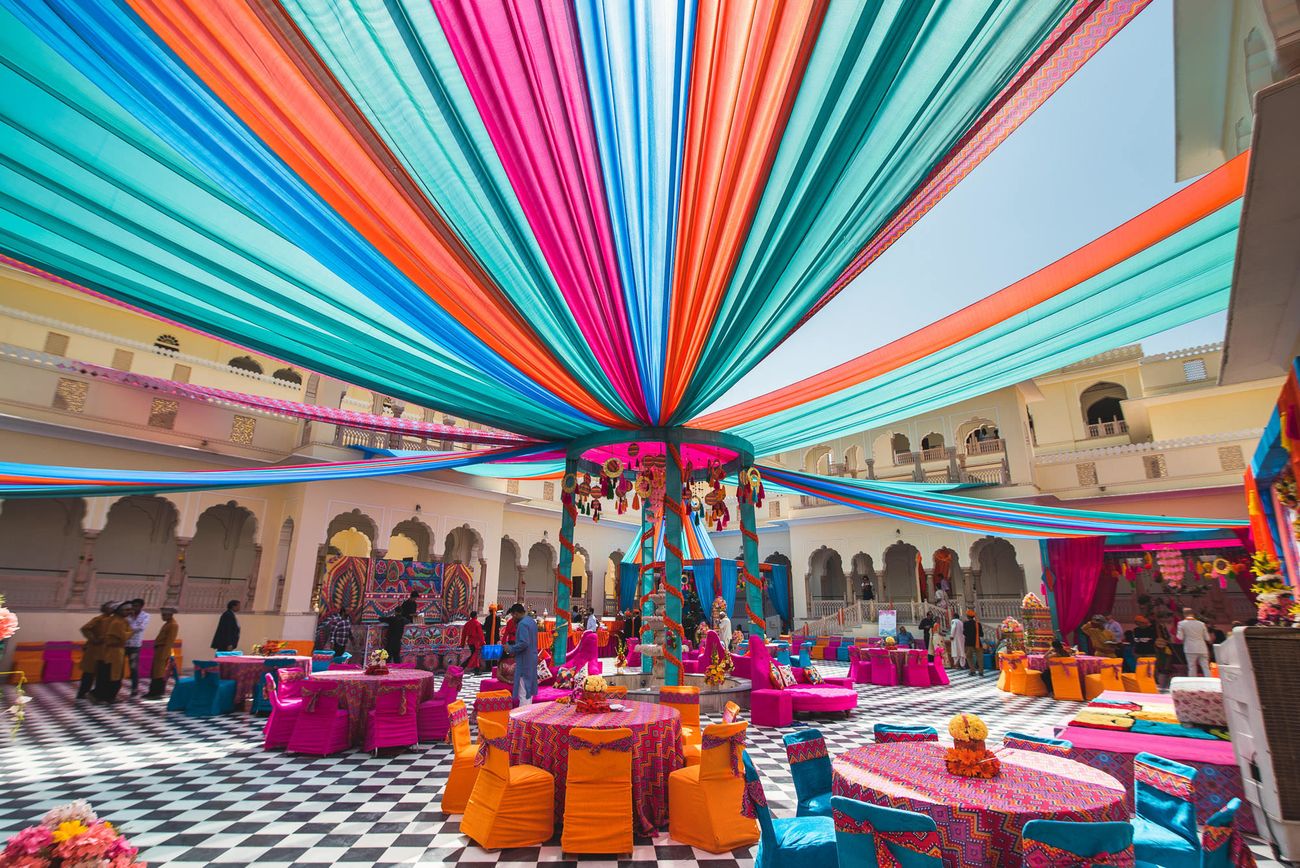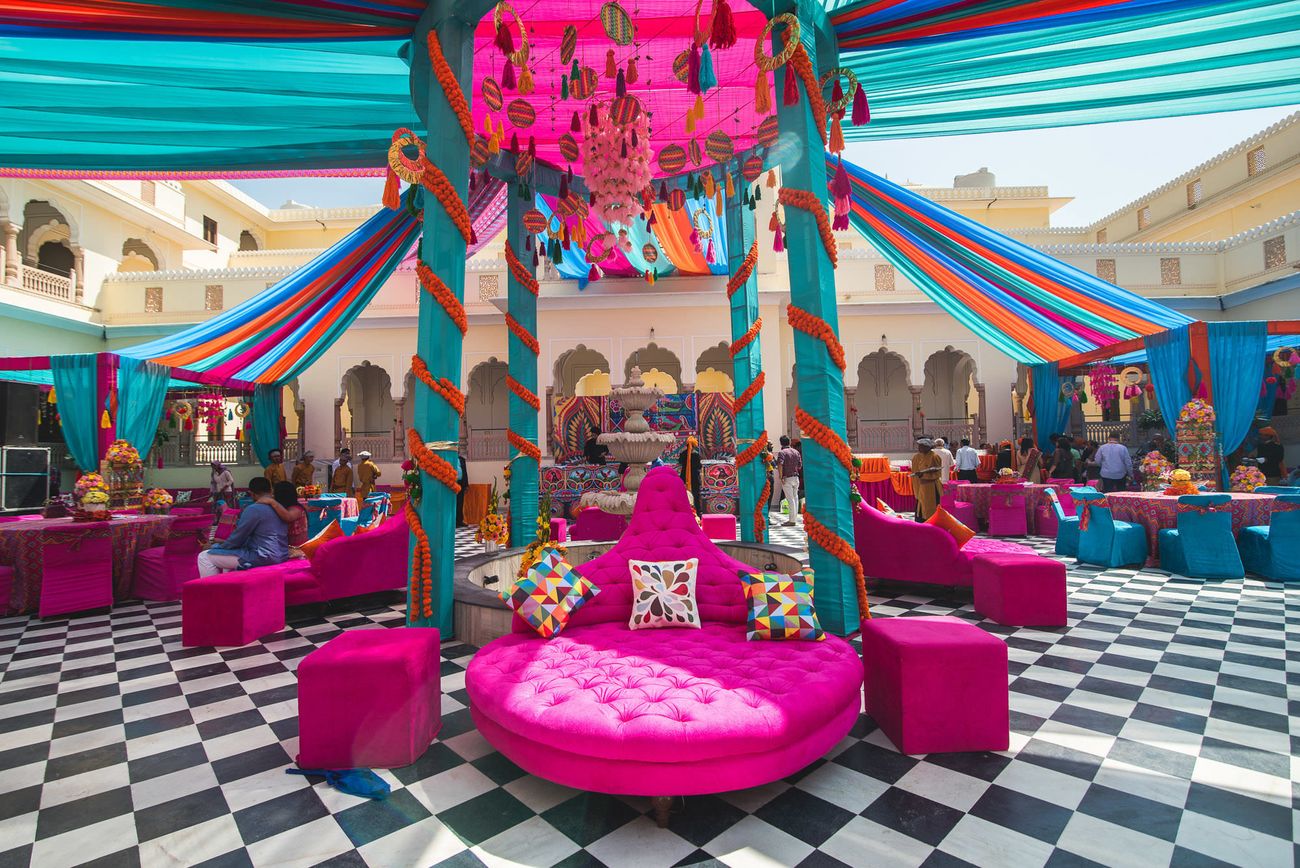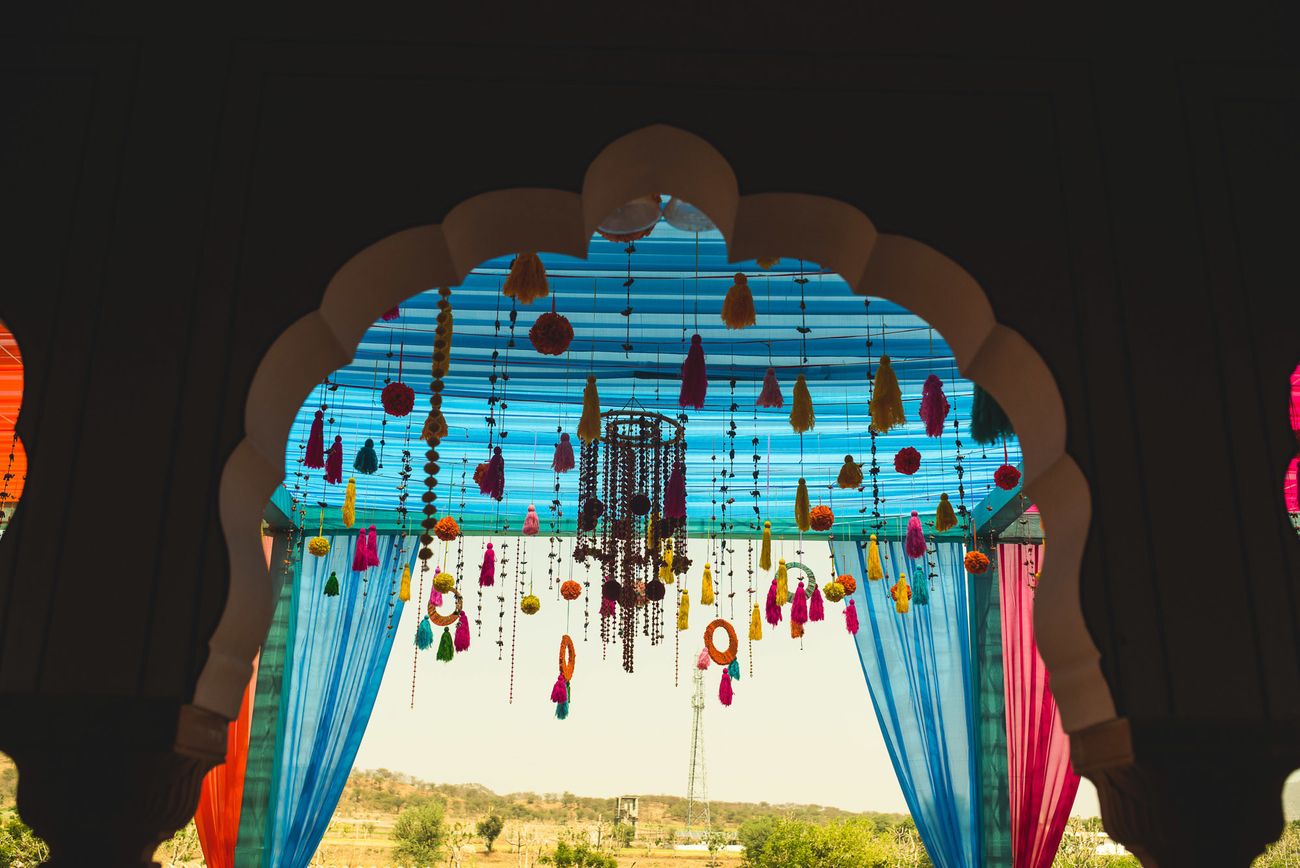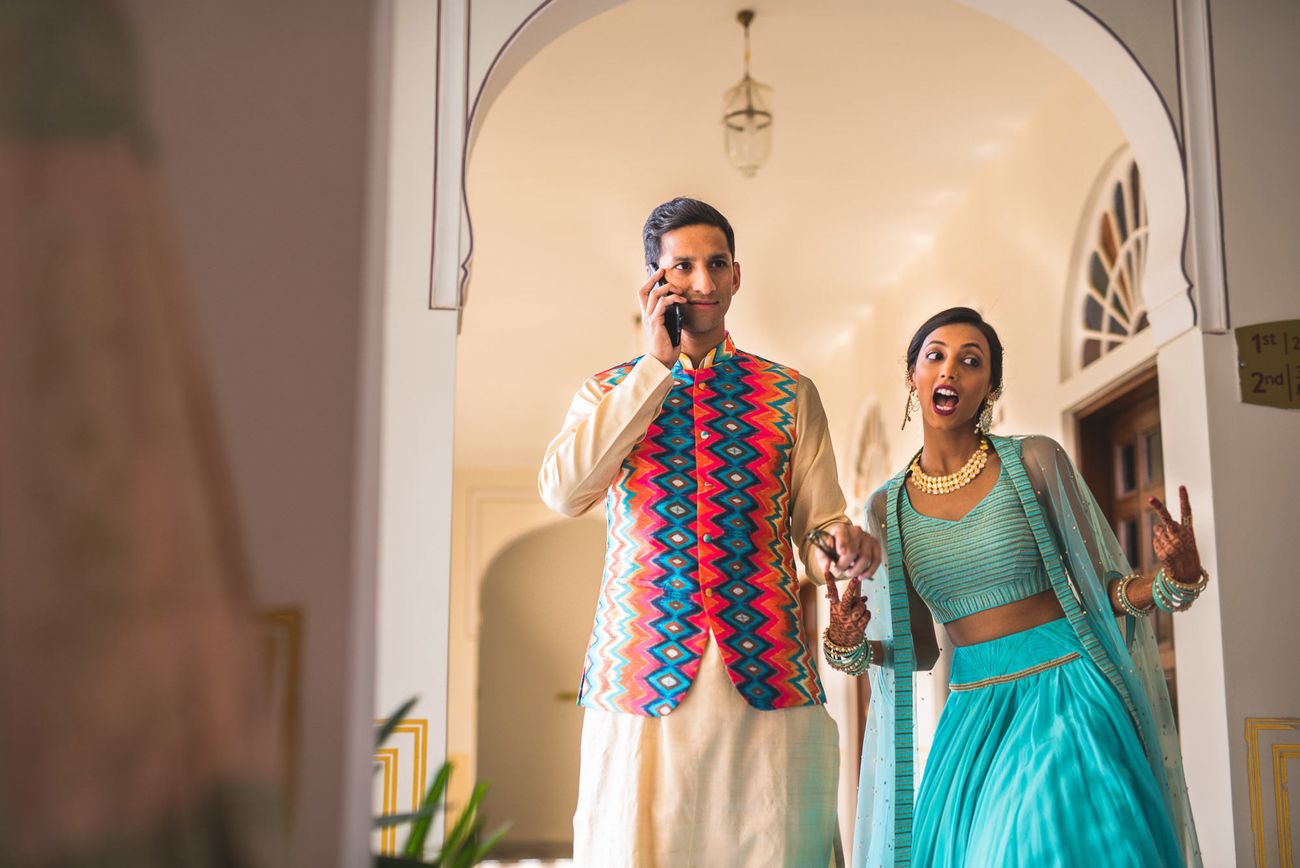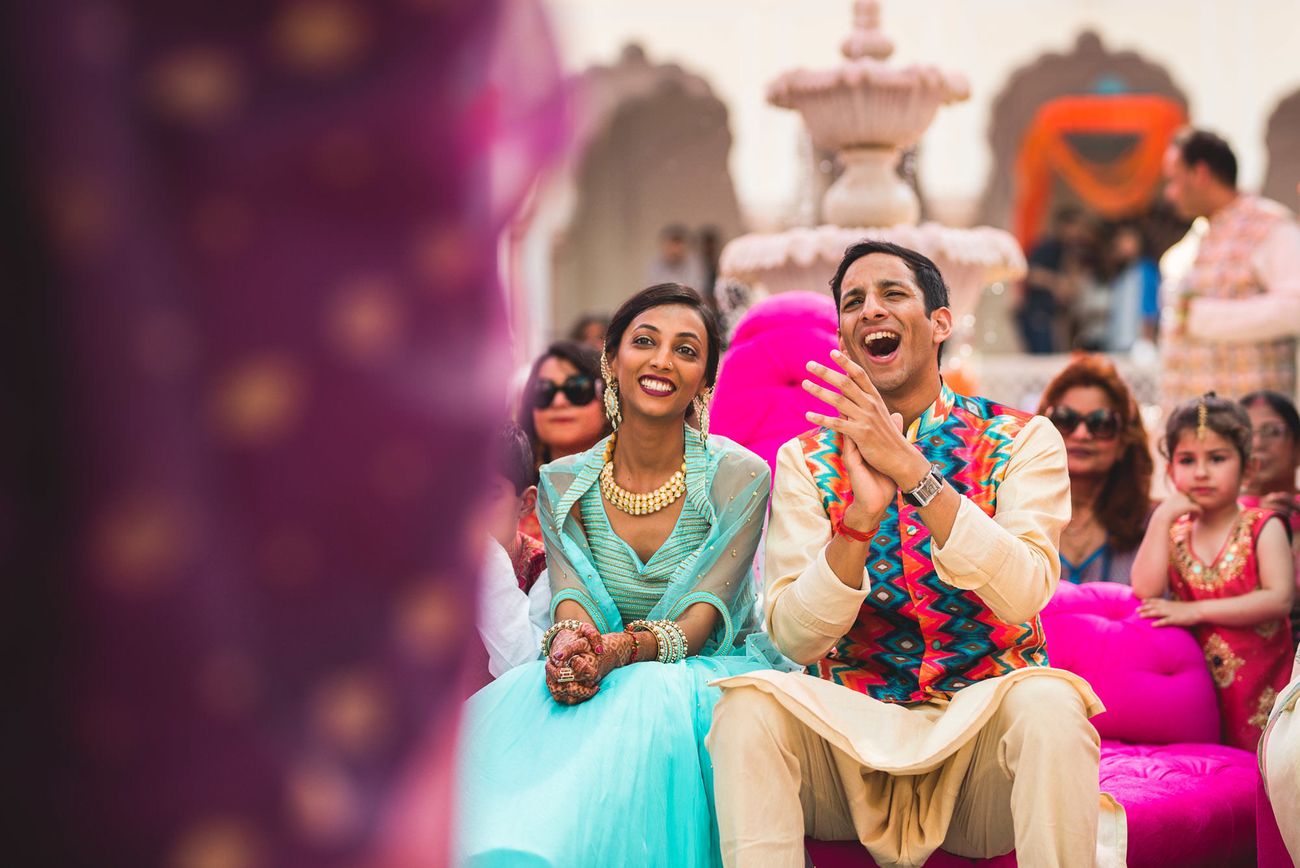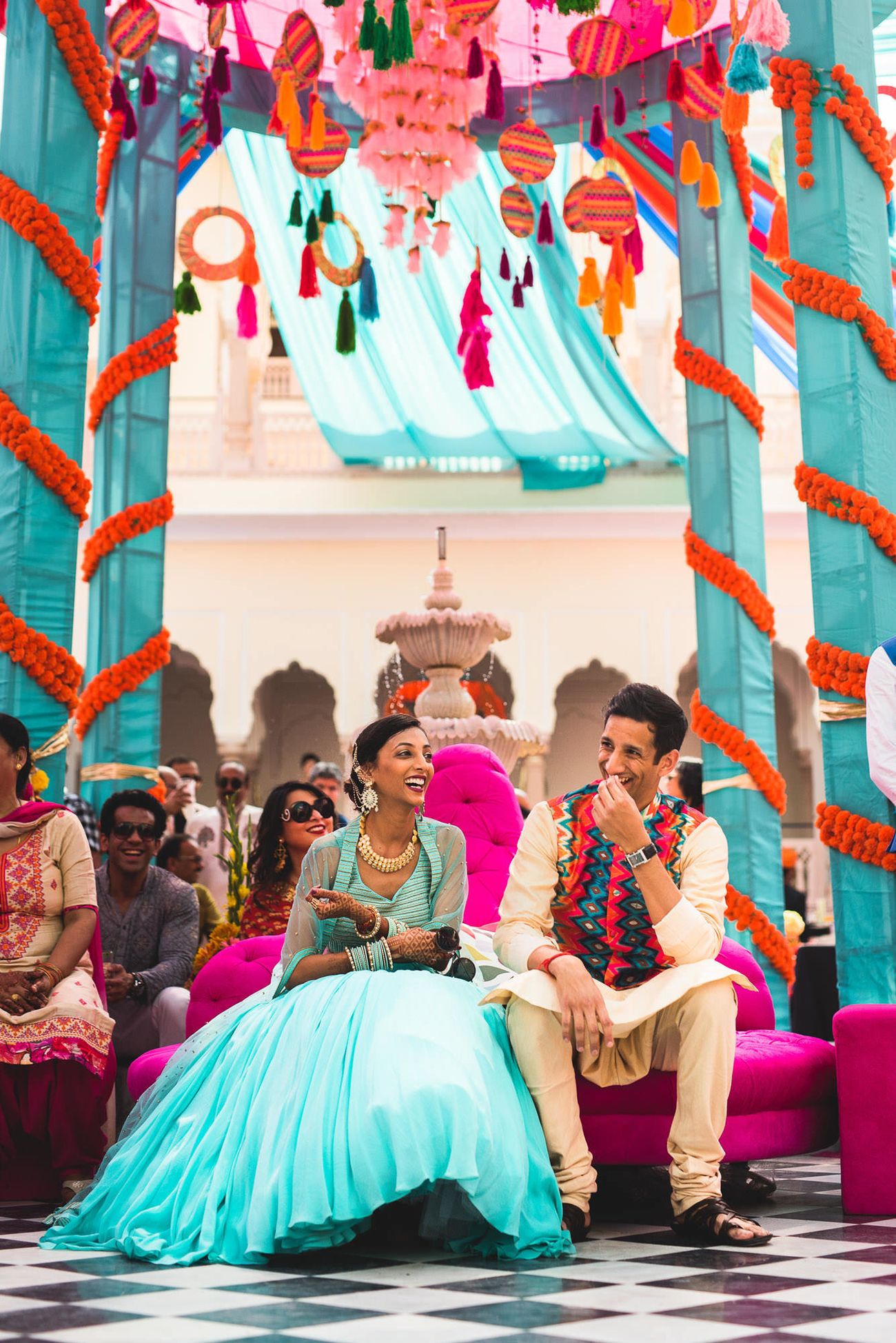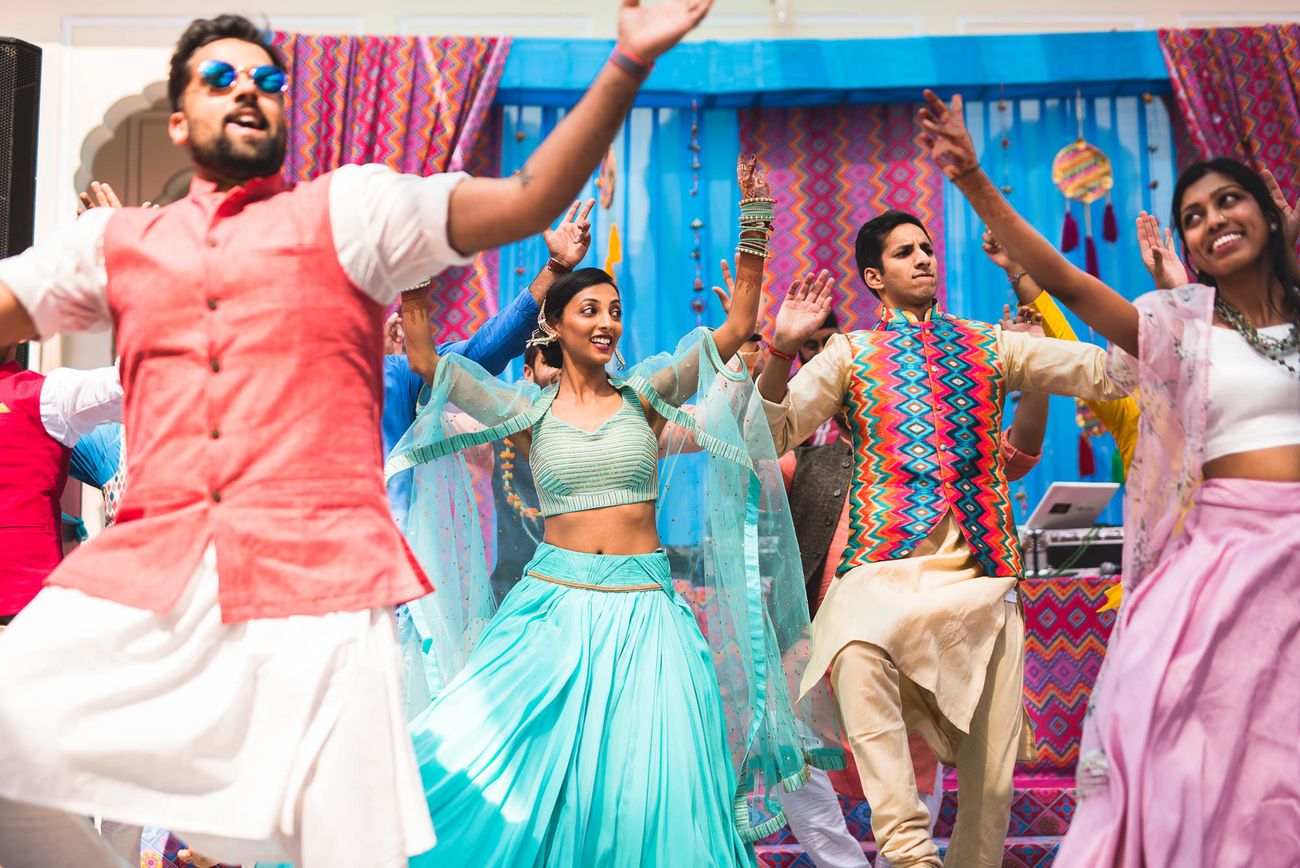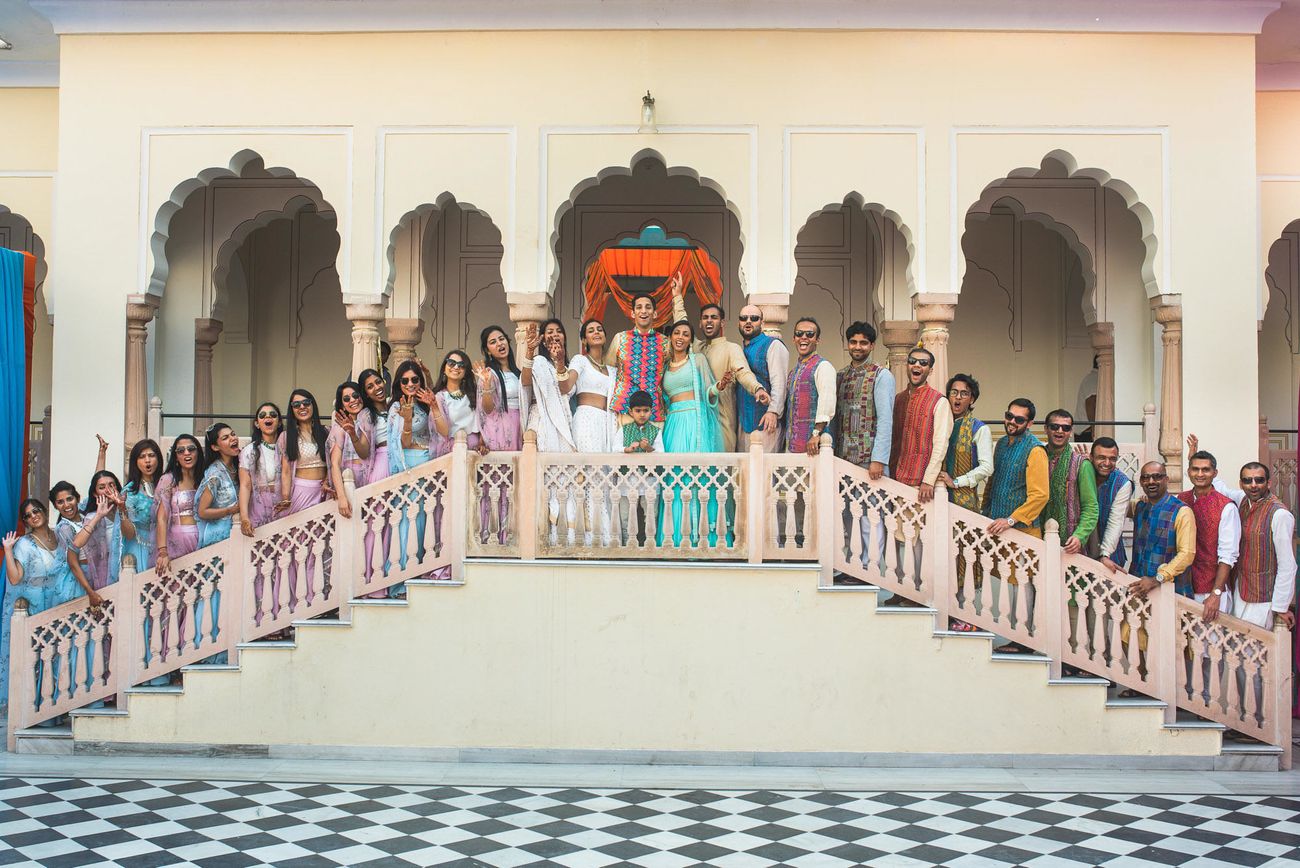 The Wedding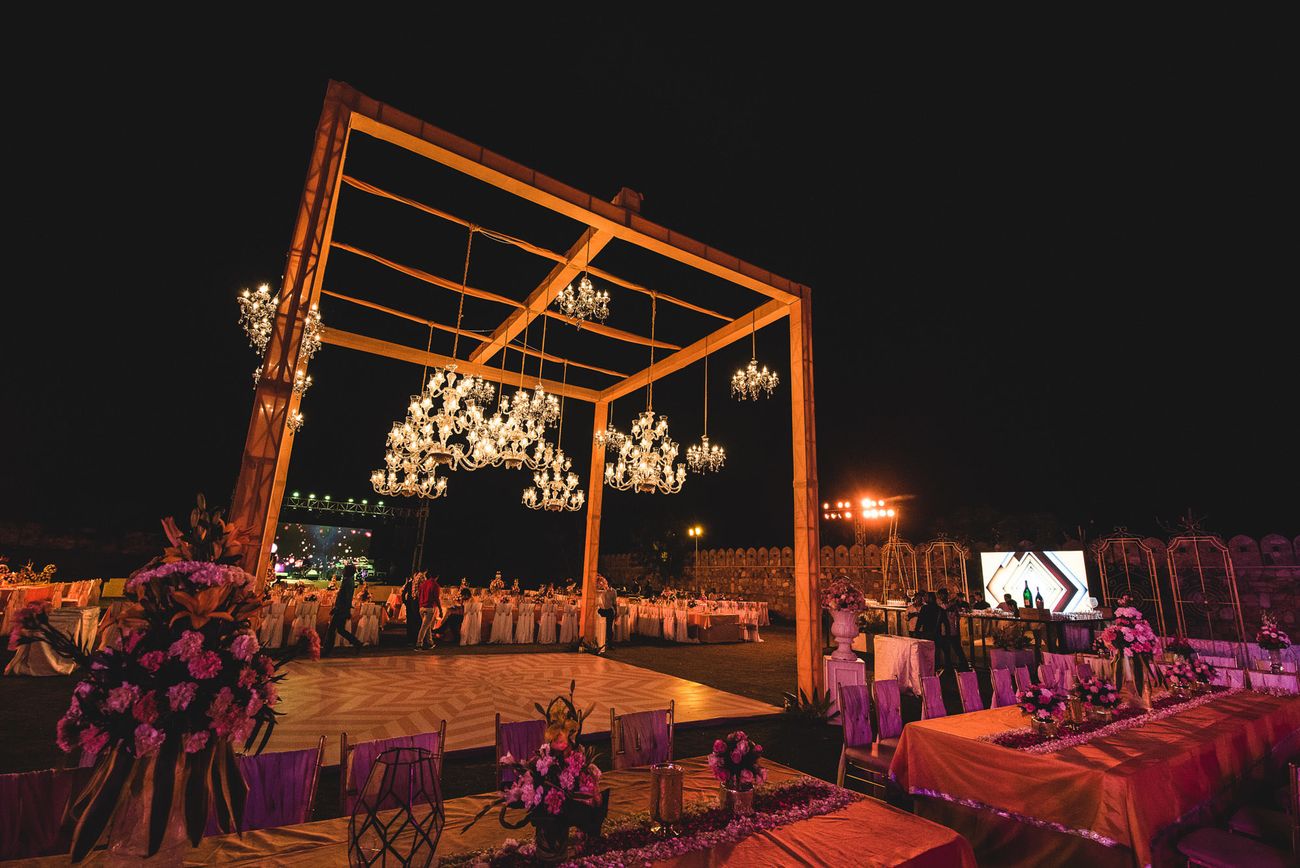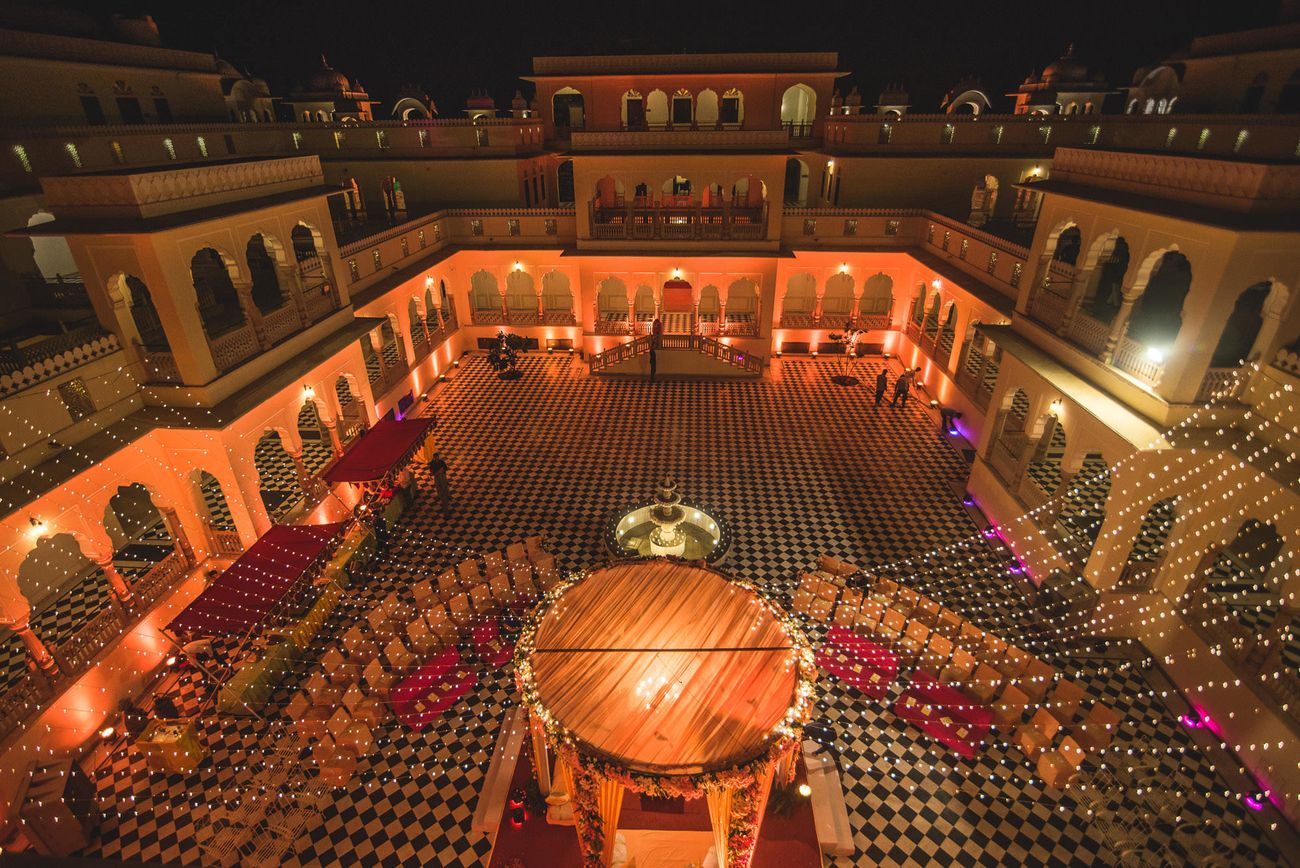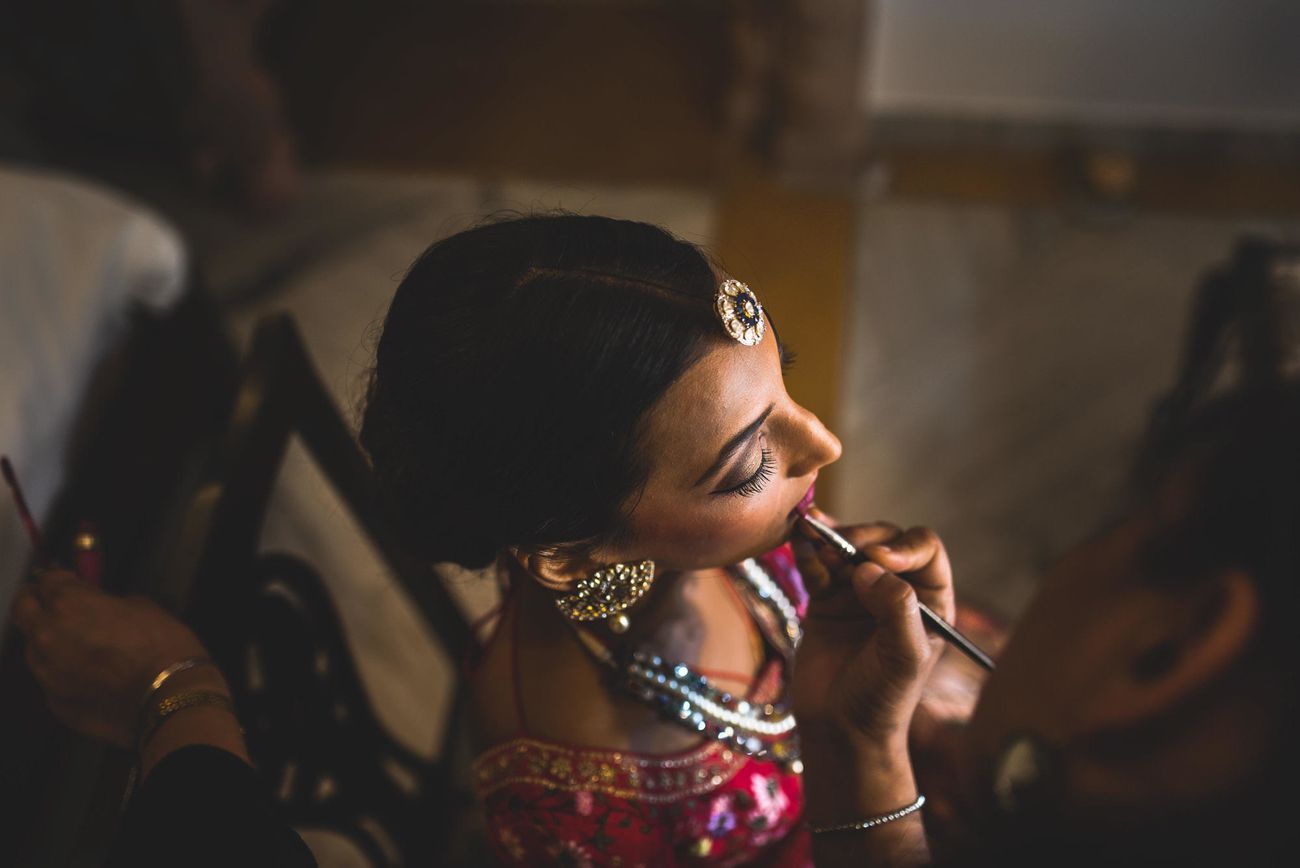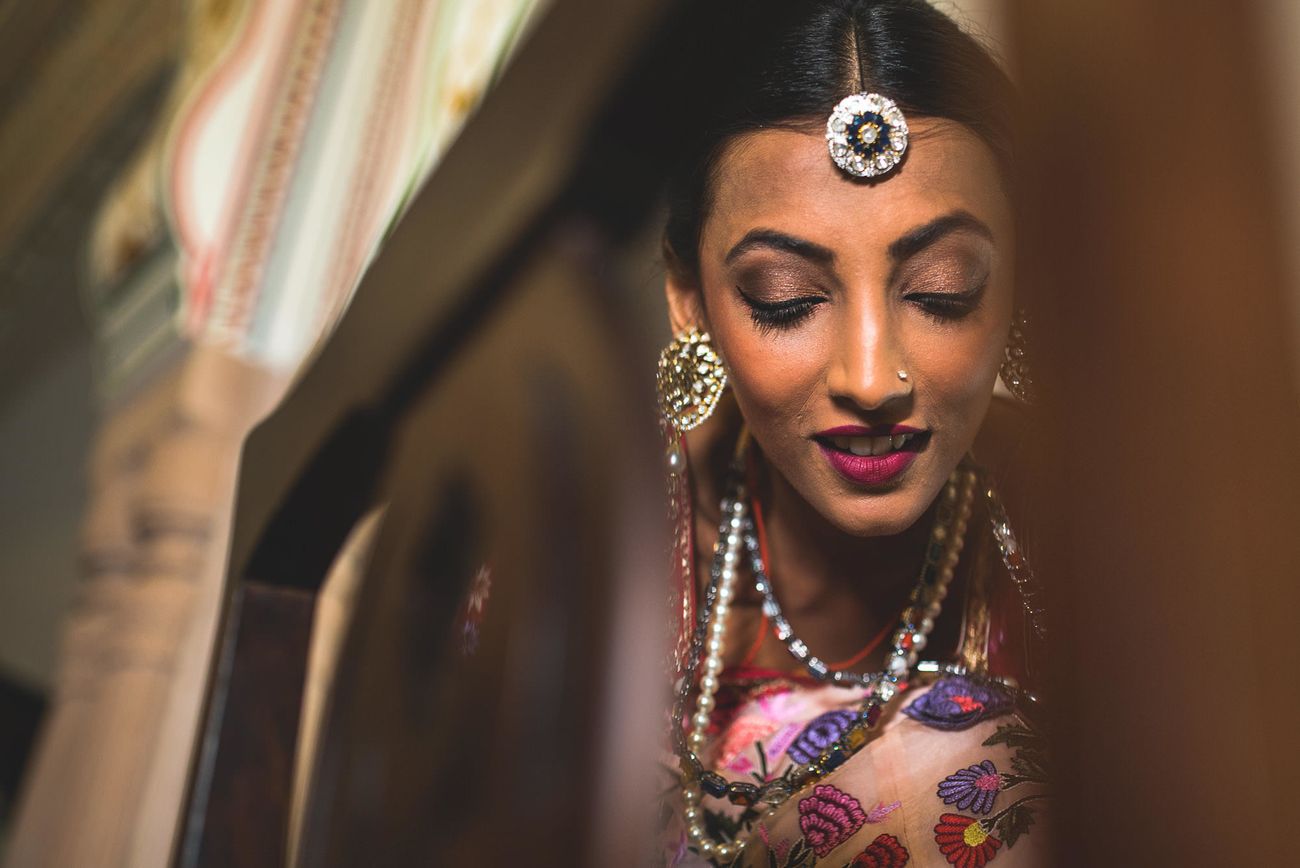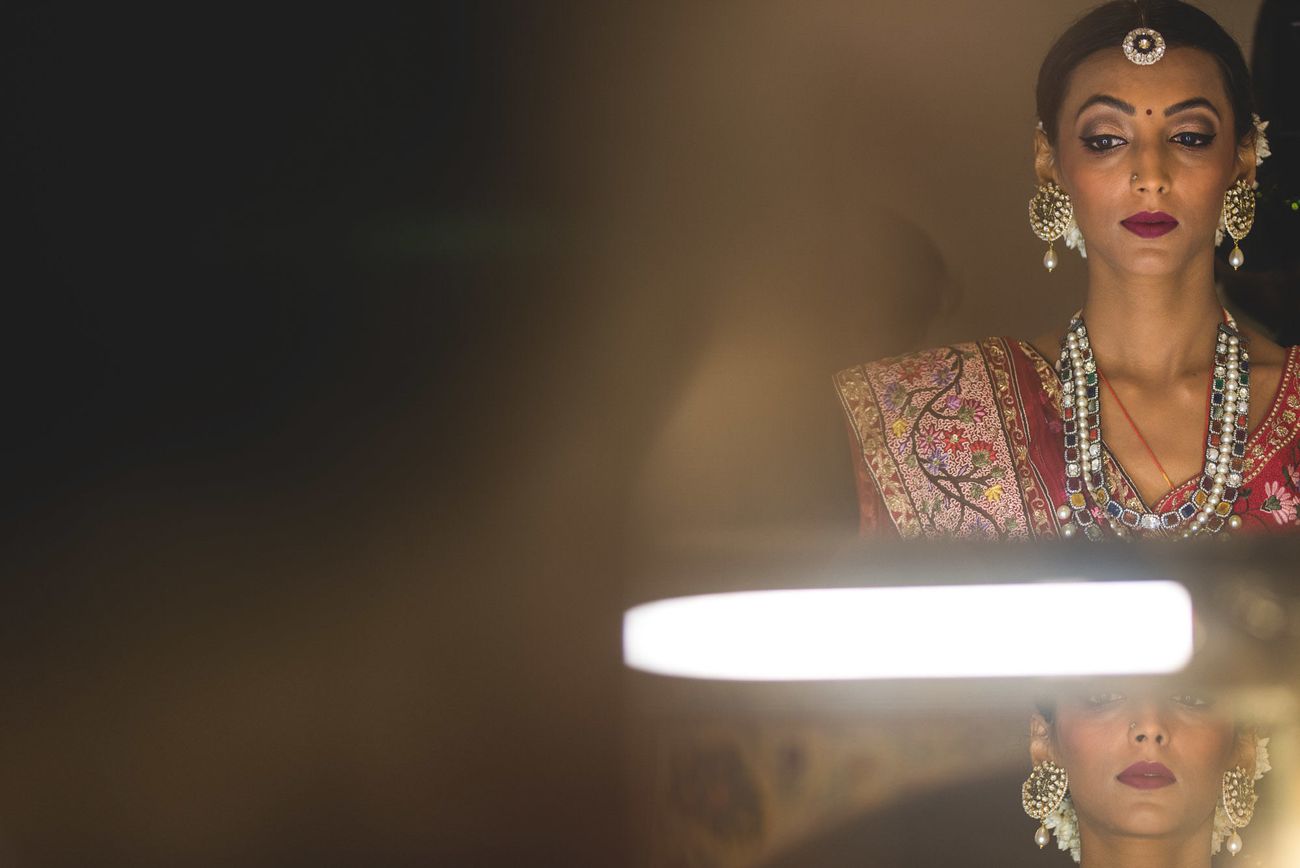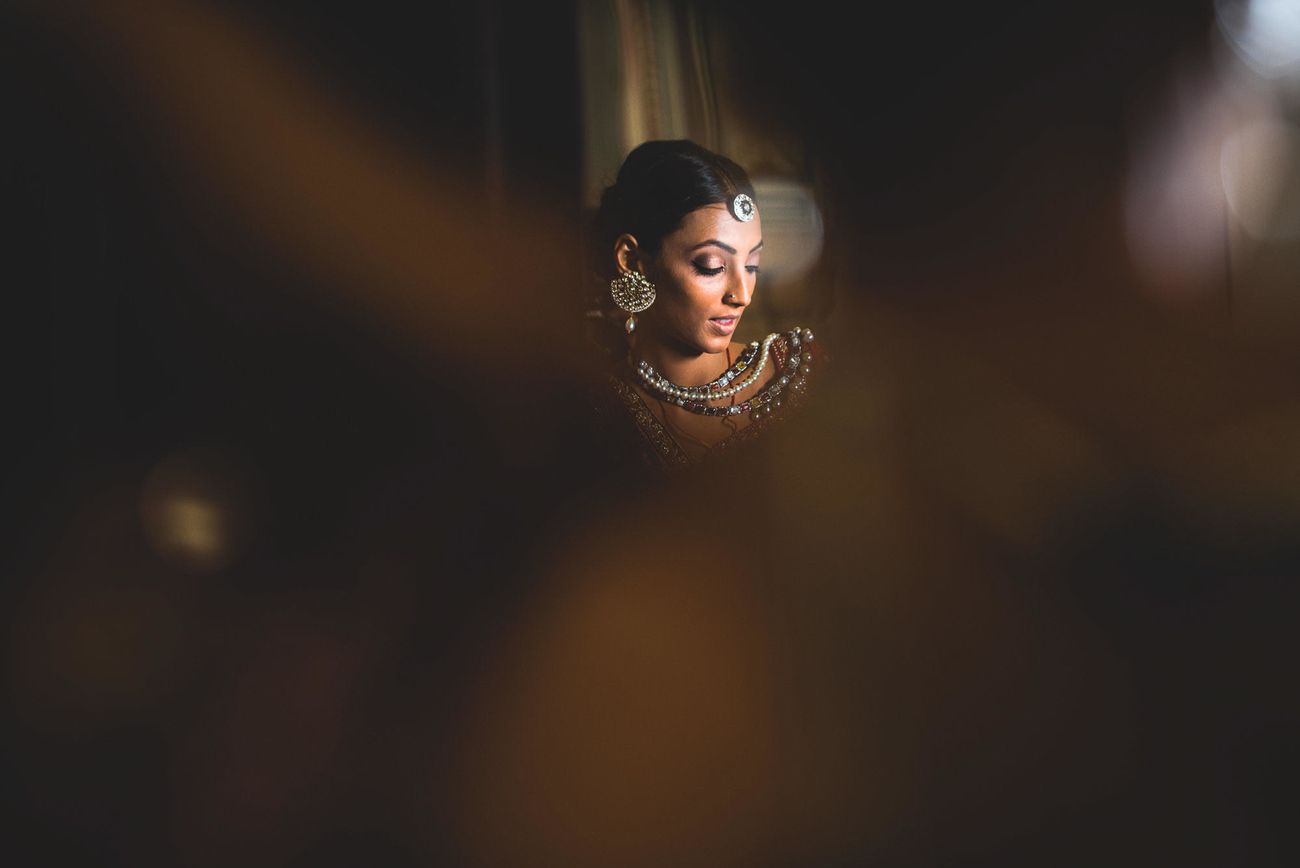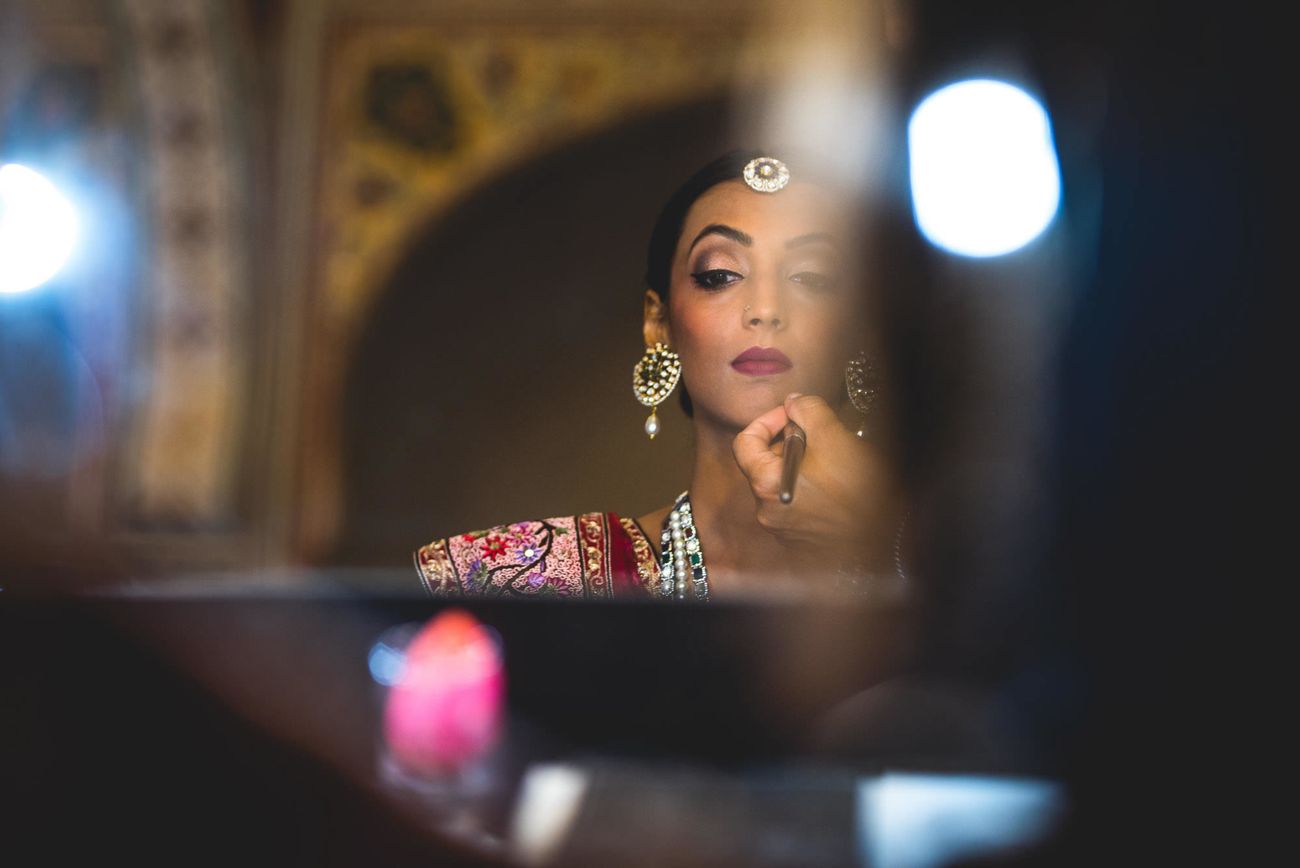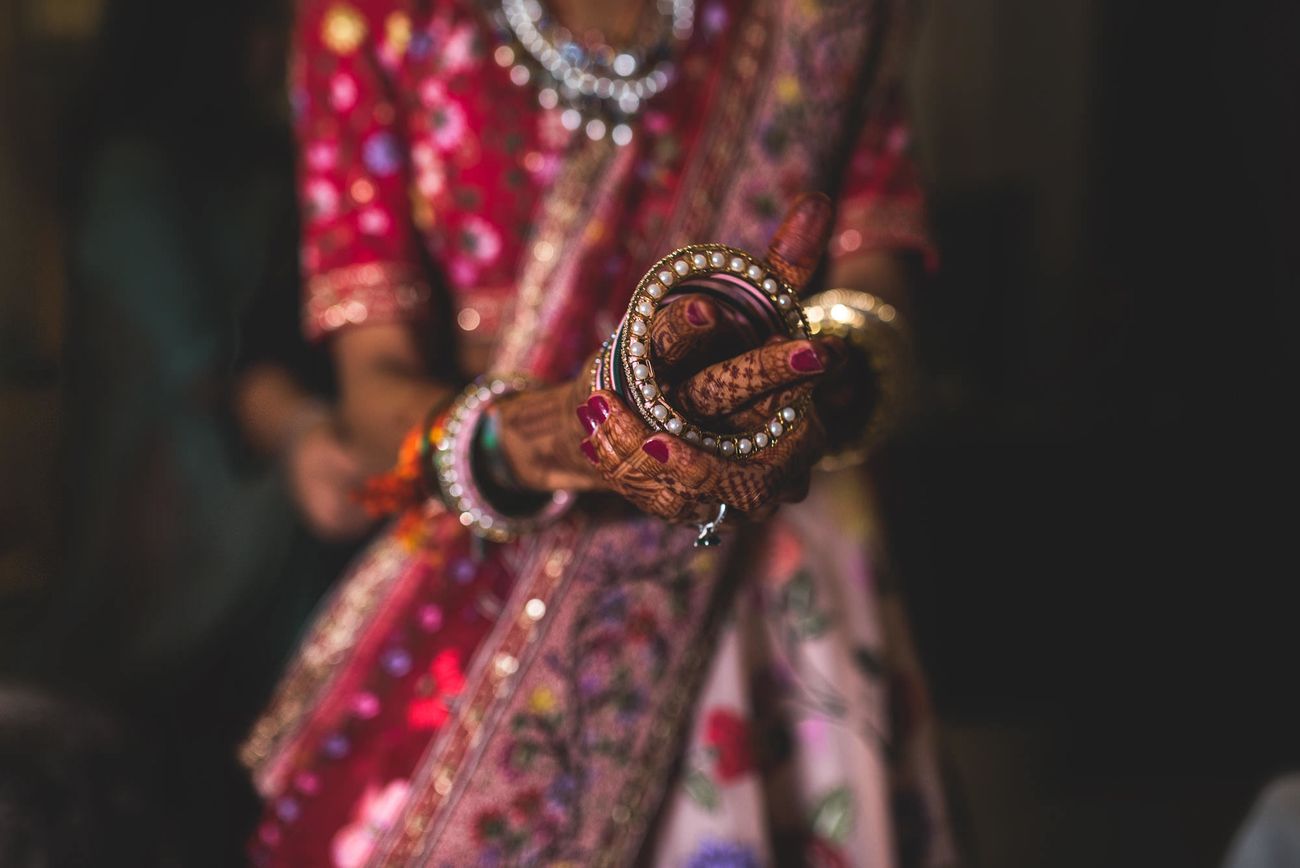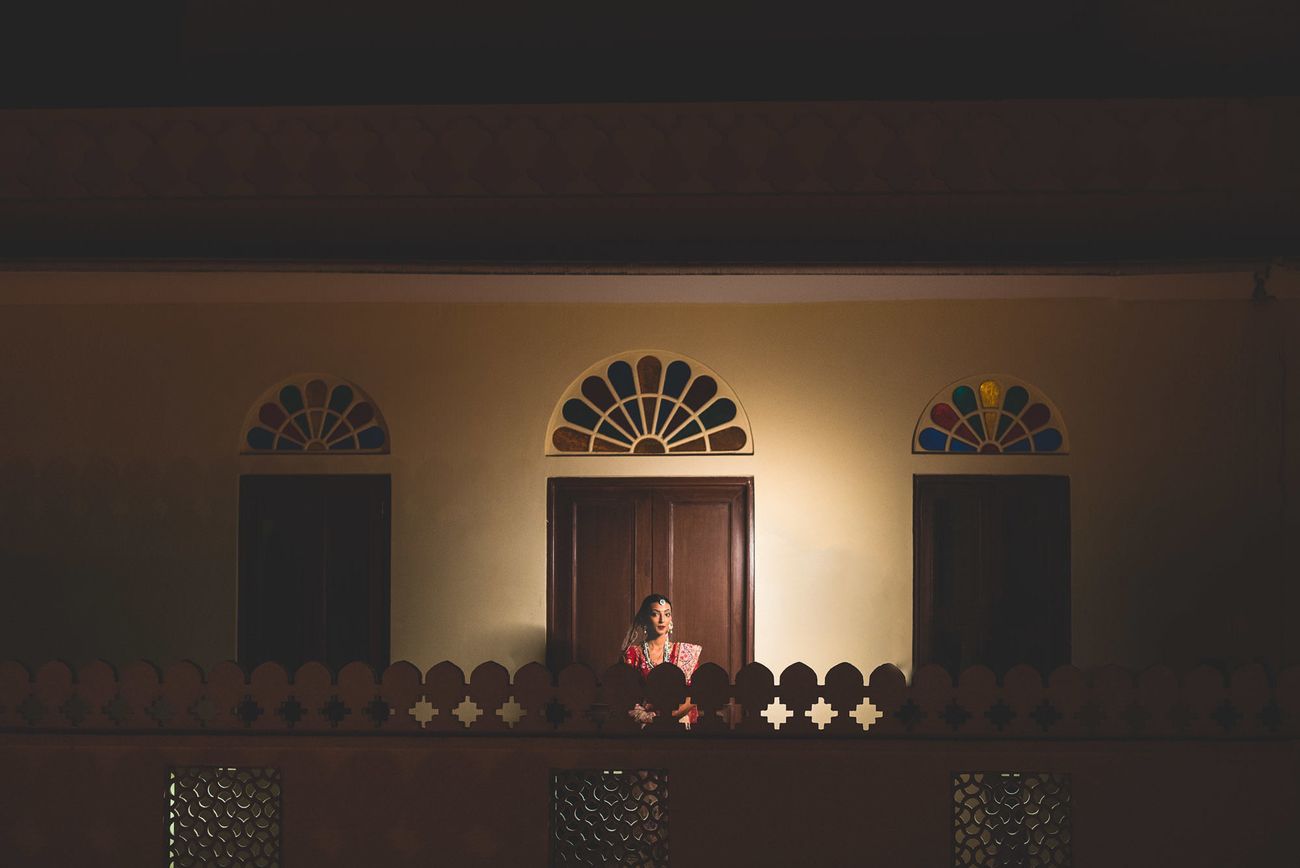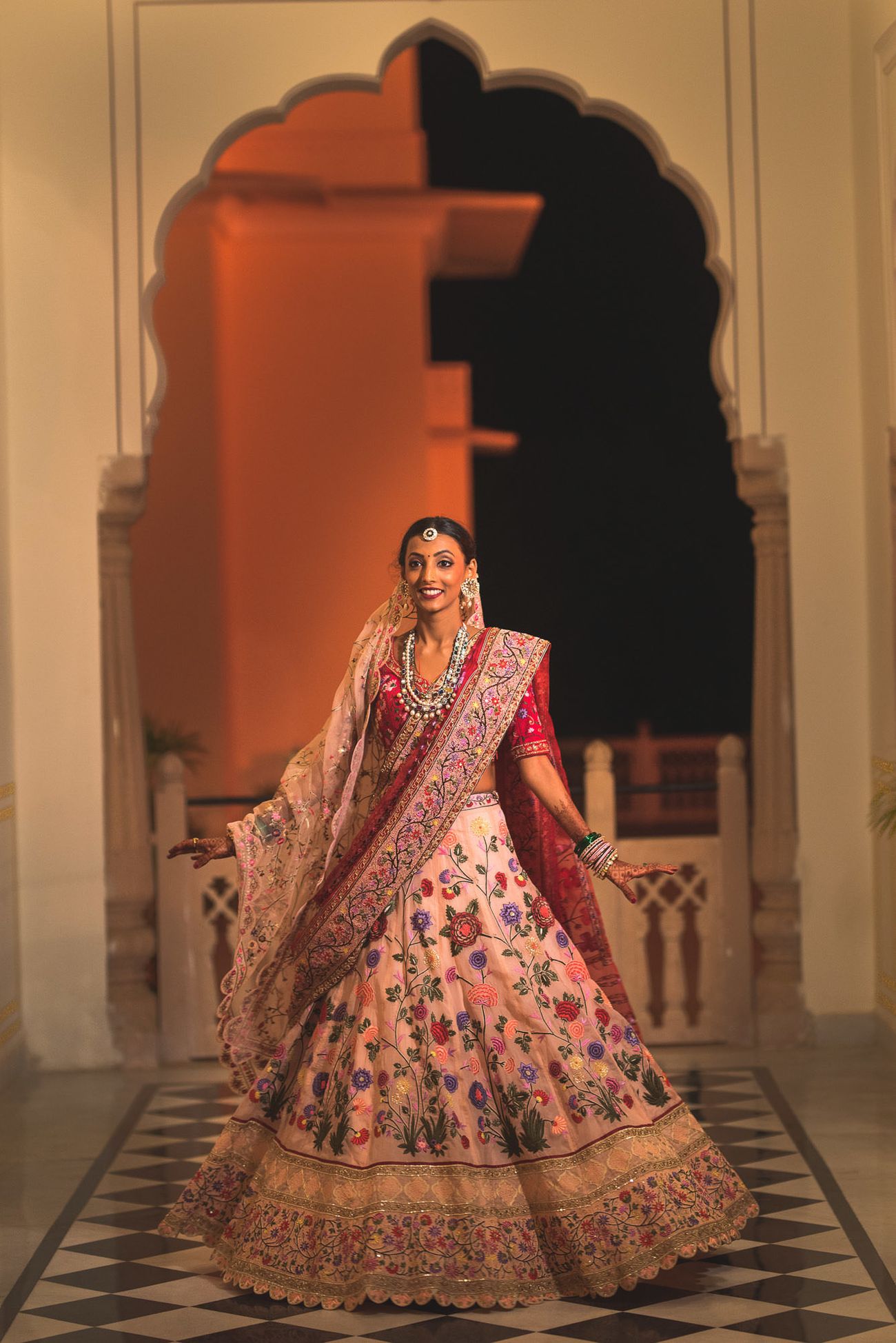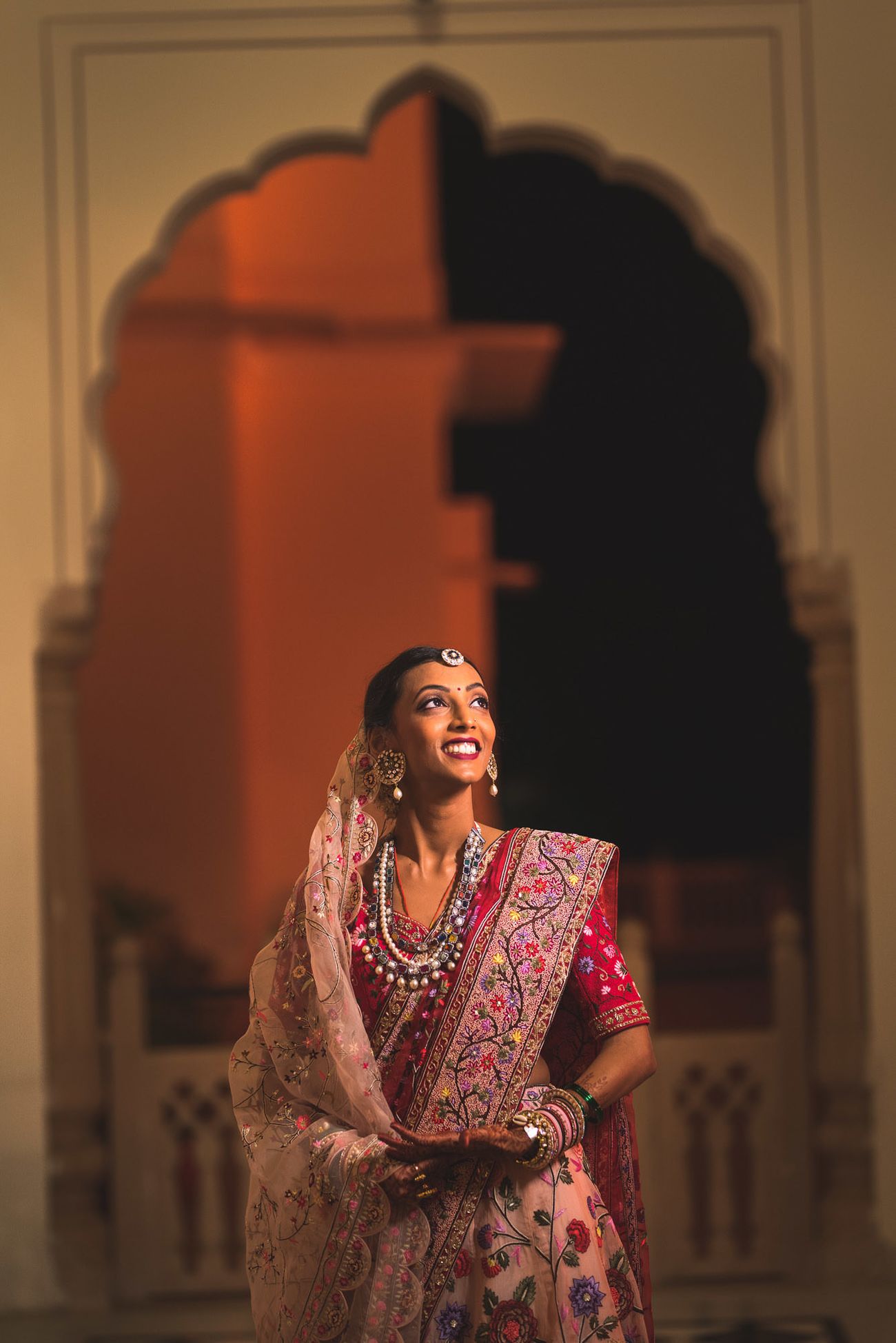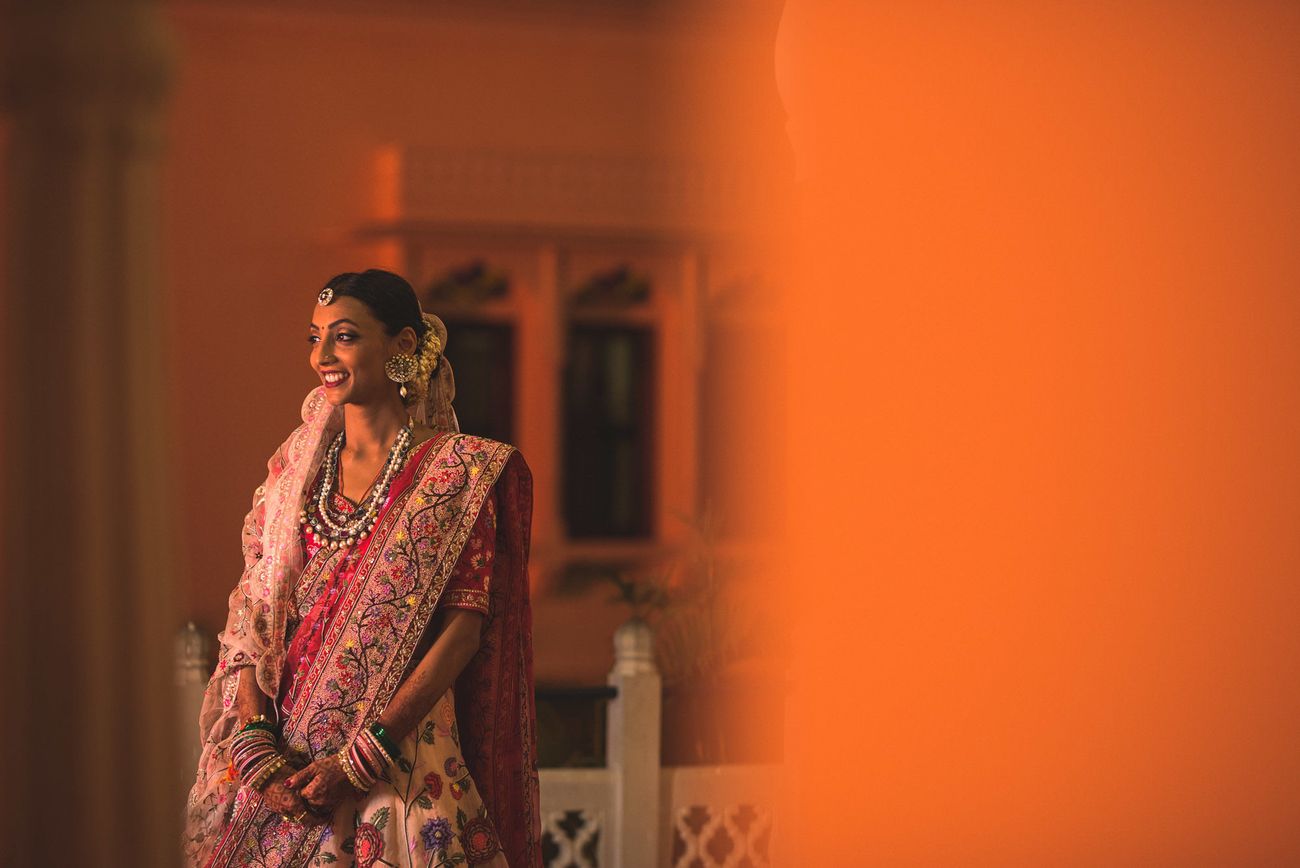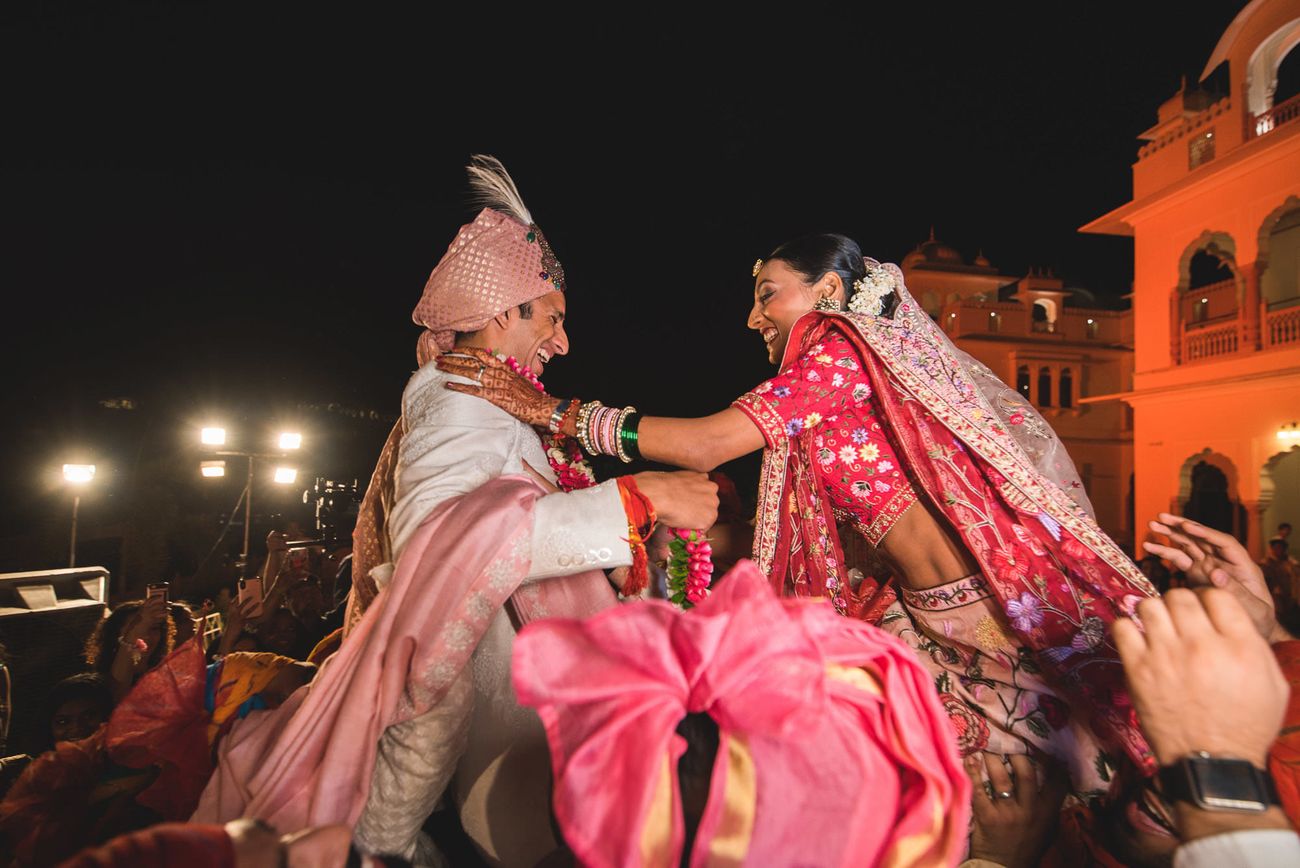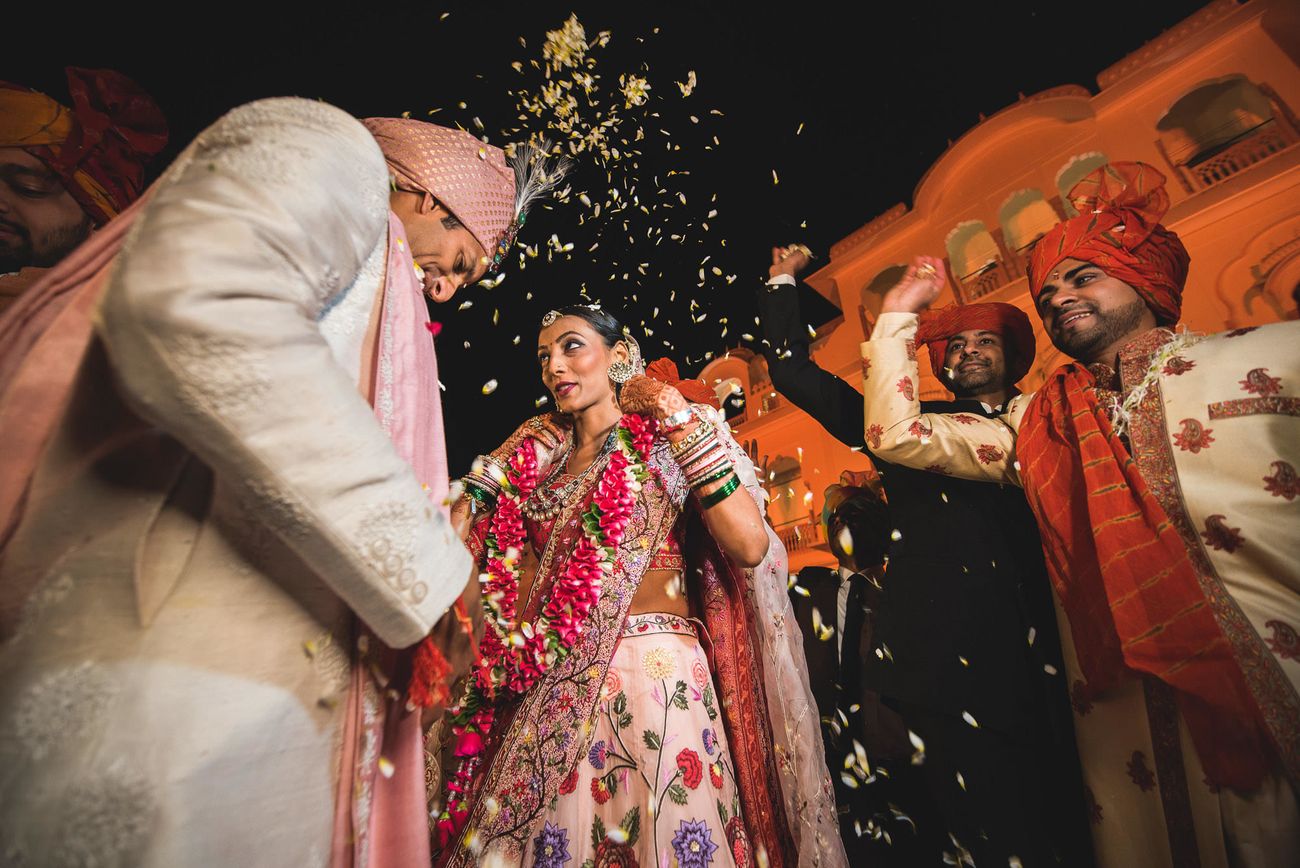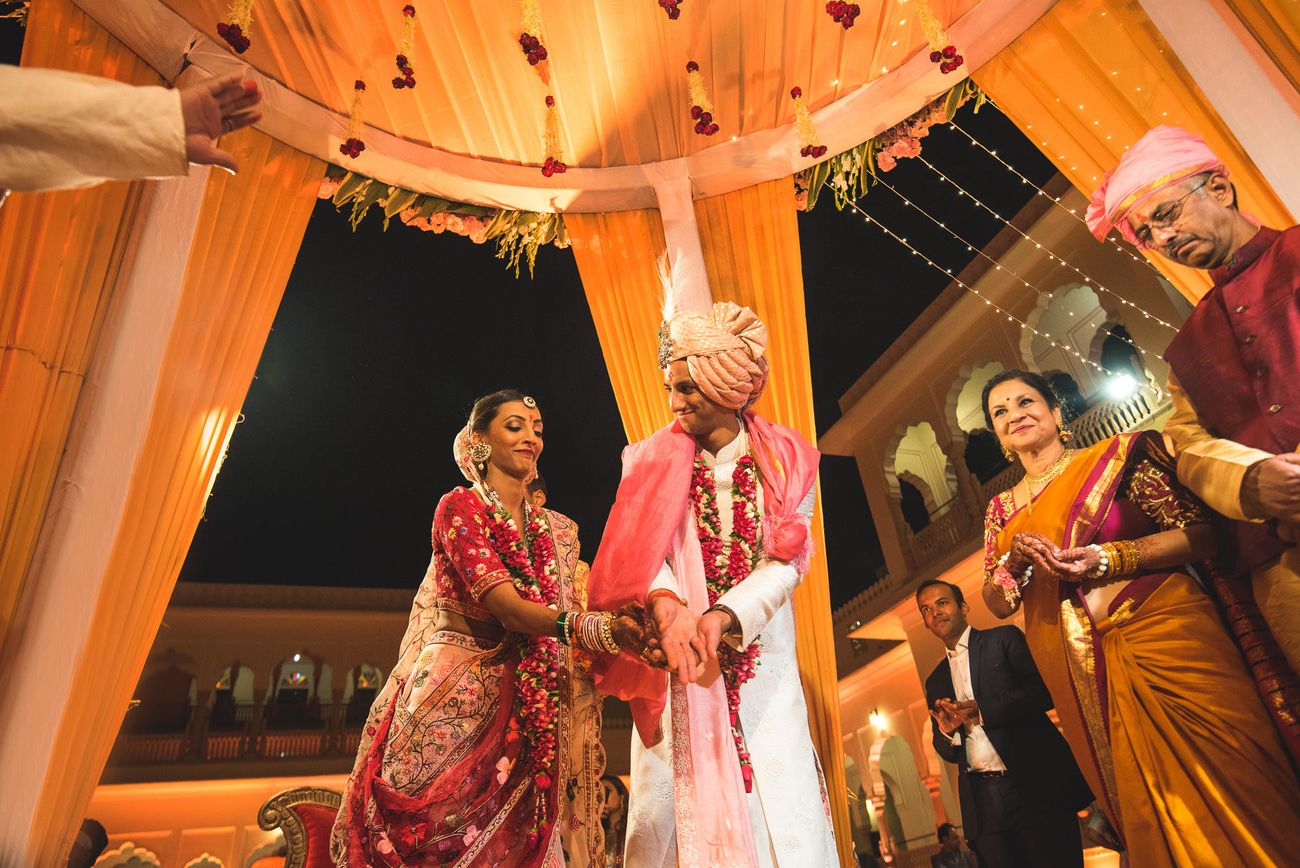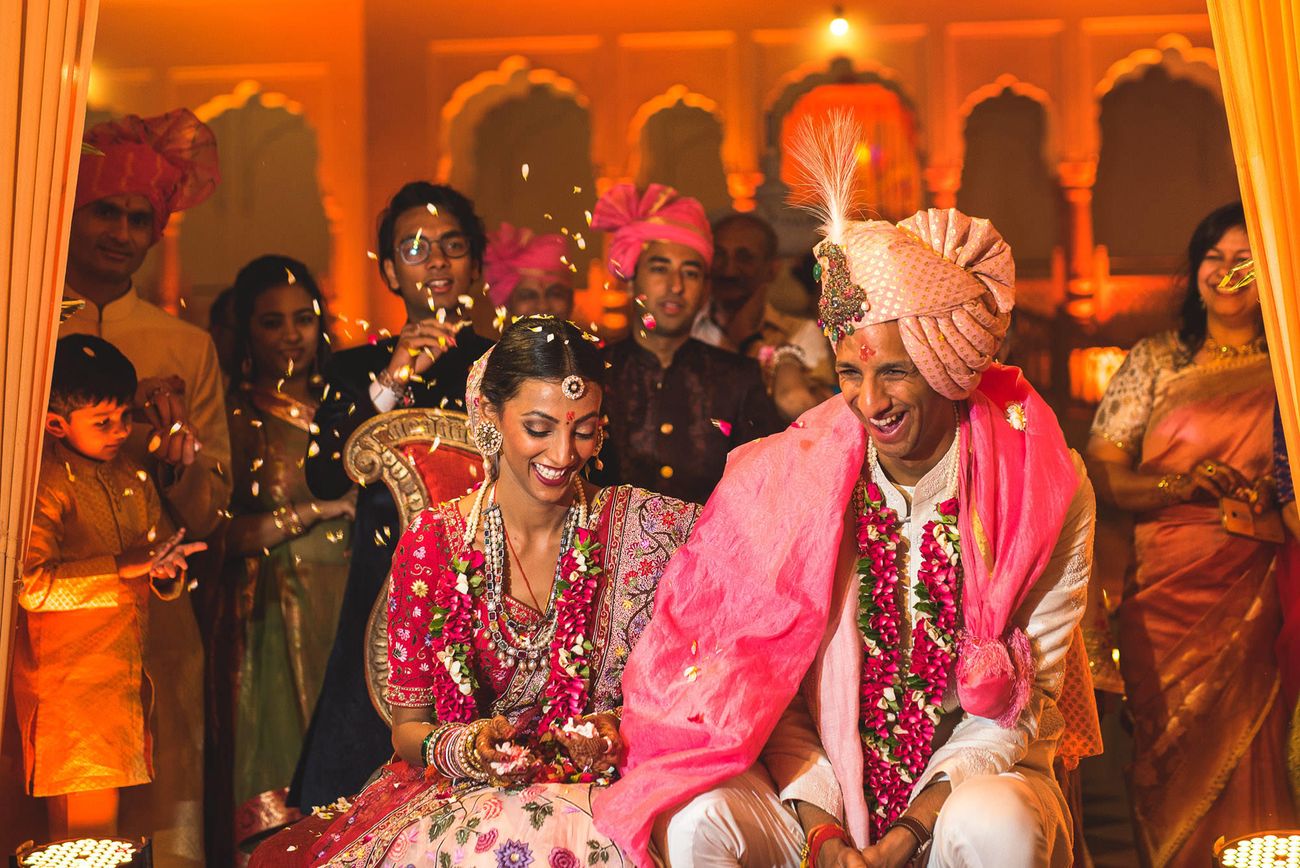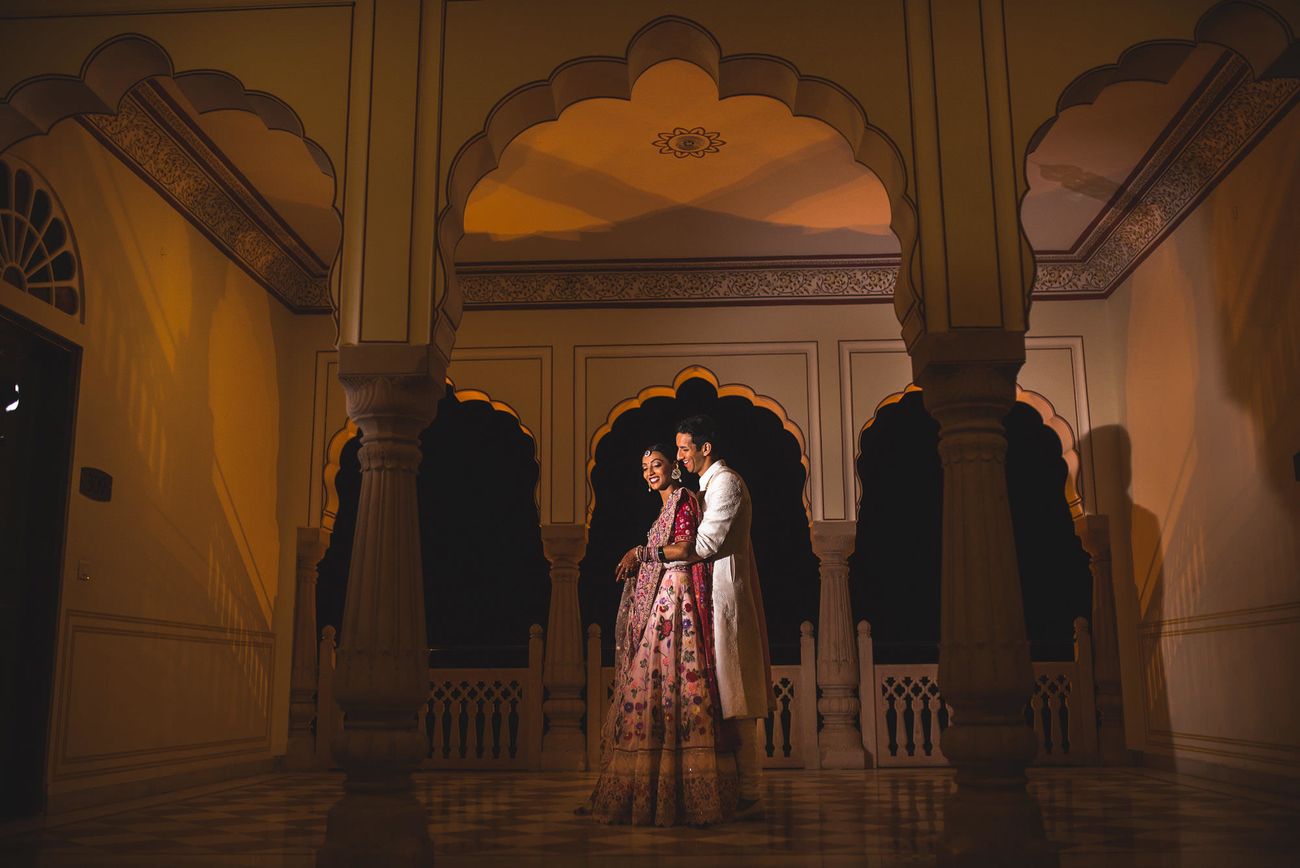 From The Bride: 
We decided to get married in Jaipur, away from Delhi where we grew up, so all our guests could be in one place. Our wedding was way beyond anything we could have imagined. In terms of scale and the amount of love and energy throughout the 3-4 days. It was great food, alcohol, dance, music and the most amazing people in our lives celebrating the two of us. Couldn't have asked for more.
Vendor Reviews: 
Shallu Chandla - MUA Pros: loved her work, she did a great job and was super understanding and patient. Would recommend her for anyone who wants to look natural and amazing. She really spends time to get the tone and feel right. Cons: I found her to be a bit slow, even though she said she would take 2-3 hours it took longer. So definitely factor in time for that and that you might want to take some breaks.
Ankit Goel - Photographer - Pros: Wonderful person to work with and the candid pictures were spectacular. His team really got into the action and captured some really fun and unique moments. Ankit was extremely flexible, accommodating, and super easy to work with. I am looking forward to the wedding album! Cons: I felt the coverage fell short and the focus was more on the main stage. Even with a team of 8-10 people, I felt there weren't pictures of certain parts of events and family members. However, when this feedback was discussed with him he really tried to do his best to fix as much as possible. Recommendation – I would definitely recommend Ankit (his work speaks for itself), my only suggestion would be that you discuss coverage and schedule times for bride, groom, and family pictures. And this suggestion goes for every photographer you work with!
Studio Eventz - Amit & Shubham Pros - Sangeet and Mehndi decorations were great and over the top Cons - Wedding & Reception decorations were NOT at all what was discussed and decided with this vendor - it was a terrible job. Couldn't say the same vendor did the events for day 1 and day 2. I would not recommend anyone to work with this vendor.
Rahul Mishra - Bride's Wedding Outfit Pros - they are a dream team! Most understanding, patient, and wonderful. Love Rahul's work and his wife Divya's vision to get you the perfect outfit. Cons - None Antar Agni - Groom's Sangeet Outfit Pros - Ujjwal is amazing and a perfectionist. Highly recommend for any groom looking for something a little different and fun! Cons - None
Jaibagh Palace - Wedding Venue Pros - massive, beautiful, and clean! Cons - only 60 rooms, so have to split up guests in near-by hotels. Recommendation - make sure you ask them to pay careful attention to clean up of common areas during the events, fumigate the fields before the event, and have staff cleaning up the toilers (ground floor) regularly. They hire extra staff during wedding seasons, so you might not be as impressed when you to scope things out. Make sure you chat with the GM there. Highly recommend this spot for anyone who wants a palace wedding but can't justify splurging on the Marriotts or Fairmonts.
DJ Khushi - Sangeet DJ Pros - He is an entertainer. One man does the job of a 10 people to get the crowd going. Cons - there will no alcohol left at your bar after the event. Would not recommend him for dry weddings ;) DJ Anhad - (plays at Shalom) anhaddj@gmail.com Pros - love his music and we love Shalom, so we had to have him at our wedding. He DJd at the Mehndi and Reception - everyone had a great time! Cons - none
Vendors: Venue: Jaibagh Palace, Jaipur; Makeup Artist: Shallu Chandla Make Up & Hair Styling★ 4.9 ; Photographer: Ankit Goel★ 5 ; Wedding Decor: Studio Eventz★ 4 ; Bridal Outfits: Mehendi - Agunj★ 3.6 , Sangeet - Frontier Raas★ 4.4 (custom made), Wedding/Reception - Rahul Mishra★ 5 (custom made); Mehendi Artist: Anita Mehendi - Jaipur; Groom's Outfits: Sangeet - Antar-Agni★ 5 (custom made), Mehendi & Wedding - self designed and made by family tailor; Wedding Invites: Designed by me (Sanwari).