A Charming Hill-side Wedding With Stunning Outfits And Spring Colors!
BY Soha | 10 Apr, 2019 | 4732 views | 4 min read
This wedding reminded us of the smell that surfaces right after rains- geeli mitti ki khushbu! A day wedding amidst the hills of Kurseong, Darjeeling, you will see a lot of spring colors and flowers at this wedding- a refreshing change that will instantly bring a smile on your face! Apart from the stunning outfits, and even prettier decor, there's another reason why we absolutely loved this wedding- you'll find the cutest, most adorable furry guests at this wedding! When Saurabh from Saurabh Rungta Photography★ 4.5  got married, his team made sure the world saw just how gorgeous the ceremony was. And boy, are the pictures gorgeous! 
Meet Khushboo & Saurabh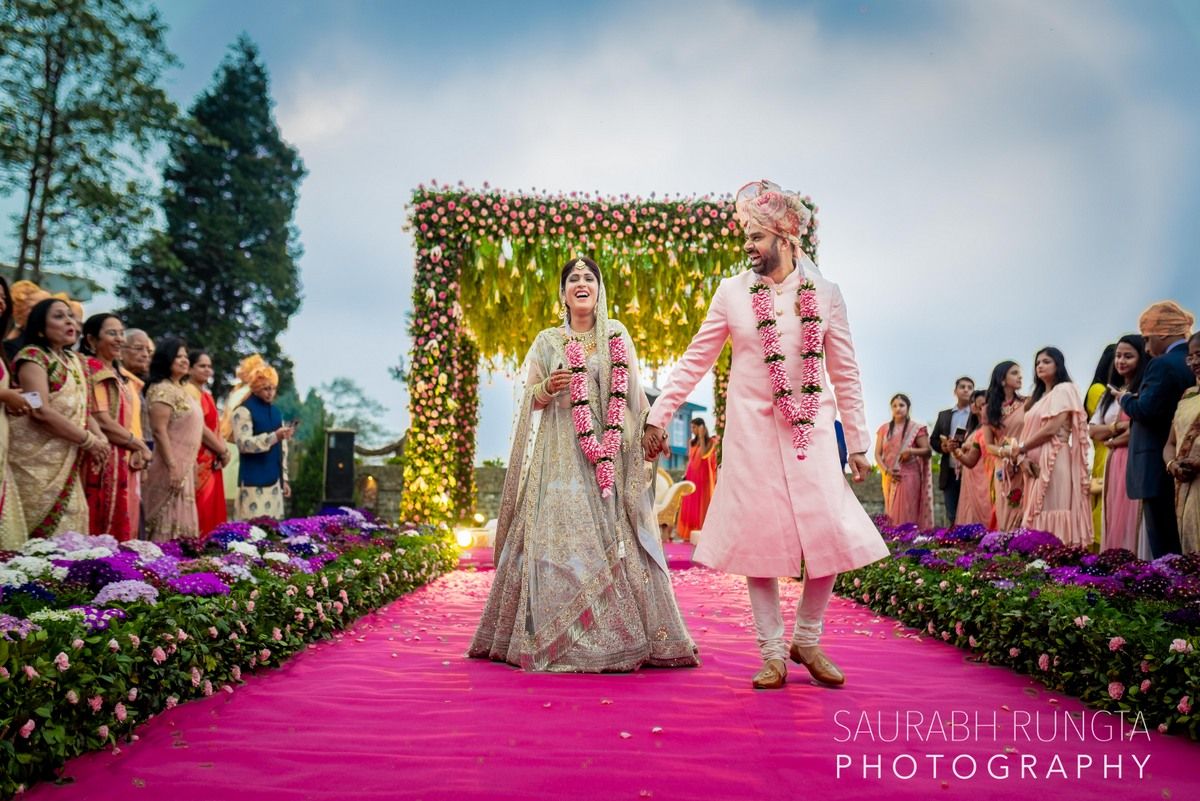 "We first met at my previous workplace, " shares Khushboo.
"It wouldn't be right to say that I knew he was the one I was going to marry the second I laid my eyes on him but there was this spark which I felt upon having a conversation with him which made me want to pursue it further. Also the fact that he was uncommonly witty, sharp, and cordial in his association with my colleagues at the workplace kept on rolling the thought in my mind time and again to spend more time conversing with him. It started with a small talk one night and the bonding was so quick, it escalated from there overnight. I'd love to admit I was totally flattered and smitten by him! I had absolutely no plans of getting married anytime soon but my world seemed to have changed after he came into my life! We started spending 18 hours a day together and how! He literally stirred my soul by being what he is. I can talk my heart out to him and I wouldn't be judged. It's like when he's around everything starts falling into place. I never had to invest any effort in being happy with him. We generally are the happiest when we're together! He has added a whole lot of meaning to my existence and I can't thank God enough for showering me with his love! I've been really lucky to have found my match in him and I'm so proud of it. I would do anything to keep him happy! He's a man with genuine interest in the goodness of people around him and I hope that multiplies and comes back to him in the form of more love and happiness!," adds Khushboo.
The Mehendi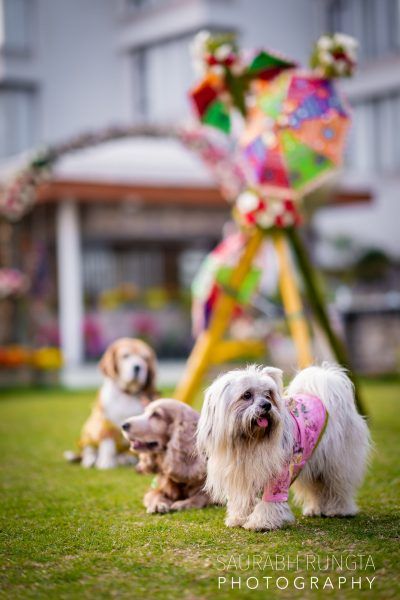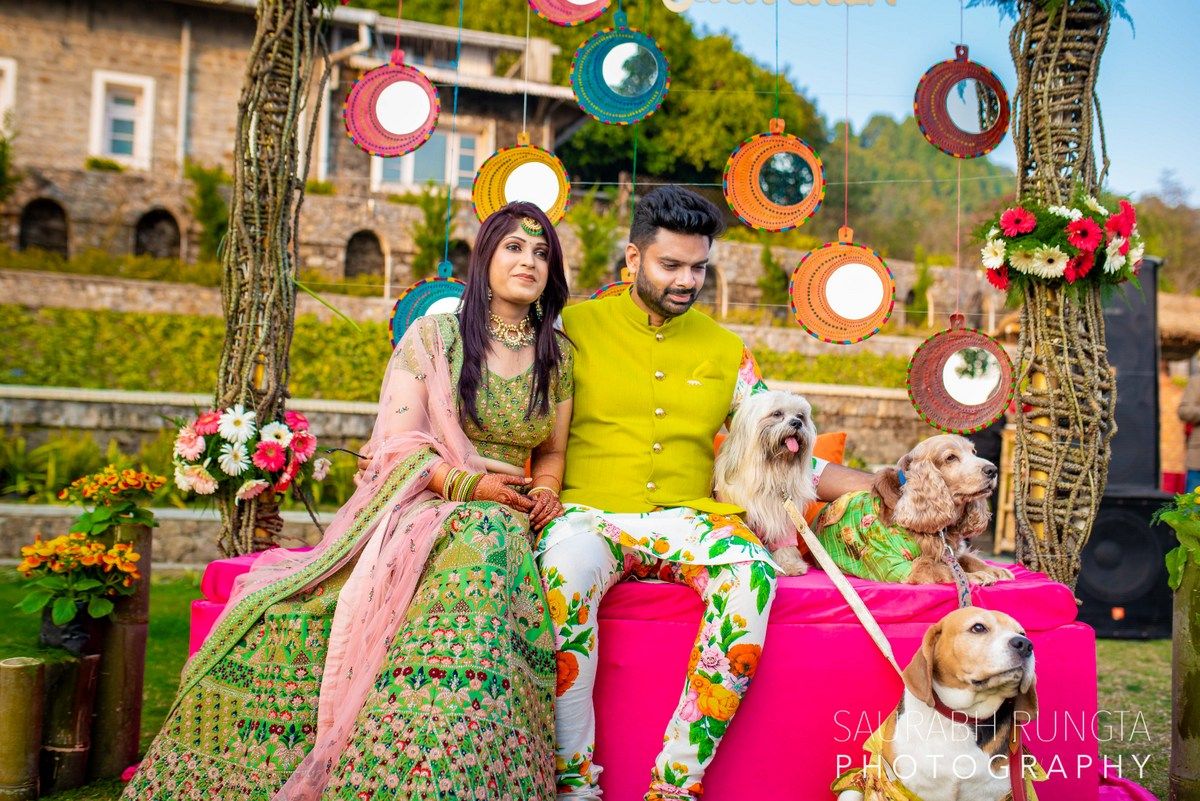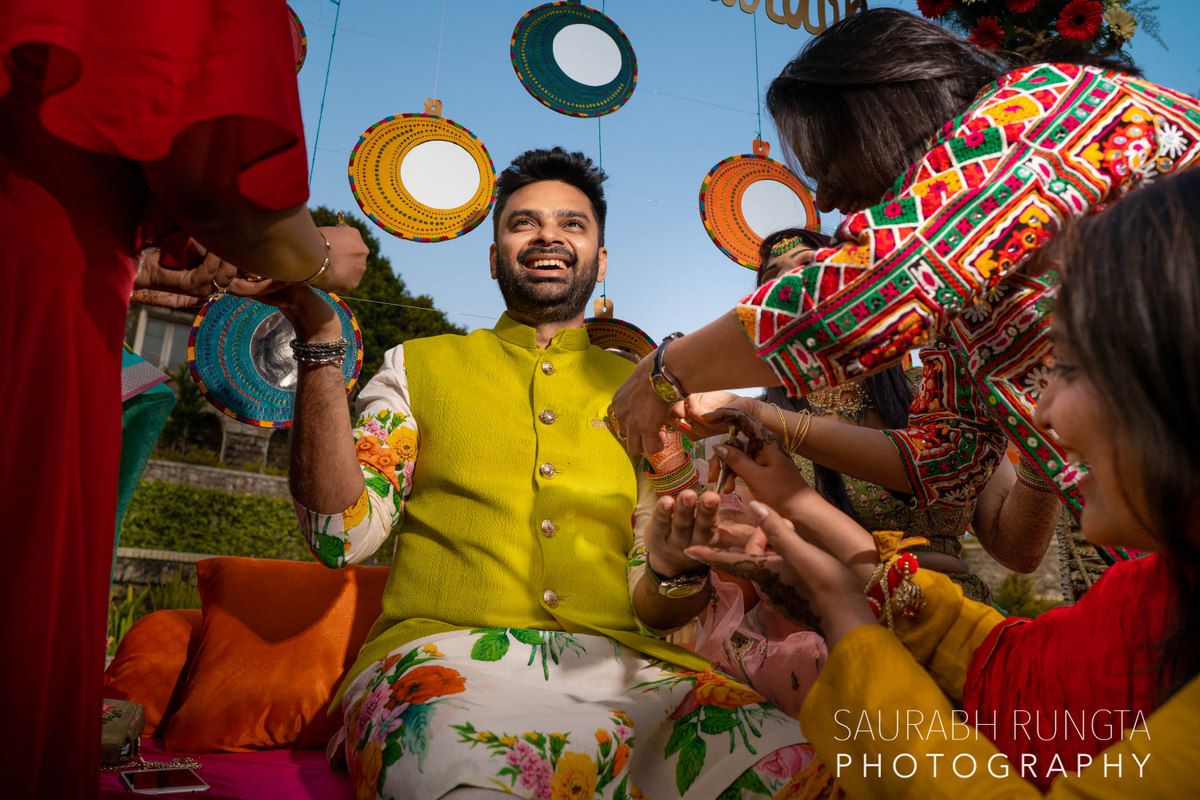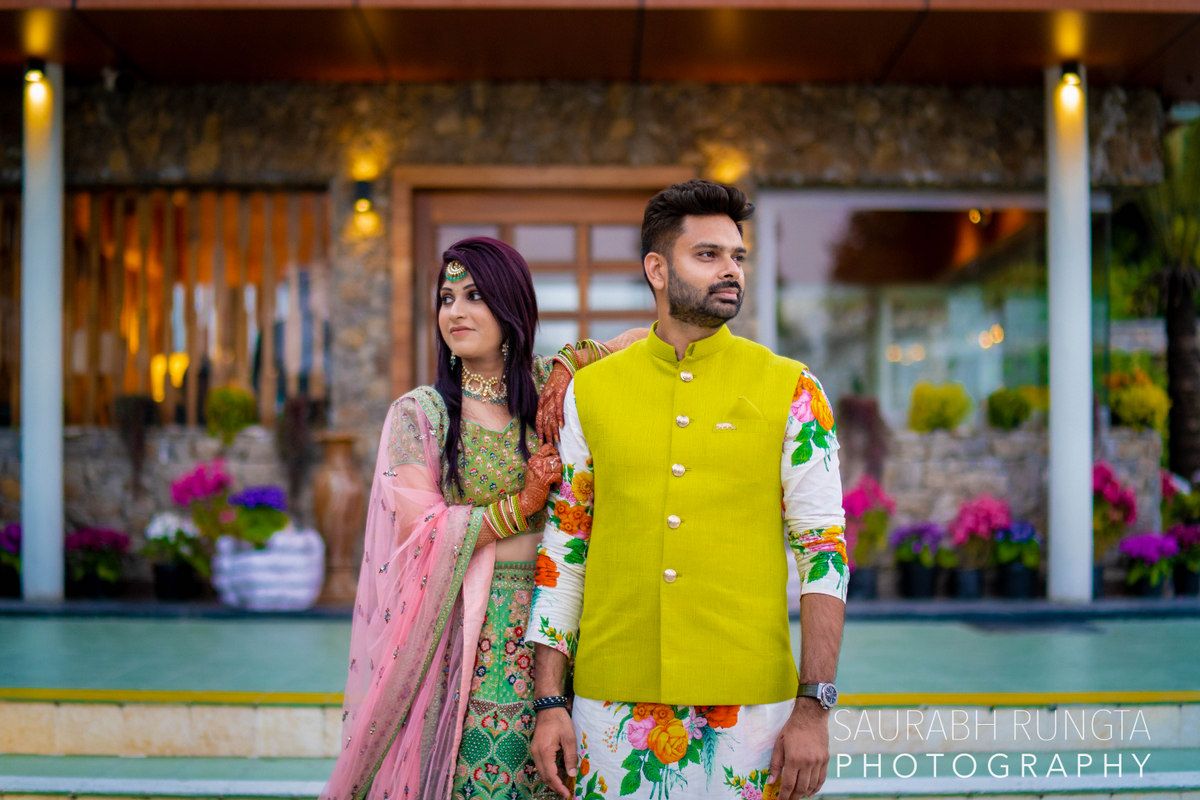 The Haldi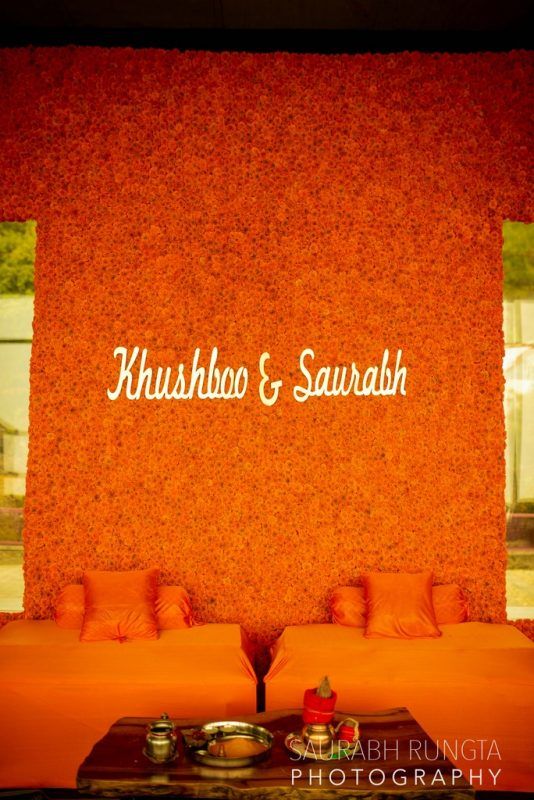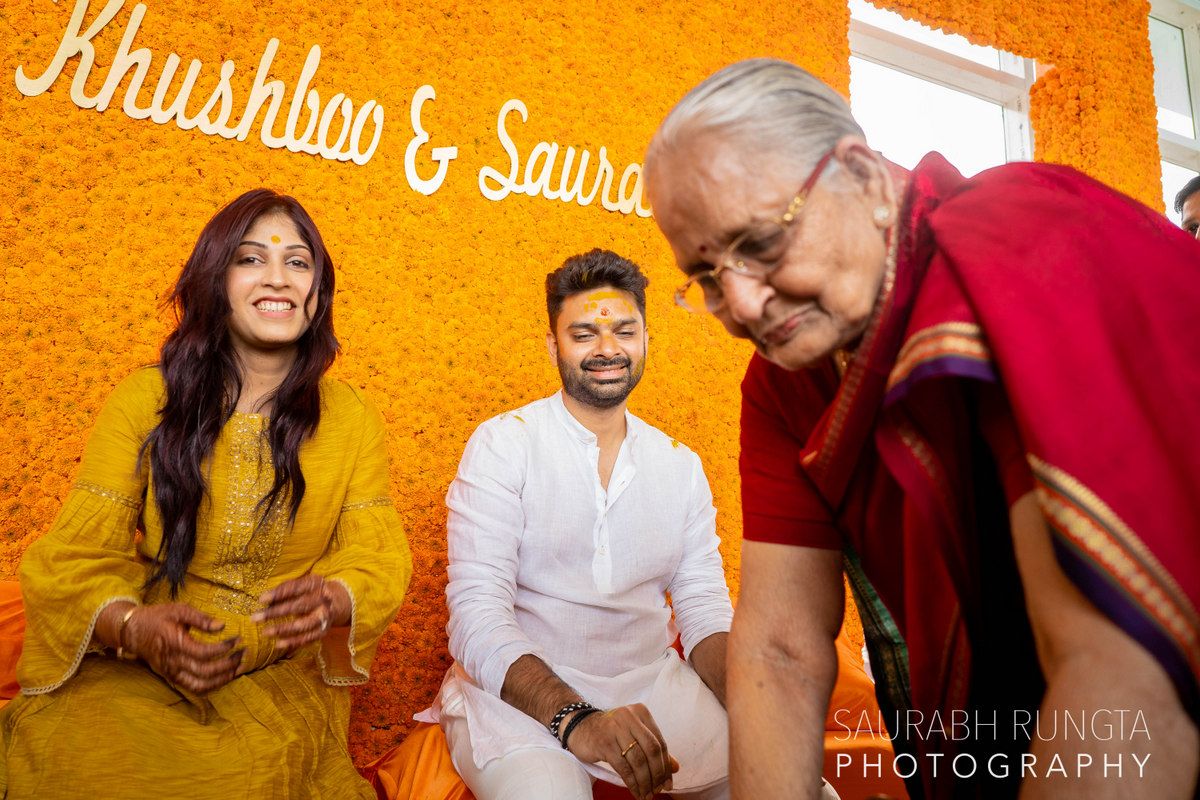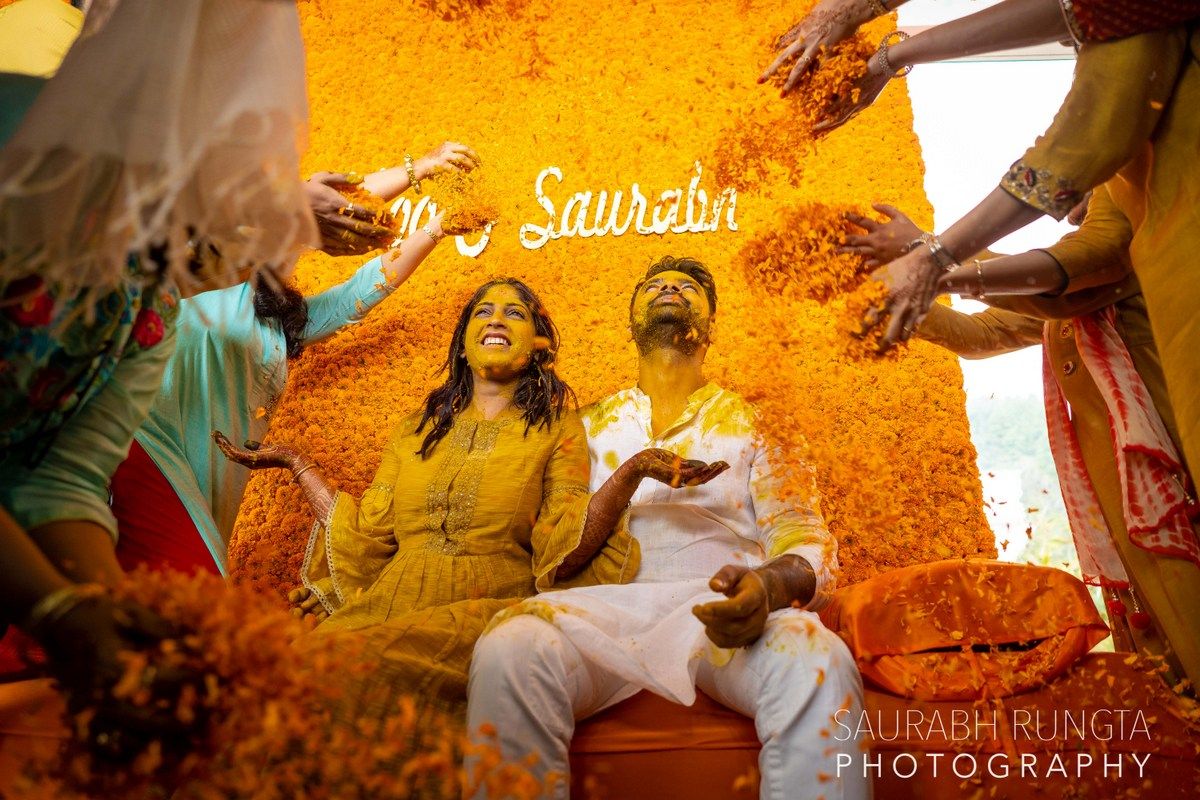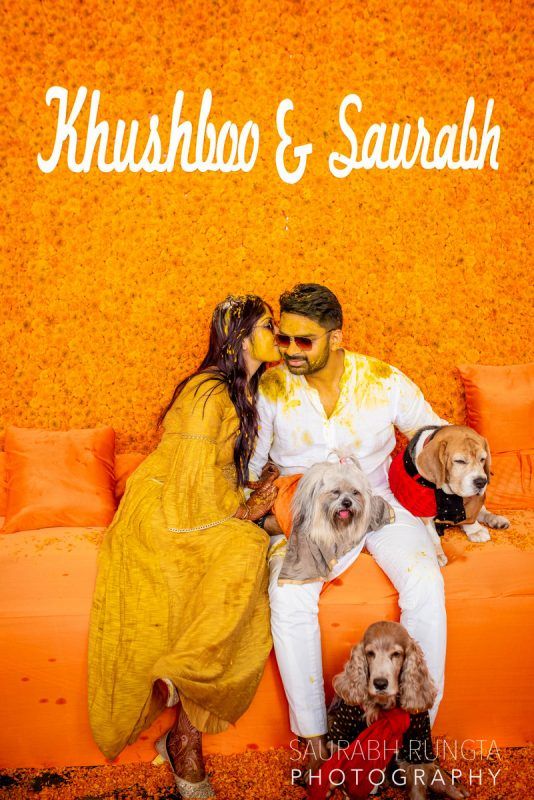 The Wedding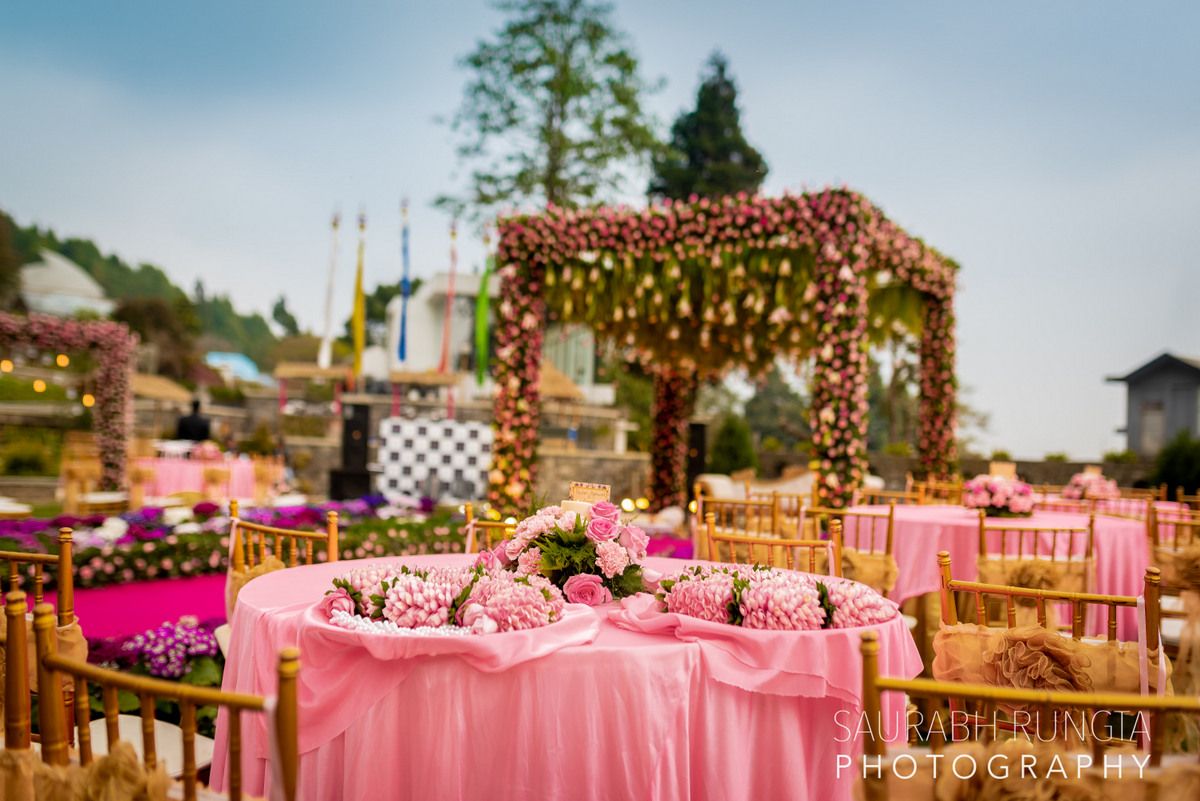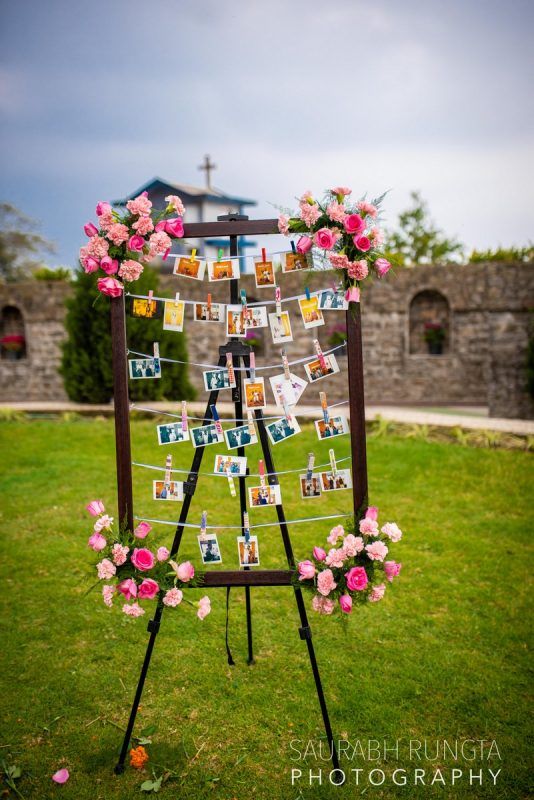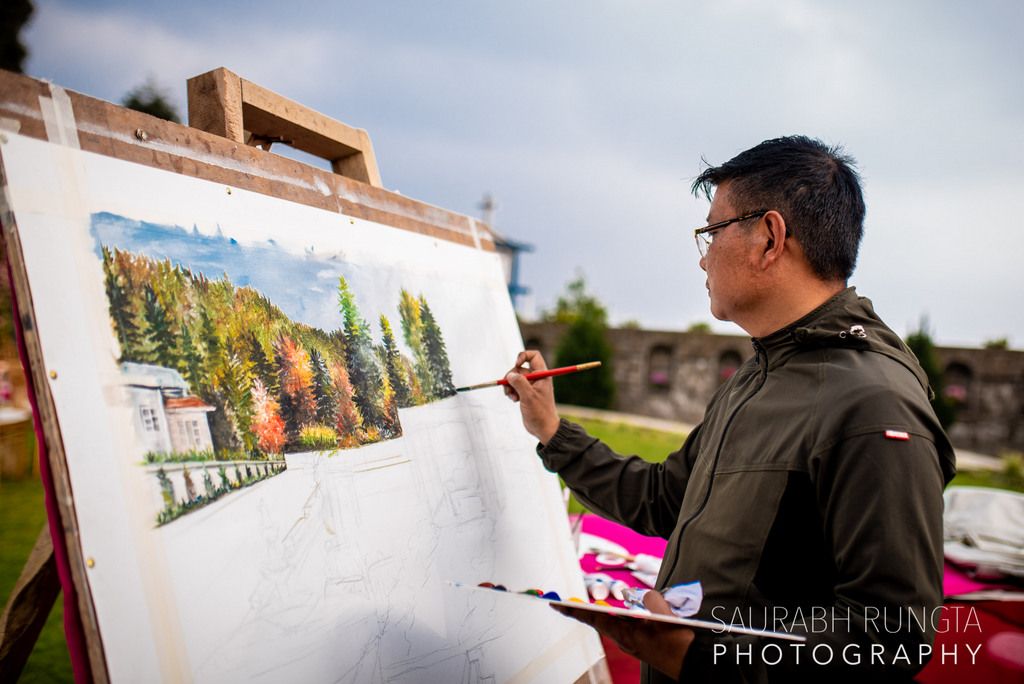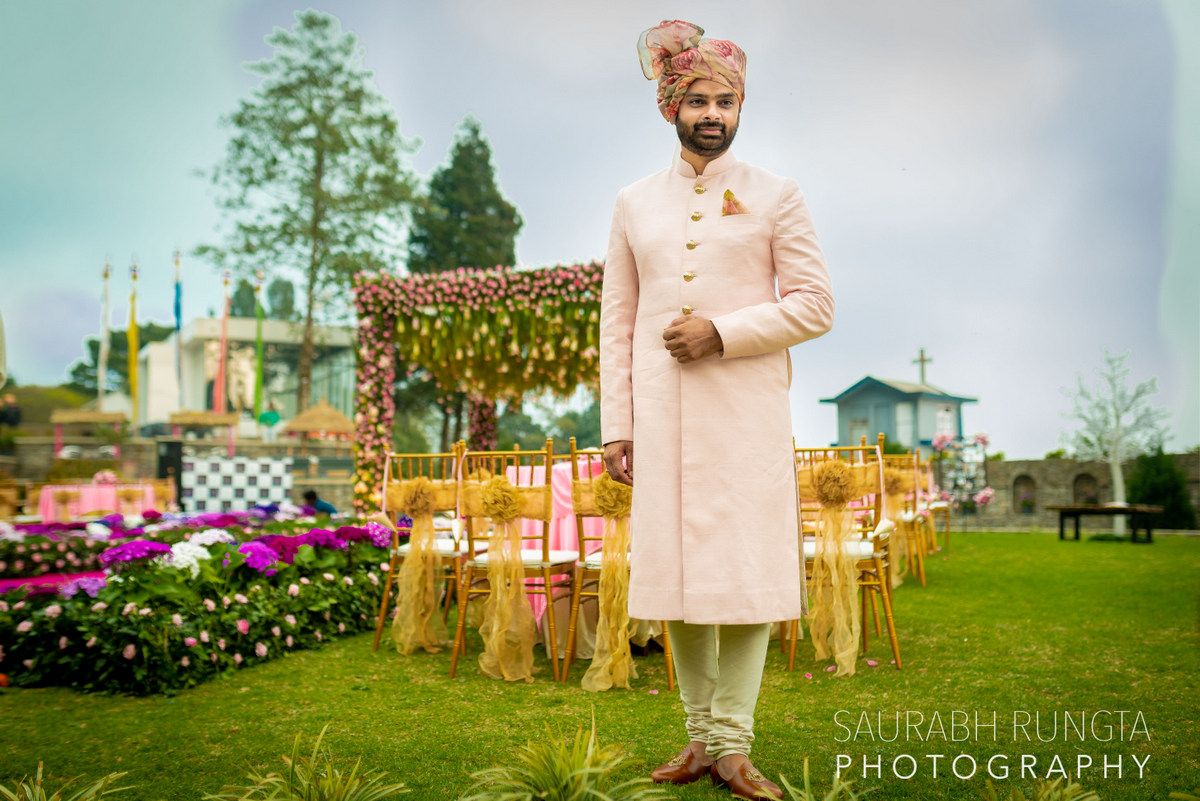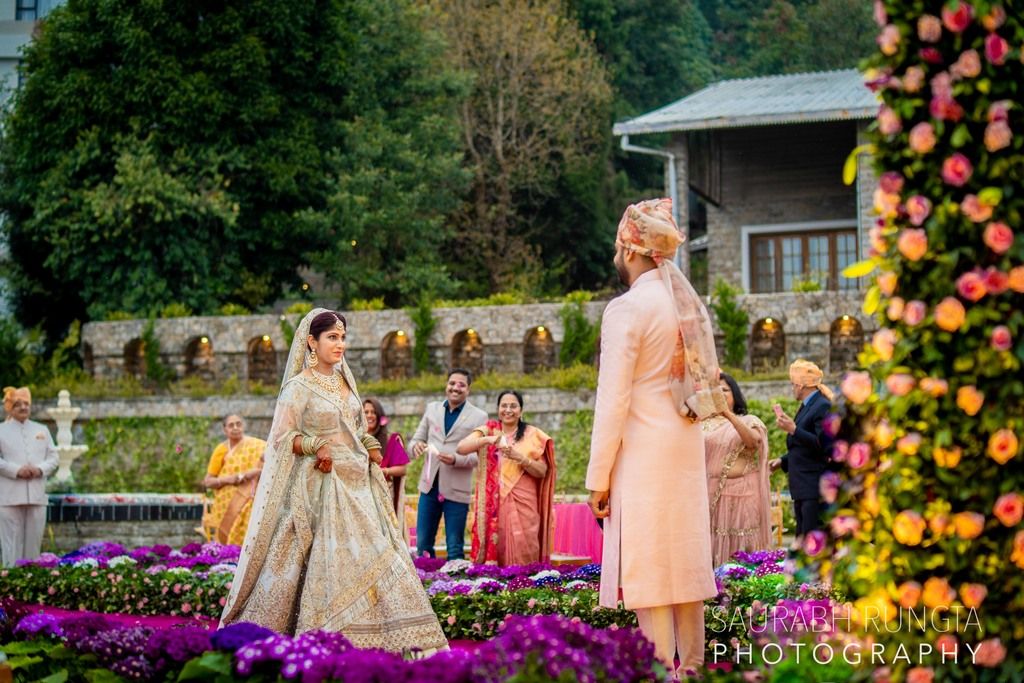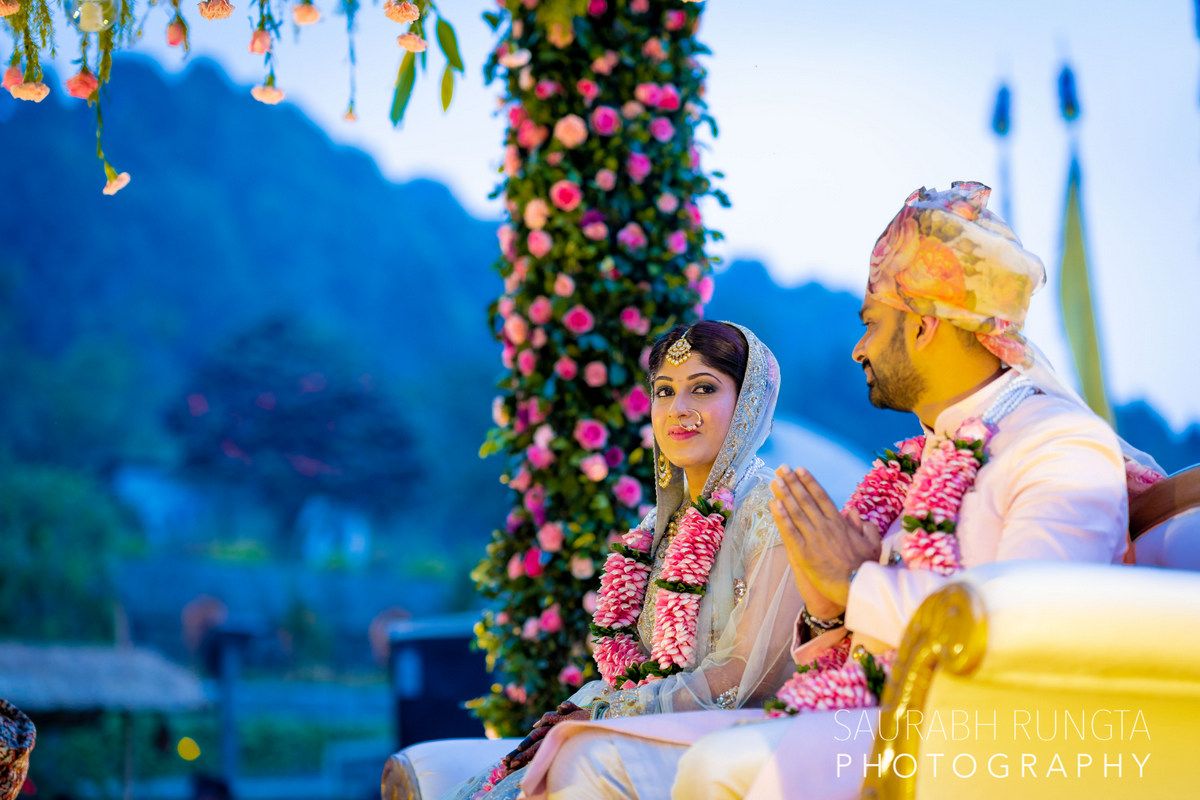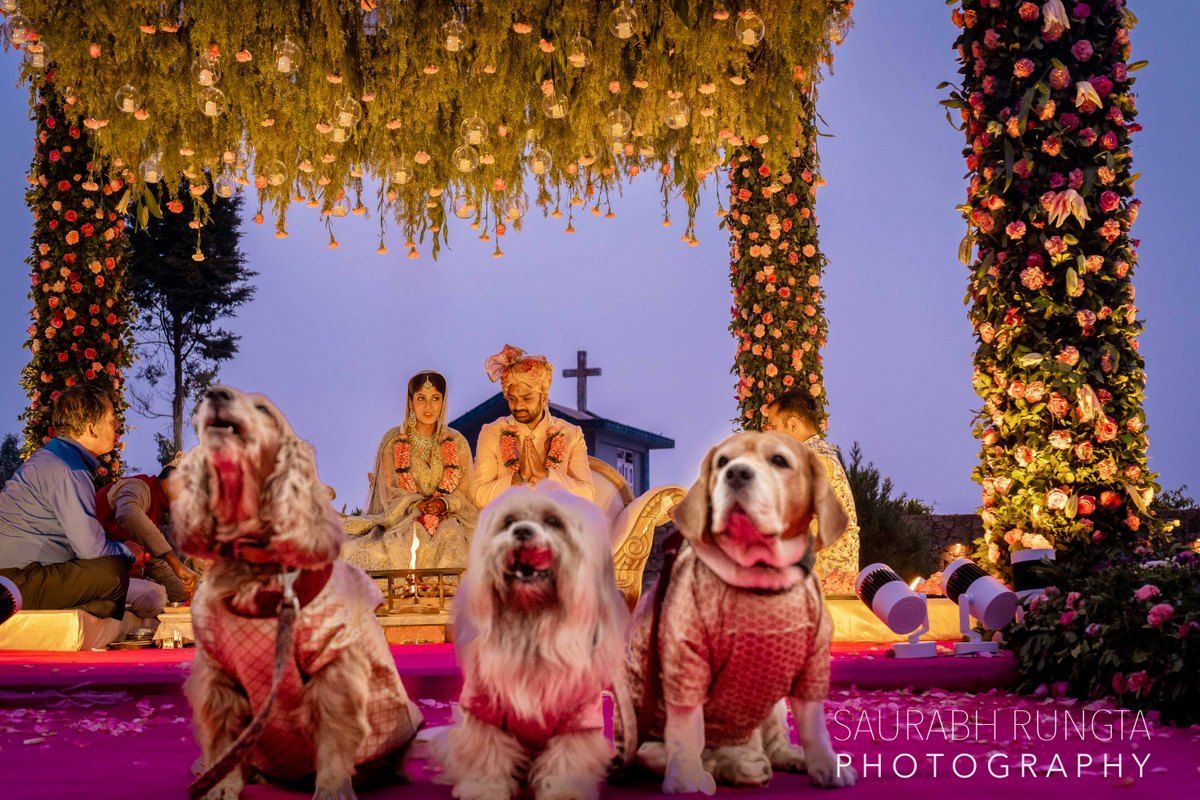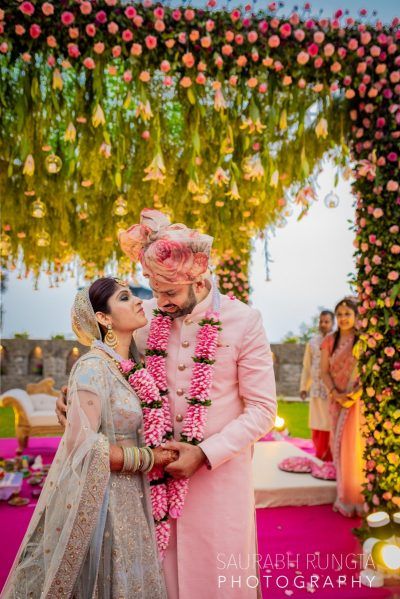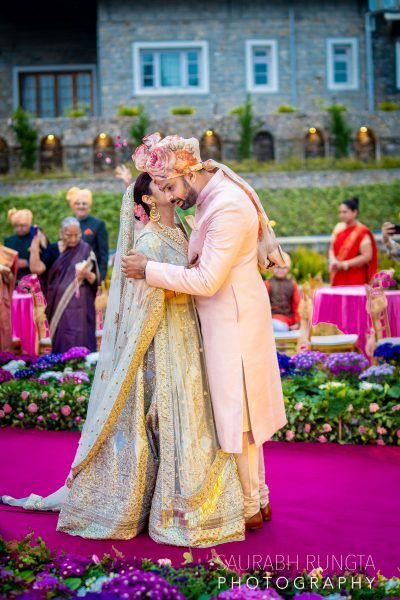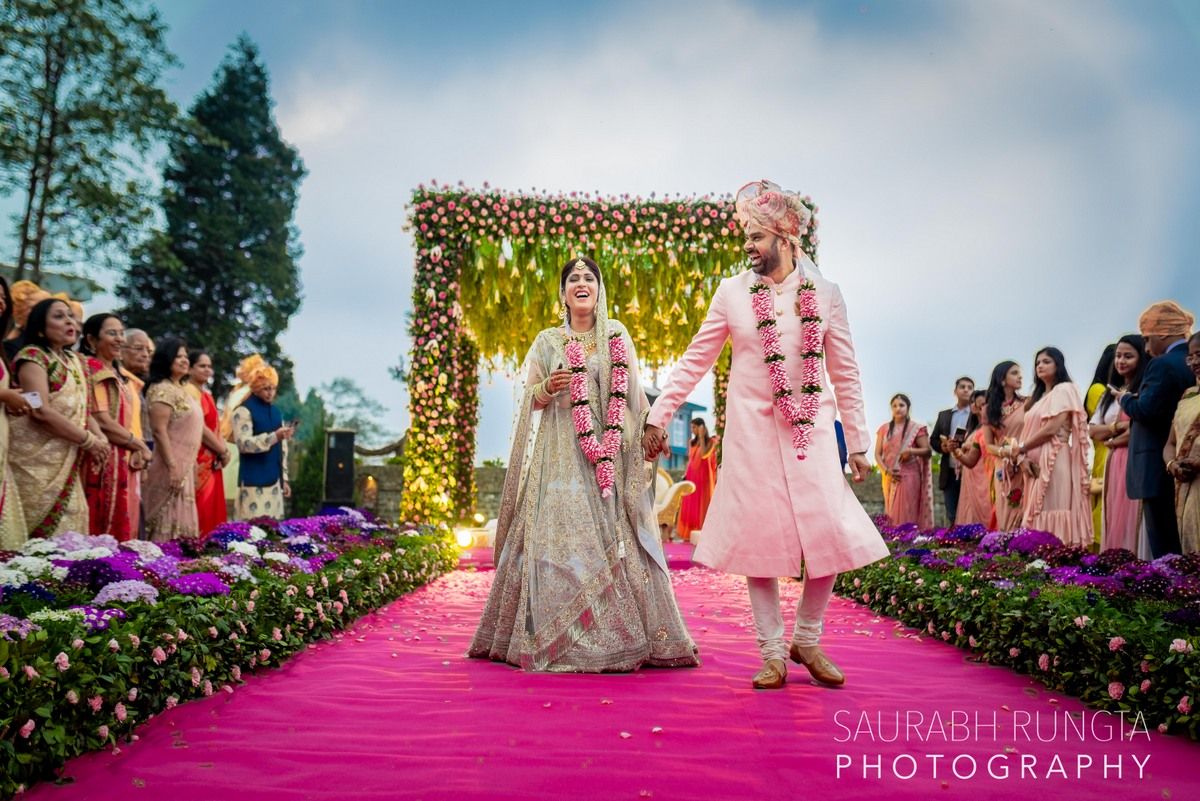 From The Bride
"We had a number of things in mind while planning our wedding but the inalienable ones were:
A. Our dogs should be allowed inside the property we choose get married at and we would not get married without them.
B. Since our names mean the same thing i.e. fragrance, we wanted to have a floral wedding.
C. We were sure we wanted to have an outdoor, daylight wedding.
D. And lastly, the wedding should be a closed, intimate affair with close friends and families only.
Allita Hotels & Resorts- To speak about Allita, there's isn't a thing here we're not going gaga over! The service at Allita is unmatchable! Just so incomparable! Everything was so smooth. So encouraging. So nicely taken care of. Saurabh and I are really really overwhelmed by the support of the team at Allita. The guests couldn't stop bragging about the beauty of the resort and the service of the staff here. The wedding wouldn't have been the way we wanted it to be, had the team not been so cordial and supportive! Really glad we chose Allita as the destination for our wedding. :)
Winding paths through the mountains, flanked by lush forests, beautiful boulevards, and spectacular views – we knew this picturesque little jewel in the hills - Kurseong was just the place we wanted, for our close-knit wedding! For starting off with our wedding revelries, the mehendi decor was kept exuberant, with rich colorful hues & a hint of traditional Rajasthani vibes and quirky elements! For our cocktail night, we kept it classy with scintillating fairy lights, elegant drapes & fresh white blooms with bonfire arrangements for a cosy setting! Our haldi was cheerful & peppy with an all marigold backdrop and personalised name monograms!
My mehendi was very beautifully put by Bappa Da. He was also very cooperative and cordial.
Poonam Khandelwal meticulously designed and customised our invites. She has been very cooperative and patient with last minute changes and really quick with deliveries. We would definitely recommend her flawless work," shares Khushboo.
Vendors: Venue: - Wedding: Allita Hotels & Resorts ;  Photographer: Saurabh Rungta Photography★ 4.5  ; Makeup Artist: BlinkD by Deepika Ahuja★ 4.9  ; Bridal Outfits: Mehendi: Self-designed lehenga , Cocktail: Vizyon, Haldi: Ritu Kumar★ 5 , Wedding: Sabyasachi Mukherjee★ 4.9  ; Groom Outfits: Mehendi, Haldi and Wedding: Sabyasachi Groomwear★ 5 , Cocktail: Armani ; Invites: Poonam Khandelwal ; Mehendi Artist: Bappa Da ; Accessories : Bride's shoes- Mehendi: Jimmy Choo , Cocktail, Haldi, Wedding: Rohan Arora ; Groom's shoes: Mehendi, Wedding:  Sabyasachi Groomwear★ 5 , Cocktail: Armani, Haldi: Rohan Arora