A Delhi Wedding for a bride who wore gloves : Shailaja & Gandharv!
BY The WMG Bride | 22 May, 2014 | 3839 views | 5 min read
What do you do, when your groom is not allowed to see the mehendi on your hands, but you are both supposed to attend your mehendi event hand in hand? Simple- you wear gloves with your sari to create an uber chic mehendi look ! I love this brides style, and this wedding is proof that sometimes, mixing business with pleasure is the best thing you can do ! After all, these two met at a business fair. Featuring a gorge
Dolly J sari
, and an unusual Peach and Green Sabya- this bride will definitely give you some trousseau inspirations!
Meet Shailaja & Gandharv
Shailaja says "It all started in Sydney when I had gone to participate in a garment fair representing the company my family runs. Gandharv being in the same line of business was also participrating in the same fair. His stall happened to be right next to mine and that's how we caught each other's attention. Every now and then we would try and get a glimpse of each other, peeping into the others stall. It was only the next day when he came up to my stall and we starting chatting. A few conversations led to a couple of dinner dates followed by a long distance relationship( as Gandharv lived in Melbourne and I was in Delhi)   It wasn't long before we made our parents meet and our wedding date was fixed:) "
The Mehendi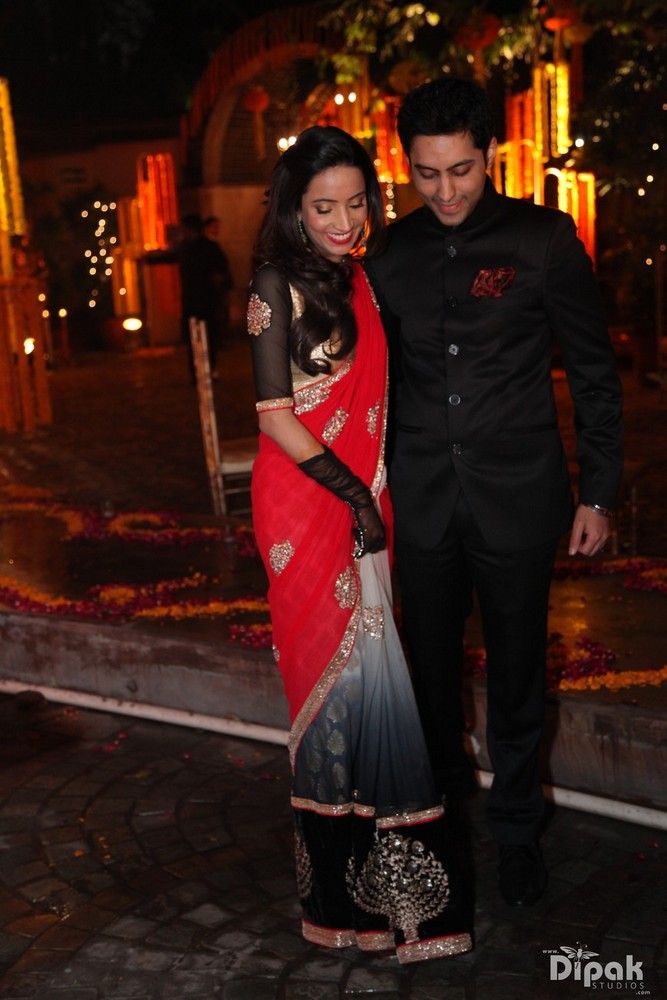 Love the sari and the gloves with diamontes to cover the mehendi from the grooms eyes. Matches so well with her
Dolly J
Sari!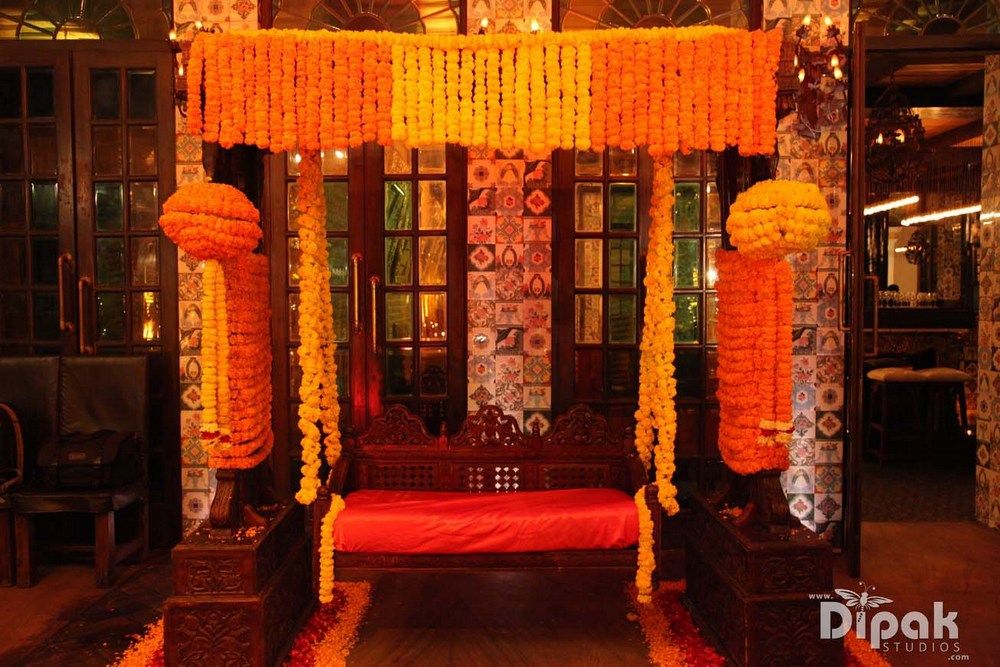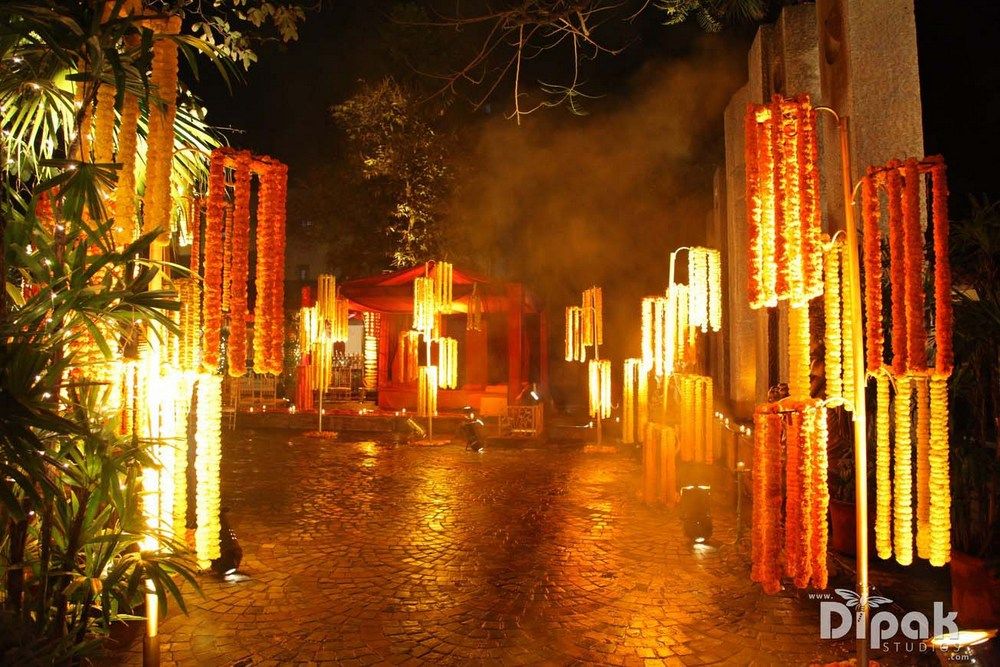 Stunning Decor!
The Cocktail
The Wedding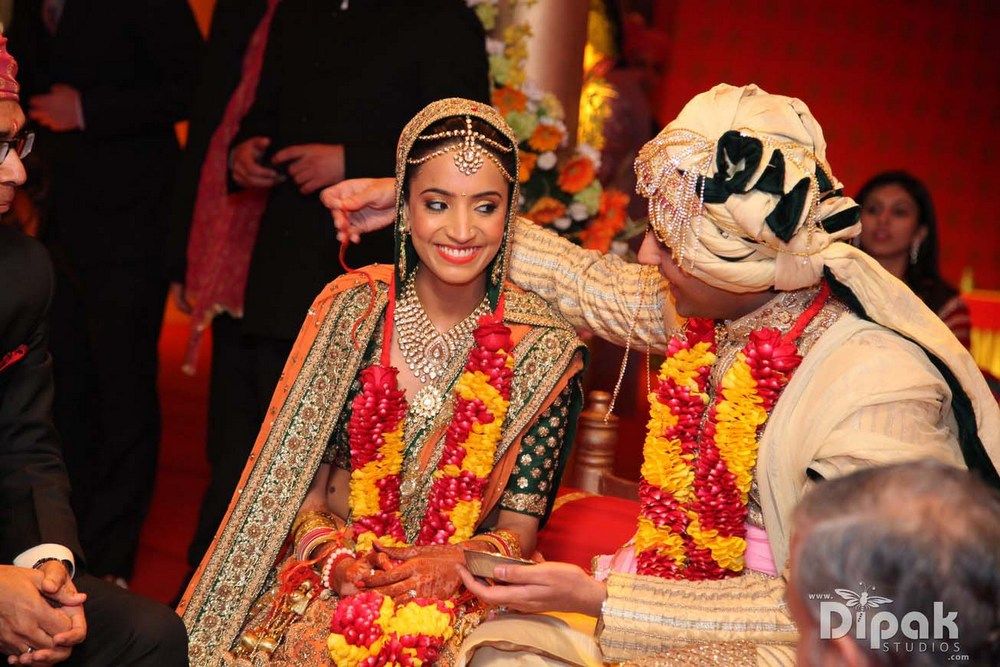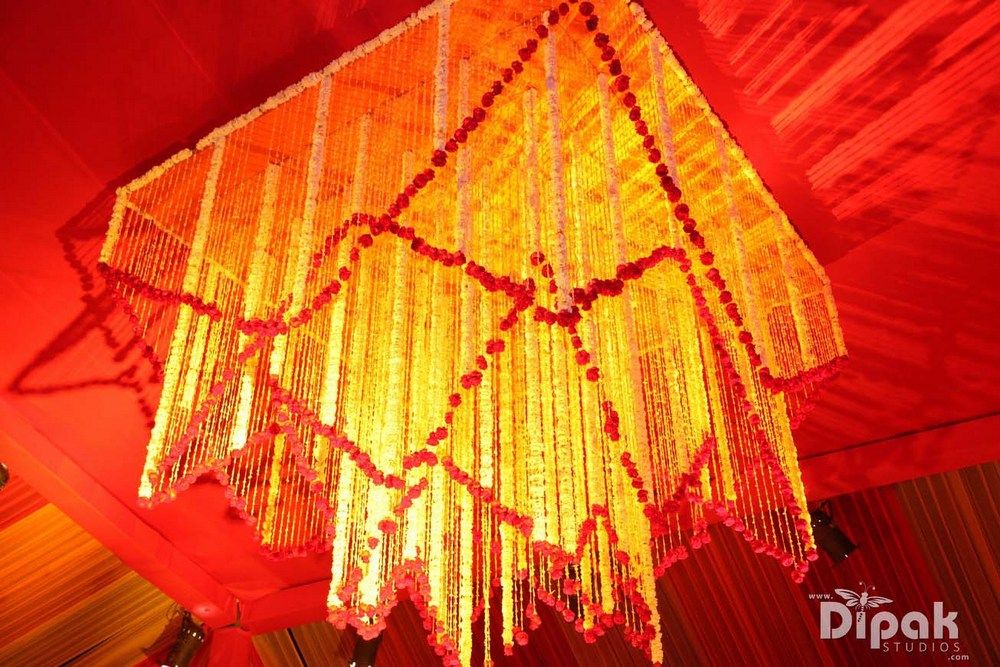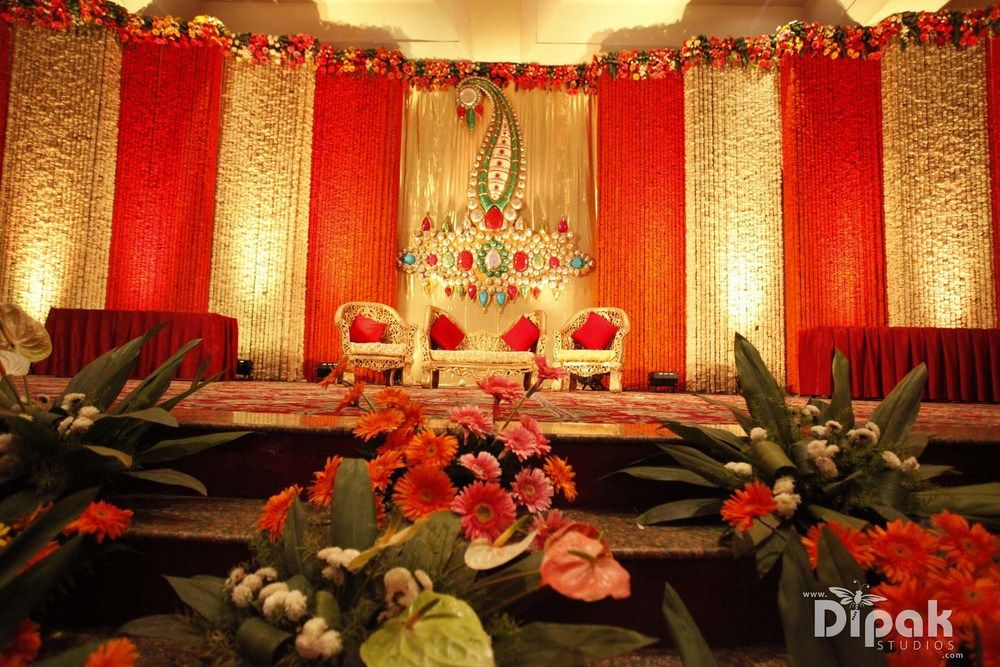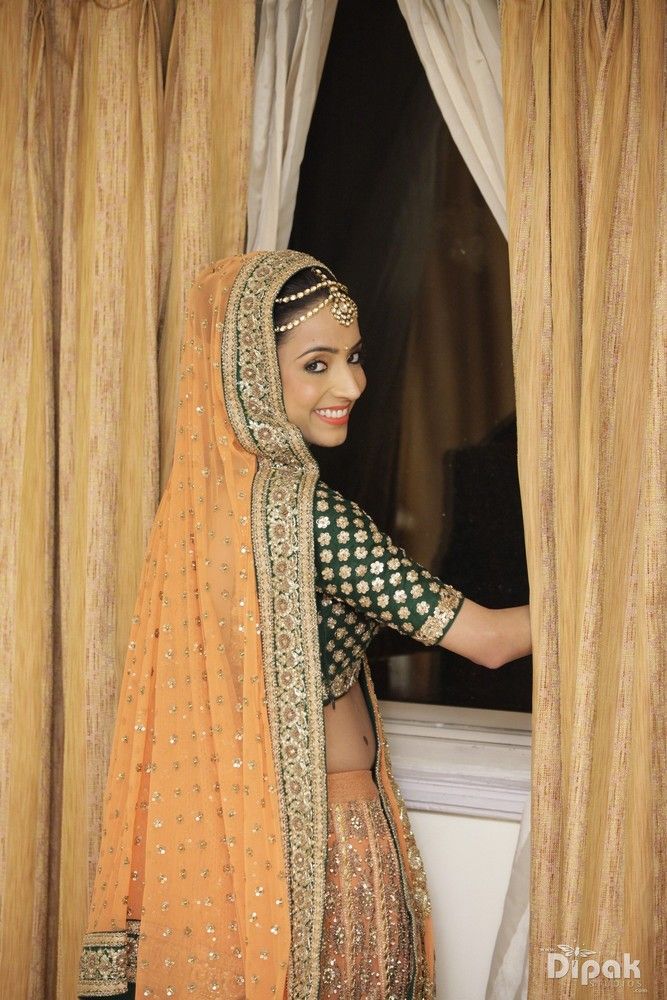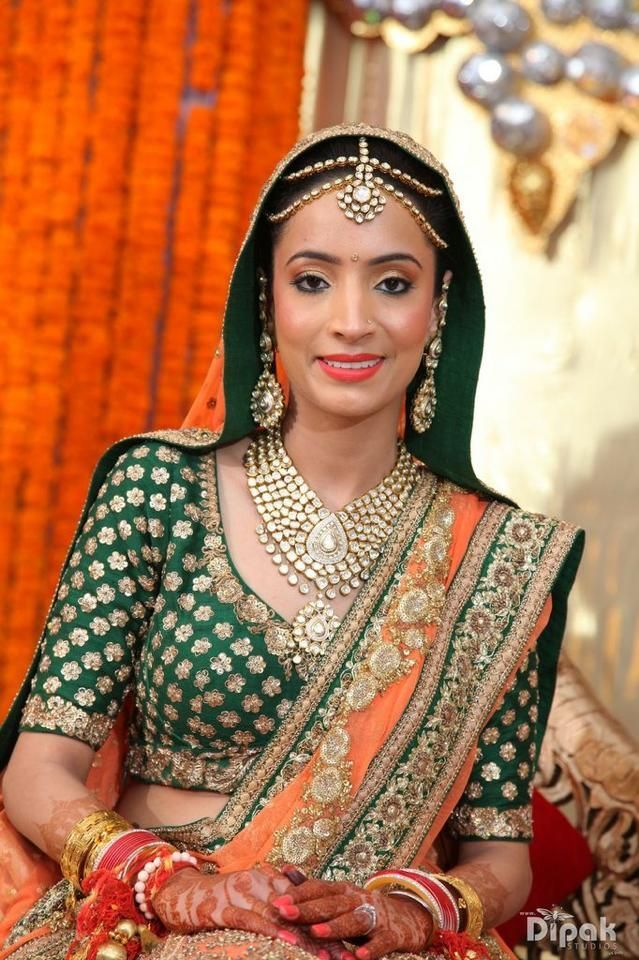 Peach & Green- so unusual but so gorge!
Hi Shailaja, You look stunning in all the events. Tell us a bit more about the wedding 
Though I enjoyed each and every event of my wedding, the Mehndi/sangeet was most fun of all with great music and lots of dancing all night. We had some punjabi singers who gave life to the party and made everyone dance followed by a Dj later so it was a good mix of traditional wedding punjabi songs along with Bollywood music.
 I had started my research months in advance and along with my parents regarding my wedding and I was also involved in deciding on wedding invitations & decorations for all the events. While I was doing my research on makeup artists I came across your blogon the best makeup artists in Delhi. I read some great reviews about Shalini Singh and after meeting & seeing her work I decided to finalise her. I'm glad I chose her as she did a fabulous job and most importantly made me look like myself. Also I would like to mention my event organiser Swati who did an awesome job with the decor of the Mehndi/sangeet at Cibo's as well as our house. We had a couple of events at home for which she changed the look every day.Diksha Mehta was great with wedding invitations. I always wanted my wedding invites to be simple yet classy and they came out just the way I wanted. Thanks to Diksha's brilliant work we actually got calls from most of the people who got our invites saying how beautiful it was.
Loved all your outfits- specially the mehendi sari and the wedding lehenga. Details please! 
I have always been a fan of Sabyasachi's work and was sure to get my wedding outfit from him. It was the perfect time as he was coming to his Boutique in Mehrauli & meeting up with brides.His collection was so vibrant and beautiful with a mix of all bright shades of fuschia and red but I fell in love with this peach & green lehenga the moment I saw it. I wanted an unusual bridal color and thought this was a perfect combination.
For the rest of events it took me a lot more time and I dint leave a single boutique in delhi. I was browsing through Ogaan when I saw this red & gold saree by Dolly J and decided to pick it up for my mehendi. Now as per the tradition the boy was not supposed to see my Mehndi before the wedding so I had to find a way to cover it. I got these black net gloves with cute little diamontes on the side and to my surprise they went really well with my outfit. For the cocktail I wanted something with more contemporary work as my wedding lehenga was very traditional so I picked up this fuchsia pink& blue lehenga from a Calcutta based designer Rani Vij.
Like any other girl I also went through mixed emotions, a lil anxious, excited and nervous but in end, thanks to my parents I had a beautiful wedding and everything went off just the way I wanted
[handbook]
Dolly J
(Red and Black Saree) &
Shalini Singh
(Makeup Artist) are both on our
WMG Handbook.
To know how members are chosen please read our
FAQ
[vendor]
Vendor details:
Venues: Cibo's for Mehendi, Cocktail at Radisson Blue, Wedding at Ashoka  | Makeup:
Shalini Singh
for all events
| Photographer :Dipak Studios 
|
Outfits: Dolly J (Red and Black Saree) , Rani Vij (Pink Lehenga), Sabyasachi (Peach & Green Lehenga) 
| Invitations: Diksha Mehta | Decor: Swati (9810547544) for Mehendi function, Variety Decorator for Wedding