A Designer Tells Us: Five Things To Remember When Creating The Lehenga Of Your Dreams!
BY Sakshi | 23 Apr, 2018 | 1559 views | 3 min read
Who better than a designer to give you some super useful tips on picking or creating the right lehenga for you? We asked ANJALISHARMA by French Curve★ 4.9 , who designs some pretty contemporary bridal lehengas to give us her two cents on designing the lehenga of your dreams, and she has some pretty inspiring tips and ideas- so over to her as she touches upon different aspects of a lehenga that can really come handy in making the right choice!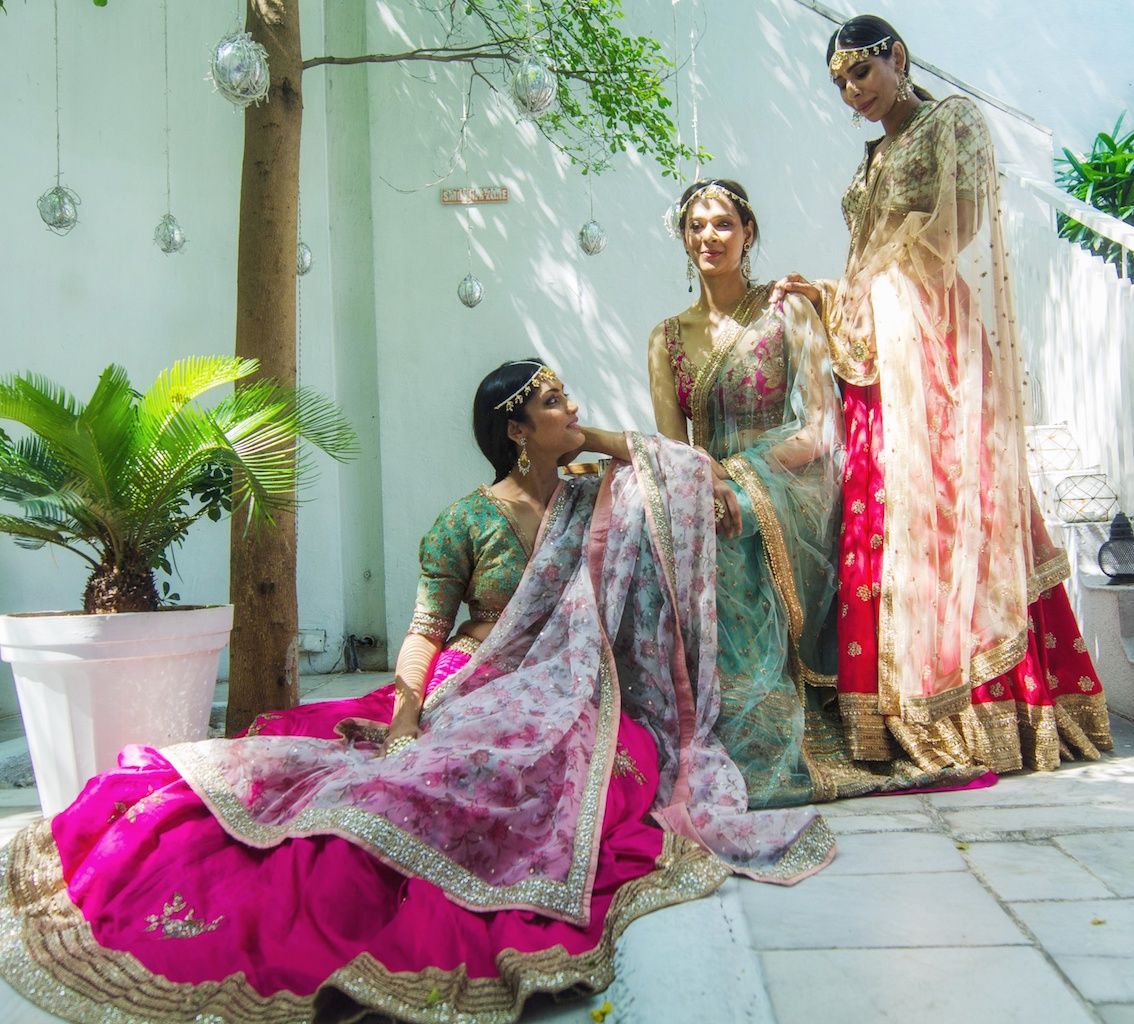 As a new 'bride-to-be' heads towards her wedding, the first biggest decision on her wedding ensemble is the choice of color. Deciding on that dream lehenga can be daunting if the color scheme is not sorted. Let us take the bride through basic 5 pointers to create her most cherished 'dream lehenga'! The latest collection "MEMSAHIB- Vacation weddings- Summerof18", which has some drool-worthy lehengas with stunning breezy silhouettes. Handcrafted to perfection, each piece speaks to you from a fresh pedestal with saturated colors and a pretty vintage feel which is perfect for the modern bride!
Colour: Lighter To Brighter Is The Number One Rule To Follow!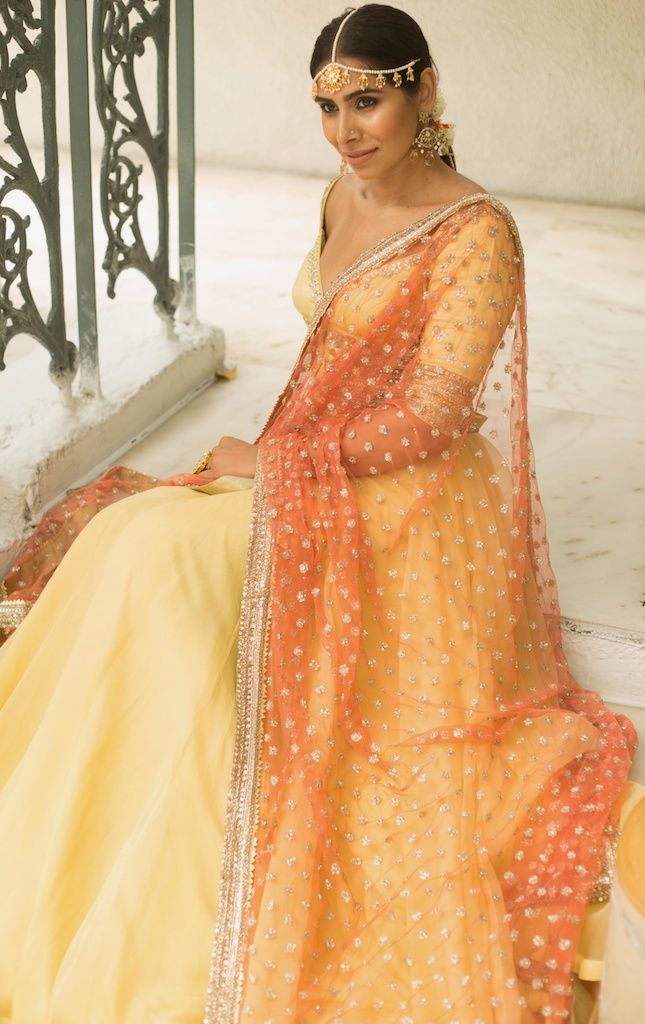 I firmly believe that all experimenting with colors and silhouettes should be done prior to the main event. Our advice to the brides is to go from 'lighter to the brighter', which means start with tones of Blushes, Mints, Yellows, and Blues for the preceding events, and slowly make your way through to the Bridal Reds and Fuchsias for the main function. Indian plethora of colors work beautifully in our Indian settings and the key is to tweak the same colors a little bit to get a new palette for a wedding.
Silhouette
Stunning light-weight fuller volumes is the new mantra. Along with the colors the silhouette is super important as the bridal outfit decides the 'look' the bride portrays. Brides tend to get critical about their bodies at times like their wedding and almost all brides get busy toning up for their main day. Therefore it is imperative and a great idea to leave this decision to their designers. It is the job of a designer to gauge the body in a technical way and find organic answers to clothe it.
That means, knowing what kind of blouse works for you - choli style or backless? Which dupatta should you opt for? Sheer ones make you look slimmer while heavier dupattas add depth.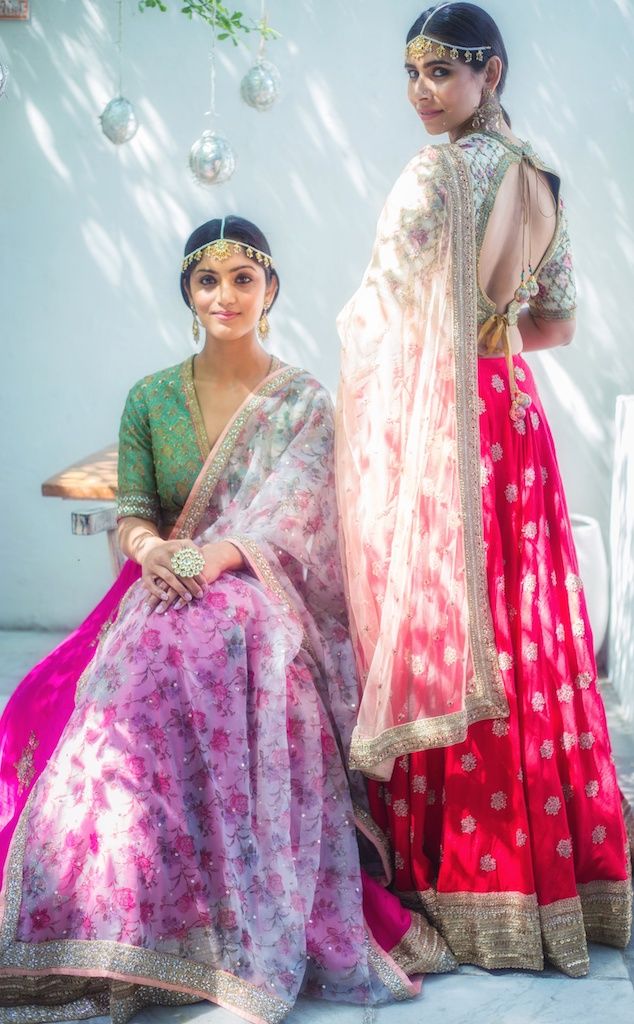 Fabric
Invest in a fabric that looks regal, has a lifespan and is of Indian Origin. Silks and Kinkhwab Brocades work fabulously well and look gorgeous at an Indian traditional wedding. Remember, that the filmsy materials will not last forever, wear & tear is higher. 
Embellishment
The surface embellishment is the key to a stunning outfit. I love the handcraft in our country and Zardozi, Gota Patti, Mirror work, Tilla are traditional heritage crafts which can be incorporated harmonically in a wedding outfit. Opting for the right embroidery can make it timeless!
Choli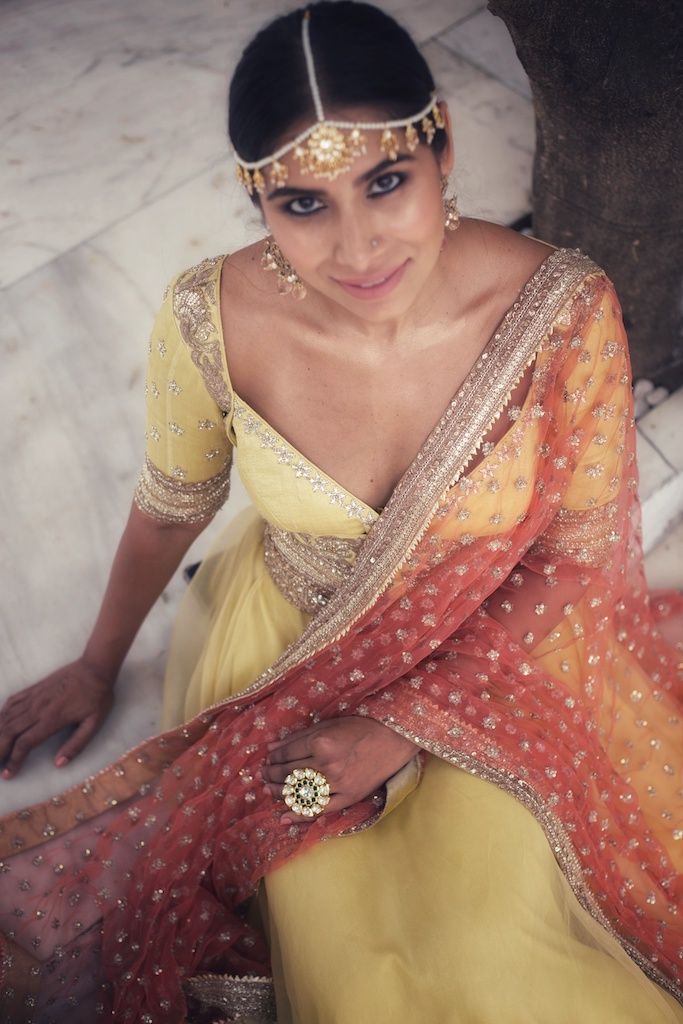 Contrary to popular belief, brides need a lot more time and thought on the choli for their Lehenga. A choli is an absolute deal maker or breaker where an ensemble is concerned. A lot of research goes into a choli making- whether to mold it with darts or a princess, whether to interline it, quilt it or just pad it. It also depends on your body - the arms, the fabric and mostly, the cut. 
Find out more on Instagram and Facebook. All pictures from the latest collection by ANJALISHARMA by French Curve★ 4.9 .