A Gorgeous Bangalore Wedding With The Bride In Traditional Red Kanchipuram
BY Aakanksha | 24 Sep, 2019 | 3950 views | 6 min read
There's something quite regal about going traditional on your wedding day. After all, red is the colour of brides, and when Vishantay decided to wear a red kanchipuram saree with gold motifs, she had to look stunning. Add to that the picture perfect photography by Vivek Krishnan photography★ 4.9 , and this wedding was an instant hit for us! So scroll down and see for yourself, and don't miss out on the gorgeous bridal portraits of Vishantay. 
Meet Vishantay & Nikhil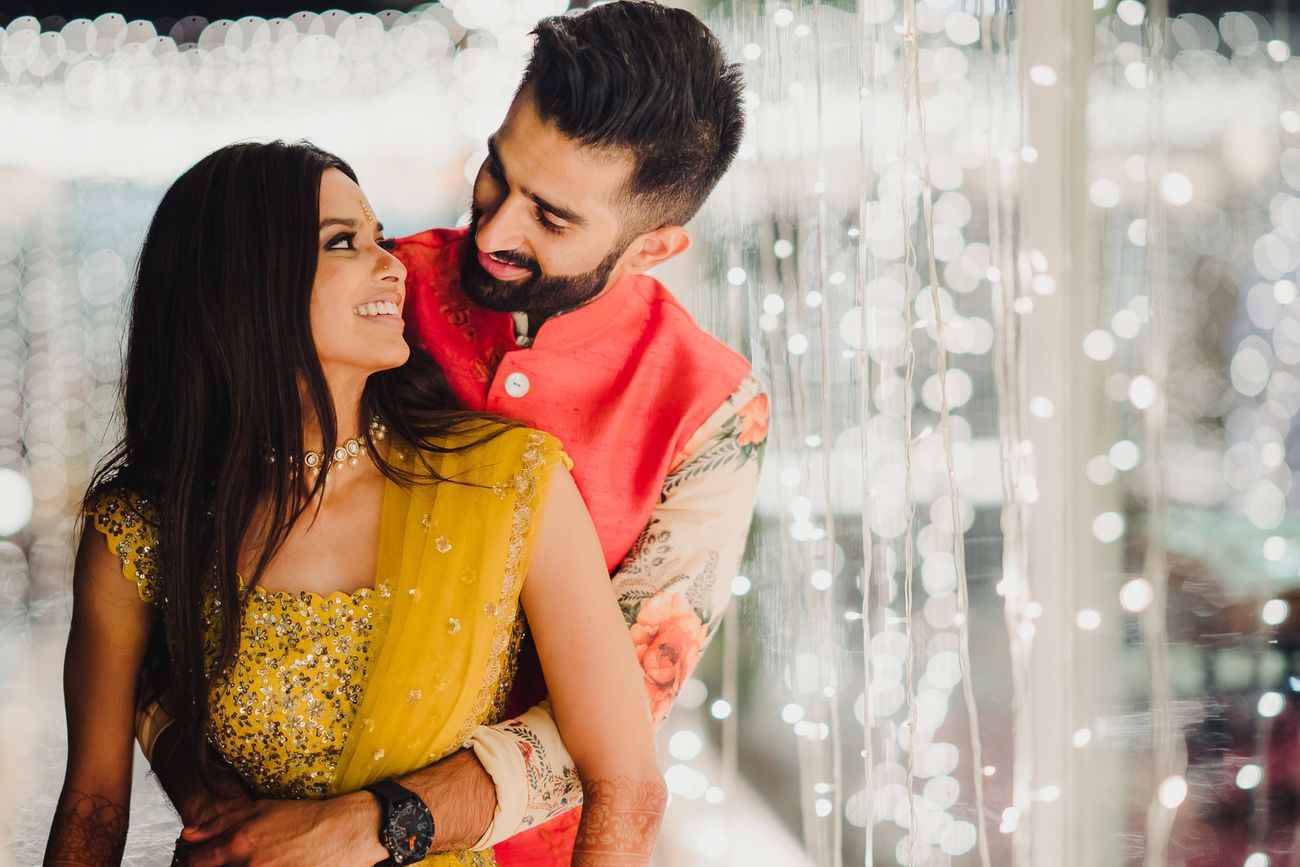 The Haldi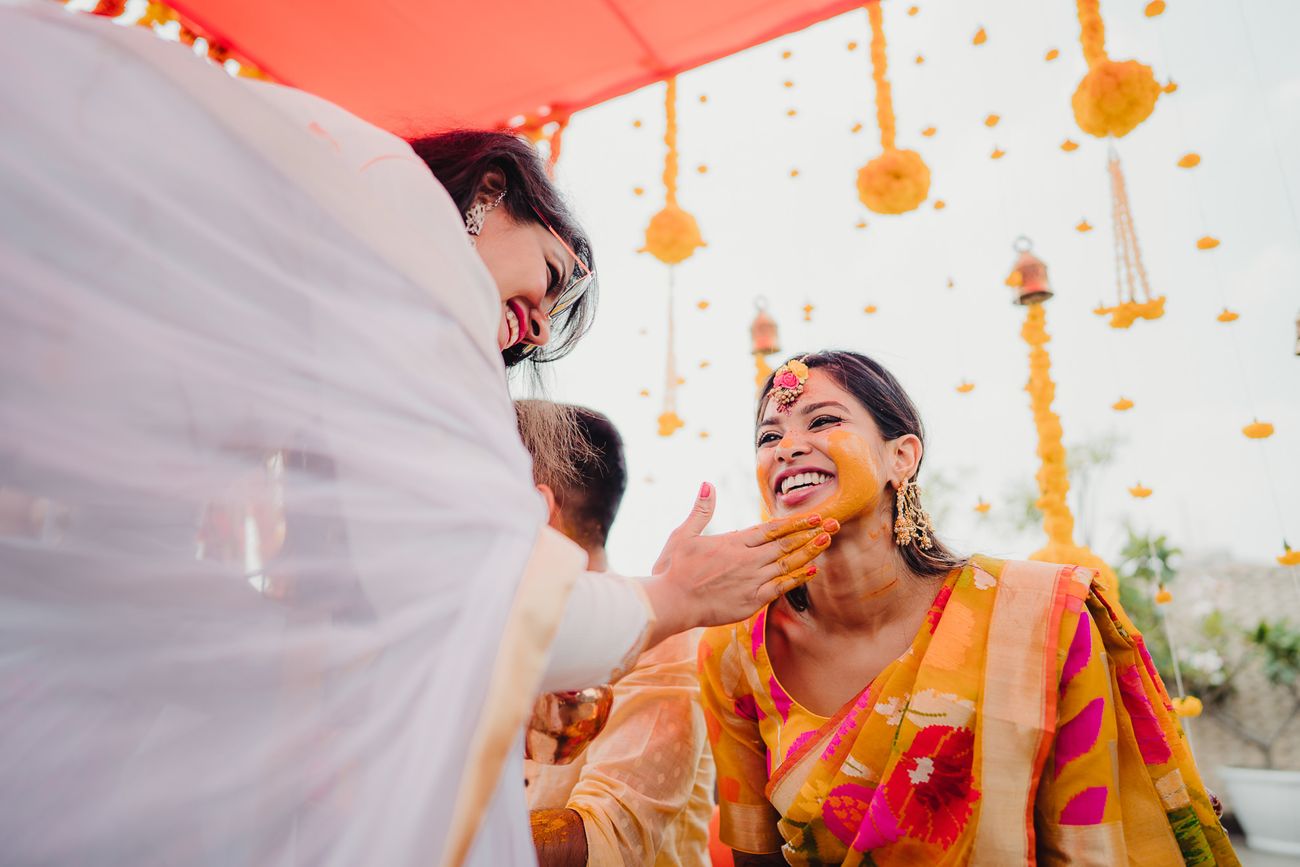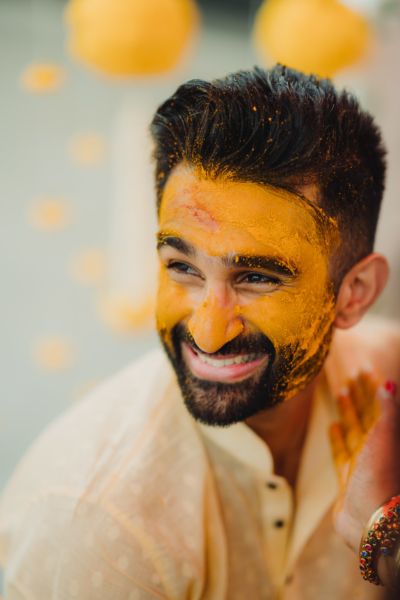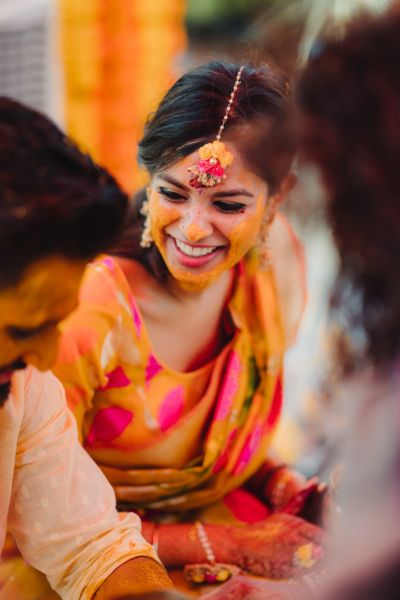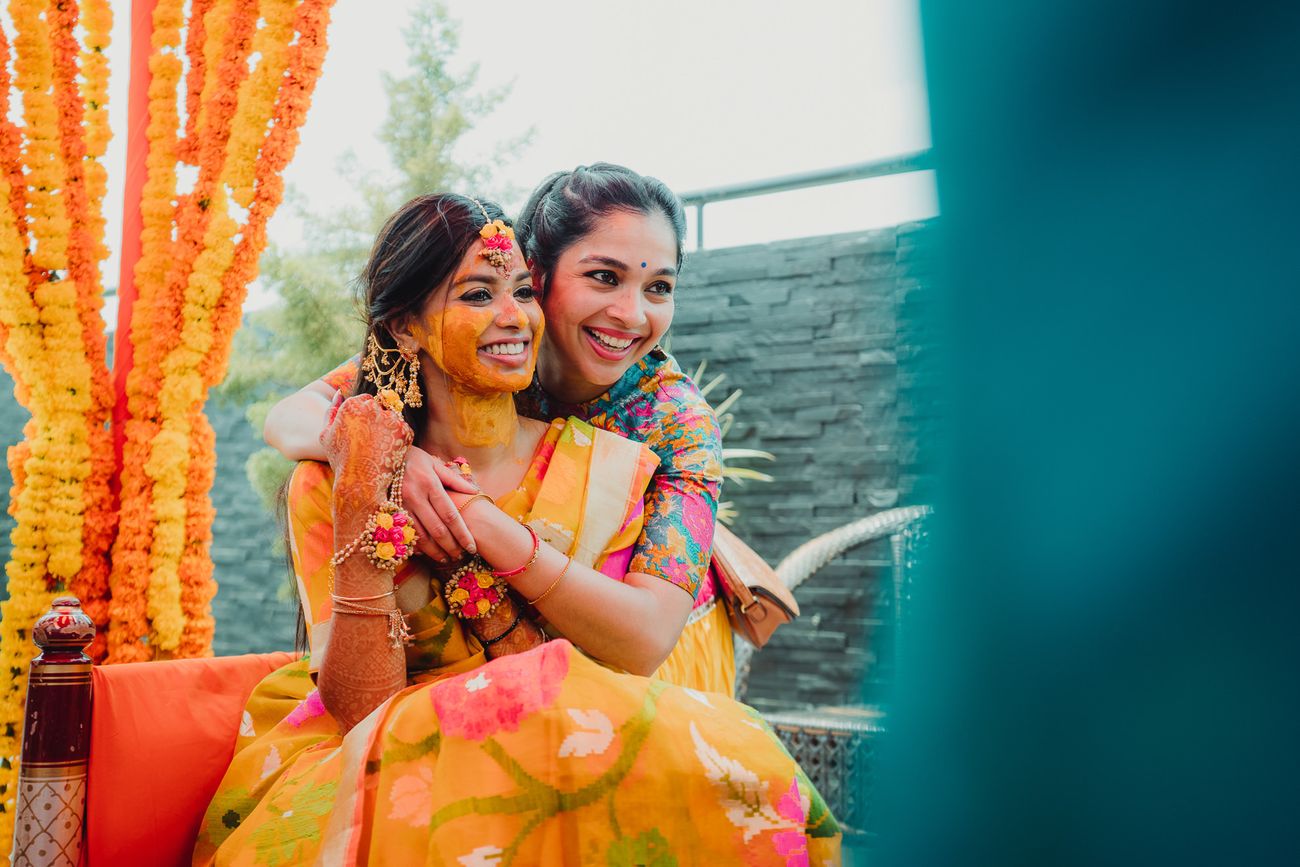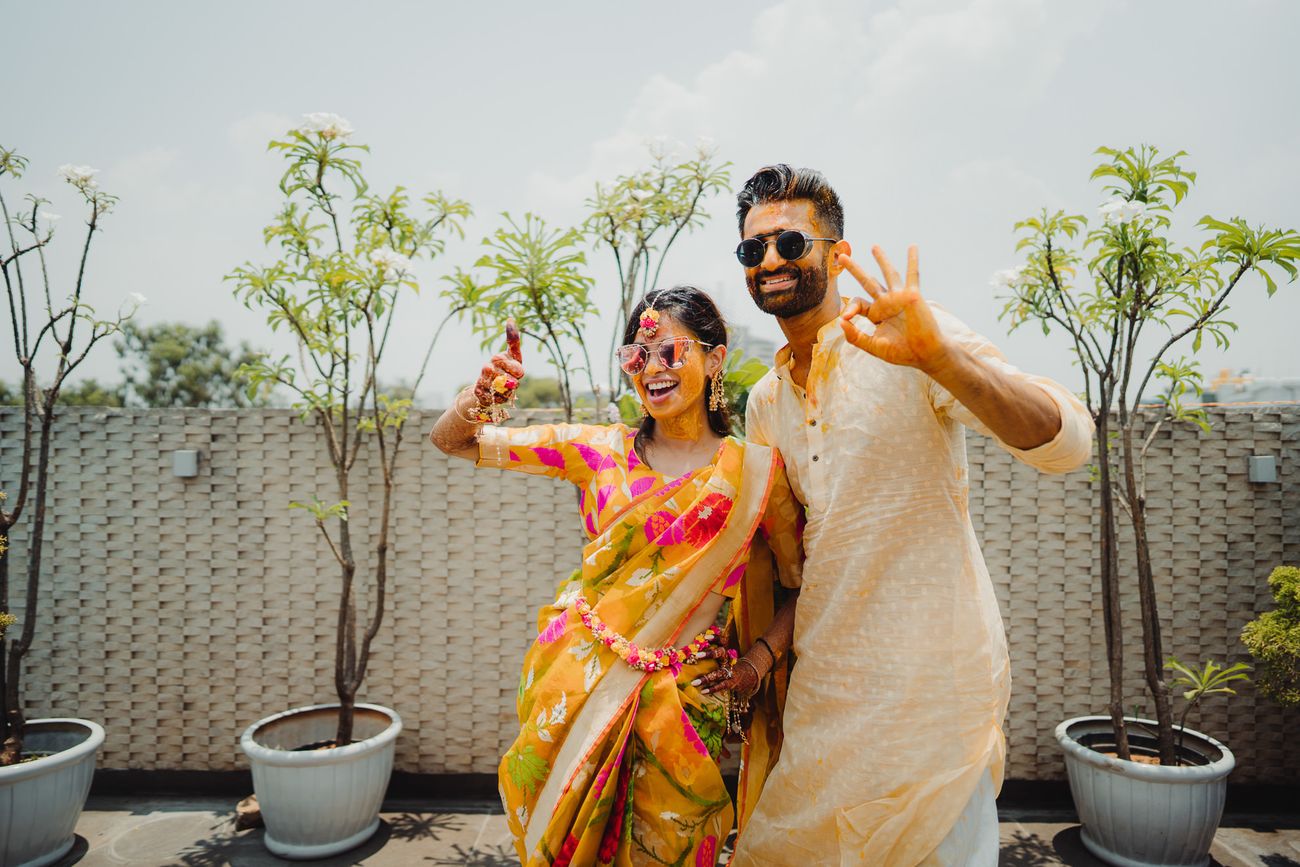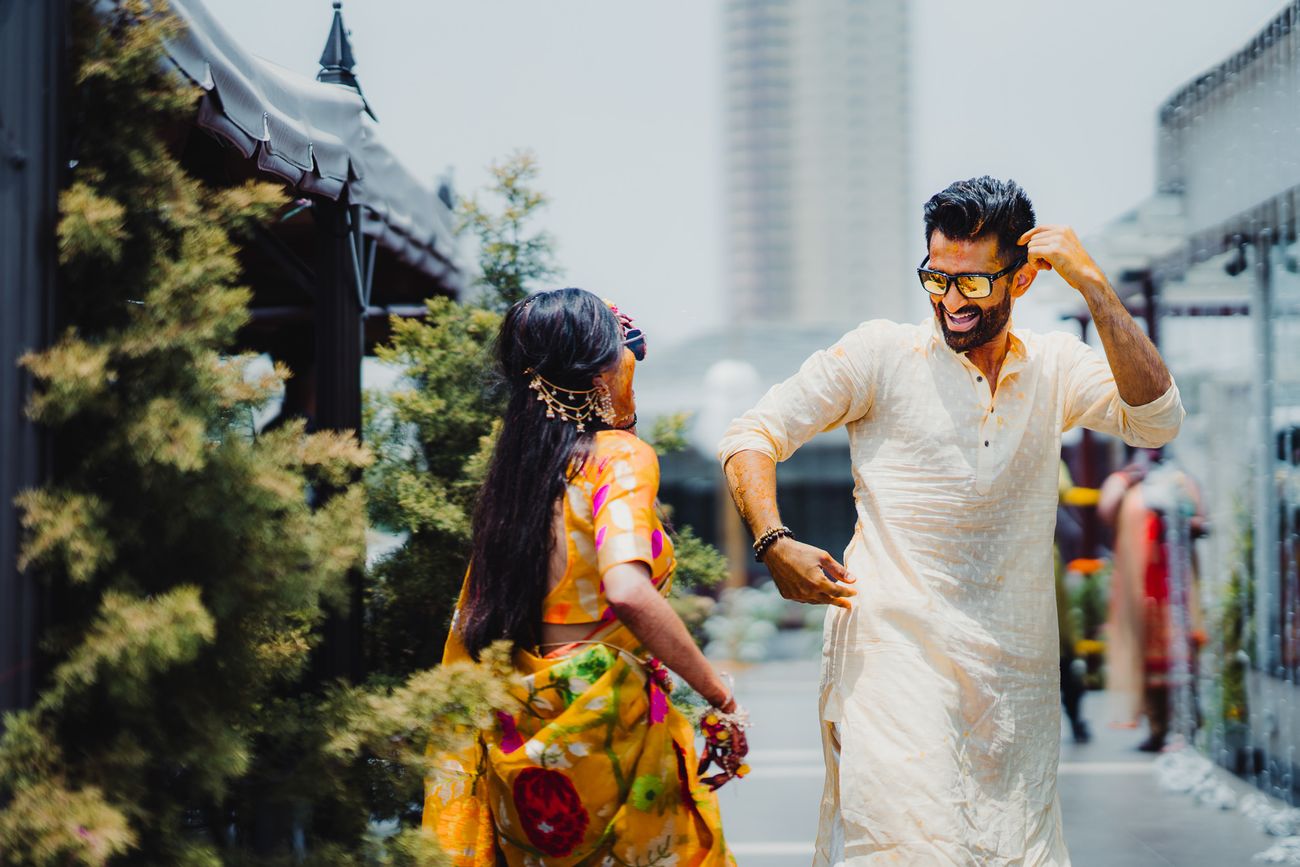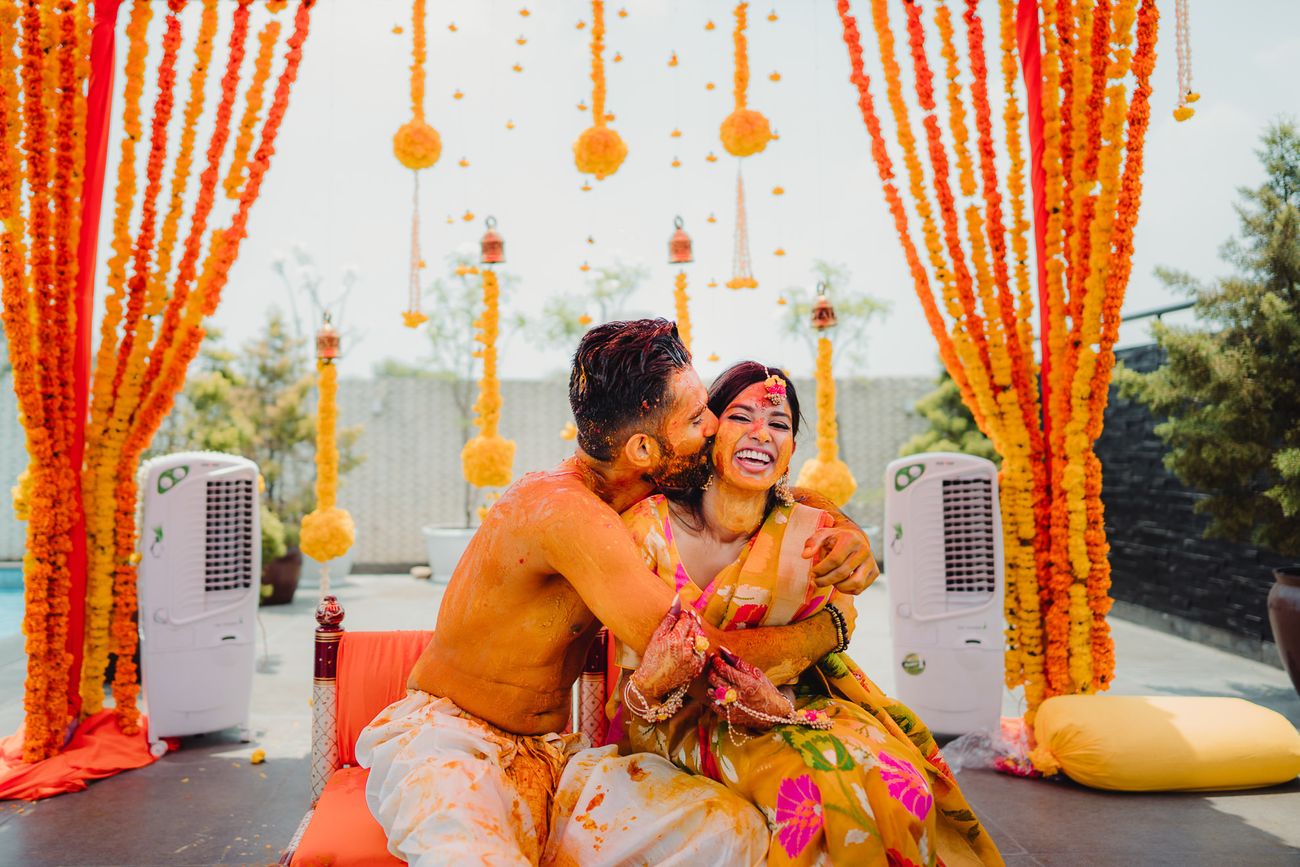 The Wedding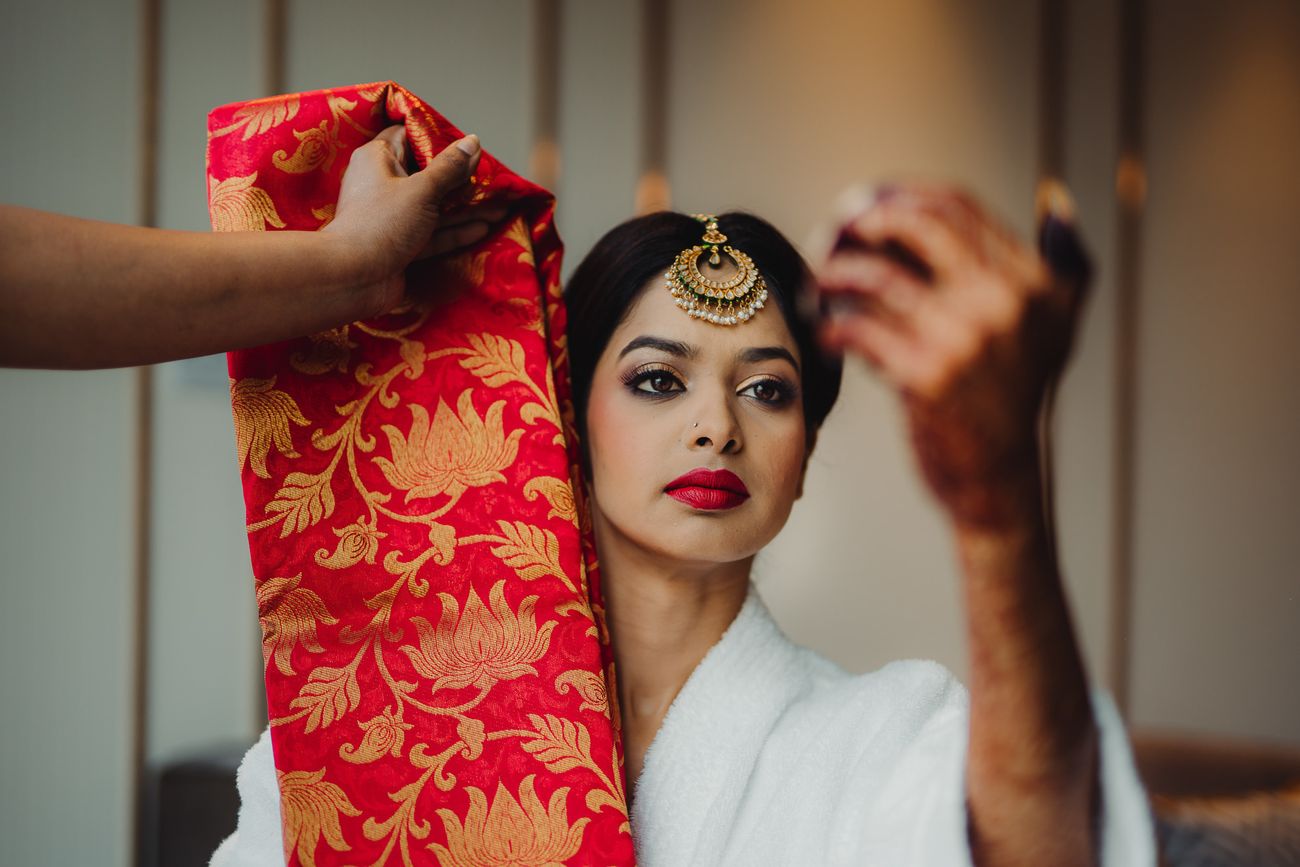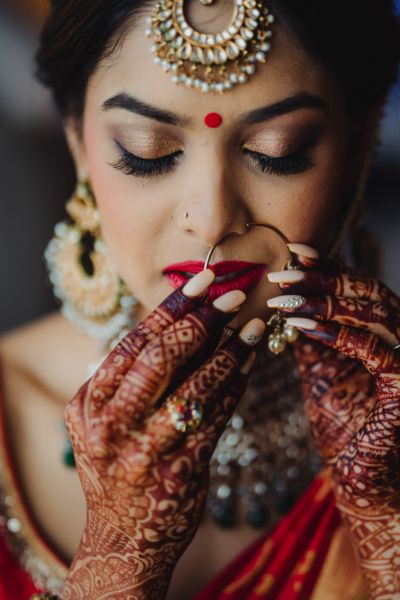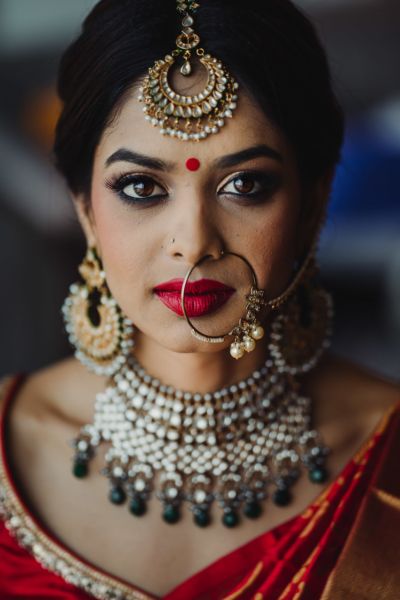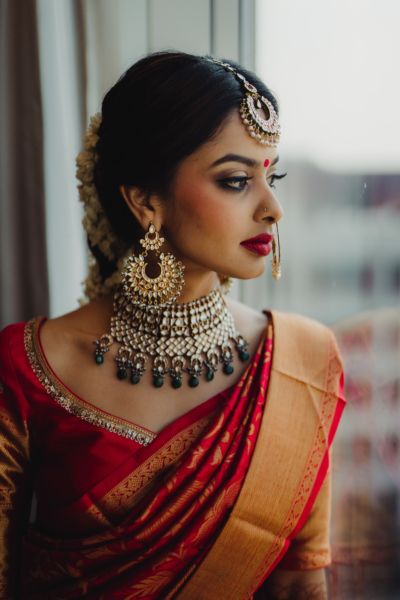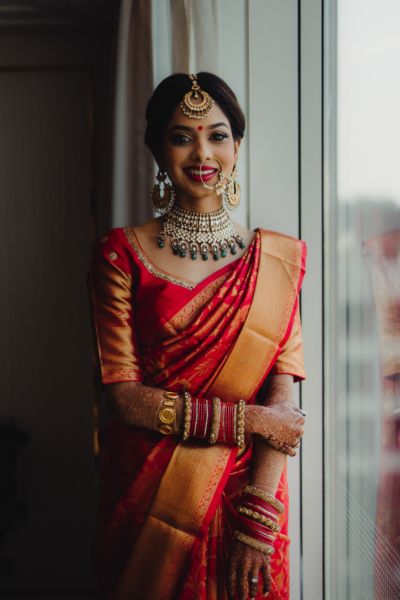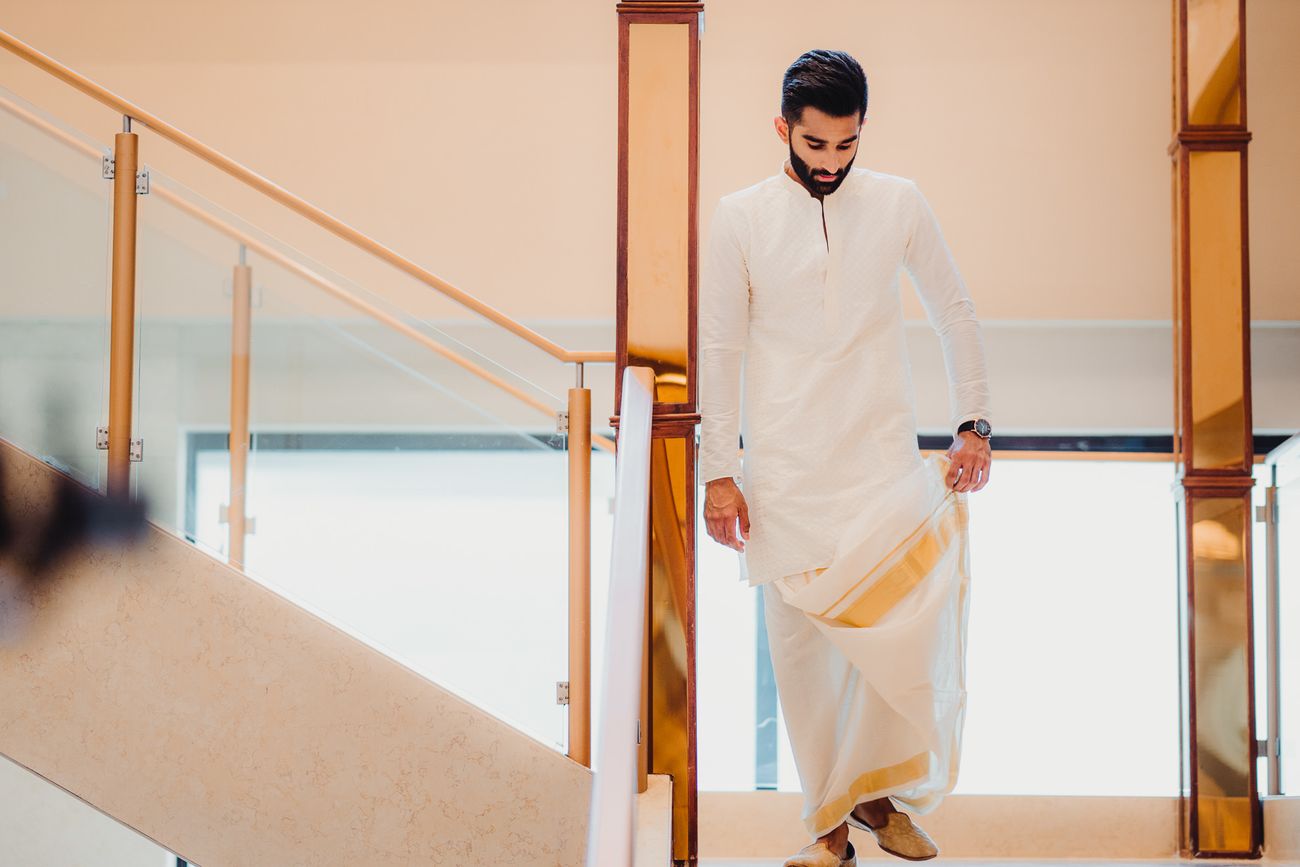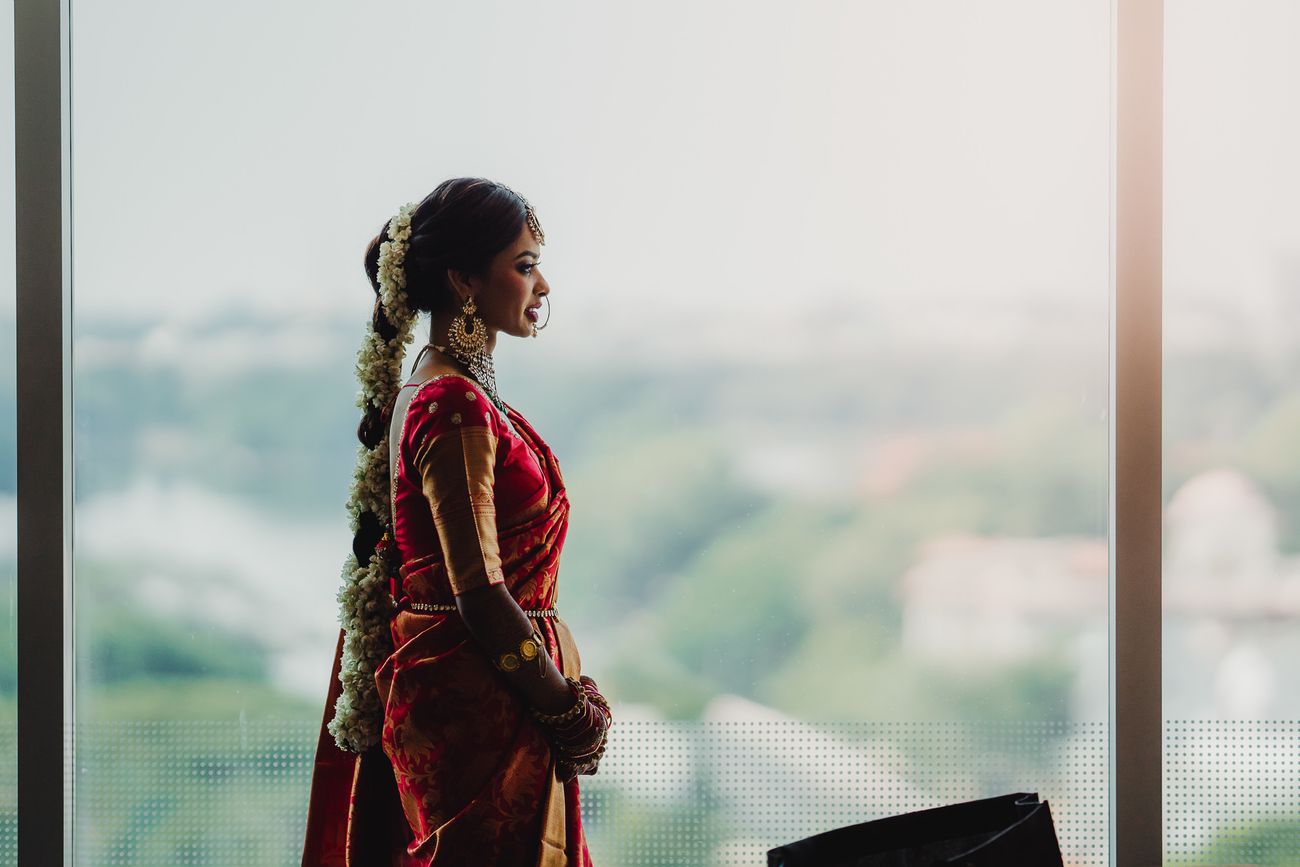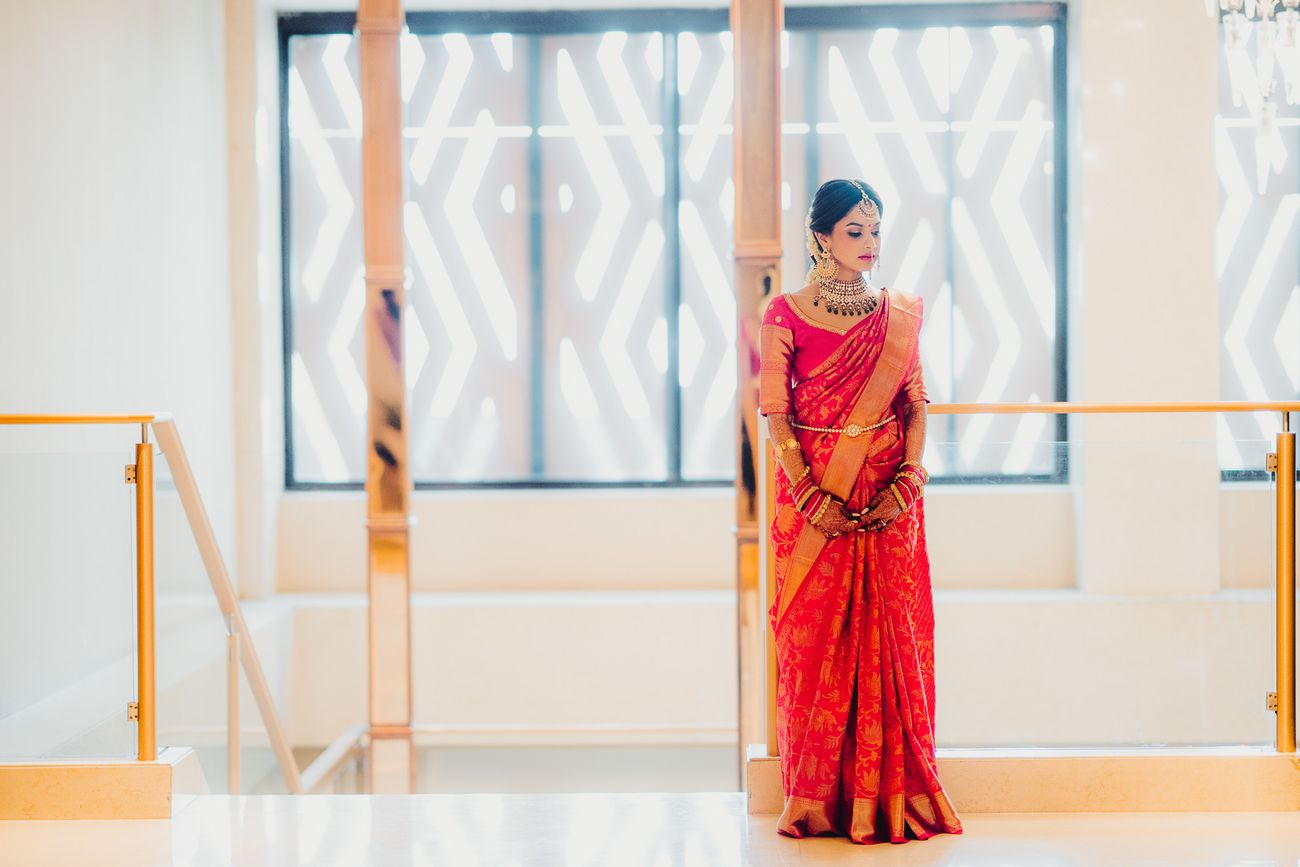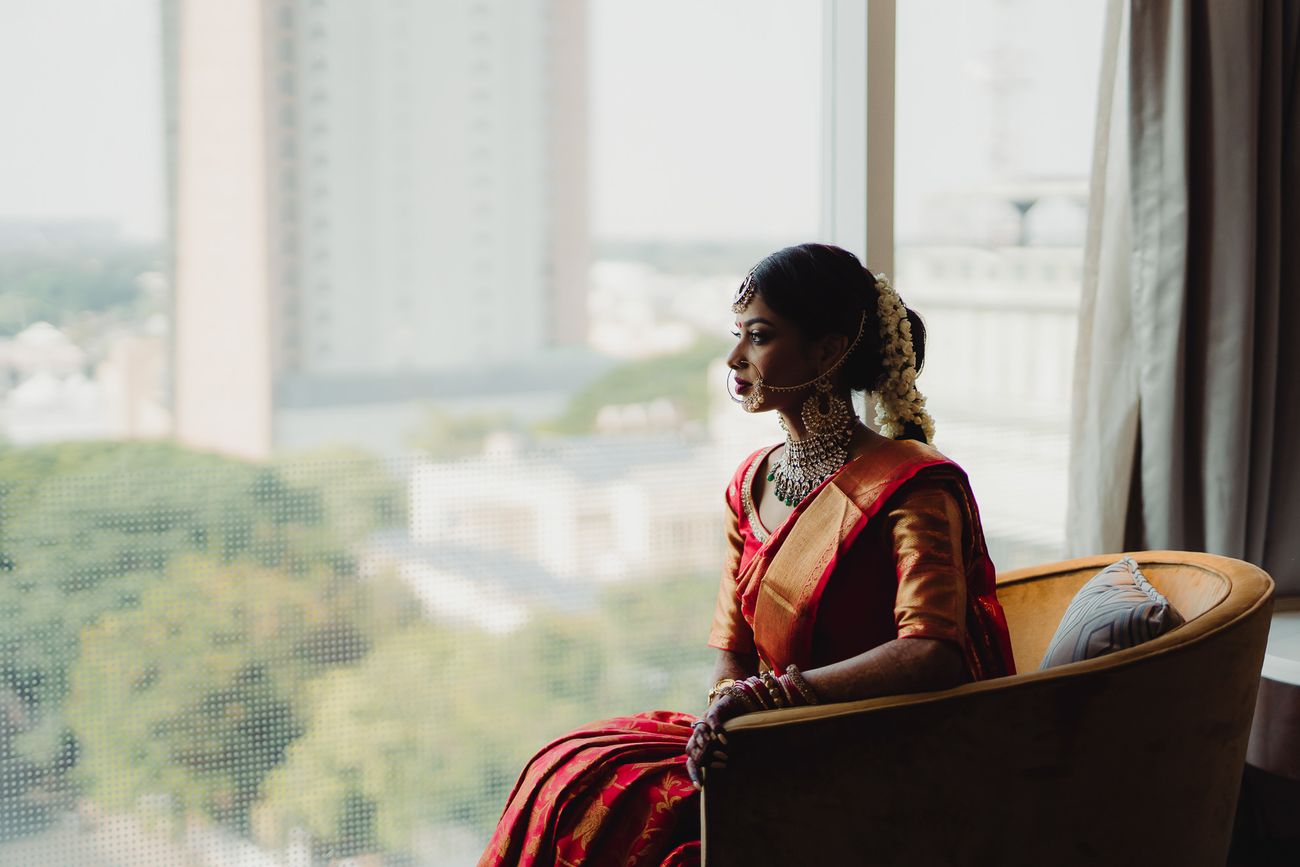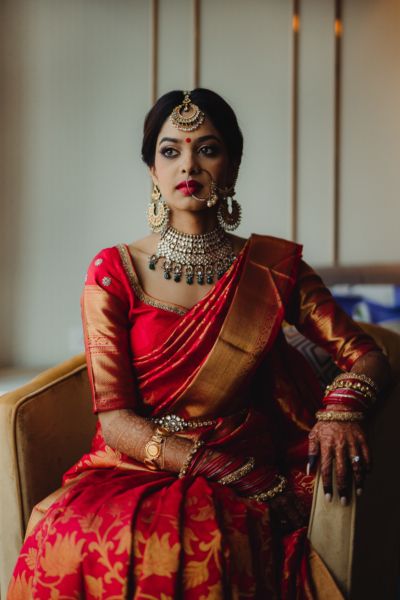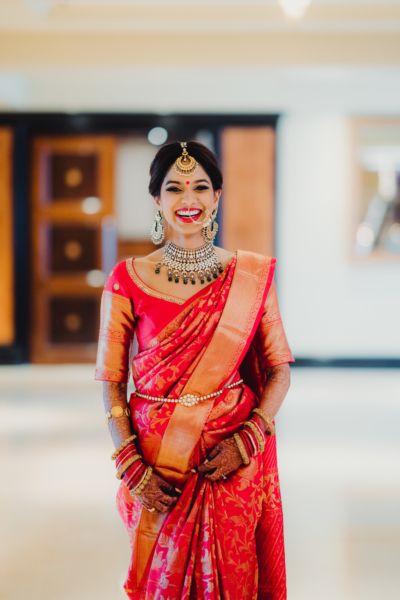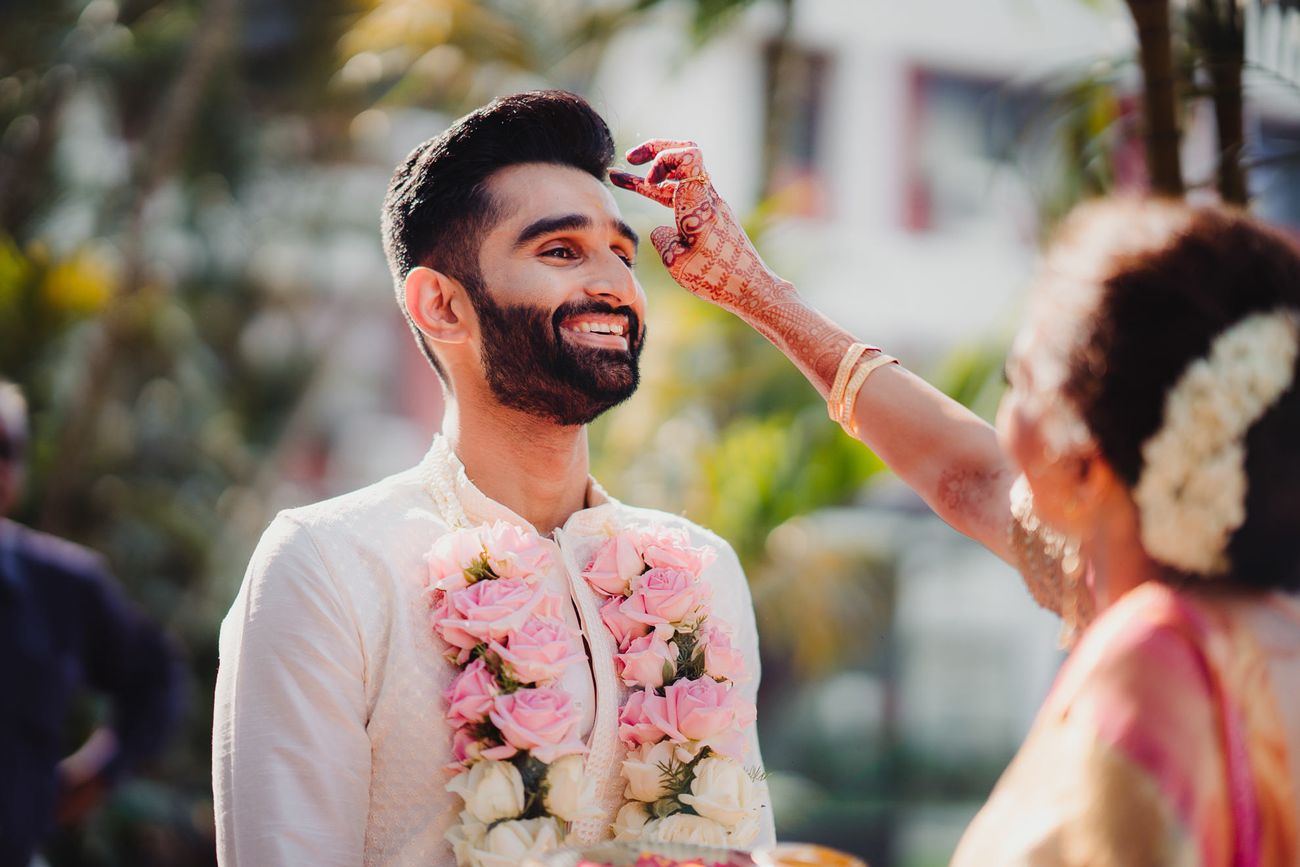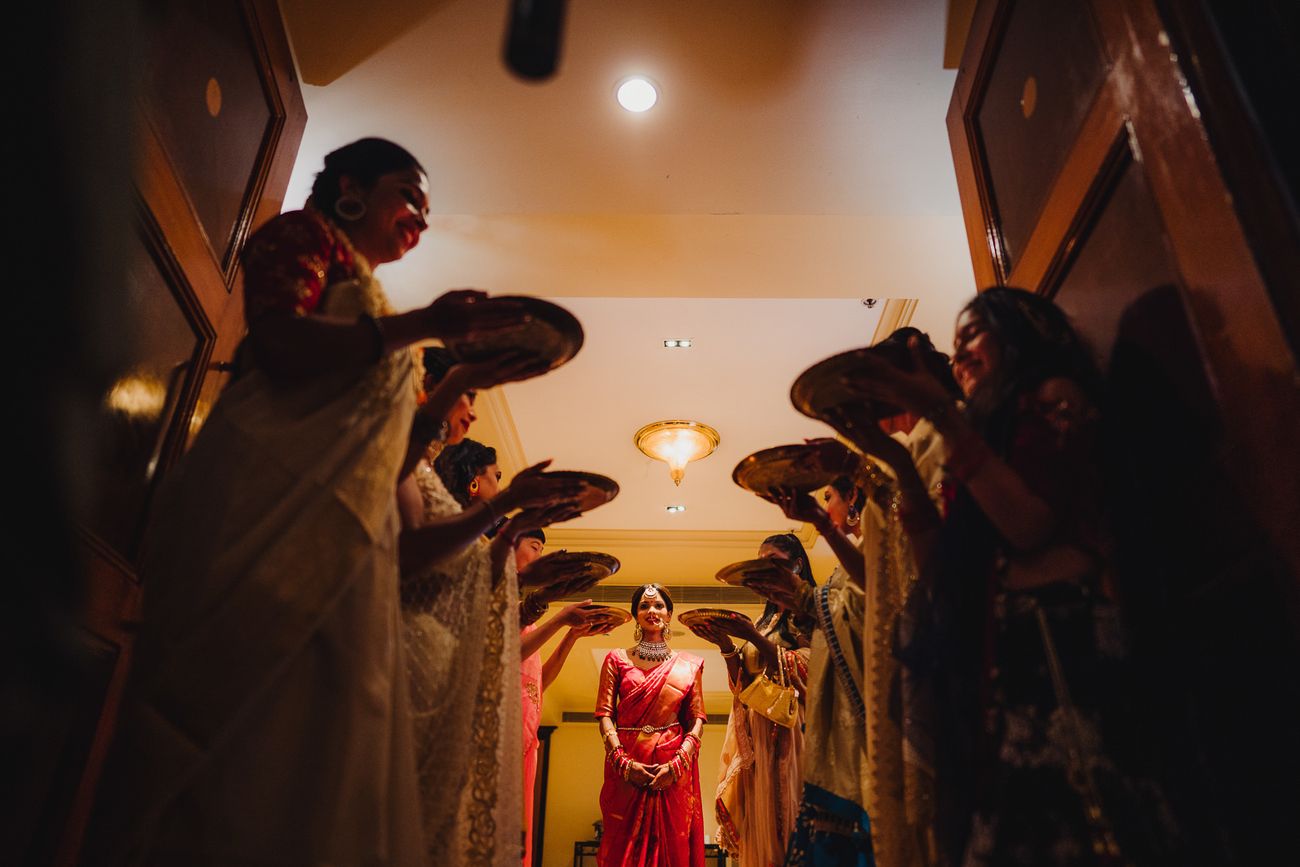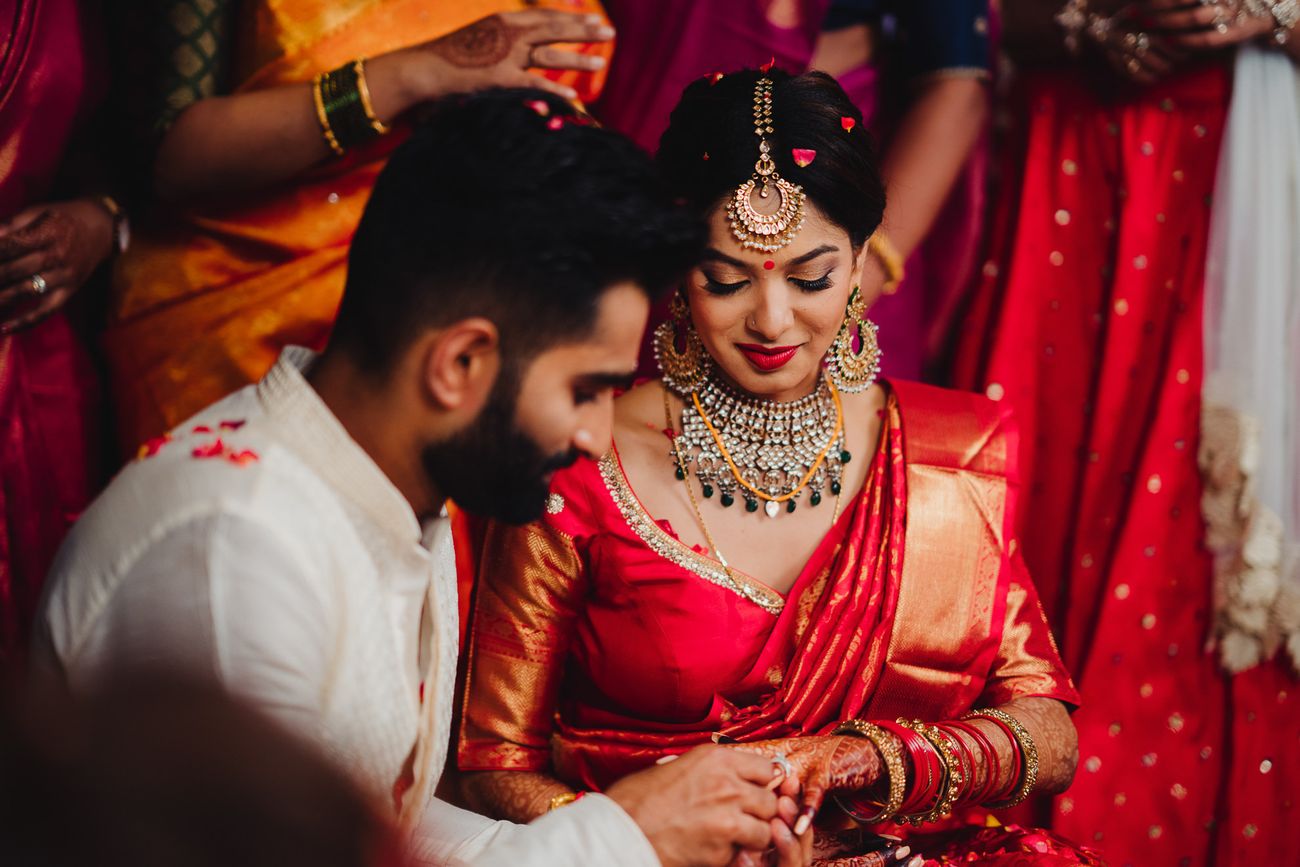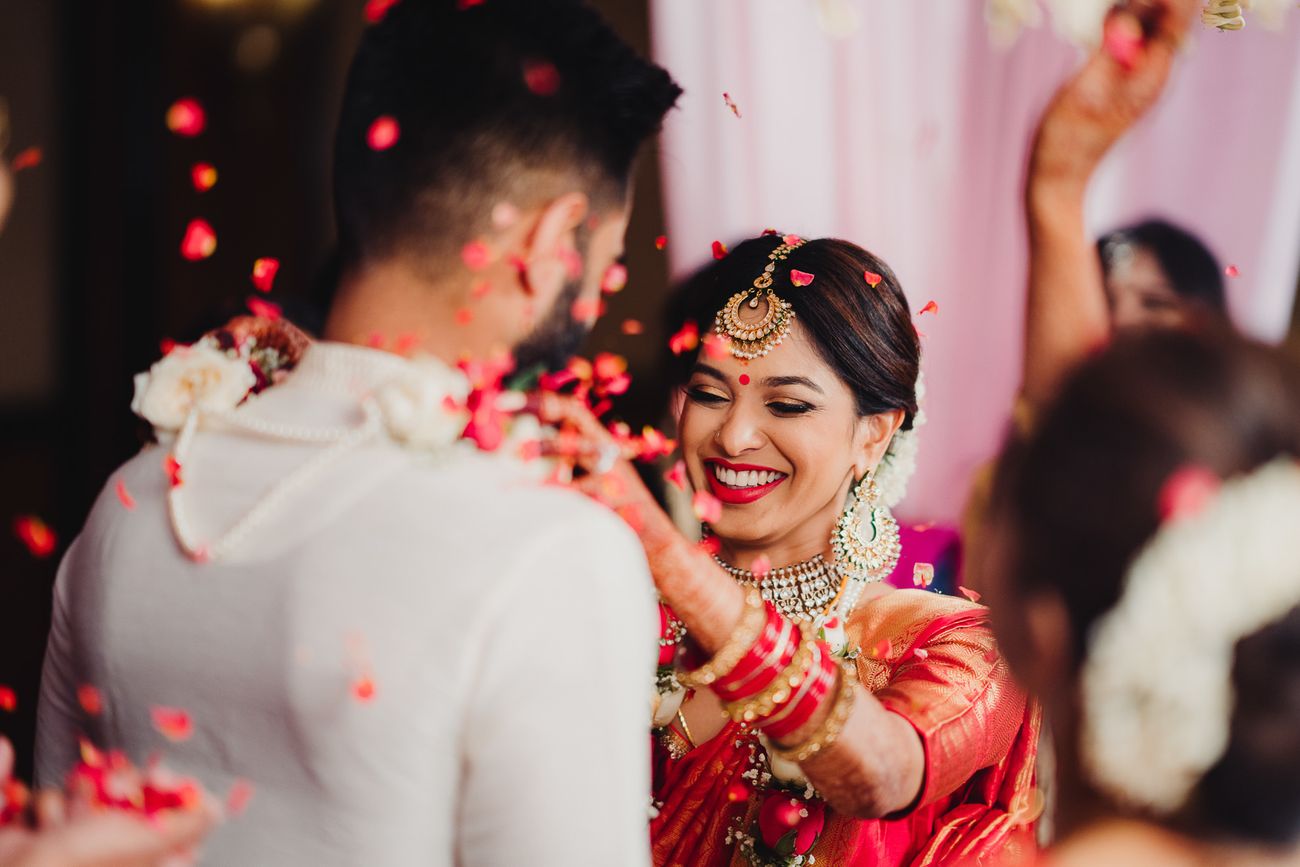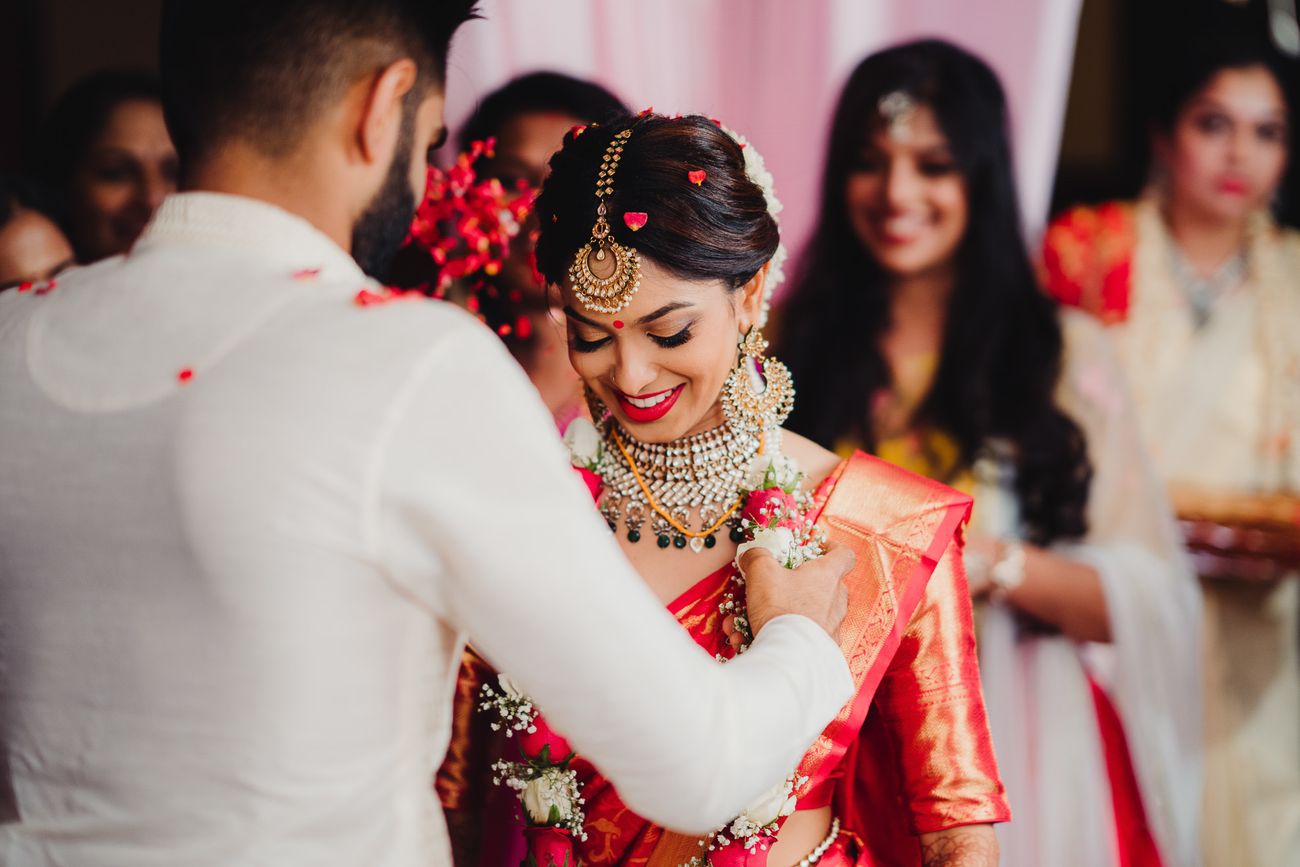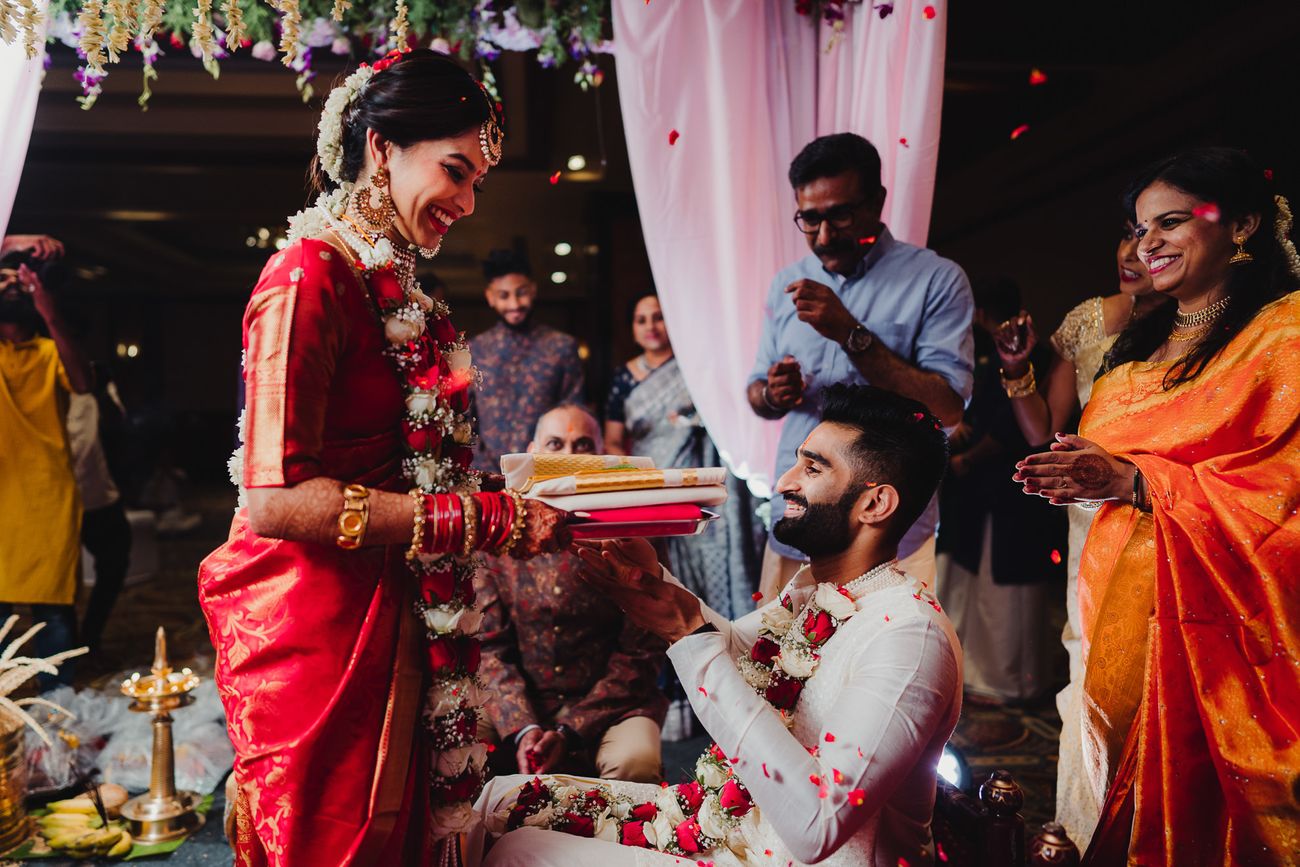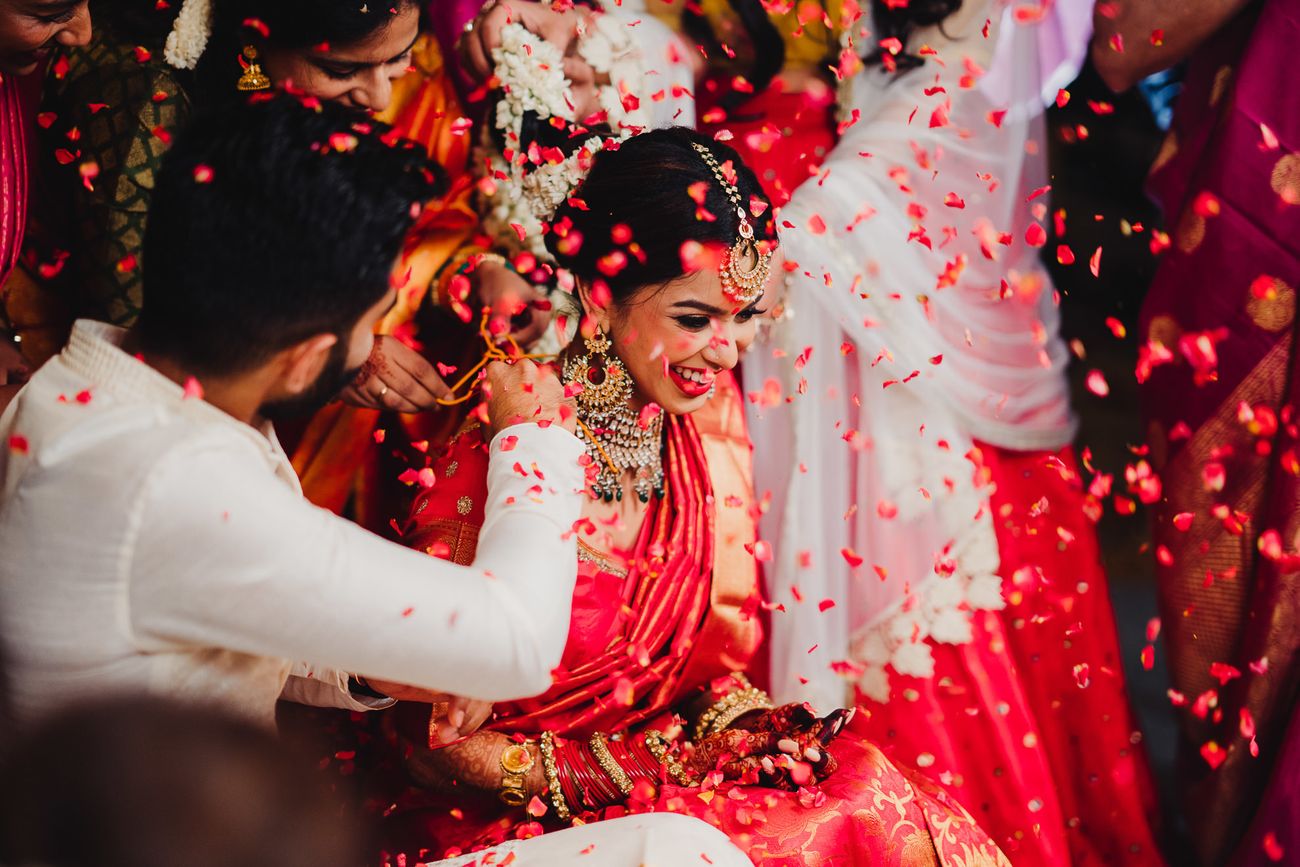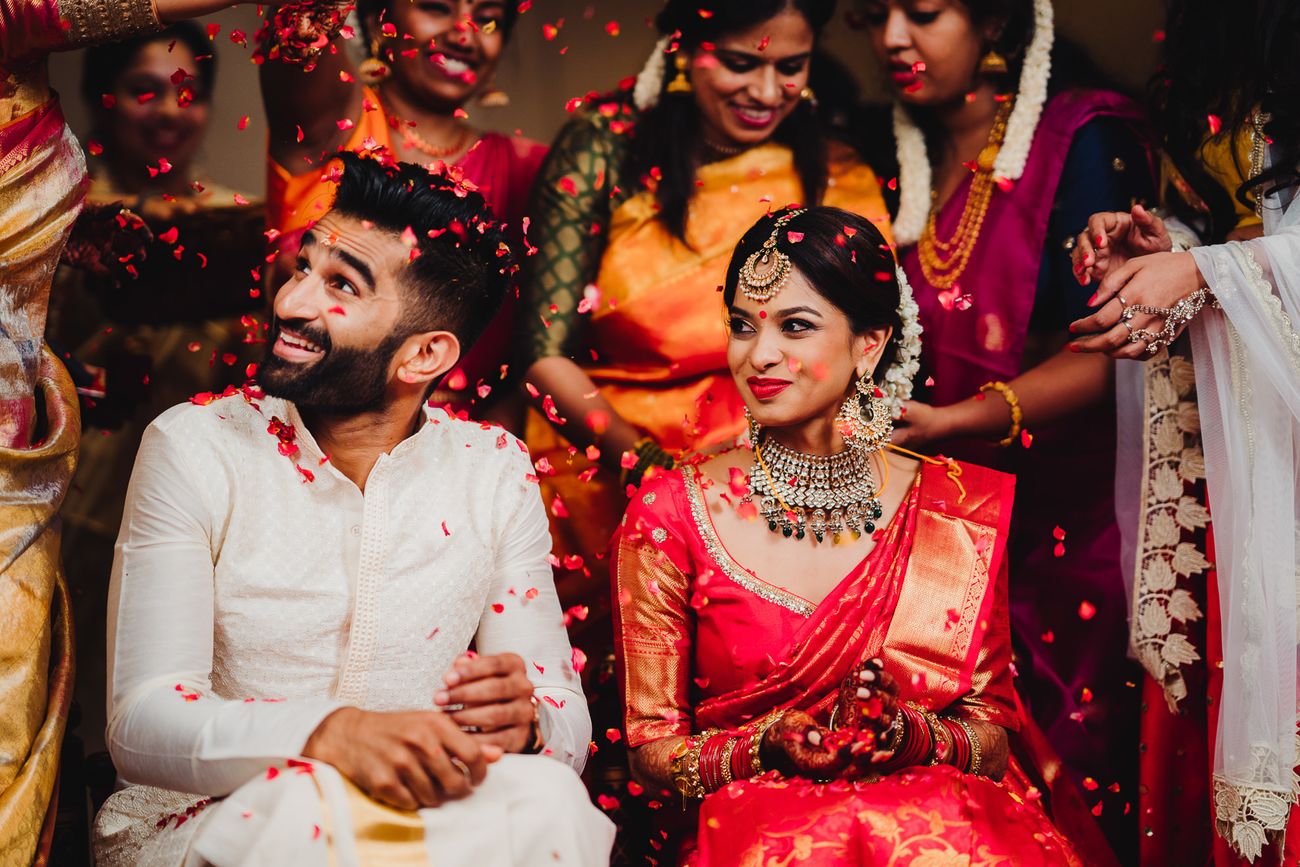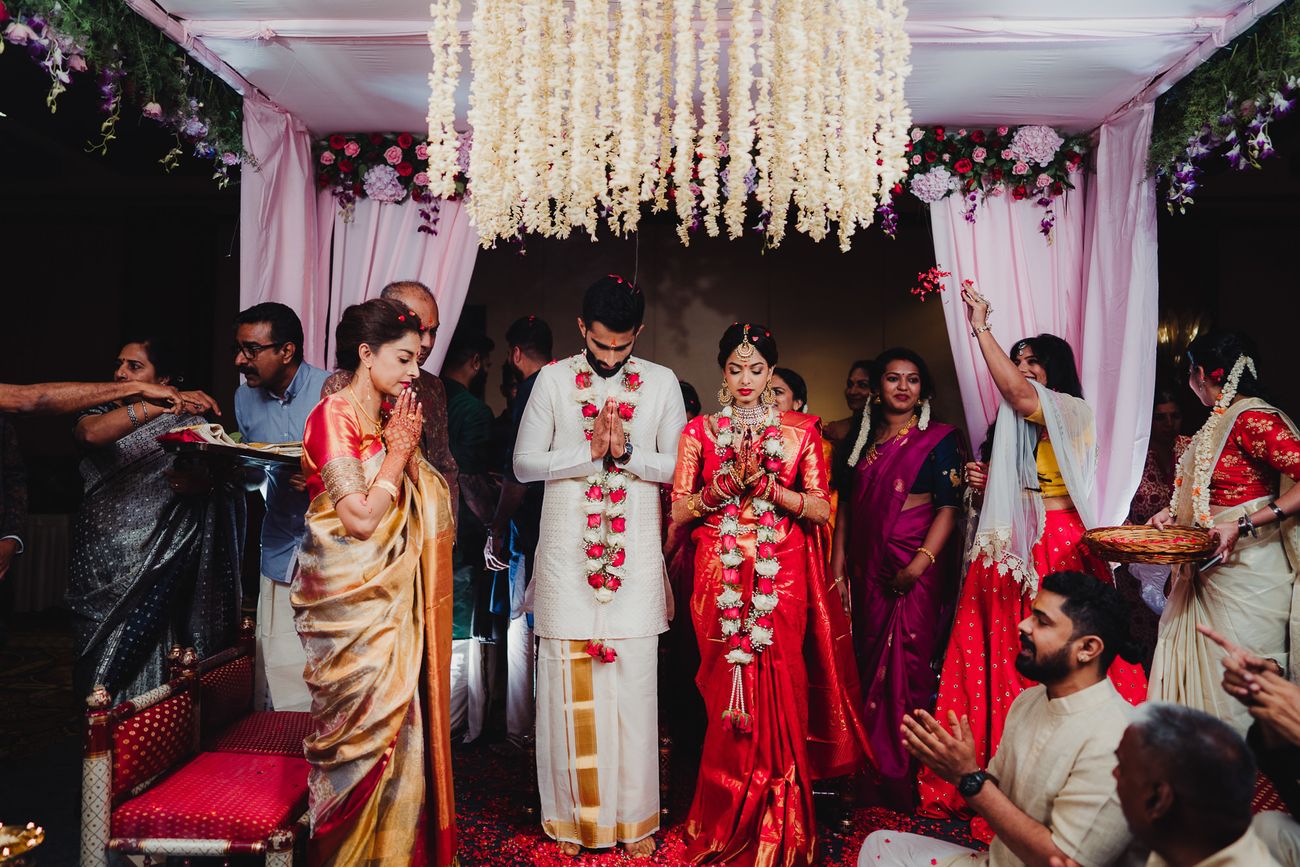 The Reception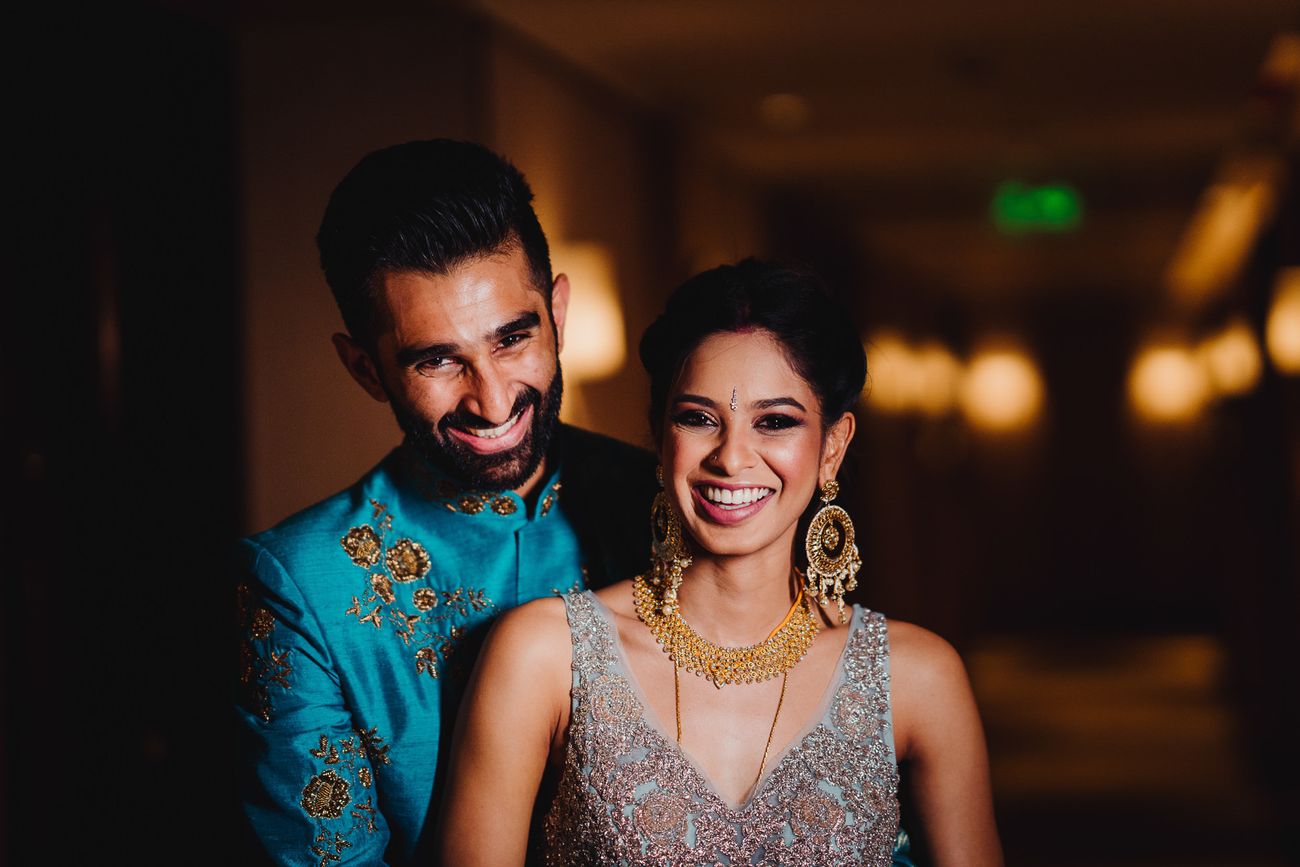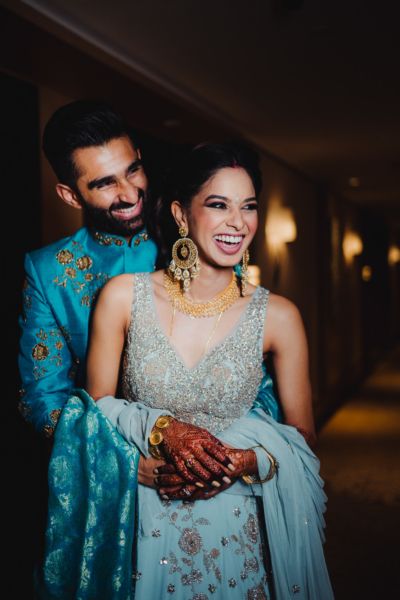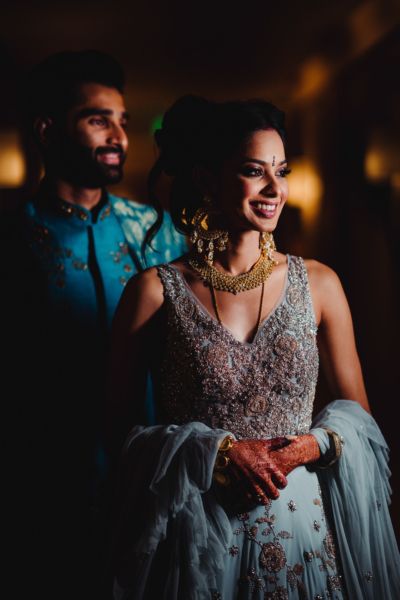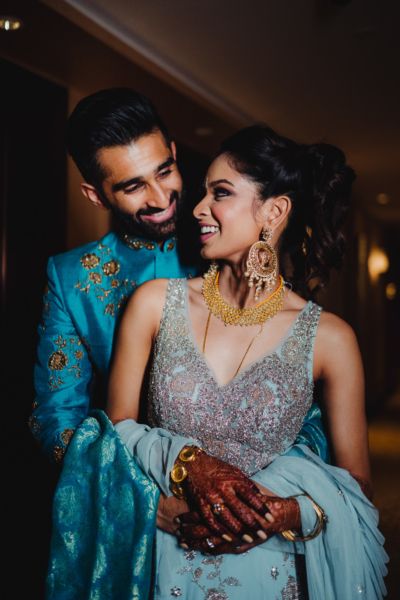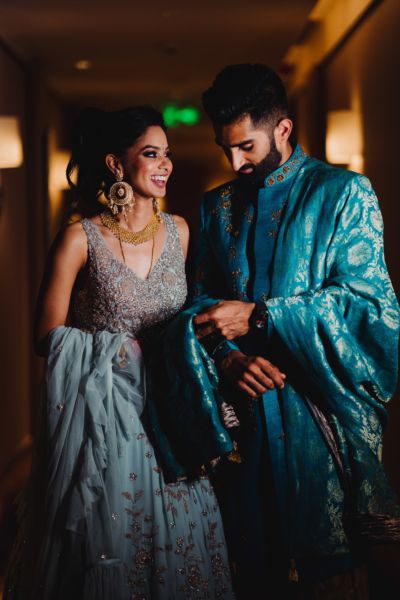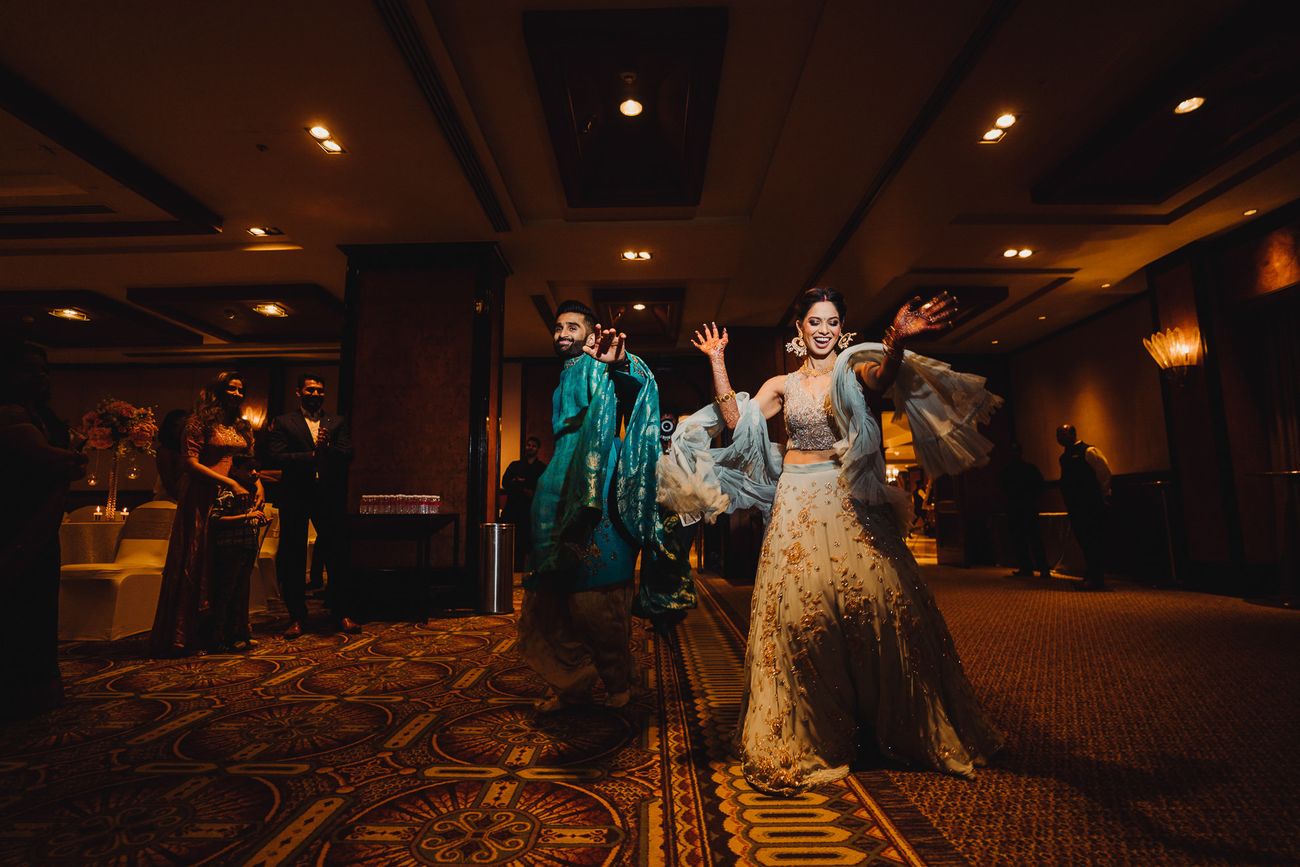 From The Bride 
The predominant aspect we both wanted was the wedding to be bright, colourful and fun for everyone. I think we somehow managed to achieve that. I wanted to make both set of parents happy with the functions and rituals but stuck to my guns when it came to decor. At the end of the day we need to look back and enjoy what we see. 
Vendor Reviews: 
THE GRAND MAGRATH, BENGALURU. Rating 4/5
We had our haldi and sangeet at their rooftop/poolside, in the morning and evening respectively. The location is central and they have a decent rooftop space. The food was good and they were cooperative with our needs to set up the venue as we wanted and it looked amazing once all the decor was done. However, their banquet prices were higher than expected and their internal communication was very poor. Because of that our morning function had some hiccups, however the evening function went a little smoother because we realised what was amiss and got on to it right then and there. 
TAJ, MG ROAD, BENGALURU: Rating 4/5
They are at a great location as well. Recently renovated rooms were impressive. They have very attractive banquet prices compared to other hotels that offer the same. Food was amazing as always, special mention to the head chef who helped us plan the menu. High tea and dinner were fantastic. After lot of negotiation they did give us permission to have the nadaswaram play in the outdoor venue, however due to rain we had to move the wedding inside their Trinity Hall. We dealt with Rohit, he was exceptional and no other staff there could even come close to how he
helped us throughout the planning and the wedding. Probably the main reason we ended up sticking with Taj. However, there were some issues with guests' hospitality and we were quite surprised that they did not offer a complimentary room to the bride and groom on the wedding night. Every other hotel we spoke to provided that. 
Wedding Planners, Marigold Diaries: Rating 5/5
Divya/Deepak and their team were FANTASTIC! Us being overseas, there were great at having regular meetings with us over phone/video call. They got the décor we wanted SPOT ON to its finest detail. It made up for so many other things that did not go as we had planned during that period. They were always available when we needed them and cooperated as much as possible. They pushed us to meet deadlines with details so that they could start planning the timeline of the functions. Our outdoor wedding venue got rained out the day before the wedding and they were great at recreating it at the indoor venue. In the commotion of the wedding planning and the
madness, we probably did not give them everything they asked for or delayed in doing so. Maybe we expected them to push us and be on our neck a little more. They did try hard though haha!
MAKE UP ARTIST: Gouri Kapur, Bangalore.
Gouri is well known in Bangalore/India. She did my sister in law's bridal make up and came well recommended. I did a trial make up with her and was happy with it and used her for my Sangeet, Wedding and Reception. I suppose it is important to clarify all costs and get a breakdown prior to the
final day to avoid unexpected additions.
DESIGNER: French Curve (Anjali Sharma), Bangalore: Bridal, Rating 5/5
We spent a long time deciding on how I wanted my reception outfit and there was a lot of back and forth. Part of it was me trying to get what I wanted in the budget I wanted. She was very accommodating, pleasant and kept up with our indecisiveness. I would go back to her any day; she was so easy to work with. My mom ran into her at one of the textile stores and she even ended up helping my mom and totally went out of her way. In the end she delivered as close an outfit to what I had in mind. I was very happy with it; however, my husband wasn't happy with the fitting of the
blouses for the wedding and the reception.
PHOTOGRAPHERS: Vivek Krishnan, Bangalore, Rating 5/5
We can't get over how awesome these guys were. It was an absolute pleasure working with them. We met them once before the wedding and provided all information they wanted from us and they delivered to the T. Their candid photos and film clips were so mesmerizing that we still can't get over them. They know exactly how to create magic with the décor, the surroundings and turn it all into so much fun! They created a wedding teaser trailer and a highlight film; it is still doing the rounds amongst our family and friends and their friends. Only thing, we missed out on some key post wedding shots with close family and neither of us remembered to get them as everything was moving so fast. But these guys are the REAL DEAL!!! There is no thinking twice, go with them and you will not regret it.
DESIGNGERS: Nisha Khatwani, Bangalore, Groom's Reception Outfit- Rating 5/5
Nisha did the groom's sangeet and reception outfits. The sangeet outfit we both came up with, inspired by popular designer's work and she brought it to life. The reception outfit was her brainchild and he loved it. It was a turquoise embroidered sherwani set. You should tell her what you want, she is great at creating ideas and coming up with options and always sticks to what you had in mind or gives her version of it, all within budget.
Vendors: Bridal Outfits: Sangeet - Mrunalini Rao★ 4.8 , Wedding - Deepam Silks★ 4 , Reception -ANJALISHARMA by French Curve★ 5 ; Groom Outfits: Haldi - Manyavar, Reception - Nisha Khatwani; Photography and Videography: Vivek Krishnan photography★ 4.9 ; Wedding Decor and Planning: Marie Gold Diaries (Bangalore); Make-up Artist: Mehendi & Wedding - Gouri Kapur Make-up★ 5 (Bangalore)