A Graceful DIY Engagement With The Bride In Two Gorgeous Outfits And Antique Jewellery!
BY Soha | 01 Feb, 2019 | 15291 views | 4 min read
Not one minute passed when we didn't have tears in our eyes while we heard this bride's story. Losing a parent is one of the hardest human experiences ever, but she wasn't ready to let go of her mother just yet. Swathi wore two outfits for her engagement, one of which was a gorgeous plum Kanjeevaram that her Mom had worn years ago at her own engagement. She paired them with stunning antique jewellery that her father had collected over the years. The venue for the ceremony was the bride's house, a 100-year-old heritage building, decorated with rich red roses adding to the vintage charm of the place, captured perfectly by  Cinnamon Pictures★ 5 ! 
Meet Swathi & Nehaneesh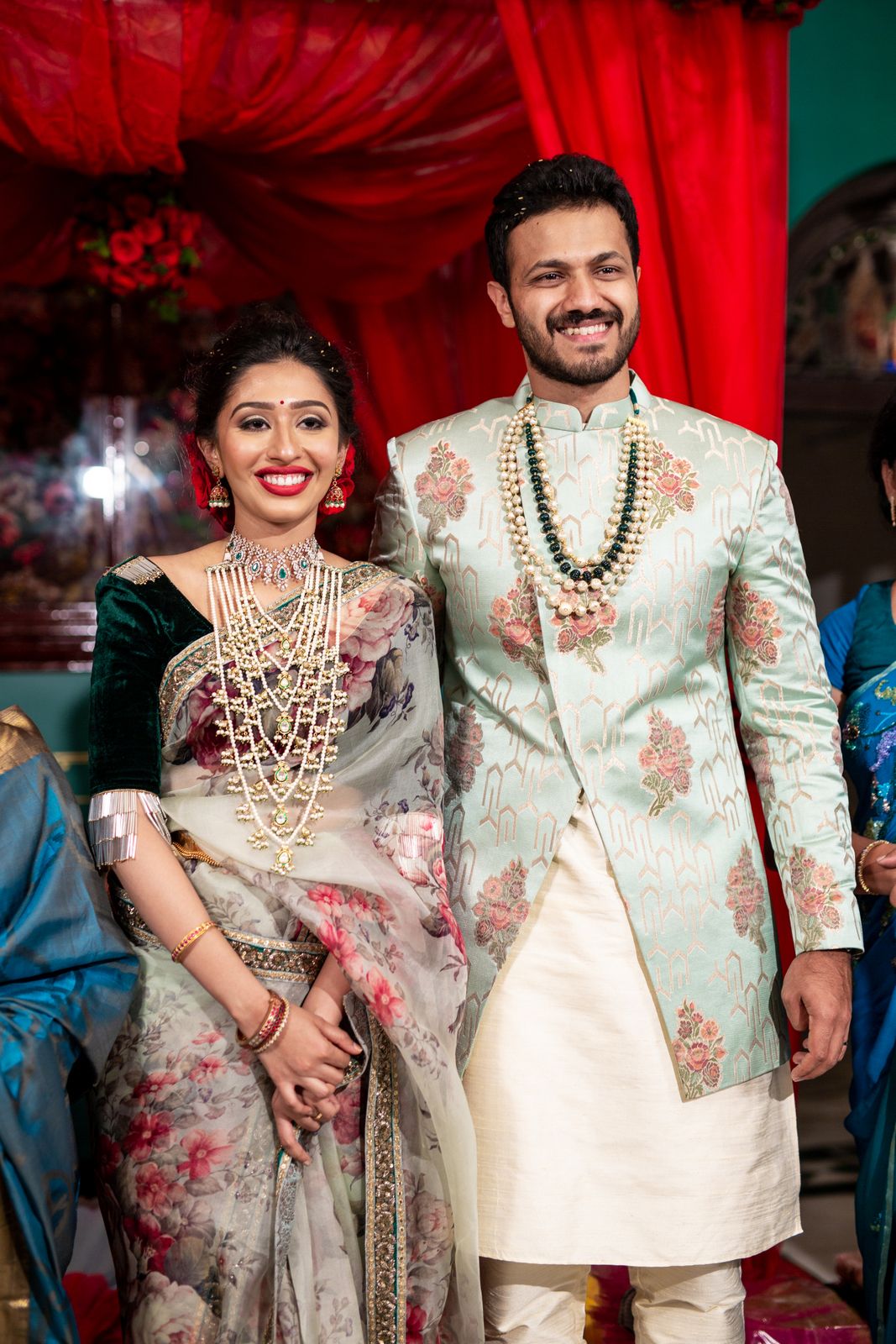 "I met Nehaneesh through a common friend. We didn't hang out much together initially. Things changed when we were re-introduced by my dad's friend a few months later. We started spending more and more time together and were soon inseparable. It was very easy to be with him from the beginning. He tells me it was love at first sight for him. The decision that we were more than ready to get married came naturally to us.  The entire journey has been extremely special," shares Swathi.
The Engagement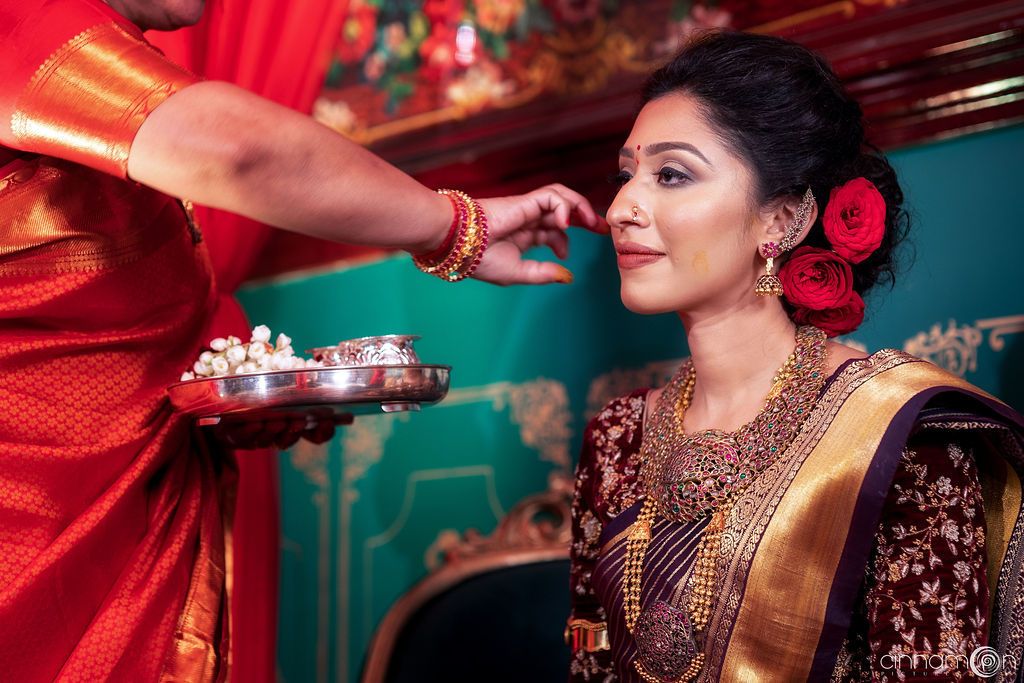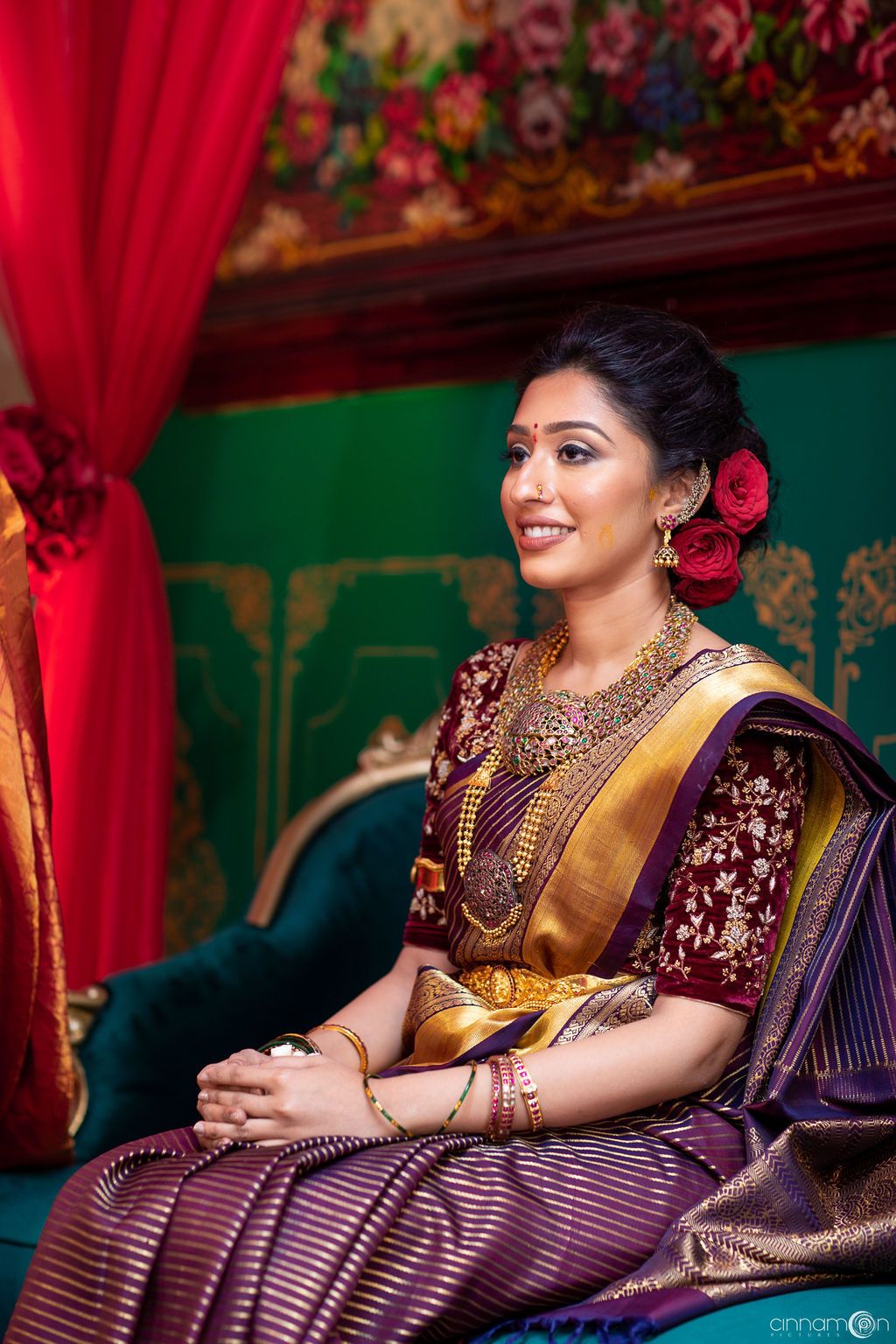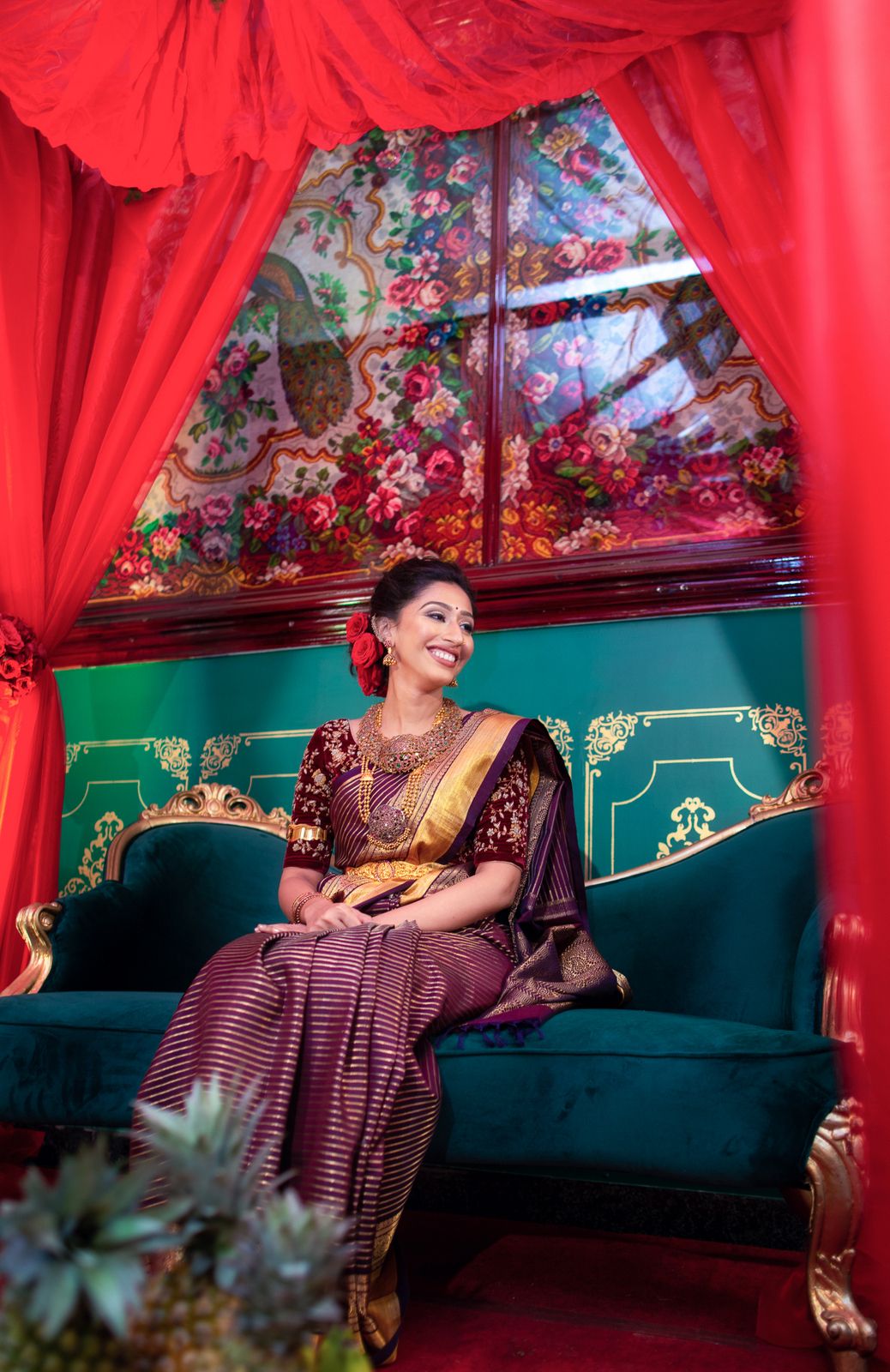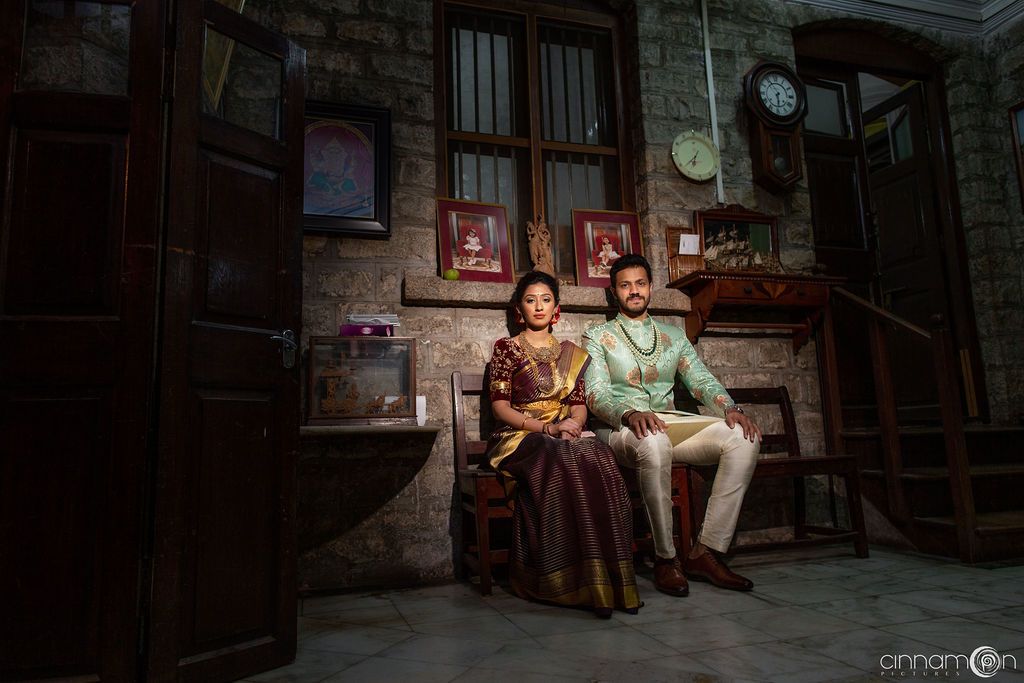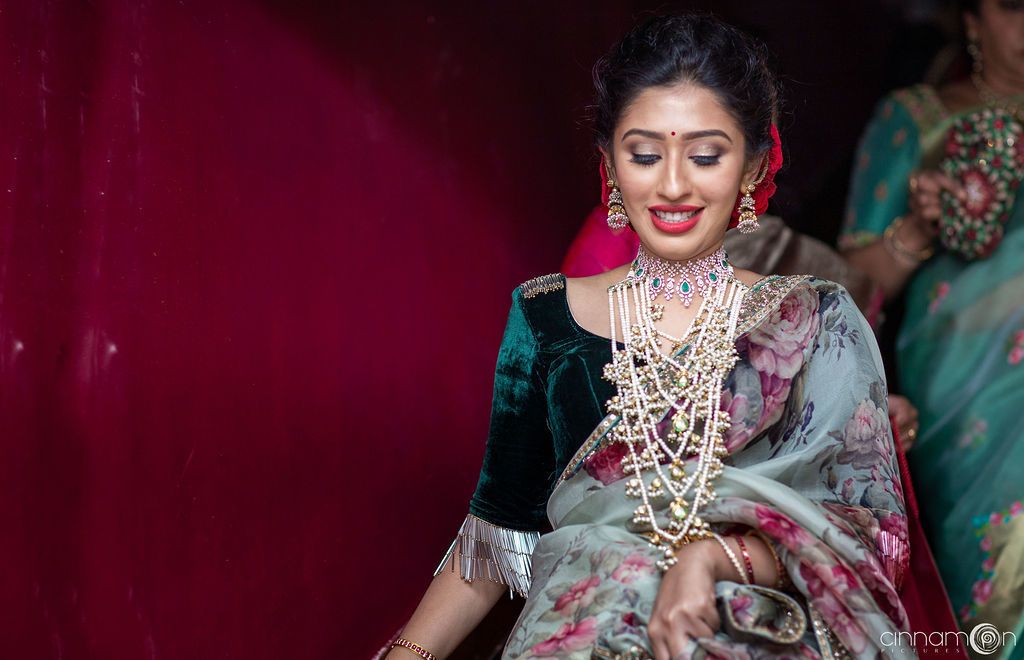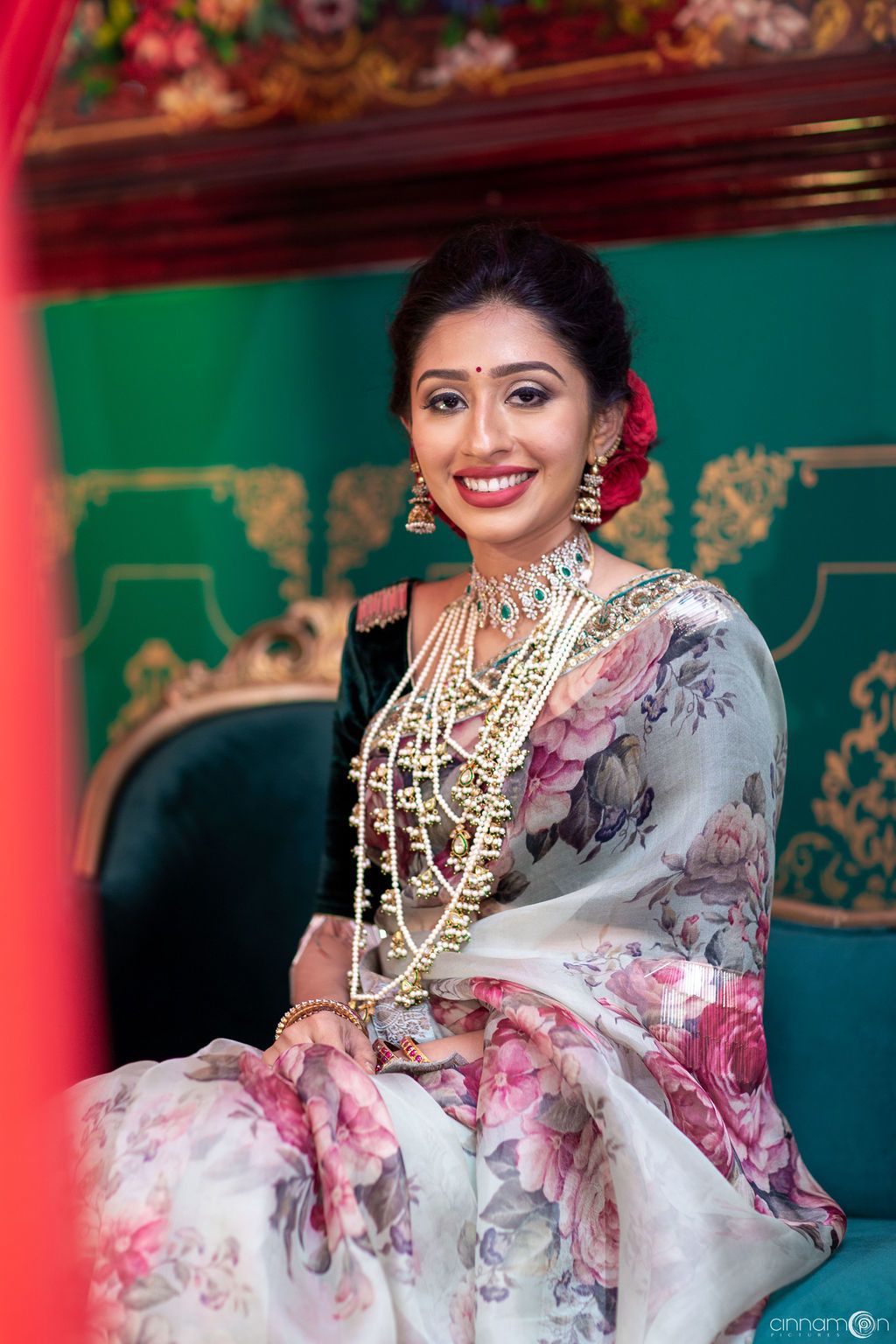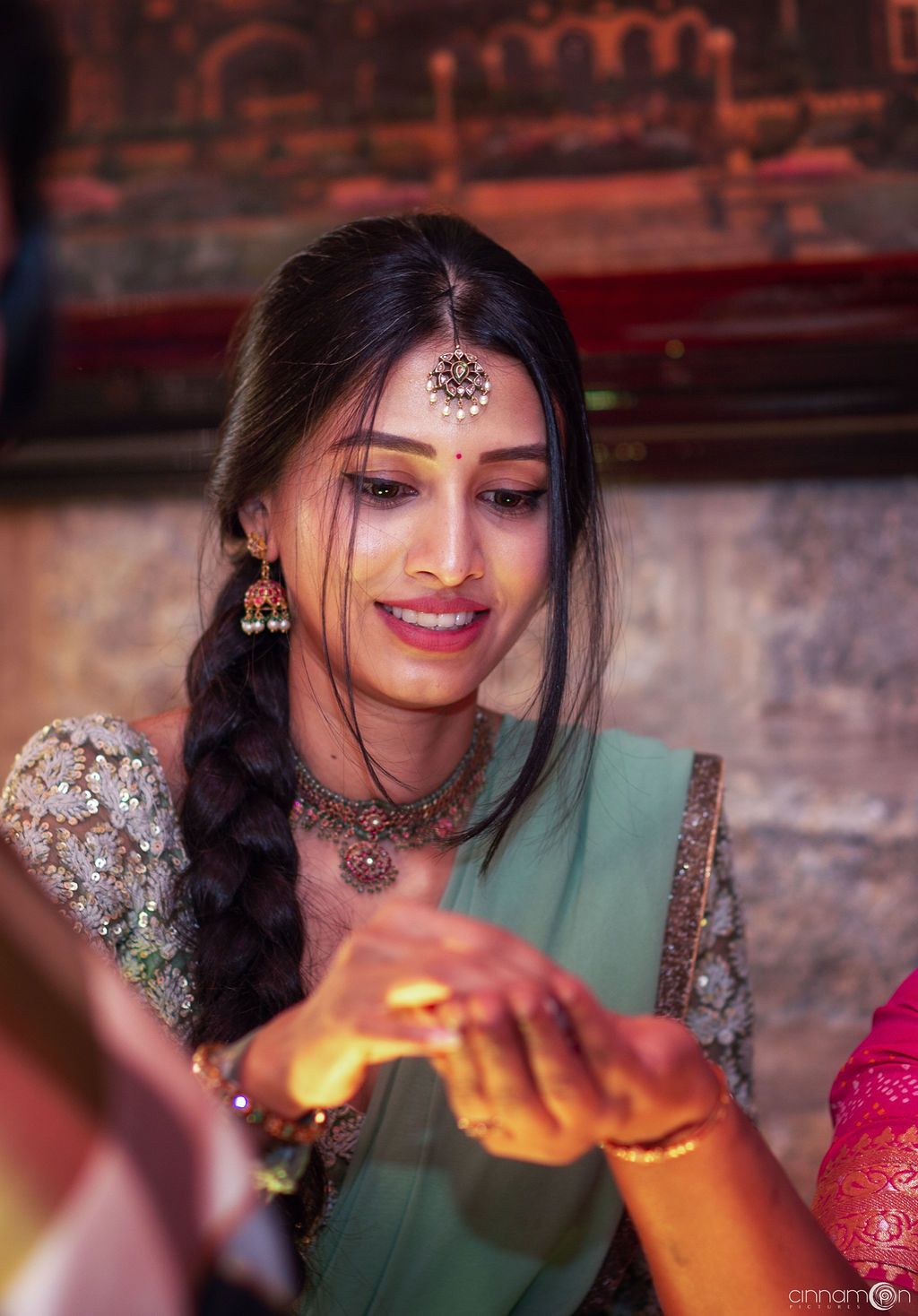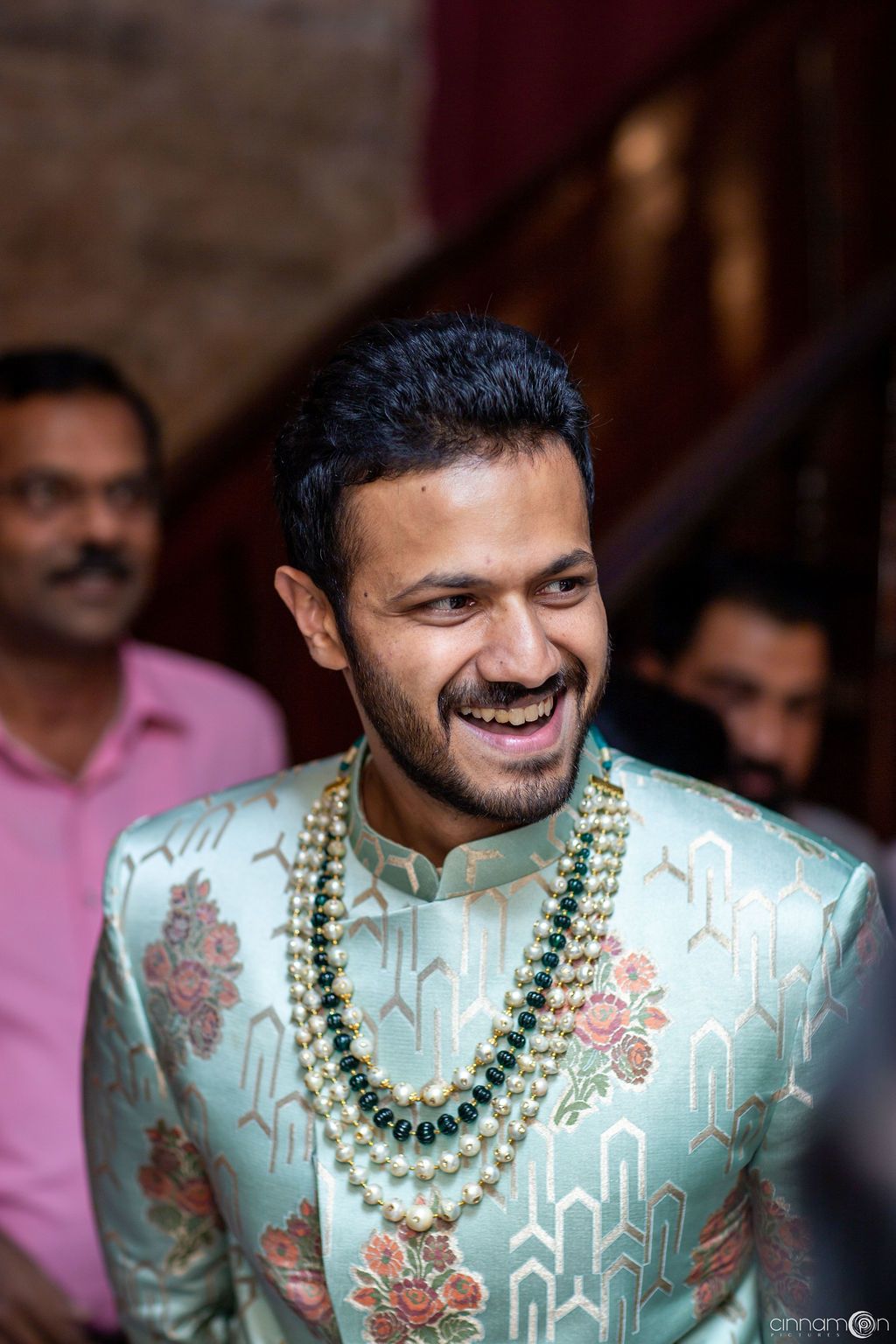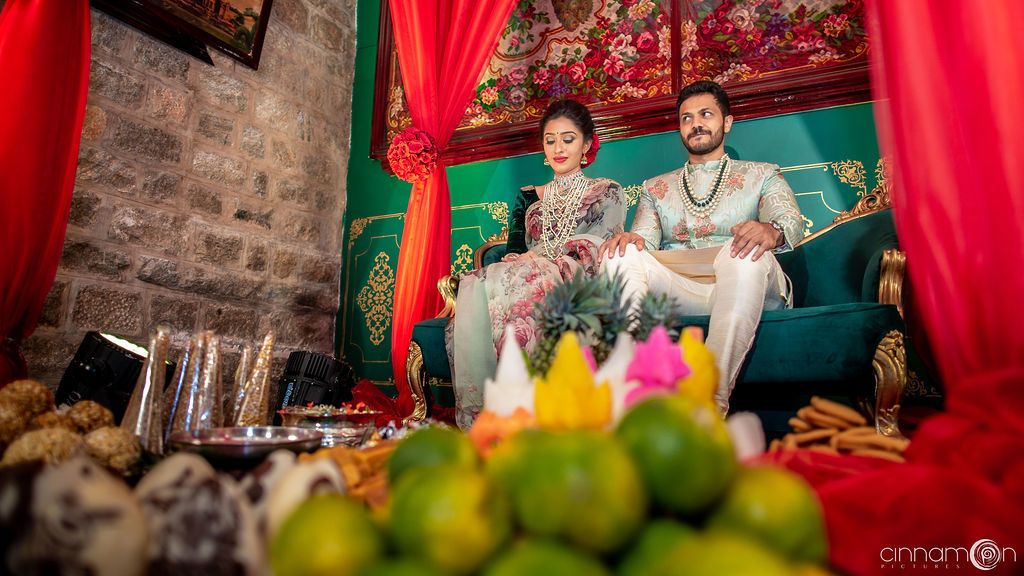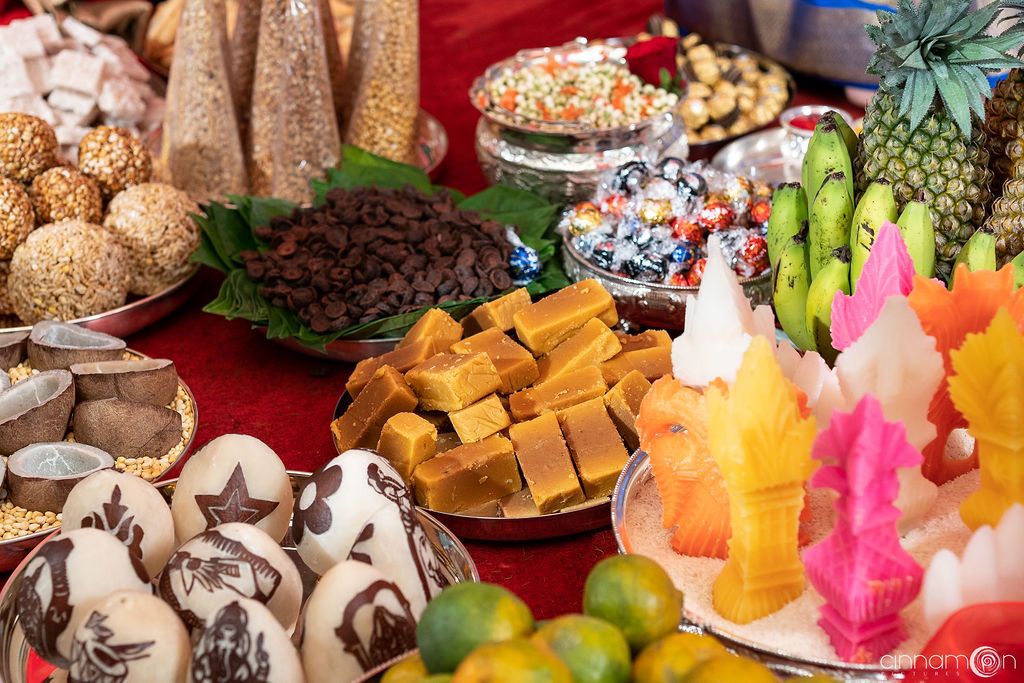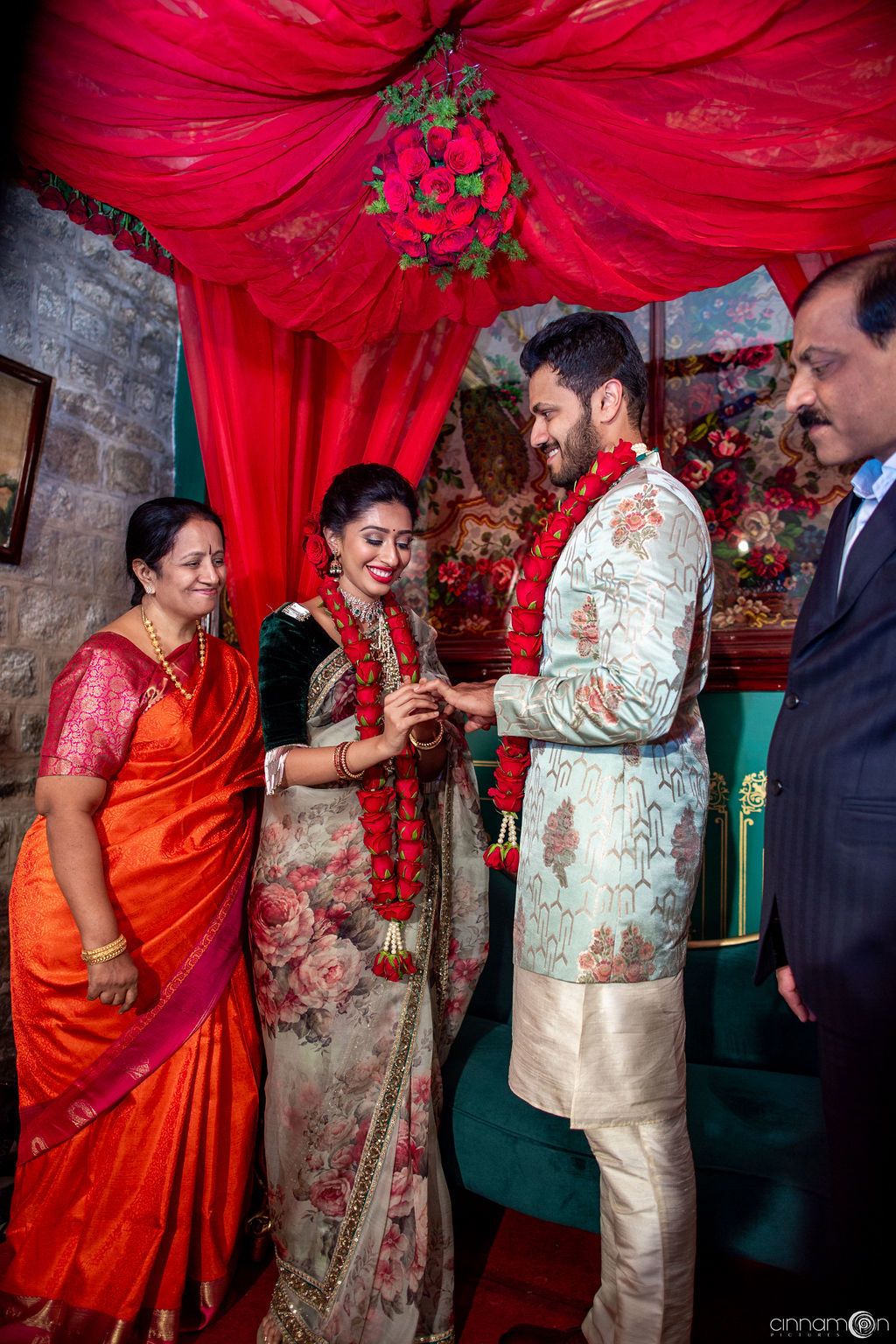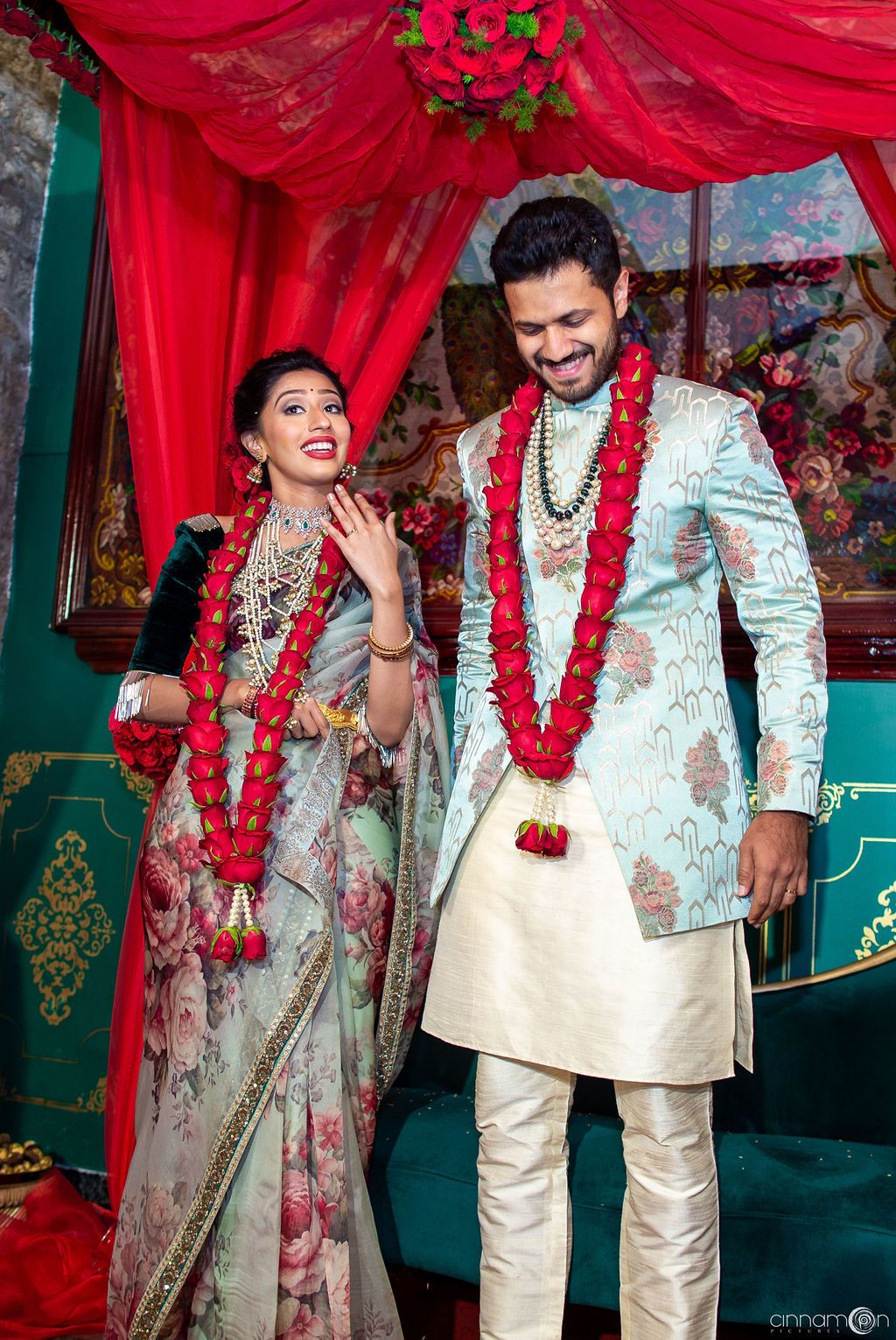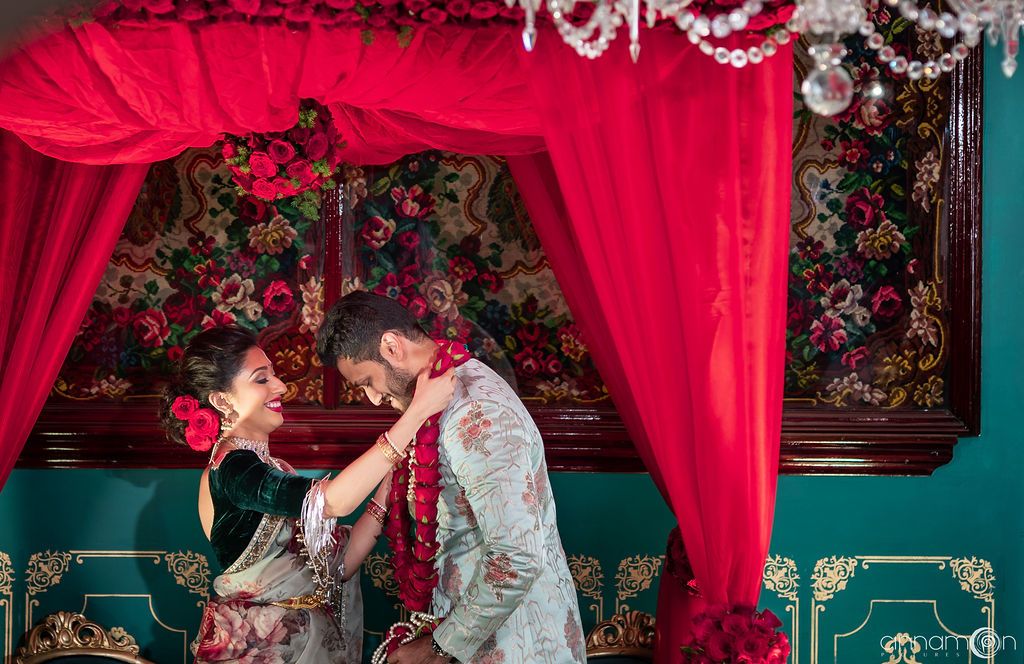 From The Bride
"Once we decided we were ready to get married, our parents did not want to waste any time and wanted us to get engaged right away. I was apprehensive about whether we would be able to pull of an engagement at such short notice. We had only a few days to plan and get everything ready! The engagement was a very small affair with just our very close friends and family. My sister, Amulya helped me envision and execute the entire event. The engagement took place in my house. I live in a 100-year-old heritage building, so the theme and decor was chosen keeping the aesthetics in mind.
My sister, Amulya and I organised the whole thing. She worked tirelessly to help me achieve a very timeless setting with only red roses which gave it a very personal touch that I liked very much. Absolutely loved the way the whole thing turned out. 
I had two looks for my engagement; I was going for a very simple, but eternal, timeless look. As a South Indian, I chose to wear a Kanjeevaram saree first and changed to a simple tissue saree later on. The first saree was my mom's engagement saree. I was very keen on wearing the same as we had lost her just a year back and I wanted her close to me through out. The second saree was a Sabyasachi which I bought a day before. I could not get my Sabyasachi blouse in time, so the blouse I wore was made for me by my family tailor. The jewellery I wore were antiques collected by my father. He is an avid collector of all things antiques. I love that there is a story behind every piece passed on through many generations. The diamond necklace on my second outfit was gifted to me by the grooms side of the family from PMJ jewels.
Ritika Dass helped me get ready for the function and she did a great job. I found Ritika on social media and I instantly liked her work. She is a young makeup artist and I found her style of make up to be very current and on trend. She was very helpful in understanding the look I was going for 
Nehaneesh was particular he wanted to match his outfit with mine. So, he sought help from his friend, who is a stylist, in picking his outfit and getting it stitched on time. His tailor Imran sourced the material from Mumbai and stitched it for him. He was very happy with the way his outfit turned out. 
For the function, I choose Cinnamon pictures after they were recommended to me by my friend. Even though it was so last minute as I had called them just a day before the engagement, they obliged and agreed to do my pictures right away. I was very happy with the way they captured the memories of our special day.