A Minimalist Offbeat Wedding With Beautiful Bespoke Bridal Outfits
BY Sakshi | 22 Mar, 2023 | 622 views | 7 min read
When the bride herself has a textile label of her own, you can imagine how creative the outfits could be! And real bride Palak Shah, who is the CEO & founder of Ekaya Banaras★ 4.6 went one step ahead. She not only designed some offbeat bridal outfits for herself, but did that in collaboration with some of her fave designers- creating an unconventional trousseau that's very impressive! Palak got married to Avnish Chhabria, the founder of Wellbeing Nutrition. Their destination wedding was an intimate one which was minimalist yet soulful, filled with beauty and so much heart. 
Meet Palak and Avnish
 

 

View this post on Instagram

 
We met through a common friend who had been persistently trying to set us up for 5 years, convincing the two of us that we were meant to be and were male and female versions of each other. It was a spontaneous and blind date when I was traveling to Bombay for some work and had two dates planned for the one day while I was in bombay and Avnish was traveling to Bangalore for a meeting and obviously a date. We were both forced to cancel our plans to make this dinner and boy! Thank god we did!
Mehendi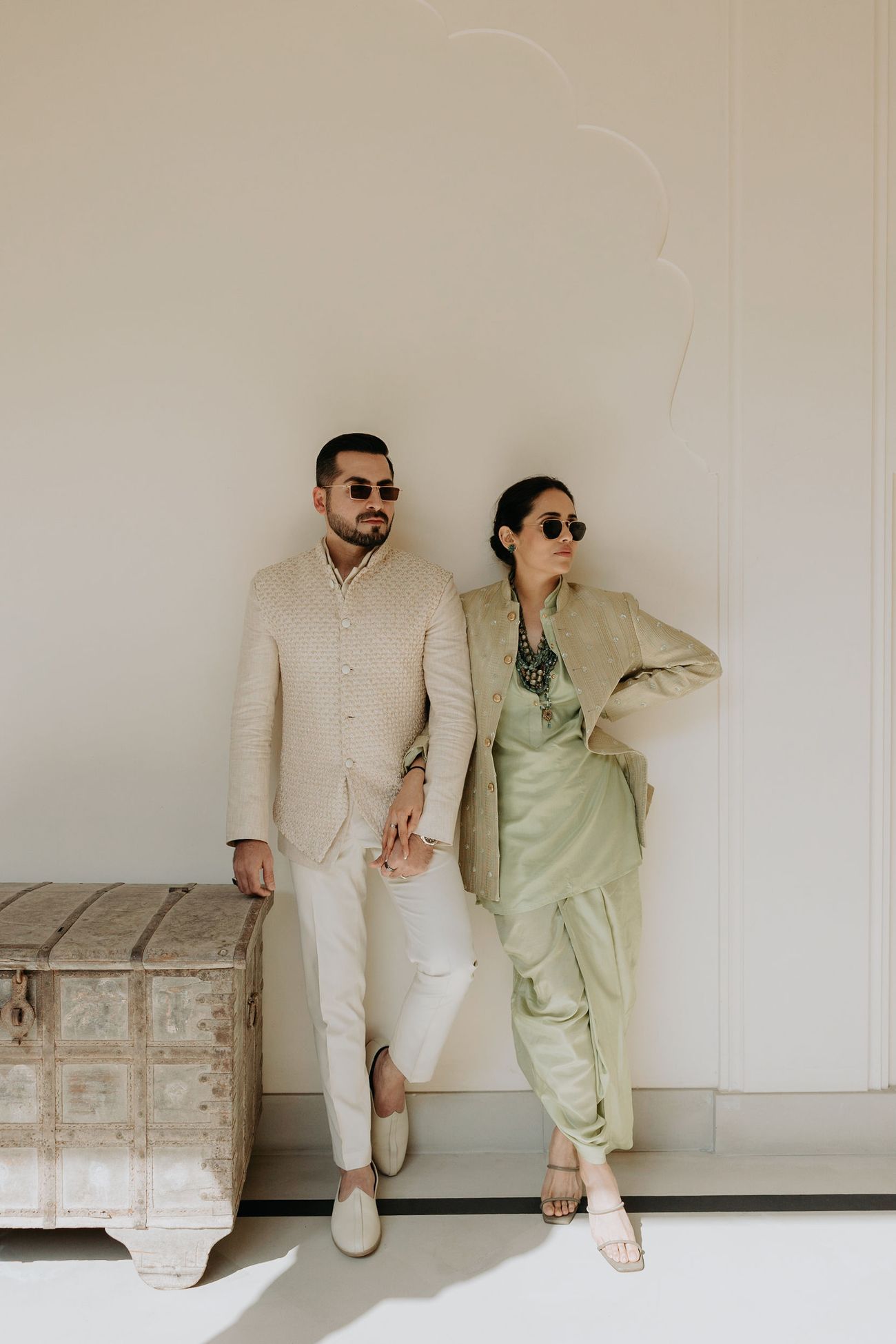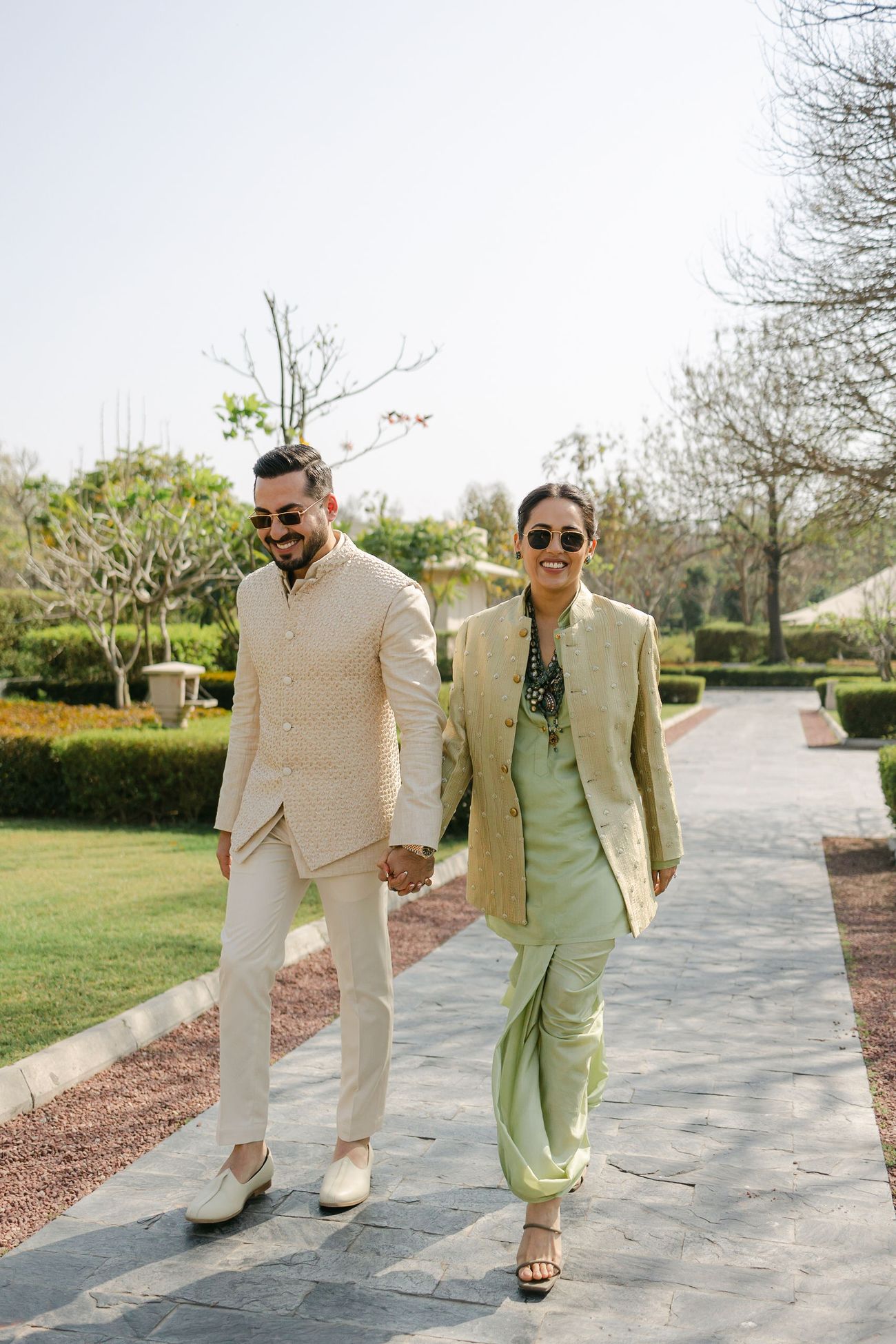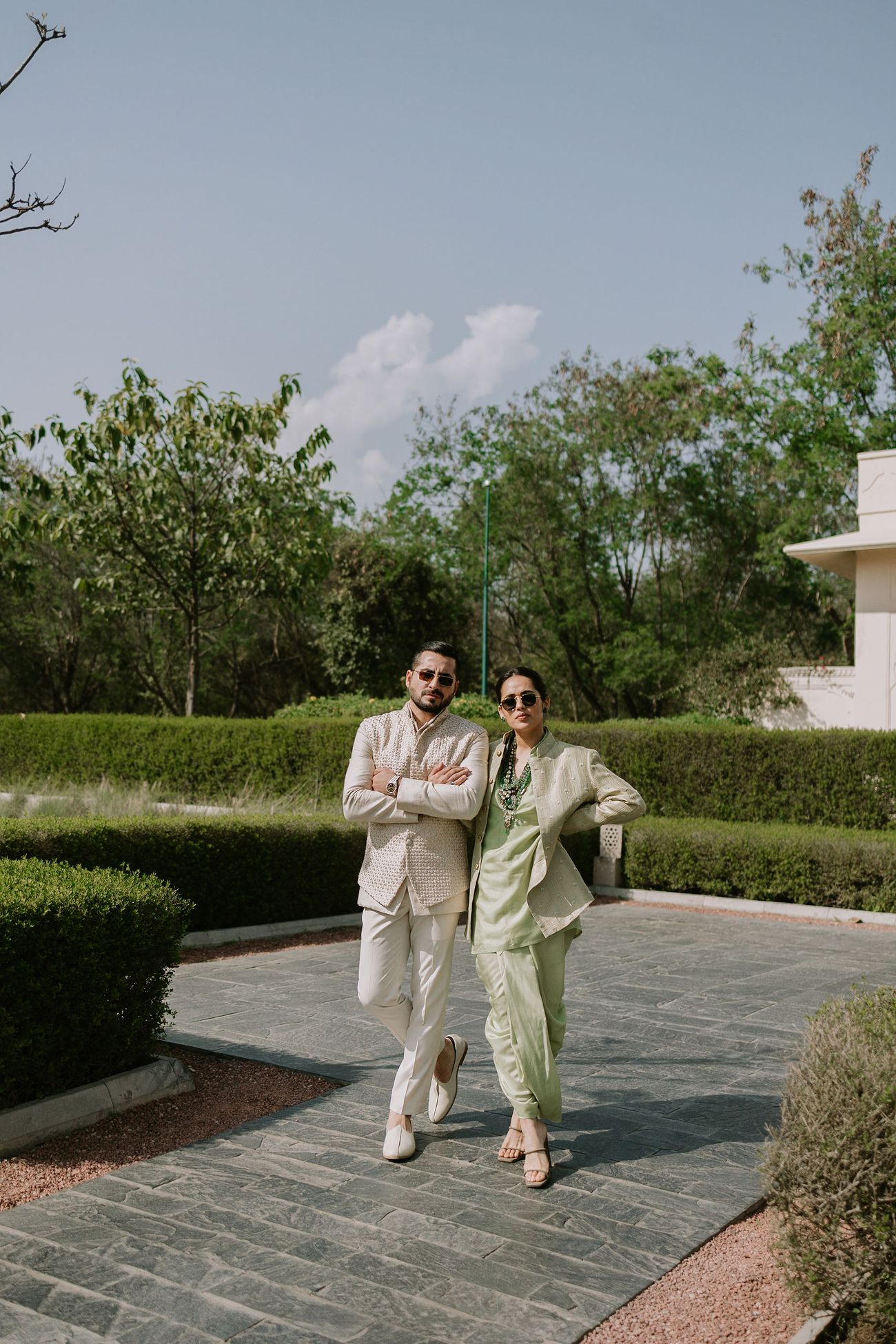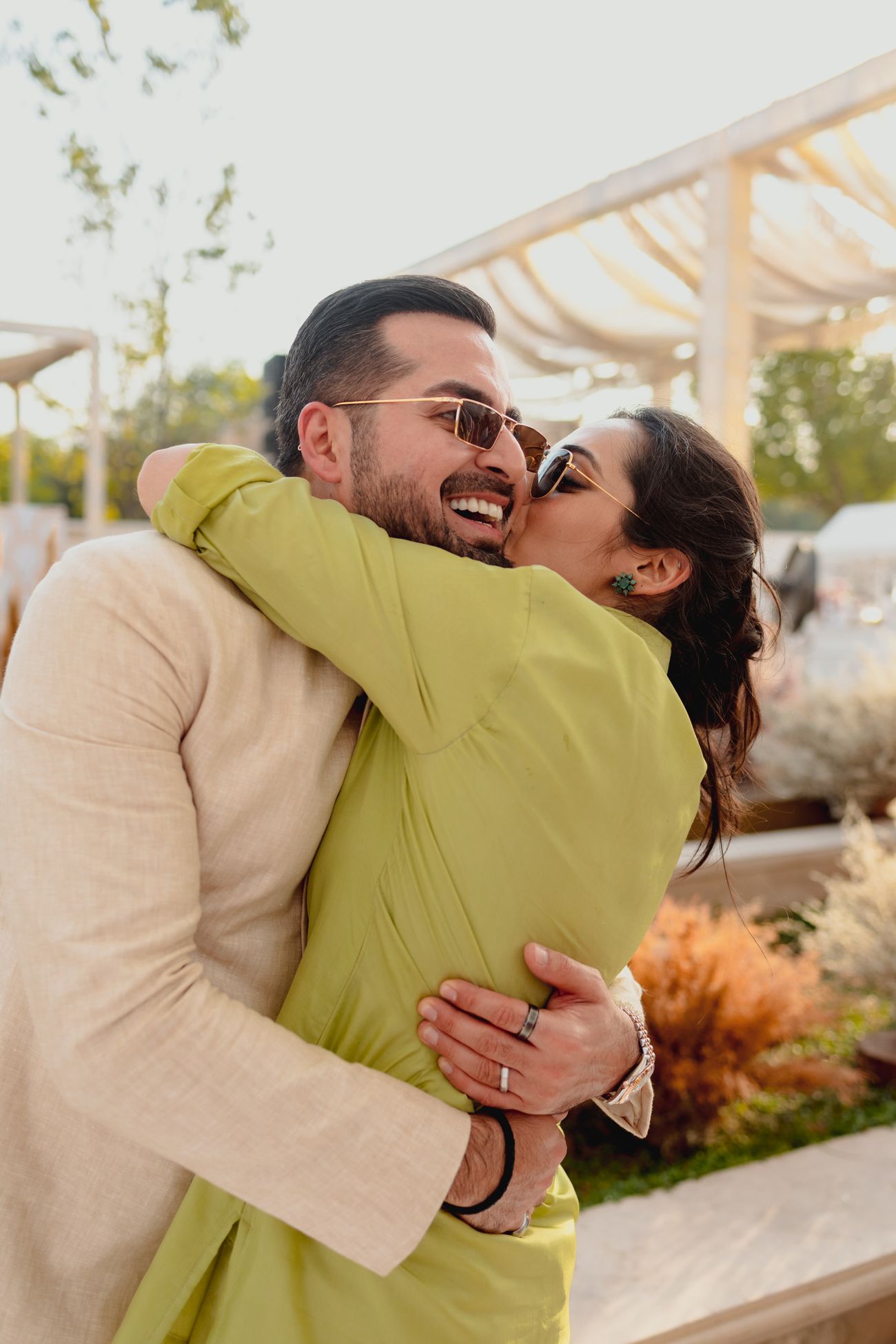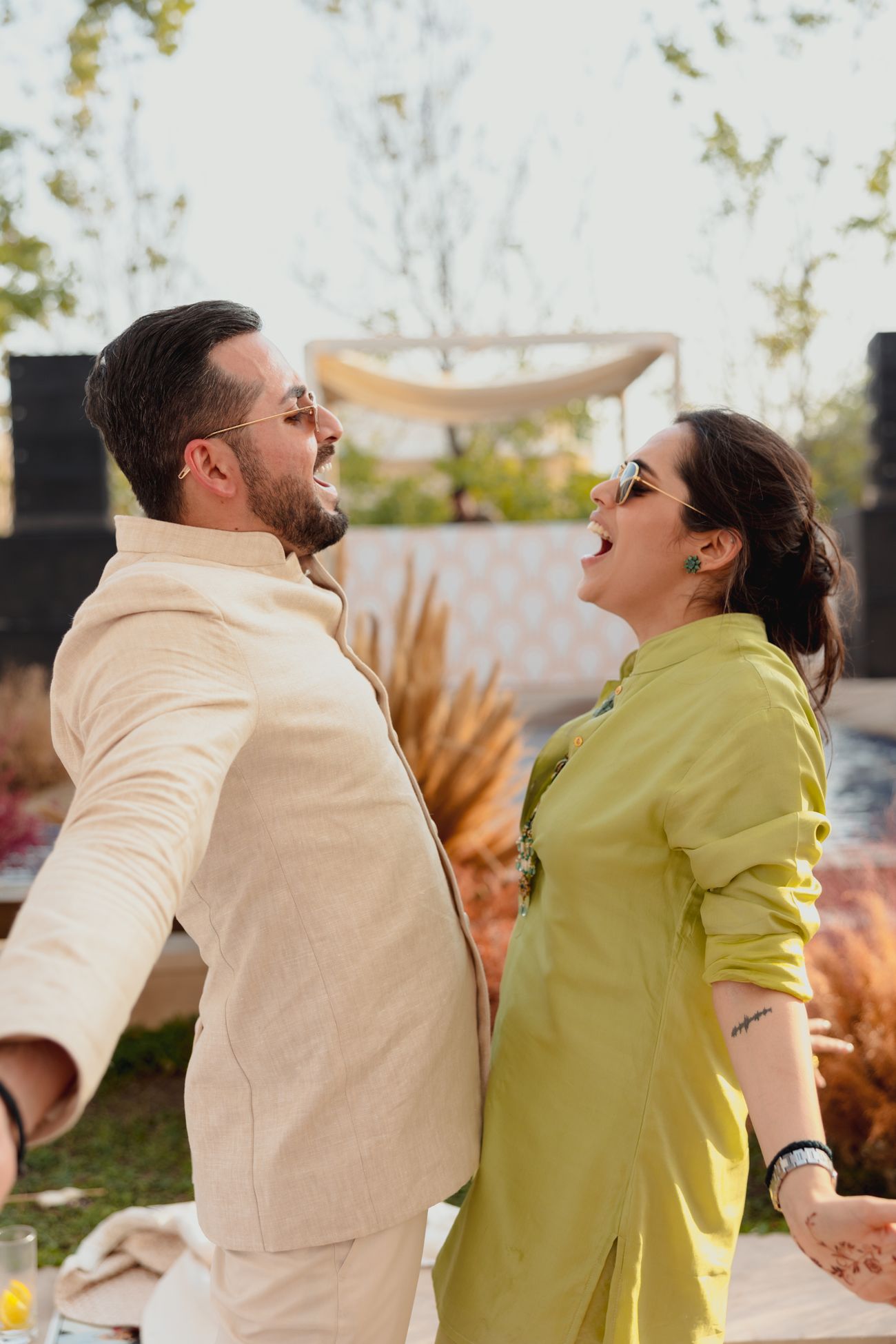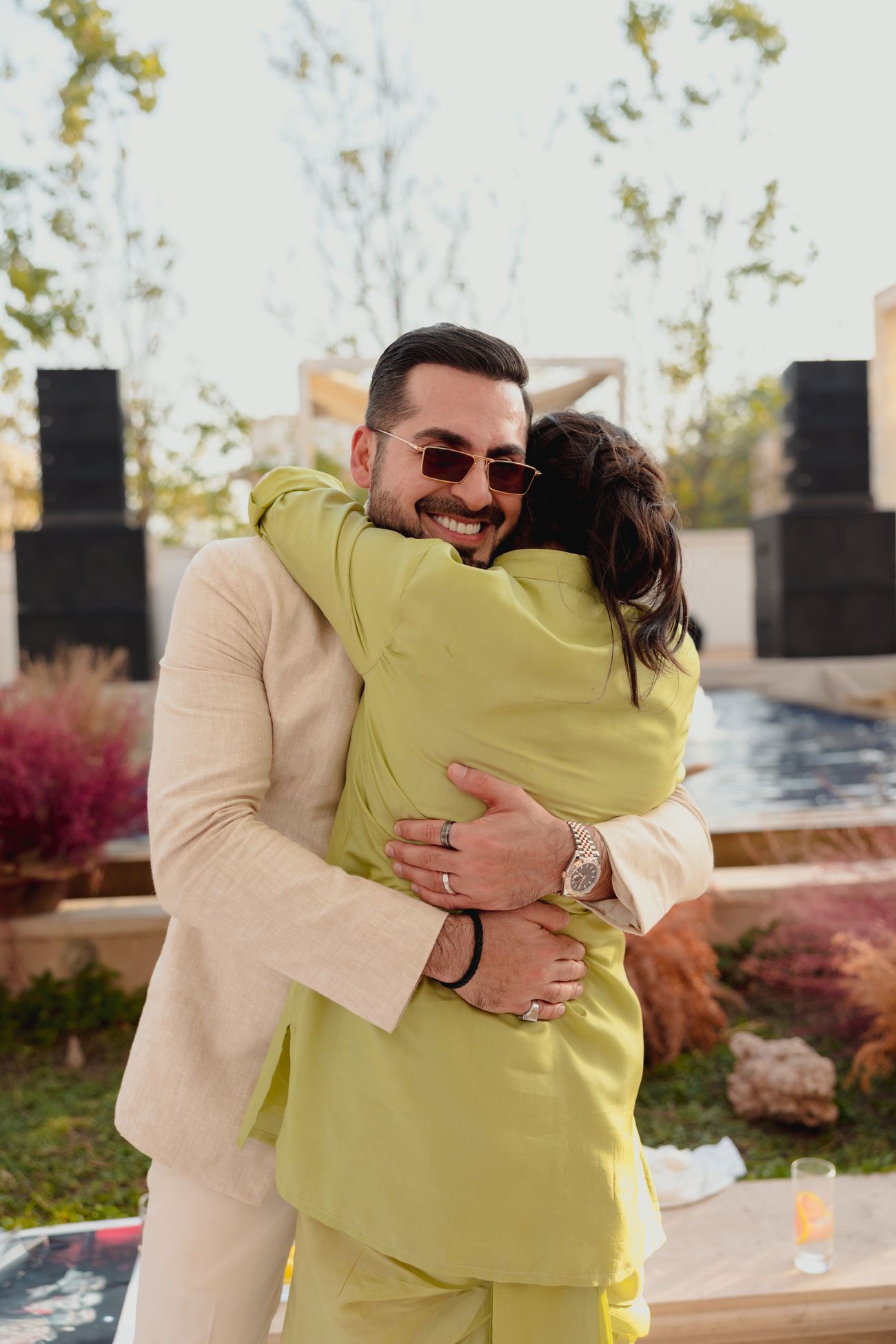 Haldi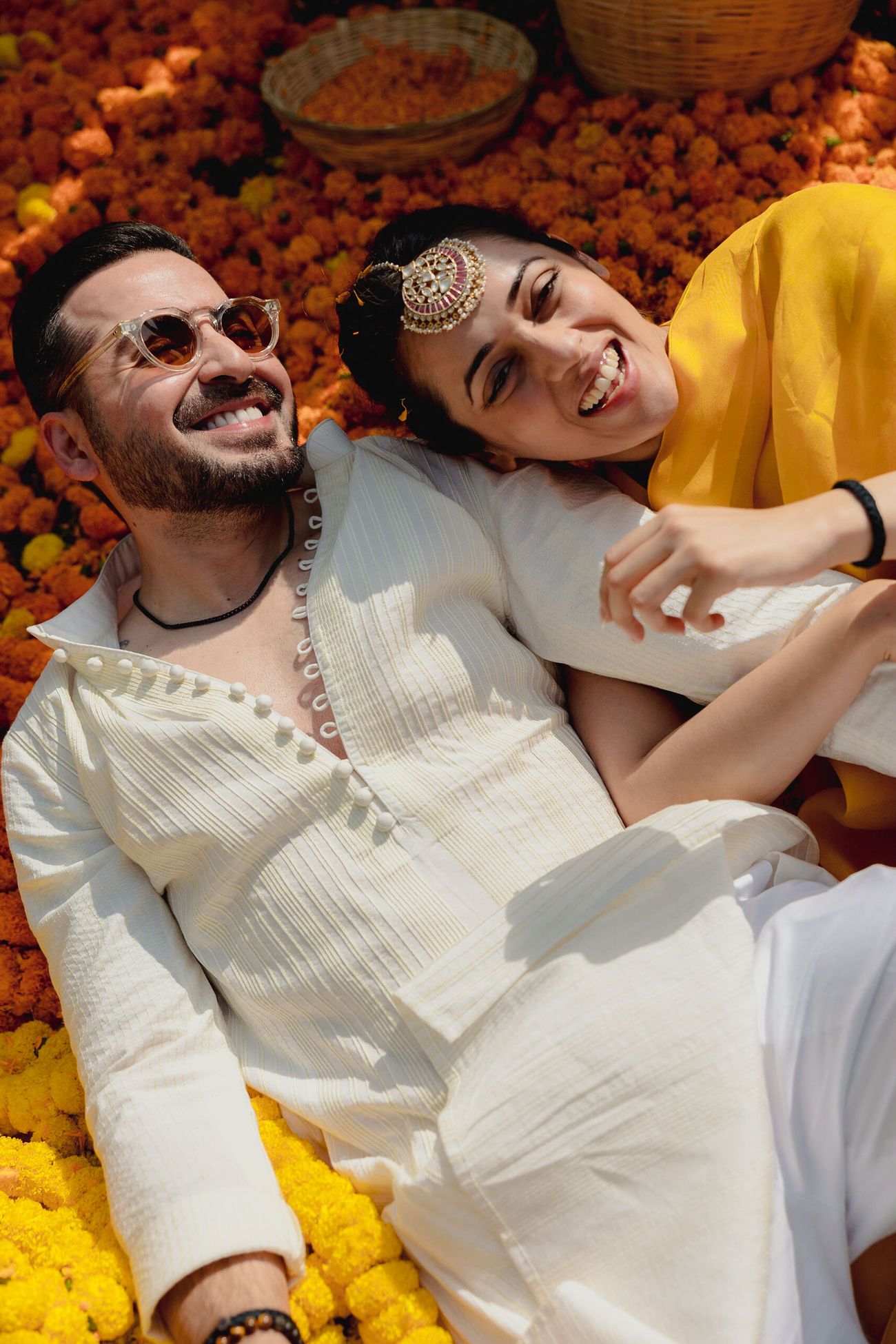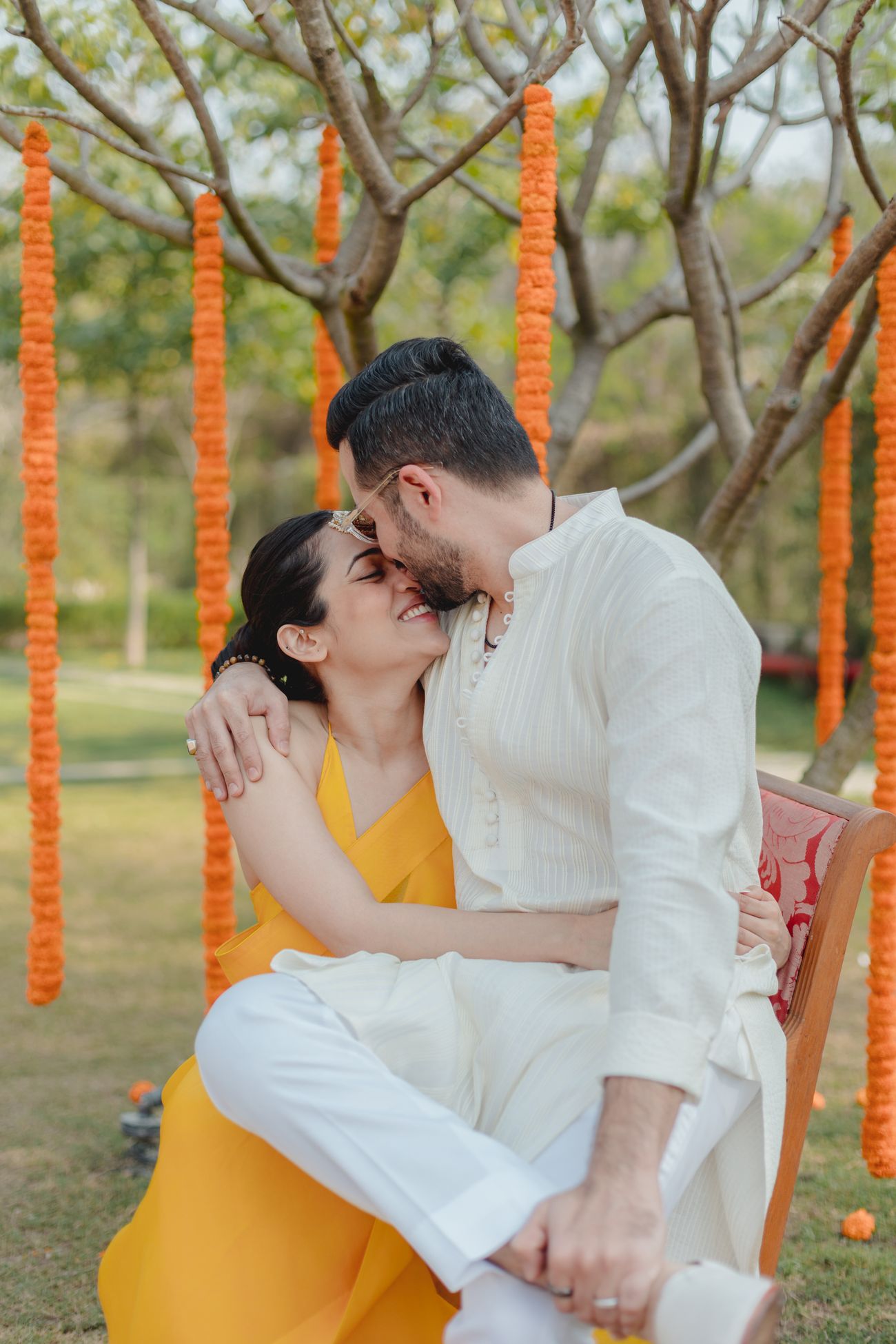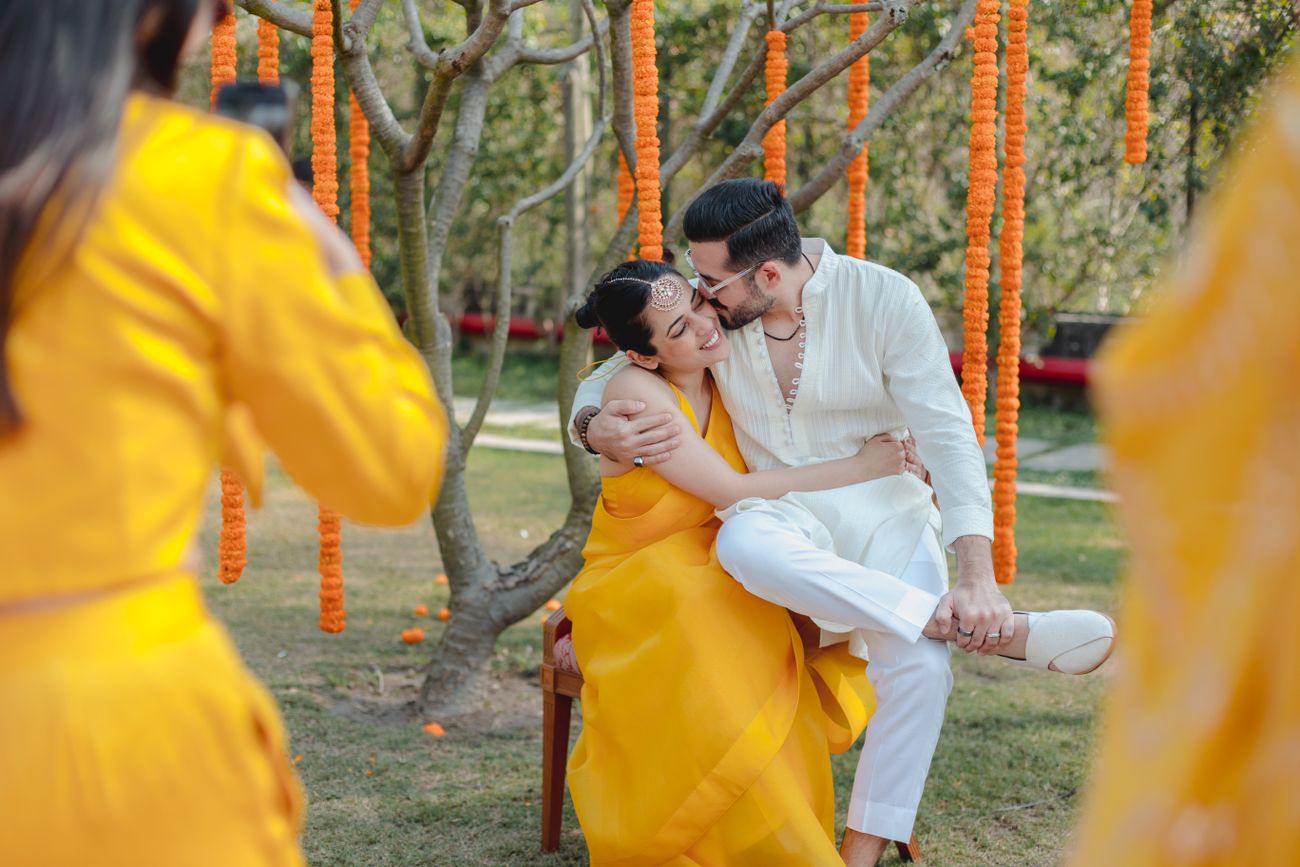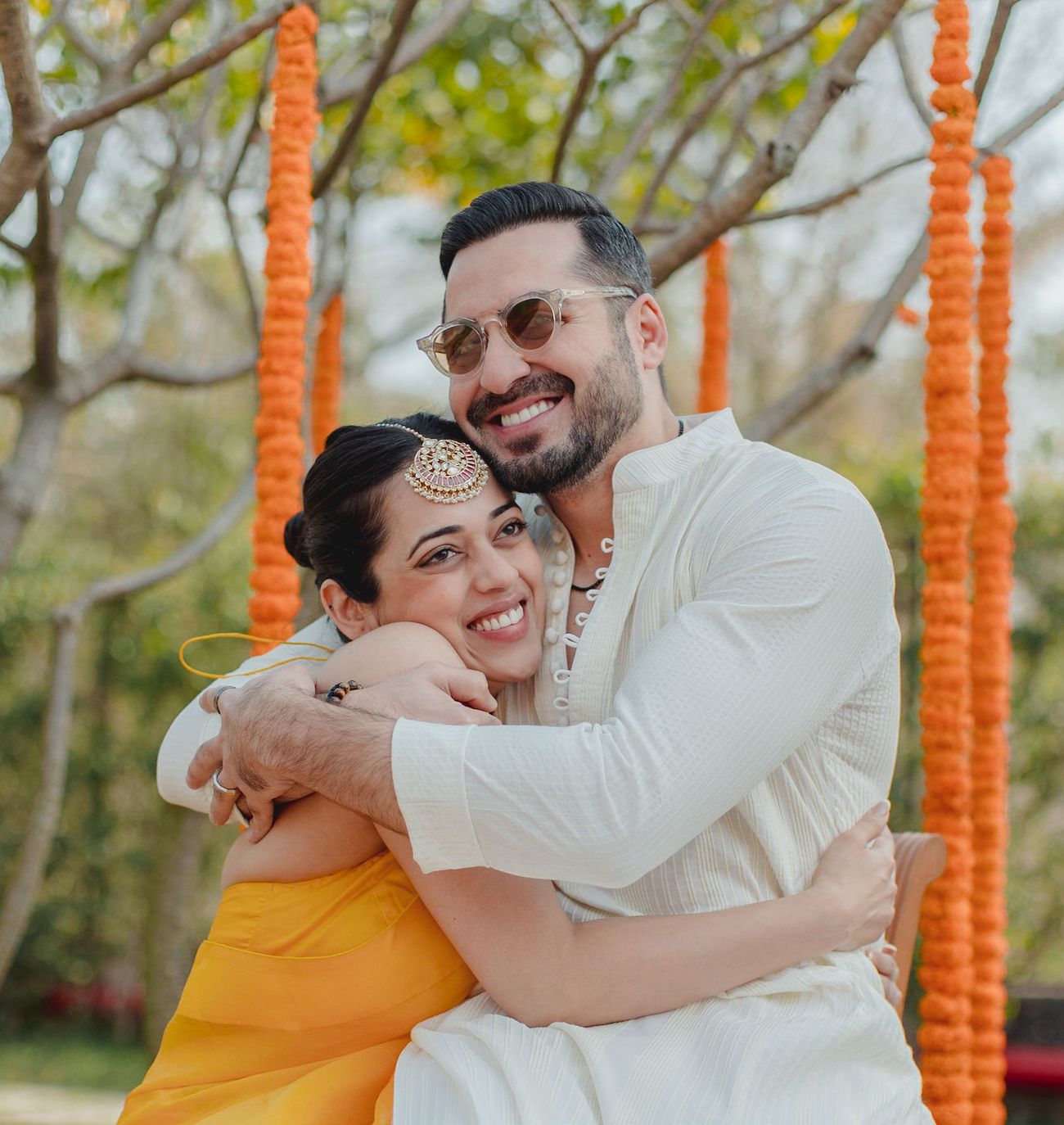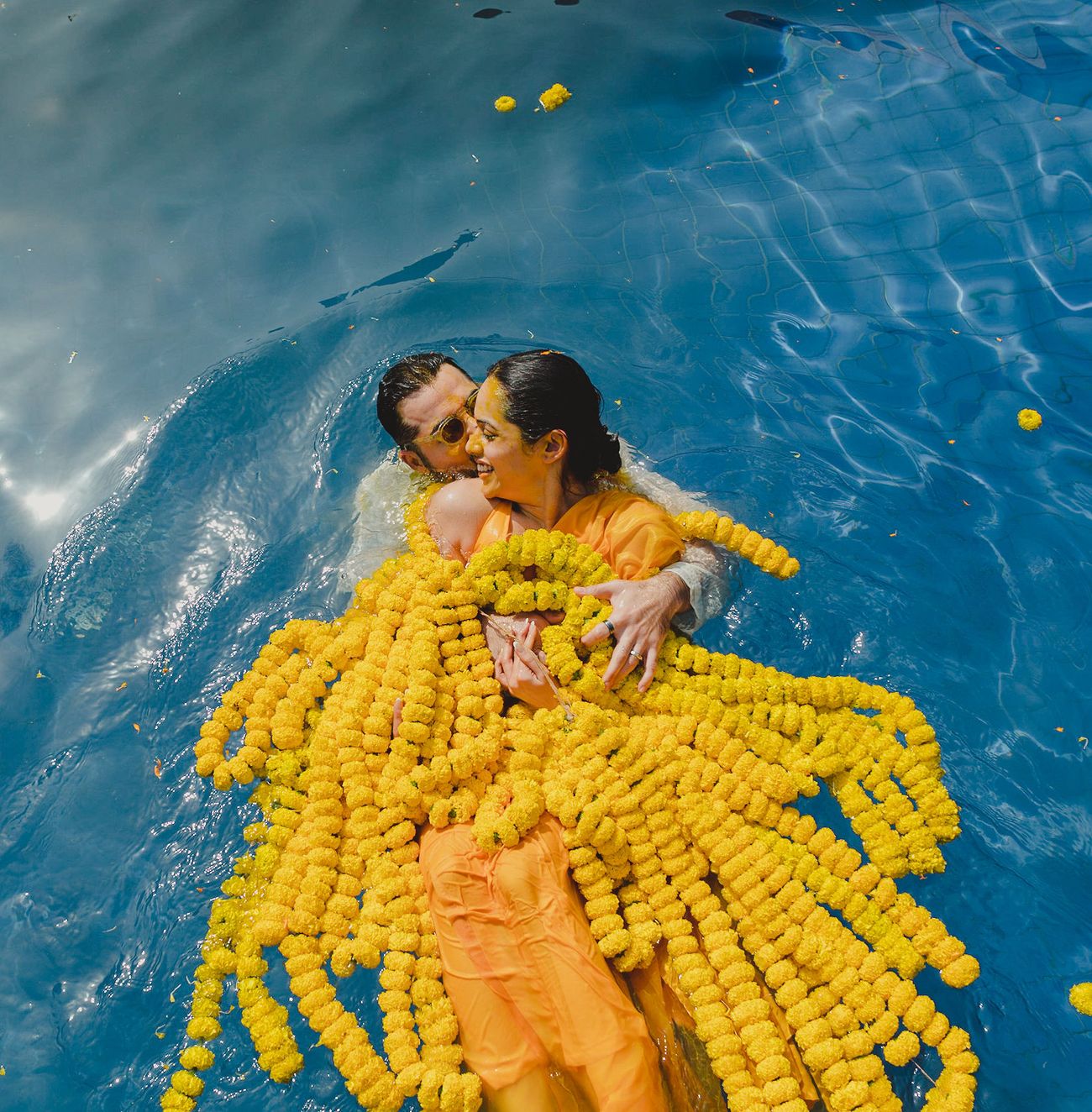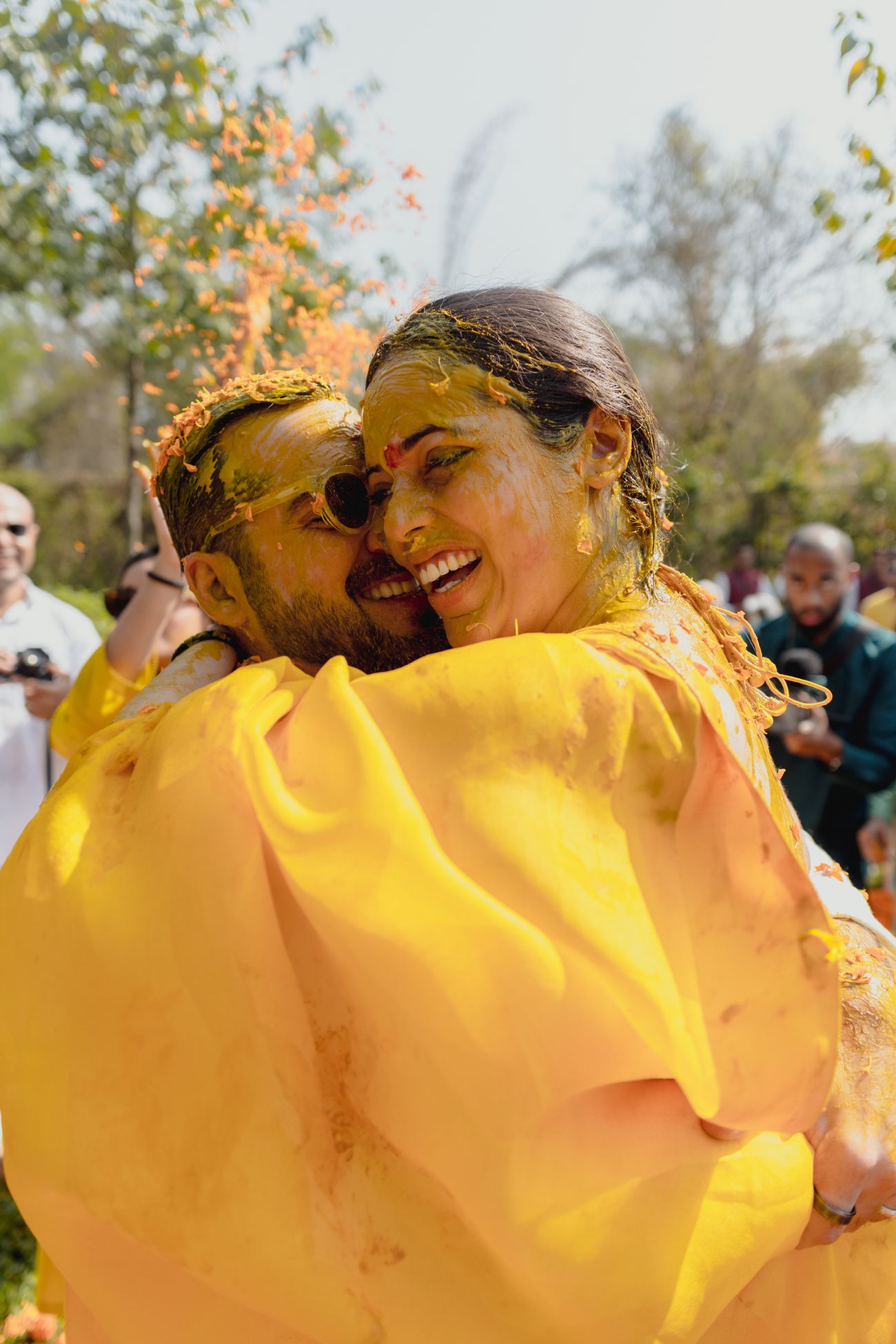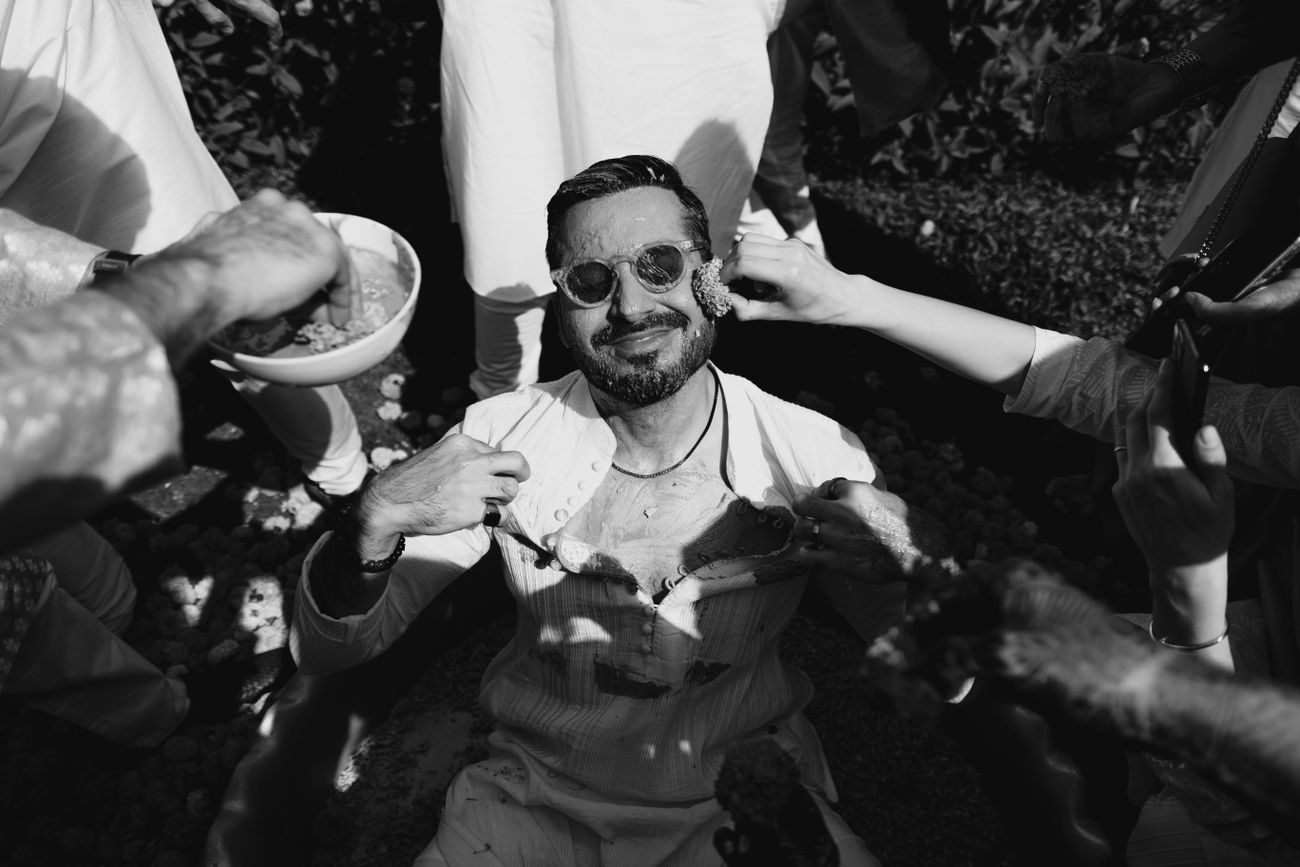 Cocktail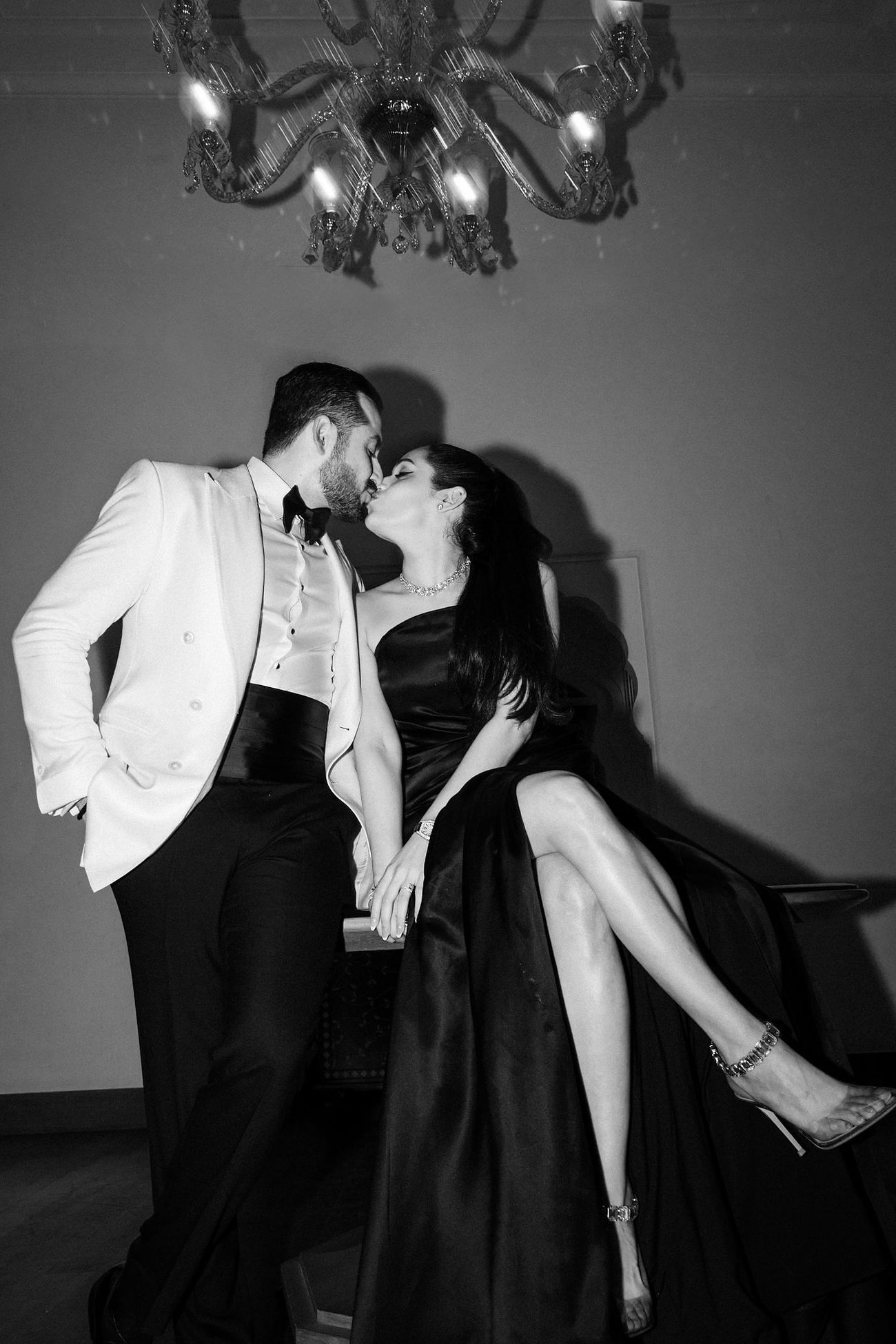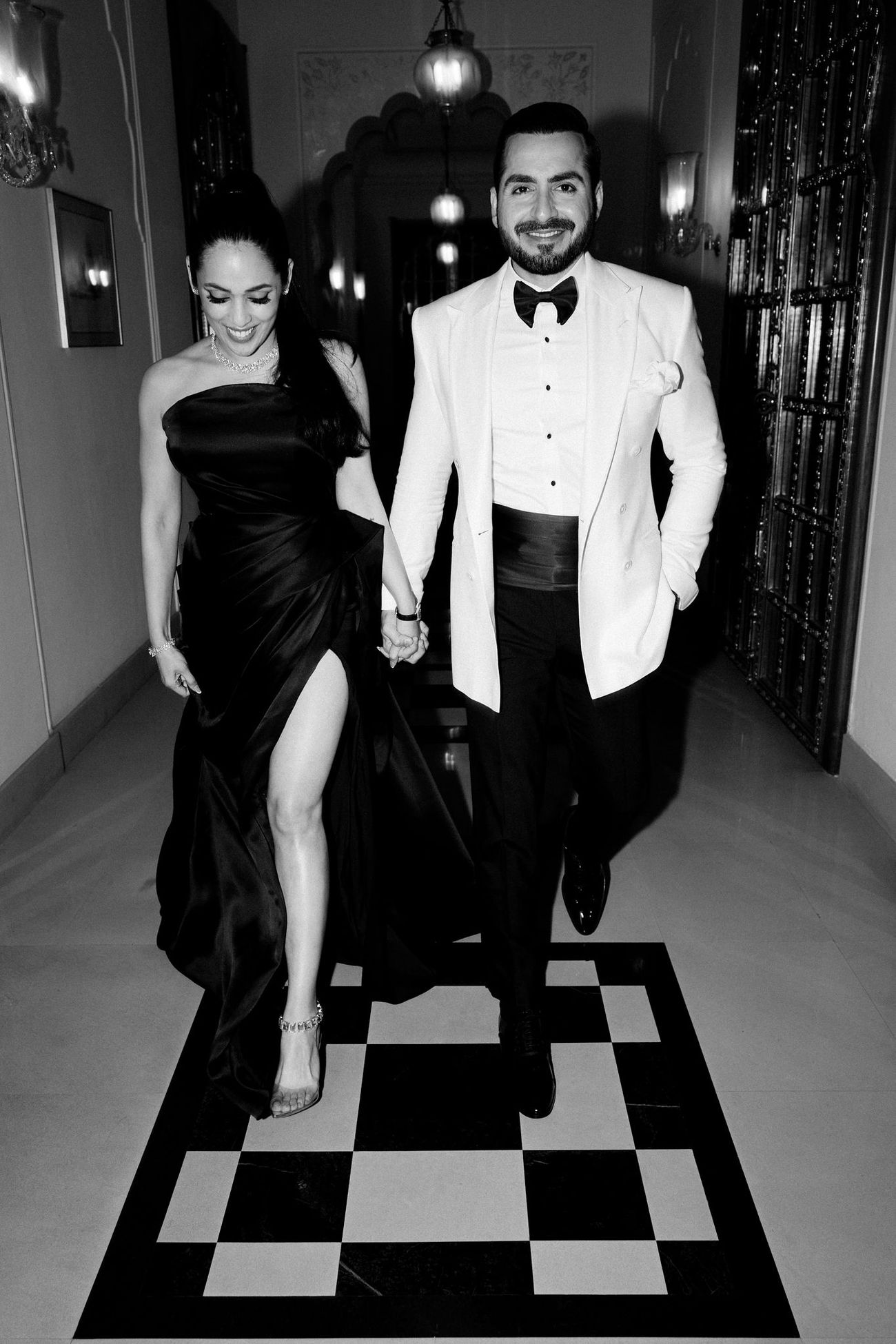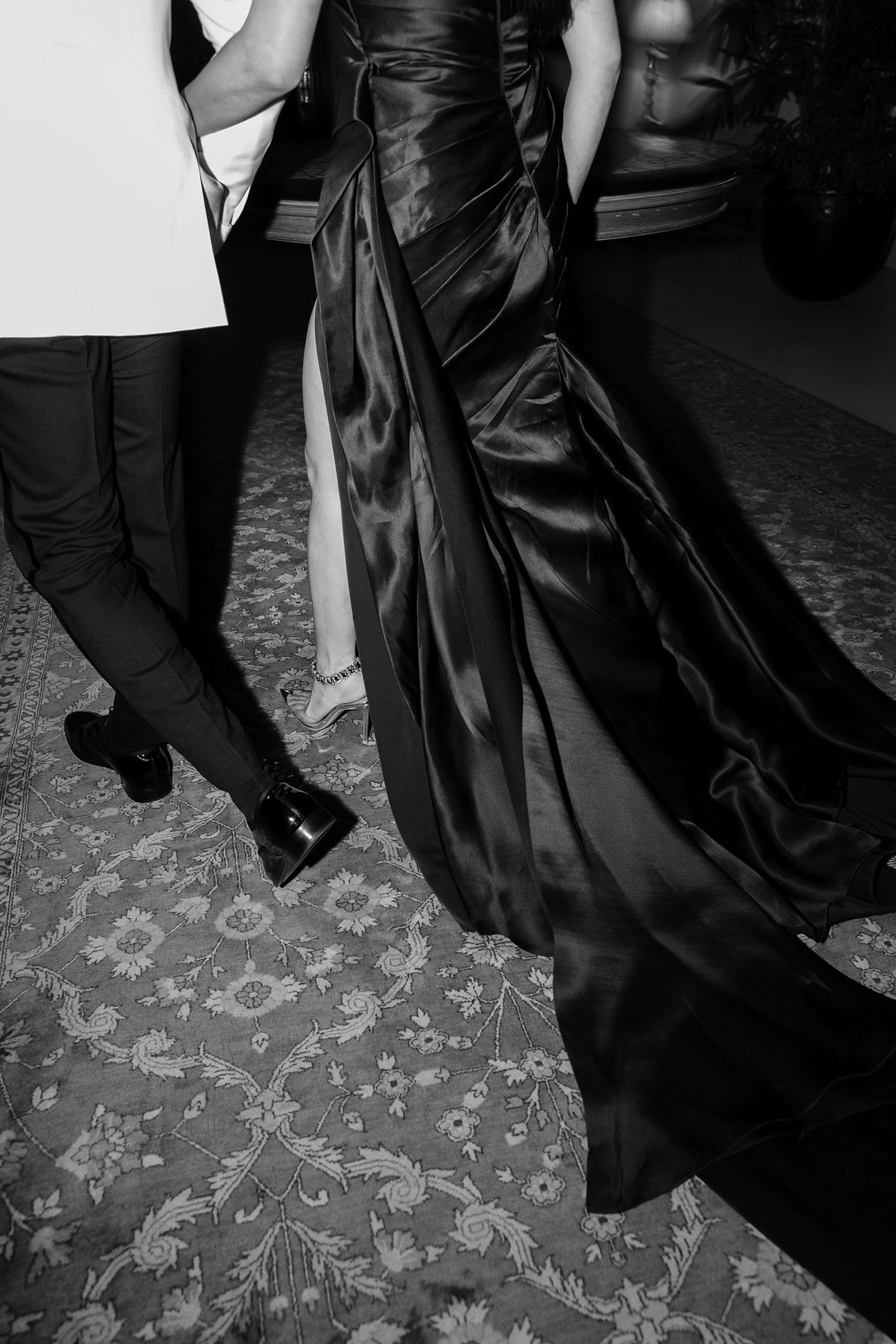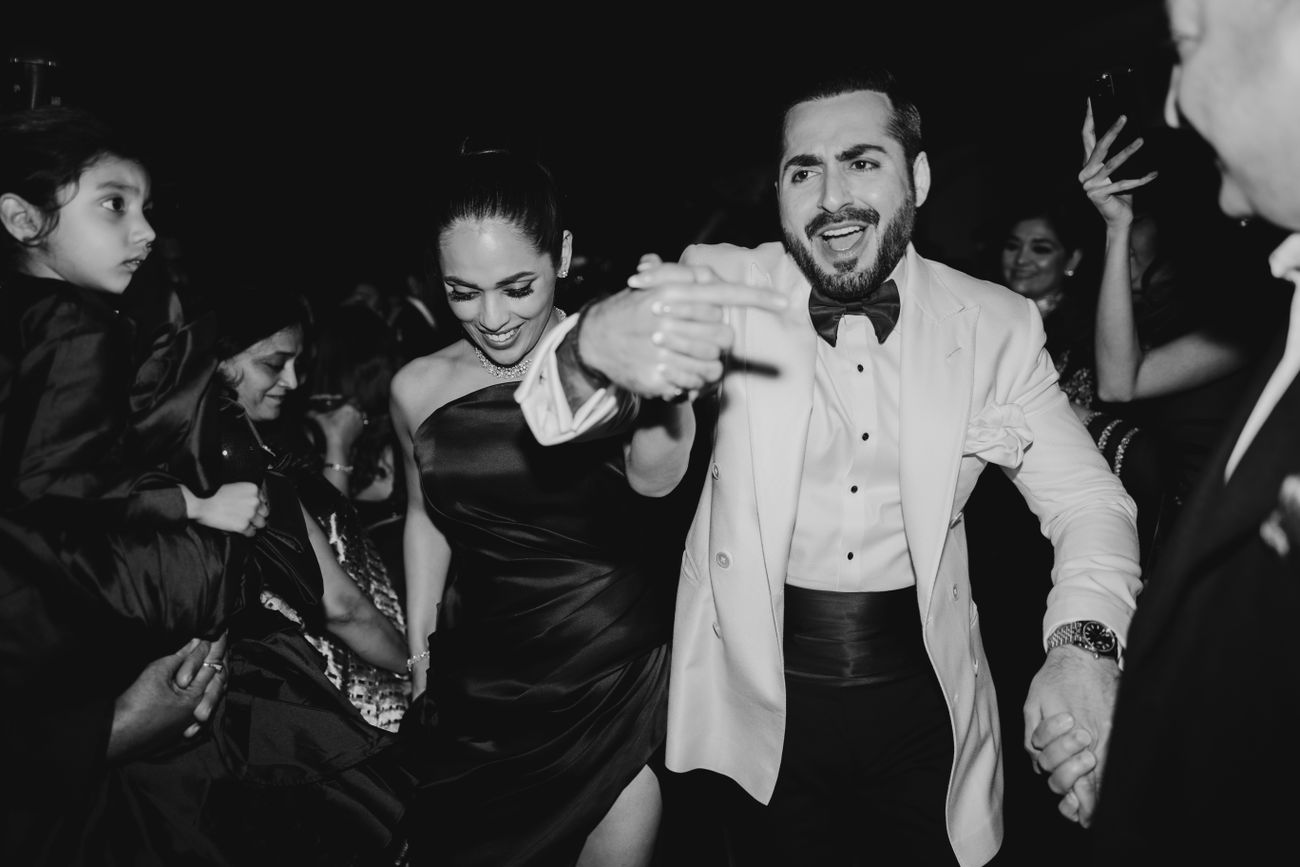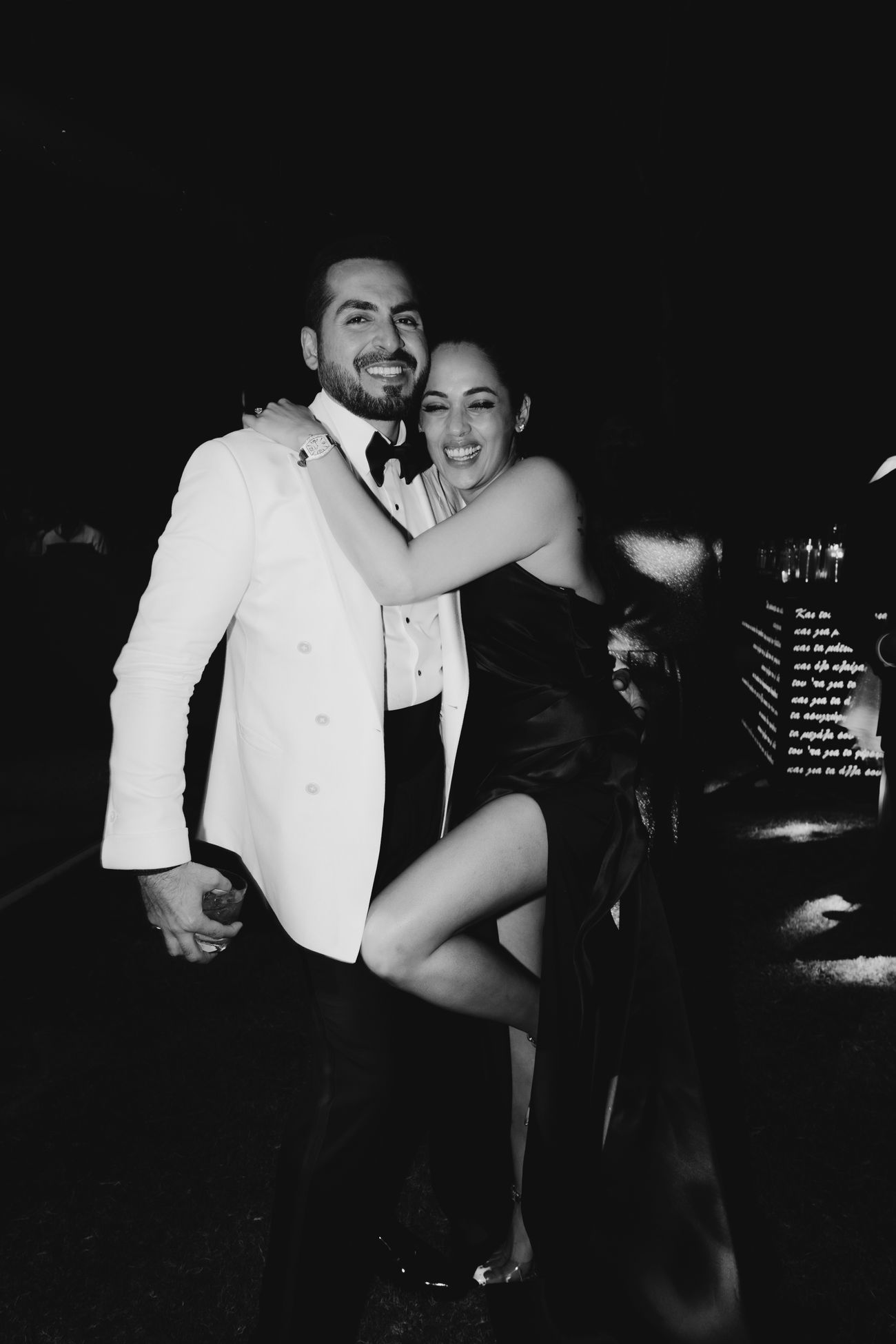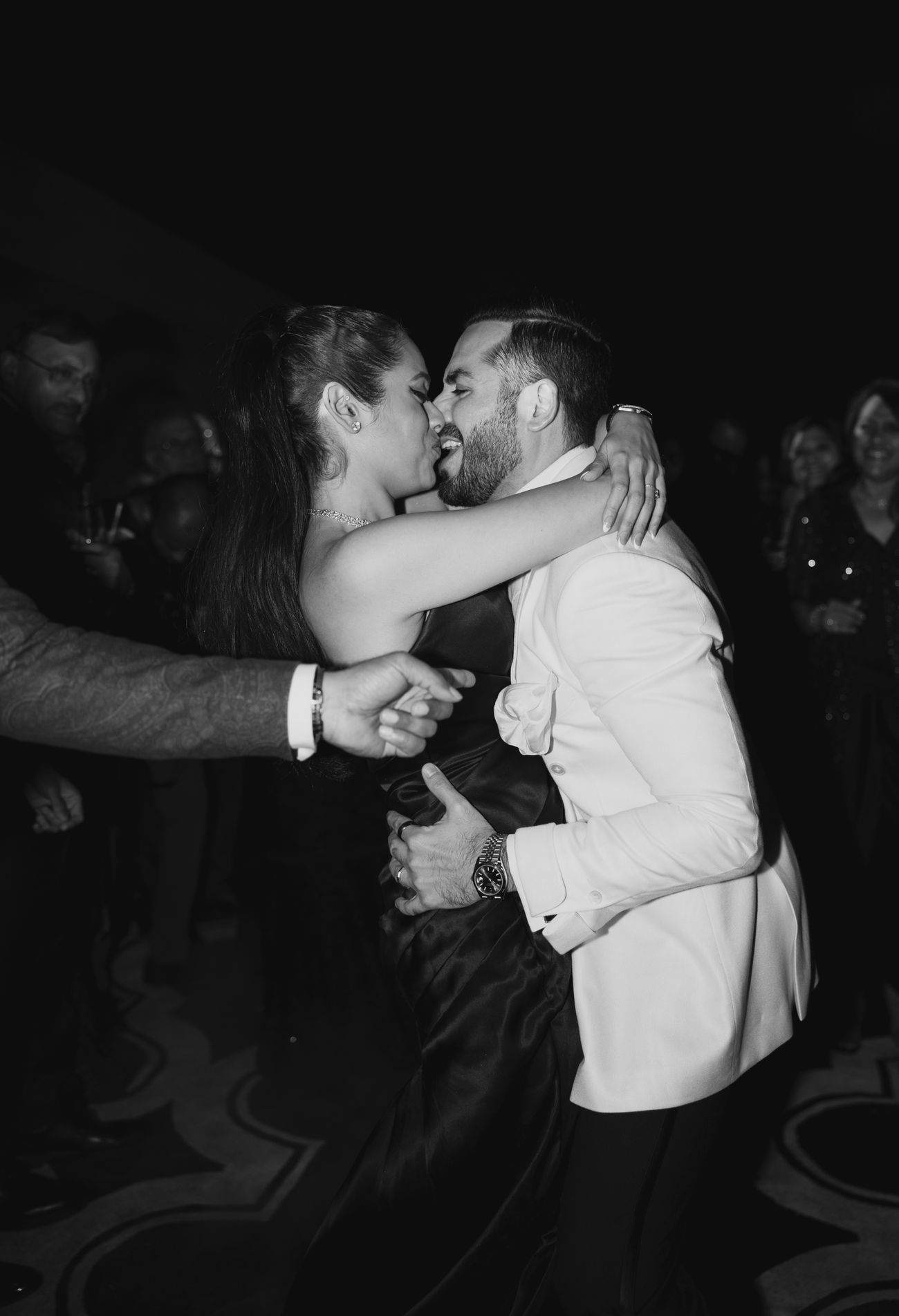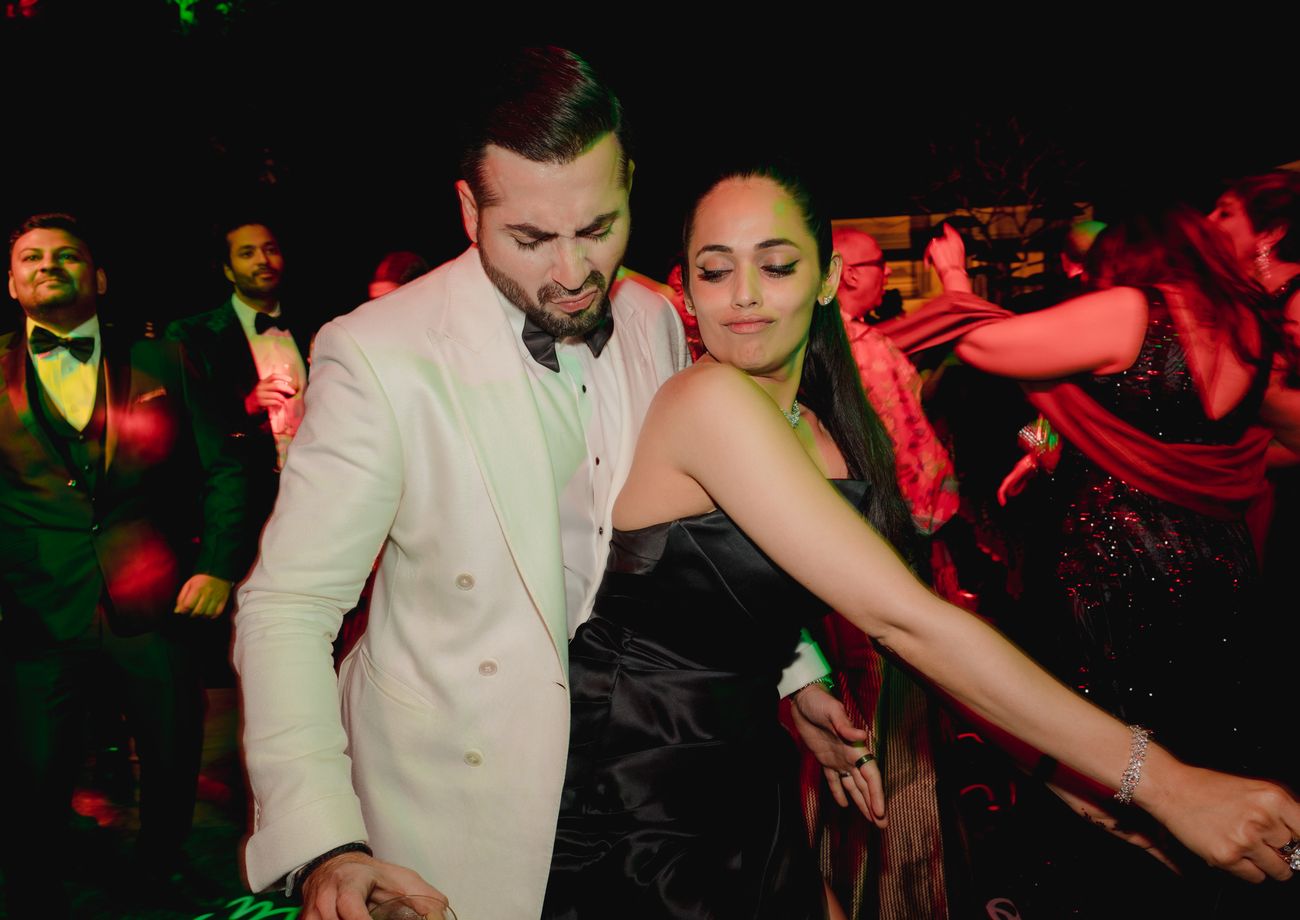 Wedding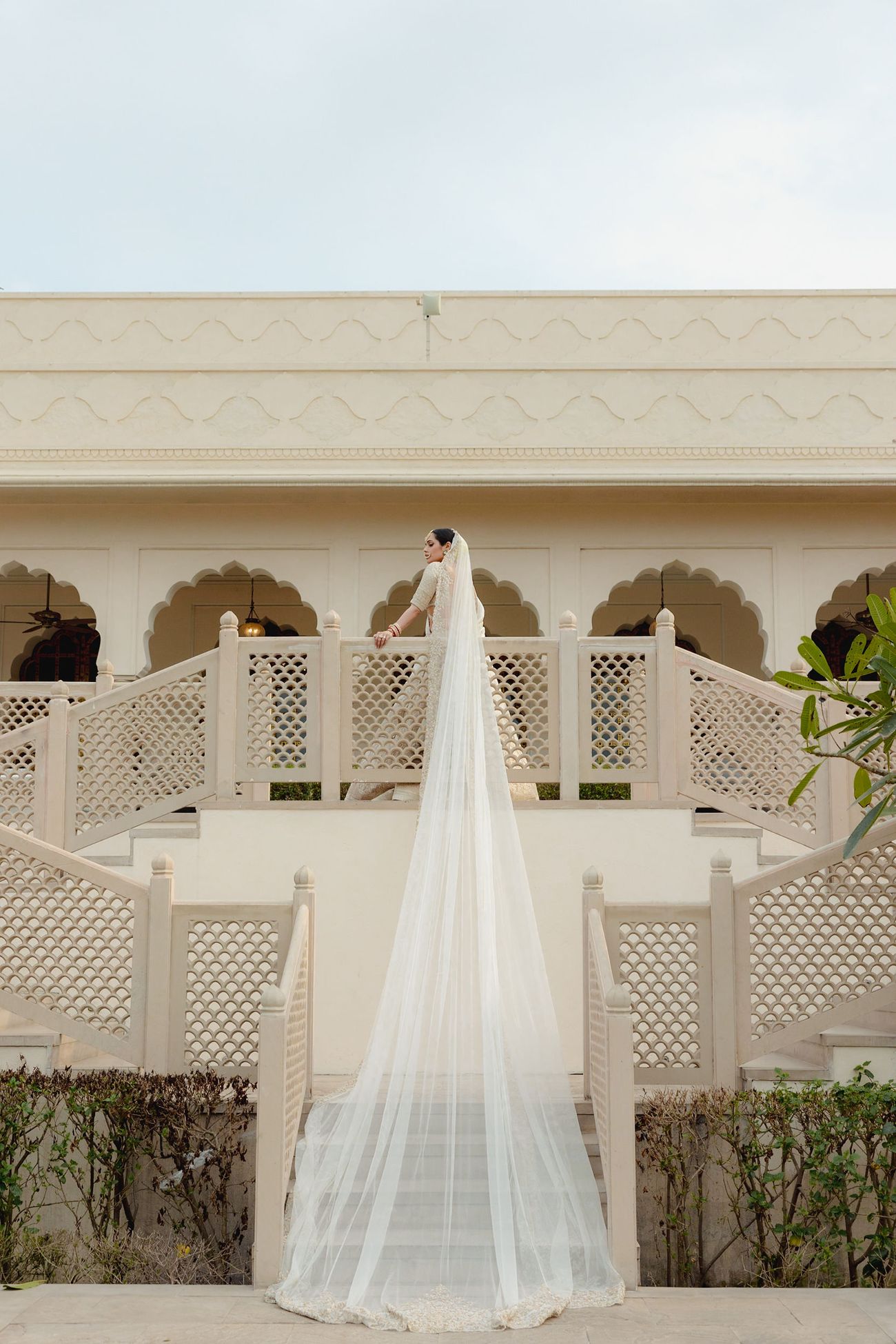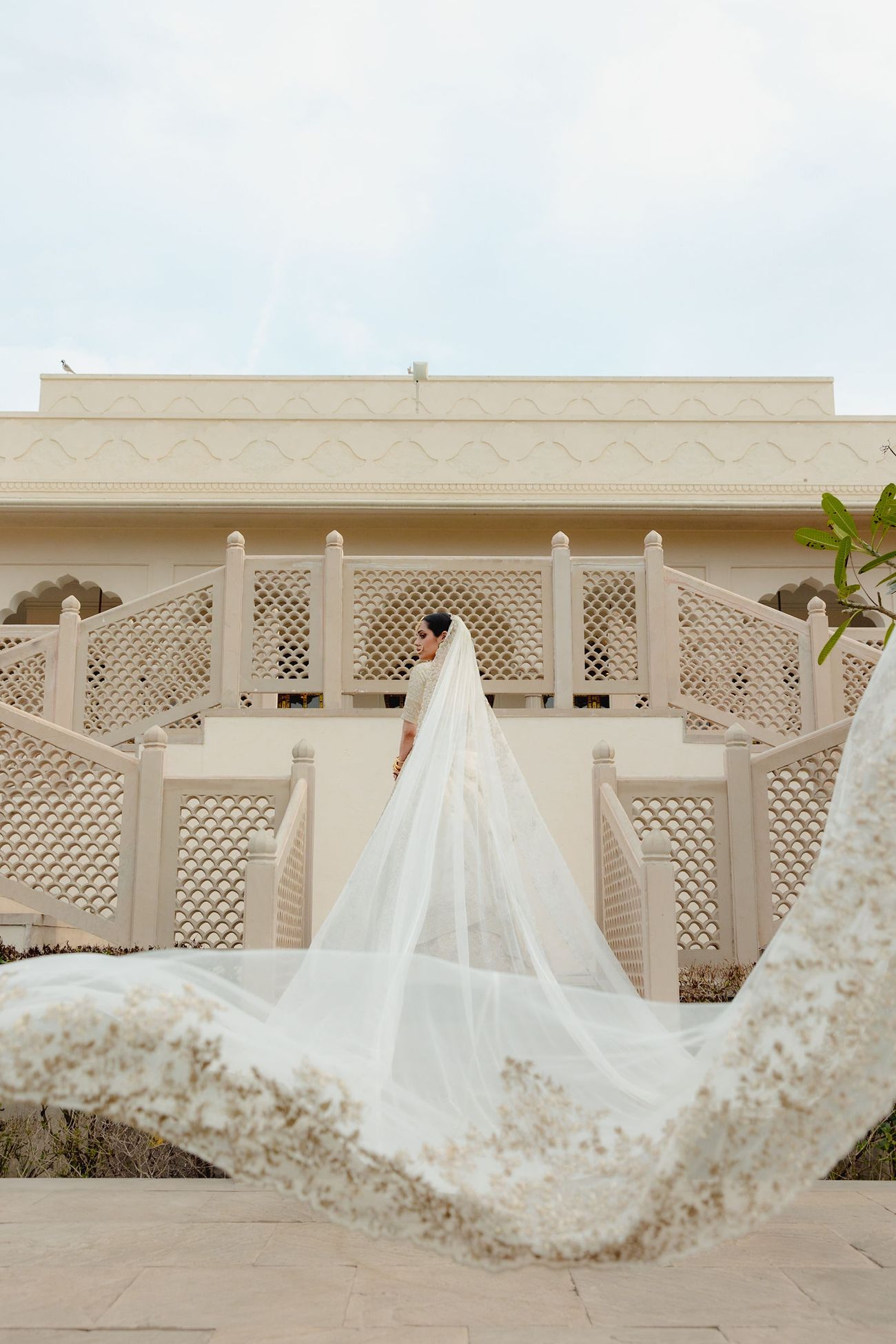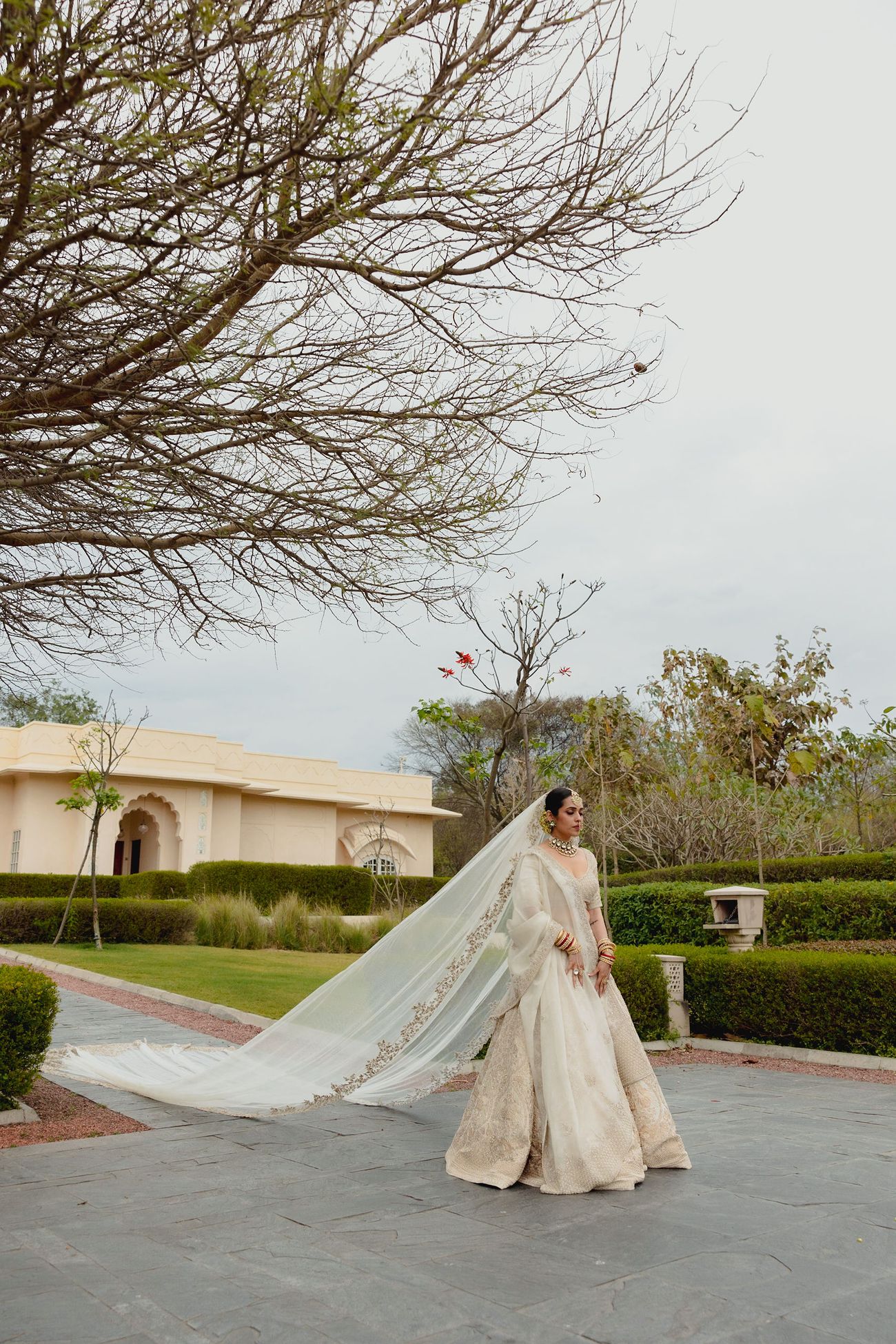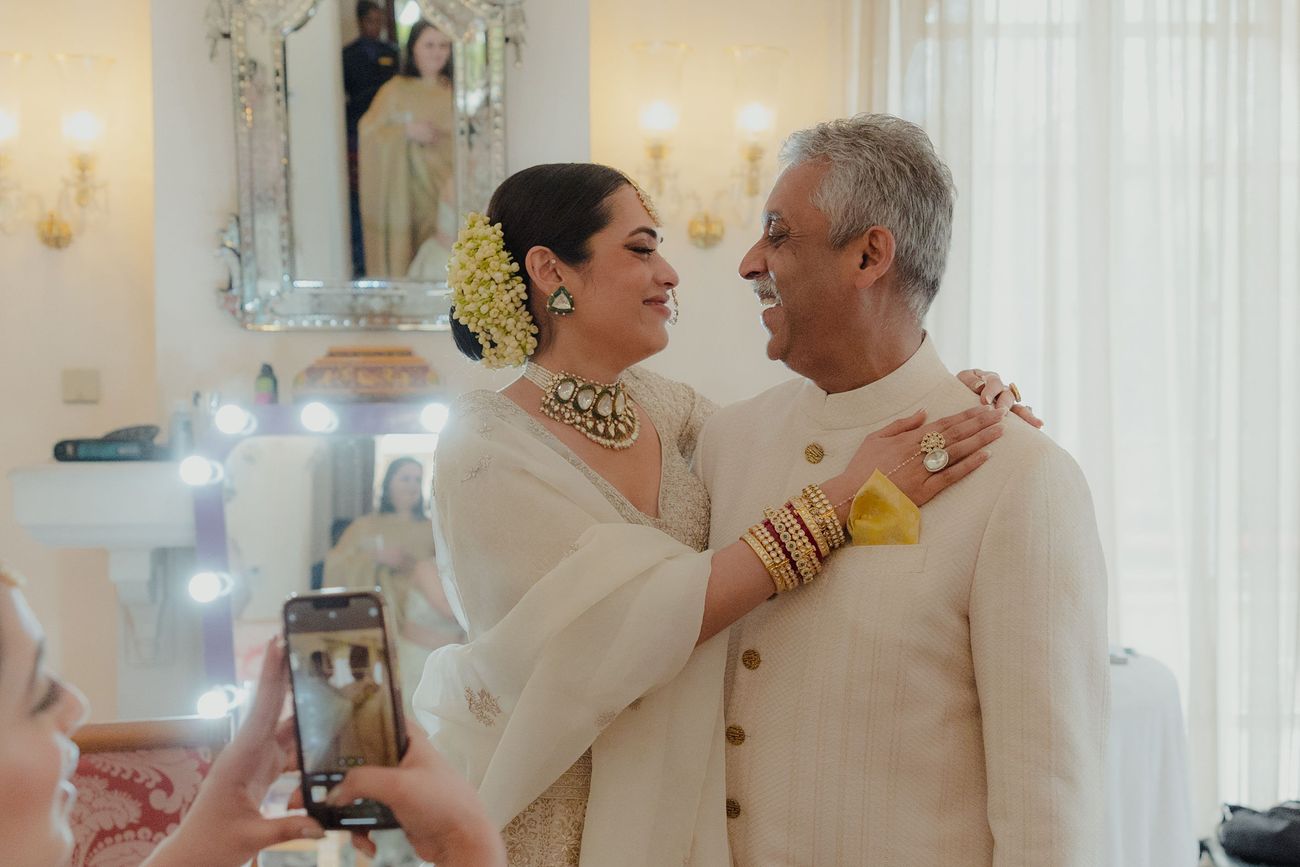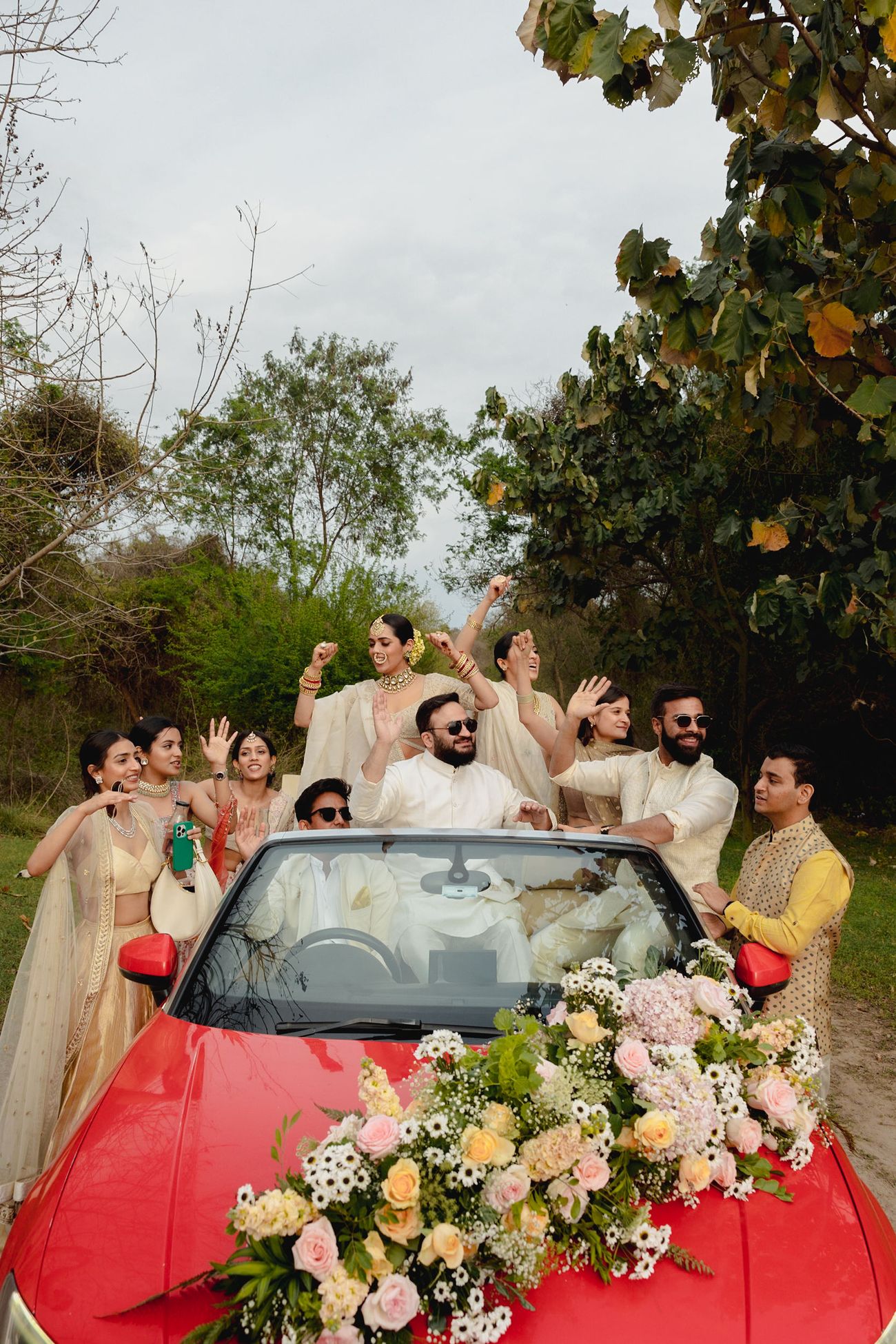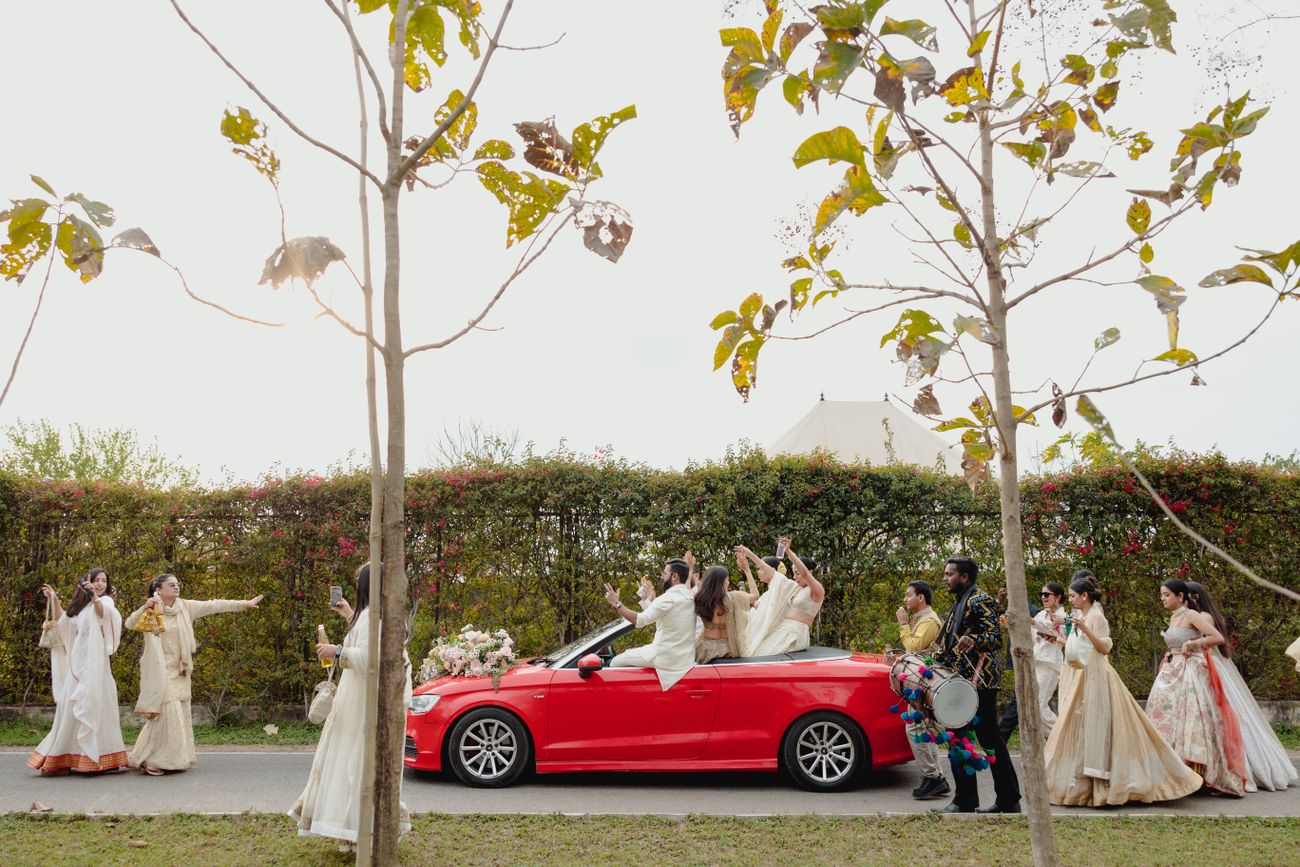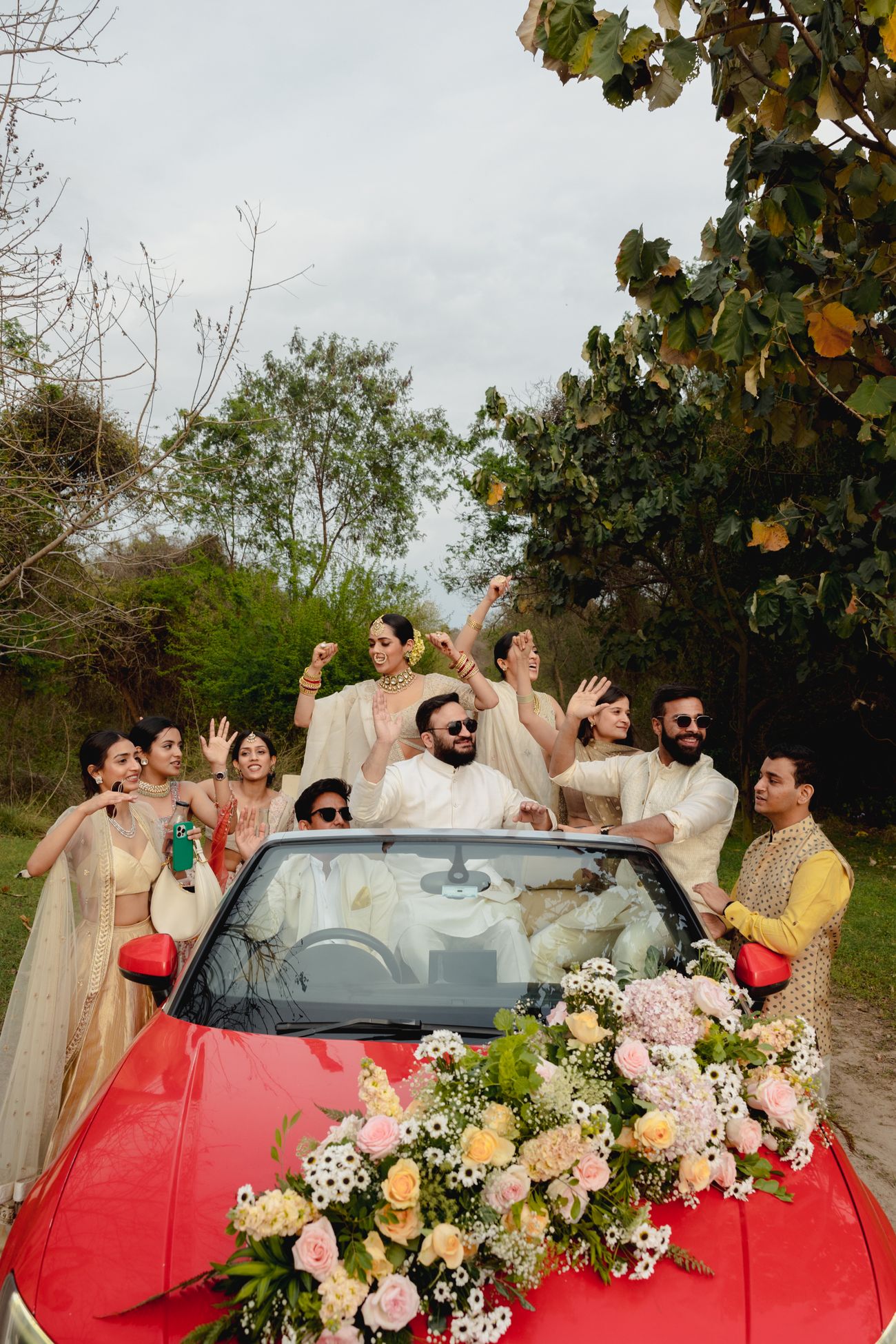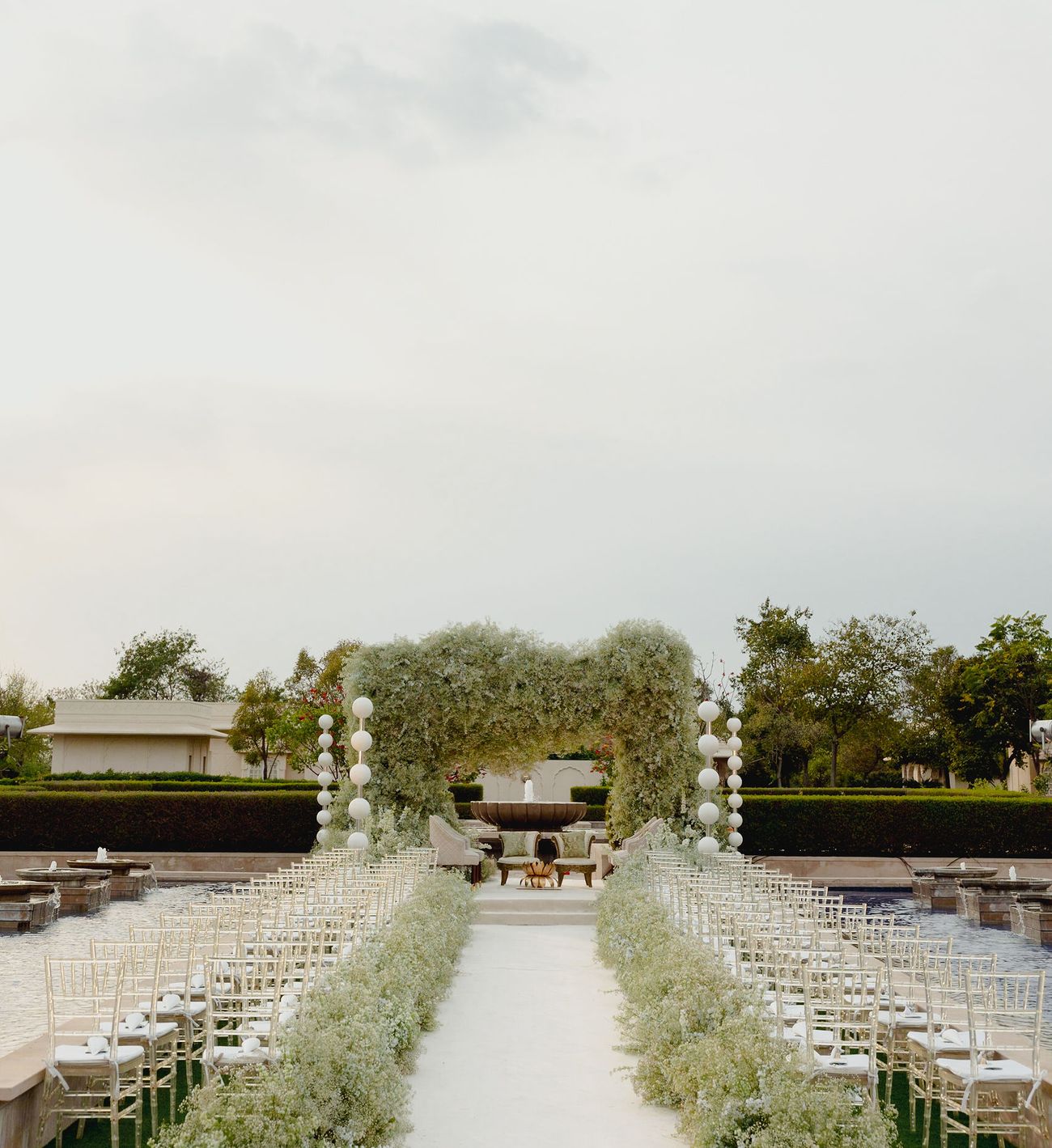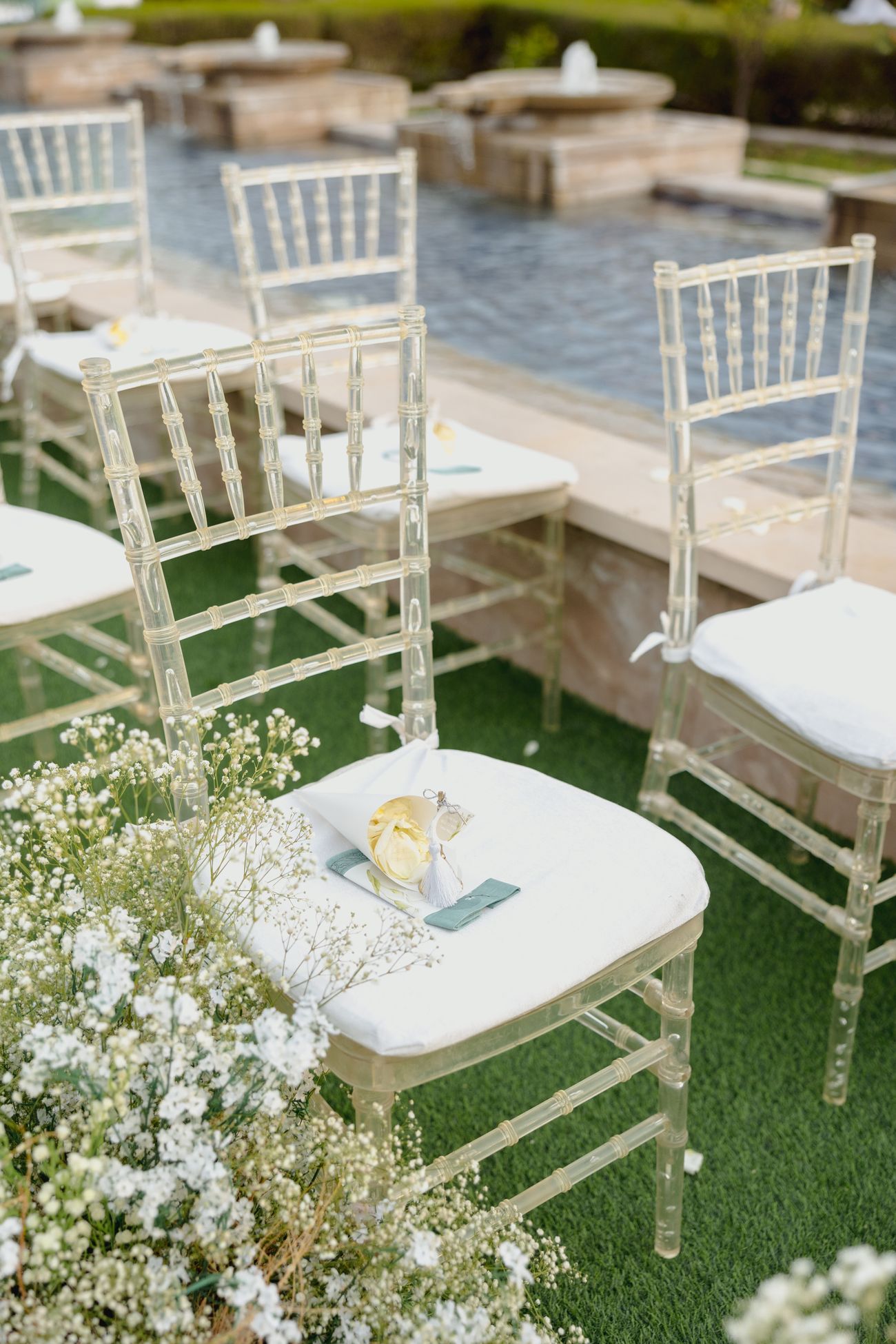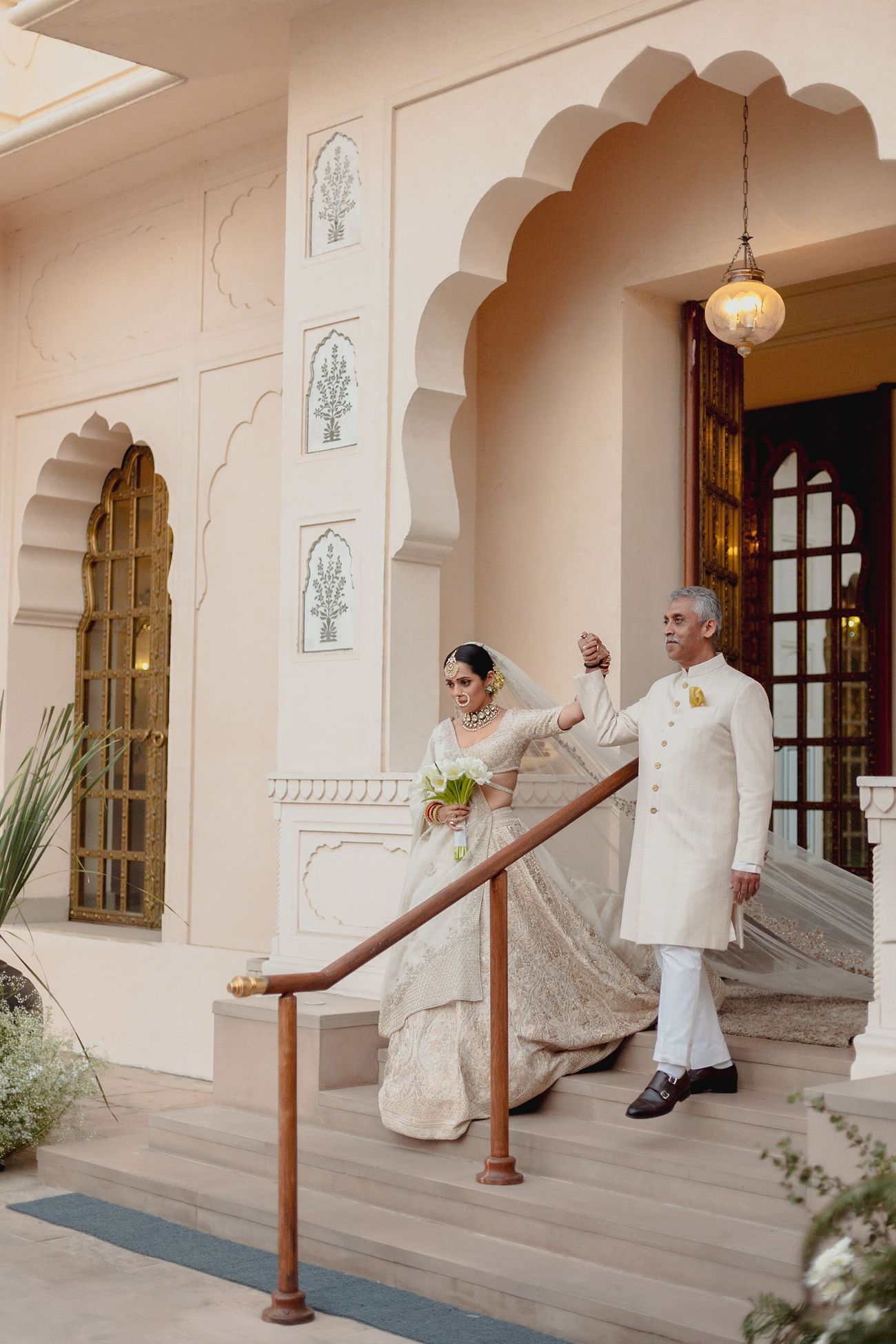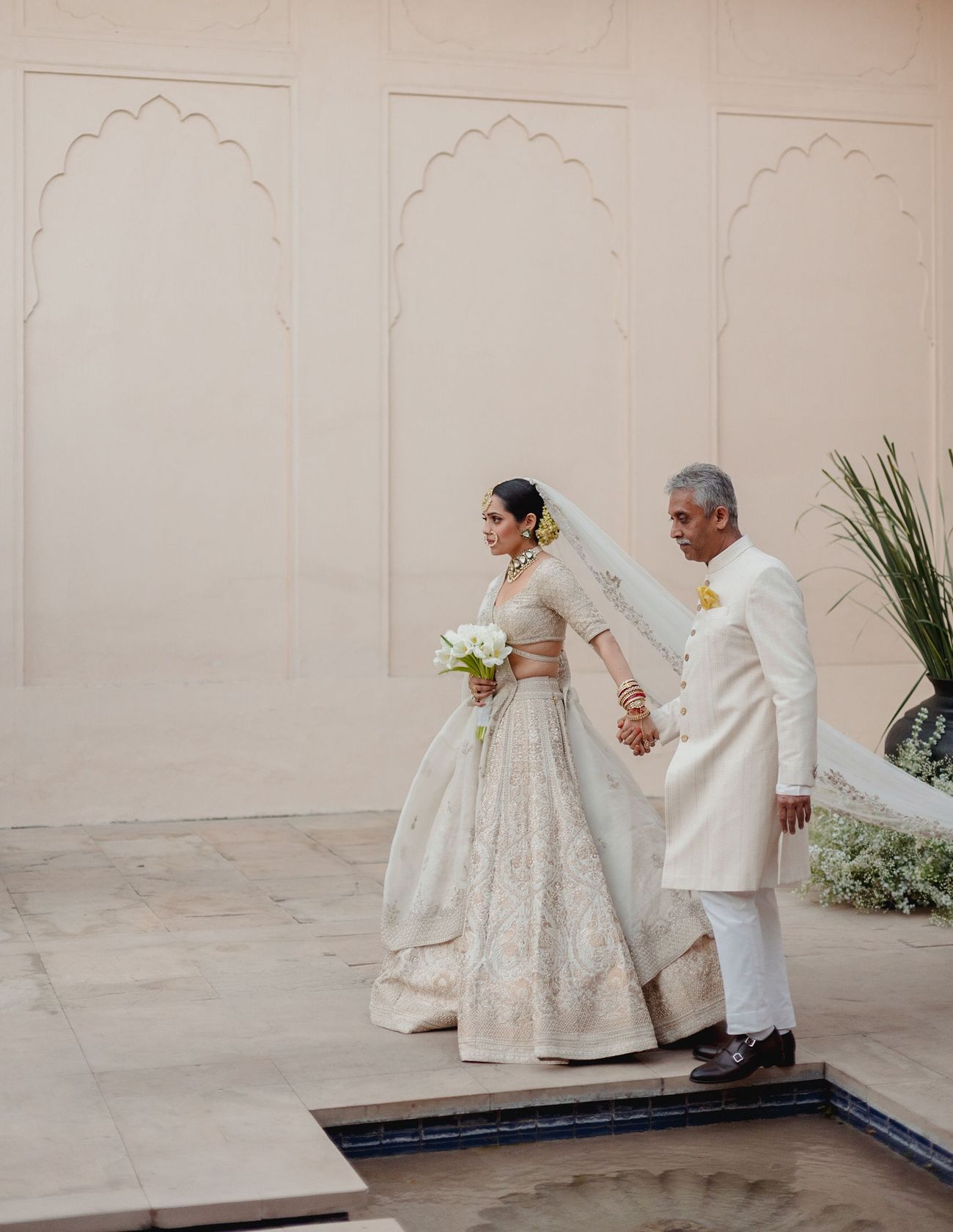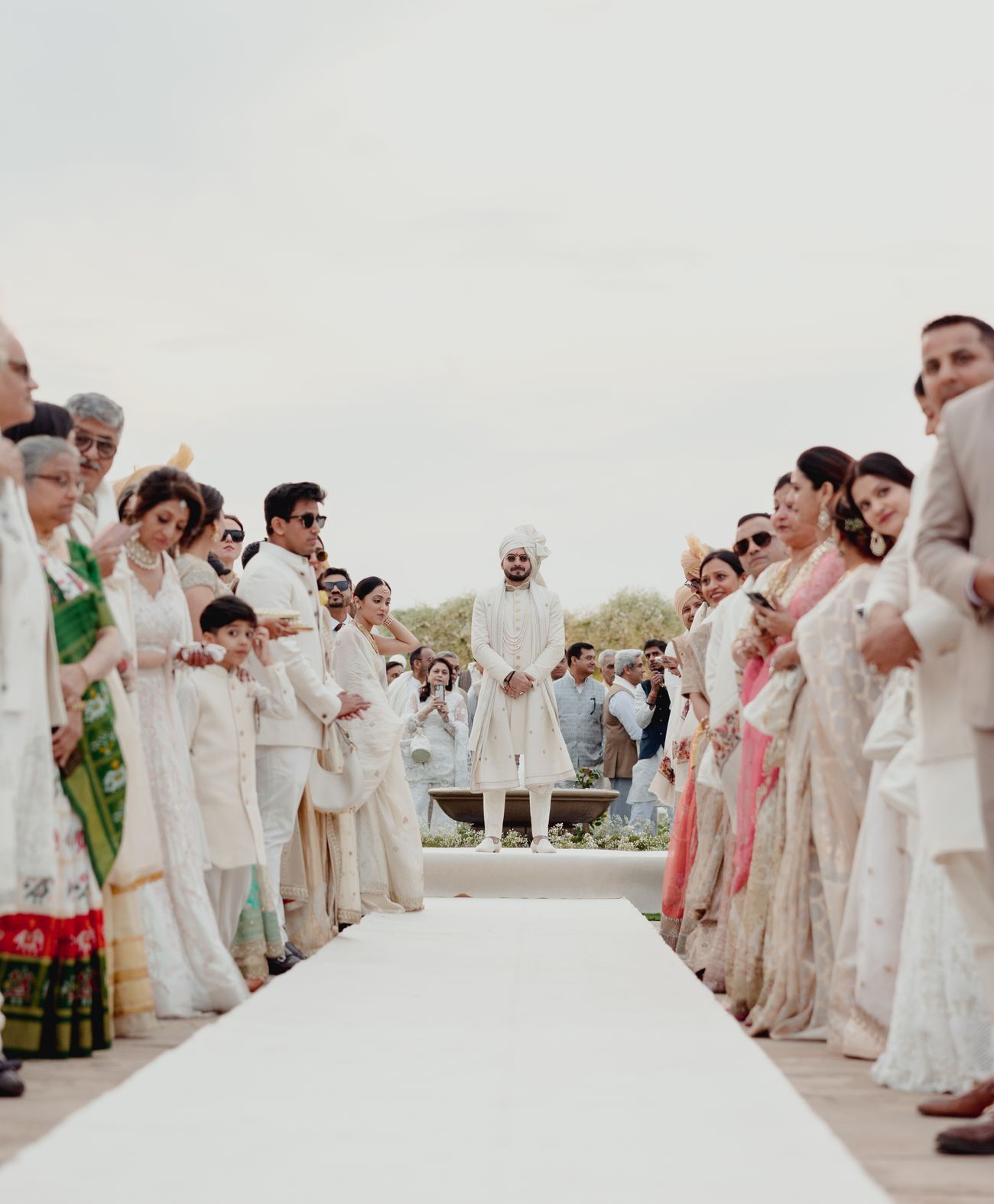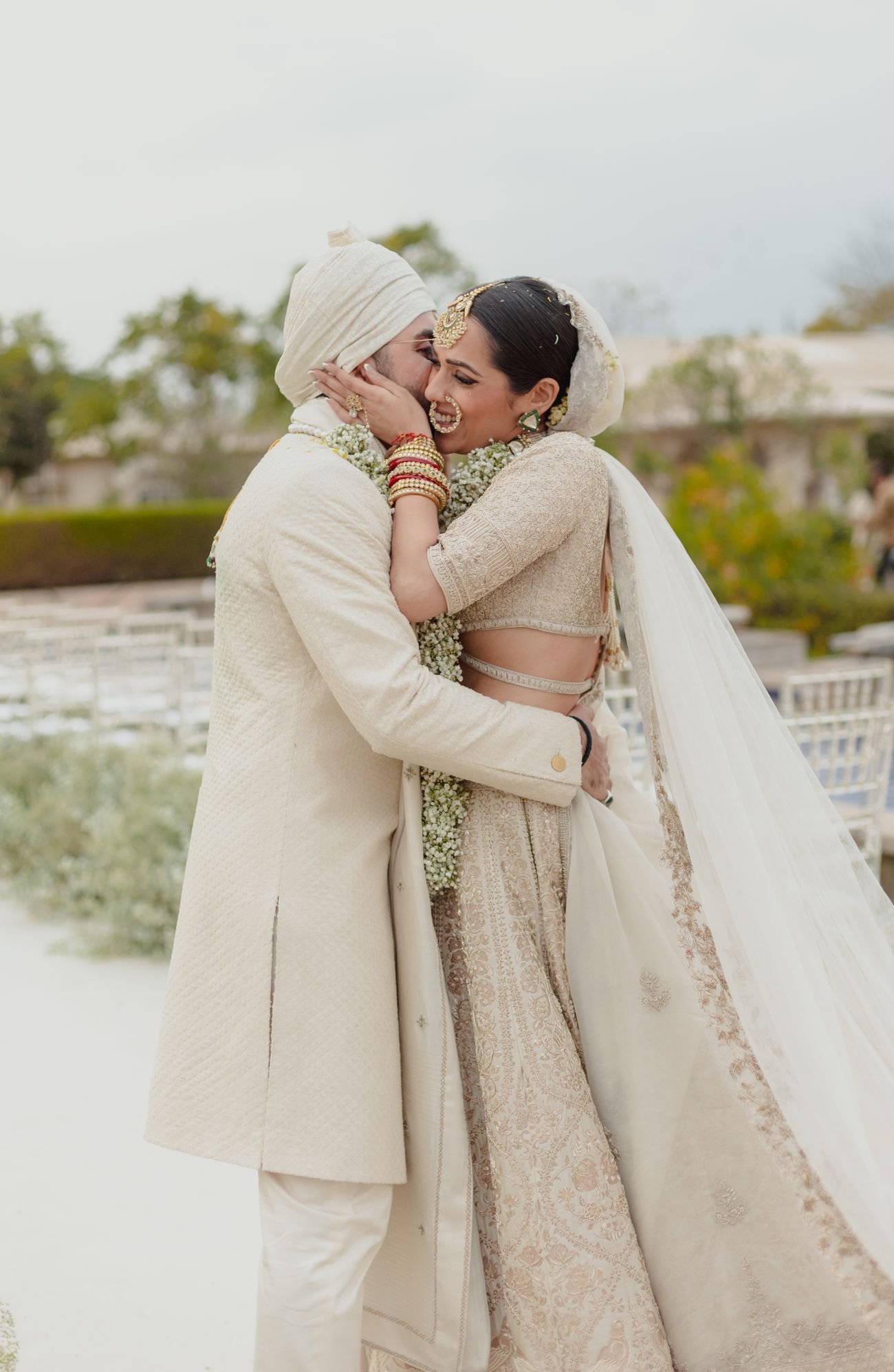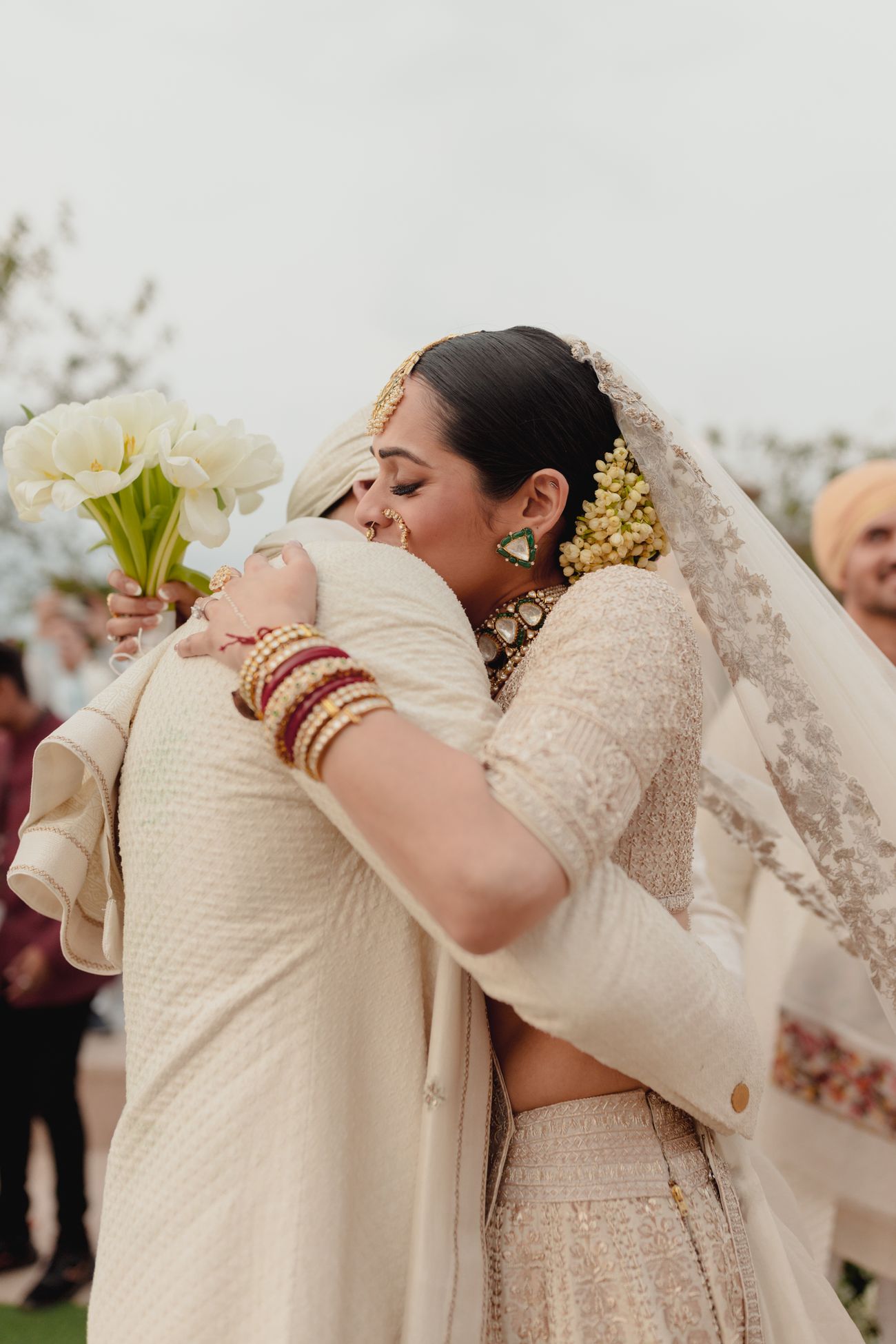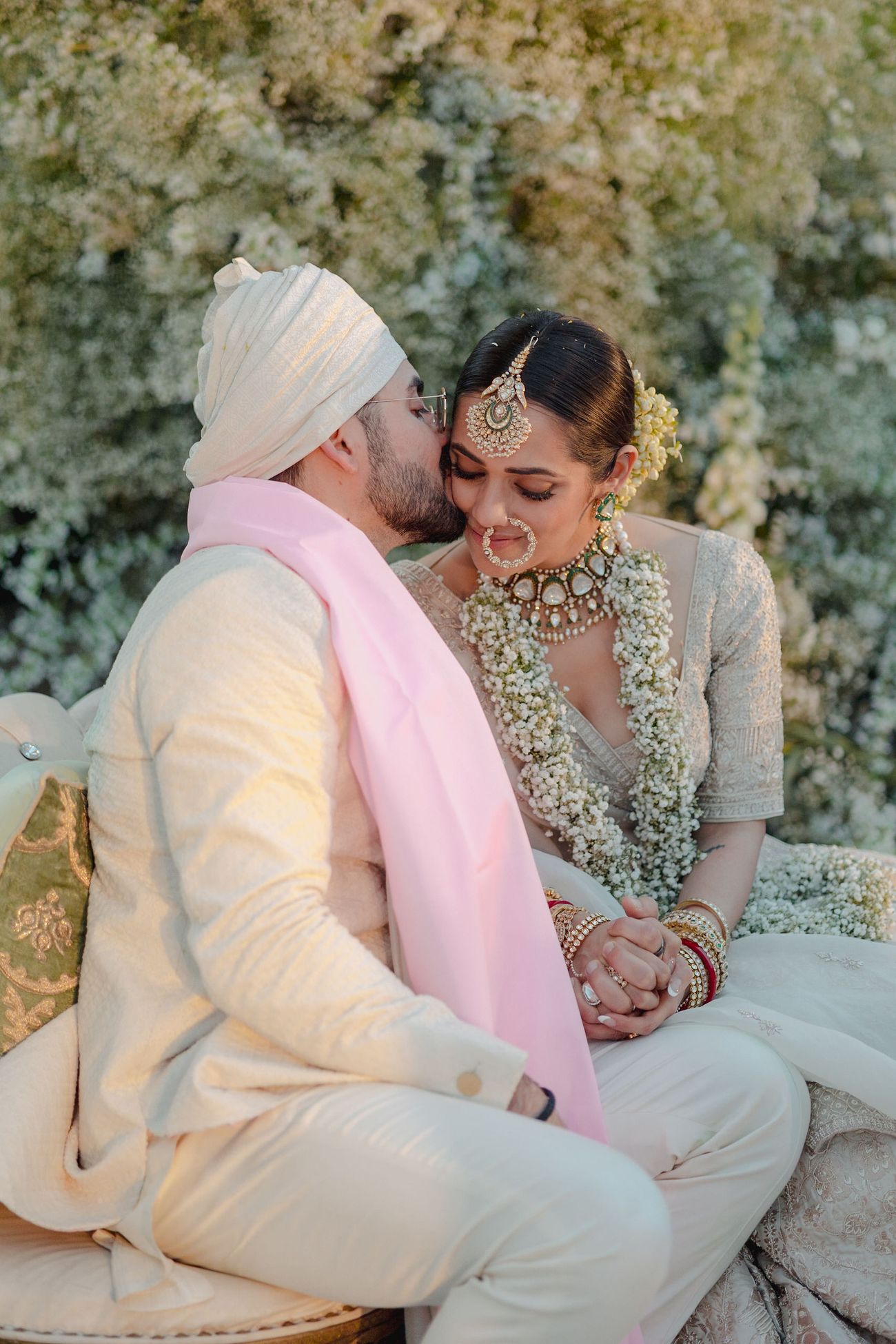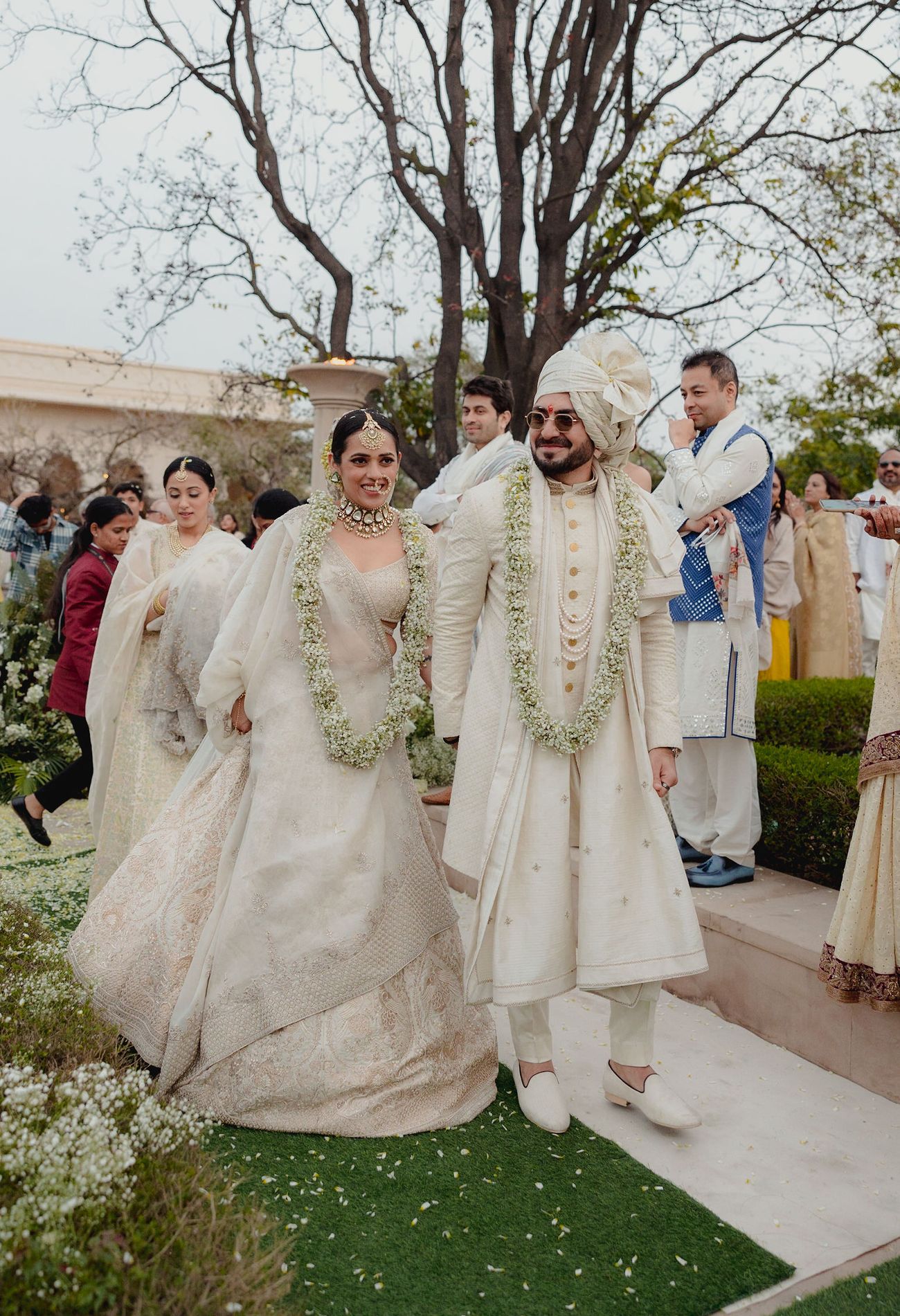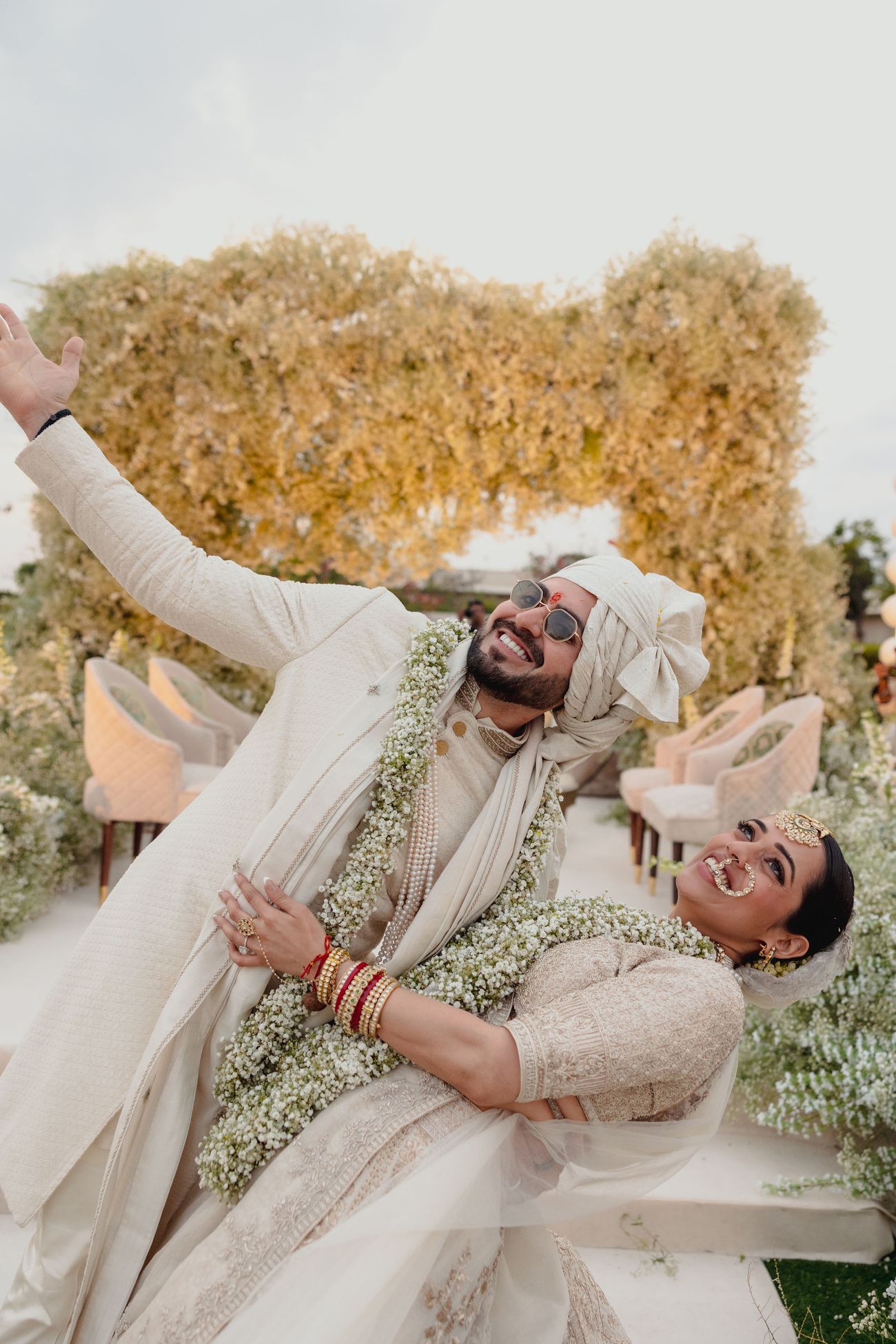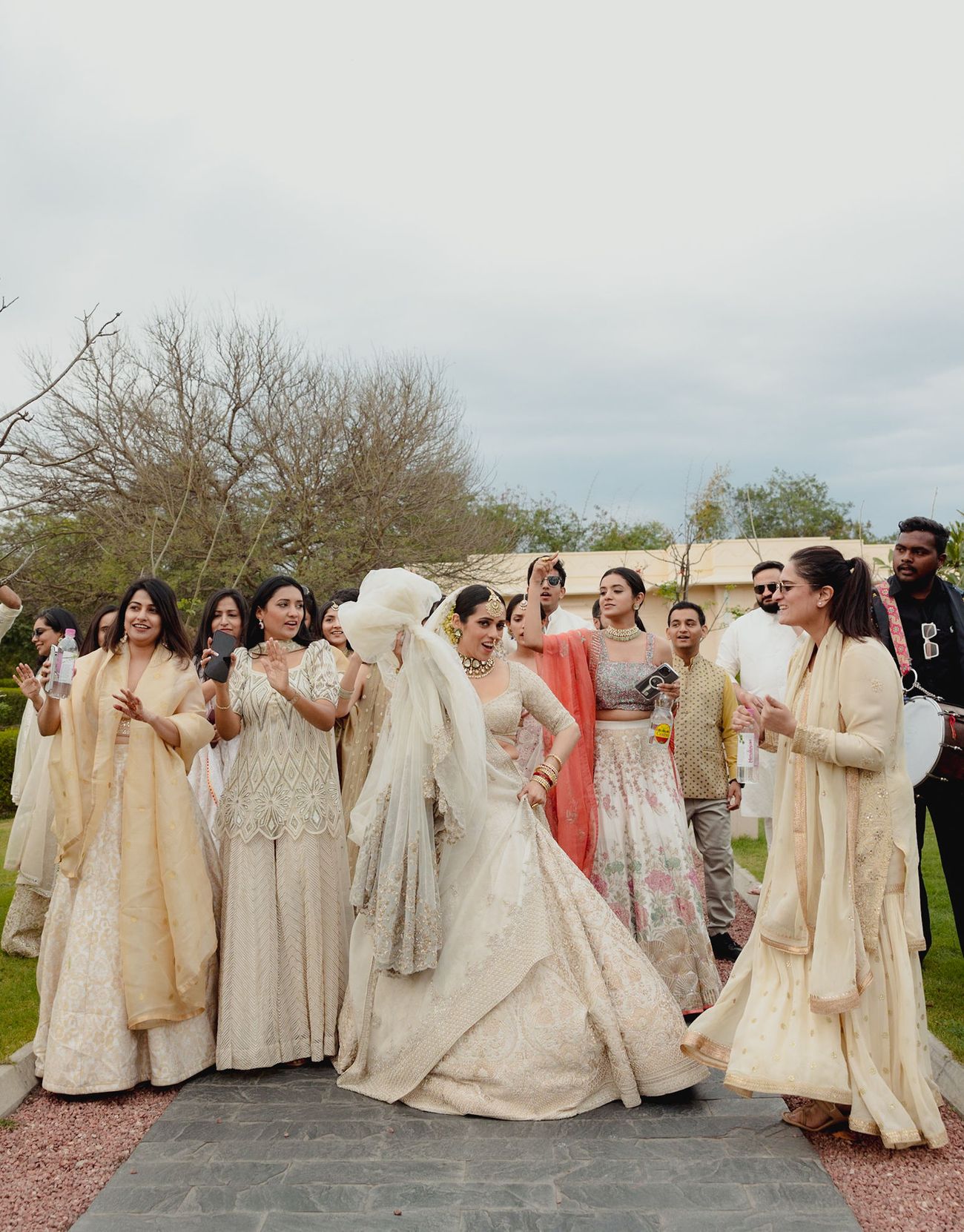 Reception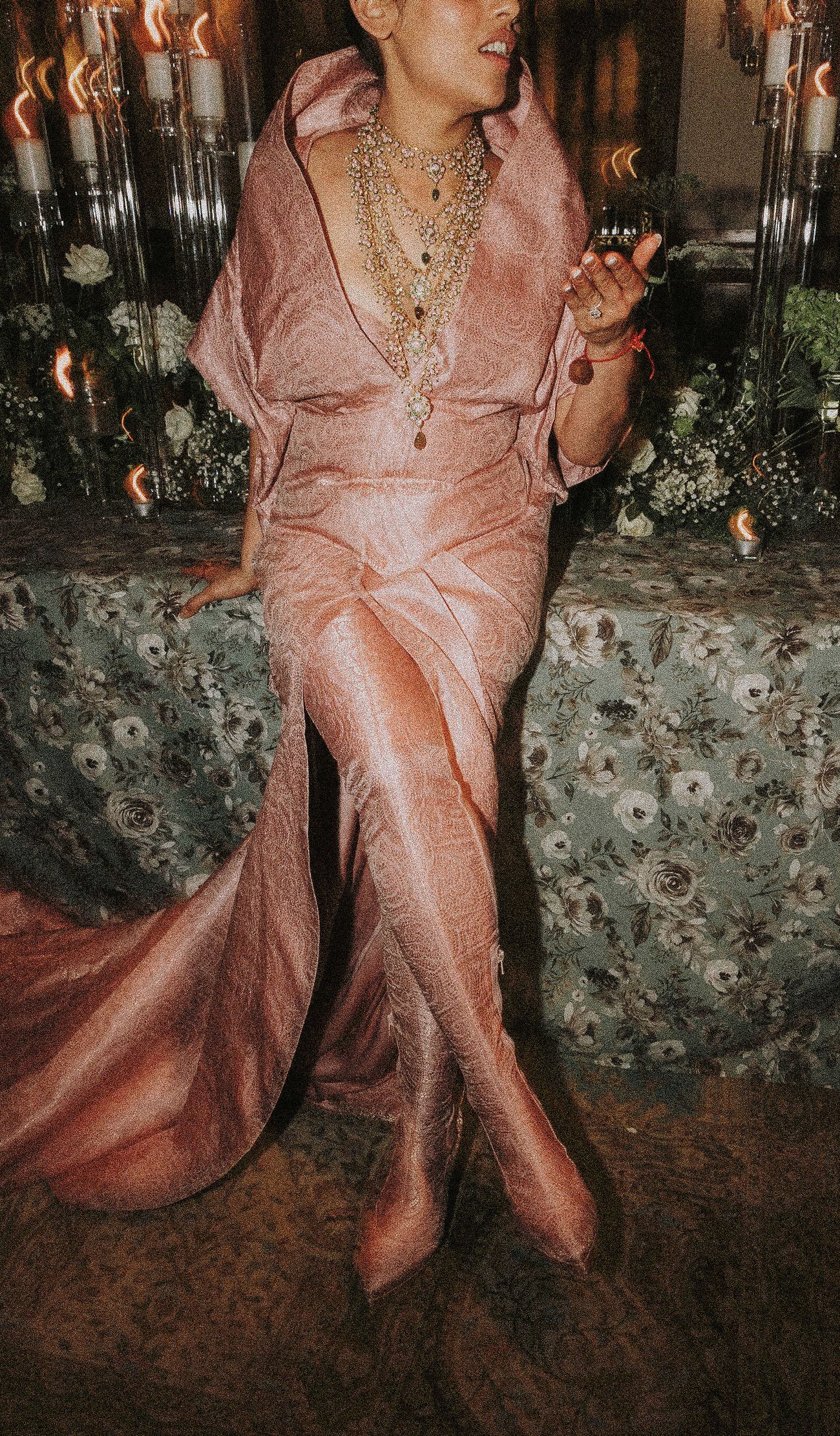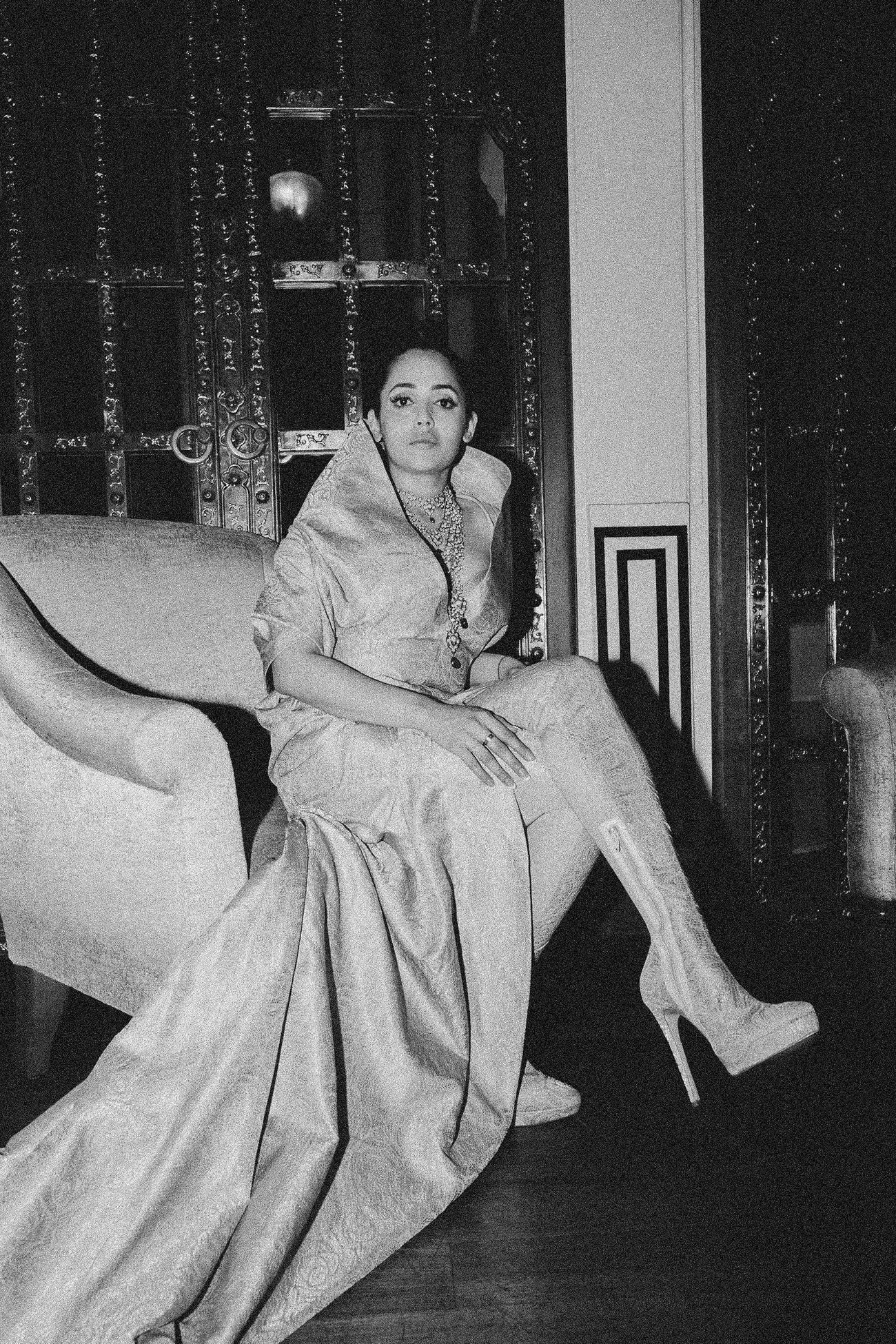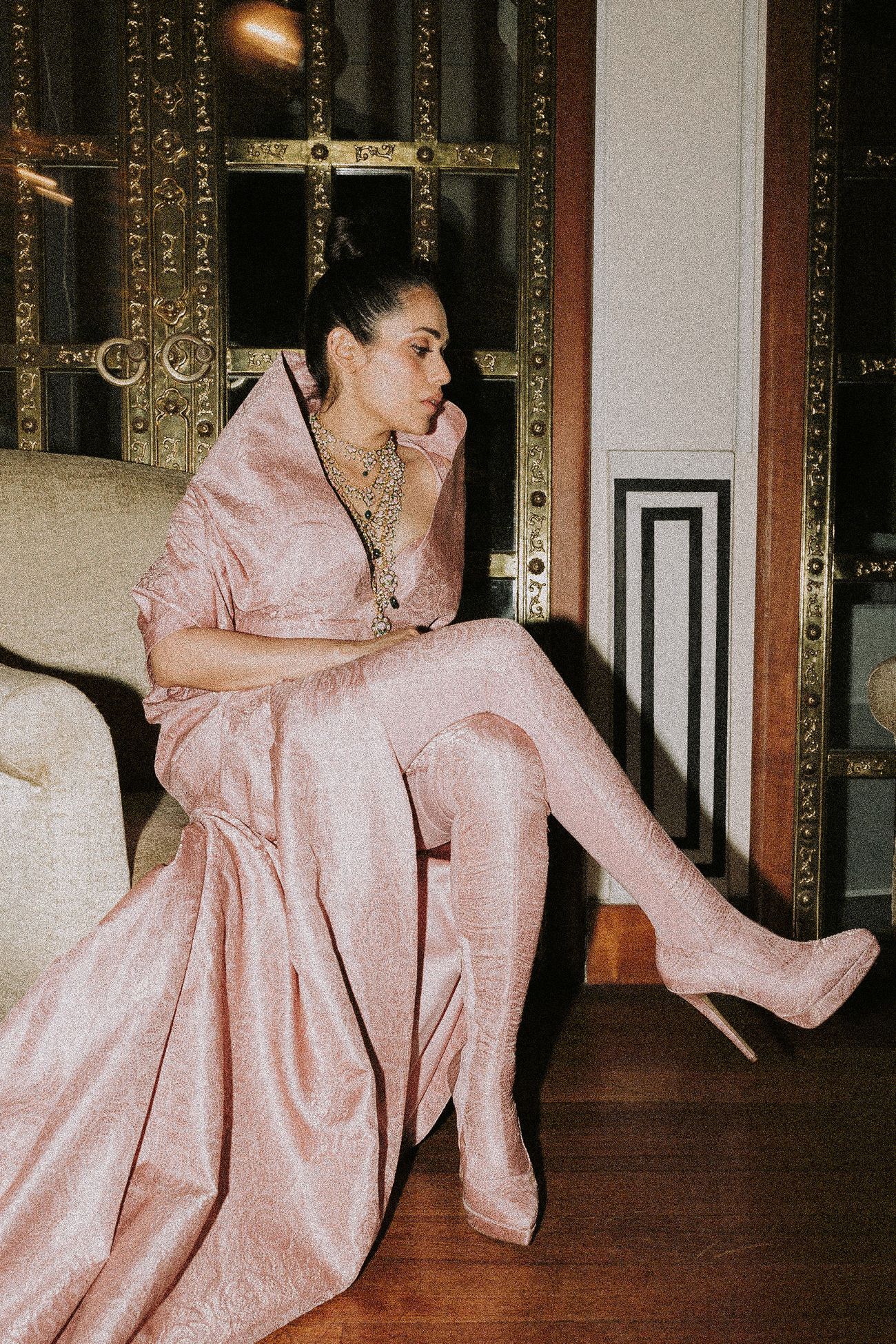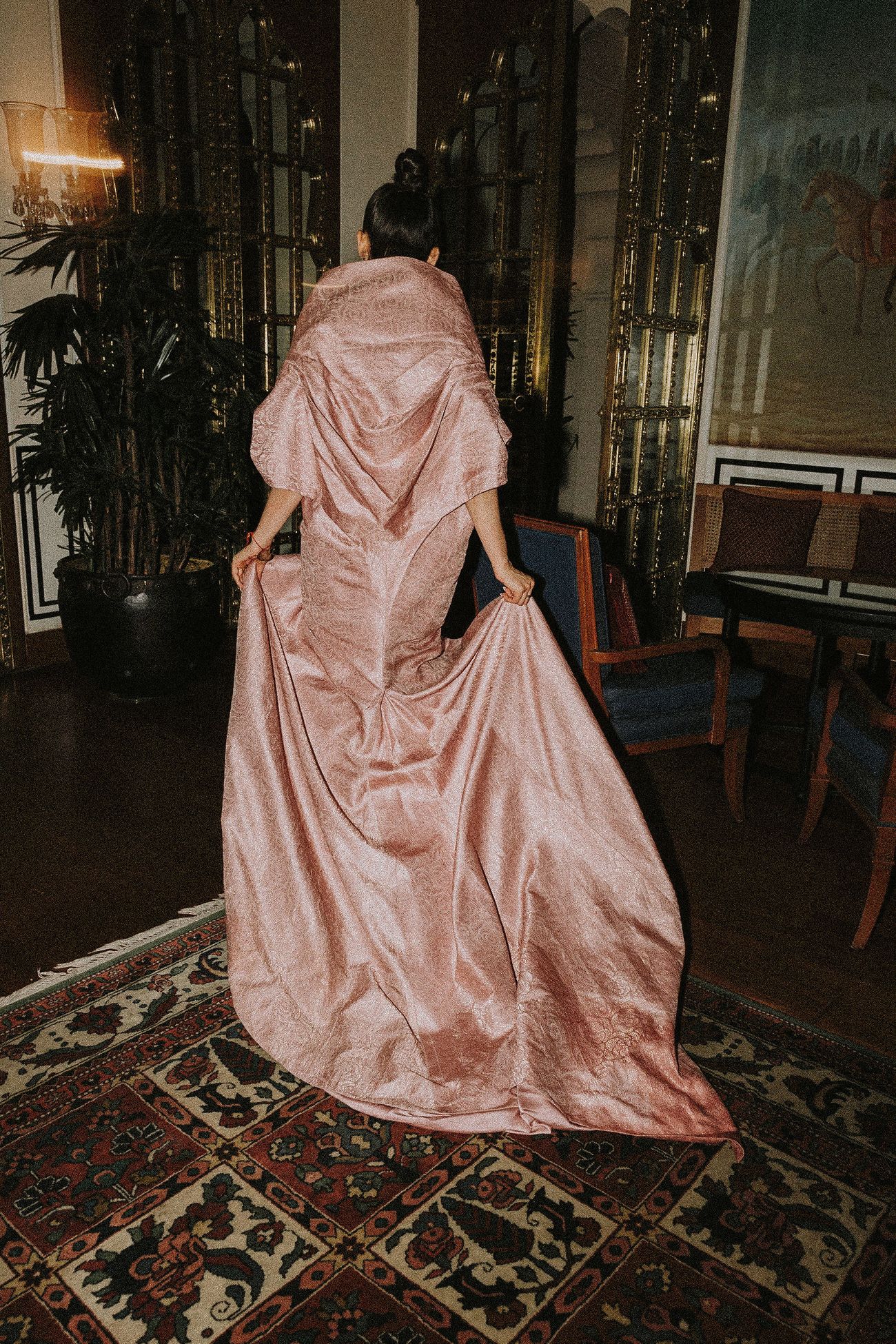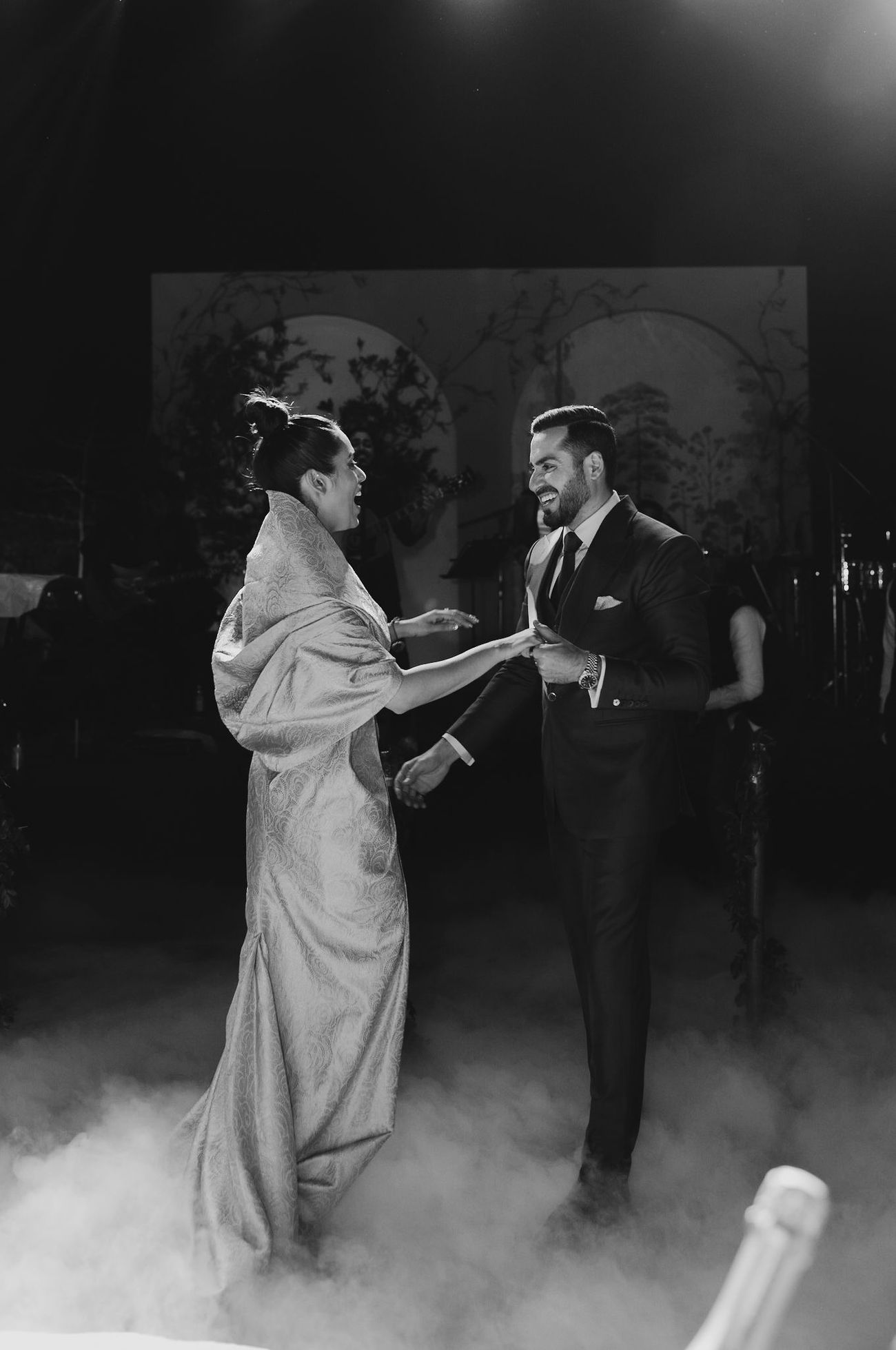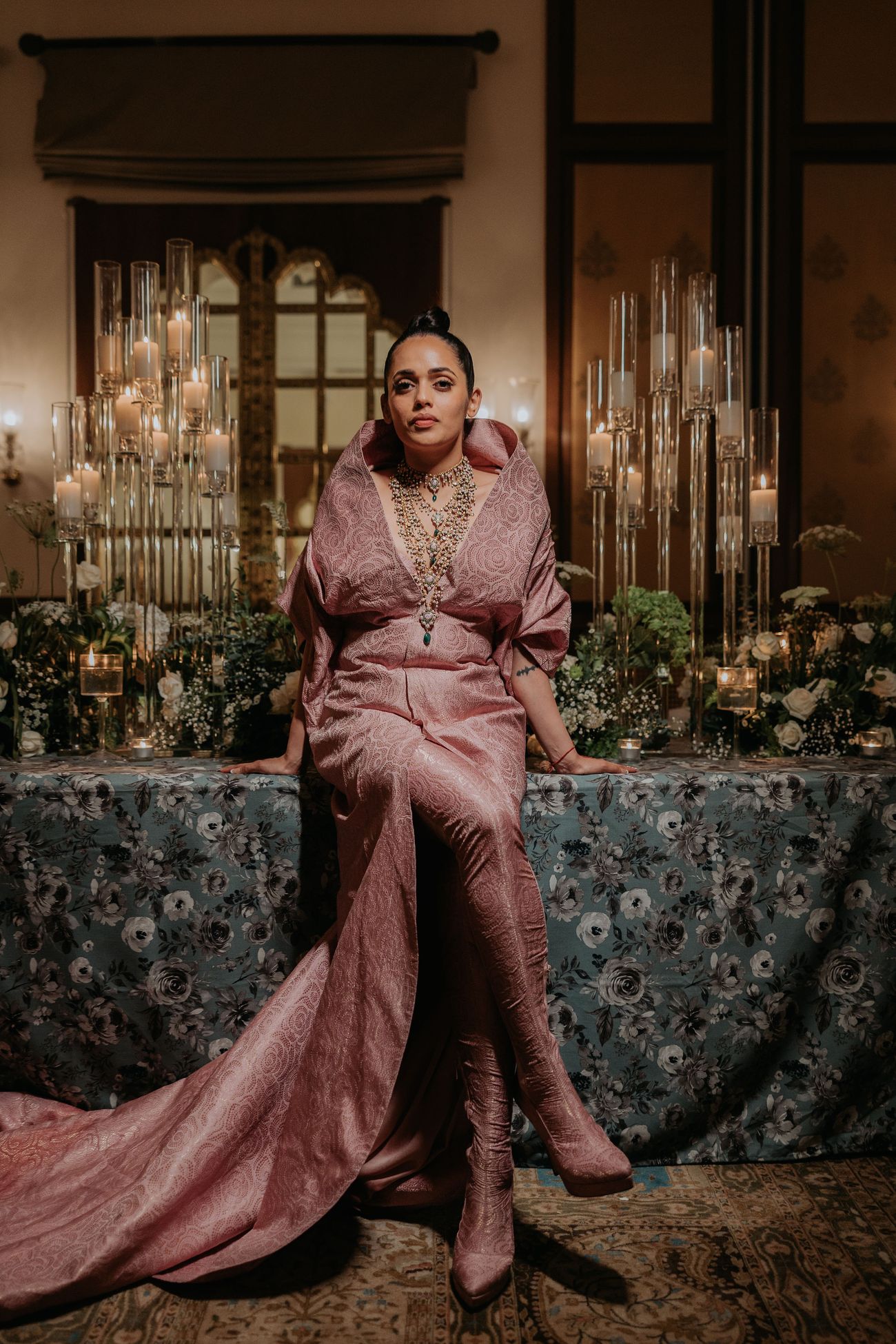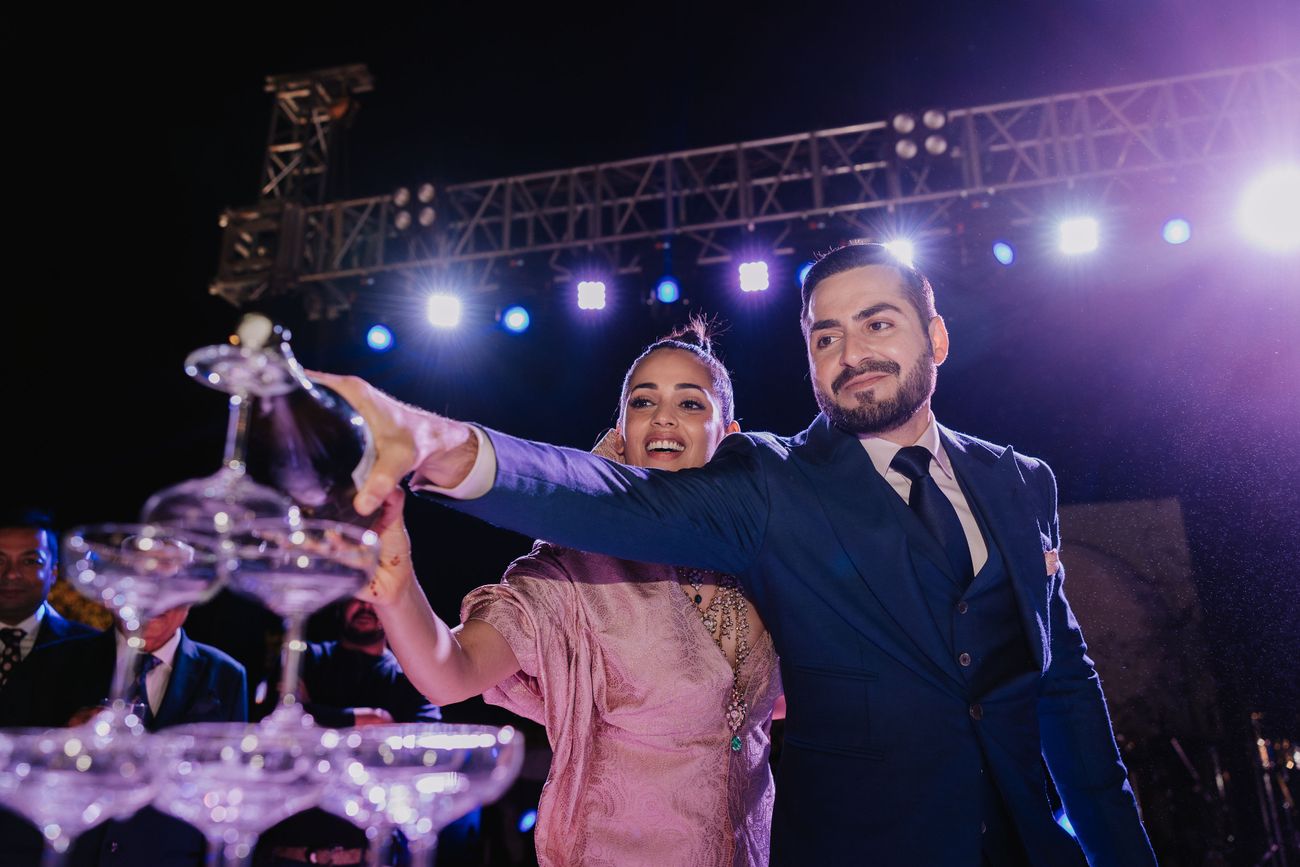 From The Bride:
Our wedding took place on February 28, 2023. Our vision was to create a very minimalistic, beautiful and soulful wedding. Every detail was personalized to make the functions memorable and special. We wanted the wedding to be very different from the regular "traditional wedding" theme that most couples prefer, reflecting just how we are as a couple and how our journey together has been. The whole property was decorated using neutral and minimal tones. The Wedding Square did the décor with fun and engaging elements that would add to the amusement of the guests and make for the absolute best memories. While the Mehendi lunch followed a very boho and easy going vibe, the cocktail was a formal black tie event. Dim lighting, a lot of glitter and a whole lot of glamor were subtly brought to life using mirrored elements like cushions and the sequenced dance floor. On the contrary, the décor for the nuptials was as dreamy as a fairy tale – a white wedding with a touch of green hues. The thought behind designing the décor for the main wedding function was also to add a contemporary touch to the traditions. In addition to that, the wedding mandap was transformed into a pattern which gave an illusion that the couple was sitting under the clouds while tying the knot. 
My personal style is very offbeat and distinctive so of course I didn't want to take the route of the common "traditional" bride. I wore bespoke outfits that were made using textiles especially handwoven and custom made for me by my brand - Ekaya Banaras in collaboration with my favourite designers from the industry who very graciously created one of a kind looks using my brand's textiles.
We both are big fans of personal touches and wanted to add a little bit of our story and how we met wherever we could. More so we wanted to involve every guest and engage them through the wedding in whatever way we could. So a lot of personalisation went through and through for all functions. 
Vendor Reviews
Venue: The Oberoi - Sukhvilas
We resonated with this venue the most out of all the other options we were considering because it had the exact look and feel that we wanted to go for. We wanted a very minimal aesthetic for our wedding. The whole property of Sukhvilas - being lush with greenery and surrounded by the views of the mighty Himalayas, along with its architecture topped in sand-coloured hues was the perfect venue to be designed and decorated with neutral shades and minimal tones. The property had a soul and it being secluded from the main city of Chandigarh, surrounded by over 8000 acres of natural forest, was the perfect place to have the warm and intimate wedding that we wanted to host. Chandigarh, being the heart of punjab, was an offbeat location for us, very different from the other cities that are commonly chosen for destination weddings and also very accessible to our guests from Mumbai and Varanasi.
Photography: The House On The Clouds
From the emotions to all the fun, happy and overwhelming moments, and the outfits! They left no stone unturned to capture everything so beautifully. 
Makeup Artist: Kritika Gill 
My hair and makeup was done by Kritika Gill and her team. I absolutely love how she put my vision into reality with how she made me look. I felt absolutely beautiful in my own skin which was the most important for me. I wanted to look natural and wanted to feel very comfortable and no one better than Kritika.
Wedding Planning: Krayonz Entertainment
They planned the most beautiful wedding for us and made it so special. All the functions were carried out so smoothly. They made sure everything was just perfect! No one better than them - every need was met without any delay. They're the biggest reason for our perfect wedding.
Decor: The Wedding Square
From the minutest of details to the big ones, they visualized and created the design and decor so magically. From the flowers, to the personalized touches, everything was super fun and versatile at the same time. We wanted each event of the wedding to resonate with who we are as a couple and they incorporated all the briefs that we shared with them with such grace and class.
Bridal Outfits
Mehendi: Kunal Rawal x Ekaya Banaras
I chose to wear a classic Bandhgala and Dhoti for an androgynous look for my Mehendi. Avnish was wearing a Bandhgala from Kunal Rawal too and I loved the fact that we seemed like we were twinning!
Cocktail: Nardos, Texas
The Cocktail was a black tie event so I chose to wear a classic black dress but with a slit to add some oomph to the versatility of my style. 
Haldi: Ekaya Banaras 
For Haldi, I chose to wear a simple yet classic Yellow Organza Sari from my brand Ekaya which was handwoven in Banaras.
Wedding: Shantanu & Nikhil x Ekaya Banaras 
I wore a beautiful Ivory lehenga. I always wanted to wear the color Ivory for my wedding day, the reason being it signifies sanctity, purity and newness. I always wanted to be a very simple, yet elegant bride.
Reception: Gaurav Gupta x Ekaya Banaras
I wanted a very unique look for my reception, something that embodied my personality and signified my love for Indian textiles simultaneously. Gaurav and I experimented with the unconventional yet breathtakingly versatile jacket dress with boots made from the same fabric, which was from my brand - Ekaya Banaras.
Bridal Jewellery
For the Jewels, I chose to wear an heirloom passed onto me by my grandmother -  the pristine "Satlada" pink Meenakari necklace, the craft for which is only found in Banaras.
Vendors: Venue: The Oberoi - Sukhvilas; Photography: House On The Clouds★ 5 ; Makeup Artist: Kritika Gill; Wedding Planning: Krayonz Entertainment★ 5 ; Decor: The Wedding Square; Bridal Outfits: Kunal Rawal x Ekaya Banaras (Mehendi), Nardos, Texas (Cocktail), Ekaya Banaras★ 4.6 (Haldi), Shantanu & Nikhil x Ekaya Banaras (Wedding), Gaurav Gupta x Ekaya Banaras (Reception); Groomwear: Kunal Rawal (Mehendi), Osman Abdul Razak (Cocktail & Reception), Shantanu & Nikhil (Wedding)