A Pakistani wedding with a gorgeous bride : Safa & SM
BY The WMG Bride | 05 Mar, 2014 | 34405 views | 5 min read
Pakistani things we cannot get enough of : Atif Aslam, Ali Zafar and Pakistani Weddings!!! Pakistani things we have had enough of - Shahid Afridi. Yes lets not go there after the recent Indo-Pak cricket match ! But for now, let us give a warm welcome to a Pakistani bride who shared her experiences of her Big Fat Pakistani Wedding on
Wed Me Good
 ! We are mildly obsessed with this wedding - right from the attention to detail (hello- her pen matched her outfit!) to the uber cute 'Mehendi in a barn'  and the type-writer station at their reception aka 'Valima' !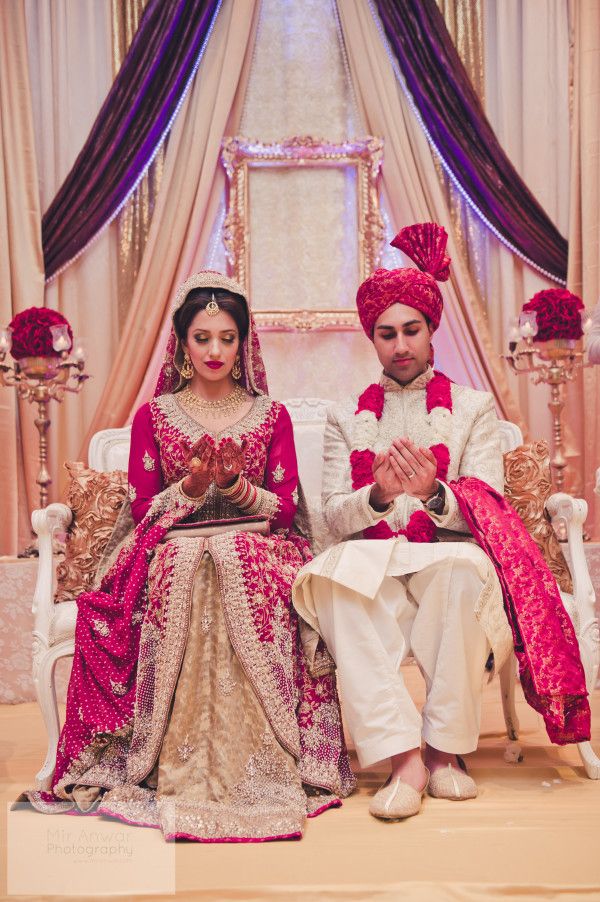 Meet Safa & SM 
They had a E-love story!
Safa : "A friend who was in my Master's program in Toronto "e-introduced" me to SM, who she met through a friend of hers who had met his best friend on vacation in Cancun! Long story short: she convinced me to add this boy on Facebook  after she sent him a message about me, a random, witty message, and he replied, and I found out that he was in law school in London, England. The fact that he was across the Atlantic didn't phase me and I so I wrote back, and we continued to message back and forth. Gradually Facebook messages turned into 6000 word long essays, daily Skype video calls along, and whats app texts until we met in real life six months later. When we finally met in person, it felt as though we just hadn't seen each other in a while, and have been together ever since !"
So we are new to Pakistani Weddings at Wed Me Good. What are the functions you guys have?
Safa : " While Pakistani weddings share many of the Indian traditions (makes sense – we used to be one country, after all!) there are some variations. Our three main function days are the mehndi, shaadi (also called the baarat), and the valima (reception).
Your Mehendi seemed like one big party ! Tell us more!!
Safa: " We had a mehendi function in a barn ! Pakistani mehndi functions have evolved into a joint celebration that is nothing short of elaborate production! First, the groom and his posse make their entrance to an upbeat song (Punjabi is always good) and he takes a seat on the jhoola (swing) on the stage – a popular décor item in mehndi celebrations. Next, the bride, who is usually wearing yellow, will be brought in by her entourage to join her groom-to-be.  What comes next is undoubtedly the most fun part of a Pakistani mehndi: a dance-off between the boys' side and the girls' side. And let me tell you: Pakistanis take this seriously! Dance practices leading up to the mehndi go on for months before the big day, with each side preparing choreographed Bollywood numbers to perform for the bride and groom in a friendly competition.
The Mehendi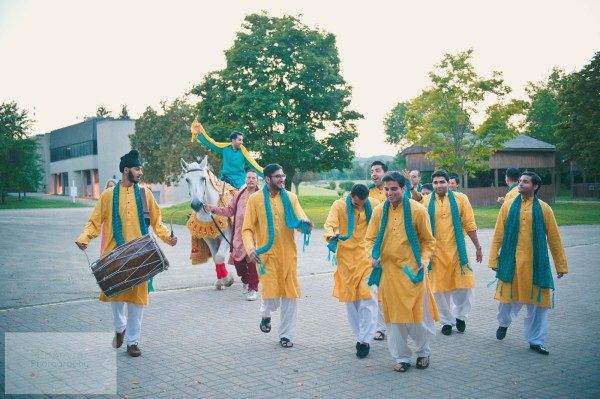 The grooms friends enter the Mehendi function with their posse- dancing to music !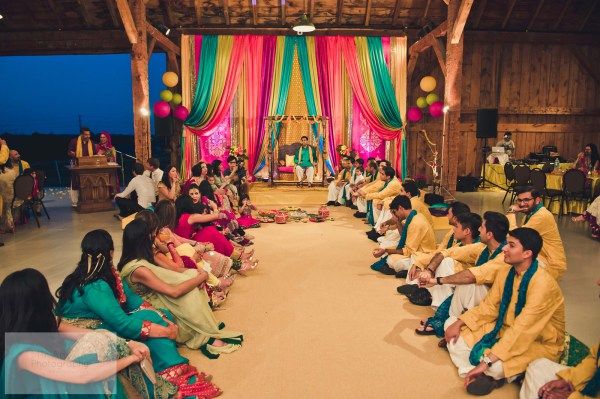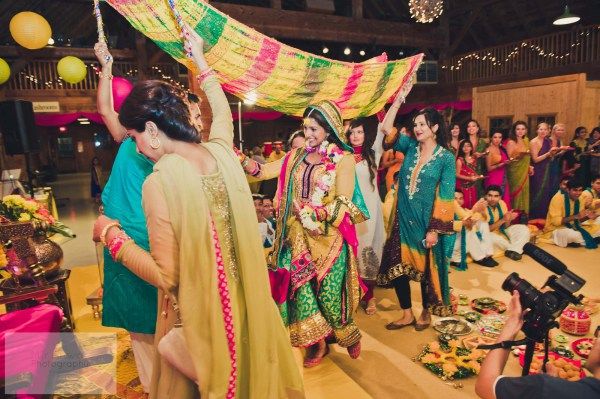 The bride is brought out by her girls !
J'adore the decor ! Upside down umbrella for the mehendi- totally steal worthy idea!
How much planning did you put into your outfits? Tell us about them !
I knew for my mehndi, I wanted to look very traditional; wearing yellow and having my hair in a side braid with flower jewelry. The traditional Pakistani mehndi colours are yellow and green, but I wanted my colours to be yellow and hot pink. For my shaadi outfit, and wedding theme, in general, I knew I wanted to keep it very classic: red, gold, and pearls. When I went to Pakistan to go shopping, I was very open-minded and my approach was that I just wanted to see something and fall in love with it. Well, I ended up ordering the first outfit I tried on (but not after doing a one-week round in the bazaars, just to make sure there wasn't something I liked better!). I didn't – I got my bridal from the designer
Karma
, and it was truly perfect. The lengha was a gold jamawar, and the shirt was a true red with gold threading work, and pearls and very small diamonds. I actually knew what I was going to look like on the valima because the outfit I got for my valima was originally the outfit I was thinking to wear on my shaadi, until I showed the picture to my mother in law and she said: "that's the type of outfit that I wanted to get you for the walima!" (In Pakistani tradition, the groom's family gives the girl her walima outfit as a gift, and the bride's family gives the groom his walima suit). So, that's exactly what she did. My walima dress was made by designer
Kamiar Rokni
(who was actually the former co-founder of the label Karma, from where I got my shaadi dress!).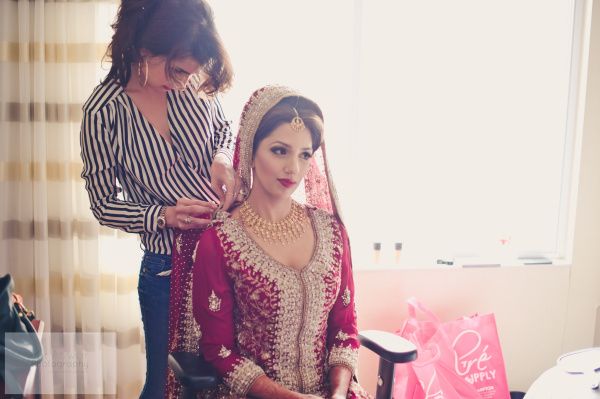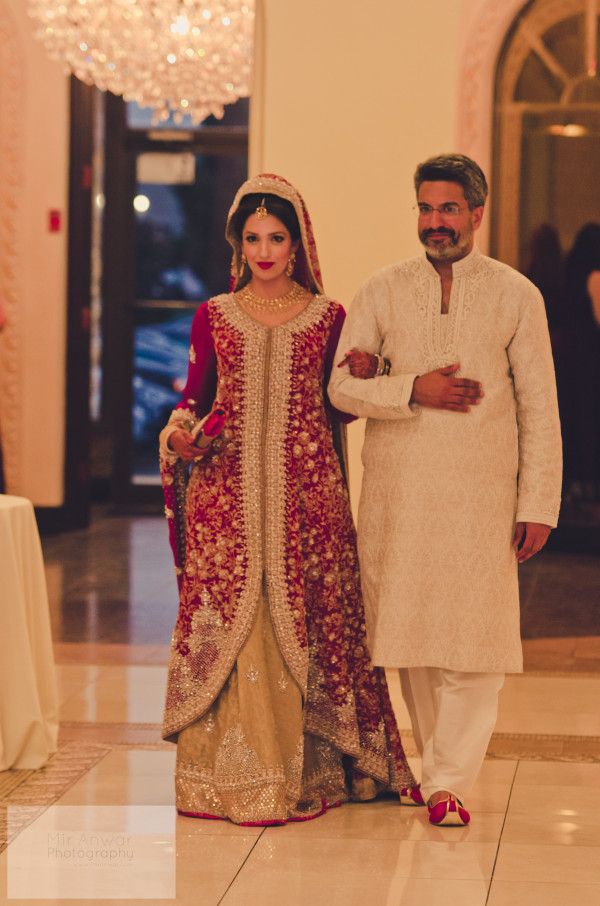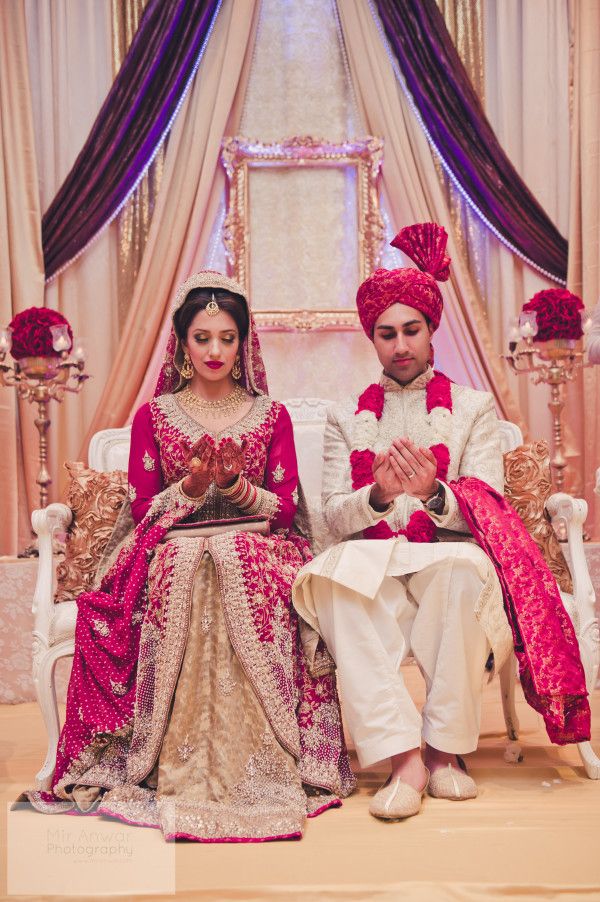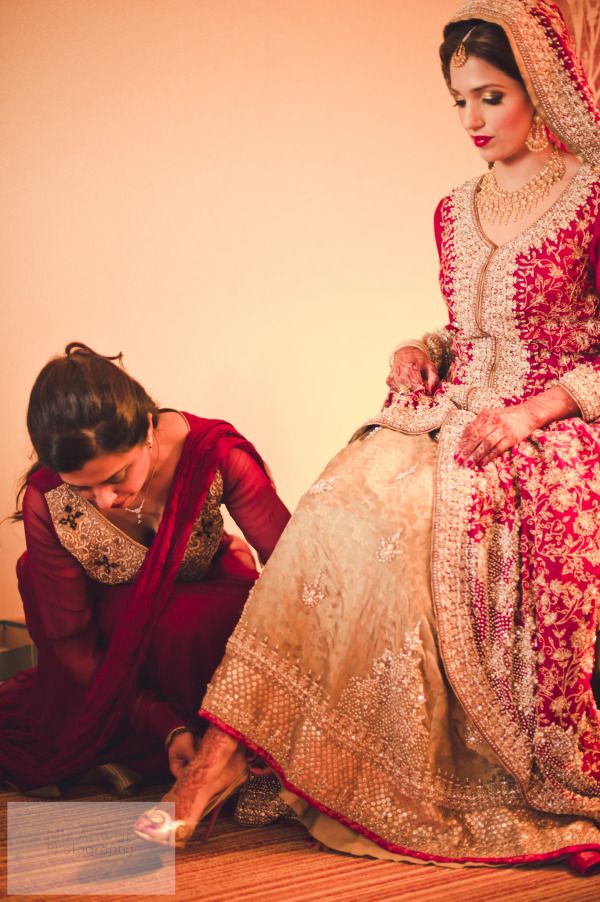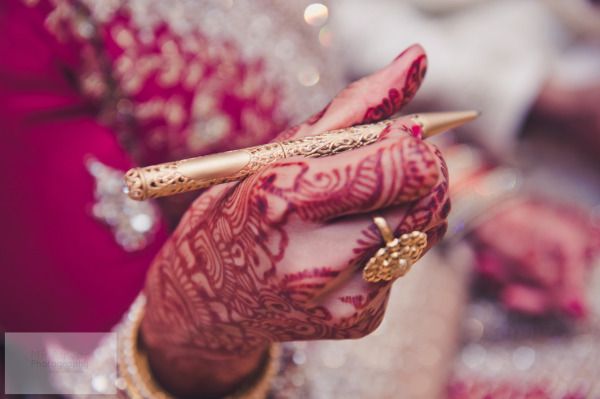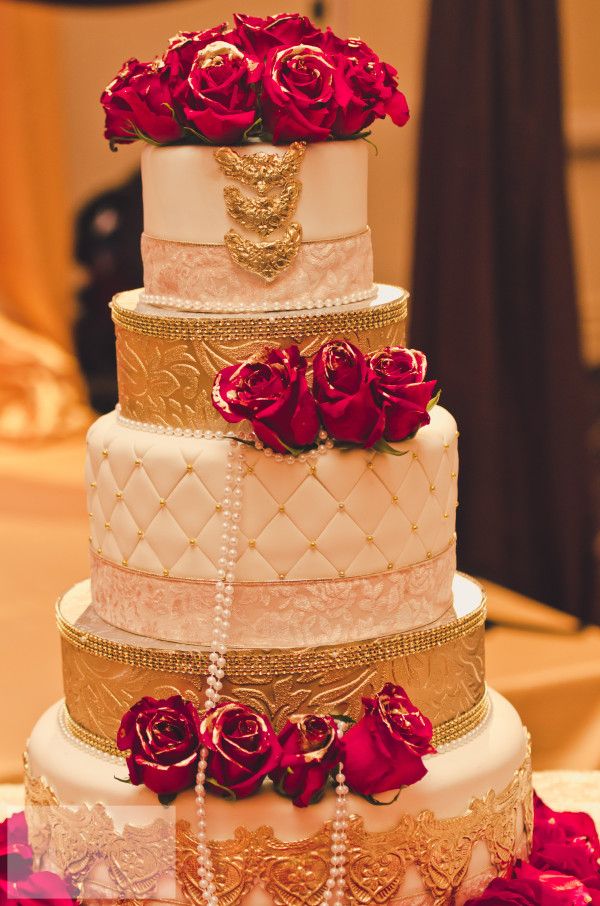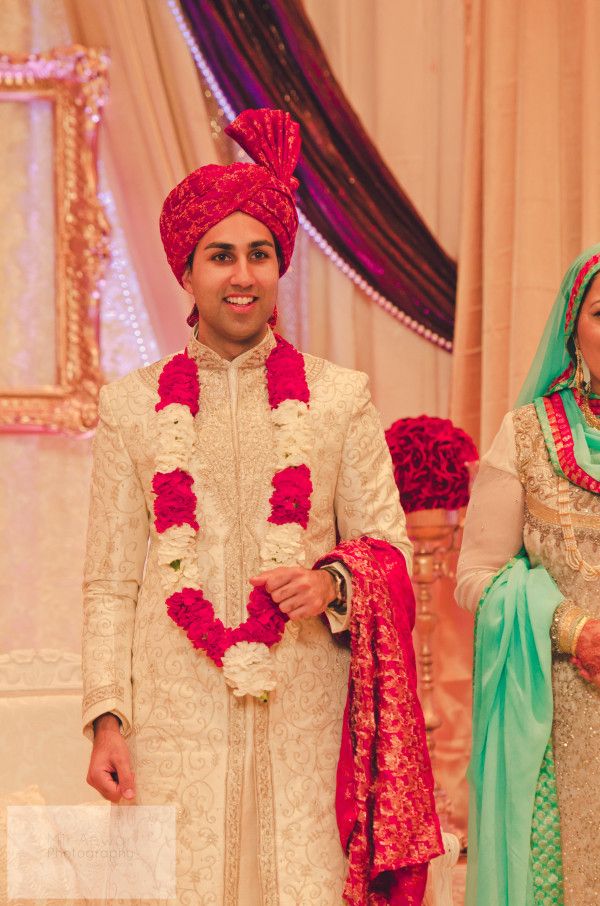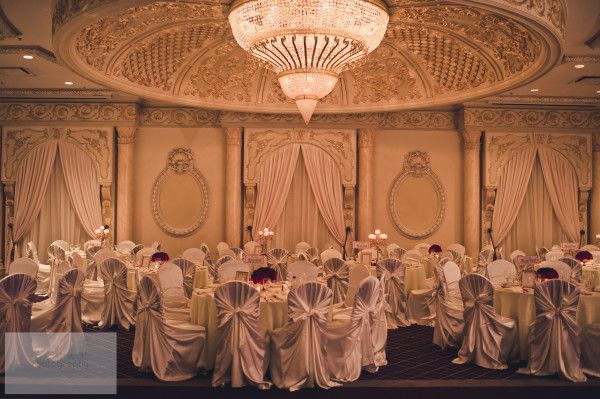 The Valima
Photographs by Mir Anwar photography, Decor by Lemon Truffle Designs,
Safa is a Pakistani Wedding Blogger at My Big Fat Pakistani Wedding ! If we could steal her gorgeous, deep red wedding outfit we totally would ! But even apart from that, so many cool ideas from this wedding to incorporate in yours ! Would you like to see more weddings from similar yet still different cultures from across the globe? Comment below and let us know !