A Pink Wedding In The Pink City With The Bride In A Customised Bridal Lehenga
BY Aakanksha | 09 Sep, 2019 | 7747 views | 5 min read
In the pink city of Jaipur took place a wedding in pink hues and pastel gorgeousness! Drishti and Deepak got married and the celebrations were as picturesque as ever. They had a poolside mehendi with Drishti in a beautiful multi-coloured lehenga, followed by an equally pretty sangeet and a grand wedding. Drishti wore a customised bridal lehenga from Sulakshana Monga★ 4.8 where she had the entire baraat procession as well as 'Drishti weds Deepak' embroidered. DotDusk Studios shot this stunning wedding an an exquisite manner and we bet you'll love them as much as we did! 
Meet Drishti & Deepak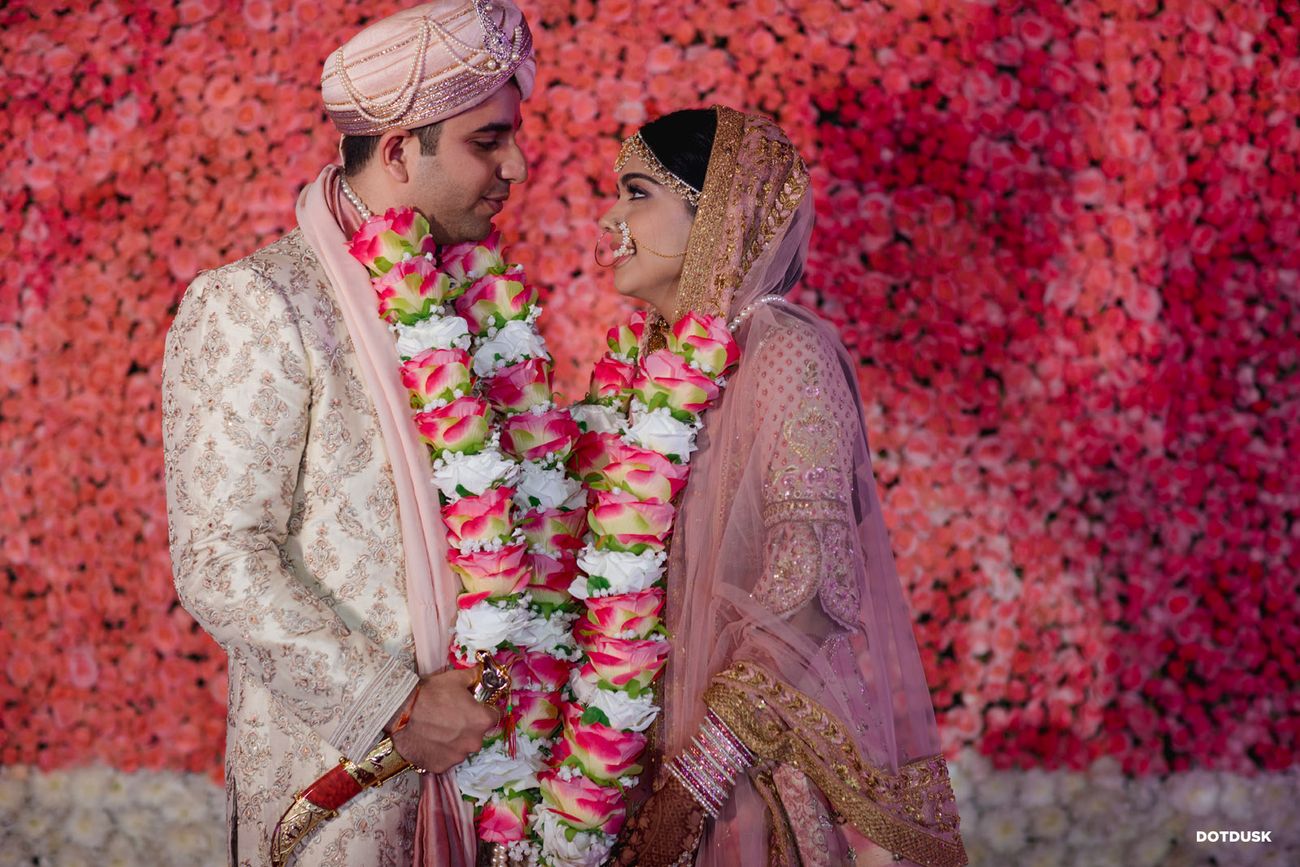 Drishti eloquently puts how when it's meant to be, no distance is too long, no obstacle too difficult to overcome. She writes about their love, "Deepak and I met through mutual friends. We connected instantly! But due to long distance, we were unsure whether we could make it work. But the more we spoke to each other, the more we realised that we didn't want to be without each other. So we decided to get married."
The Mehendi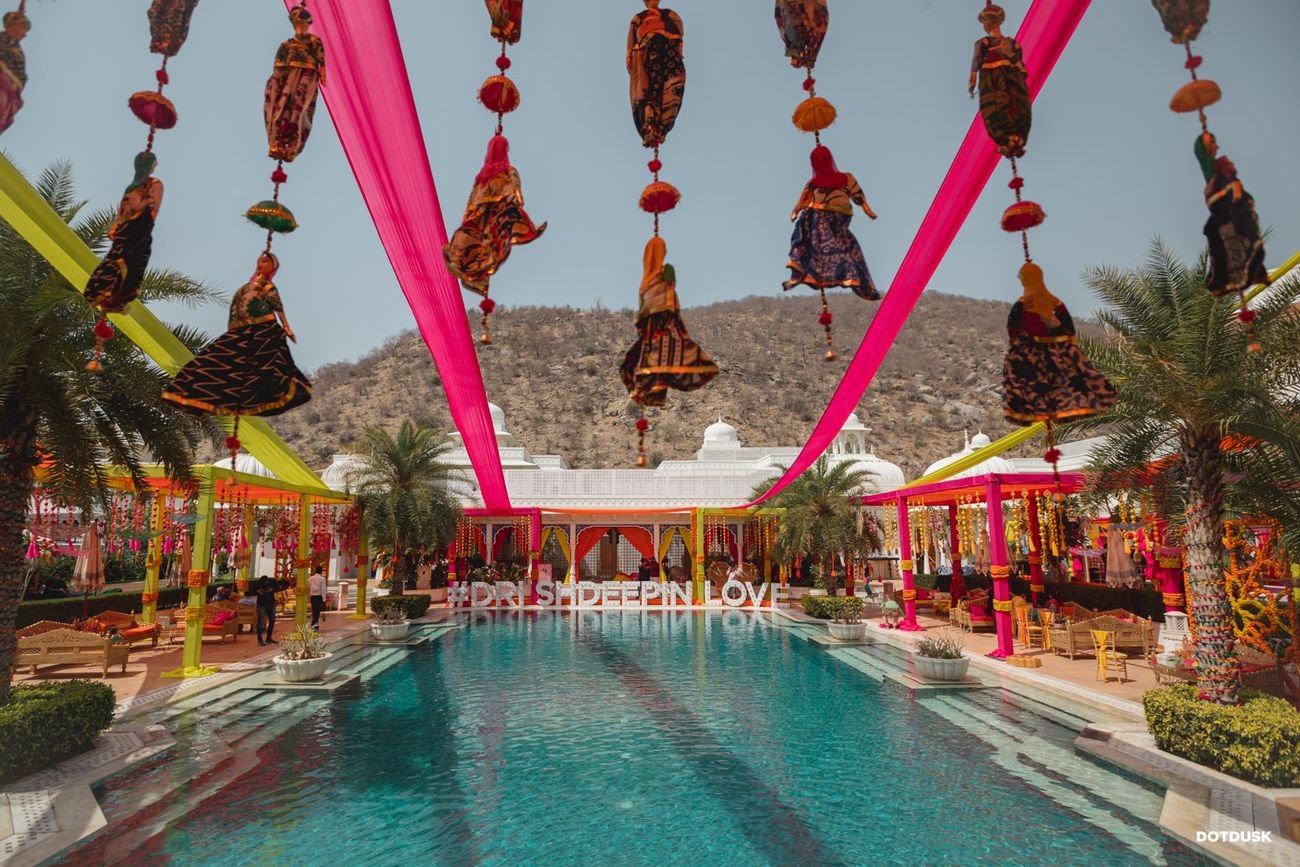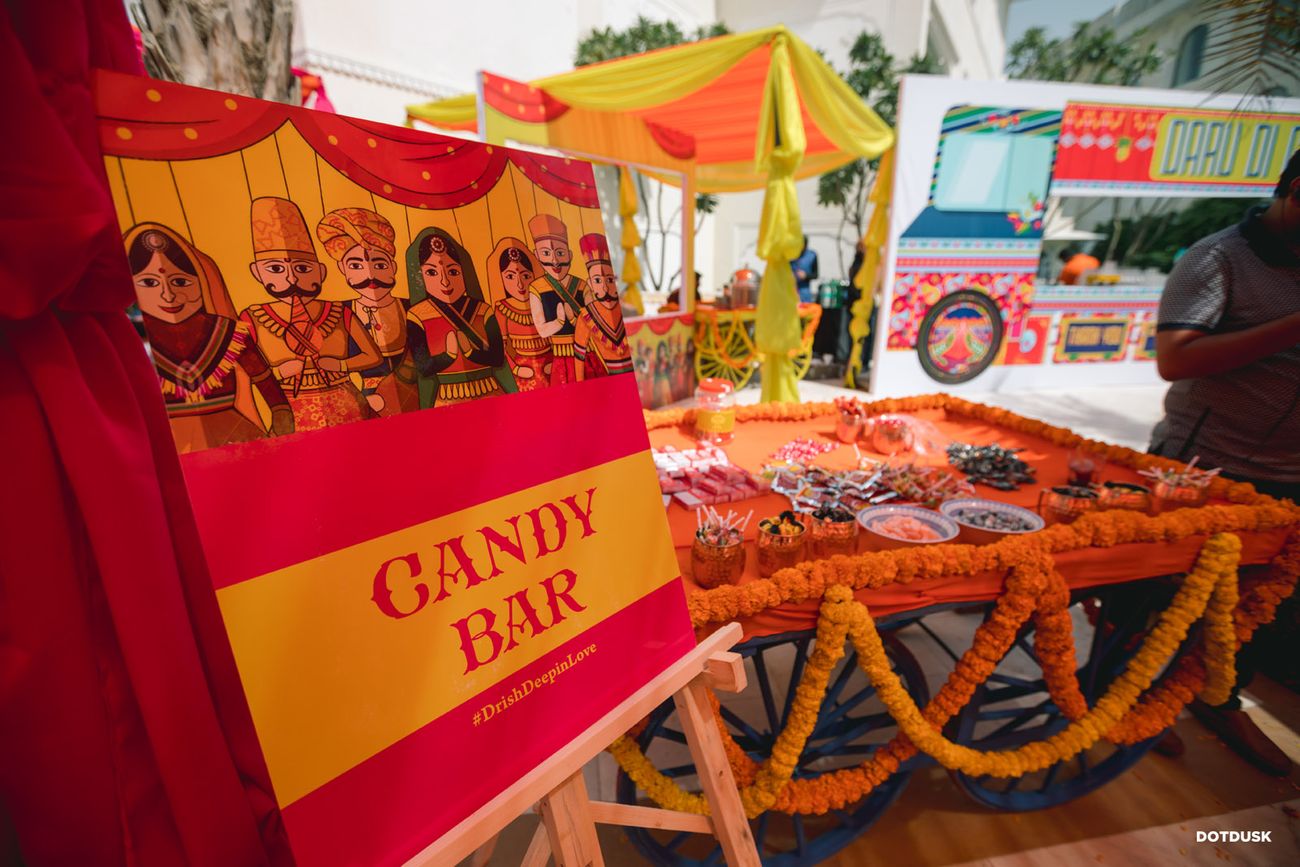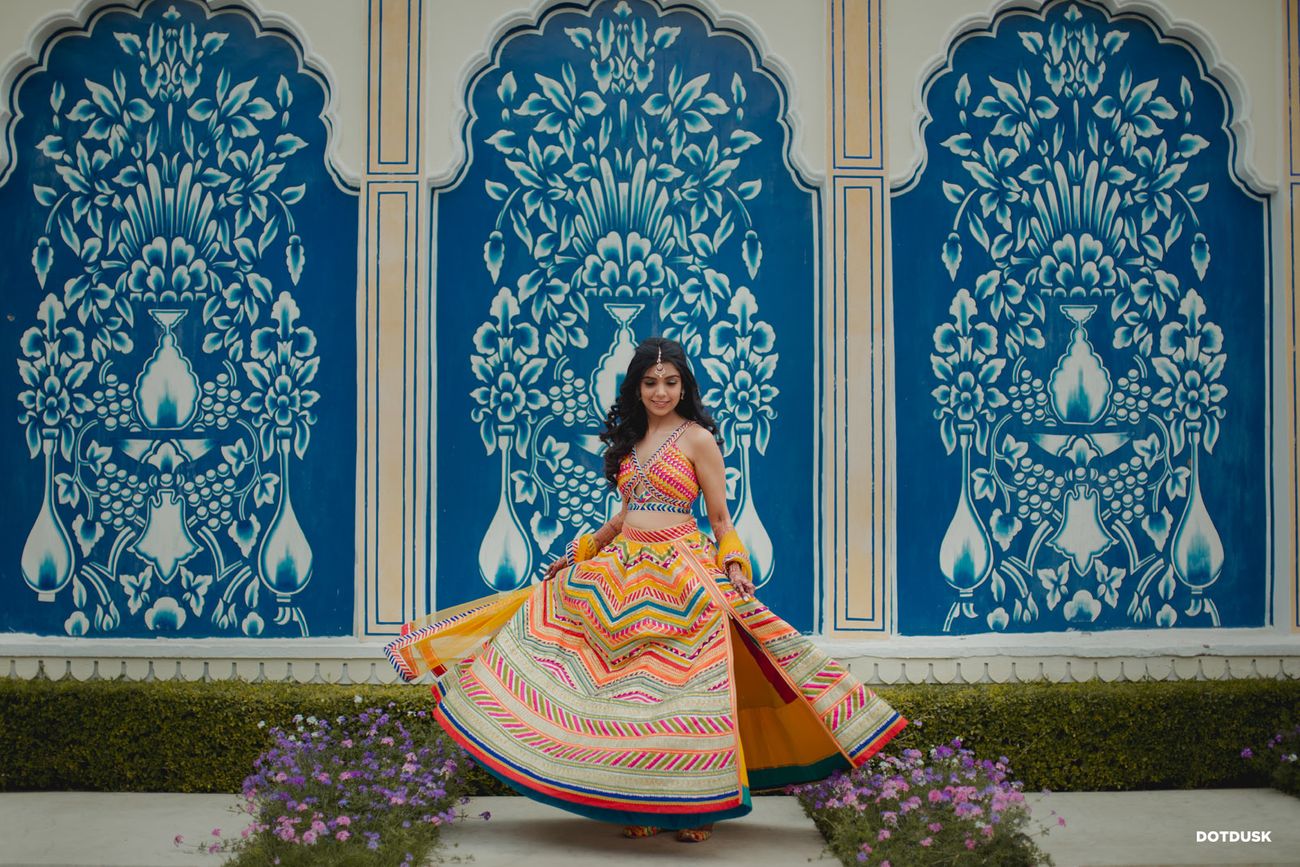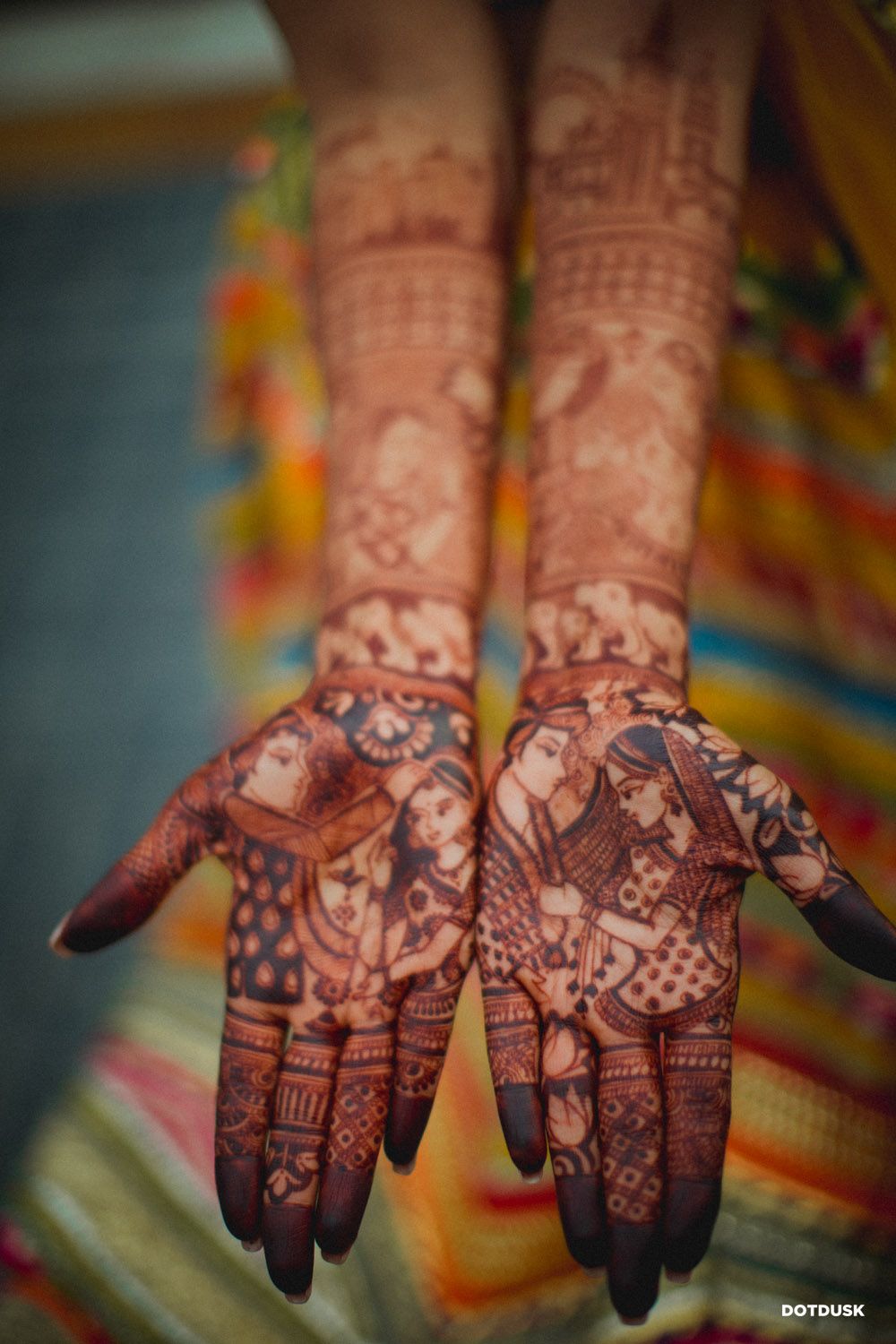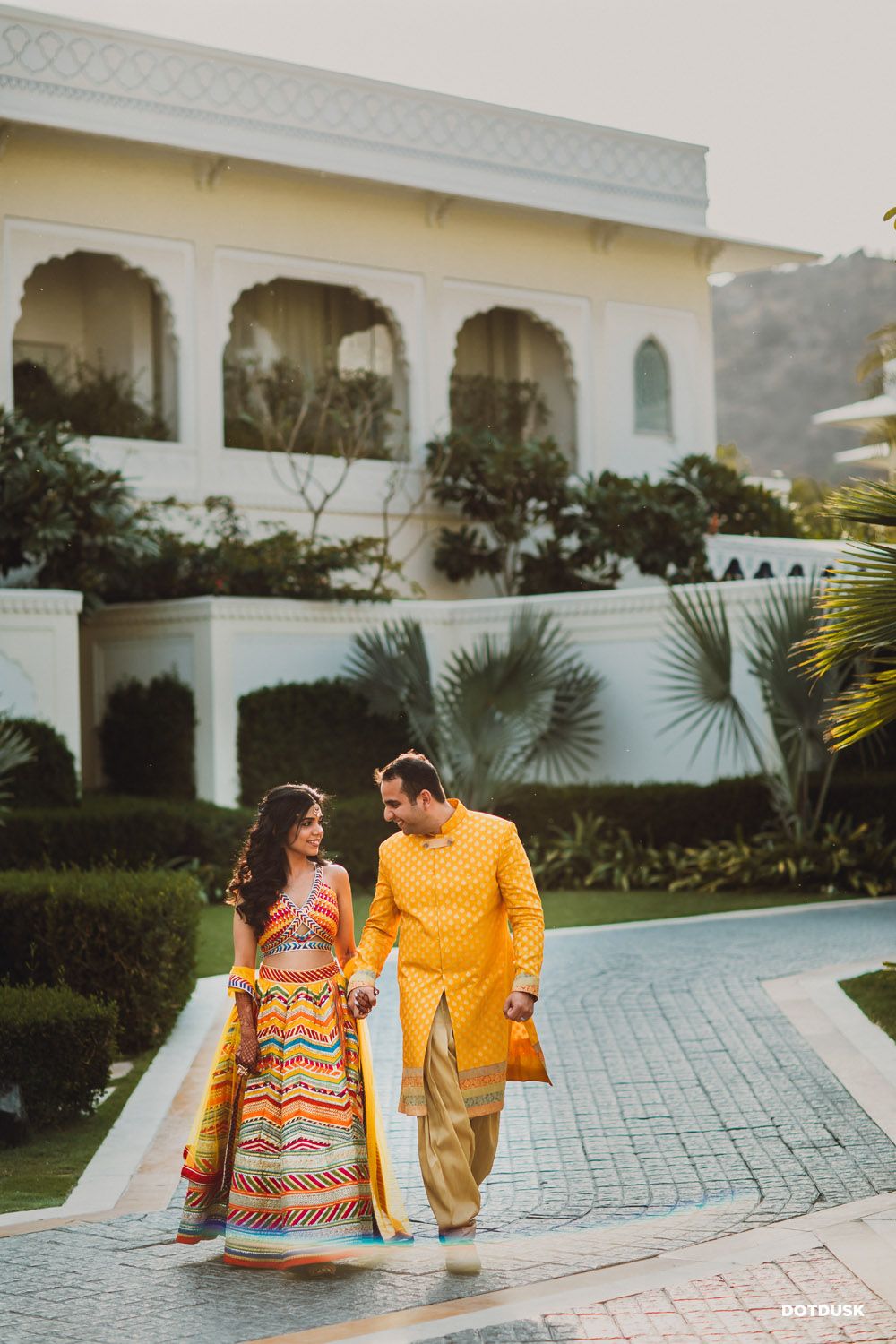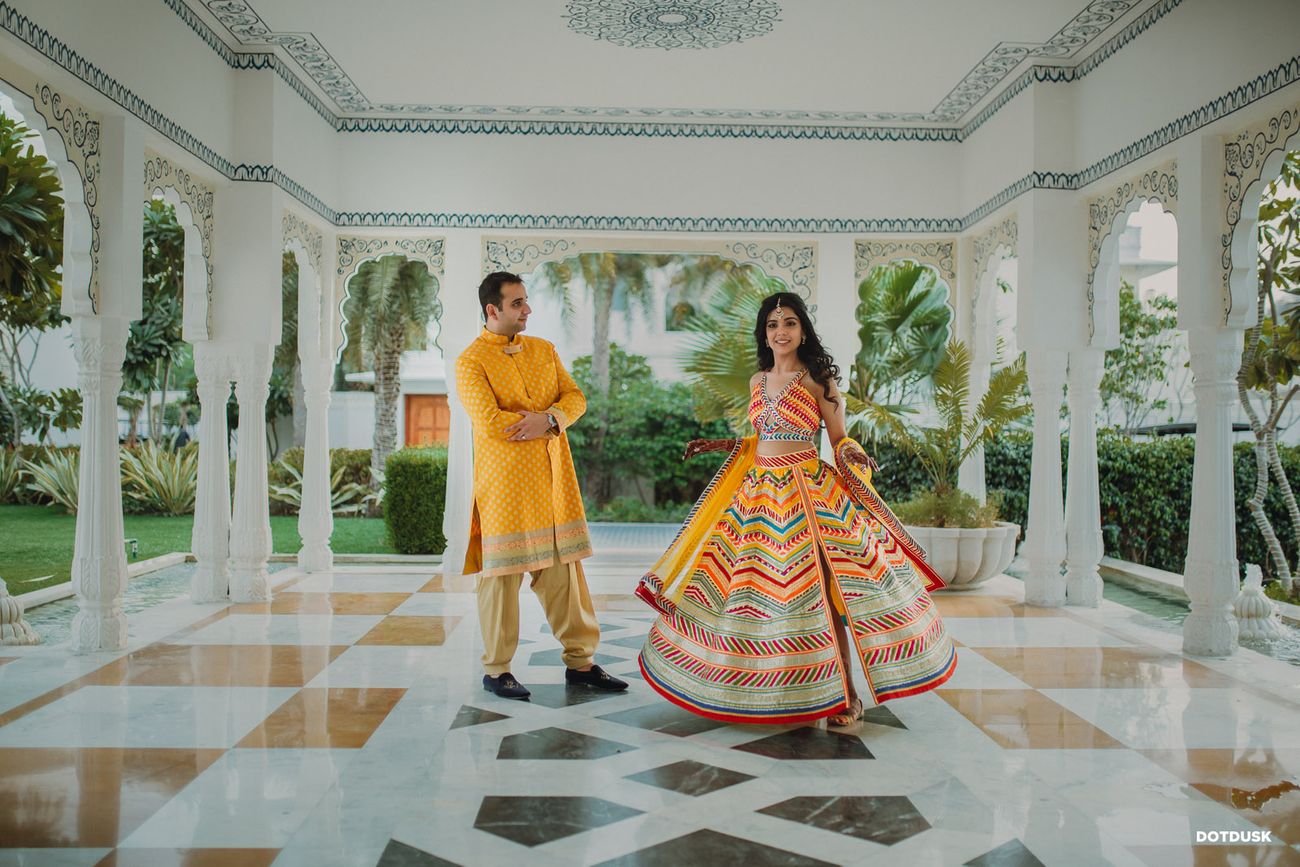 The Wedding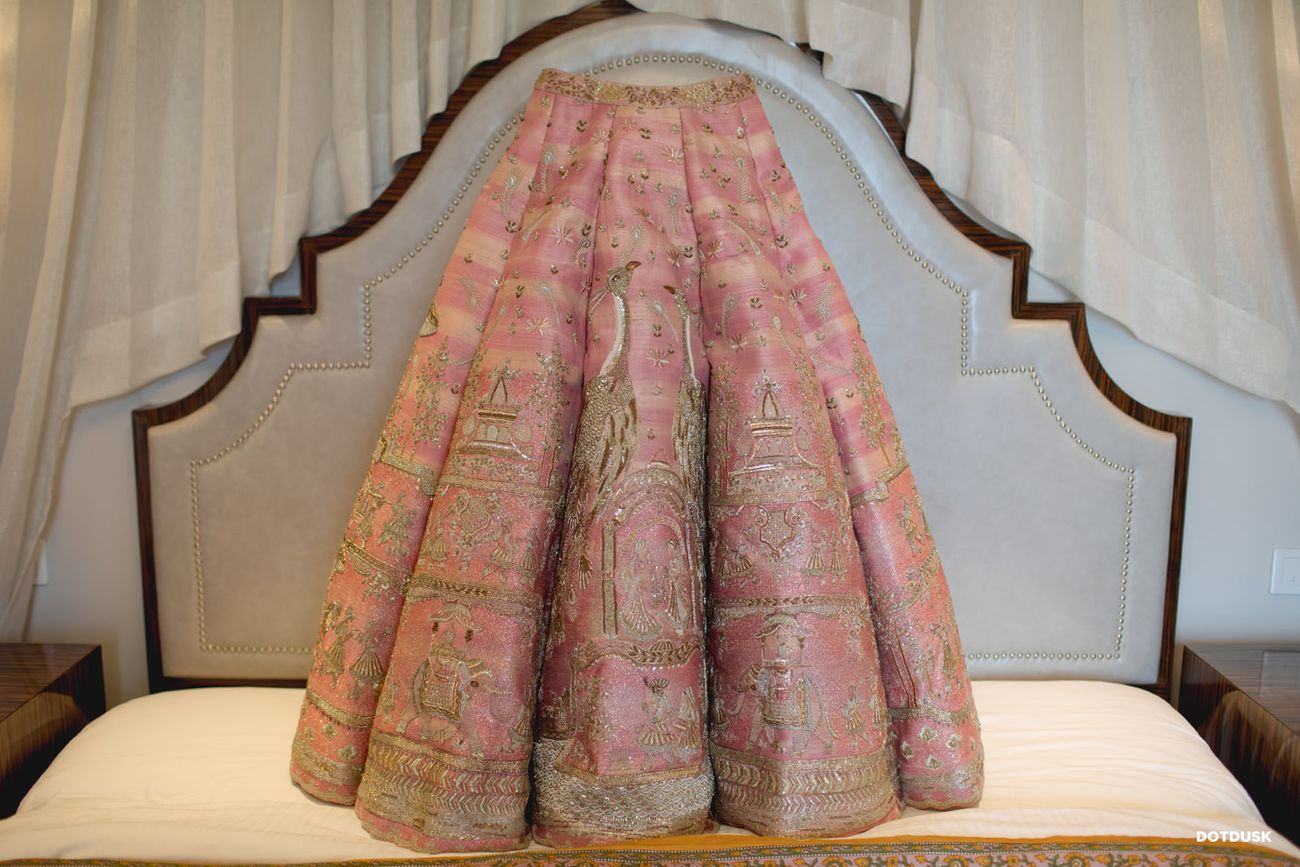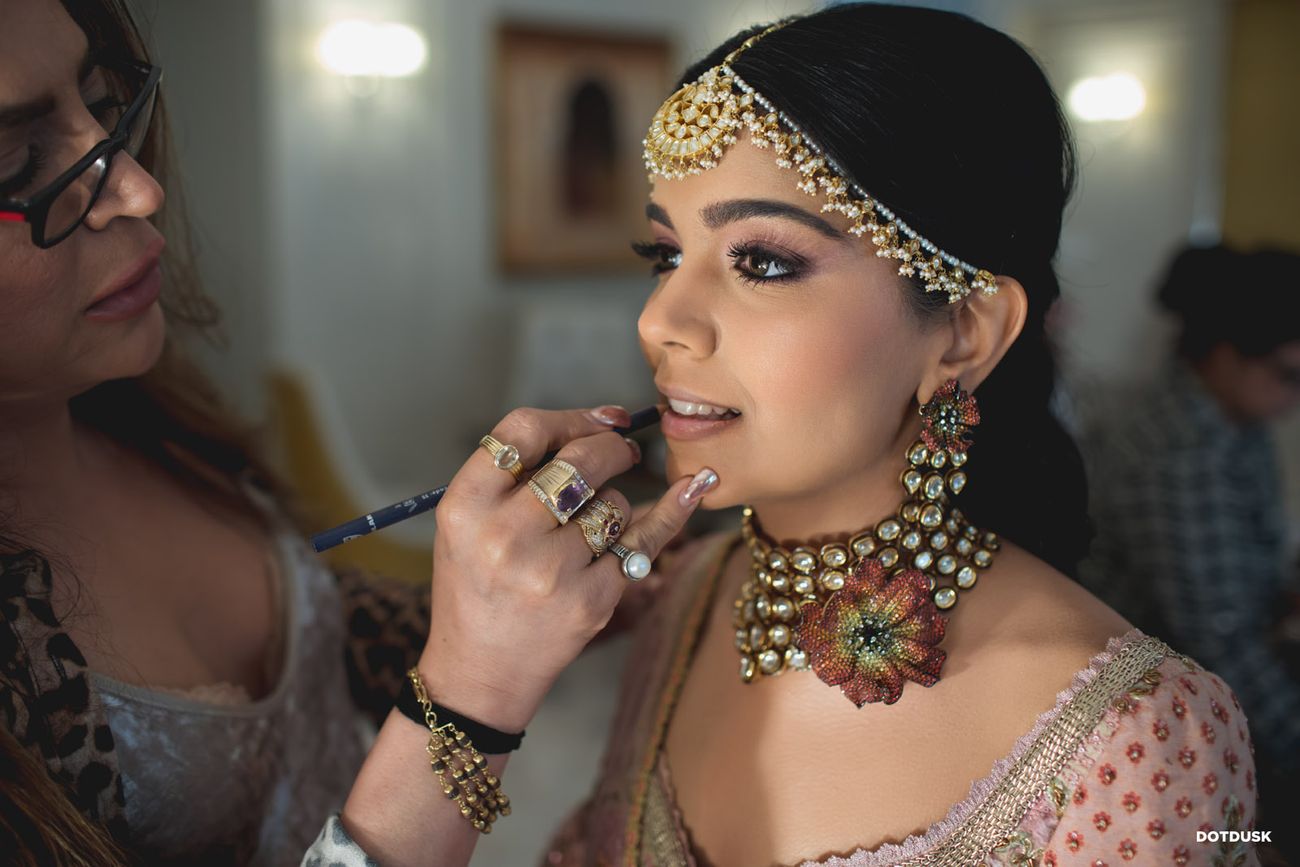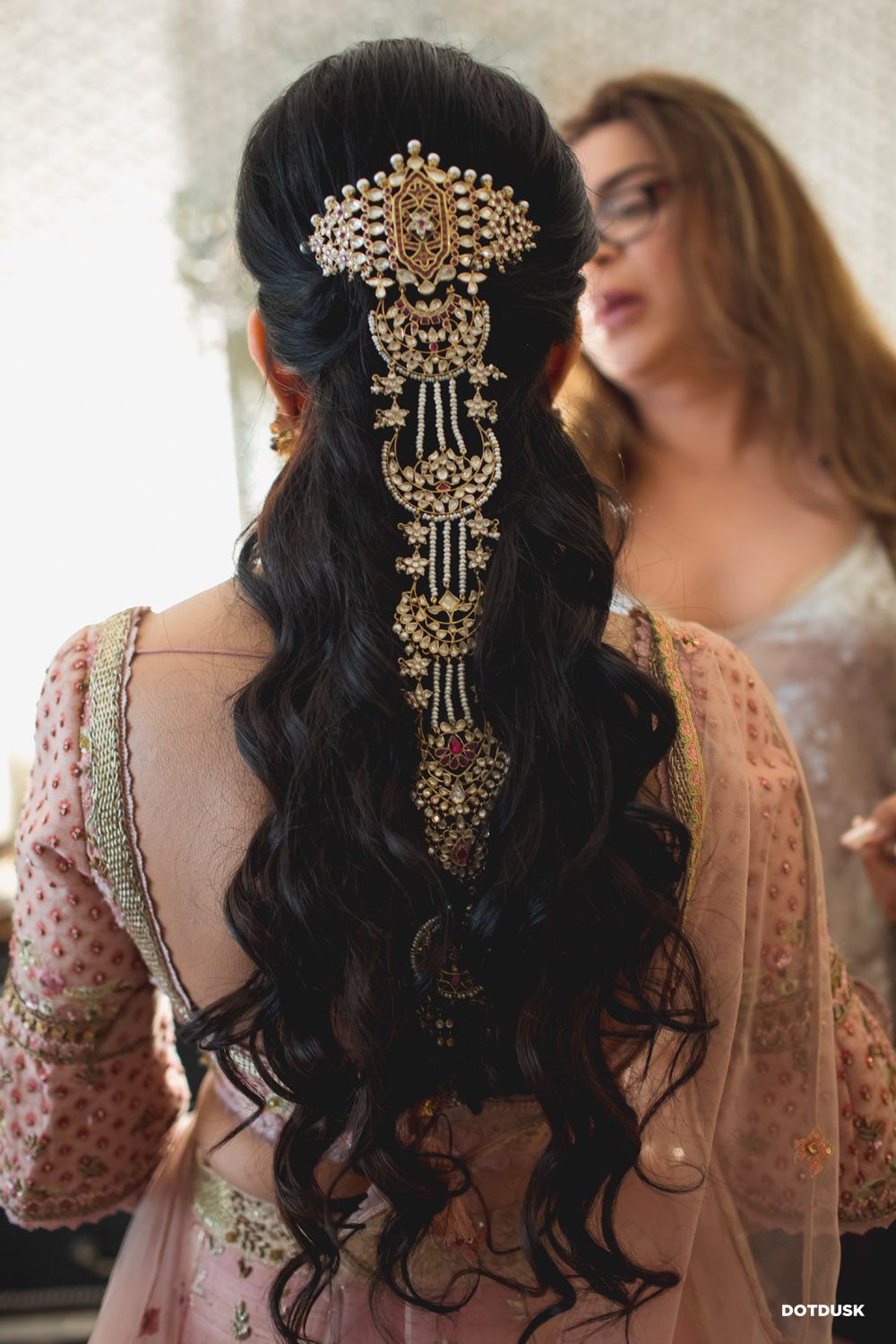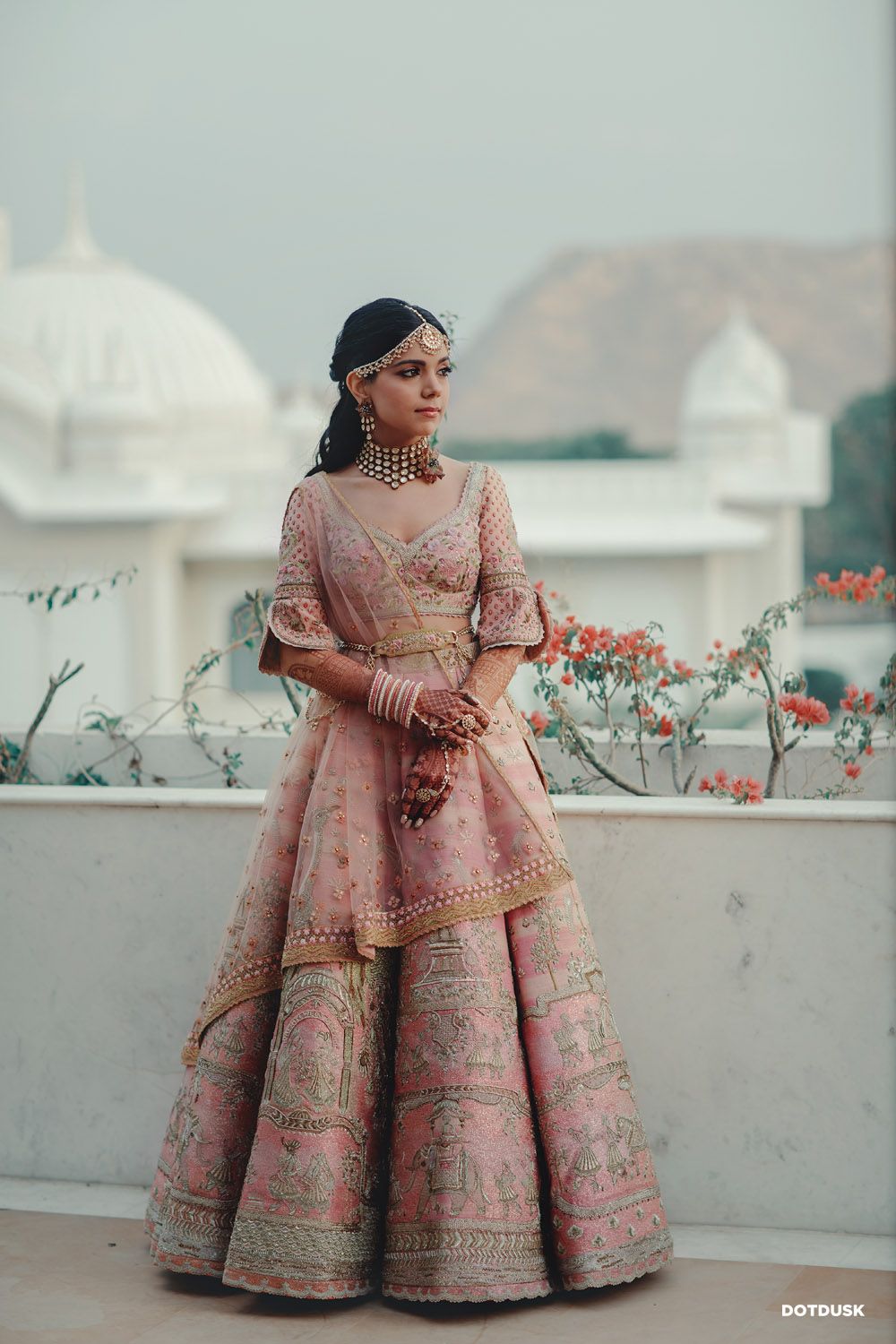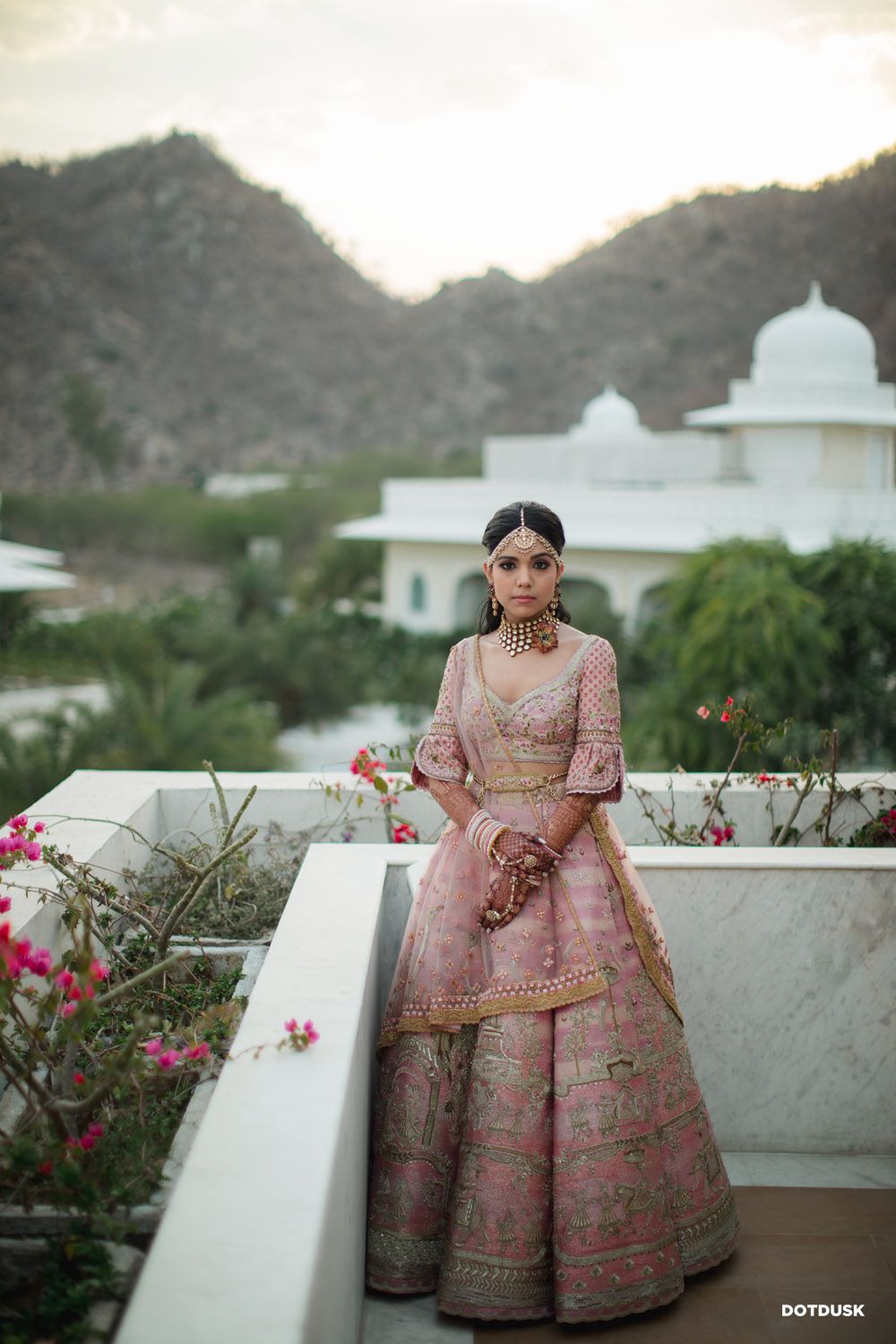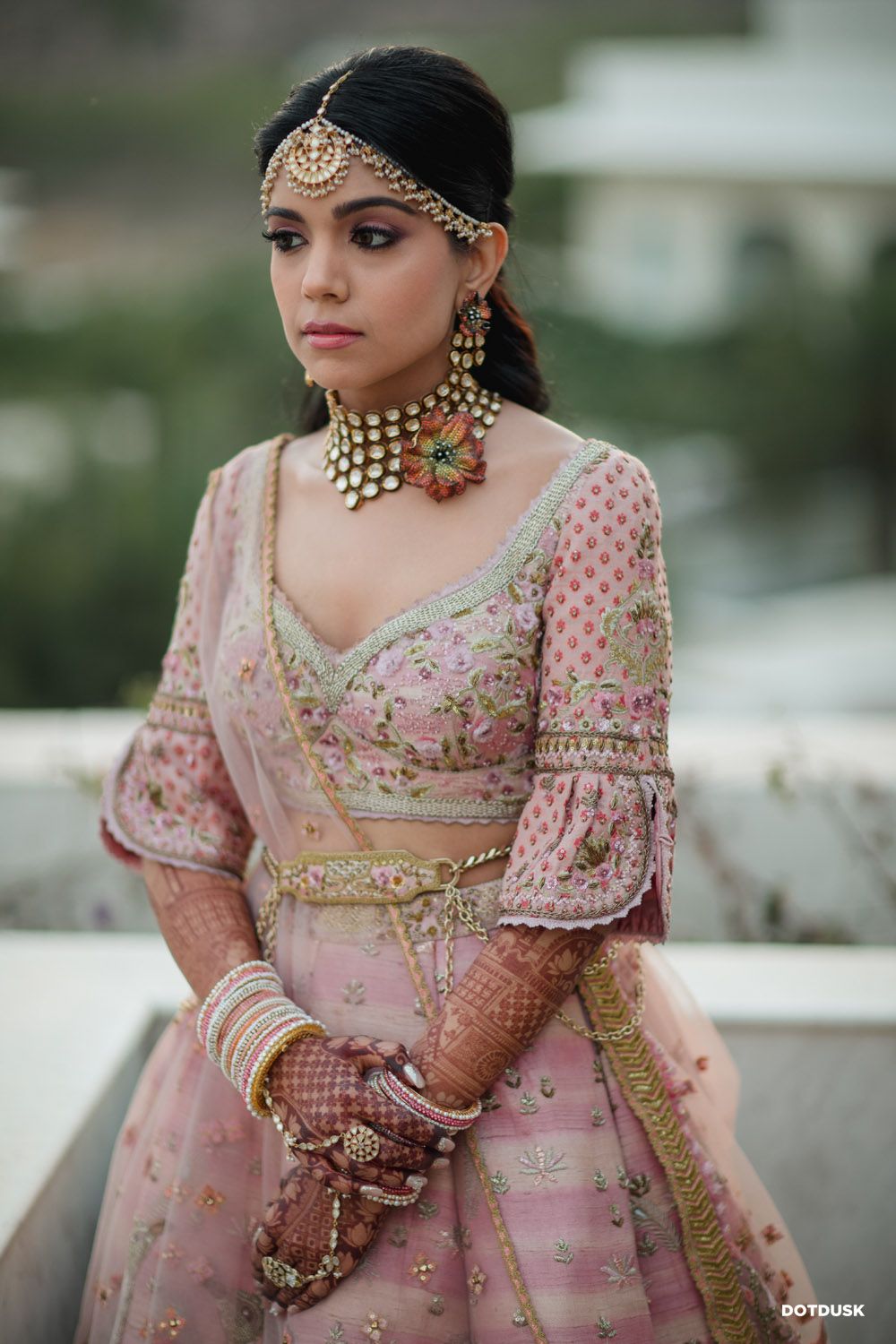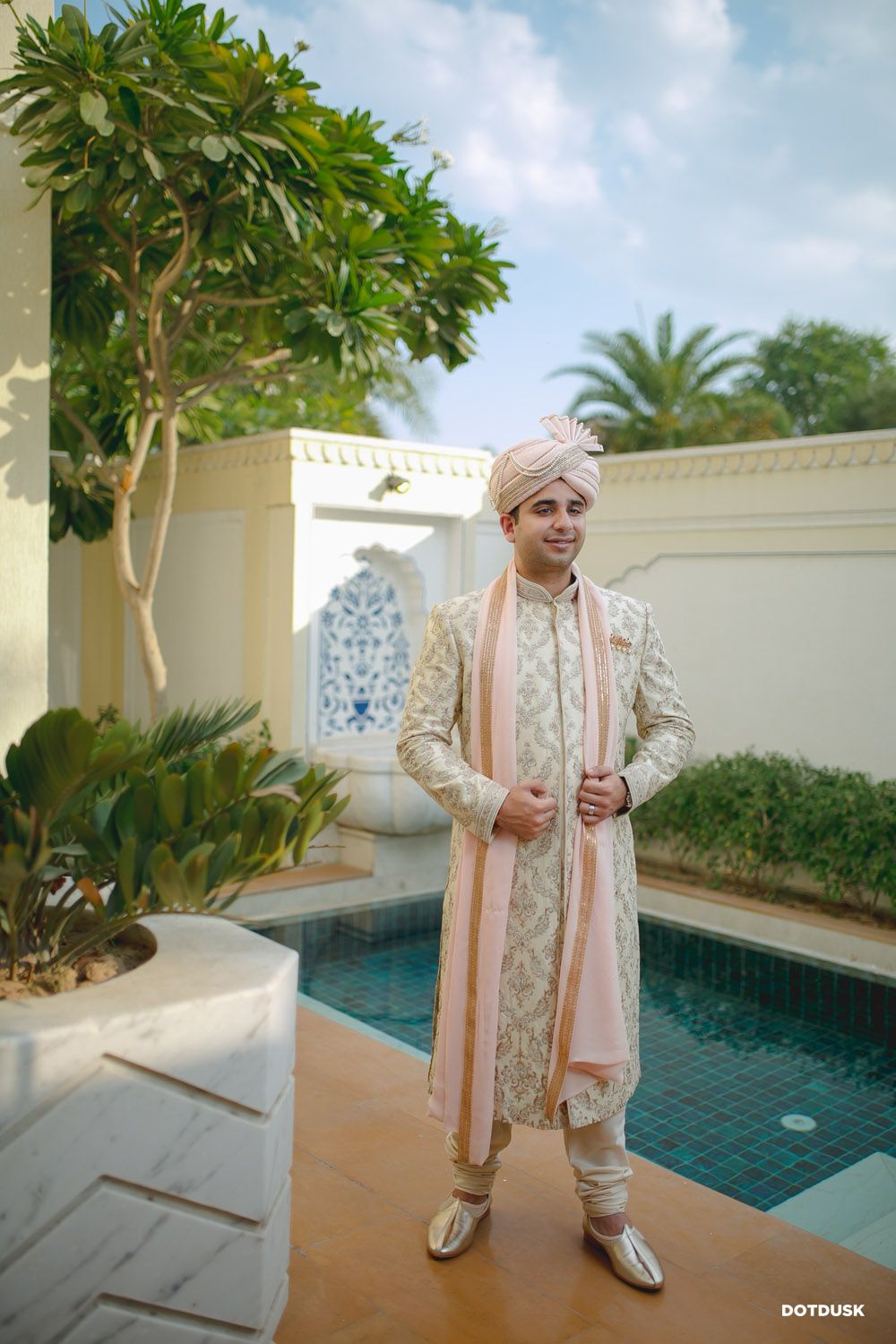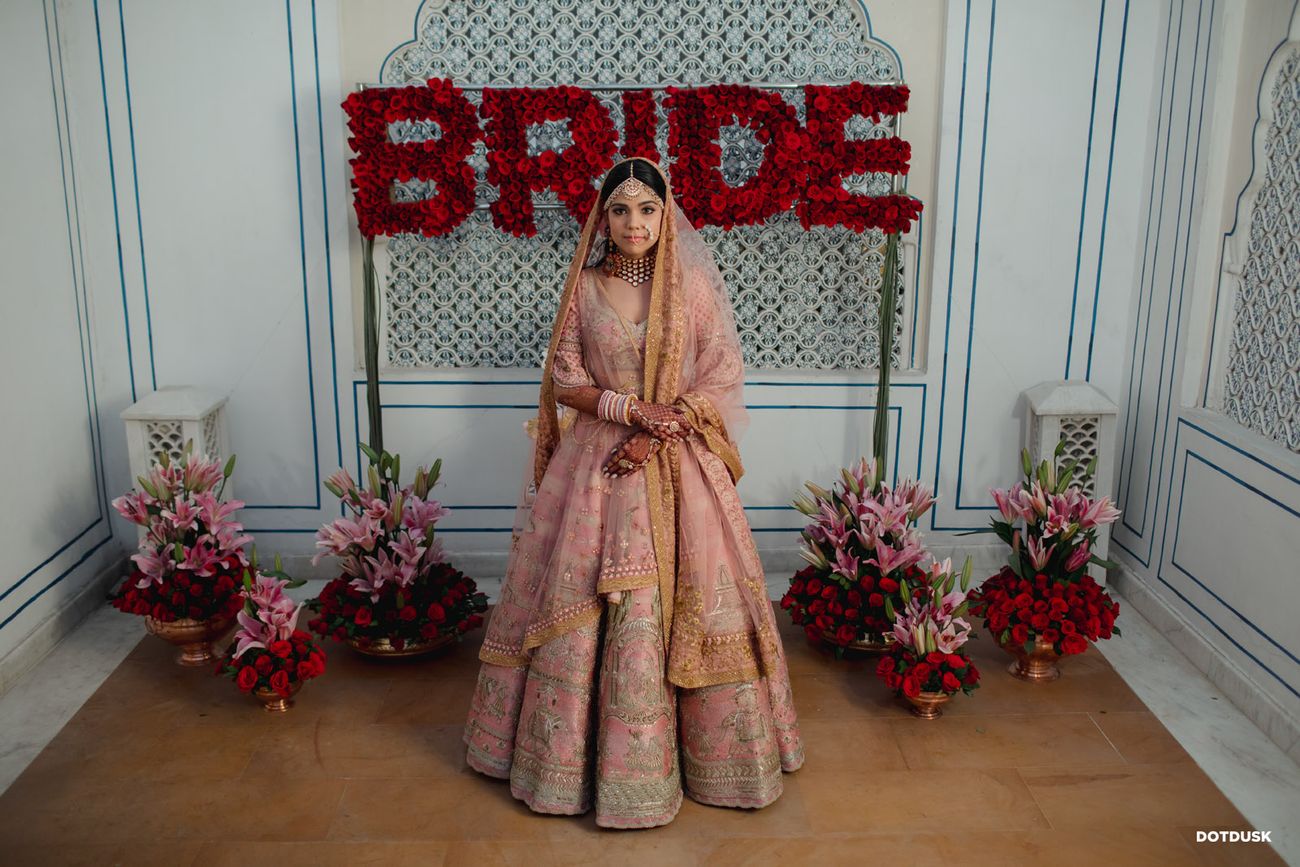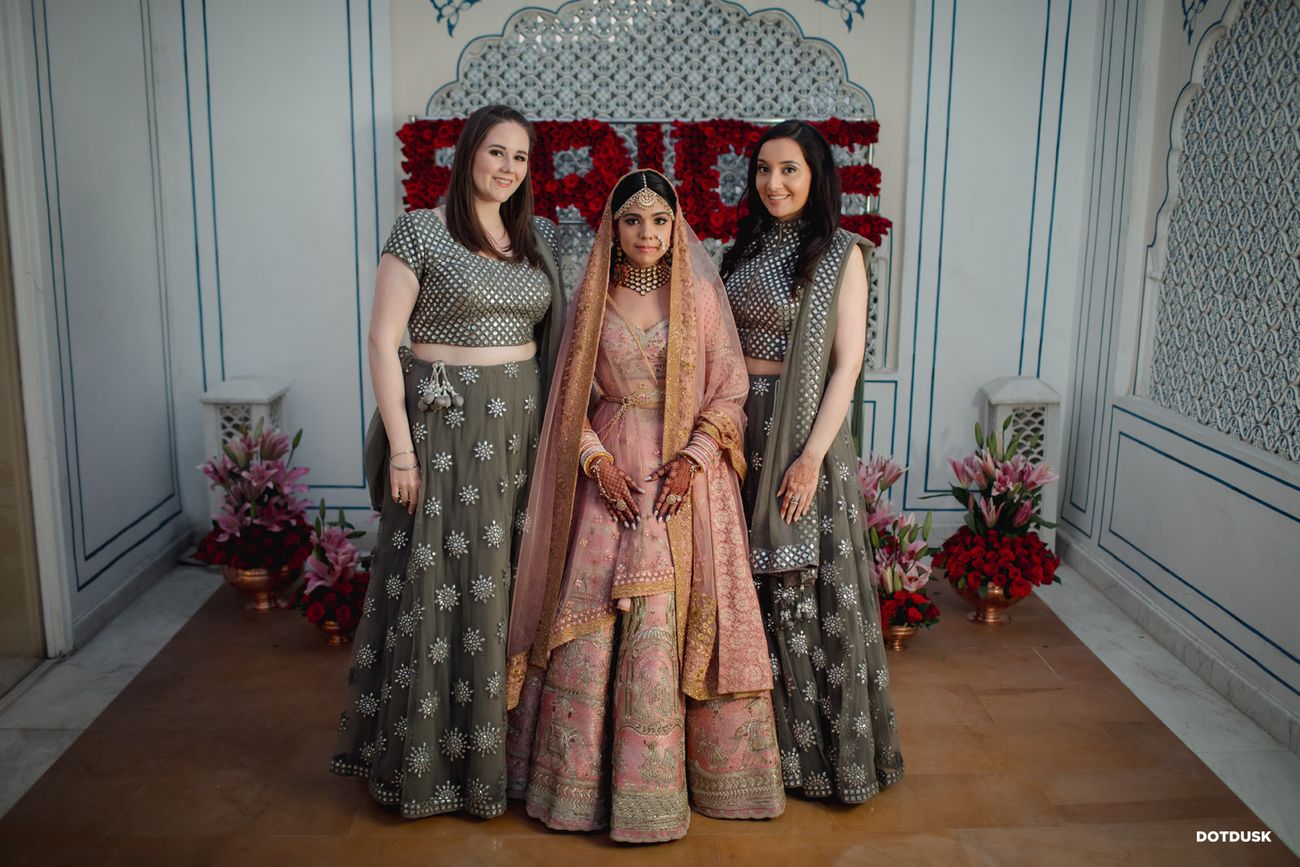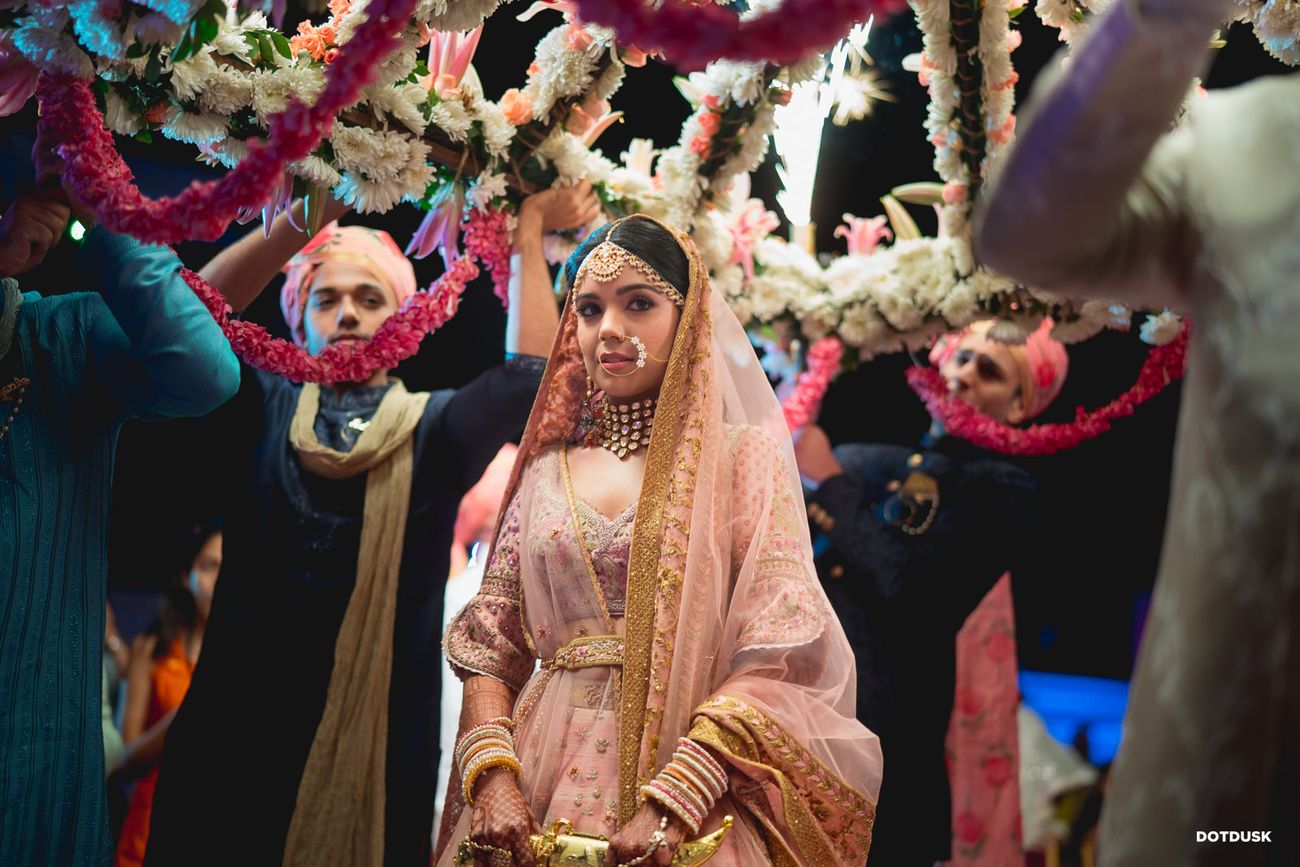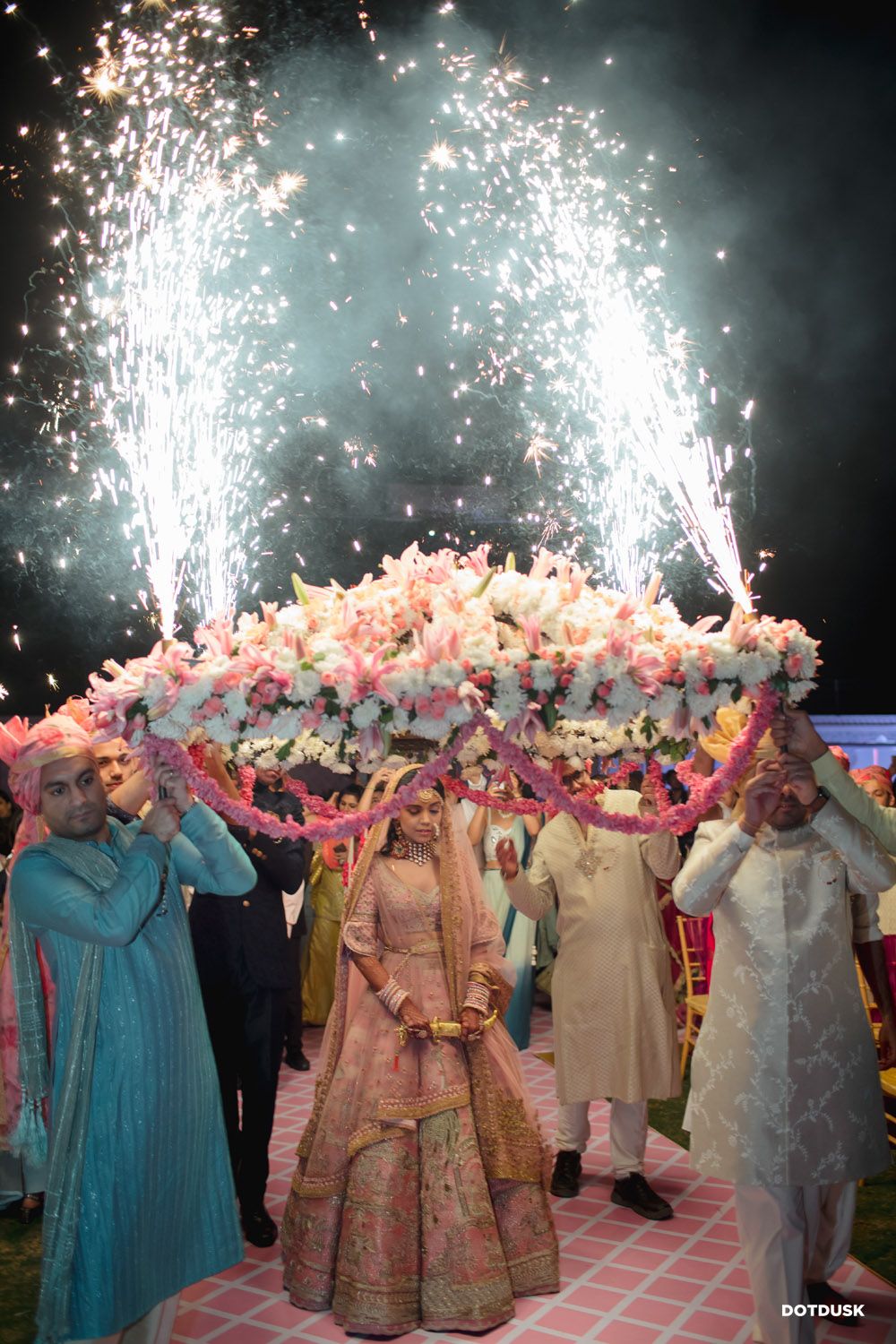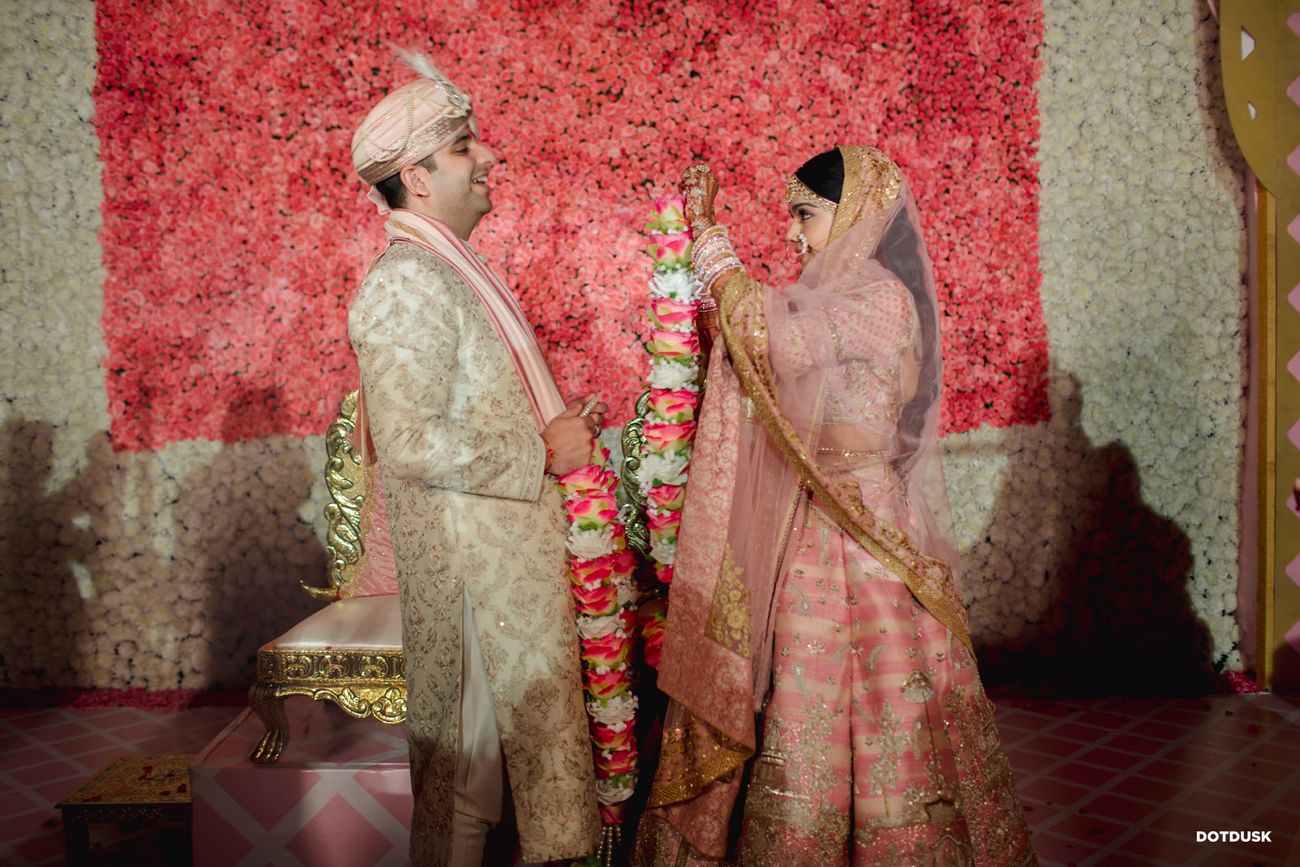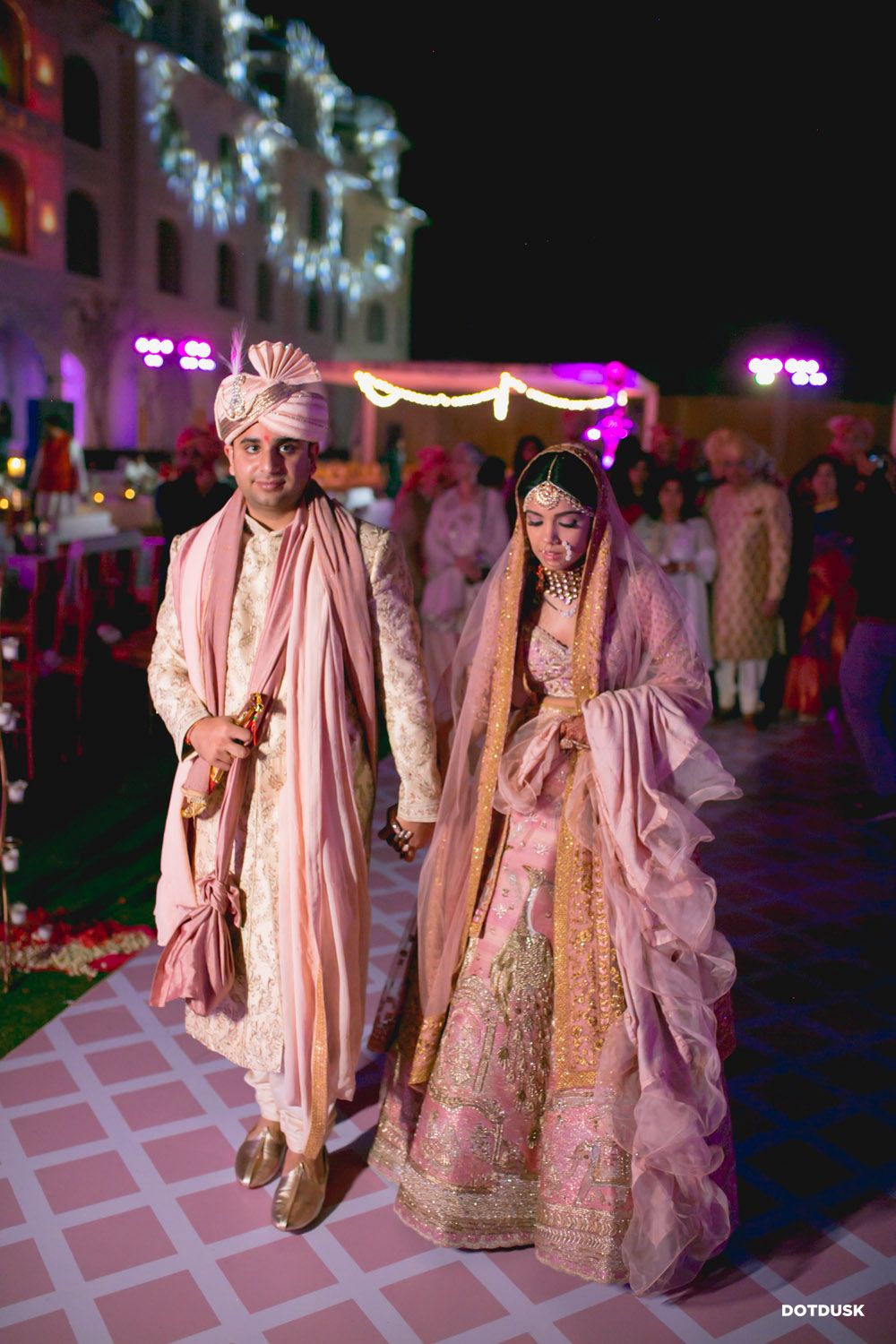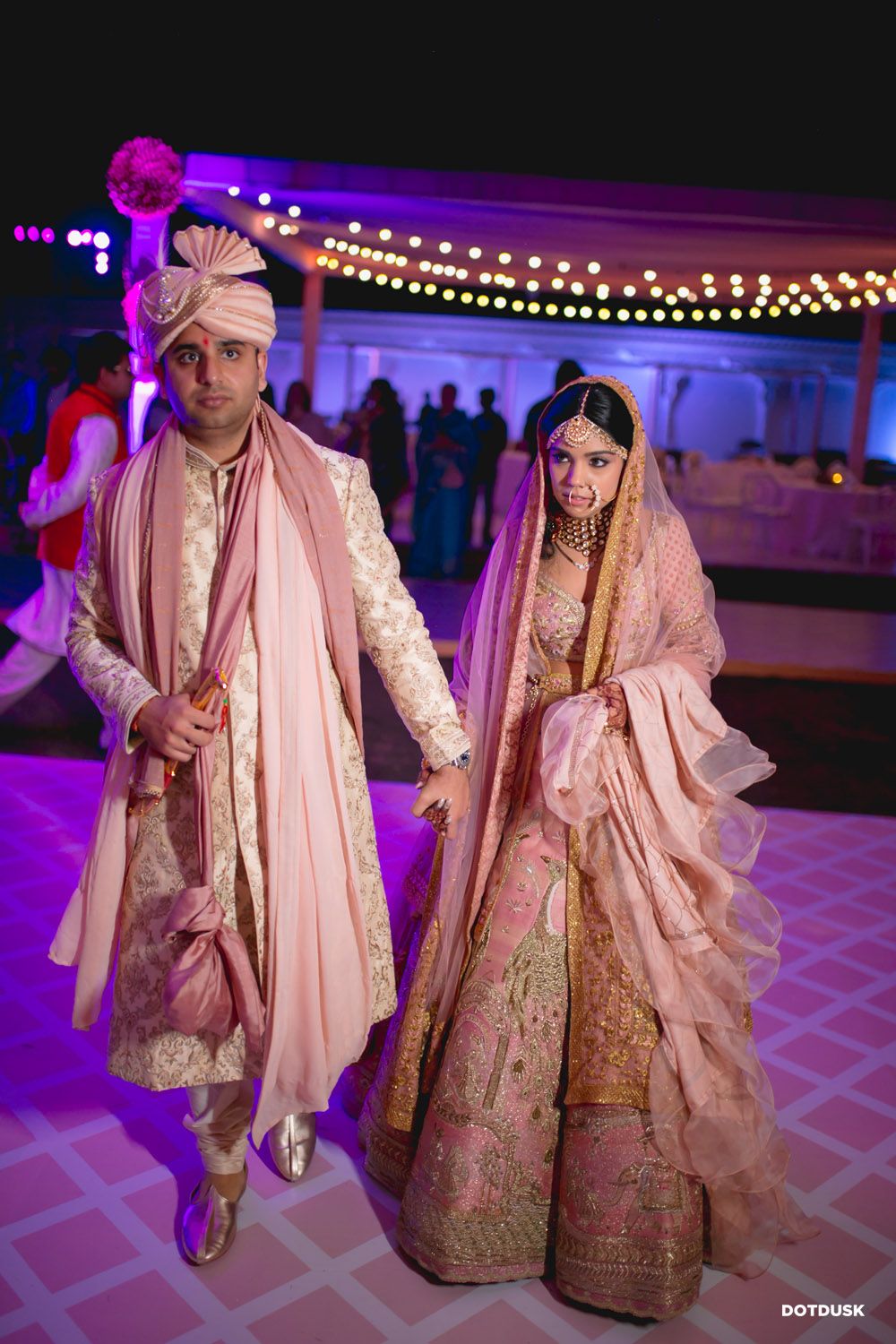 The Reception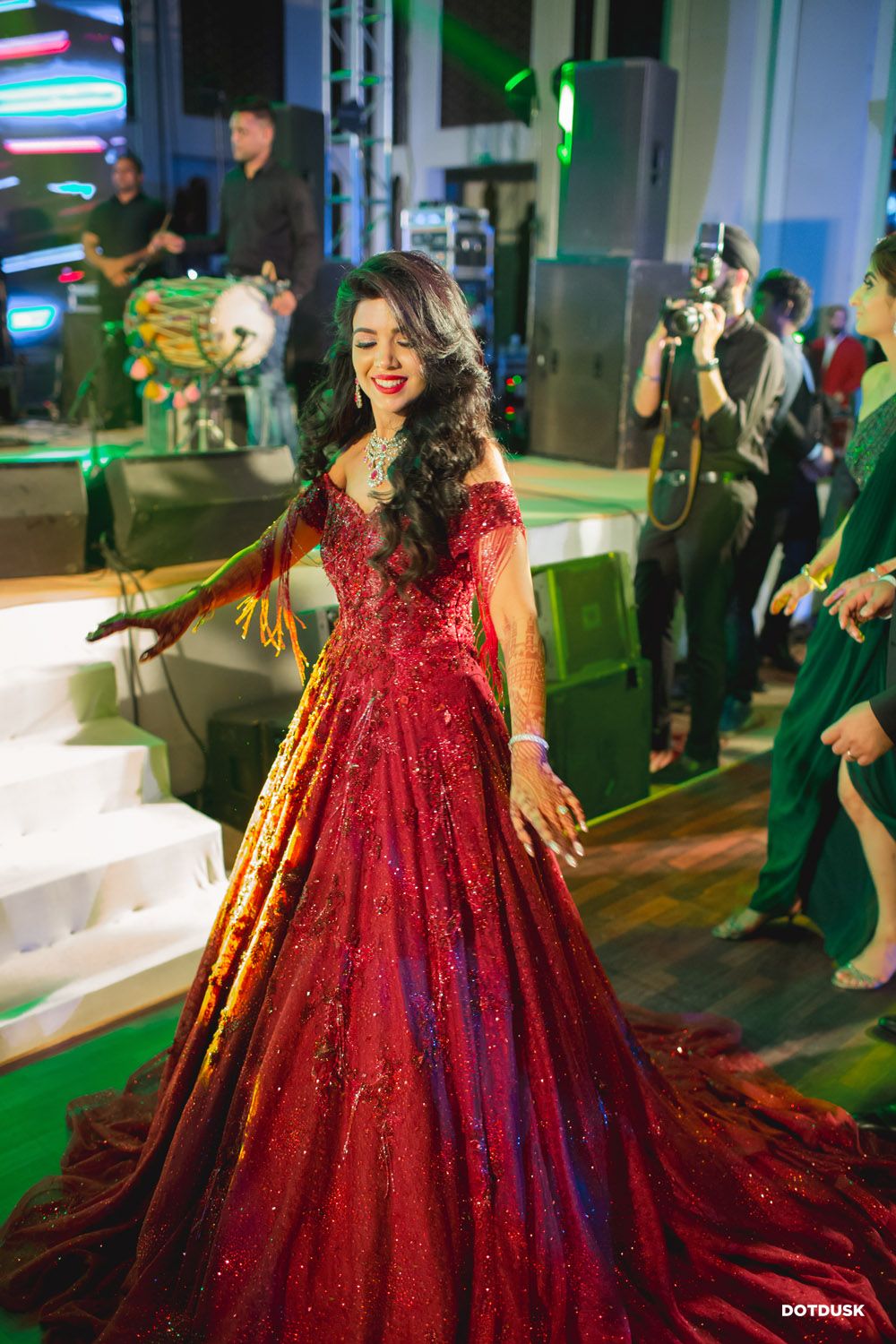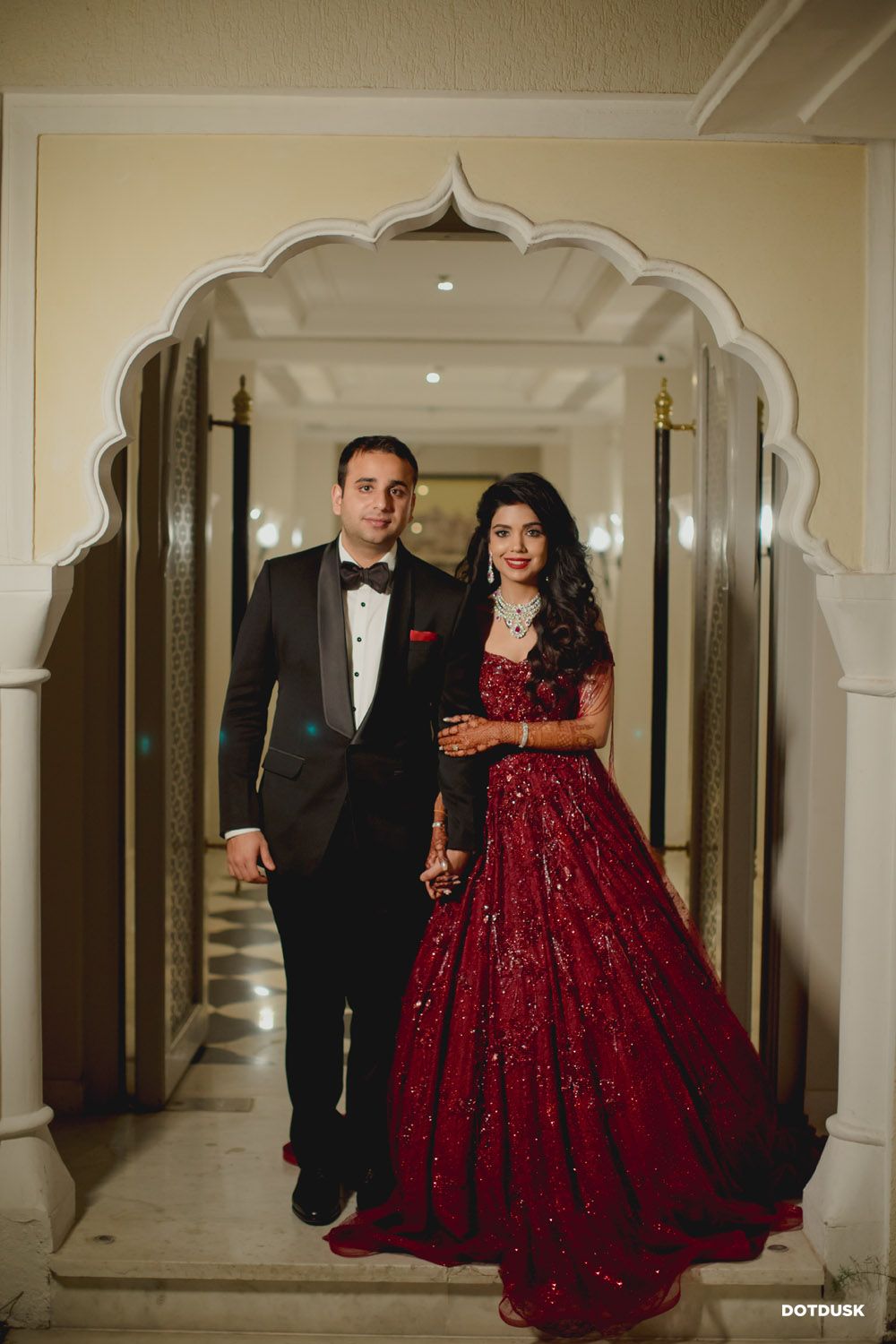 From The Bride 
As a bride, my vision was to make the wedding innovative and exciting. I wanted to be involved in all aspects of the planning process, so it was important to find vendors that were easy to work with. Through a lot of research, reviews and recommendations, I was able to select the right vendors to bring my dream wedding to life.
I used WedMeGood when researching on vendors for my wedding. When selecting vendors, it is very important to read about other brides experiences. The WedMeGood website was so easy to navigate around, and filter through vendors and read up about what people had to say. It was extremely helpful, and I would highly recommend any bride to use it!
Vendor Reviews: 
Make Up Artist & Hairstylist Ojas Rajani
- I met Ojas a few years ago at the airport when she was working on my cousins wedding. She was so much fun to talk to, and has such a vibrant personality. Choosing a make-up artist is so important, as you end up spending a lot of time alone with them through your wedding. As soon as my venue was booked, I got in touch with Ojas. Getting ready with her was a lot of fun. Our parties went on till early morning, and my hair and make-up lasted throughout!
Venue JW Marriott Jaipur Resort & Spa
- Deepak was born in Jaipur, and left when he was 2 years old. So for sentimental reasons, he always wanted to get married in Jaipur. I had always dreamt a royal feel to my wedding. I did a lot of research on hotels, as came across this new JW Marriott property located on the Delhi Jaipur highway. The location seemed perfect - it ticked all the boxes to what we were looking for! The hotel is one of the most beautiful venues I have seen. All the buildings around the property are very traditional in their structures, but at the same time has a very modern feel to it. We were able to use different areas of the hotel for each function to allow a different feel to each event. The food is delicious at the hotel, and the chefs were so accommodating in to making certain requests for us.
Wedding Planner & Décor Horizon WIE 
- The fabulous duo Pawan & Jenny have planned a few of my family weddings- so I knew I wanted to get in touch with them as soon as I got engaged. They take care of every aspect of a destination wedding. It was such an amazing planning process as the horizon team are fun to work with, and such wonderful people. They handled everything with such ease and efficiency, that I didn't need to stress or worry about any of the planning process. I had a lot of ideas and dreams to how I wanted our wedding to look, and Jenny & Pawan brought all those ideas to reality.
Mehendi Artist Jyoti Chheda 
- I discovered Jyoti's instagram page a few years ago, and always knew I wanted to get in touch with her when I get married. Jyoti embedded the four stages of marriage in to my mehendi (engagement, pheras, sindoor and varmalas). She also incorporated my hometown London, and flying over to my new city of San Francisco. There were many lotus flowers and elephants in the design too, which as famous to Jaipur- the location of the wedding. Her designs are so intricate, but she is also quick at the same time.
Photography & Videography Dotdusk 
- DotDusk had worked on my cousins wedding a couple of years ago. What I liked about them was they took beautiful candid photos, and they were so subtle that you didn't realise they were taking photos. They managed to capture some beautiful moments, and were always ready to take photos
Vendors: Venue: JW Marriott Resort & Spa, Jaipur: Makeup Artist: Ojas Rajani Bridal Makeup Artist★ 4.9 ; Photographer & Videographer: DotDusk Studios ; Wedding Decor & Planning:Horizon Wie Events★ 4.6 ; Bridal Outfits: Sufi Sundowner - Monisha Jaising★ 4.8 , AfterGlow - Manish Arora★ 5 , Mehendi - Abu Jani and Sandeep Khosla★ 5 , Sangeet - Kresha Bajaj, Wedding - Sulakshana Monga★ 4.8 , Reception - Dolly J Bridal Collection★ 4.7 ; Mehendi Artist: Jyoti Chheda Bridal Mehendi Artist★ 4.8 ; Groom's Outfits: Sufi Sundowner - Anita Dongre★ 4.9 , AfterGlow - Prada, Mehendi - NYCI From Aza Fashions, Sangeet - Tarun Tahiliani★ 4.7 , Wedding - Vandhik, Reception - AQube by Amber