A Sunny Delhi Wedding With A Bride In A Refreshing Pink Lehenga
BY Aakanksha | 07 Aug, 2019 | 20187 views | 6 min read
When it's meant to be, it's meant to be, right? Aanchal & Ishan met, grew apart, and met again and their very Hum Tum love story has made us believe in soulmates all over again. From the amazing love that they share to the dreamy proposal Ishan planned for Aanchal, this couple is truly #goals. Not just that, even their wedding was a perfect celebration of their relationship. From a fun yellow Mehendi to a white and pink themed Wedding, it was truly beautiful. Well, when the bride is the planner herself, what more can you expect? Aanchal, is the founder of The Millennial Bridesmaid★ 5 and she made sure that no stone was left un-turned in executing the perfect wedding. Fotowalle - The Story Folks★ 4.9 captured the entire wedding in a stunning manner! So, what are you waiting for? Scroll down and see for yourself. 
Meet Aanchal & Ishan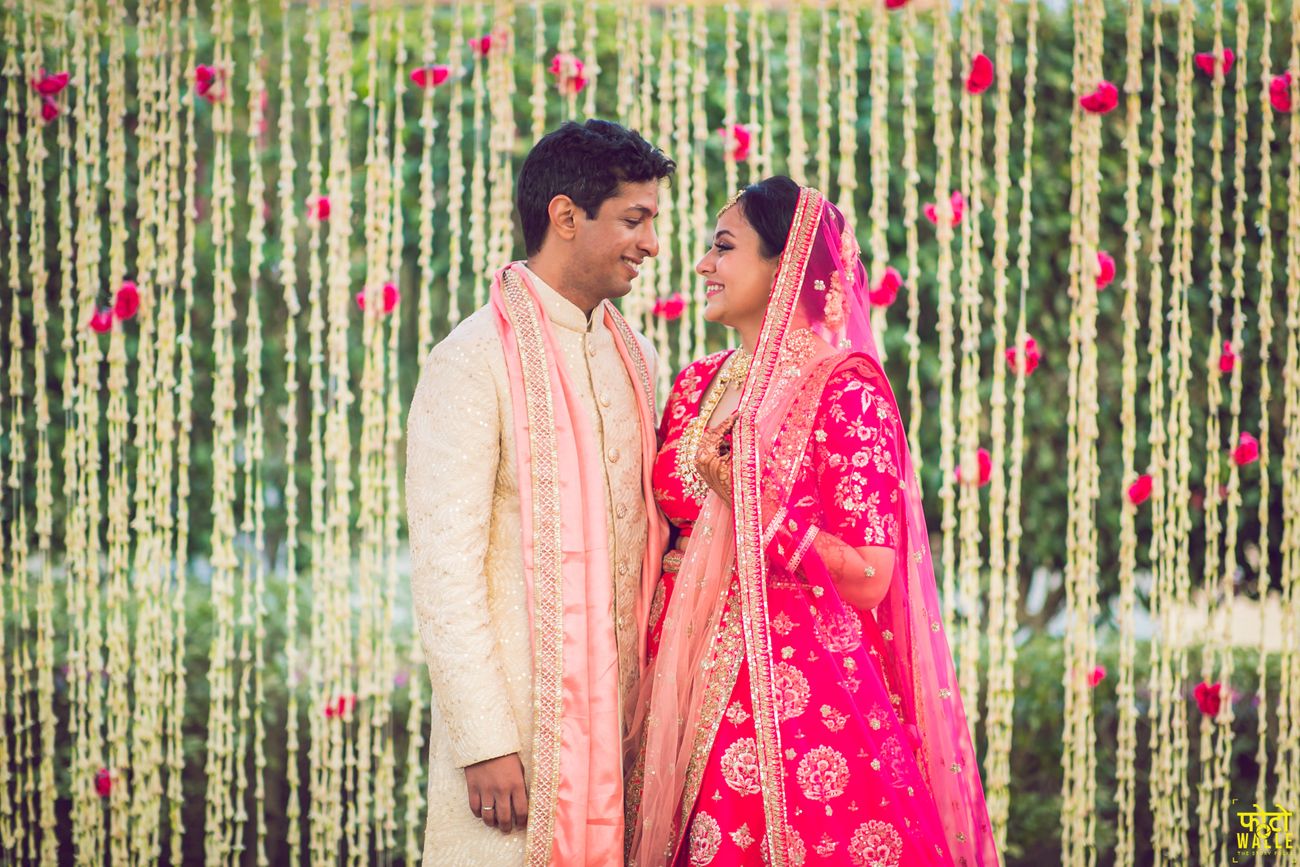 Aanchal tells us all about their Hum Tum love story, and the totally filmy proposal, "So we first met in 2016 (we call that season 1). But at that time, we both had very crazy jobs and international travel keeping us busy. So before we knew it, things fizzled out. Fast forward to 2017 when a job change brought me back to Gurgaon, right next to his office in fact! I surprised him with a text to meet again and wooed him back for season 2. Multiple coffee catch-ups later, we were convinced that there was no fizzling out this time! In July 2018, he made things official with a super cute proposal. A rainy evening on a private terrace with him singing my favourite Prateek Kuhad songs and proposing with Aamir Khan's famous proposal dialogue from Dil Chahta Hai. Six months of planning later, we tied the knot on December 28."
The Mehendi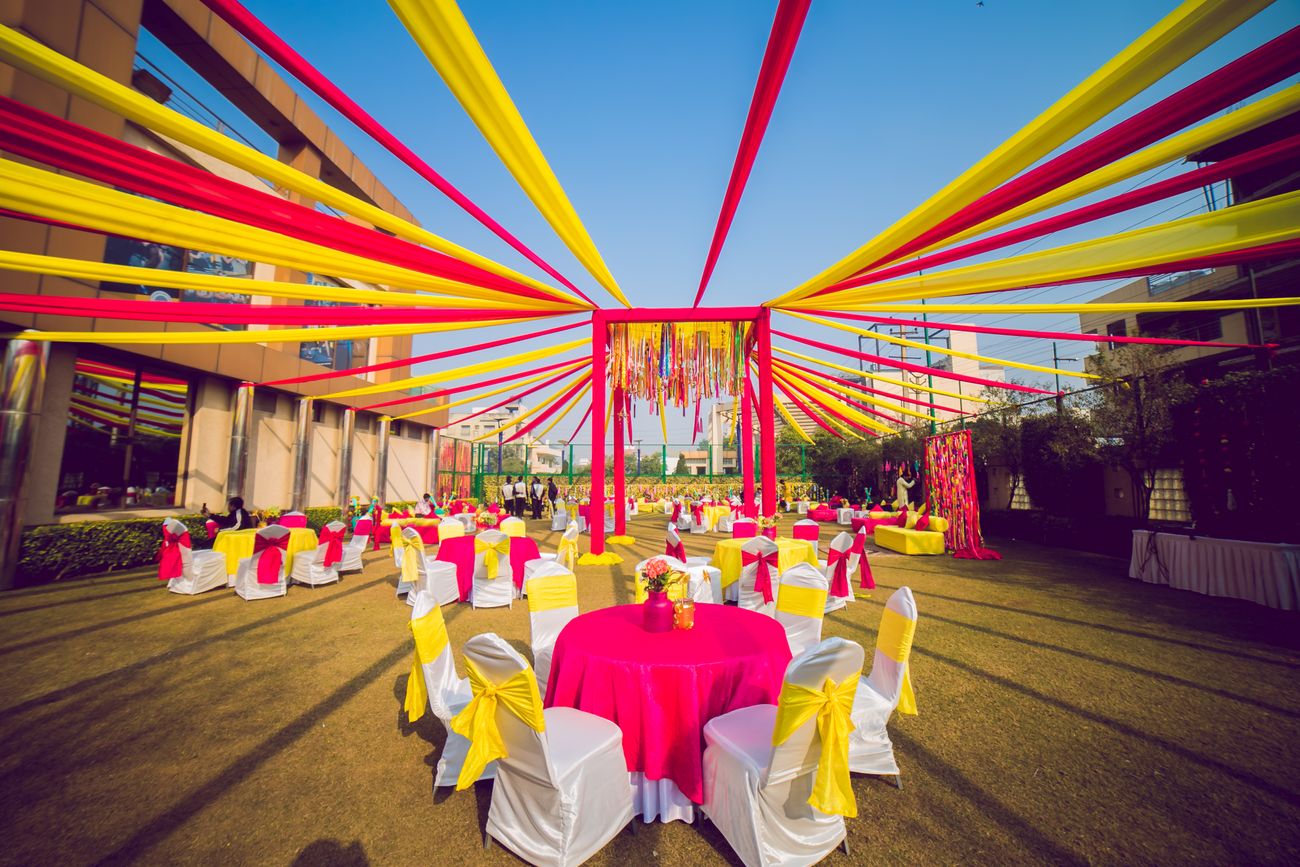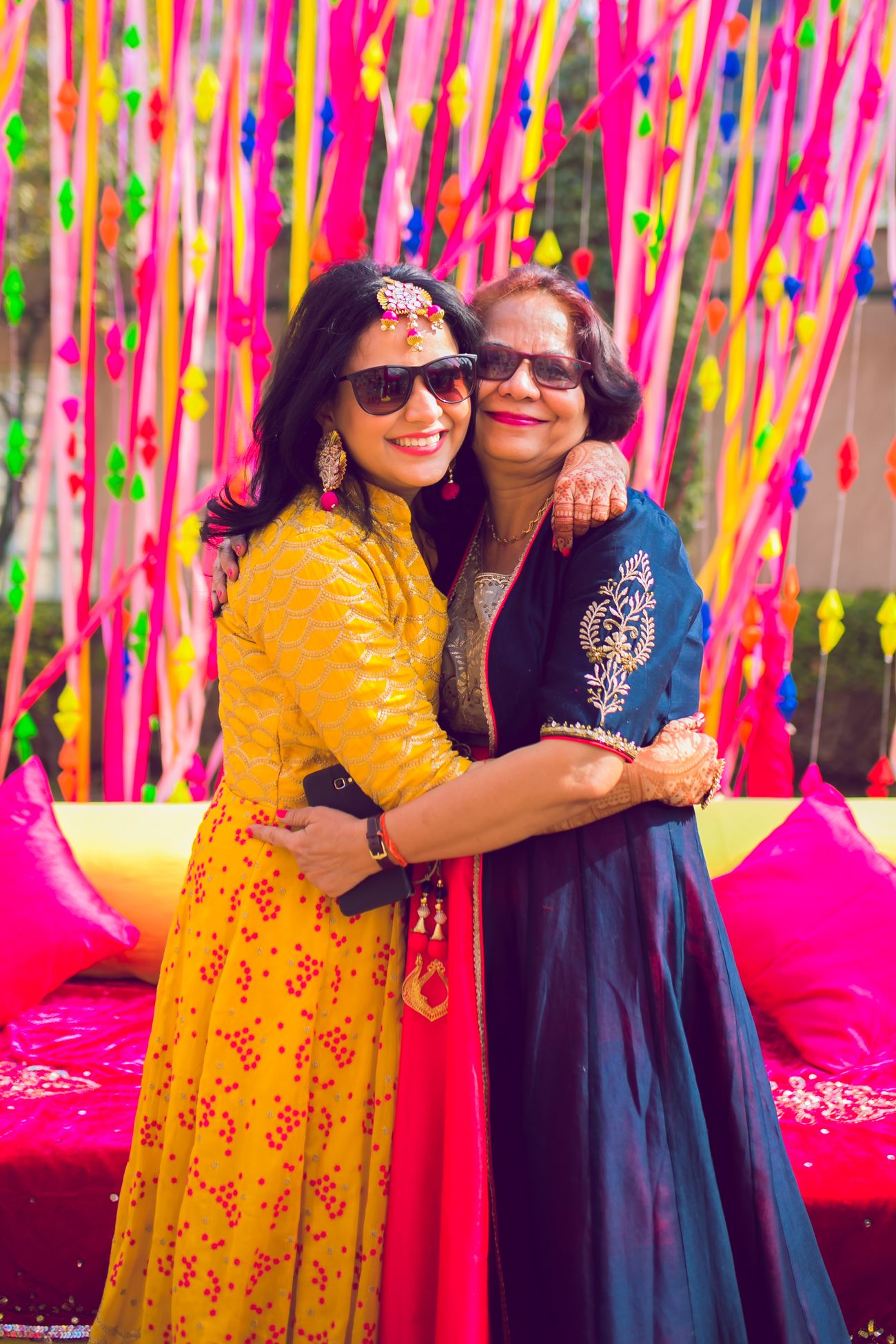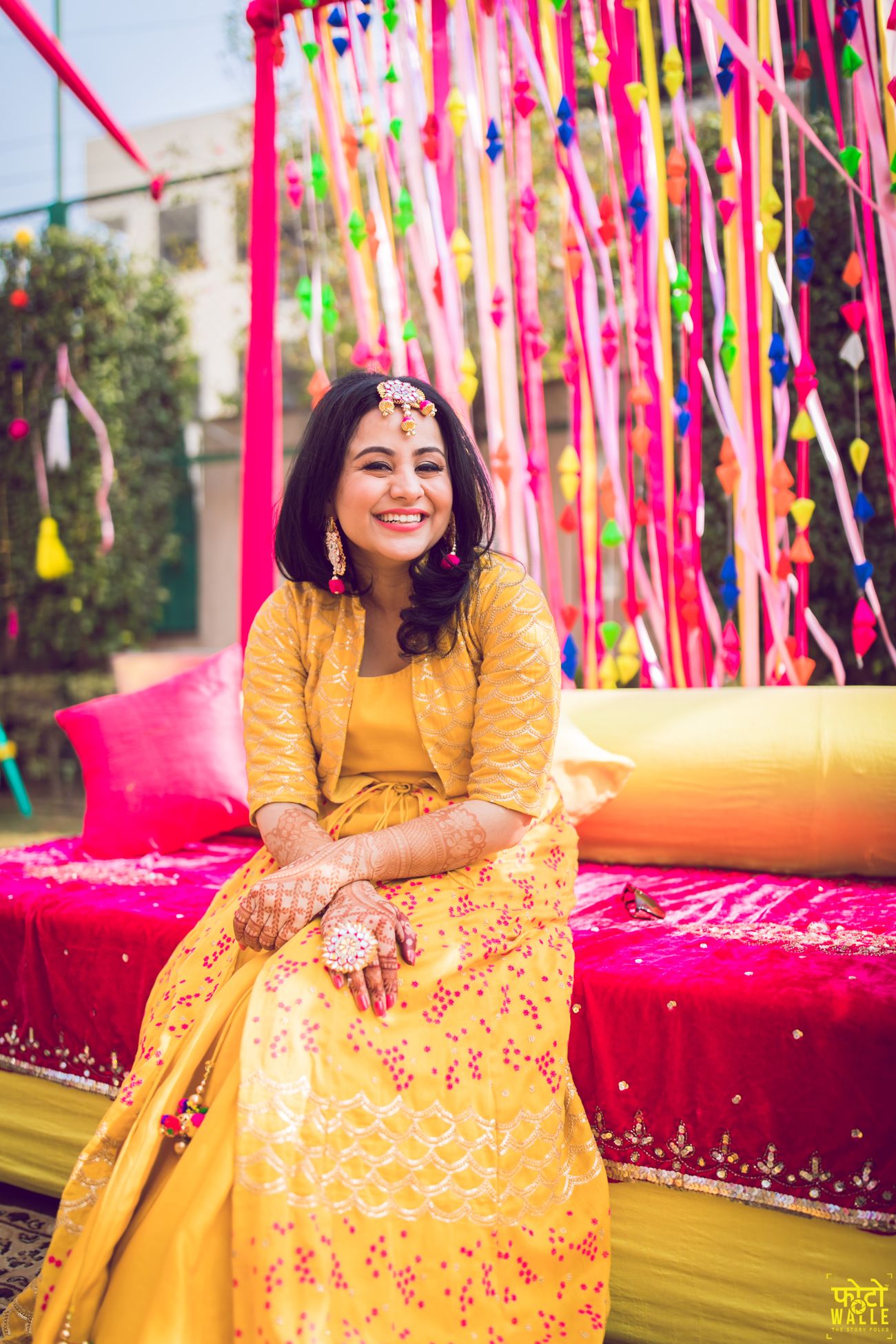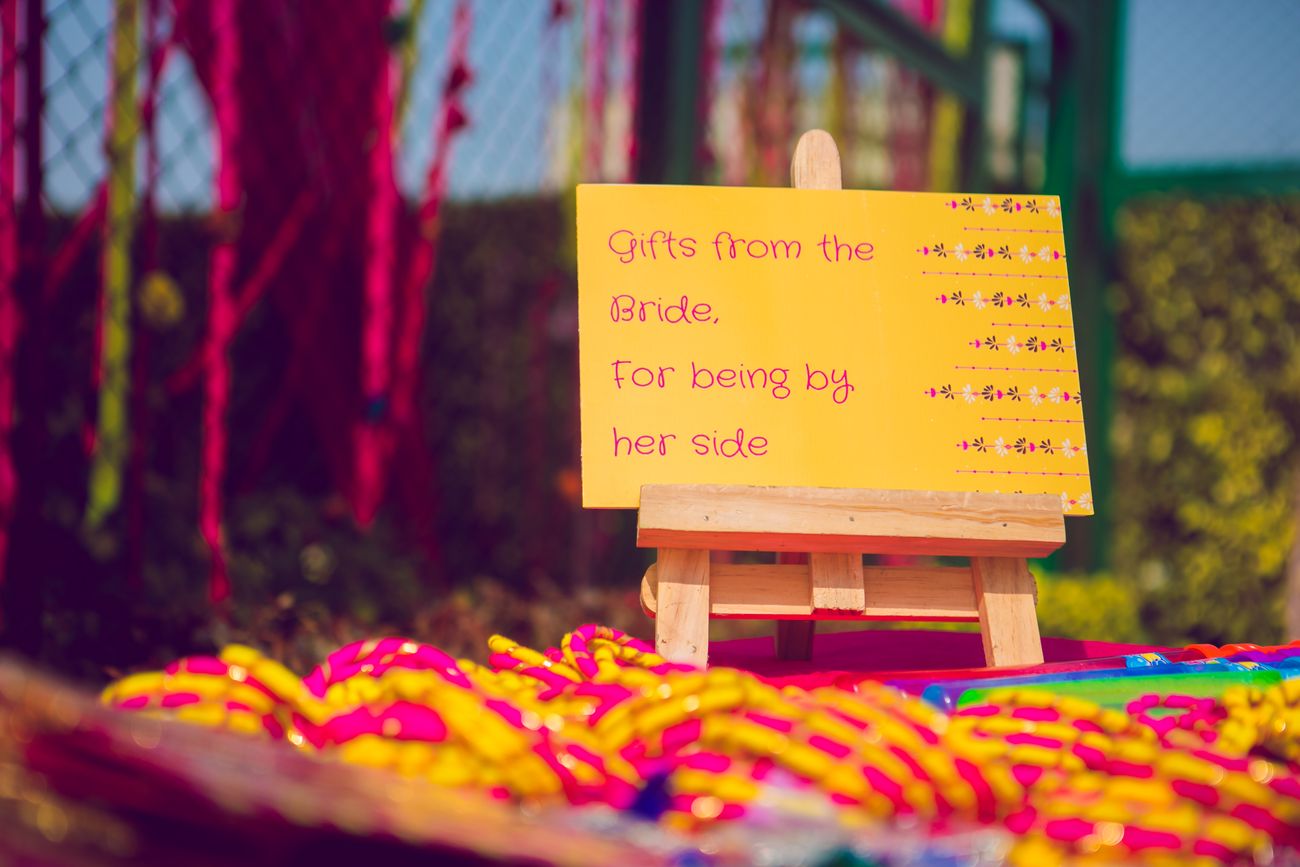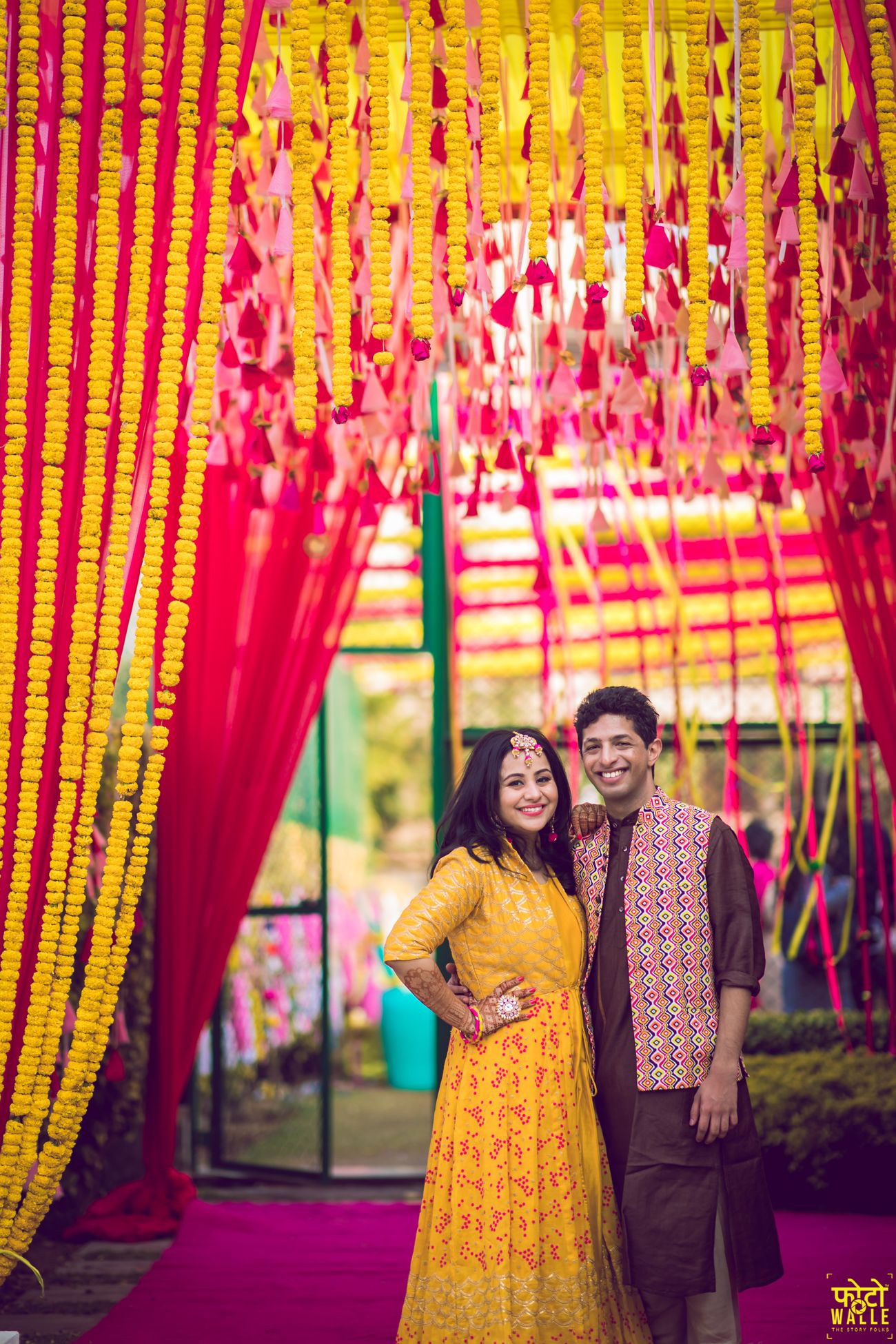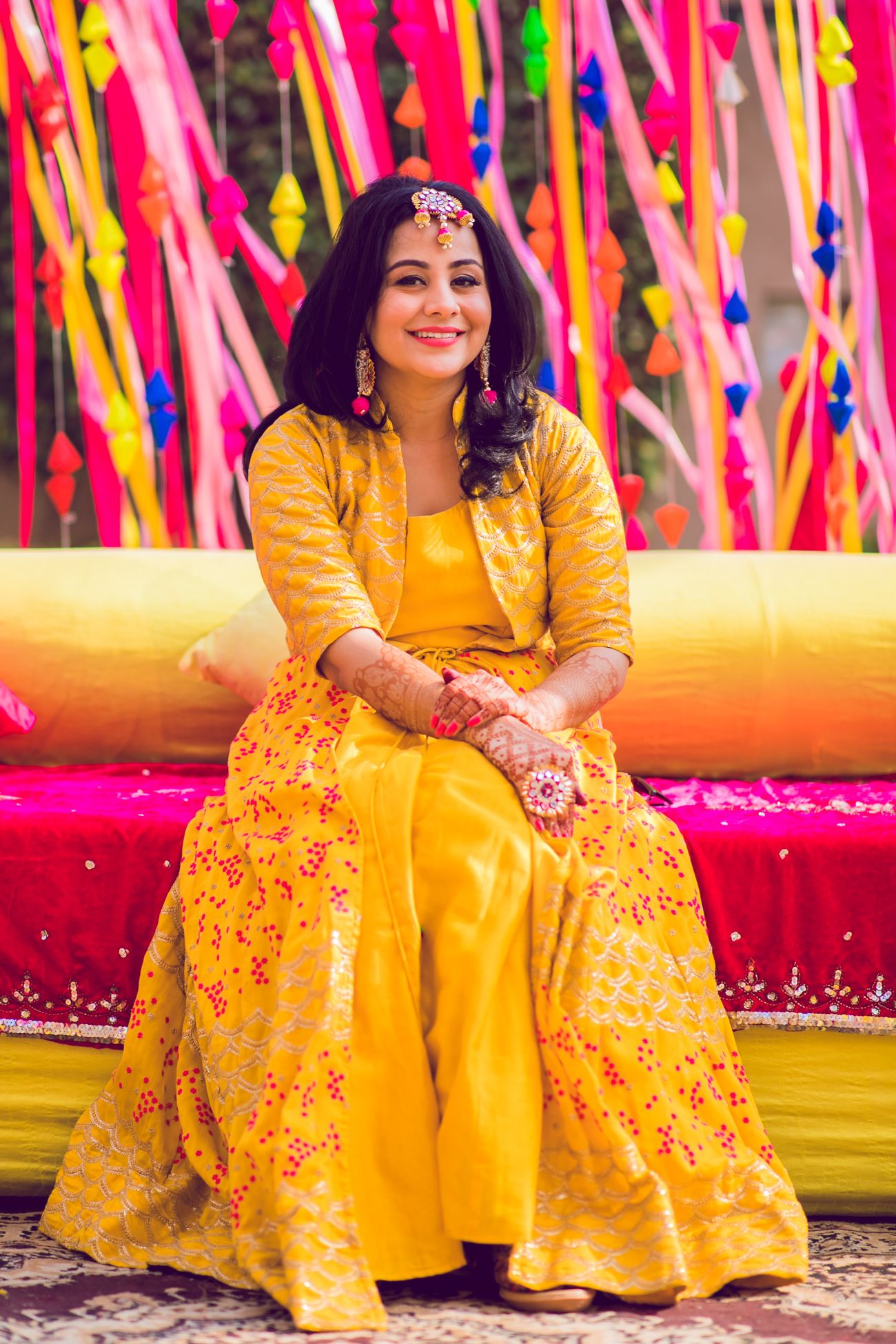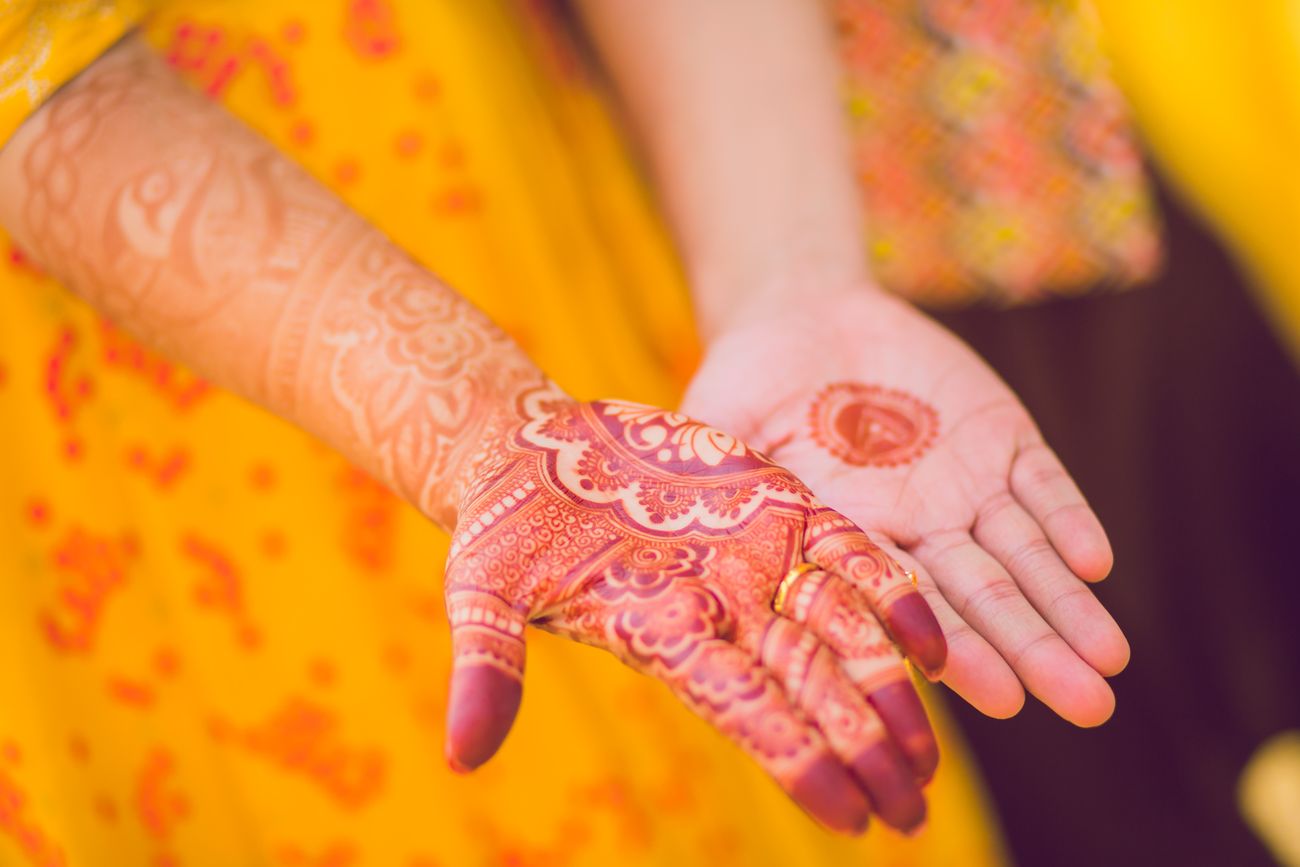 The Wedding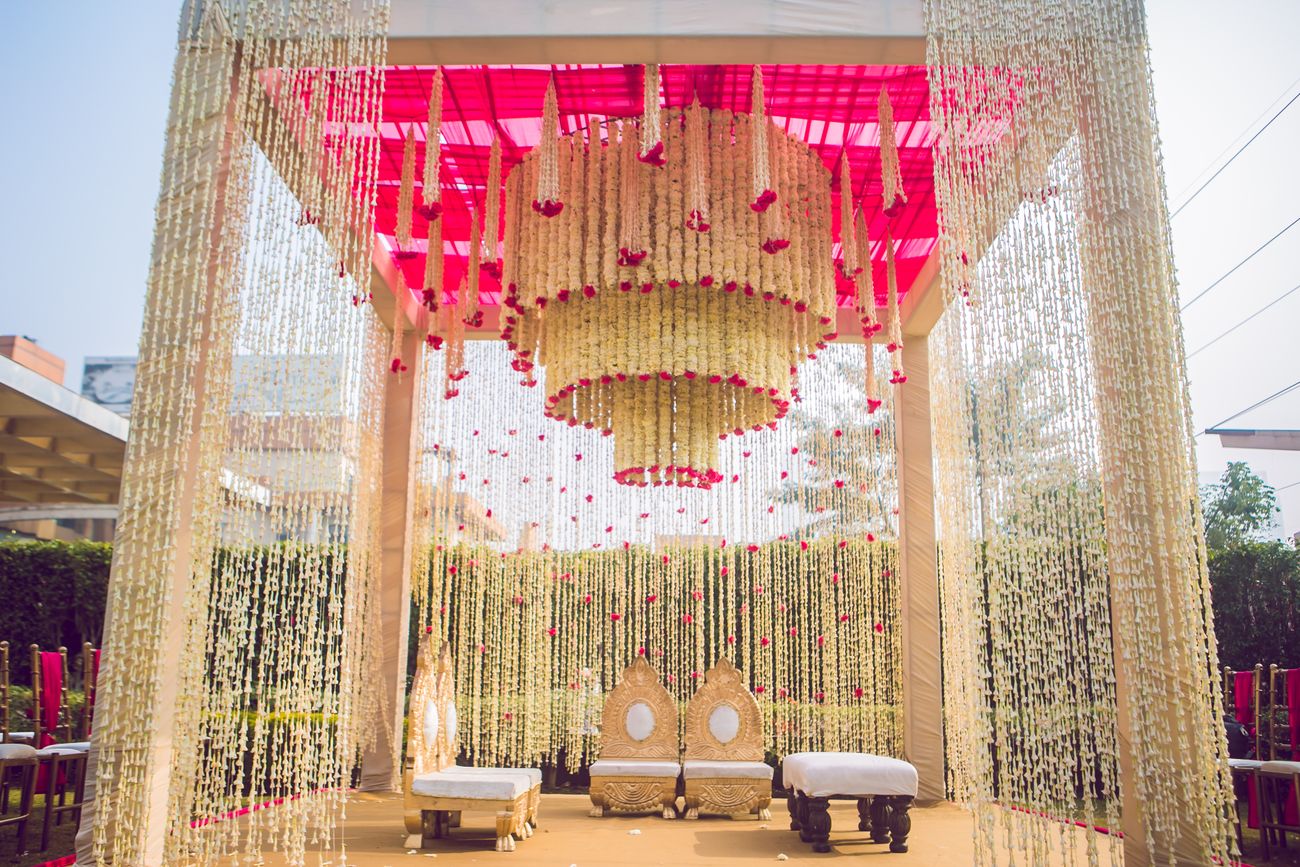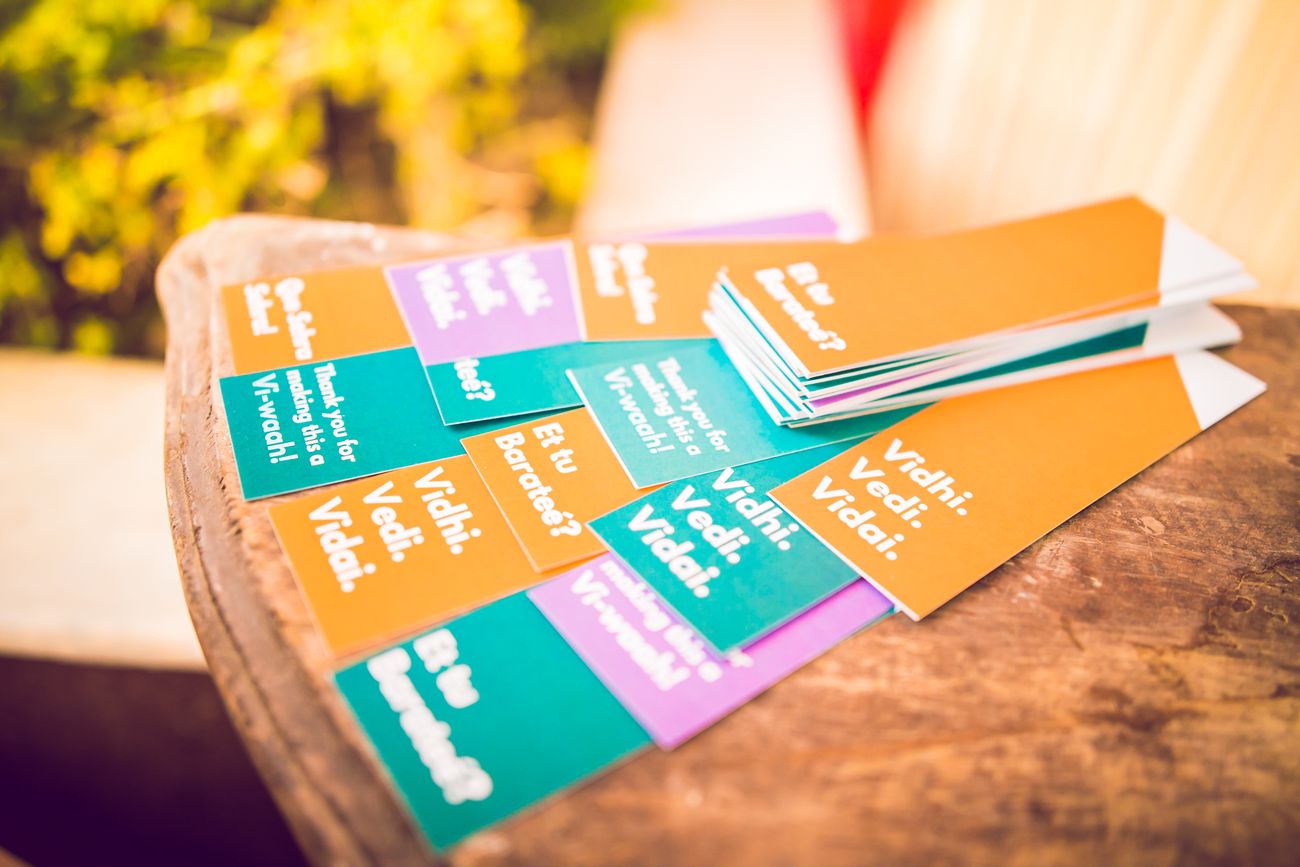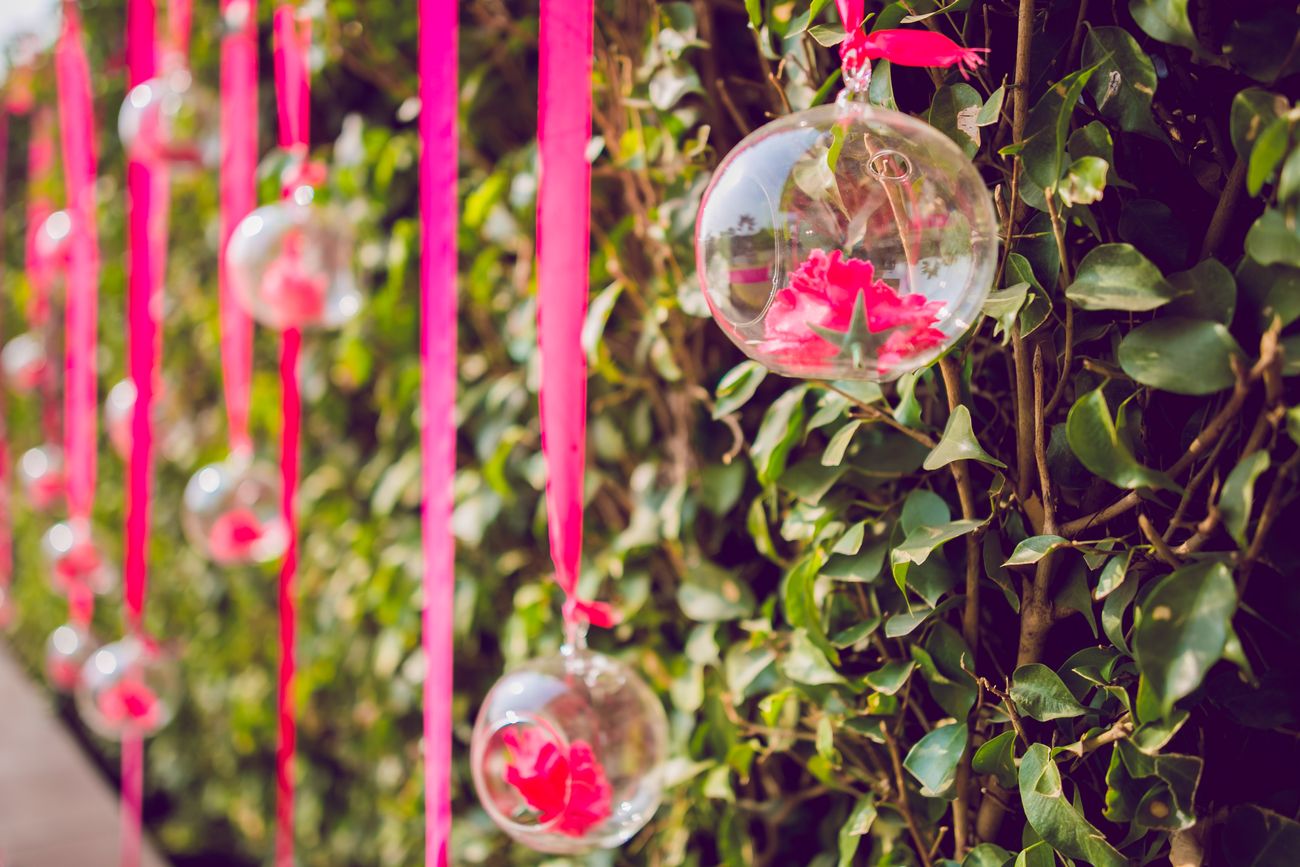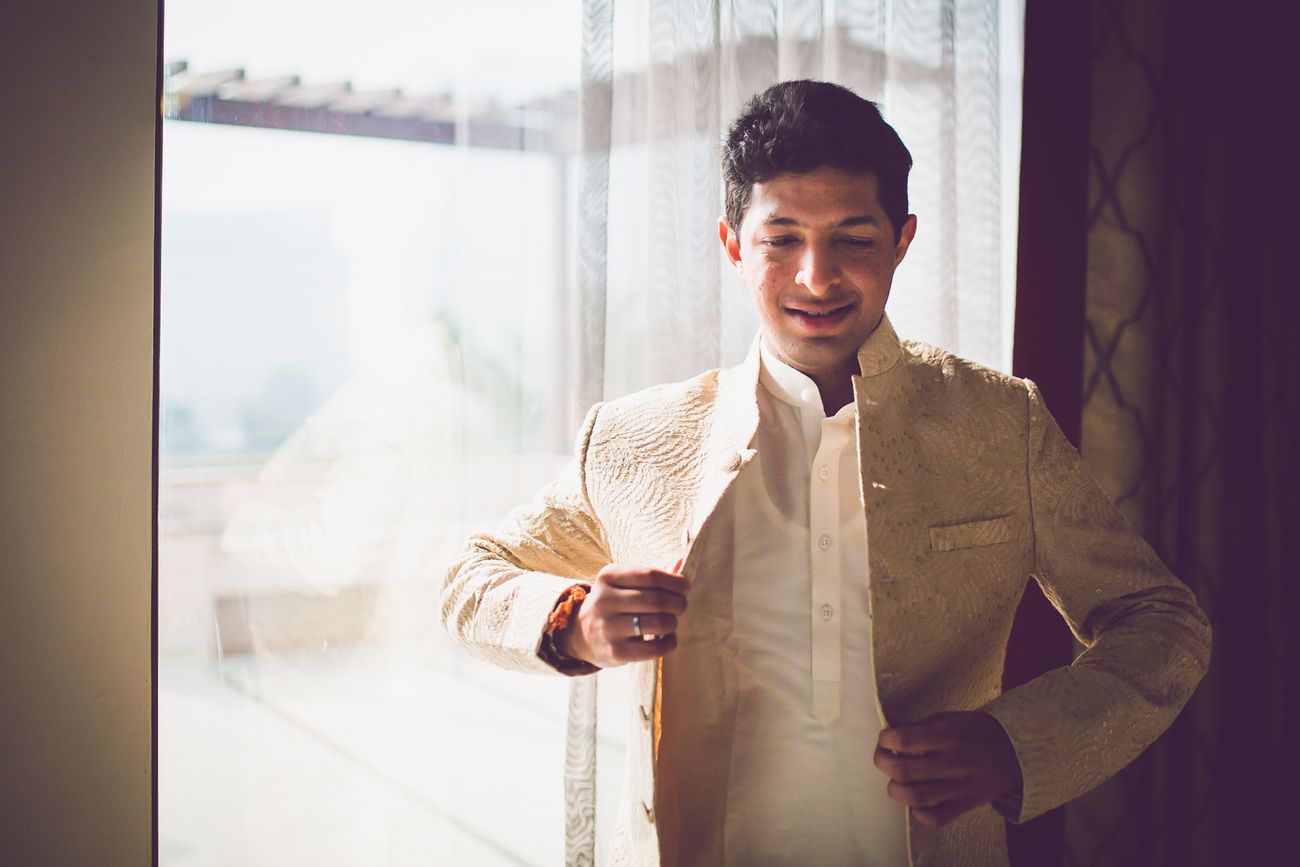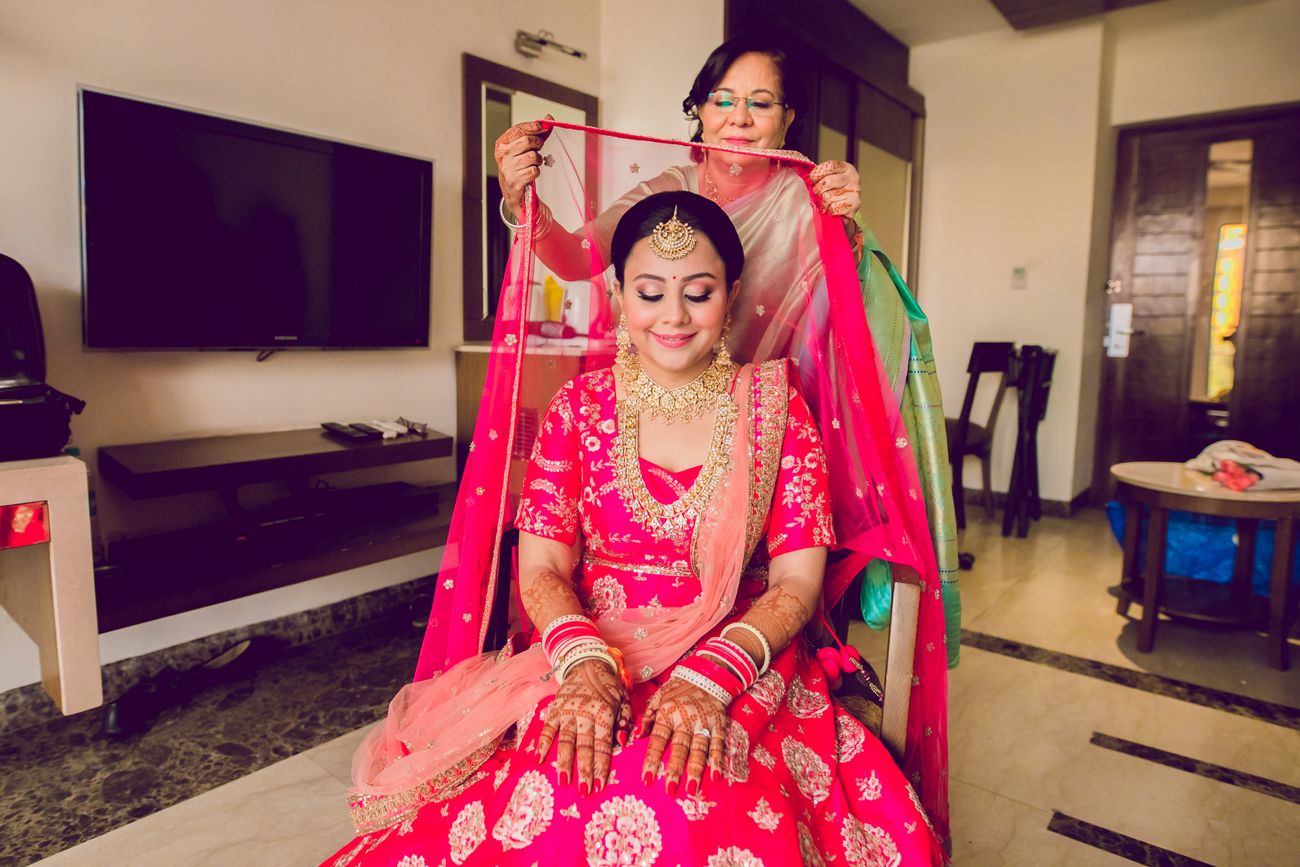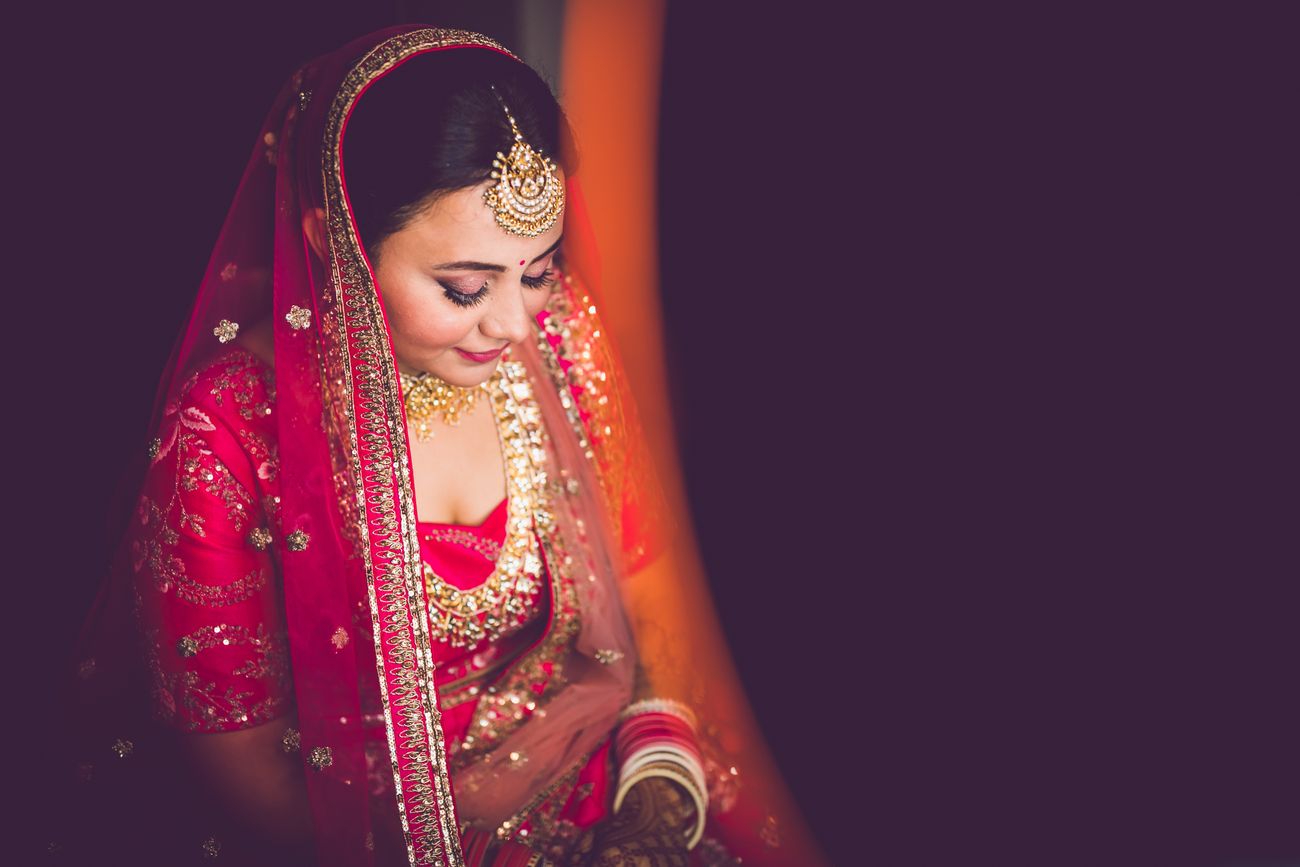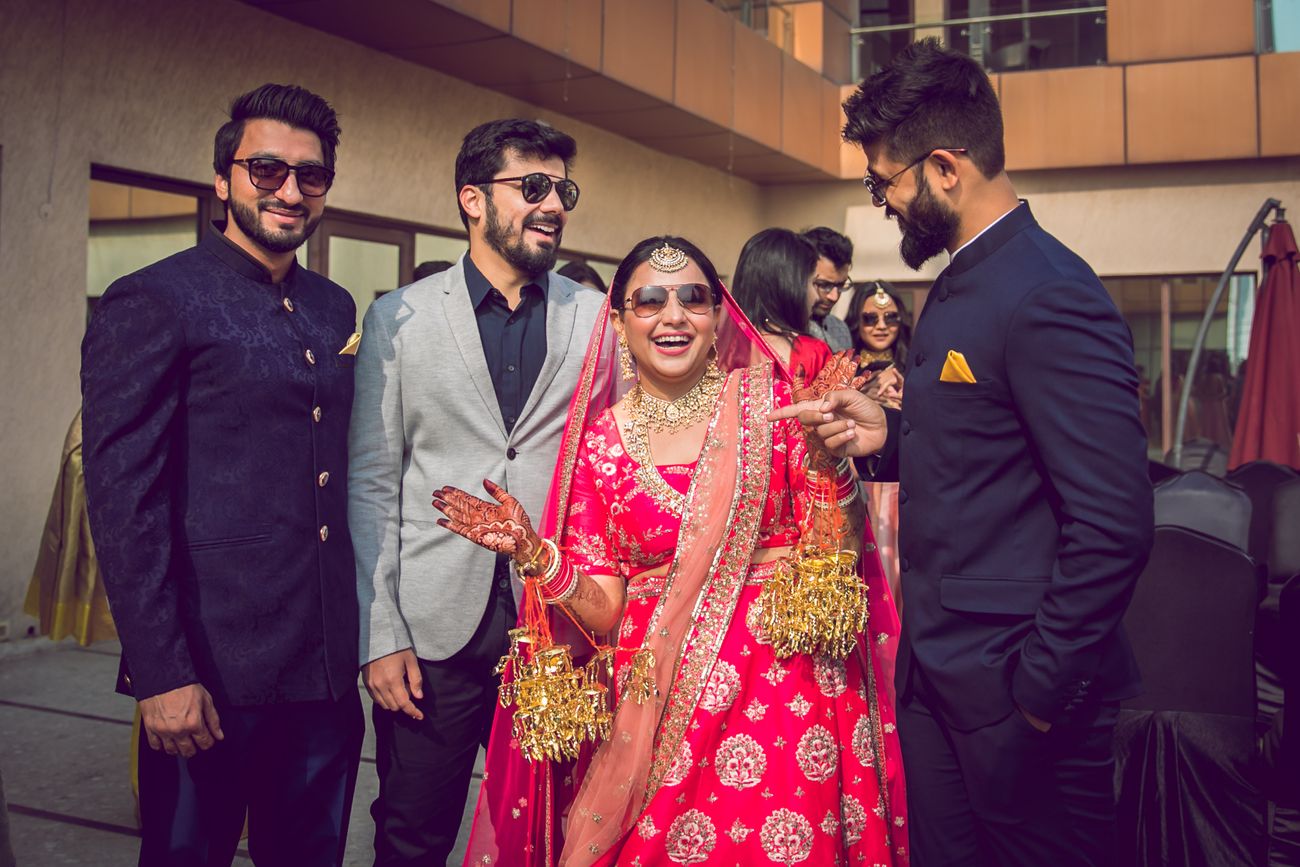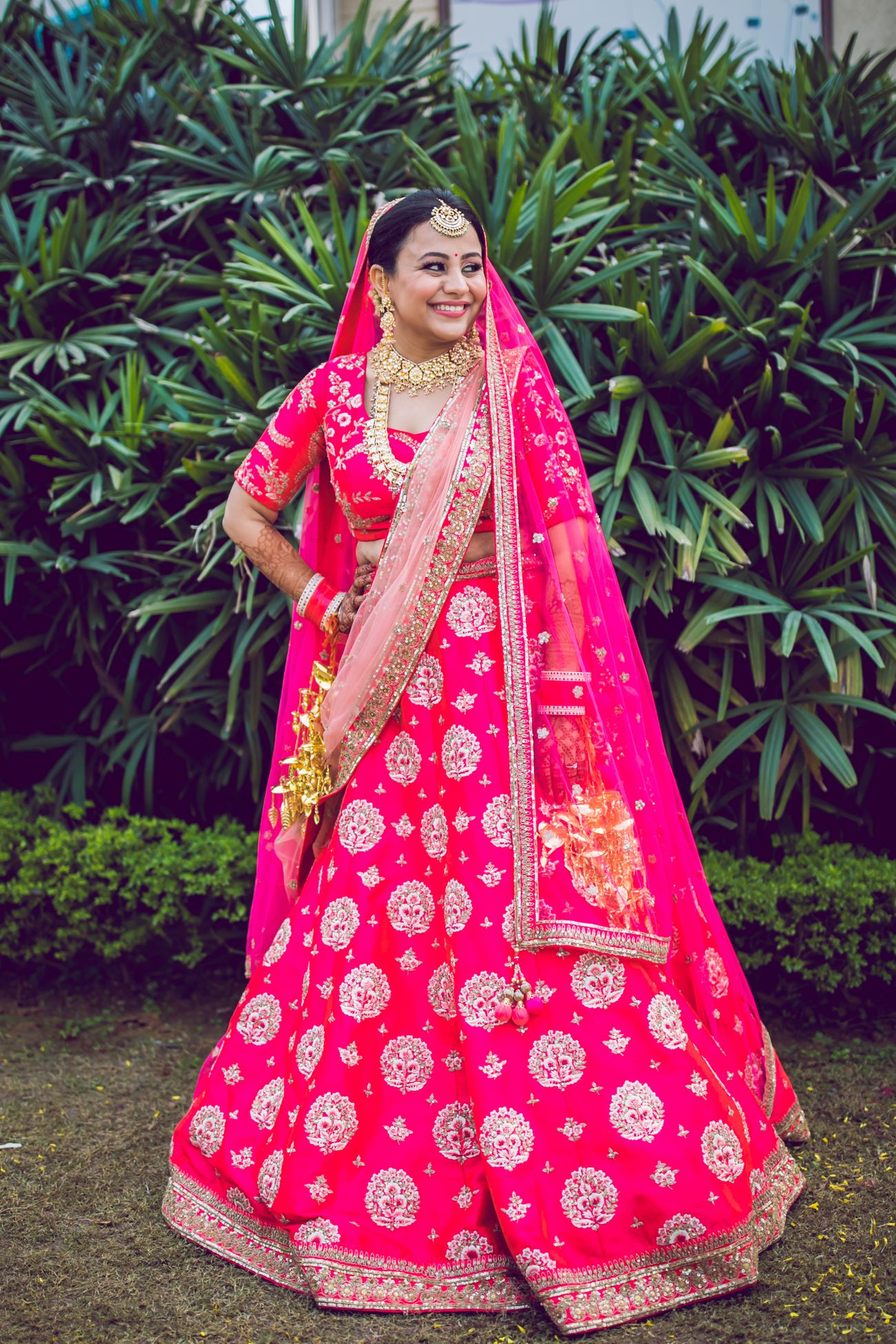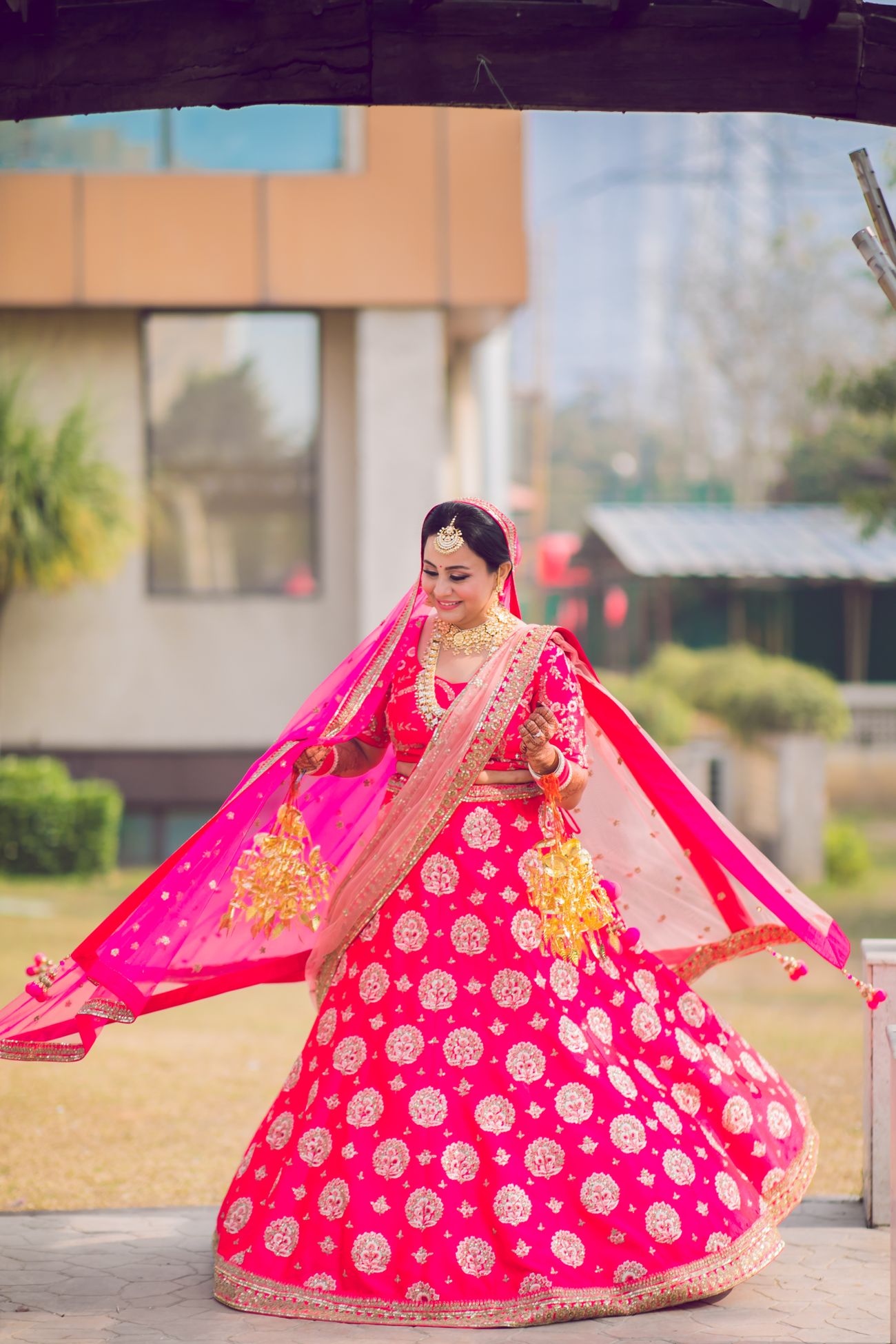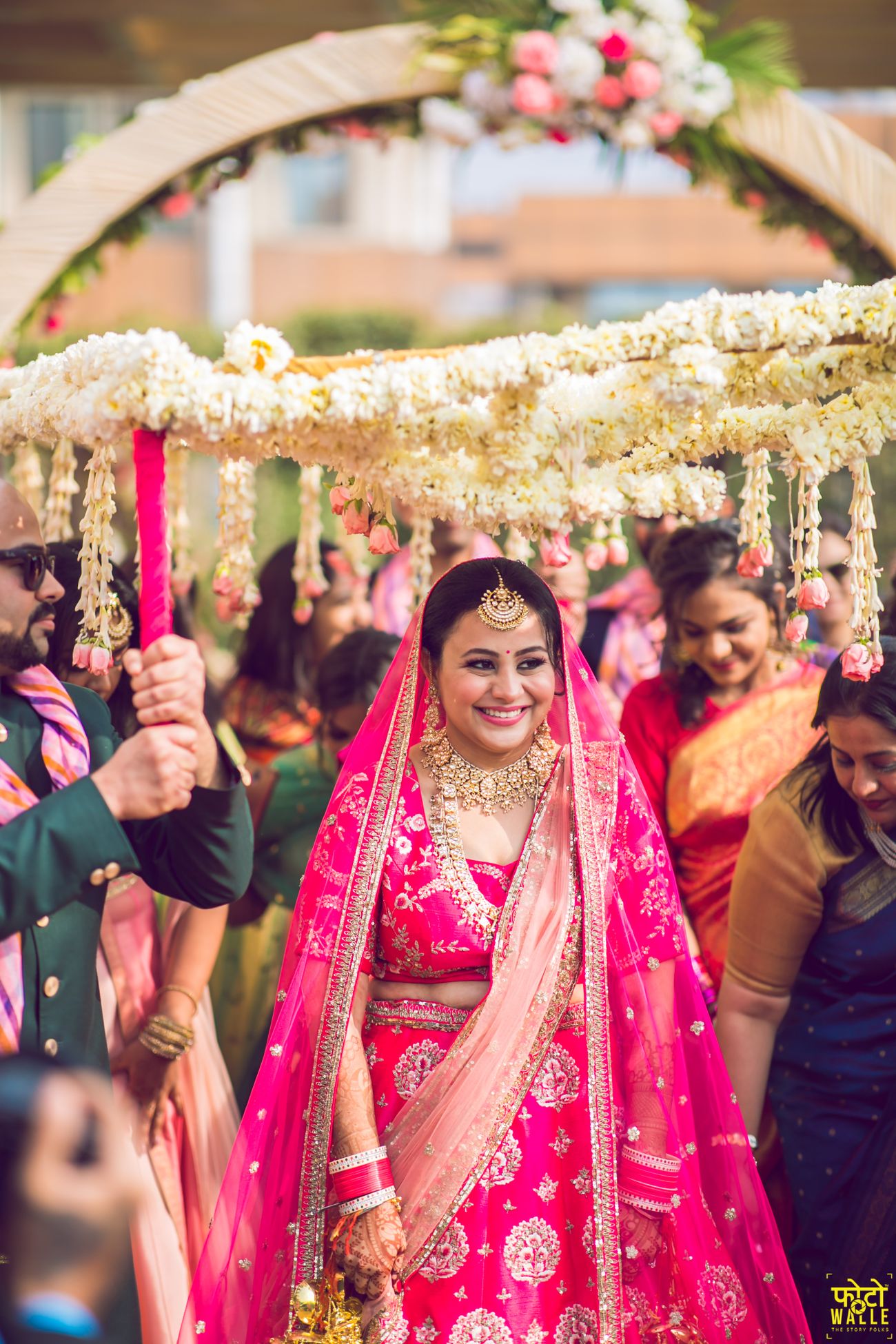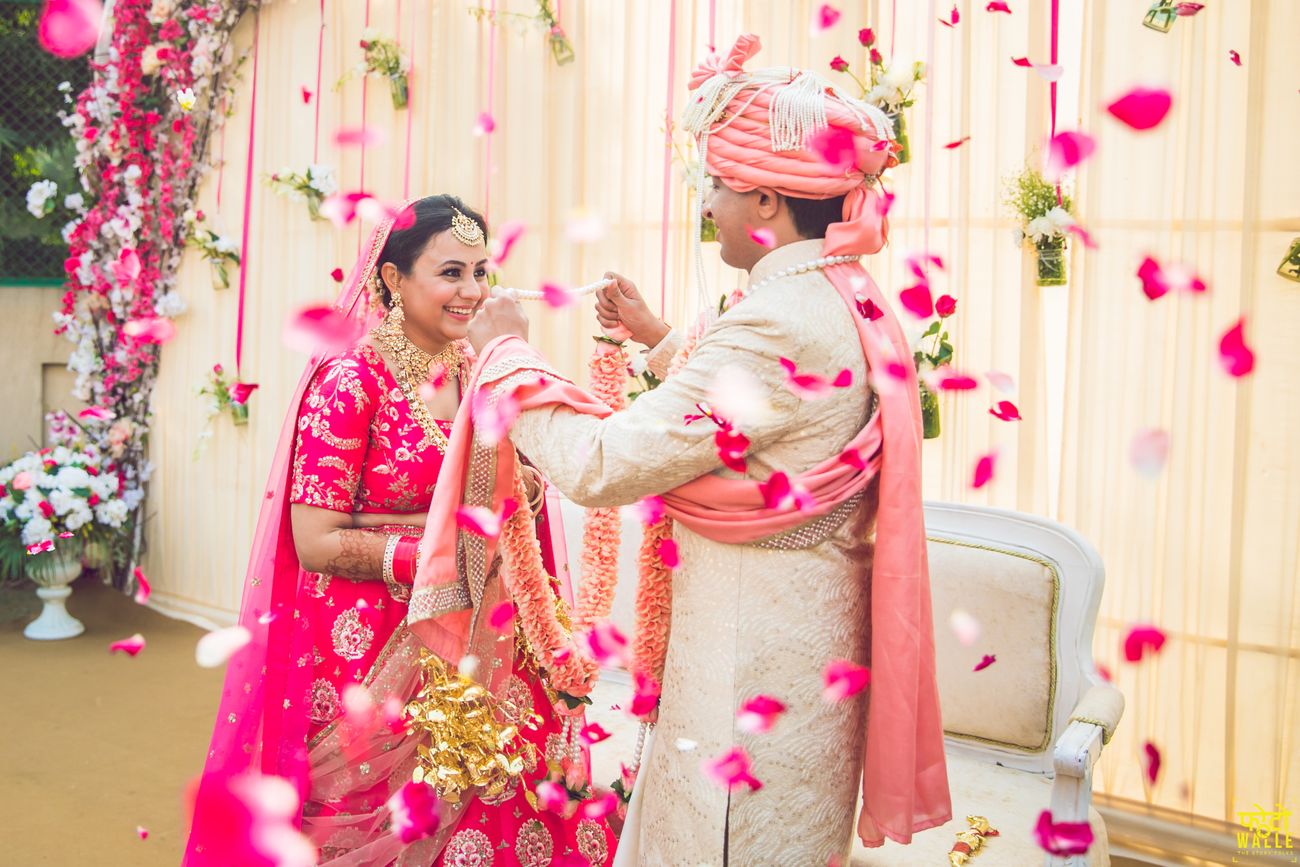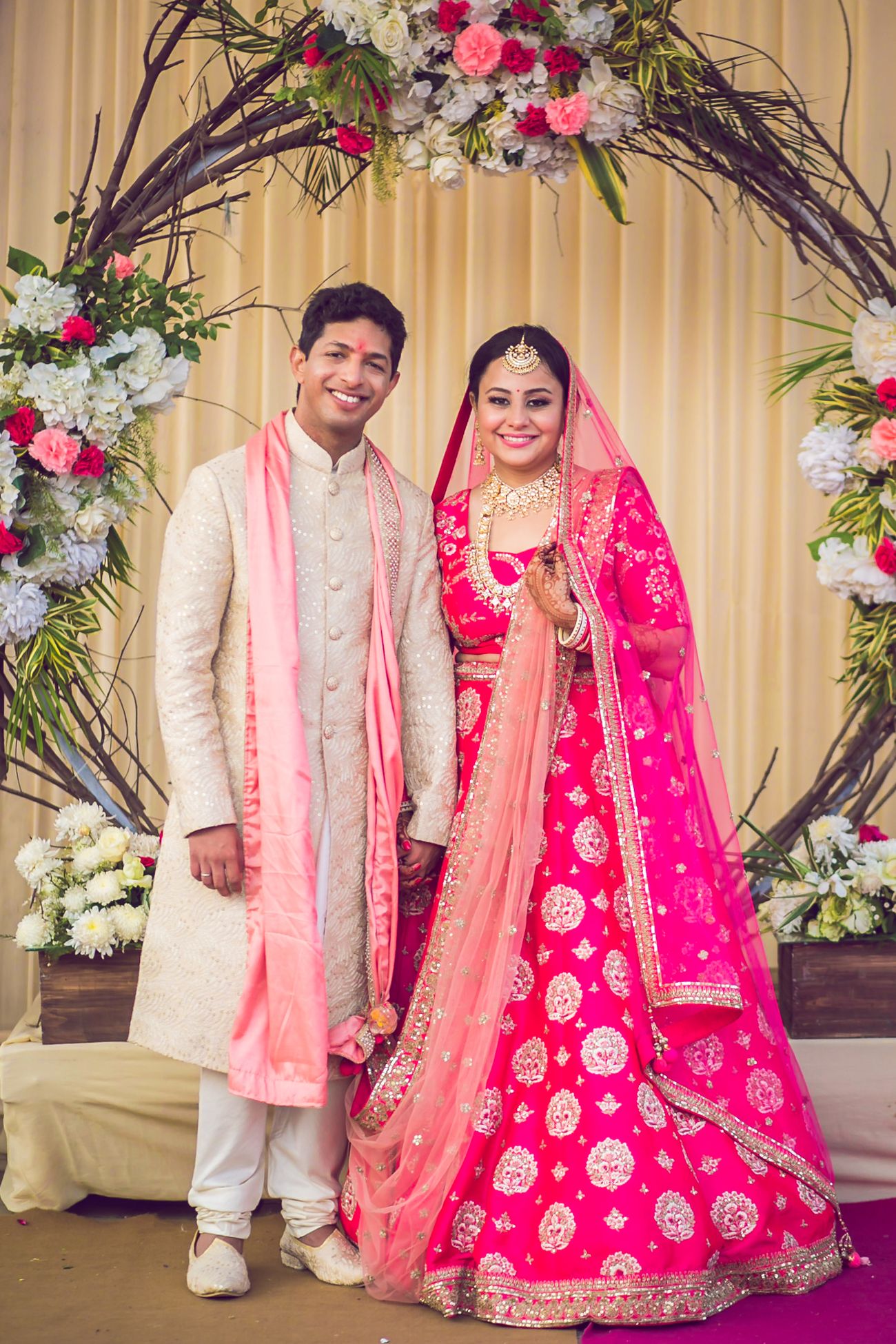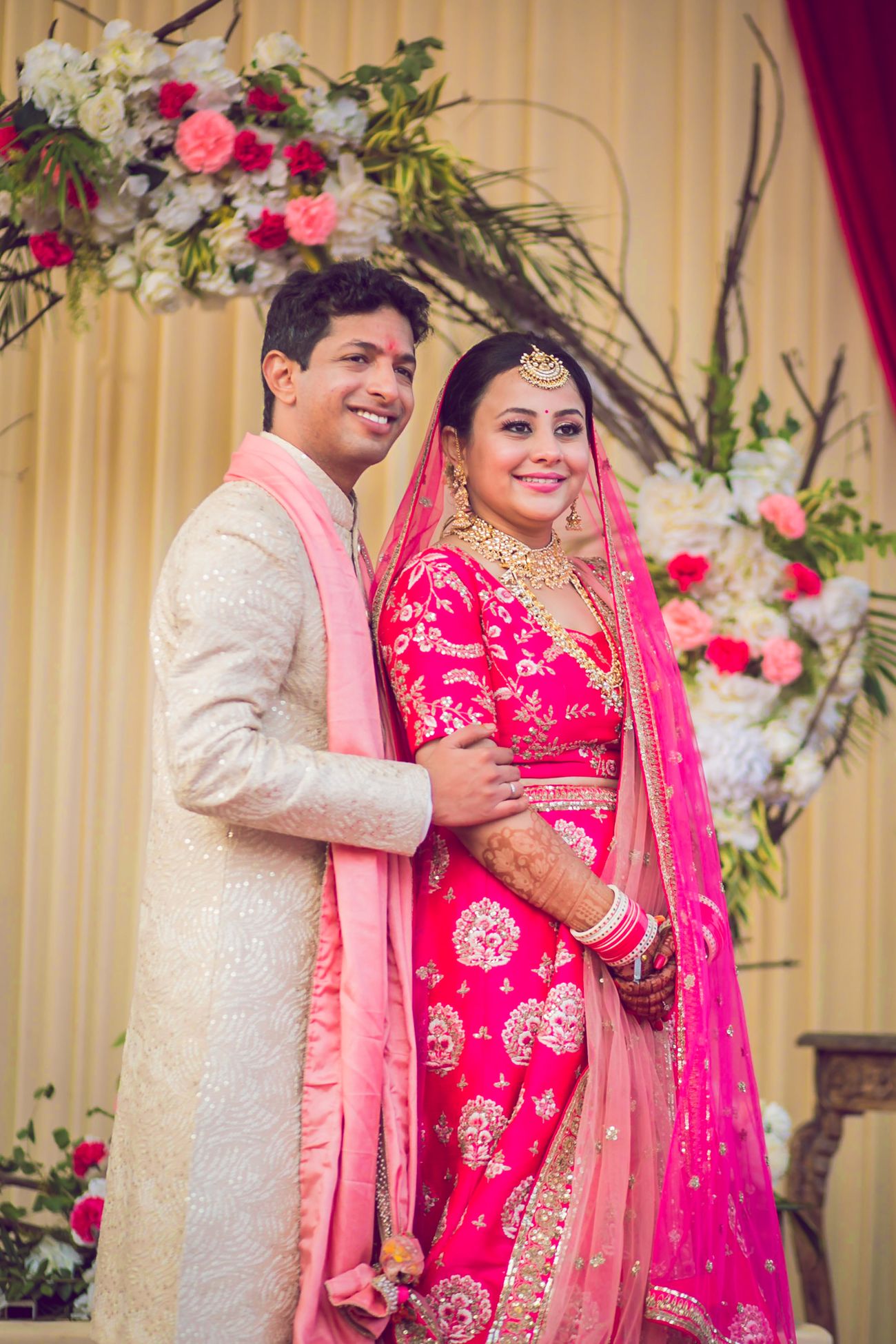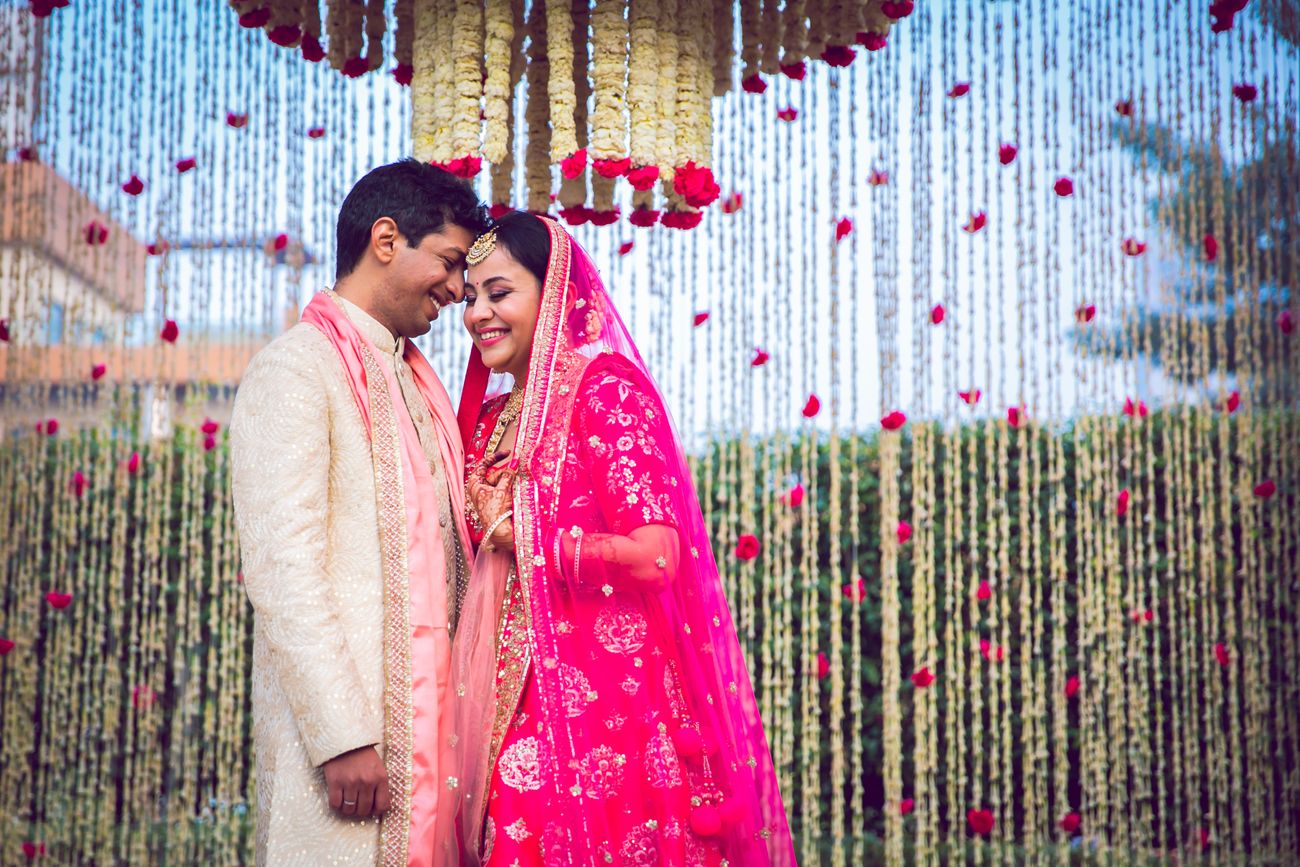 From The Bride: 
I'd worked in the wedding industry in different capacities for a year before my wedding, which helped me figure out what I did and did not want for my wedding. We kept it simple with 3 events over two days and moved all our close family and friends to the venue. We planned a day wedding ceremony, an idea that pleasantly surprised both our families. Luckily, we could convince them by using the winter sun as bait and till date, everyone can't stop complimenting us on that decision. The Mehendi was a last minute addition but was my favourite event decor wise. The engagement + Sangeet was an amazing party night with all our favourite 90s dance songs on the DJs playlist. We started the wedding morning early and thankfully, the weather Gods blessed us with a clear sunny day. We personalised every event with giveaways, signboards, decor elements, with a special focus on the music. Ishan's a design enthusiast himself and came up with these funky bookmarks as giveaways for all our friends, each with a hilarious wedding-related pun. My favourite was Et Tu Barate and and Que Sehra Sehra!
Vendor Reviews:
We had all our events at Club Florence in Sector 56 Gurgaon. This is an ordinary looking club from outside but opens up to a gorgeous lawn and had multiple venue options within. We did our mehendi in their lawn tennis area, a poolside sangeet and a lawn wedding. Mr Sudhir Bhandari and Mr Shashi treated us like family throughout. We had a bit of a scare during our food tasting but they more than made up for it at the actual event. They also made an exception and let me get our own decorators, which was one of our deciding factors.
I booked Gayatri Sharma for the Mehendi and the Sangeet event. Both looks were great and exactly how I wanted them to be. The sangeet look in fact is my favourite because she gave me the glam look that event needed without making me look over the top in any way. Highly recommended! I had Jasmeet Kapany for my wedding morning and I am so glad I listened to her advice about opting for the traditional gajra bun without worrying about my round face type. She's as good as everyone says she is and super fun to have with you on the wedding morning.
Fotowalle: I have known Parag and Kanupriya for a very long time and I'm so glad I could have Parag shoot our wedding. He was like a family member throughout!
I worked with Saurabh from Clique Events and this has to be my best wedding planning decision. I was super involved in every aspect of decor planning and was super worried about things would turn out without me supervising everything on the main event days. But one look at the setup of the mehendi changed all of that. They delivered exactly what I wanted and more! Everyone who was at the wedding couldn't stop praising the decor and I've already got them three more wedding projects after that. Highly recommended!
My Wedding lehenga was from Frontier Raas in South Ex. Initially, I was stuck on a pastel piece but I am so glad I changed my mind at the last minute and opted for this risky bright pink. The colour suited my skin tone and the intricate embroidery and minimal borders suited my body type perfectly. My Sangeet outfit was bought off the rack from Bombay Selections in Rajouri Garden. Never in my life have I bought anything from that market but this unplanned purchase was my second favourite wedding decision. I would really recommend brides to give retail stores a chance. You might just get lucky!
Vendors: Venue: Club Florence; Makeup Artist: Gayatri Sharma★ 4.9 (Mehendi & Sangeet), Jasmeet Kapany Hair and Makeup★ 4.9 (Wedding); Photography: Fotowalle - The Story Folks★ 4.9 ; Decor: Clique Events; Wedding Planner: The Millennial Bridesmaid★ 5 ; Bridal Outfits: Frontier Raas★ 4.4 (Wedding),  Bombay Selection★ 4.5 (Sangeet); Mehendi Artist: Mehendi by Arpit★ 3.8 ; Groom's Outfits: Dressage Inc; Wedding Invites: Ethnic Invites