All The Do's and Don'ts Of A Makeup Trial You Have To Keep in Mind!
BY Sakshi | 01 Mar, 2018 | 2104 views | 4 min read
Want to be a glam bride or a simple one? Want red lips or nude? Want to wear falsies or loads of mascara? Well, these are decisions you just cannot leave for the D-day! Yep, we highly recommend a bridal makeup trial, and trust us, you'll be way more at ease once you actually know what you're gonna look like! Here are some simple do's and don'ts you can ensure on your makeup trial that'll go a long way in helping you with your final bridal look!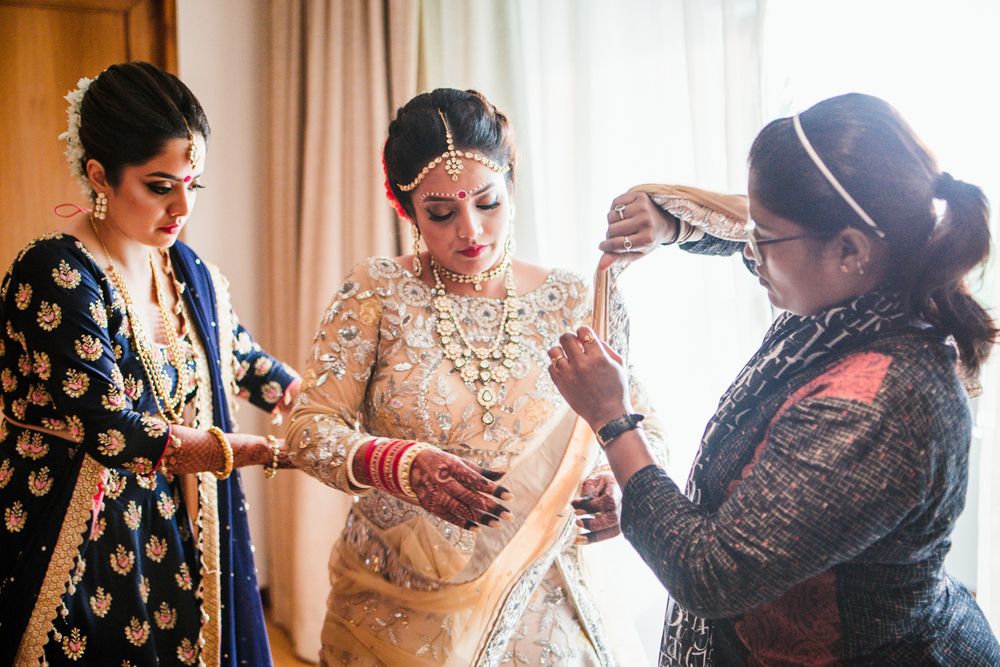 Image via YOU by Poonam Kotecha
Do's
Do keep in mind that most good MUAs charge for a trial. So get clarity on that beforehand. 
Do discuss with your MUA. Tell her your skin type, likes and dislikes- the features you like or don't like and your vision as a bride.
Do ask your options, and pick the best depending on your skin type. Do you want airbrush or HD makeup? And what will suit your skin better?
Do have something you want in mind- have a Pinterest board or a couple of images saved for the kind of makeup look you want. Will be easier to show than explain to your MUA.
Do wear your bridal jewellery or lehenga at the trial if you've already bought them, or at least wear the jewellery and the blouse at the trial. If not, then wear a similar colour top to the one you have in mind for your bridal lehenga.
Do try on dupatta drapes that go with your look! Just experiment to have some idea on the big day to imagine your final look!
Book your makeup trial in the morning and make sure to check it out under indoor lights as well as outdoors in natural daylight before finalising on the look. 
Do make sure to be open-minded. You might want a certain look, but hear her out, she might have something better in mind for you which might suit your face better!
Do get groomed beforehand. Just before it's a makeup trial, don't think its OK to have overgrown eyebrows or upper lip- it will all make a difference to your final look after the trial!
Do take along someone who's opinion you absolutely trust- a sister, BFF or maybe even your mom!
Do be completely honest with your MUA- if you don't like it, just tell her- otherwise it's just not gonna work!
Do try on falsies if you aren't comfortable with it beforehand. If not, then try on individual lashes which might be more comfortable for you. 
Do consider contouring to bring out your best features, and let those cheekbones pop!
Do take a hair trial too if you plan on wearing extensions and you haven't ever before- will save you a load of time on the big day!
Do smile and make expressions and see how comfortable the makeup is for you. Your skin should not feel too stretchy or limit you from having a good time!
Do take a lot of photos after- with and without flash photography. Check out small little details- if there's a white/ grey/ orange cast to the skin and whether the ears, face and the neck match.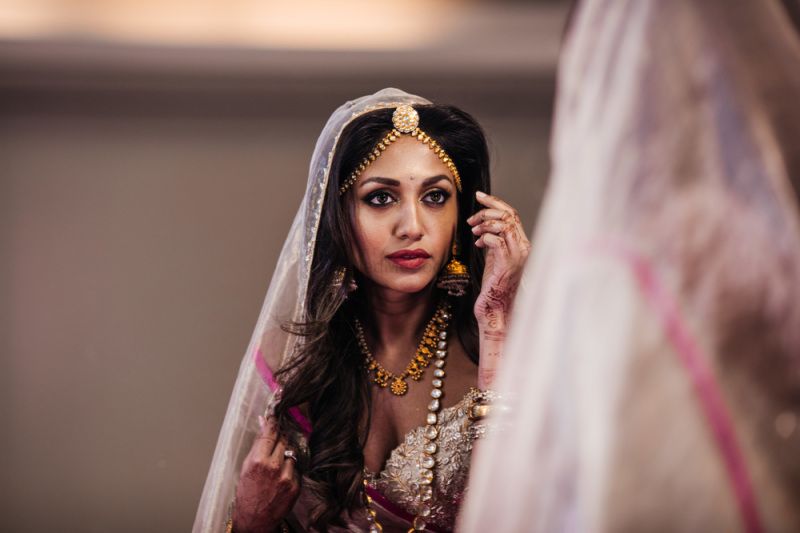 Image via Archana & Prithwish (Mumbai)
Don'ts
Don't schedule your trial more than 3 months before your wedding, you might change what you want altogether if the gap is too much. 
Don't let the MUA hijack your look. Listen to her advice, she's the expert after all, but if you really want something, communicate it to her so you guys can arrive at something you both like!
Don't agree to a super heavy makeup look just because that's how its 'supposed to be'! If you have good skin and have your wedding in the day in natural lighting, a simpler makeup look might work much better!
Don't be scared to be a bit experimental though- say you want the smokey eye and nude lip look- if you have it in mind, try it and then take a call!
Don't go for any look that's 'too trendy'. Trends come and go, but your bridal look has to have a timeless look- it's a once in a lifetime occasion!
Don't let too many people influence your opinion. Take an opinion from a couple of close siblings or friends who you can trust. 
Do not remove the makeup right after the trial. Try a long wearing test for at least 5 to 8 hours to test wearability. 
ALSO READ: The Pros and Cons of Airbrush Makeup!
Book your bridal makeup artist today to look gorgeous on your wedding day. Also, don't forget to book a family makeup service for your BFFs and relatives!