20+ Amazing Temple Jewellery Designs That We Spotted On WMG Brides!
BY Apoorva | 08 Mar, 2019 | 10589 views | 6 min read
Temple jewellery has a little piece of our heart! Not only is it extremely unique from the rest of the jewellery types, but it also allows you to dabble in gold, diamond as well as other precious stones if you like.
In the earlier times, temple jewellery was used to adorn god and goddess and that's where the name stems from. The regal look of the temple jewellery which originated in the 9th century forms a valuable part of South India's cultural heritage. And since we were so in love, we rounded up 20+ temple jewellery designs that we completely heart!
Image via Cinnamon Pictures★ 5
Stunning Guttupusalu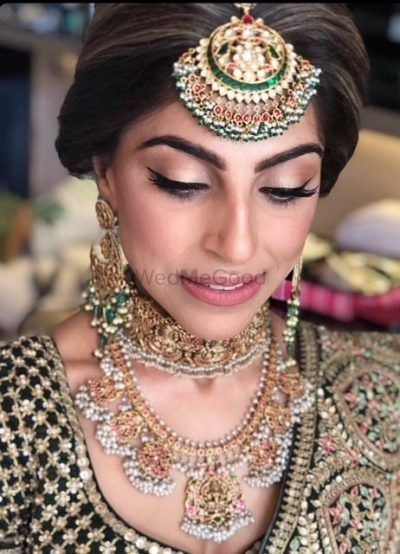 Image via Sukruti and Arjun Real Wedding 
How bomb looking is this guttupusalu necklace? It's elegant, its fun and it's perfect for brides who don't want to go all in with gold temple jewellery yet keep it fun! We loved how this bride balanced all that heavy lehenga work with a delicate pearl guttupasalu! 
Chunky Goddess Laxmi-motif choker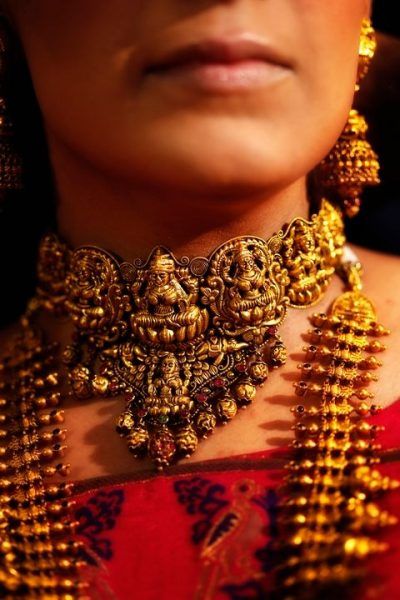 Image viaRajesh Digital★ 4.6
Give us anything chunky and we are in love! These pieces are so unique and easy to style, especially if you are looking for a bridal look. You can pair this with a longer necklace like this bride did or just wear it alone along with a mathapatti. 
This gorgeous pendant with an Antique look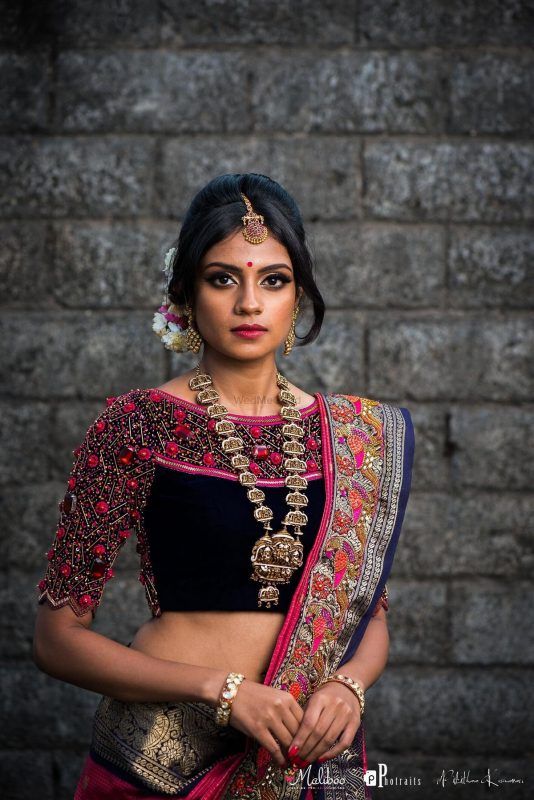 Image via Steff Hair & Makeup Artist ★ 4.4
Nothing screams elegant like an antique piece of jewellery. Add a temple jewellery piece to that and we are in seventh heaven! Antique pieces have a certain charismatic quality about them, which is so alluring for a bridal look. 
Gorgeous temple jewellery kada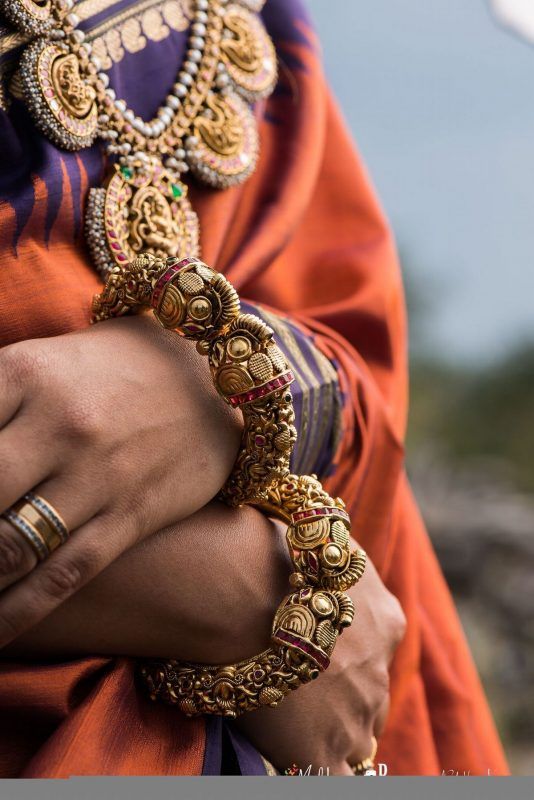 Image via Steff Hair & Makeup Artist ★ 4.4
Temple jewellery is not just limited to necklaces and haars. These beautiful temple jewellery kadas are proof that all kinds of temple jewellery is just lovely! These thick kadas look amazing as they are, or you can even pair them with glass bangles for a bridal look. 
This magnificent haar is goals!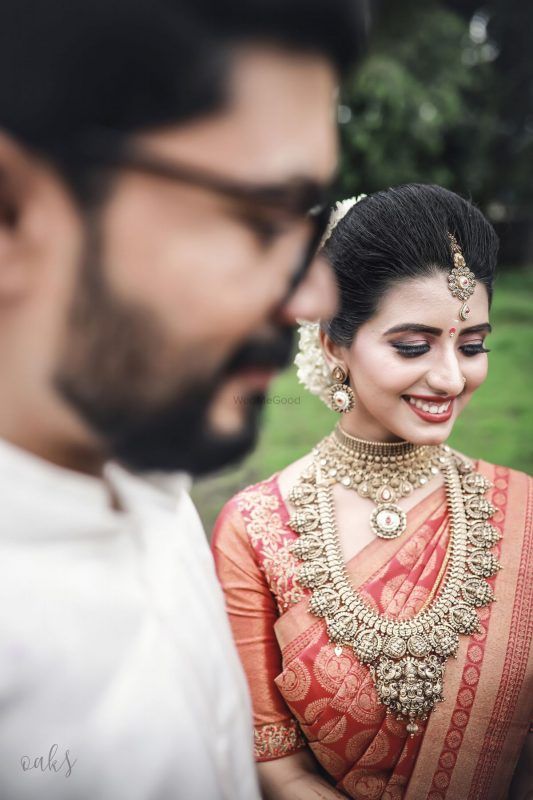 Image via Oaks Wedding★ 5
If you are a 2019 bride to be and are looking to go all out with your temple jewellery, we think we found you the one! This piece is stunning as is or can be paired with a dainty choker for your wedding day! 
Lovely peacock motif haar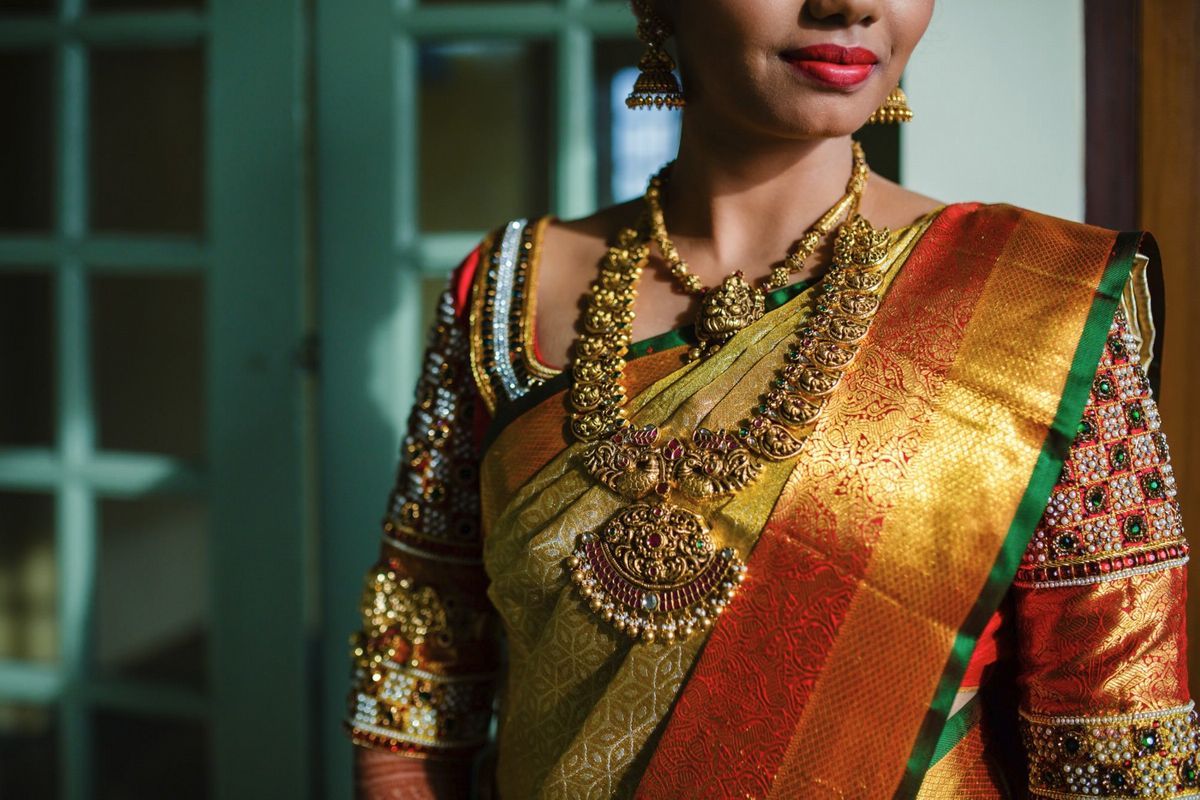 Image via Weddings by Alpheus★ 5
What is not to love? Absolutely stunning and such a pretty bridal wear piece. We loved how this bride styled it with a dainty neckpiece and let this gorgeous haar do the talking for her bridal jewellery! 
Nothing beats a chunky temple jewellery set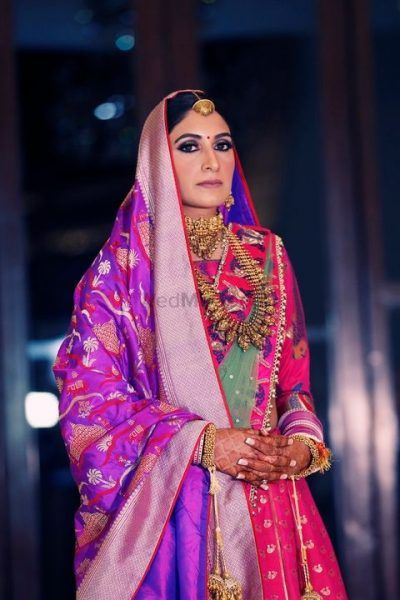 Image viaRajesh Digital★ 4.6
Dont we love our chunky pieces? This bride went ahead with two temple jewellery pieces which we love. The choker is simple stunning while a longer neckpiece is more traditional. Mixing best of both worlds! 
Traditional oversized laxmi haar with pearls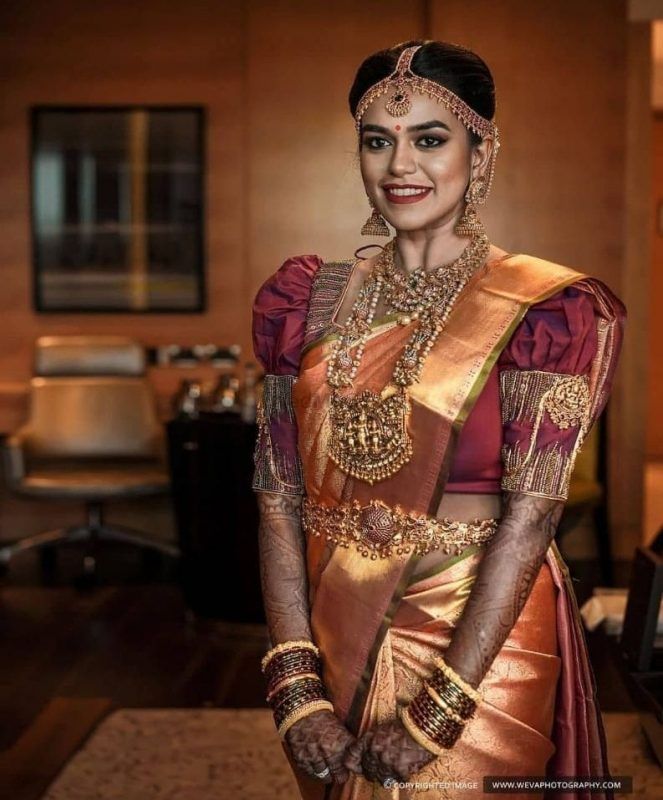 Image via Studio 9696★ 4.8
Wearing a kanjeevaram to your 2019 wedding? Take inspiration from this bride on her temple jewellery pieces. We loved the necklace with pearls along with the matching kamarbandh. We are also digging those traditional jhumkis that she opted for. 
Stunning two piece set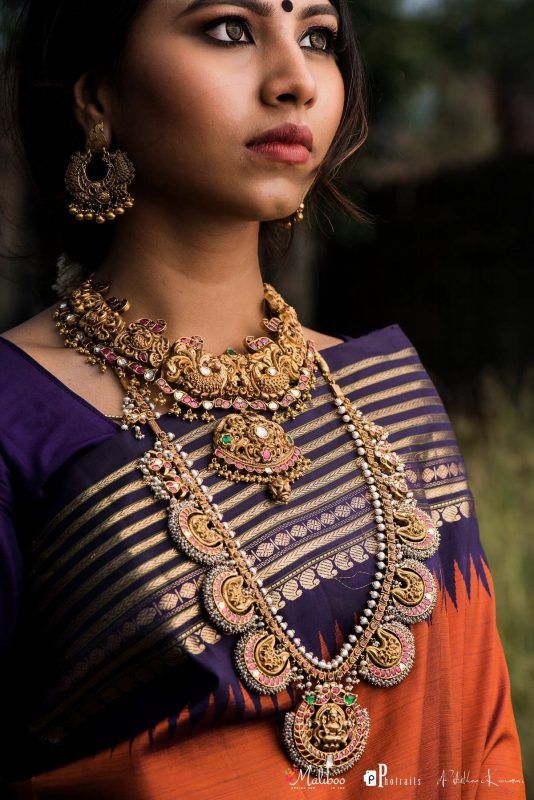 Image via Steff Hair & Makeup Artist ★ 4.4
What is better than one temple jewellery piece? Two of them! This beautiful two piece set literally gets out hearts racing. It has colour, it has patterns, it's perfect for any kind of look and it's oh-so-bridal!
This Ganapati Motif Necklace with little danglers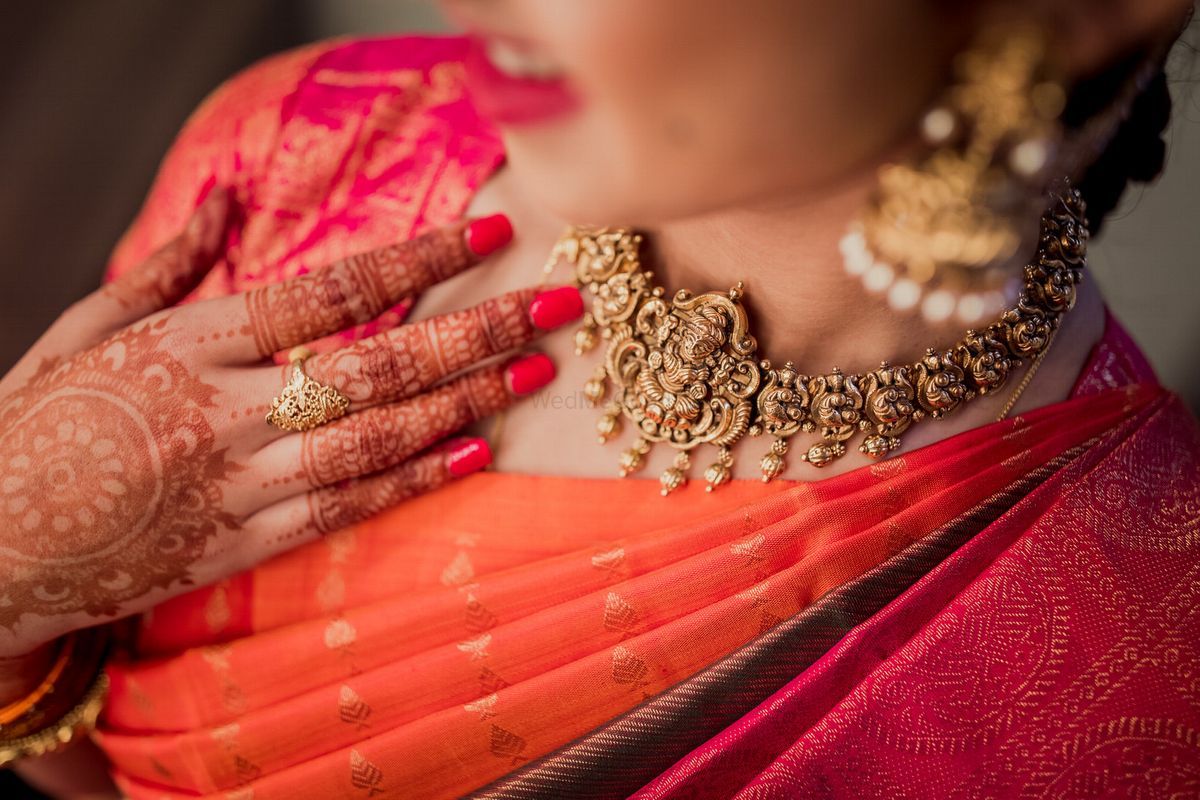 Image via Pixelena Studio★ 4.9
A little touch of tradition goes a long way. As temple jewellery used to and still is adorned on idols of god and goddesses, most pieces will have a touch of them too. Like this beautiful Ganapati motif necklace that has those cute danglers. 
Simple, yet so beautiful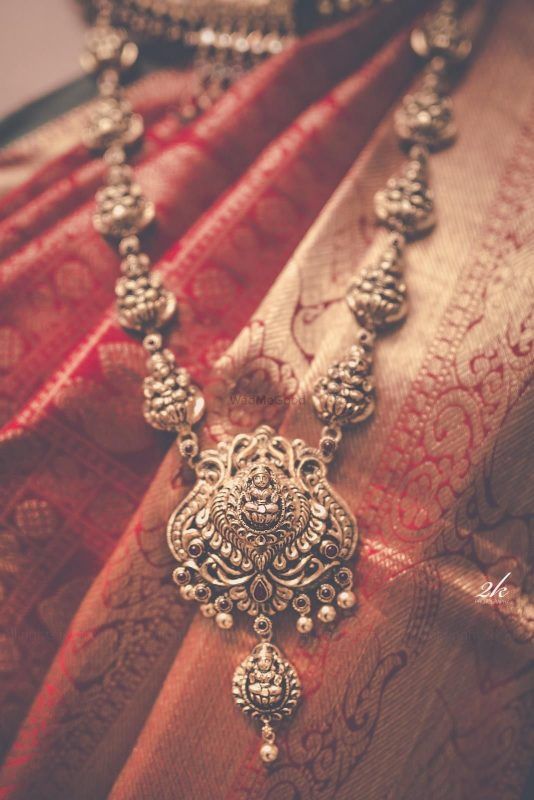 Image via 2k Photography★ 5
There is a misconception that all temple jewellery pieces are heavy and super OTT. That's completely untrue. You have beautiful and delicate pieces, like this one, which you can pick over heavier haars for your bridal look too. 
Going All traditional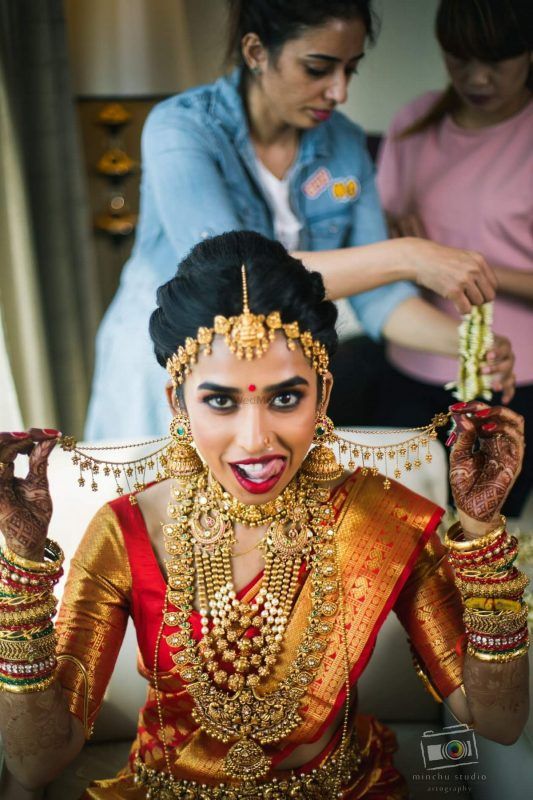 Image via GlossNGlass★ 4.9
You get married only once, so why not go all out? This bride wore gorgeous pieces of temple jewellery on her d-day, including a 5 layer haar, a beautiful set of jhumkis and ofcourse, a chunky choker! 
Coin inspired neckpiece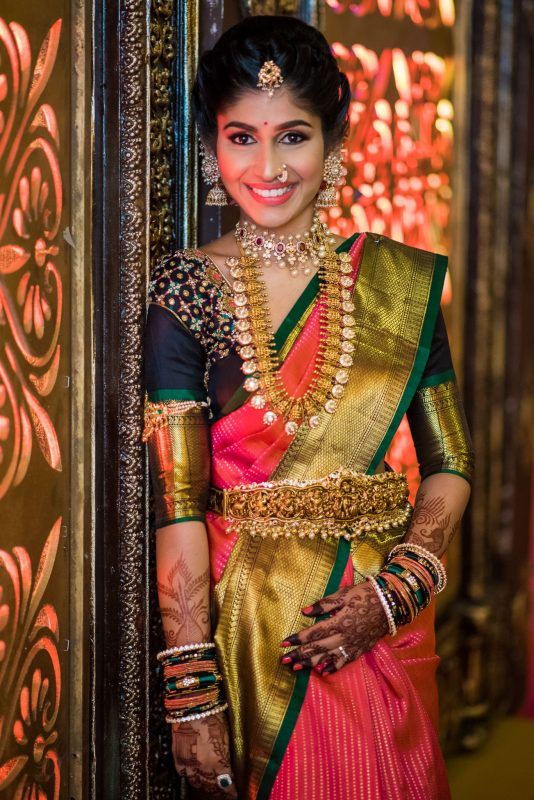 Image via Make-up by Afsha Rangila★ 5
Another traditional design. But along with her coin necklace, what we are totally crushing on is her amazing kamarbandh! That beautiful temple jewellery piece is the one that you pass on from generation to generation, since its so stunning 
Pearl + Gold = Amazing Temple Jewellery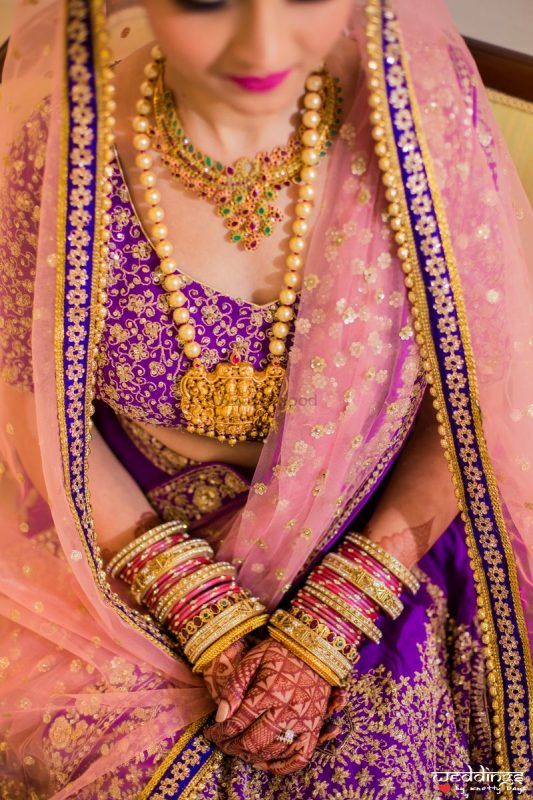 Image via Weddings by Knotty Tales
Temple jewellery isnt just gold. There are various versions and variations in it. Like this one - a pearl string along with a chunky pendant gives it a completely different look and feel as compared to an all gold set. 
Delicate laser cut pendant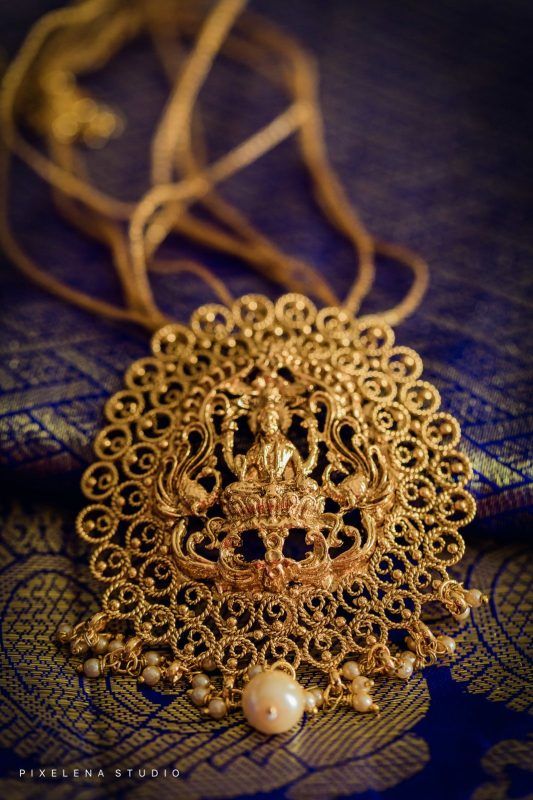 Image via Pixelena Studio★ 4.9
Looking for something dainty and delicate yet in the temple jewellery family? Take inspiration from this beautiful laser cut piece with a goddess motif which is giving us all the feels! 
Diamond studded temple jewellery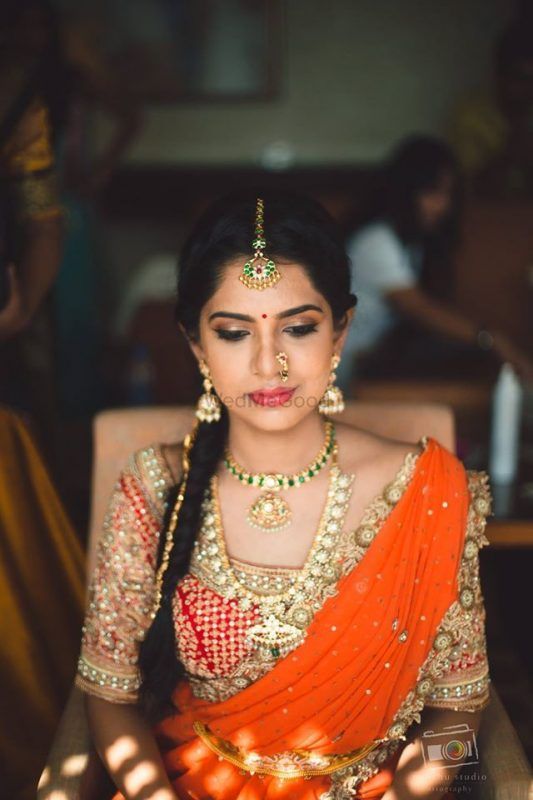 Image via Minchu by Sujay & Shreyanka★ 4.9
Love diamonds and temple jewellery? Combine the two like this bride did! We are crushing on this diamond studded temple jewellery neckpiece along with that small emerald pendant set. 
Lovely emerald and ruby cut temple jewellery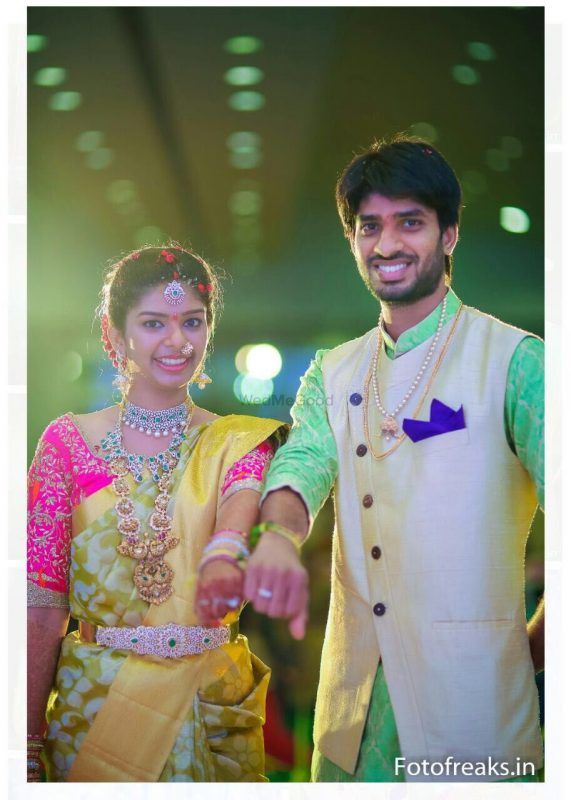 Image via Sagar Tenali★ 4.9
This bride played with colours in her temple jewellery pieces. While she opted for diamonds, she also encrusted her temple jewellery with emeralds and rubies to give it that touch of colour
This dark, antique finish jewellery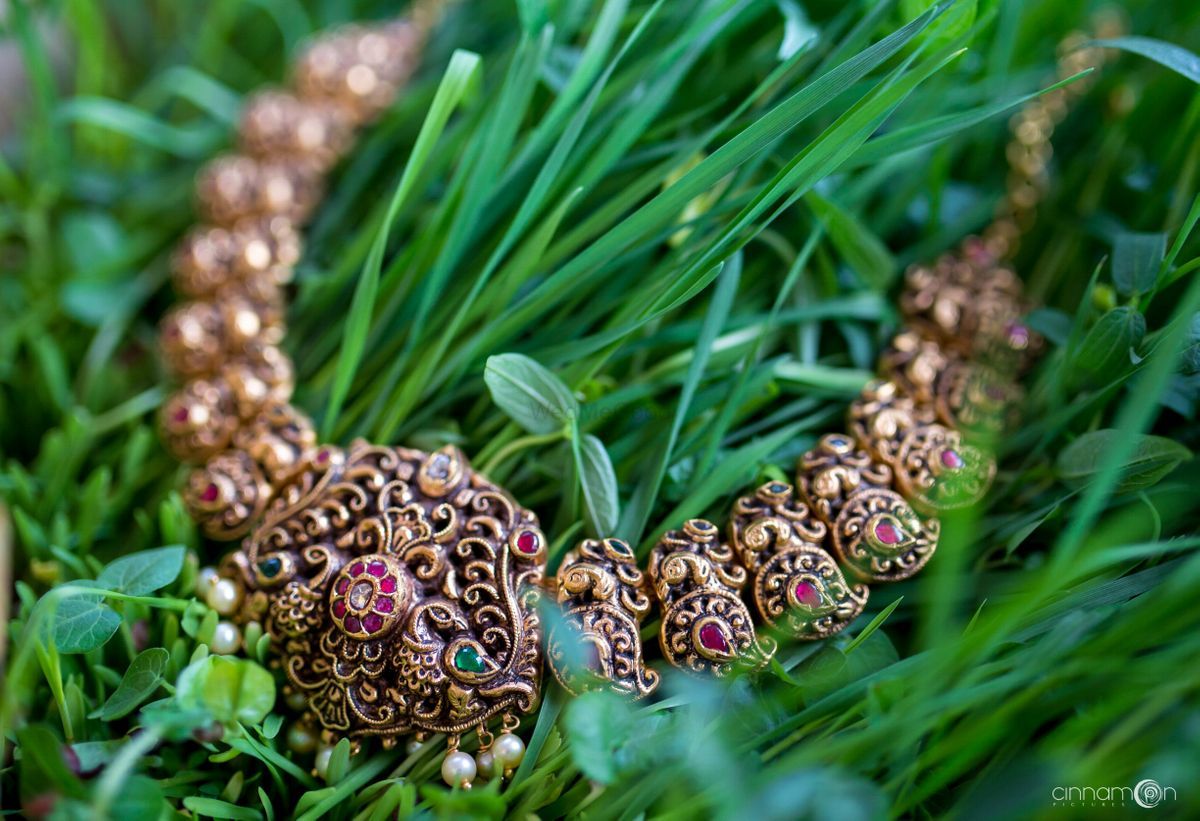 Image via Cinnamon Pictures★ 5
Want something dainty yet bridal? This is it!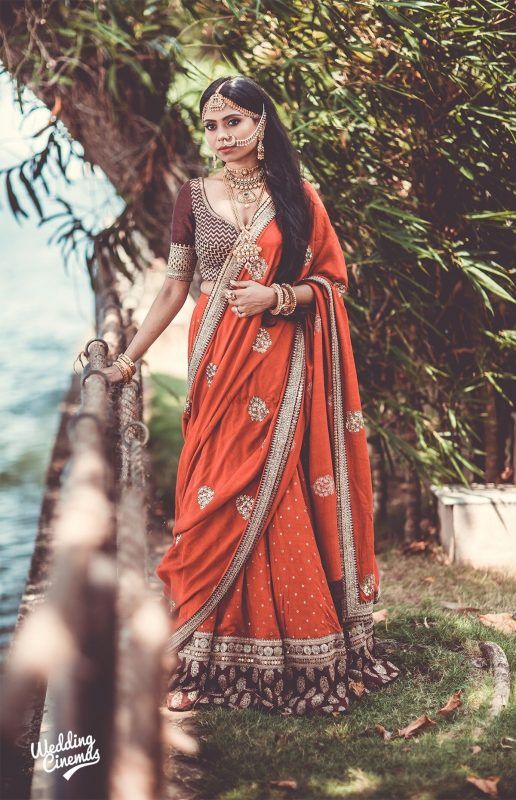 Image via Weddingcinemas★ 5
Bridal doesn't always have to be heavy. It can be simple, elegant and beautiful like these delicate temple jewellery pieces. We loved how the bride has layered the pieces instead of just two necklaces or one! 
Fusion temple jewellery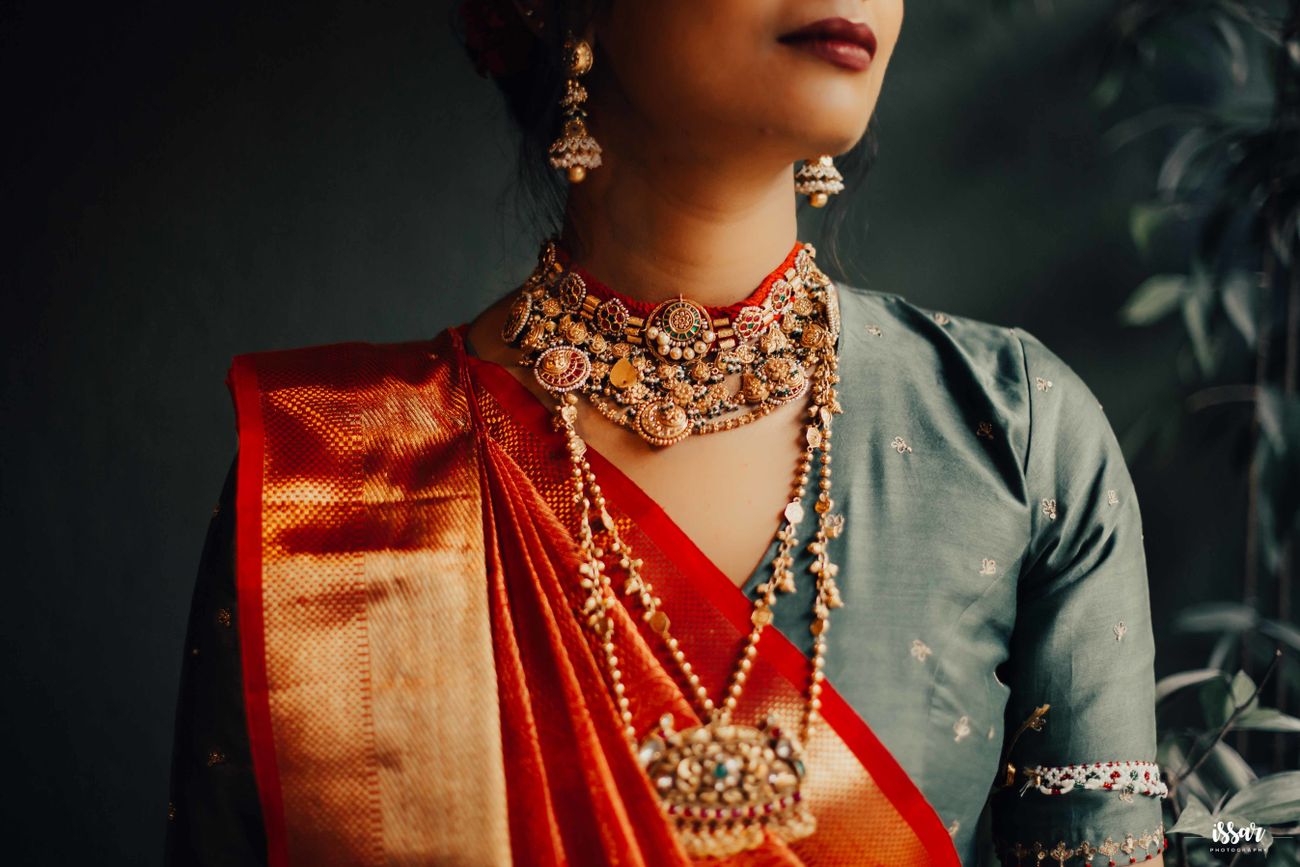 Image via Shashank Issar Photography★ 4.9
Boat Motif Temple Jewellery Set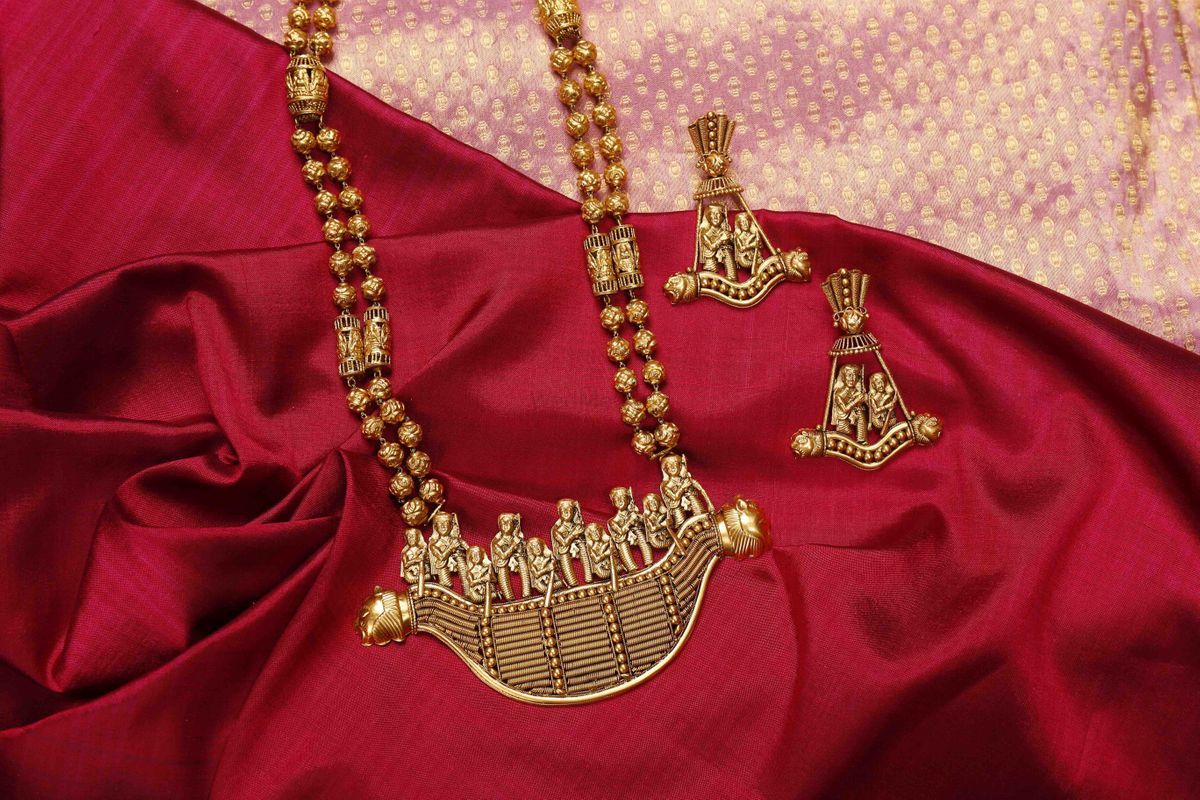 Image via Araceli Jewellers★ 4.9
Along with god and goddess motif's, temple jewellery also has motifs that represent their culture and rituals. This pretty boat motif is a beautiful piece of art! 
While go all traditional when you can have some fun? This fusion temple jewellery piece is all kinds of beautiful. Its perfect for a traditional event or you can even pull it off for a semi-traditional wedding. 
While temple jewellery is quite a historical treasure, many designers and jewellers are coming up with modern temple jewellery designs. So if you are 2019 bride and are contemplating to go the temple jewellery way, don't forget to bookmark these designs for your wedding book!