An Adorable Pre-wedding shoot with a Vintage Vibe !
BY The WMG Bride | 06 Sep, 2014 | 1407 views | 3 min read
We have often felt that Pre-wedding shoots in India all end up looking like the same cookie cutter, romantic, holding - hands kind of images. What REALLY makes a pre-wedding shoot stand out is when the couple themselves pay attention to detail like in this one- right from the polka dot red heels, to the vintage inspired bow tie and jacket on the groom- this has a distinct sixties vibe about that. Not just the outfits but the picnic basket, the cupcakes, the mason jars all blend together to make this one of the most ADORABLE pre-wedding shoots we have ever seen largely because its been shot by the talented  
Garima Singh Photography , 
 this one will give you a dozen ideas to make your own shoot memorable !
Meet Sonam and Pinder
Sonam says "Pinder and I have known each other since 7 years now, we met when we were 18 !  A mutual friend introduced us and we hit it off right away. People know me for my bubbly spirit and quirky, as well as silly personality – however, I am not one to try new things! Pinder, on the other hand is a complete bookworm, but one of the most adventurous people I have ever met! The perfect example of this is travel- We both love to travel. I have gone to NYC (3 x), Punta Cana (4 x) & India (4 x) – as you can see, I stick to what I am comfortable with. This past spring, he literally surprised me with a trip to New Orleans – which I was completely against at first, but it turned out to be an amazing experience. Although we are complete opposites, we're also so much alike "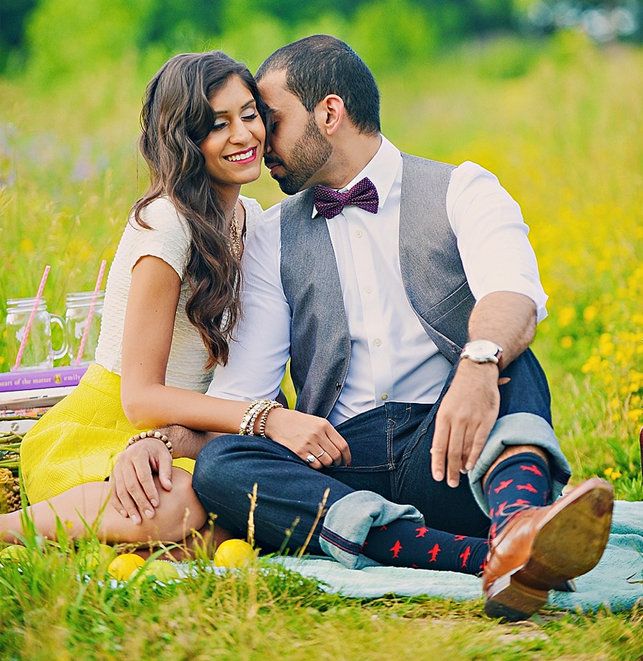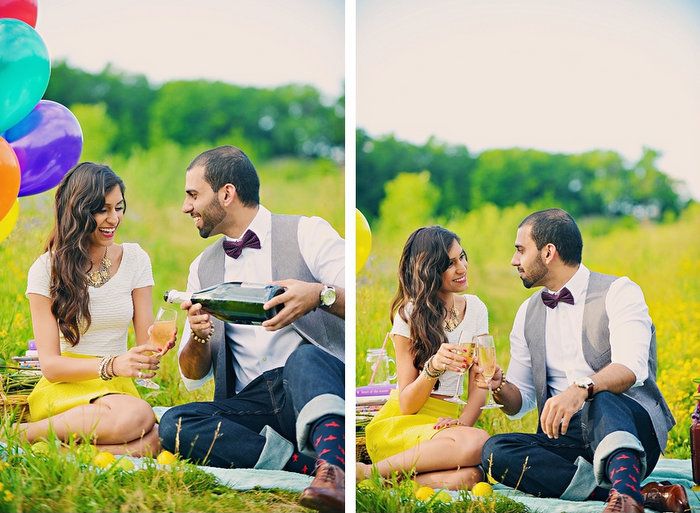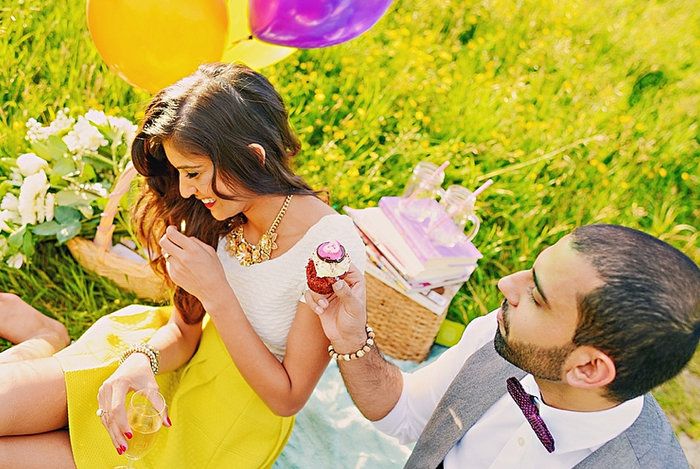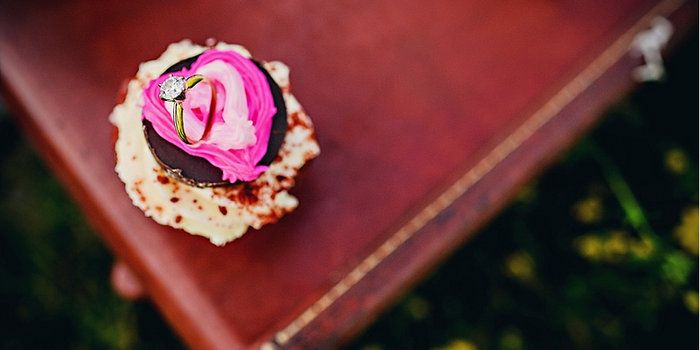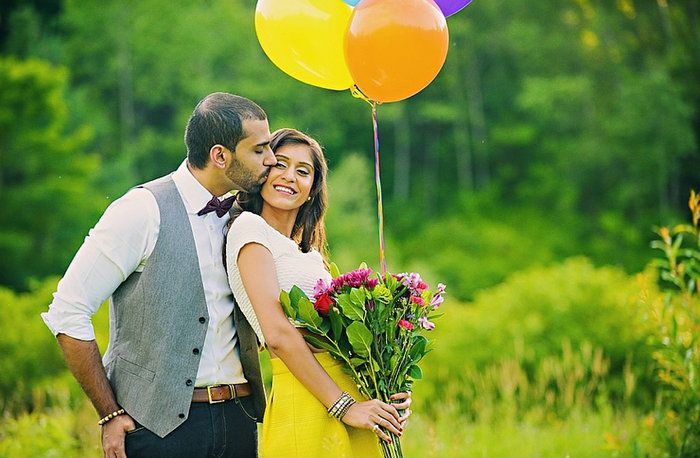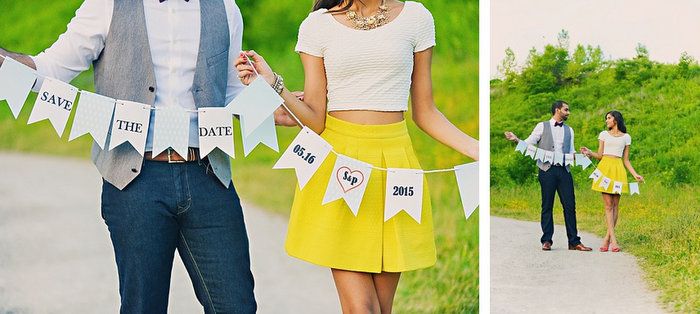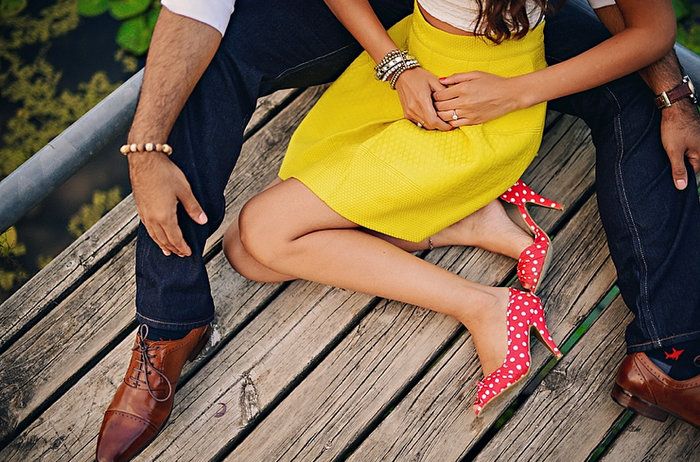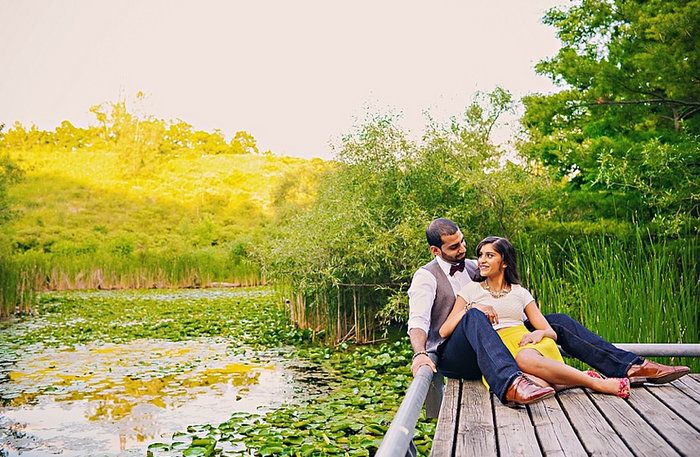 From the bride "Our vision for the shoot was simple: young old school love. We wanted something with lots of sunshine, colour & playfulness, inspired by a vintage feel! We had many vintage props, including mason jars, picnic basket, flowers, books & a suitcase (provided by our lovely photographer).  Our outfits (& my hair) were vintage inspired. I paired my vibrant yellow skirt with bright red polka dot peep toes. My top and skirt were from H&M, necklace from Forever XXI & heels from Aldo. Pinder's complete outfit was from Banana Republic . Our Photographer is Garima from G & H Photography . I can't praise her enough! She is the person behind this wonderful shoot! I knew I wanted her before I was even engaged! I always eyed her creative shoots on Facebook and she really brought my vision to life. She is amazing at what she does and made us feel super comfortable. She encouraged all the props and even brought some of her own! I sent her a few photos of the look I was trying to go for and she took it from there. I can't wait for her to shoot my wedding! [handbook]
Getting hitched? Don't forget to check out our Vendor Guide to help you hire
 Sonams outfits : H&M , Necklace from Forever 21, Heels from Aldo   | Pinders outfit: Banana Republic  | Photography by Garima Singh 
|
 Engagement Ring from
White Flash