An Amazing and Complete Wedding-Day Timeline That We Loved!
BY Apoorva | 05 Sep, 2019 | 3105 views | 5 min read
To manage an Indian wedding smoothly is no less than a mission. And the key to running this is to have a killer timeline plan in hand. Breaking down your entire wedding day timeline helps you stay organized and on-track when the day arrives. The more detailed you can make the plan, the better. This might sound complicated but it really isn't. All you need to do is get details from both the families as to what is expected and then collate all of that together. Better still? Ask your best friend or brother to do this with you. That way you can hand over the duty of running that timeline once it's set by you on the d-day!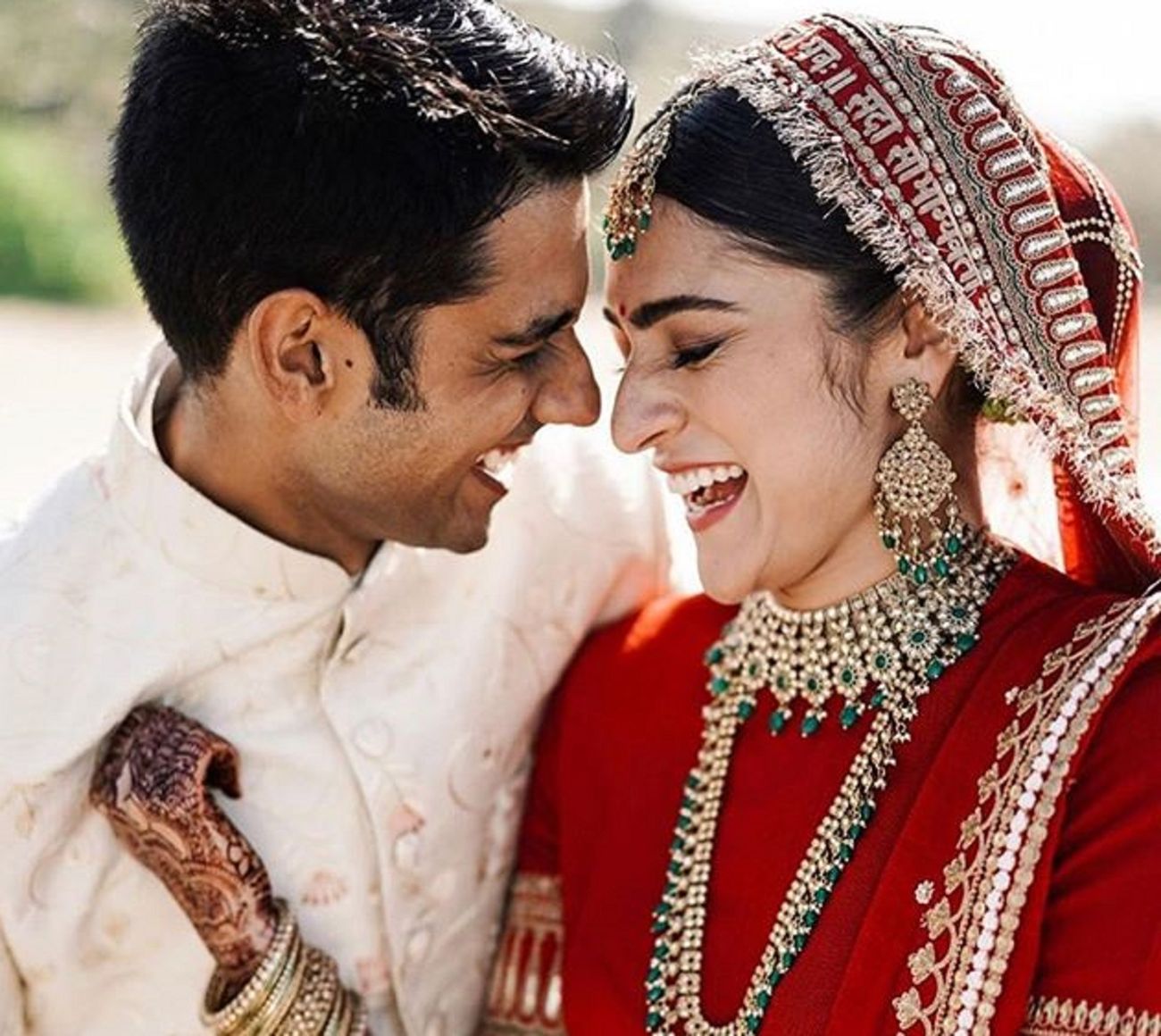 Image via Axioo Bali
T minus 5 hours
Get up and have a sometime set aside for yourself before the wedding chaos begins. If it's early in the morning, have a good breakfast (ideally fruits) and relax with your friend or mom with a cup of tea/coffee. Call your husband-to-be and have a quick chat (if he is awake!)
T minus 4 hours
Makeup artist and hair artists should arrive. If you plan on getting photographs and videos done during your getting ready process, you should start getting ready 4 hours prior to the time you are expected to reach the venue/reach where the wedding rituals are taking place. If no photographs are scheduled, 3 hours prior will also do. Basically add one hour to whatever your bridal MUA states its going to take her. Ensure you have at-least two friends with you while you get ready to take care of any last minute help.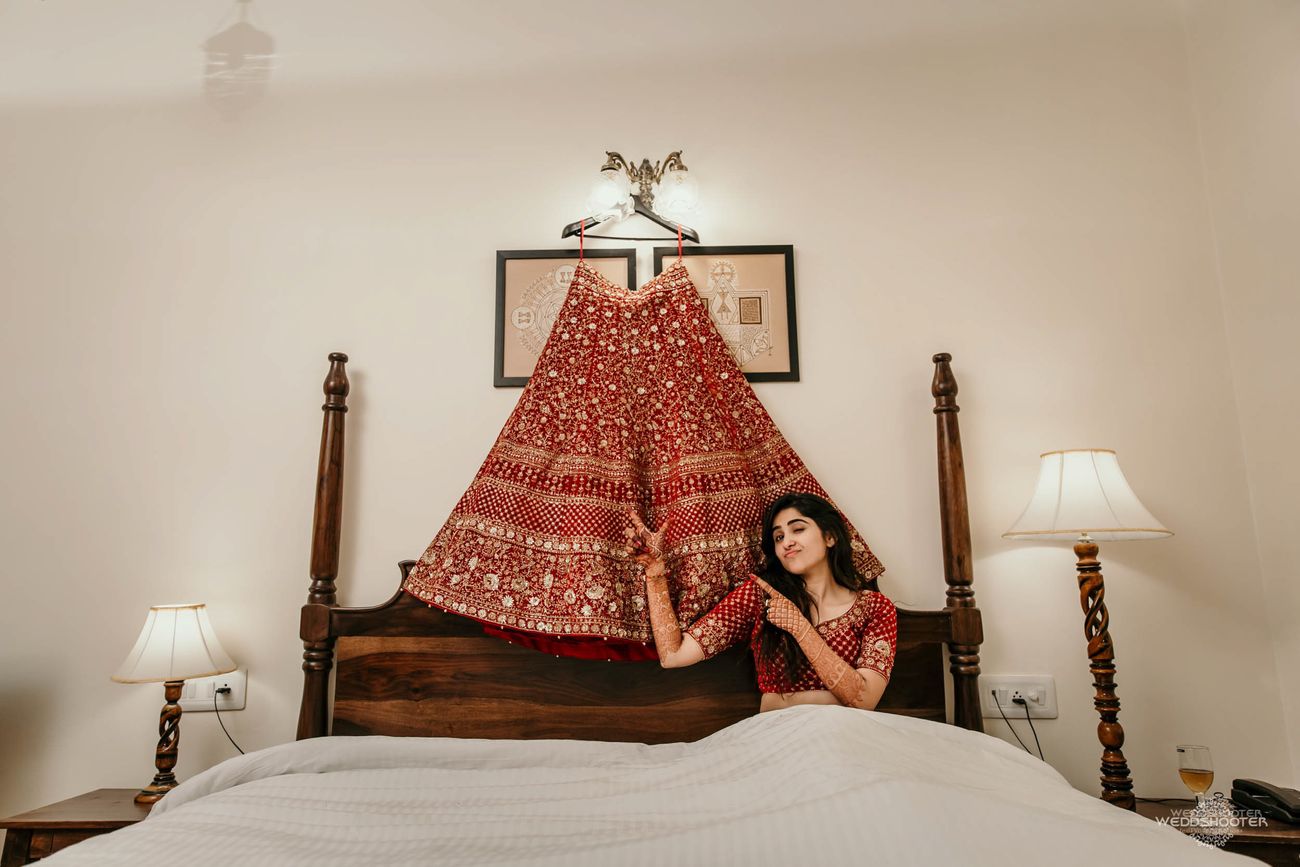 Image via Weddshooter★ 5
T minus 3 hours
Have a quick break where you can have a juice or a bite to eat with your friend. Max 5 minutes!
T minus 2.5 hours
Have your planner/designated friend confirm with all wedding vendors that everything is running according to plan. If there is something that needs to be done, get help quickly!
T minus 2 hours
Your wedding and video team should arrive max by now, especially if you want to get getting-ready pictures. The photographer can also get detail shots of the dress, rings, invitation, etc. If you want your getting ready shots with your bridesmaids, ensure they are dressed in whatever you have decided by that time. You can take a 15 minute break here for all your getting-ready photographs.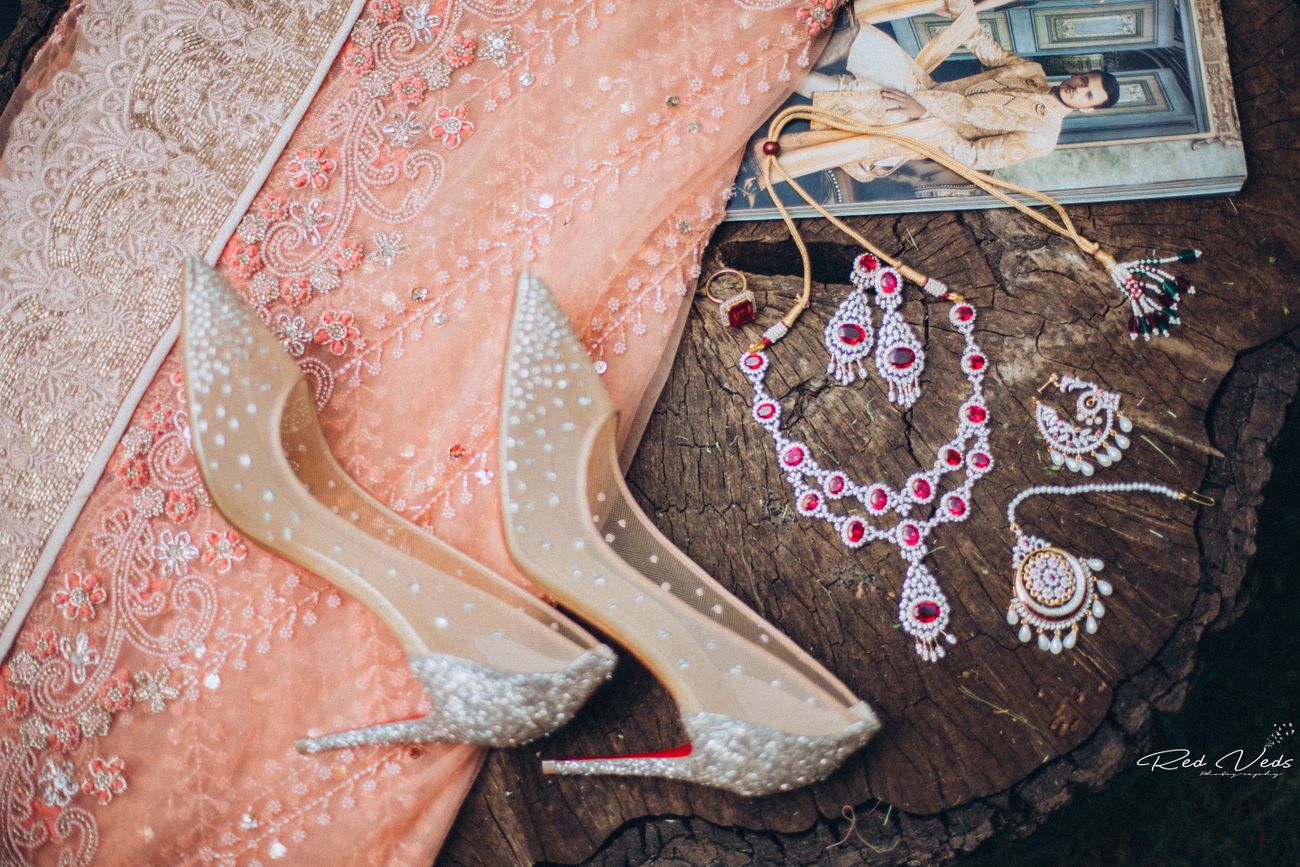 Image via Red Veds★ 4.9
T minus 1.5 hours
You should be 90% ready by now. Double check all your jewellery if it's worn properly and also if the drape is comfortable. If not, ask your MUA to fix it immediately.
T minus 1.25 hours
Have your planner/designated friend confirm with all the members who need to be there for family photos are ready to come into your suite/wherever the pictures are being clicked. Mostly parents are running helter skelter to attend to guests, so catch hold of them first.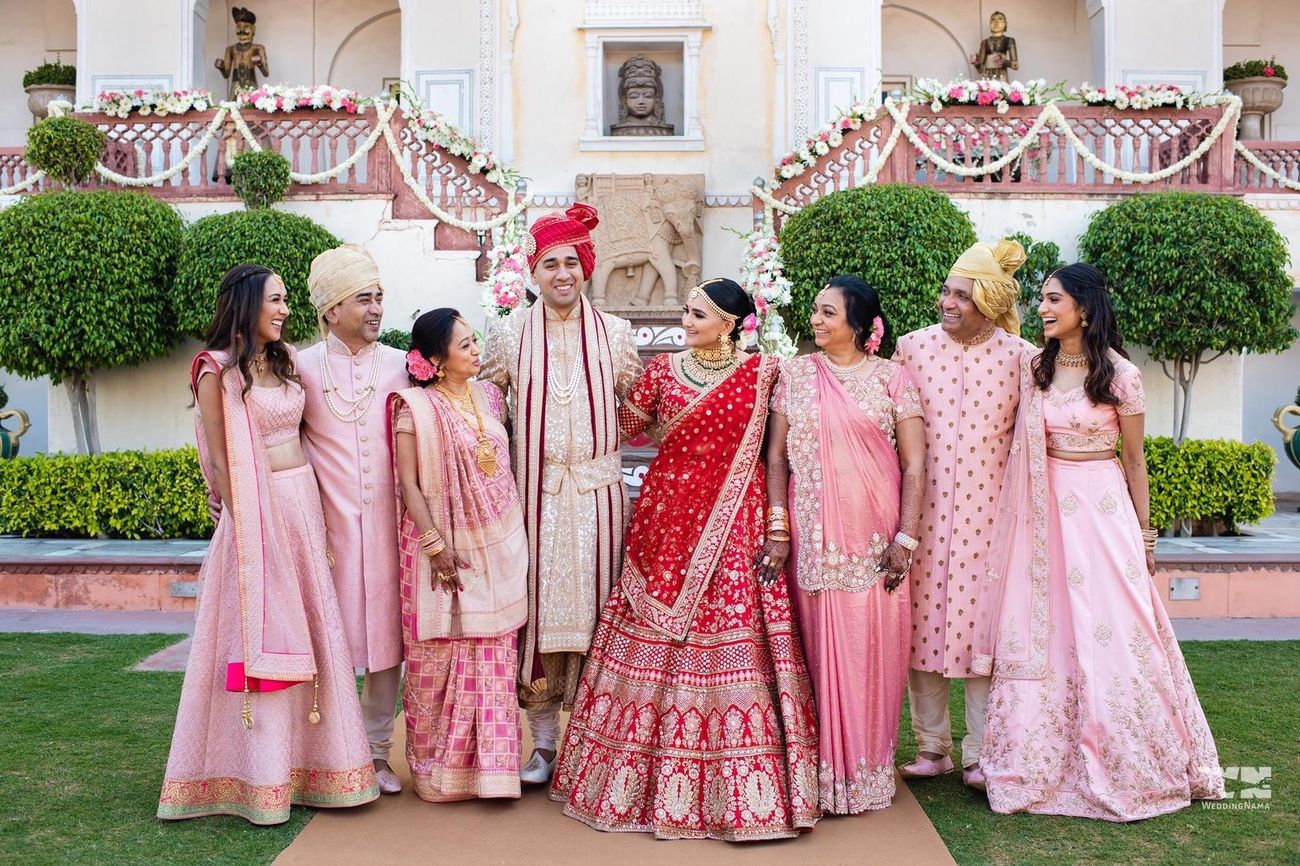 Image via Pooja Khurana Makeovers★ 4.8
T minus 1 hour
All photographs and videos which need to be shot with your partner, friends, family need to happen in the next 30 minutes. If you are not at the venue, this is the time you need to leave for the venue – even if its 15 minutes away!
T minus 30 minutes
Use this time to fix anything that needs fixing. Probably your drape became loose during the photographs or you found your lipstick fading. Fix all of that, use the washroom, have a glass of juice and sit for 5 minutes quietly before its time to go. If you have someone holding your phoolon ki chaddar or your dad walking you down the aisle, ensure they are ready to go too!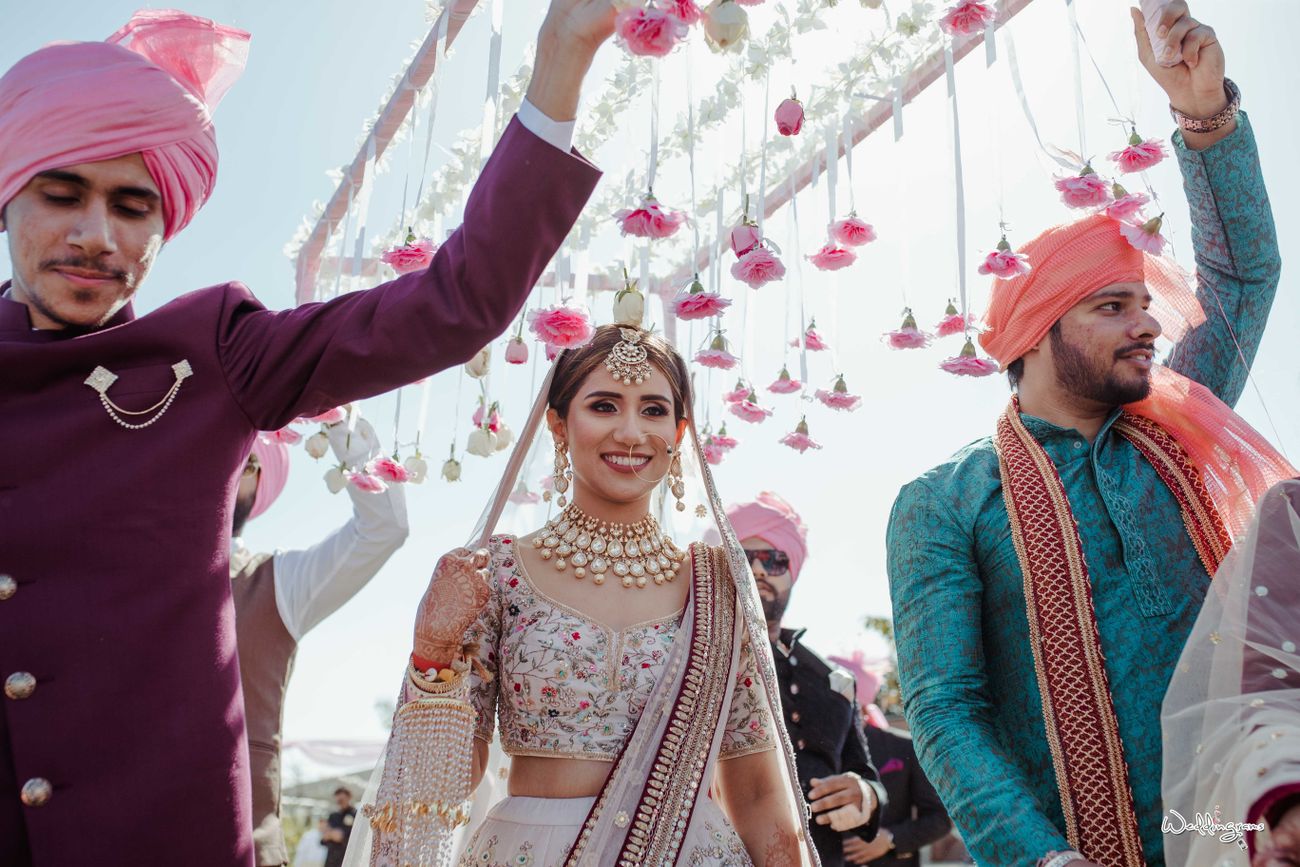 Image via Weddingrams★ 4.8
It's wedding time!
This is the time block that varies most for weddings. The time really depends on the type of ceremony you're having. Congratulations, you are now married!
Post – Wedding
Unless you are having a reception immediately after your wedding, mostly some wedding pictures are clicked with the extended family and friends gang. If you have a reception without an outfit change, we would recommend atleast a 30 min break in between to refresh your makeup, use the facilities and breathe a little!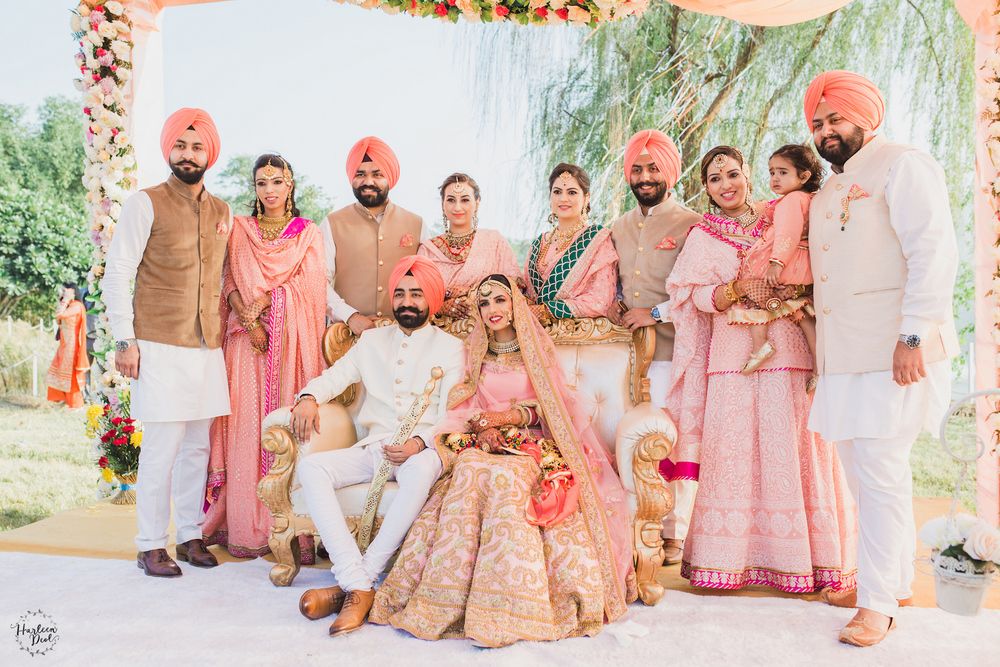 Image via Guneet and Harkamal's Real Wedding
Meal Time
Once all the guests have eaten, have your first meal as Mr and Mrs!
Things to remember before creating your wedding timeline
Are you getting ready at the venue? If not, factor in travel time in this entire timeline. Always have 20 minutes buffer for traffic or any other issues.
Every wedding is different, so copying a wedding timeline template you found on the internet word-for-word is probably not going to work for your big day (of course you can use the above template as inspiration, though!)
Anticipate delays. Things will never run according to time, so be prepared for delays. Instead of panicking, just accept them and deal with it.
If your groom has a baraat, keep it in check. People have had weddings postponed by hours because of baraat delays.
If your wedding venue is charging you by the hour or has a fixed end time, have a strict timeline because any delay will end up costing you
Don't create the timeline alone. Ask your parents, in-laws, partner about all the things that will happen on that day. Chances are that you might be unaware of certain things that may cause delays.
Have backups. A backup vehicle in case yours' breaks down. A backup phone. A backup pair of shoes if yours suddenly feel uncomfortable.