Bachelorette Trip Destinations for Every Budget (From 10K To A Lakh)
BY Sakshi | 22 Aug, 2018 | 17848 views | 7 min read
Thinking of trippin' it for your Bachelorette party? Well if budget is a criteria, then let us tell you that a destination bachelorette party is highly doable even in a budget of 10k per head, and a trip abroad in a budget of 20k per head! Don't believe us? Then well, take a look for yourselves as we've put together some cool places you can consider as per your budget! And yes, the bigger the group, the better!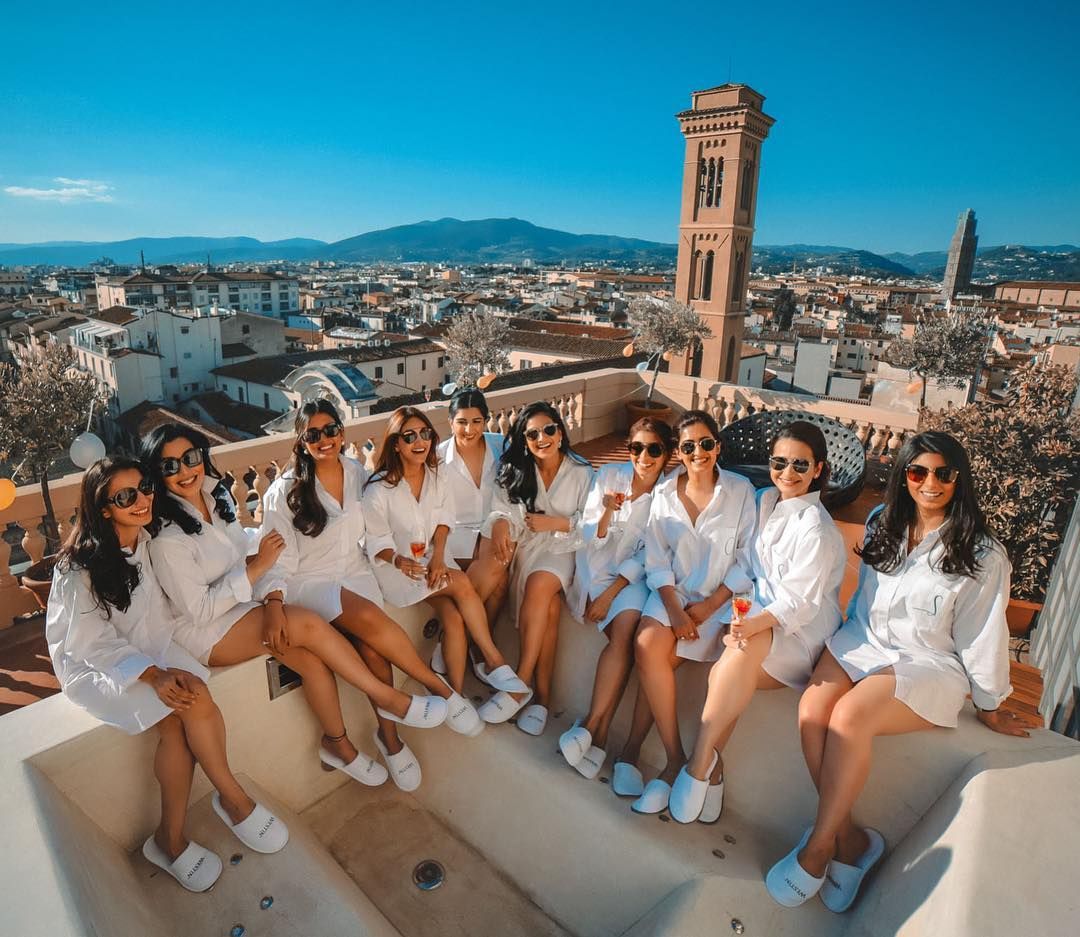 Image via DotDusk Studios★ 4.9
Budget: Under 10K per head
A great option for a budget yet destination bachelorette is to pick a place which is close to where you stay- so you don't have to spend on air tickets, but can travel down by a rental car, drive down or train/bus. Rent a budget hotel or AirBnB and have the time of your life! Here are some of our suggestions:
From Delhi
Jaipur, Udaipur, Jaisalmer, Pushkar, Neemrana, McCleodganj, Kasol, Manali, Jim Corbett. 
From Mumbai
Lonavala, Alibaug, Vineyards in Nasik and around, Mahabaleshwar, Matheran, Goa, Gokarna. 
From Bangalore
Goa, Gokarna, Coorg, Pondicherry, Wayanad, Yercaud, Allepey. 
From Chennai
Pondicherry, Mahabalipuram, Yercaud, Munnar, Allepey. 
Budget: Under 20K per head
Here are the destinations you can pull off in that budget, given that you do not have to splurge on air tickets. (from any city you live in)
Goa
Air tickets will cost you about 10K round trip. Spend the rest on your stay, which could be at a nice AirBnB instead of a hotel and eating out and drinking!
Jaipur
Again, tickets which could cost around 8-10K round trip. Sightseeing, stay and eating out could come up to another 5-10K per head, if limited to a weekend trip. 
Sri Lanka
You could pull off an international trip in this much, if you get score super cheap air tickets and keep your trip super short- like a 2 night/3 day sort of thing. Tickets will come up to about 5-10K (cheapest from Chennai) and then you'll be spending about 5K on your shared stay and about 5K more to travel around and eat out. 
Budget: Under 50K per head
Havelock Island 
While it is in India, it comes in this category as it isn't a cheap place to visit, although it is pretty at par with any other island country. Tickets will cost about 20-30K at best, and the rest can be spent on travelling to Havelock from Port Blair, staying at a beachside resort and spending on food and water activities!
Dubai or UAE
Not counting the shopping you do here off course! You can score pretty cheap tickets to Dubai, sometimes even in the range of 10-15K if you're lucky, and staying and eating here apart from the shopping will cost the majority of your money. 
Taiwan
A quaint little island nation that's pretty and picturesque, Taiwan has it all! Amazing nightlife and street food makes it stand out, and this is one place where you girls can really let you hair down! Flight fares start from about 20-30k for a round trip, and staying on a sharing basis can turn out to be about Rs 1500-2000 per head per day.
Bali
You can score tickets between 15-25k round trip for Bali if you're lucky, and it's a super cheap place to eat, drink and party in! We'd recommend splurging a little on the stay in that case, you can get some really pretty beachside hotels for upto 10K a night (two people)!
Thailand 
Another great bachelorette destination, perhaps one of the most popular too! The shopaholics can pick Bangkok, those wanting a mix of everything can pick Phuket or Krabi, and water babies can go straight to Phi Phi! There's even the Full Moon Party at Ko Phagnan to consider! You can plan smart and visit 2-3 places in a span of 4-5 days, or you can chill at one place and get the most out of it- your call!
Singapore
Tickets to Singapore can cost anywhere between 15-25K round trip, depending on when you book it, and you will have to pay a little for your visa as well. Staying, eating and shopping here is expensive, so plan accordingly! 
Malaysia
Another great Bachelorette destination, which is highly affordable! Almost every Air Asia flight flies here, so if you can book on that, you can get super cheap tickets in the sub-15K range. Sightseeing, stay and eating can make up for the rest!
Kenya
Are you guys nature lovers and open to adventure? Home to a wide range of wild animals and some beautiful landscapes, Kenya is quite an offbeat destination to consider for your bachelorette! Round trips from Mumbai start at about 25K per head, and staying can come up to about 2k a day per head in a budget hotel.
Bhutan
If beaches are not really your thing and want to experience some breath-taking mountains and hospitality, then consider Bhutan. You can choose to travel by land or air, depending on your budget. Stay and sightseeing will set you back by Rs 20,000- Rs 50,000, depending on choice of hotel and mode of transport.
Cambodia or Vietnam
You'll be surprised at how popular these tiny little countries are! It has some pretty serene beaches and lots to see if you want to kickback and relax! Airfare will come up to Rs 20-30k on a budget airline, rest can be spent staying at quaint resorts and AirBnBs!
Nepal
Nepal is a great place to explore if you guys love the hills! There's a lot to do here too- from camping to a wildlife safari! Round trips from New Delhi cost about 10-20K per head, and staying and eating there isn't expensive at all!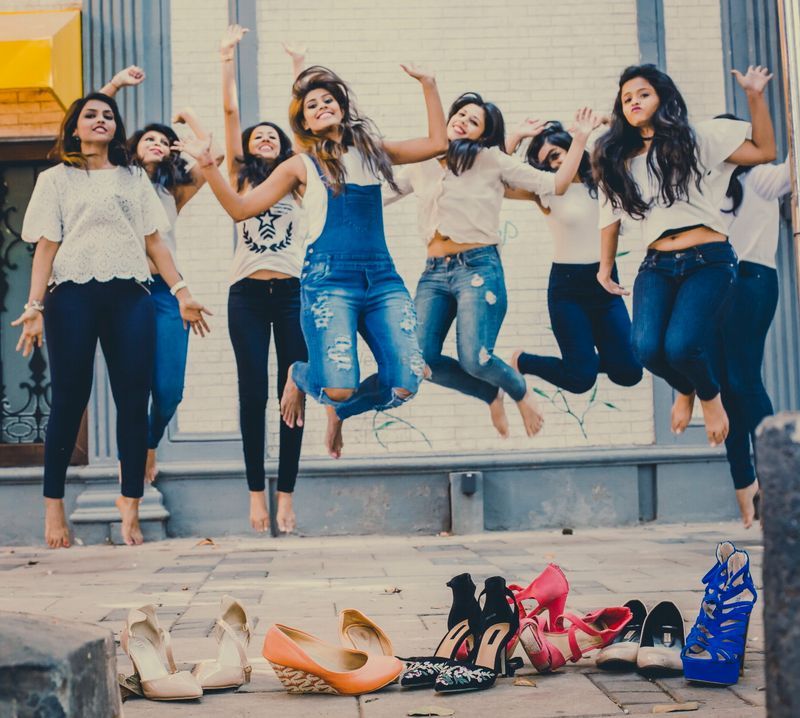 Image via Karan Shah Photography★ 4.8
Budget: Under 1 Lakh per head
You can highly pull off an international trip abroad (yes, even to Europe!) if you keep it a shorter trip, and that too not involving too many cities. Keep it limited to one place, and party the hell out of it to get the most bang for your buck!
Santorini
Pretty blue waters and a fantastic vibe- that's what Santorini's inviting you for! A highly Instagrammable place, this trip can be wrapped up in a budget of a lakh per head, bulk of which is the airfare will cost you somewhere in the bracket of Rs 30-40,000 for a round trip. 
Maldives
Same goes for Maldives as well! It is quite an expensive place to visit, but the good part is that the flight tickets are cheaper in comparison, as you can bag them for about Rs 12-30K round trip depending on which part of the country you're flying to. We'd recommend taking a full board package that has everything included- stay, food and drinks on the house, which could cost about 20-30K per person per day. Water villas are more expensive and are a great option if you're willing to splurge more!
Paris 
If you're only planning to do one or two Euro cities, then you can highly pull off a short Bachelorette trip to Paris! Tickets cost starting 30K for a round trip, and while if you do the hostel/backpacking thing, then you can pull off quite a budget trip and sneak in a few other cities too!
Amsterdam
Amsterdam can be so so much fun if you're up for a Bachelorette there! Yup, do all things you can't here, and tickets cost upwards of 40K for a round trip- stay in hostels and take trains and you can pull off a few other cities in too! 
Hong Kong & Macau
Visit Disneyland, take in the sights and sounds of this fabulous place at your Bachelorette! Round tickets to Hong Kong will cost somewhere in the 30-50K range, and stay and eating is pretty affordable! It could help to take a pre planned tour package if you girls are looking to save some money!
Mauritius
Mauritius, while being a honeymoon destination, can be perfect for a gang of girls too, especially if you guys love crystal clear beaches and white sand! Tickets can cost you about Rs 40-50K for a round trip, and staying here, especially if it is at a beachside luxury resort can be expensive- but nothing above a lakh per person for 3-4 days!
ALSO READ: Our Favourite International Bachelorette Destinations & How Much They Cost! *Pack Your Bags NOW!*