Bridal Jewellery 101: Kundan, Polki, Jadau & How To Care For Them
BY The WMG Bride | 02 Feb, 2015 | 13912 views | 4 min read
Do all these strand sounding jewellery types confuse you? This glossary may help you buy smart and scroll to the end to see some tips on caring for your precious items.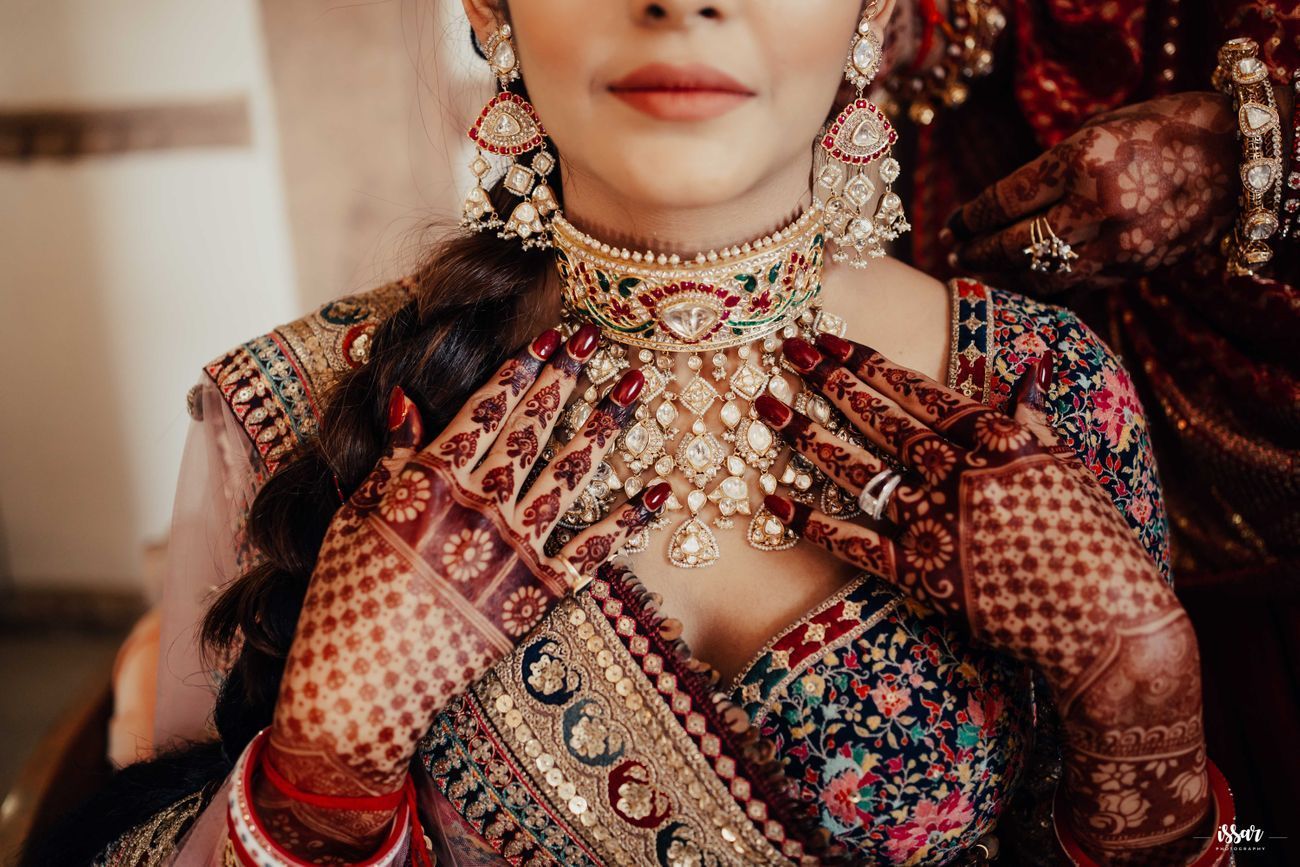 Image via Varsha and Harshit
So here is all you need to know about all the bridal jewellery types!
Kundan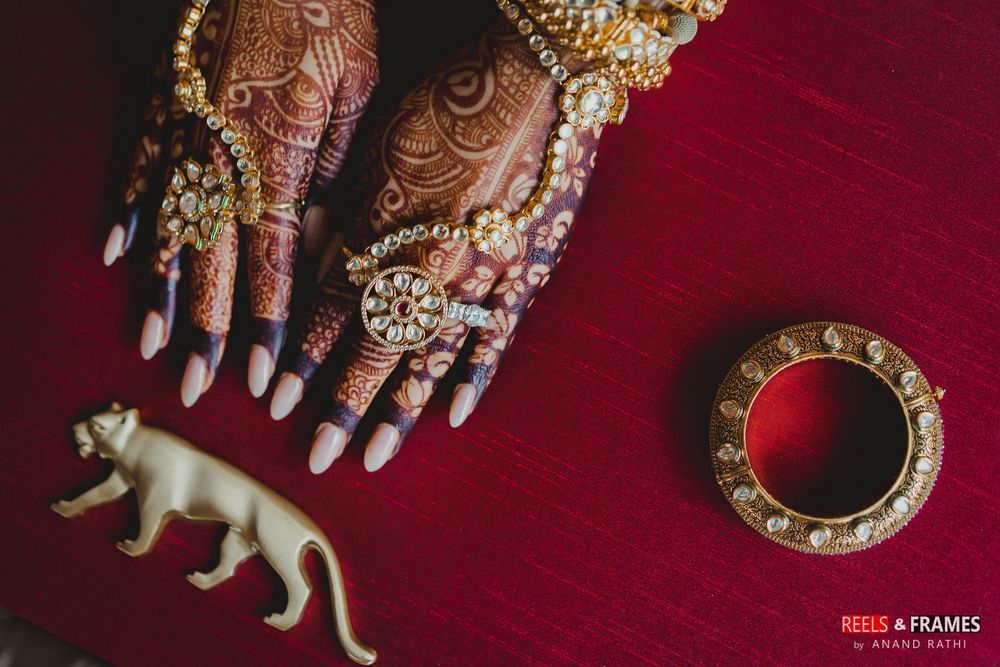 Image via Evneet & Chanpreet
This is basically glass. Jewellers cut glass and set it in gold with Meenakari (colorful lac) on the back. Kundan sets give the same look as polki except they shine lesser and because it's just glass, they are also cheaper. You can have kundan sets set in gold, or set in silver or artificial metals.
Polki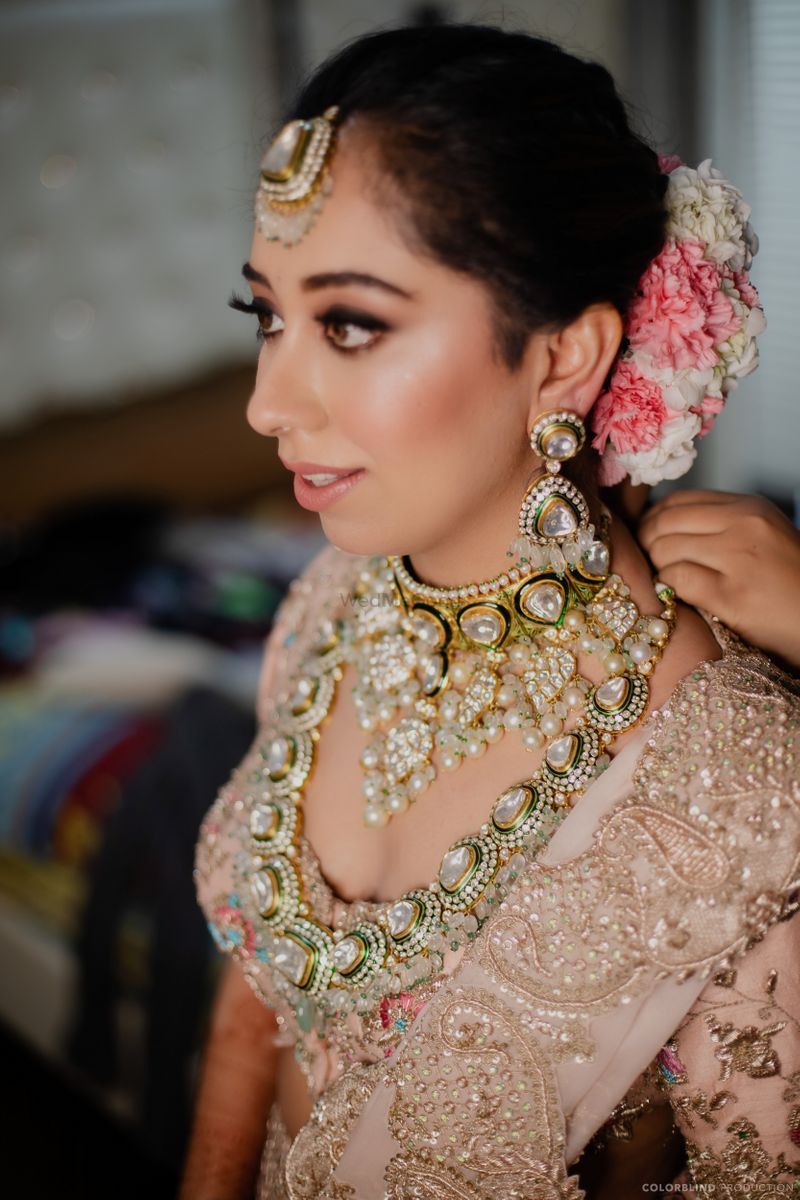 Image via Gunisha & Sarbeshwar
Its hard to distinguish in terms of looks between Kundan and Polki because they look so similar however Polki is uncut, raw, diamonds. You know those pretty baubles you see on engagement rings- those are not how natural diamonds look like. Those are polished, and cut to precision to look like that. When you don't cut a diamond you get what is called Polki. Similar looking to Kundan but shines a LOT more, has much more depth of character and is also a LOT more expensive.
Jadau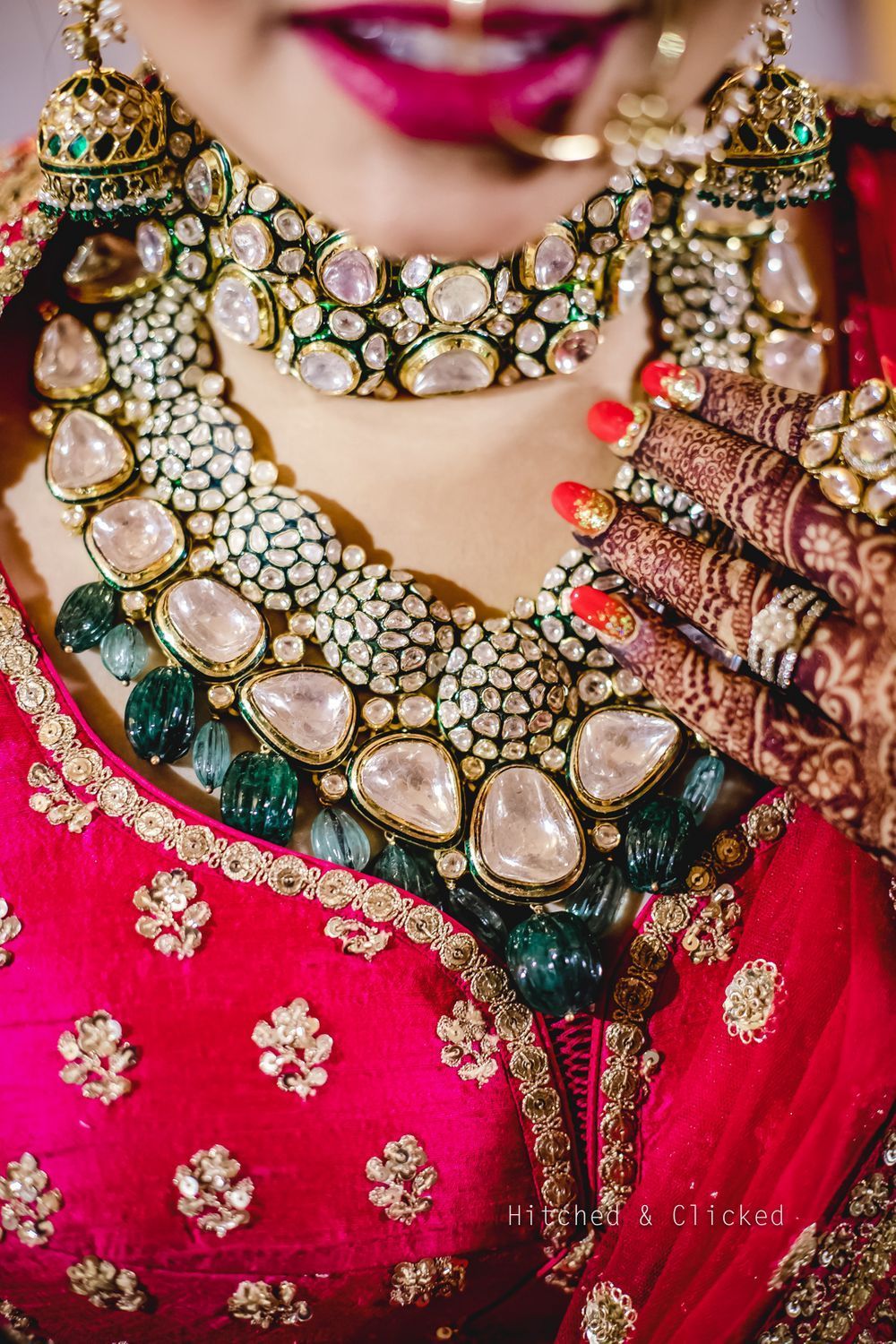 Image via Prerna & Akshay
This is not really a type of stone like the above two but its a term that people use wrongly pretty often. Jadau is simply a way of using Kundan & Polki & Meenakari in an engraved setting. Gold foil is used to set Polki stones with meenakari at the back. Jadau is a technique, Polki & Kundan are stones.
Diamonds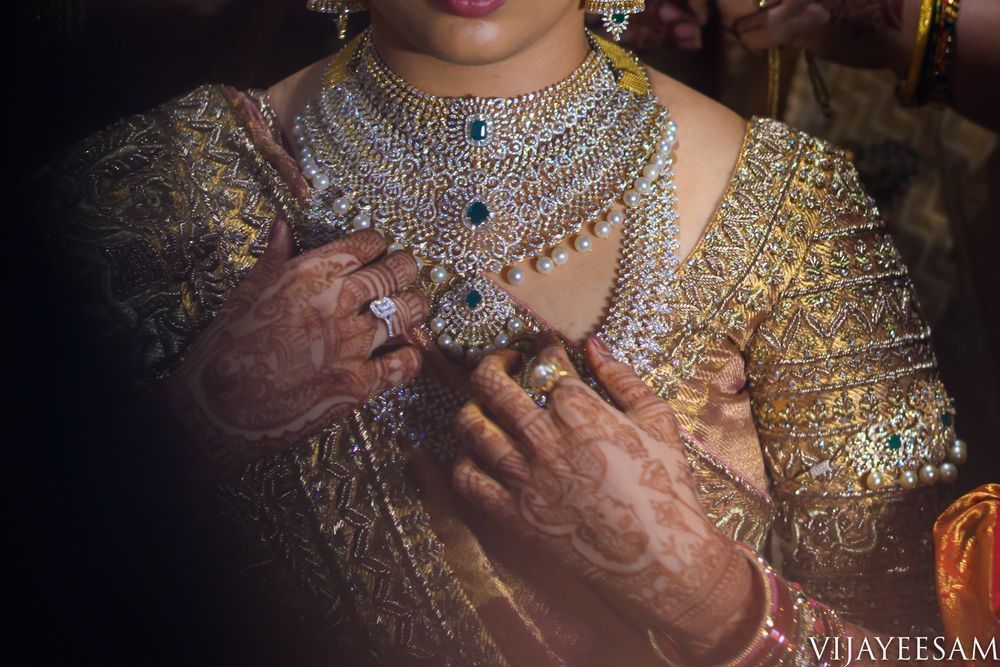 Image via Harika & Rakesh
A girls best friend, and obviously pretty sought after. Diamond jewellery is pretty versatile when it comes to rewearing as well!
Gold Jewellery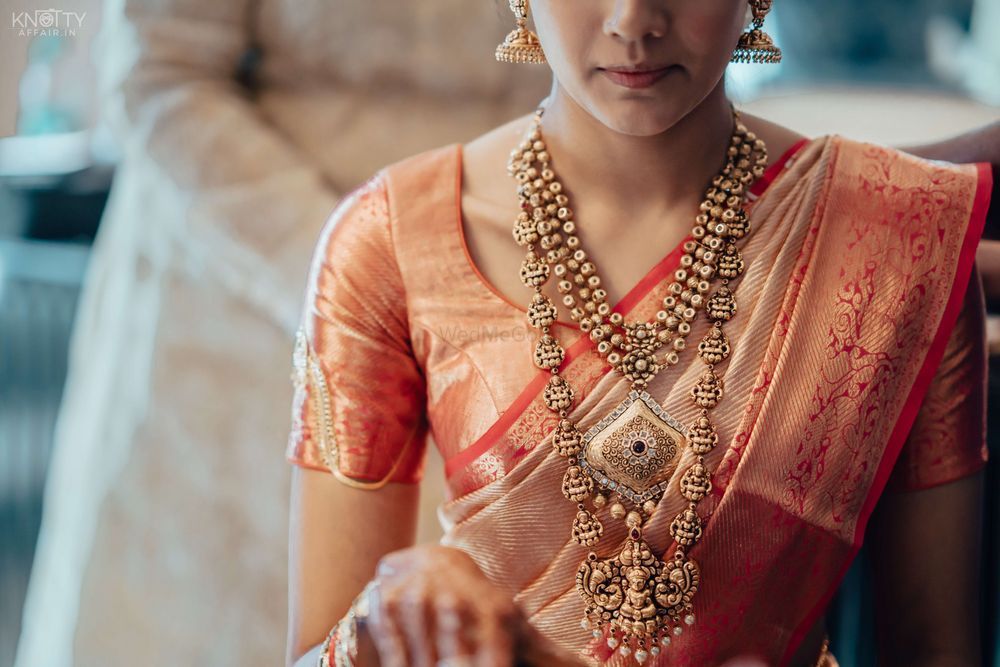 Image via Knotty Affair by Namit & Vipul★ 4.9
As the name suggests these refer to sets made out of mostly just gold with engraved motifs and carvings. Sometimes precious stones like rubies and emeralds can be engraved in them
Meenakari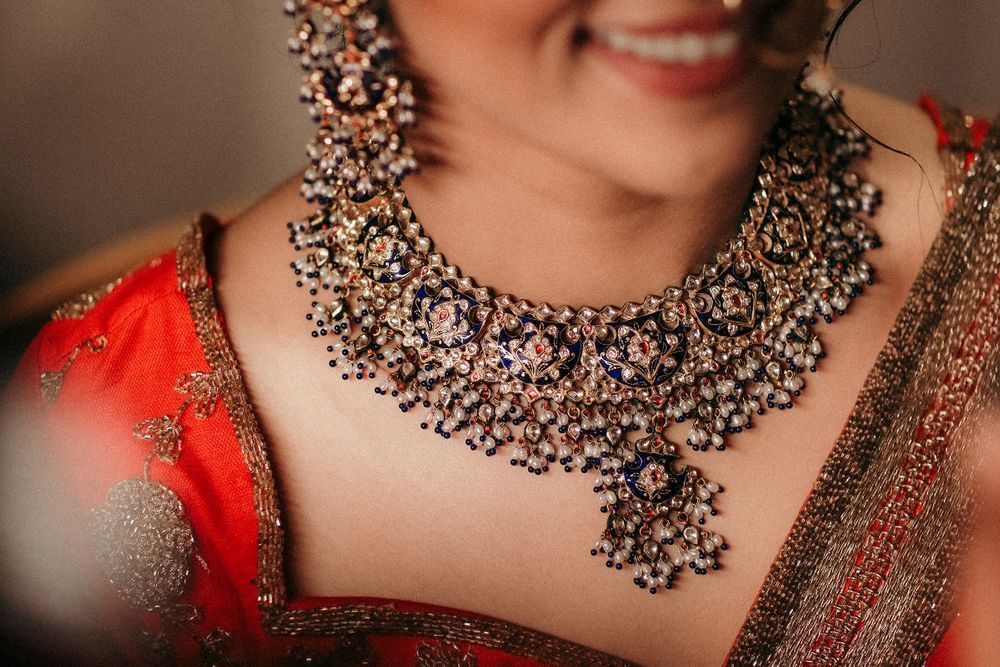 Image via Neha John Photography★ 4.9
Meenakari Jewellery is essentially filling gold frames with colored Lac or Meena in different patterns. When you see a lot of color on a jewellery, that colored enamel is called Meenakari and while you will find this at the back of your polki set , Meenakari has become quite the rage of late to be worn as is. These jewellery sets are pretty affordable as the gold content is low and Lac is just enamel.
Comparison in terms of Resale Value
The gold content in Kundan/Polki sets is low because the gold is used just to make the frame (its filled with lac inside)- however some jewellers also put gold at the back which significantly increases the price. It's always important to ask questions such as "What is the gold grammage on the set"or "How much percentage of the cost is gold cost"- specially if you look at jewellery from an investment perspective.
Alternatively, if a set seems out of budget you could ask him to reduce the gold content by removing the gold at the back of the jewellery and use lac instead since it is not visible.
Bangles have maximum resale value as compared to other pieces as there is minimal modification of the natural metal in bangles. It is just melted and joined. Sets and earrings etc have the lowest resale value.
Caring For Your Jewellery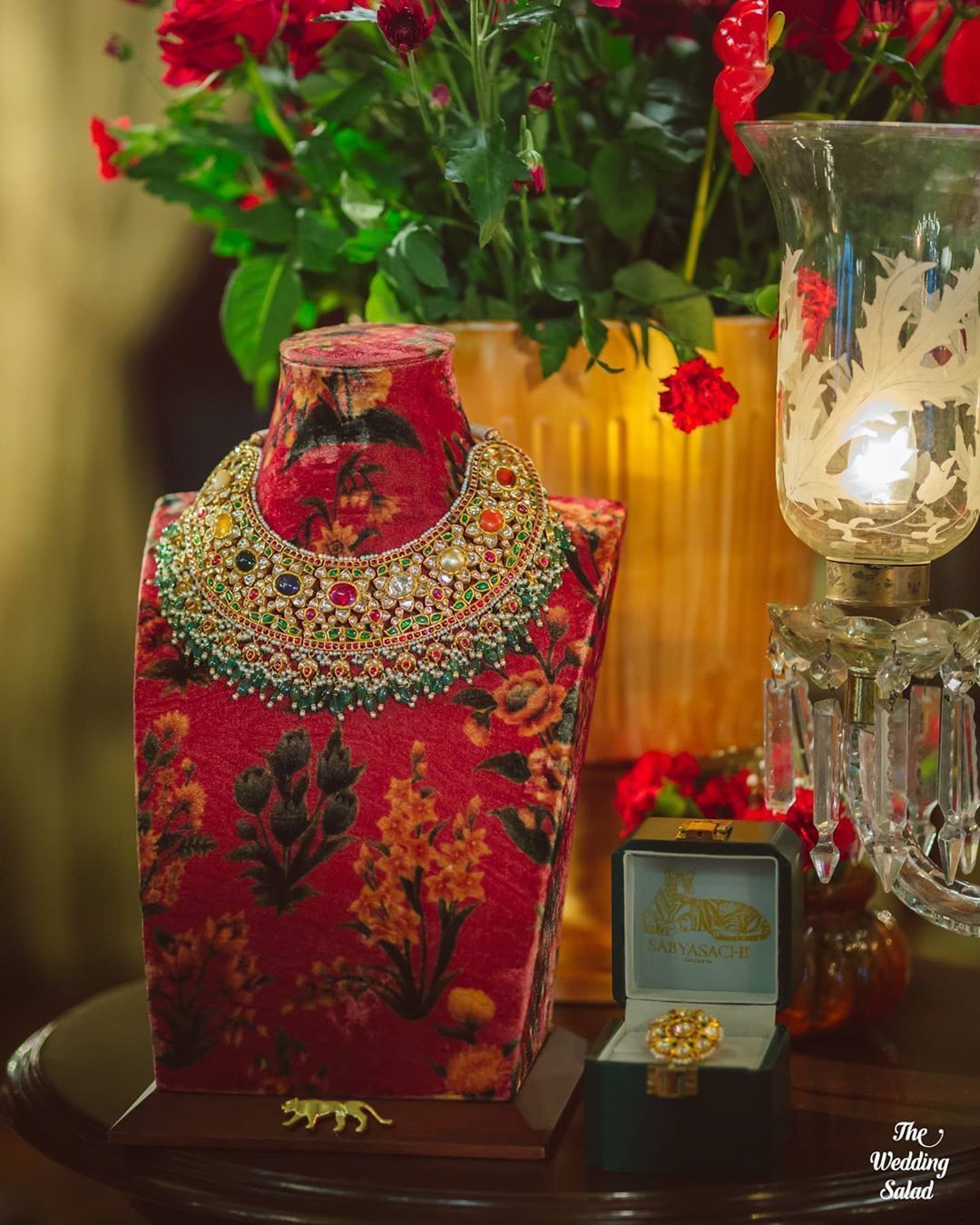 Image via The Wedding Salad
For Polki and Kundan sets
These are super prone to moisture and chances are if you keep them in velvet boxes provided by the jewellery they may not avoid moisture well enough and lose shine over time. The best things to do would be to wrap these in either butter paper or cotton and  put them in airtight containers so that they are in a cool, dry place without exposure to moisture.
For Diamonds
Diamonds can get scratched by other diamonds so avoid jumbling them up into one bag together. To ensure your diamond sets look clear and shining, take a mug of warm water and add in your detergent powder and shake well. Soak your diamond rings in them for a few hours and wipe them with a muslin cloth when out for diamonds that shine as bright as new ones.
For Gold
Keep it wrapped in soft cloth or velvet boxes with each piece separately. You can clean it in a similar way as mentioned for diamonds above, but keep them far from products containing chlorine or cleansers containing chlorine.
ALSO READ: 101 Guide On Bridal Jewellery: Polki, Kundan, Meena & Jadau