Bride & Groom Colour Combinations That Will Rock in 2018!
BY Sakshi | 23 Nov, 2017 | 19794 views | 3 min read
Matchy-matchy or contrasting? Now that's a million-dollar question that most couples have to take a call on! We love couples who are not afraid to experiment and here are some bride and groom outfit combinations that will totally be in trend for 2018! From outfits that complement, contrast to those that even match- there's something for every kind of couple! So if you're planning your 2018 wedding, get inspired!
Both Bride & Groom in White With Gold Detailing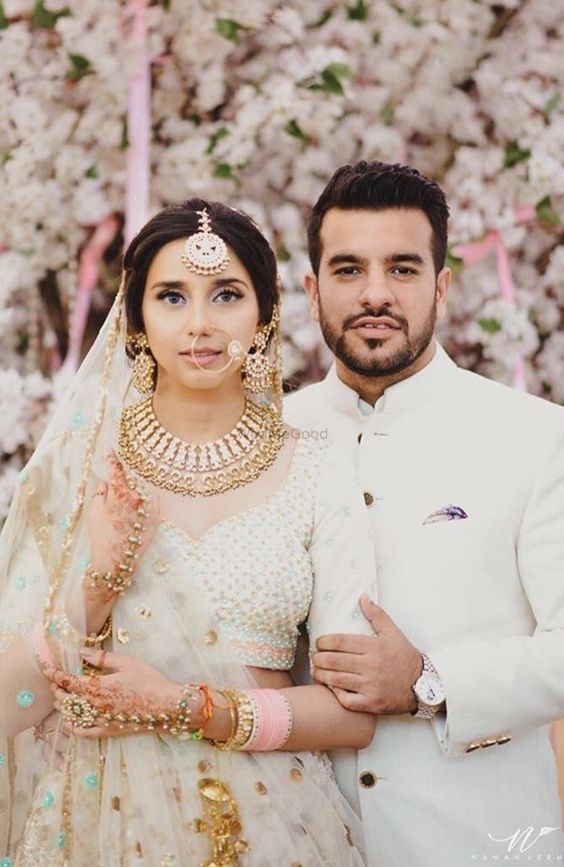 Image via Naman Verma Photography★ 4.9
Both the bride and the groom in white is such a vision out of a fairytale, and that gold detailing just adds so much more to the look!
Ivory and Gold on Bride and Pista Green on Groom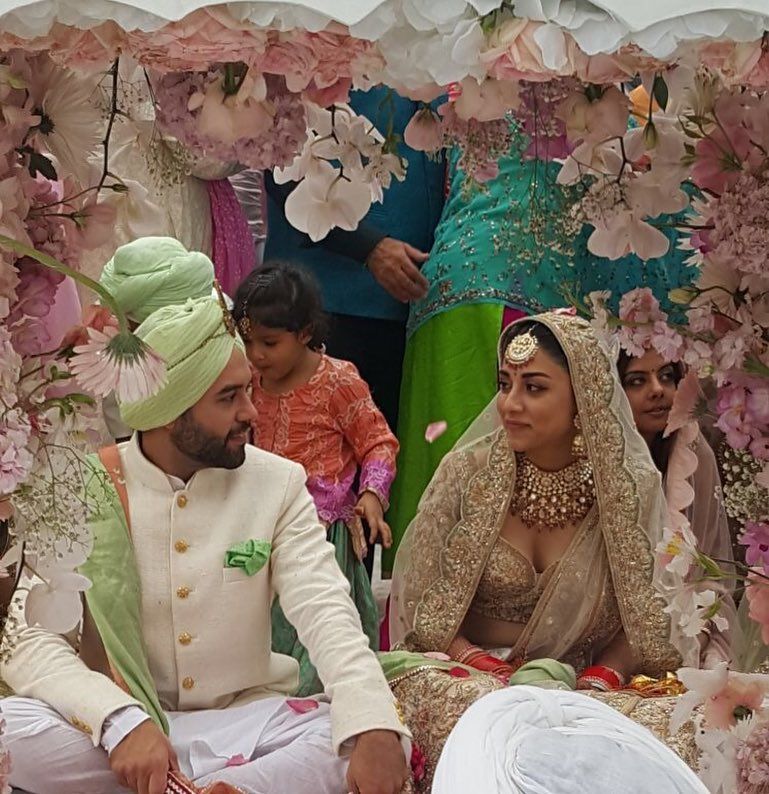 Image via elan_ebn on Instagram
We're really loving pista green for the grooms and ivory on brides- digging this combination from Amrita Puri's wedding
Baby Blue/ Mint on Bride and Light Pink on Groom
Image via Picture Art Company  and Artfoto Studios 
Another recent favourite of ours- the pastels just make everything so much more dreamy don't they? 
Cream with floral embroidery on Bride ... and Groom in powder pink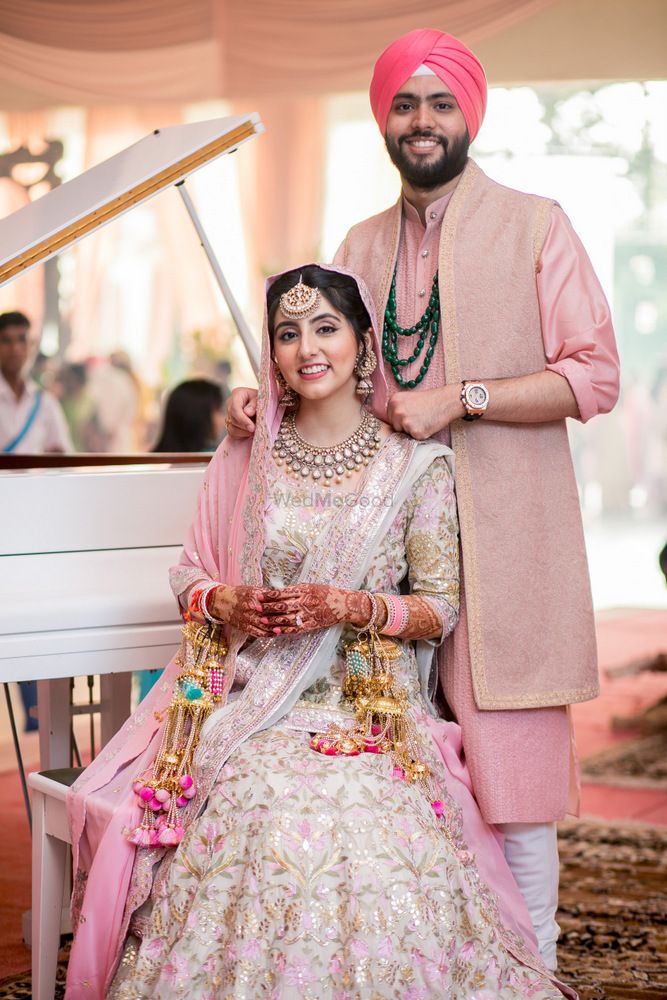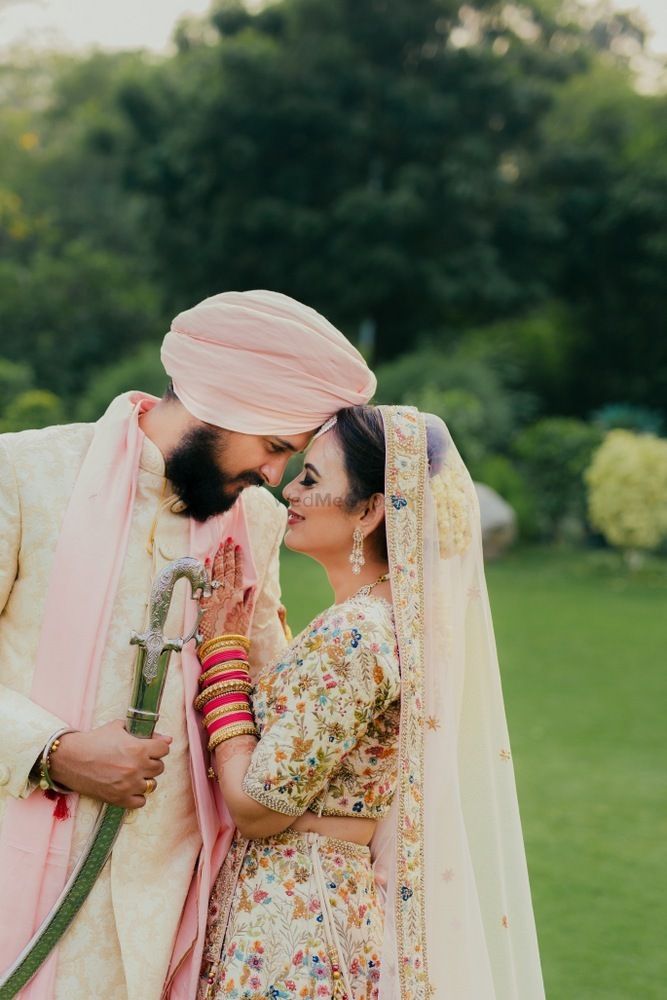 Image via Sahej and Prateik's Wedding and Kanika and Pahul's Wedding
Matching the embroidery rather than the whole outfit is also another great way to go- adds this subtle grace without being OTT matchy!
Benarasi on Groom and Monotone Gold on Bride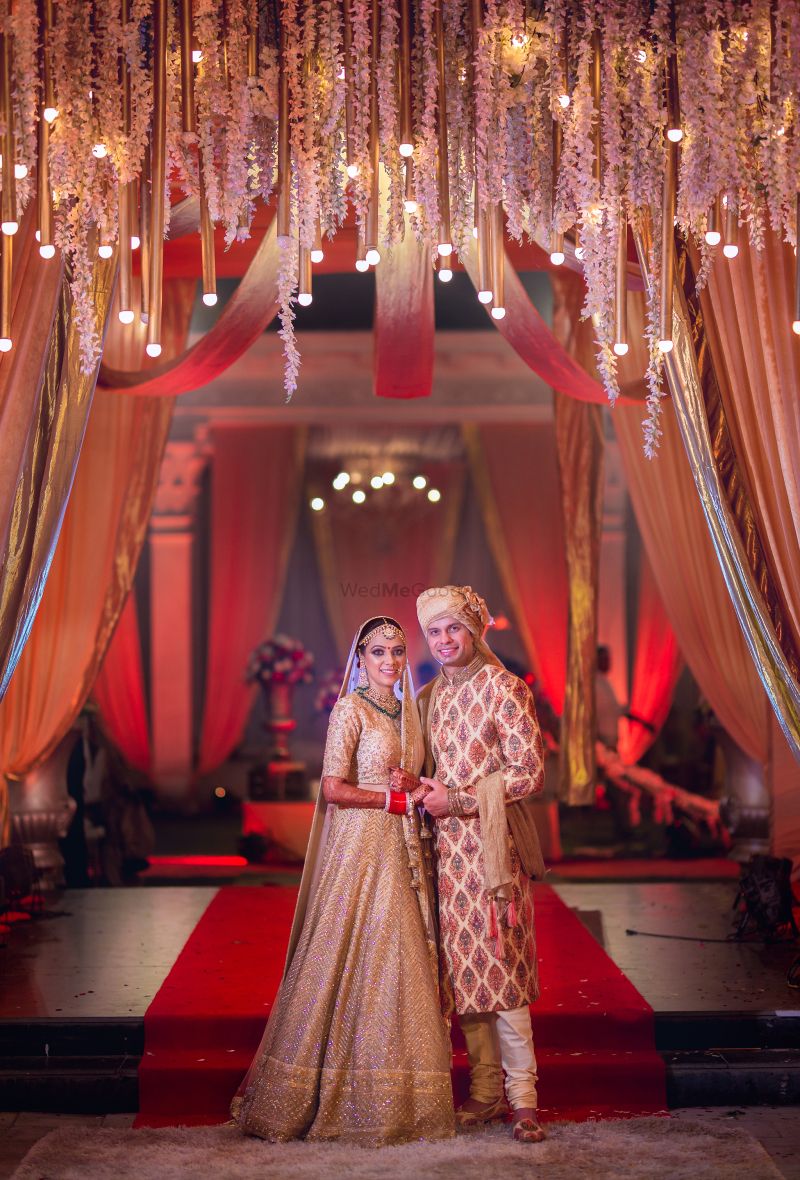 Image via The Fabulous Weddings★ 4.9
We usually see things the other way around- but this is such a cool combination too! A monotone bride with a groom rocking the print! 
Bright hue on Bride and plain white on Groom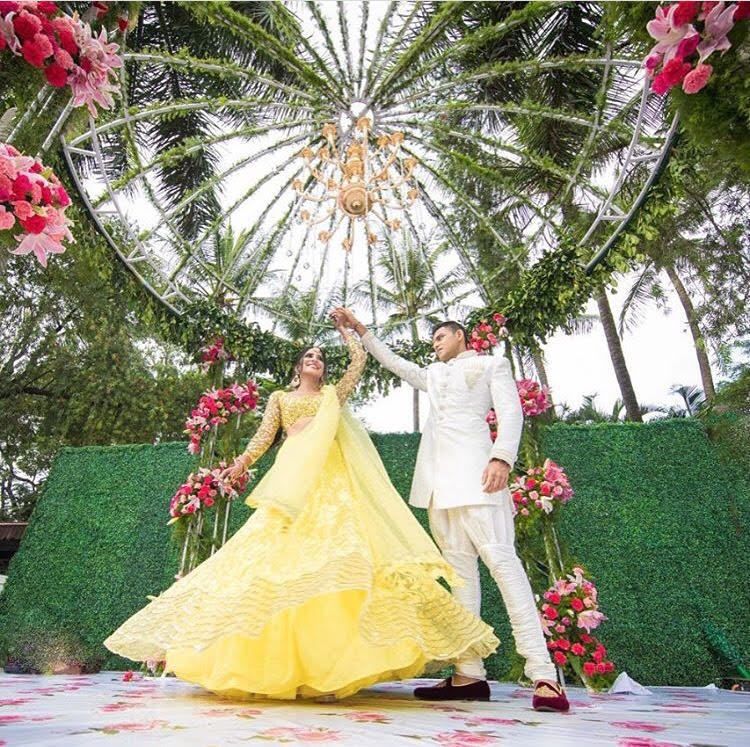 Image via Makeup by Anurita Chandrappa★ 4.9
This is also such a refreshing combination, especially for day functions like the Mehendi! Sunny yellow for the bride and plain white for the groom!
Matching and rocking the same hue of Pink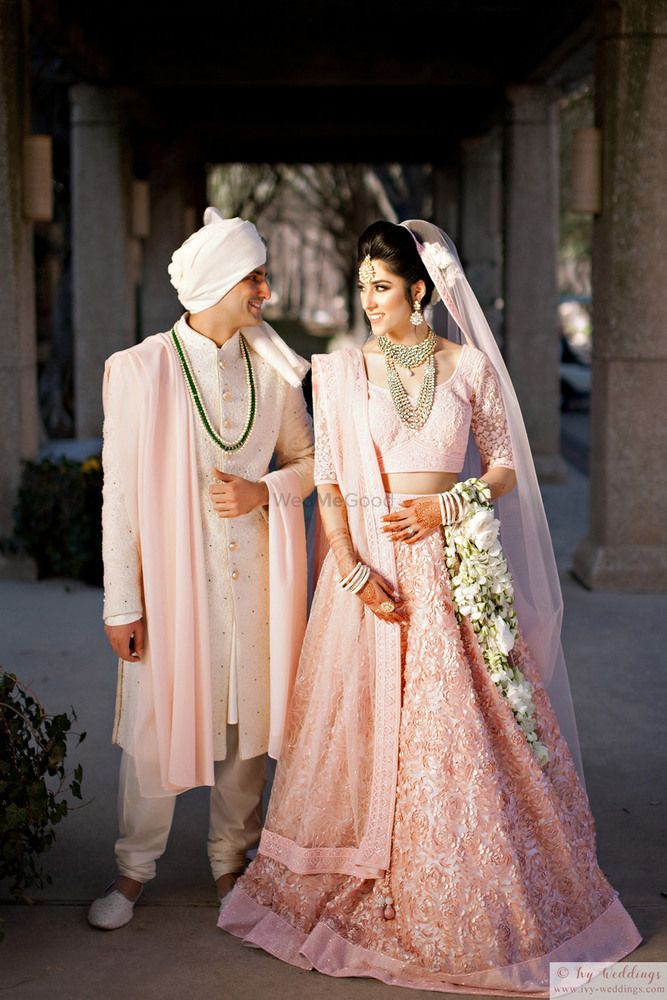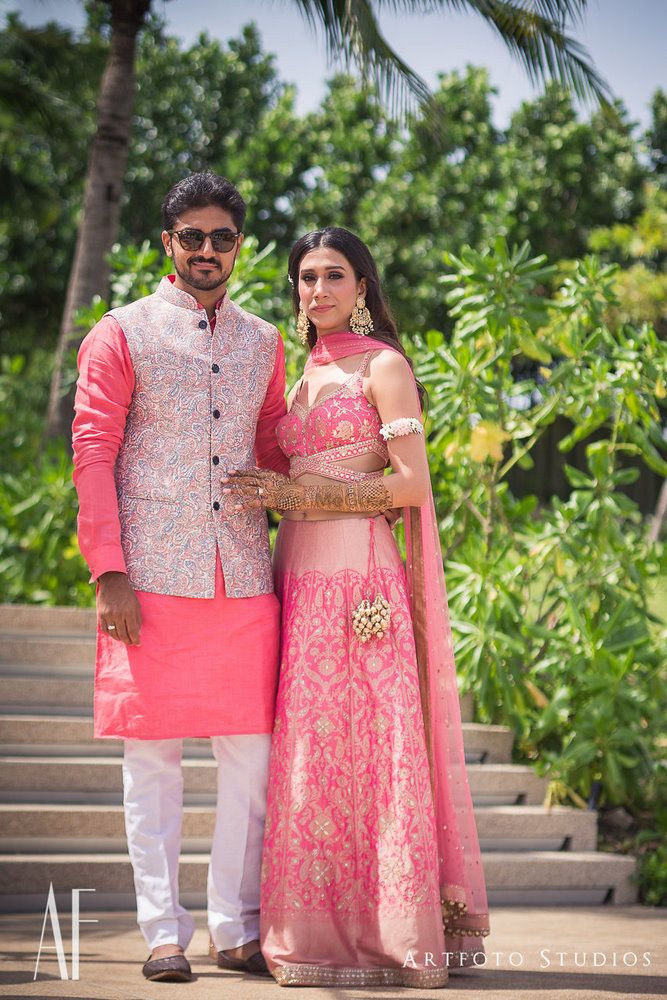 Image via Sandeep and Natasha's Wedding and Tania and Vidhu's Wedding 
And we mean the exact same shade- whether it's light, bright or pastel pink- matching it to the T is the key!
Matching and rocking the same exact hue!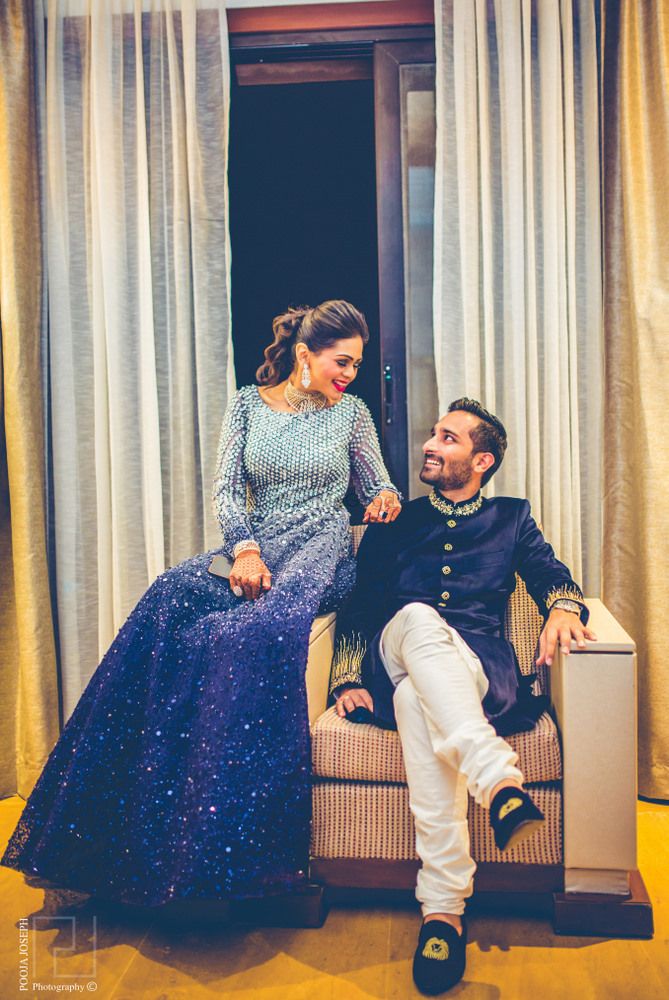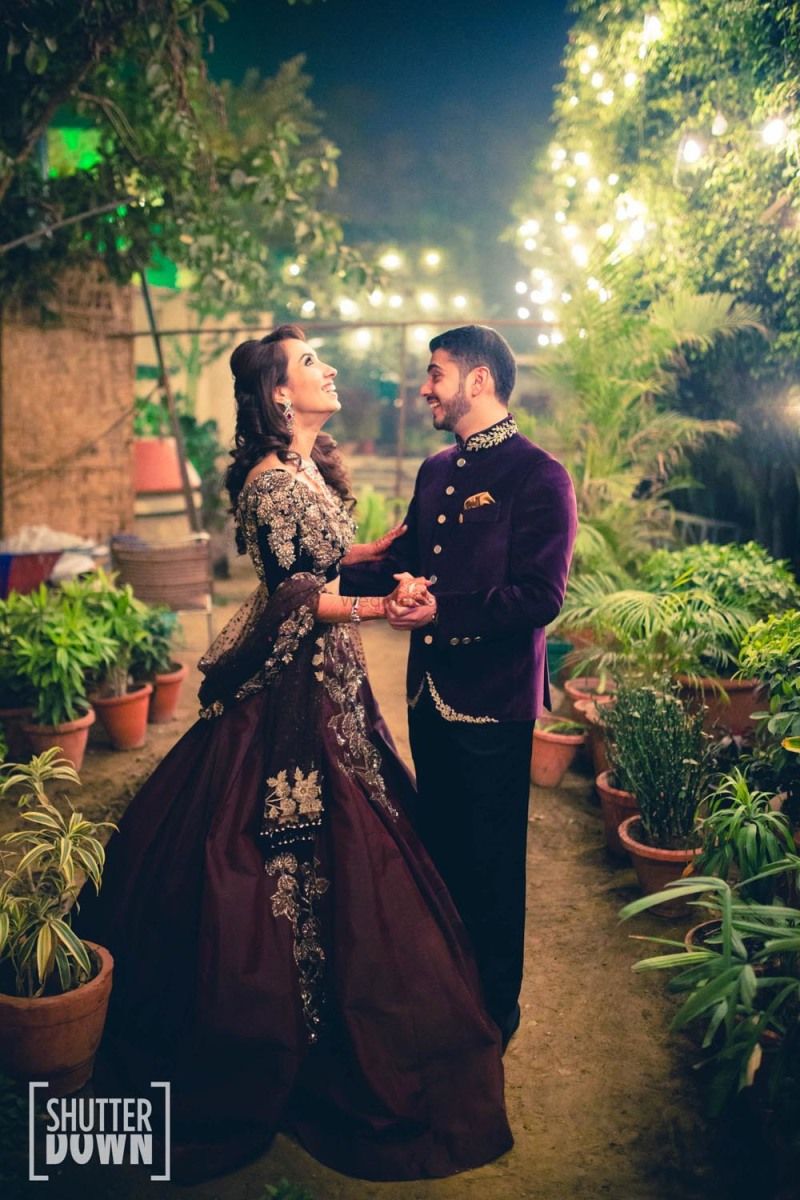 Image via Nirali and Ribhu's Wedding and Shutterdown - Lakshya Chawla★ 4.9
Again, the same shade, but in a different way! The velvet jackets look quite dapper! A very cool idea for the Sangeet!
Bride matching lehenga border to Groom's sherwani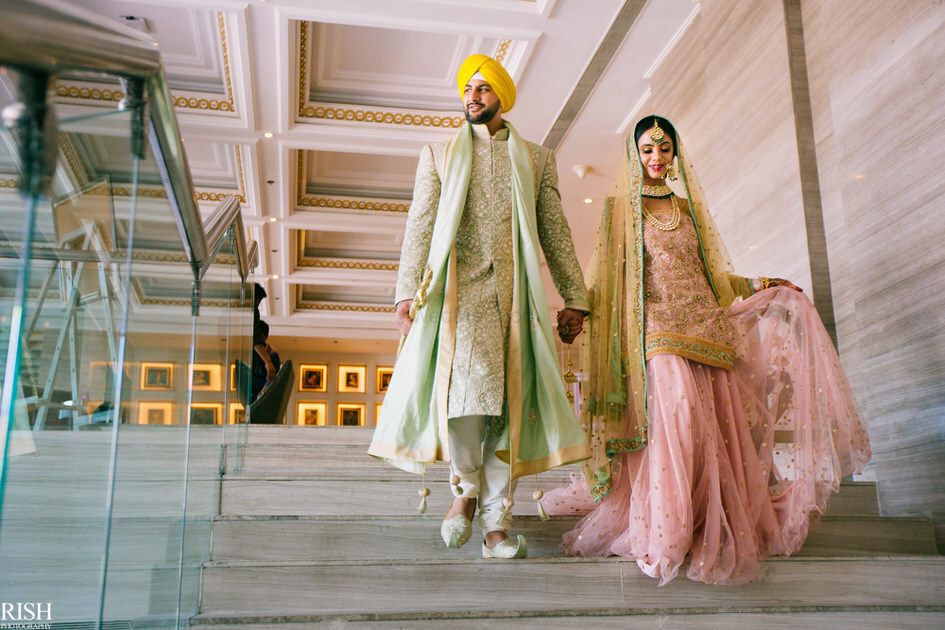 Image via Rish Photography
Matching a small element also works well in contrasting outfits, like this bride matching the blue border of her lehenga to the groom's sherwani- it's subtle, but makes it work so well!
Monotones: Gold on Bride and Off White on Groom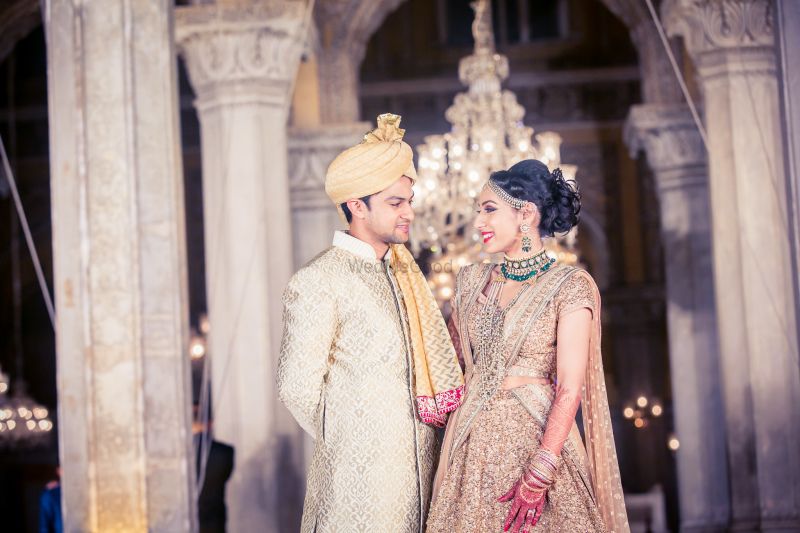 Image via Naseer and Humera's Wedding
Gold and off-white is a classic combination, and when it's done this way, it looks so royal!
Bride in Grey & Groom In Pale Blue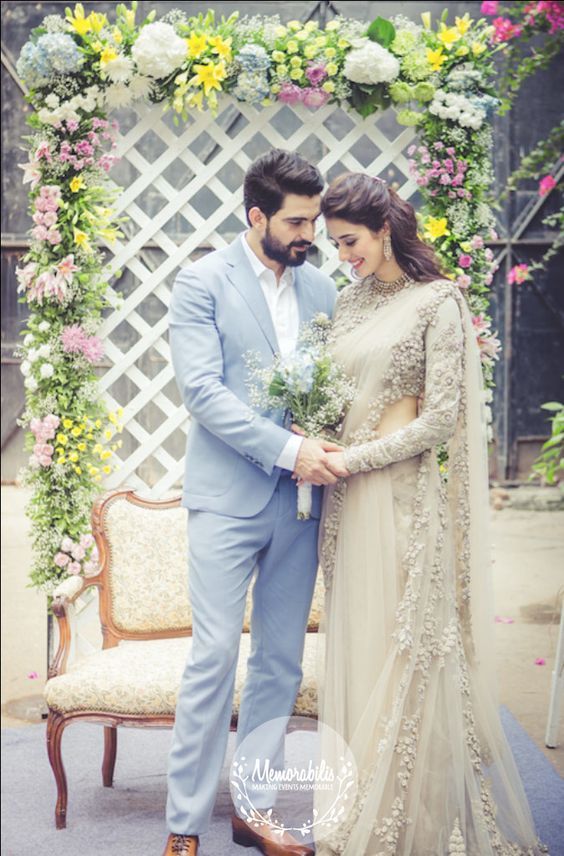 Image via Pinterest
Groom matching embroidery to Bride's outfit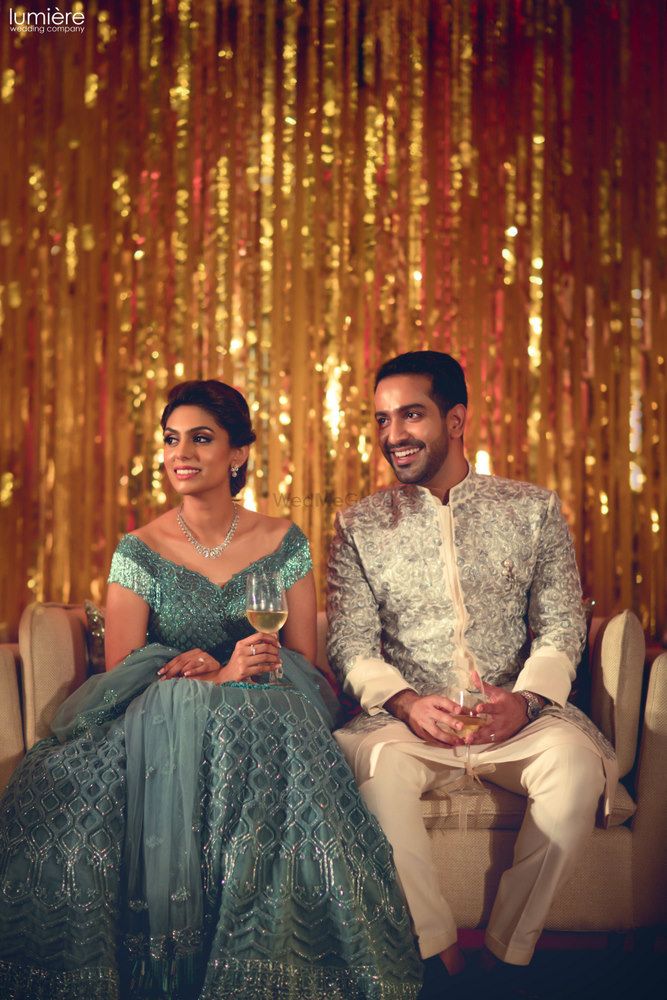 Image via George and Roshan's Engagement
This time it's the groom matching the embroidery to the bride! With an offbeat hue like that, looks pretty cool!
ALSO READ: Our Favourite Bride and Groom Colour Combinations That Worked Without Looking Tacky!