#BridesOnABudget:12 Simple Ways To Slice Your Wedding Budget By Half!
BY The WMG Bride | 16 Sep, 2016 | 877 views | 5 min read
Decor by Wedding Designers Mumbai
Picking Dates
Getting married in off season has its advantages (and getting married on a weekday too) . The biggest one? You can save upto 30% on venue, decor and catering costs and all your other vendors would be pretty happy to bargain as well. The same venue slashes upto 30-40% of their costs in April-June vs what they charge for December. The same way, if you want to book a venue which has a running restaurant say Saturday, you will definitely have to pay at least a 20% premium
---
 Venue Cost Savers
As much as you love outdoor venues, indoor banquets cost much lesser to decorate and hence can turn out much cheaper as well. You also may want to book different areas of the venue for different functions- giving you an unbeatable deal. Ask your venue if outside alcohol is allowed, and if it is then this could be a cost saver too- however remember to ask them how much they would charge for corkage. Also press for venue freebies: Example most venues give a table centerpiece complementary which is either a candle or a bird of paradise flower.
---
Saving on the Bridal outfit, while still looking fabulous
If you are wearing a lehenga, then this is a great trick for budget brides. Pick a relatively simple skirt but go for a beautiful, ornate dupatta that you can drape over it, and an all over embroidered blouse. Most stores don't charge extra for heavy blouses, and heavy dupattas will at max increase your cost by 5-10K, but adding embroidery or heavier lehenga skirts can set you back 20-30K extra. Moreover, simpler skirts do look elegant and in the photographs all that shows is most of your blouse and dupatta.
Also read: How to save on your bridal outfit 
---
Catering Cost Savers
Swap out main course dishes for live counters.This may seem counter intuitive since you have to pay a fixed fee per live station. However, when you have more live stations your guests tend to eat a lot of starters and live station items- which are paid for by a fixed fee anyway . General trends show that lesser plates get picked up when you have elaborate live station and starters and  a limited main course. Also include a generous amount of items like chaat which are cost effective
---
Decor Cost Savers
Flowers are expensive,  but floral printed table linen can make your banquet look just as full without need of extra flowers.  Specially if you pick a bold print, you can get away with tiny table center pieces.. Also using candles and other beautiful props can cut down on your decor cost. Swapping flowers with beautiful green shrubs for example is another great idea.
---
Invitation Cost Savers
Matte papers cost lesser than glossy effect papers , Standard printing is half the cost of the raised, engraved lettering. Rounded corners also cost more than standard rectangular corners. Moreover, if you pick a card that is already been done by a designer in the exact same color combination, you are likely to save a ton of money. Reason- the designer doesn't have to go out and get new colored ink printed for yours- he already has the dyes/ framework ready of the existing invite. The only change needed is to change the wordings . Also ALWAYS order atleast 10-20% extra, This may seem counterintuitive, but if you order it with your existing batch the extra cost isn't as much . If you later find out you ran short, and need to get extra printed- you will get a much higher per invite cost.
True fact: Cost can double by just changing the colors
---
Fabulous but cost-effective wedding rings
Want a minimum of a 1 carat solitaire but the prices are burning a hole in your pocket? By getting a 0.90-0.95  cent solitaire, you get a stone that to the naked eye is just as big as a 1 carat but in terms of pricing it can knock off 60-70K INR easily. Moreover, getting a smaller 0.50 carat stone and then using a halo setting to encircle it with pave diamonds can make your ring look super stunning and bigger in size but costing much less.
---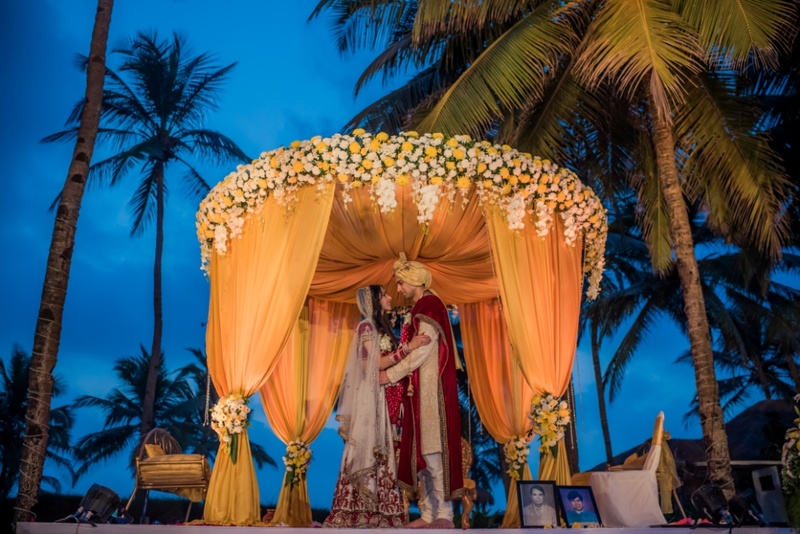 Photography Cost Savers
Hire one photographer both from the girls and boys side. It's a huge cost saver and logistically easier to manage.
---
DIY the items you can search as photobooth backdrops, candy stations and more
Photobooth backdrops can be easily DIY'ed with just colored dupattas or silk sarees, and you can create your own little mini candy stations at your engagement. Think of small items that don't cost much but leave an impact- for example getting the meaning of your feras printed on tiny cards hardly costs 1000 Rs, but its a small detail that people remember.
---
Rent your outfits
These days there are a lot of renting portals from which you can rent high-end designer outfits at very reasonable costs! So basically, instead of spending a bomb on an outfit you'll wear only for one day, you can spend a fraction of the cost and rent it for the day. If you don't wanna do all, you can consider this for some of the smaller functions like the Sangeet or Reception.
---
Outsource some Decor
DIYing decor elements can save so so much money! If you have the time and patience for it, then it can cut down your decor budget by more than half! There's so much inspiration available everywhere. Another good option is to spend some money on renting a part of the look from a big decorator. Currently, 
Devika Narain and Company
offers this option where you can buy a look or part of decor. Click
here
for more.
Any other neat tricks and tips to save money on your wedding? Comment below!