#BudgetBrides: Amazing New Haldi Décor Ideas Within 25K!
BY Sakshi | 28 Feb, 2018 | 144470 views | 7 min read
The Haldi is usually a smaller ceremony that happens at home or a small hall- so why spend a bomb on doing it up? Here are some cool Haldi ceremony decoration ideas at home/ a small set up, which can be pulled off on a budget - all these put together (one per category) also will not cost you more than 25K!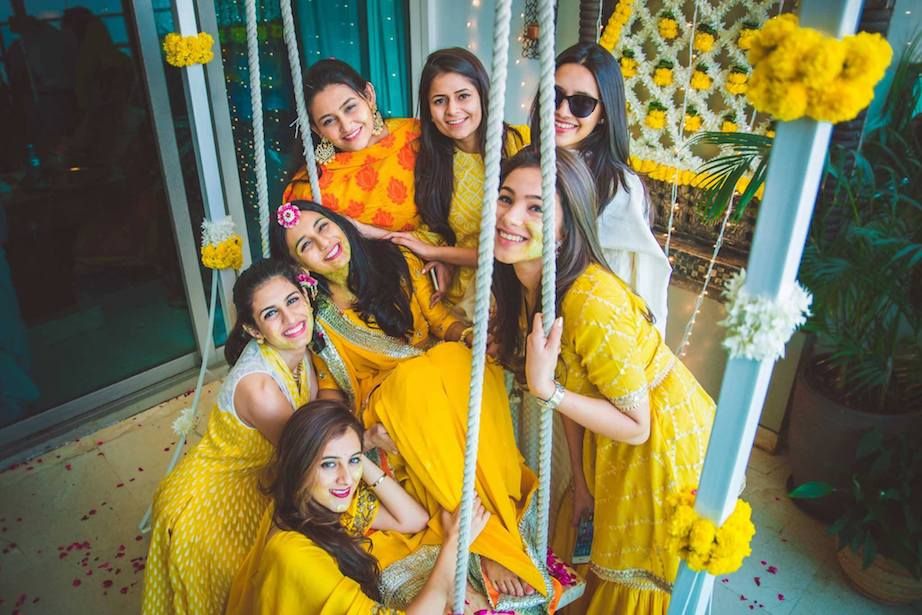 Entrance Decor Ideas
1. Welcome Board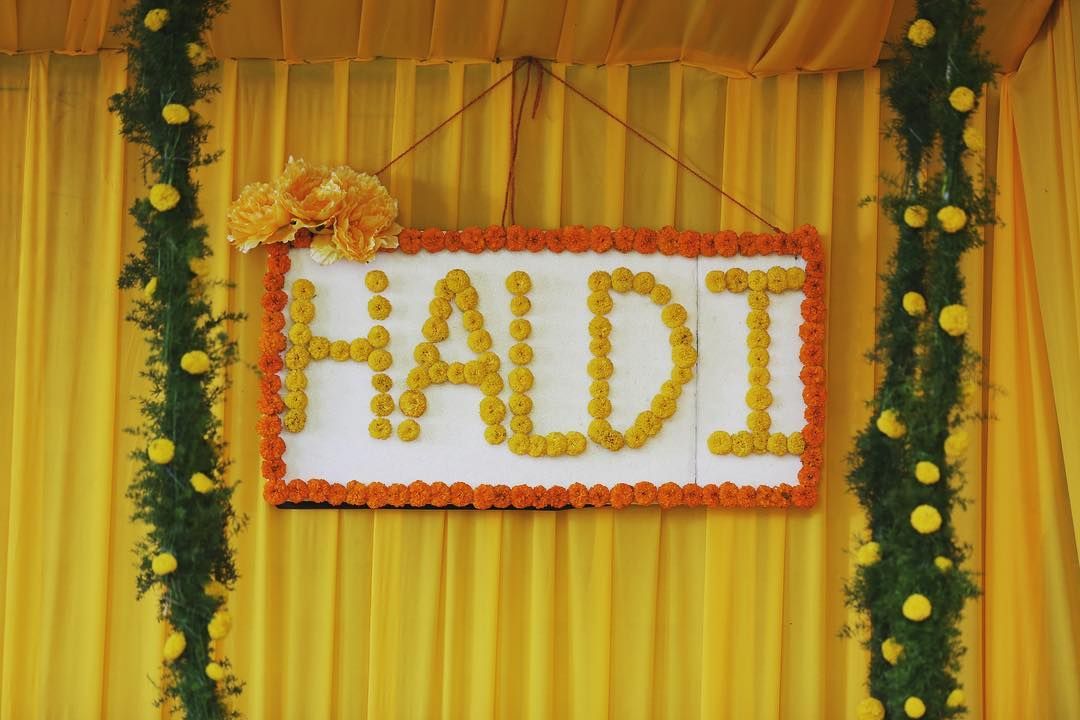 Image via thetieup_events
This one is a quick and easy haldi function decoration idea to do yourself at home. The best part is that this one can be easily made in under Rs 200.
Here's how to pull it off:
Take a plywood piece or thick cardboard.
Cover it in white paper or coat with a layer of paint.
Take fresh individual genda flowers and write haldi or whatever you desire, sticking them with superglue!
You can even use paper flowers to make it easier to stick them on.
Make sure to make a border with a contrasting colour.
Knock two nails on the sides and hang it using string or wool!
2. Rangoli with lanterns and earthenware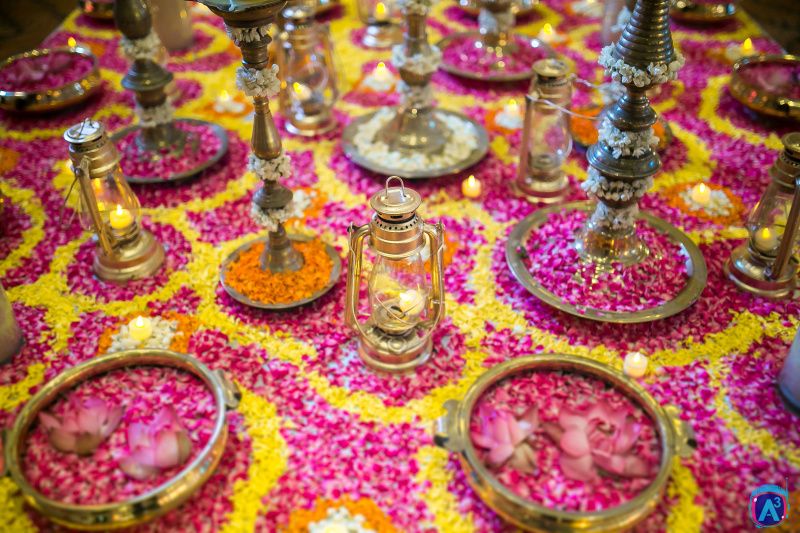 Image via The A-Cube Project
This rangoli looks so pretty for a haldi ceremony decoration, and might come up to about Rs 2000-3000 per setting, depending on how big you want it to be.
Get some antique lanterns, which might cost you about Rs 500 per piece like these ones.
Get brass diyas, which also come for about Rs 600-1000, depending on the size. Get them here.
Instead of brassware used here, you can get some earthen pots, which will come up to Rs 200 per piece.
Make a rangoli with flower petals, place the items and top it up with lotus buds and flowers.
Add real or electric tea lights inside or you can also place floating candles with the lotus.
3. Welcome aisle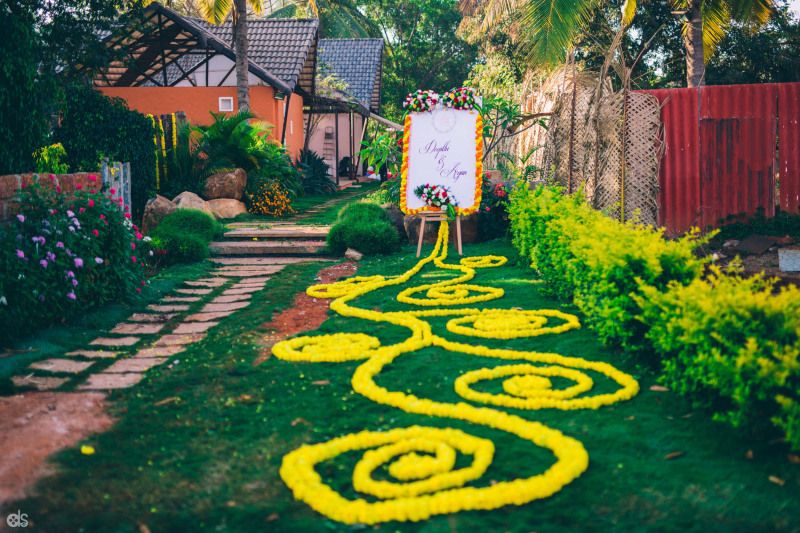 Image via Digital Stories
Super cheap, this haldi decoration at home (preferably from your garden to the entrance or from the hall to the room where haldi is happening) might cost you about Rs 500 for a couple of long malas. Just take long ones and twist and turn them to make a pattern on the grass or aisle. You can take loads of short ones and pull off this haldi ceremony decoration too!
Seating Ideas
1. Drapes and fabric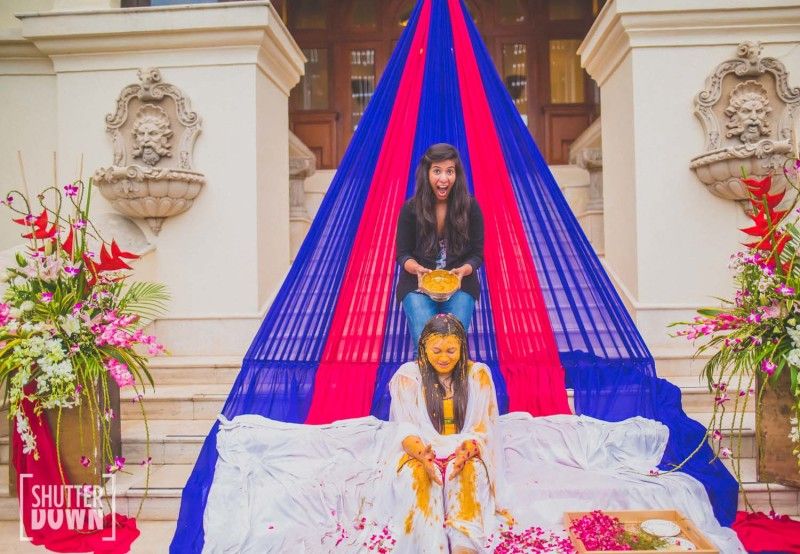 Image via Shutterdown - Lakshya Chawla
Just rent or buy some sheer drapes or use dupattas to hang them in this fashion for a perfect bride/groom seating for a perfect haldi function decoration! Won't cost a bomb and looks great too!
2. Drapes and fairy lights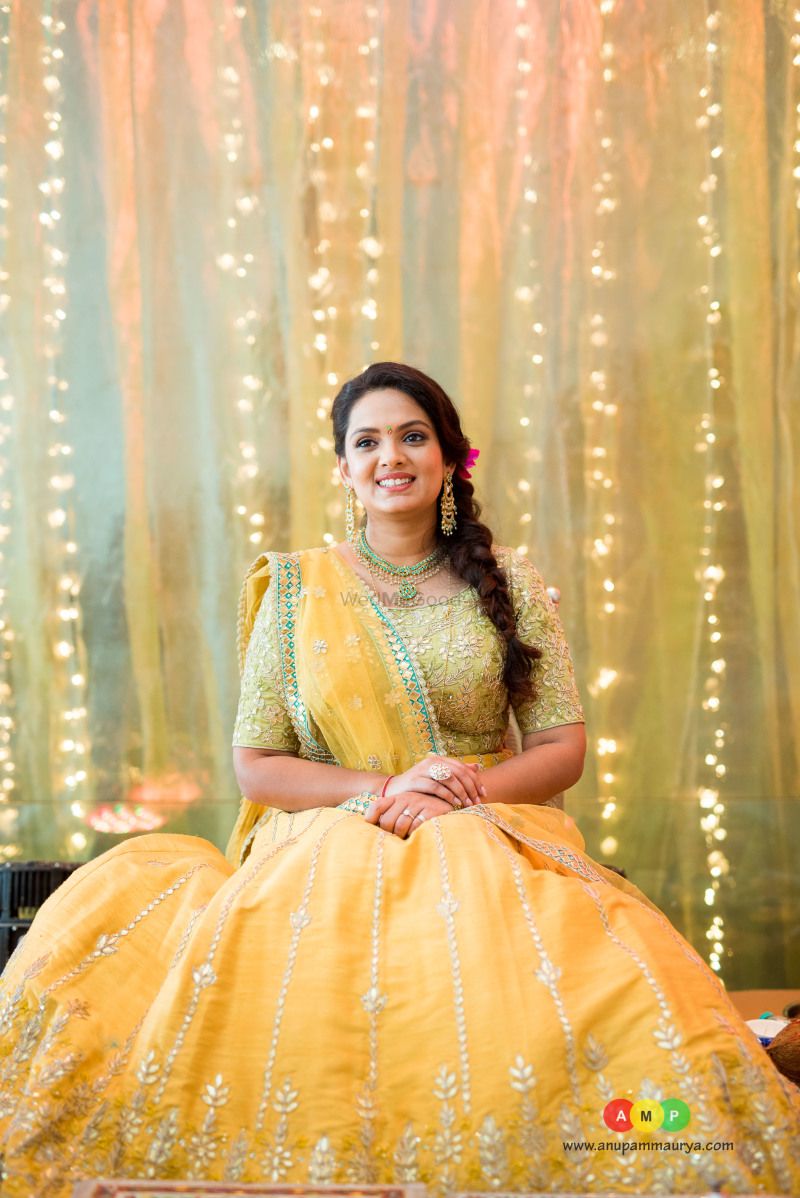 Image via KnotsbyAMP
Sheer drapes with fairy lights between them also makes for a nice backdrop for the haldi ceremony decoration idea at home! Won't cost more than a 1000 bucks.
Corner Decor Ideas
1. Cool Dreamcatcher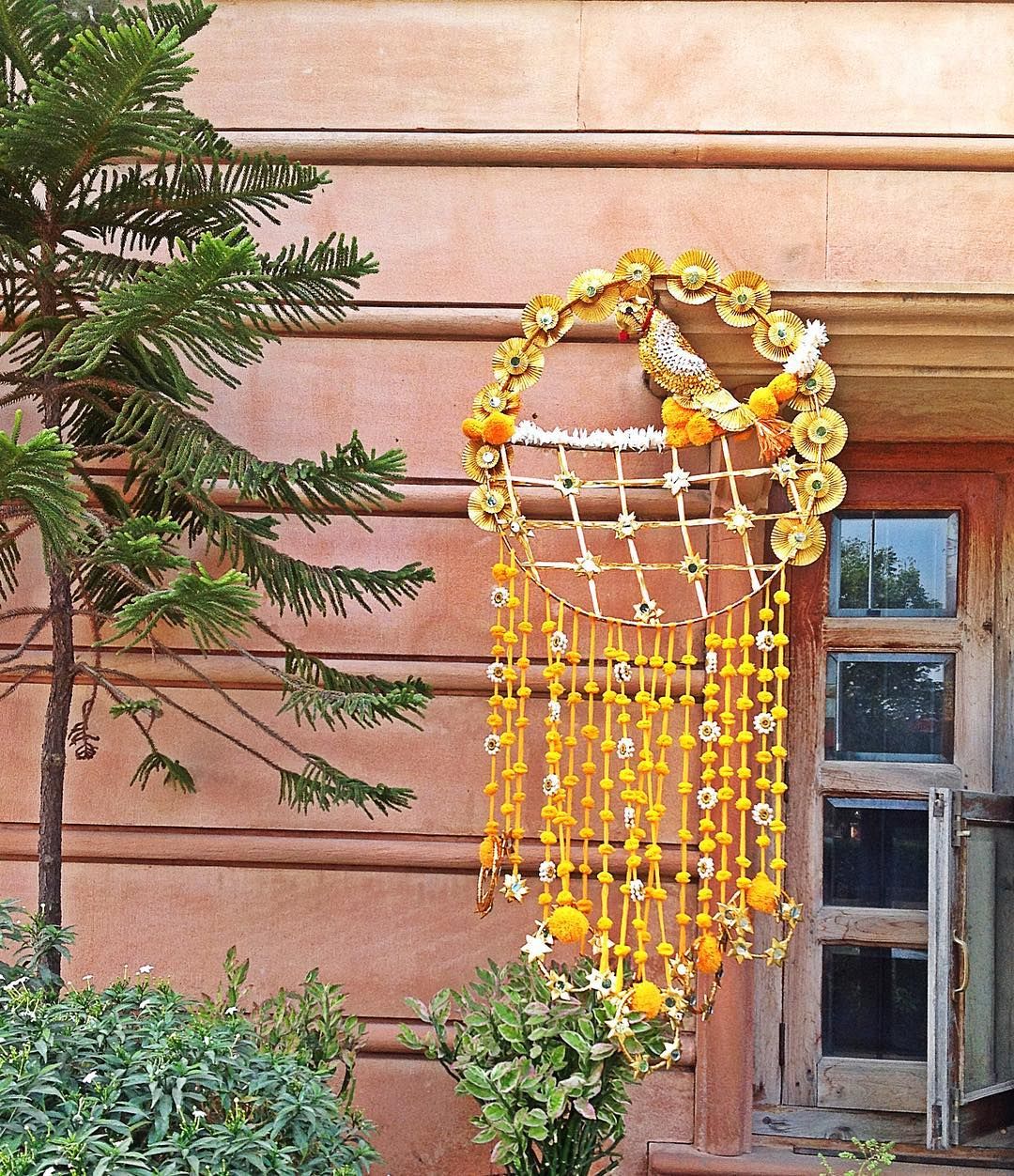 Image via mosaicfashionaccessories on Instagram
DIY these the way you like around a circular embroidery hoop- you can get as creative as you like with real flowers or even pompoms! Stick some gota accessories around to make it shine and boom, your haldi ceremony decoration is sorted.
2. Colourful steel trunks with florals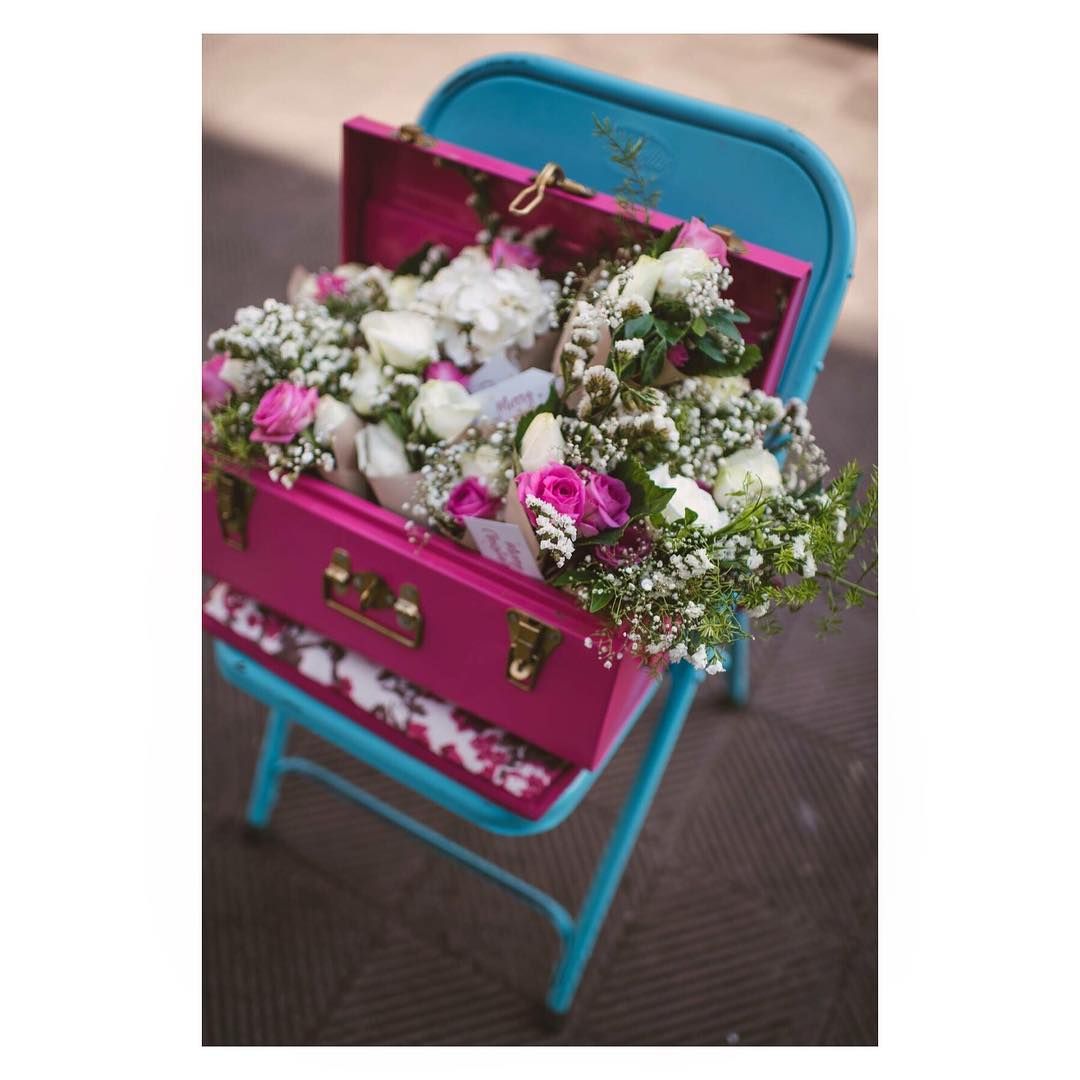 Image via atisuto_events
This one might be a bit costly because of the trunk, but this is a decor element which can be used for a couple of functions! Might cost you about Rs 2000-3000 per setting, depending on the cost of the trunk, but you can reuse the trunk as a memento once you have used them for Haldi function decoration .
Buy one colourful trunk like this one- pick the size as per your requirement.
Keep it on a colourful stool or chair.
Fill it up with loads of flowers- mixed or of the same variety!
Stuff the gaps with baby's breath.
Tent Decor Ideas
1. Drapes with kites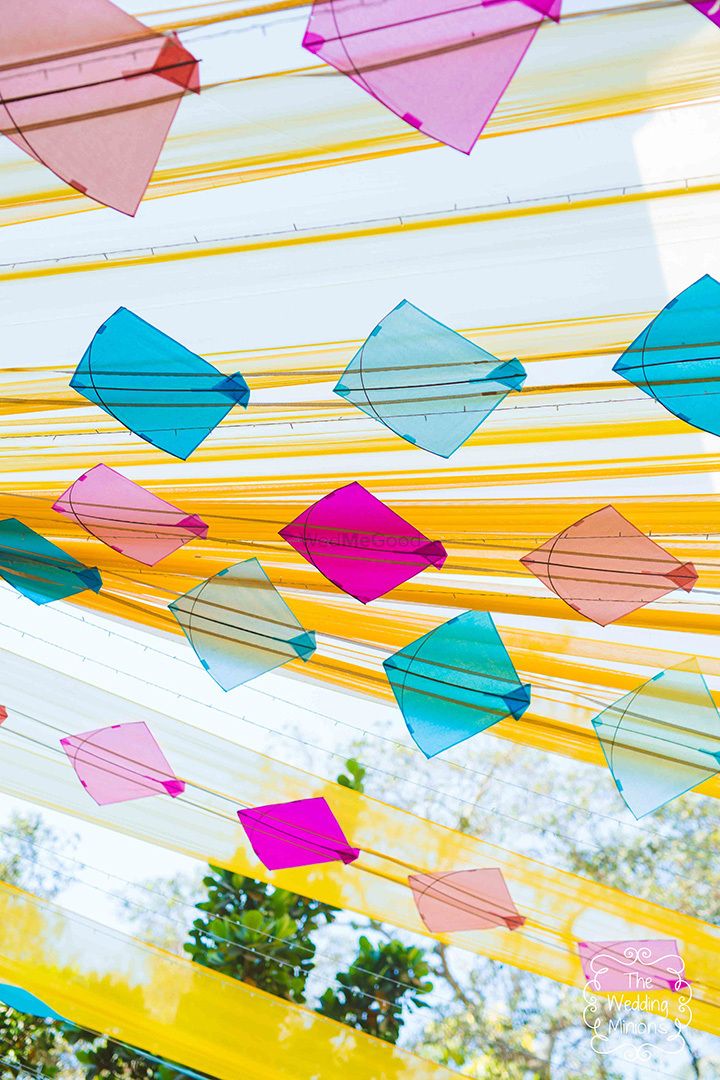 Image via The Wedding Minions★ 5
This is a great inspiration for Haldi ceremony decoration ideas at home. It will make your ceiling look absolutely gorgeous & Insta-worthy. It would cost you somewhere close to Rs 2000-3000.
Get some yellow drapes from your decorator or purchase long fabrics that are transparent.
Stick or tape kites to it before or after getting them stretched and installed!
2. Leheriya Tent with Hanging Lanterns
Image via Saurabh Photography
This Haldi decoration idea might come up to about Rs 3000. But you only need one such setting.
Leheriya Material – Approximately 20 metres for canopy and draping the swing (Around Rs 1200).
Drape the leheriya material over the canopy framework like a tent and wrap the rest around the poles
Bright Lanterns – Around 10. Buy it off Amazon for Rs 450 per 5 pieces.
Pompoms – Around 100, for the entire place. Buy a pack of 50 for Rs 225 on Amazon.
Get some carpenters to tie the bright lanterns and pompoms in the centre of the canopy.
Hanging Decor Ideas
1. Bangles or Chooda hanging arrangement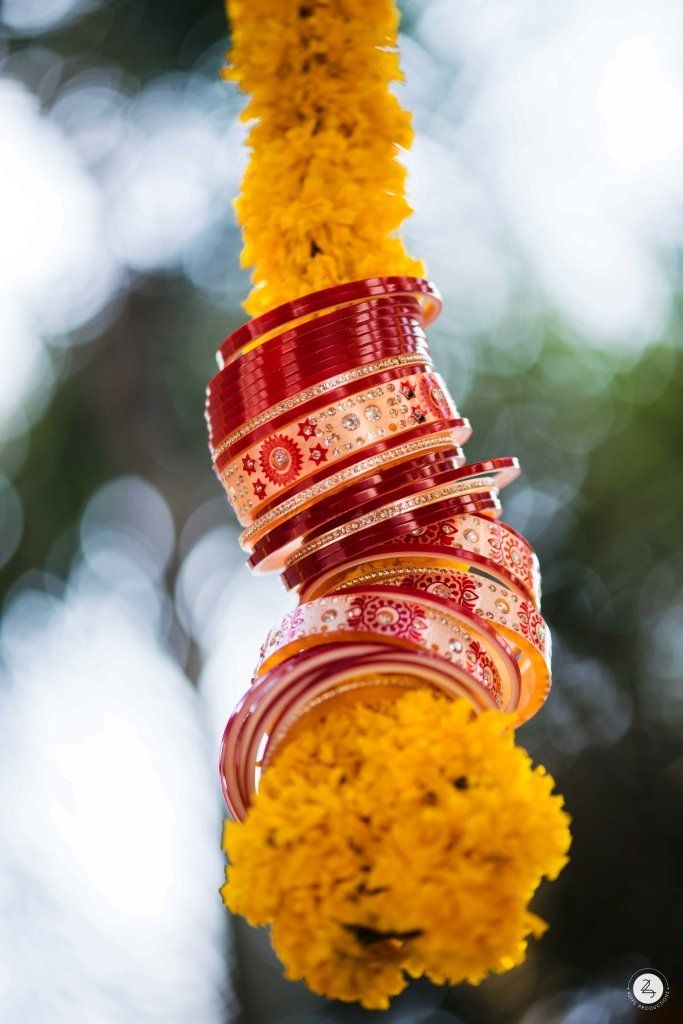 Image via Regale - The Event Company
Super cheap- this Haldi ceremony decoration can literally be pulled off for free!
Take a genda phool Mala and tie a thick knot below.
Put some bangles or a Chura and hang it- easy peasy done!
2. Hanging parandis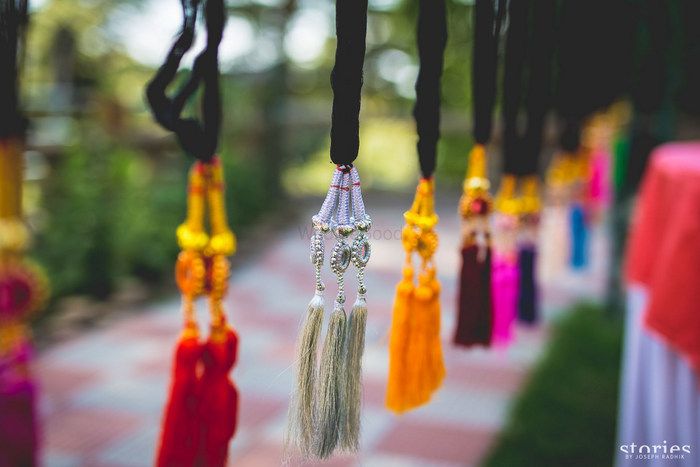 Image via Spardha and Ashish (Simla)
Another easy peasy DIY hanging, which will cost you about Rs 1000 and is a unique idea for Haldi decor.
Buy or rent some parandis- you can get them easily for about Rs 100.
Take a rope and hang it from one corner to the other.
Tie the parandis one after the other to make a curtain-like decor.
3. Hanging earthen pot with spilling florals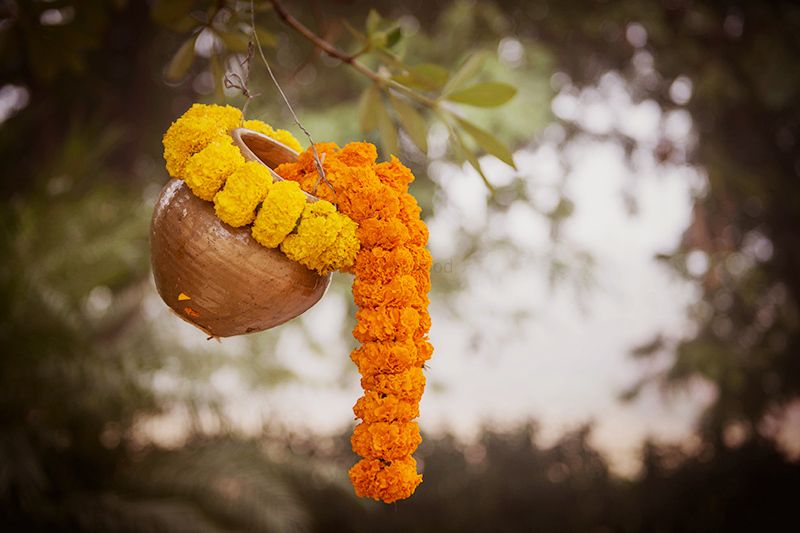 Image via White Water Events
If you need an out-of-the-box idea for Haldi decoration at home, then this one is easy to pull off in under Rs 200 per setting.
Get an earthen pot from a roadside seller- should be about Rs 100-150 per pot.
Keep it or hang it and let florals spill out of it- that's it!
Centrepiece Ideas
1. Pickle Jars with roses and marigolds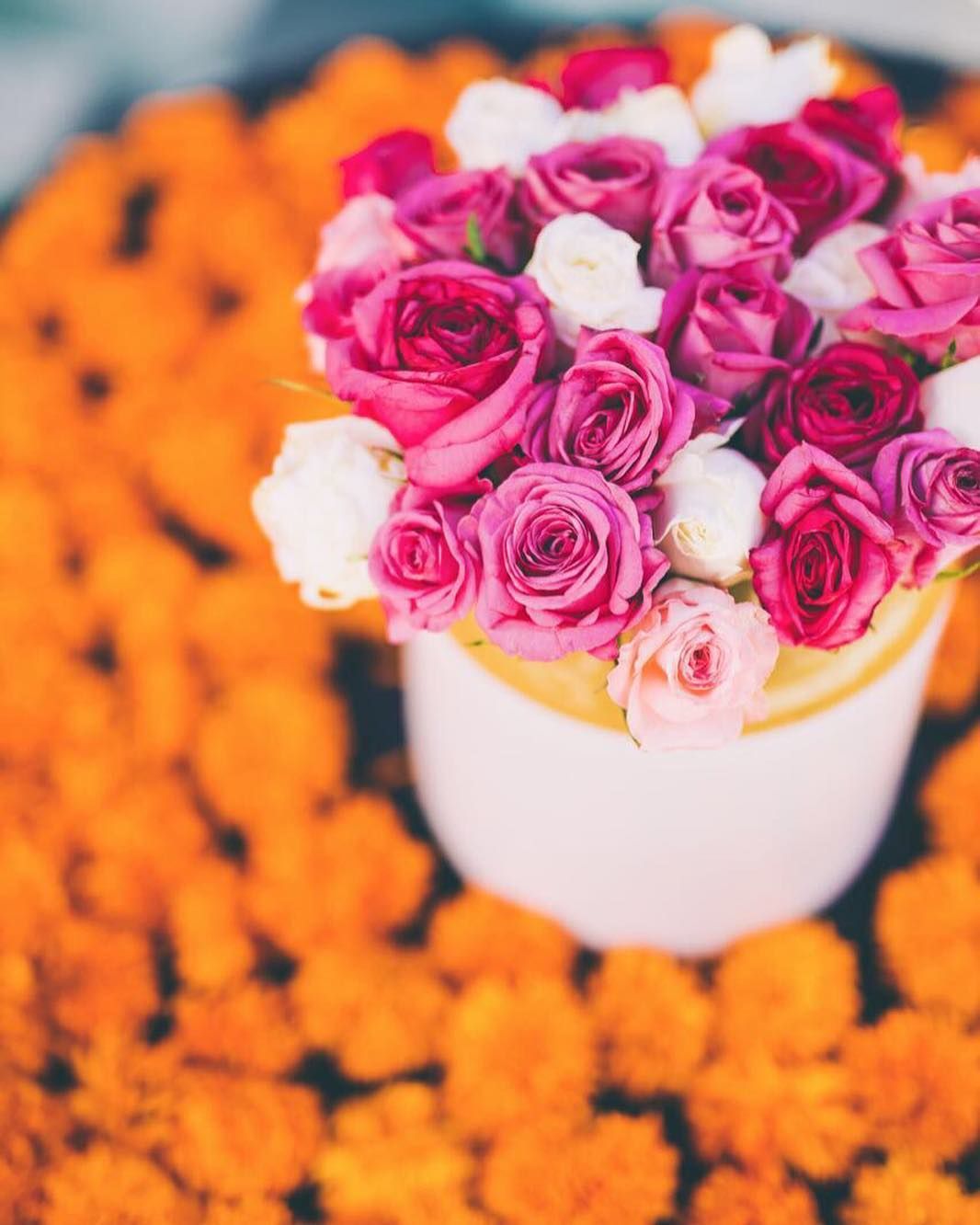 Image via With Love Nilma★ 5
This one might cost you about Rs 400-500 per setting.
Pick up one or a few terracota pickle jars like these ones for Rs 300.
Fill it up with rose stems- red, pink, yellow or white, whatever you prefer!
Throw around some marigolds near it- and you're done!
2. Lemon and Marigold centrepiece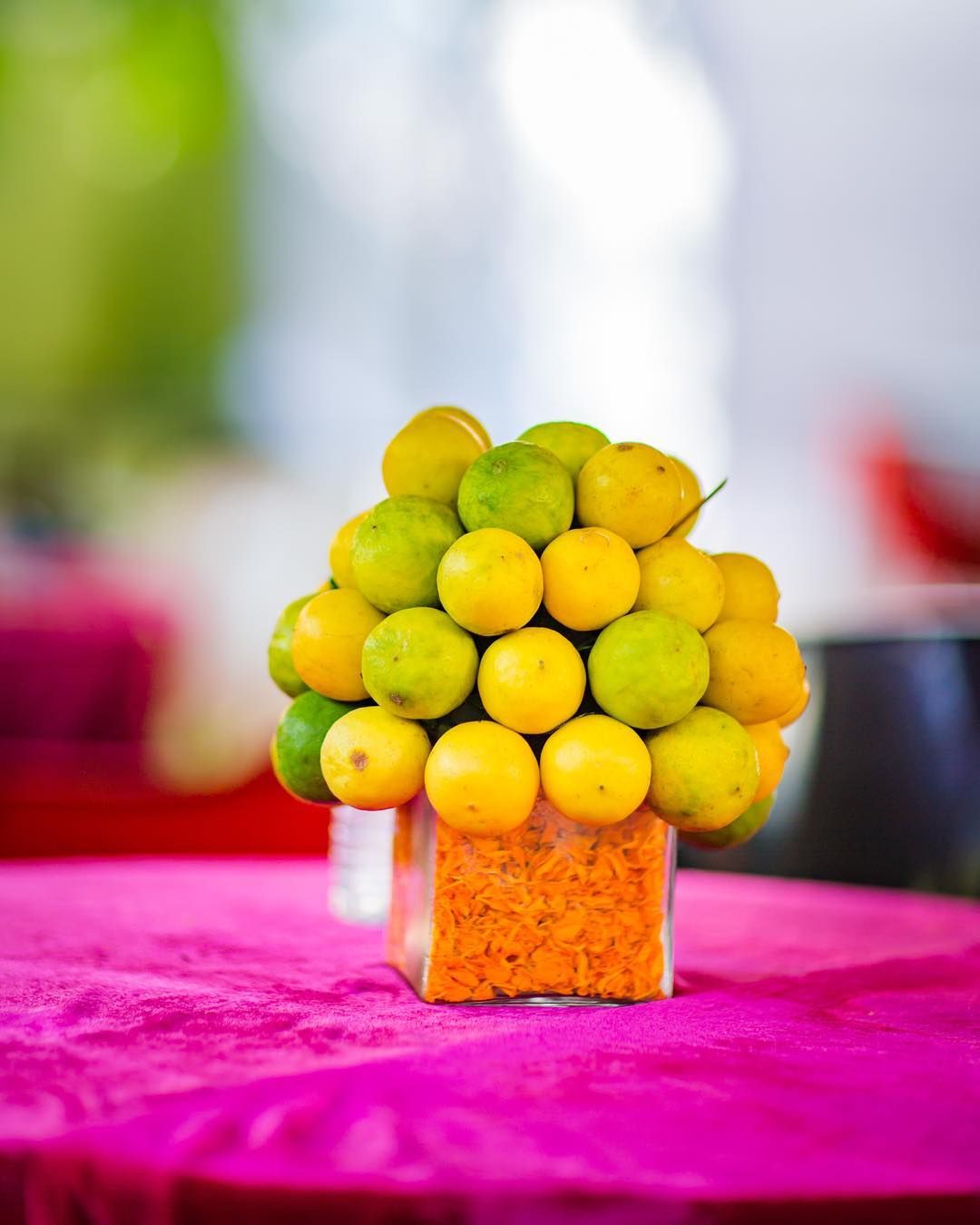 Image via love.eventfully
This interesting Haldi ceremony decoration can be pulled off for as less as Rs 200 per centrepiece. Here's how:
Buy some clear square vase- like this one on Amazon for Rs 130.
Fill it up with genda phool petals- orange would look better.
Cover with a layer of cardboard right on top.
Stick some toothpicks in to the cardboard- small and large by piercing the lemons and then arrange them in this fashion.
3. Cool pineapple centrepieces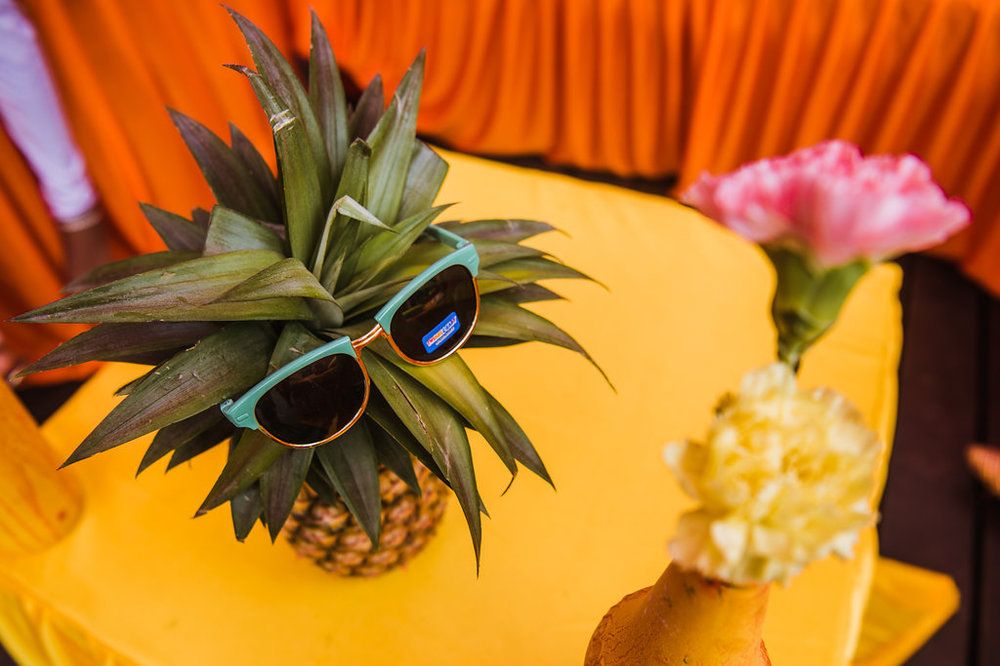 Image via YOU by Poonam Kotecha★ 4.9
This one is easy to pull off with literally no effort for under Rs 200 per piece.
Buy some pineapples- you usually get them for under Rs 100 a piece.
Buy cheap sunnies for Rs 50-100 per piece and put them on it- done!
Photobooth Ideas
1. Bunting and string photobooth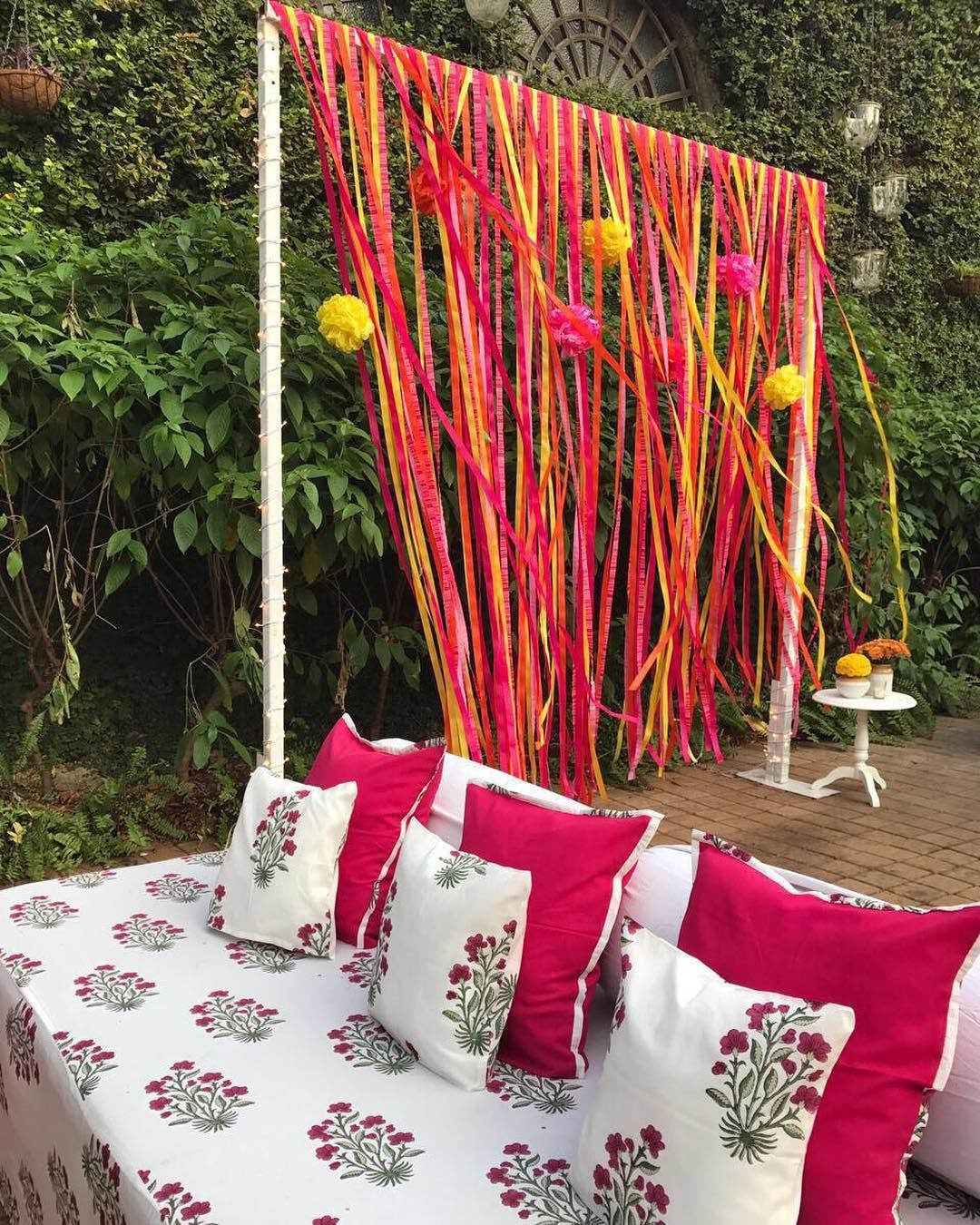 Image via altair_decor
This Haldi decoration idea might might come up to around Rs 1500-2000.
Get a wooden or metal frame installed- or you can get two pillars and hang a rope between them on the top.
Get loads of buntings, streamers and ribbons and suspend them by tying them on top.
Hang some paper props or floral balls to complete the look!
2. Genda phool frame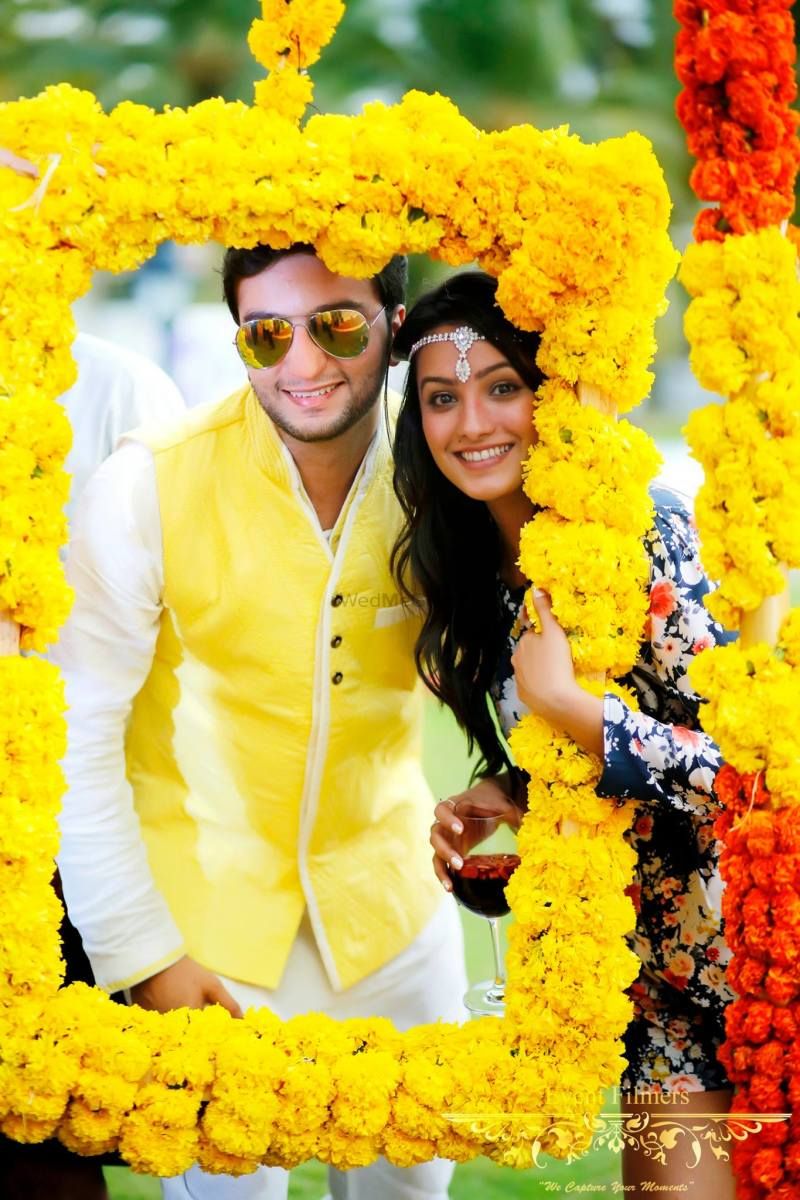 Image via Event Filmers
This one can be pulled off in under Rs 500 per frame.
Get a carpenter to join 4 thick pieces of wood to make a square.
Keep twisting genda phool malas around it and tie up the ends to secure.
You can hang it or keep it for people to pose with!
Miscellaneous Decor Props
1. Smoke sticks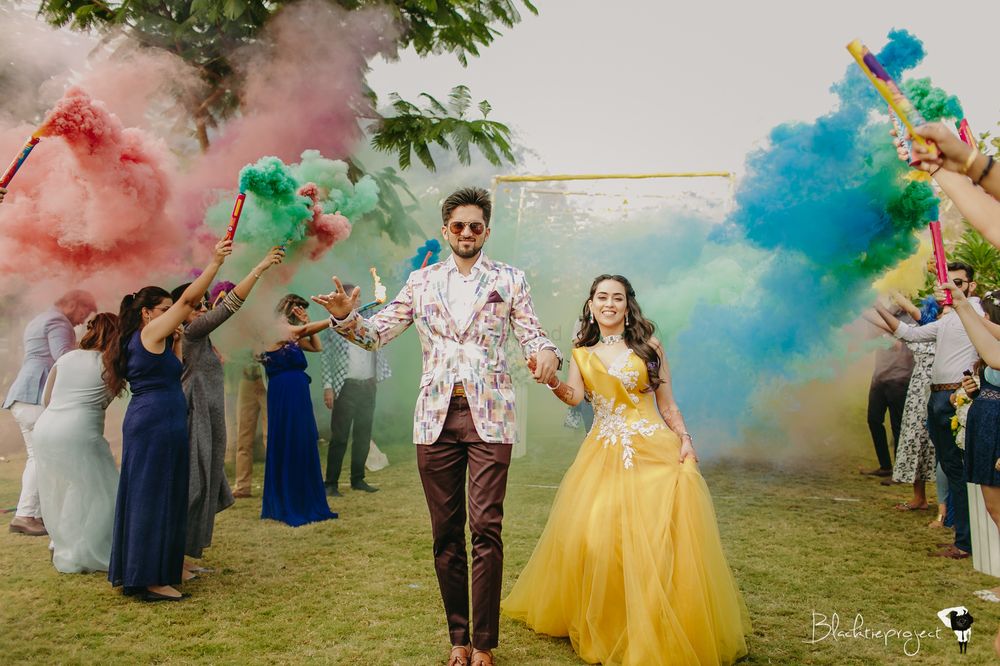 Image via Puneet and Nisha's Wedding
Can you make a more dramatic entry than that? Available online for about Rs 500-600 per stick.
2. Floral umbrella
Image via Nikhil Shastri
Perfect to make your entry under! This can be made for as less as you can get the umbrella for! Usually around Rs 500.
Take the umbrella like this one and deck it up with mogra strings and flowers- you can stick or staple them on!
3. Haldi trays with tassels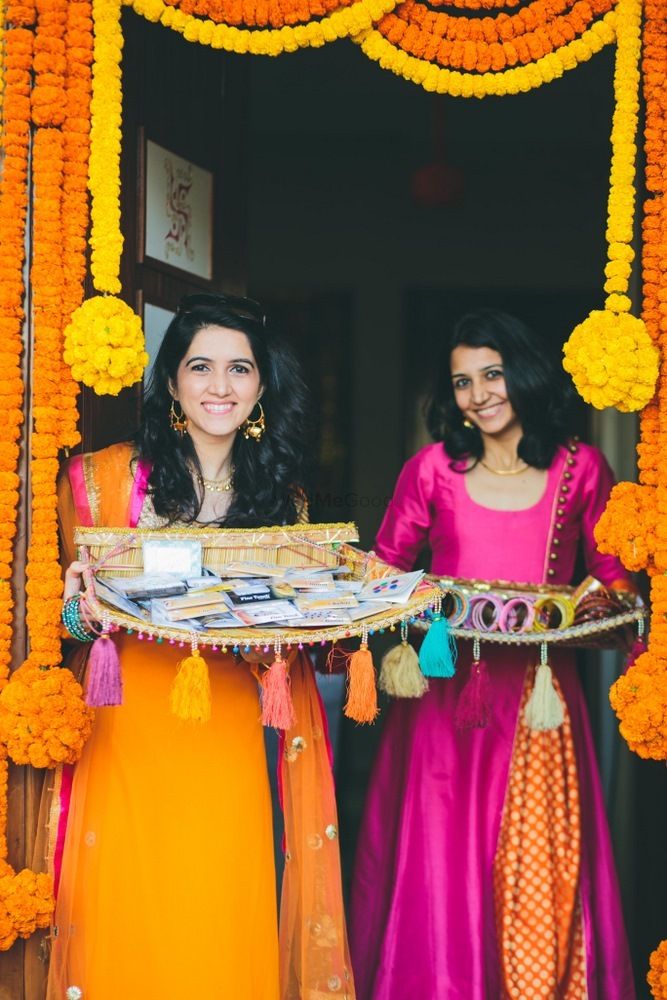 Image via Jessica and Ishank's Wedding
DIY your own tassel trays for carrying the haldi and other stuff for as less as Rs 500!
Get a tray or a flat cane basket.
Stick strings of tiny pompom and tassels garlands like these around it.
Let the tassels hang!