#BudgetBrides: Amazing New Haldi Décor Ideas Within 25K!
BY Sakshi | 22 Feb, 2023 | 175895 views | 17 min read
The Haldi is usually a smaller ceremony that happens at home or in a small hall- so why spend a bomb on doing it up? Here are some cool Haldi ceremony decoration ideas at home and small set up ideas, which can be pulled off on a budget. Every idea on the list is below 25k, so for all you Budget brides, we've got you covered!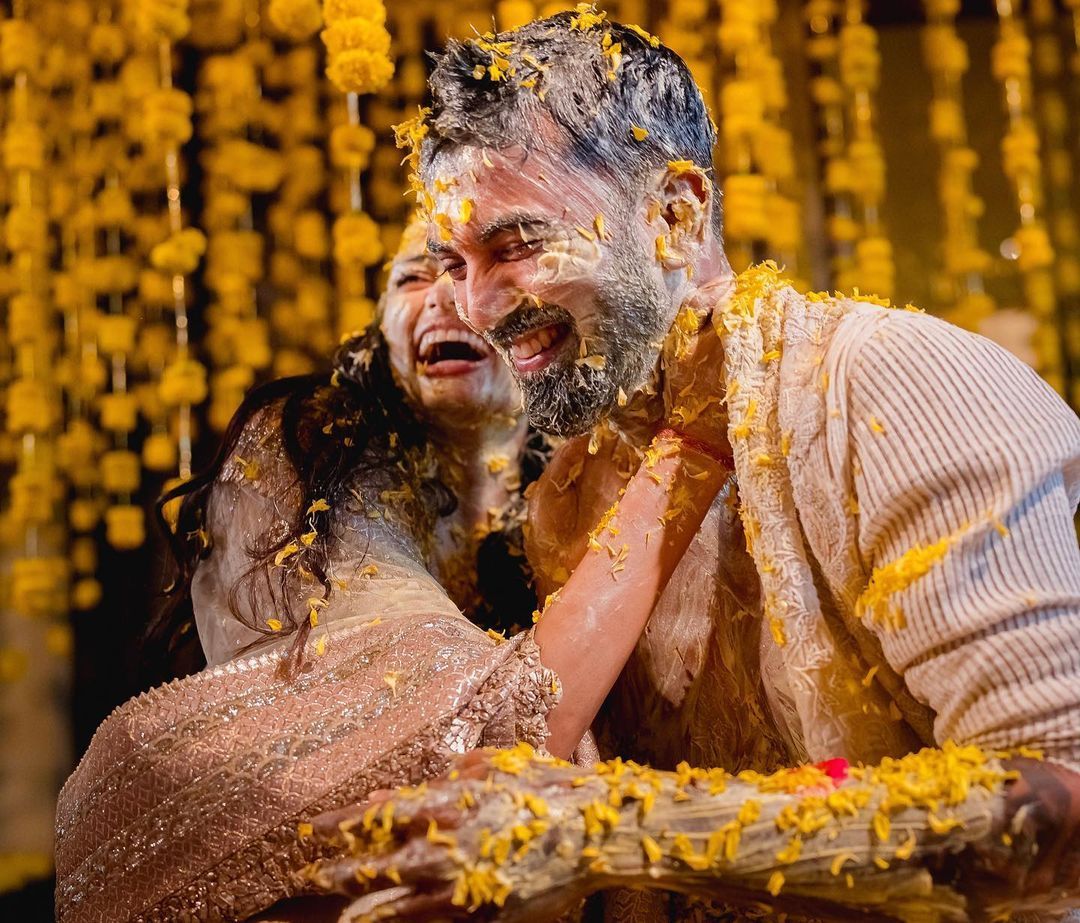 Image via Athiya and Rahul
Full And Simple Haldi Decoration Set Ups
1. Urli Magic!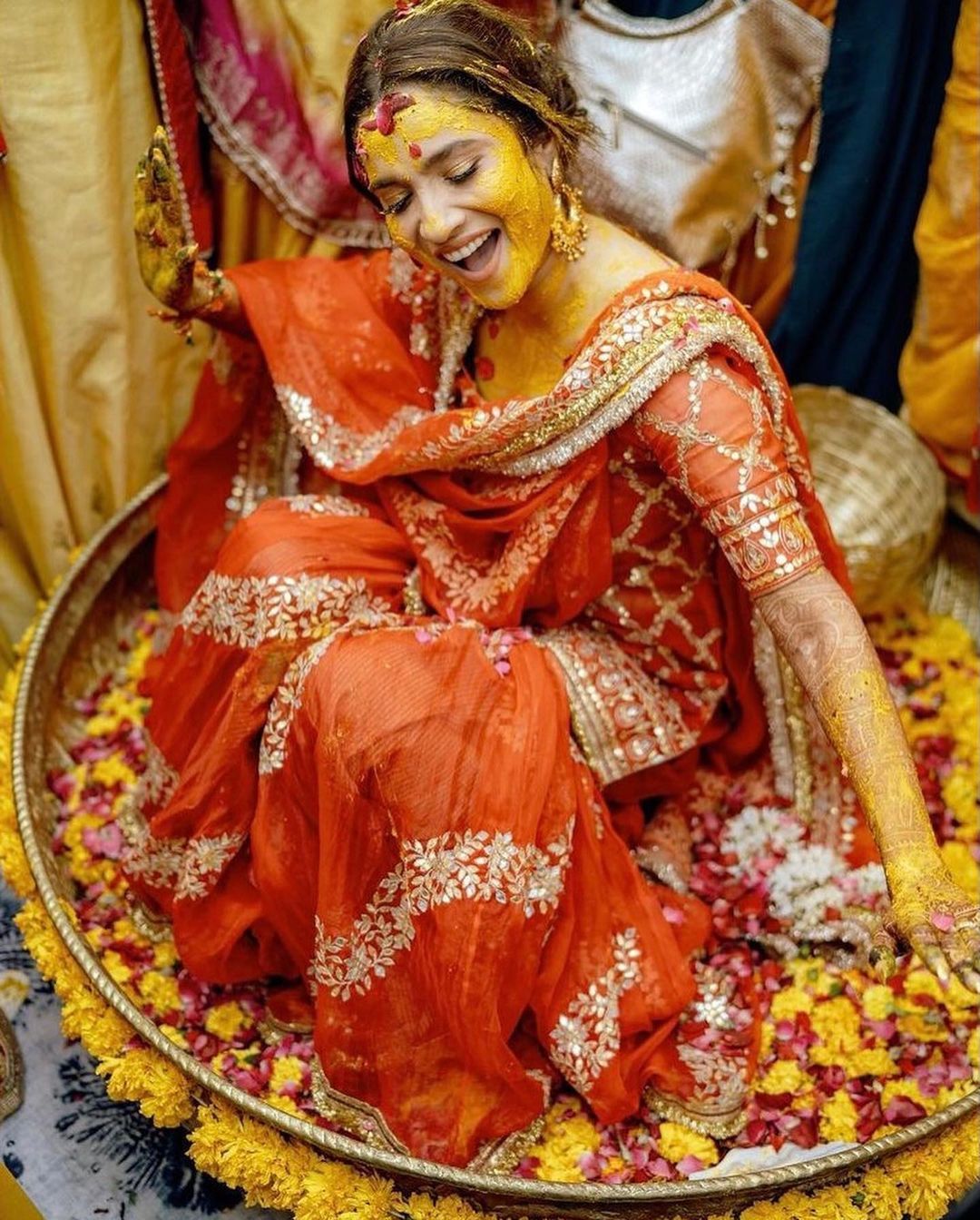 Image via The Wedding Story★ 4.3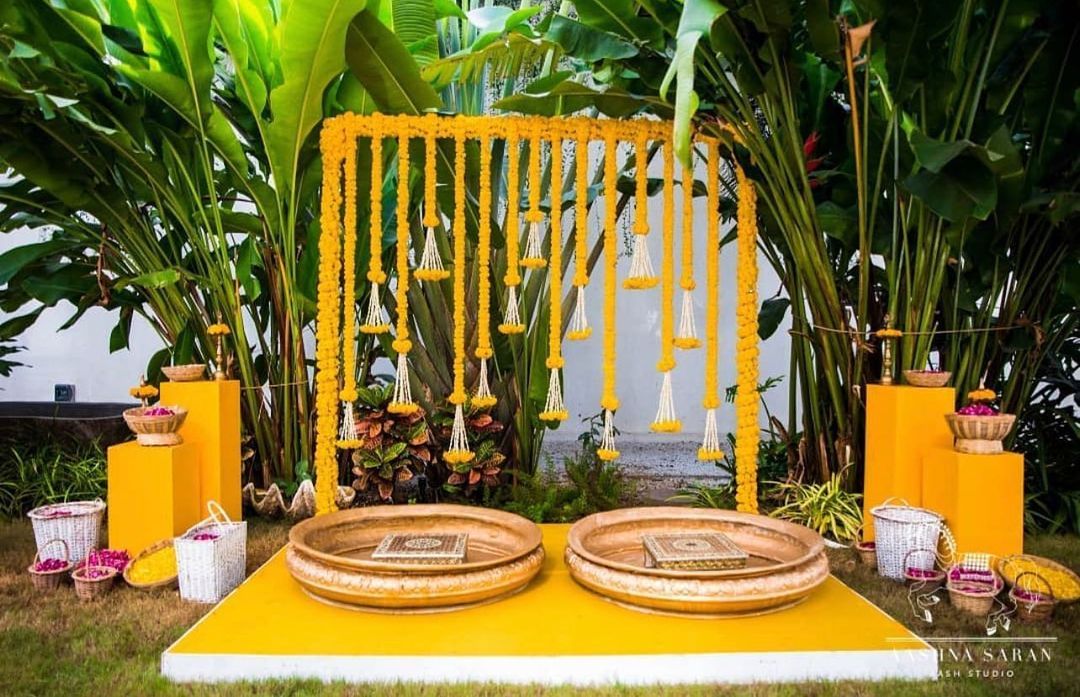 Image via Aash Studio ★ 5
Brass urlis are the one thing that have ruled haldis in 2022 and are going strong on 2023 as well! And the best part? It's an easy setup idea!
You can rent two statement urlis from your local vendor for around 5k each. Ensure the urlis are washed and polished before they are delivered to you. You can also get matching diya sets from the same vendor in brass
Set up a platform in your lawn and layer it with yellow fabric or even paint the platform down.
Create or rent a large wooden frame and plant it properly inside the lawn or have a stand where it can be placed. Renting this should cost you around 5-7k for 5-6 hours. All you need to do is cover the frame with flowers now.
Then, you go all out with the flowers of your choice. We recommend gendaphool in orange so that they are cheap and look stunning in pictures. Garlands to drape the wooden stand, petals for a flower shower and loose flowers to decorate. Pick any local florist in a phool market who will give you a wholesale rate. It will set you back by 7-10k. And you are done!
2. Green And Yellow Wonder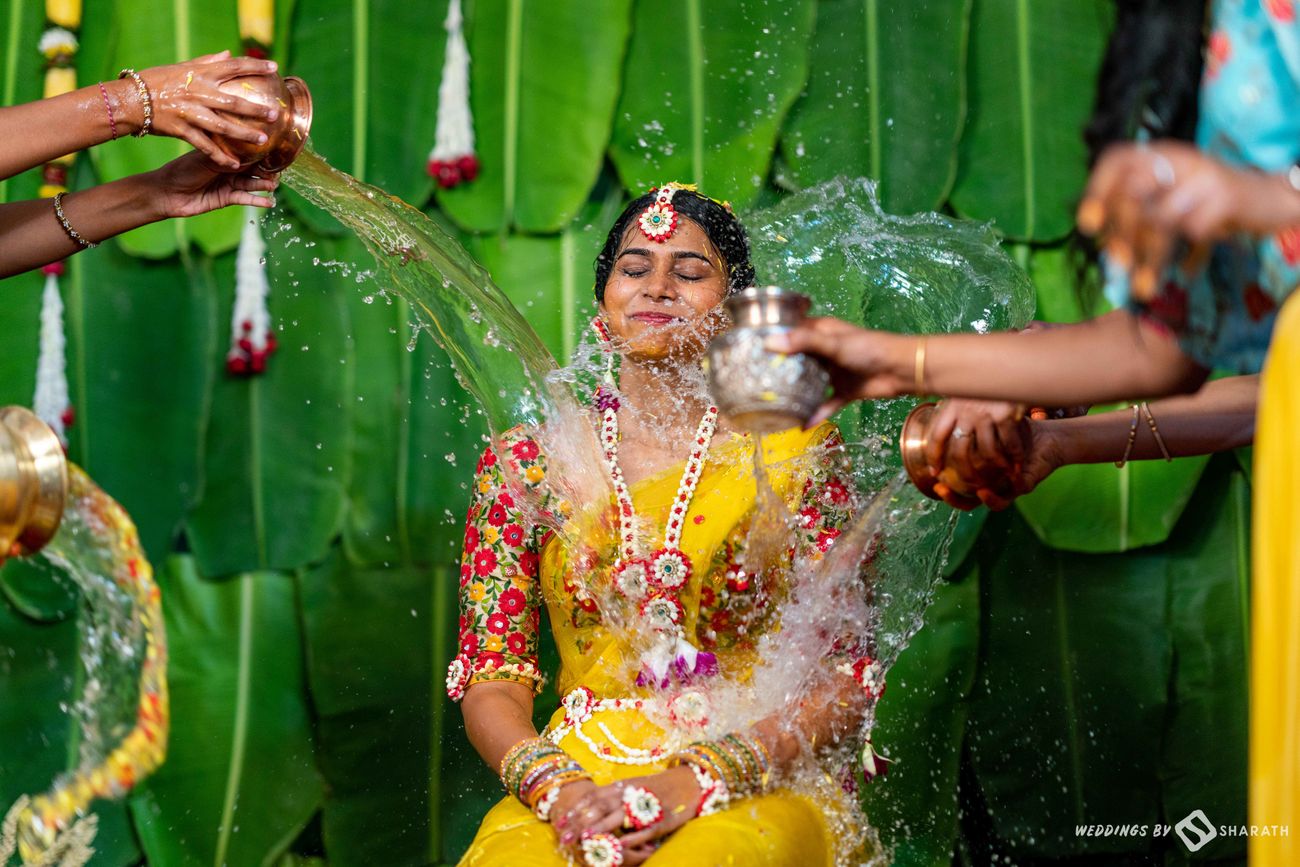 Image via WeddingsBySharath 
This banana leaves background set up is an easy-peasy but stunning haldi decoration ideas at home or even at a venue.
Rent a big wooden or foam backdrop that can be attached to a wall or be planted in a stand, if it's an outdoor venue. This should cost you around 10-15k to rent a big one with foam for a day.
All you need to do is get fresh banana leaves and pin it in the foam board backdrop. Remember that banana leaves have a very short shelf life so you cannot do this one or two-day prior. You have to do it on the day of the event.
If you aren't keen on fresh foliage, pick fake banana leaves from Amazon that are more expensive than fresh ones but you can pre-make this backdrop and have a fun haldi!
3. Marigold Shower!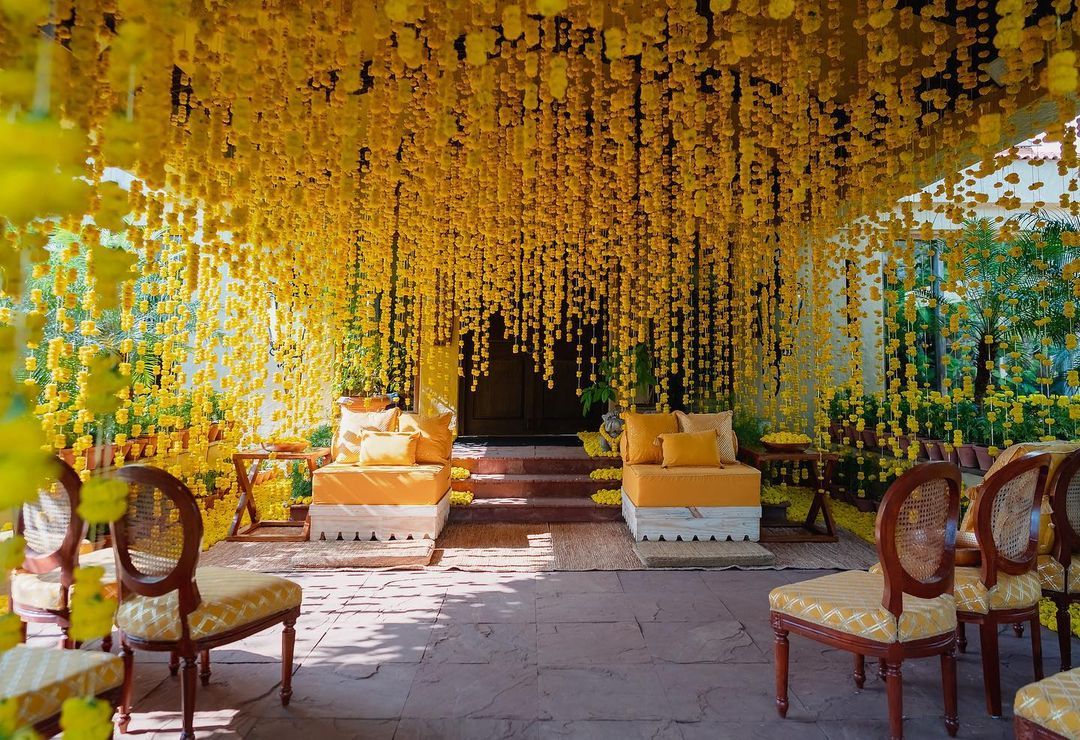 Image via Athiya and Rahul
Nothing that gendaphool love on a haldi day. Bear in mind that to get a specific look for your best haldi decoration, the venue is important too. While we can easily replicate the décor with these hacks, the final look will be very different
To create this stunning marigold shower, you need have over 100 or more marigold strings. This cascading effect will depend on the size of the venue/room. Bigger the room, more marigold strings.
Pick the length of the floral string as per the ceiling height. Ensure no one is hitting the strings, or else mid-function there will be chaos. Have a 50-50 mix of shorter and longer strings to create that cascading effect
Criss-cross your ceiling with thick strings to create a base to hang these marigolds strings on. You may need a local vendors' help on this and for 10-12k they will also help you string this together.
Once the base is ready, tie one short and one long marigold string together till the complete ceiling is filled. Don't leave too big gaps, to create that illusion of a floral ceiling.
For seating, you can pick two pretty brass stools or wicker stools and décor them with similar florals.
4. Old School Haldi Charm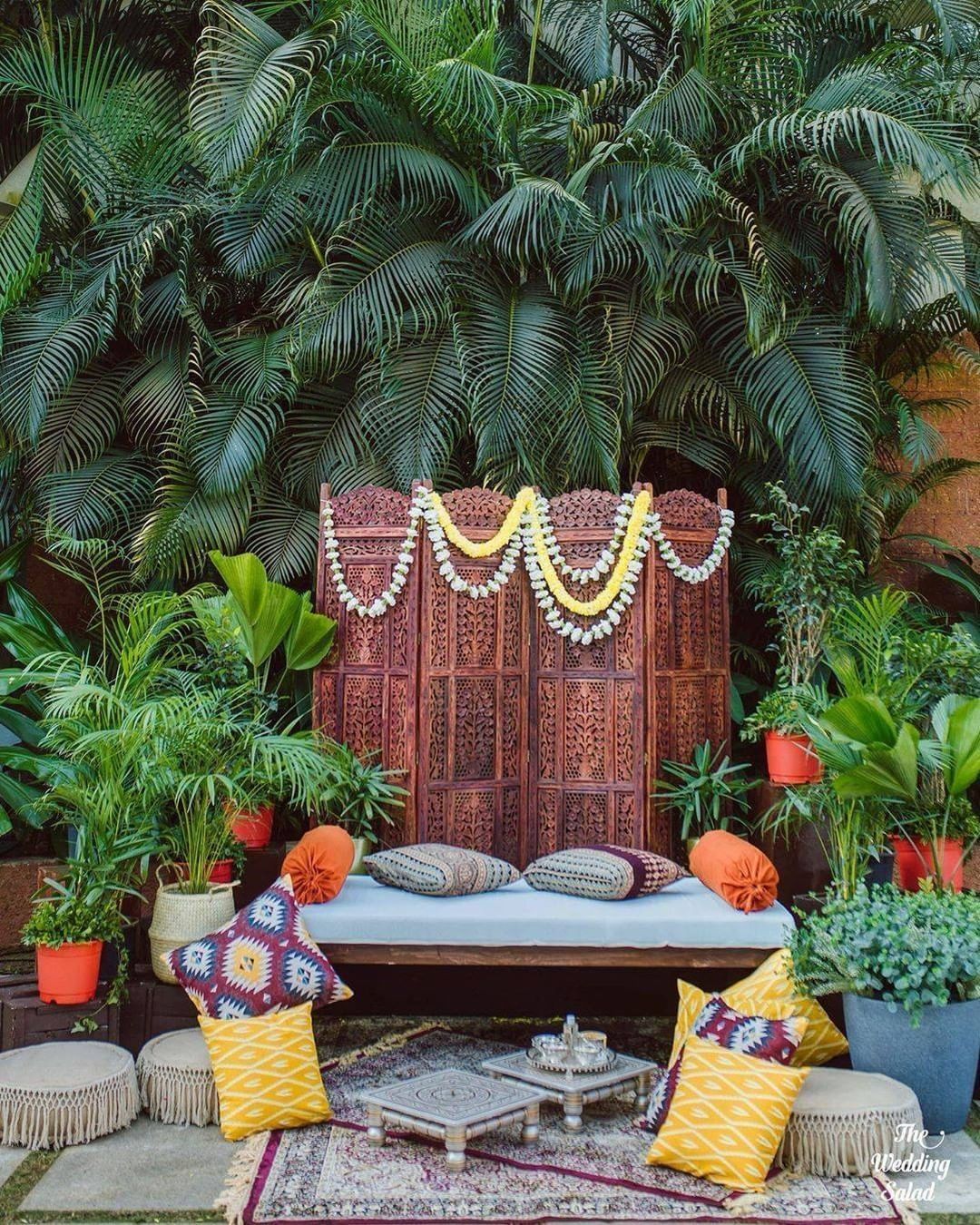 Image via The Wedding Salad★ 4.9
This is such a pretty set up for an easy haldi decoration at home. You need to do a little borrowing or renting and you can set this stunning backdrop under 25k easily!
Borrow or rent an old wooden separator that is easily available at any vintage market or a friend's home. If you rent it out, it shouldn't be more than 7-8k for a few hours. Get some white and pink and yellow floral garlands to line it up
Keep your sofa, diwan or any seating arrangement you have at home in front of this separator. Ensure that it doesn't cover most of it. Have seating options keeping in mind that this is a haldi and may get stained.
Buy similar ikkat cushion covers that are easily available on Amazon here. A set of six covers will come at INR 699!
Arrange a few planters around the set-up to give it that pop of green and you are set to celebrate your haldi at home!
Welcome Boards
Ombre Boards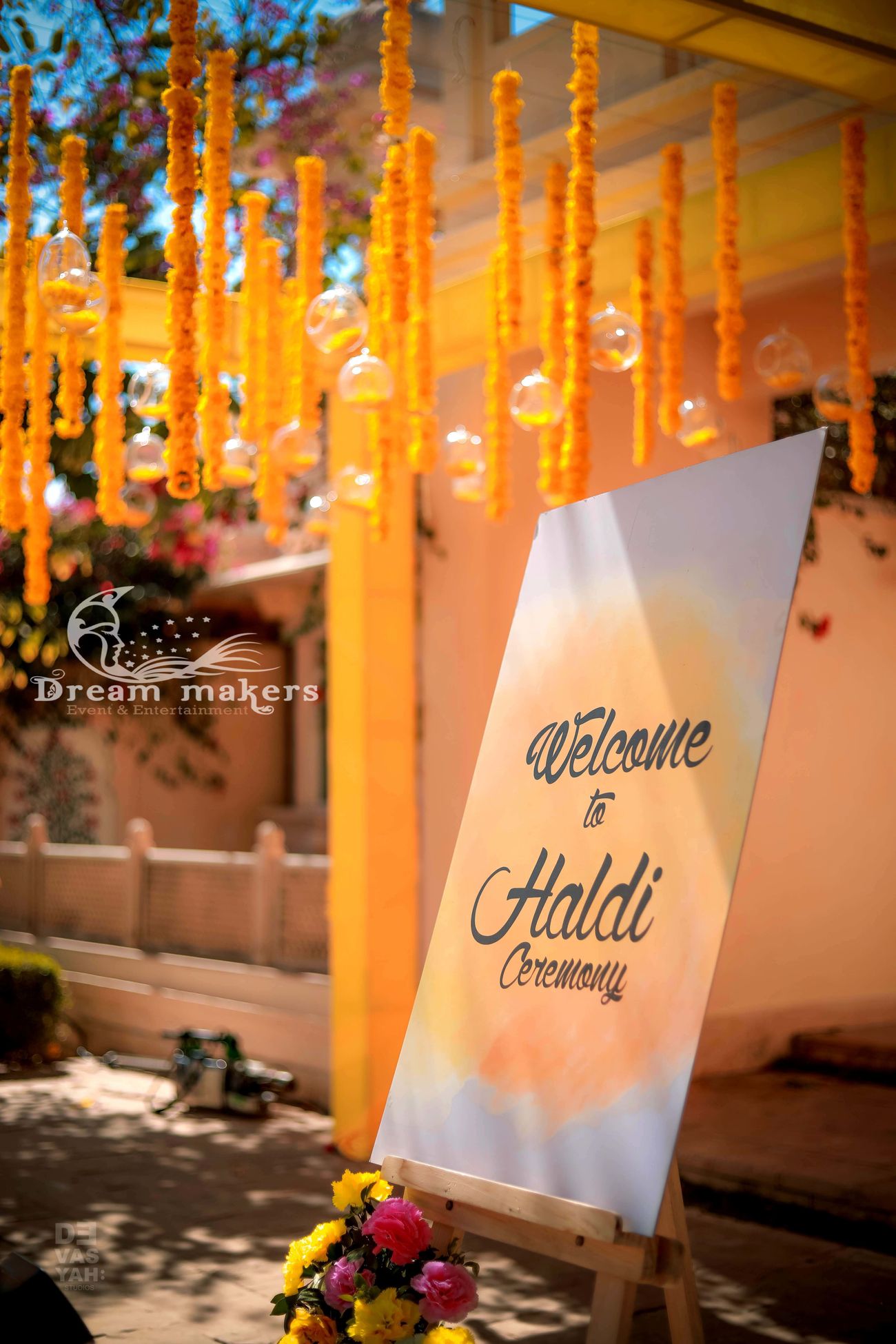 Image via Dream Makers Event and Entertainment★ 5
One of the easiest and low budget haldi decoration elements is a welcome board. You can easily make one or get one printed. You can create one of Canva or have a friend who is keen to handpaint one. This ombre one is easy to make and super cute at any haldi.
2. DIY Magic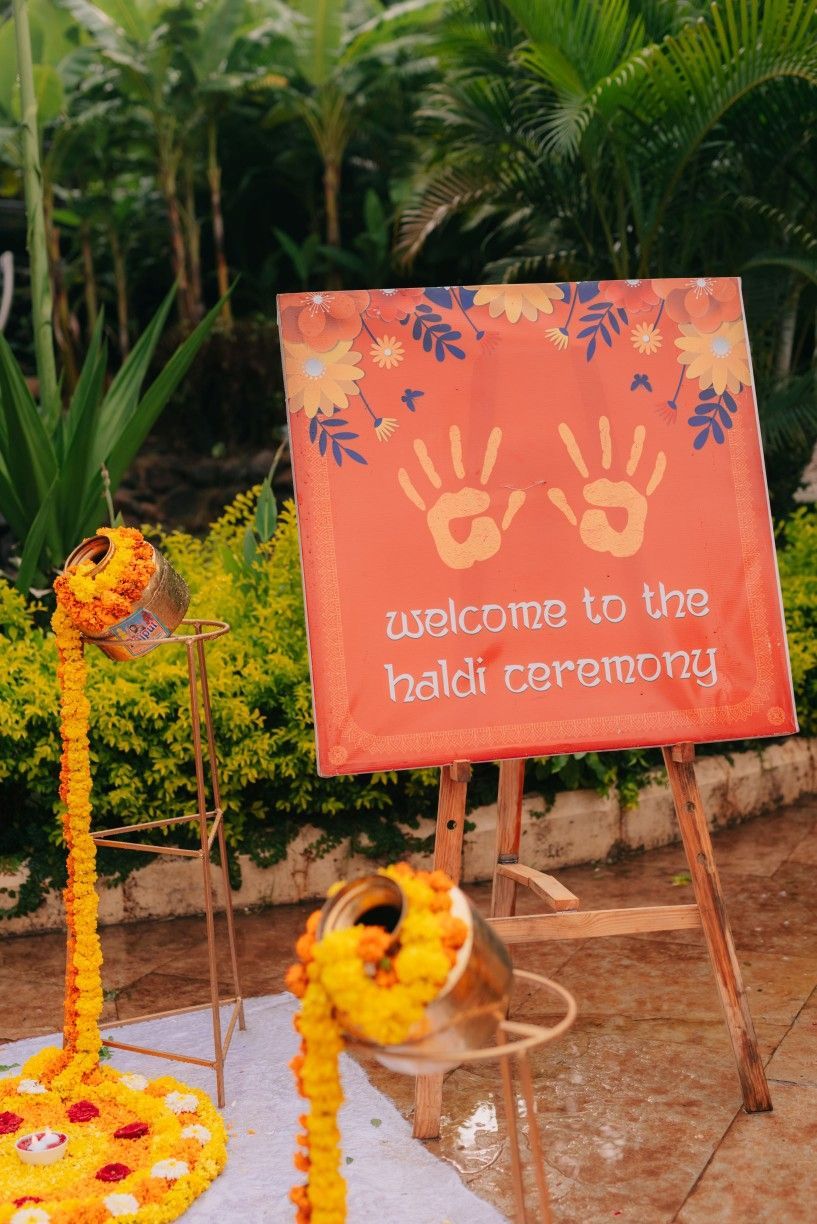 Make this DIY one with painted hands and florals
3. Floral Wonder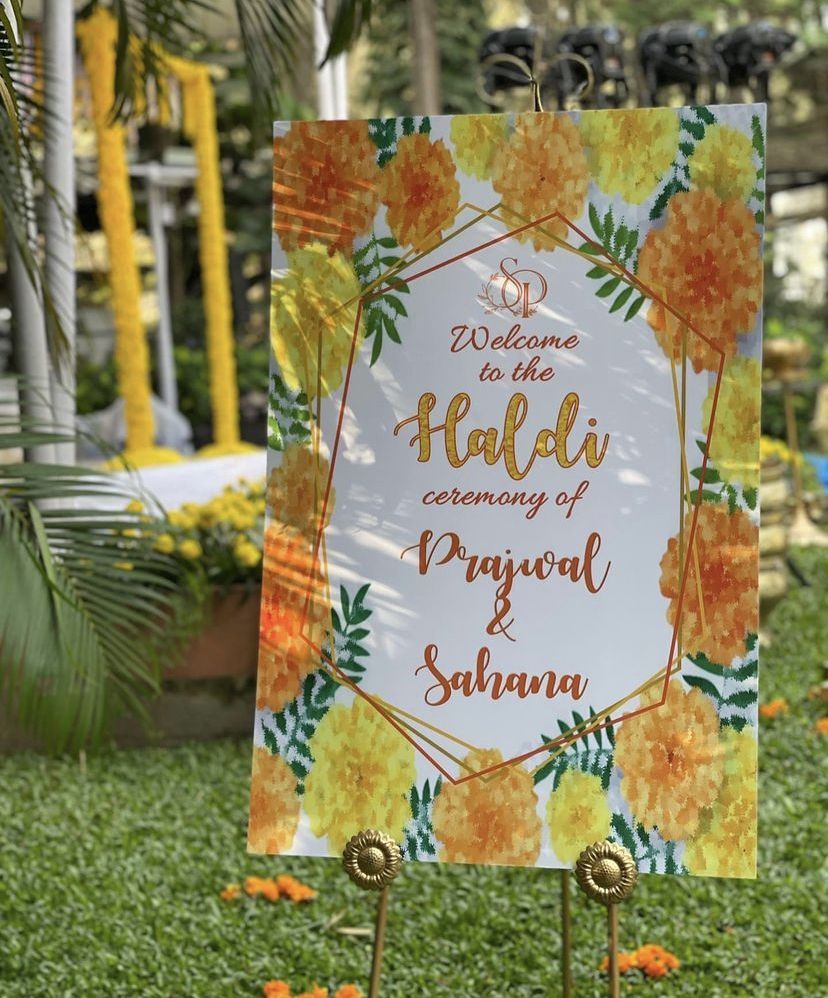 You can get this designed on countless app and have a local printer print this for you.
Entrance Decor Ideas
1. A Fun Lemons & Daisies Scooter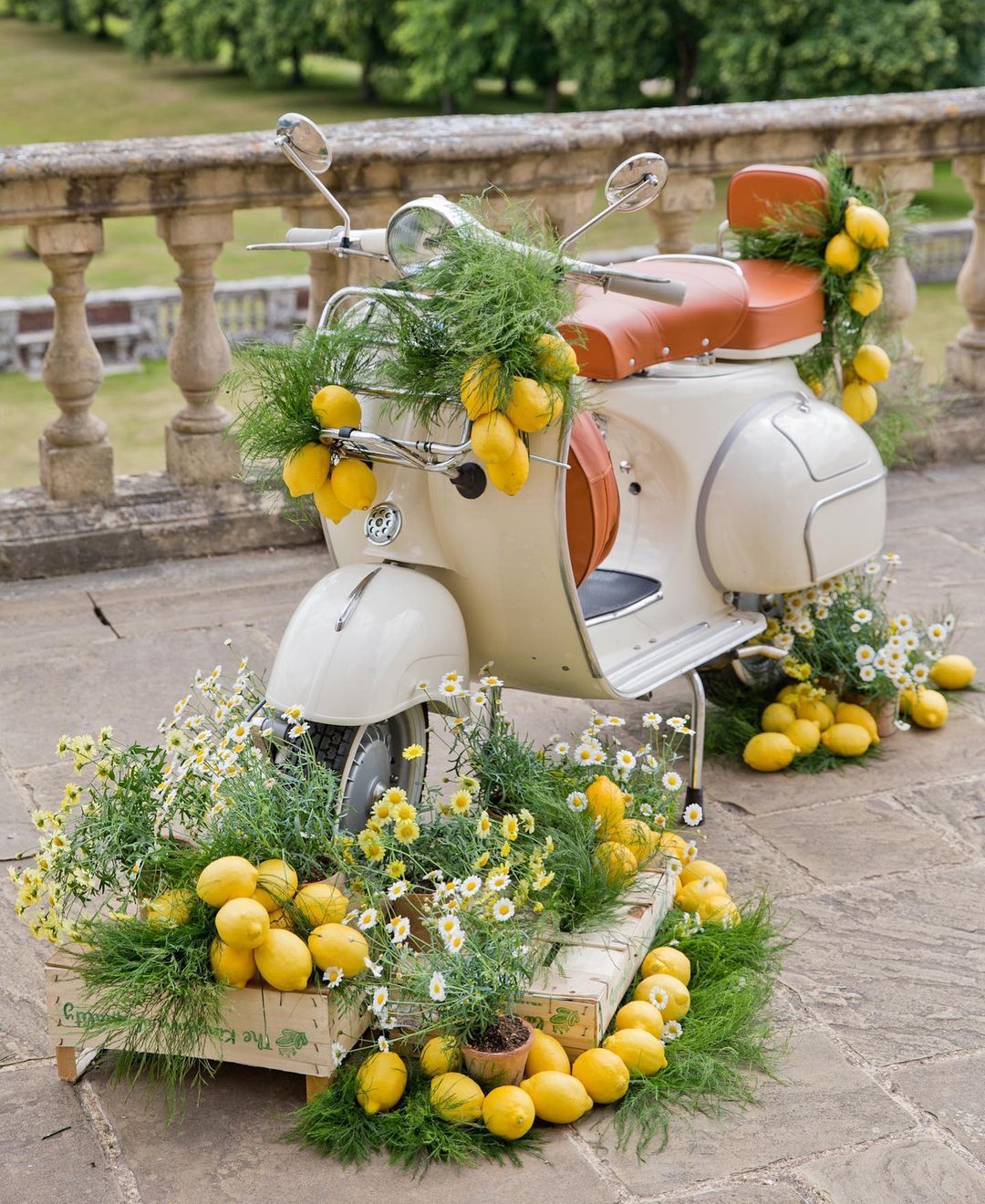 This one is a fun entrance or even a photobooth idea. You can extend this to the rest of your decor too!
Rent or borrow a old scooter from any of your friends and family. Ensure its cleaned well and polished.
Get mini white and yellow daisy floral planters. Along with that get the biggest lemons you can find along with huge bundles of dill. You can replace this with any green foliage if you don't like the smell of dill.
Get empty wooden crates that are available at local stores or even on Amazon. Fill these with lemons, planters and dill.
Create a bunch of lemon and dill bundles to hang off the scooter. And your most adorable welcome scooter is ready!
2. Eco-Friendly Home Doorway Decor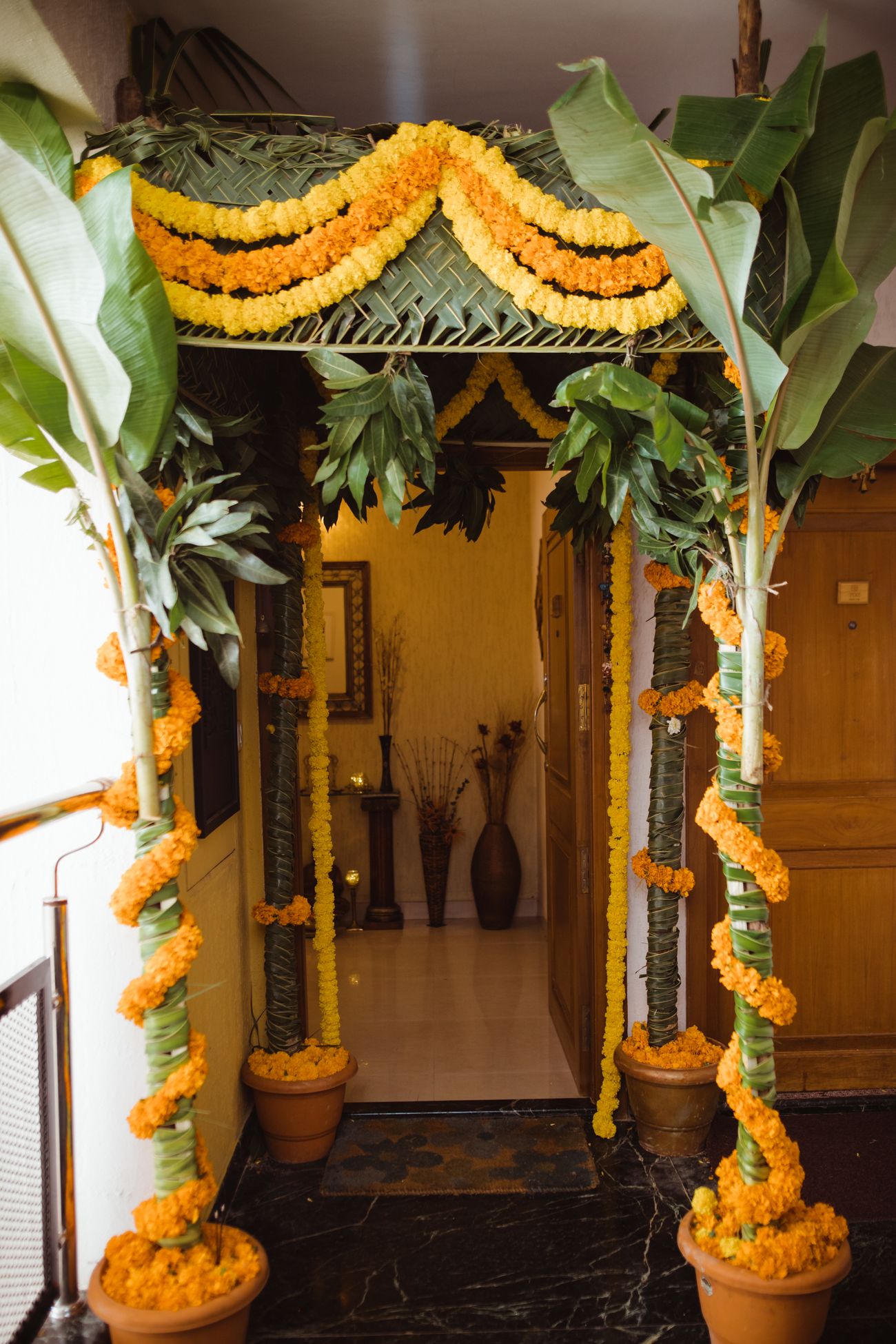 With a help of banana and mango leave and a few marigold garlands, this entrance decor set-up is such an easy and affordable idea. Plus its completely eco-friendly and can be done with local florals and foliage only.
Take two large planters with soil. Insert two bamboo shoots or full banana stocks into them
Line them with marigold flower garlands and cover the soil with loose flowers
Then cover the top with a coconut palm canopy and line the door with mango leaves. You can also hang marigold garlands on both the side of the entrances and it's ready!
3. Welcome Board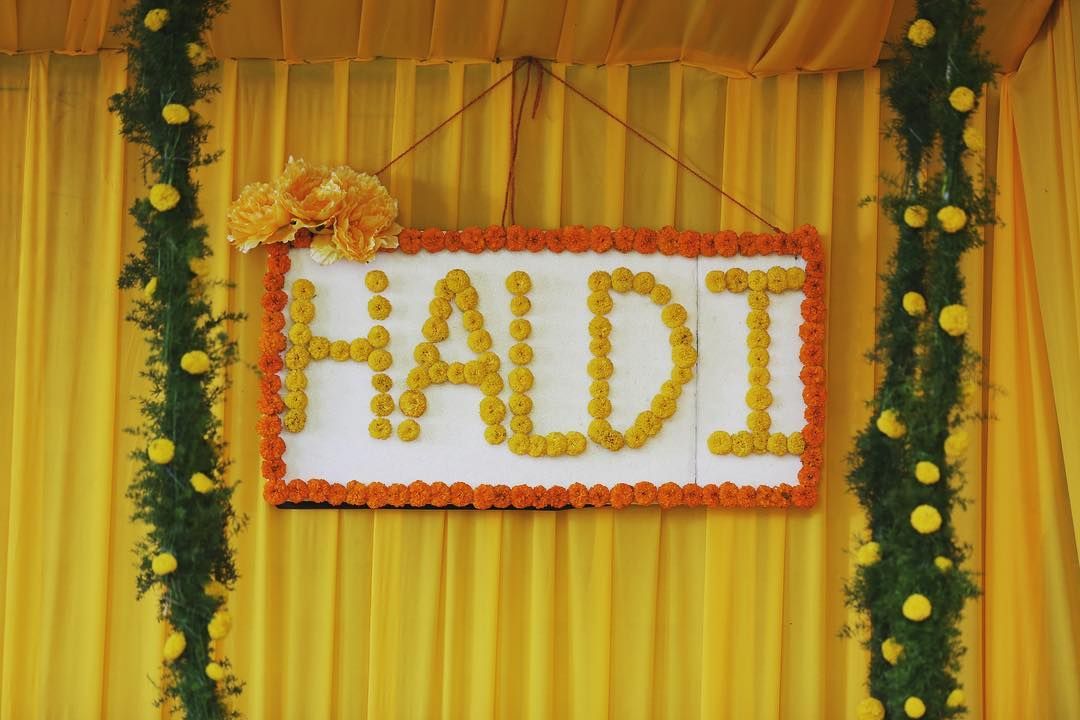 Image via thetieup_events
Whether you're going to do haldi decor at home or some lawn you have booked. This one is a quick and easy haldi function decoration idea to do yourself at home. The best part is that this one can be easily made in under Rs 200.
Here's how to pull it off:
Take a plywood piece or thick cardboard.
Cover it in white paper or coat with a layer of paint.
Take fresh individual genda flowers and write haldi or whatever you desire, sticking them with superglue!
You can even use paper flowers to make it easier to stick them on.
Make sure to make a border with a contrasting colour.
Knock two nails on the sides and hang it using string or wool!
4. Rangoli with lanterns and earthenware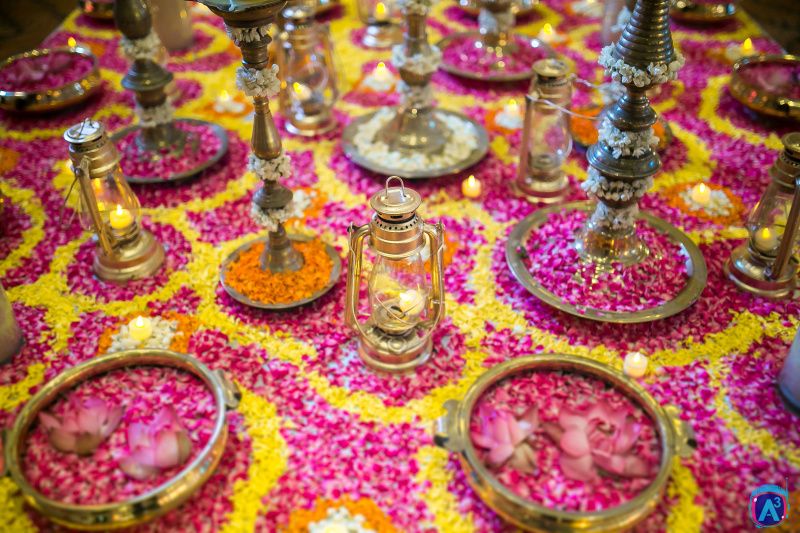 Image via The A-Cube Project
This rangoli looks so pretty for a haldi ceremony decoration, and might come up to about Rs 2000-3000 per setting, depending on how big you want it to be plus, it's one beautiful and easy haldi decoration you can have at home without any hustle.
Get some antique lanterns, which might cost you about Rs 500 per piece like these ones.
Get brass diyas, which also come for about Rs 600-1000, depending on the size. Get them here.
Instead of brassware used here, you can get some earthen pots, which will come up to Rs 200 per piece.
Make a rangoli with flower petals, place the items and top it up with lotus buds and flowers.
Add real or electric tea lights inside or you can also place floating candles with the lotus.
5. Welcome aisle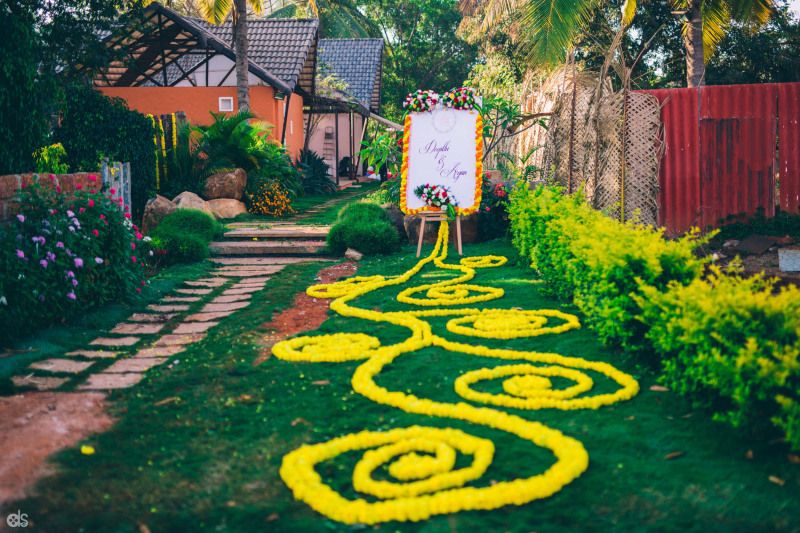 Image via Digital Stories
Super cheap, this haldi decoration at home (preferably from your garden to the entrance or from the hall to the room where haldi is happening) might cost you about Rs 500 for a couple of long malas. Just take long ones and twist and turn them to make a pattern on the grass or aisle. You can take loads of short ones and pull off this haldi ceremony decoration too!
6. Walkway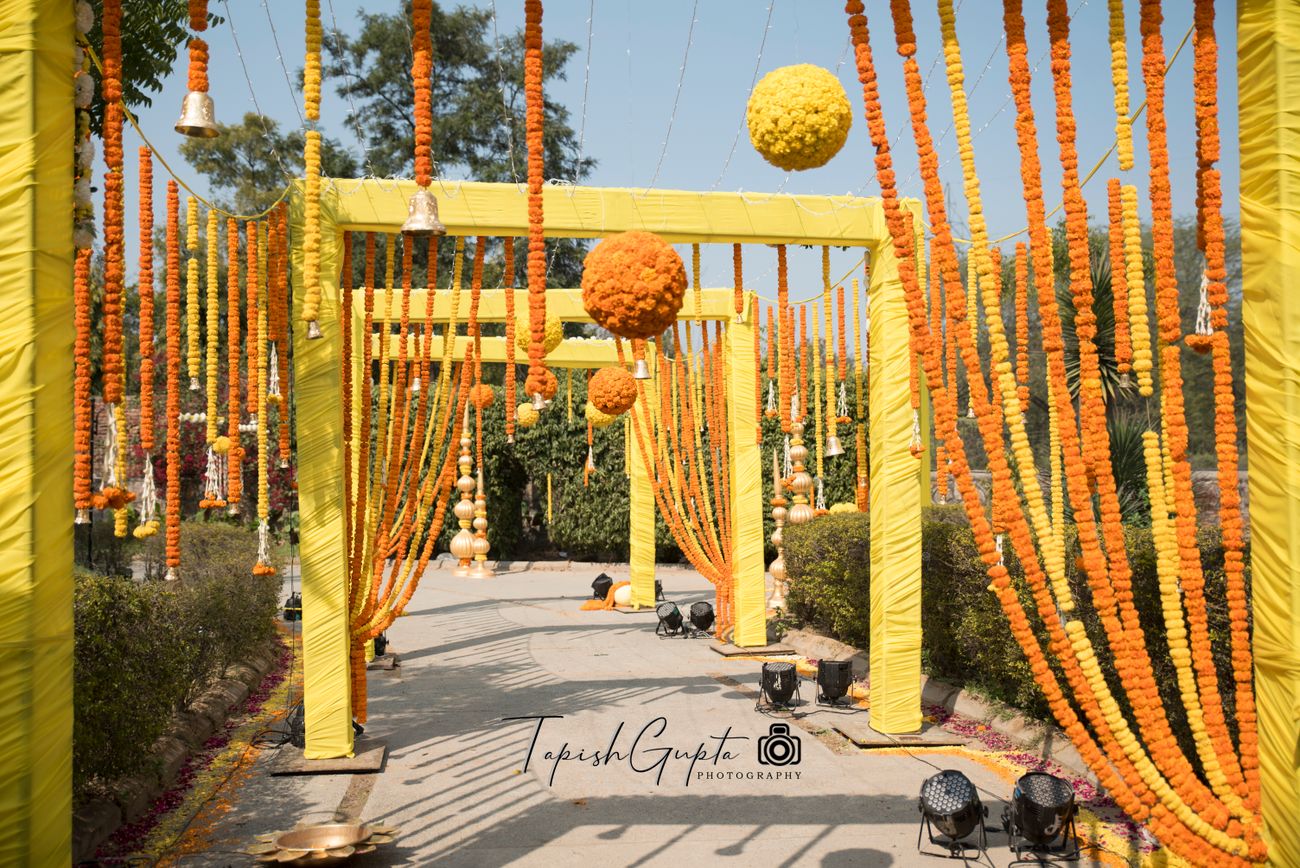 Image via: House of W
Let your guests enter through a beautiful and floral walkway filled with the organic haldi colours, yellow and orange. Hang some of the flower strings, create them into different shapes and a passage which sets your mood to happy and brighter with this haldi ceremony decoration.
7. Tassels and Chandeliers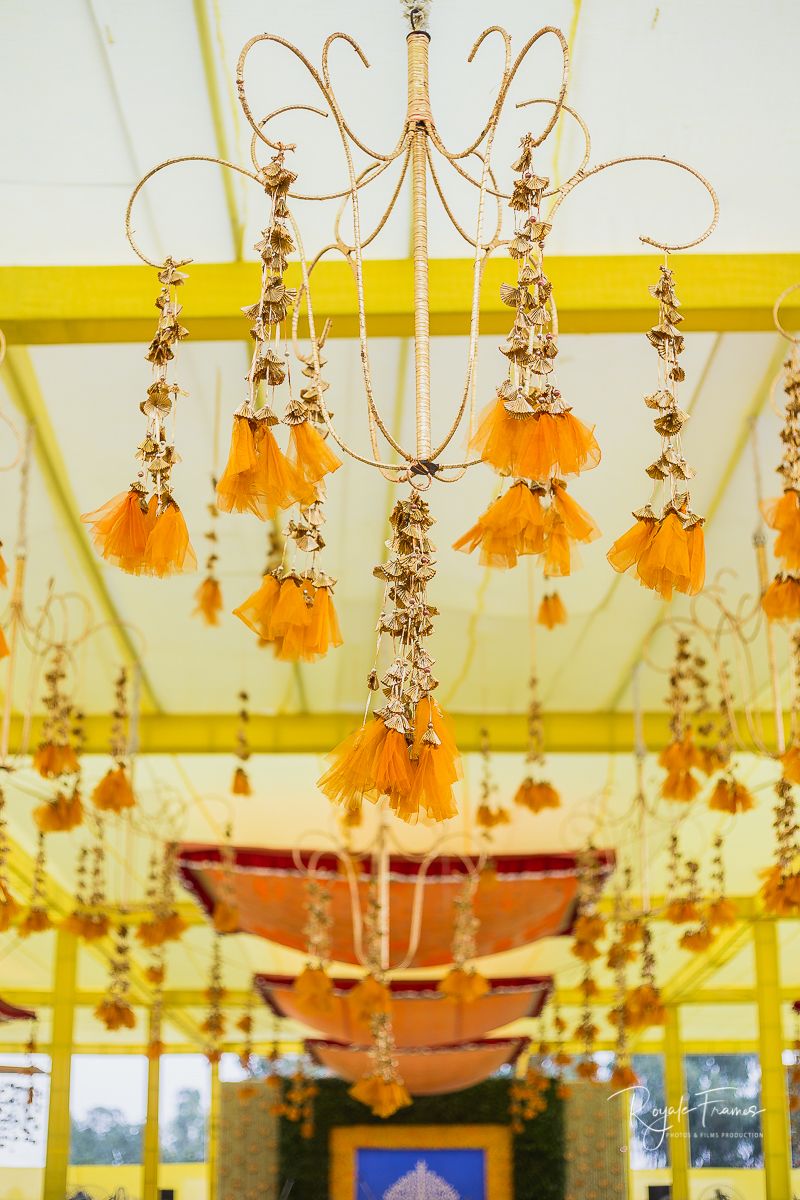 Image via: Royale Frames★ 4.4
Another simple way to decorate your haldi passage is by adding smaller and cute chandeliers on top with tassels falling. They are an extremely different idea for haldi decoration and would not cost your pocket much. You can be all set for a pretty picture cuz if the entrance is like this, the main stage would be nothing less than the stars.
Seating Ideas
1. Drapes and fabric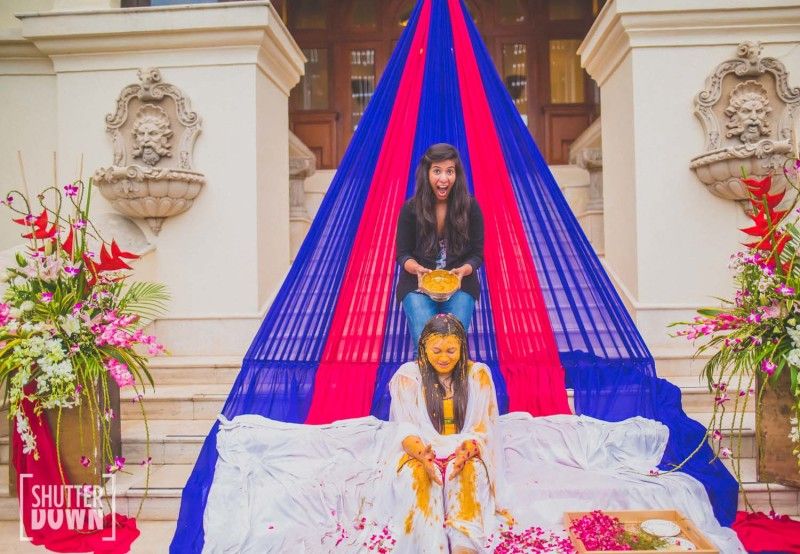 Image via Shutterdown - Lakshya Chawla
Just rent or buy some sheer drapes or use dupattas to hang them in this fashion for a perfect bride/groom seating for a perfect haldi function decoration! Won't cost a bomb and looks great too! Moreover, a colorful set of drapes would help in creating a festive vibe for your haldi decoration at home.
2. Drapes and fairy lights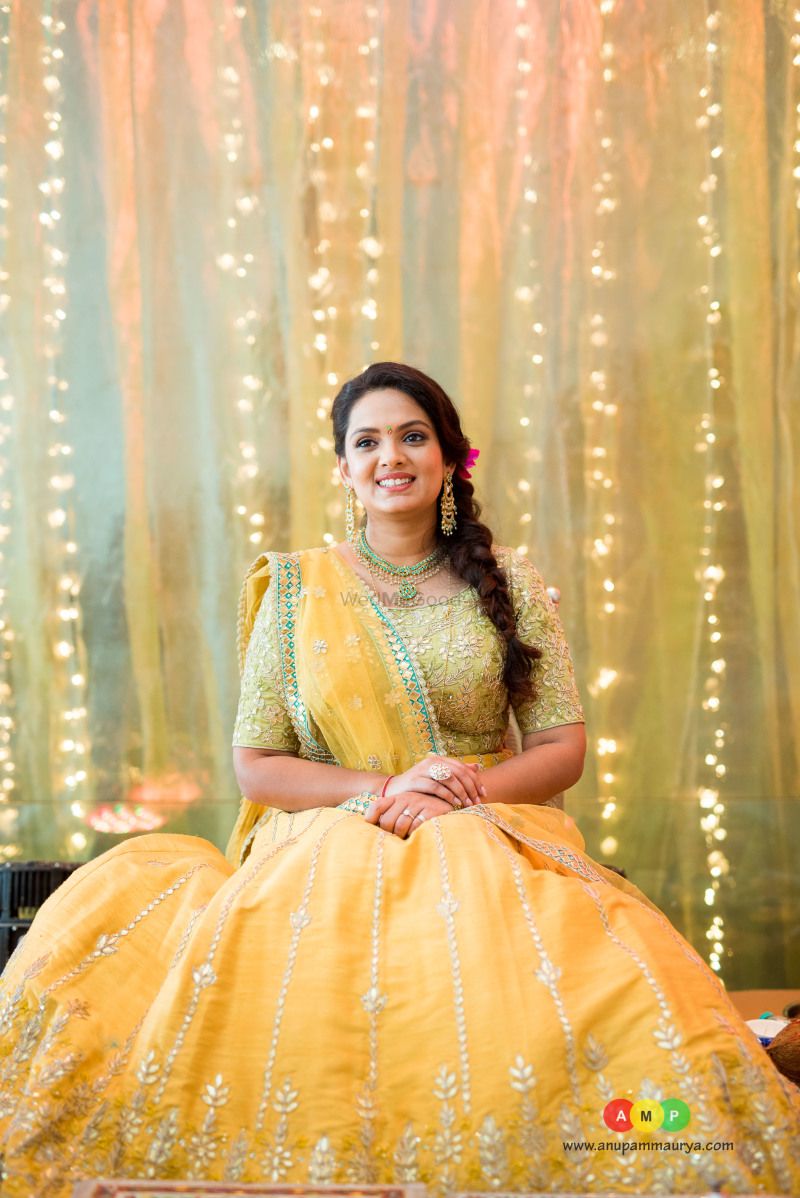 Image via KnotsbyAMP
Looking for haldi background decorations that go with your sufi theme? We have got you all sorted. Sheer drapes with fairy lights between them also makes for a nice backdrop for the haldi ceremony decoration idea at home! Won't cost more than a 1000 bucks.
3. Decorated Wooden Bench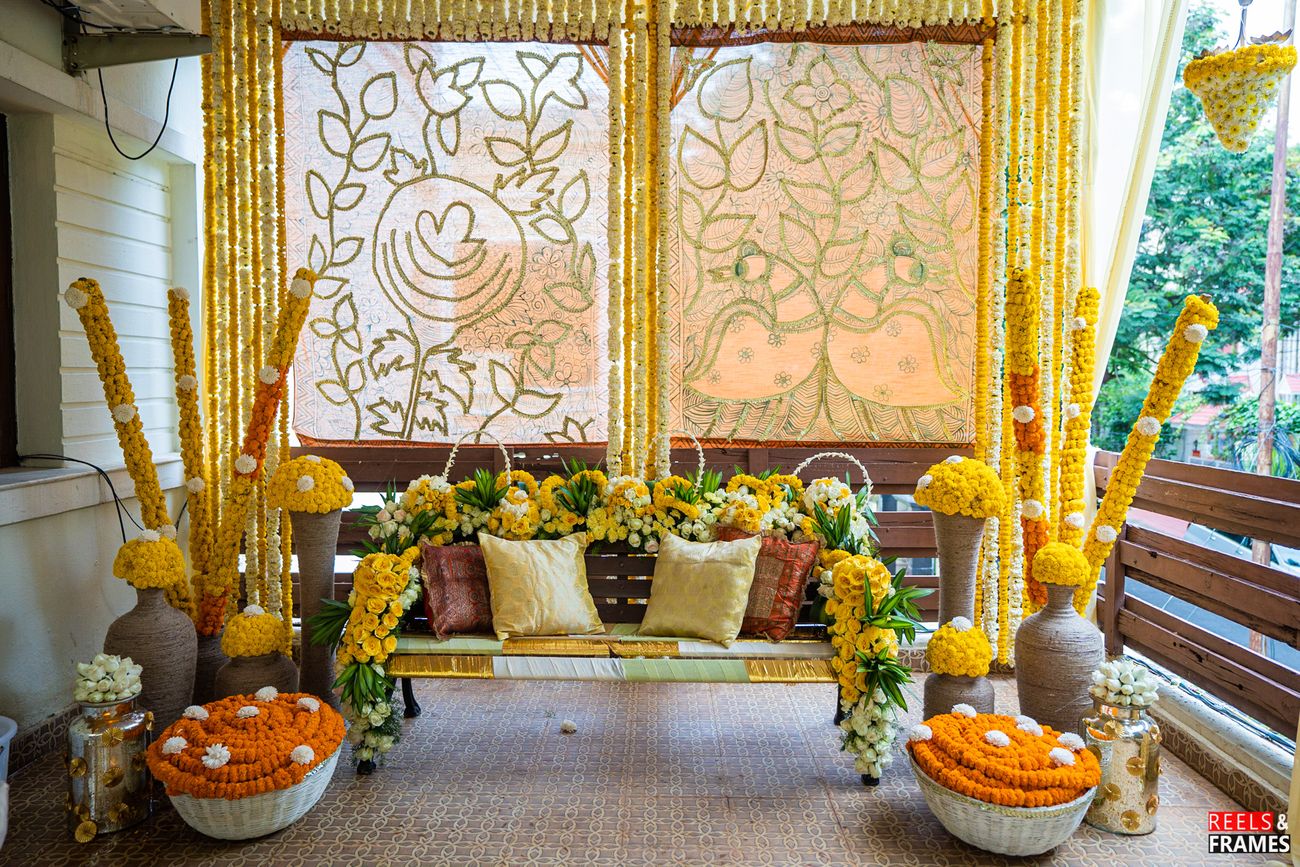 Image via: Bling Mushrooms★ 4.9
Find yourself a wooden bench and decorate it in a way that it does not look like a bench anymore. Accompany it with vases and baskets filled with flowers, a creative simple haldi decoration at home. You can also choose a background that goes well and mixes with the other haldi decoration ideas.
Corner Decor Ideas
1. Cool Dreamcatcher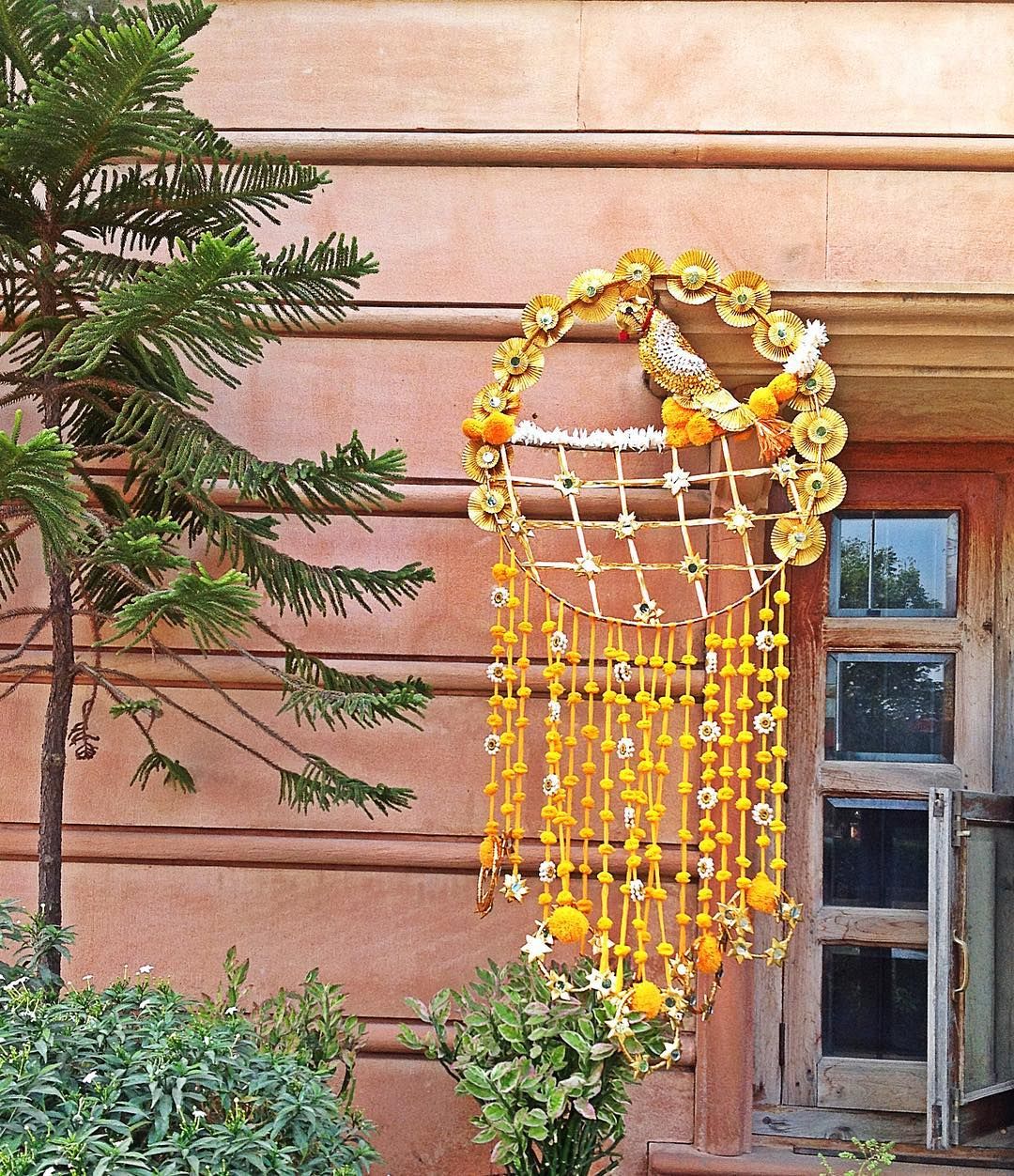 Image via mosaicfashionaccessories on Instagram
DIY your way to the never done before haldi decoration at home. Make these the way you like around a circular embroidery hoop- you can get as creative as you like with real flowers or even pompoms! Stick some gota accessories around to make it shine and boom, your haldi ceremony decoration is sorted.
2. Colourful steel trunks with florals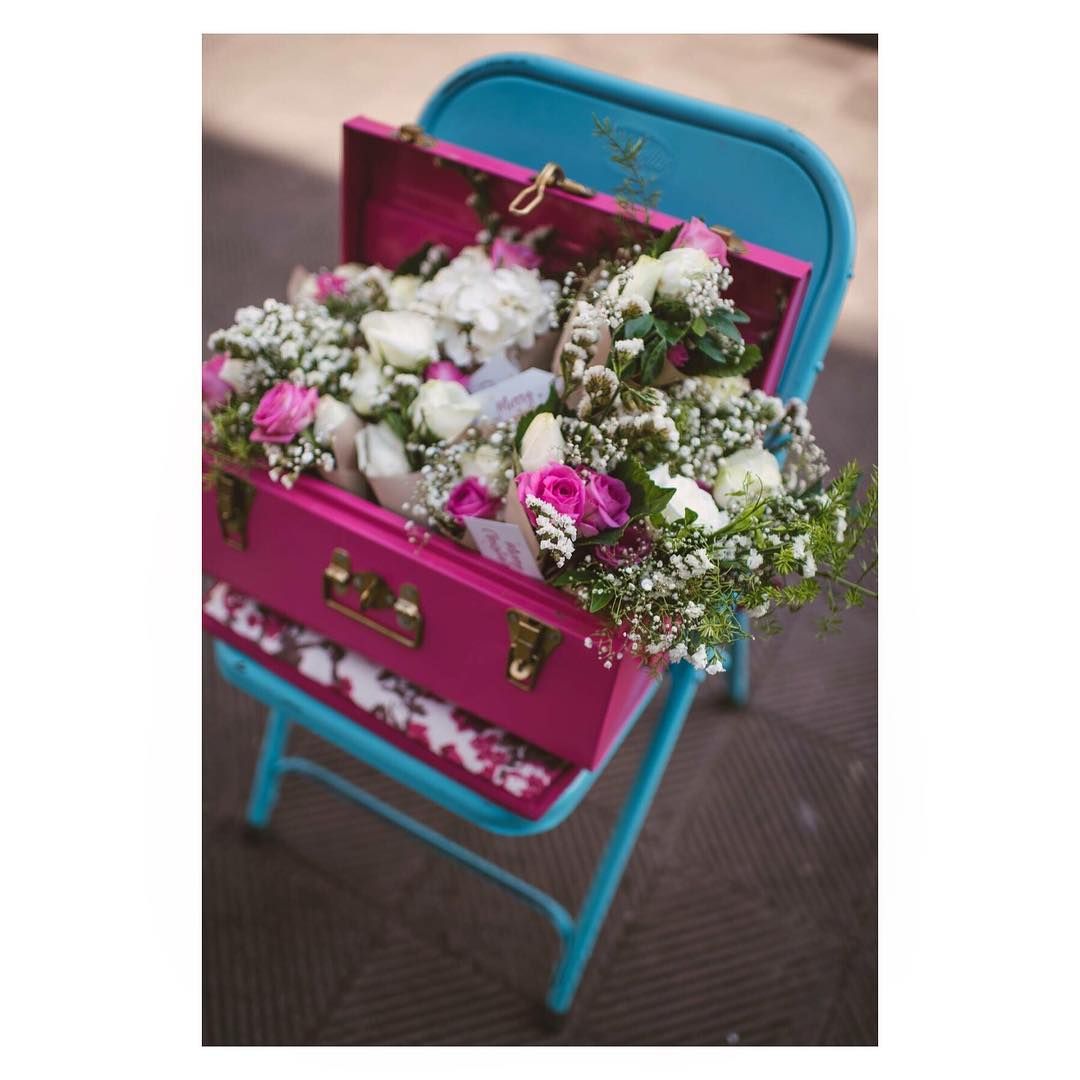 Image via atisuto_events
Haldi decoration at home is mostly cheap but this one might be a bit costly because of the trunk, but this is a decor element which can be used for a couple of functions! Might cost you about Rs 2000-3000 per setting, depending on the cost of the trunk, but you can reuse the trunk as a memento once you have used them for Haldi function decoration .
Buy one colourful trunk like this one- pick the size as per your requirement.
Keep it on a colourful stool or chair.
Fill it up with loads of flowers- mixed or of the same variety!
Stuff the gaps with baby's breath.
3. Books and Lanterns
Image via: Hop Productions★ 4.7
Let your inner modernity and literature ness out by adding some heavy books and old school lanterns to your low cost simple haldi decoration at home. Believe it, looks way simple and extremely unique, goes with any colour and also the theme really well.
Tent Decor Ideas
1. Drapes with kites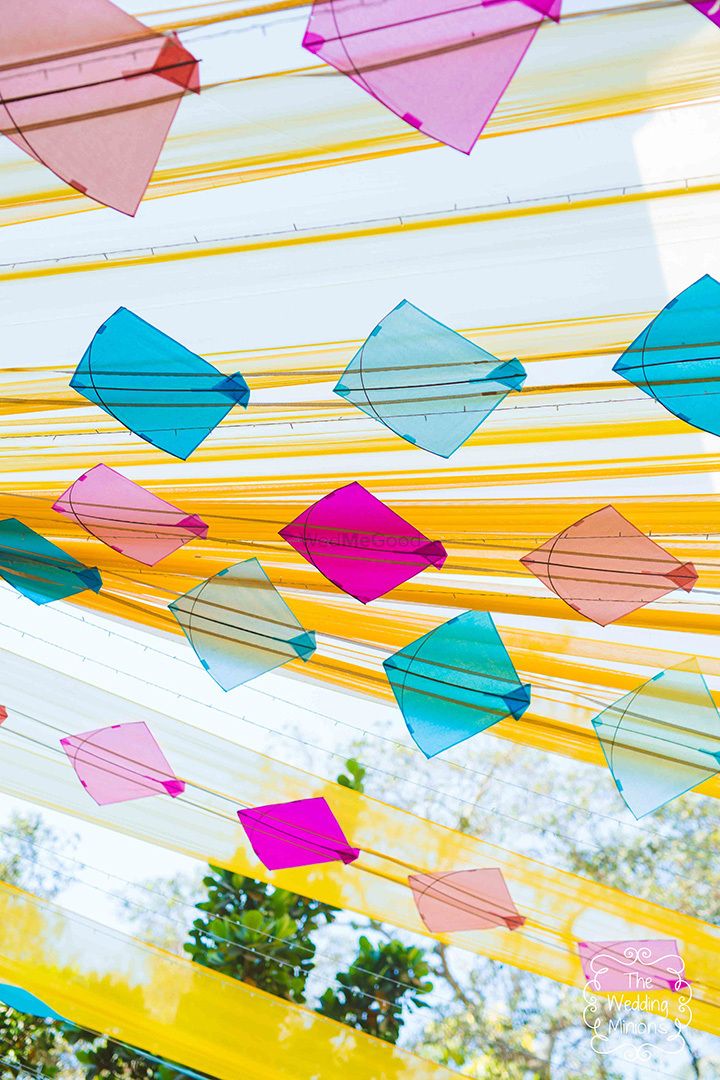 Image via The Wedding Minions★ 5
This is a great inspiration for Haldi ceremony decoration ideas at home. It will make your ceiling look absolutely gorgeous & Insta-worthy. It would cost you somewhere close to Rs 2000-3000. And who doesn't like a sky full of kites? Might as well incorporate it in your haldi decoration ideas.
Get some yellow drapes from your decorator or purchase long fabrics that are transparent.
Stick or tape kites to it before or after getting them stretched and installed!
2. Leheriya Tent with Hanging Lanterns
Image via Saurabh Photography
The function, which is all about yellows and oranges, needs some color pop to set the festive vibe and this haldi ceremony background would do just the same for you. This Haldi decoration idea might come up to about Rs 3000. But you only need one such setting.
Leheriya Material – Approximately 20 metres for canopy and draping the swing (Around Rs 1200).
Drape the leheriya material over the canopy framework like a tent and wrap the rest around the poles
Bright Lanterns – Around 10. Buy it off Amazon for Rs 450 per 5 pieces.
Pompoms – Around 100, for the entire place. Buy a pack of 50 for Rs 225 on Amazon.
Get some carpenters to tie the bright lanterns and pompoms in the centre of the canopy.
3. Suspended Bottles

Image via: Stories by Joseph Radhik★ 5
Add cute colourful bottles and hang them around the trees. Fill it with some petals and flowers. An easy way to conserve nature and reuse stuff, this can be a creative simple haldi decoration at home. Looks adorable and brightens up the place all together.
Hanging Decor Ideas
1. Bangles or Chooda hanging arrangement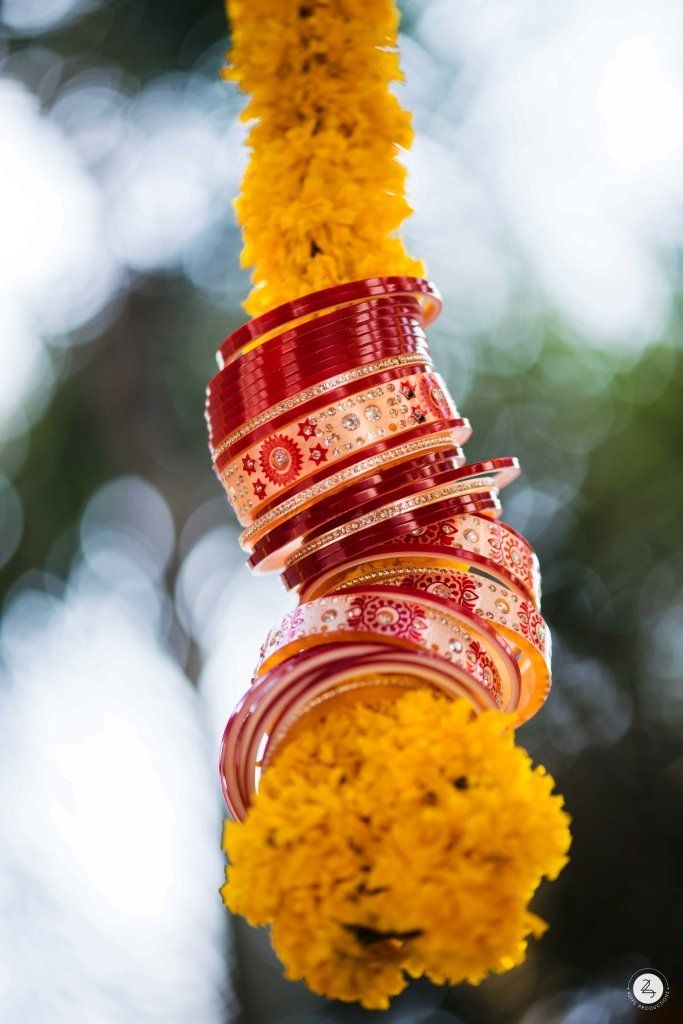 Image via Regale - The Event Company
Super cheap- this Haldi ceremony decoration can literally be pulled off for free! Pro tip: Using the bangles which you have kept from ages but never really used can be a great way to host an upcycled theme haldi ceremony at home.
Take a genda phool Mala and tie a thick knot below.
Put some bangles or a Chura and hang it- easy peasy done!
2. Hanging parandis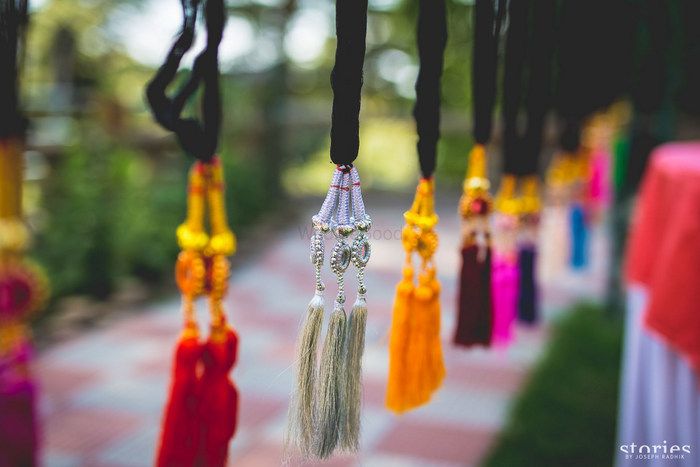 Image via Spardha and Ashish (Simla)
Parandis are not only for punjabis, they are for anyone who wants to show their creative edge at the haldi function decoration at home. Another easy peasy DIY hanging, which will cost you about Rs 1000 and is a unique idea for Haldi decor.
Buy or rent some parandis- you can get them easily for about Rs 100.
Take a rope and hang it from one corner to the other.
Tie the parandis one after the other to make a curtain-like decor.
3. Hanging earthen pot with spilling florals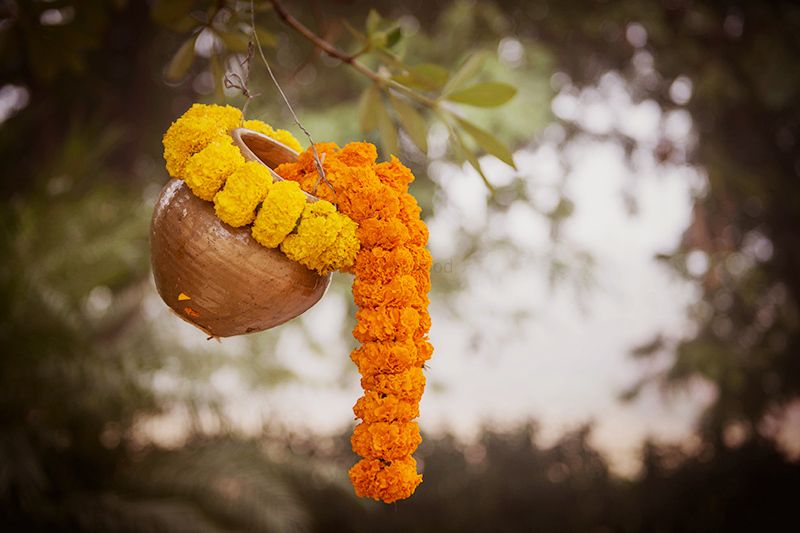 Image via White Water Events
Anyone looking for sustainable decoration ideas for haldi at home? Bookmark this one! If you need an out-of-the-box idea for Haldi decoration at home, then this one is easy to pull off in under Rs 200 per setting.
Get an earthen pot from a roadside seller- should be about Rs 100-150 per pot.
Keep it or hang it and let florals spill out of it- that's it!
4. Paper Bird Hangings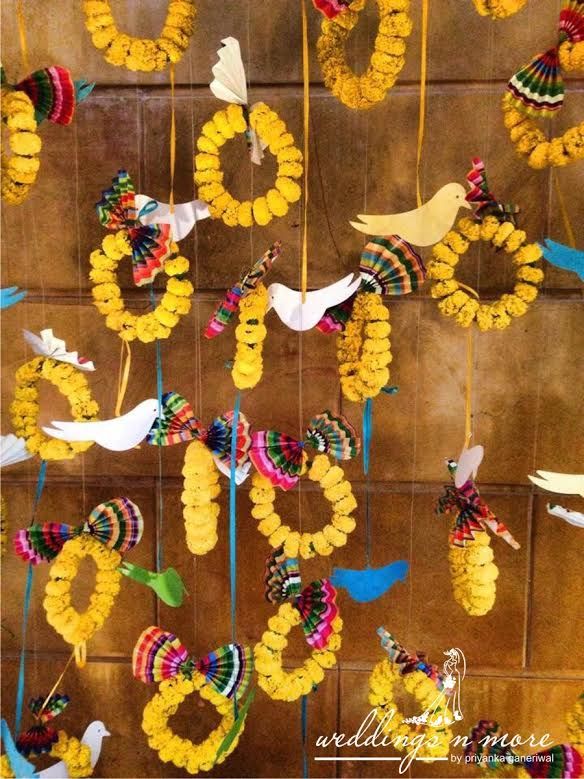 Image via: Weddings N More★ 4.8
Another idea for sustainable decoration indoor haldi decoration? Use paper or origami to cute out cute birds and hang them over strings with flowers which can be perfectly used as a background haldi ceremony decoration.
Centrepiece Ideas
1. Pickle Jars with roses and marigolds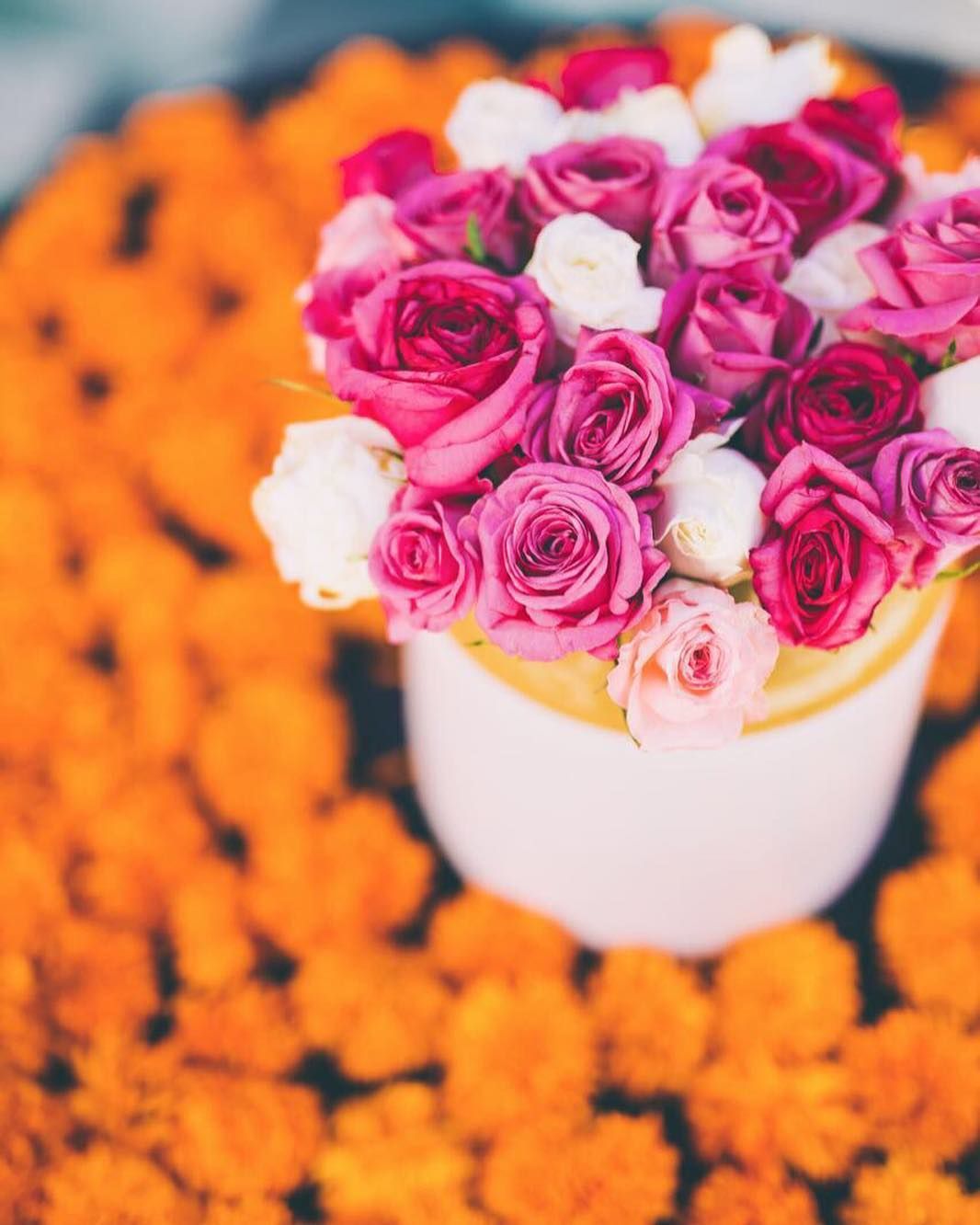 Image via With Love Nilma★ 5
Pickles add tanginess to our food and the leftover jars? Well they can be used in your haldi function decoration. You can always recycle & reuse or otherwise this one might cost you about Rs 400-500 per setting.
Pick up one or a few terracota pickle jars like these ones for Rs 300.
Fill it up with rose stems- red, pink, yellow or white, whatever you prefer!
Throw around some marigolds near it- and you're done!
2. Lemon and Marigold centrepiece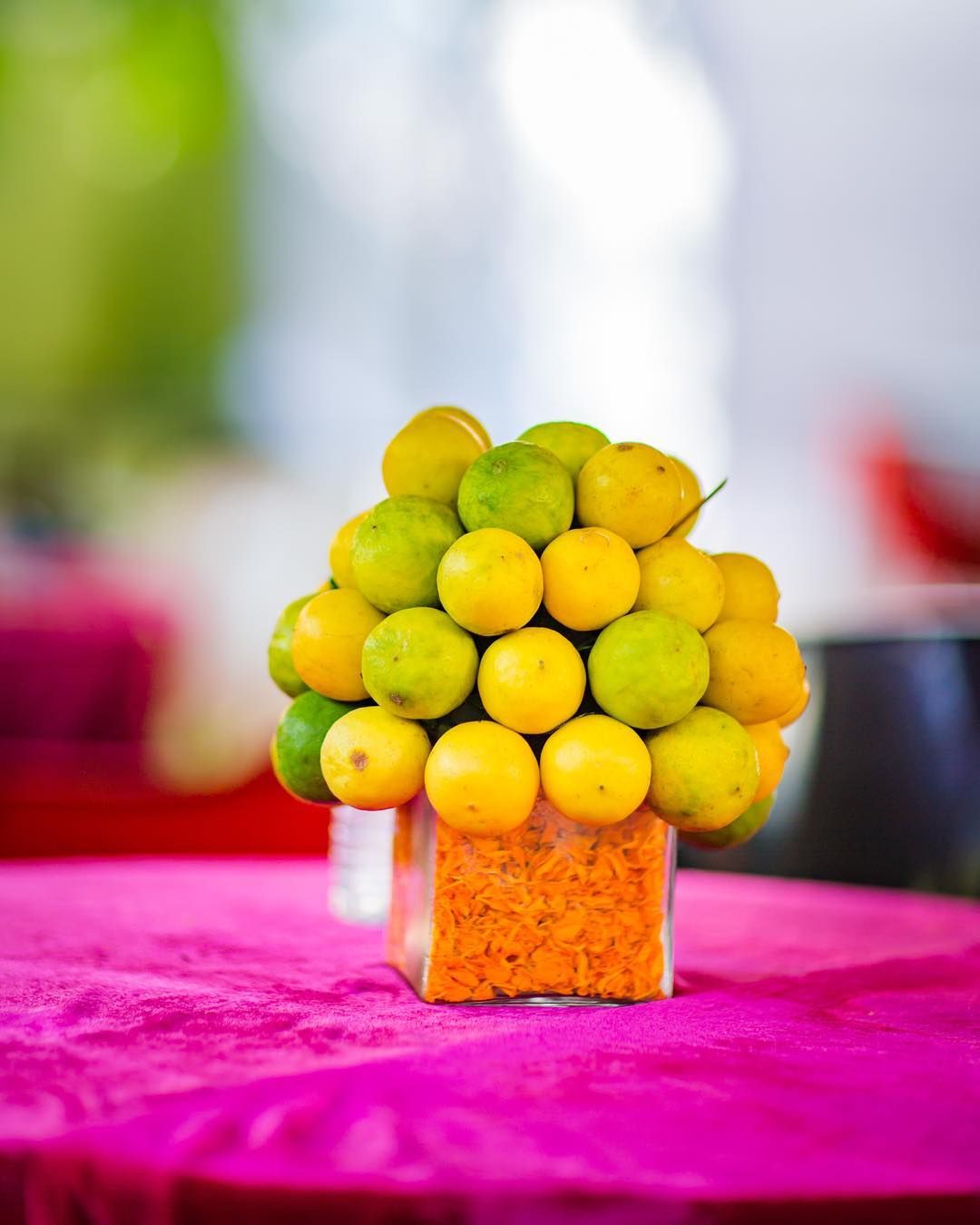 Image via love.eventfully
Amidst the colorful haldi background decoration, color block the centerpieces with shades of yellow with this interesting Haldi ceremony decoration can be pulled off for as less as Rs 200 per centrepiece. Here's how:
Buy some clear square vase- like this one on Amazon for Rs 130.
Fill it up with genda phool petals- orange would look better.
Cover with a layer of cardboard right on top.
Stick some toothpicks in to the cardboard- small and large by piercing the lemons and then arrange them in this fashion.
3. Marigold centrepieces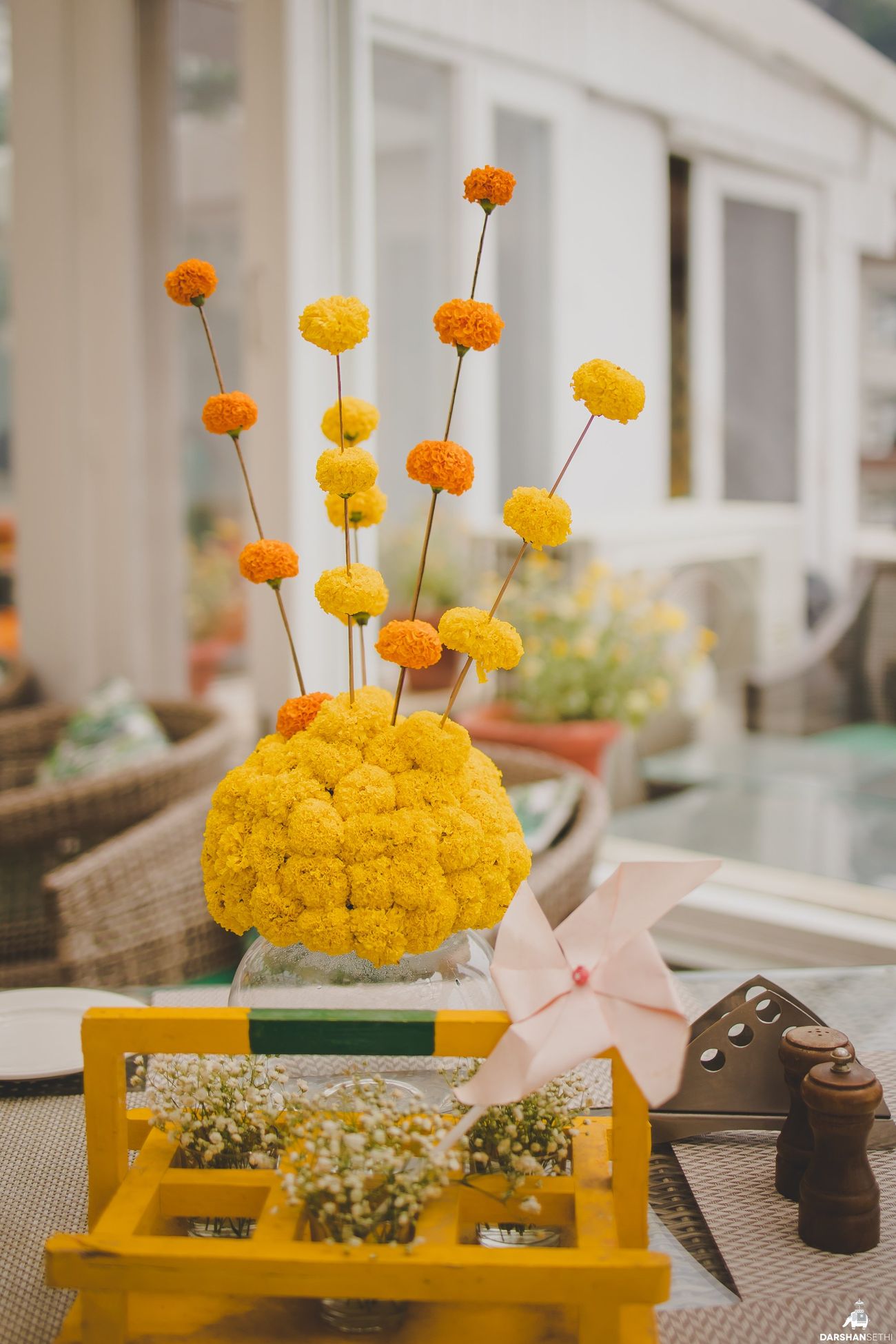 Image via Ambika and Shubham
Decoration for one day and part of the fruits stall the next. Isn't it  a cool centerpiece to have as your haldi ceremony decoration? Especially if the theme is tropical or the venue is beside a beach.  This one is easy to pull off with literally no effort for under Rs 200 per piece.
Buy some pineapples- you usually get them for under Rs 100 a piece.
Buy cheap sunnies for Rs 50-100 per piece and put them on it- done!
4. Origami Bird Sticks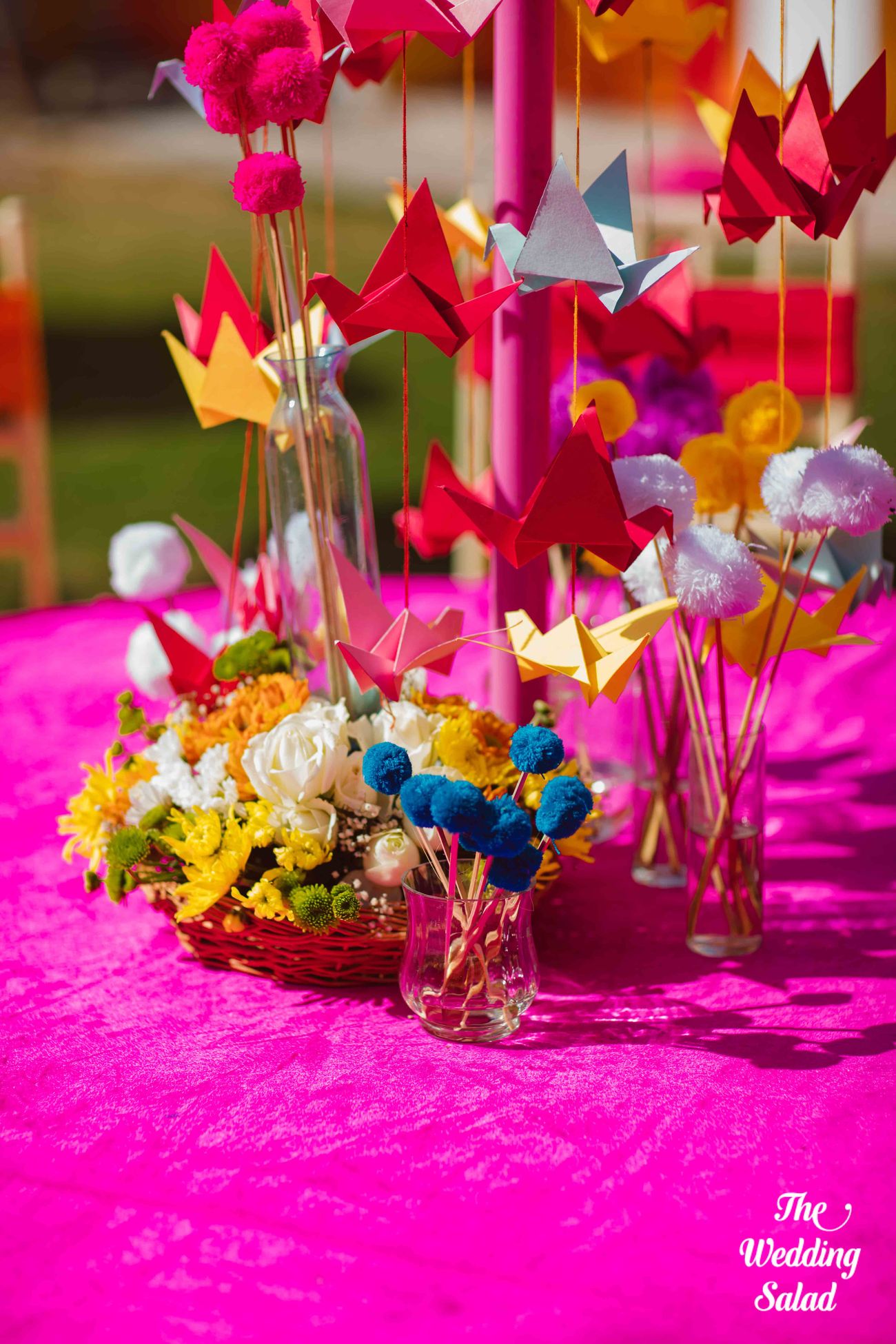 Image via: Vintage Nutters★ 5
Add on to your haldi decoration ideas by small origami sticks or tassels to your table decor. A great idea to make it look colourful and perfect for a day event like haldi. You could also add a basket of flowers to give a natury effect and the sticks can also be used as stirrers for every table and not just decor.
Photobooth Ideas
1. Bunting and string photobooth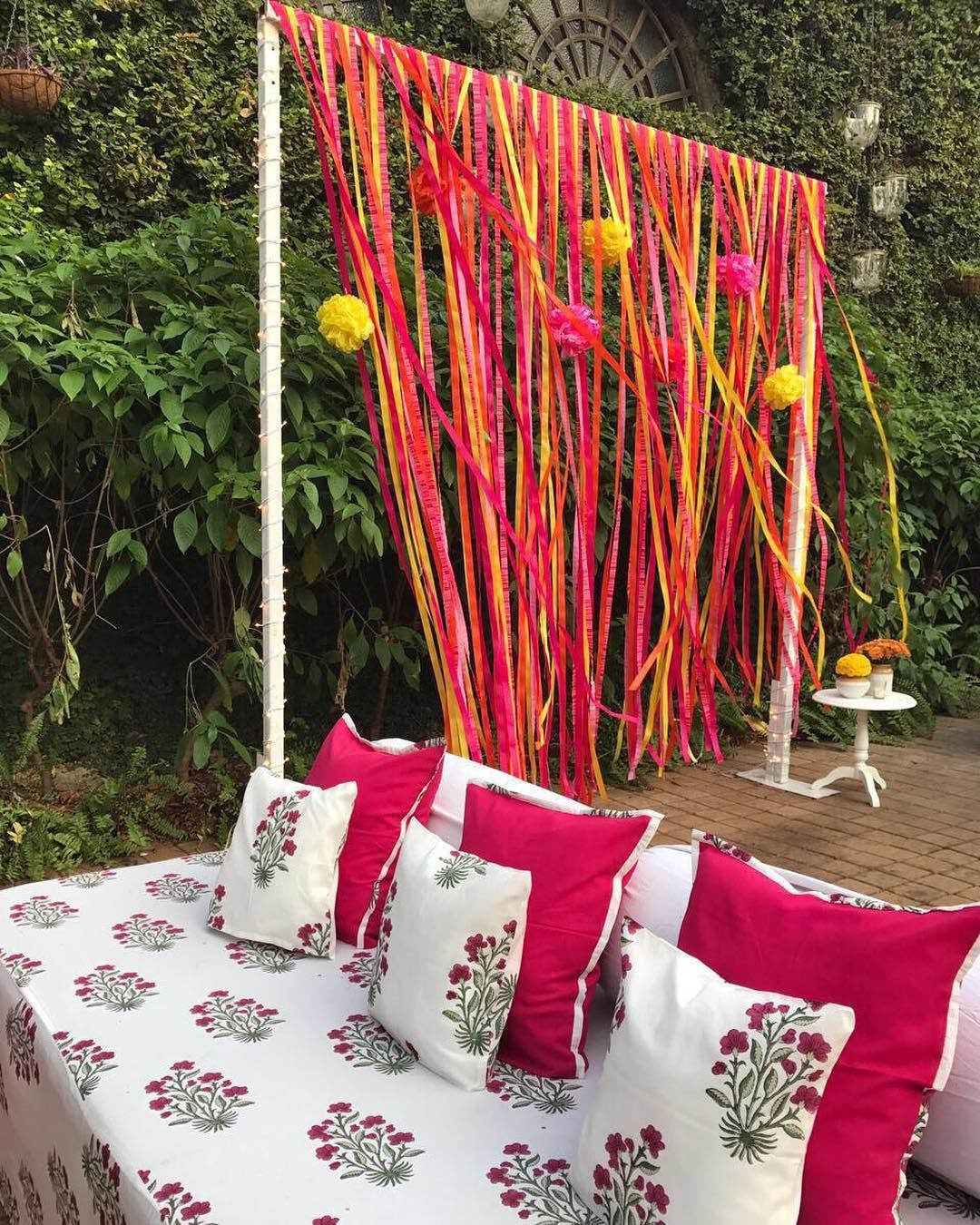 Image via altair_decor
On a breezy day, this haldi function decoration would create a very happy vibe and doesn't pinch the pocket much. This Haldi decoration idea might might come up to around Rs 1500-2000.
Get a wooden or metal frame installed- or you can get two pillars and hang a rope between them on the top.
Get loads of buntings, streamers and ribbons and suspend them by tying them on top.
Hang some paper props or floral balls to complete the look!
2. Genda phool frame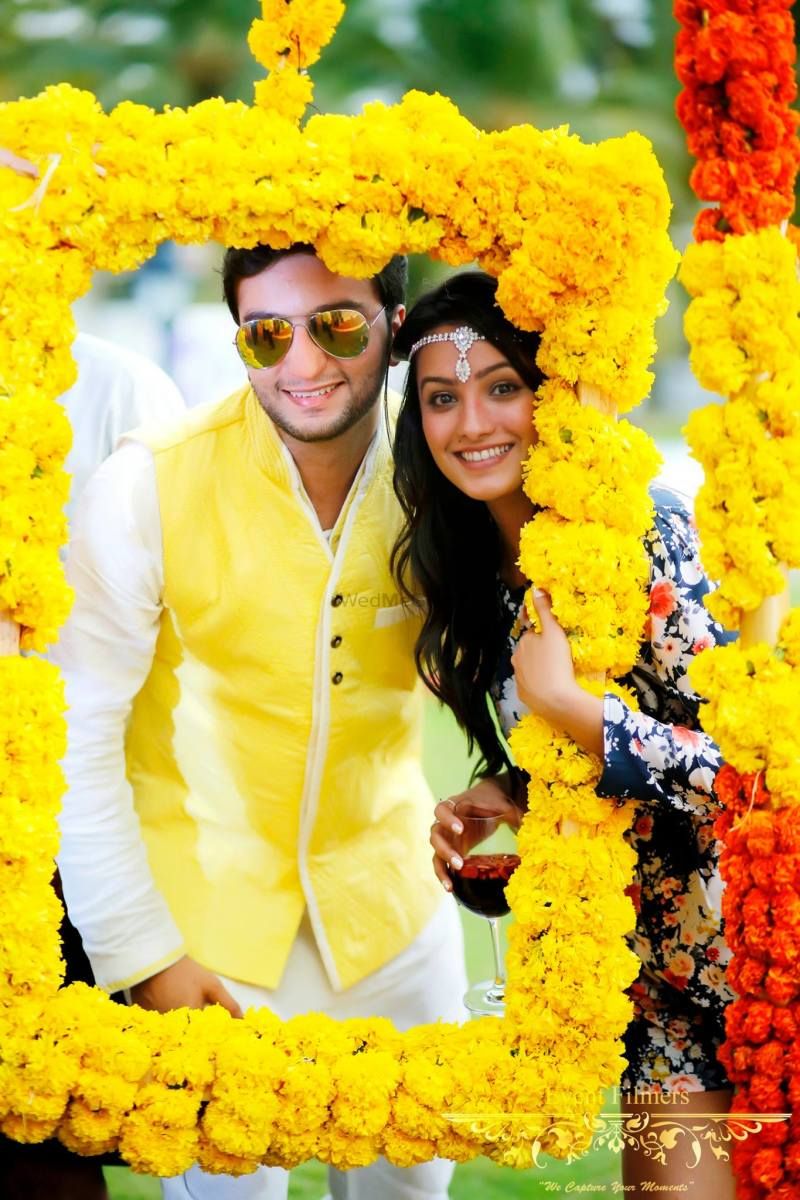 Image via Event Filmers
Sasural genda phool sure is a thing but using it on your haldi background decoration is something that shouldn't be missed. Pleasing to the eyes and the nose this one can be pulled off in under Rs 500 per frame.
Get a carpenter to join 4 thick pieces of wood to make a square.
Keep twisting genda phool malas around it and tie up the ends to secure.
You can hang it or keep it for people to pose with!
3. Floral Backdrop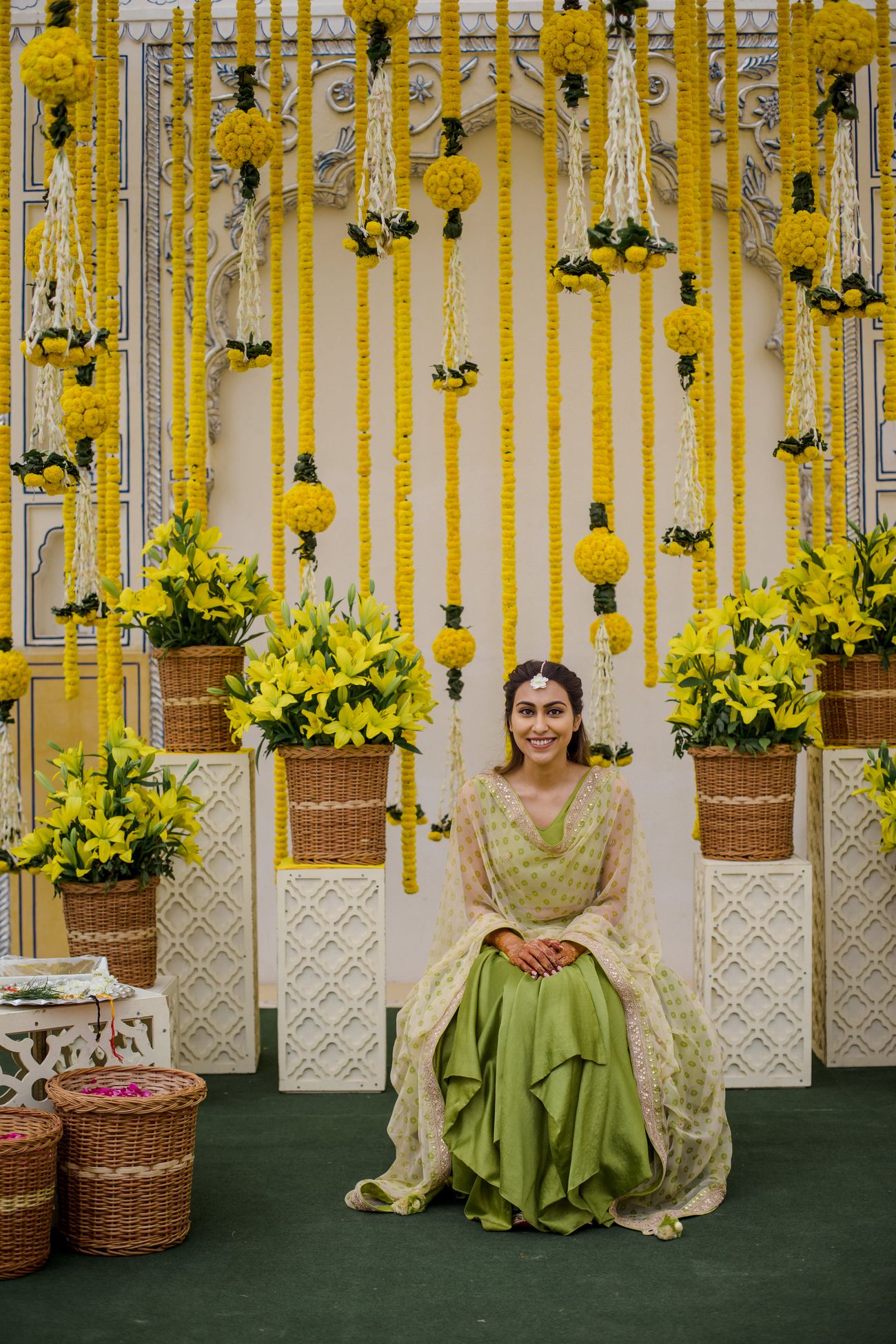 Image via: Panodrama Events★ 4.1
Add those strings of genda phool and keep it classic background haldi ceremony decoration. You can make it a little unique by adding cane baskets filled with lilies for a different element. It compliments well just as seen in the picture and would capture moments perfectly.
Miscellaneous Decor Props
1. Smoke sticks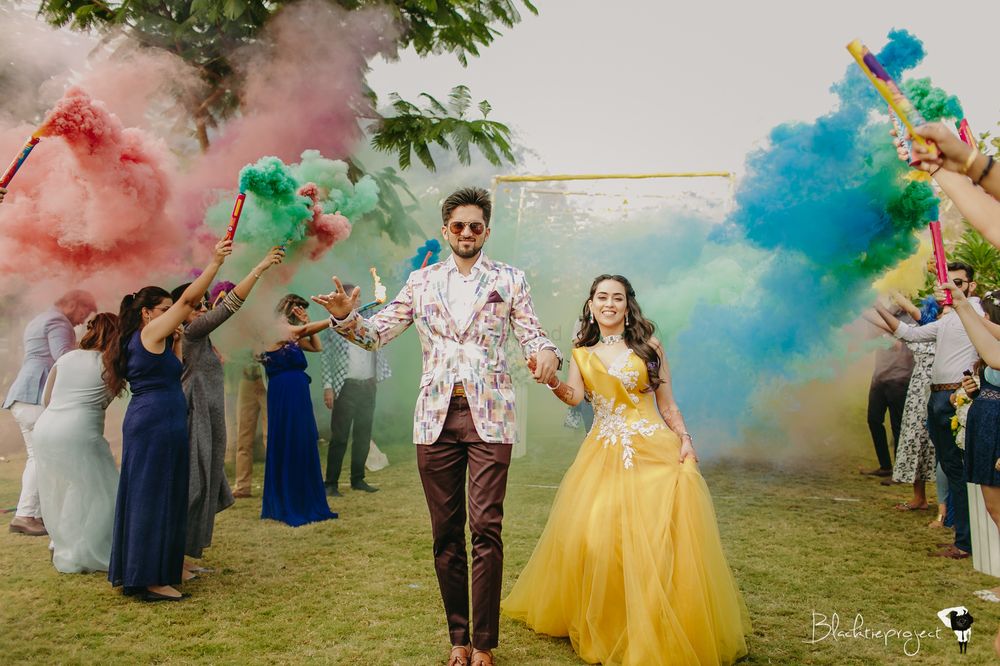 Image via Puneet and Nisha's Wedding
They use it in movies for Holi celebration, we say you use it for your haldi ceremony decoration. Can you make a more dramatic entry than that? Available online for about Rs 500-600 per stick.
2. Floral umbrella
Image via Nikhil Shastri
Perfect to make your entry under! This can be made for as less as you can get the umbrella for! Usually around Rs 500.
Take the umbrella like this one and deck it up with mogra strings and flowers- you can stick or staple them on!
3. Haldi trays with tassels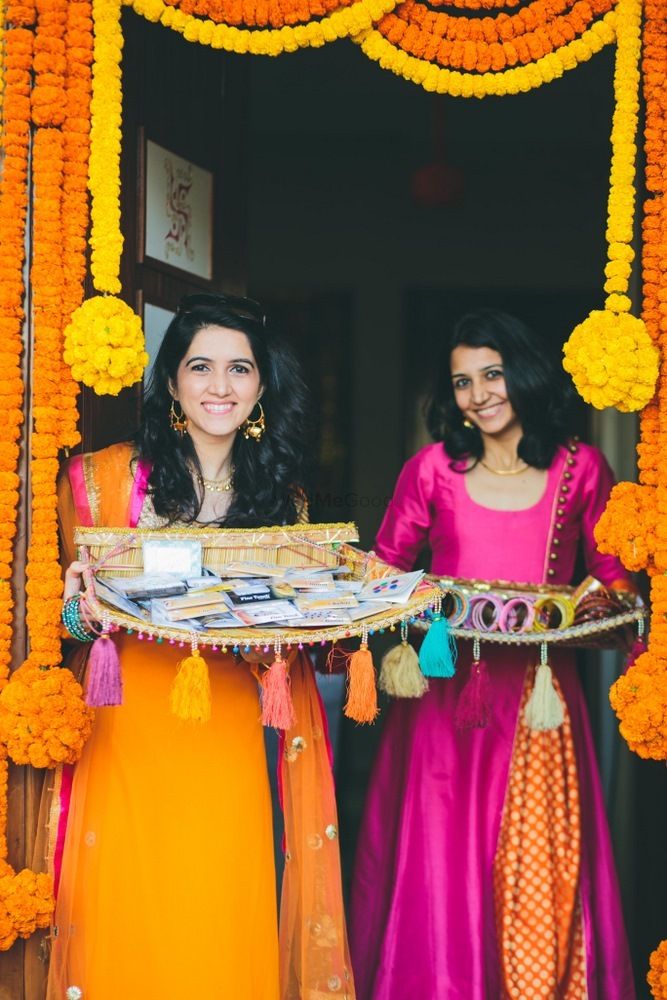 Image via Jessica and Ishank's Wedding
No haldi decor is complete without some colorful props. DIY your own tassel trays for carrying the haldi and other stuff for as less as Rs 500!
Get a tray or a flat cane basket.
Stick strings of tiny pompom and tassels garlands like these around it.
Let the tassels hang!
4. Small Potlis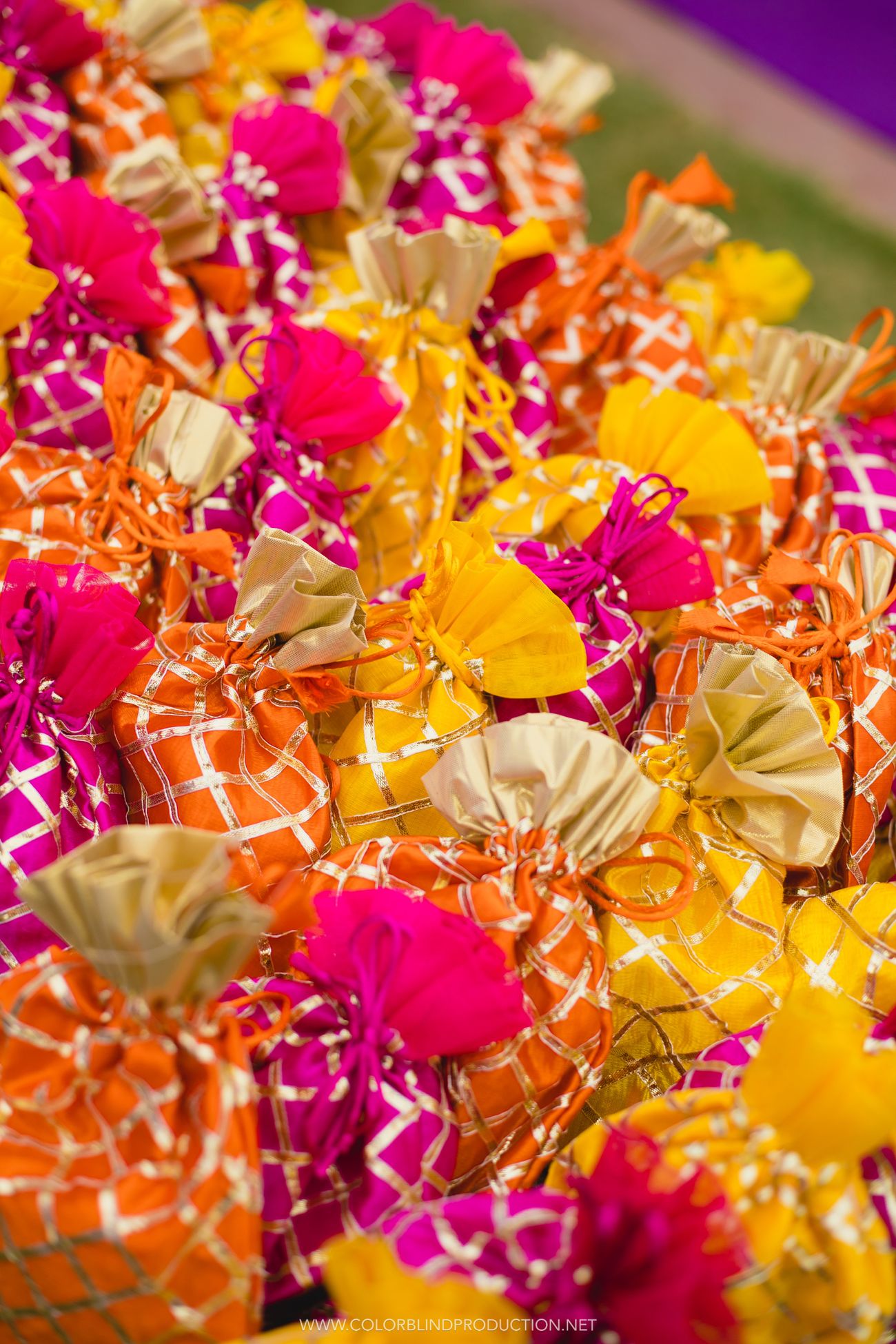 Image via: Comme Sogno Vero by Ankiit Malhotra★ 5
No haldi function is complete without some small favours. Add a bunch of these to your function to make it look colorful and something special for your loved ones.