#BudgetBrides: How To Design A Trendy & Pretty Mehendi Outfit In A Budget Of 5K!
BY Sakshi | 03 Jan, 2019 | 13613 views | 4 min read
Mehendi on a budget? Then DIYing is the way to go! If you're having a function is relatively low-key just with immediate family and friends, then even more so! Here are a few ideas we put together for you to create your own DIY Mehendi outfit asap. And those ideas are simple and good! And most of them can be pulled off in a budget within 5k!
Wear one of your fancy kurtas with a plain lehenga skirt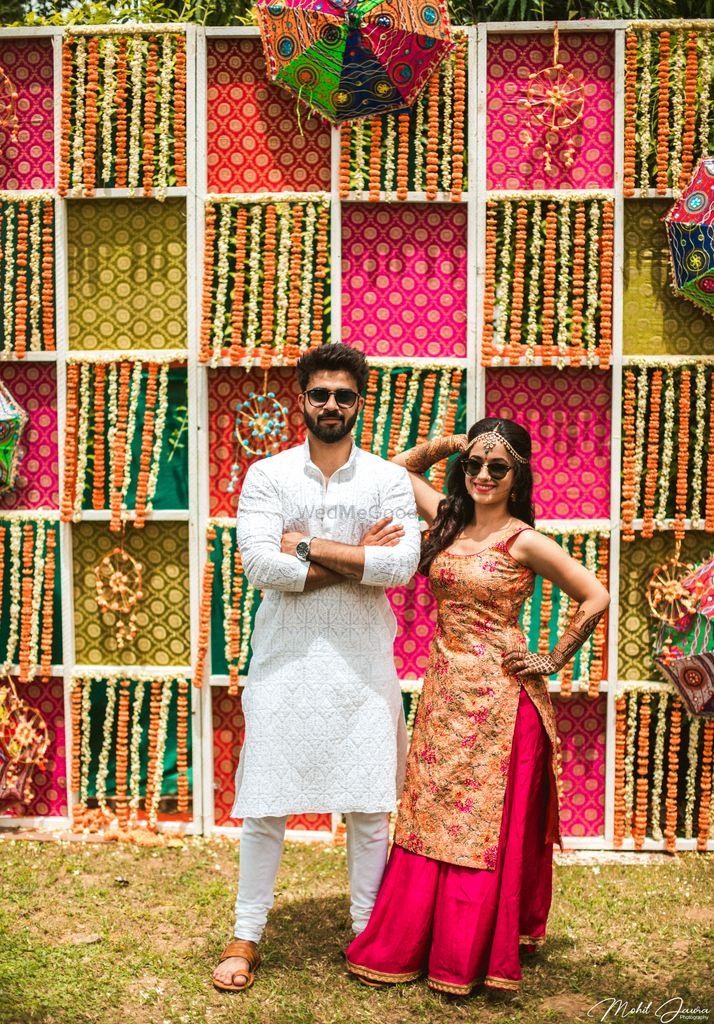 Image via Aakanksha and Audit's Wedding
Now this one is a cool idea! Take one of your nice kurtas, and wear it with a plain lehenga skirt and no dupatta! Jazz it up with some nice jewellery, and you're good to go!
Re-purpose your mom's saree to something new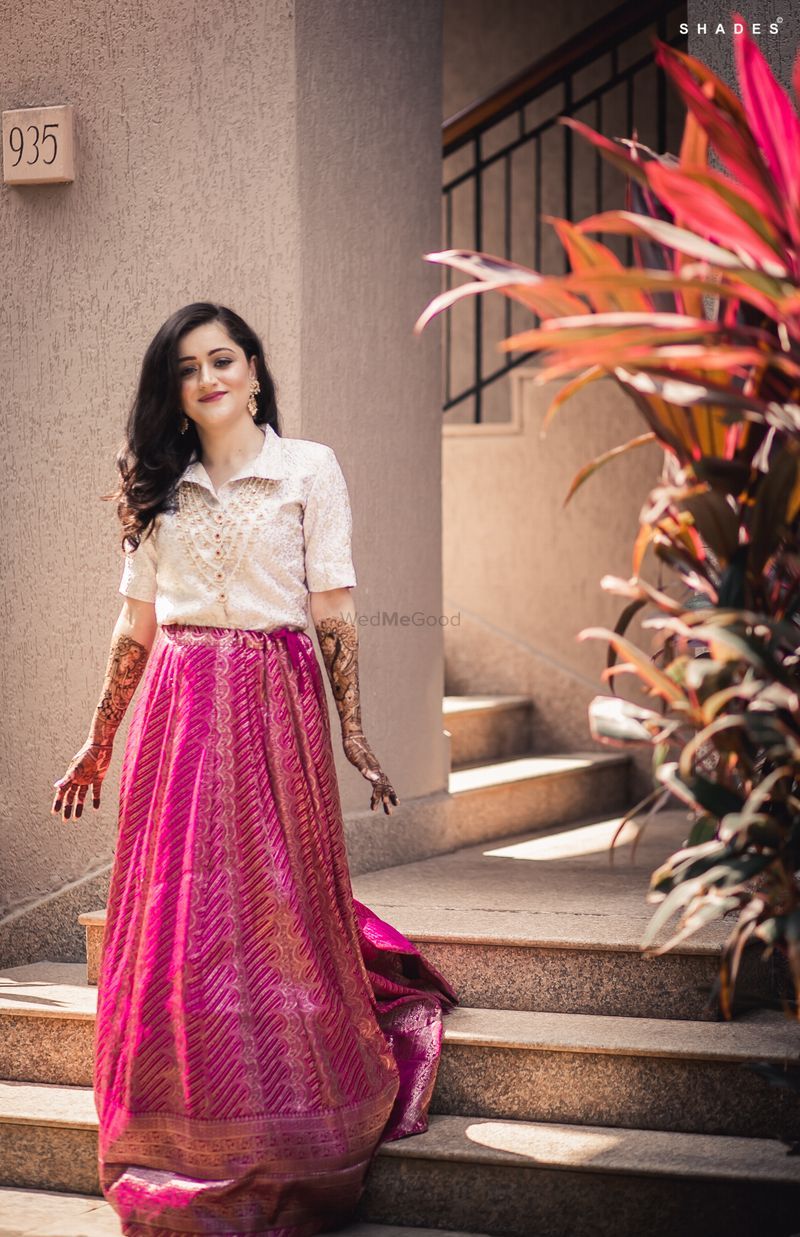 Image via Palak and Dhruv's Wedding
Real Bride Palak got a beautiful Benarasi lehenga skirt made out of her mother's old saree, and rocked it with a collared white shirt and accessories- and we love how stylish it looked without being OTT! And this is a great idea for anyone looking to wear something that belonged to their mother on their wedding, while being trendy!
Or drape one of her pretty kanjivarams as a lehenga with a plain skirt and blouse!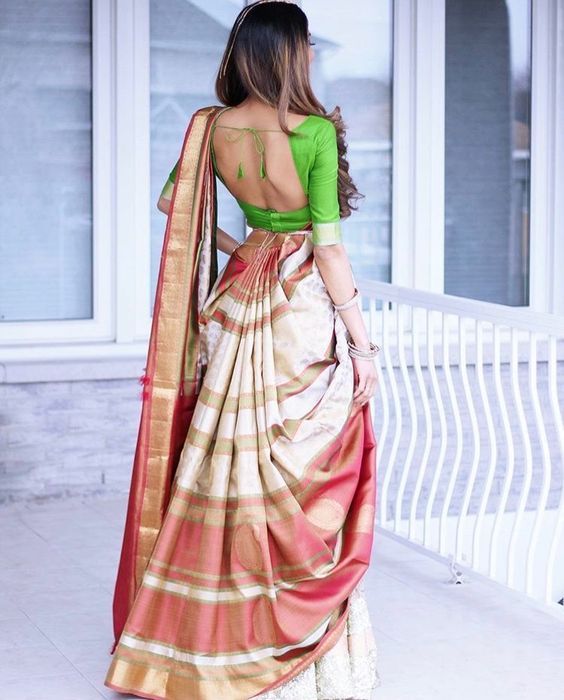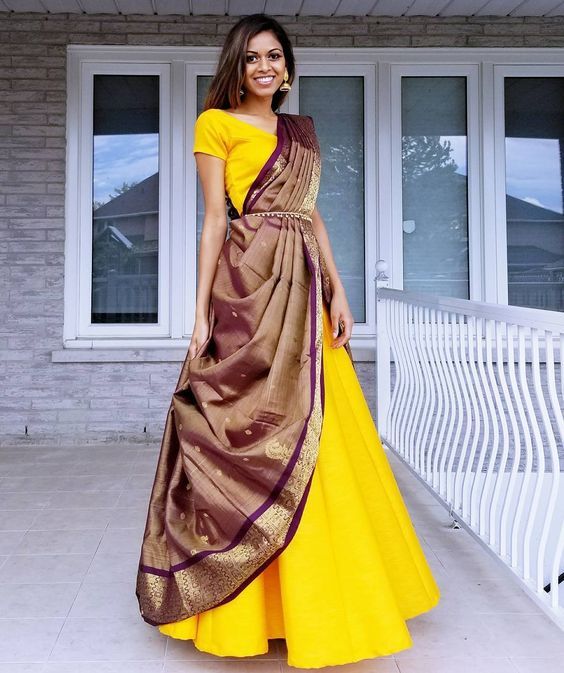 Image via Tia Bhuva
Tia Bhuva is the queen of such drapes, and see some of her tutorials to get the look right! It looks amazing, plus, you can refurbish one of your own or your mum's sarees like this with a plain silk skirt!
Opt for Brocade instead of Benarasi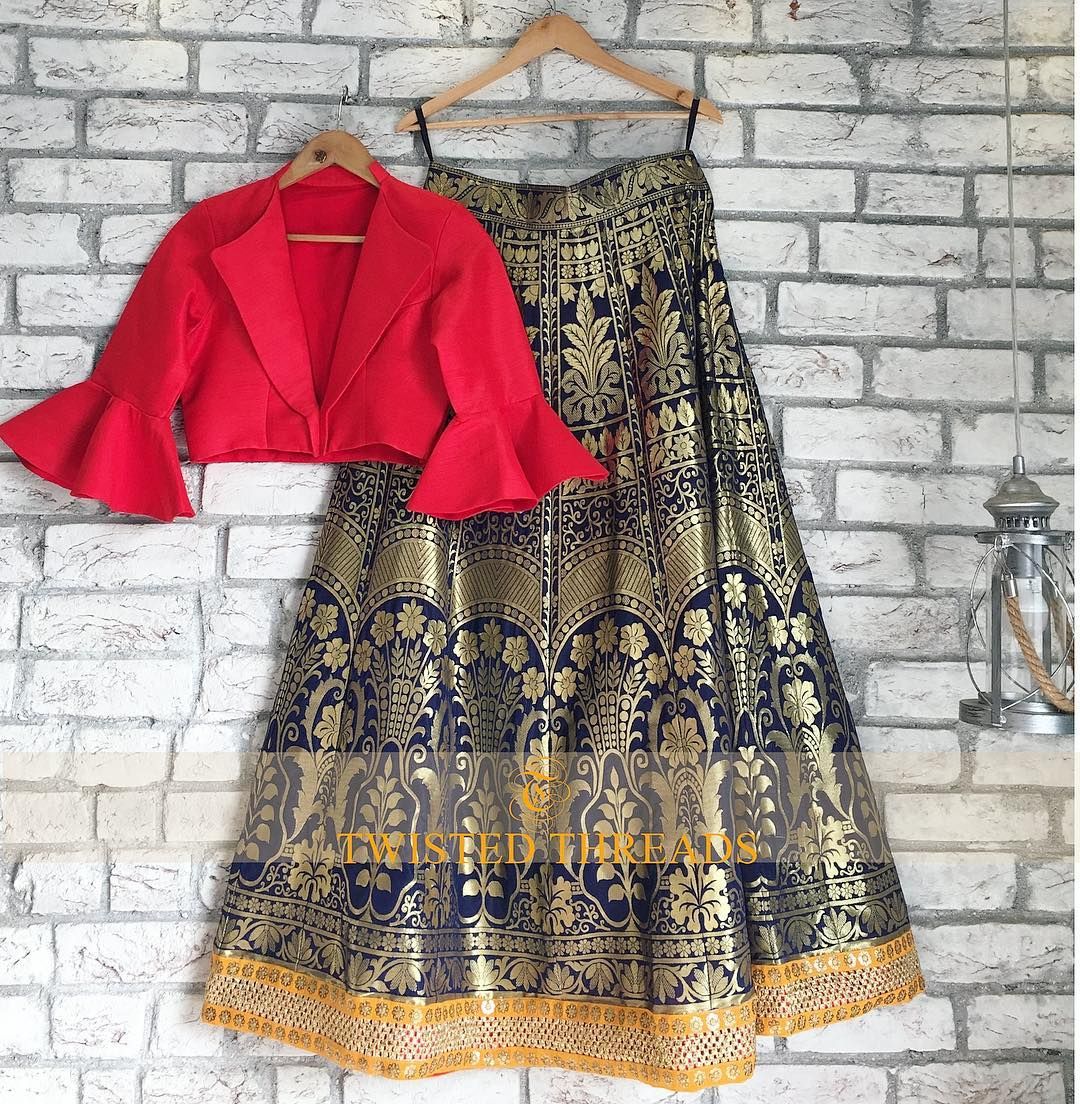 Image via twisted__threads
Brocade options are cheaper than Benarasi (you can get some in the local market for INR 100 a metre), but look just as beautiful in photos, although they might not be as long-lasting! You can buy brocade fabric and get yourself a nice outfit stitched- be it a lehenga, something Indo-western or even a long Anarkali!
Get something in a unique silhouette made!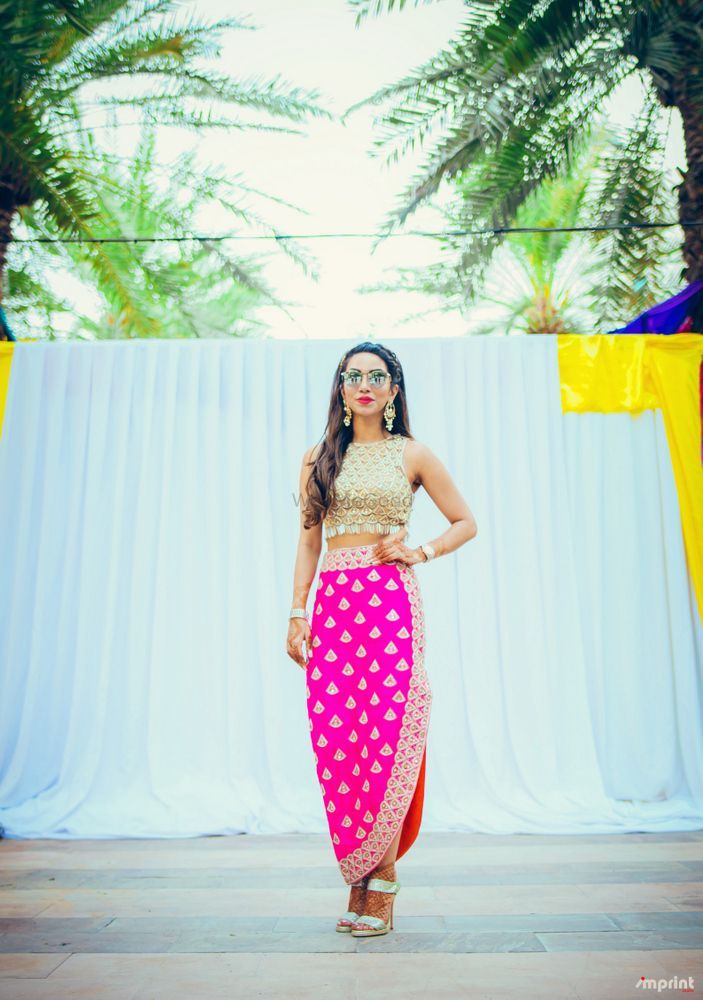 Image via Eshanka and Harit's Wedding
While this one is an Arpita Mehta outfit, what we mean to say is get inspired by something which has a unique design or silhouette so it stands out! Like instead of a dhoti or lehenga skirt, get a dhoti skirt made or buy one and mix and match with something you already have!
Mix and match a top or shirt with a lehenga skirt, dhoti pants or palazzos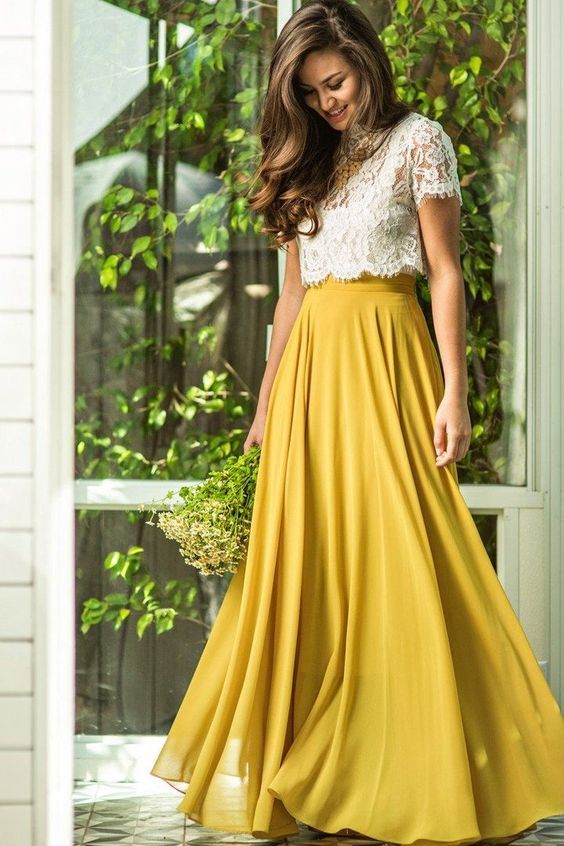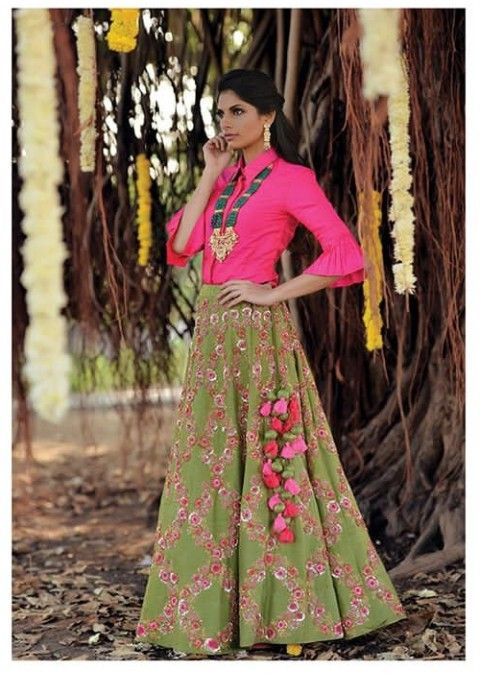 Image via Pinterest
Now this is another great way to cut down costs! Take one of your tops or shirt, and pair it with a lehenga skirt or dhoti pants- colour blocking works especially well!
Get a cape made that looks fancy!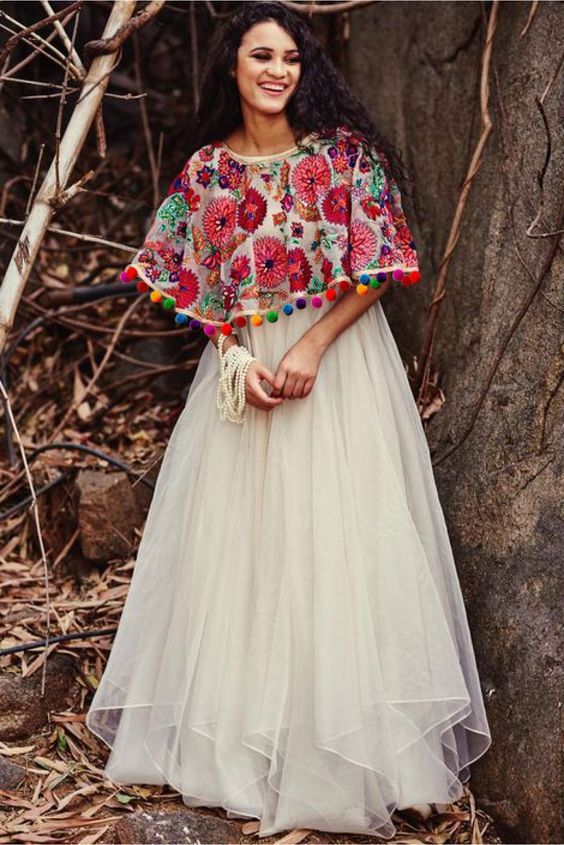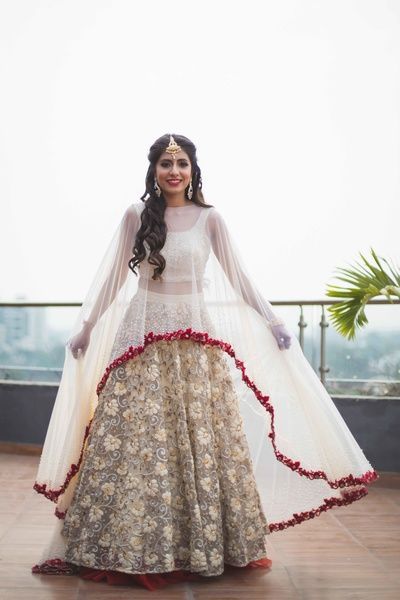 Image via Pinterest and The Wedding Crasher
Instead of investing in a whole new outfit, refubish one of your older ones like a blouse and skirt with an all-new look with a pretty cape on top! Make a simple fabric lehenga with nothing on it except a border and bam, add an embellished cape to add glamour. Ideas like this don't cost a thing!
Get an old dupatta made into a trendy blouse!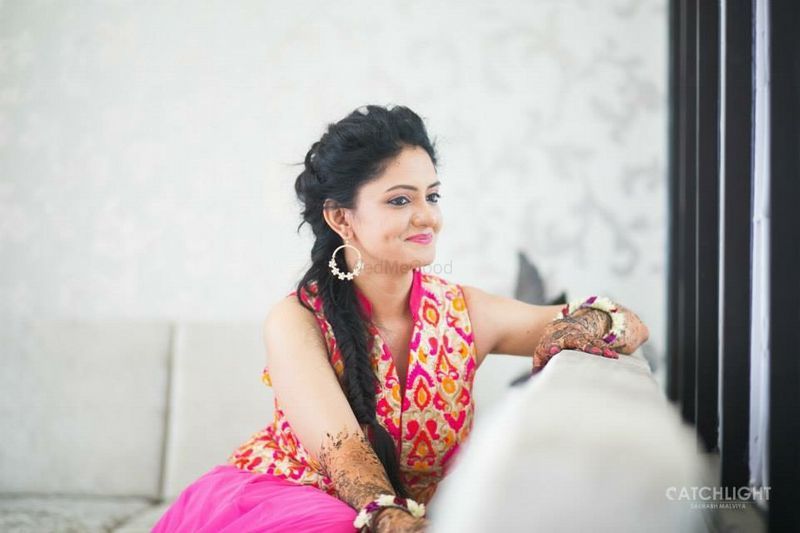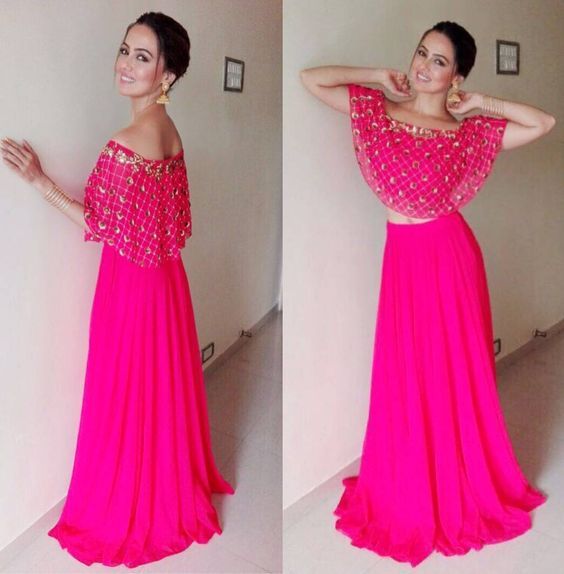 Image via  Glitterati by Karishma Arora★ 4.7  and Pinterest
How pretty does this look? Pick a trendy blouse design and get your old dupatta converted to it! Wear it with your lehenga skirt or a plain one! A phulkari dupatta converted to a blouse is also a cool idea!
Or into a jacket!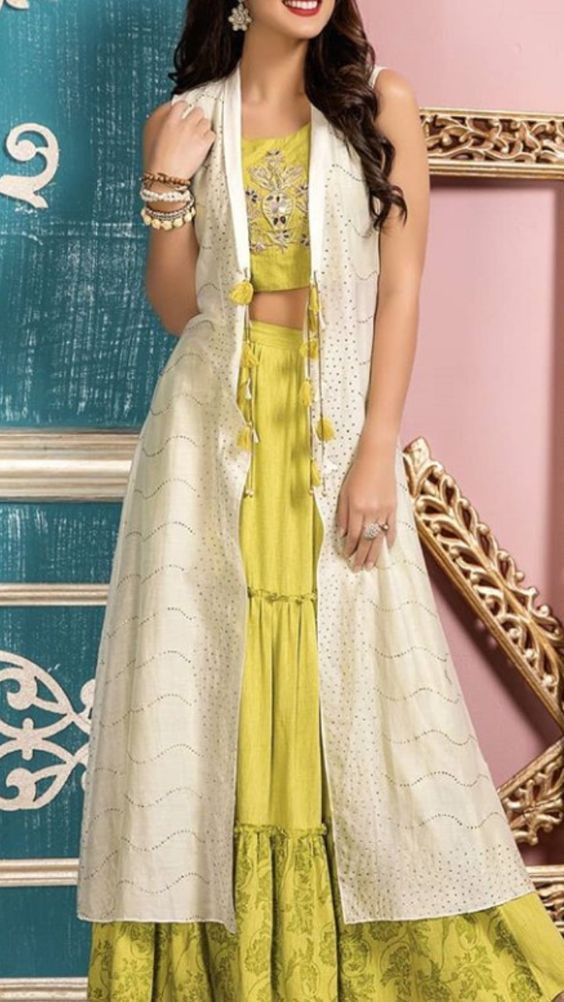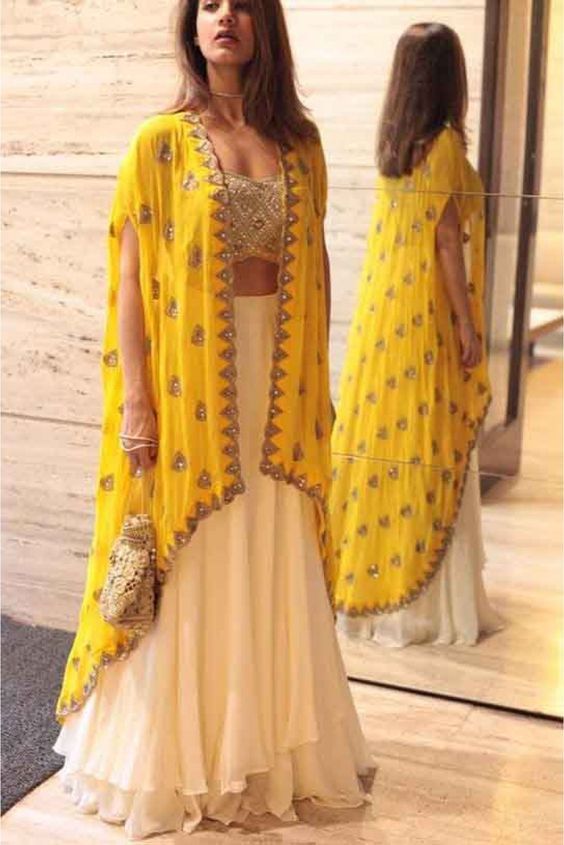 Image via Pinterest
Getting your old dupatta converted into a dupatta is another trendy and cool way which is easy on the budget as well! Looks amazing right?
Wear a family heirloom as it is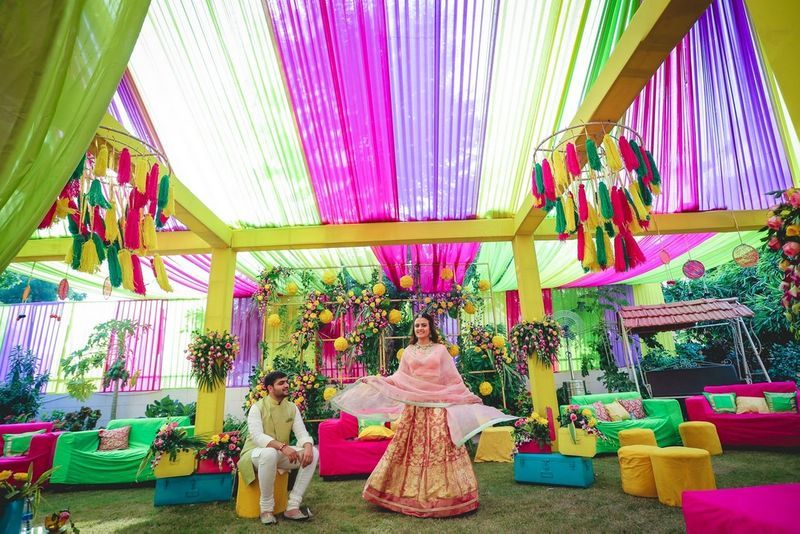 Image via Tanya and Anshul's Wedding
Real Bride Tanya wore a lehenga on her Mehendi which was really special, as it was given to her by my mother in law, and was a  100-year-old real gold zari work lehenga which was passed on to her by her grandmother! Tanya wore the same thing with minor alterations- but you can always rock an old heirloom lehenga or saree on a function like the Mehendi if you don't want to wear it for the wedding.
Let the dupatta do the talking!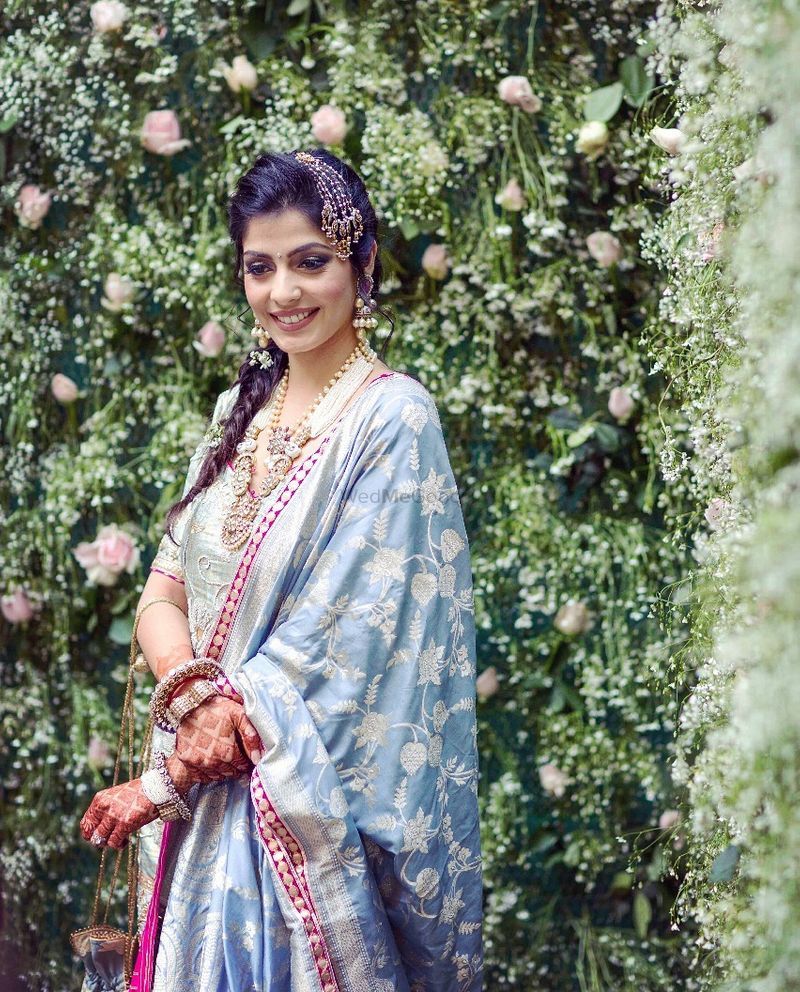 Image via Shimareet & Manav (Delhi)
Instead of spending a bomb on your whole outfit- wear something simple, but with a dupatta that really stands out! Invest in a pretty Benarasi dupatta with a simple suit, which also looks simple but amazing!
Wear a customised 'bride' tee on your Mehendi!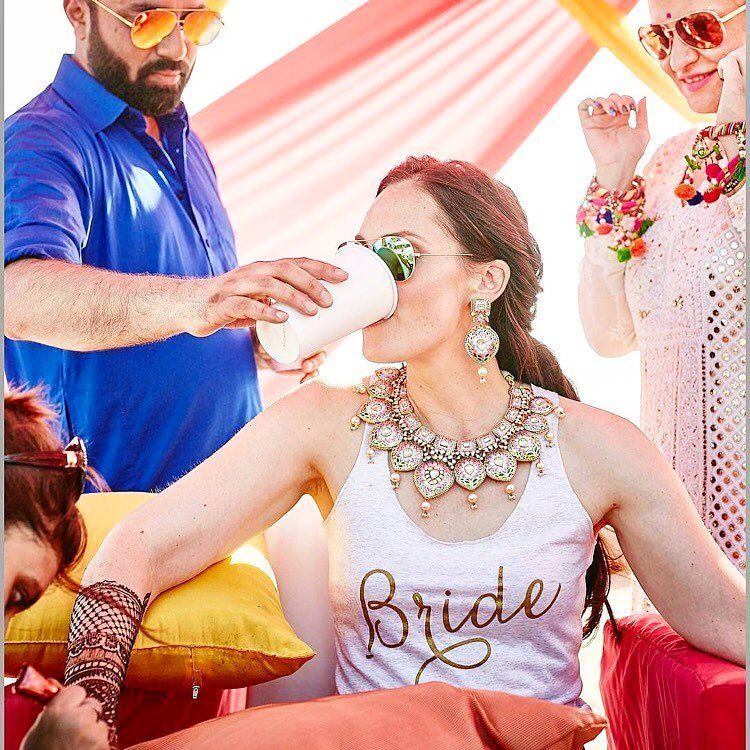 Image via @weerayut_toa
Simple and to the point, and looks amazing too! You can buy one online and dress it up with jewellery like this bride has!
Or statement jewellery!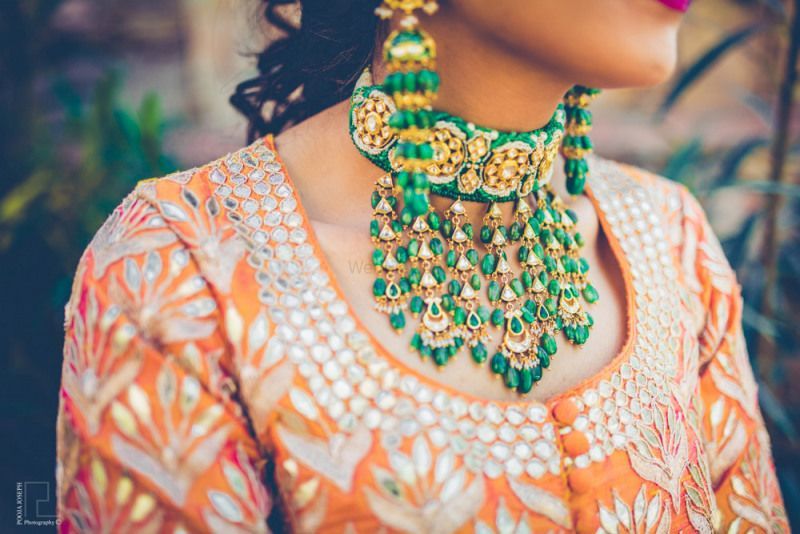 Image via Fotowalle - The Story Folks and Nirali & Ribhu (Udaipur)
Wear a simple outfit, maybe something plain, but invest in some statement Mehendi jewellery instead of the outfit! It stands out, and can make any simple outfit look fancy!
ALSO READ: Budget Brides: DIY Mehendi Outfits That You Can Pull Off To Perfection!
Intimate Mehendi At Home? Take Inspiration From These Understated Yet Pretty Outfits To DIY!