Charming Jaipur Wedding With Pastels, Personalisation & Cute Li'l Ideas!
BY Sakshi | 17 Mar, 2023 | 211 views | 8 min read
When the bride takes charge of doing all the wedding planning and the decor by herself down to the last detail, then you know it has got to be something else! Real Bride Tanushka knew what she wanted and got it implemented beautifully via her own decor firm Jas. The wedding was full of soft pastels, personalised decor and very chic decor, which had an English vibe. The bride wore some elegant outfits, and we loved how everything was colour-coordinated! The bride also went the extra mile and had some adorable ideas like 'Bromaid' boxes, personalised tableware, customised kaleere and a letter to her groom!
Meet Tanushka and Jaskaran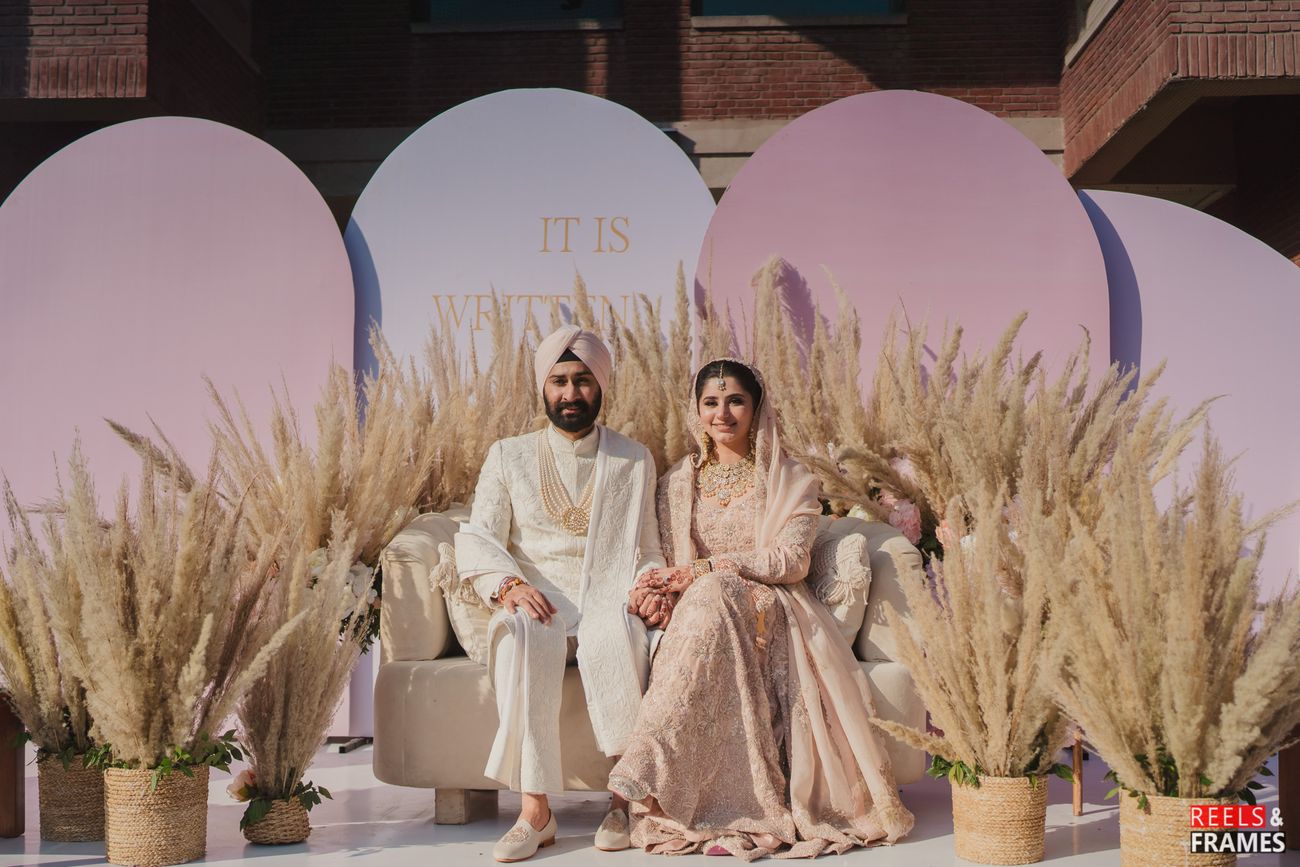 I was in Chandigarh with my mom at the time when my parents received a call from a relative regarding the arrange marriage proposal. I was extremely nervous and didn't know what to do because it was all very sudden. Both the families then decided to meet and the next thing I know is that I'm travelling back to Delhi and my family is flying down from Nagpur on a Thursday morning. It was 17th September, 2022, the first time I met Jaskaran and the entire family. We sat on a different table and then once we started talking about everything which eventually ended up in a Koffee with Jas-Karan rapid fire round, we both just knew it right then, after we spoke for an hour, that this is it. We both just clicked and it was like love at first sight. We then decided to call our respective mothers and did thumbs up together. I'd never imagined that we would say yes within an hour. With Jaskaran it was like when you know, you know and our first meeting couldn't have been any better and quicker.
Mehendi & Haldi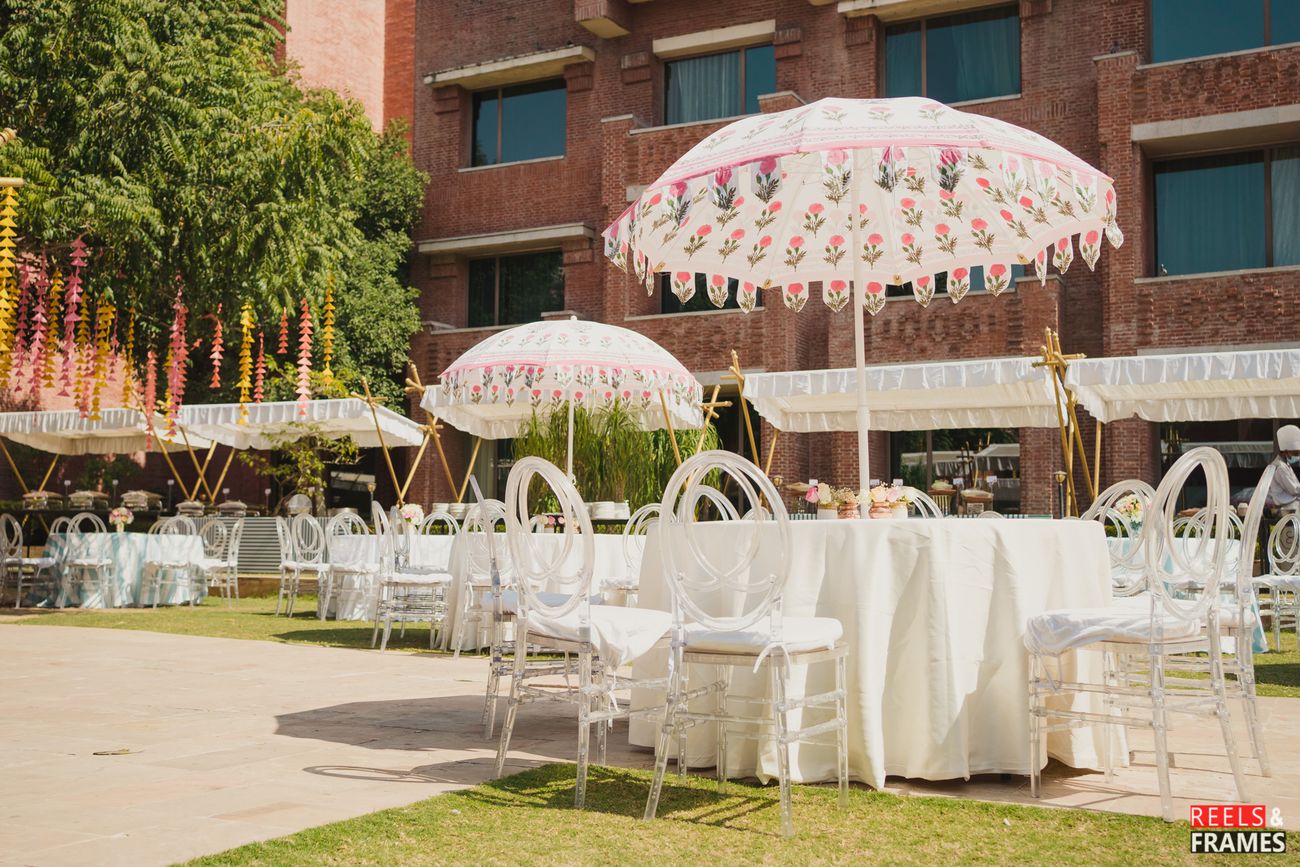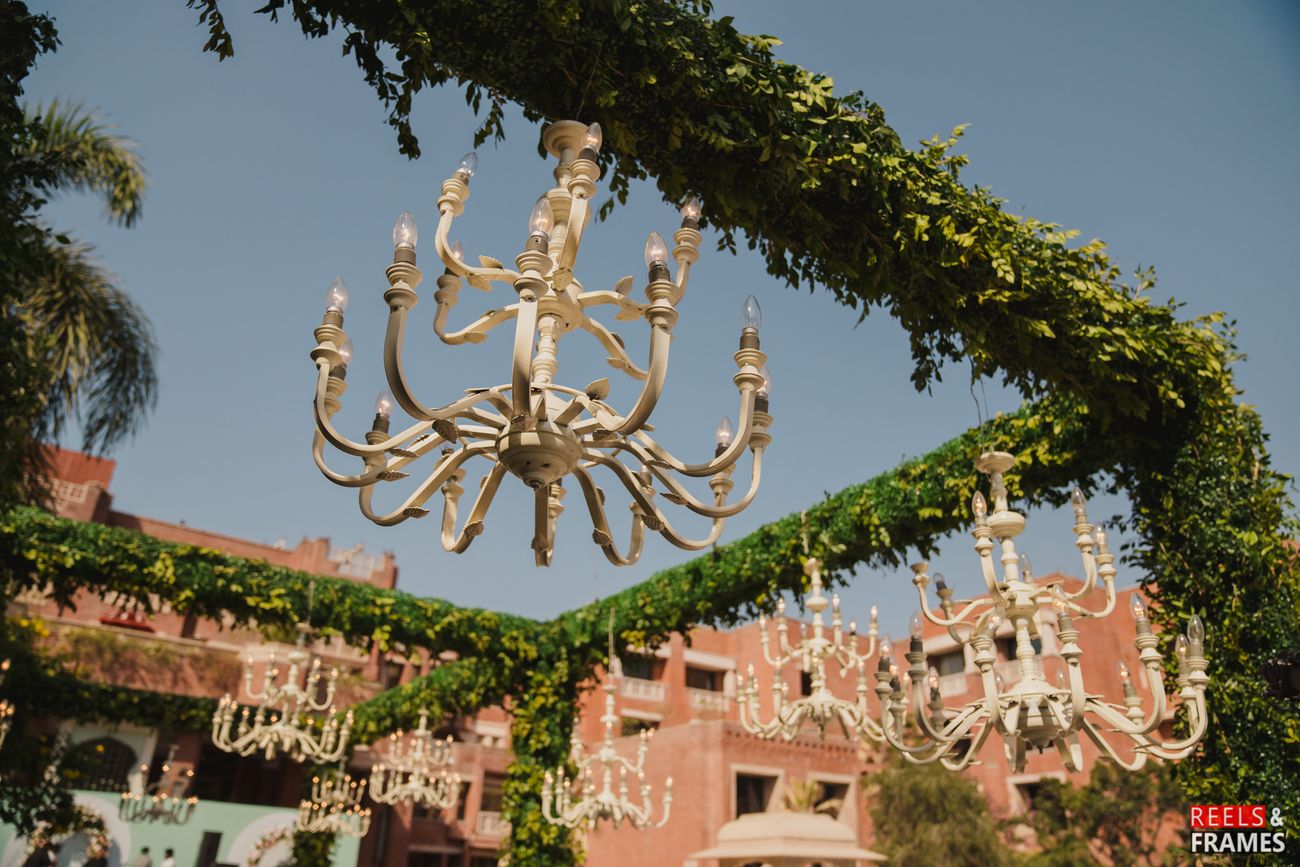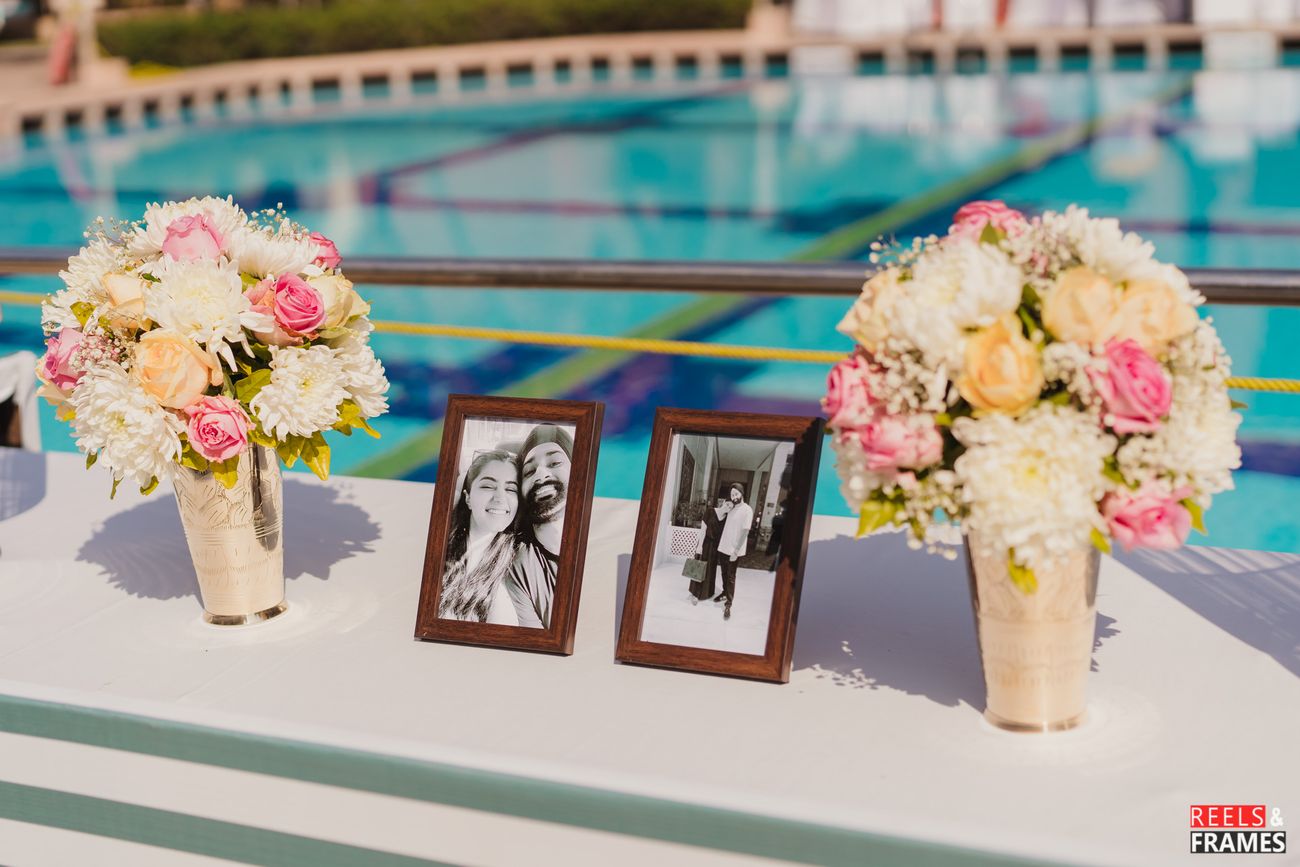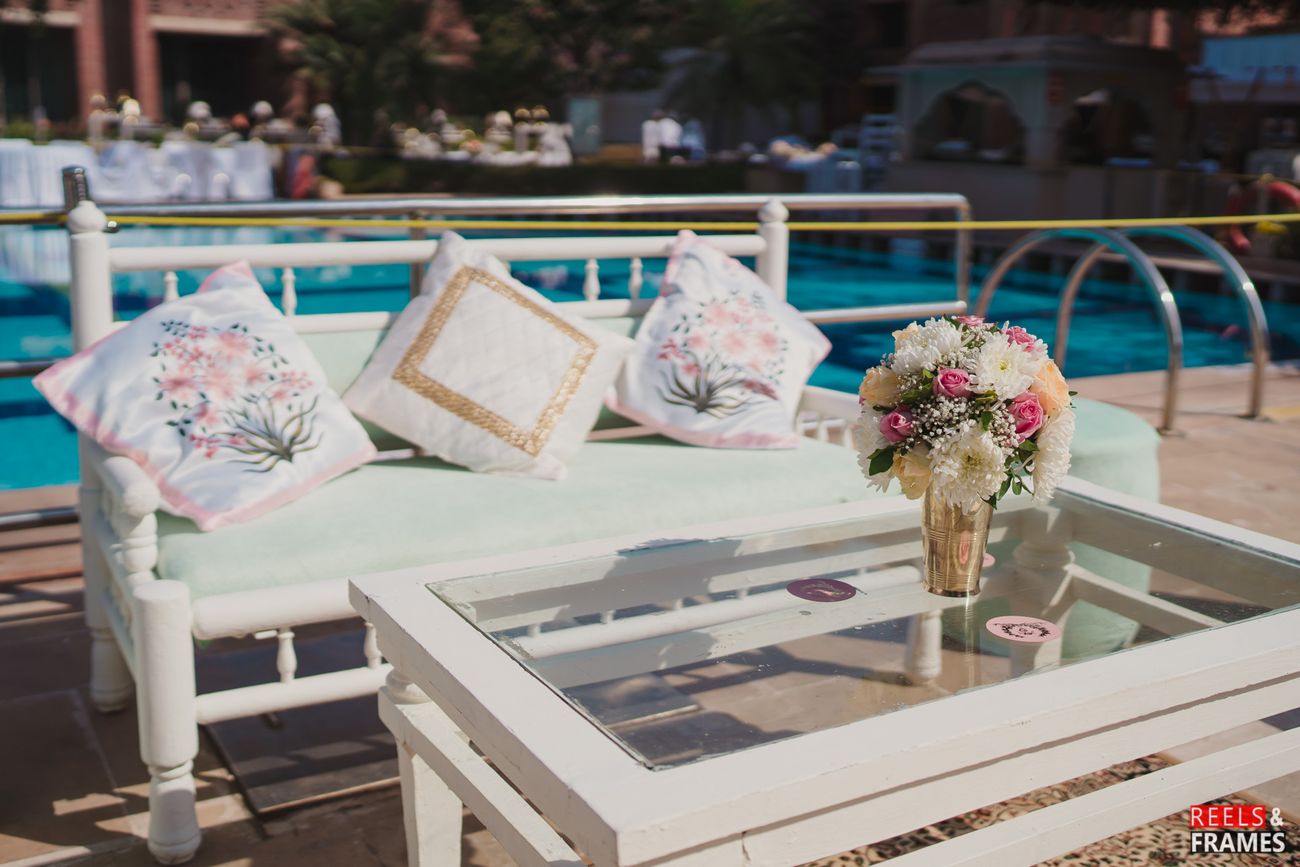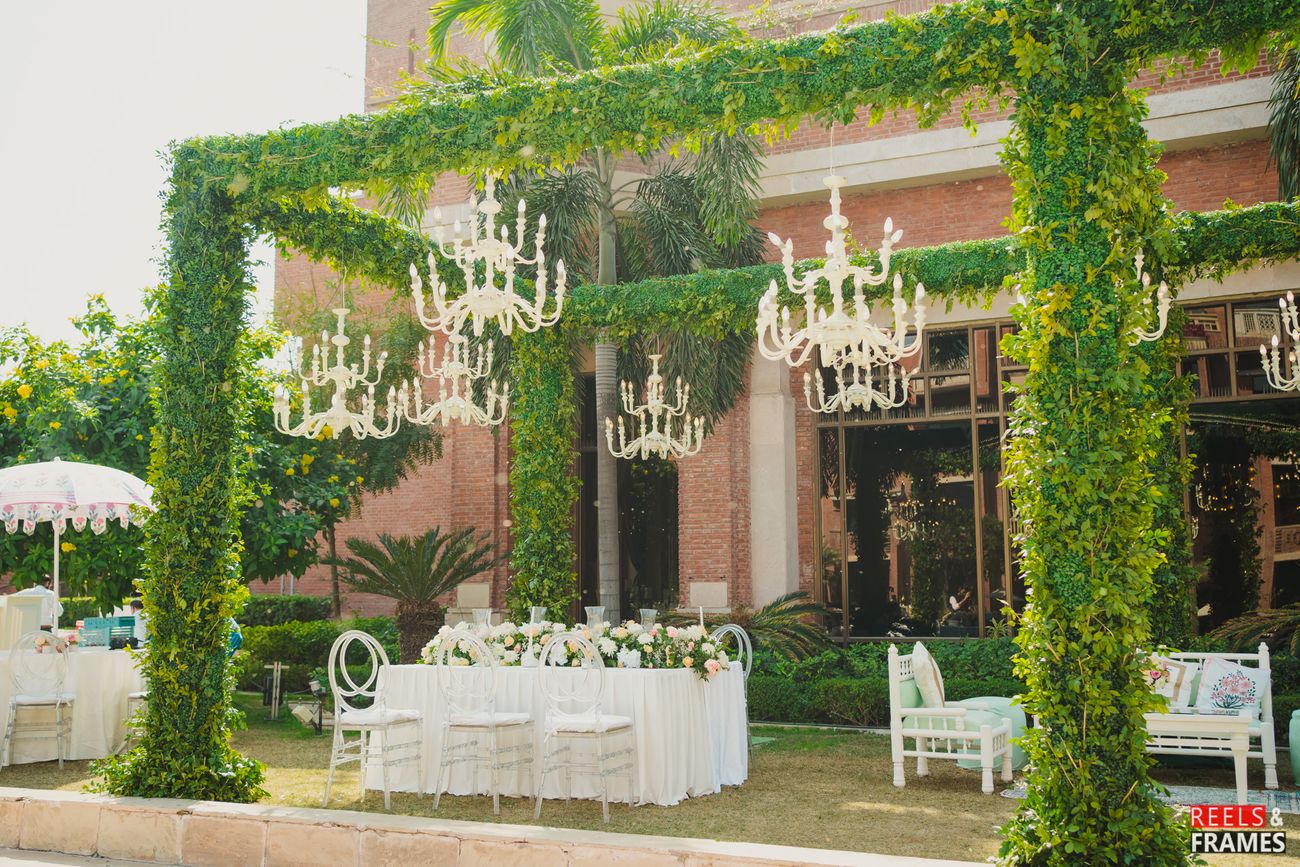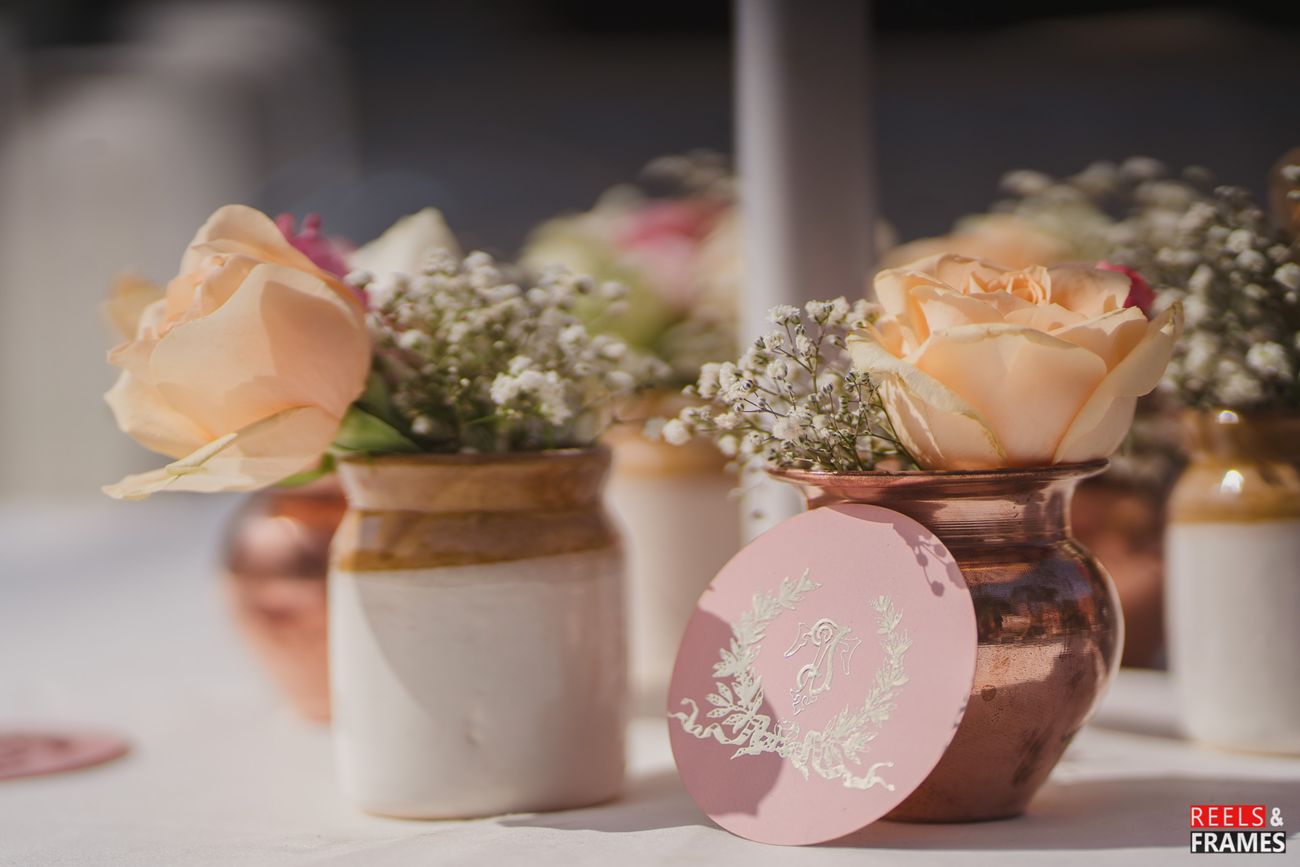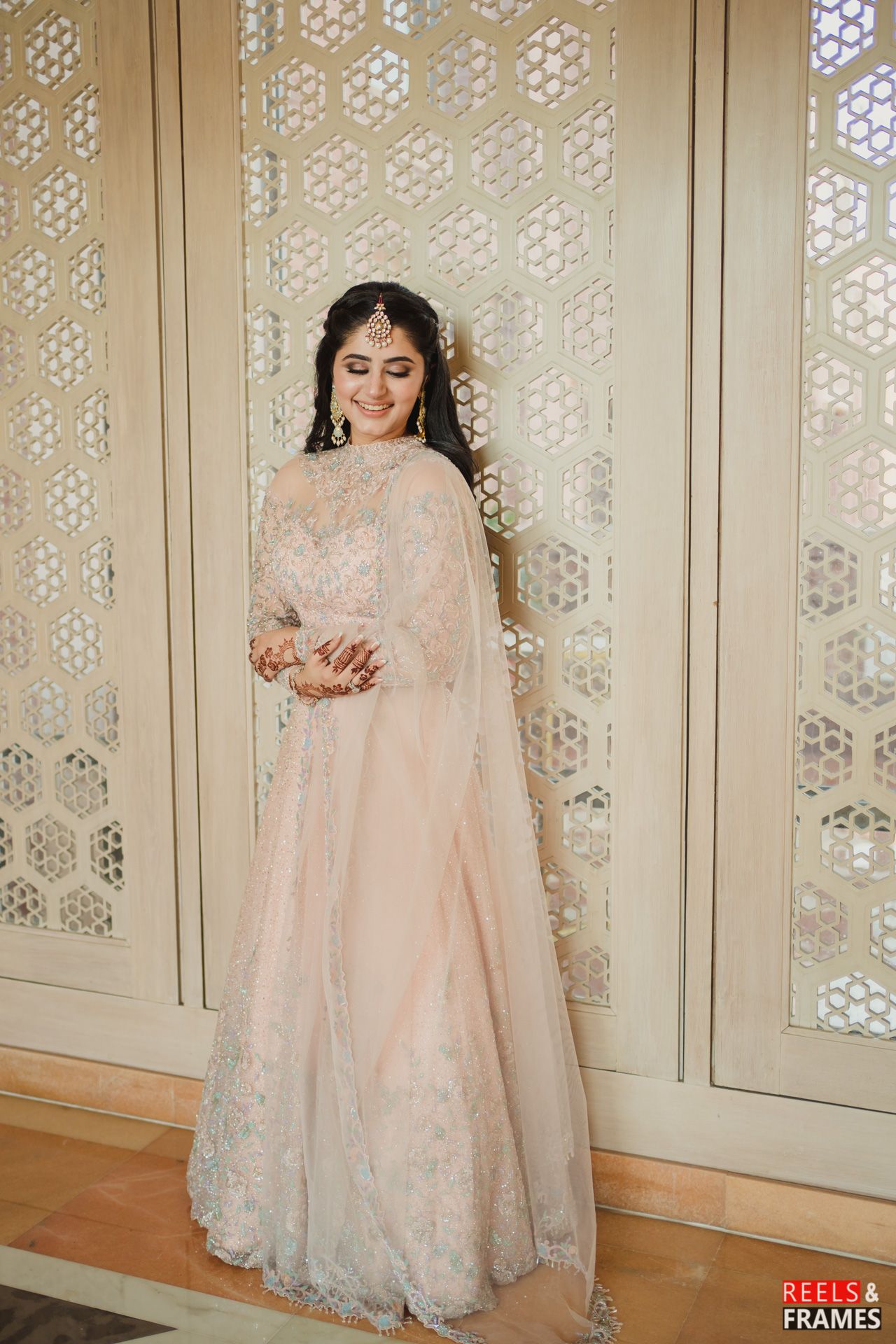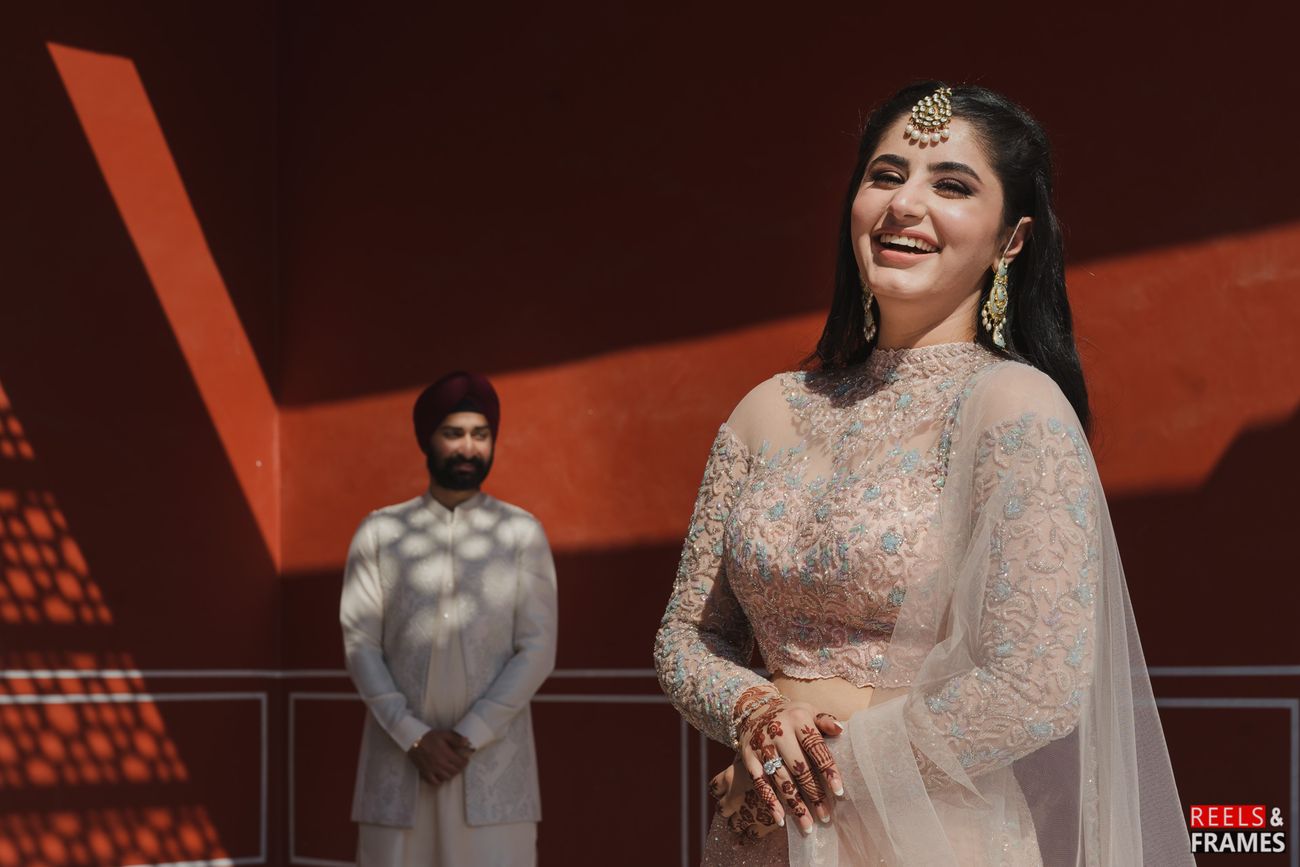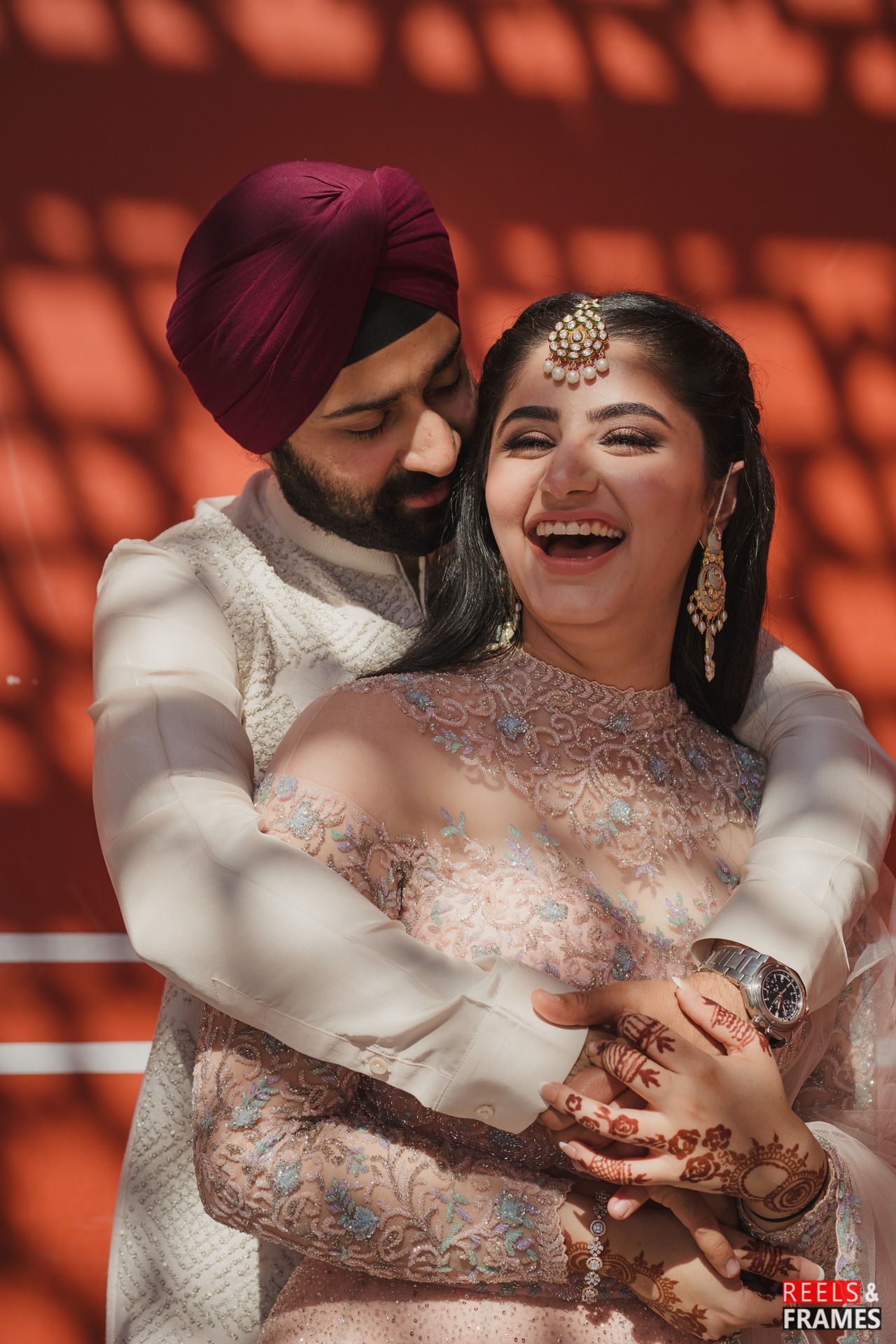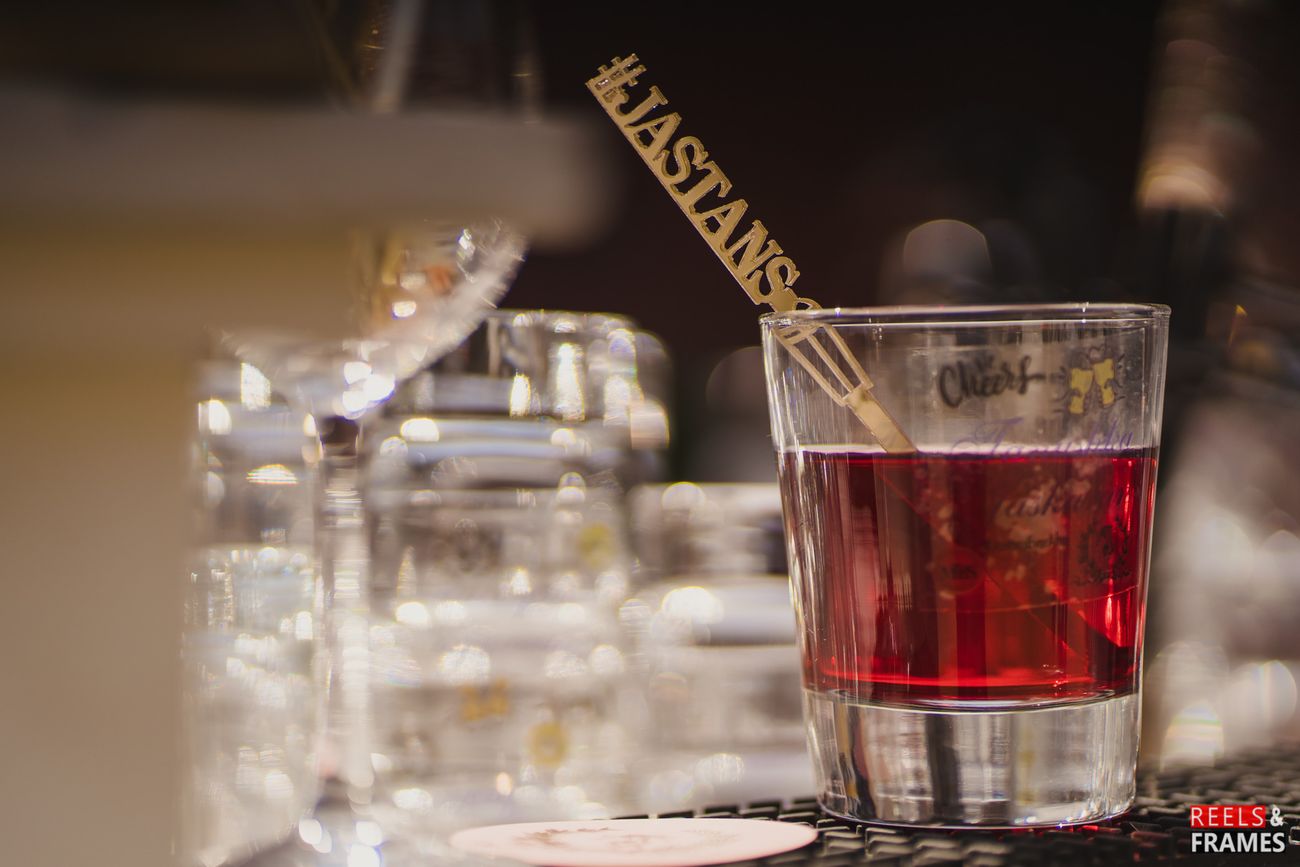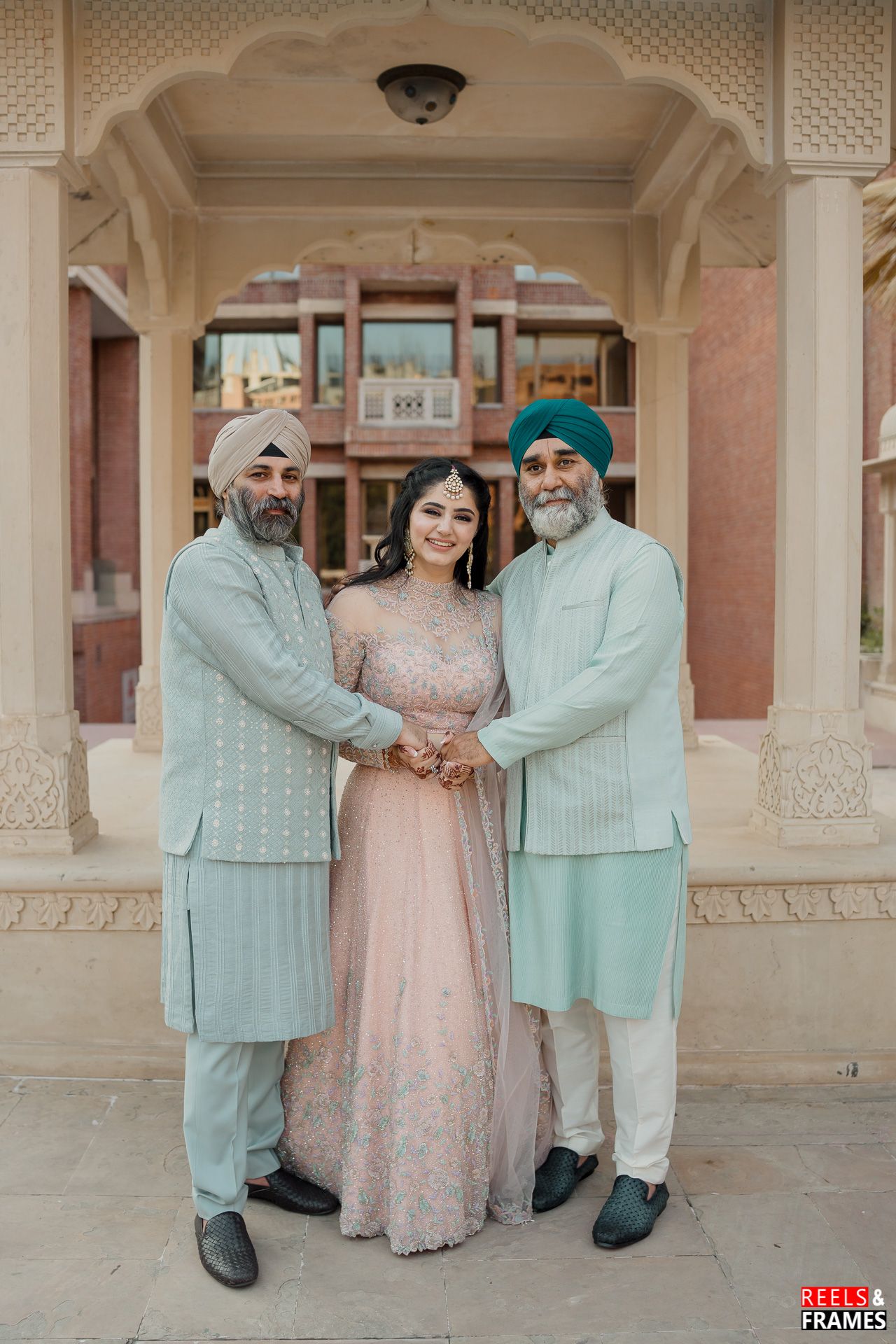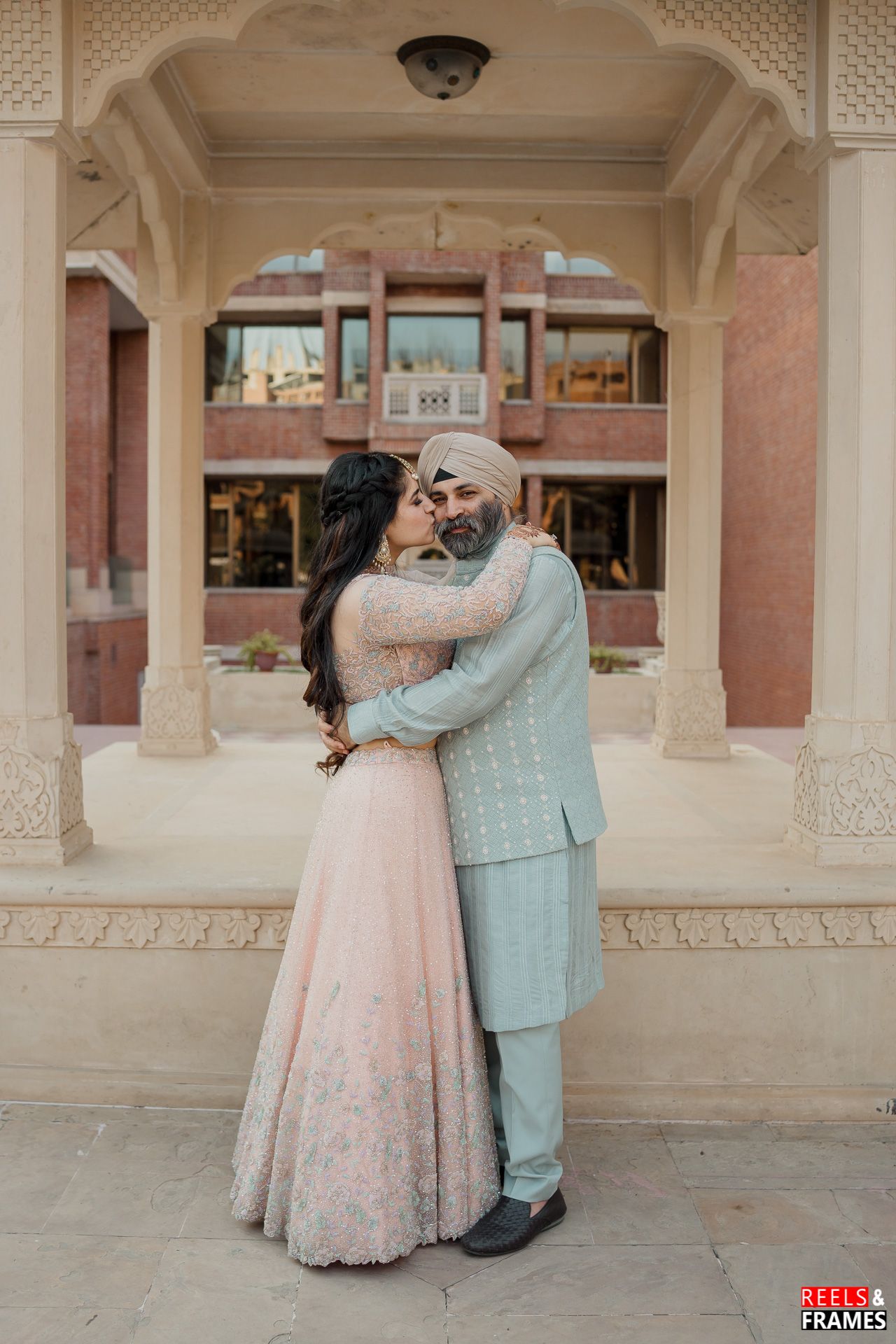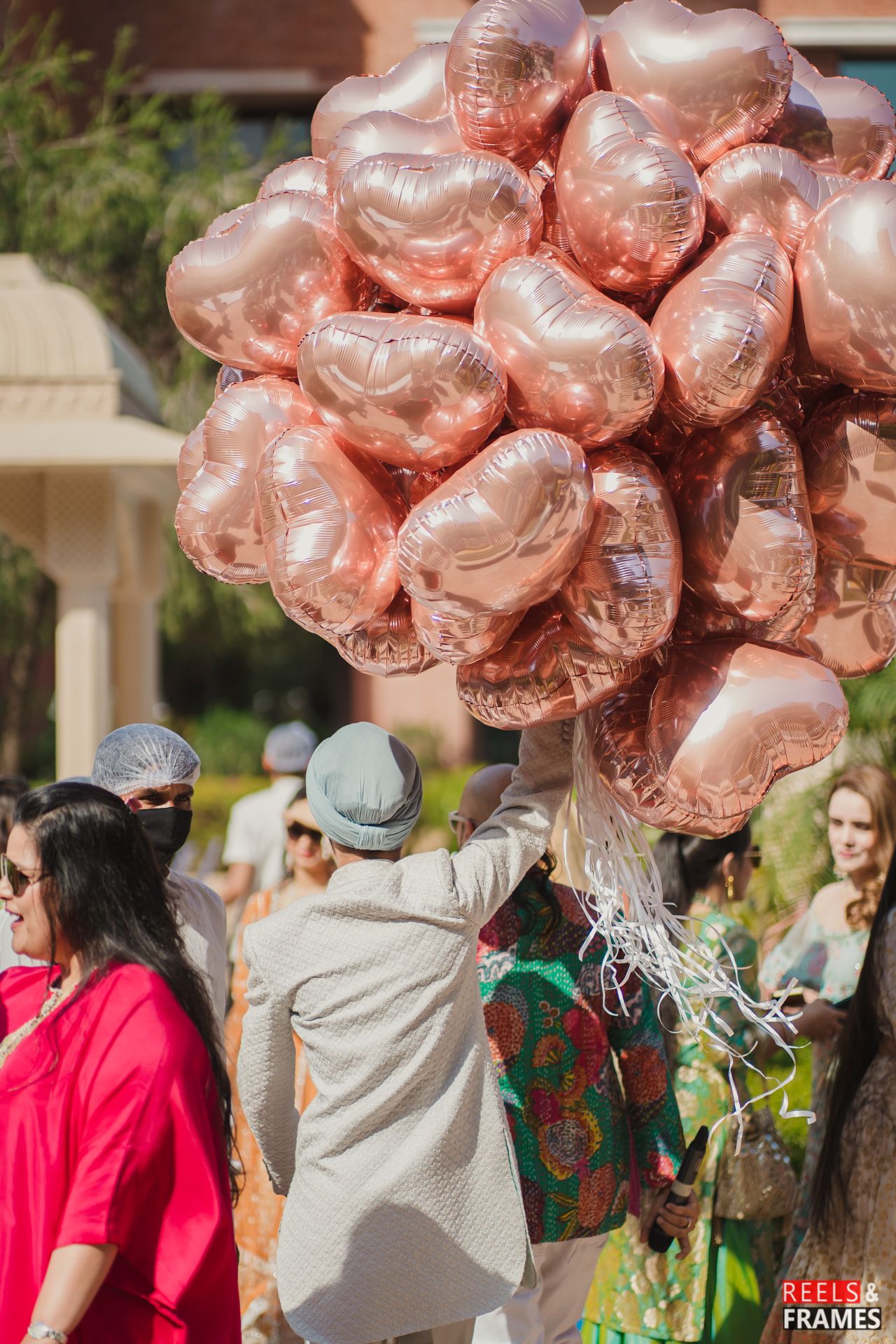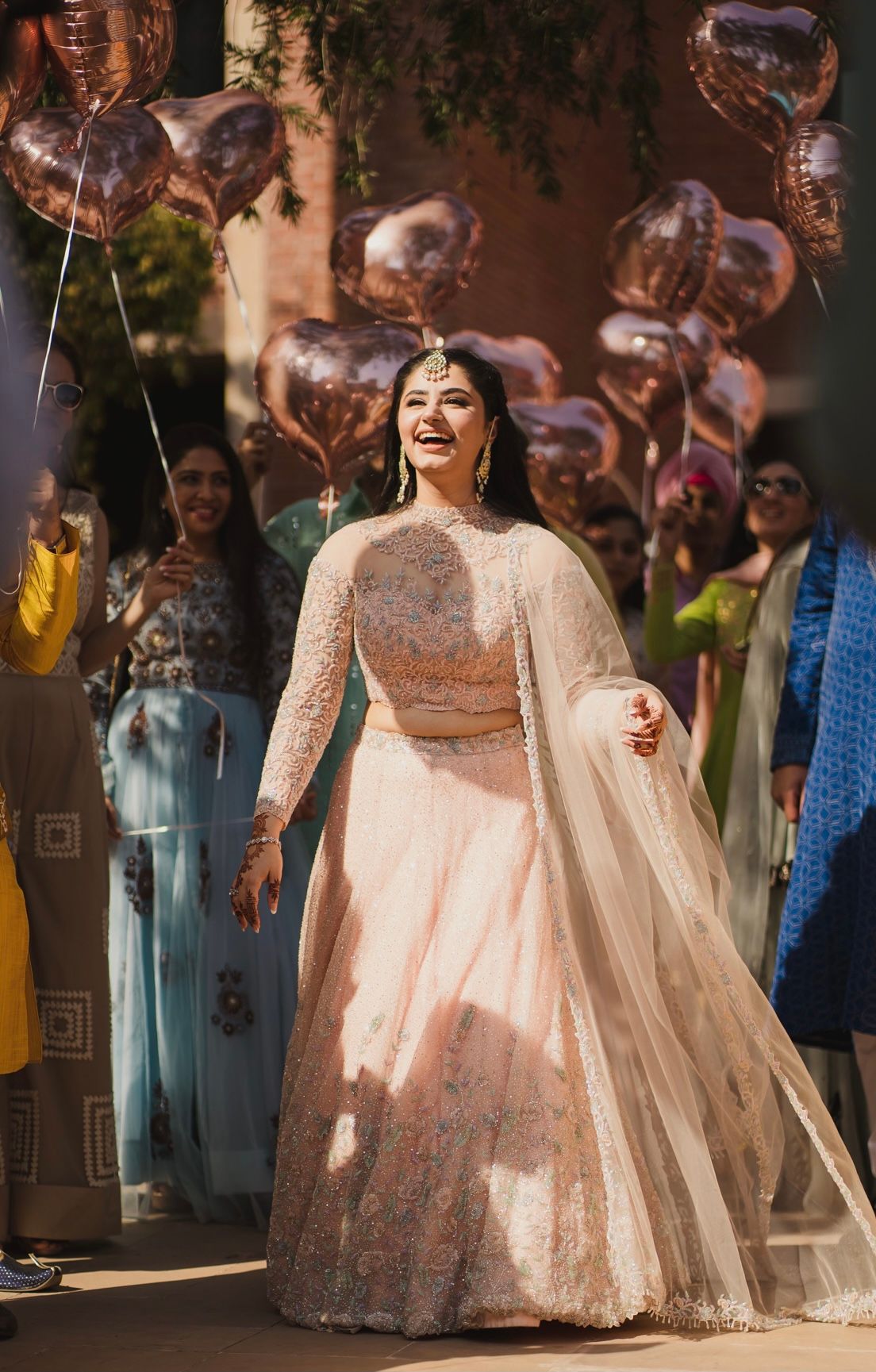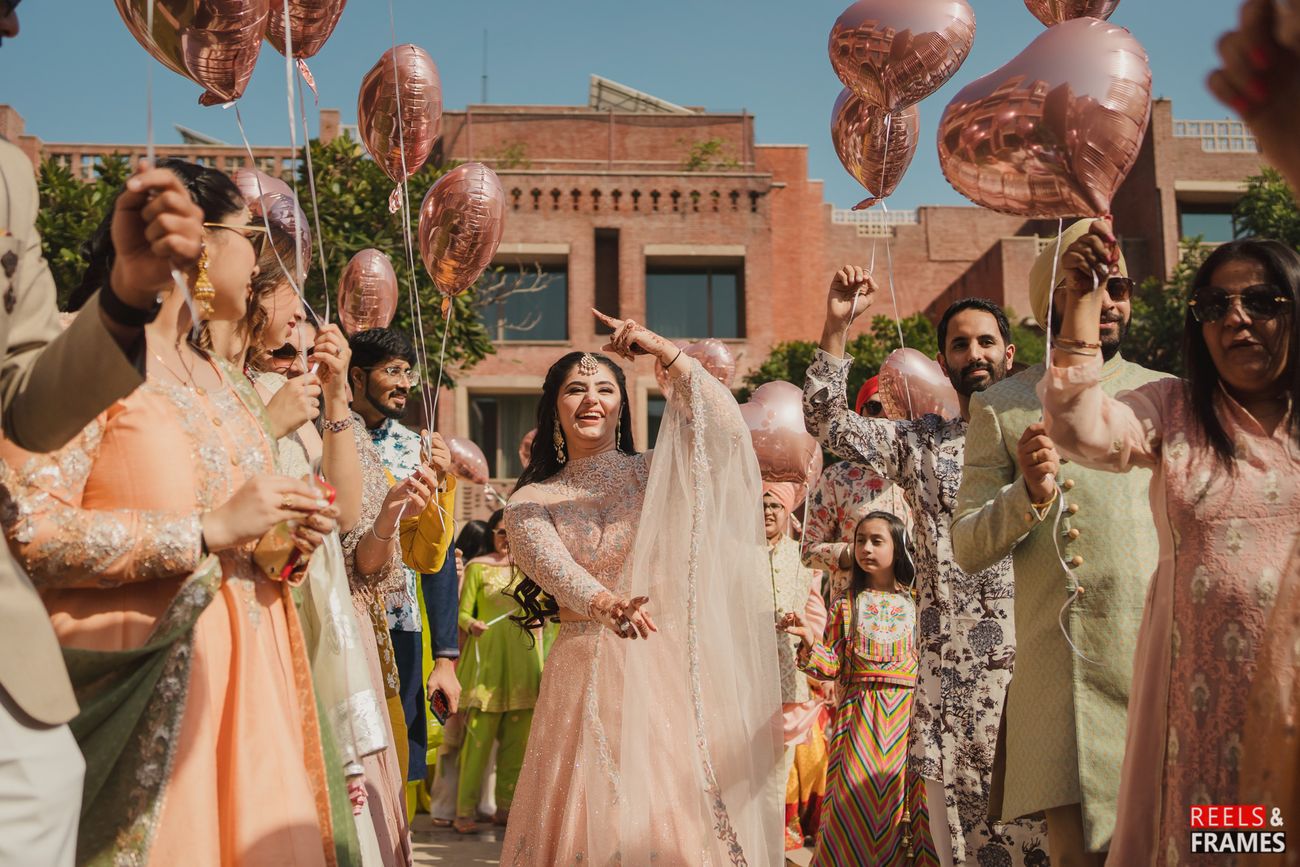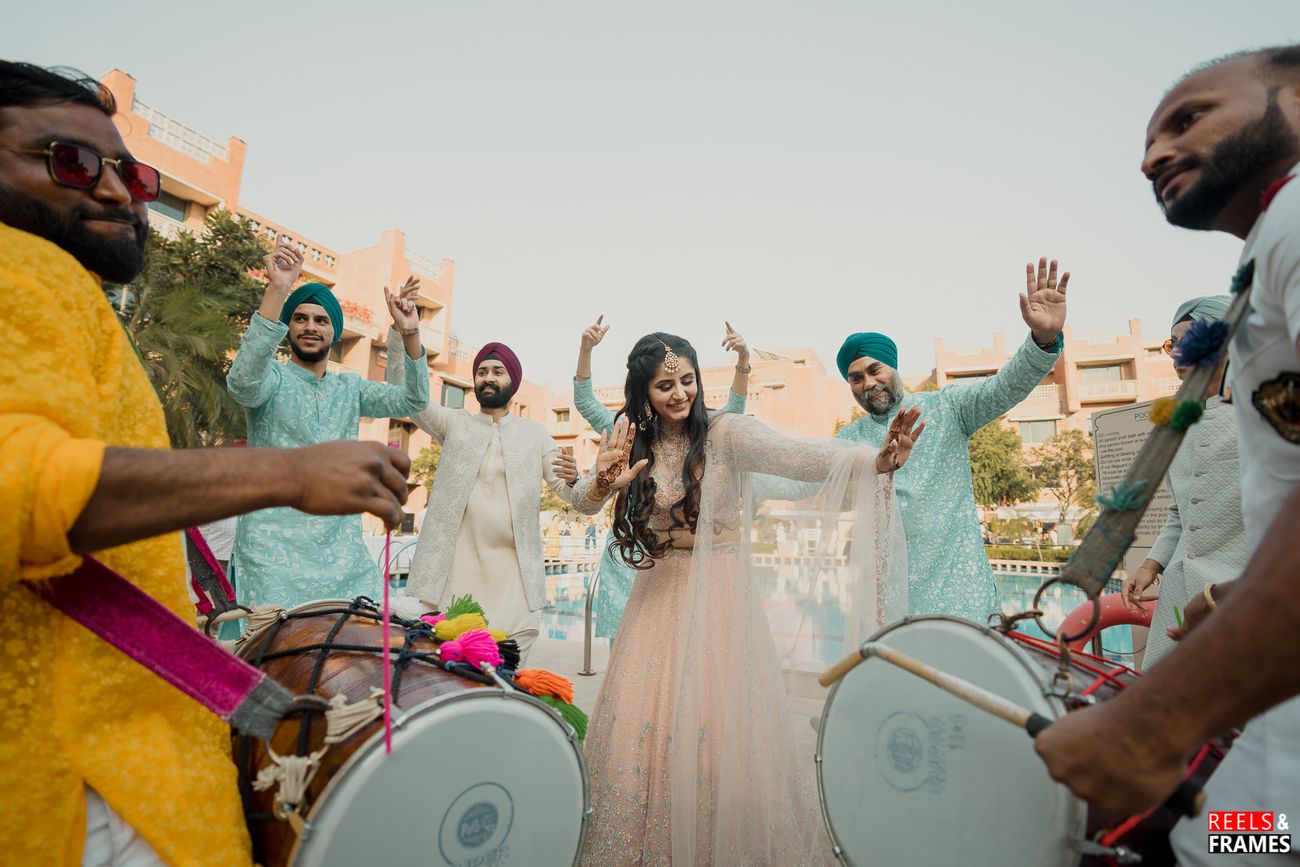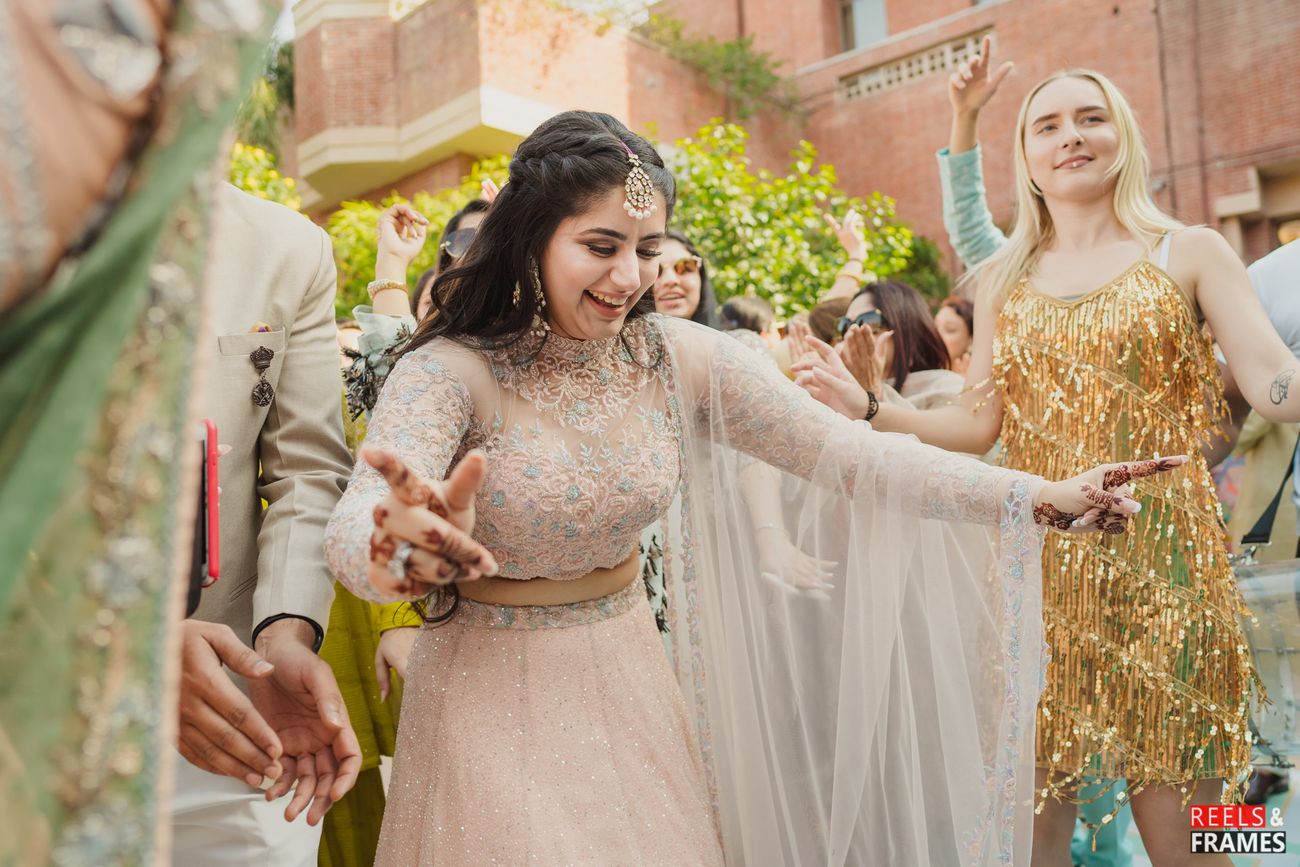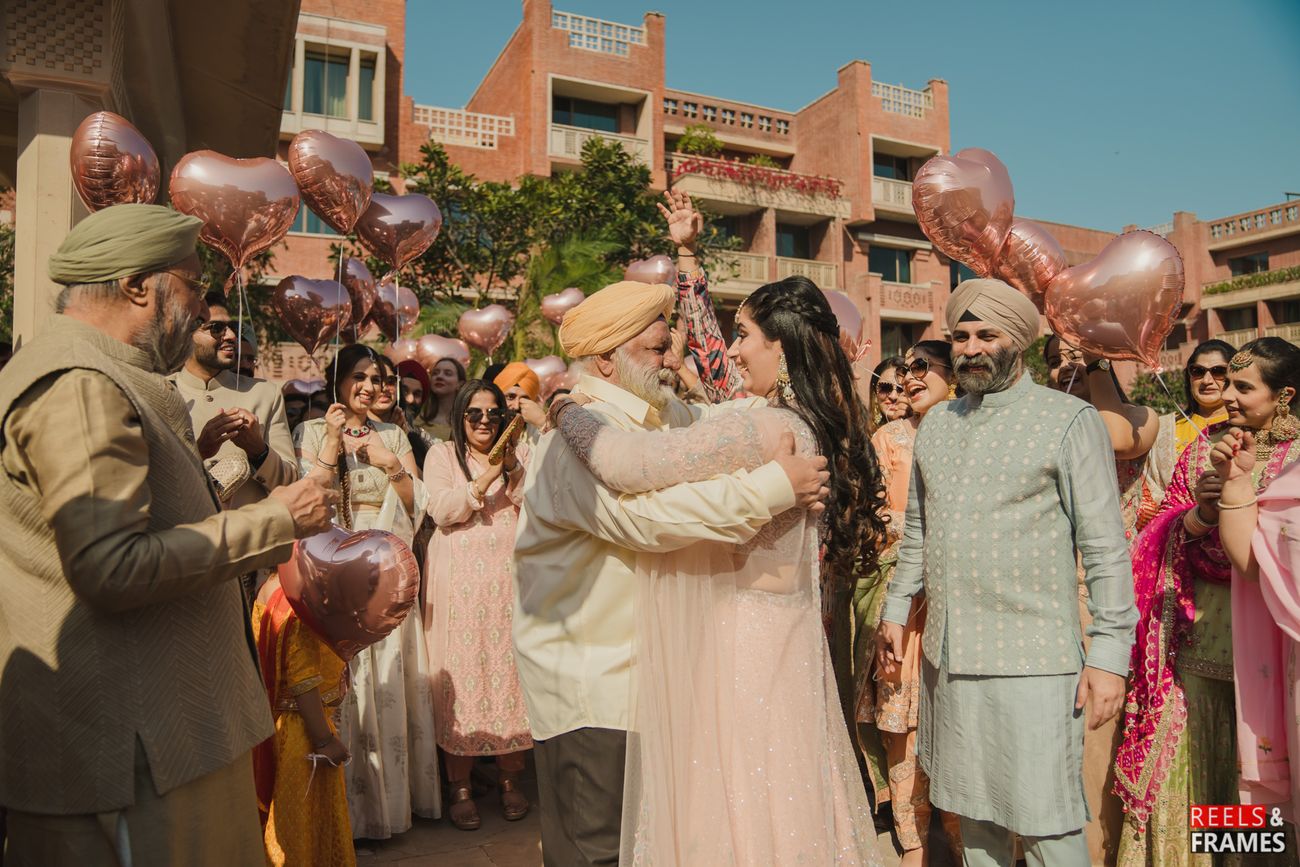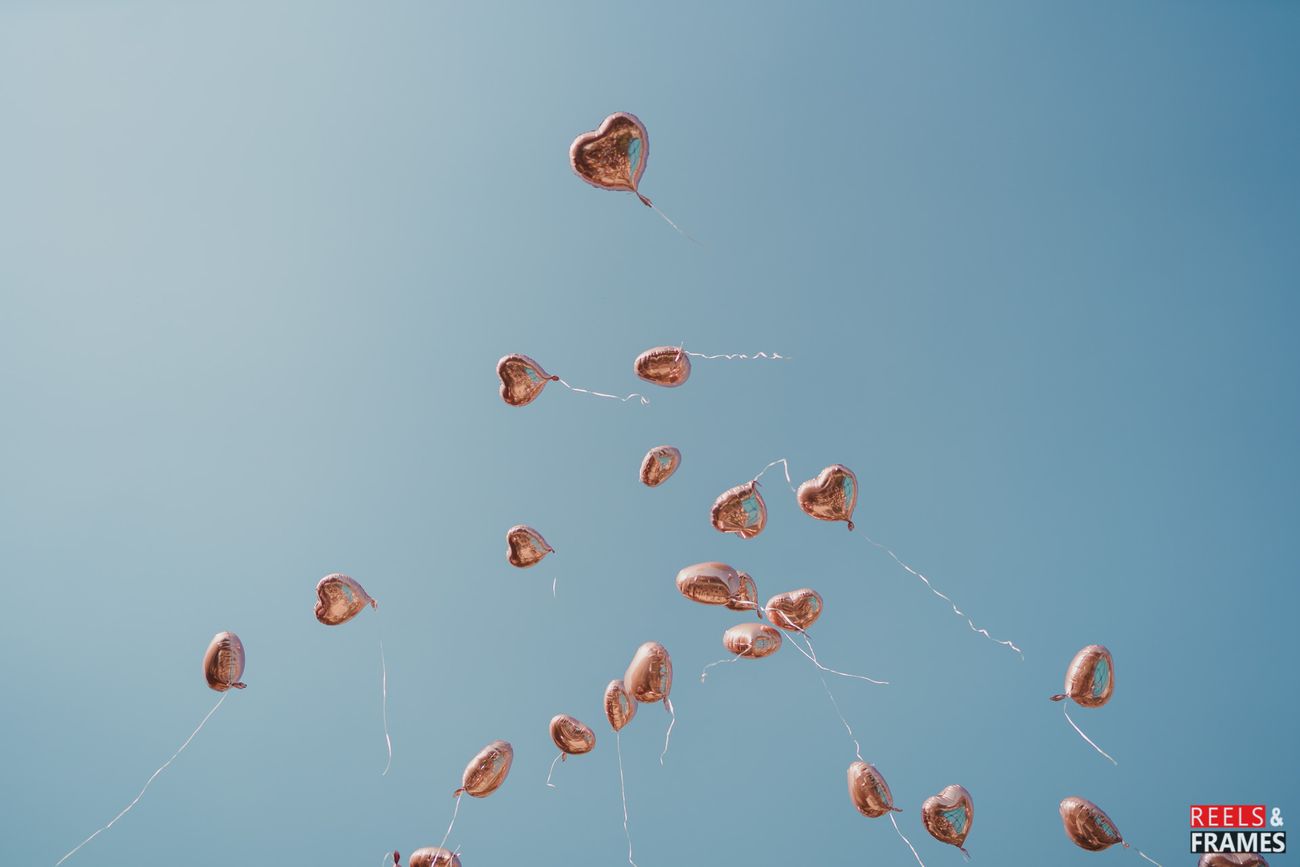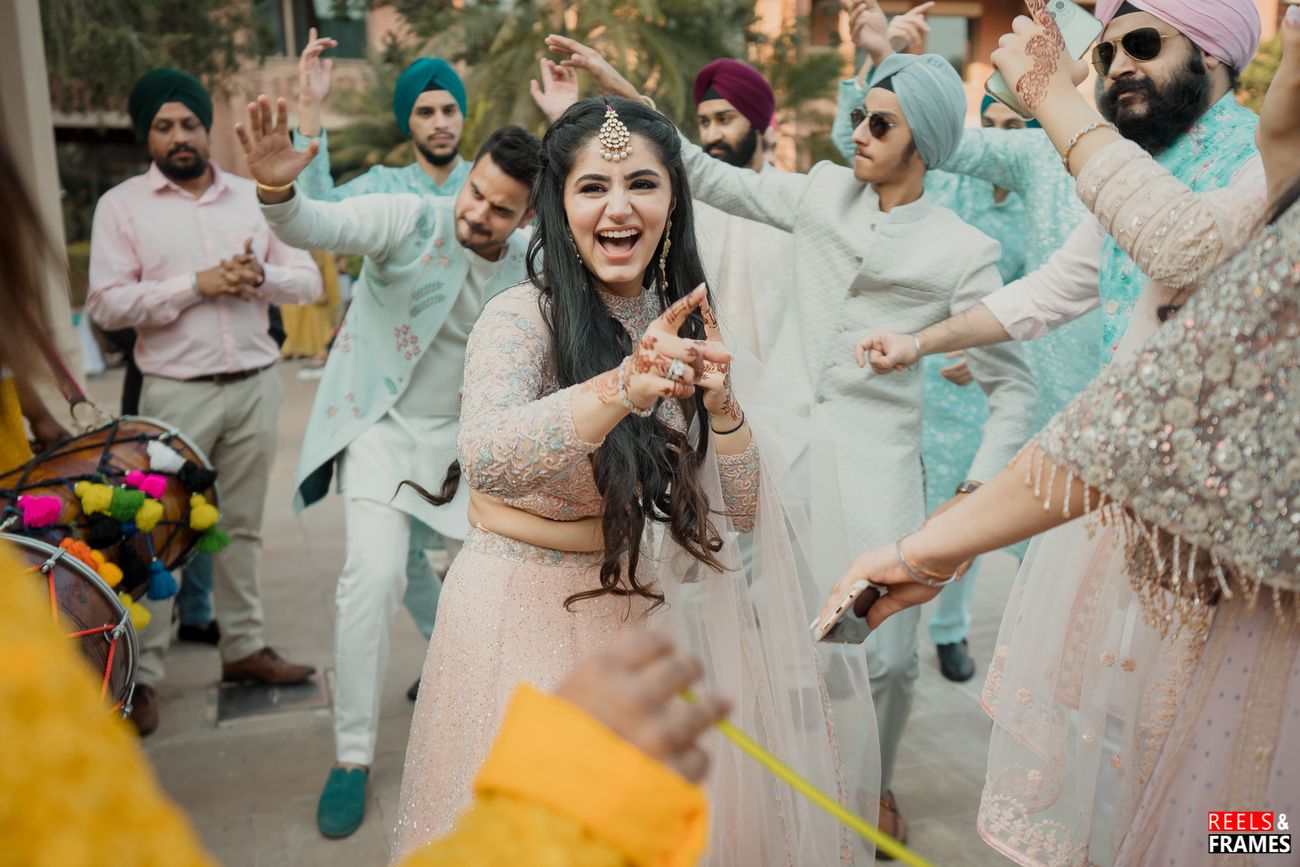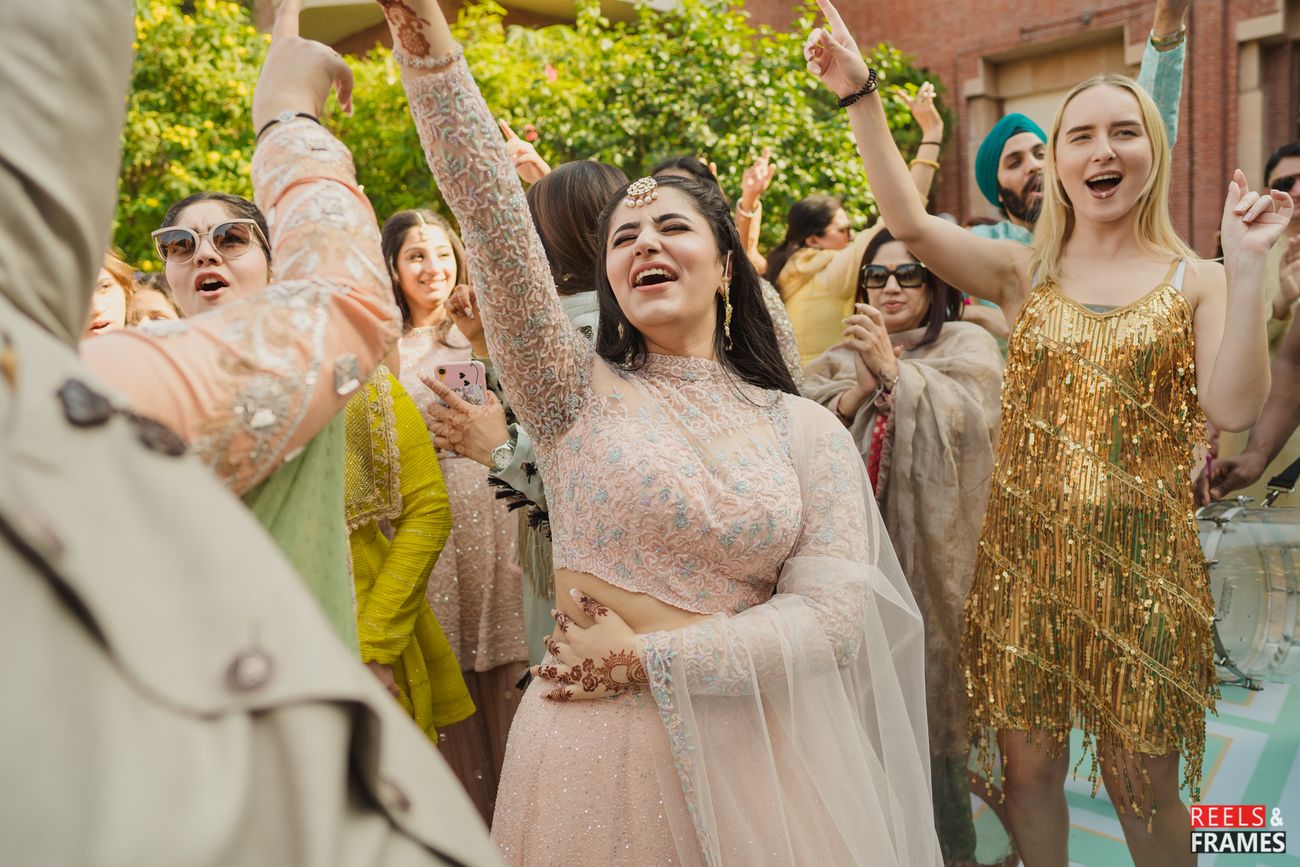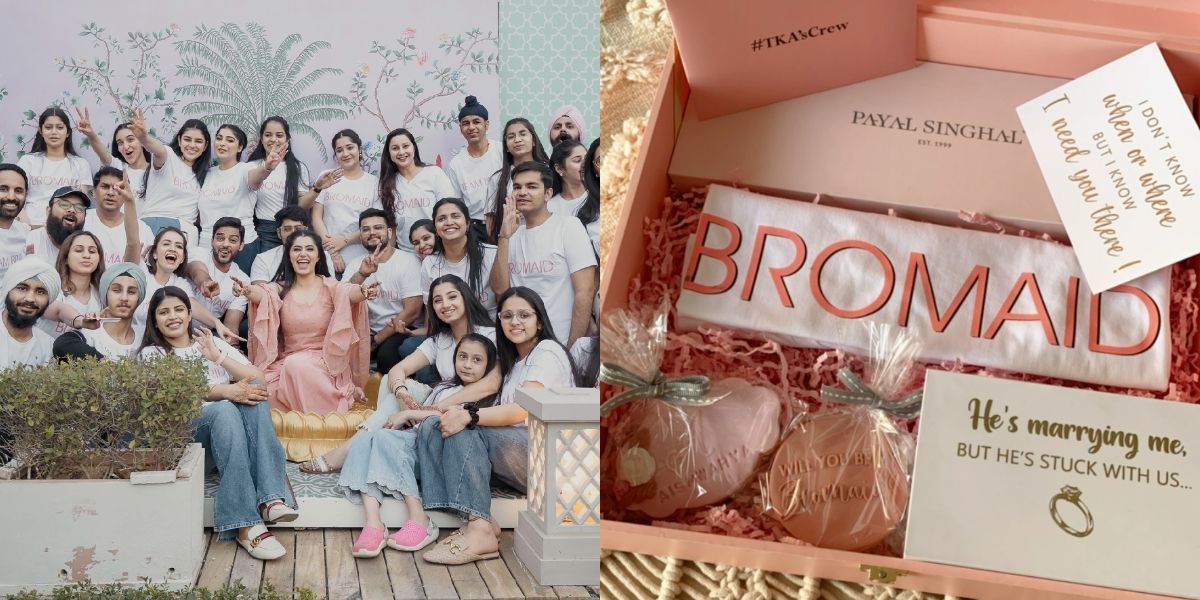 Engagement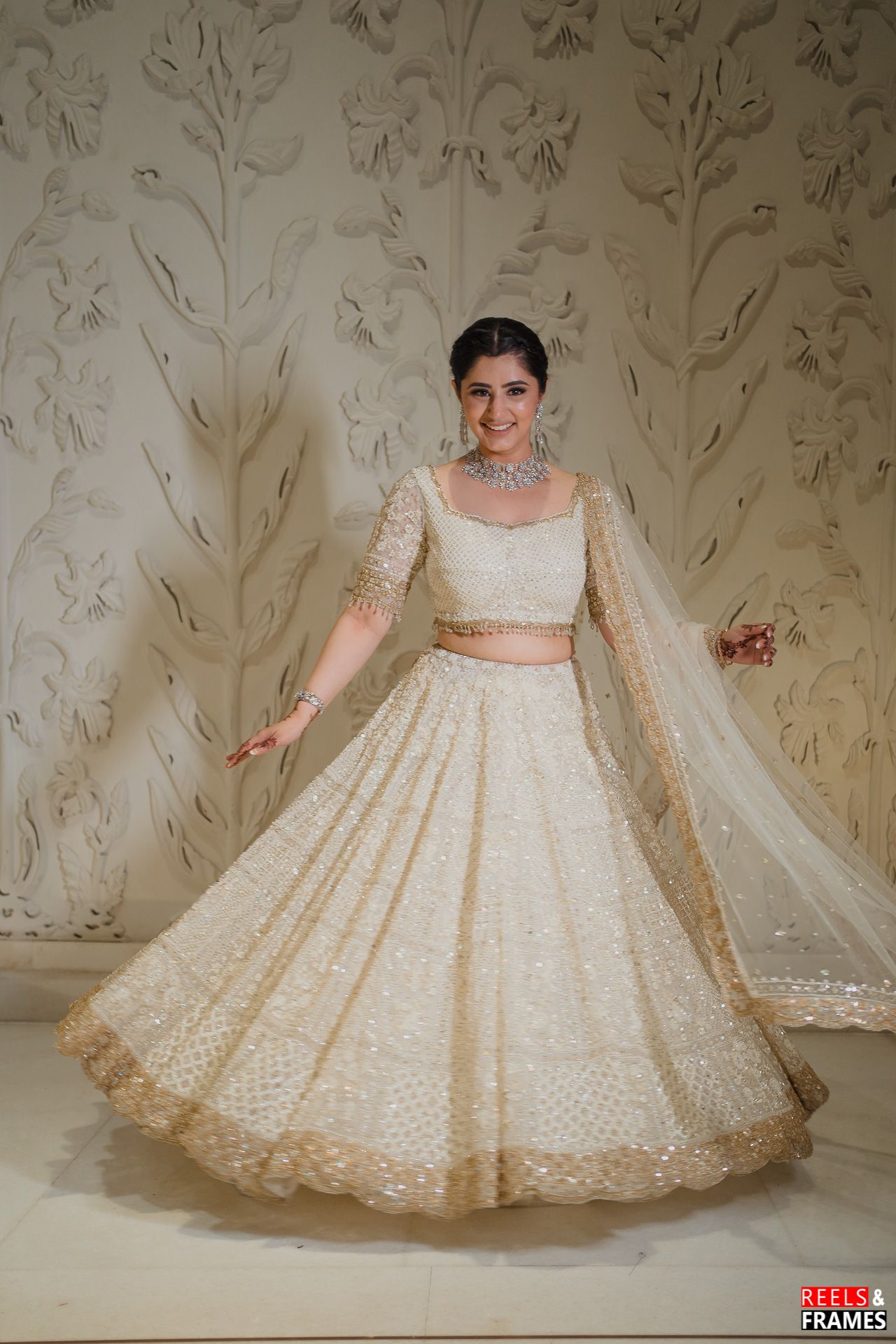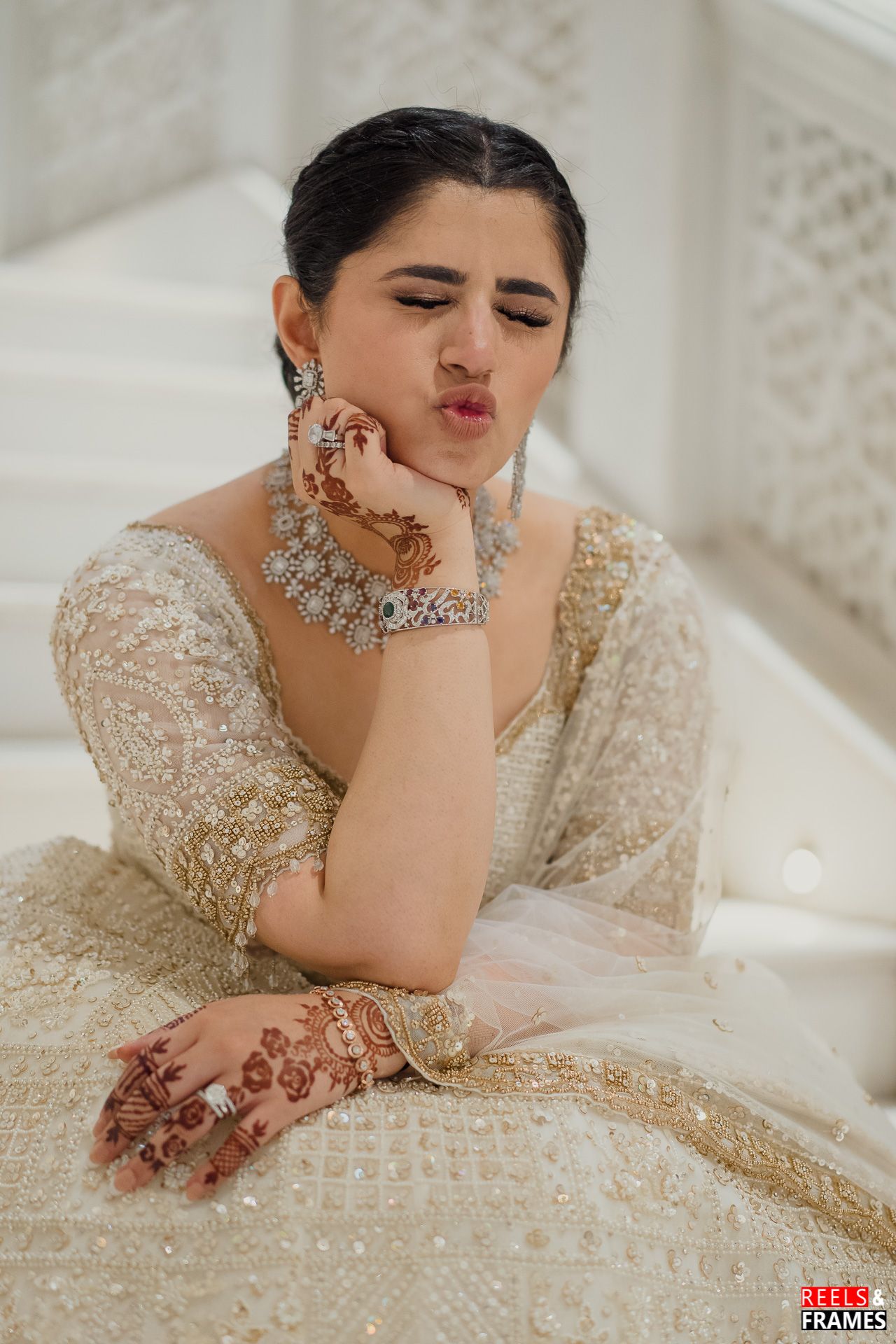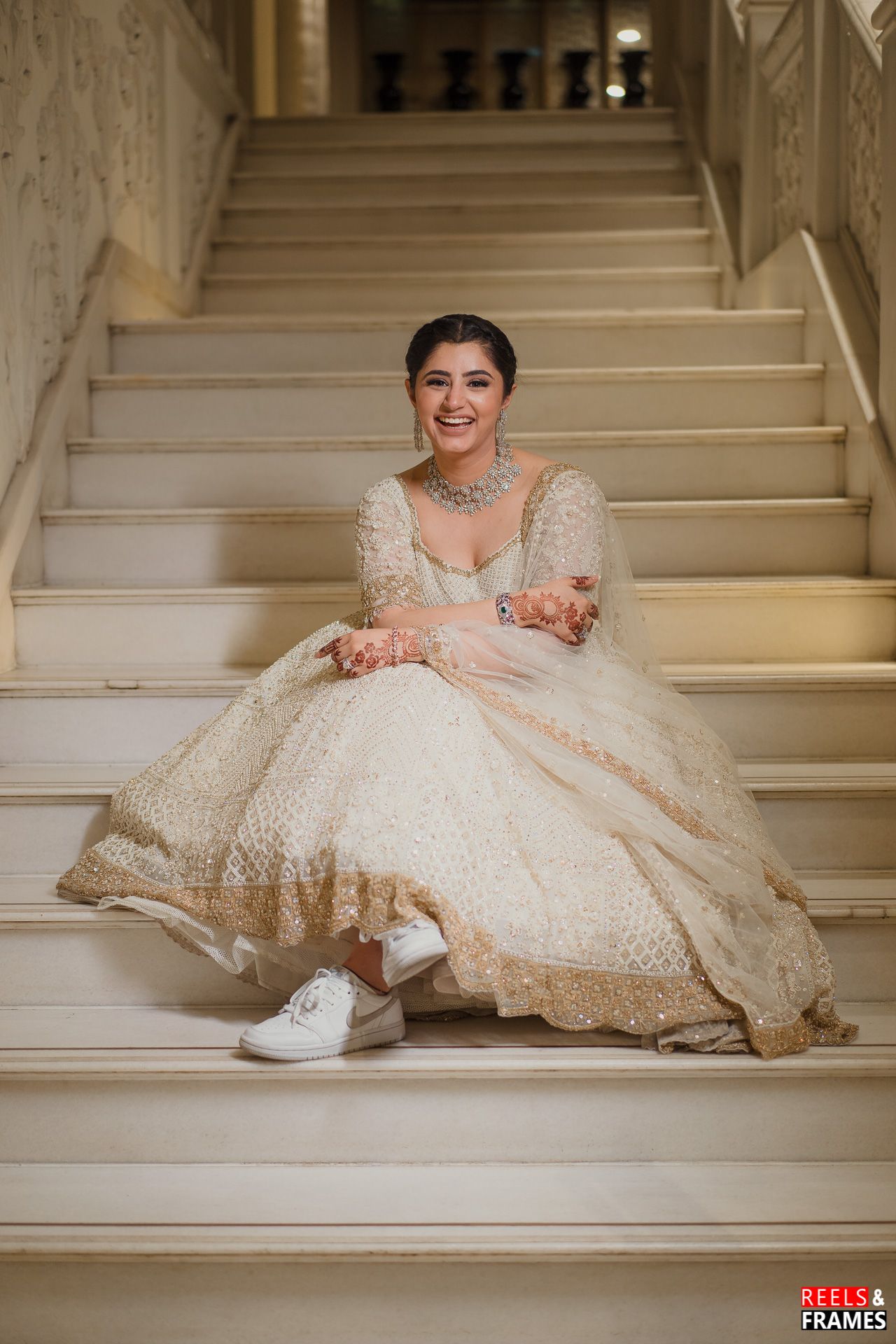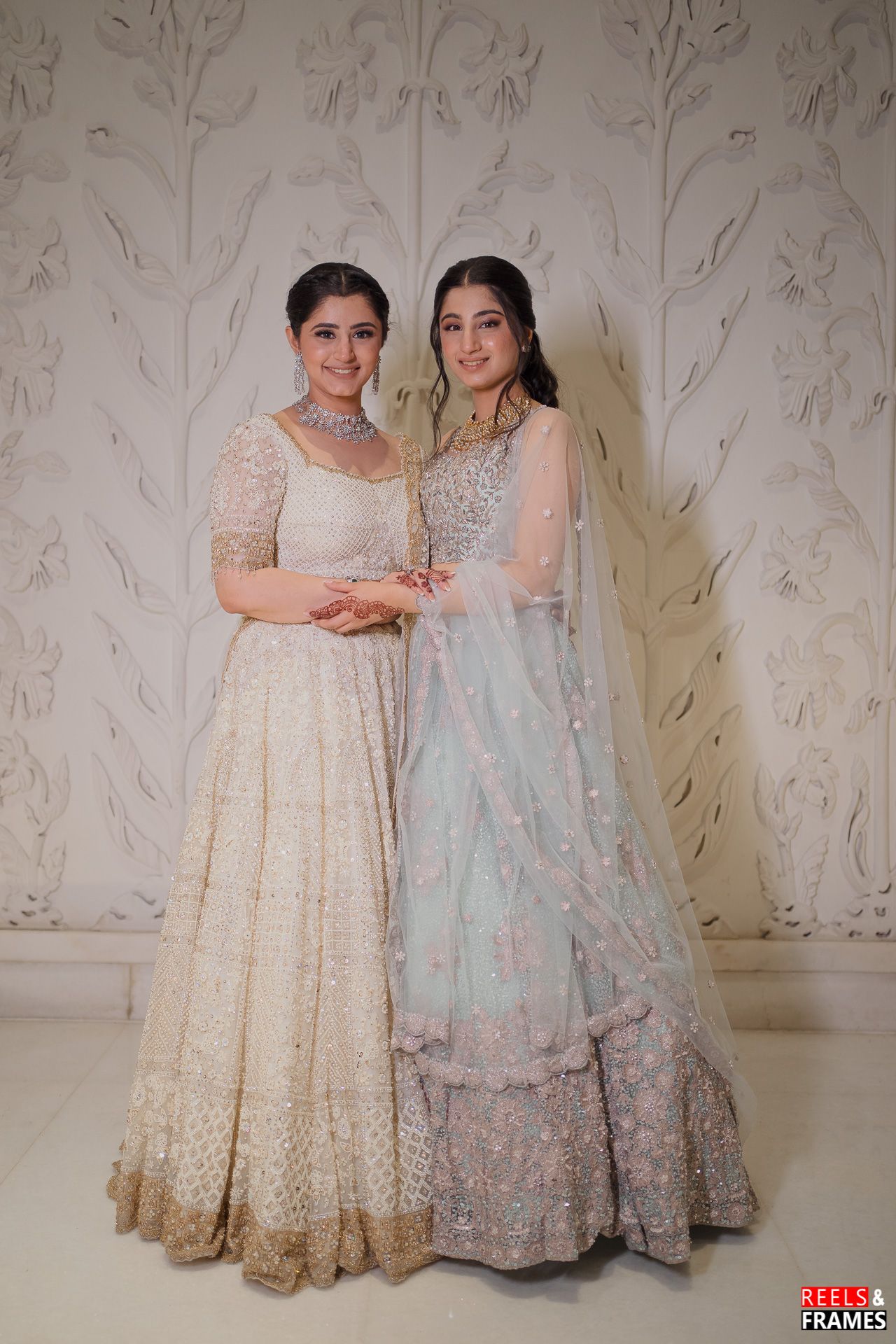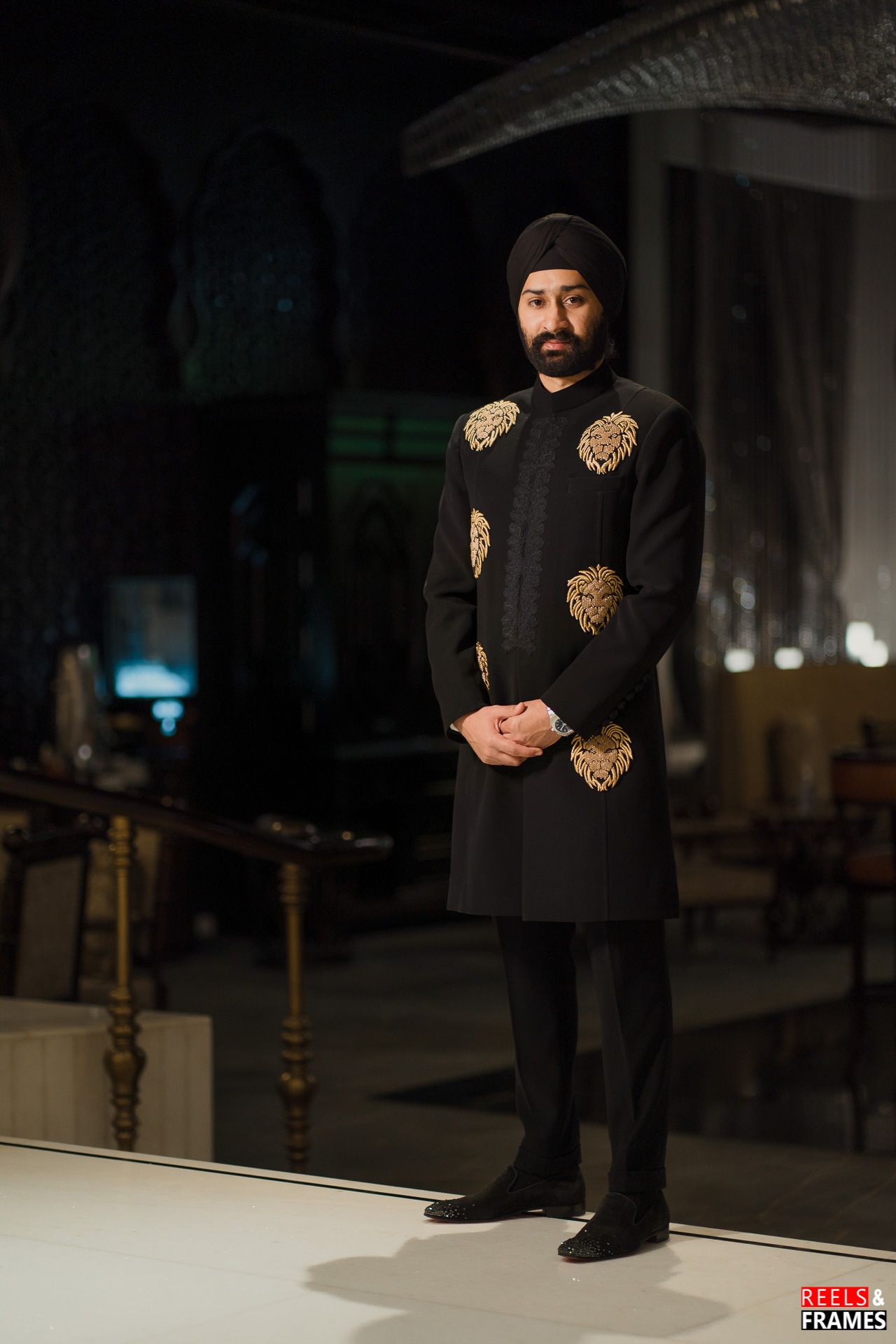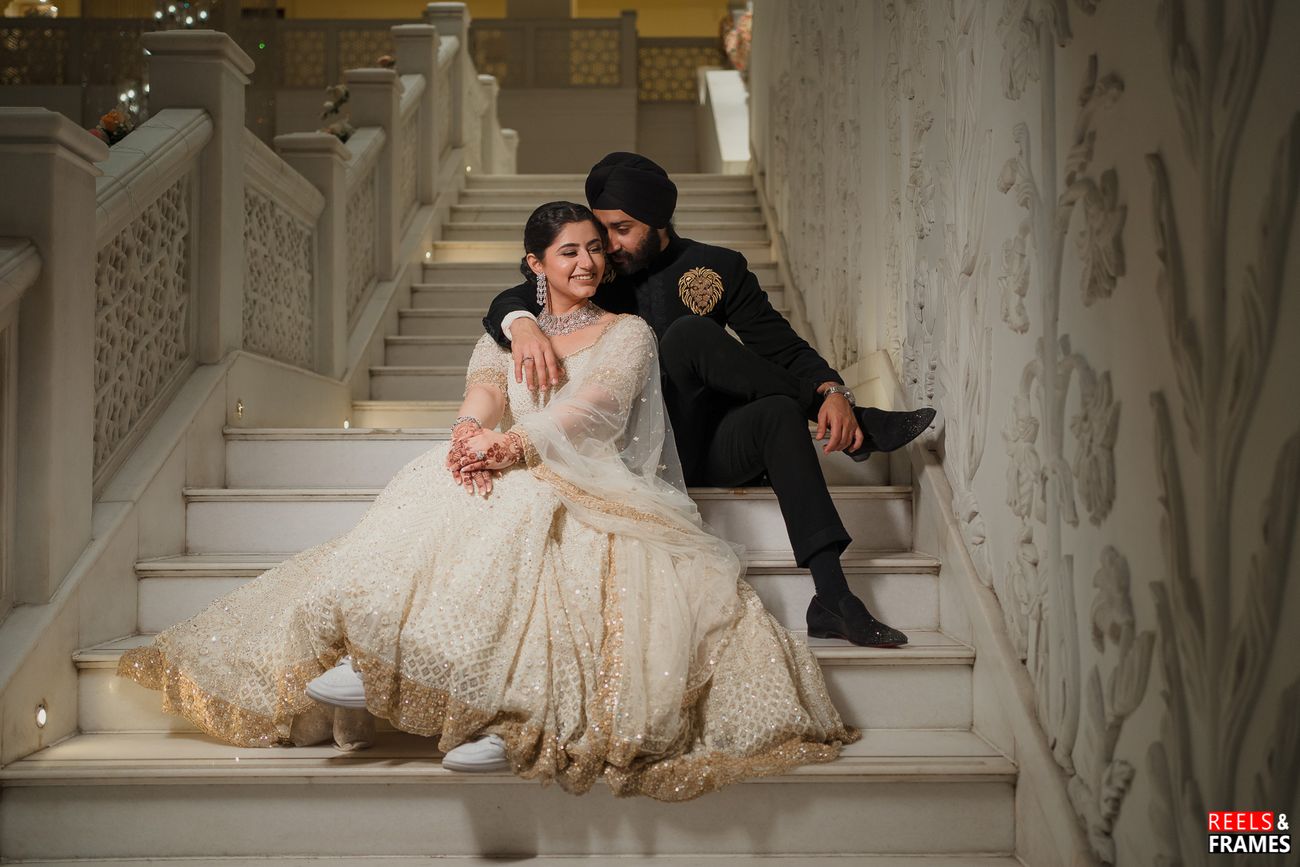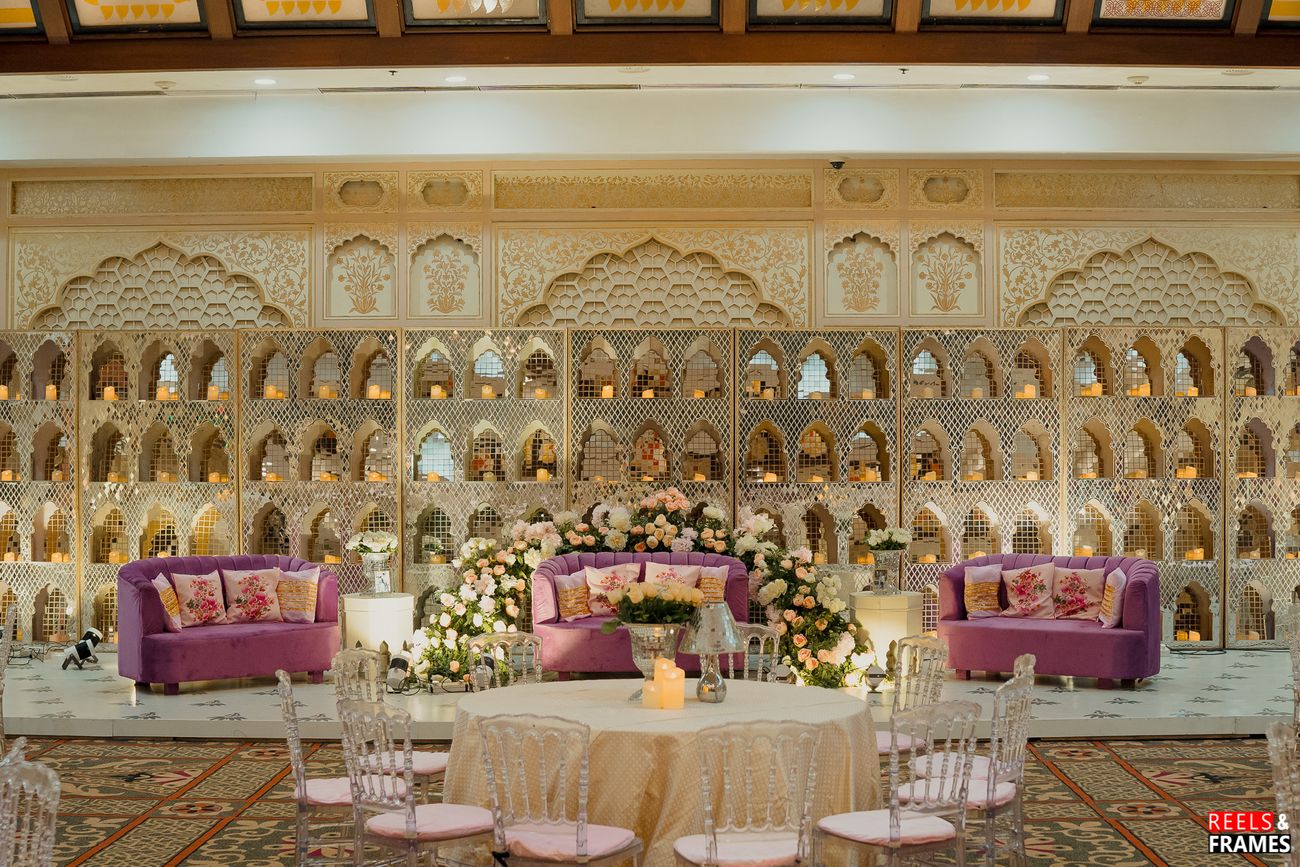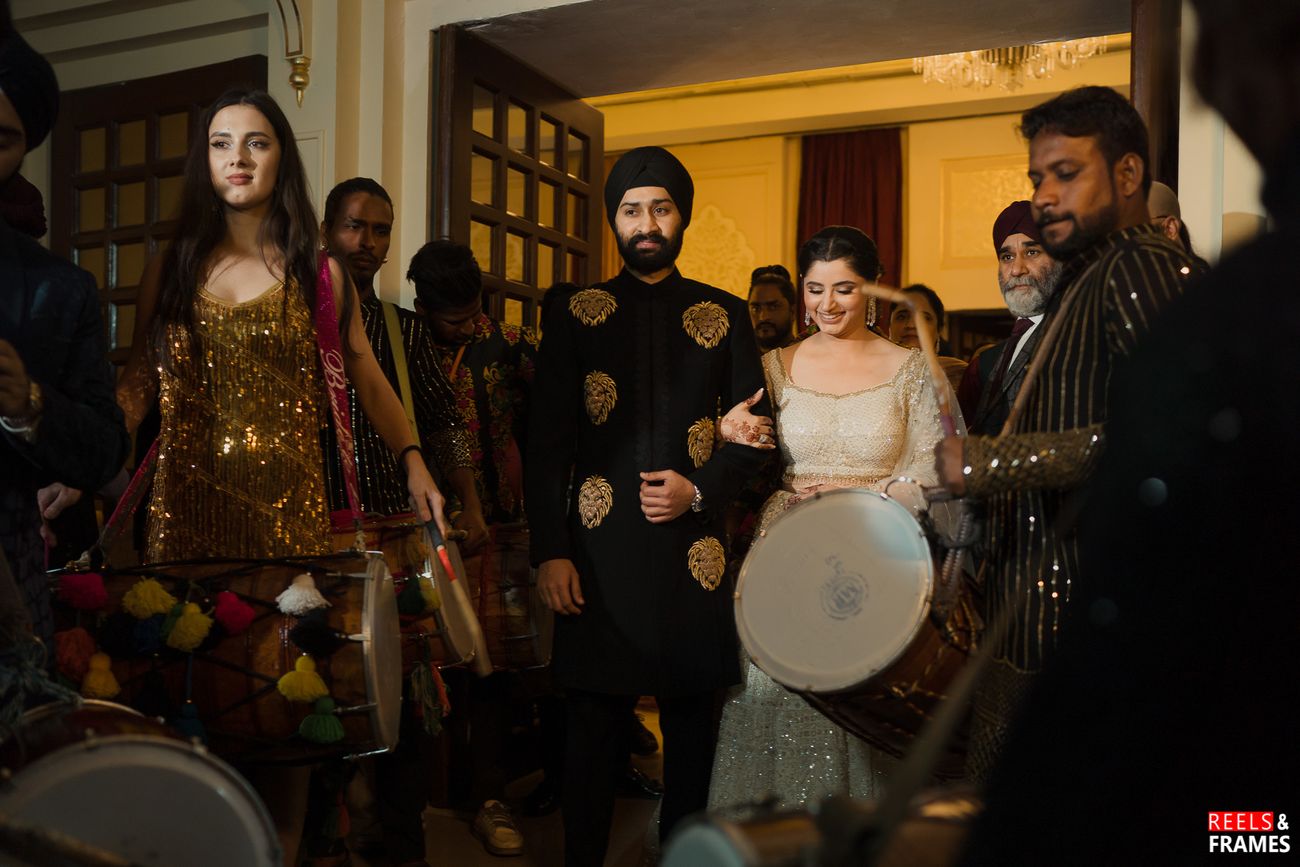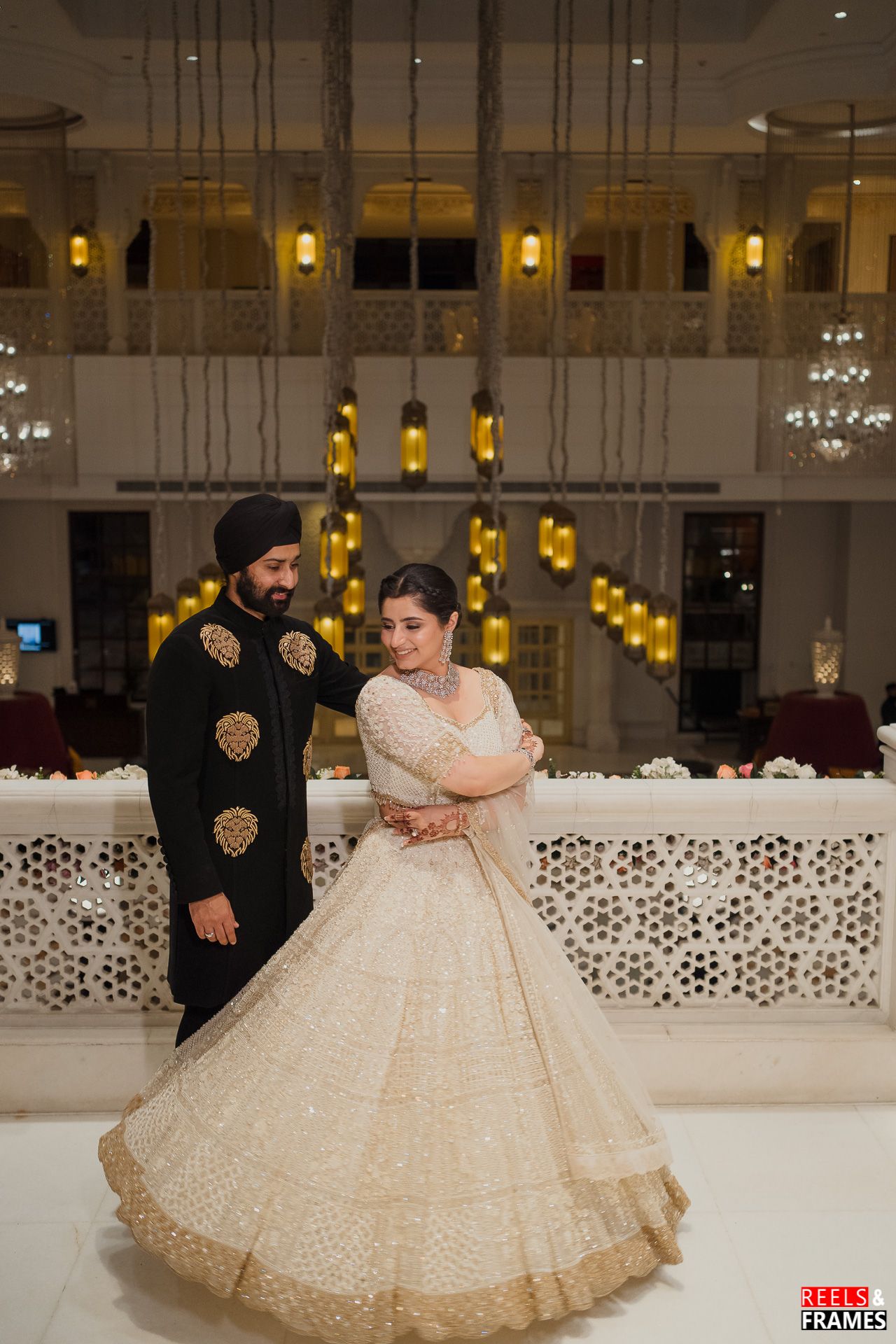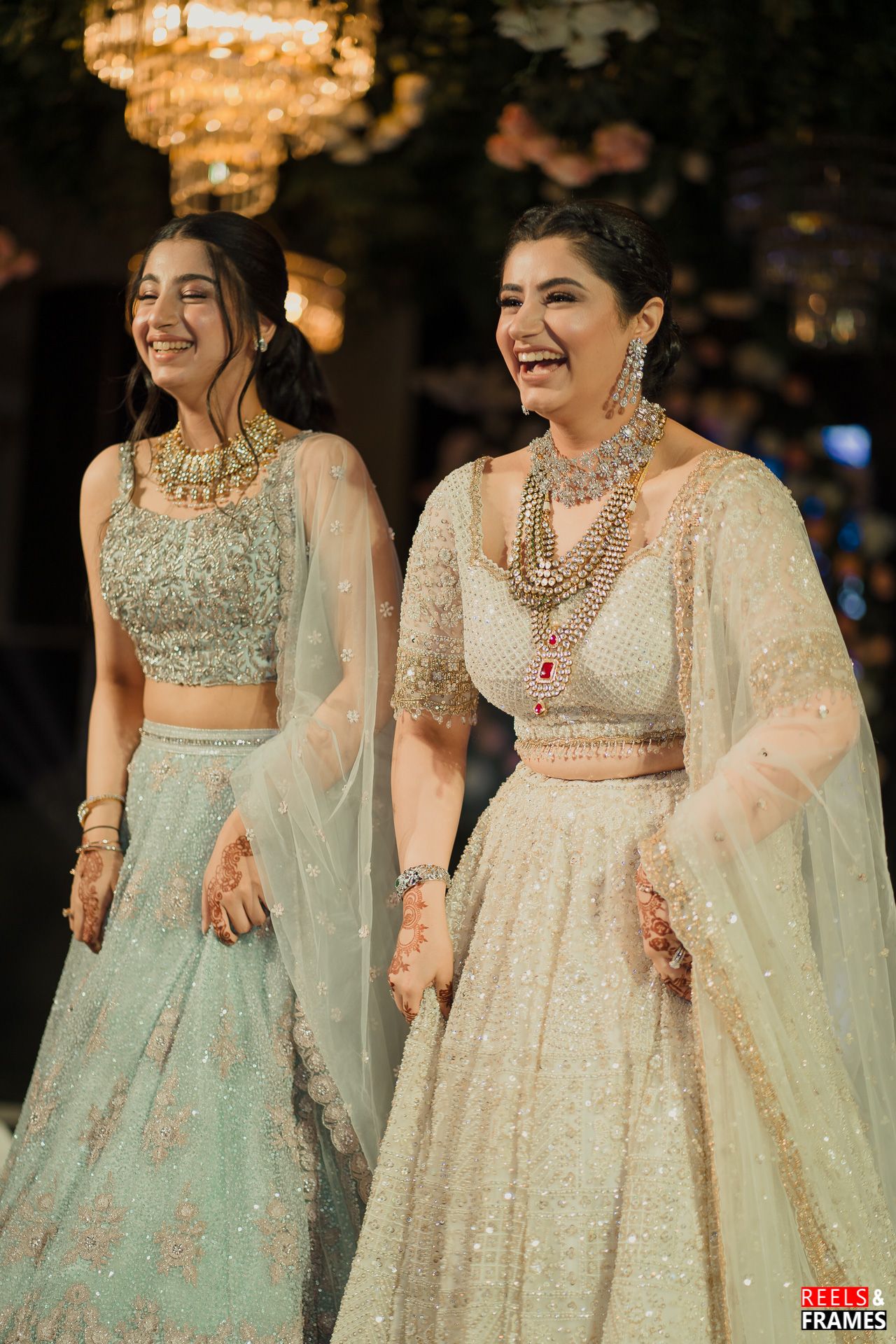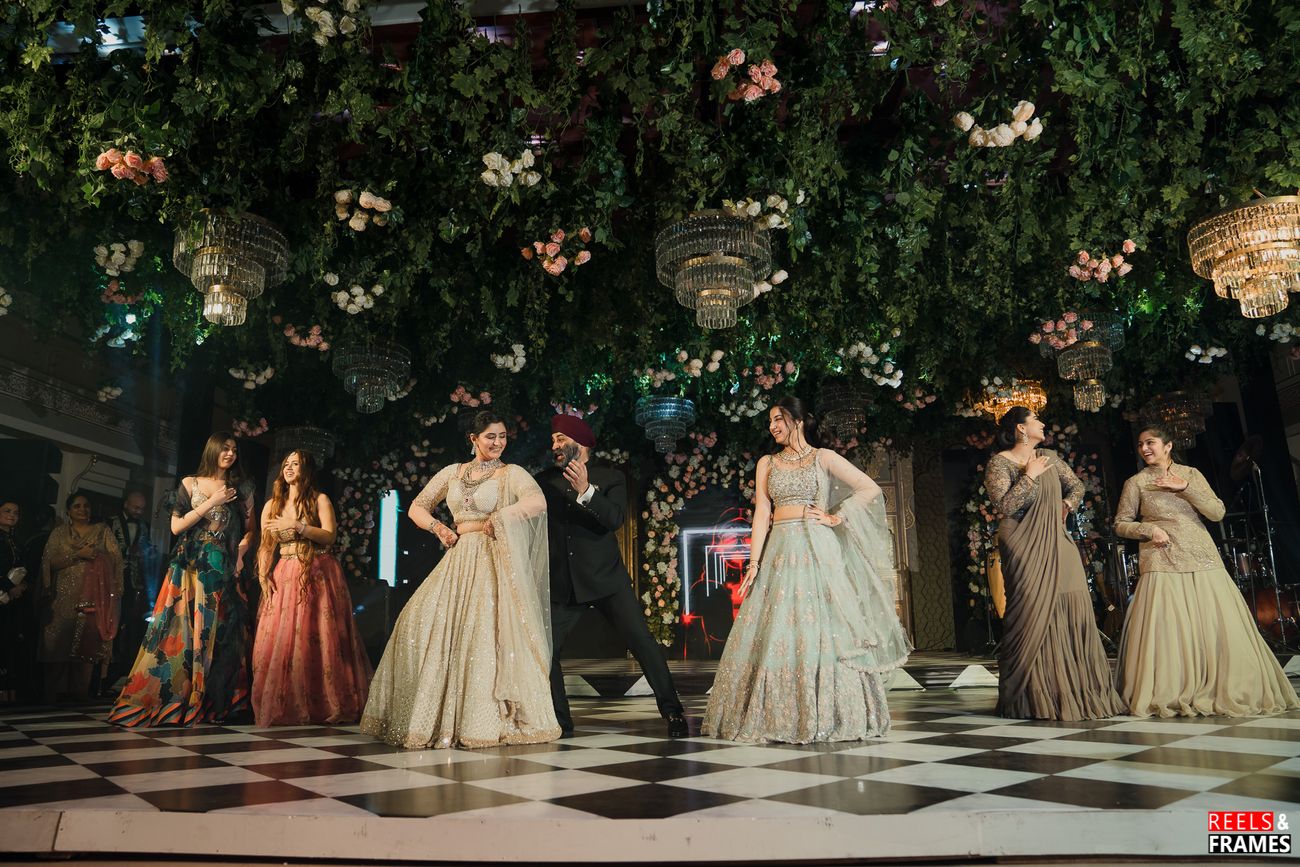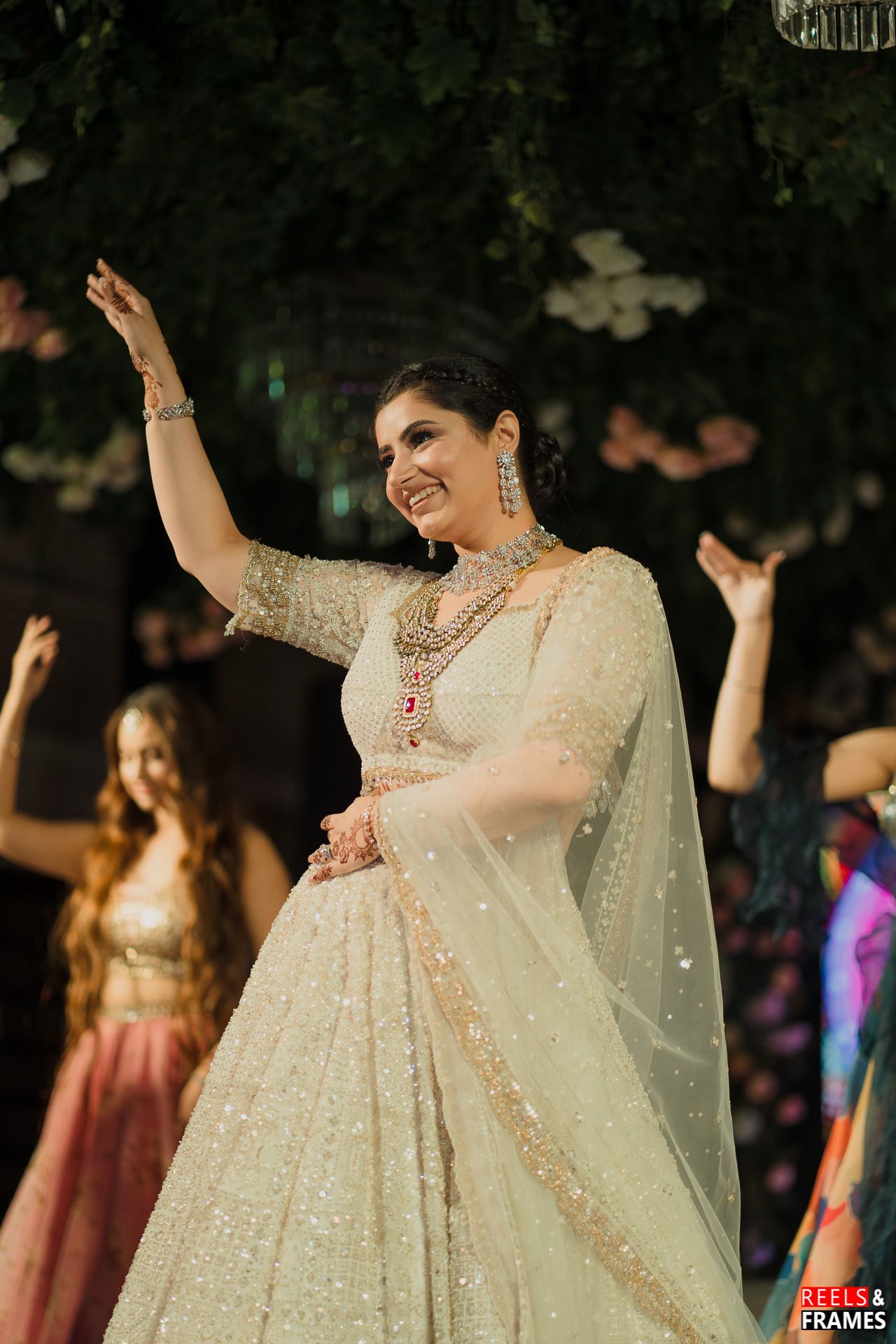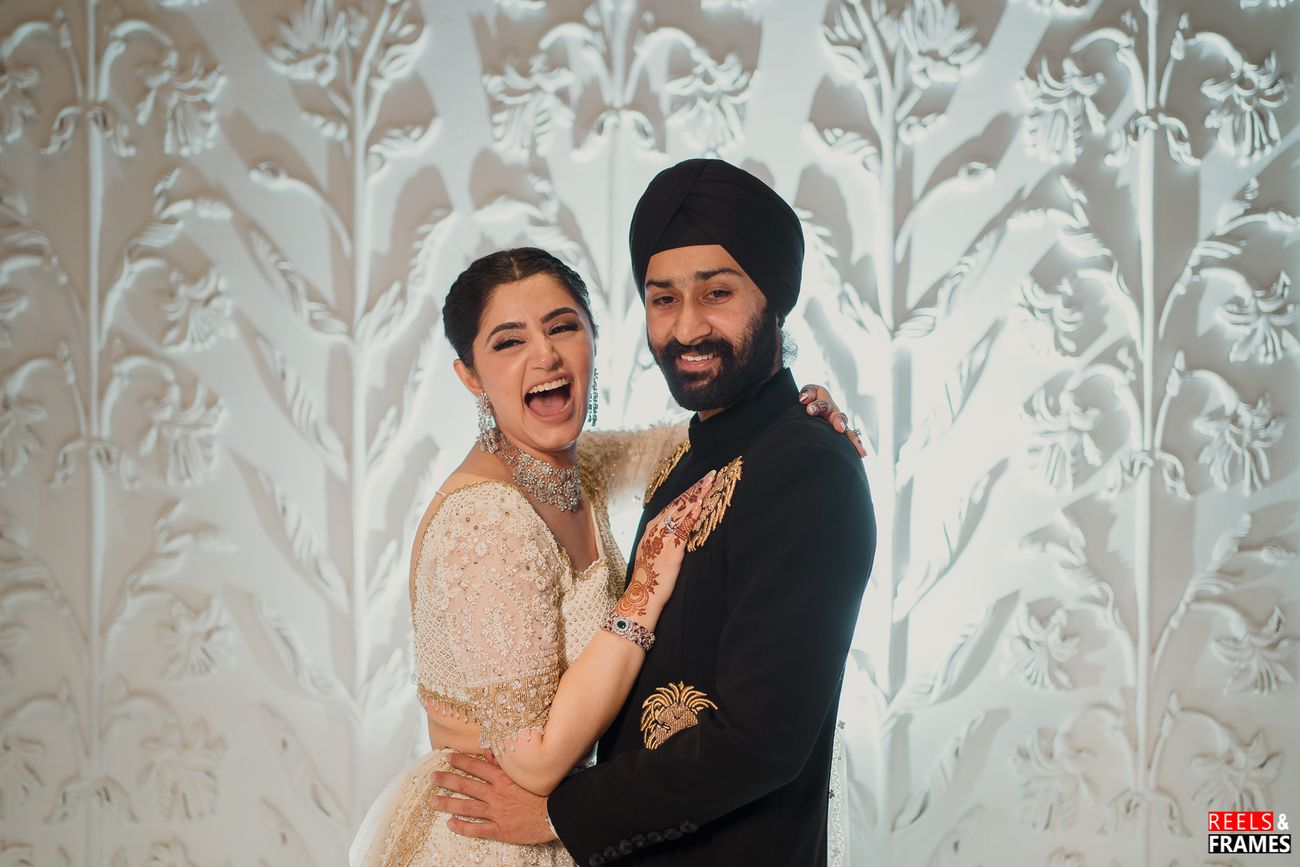 Wedding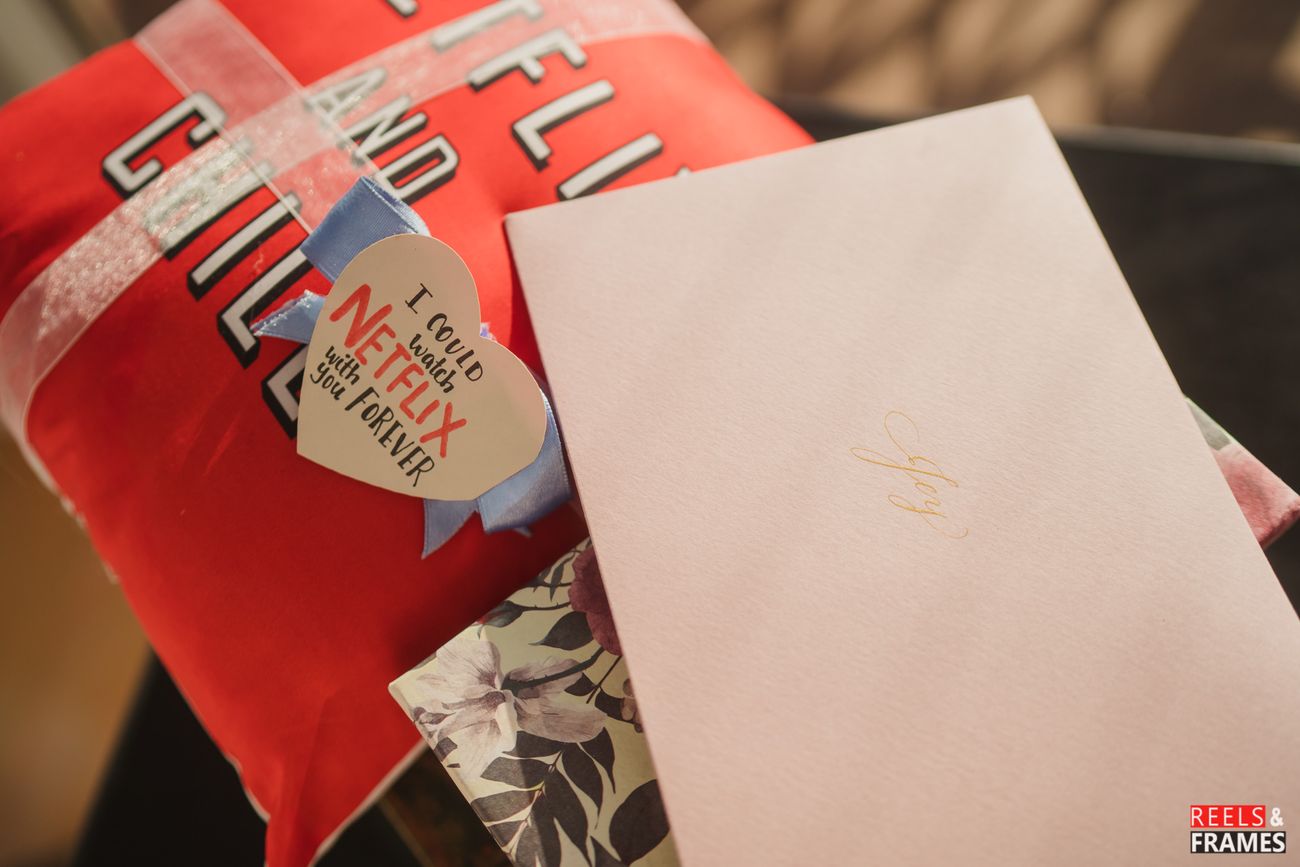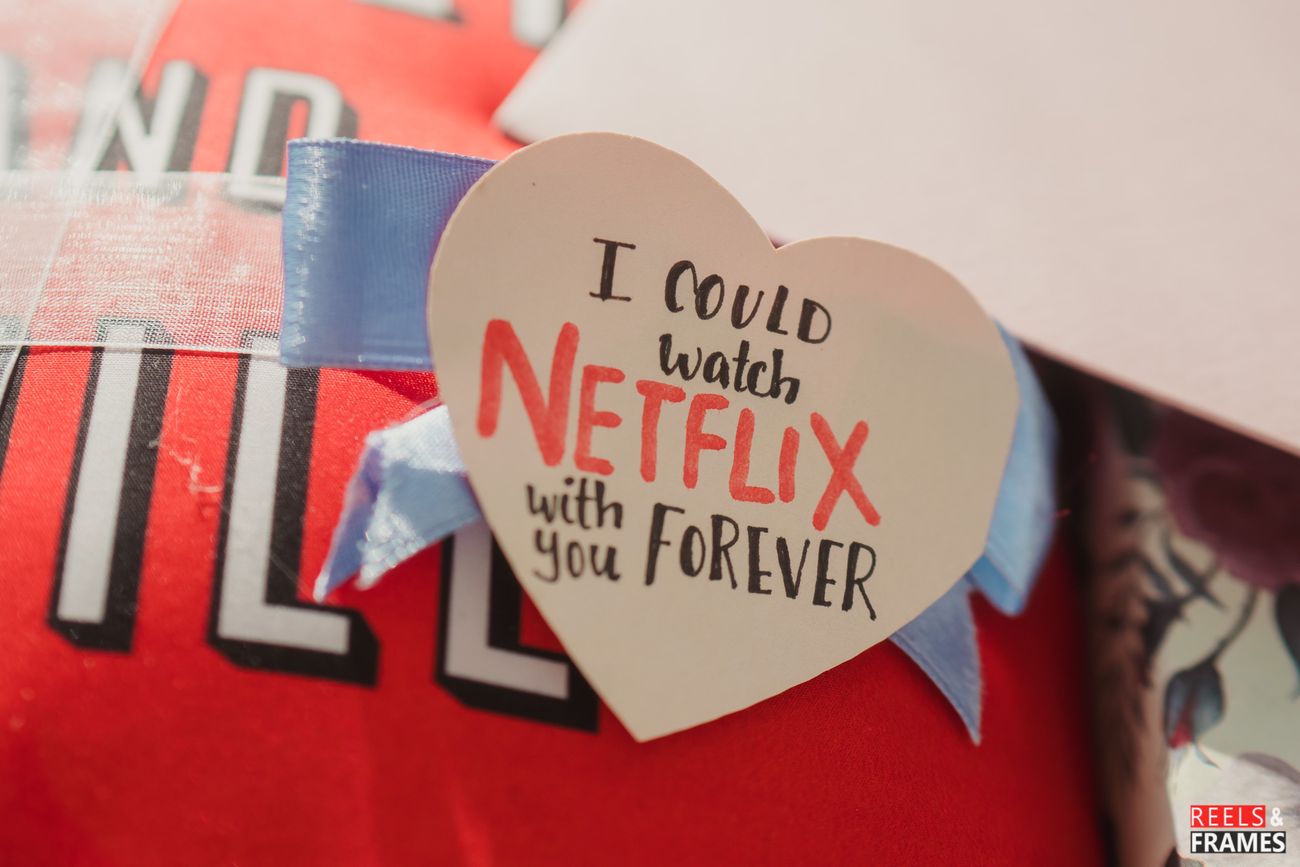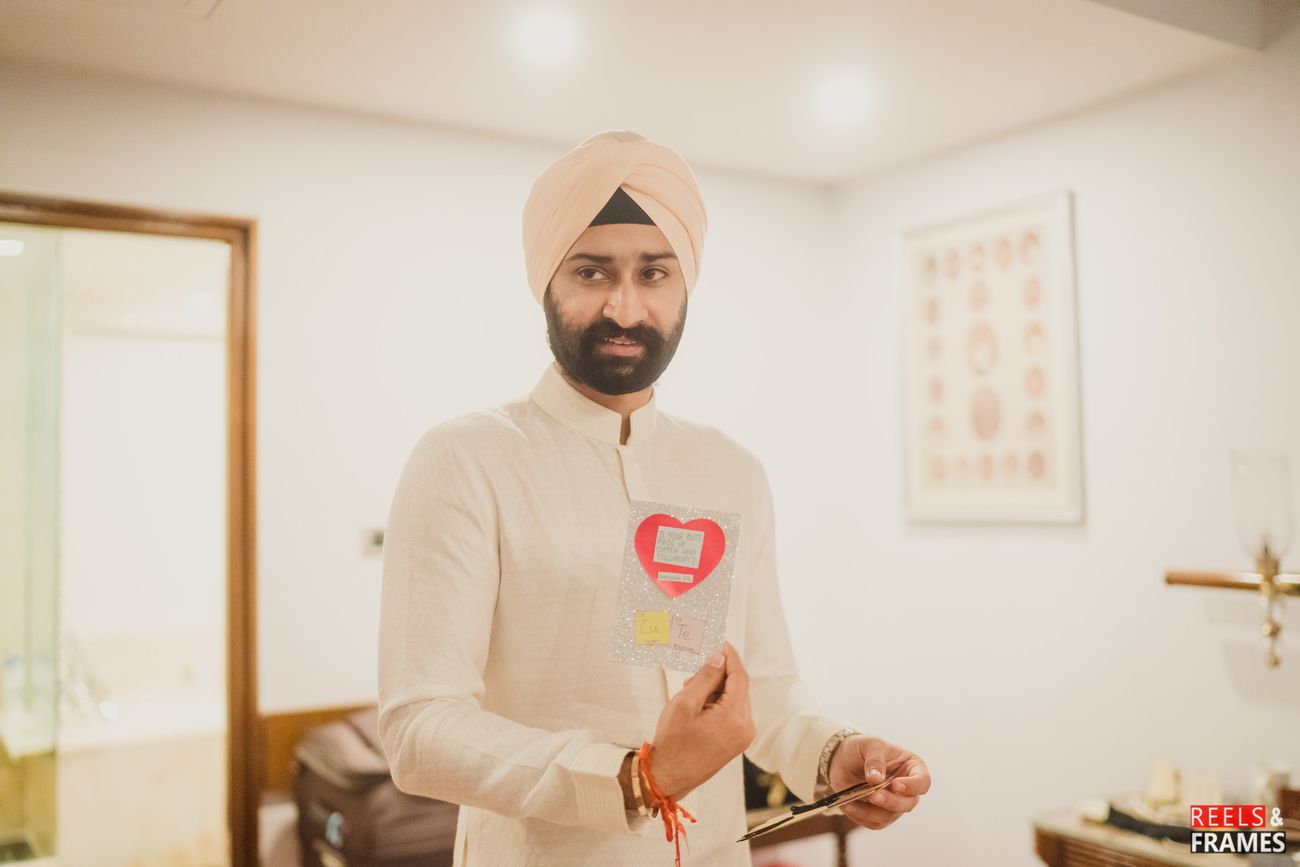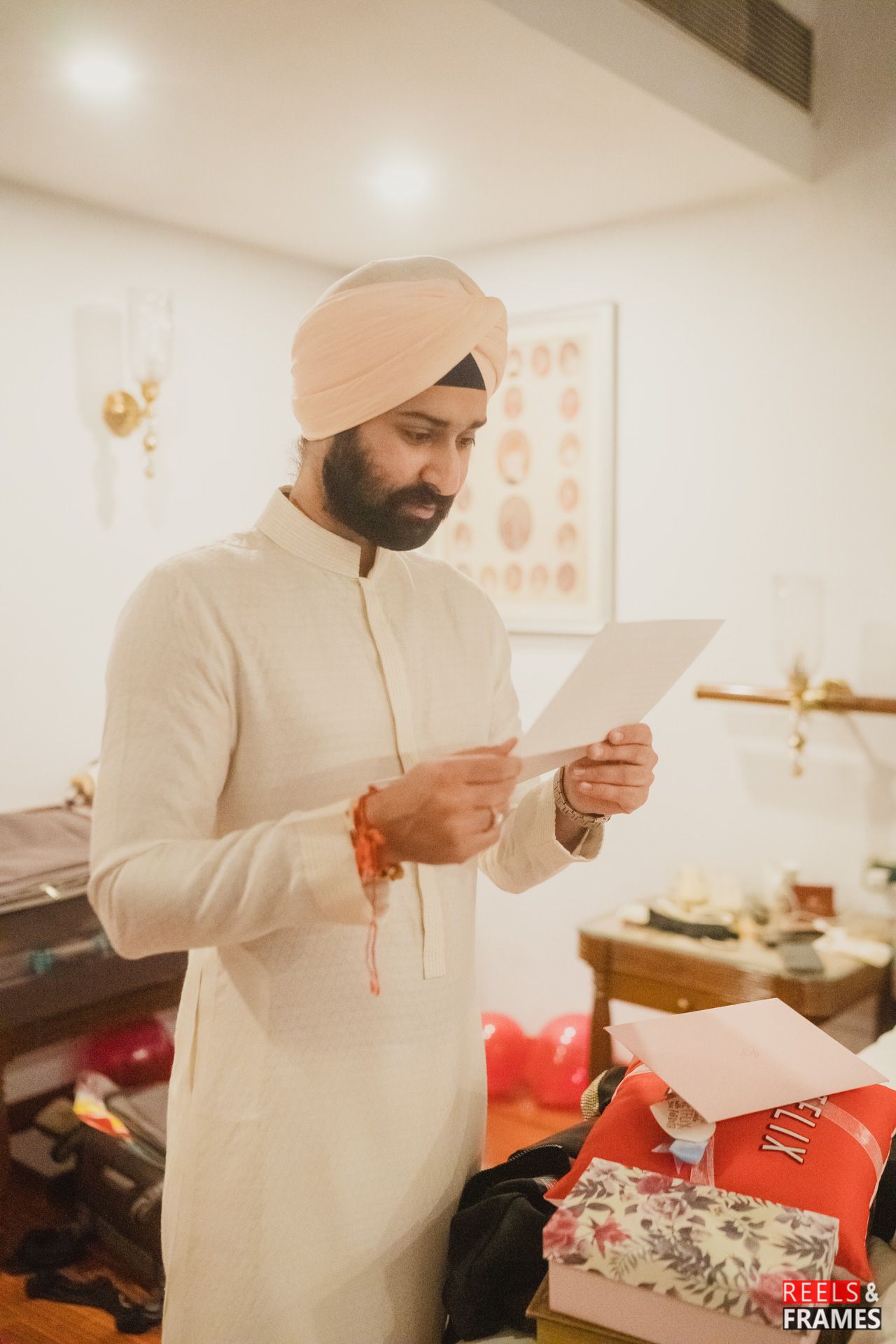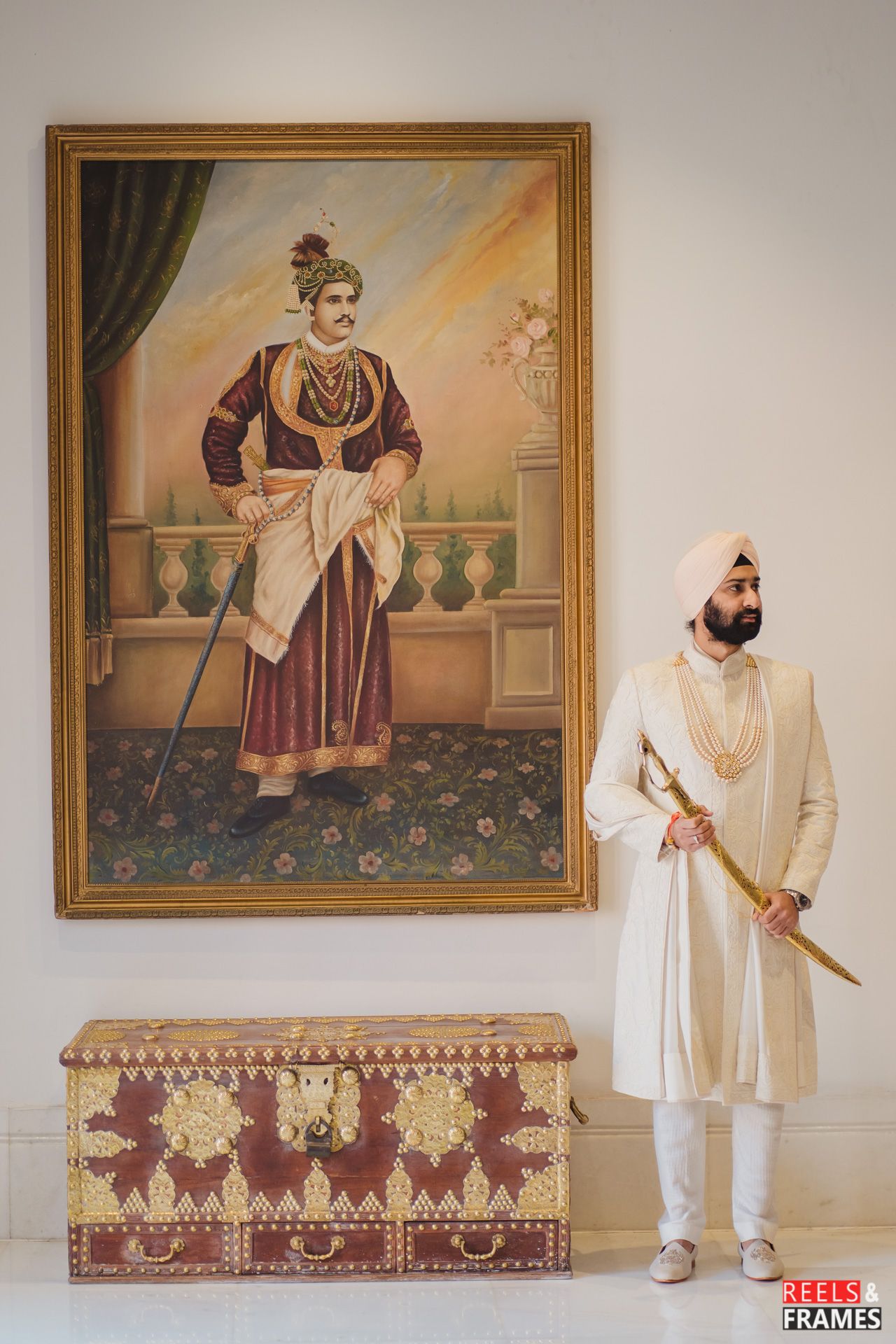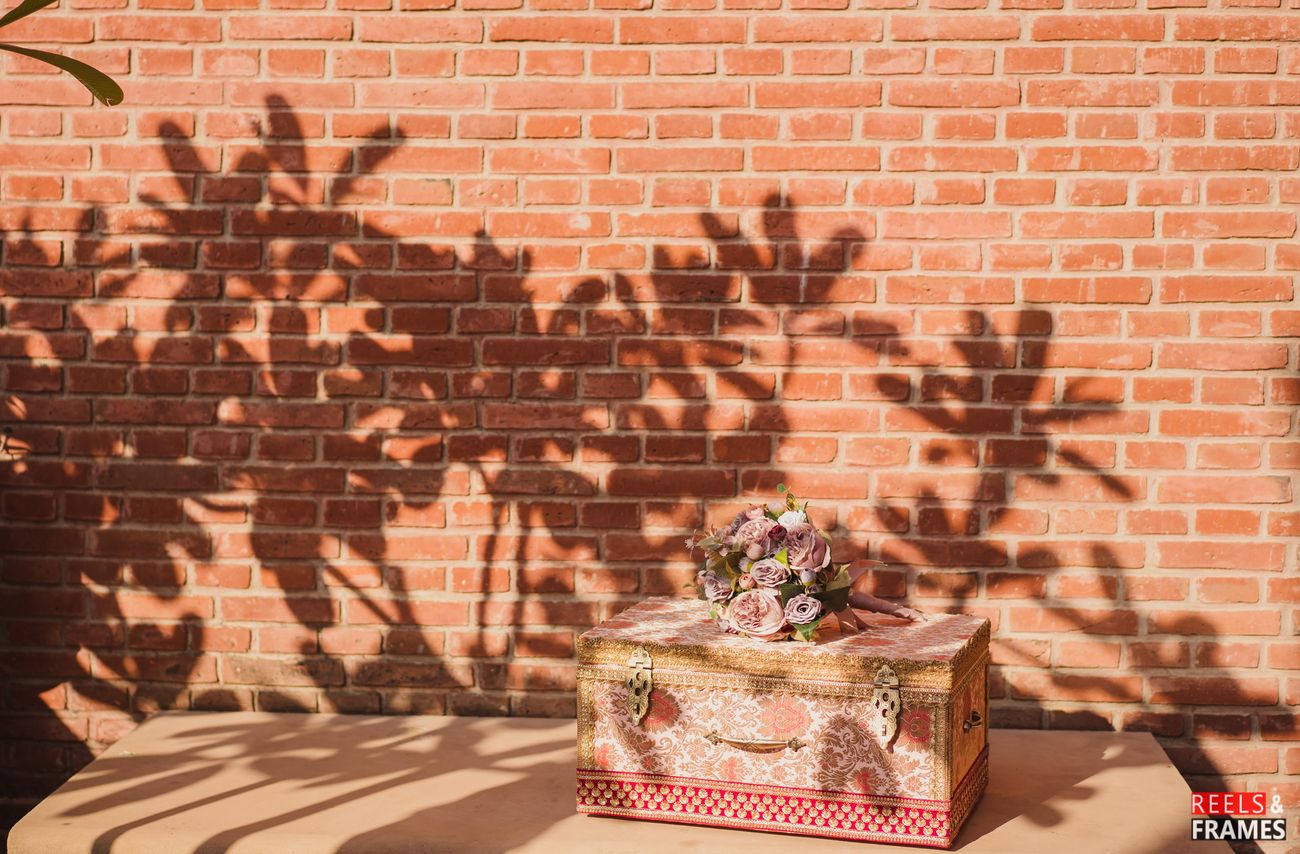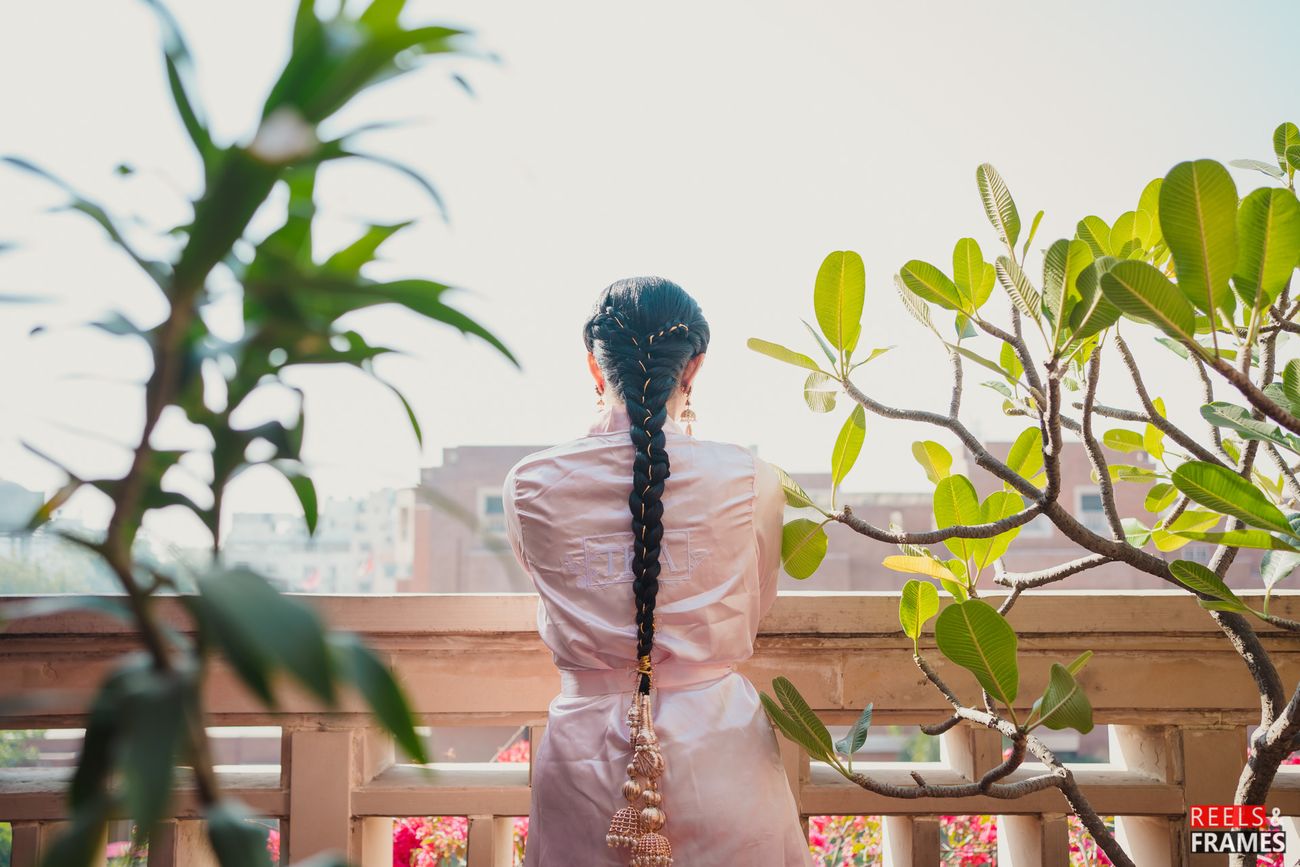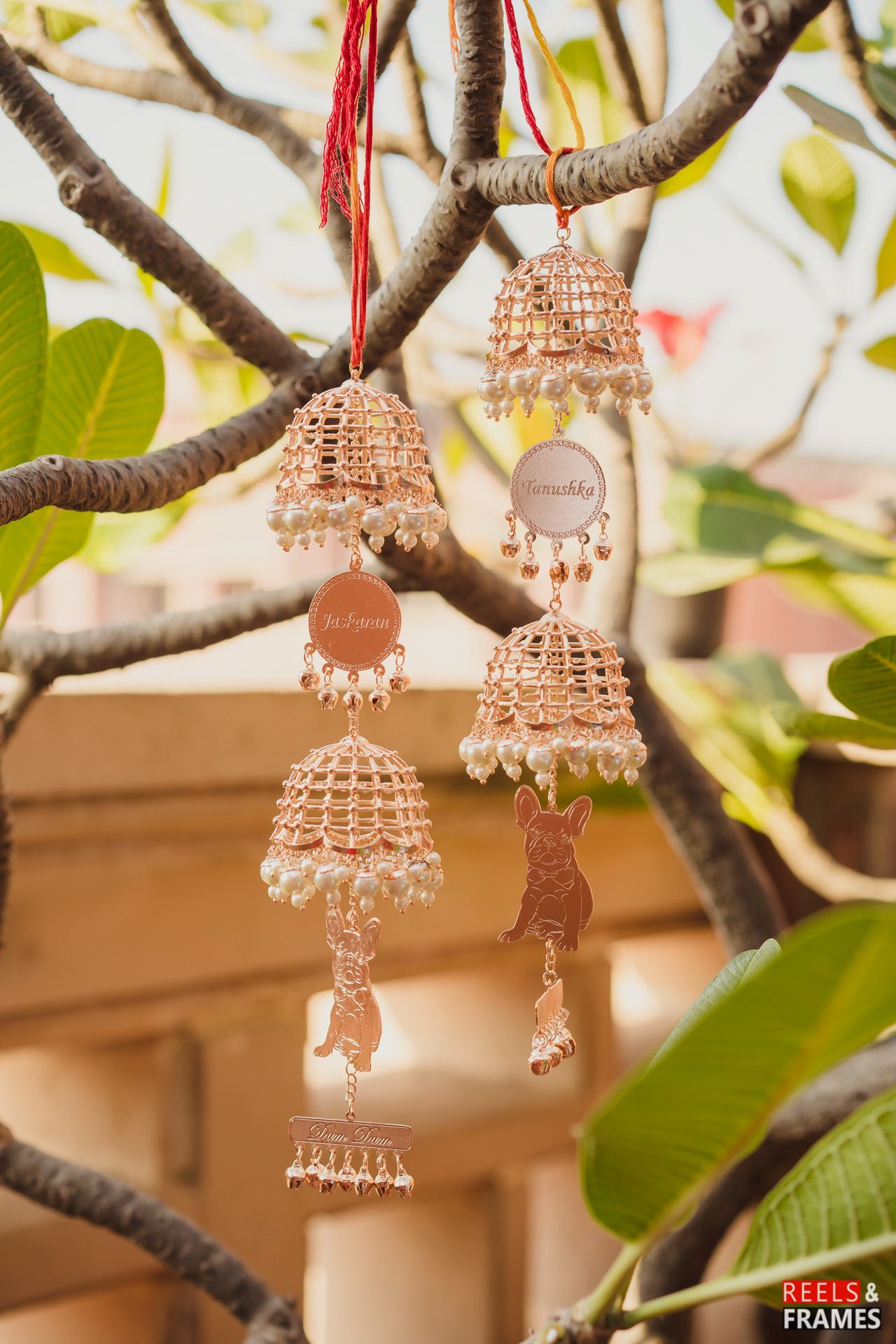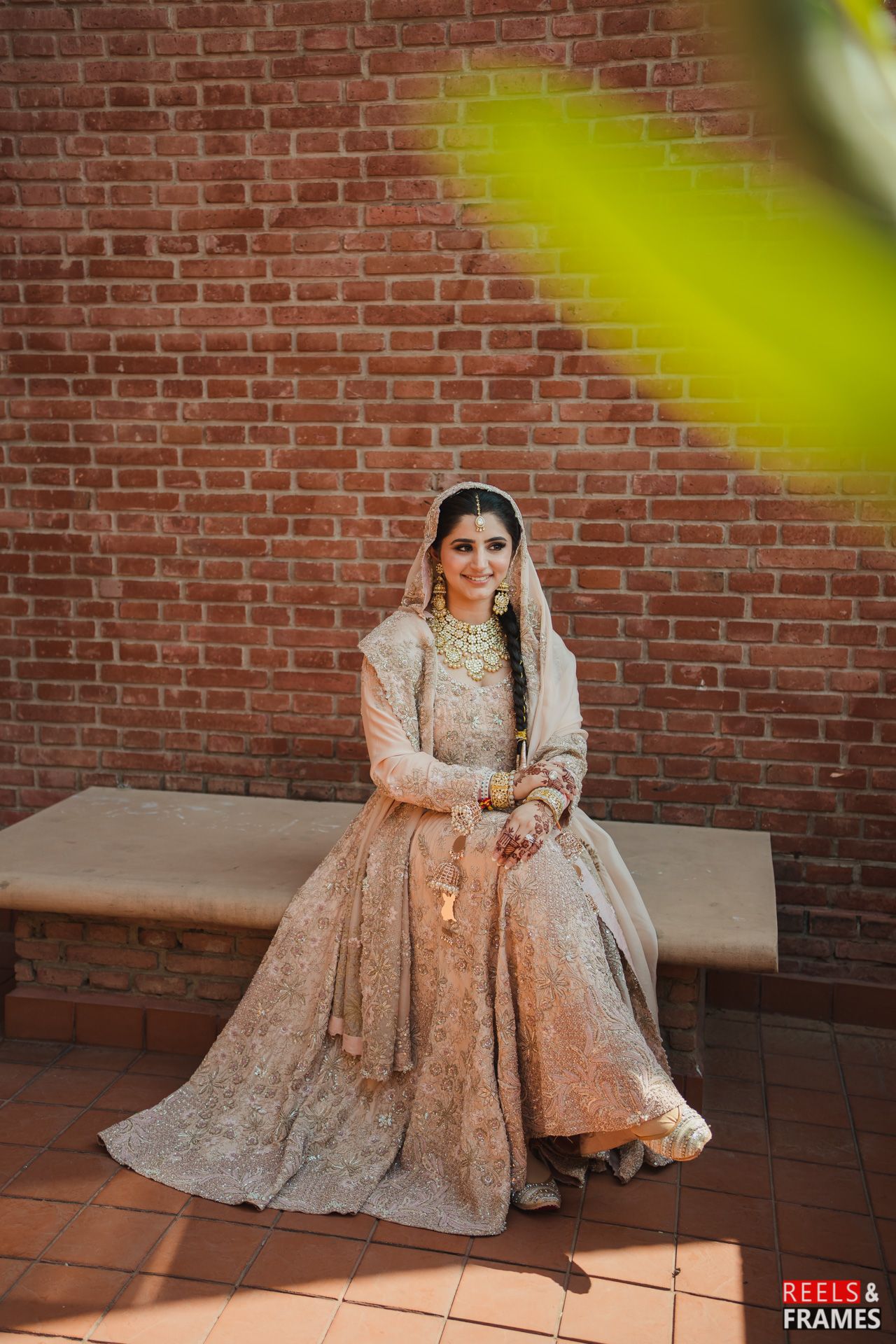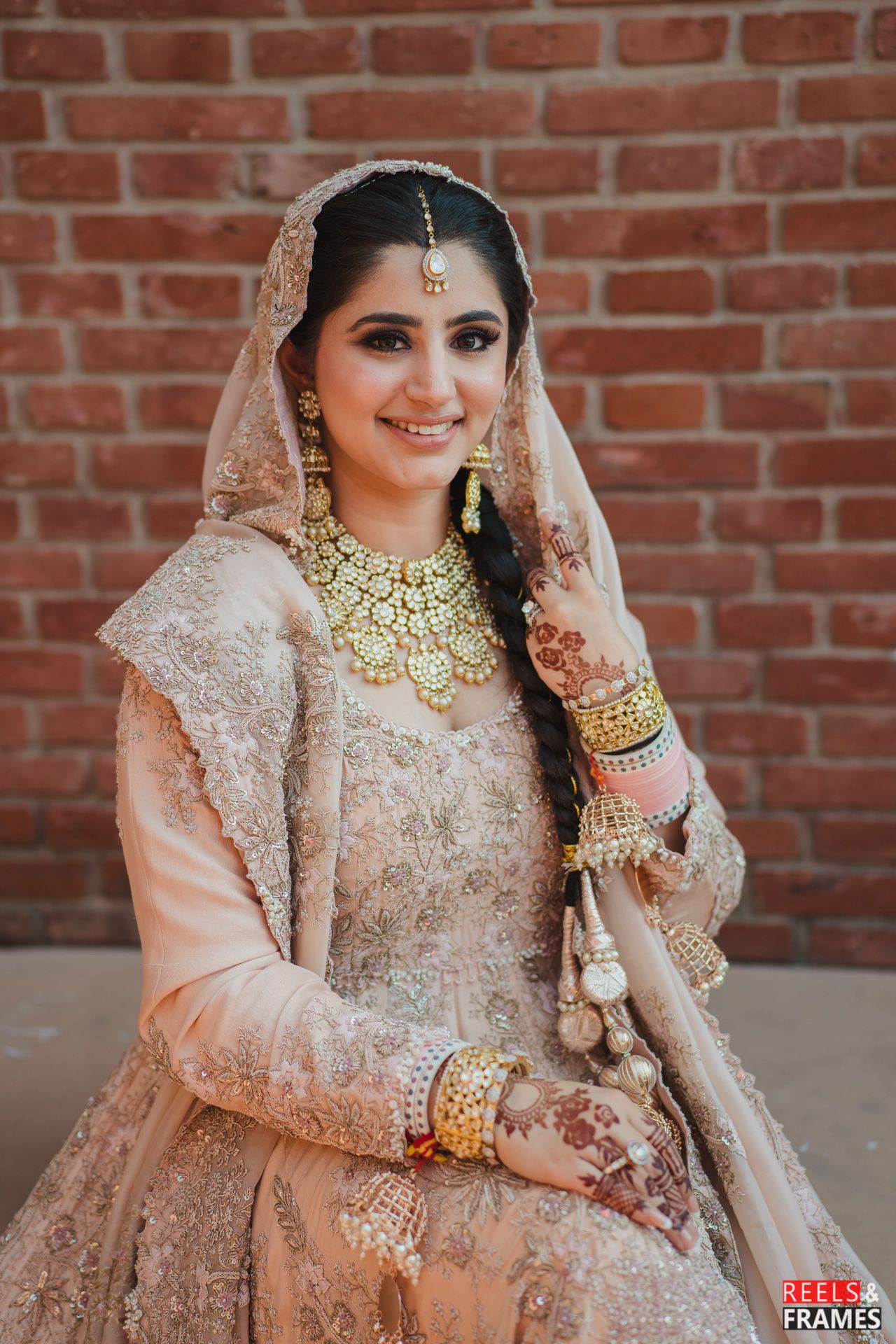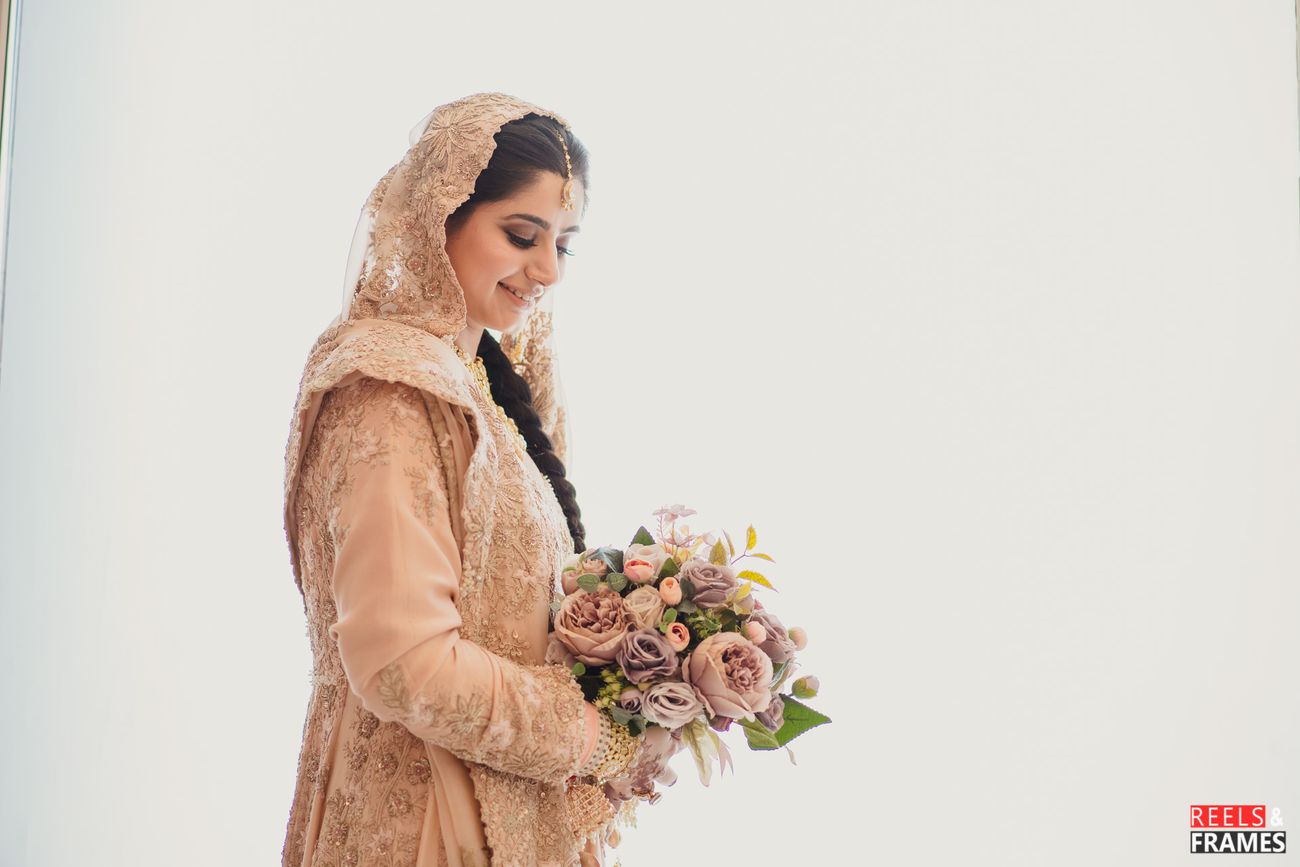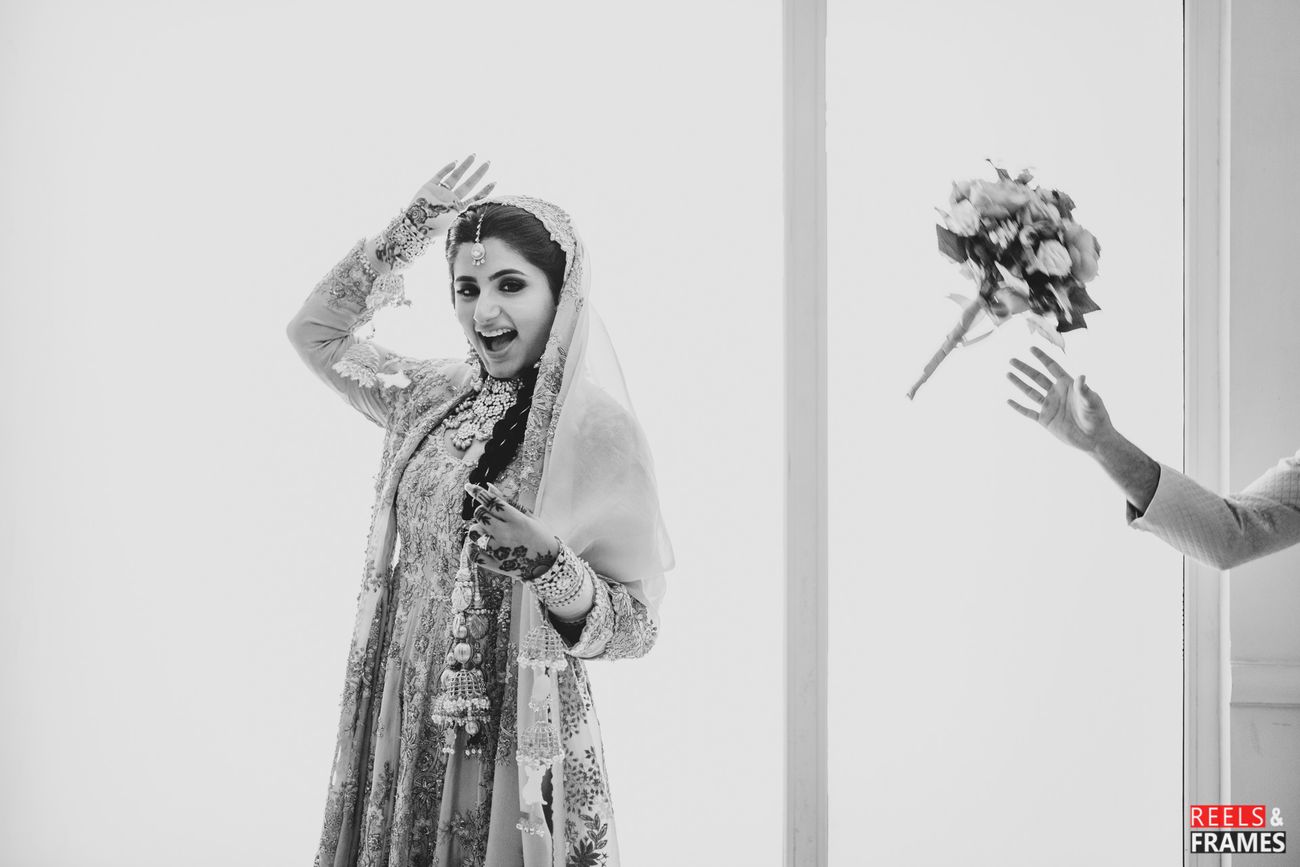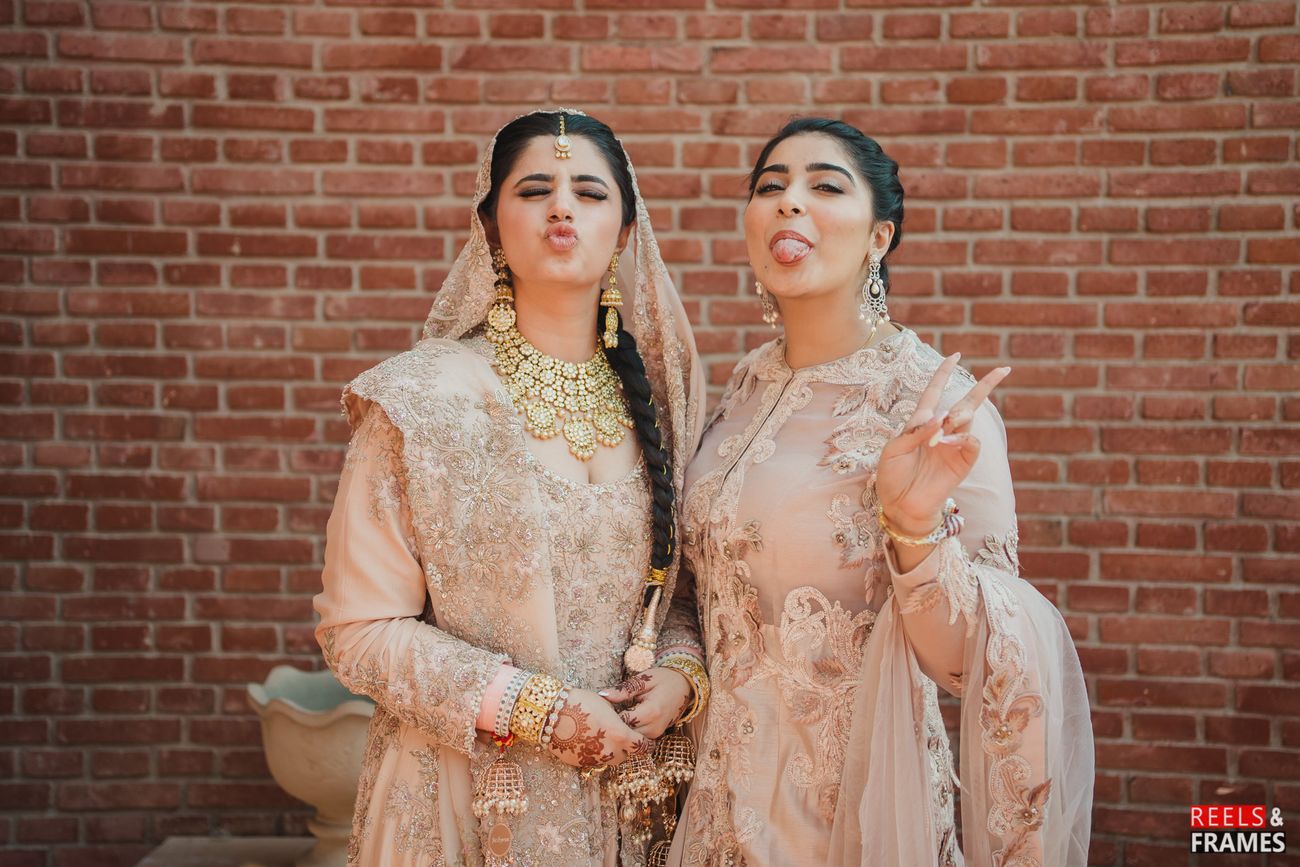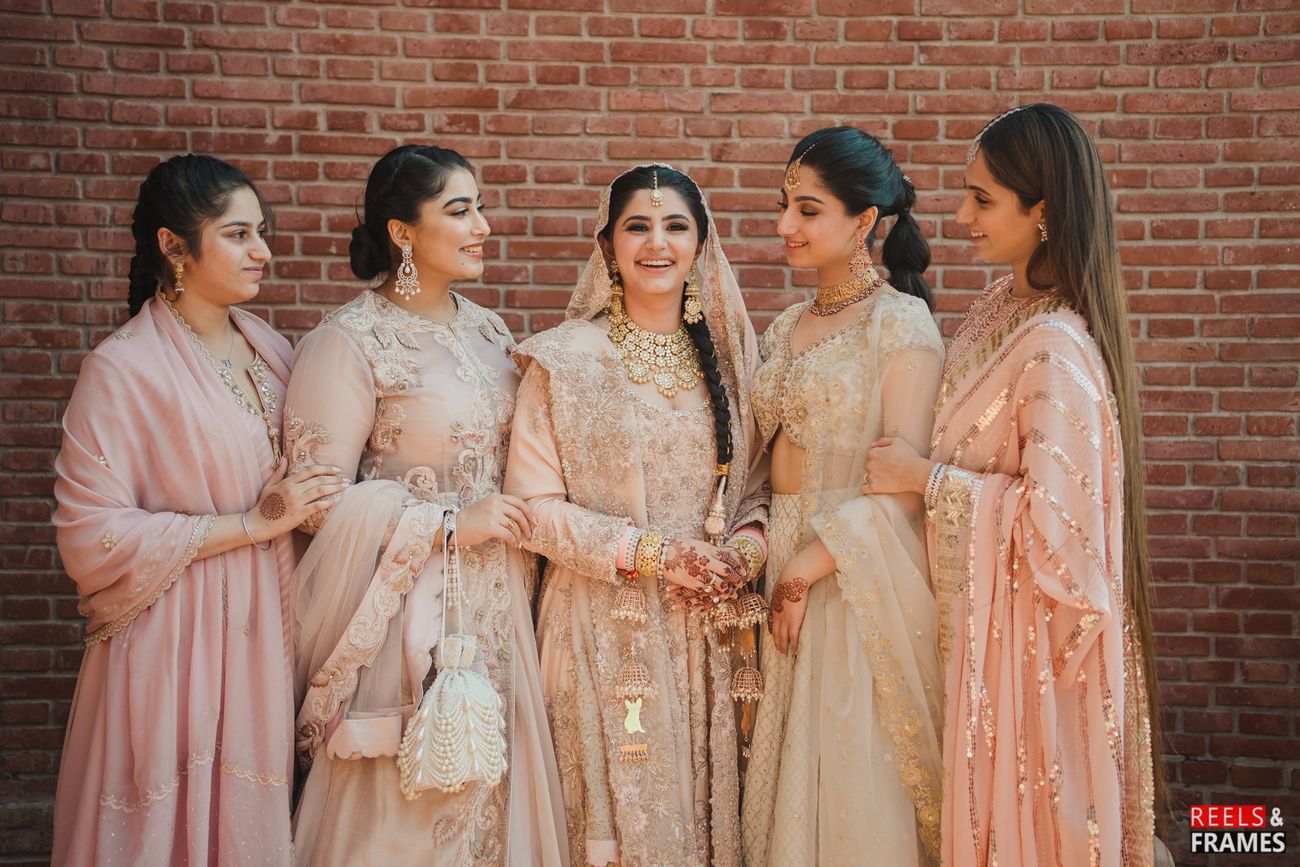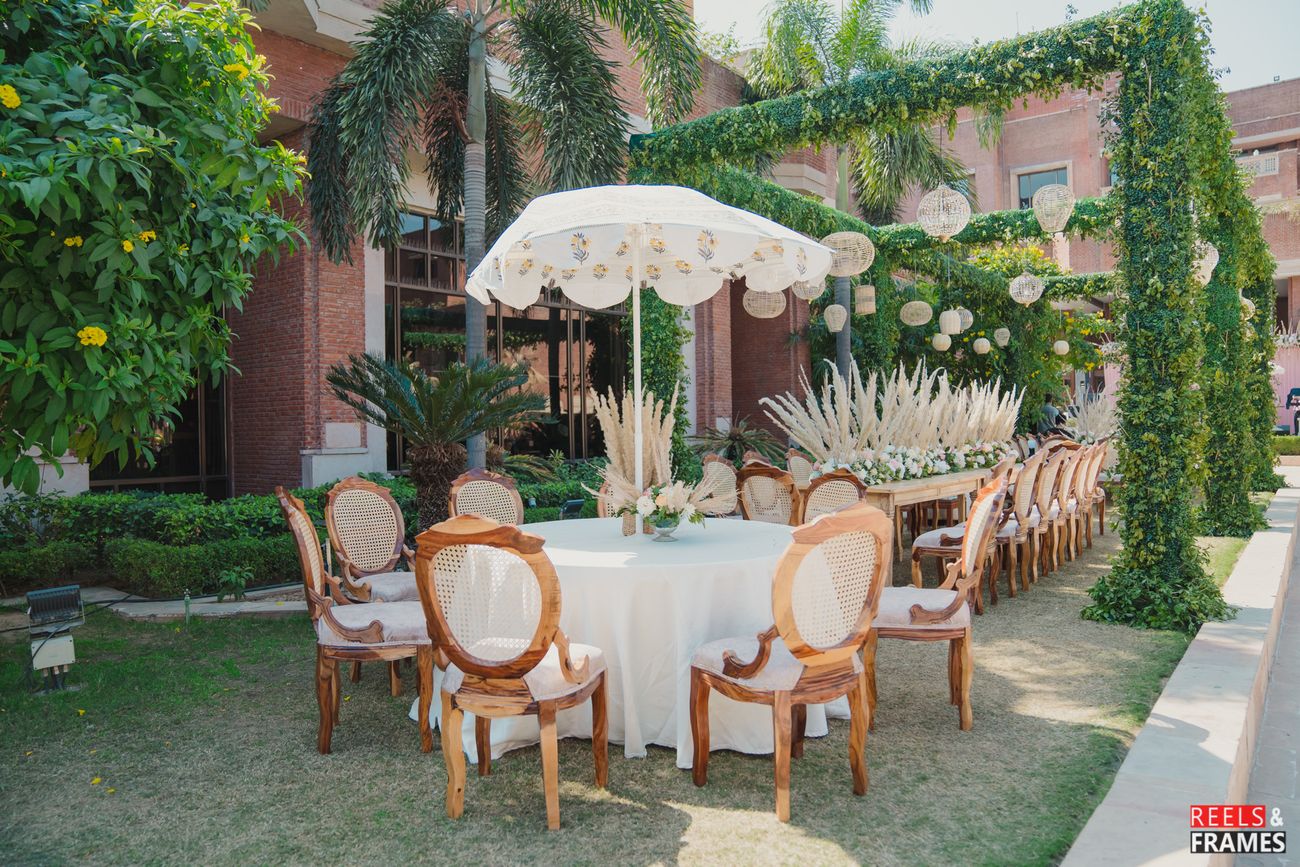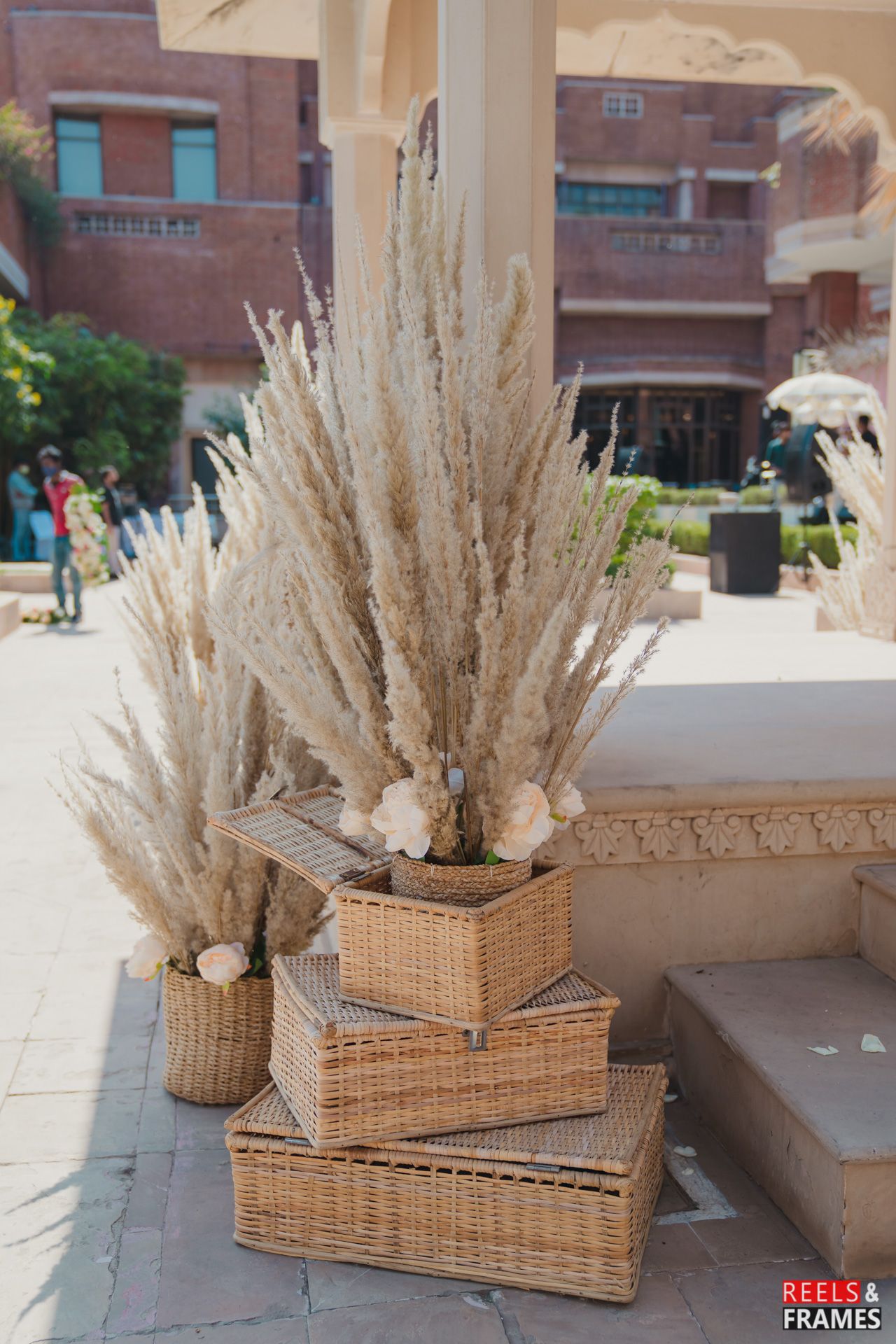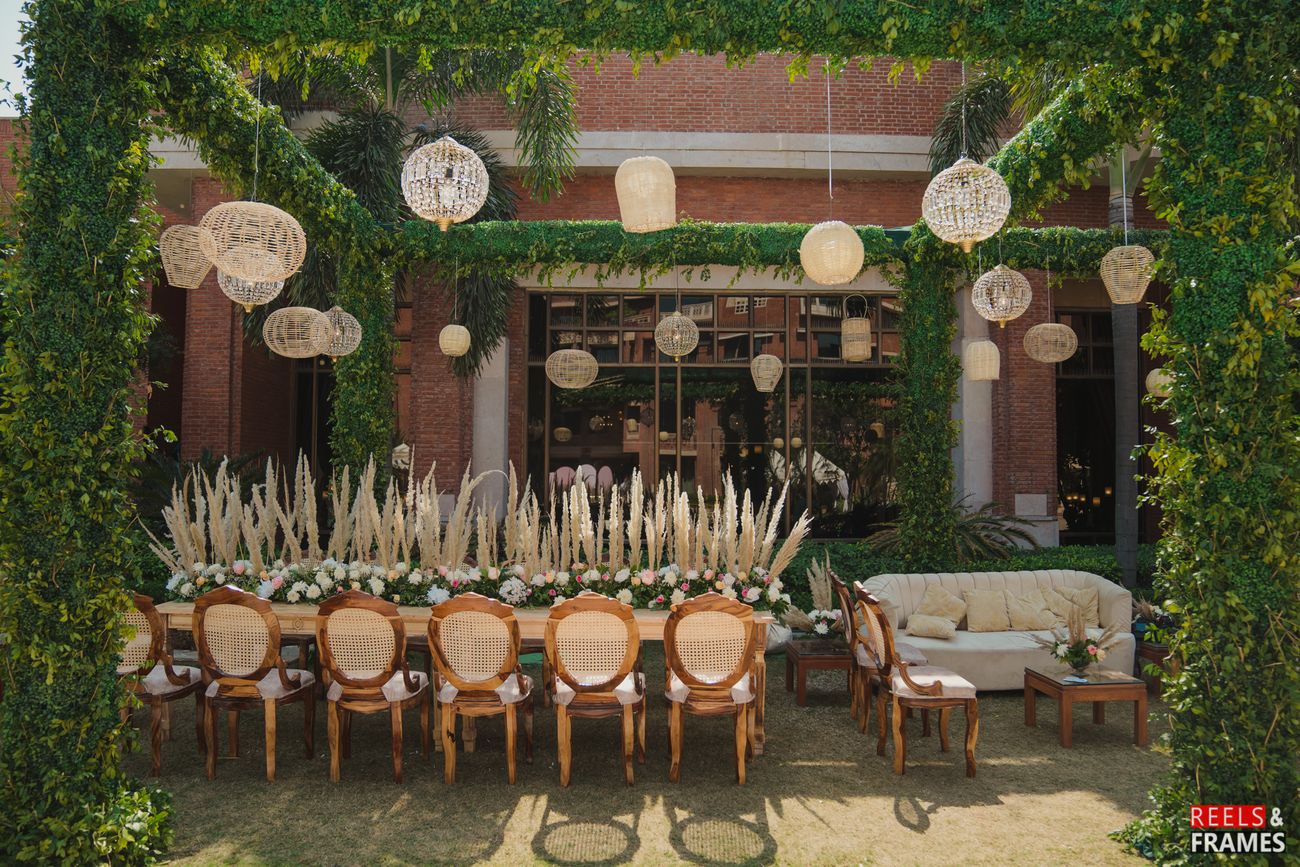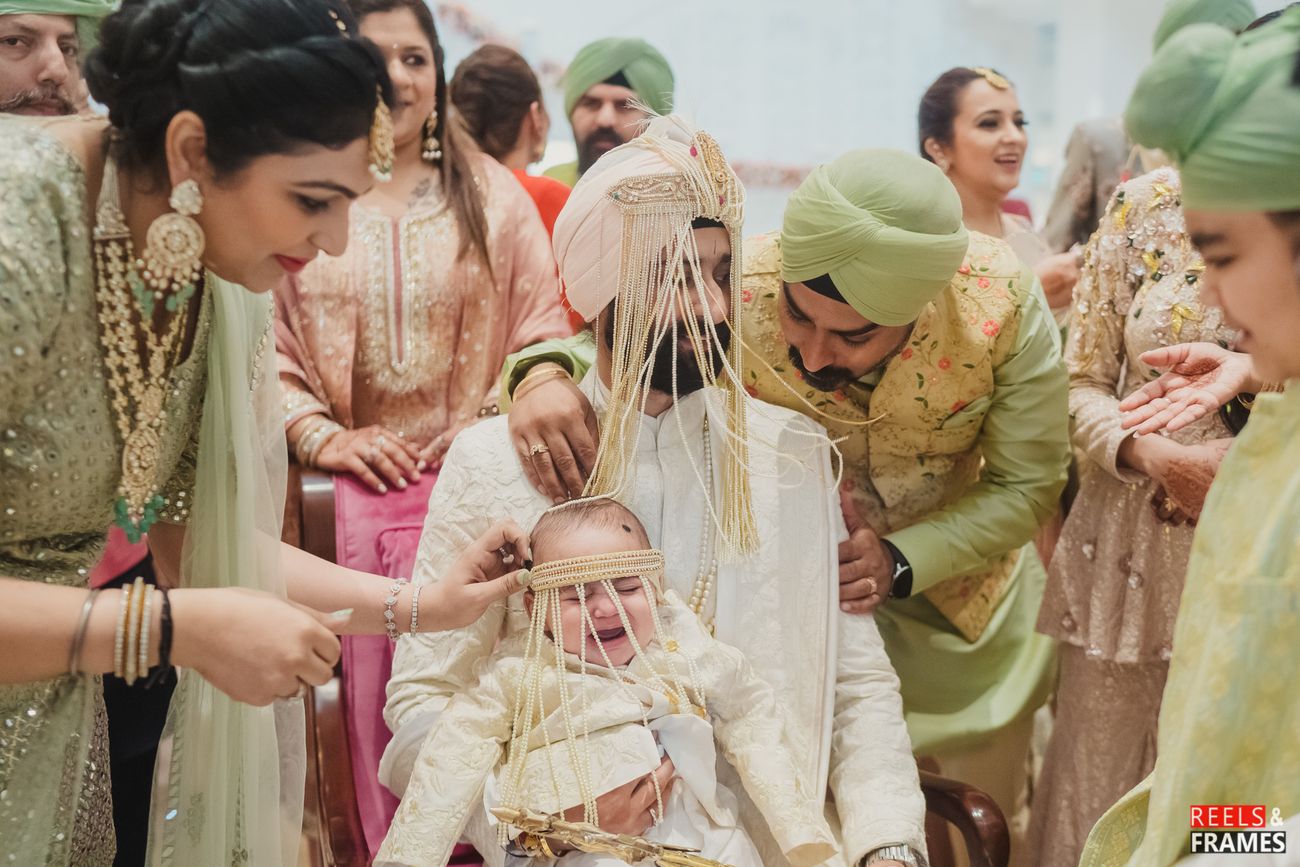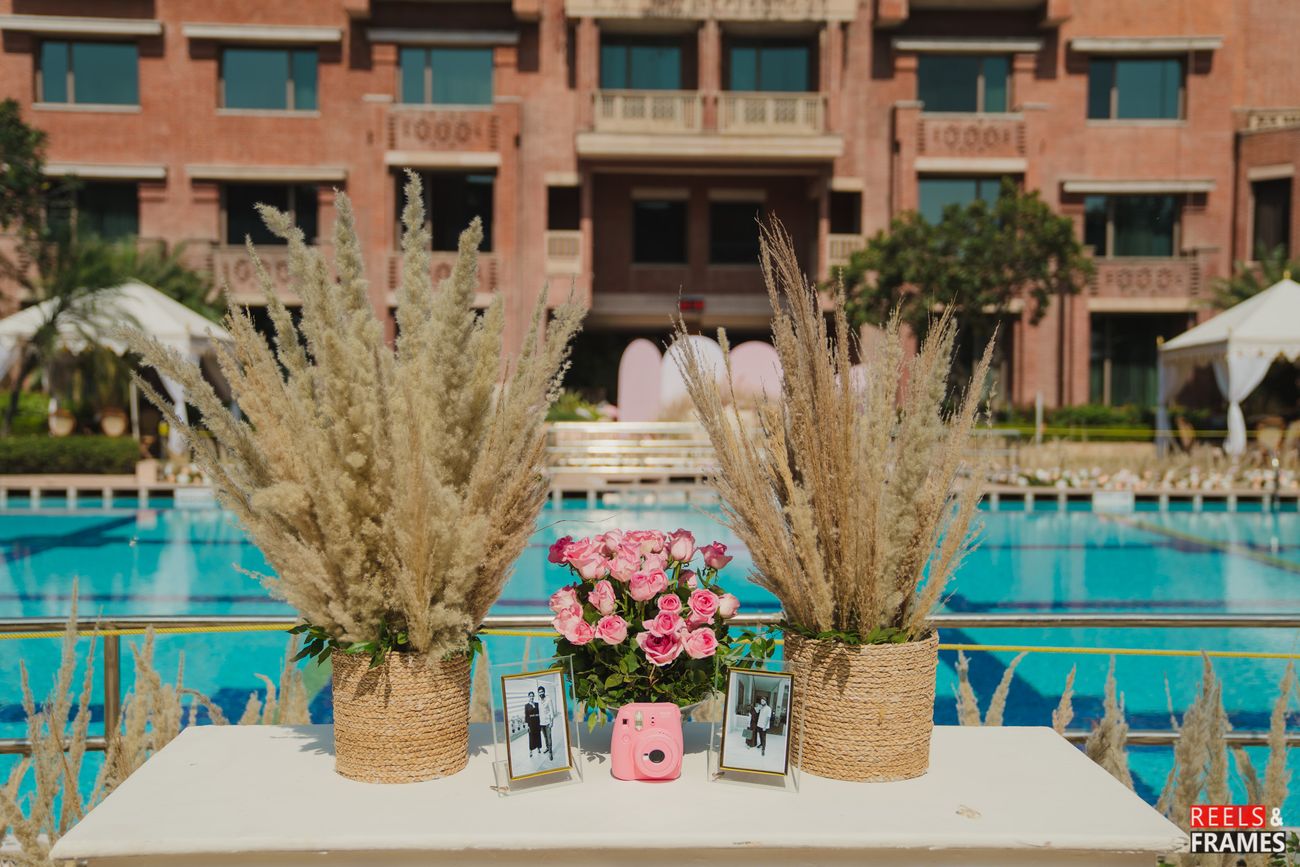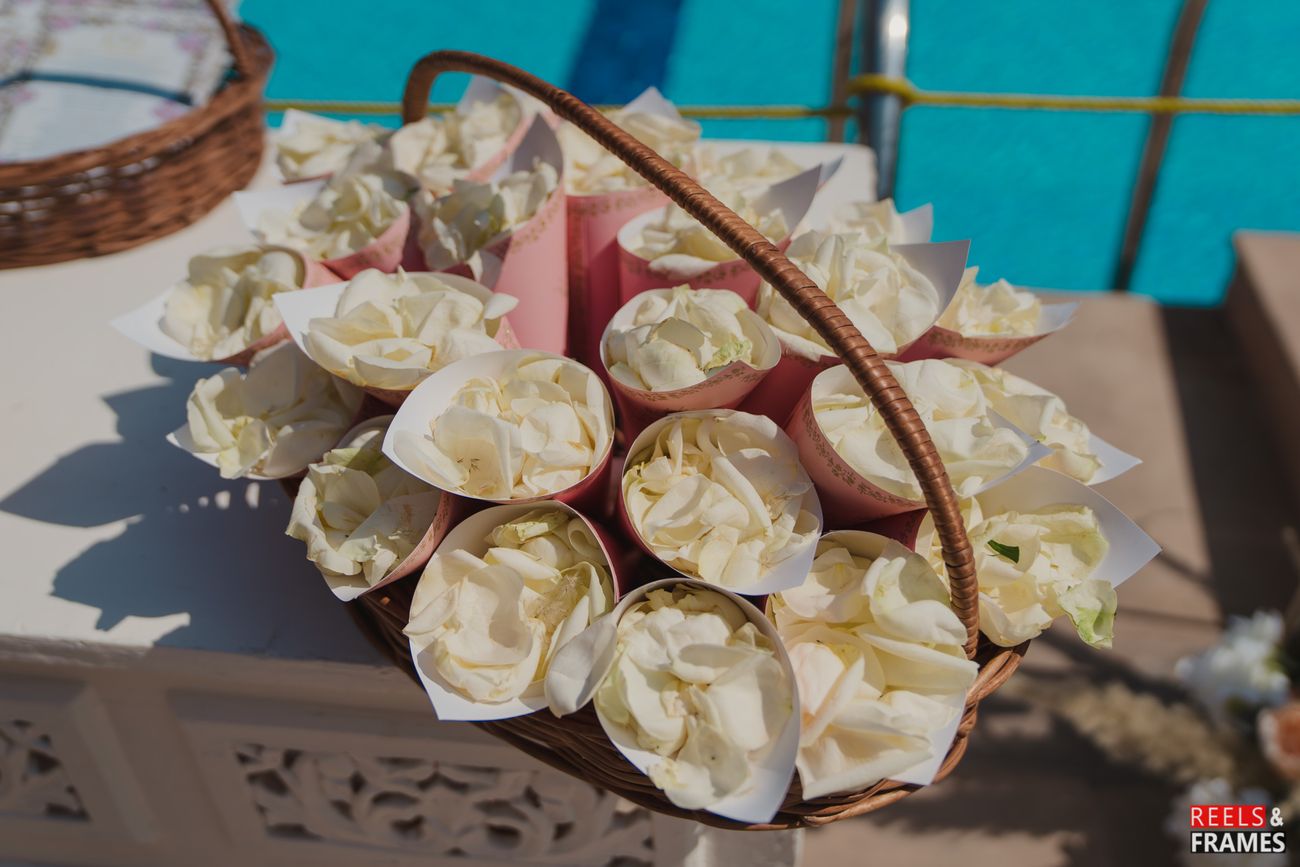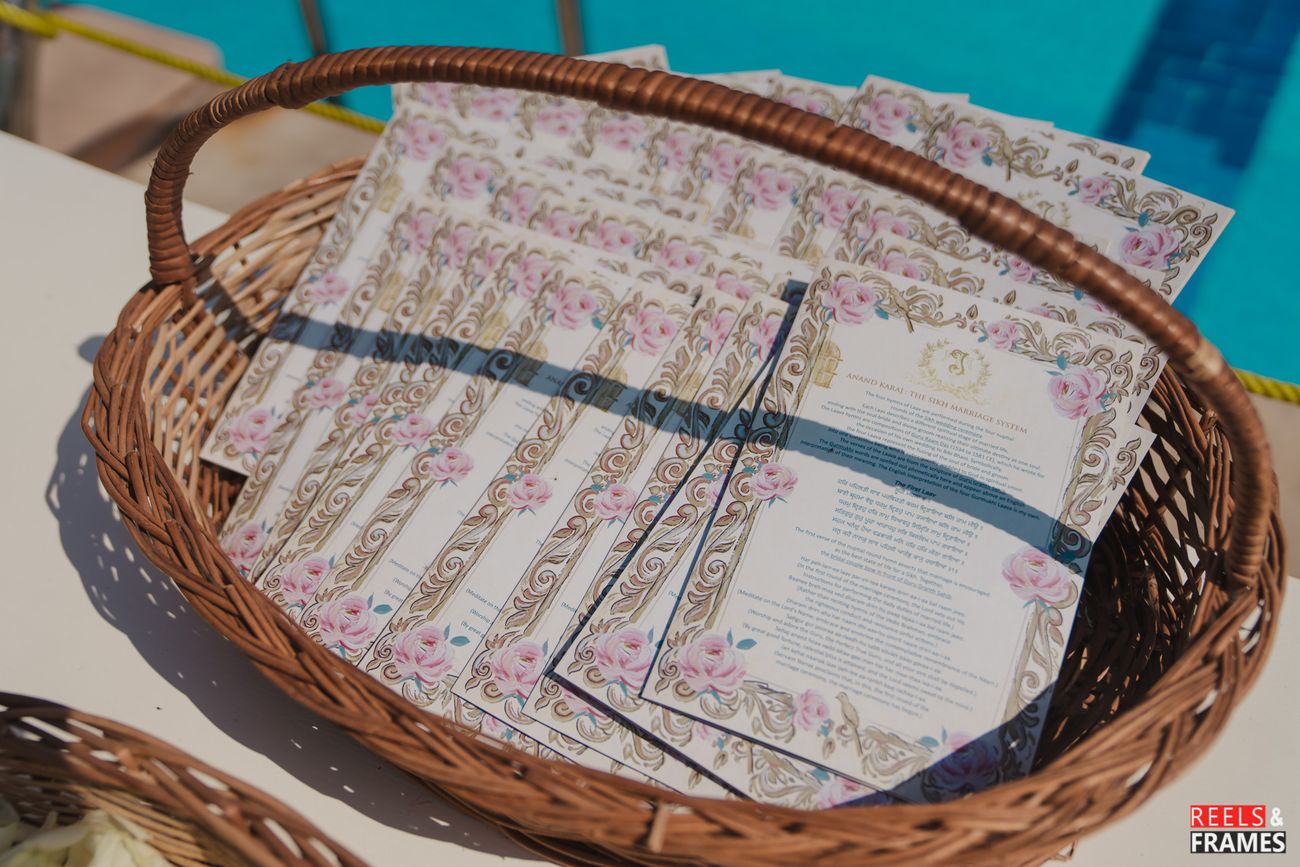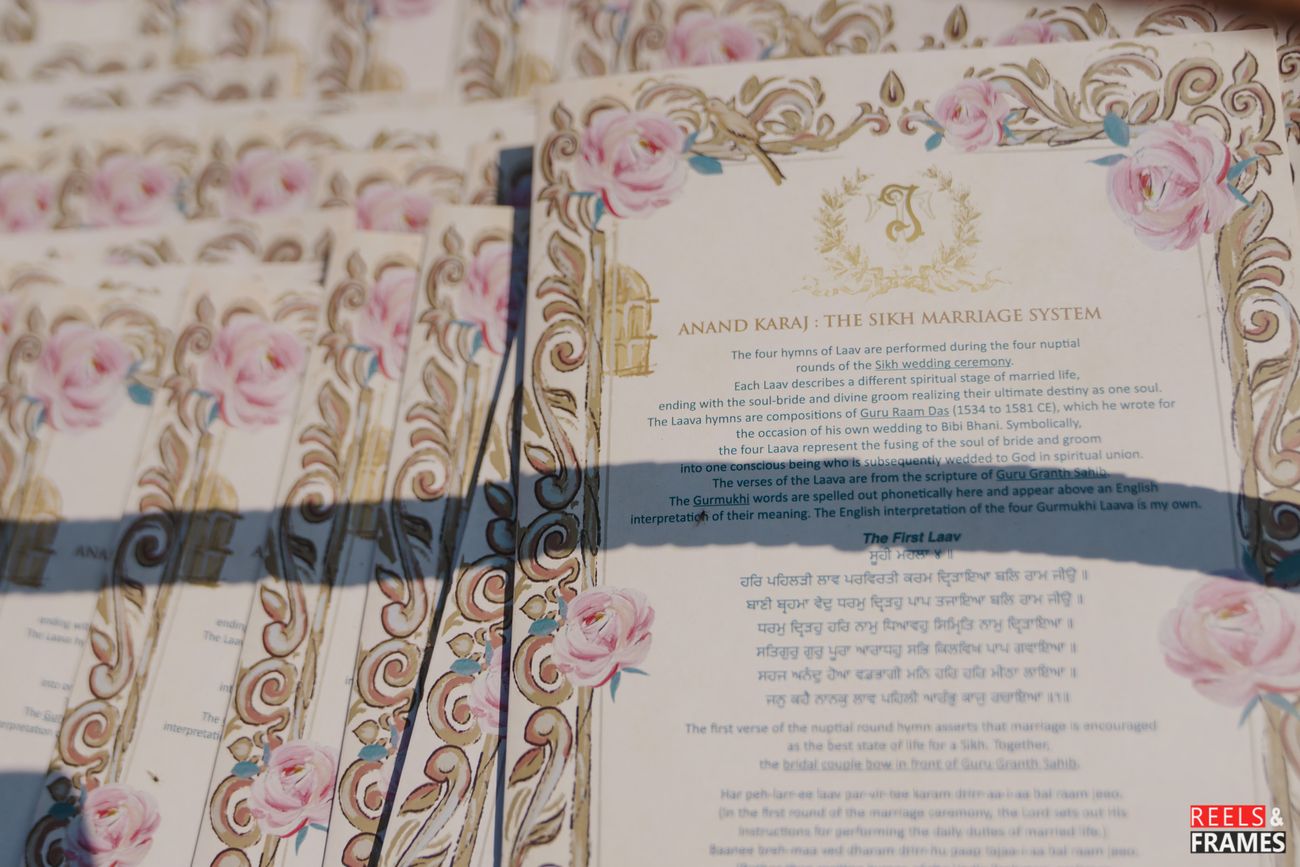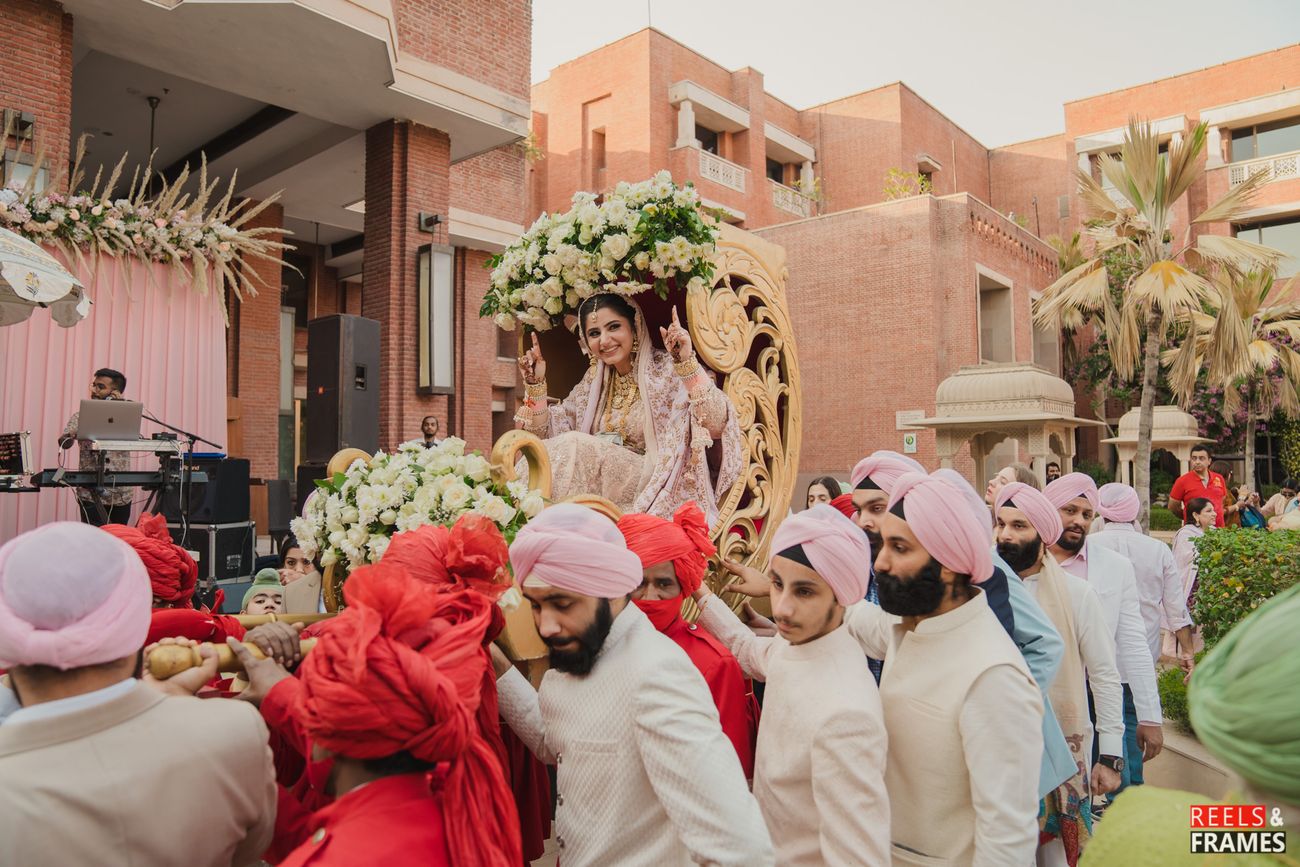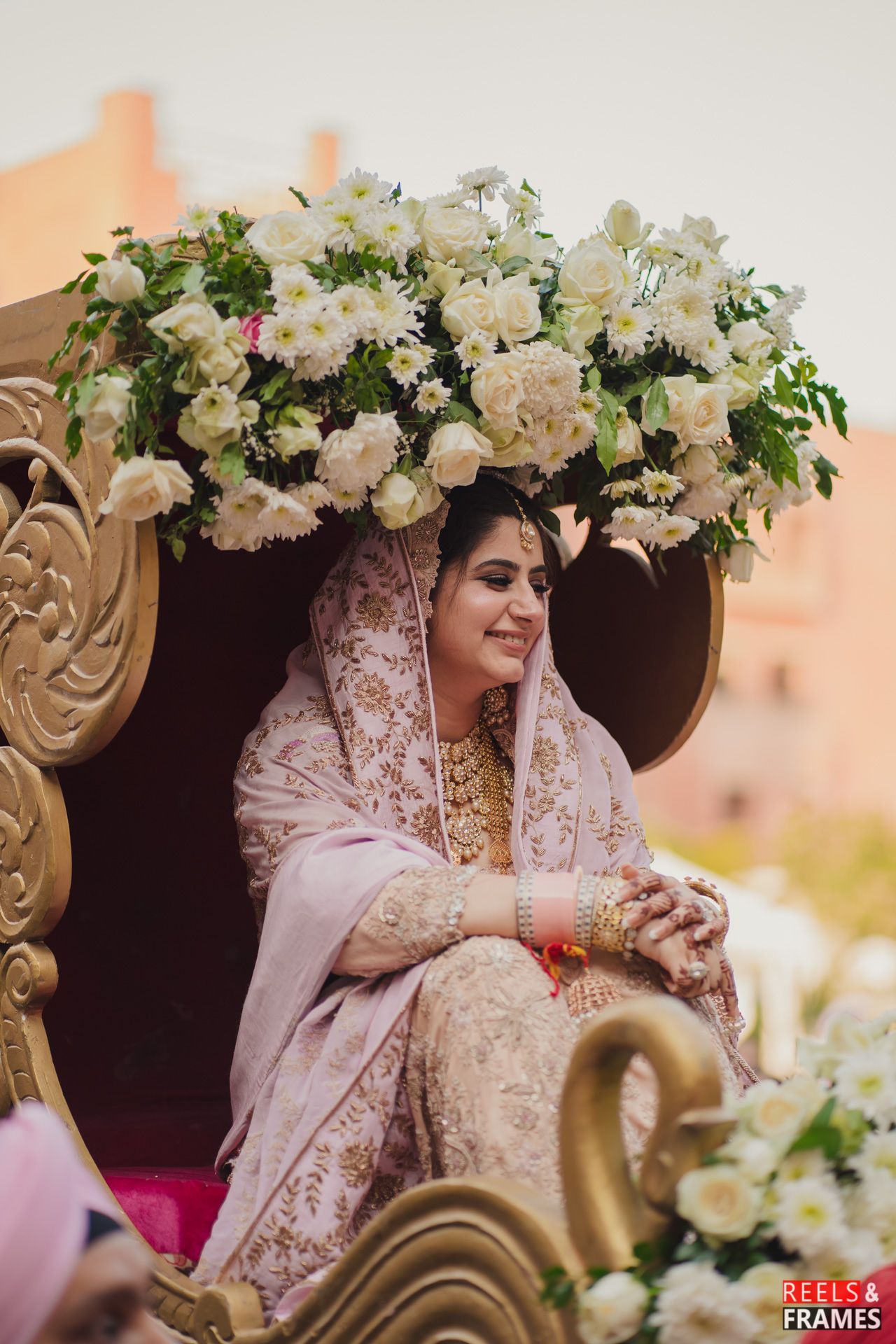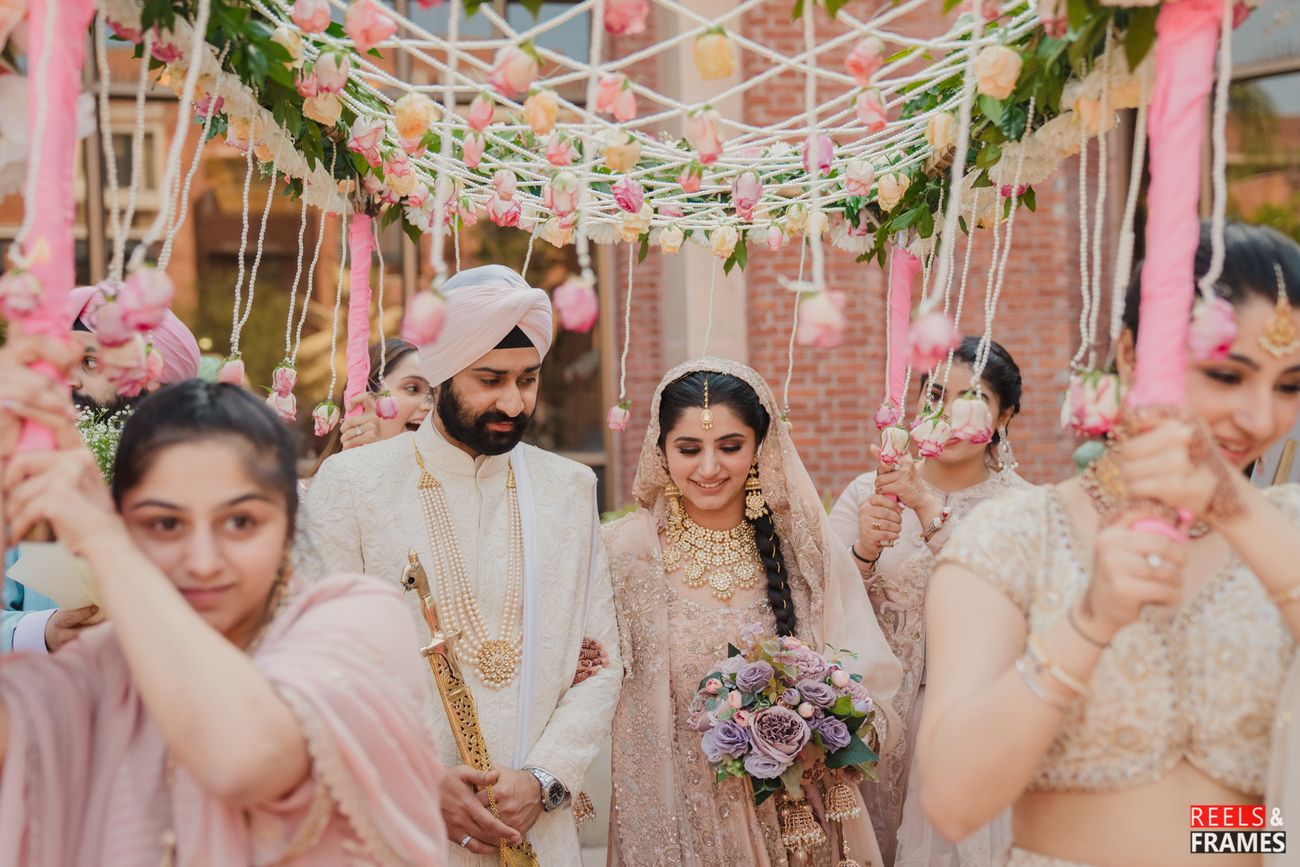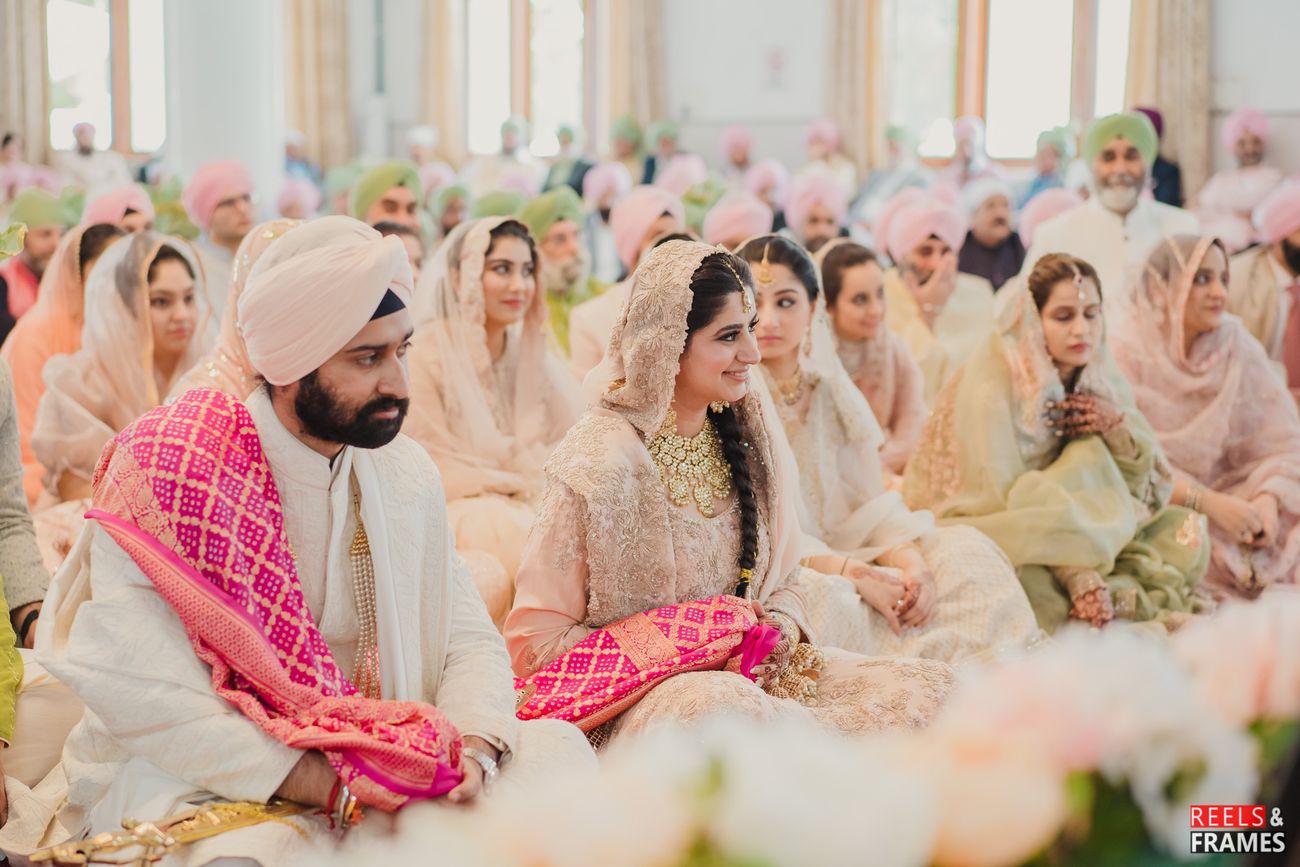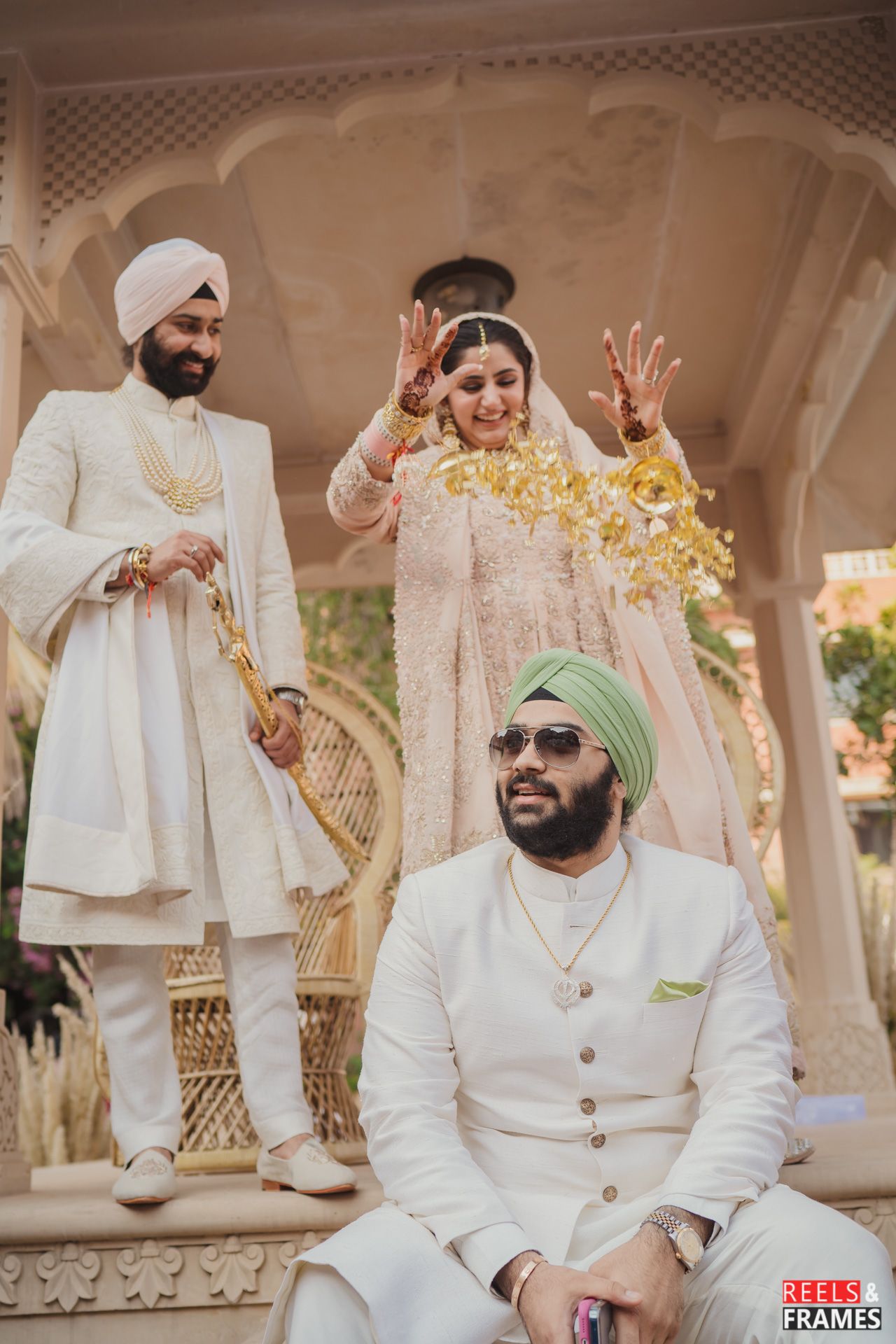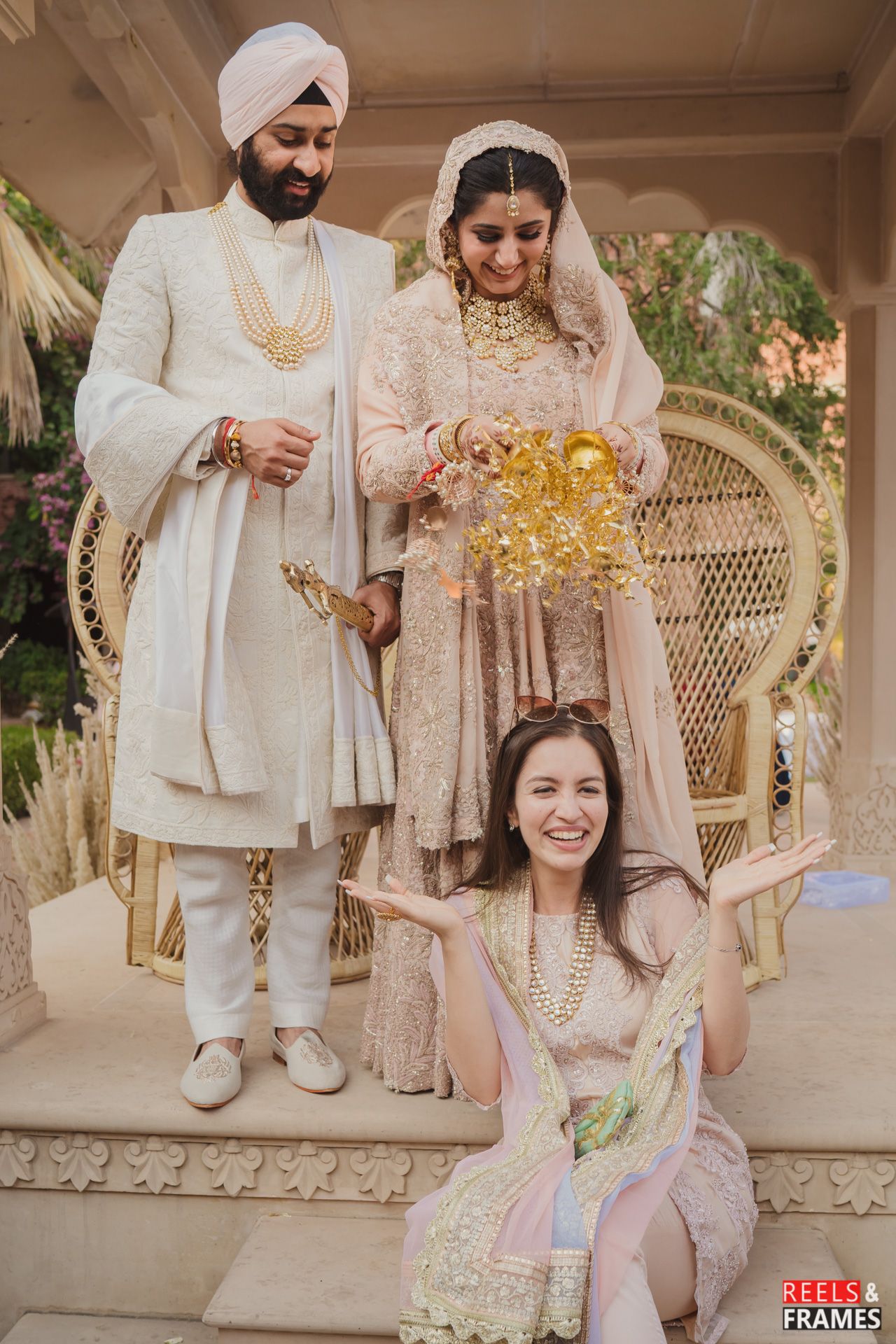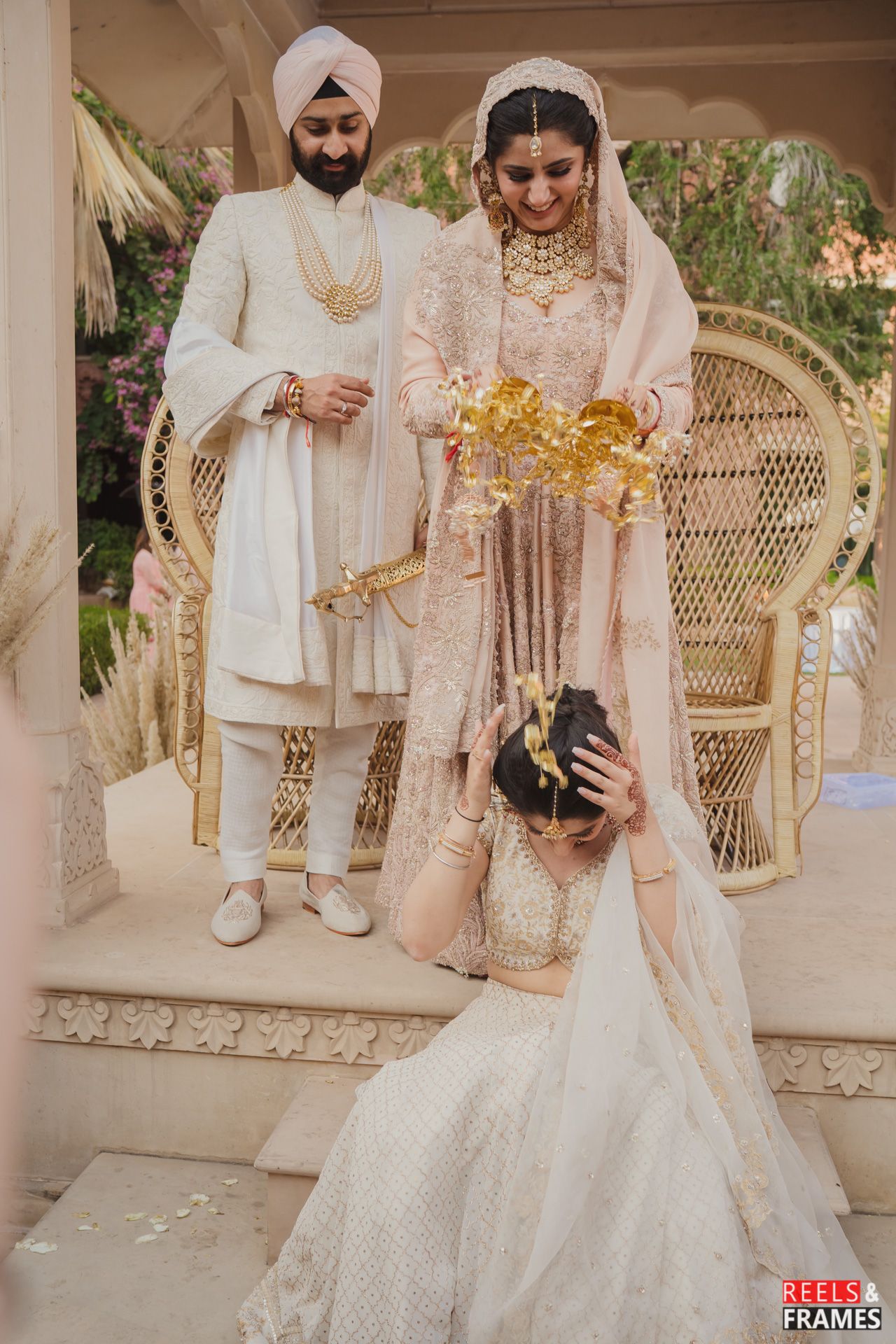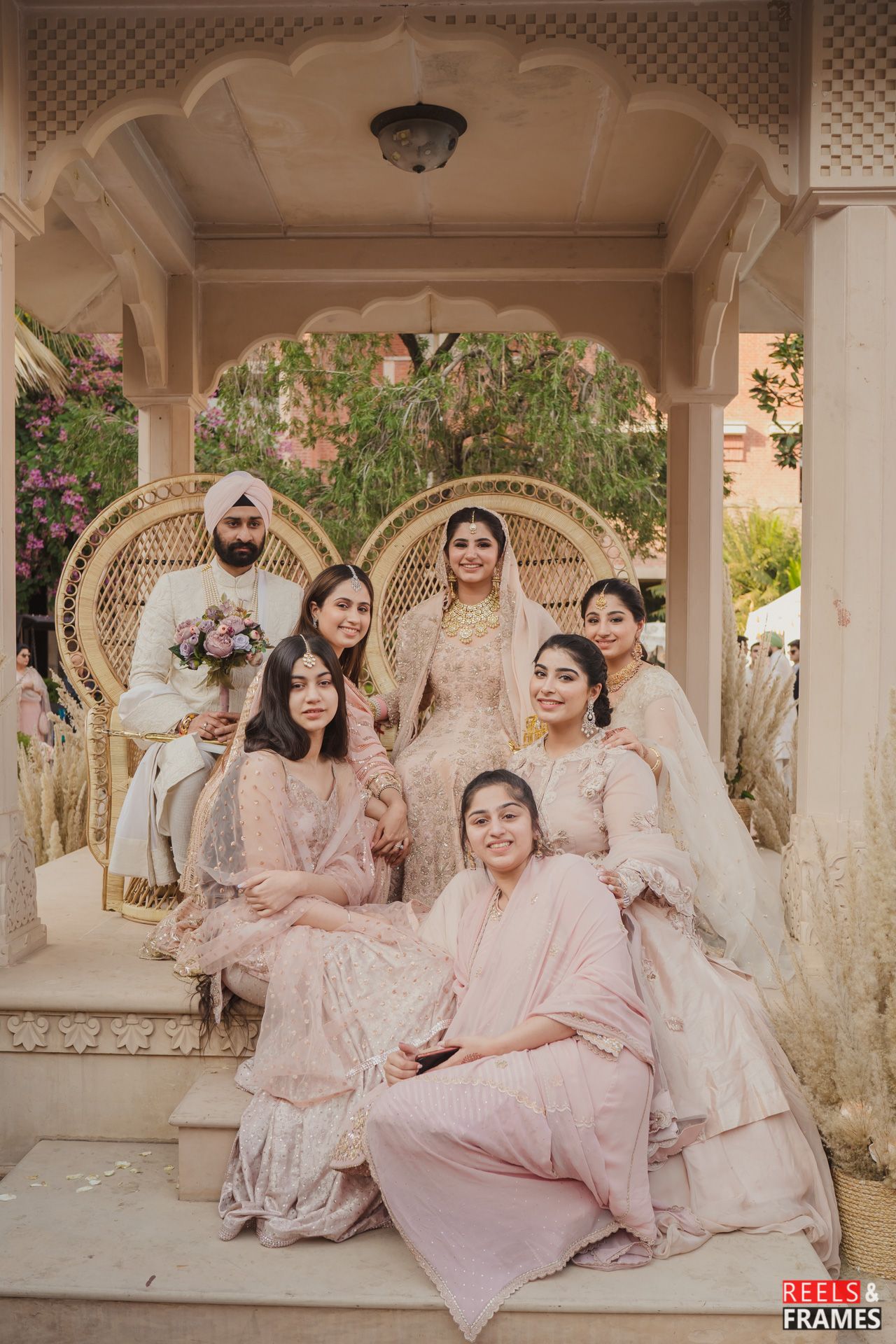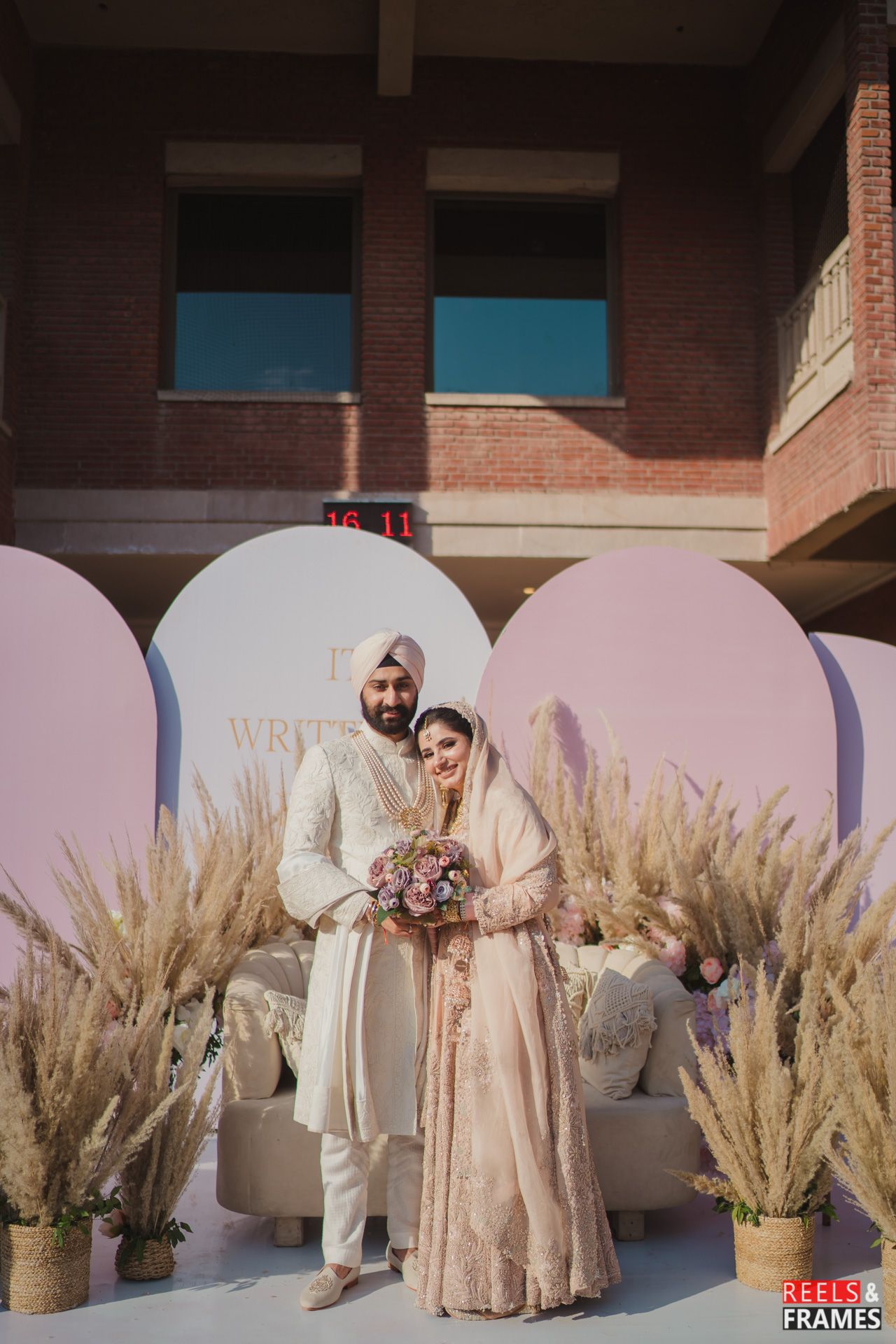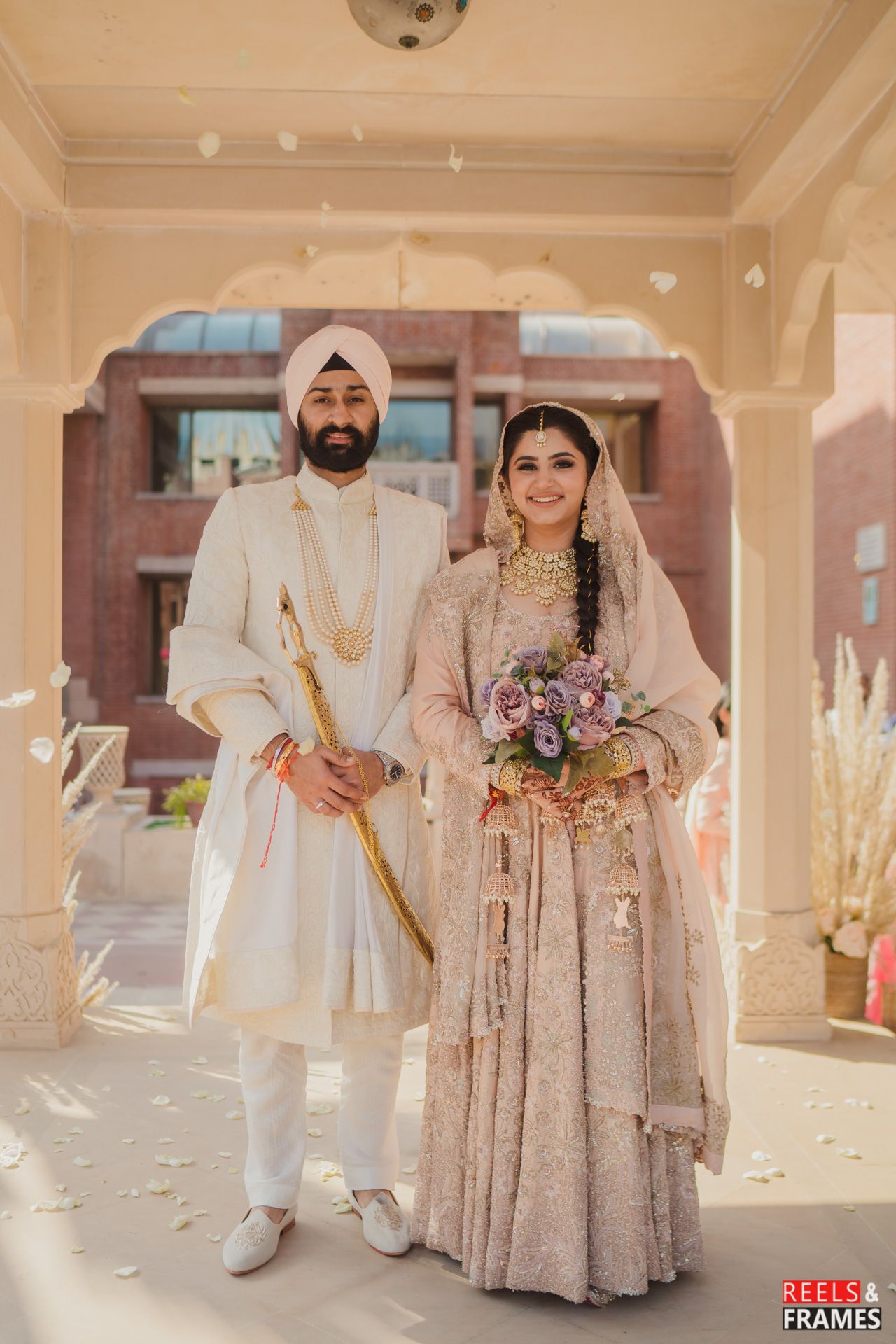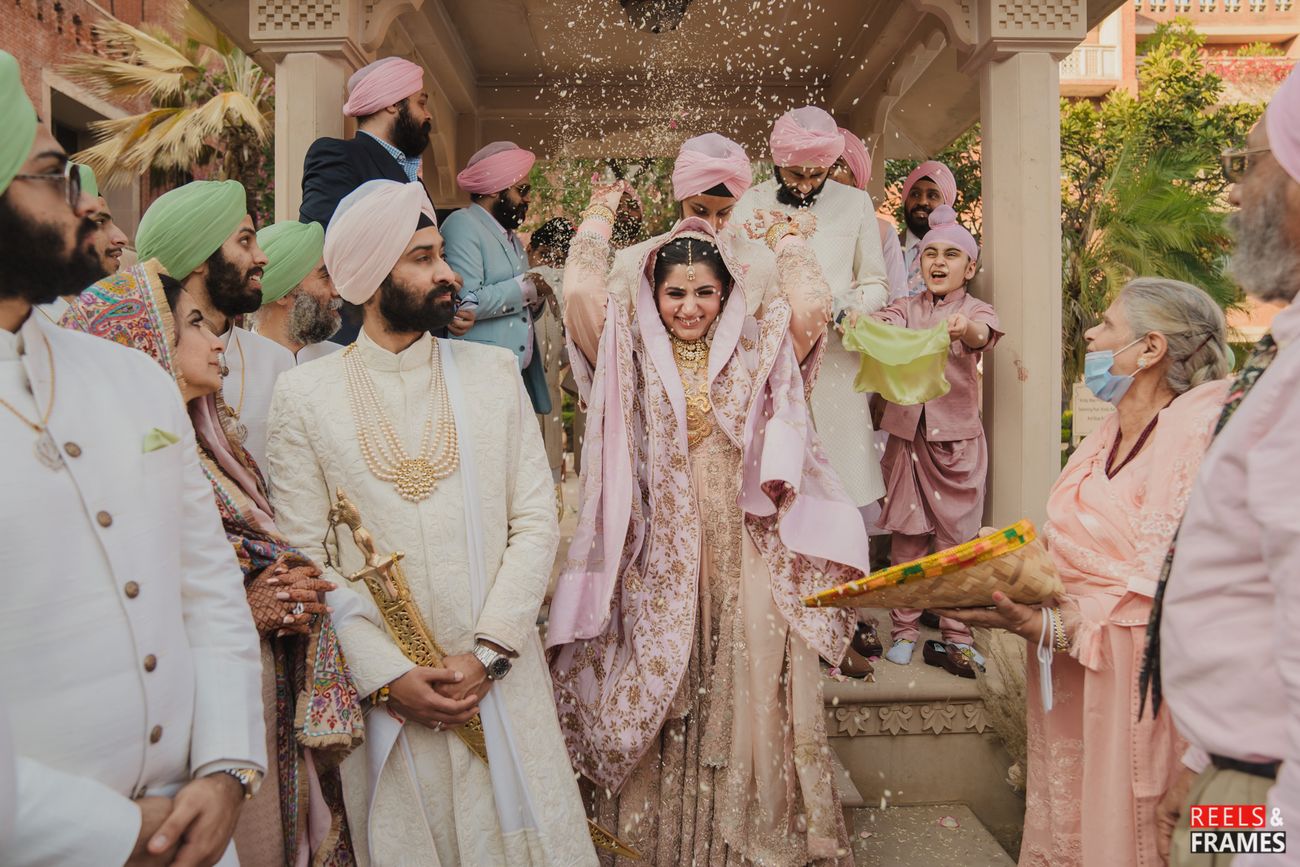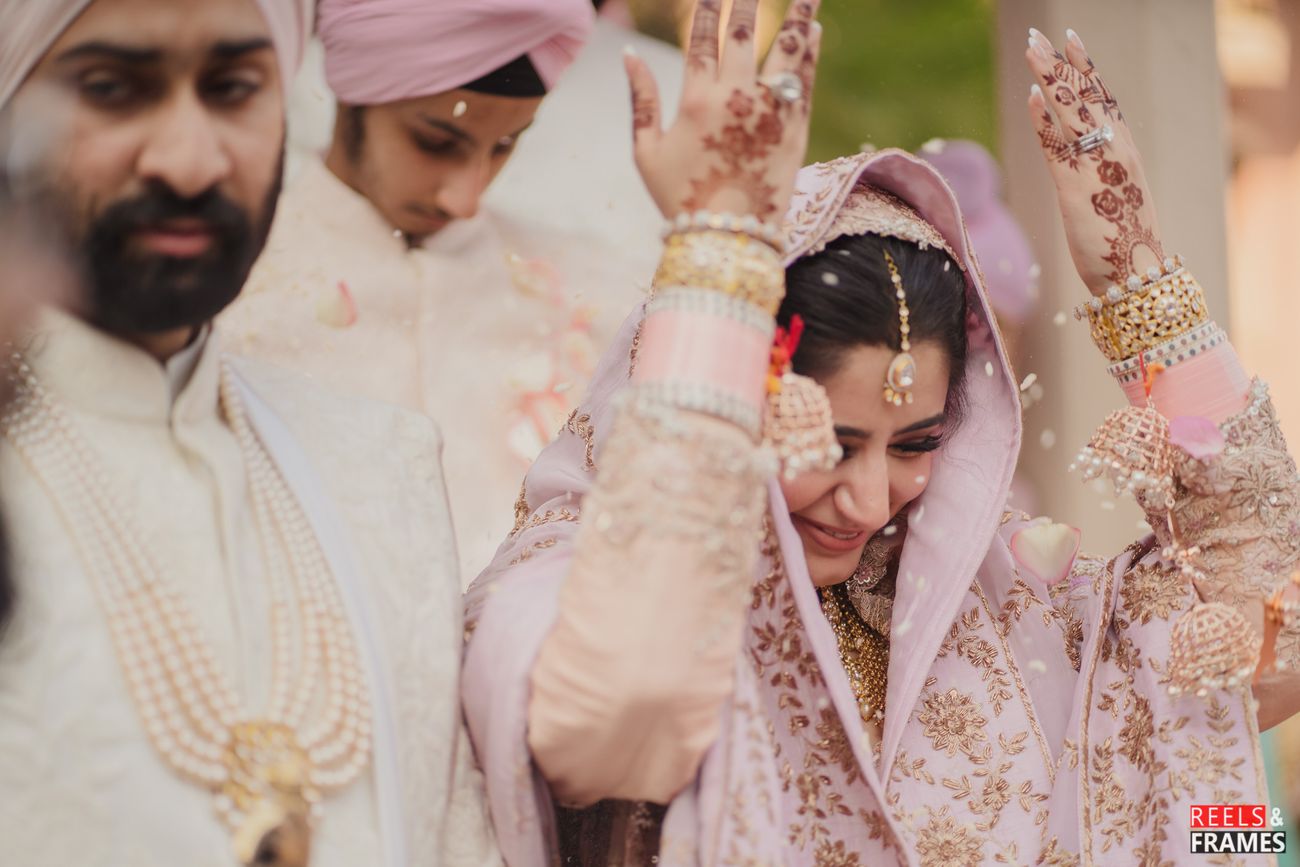 From The Bride:
Our wedding took place on 16th February 2022. When we started planning our wedding, one thing was very clear to me - it had to reflect subtle glam. This was one of the grounds my husband and I got on initially. The desire to reflect grand elegance without any extravaganza. As someone who has always worked in decor, this was my biggest project yet. Pastel silhouette, personalised glimpses and English themes - this was my trifecta to master it all. Our wedding was made our own with pictures from our courtship days, entries with the ones I love and a constant buzz of laughter throughout. As stressful as wedding planning could be, our wedding was anything but.

After spending days and hours looking into every small detail, it was a shocker when Omicron hit. My wedding plans had to be altered overnight and suddenly all I had was a week. I chose resilience over panic in that moment. If there was one thing I did well, it was impromptu deliverance. With my trusted team by my side, I knew there wasn't a storm we couldn't weather.
Looking back, I am truly grateful for how everything panned out. From the people I got to work with, to the way my aesthetic came to life - it's then I knew that dreams do come true!
About WedMeGood
WMG helped me find the most perfect makeup artist for my special day. I ended up finalising things with Ojas Rajani after looking at all that amazing work that she has done with her brides. The reviews & pictures on the app were of great help.
Vendor Reviews
Makeup Artist: Ojas Rajani
Ojas Rajani has really mastered the art of subtle yet stunning makeup. The one thing I knew from the very start was that I wanted a minimal bridal look. Pastel eyes, glowly based and subtle highlights. Working with Ojas was truly the manifestation of my bridal dream look. Not to mention the relaxed and fun vibe she and her team had! Having them around to help me get ready completely took my mind off the function pressures.
Photography: Reels & Frames
The whole team just became a part of our crazy punjabi family. We absolutely loved shooting with them as much as they loved capturing our favourite moments. Before our wedding my only brief to the team was that I want everything very much candid and natural. And that is exactly what they delivered, they captured the very essence of my wedding. The whole team is very talented and they are truly the best in business. Choosing them as our photographers for our special day was the best decision we made.
Decor: Jastans by Tanushka (@jastans_)
When deciding the decor for our wedding, I had pulled up every possible inspiration I could. I had a huge binder which was basically an offline Pinterest. And still with every idea at my disposal, I knew I wanted more. Jastans has been a part of who I am for years and with this union, the role of Jastans only got more important. The vision I had was something that my team and I spent hours trying to recreate. The detailing and personalisation was something I wanted to see come across and that's exactly what happened! Some ideas that seem too farfetched were brought to life with such ease and I know that's something I could've only gotten with Jastans by my side!
Bridal Outfits:
Engagement: On the Engagement night I wore Seema Gujral. I always knew I wanted to wear an ivory colour for one of the functions at my wedding. I absolutely loved Seema Gujrals work and her team made an absolutely stunning outfit for me! 
Mehendi: For my Mehendi I wore Kresha Bajaj. I wanted it to be pastel, fun and something I could easily move around in. Her team showed me lots of designs and I loved all of them but I wanted something very different than what people have worn or seen in her brand. Then they showed me the most prettiest pastel pink skirt, we matched that with a different top from her latest collection. And that was it, it was like a dream come true and it turned out perfect. 
Wedding: For the Wedding, I was a Anamika Khanna bride. I was randomly shopping with my family for my trousseau, when we entered Anamika store in Mumbai, it was like love at first sight. I knew it then and there that i wanted this exact outfit for my wedding! My bridal outfit was the most comfiest outfits ever, though initially it was a Lehenga, Anamika's team was very helpful and accommodating to my needs. They managed to make my outfit into the perfect Anarkali, as I wanted a typical Sikh bride look. When I saw the final outfit, I was blown. It was one of my favourite outfits from the wedding. 
Invitations: The Bombay Lettering by Sanjana Chatlani

The invitation of my dreams. Going into my wedding planning, I knew one thing for certain - that I wanted everything and anything pastel! I have always been particular about my vision and finding the people who understood that was key. Sanjana not only understood what I envisioned, but helped me make that dream an even better reality! From vintage tones with a touch of royalty, to the hand painted custom floral design - I couldn't be more grateful to have gotten to work with Sanjana and her team.

Bridal Kaleere: Kaleeras by Mrinalini Chandra
One of the most special elements from my wedding were my Kaleeras.
I always wanted something very unique for my special day. And Mrinalini helped get exactly was what I always wanted. It was rose gold and carried a very special being, our dog DumDum. Mrinalini sketched out the most perfect looking kaleeras and also matched the same for my parandi, as I always wanted that proper Sikh bride look. I had my husband's and my name too on them. My whole bridal look was monochrome and the kaleeras and parandi were just the cherry on top. Mrinalini is no doubt the best in business for her simple and customised designs.

Vendors: Venue: ITC Rajputana & Rambagh Palace, Jaipur; Decor: Jastans by Tanushka; Photography: Reelsandframes★ 5 ; Makeup Artist: Ojas Rajani Bridal Makeup Artist★ 4.9 ; Bridal Outfits: Seema Gujral Design★ 4.1 (Engagement), Kresha Bajaj Koesch ★ 5 (Mehendi) and Anamika Khanna★ 5 (Wedding), Heena Kocchhar (Sufi Night), Falguni Shane Peacock ★ 4.9 (Grand Dinner); Groomwear: Abu Jani and Sandeep Khosla★ 5 (Mehendi), Rohit Gandhi + Rahul Khanna★ 4.9 (Engagement and Grand Dinner), Manish Malhotra★ 4.9 (Wedding); Kaleera & Parandi: Mrinalini Chandra ; Juttis: Needledust★ 4 ; Invitations:The Bombay Lettering Company★ 5 by Sanjana Chatlani; Wedding Favours: Jastans