Cool Ways to Incorporate Bollywood into Your Wedding Celebrations!
BY Sakshi | 06 Aug, 2016 | 373 views | 3 min read
Who doesn't love Bollywood? While some of us limit that to drooling over our fave stars and being regular to the theatre, others have that eternal love for all things Bollywood, which reflects in their personality as well! So while Bollywood does have a special place in our hearts, how about you take that love a notch higher and incorporate that into your wedding as well? If done smartly, it lends this kitschy, quirky vibe to the wedding and not to mention a lot of colour as well! So if you're both Bollywood buffs, then here are some cool ways to incorporate it into your wedding celebrations!
Pick a venue with a Bollywood history
Photo Courtesy: Source
Looks familiar? Yes, that's the same venue where Kalki Koechlin's wedding in 'Yeh Jawaani Hai Deewani' was hosted! Pick a venue which was used in a Bollywood movie to add that air of excitement! We've listed out a lot of such venues for you
here
.
Star in your own Wedding Movie Poster!
Photo Courtesy: That Desi Girl
How amazingly quirky is this 'Desi Bride Amrikan Dulha' poster? Such a cute idea, especially for a destination wedding!
Make a dramatic filmy entry!
Photo Courtesy: Dream Diaries Photography★ 5
Deck up a bike, auto, truck... whatever you choose in typical Bollywood isshtyle and enter the wedding with a bang! Don't miss those cute Bollywood placards and fireworks as well!
Bollywood themed Event/ Décor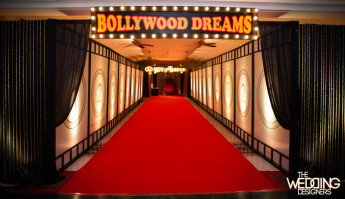 Photos Courtesy: The Wedding Designers★ 5
This is a super cool idea, especially for the Sangeet, which is anyway going to have a lot of naach-gaana like our Bollywood flicks! Bollywood themed décor for the entrance like the movie hall/ red carpet première feel or doing up the stage with posters is another awesome way to show your love for Bollywood. Find more ideas for a Bollywood themed Sangeet here.
Vintage Bollywood Centrepieces
Photo Courtesy: Devika Narain and Company★ 4.9
How cute and quirky is this idea? It is so simple, yet stands out! Getting vintage Bollywood photo prints and using them as table décor paired with some cutting chai glasses is such a cool idea to try out! Find more Bollywood décor ideas in
this
post!
Filmy Photobooth
Photo Courtesy: Bougainvilla Design★ 4.9
Photobooths are another fun way to add quirk to your wedding celebrations. You can get as creative with them as you want, and Bollywood has loads of inspiration!
Bollywood-themed Food!
Photo Courtesy: The Cheesecake Project★ 4.9
How awesome is this Bollywood-inspired cake with iconic dialogues from epic movies? You can infuse quirky ideas like these into the food, using cake toppers, cupcakes or even to name the food stalls!
Movie Poster Invites!
Photo Courtesy: Po Tweet Invitations
Wedding cards designed like movie posters or even theatre show timings like this one are a cute way to show your true blue filmy love! And this sets the tone right from the start doesn't it?
Bollywood themed Pre Wedding Shoot
Photo Courtesy: The Creative Lens★ 4.9
And of course, there's always the Pre Wedding Shoot to try out themes with! Choose the latest Bollywood styles or go vintage old Bollywood like in the shoot above... it works either way!