Creative Indian Food To Serve At Your Wedding! ( 20 Ideas To Bookmark, People!)
BY The WMG Bride | 25 Aug, 2015 | 66575 views | 5 min read
You know what's the best thing about weddings? The Khaana. Yummy, mouth-watering delicacies , so rich and so decadent that they can only be served at a wedding, with aplomb. Admit it, you slyly peek into the pantry or the menu, to see what the wedding has in store for you - chaat counters, cheesecake yummies and loads of biryani from the "famous" vendor in the city. And on the other hand, you are seriously bored of the same old Butter Chicken and the boring old dahi puri in plastic cups. No siree, you want your wedding to be a spectacle and that means, awesome food and guests going yummmm. We snooped on the Internets and you 20+ ideas for great ( and simple!) Indian food from blogs and vendors alike, that you can have at your wedding. Have a nice chat with your caterer and incorporate these ASAP.
Indian Tapas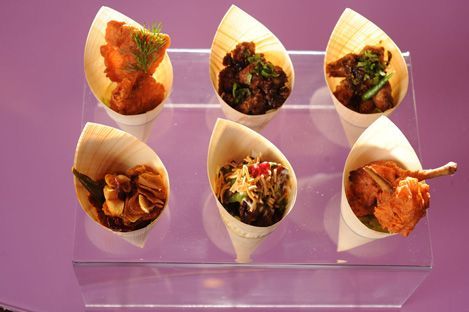 Urban Turban's Indian tapas that we spotted on NY Times 
It's amazing how much you can simplify your wedding food by having an Indian Tapas bar. Include these munchies - papri chat, masala peanuts, sundal, dry poha, diced chicken bits...and your list can simply go on.
Papri Chaat in Martini Glasses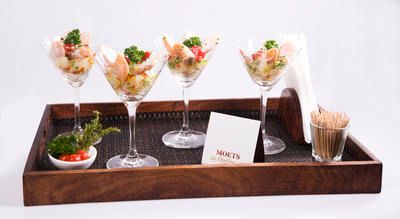 Caterer: Moets Club Class Catering★ 4.6
Self-explanatory! But papri chaat is so yumm and when it gets sophisticated like this, your guests will just lap it up!
Alcoholic Chuski or Popsicle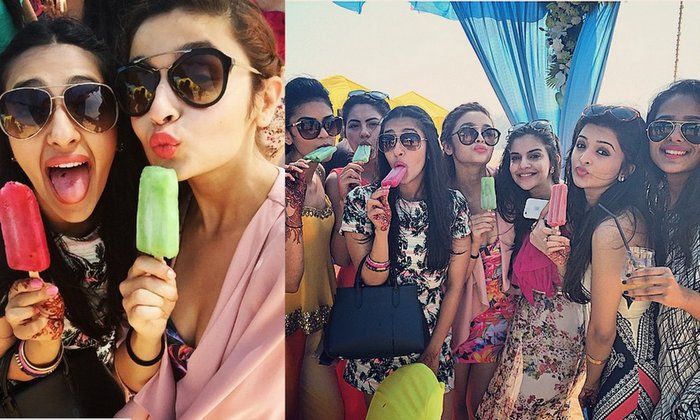 Picture Courtesy: Alia Bhatt's Instagram Account
Who doesn't love a chuski? Get your caterer to add a bit of alcohol into it and there you go, daaru chuski!
Aloo Chaat / Corn Chaat served up in Soup Spoons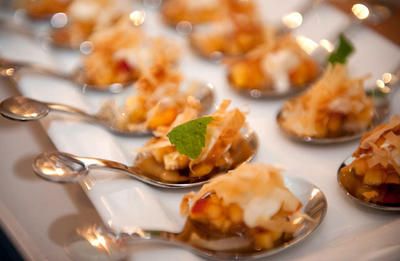 Anything served in spoons makes for a wonderful appetizer - just dress up your aloo chaat and make your guests sing!
Parantha Tacos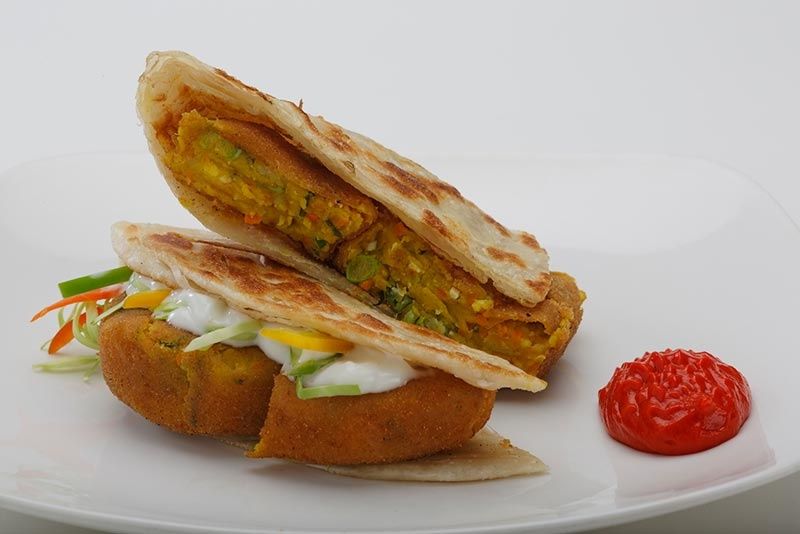 Picture Courtesy: Billionsmiles Catering 
Just put a little filling and pack them up like tacos - done & dusted! A simple idea that can really make everyday food look amazing.
Poppadum Scoops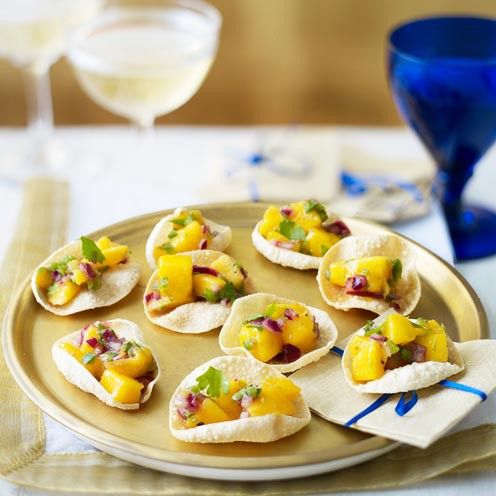 Picture Courtesy: Good Housekeeping 
Take tiny poppadums and add your favourite ingredients - from mangoes to chillies to potatoes to sev. If you can't find tiny poppadums, go for big ones but break them into pieces!
Sundal In Ice Cream Cones
Picture Courtesy: #chaiparty at Islandbell.co.uk 
Sundal is chana that is roasted and flavoured with south-indian spices and you can give them an interesting international appeal by putting them in Ice Cream cones.
Spicy Prawn Appetizer Rotis Rolled Up Like Sushi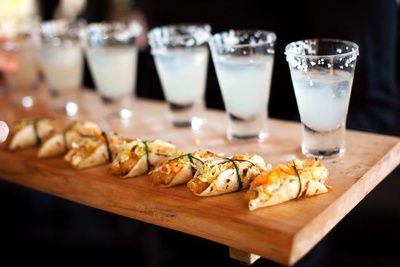 You can so so many awesome things to rotis and they can be moulded to suit your bill in minutes. These cute tiny rotis can include any Tandoori filling and can be served with lime juice or lime soda.
7. Dahi Chaat in Ramekins 

Picture Courtesy: Kwality Caterers 
Usually, ramekins are used for desserts and all kinds of tiramisus but this time, you can serve chaat of your choice in them. Dahi chaat or sev puri - these ramekins will make them look so understated and cool.
Gulab Jamuns Served Up In Cocktail Glasses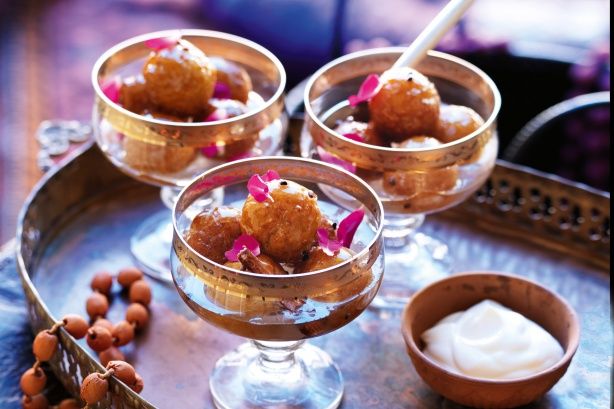 Picture Courtesy: Taste.com.au 
Keep those Gulab Jamuns coming - if they are served up in cute cocktail glasses, it's even better. Make sure the jamuns are small so they can be easily eaten.
Baby Corns in Sauce Bottles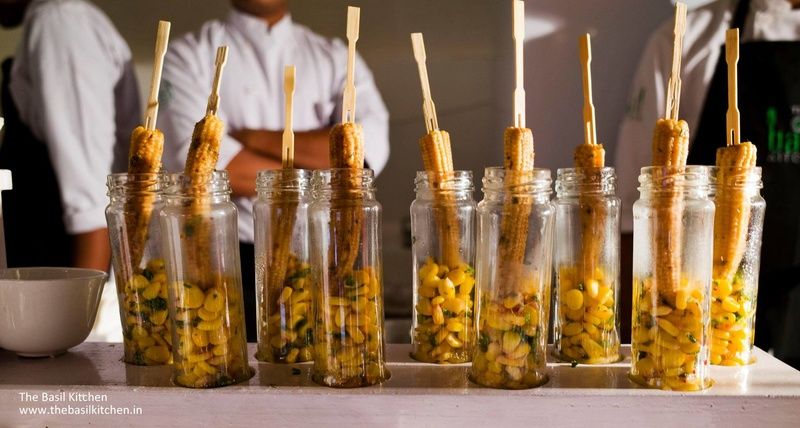 Picture Courtesy: Basil Kitchen
Like they say, taste bhi, health bhi, now looks bhi. This pan-seared babycorn is all kinds of amazing when paired with sweet corn and spices. The clincher: served up in sauce bottles!
Vodka Golgappas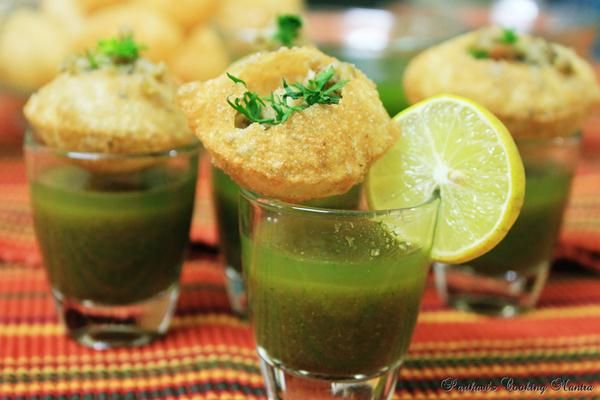 Picture Courtesy: Indian Roots
Golgappas are fun but when they're paired with vodka - they're fun-ner. So use those little shot glasses and go bonkers with this favourite chaat. No one will ever say NO.
Tandoori Chicken Crisps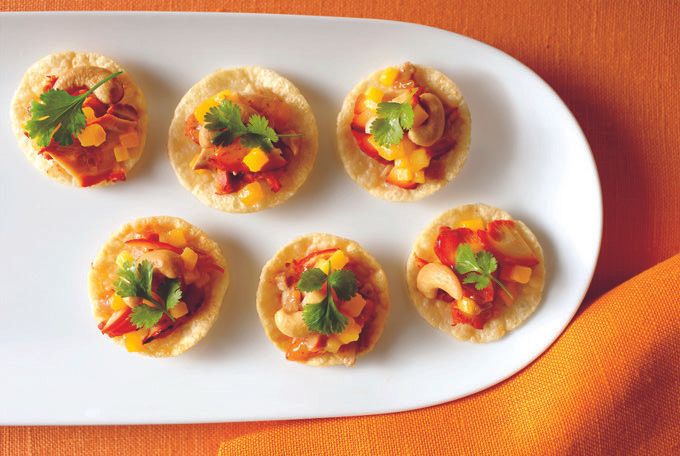 It's marinated tandoori chicken that is just right as an appetizer - a tiny bite on crispy fried wafer served with mango chutney.
Sev Puri Canapes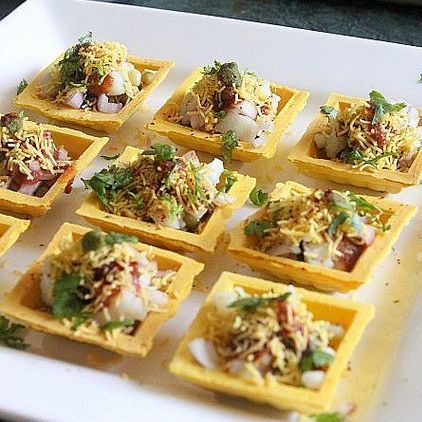 Picture Courtesy: Chef & Her Kitchen 
Canapes are easy - you just need the cover and you can fill in whatever you want! Really, so this Sev Puri canape is so good that your mouth will water even before the guests.
Watermelon With Chaat Masala + Mint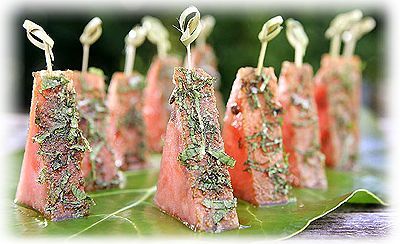 Picture Courtesy: Ruth Pretty Catering 
Fruity and fun - this one's easy and tasty and your caterer will have it put for you in no time! Though, it can take over your fruit basket, this is a unique taste that your guests will remember forever!
Mung Bean Chaat Baskets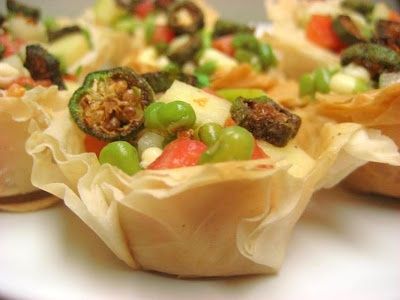 Picture Courtesy: Raspberry Eggplant.blogspot.in
It's not everyday you get mung beans at a wedding - make sure they are tasty and put them in a filo pastry basket to give it a samosa-like appeal.
Paan-Flavoured Pannacotta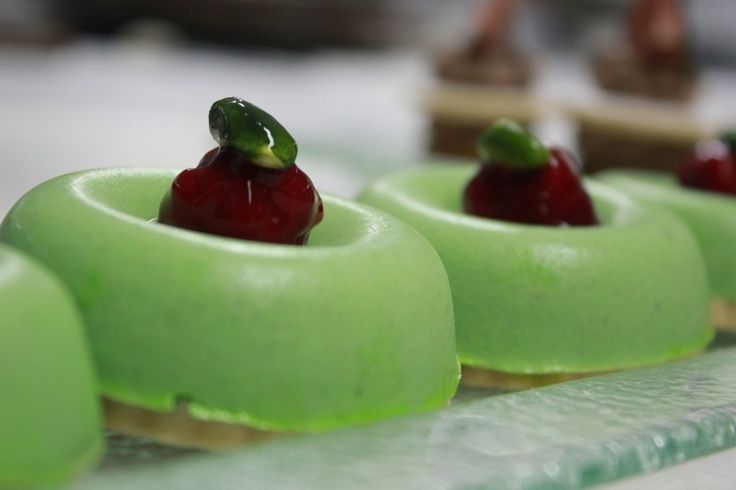 Picture Courtesy: Chef Kunal Kapoor 
This one is super duper unique but it says something. Featured in Masterchef, this one is all about including Indian flavours like Rose, Cardamom or even Paan. Just take these ingredients and give them a twist and you'll see!
Cool Kulfis in Vintage Cups / Glasses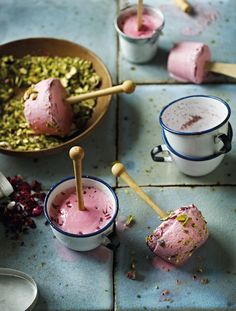 Picture courtesy: Standard.co.uk 
Serve them up traditional kulfis in cute glasses or vintage cups to give it a retro look. Besides, kulfis are everyone's cup of tea and can make any wedding pop if you use the right flavours - try mango, rose, pistachio or cardamom for extra flavour.
Roti Appetizers
Picture courtesy: Style Me Pretty 
Anything that has rotis is super cute. So if you make interesting roti potlis with the stuffing of your choice - then, it's a shaadi favourite!
Cocktail Idli Hearts With Coconut Chutney Shots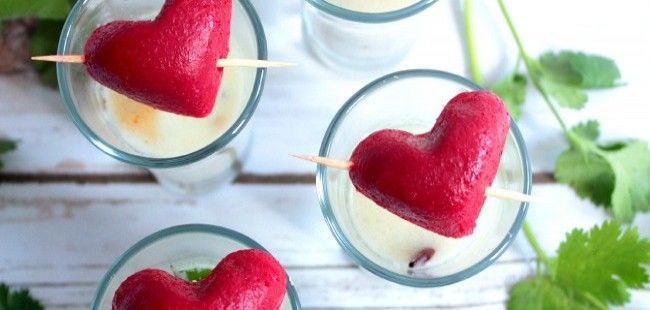 Picture Courtesy: Anokhi Media
This is by far the sweetest, the easiest and the cutest thing anyone can ever serve at a wedding. Idlis are beaten with beetroot and cut into heart-shapes paired with cute coconut chutney shots.
Have a favourite food that you think we missed out on? Tell us in the comments sections!