Cute 15+ Jigsaw Puzzle Wedding Card Ideas That Are Way Too Cute To Handle!
BY Chandni Kumar | 28 Aug, 2018 | 6624 views | 5 min read
Wedding cards. I am sure that you might have seen tons of patterns, colors and designs that will surely leave you confused as to which wedding invite suits you best. But one invite idea that's both playful, fun and memirable for years to come is the jigsaw puzzle invite. Wanna know how this works? Look at these cute 15+ Jigsaw Puzzle Wedding Card Ideas That Are Way Too Cute To Handle!
Cute heart-shape puzzle wedding card
Wait, did I just read heart + puzzle? That's, right a cute puzzle wedding card with caricatures of bride and groom is a way fun to include it in your card.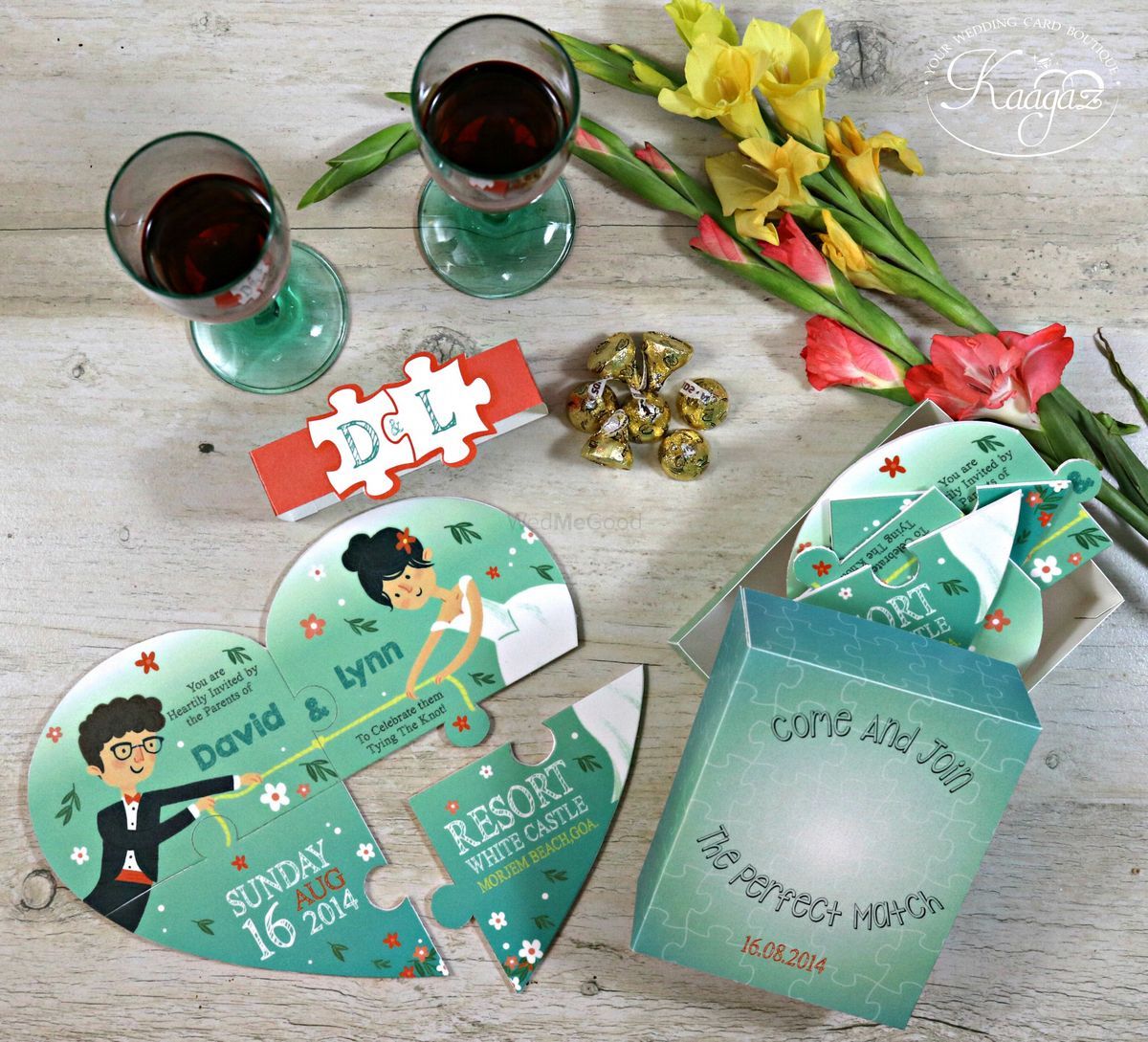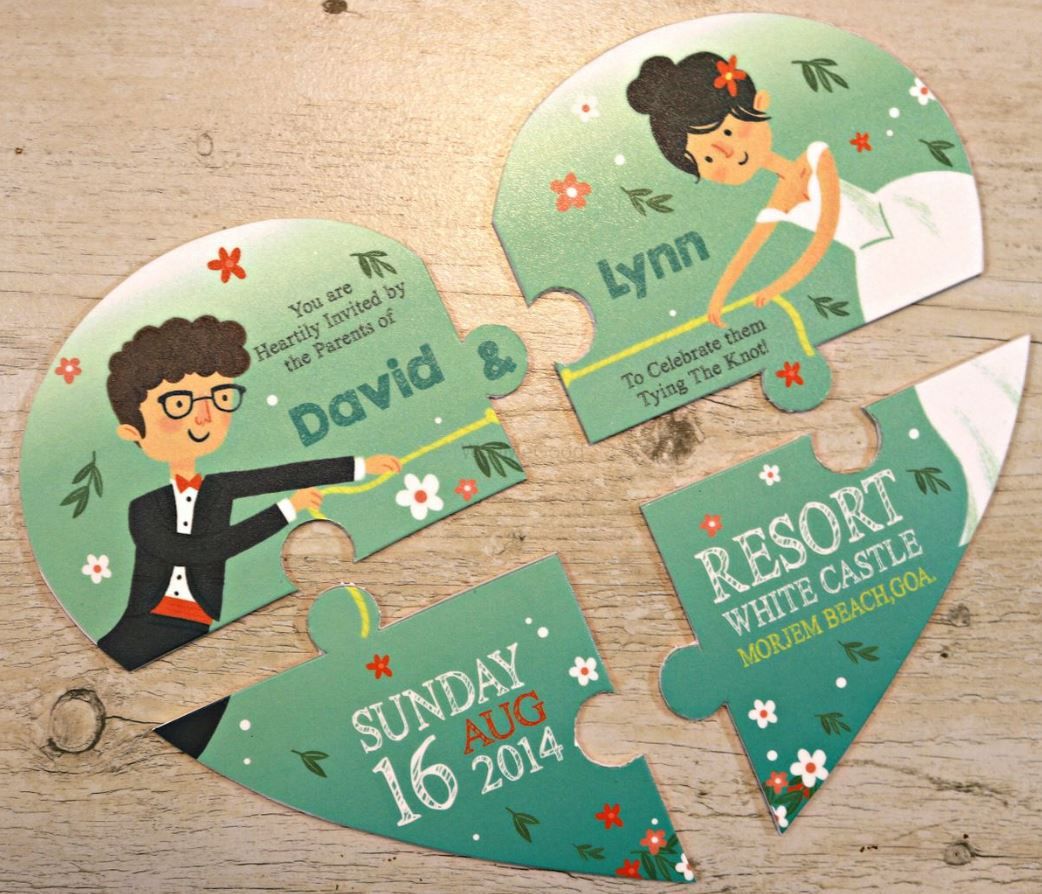 Wedding Card By: Kaagaz- Wedding Card Boutique★ 4.9
Unique puzzle pieces as an invite card with calendar
We know how important the wedding date is as all the celebrations begin from that. How about including your wedding date into a calendar invite for your wedding? This cute and fun wedding card invite will surely help your guests to remember your wedding date added with other venue details.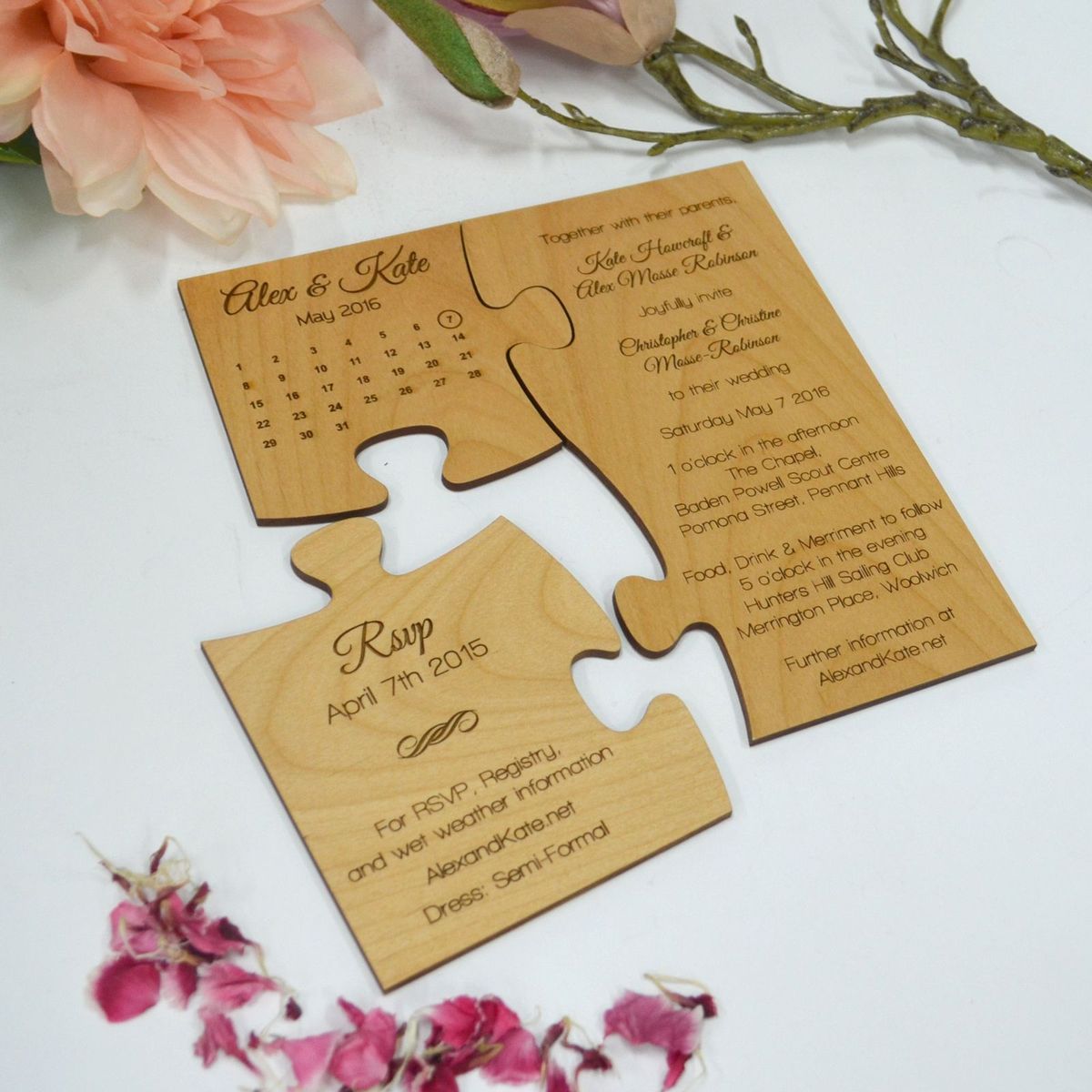 Image via: Pinterest
Tell your guests to hint? Simple yet effective jigsaw puzzle card!
Giving surprises is something, which we all love, right? Include your initials to your wedding invite and that too in puzzle form. Don't forget to join all the pieces to make a unique invite like this.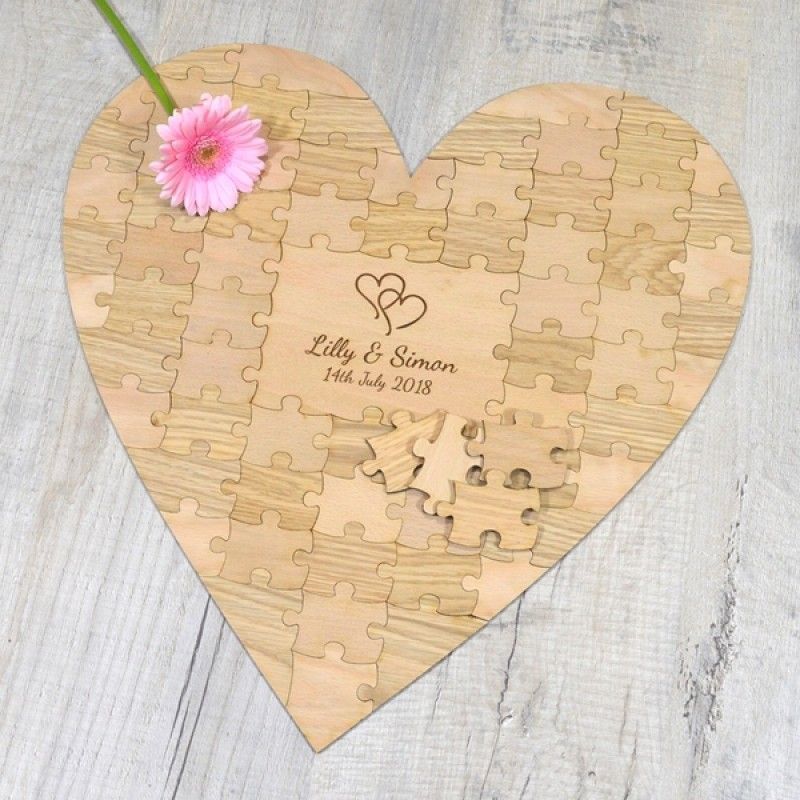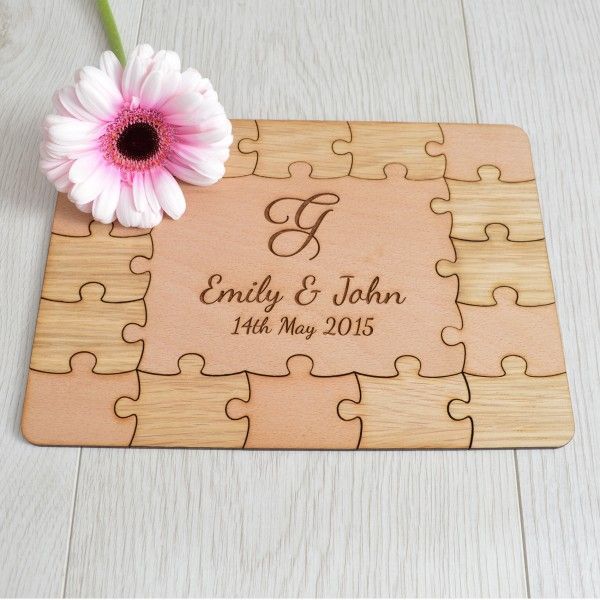 Photo Courtesy: Pinterest
How about sending across your wedding card in a potli? Let your guests have a guess and fix that jigsaw puzzle to surprise them for your wedding!
Gone are the days when people used to send the invites in a paper envelope. Rather, pick a simple polti or jute bag with jigsaw puzzle pieces so that when your guests fix that puzzle completely you leave all of them by surprise with your cute and unique invite.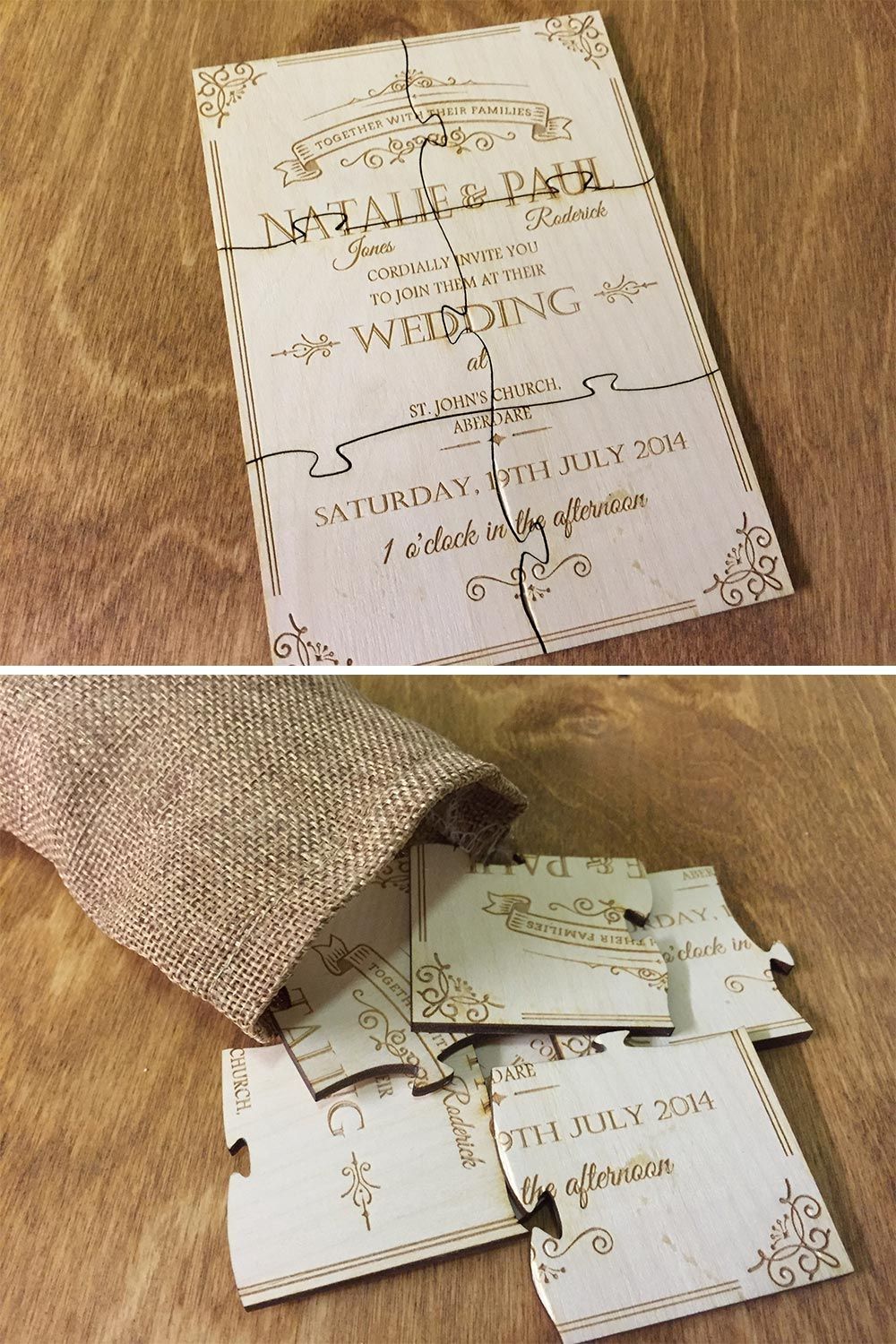 Image via: Pinterest
Thinking of having a card with invite box? This floral puzzle card is pretty for a rustic wedding!
Let's admit ladies that floral will never go out of fashion. If, you have a theme or just love flowers then, include pretty patterns and colors to your wedding invite and that too all in puzzle form.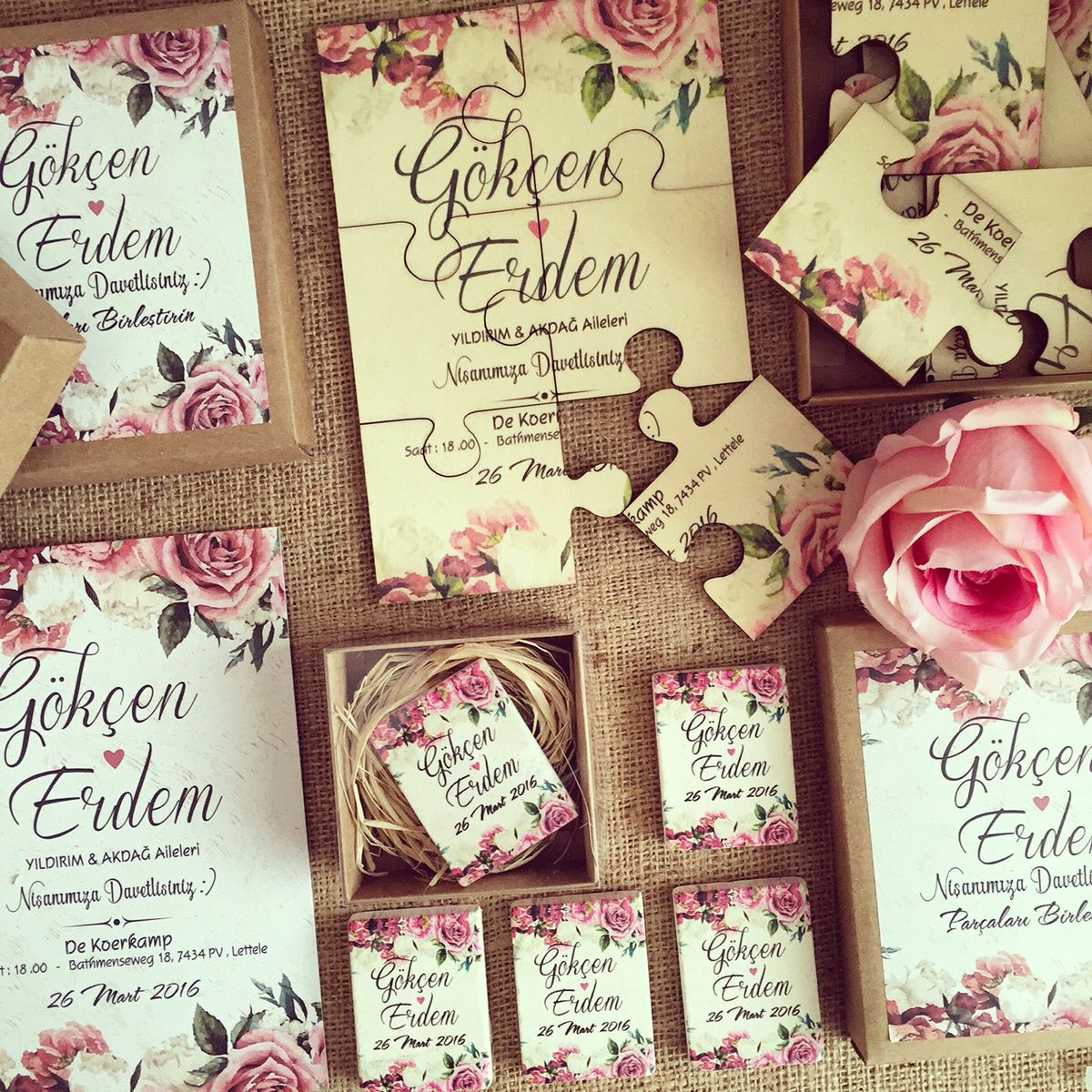 Image via: Pinterest
If, case if you've a restricted budget then, keep only puzzle pieces as a 'Save The Date' that are cute yet quirky!
We totally understand that you may have a budget cos after all there are tons of things to look after on your wedding day. If, you have a restricted budget and still wants to go fancy with your invite then, send across puzzle pieces to your wedding guests that is way too handle to cute. Also, did you spot the magnet attached to it that is such a cool way for a fridge magnet too.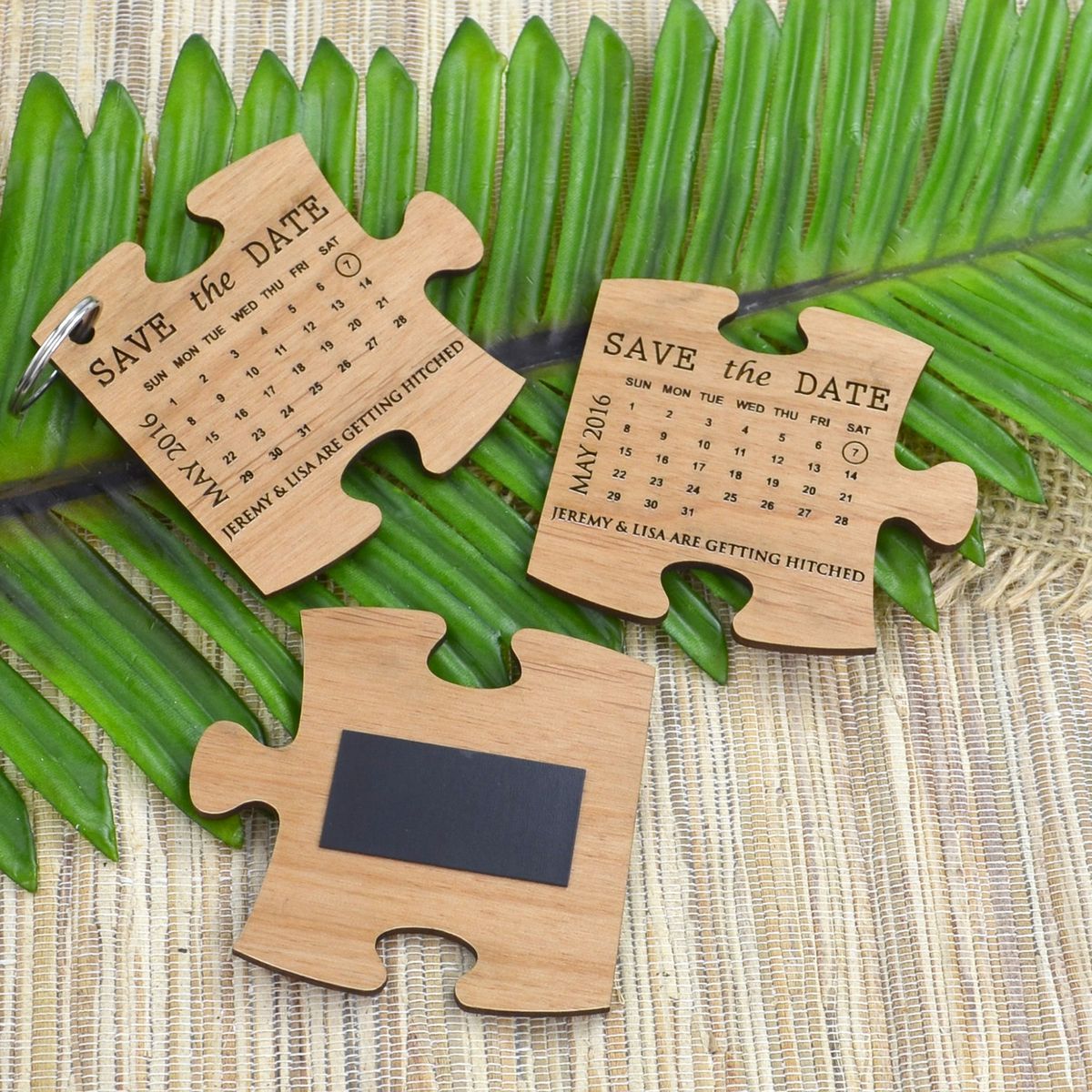 Image via: Pinterest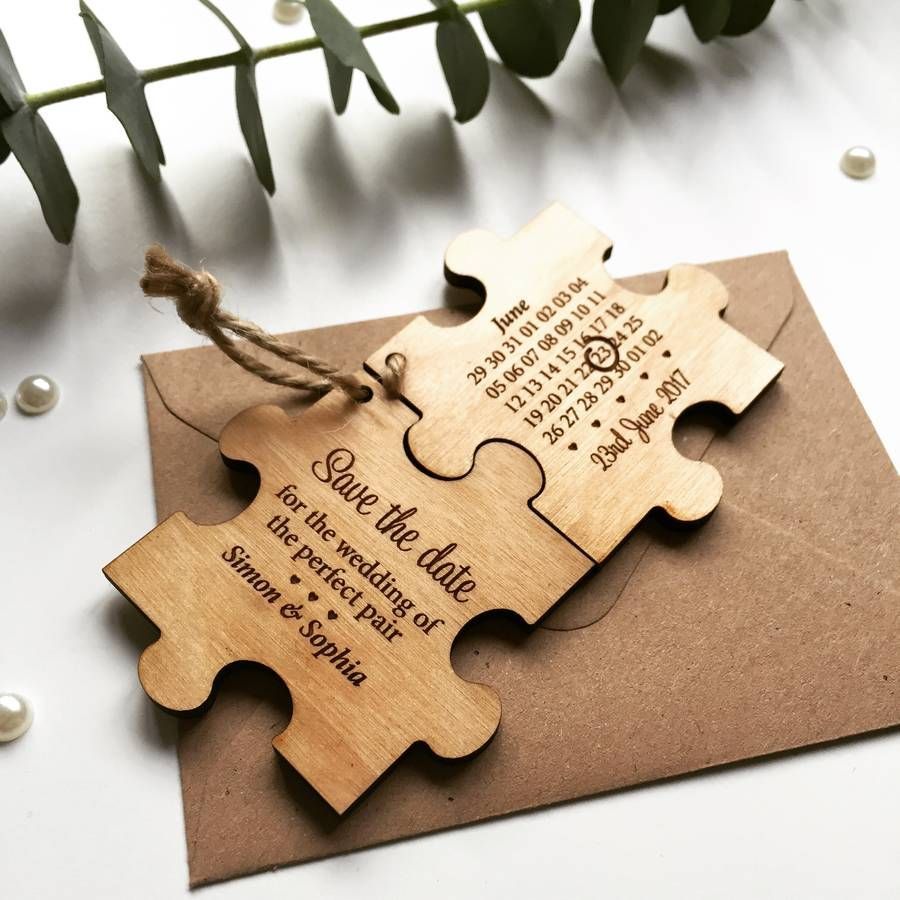 Image via: Pinterest
Cute bride & groom invite with jigsaw puzzle pieces in a box!
Go all blue with cute mini boxes that have your wedding invite puzzle pieces. Also, how adorable the groom and bride caricatures are looking on that card.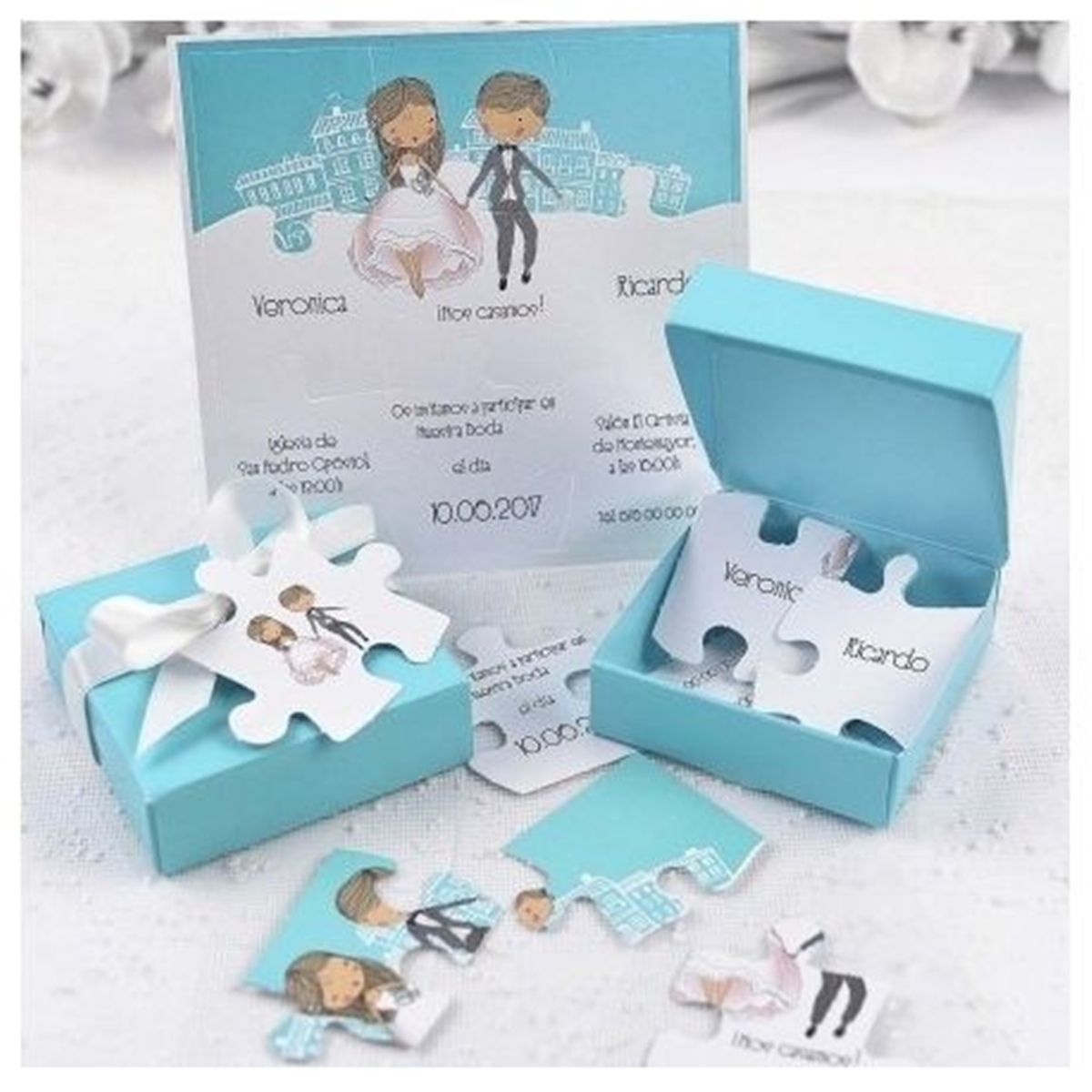 Image via: Pinterest 
Save the date wedding invite with couple photos!
Including your photos on the wedding invite is something that many couples are opting for it. Keep it simple and sweet and ink your personal picture all in the form of a jigsaw puzzle.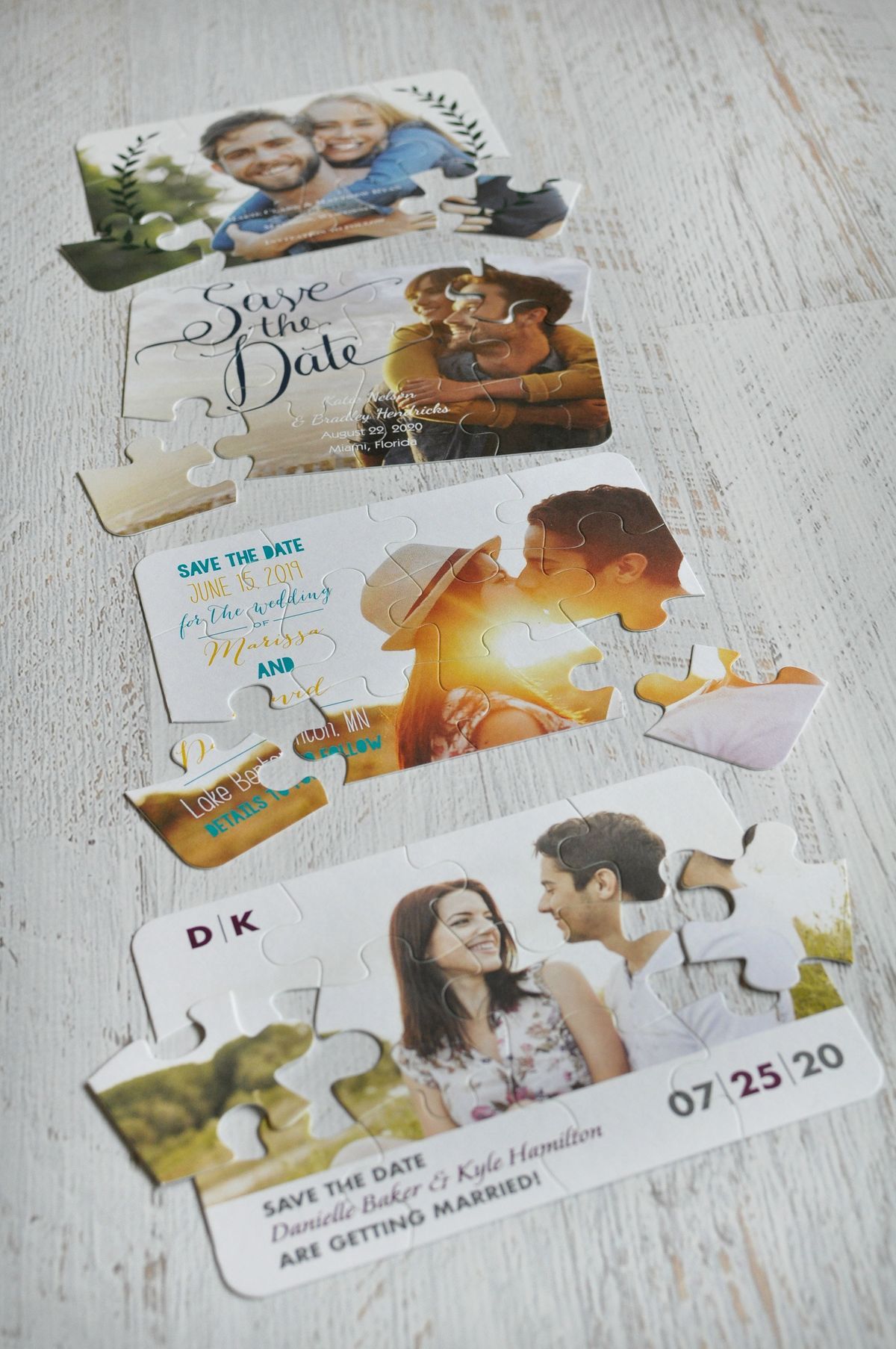 Photo Courtesy: Pinterest
Have a rustic theme for your wedding? Get a quirky wooden puzzle invite!
Rustic wedding theme is something that is our favorite. Walking under palm trees and taking your wedding vows seems so dreamy, right? Pick a cool wooden jigsaw puzzle wedding invite that looks classy yet elegant for your wedding day. TIP: Try to incorporate different fonts in different sizes that makes the invite look pretty and quirky.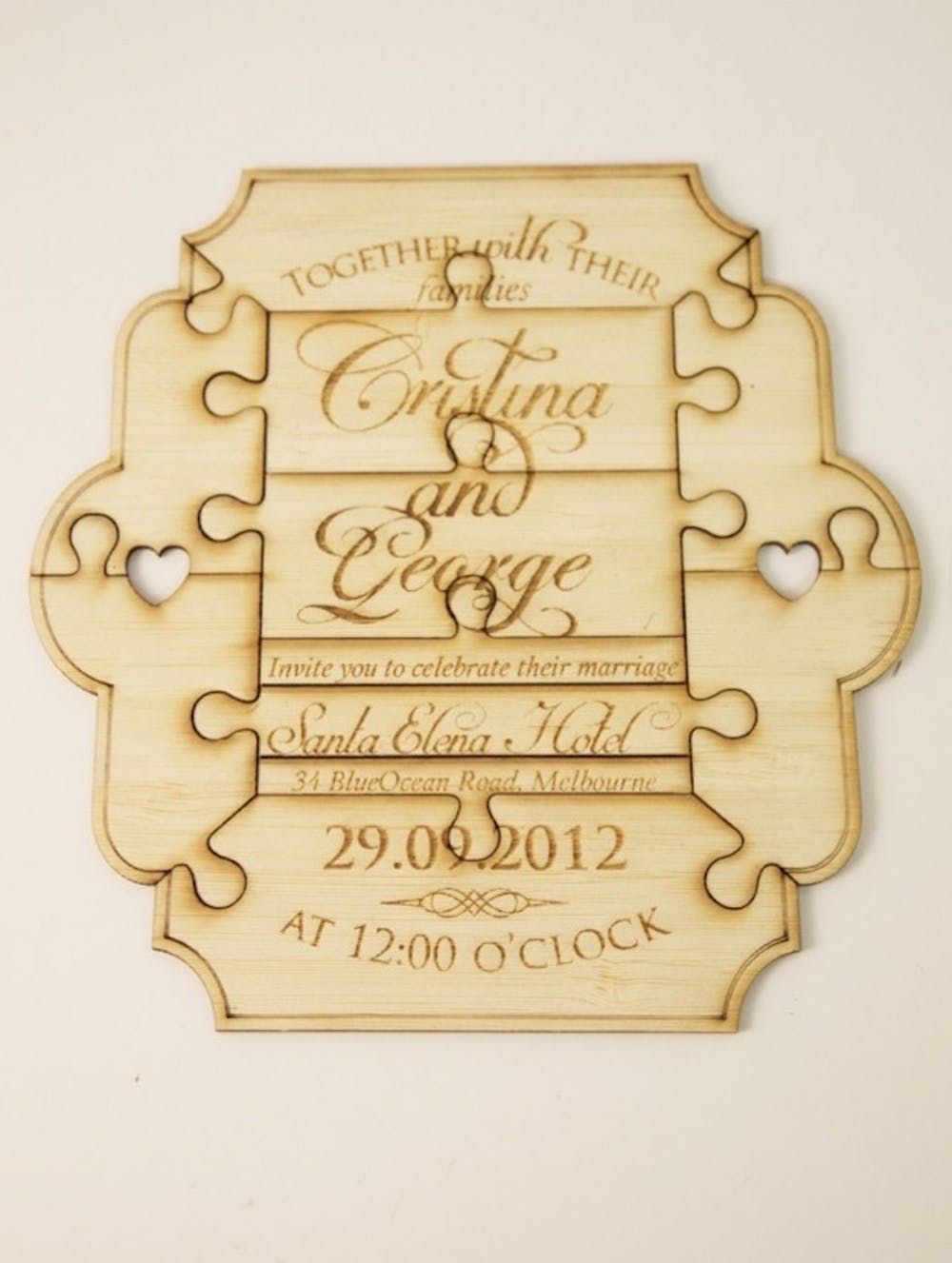 Image via: Pinterest
Keep it simple and sweet! Paper puzzle invite...
 Don't wish to go too fancy for your wedding invite but in LOVE with this puzzle invite idea? Well, we have options for all kinds of couples and here, is what we have got you - a simple and sweet wedding invite where the opening of the card has a puzzle design to it.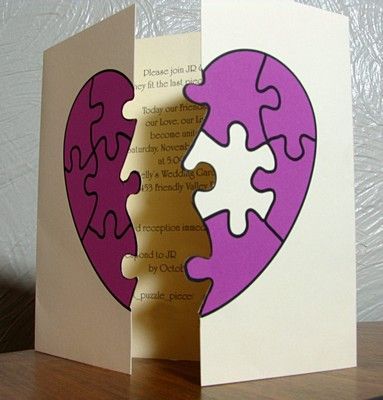 Image via: Pinterest
Don't want to have a puzzle invite then, get a wedding box instead!
We know that not everybody likes to go fancy and different when it comes to their invites. Include some puzzle paper pieces to your wedding invite wrapping, which is also a cool way to include jigsaw puzzle to your card.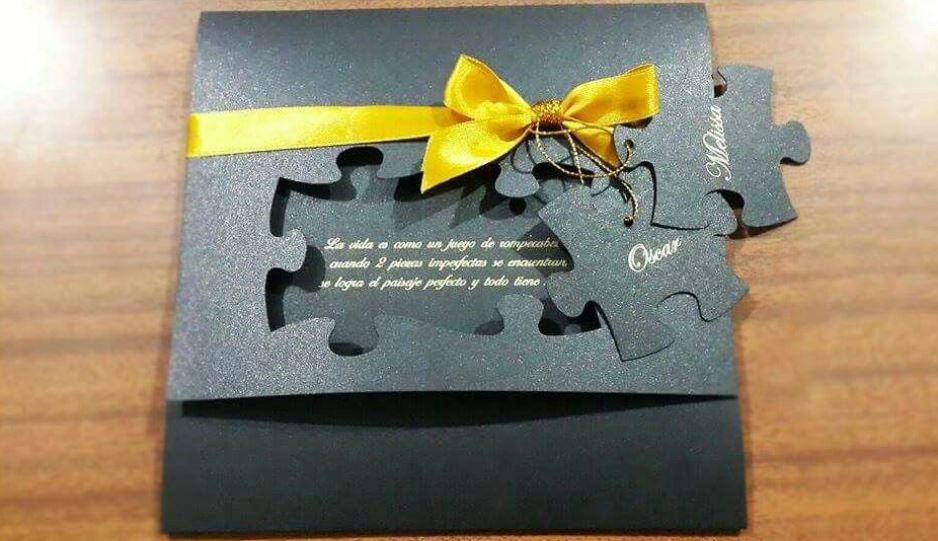 Image via: Pinterest
Keep it crystal clear. Glass puzzle with your wedding details!
Now, that's really different and trust me we haven't seen something like this before. Go totally different and include glass jigsaw pieces that adds so much elegance to your invite. Also, what a cool way to send the invite in a box!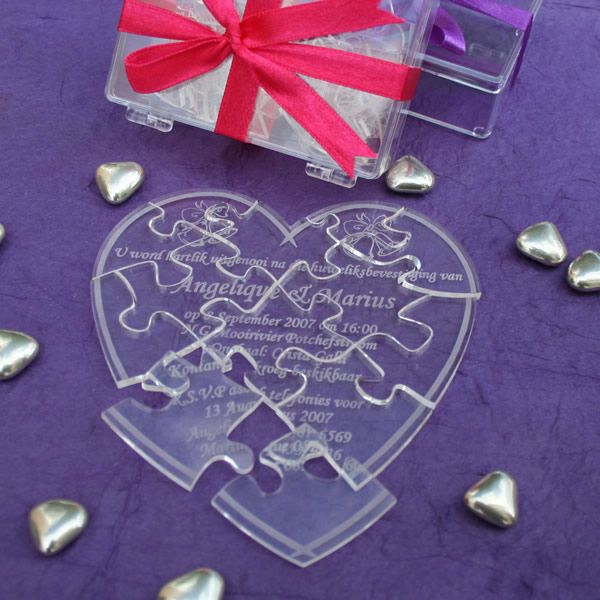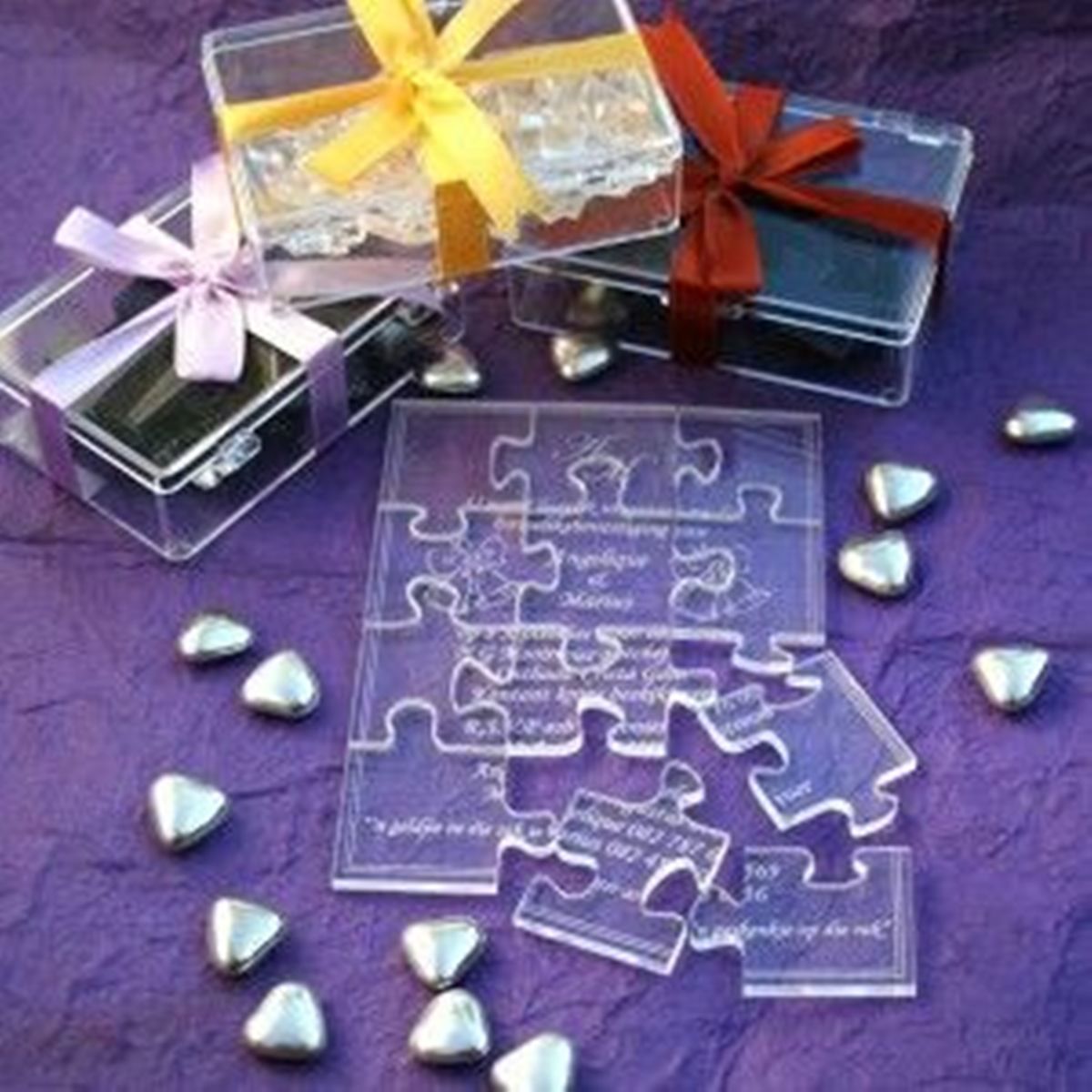 Image via: Wedding Favours ; Pinterest
Cute wedding puzzle box to make an interesting invite!
When the couple is so cute so why not to ink it to your cards. The caricatures of the bride and groom + a jigsaw puzzle is too adorable and a cute way to invite all your guests for your wedding.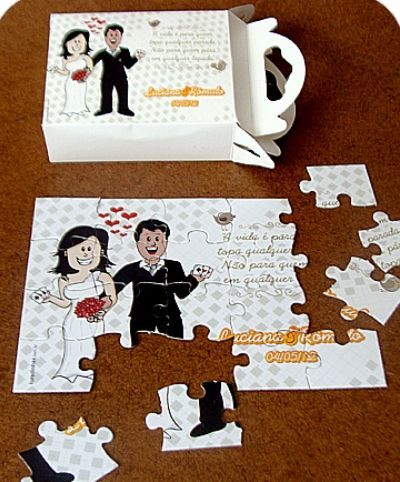 Photo Courtesy: Pinterest
Having a destination wedding? Include your place or location to your puzzle wedding invite!
Destination wedding in Indian weddings has become a trend. If, you're planning for a destination wedding then, how about giving a hint (So cool, right?) to your guests about the destination with your puzzle invite that is TOTALLY out of the box!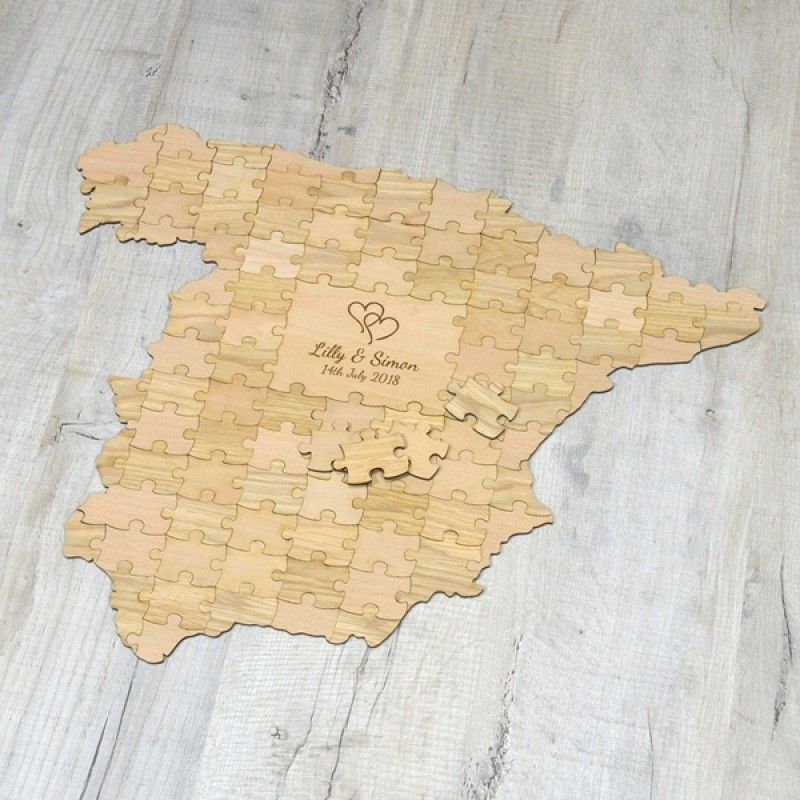 Photo Courtesy: Pinterest
Simple jigsaw puzzle card with cute favors!
Giving out wedding favors is something that has also become a trend and a sweet gesture to invite your loved ones. With a simple puzzle invite and favors you are all set to rock your wedding.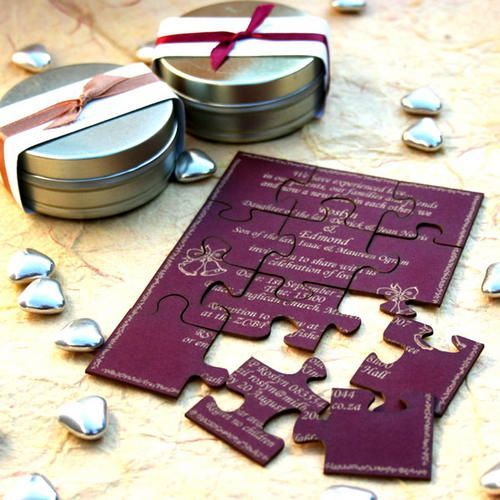 Photo Courtesy: Pinterest
Go easy with cute puzzle pieces attached with threads and your wedding details!
And, lastly if you still want to go minimal with your wedding invite then, just include a jigsaw puzzle attached with a cute note that looks really cute and quirky as a wedding invite.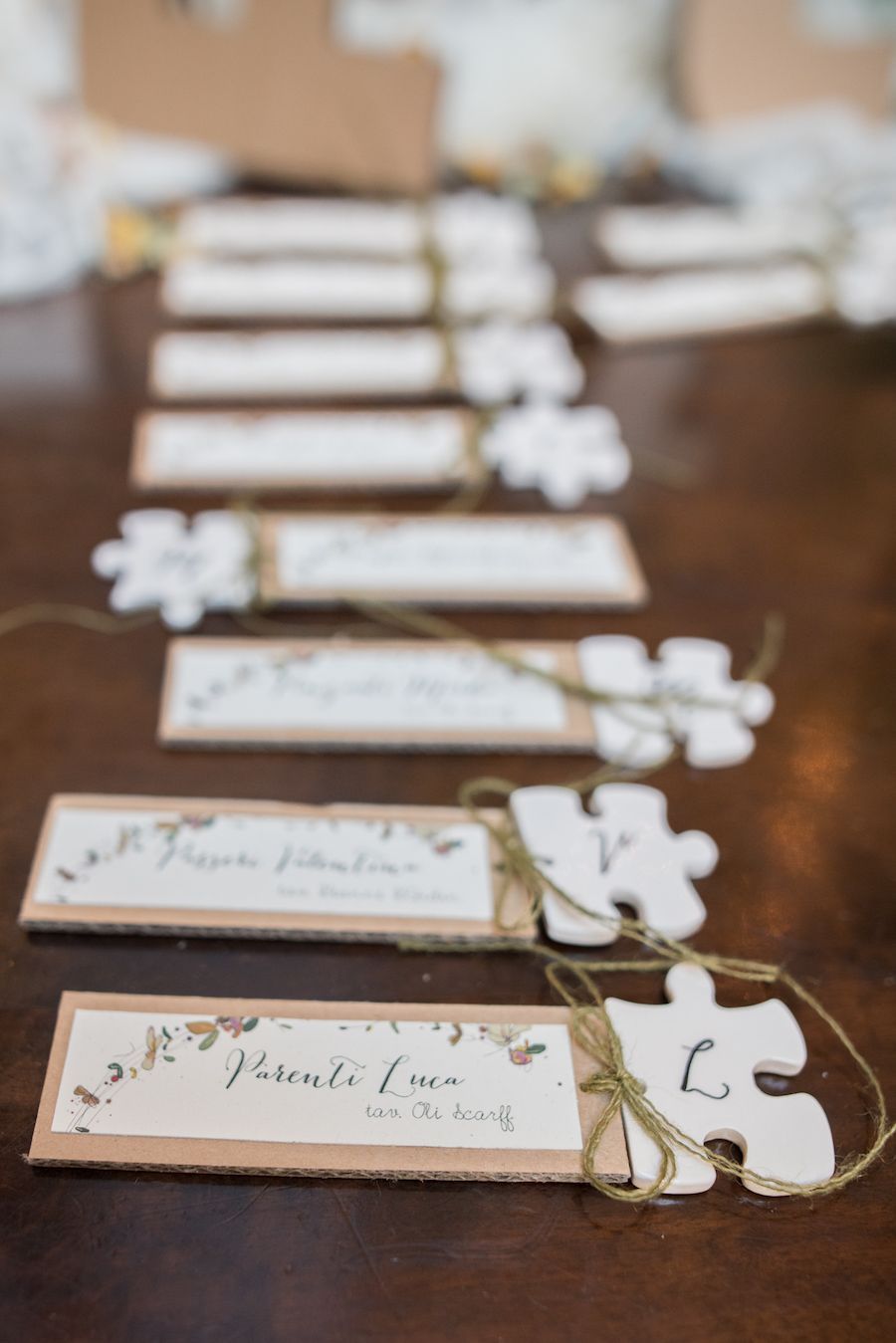 Image via: Pinterest
Getting nostalgic or feeling to take out your puzzle box out? Do have one of these Jigsaw Puzzle as your wedding invite for your wedding cos it will surely leave your guests by surprise!