Dakshina Ceremony Looks For Both The Bride And Groom
BY Meenu | 03 Sep, 2020 | 4922 views | 3 min read
The Dakshina ceremony, common in Keralite weddings, is one of the first pre-wedding functions. The ceremony basically is an event where every elder of the family blesses the bride/groom. It can be done within just the immediate family or a larger gathering with extended family members.  It is an important and integral ceremony with many families having elaborate decor, themes and the bride/groom dressing up in their best. So, we thought of highlighting some of the best looks from a Dakshina ceremony.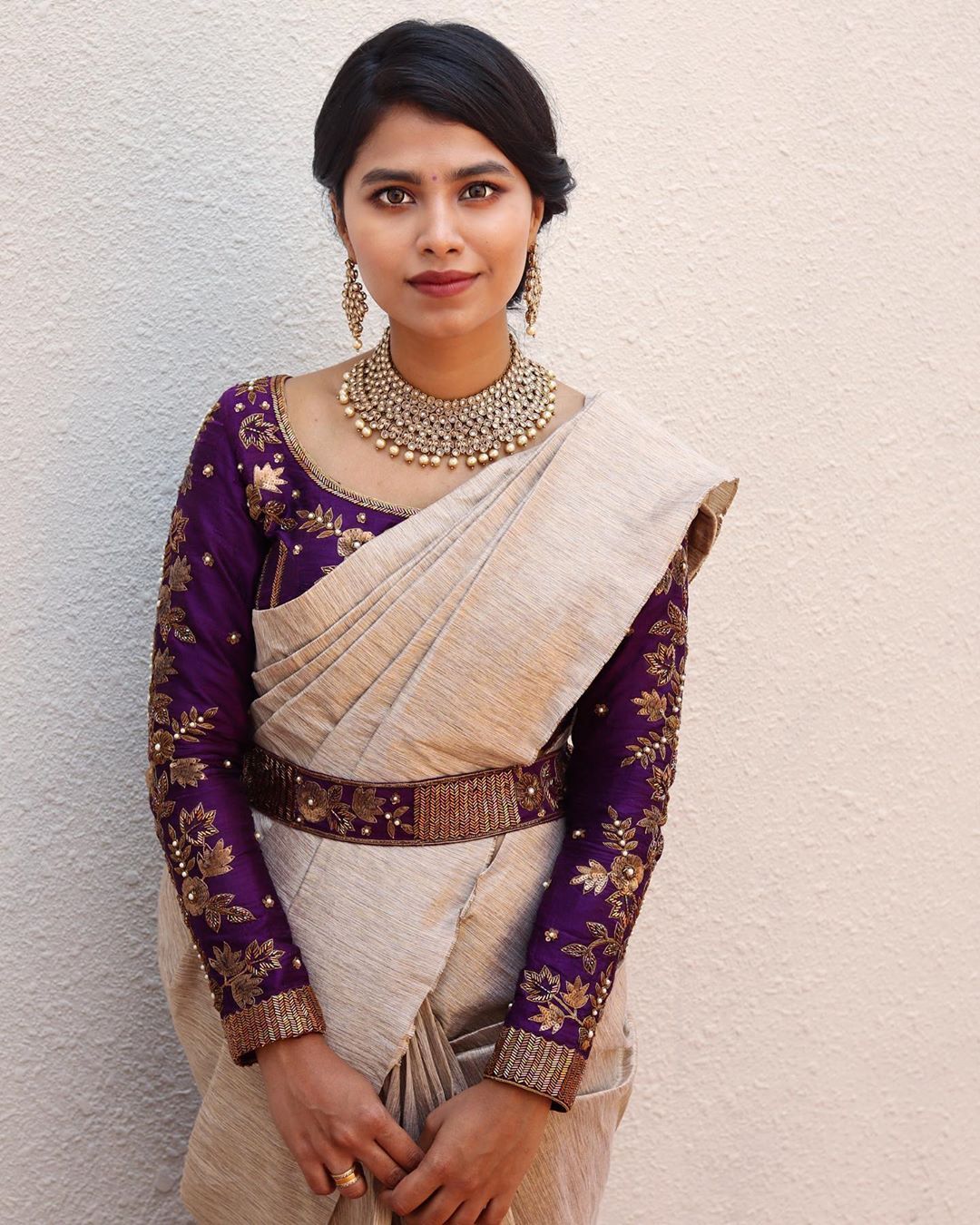 Image Via: Steffhairandmakeup
For The Brides
In a Malayalee wedding, as the bride you are obviously going to wear the Kasavu saree/Kerala white and gold saree or a Kanjeevaram for your Muhurtham. So why choose another of these for your Dakshina ceremony? Also a lehenga will surely be in your mind for your Sangeet or reception.  Instead think of these choices.
A Half Saree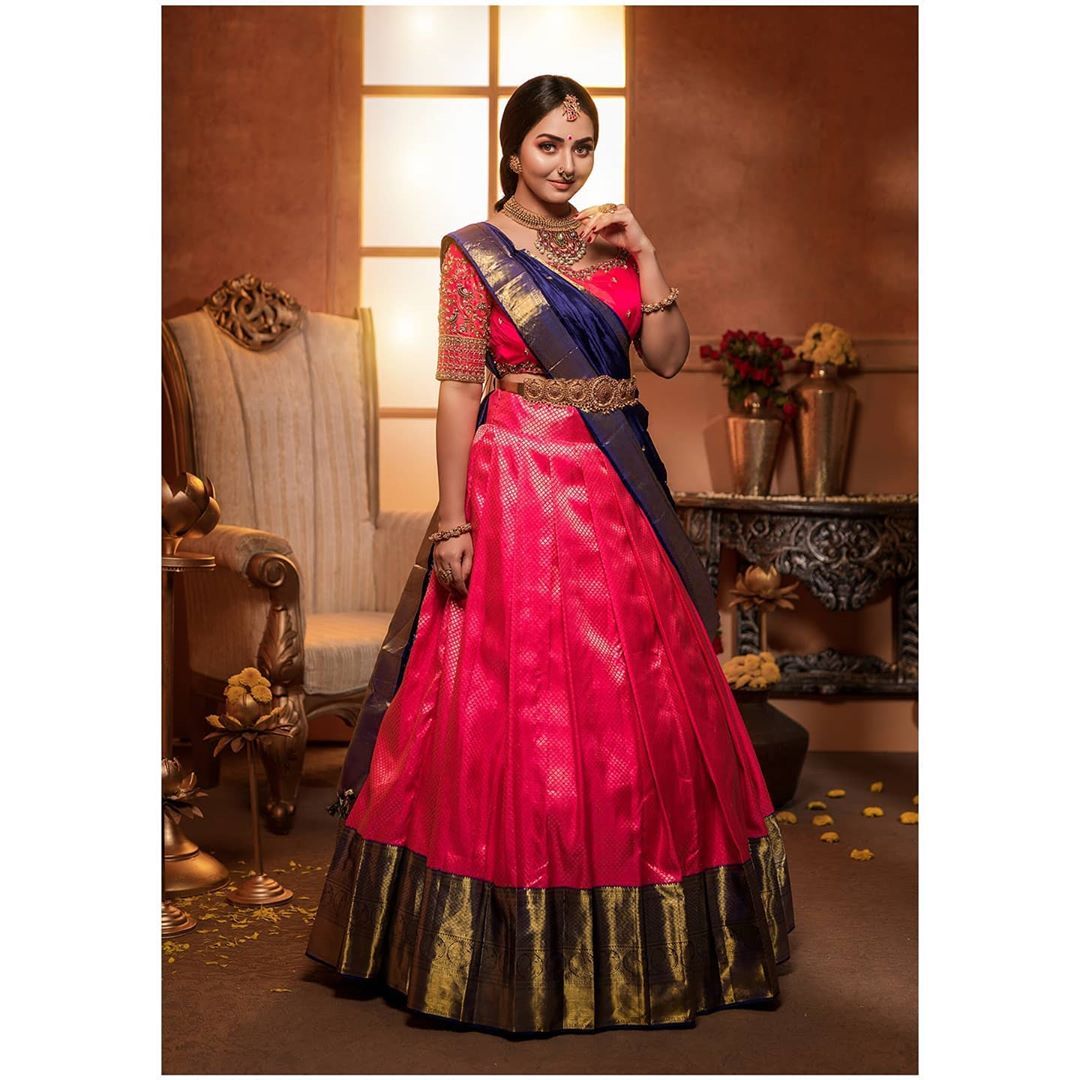 Image Via: Mabia Boutique
A heavy half saree with all the South Indian accents paired with some lovely temple jewelry would be a great choice for your Dakshina ceremony. You can also try out an organza half saree which has a heavy Kanjeevaram border.
A Lehenga Saree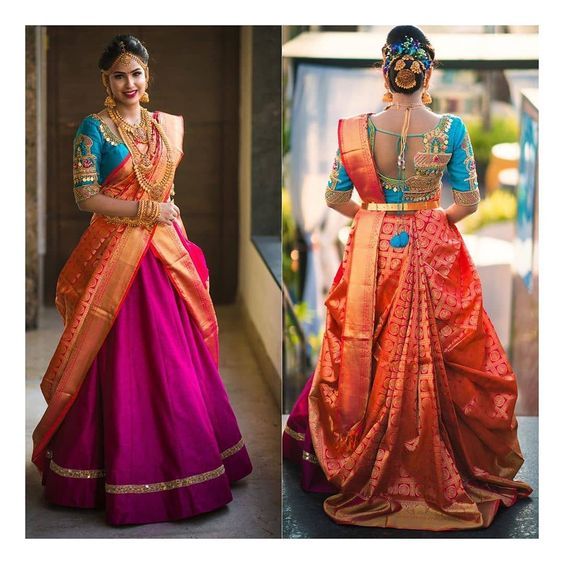 Image Via: Mabia Boutique
If you are still debating about a saree how about you change the drape style? Add a can can skirt below and you have a gorgeous new look!!
Pattu Pavada and Blouse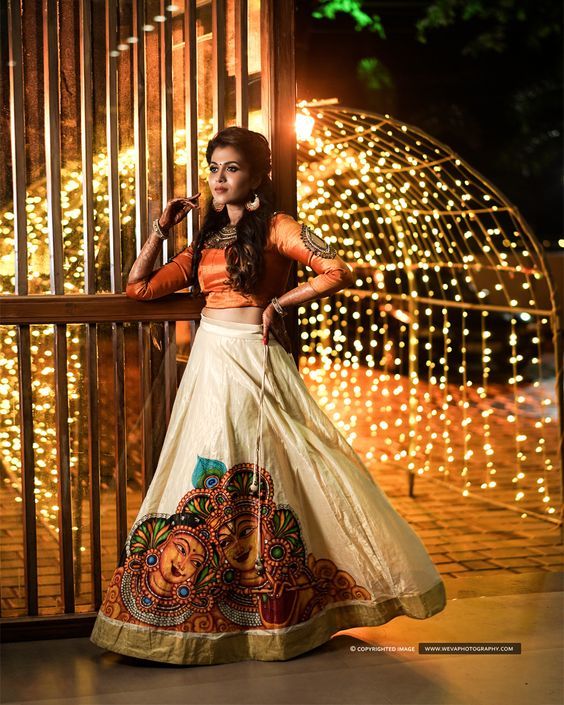 Image Via: Weva Photography
Instead of a half saree you can choose a heavy skirt paired with a blouse. Choose your style, be it a cropped blouse or something more traditional. This is a classic.
For The Grooms
Well guys, be it a mundu (South Indian dhoti) or a Sherwani or a suit, we are sure you guys have picked it up. Let us think of something fun and yet comfy for your Dakshina ceremony.
Dhoti Pants and Kurta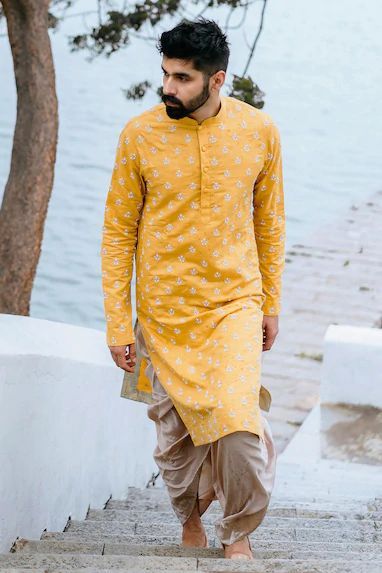 Image Via: Aza Fashions
How about pairing a Dhoti pants with a Kurta? This style of dhoti would be different and yes would be very comfy when you have to fall at the feet of so many people to get their blessings.
Different Kurta Pyjama set
If a regular kurta Pyjama is too boring try out an interesting cut or pattern. Check out this cowl Kurta set for inspo!!!
Image Via: Kalki Fashion
Try A Stylish Waist Coat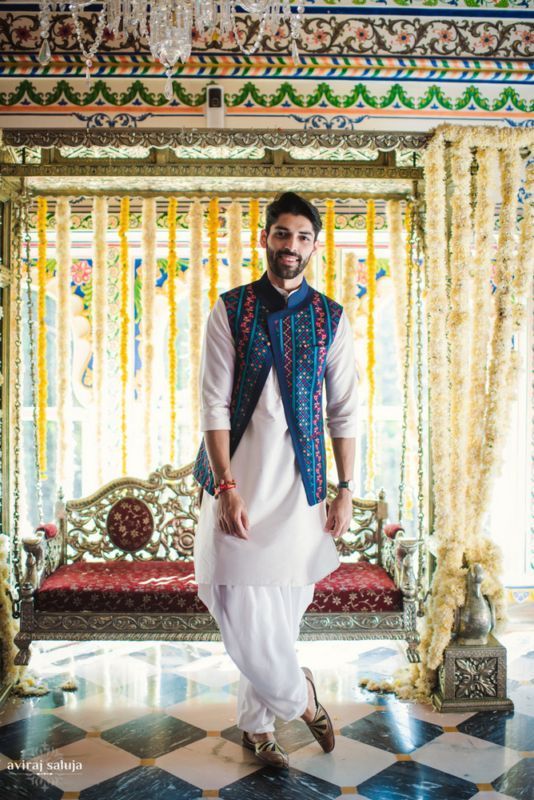 Image Via: Aviraj Saluja
Choose a simple Pyjama kurta set, best yet in shades like white/off white Throw on a heavy wait coat. You can go all brocade and get something festive or choose something as fun as an Ikkat print in colourful shades. You could surely also try the evergreen  Mundu-Jubba combo. This is a Kurta paired with the South Indian style dhoti. Can we give it a slight spin and try out a colored dhoti with the Jubba (kurta)? Choose jewel colors instead of the regular off white dhoti.
Hope these looks help you to decide what you would choose for your Dakshina Ceremony. Let us know too!!