Decorators Reveal: Home Decor Hacks for the Shaadi-Waala House !
BY Sakshi | 15 Jul, 2021 | 8408 views | 4 min read
So we are back to basics thanks to the pandemic, with home weddings coming back in vogue. But in 2021, having a wedding at home doesn't mean it has to be totally basic- there are ways to make your home or your garden look absolutely amazing- so much so that no one will be able to guess that the wedding wasn't at a pretty venue instead! We asked some of the top wedding decorators to dish their secrets for hacks to deck up the Shaadi Wala Ghar, and if you are planning your pandemic intimate wedding, then pick up some useful pointers!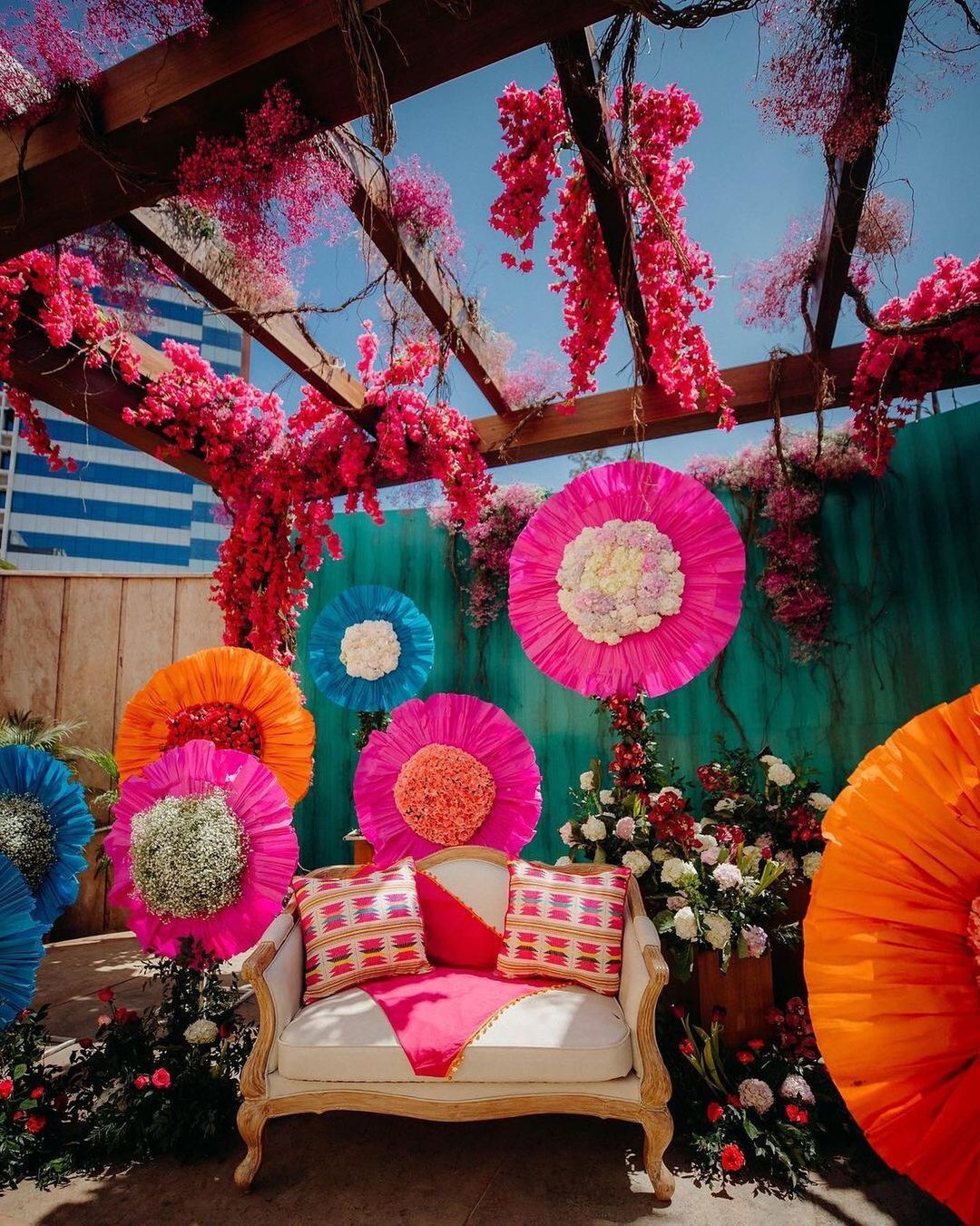 Image via The Wedding Design Company★ 5
Bird Water Bowls, Lucknow Toys & Terracotta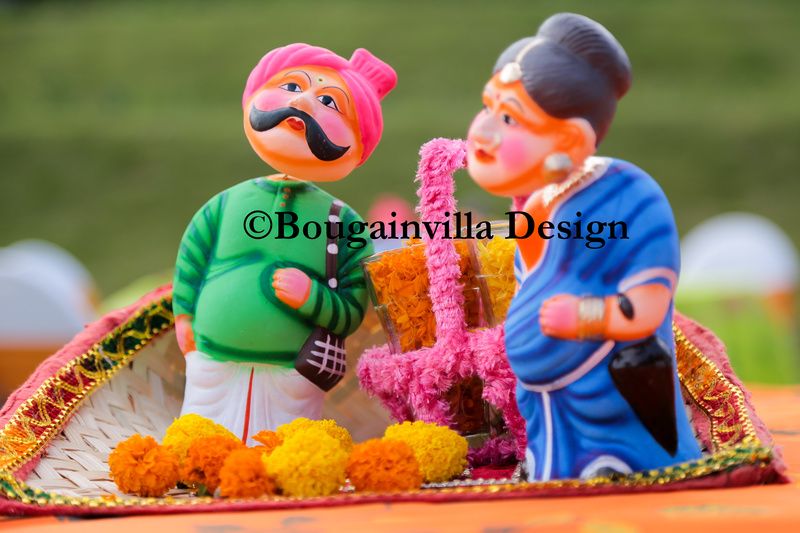 Bougainvilla Design★ 4.9 Indian decor elements look great for the shaadi-wala ghar.
A great decor hack is to keep inexpensive large terracotta pieces around the house, they look great and aren't too expensive either.
You could even get some Lucknow toys, put some genda phool malas around their necks and use them as centrepieces!
Get some bird water bowls, say about  20 of them... fill them up with water, float some genda phool and keep them around the house!
Bandhani Dreamcatchers & Parandis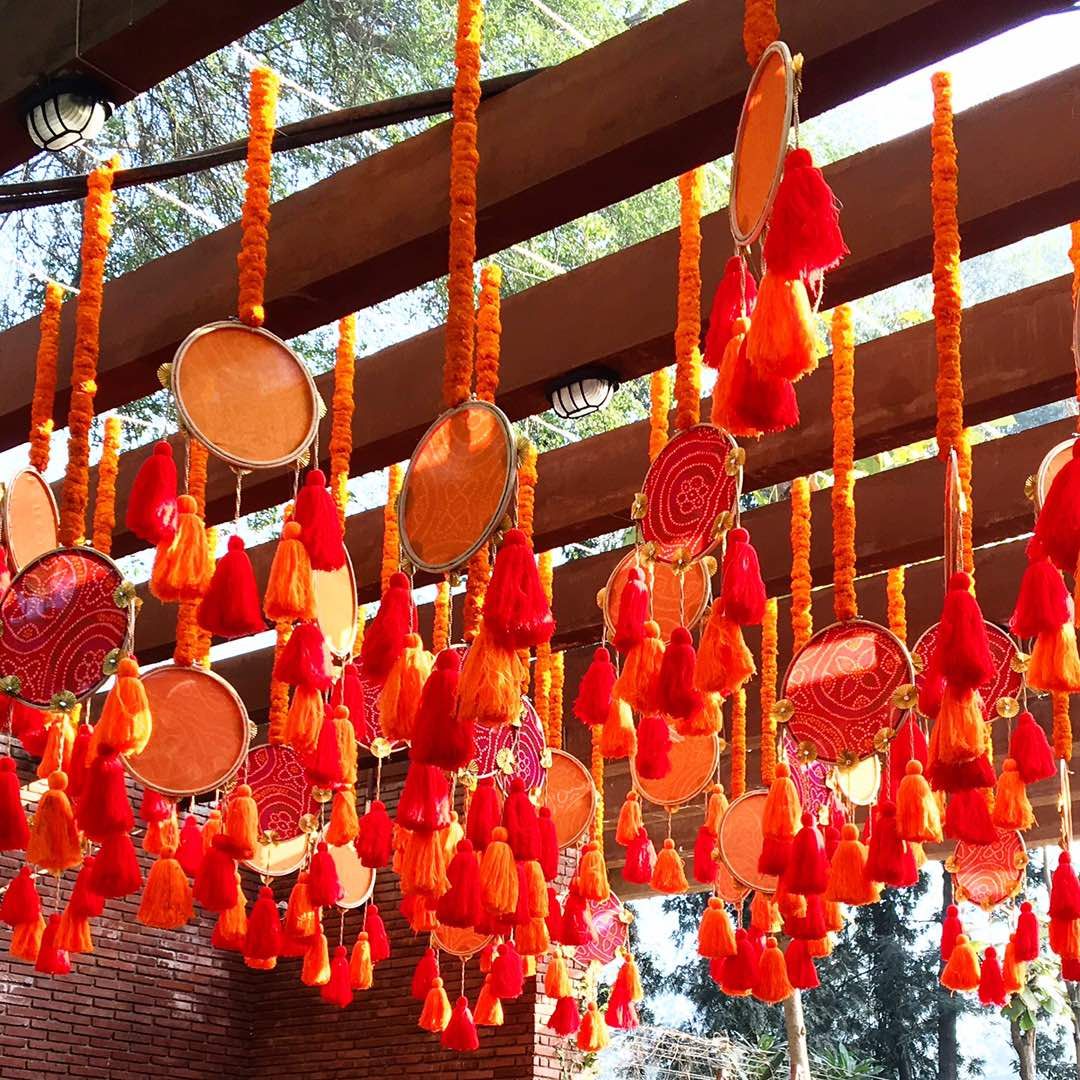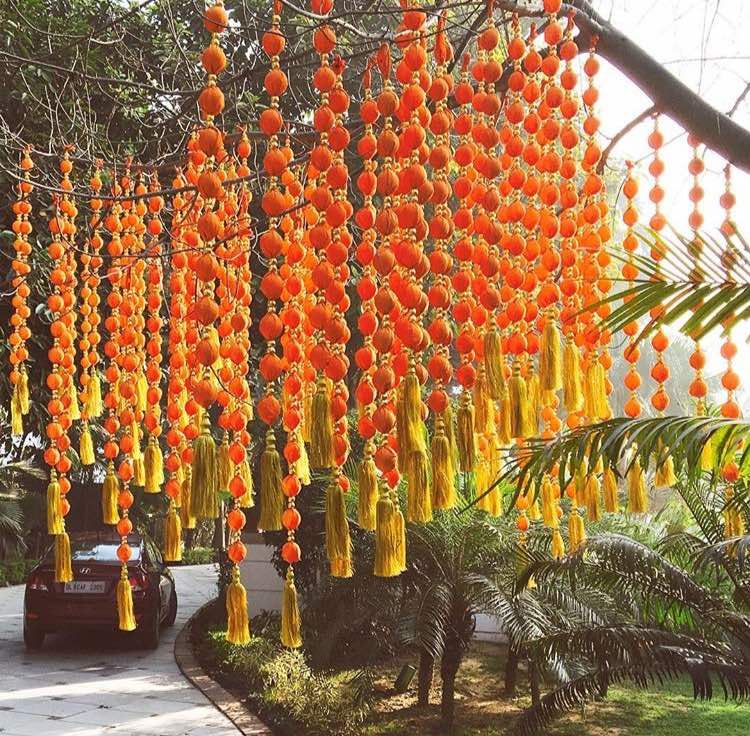 The Shaadi Wala Ghar is always incomplete without lighting! We tend to do a lot of paper/cane lanterns for the trees. Also wrapping the entire tree in fairy lights makes it look amazing! Another favourite is to wash the home with a natural colour flood light so that it glows over all the other houses for those days!
In terms of decor, we do drapes and dry hangings like our Ikat/bandhani dream catchers and a lot of paraandi latkans, this continues to hang for 3-4 days, so that all your dhol nights and dance practice parties look special and event-like!"
Colored Bottles, Moms Sarees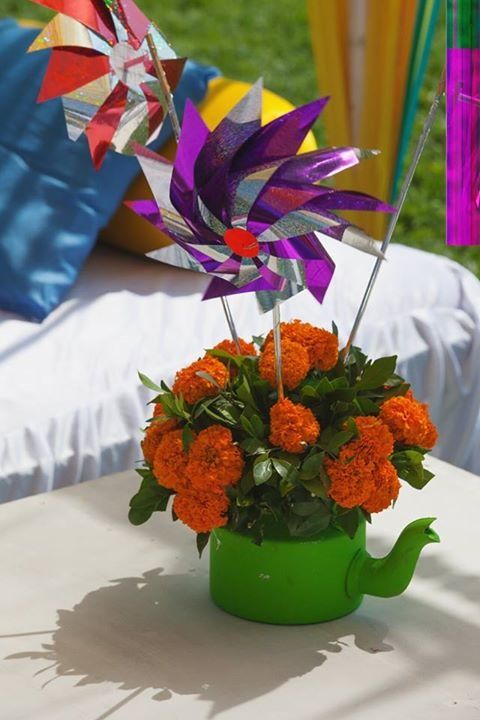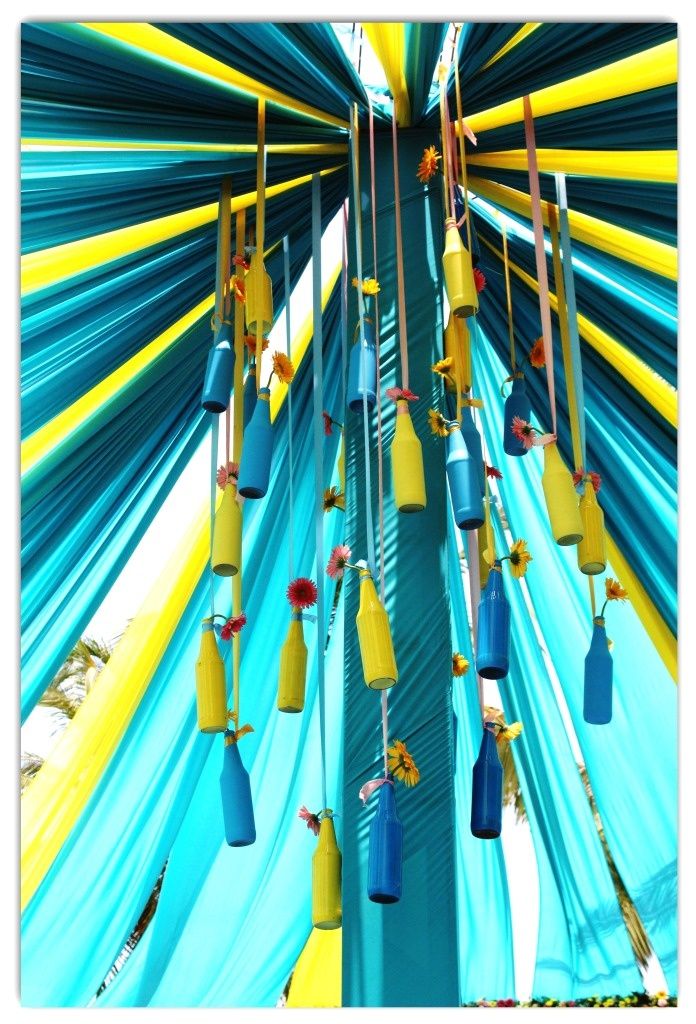 Purple Tree Events Solution★ 4.9  says :
Moms old printed sarees are a beautiful way to adorn the house. Use them as drapes with a few fairy lights and you have decor with a personal touch to it!
Tea lights are also a simple and quick way to subtly transforming a home to look festive.
One can use painted wine bottles with flowers, old glass bangles, pickle urns with tall stemmed flowers to make statement and personal decor pieces / areas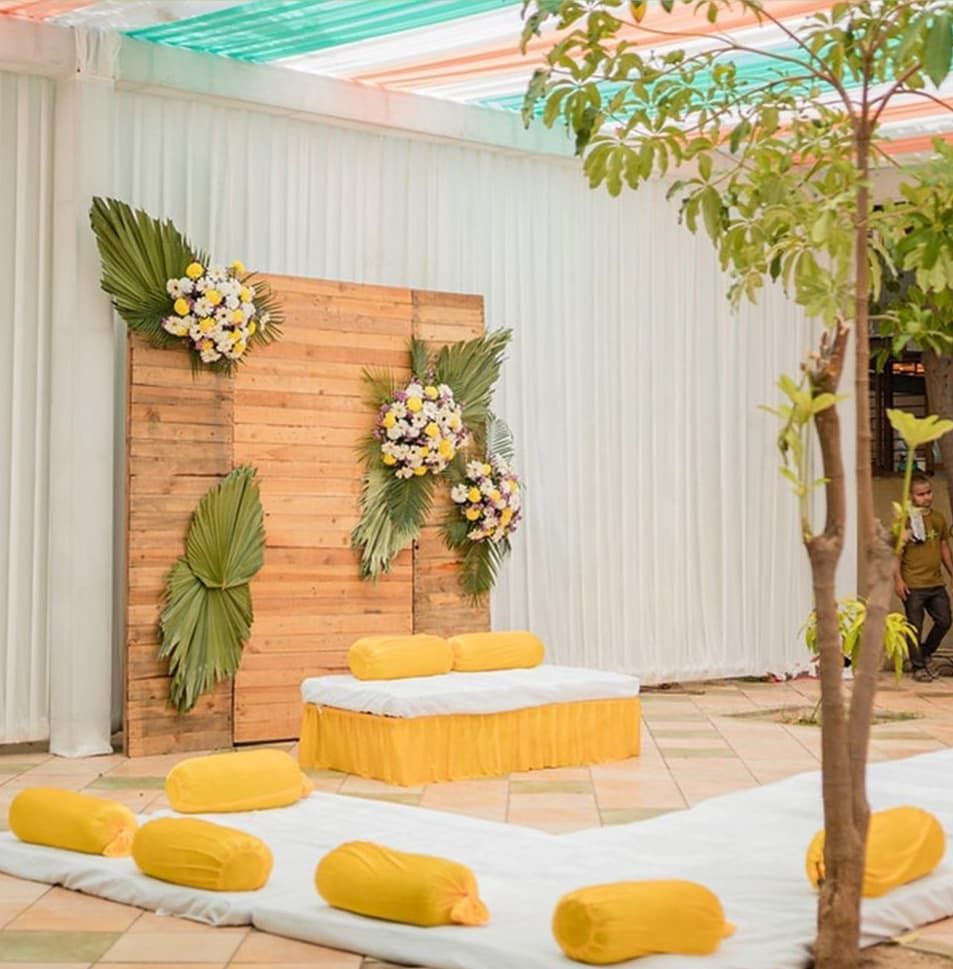 Image via @thecanopy.designer
Flower Baskets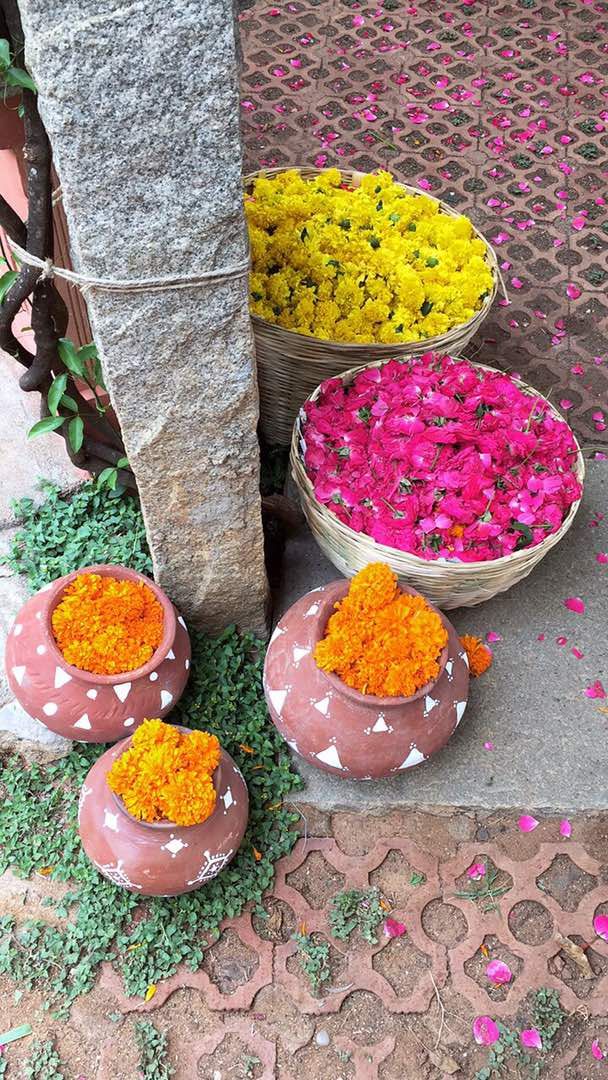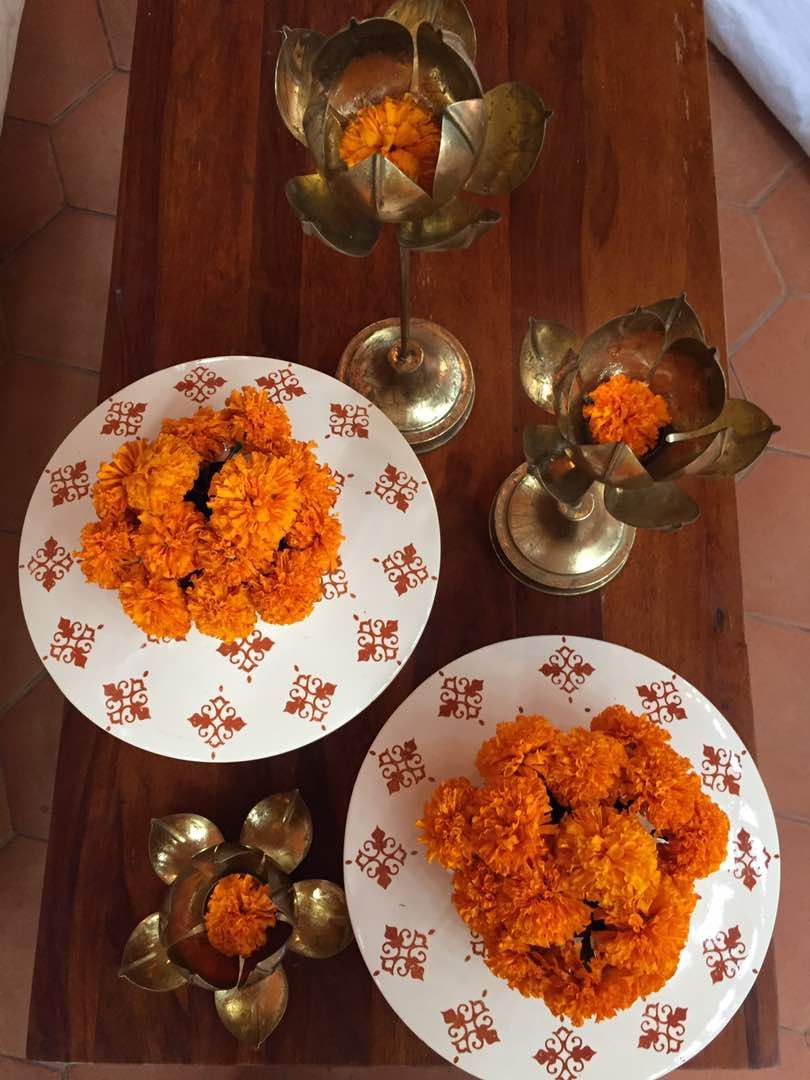 With Love Nilma★ 5  says
Save up on all the nutella/ jam and similar glass jars.. Can be painted and used as decor.
You can also buy lot of flowering plants like marigolds and bougainvilleas a few days before the wedding, which can be planted at the entrance and it can be retained post the wedding too!
Also, ask someone if they know how to do a traditional powder rangoli in front of the house, it's soon becoming a forgotten art.
Simple mango leaves torans around doorways look great, and so do baskets or buttis filled with flowers.
Another great hack is to hang bangles at doorways to create a drape/ arch decor!
Simple Vases and Mango Crates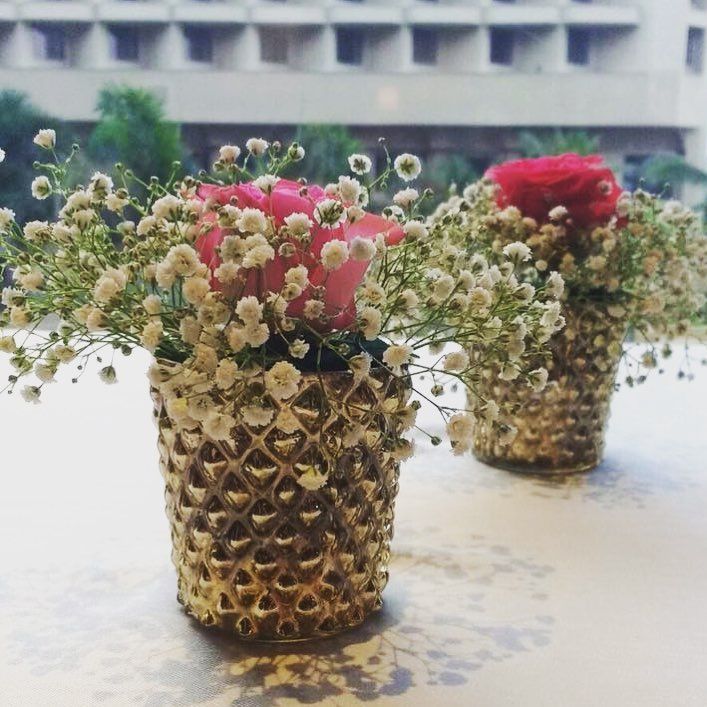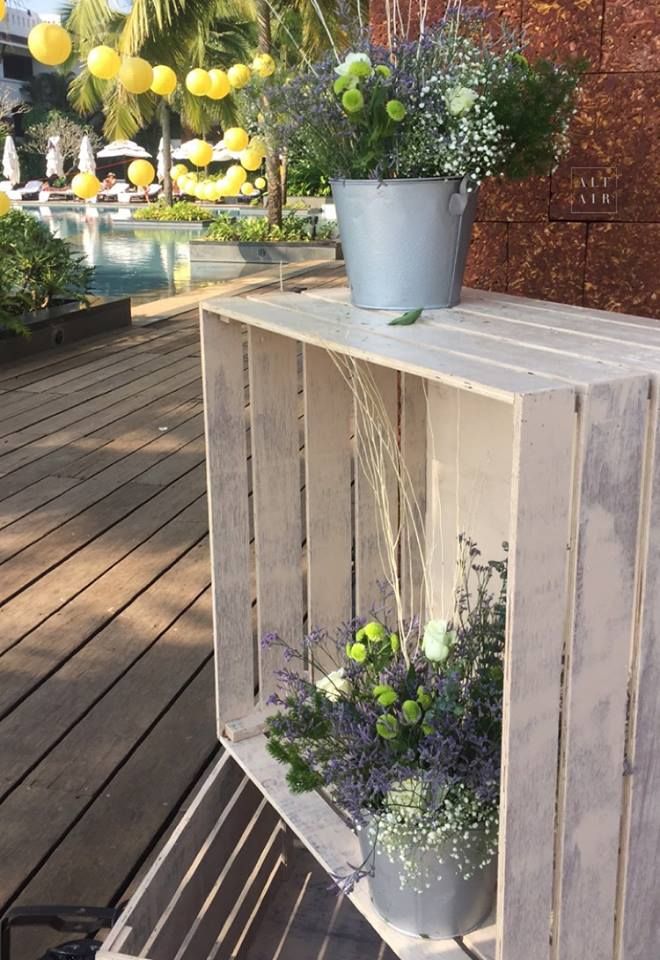 Altair★ 5 says :
It is necessary to do up your house to make it look festive. We believe that this can be easily done with items already available to you.
As it is the summer season, there might be ample of mango boxes or crates lying around in the house. These mango boxes can be easily spray painted to a gorgeous gold or bronze and used for a container for an arrangement of flowers.
Every household today has an ample of ceramic vases and glass pots from old bouquets and diwali gifts, these can be bought out and used around the house as flower vases!
Great ideas that are super simple, right?!