DIY Engagement in Delhi With Sweet Intimate Decor Details!
BY The WMG Bride | 10 Mar, 2016 | 794 views | 3 min read
Pink might be the navy blue of India, but navy blue might just be as hot as pink if worn at the right occasion. Case in point: the bride Naina's blue Surendri outfit. As glam as this simple Engagement looks, can you believe that it was all done in DIY by the bride's mom? And we so are in love with the chai party set-up and the sweet messages on a board that the friends wrote - overall, a cute intimate party photographed beautifully by 
Ankit Vishnoi
.
 Meet Aman & Naina
"Our families have known each other for the past 25 years. I remember meeting Aman when we were kids at my grandmothers house - I still have pictures of that time  somewhere. I met him again after 15 years at my cousins wedding in 2014 and a month later again for my cousins reception. This time, things clicked, we talked a lot, got to know each other and everything fell into place. Aman never directly asked me to marry him- like the gentleman that he is, he called my parents and asked them if he had their blessings to marry me. I came back to Delhi in July, oblivious to the entire conversation. Apparently no one thought I needed to know, or had to be asked or anything like that. But everything soon fell into place, we are getting married" says Naina.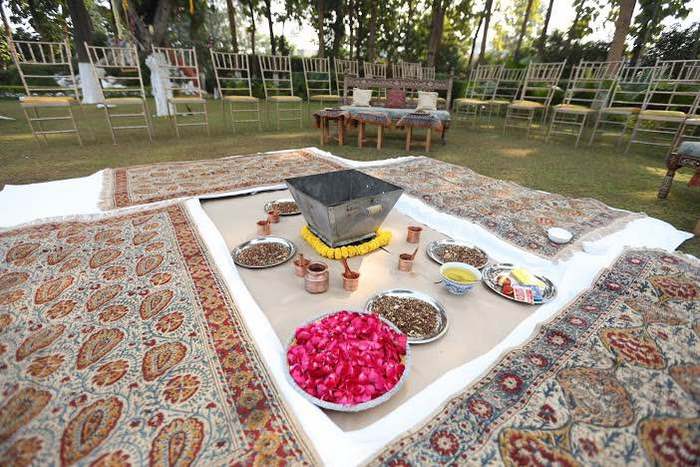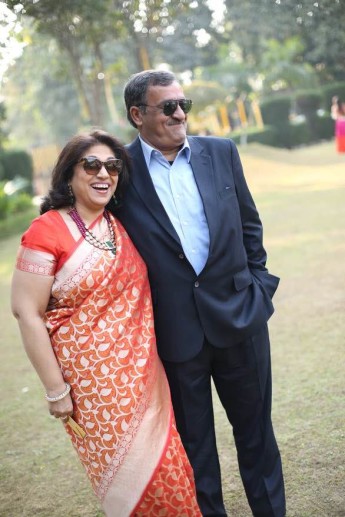 From The Bride: 
"I had no role in the decor, the gift bags or the food. All I wanted was for everyone to have fun. I left it all on my mother and it turned out perfectly. I was in awe when I walked in to the farm in the morning. The colours were perfect, the entire thing was very minimalistic, exactly the way I wanted it. We gave out masons jars with truffles and chocolate cake to all the guests. They were great, I had guests telling me for days after how much they enjoyed it" adds Naina.
"The only thing I was concerned about was my outfit, I wanted something different that people hadn't seen before, something subtle and simple. I was certain that I wanted the colour to be something extremely unusual and after meeting Yogesh a couple of times, I knew he understood what I wanted and would deliver. Though we had one function, it turned into an entire weekend of celebrations with people travelling from all over India to celebrate with us and I'm glad that they all thoroughly enjoyed themselves. It started off with a small Hawan with just the family and then an intimate engagement which started off around
noon
 and carried on till the evening. I'm getting married in June in San Francisco" explains Naina.