Dreamy & Elegant Wedding With Unique Details
BY Latha Sunadh | 16 Jan, 2017 | 9039 views | 5 min read
Corbett is such an unlikely destination for a wedding. But this couple, Pashyanti & Sahil  made it happen and boy, would you just look at the decor and the pictures? Right from the sweet doggies who were ringbearers to some Mehendi swag on the brides BFFs and boys, this Mehendi set-up was so so pretty. Plus, girls playing dhols? Bring it on! The wedding was so royal and beautiful and The Wedding Conteurs did a great job in capturing the essence of the union.
Meet Pashyanti & Sahil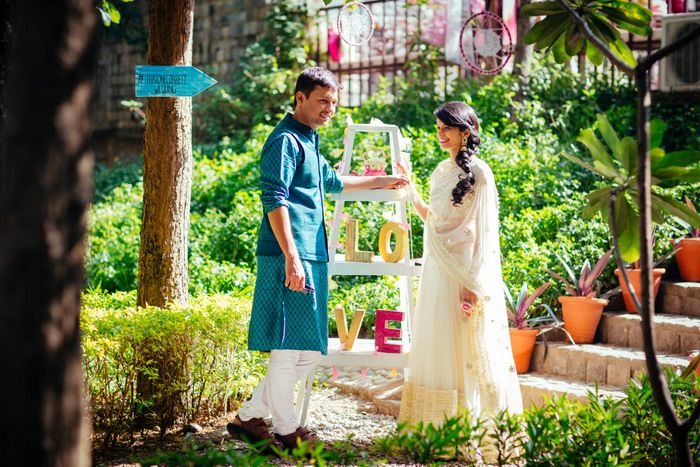 "Sahil and I were classmates while pursuing MBA. Our interactions were limited to some silly games all friends would play when bored during classes. We were in Hongkong for a college trip where we noticed each other. On the second day of our trip, while most of us were going crazy dancing on Bollywood music outside a pizza station on LKF street, Sahil's friend made a bet with me to convince him to dance which would get me $100. Not knowing Sahil, I made an attempt and failed miserably when Sahil said "You take $100 from me but I will never dance." Coincidentally after the party, we ended up in the same cab back to our hotel along with a couple of friends and we started talking. Deep down in my heart I knew that the floodgates were opening. Funnily, later that night, I won the bet when he finally danced with me for barely 30 seconds with just 3 other people in the room. Secretly, we knew we were falling for each other," says Pashyanti. "It was a matter of a month before I accepted the fact that I fell for him hard. We told our families almost after 1.5 years of seeing each other and my parents decided to meet and get us hooked. But here is a little twist in the tale, Sahil postponed our meeting only because he wanted to surprise me with a surprise proposal while I was on a vacation with my friends in Goa. ;) At my favorite place, with two of my best friends this boy flew down to do just what a girl like me had always dreamt of and there it was the most beautiful and heartfelt proposal." adds Pashyanti.
  The Mehendi
The Wedding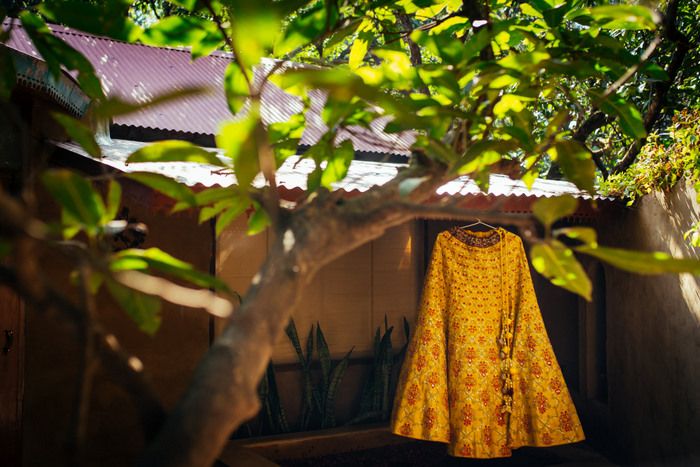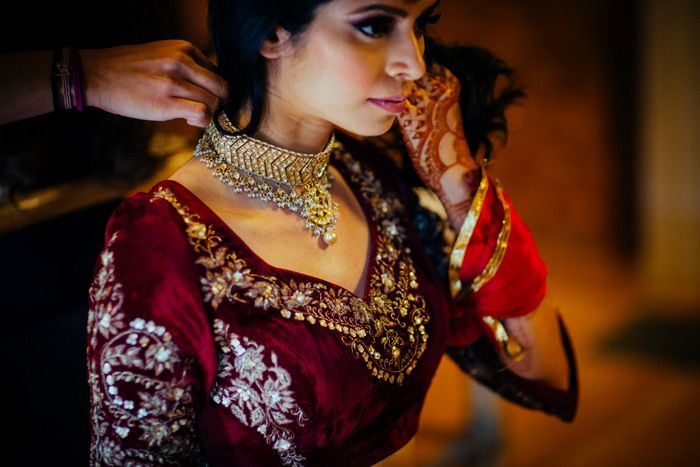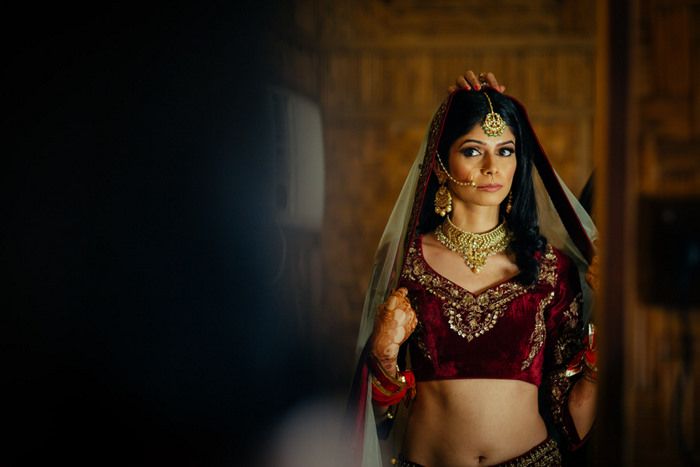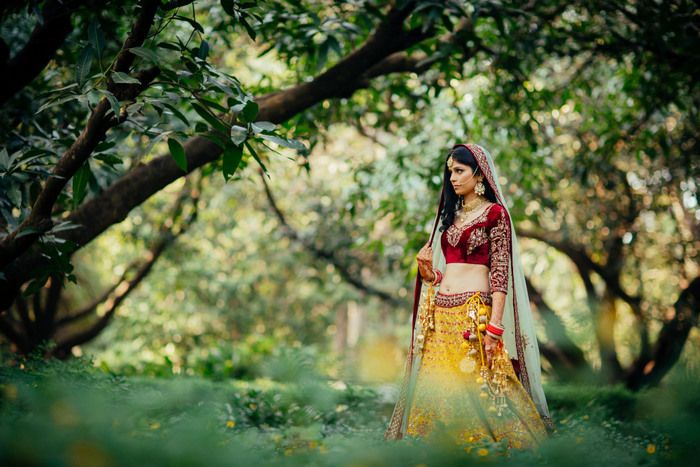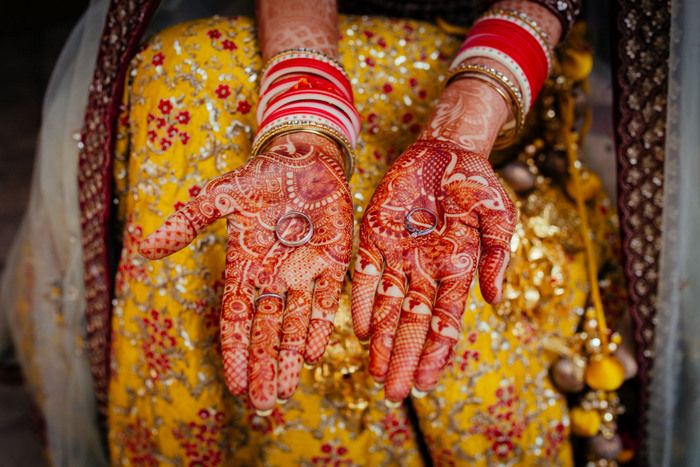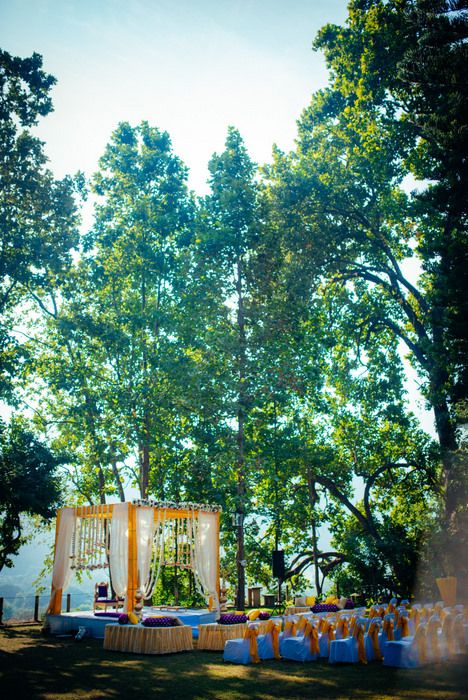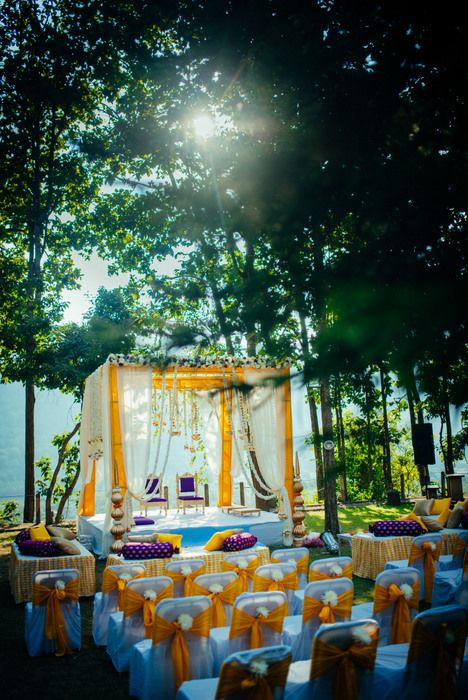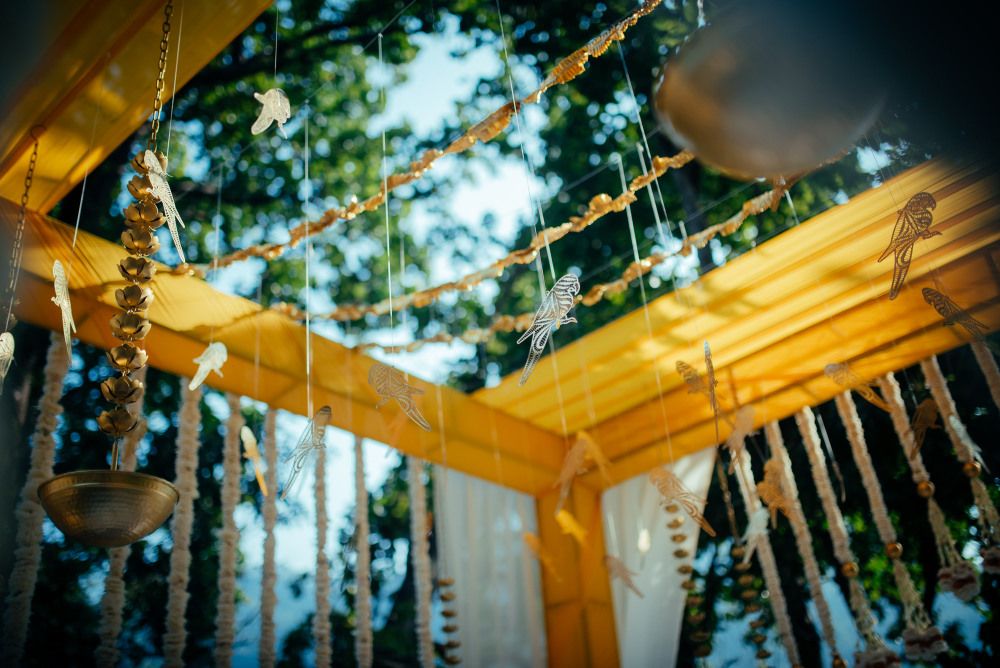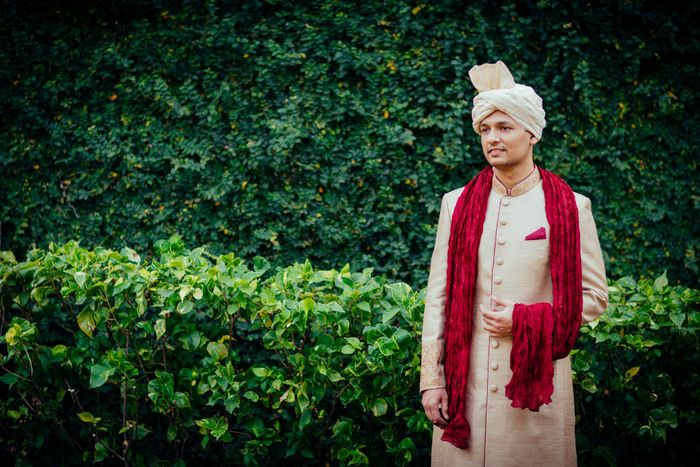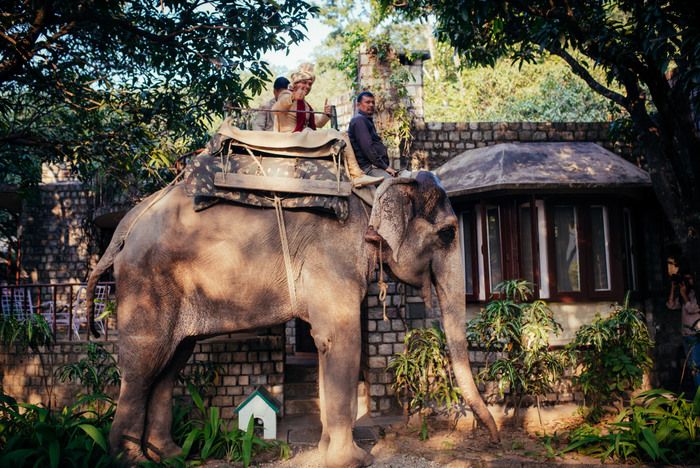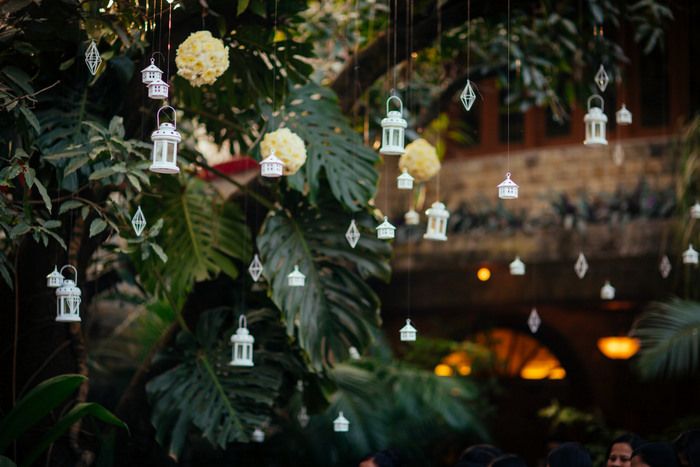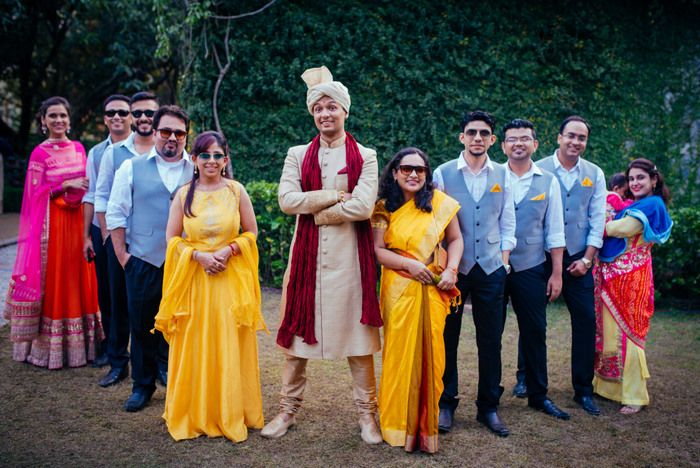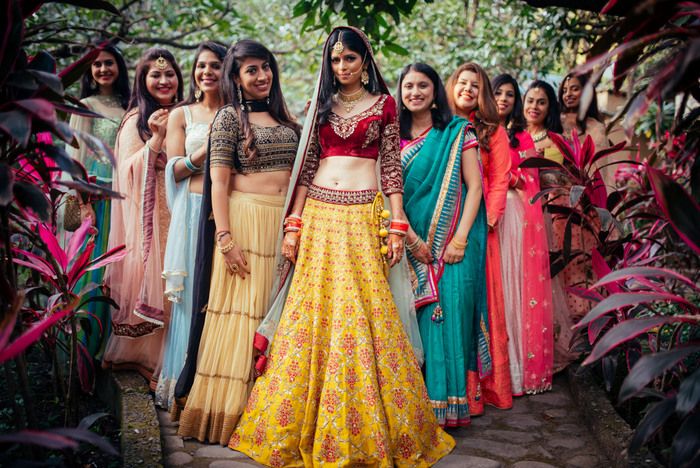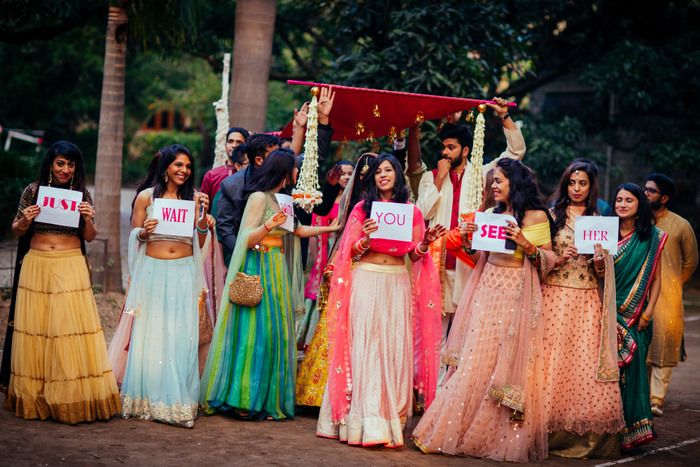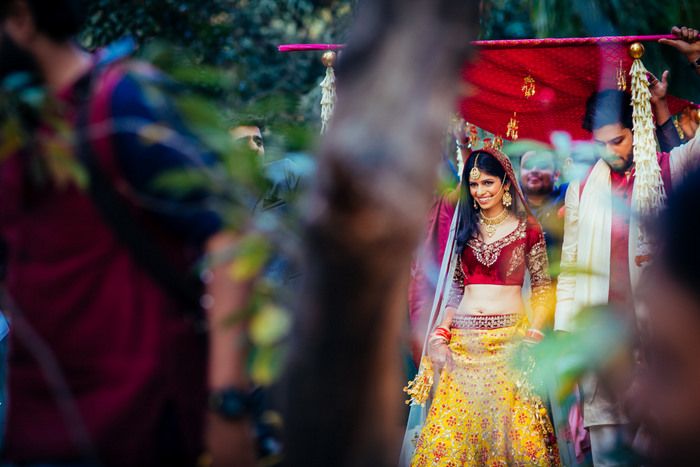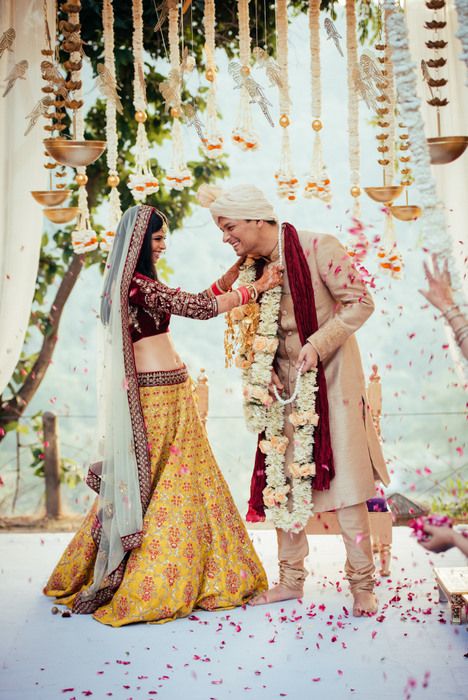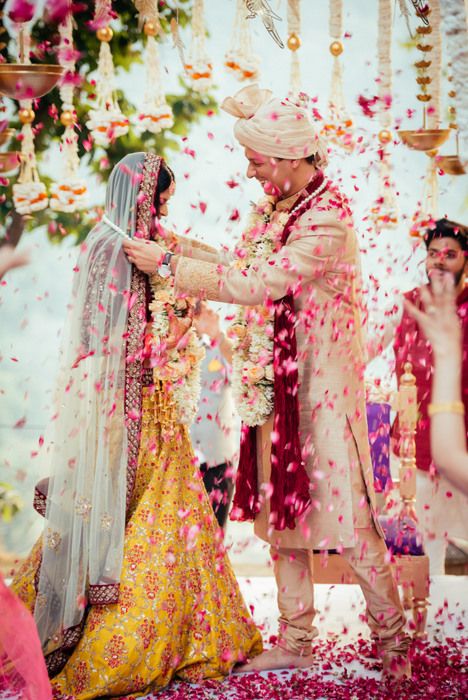 From The Bride:
"The idea of a destination wedding came up when Sahil's best friend attended a wedding in Goa and had almost convinced us to do the same. We were considering Goa earlier but changed it last minute. My brother really wanted Smokey (our dog) to be a part of the wedding. This is when we zeroed down on Jim Corbett. My brother saw nearly 42 resorts in a span of 2 days and shortlisted "The Den." We were very impressed by the place and knew that this had to be the place where we wanted to begin the new chapter of our lives" says Pashyanti. "Since Mehendi was a day function, everything seemed so bright and colourful. Kamakshi(TWPC) gave the river deck a very bohemian kind of look by using dream catchers. Kamakshi had suggested a very rustic kind of Décor for the engagement ceremony and boy, you should have seen how the place looked. The venue looked so calm and serene in the moonlight and its beauty was accentuated by the rustic décor. Imagine Hoppipola by Sigur Ros playing in the background and us facing our loved ones with our eyes shining as bright as ever waiting anxiously to see what awaits us. And then comes the best part of the evening. Our brothers walked our dogs towards us so we could get the rings tied around their necks. And yes that was dreamy, magical with the cutest ring bearers ever. For my wedding, the entry song we chose was Afreen Afreen. With that smile on my face when I walked down the aisle holding my brother's hand with the song playing in the background only to see my groom smiling widely with those twinkling eyes and that happy tear rolling down his cheeks. And then like happy people we danced all night long. My favourite moment at my wedding was when two of my bridesmaids became the dholwalis and started playing the dhol like there is no tomorrow," says Pashyanti. "I chose to wear White on my Mehendi as it's my favourite hue, plus, it would look brilliant with all my colourful bridesmaids. For Sahil, we chose Kurta and Nehru Jacket from Fabindia. To coordinate a bit I teamed up my Lehenga with mint green Needledust Jutti. For the wedding, I was certain that I don't want a Red Bride Look. It was only by chance that I found a lehenga in one of my favorite colors and I fell in love with it. In my heart, I wanted a open hair look because I have a small face. However I was confused till the very last minute. It was only after final voting by the makeup artist and the photographers that I decided to go with what my heart always wanted. I think I was my happiest self on my Wedding.
Vendors: Venue: 
The Den, Corbett, Kumeria
Makeup Artist:
Engagement & Wedding makeup by 
Makeup by Shagun
Photographer:
The Wedding Conteurs
Bride's Outfit: 
Mehendi outfit by
Abhinav Mishra
; Engagement outfit by
Blush
(Shahpur Jat); Wedding outfit by
Asiana Couture - Chandni Chowk
 Groom's Outfits: 
Mehendi outfit by
Fab India
; Engagement outfit by
Van Heusen
; Wedding outfit by
Ushnak Mal Mool Chand
 Décor: 
The Wedding Planning Company
Invitations: 
Shivam Sales
, Chawri Bazar