Enchanting Wedding With Gardenia Feels & A Bridal Saree Inspired By The Ocean
BY Aakanksha | 19 Jan, 2021 | 3786 views | 8 min read
Kamya & Nikhil's wedding nuptials were as magical as they come. With an intimate gathering, eye-catching decor details, and outfits inspired by the couple's unending love for the ocean. From their invites, which were inspired by a regal Kanjeevaram border, to the ceremonies that were a mix of their Tamil & Telugu shared heritage, this was the wedding of dreams. Kamya's wedding saree was an offbeat double-shade blue-green Kanjeevaram that reminded Kamya of the calm and depth of the ocean. Caught by the expert lens of the Sam & Ekta team, this Bangalore wedding was not just gorgeous, but also full of pin-worthy details.
Meet Kamya & Nikhil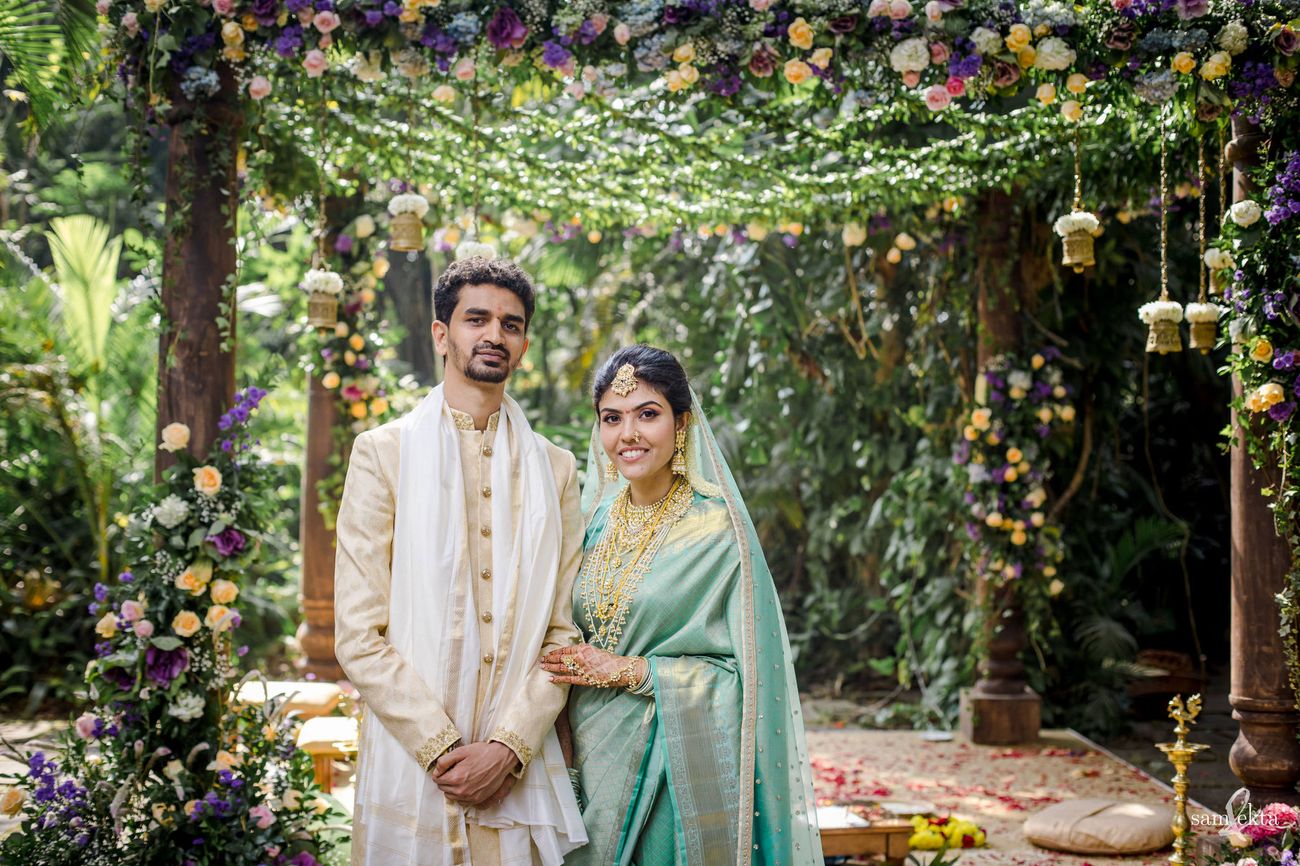 The Haldi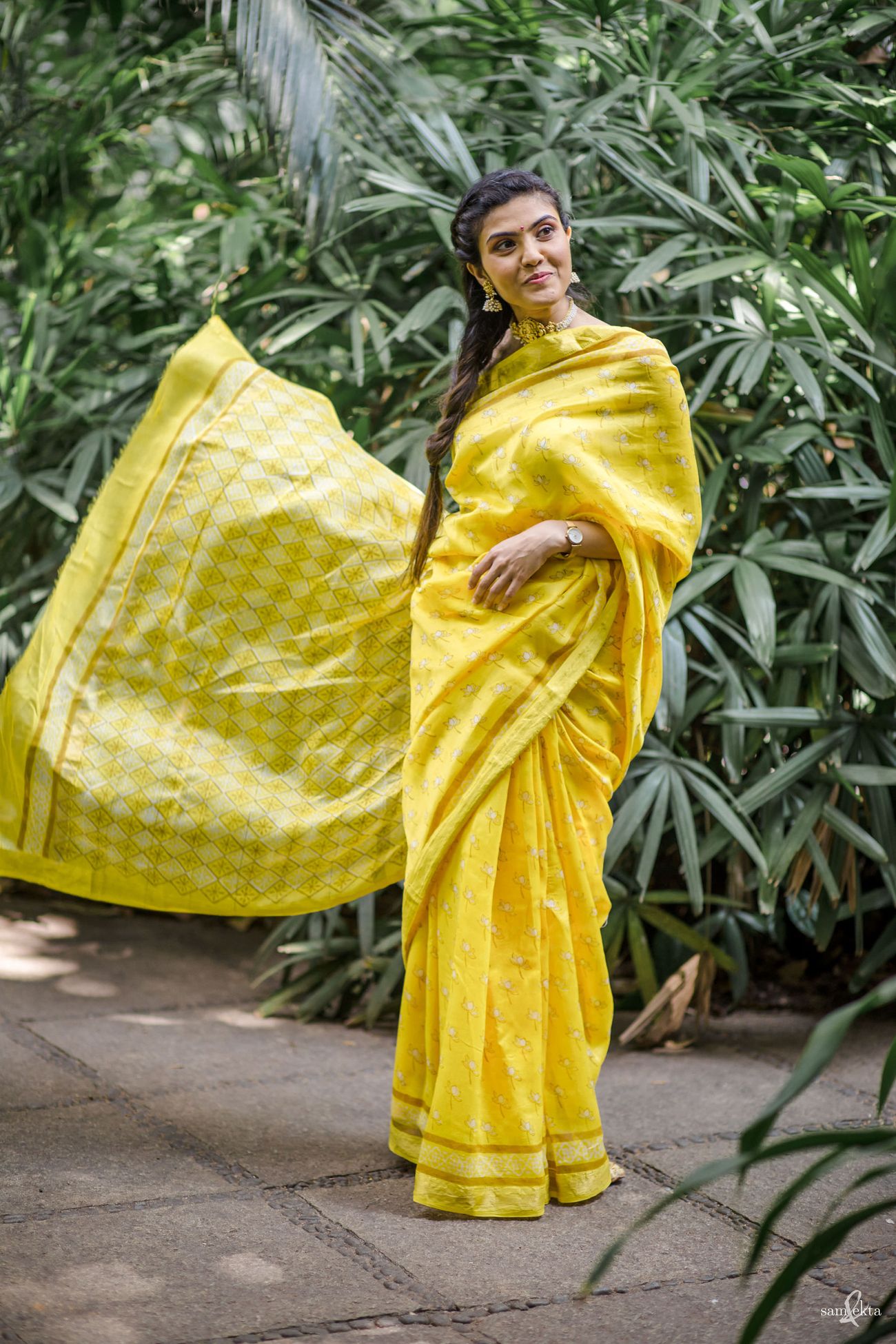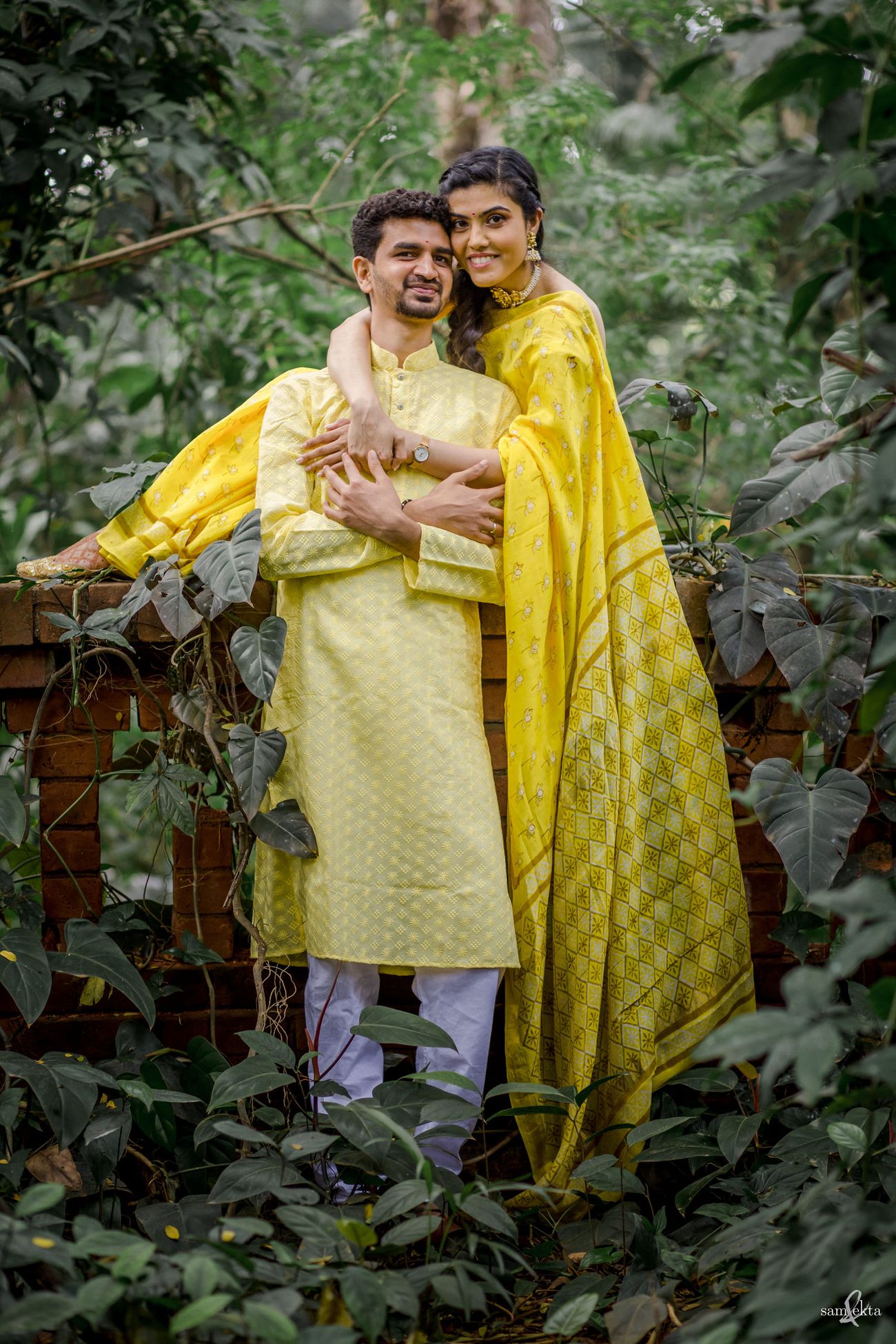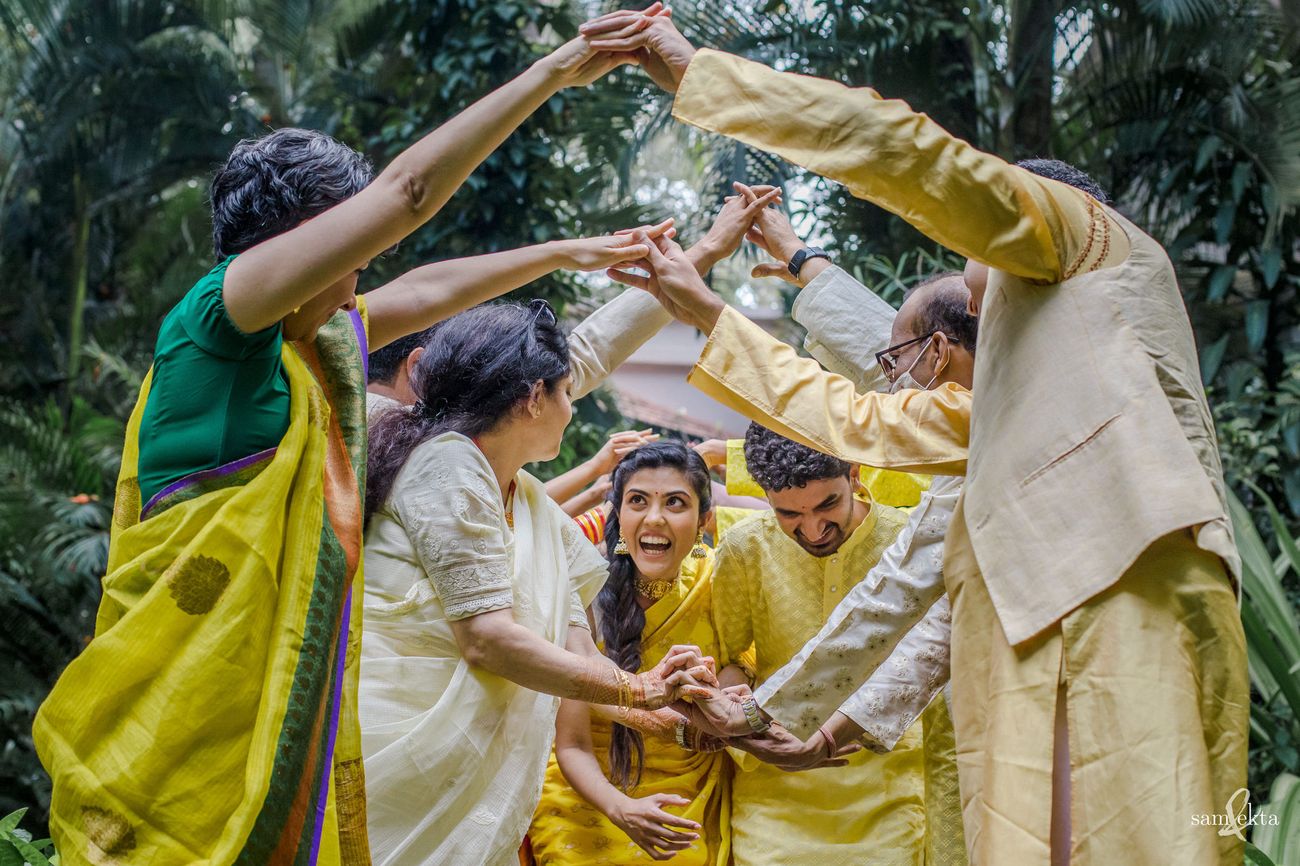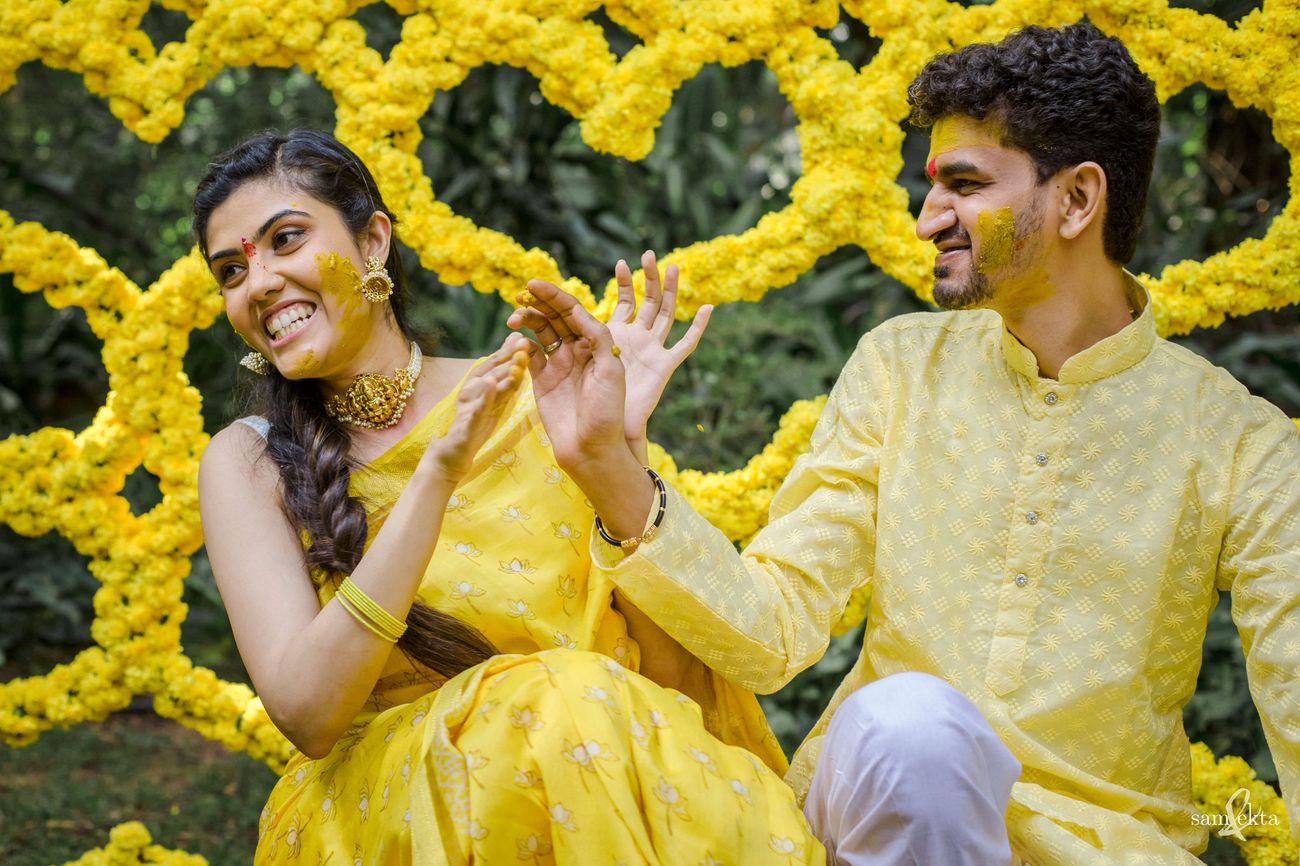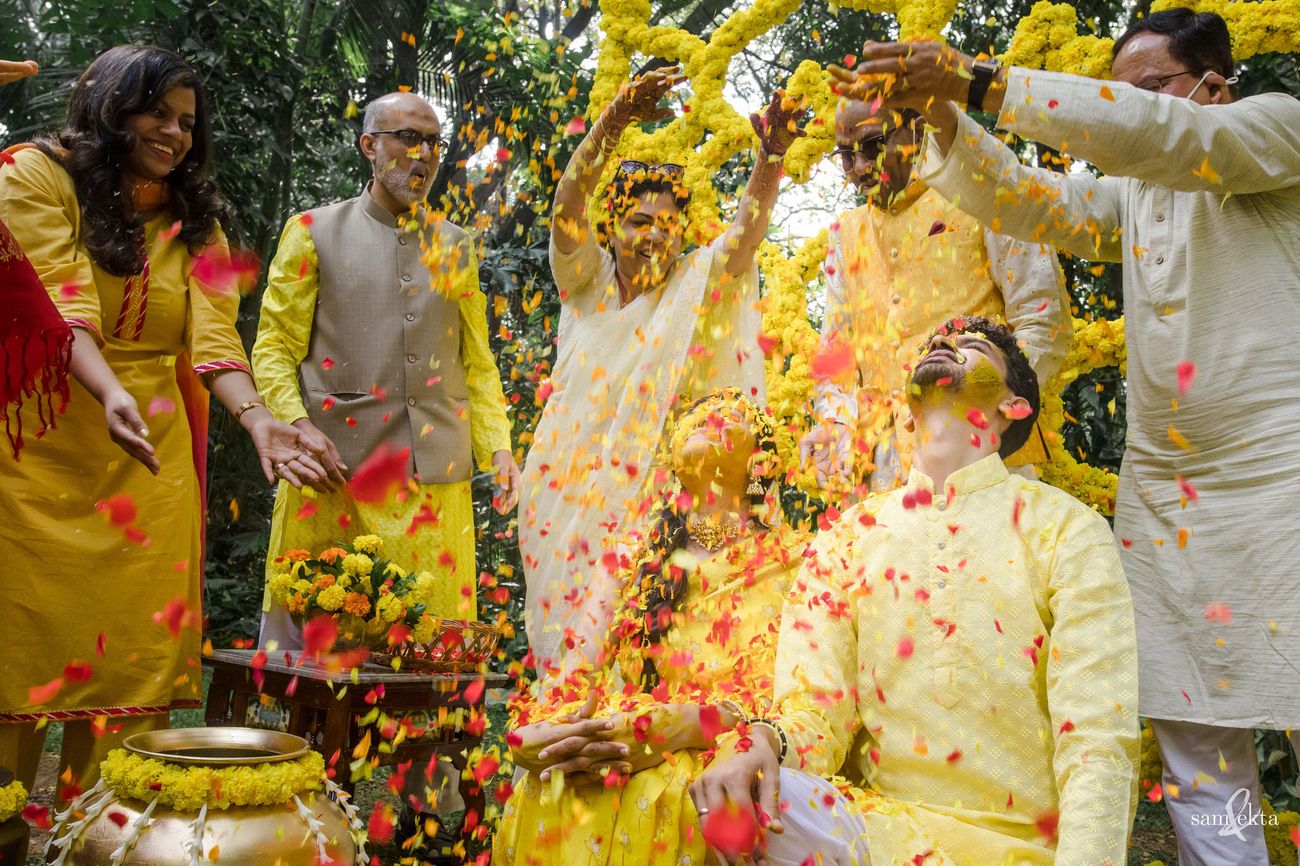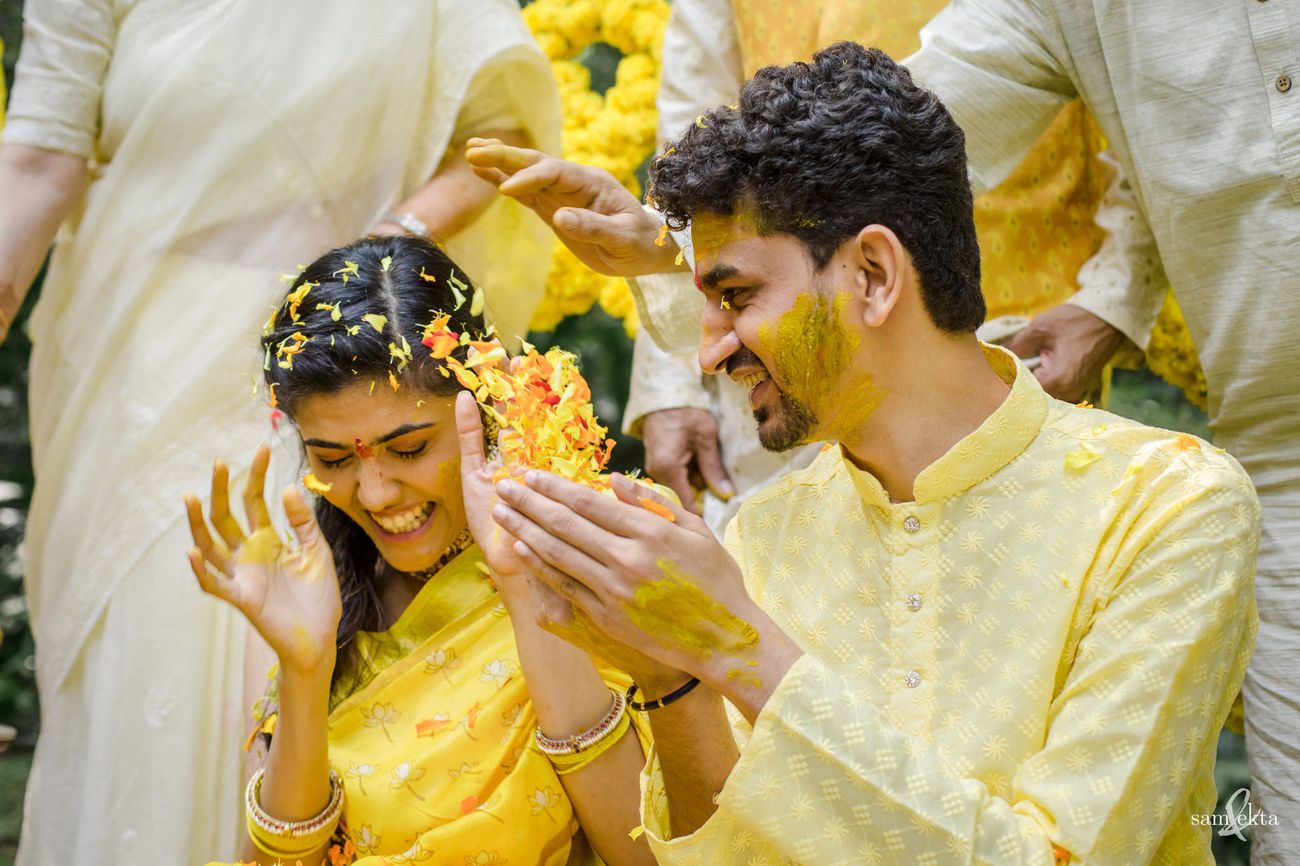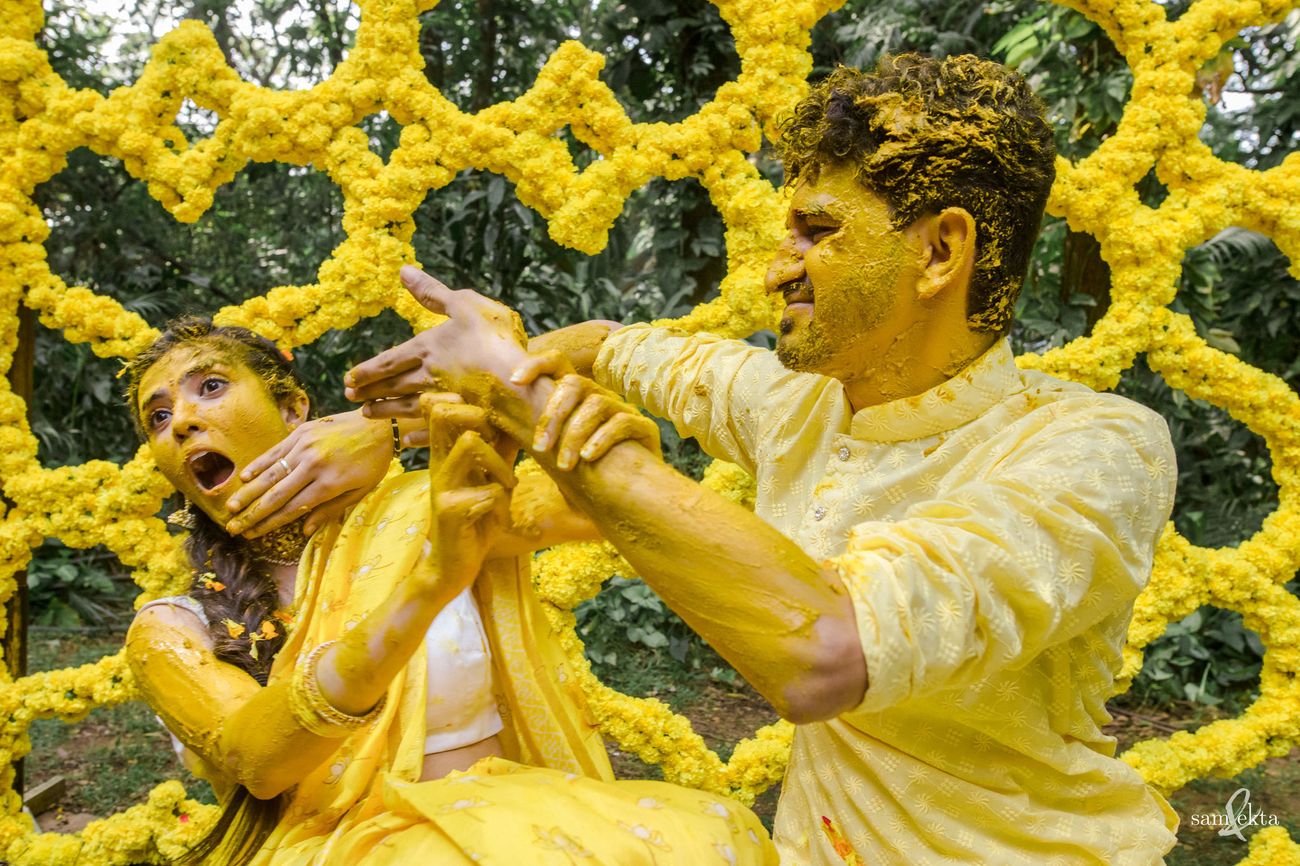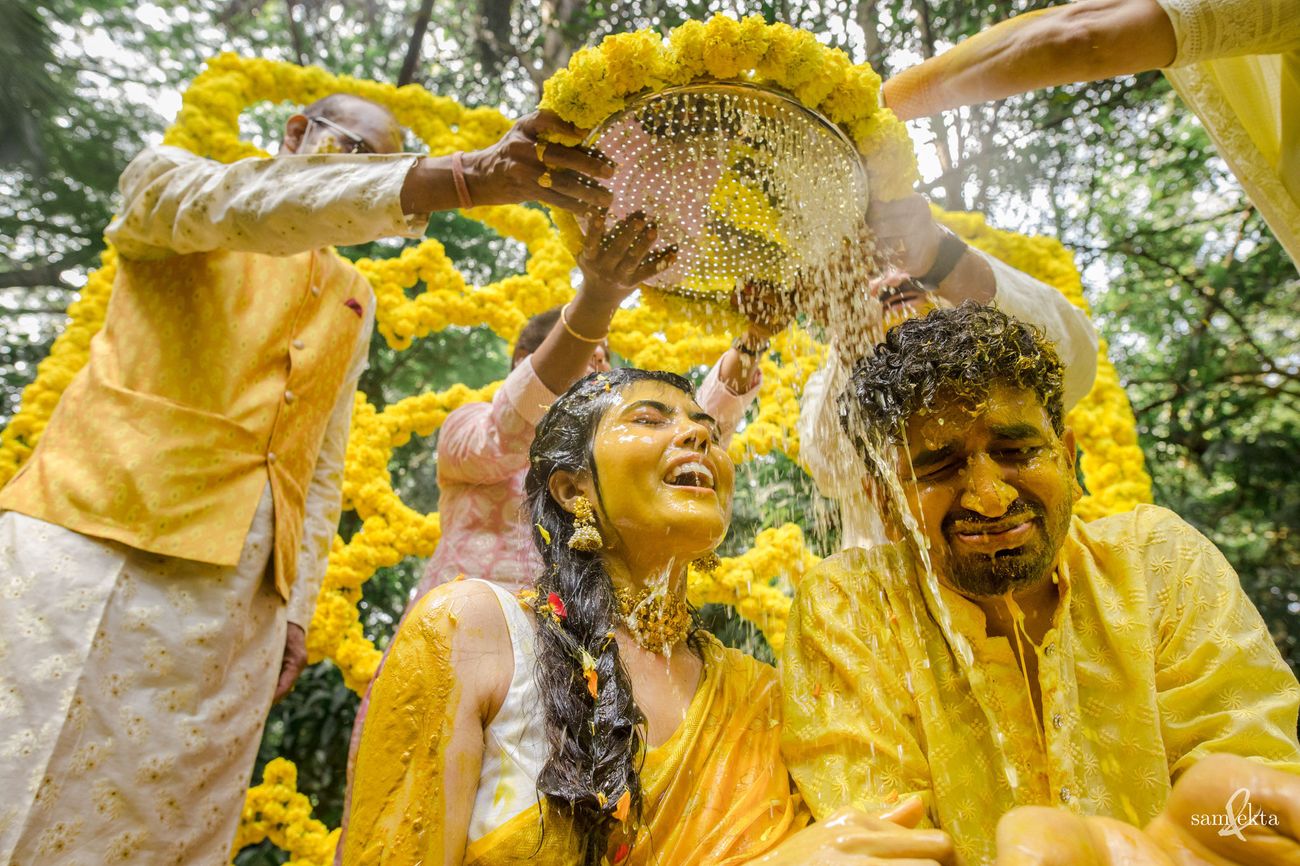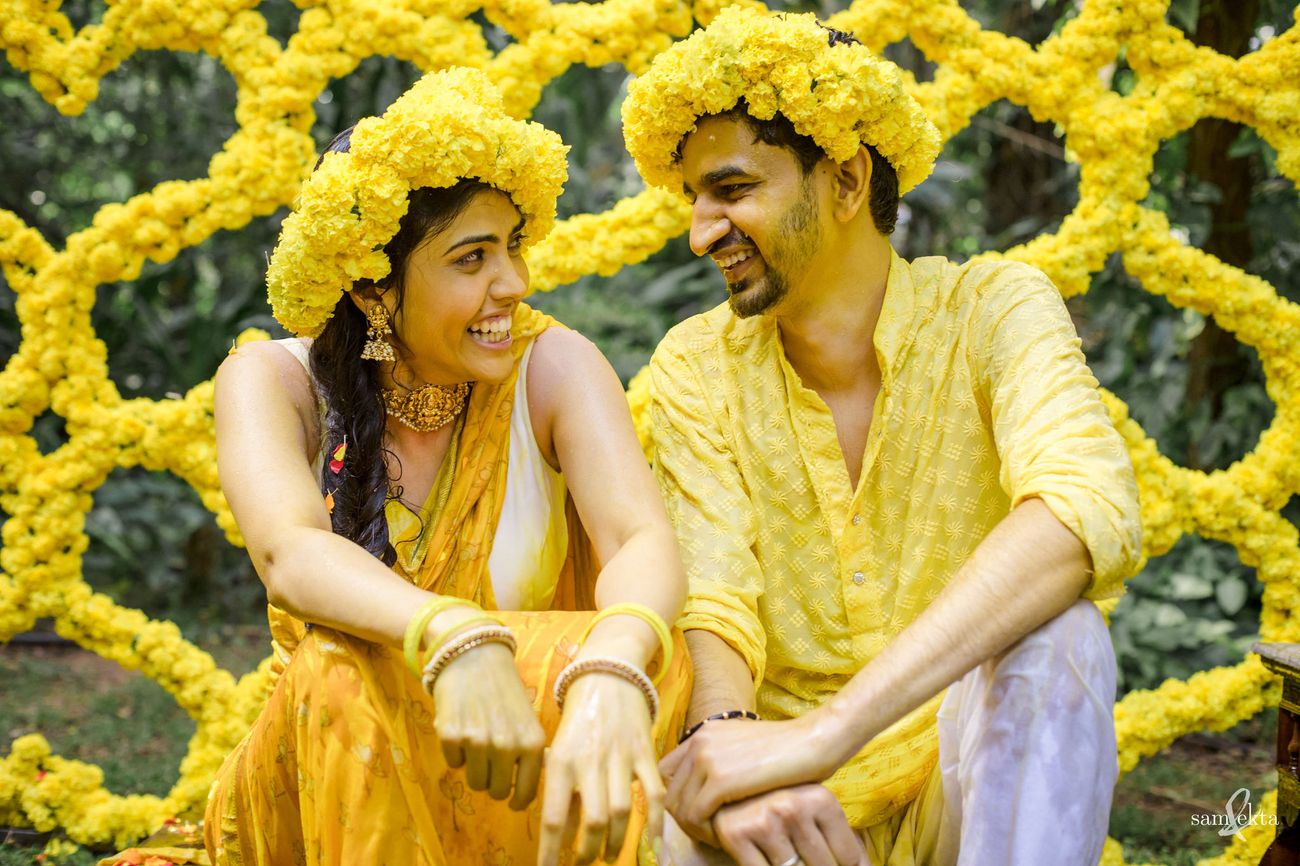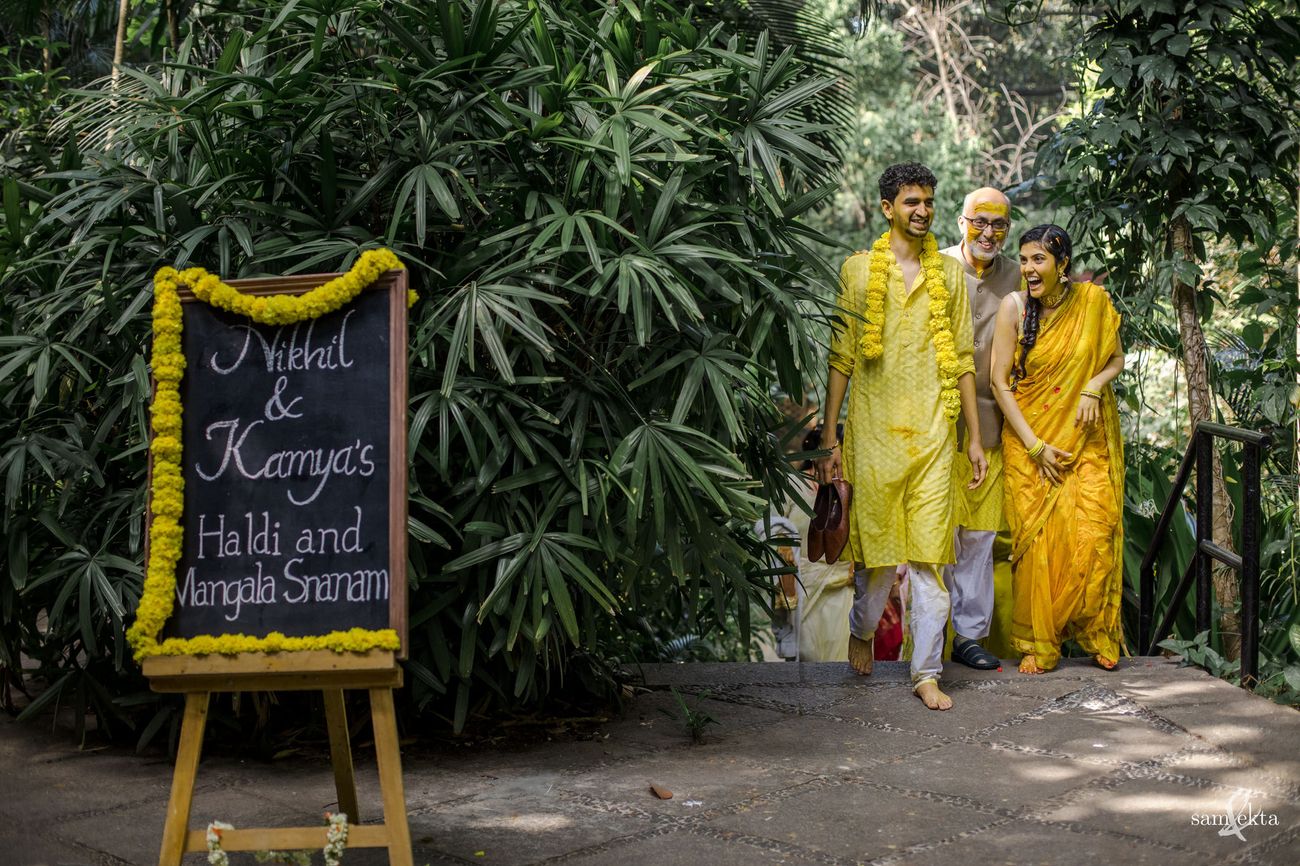 The Mehendi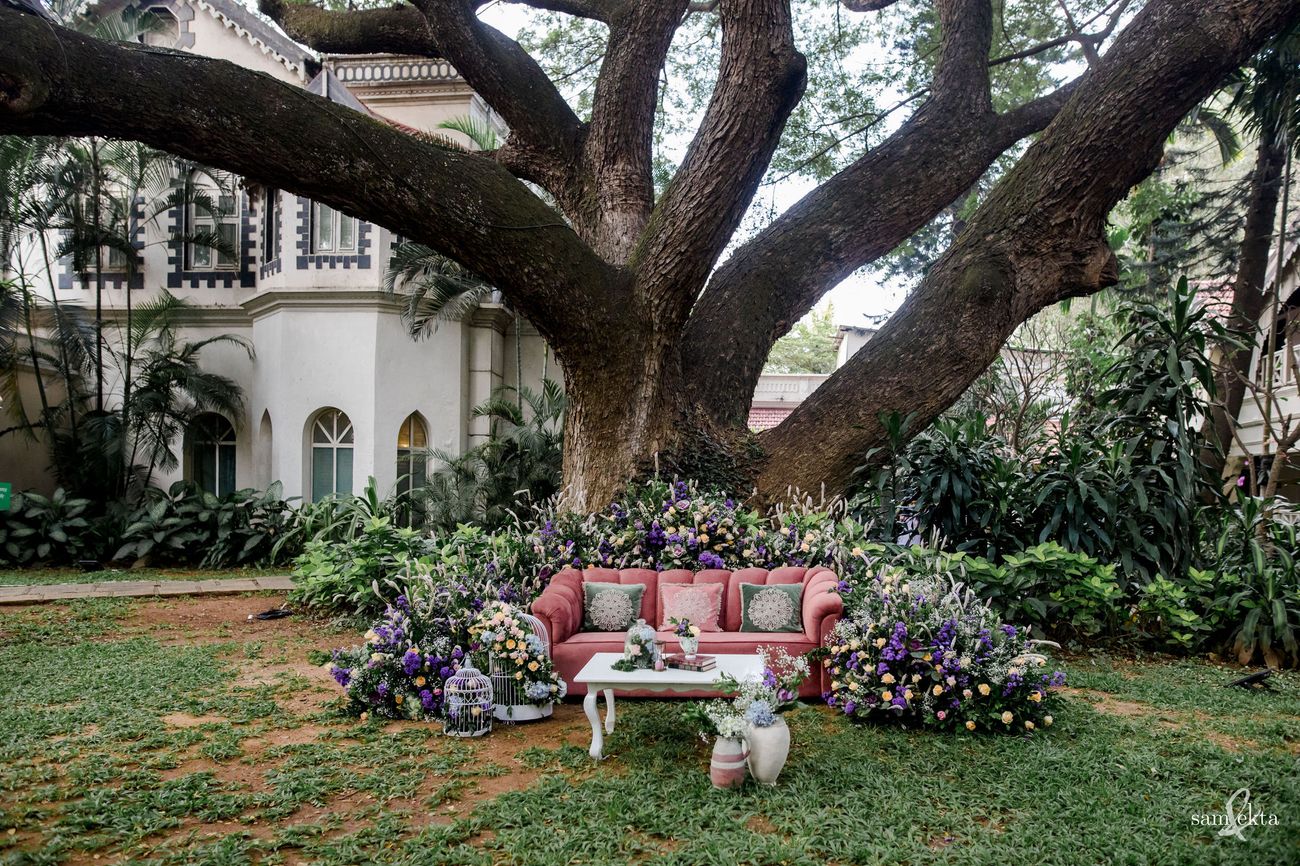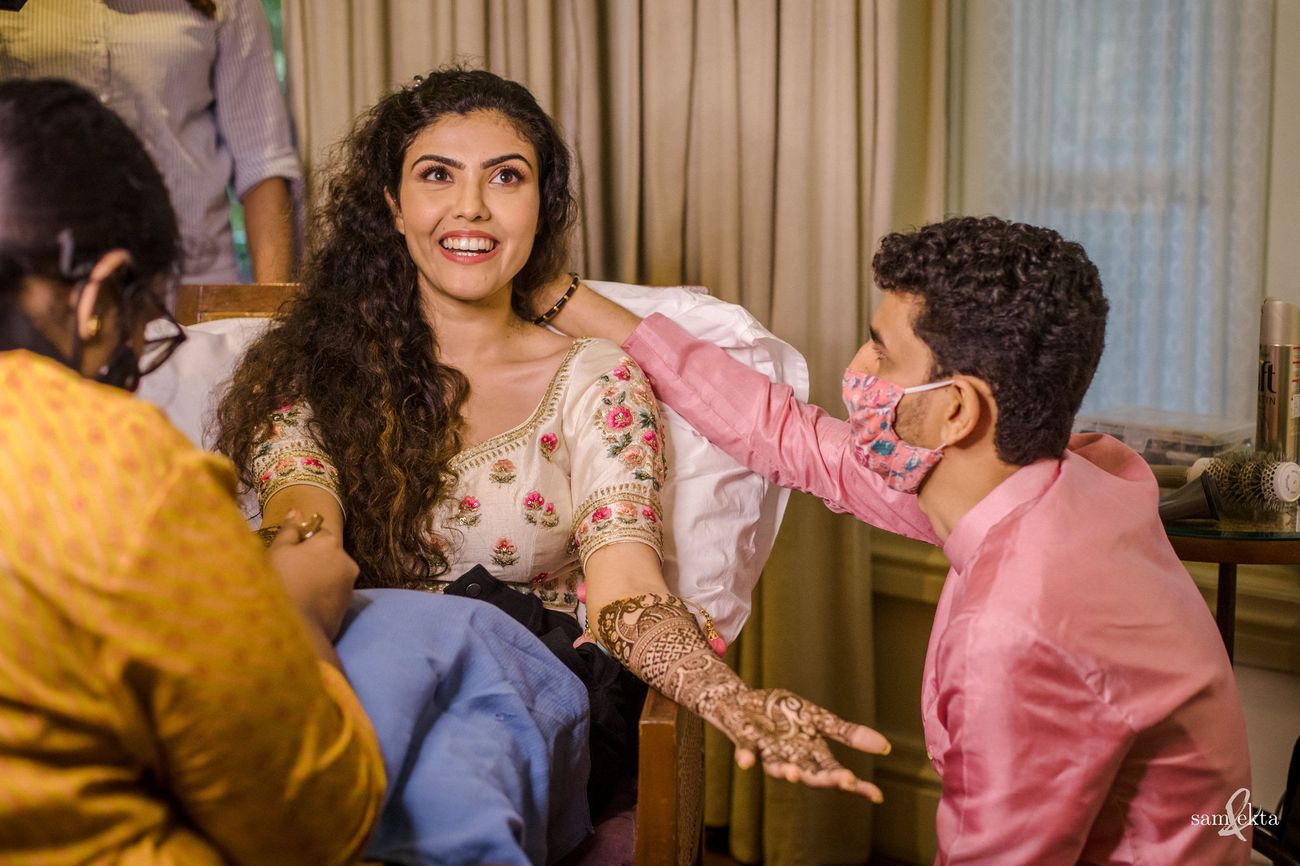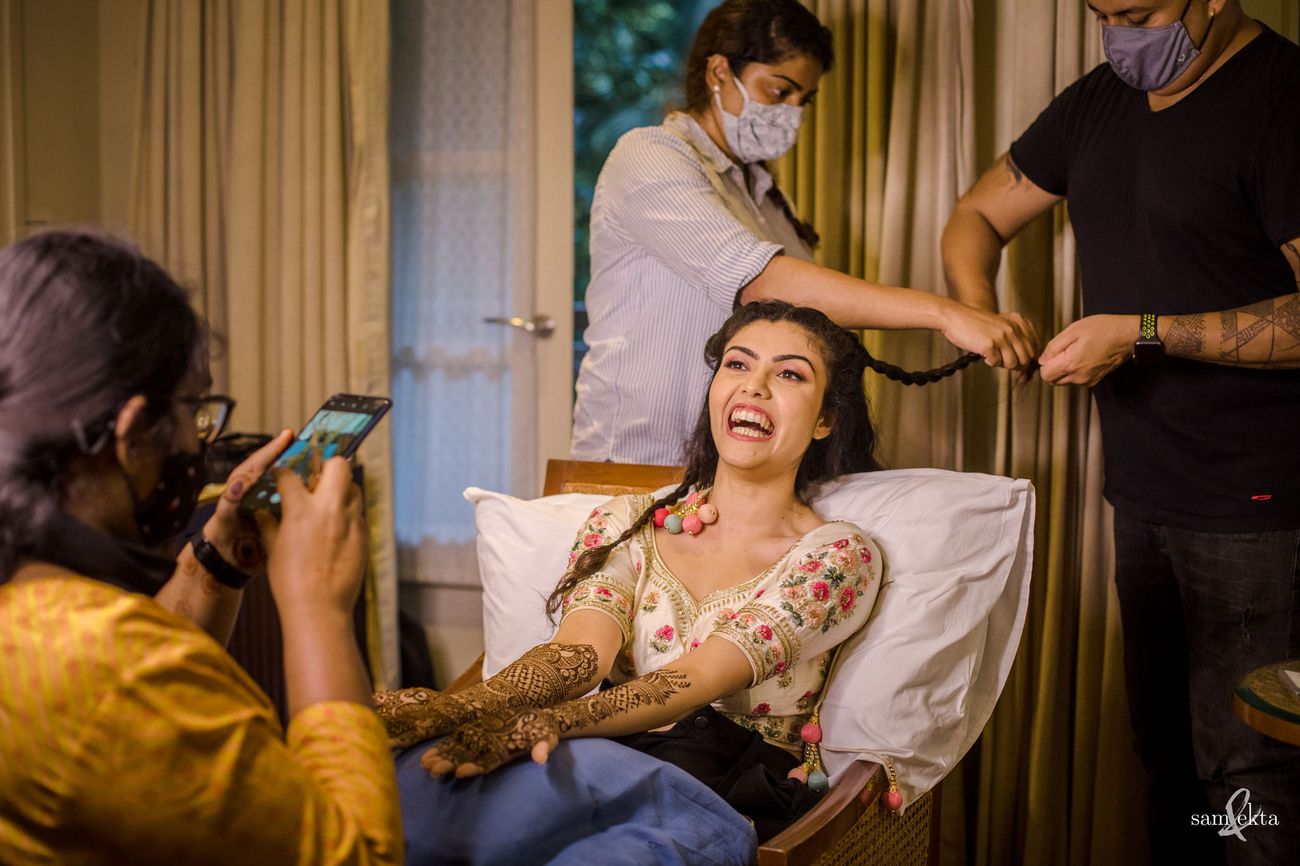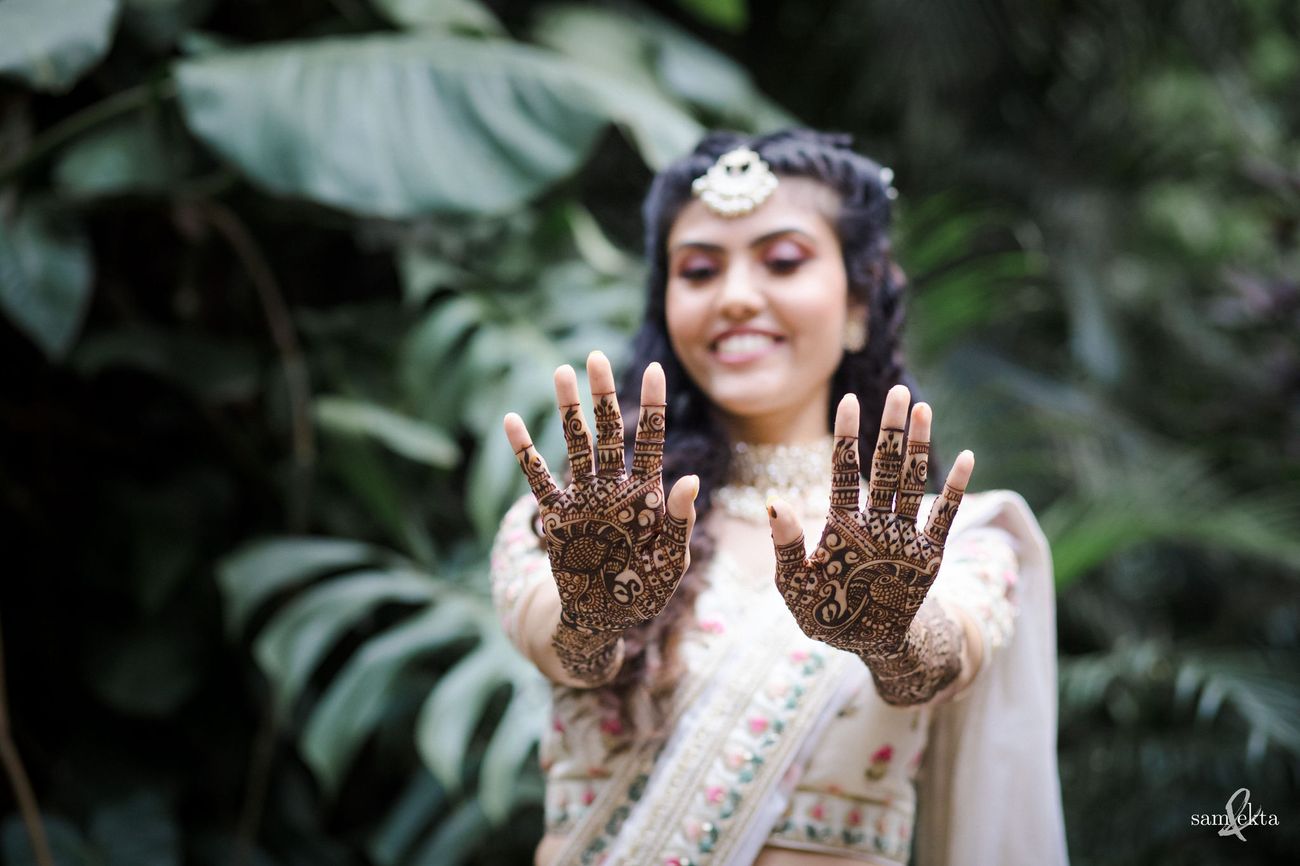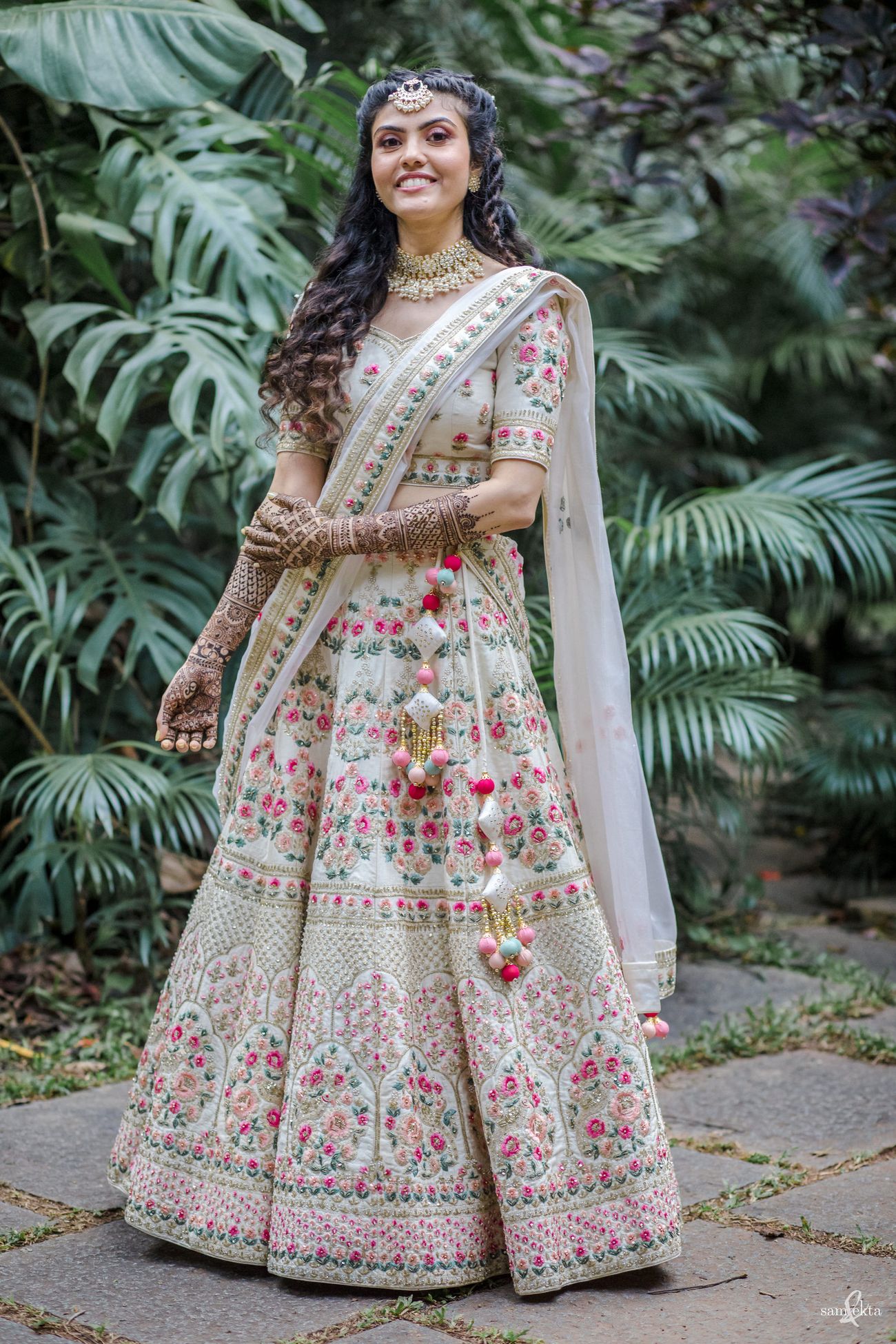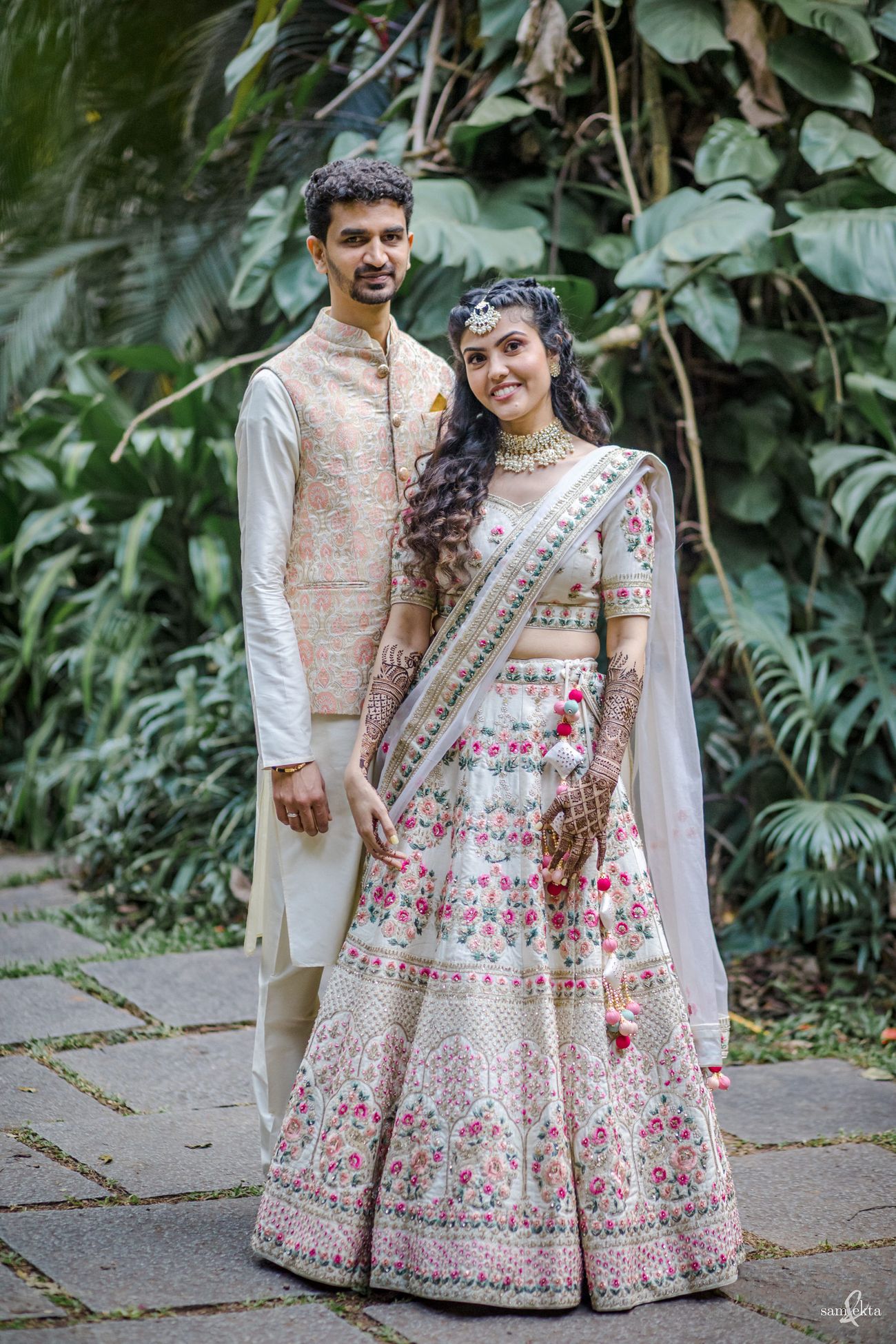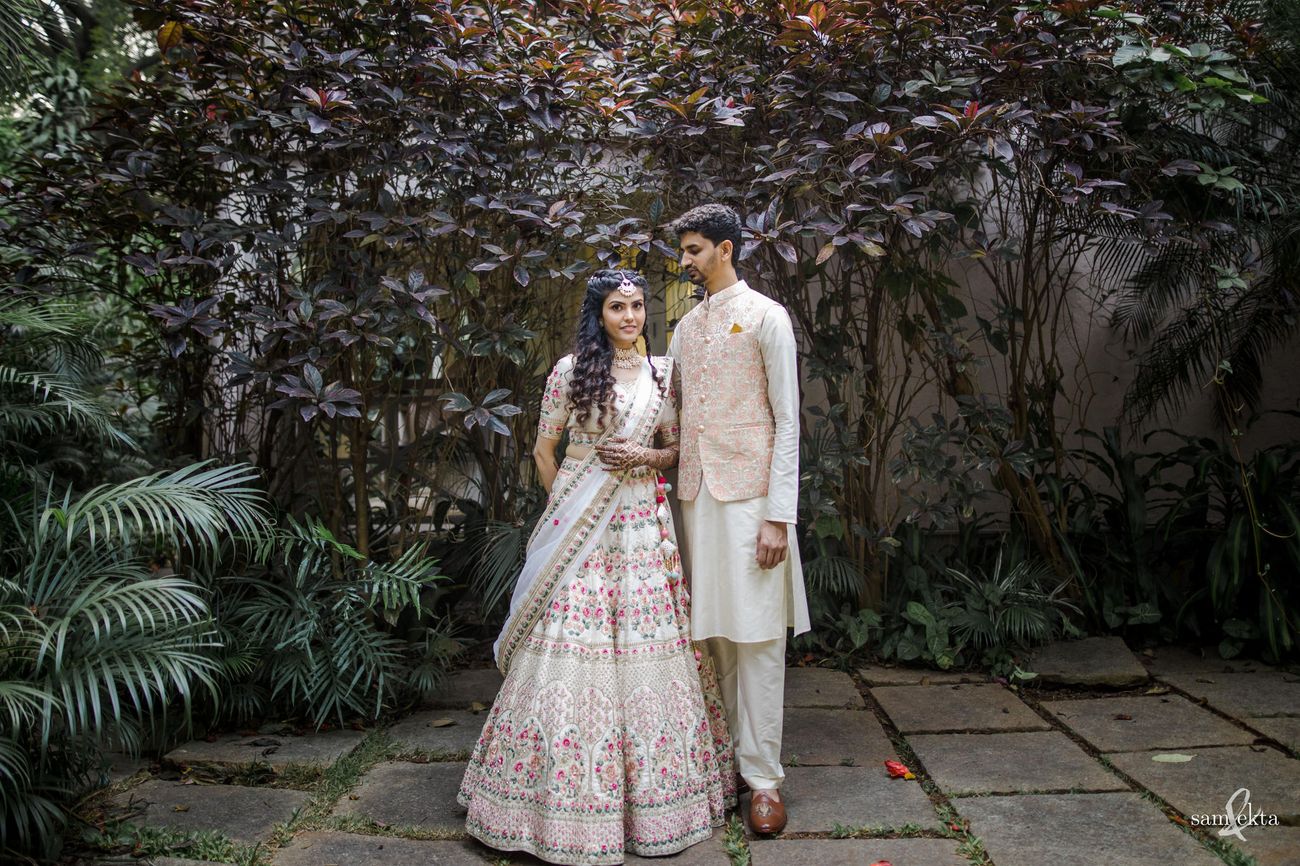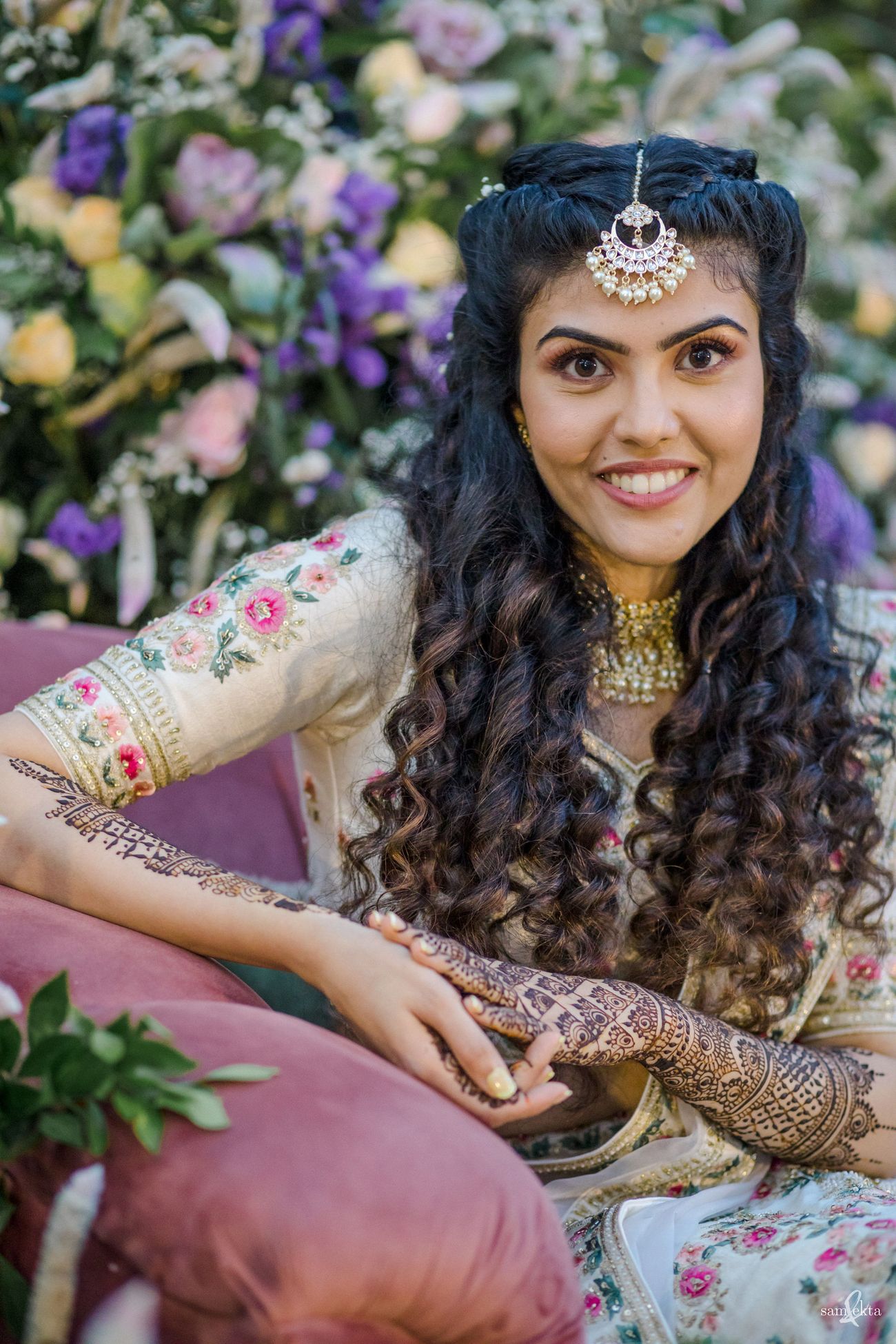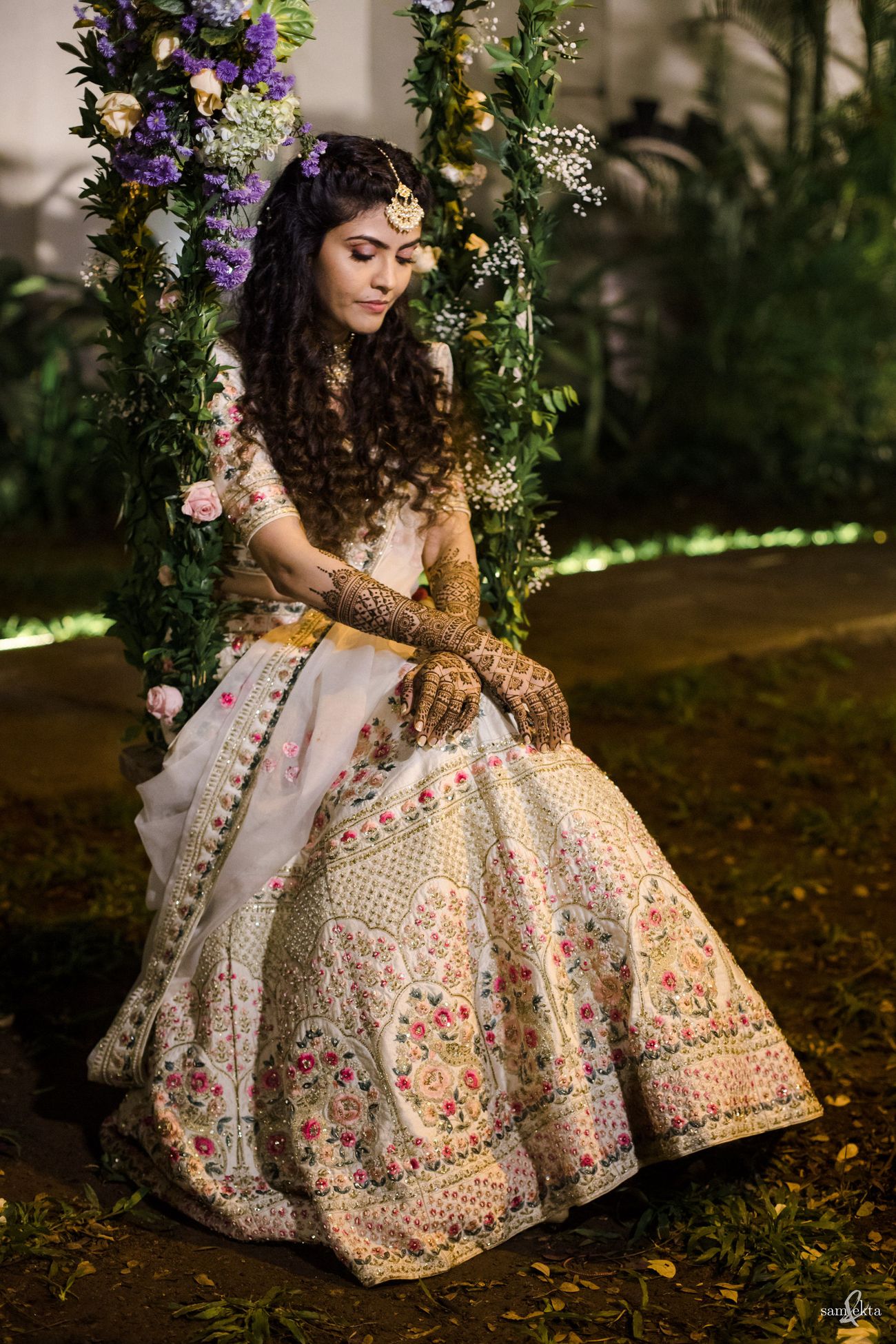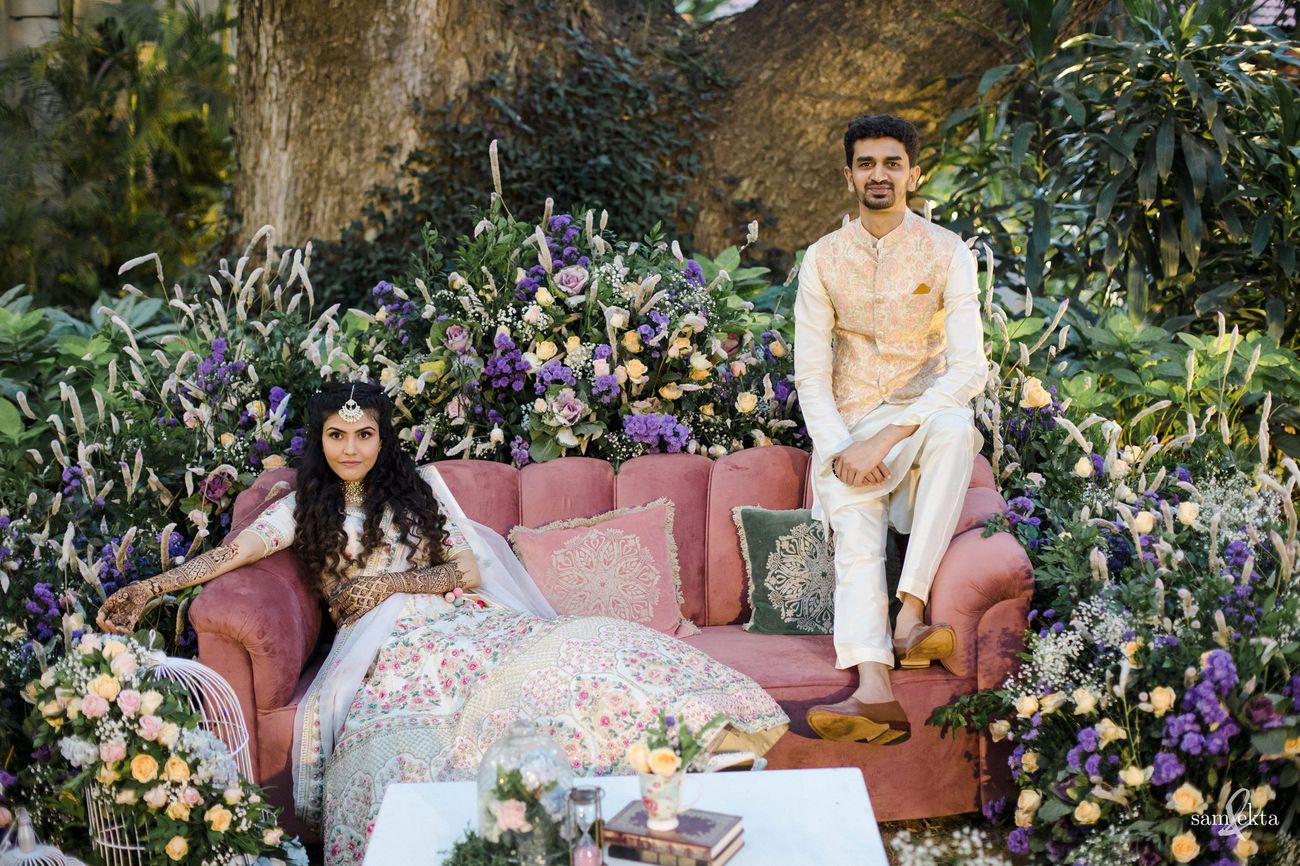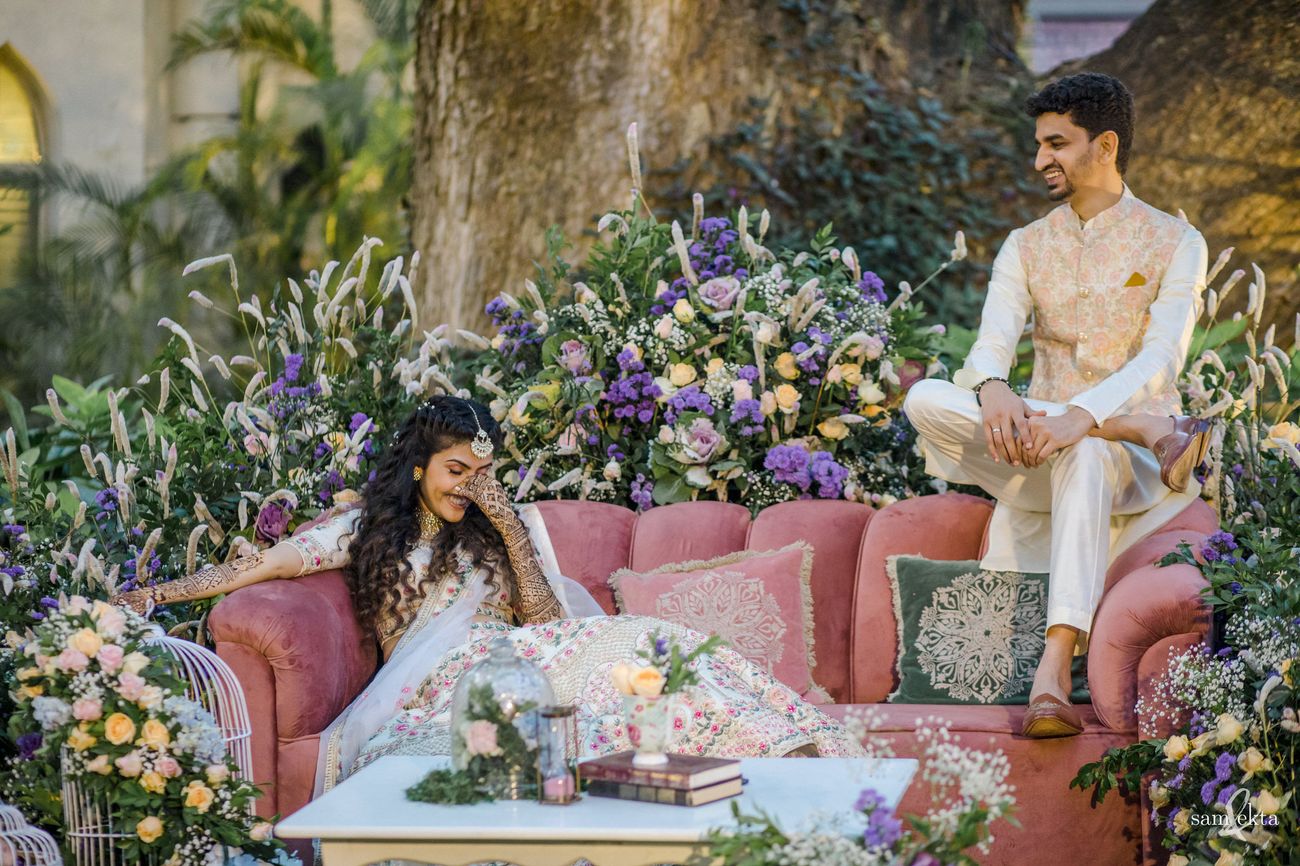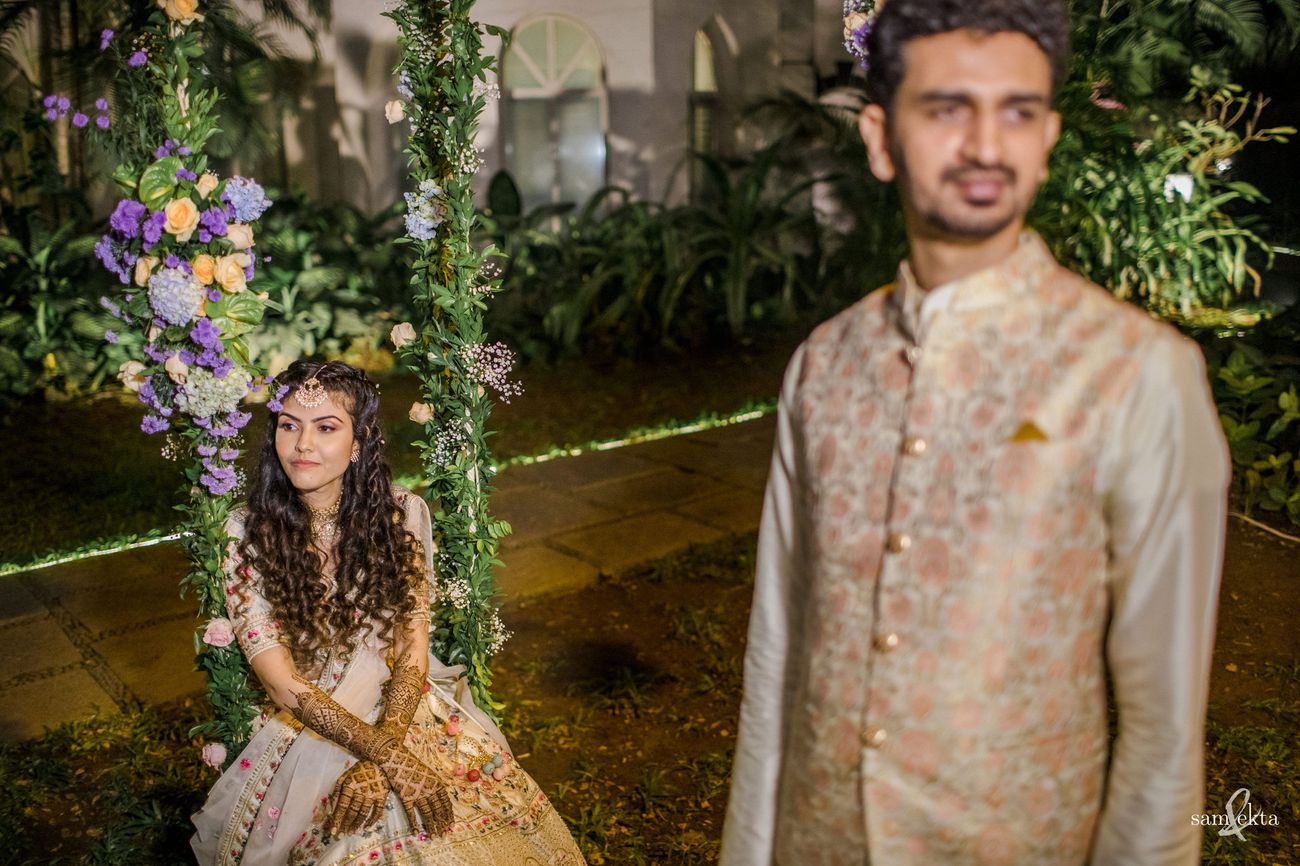 The Wedding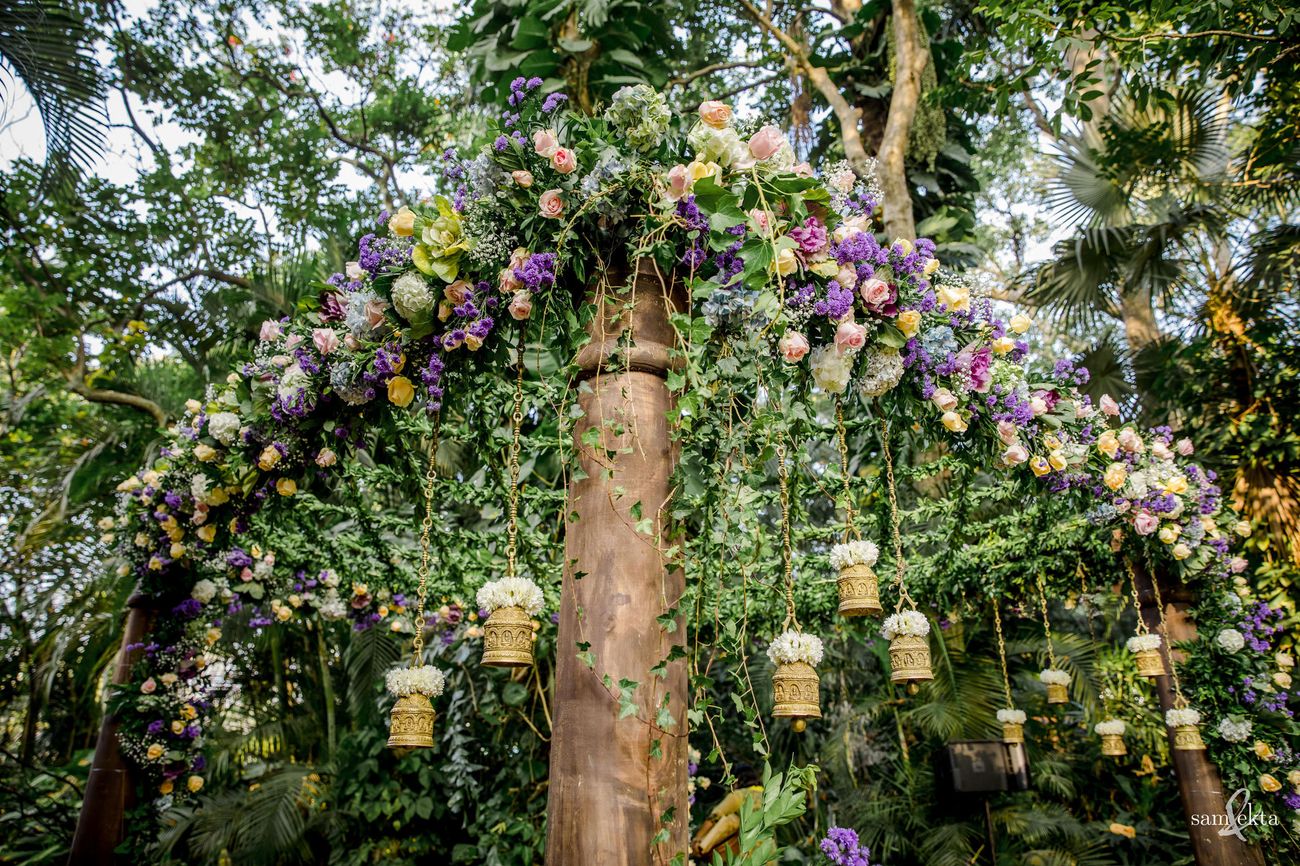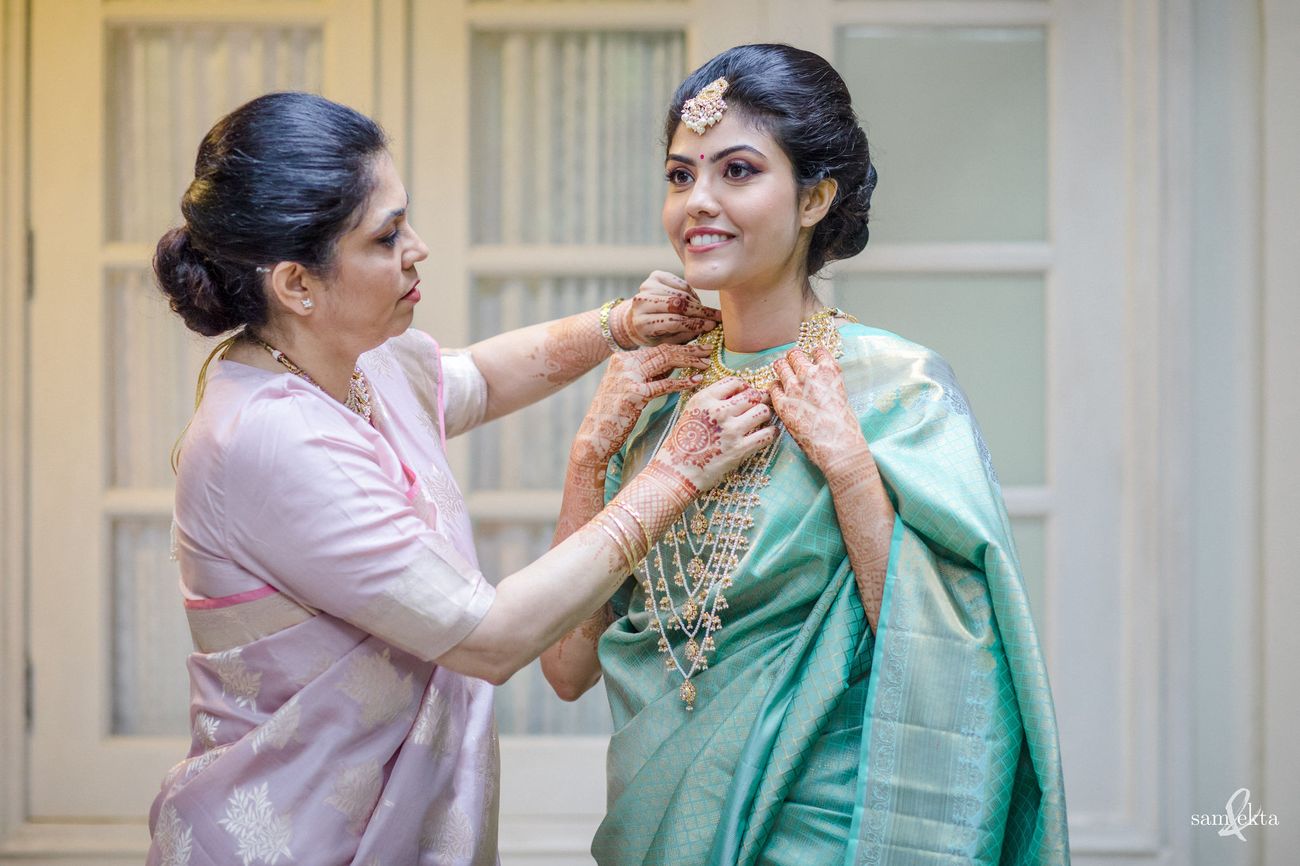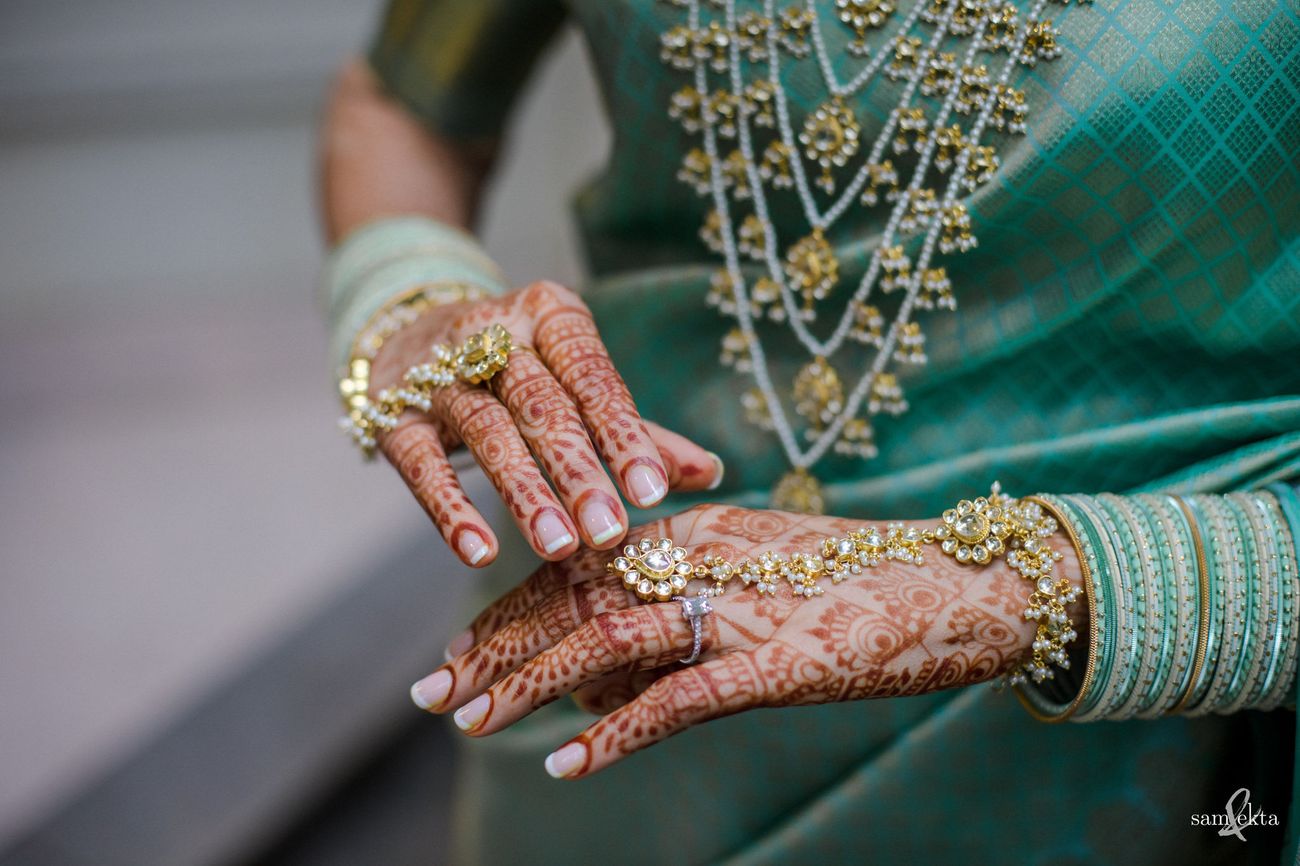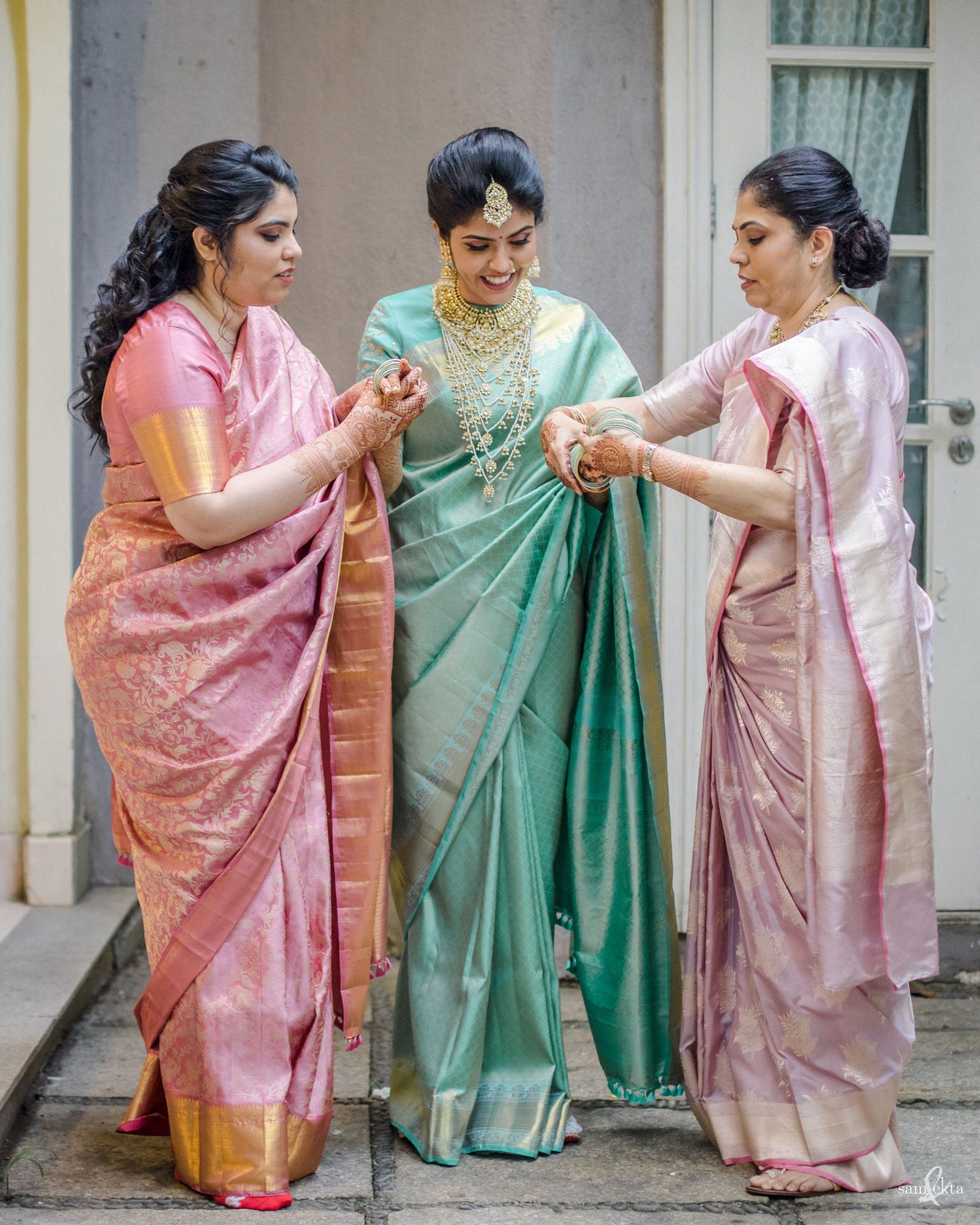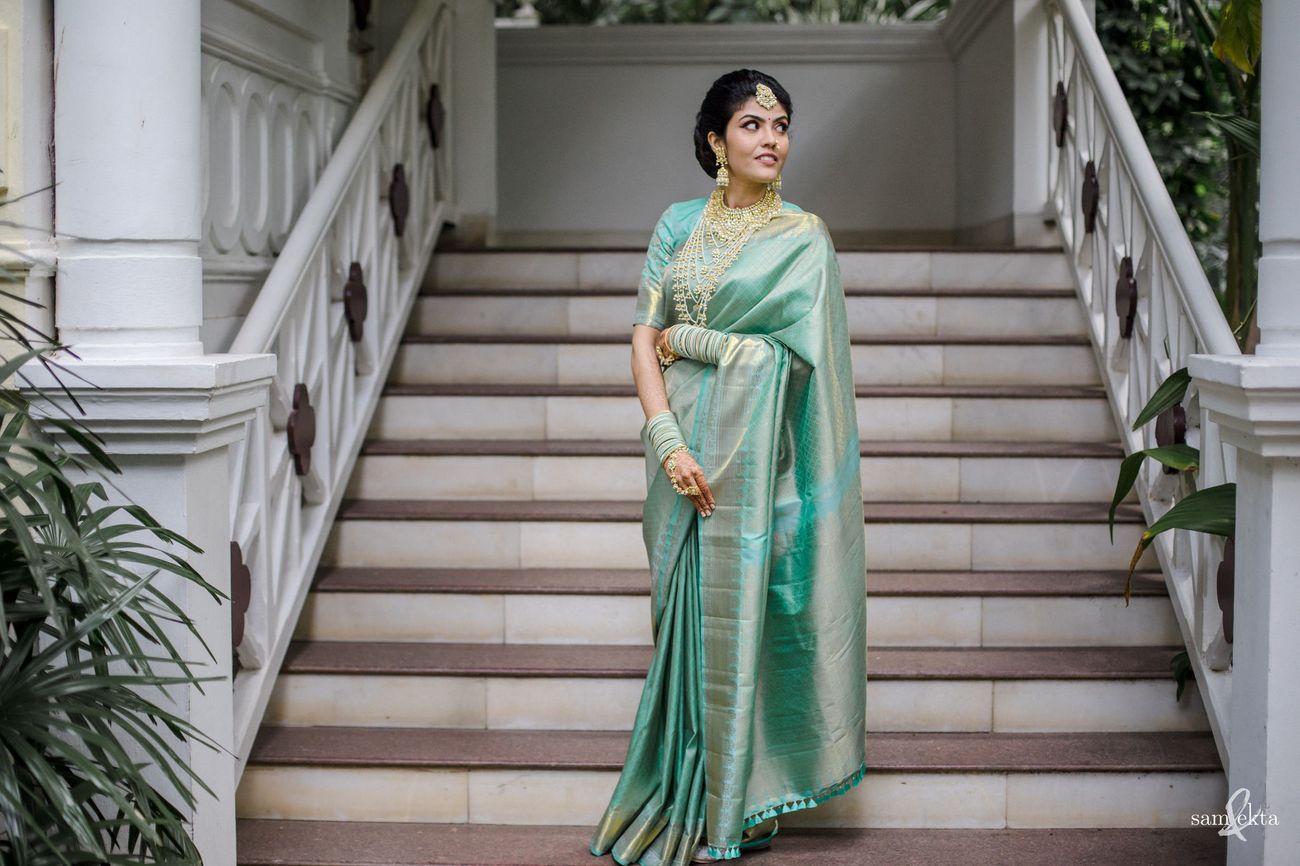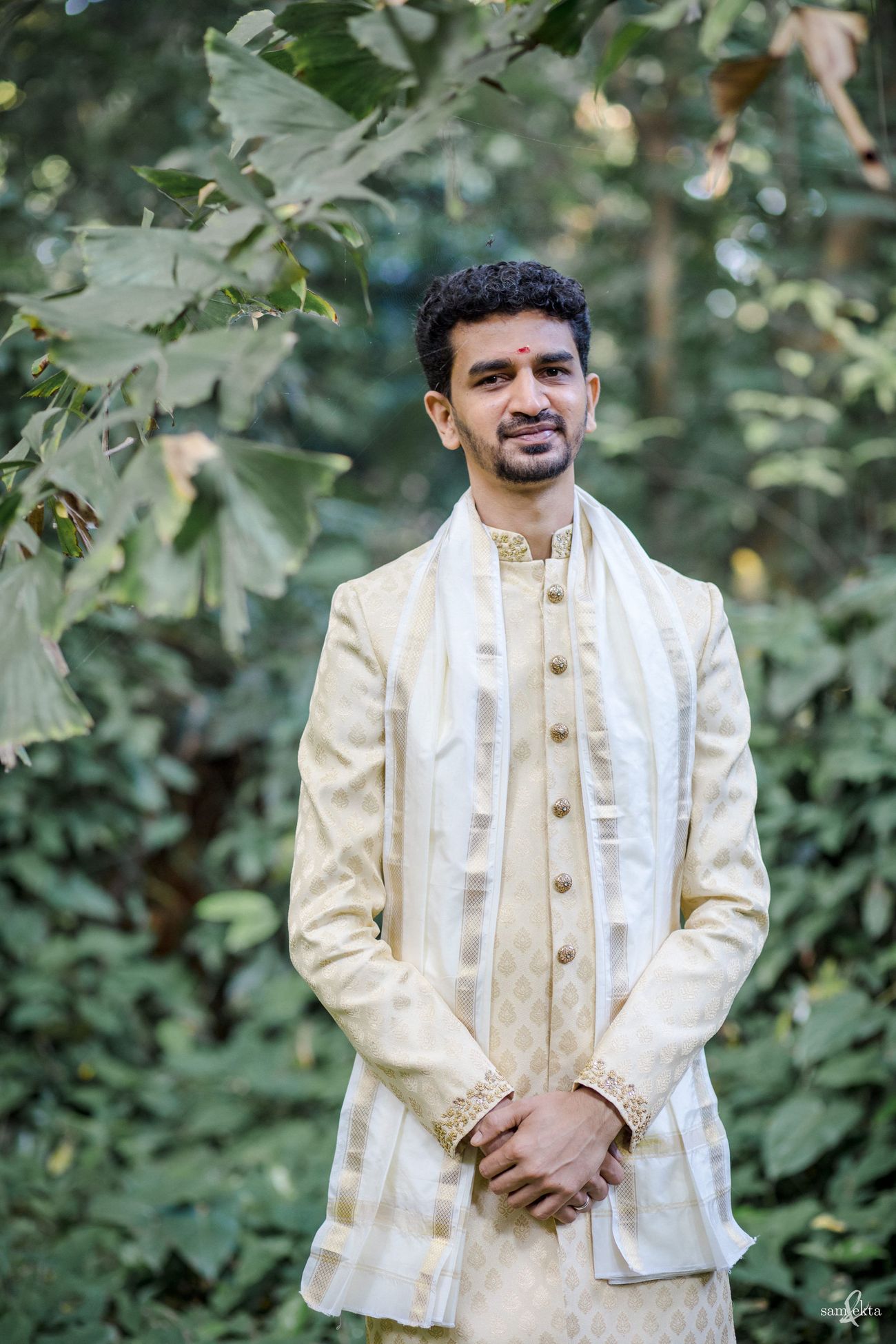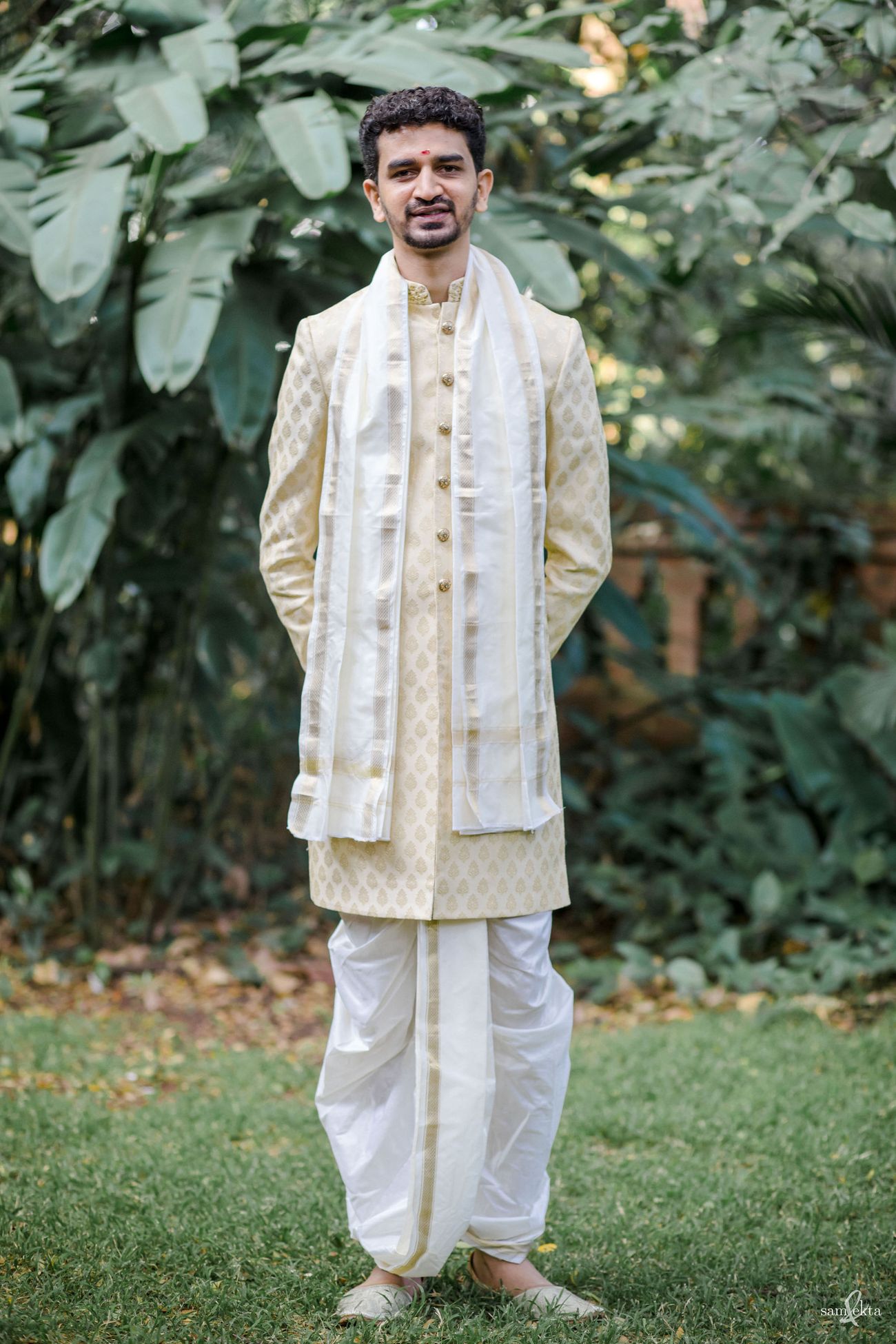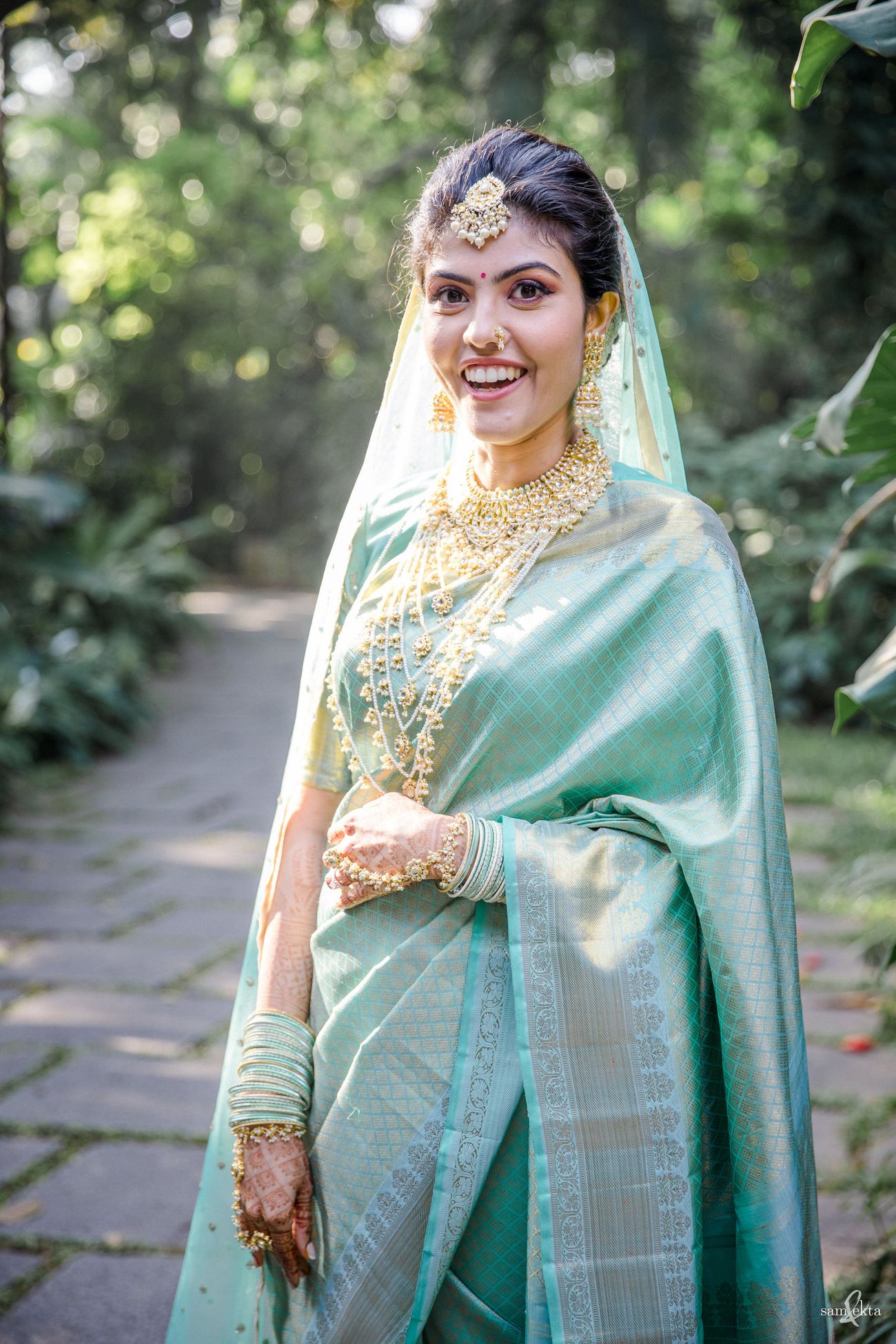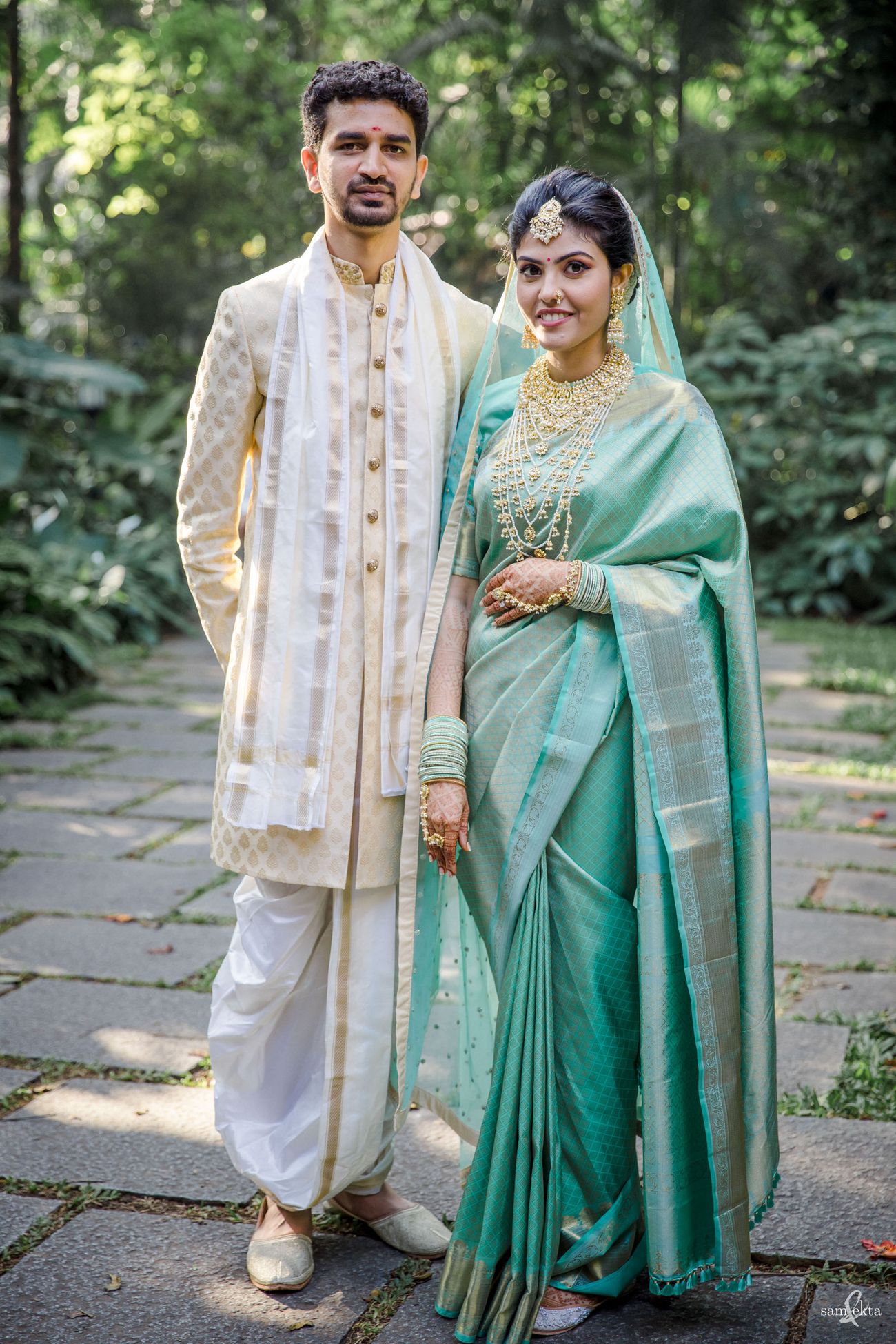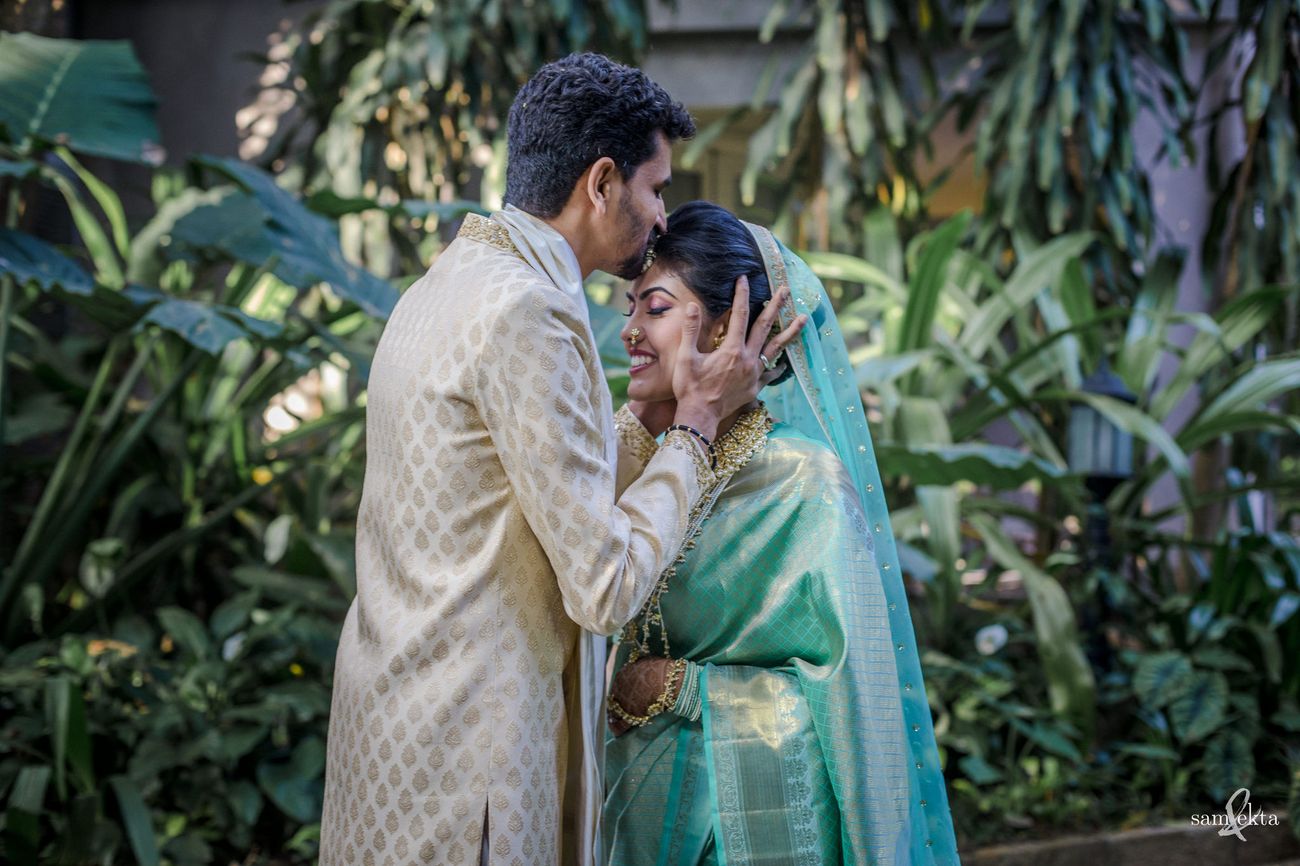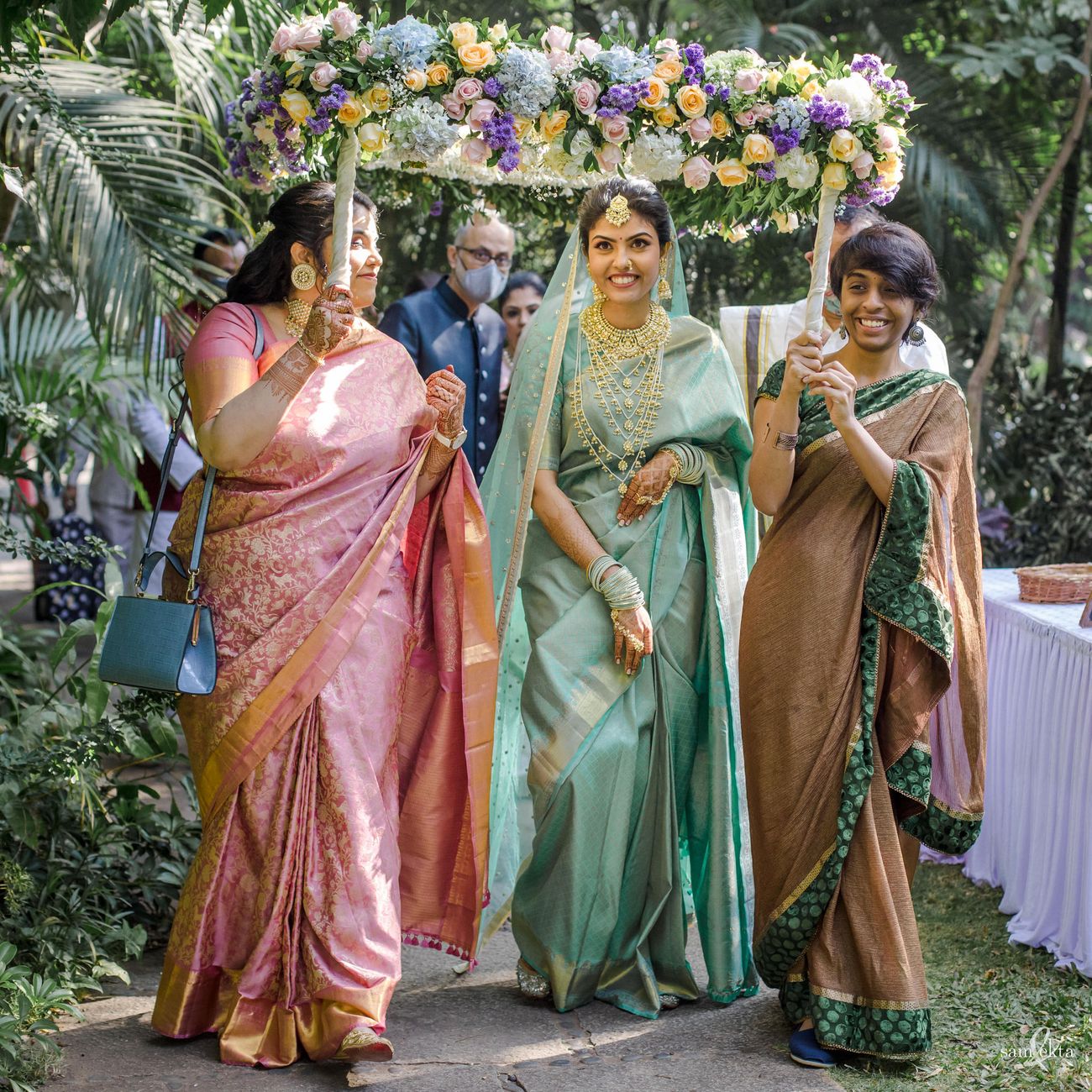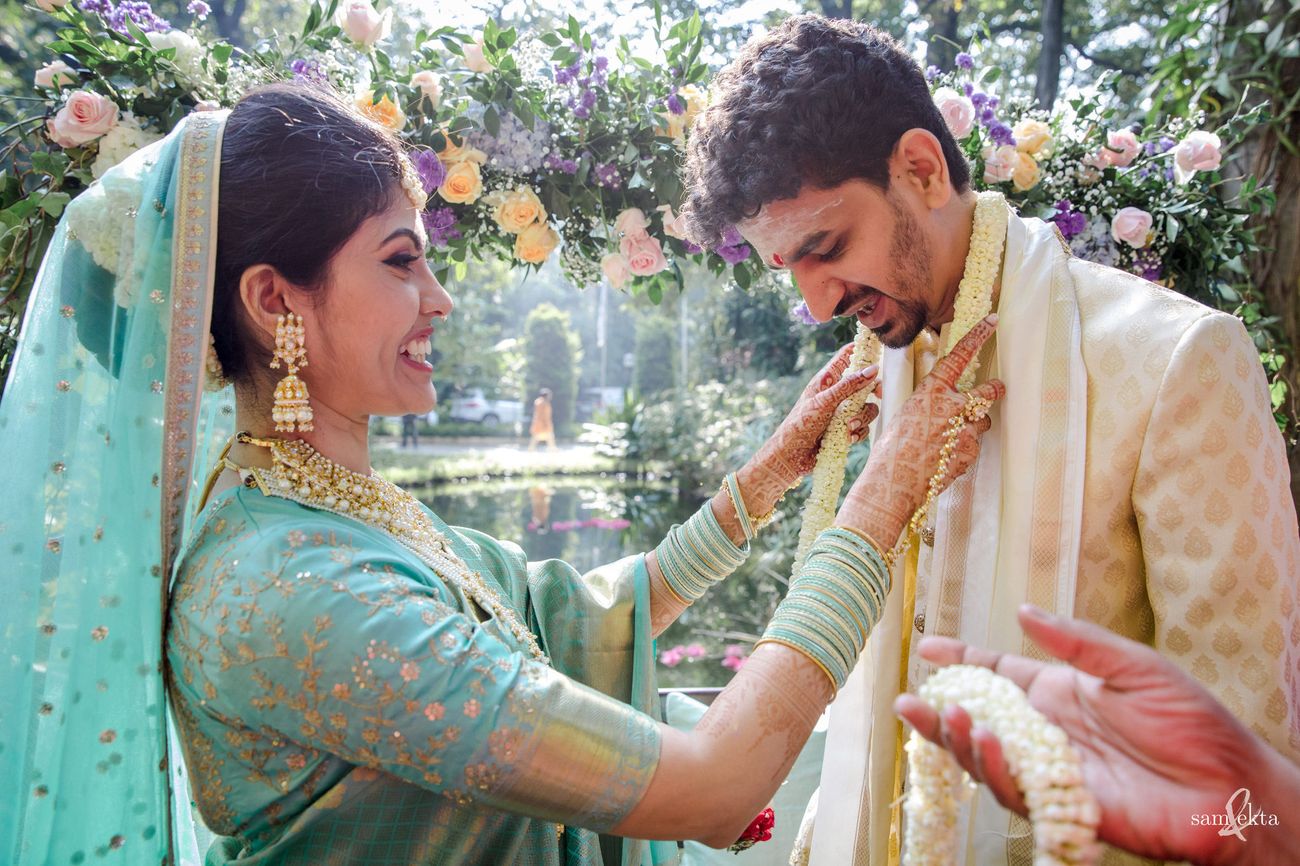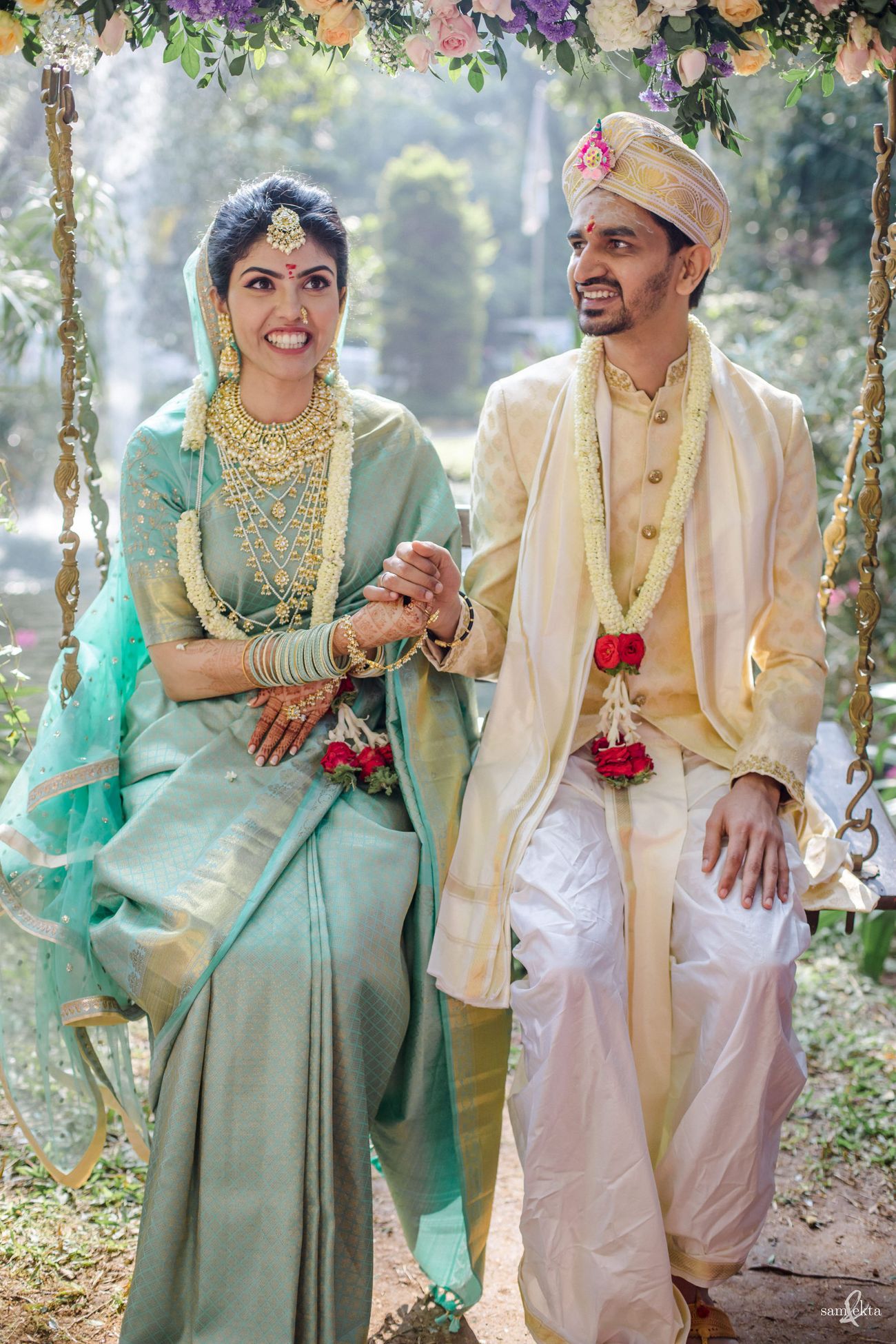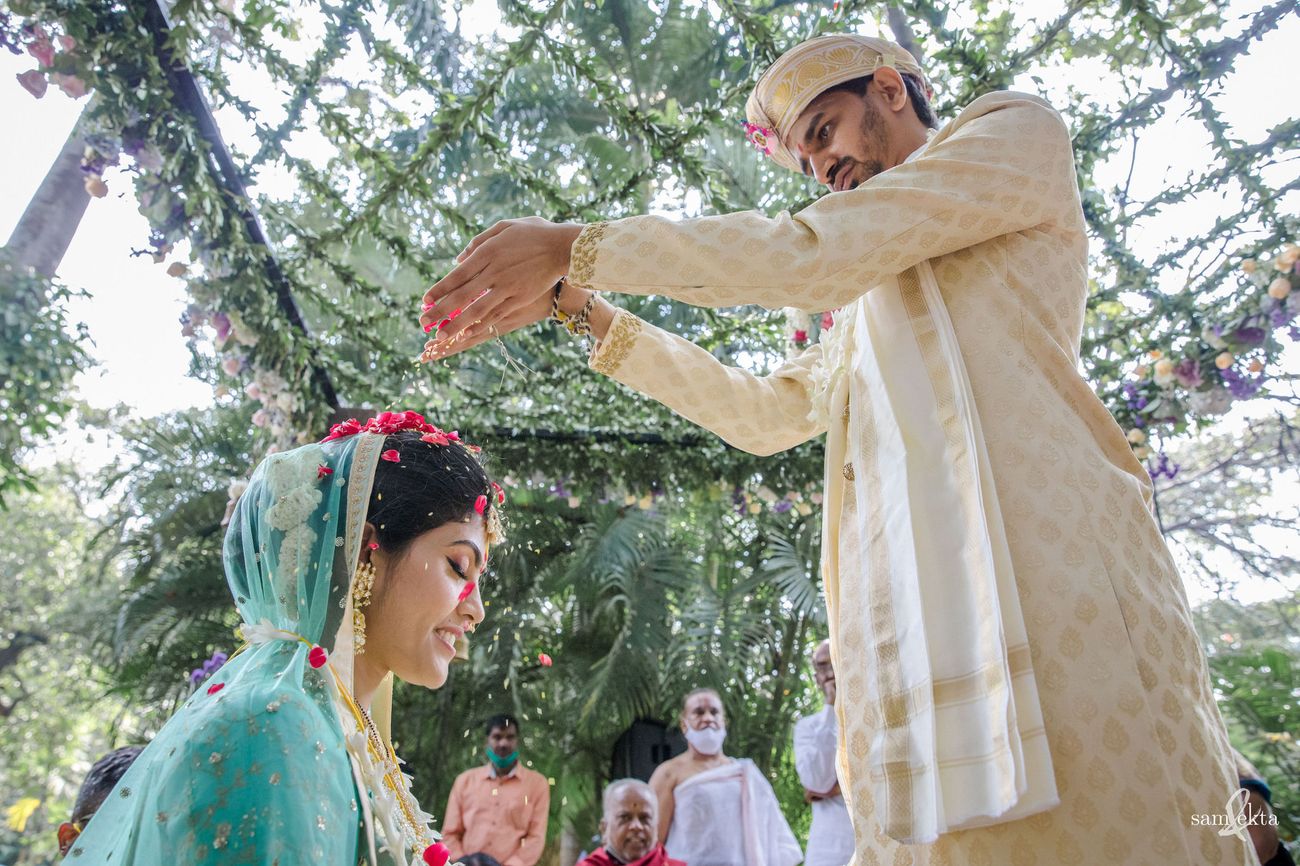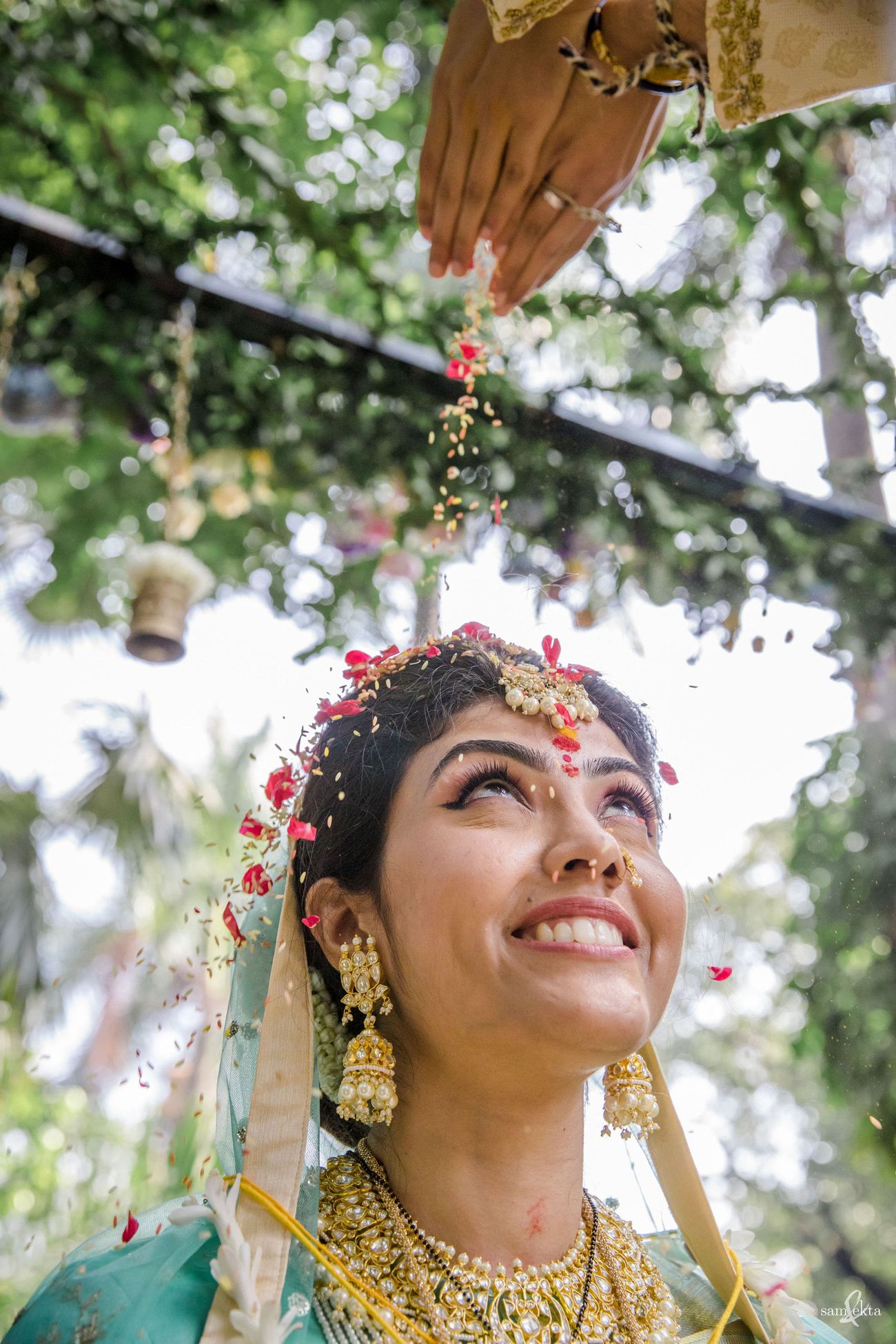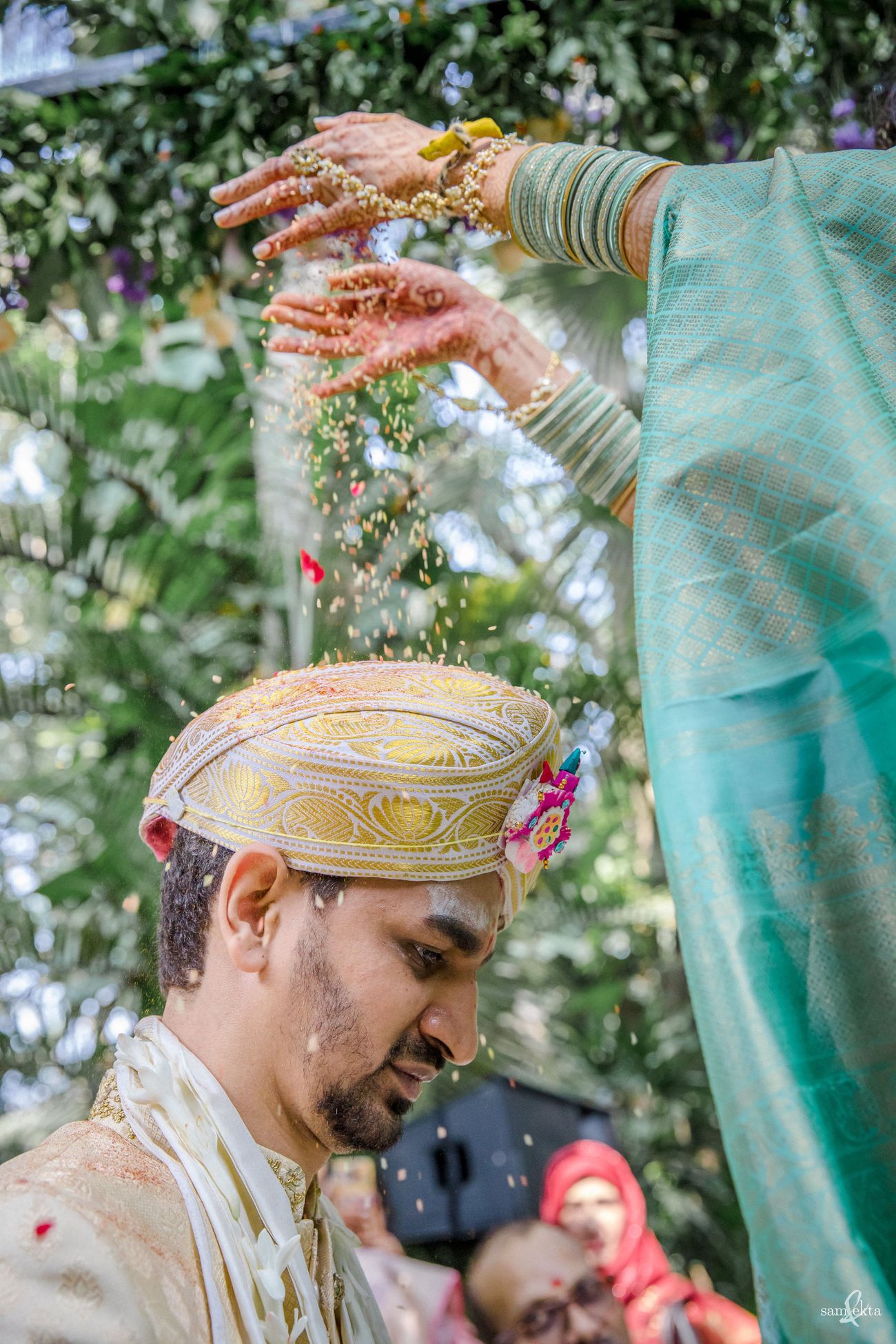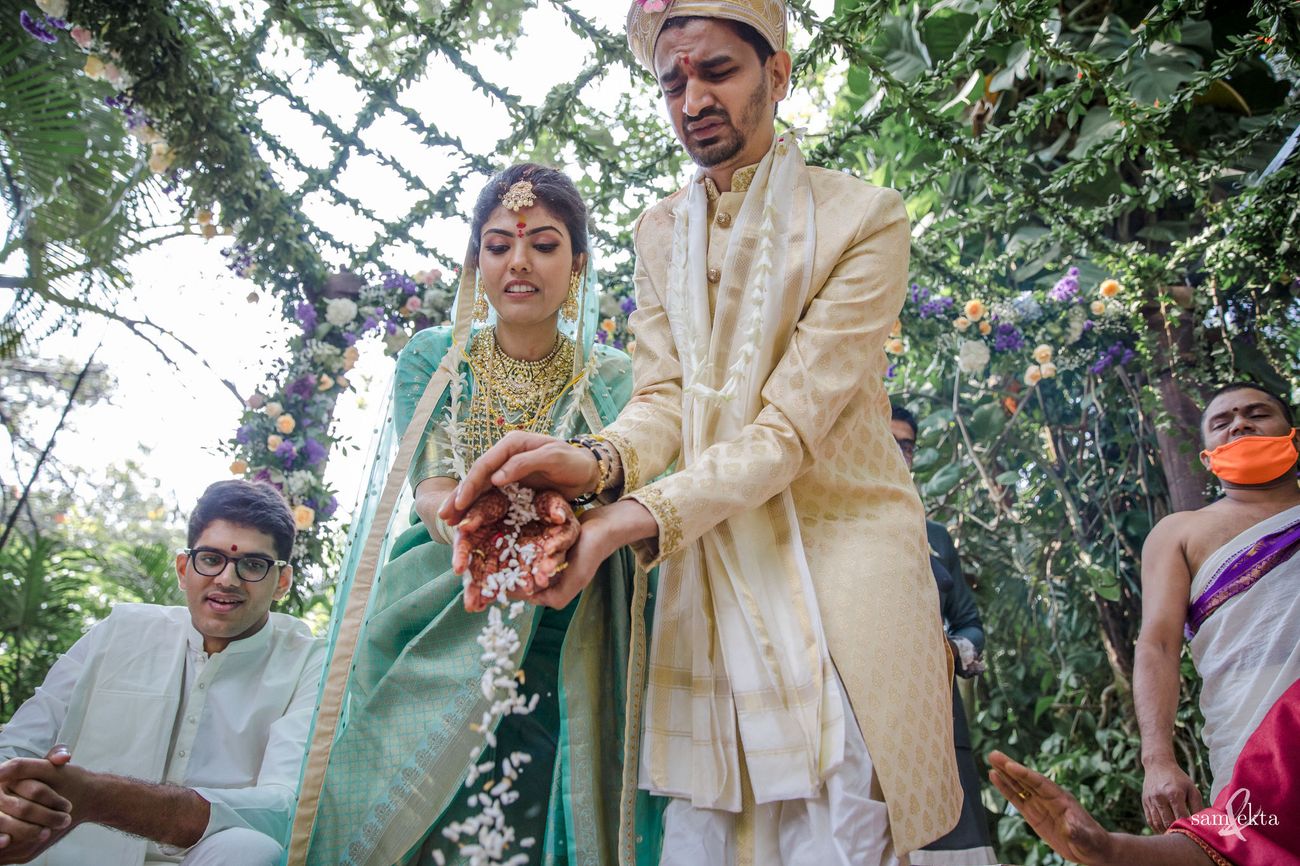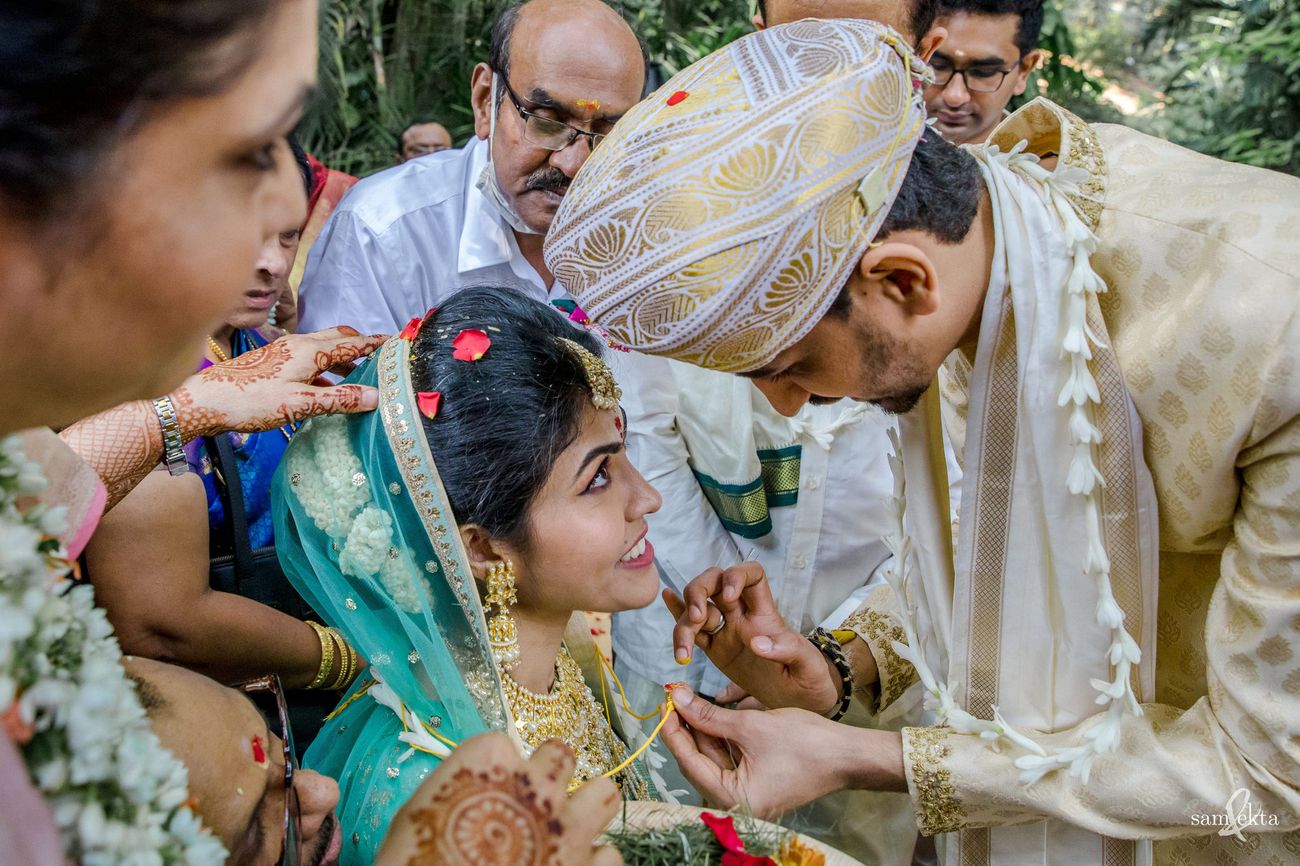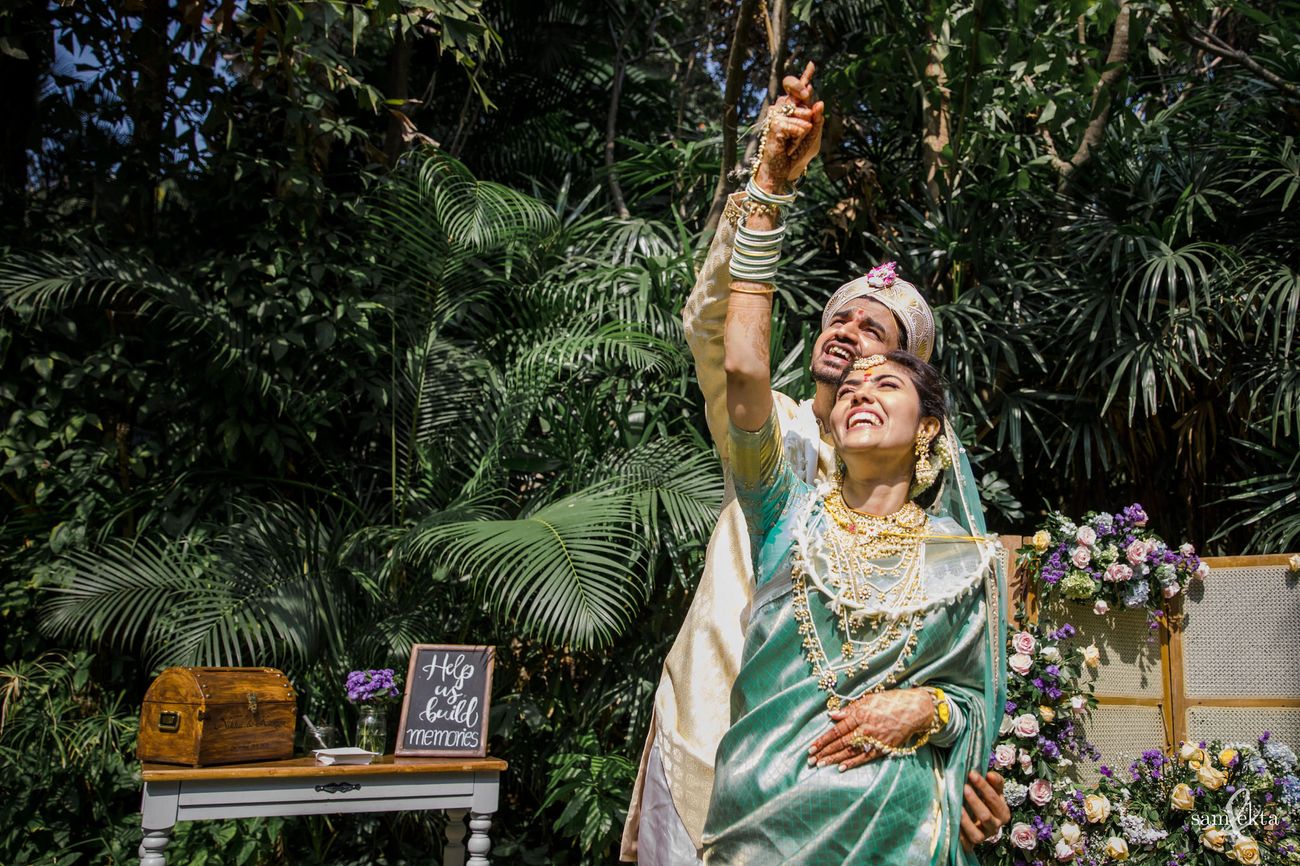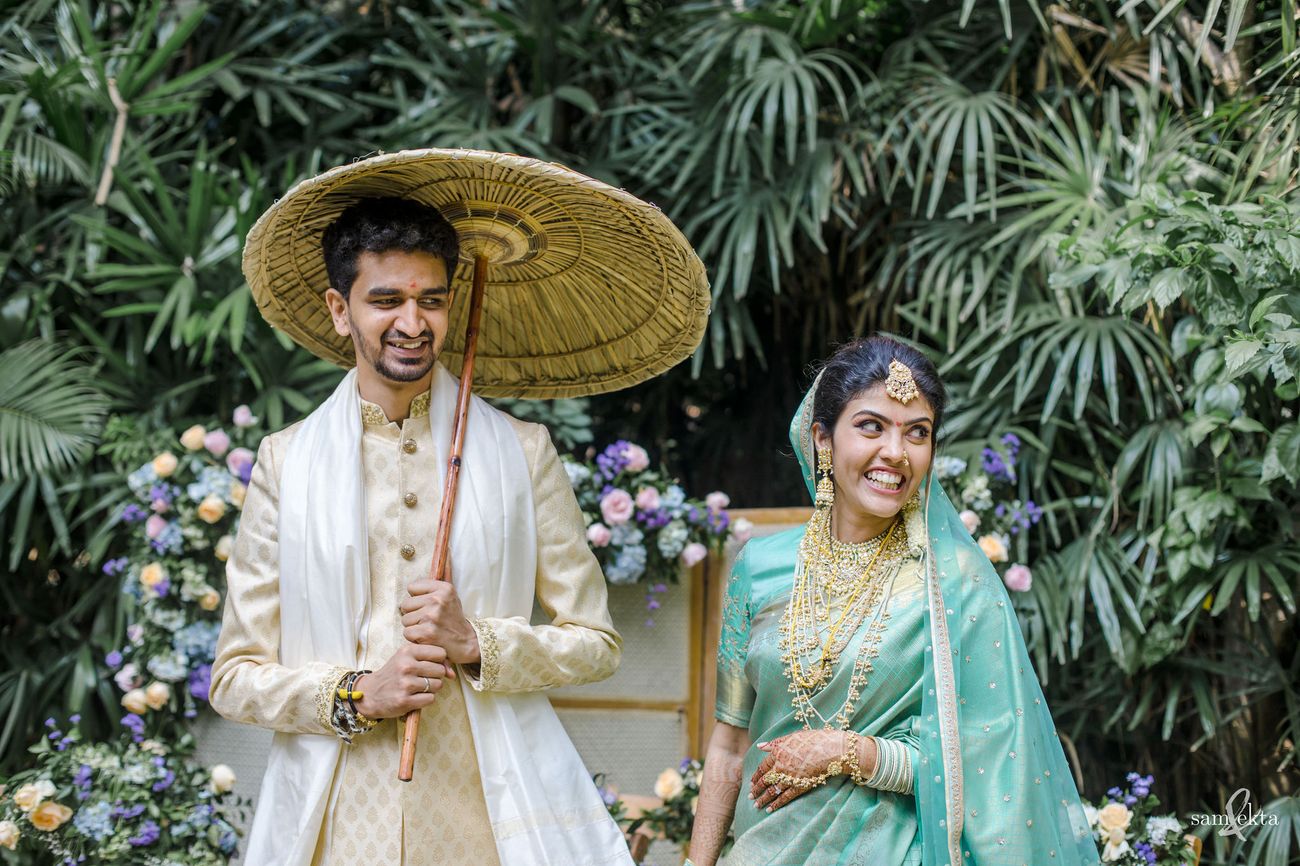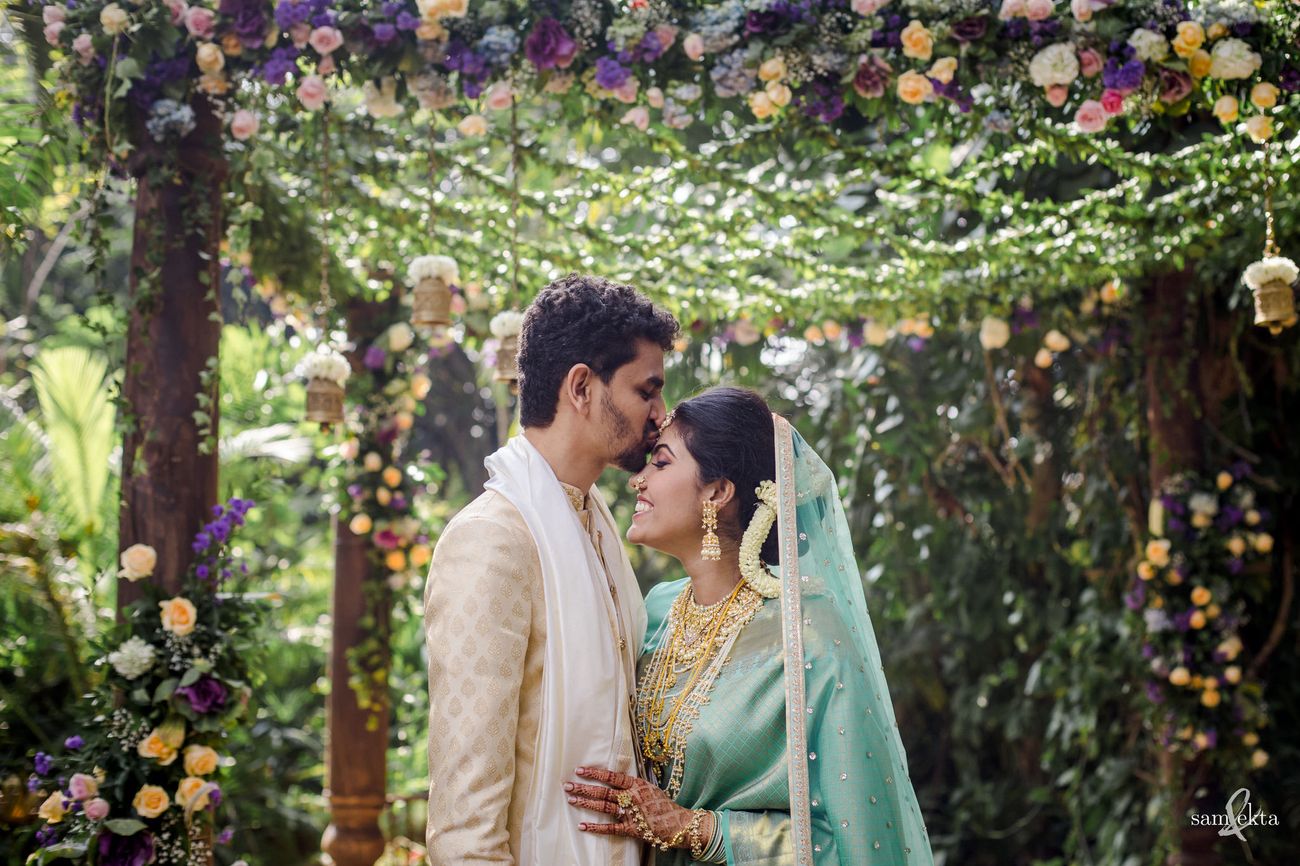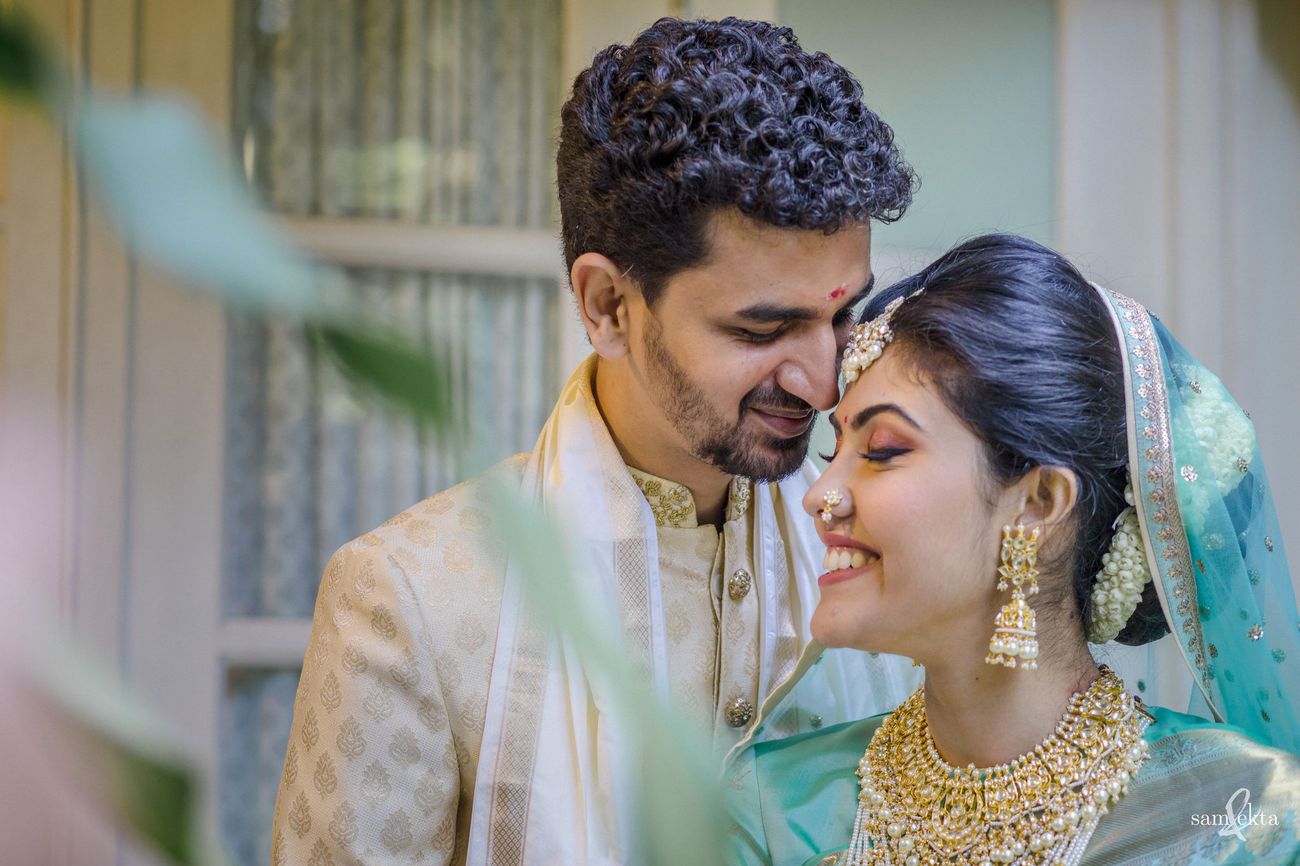 The Reception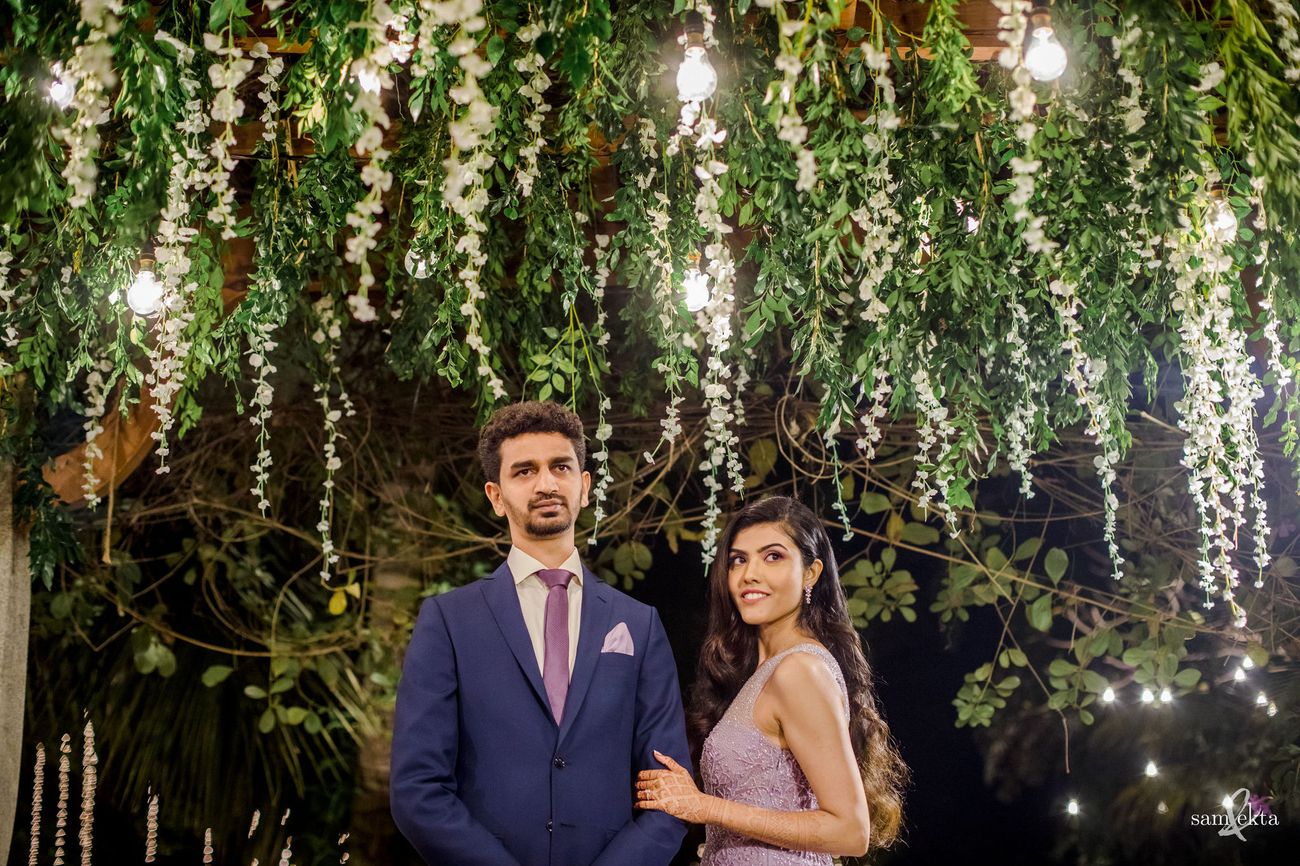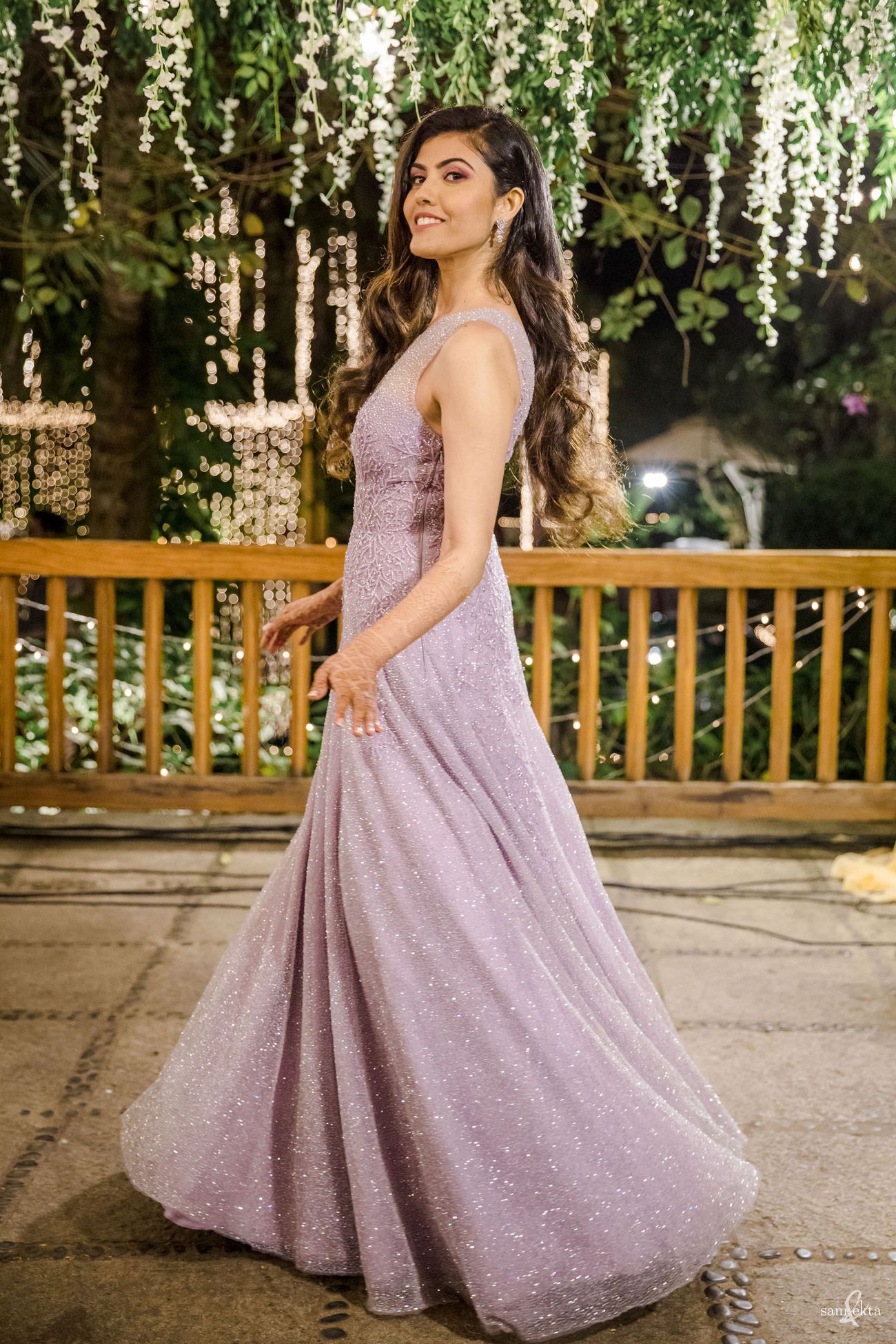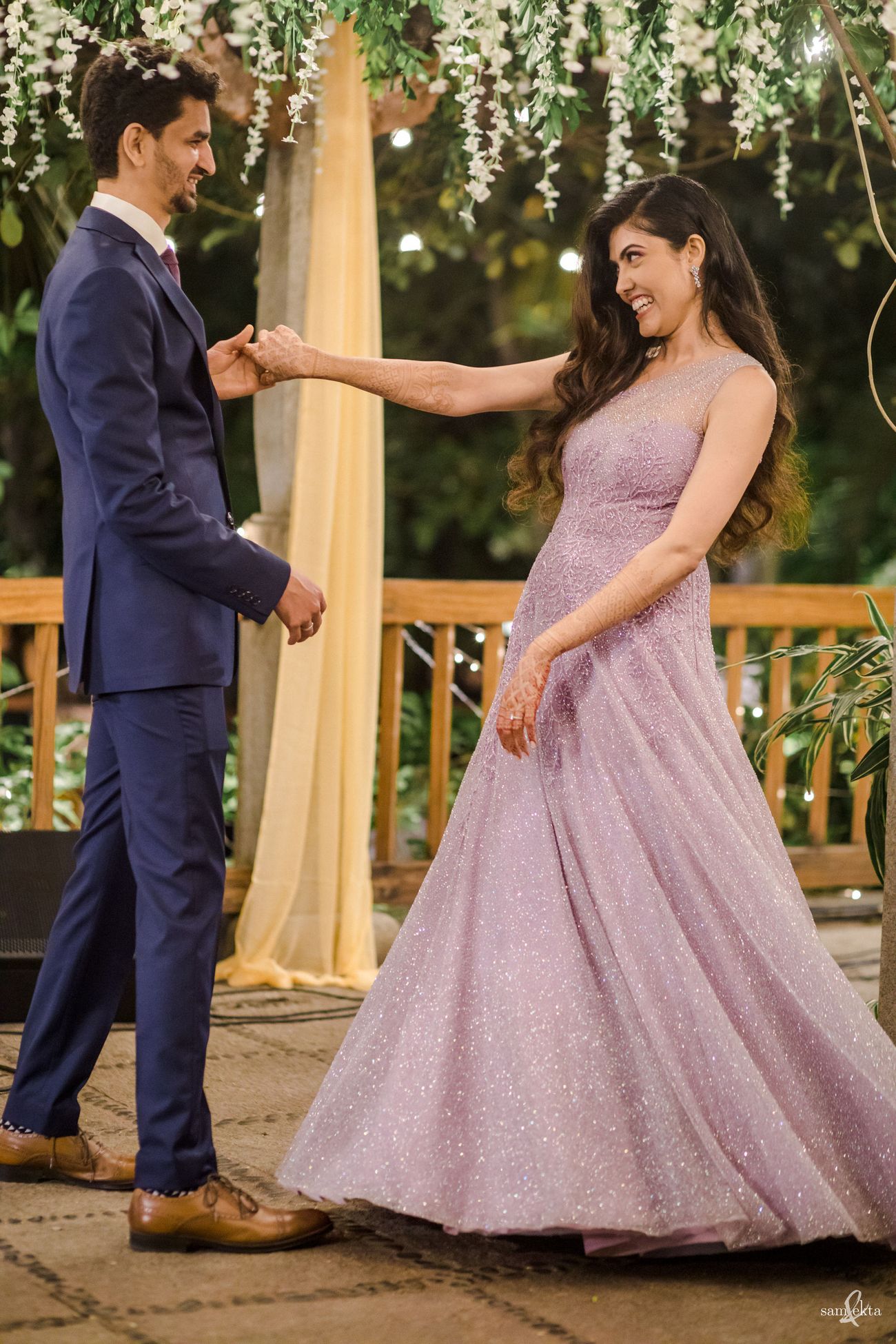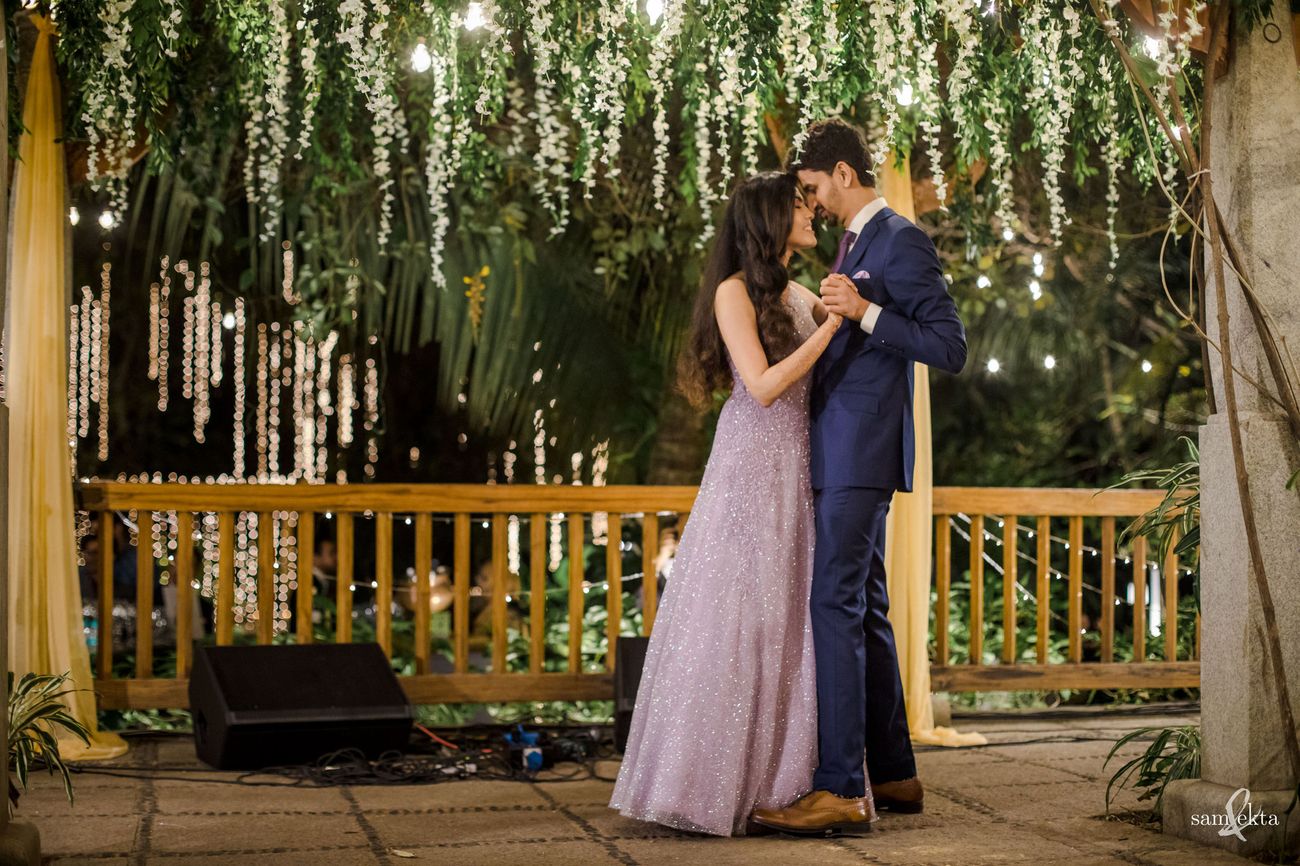 From The Bride: 
We are big believers in the power of different kinds of spaces (especially outdoor spaces) in creating unique experiences! Nikhil proposed in the lush gardens of Leela Bangalore -- the same place where we first met in person -- on New Years Eve 2020. Then we had a pre-COVID sunset beach engagement party in Udupi where we shared vows. Once COVID hit, we revised our Big Fat Wedding plans to get married in what felt like a hidden pondside forest enclave at the Taj in Bangalore. Our wedding itself was extremely intimate -- 20-30 guests for each event -- and as a result was very full of warm vibes from those nearest to us. We wanted to cover the many parts of our personalities -- our love for music & jamming, funny competitive games, dancing, Tamil and Telugu traditions, the stories, shows, and songs we love, and of course EPIC FOOD. There were lots of tiny details that had a lot of meaning to us -- we both love the ocean (especially snorkelling/diving), so my wedding saree was an offbeat double-shade blue-green Kanjeevaram that reminded me of the calm and depth of the ocean. The mehendi was meant to be playful and fun -- we had a NiKammo themed wedding Mad Libs round organised by bridesmaid Aarushi Jain (who also runs a digital escape room!) followed by a surprise guitar performance by the bride squad for the groom and a round of impromptu jamming. Our wedding Muhurtham was set for 24 December -- Christmas Eve! -- so we had a lovely Christmas Eve Ball reception where we hired an acoustic musician (Sanjeeta Bhattacharya) who sang everything from Santa Baby to Main Tenu Samjhaawan Ki to Uyire. My lavender reception gown by Kresha Bajaj also had Resham work inspired by the ocean's coral and glistening glass crystal that played on the reflection of light in the ocean. On decor, we focused on focal points that drew attention and created a vibe by accentuating the natural ambience of trees, ponds, the poolside, etc without looking too "produced". We were inspired by a lot of English flowers -- For mehendi -- a gorgeous pink couch surrounded by pastel coloured flowers and greens; for the muhurtham, rustic wooden pillars with brass temple bells and lamps adorned with green creepers & springtime flowers. Finally, the wedding motif was two swans -- swans mate for life, and the year 2020 as well as us meeting were definitely both examples of Black Swan moments. The invitatation card was designed to welcome guests to our unique blend of wedding -- it had a regal kanjeevaram saree inspired border (that had the same peacock motif as my wedding saree pallu) but also a cute illustration of us driving around on a vespa in Capri. To summarise, we are hard to summarise -- but the wedding was a good attempt :)
Vendor Reviews: 
Venue: Taj West End, Bangalore
When we first visited the venue we felt like we had entered a hidden historic hill station that was designed for intimate weddings! We vibed with each space -- from the majestic Raintree to the pondside gardens where we did our wedding to the poolside pergola that was perfect for our first dance. The Taj planners were so accommodating given our needs for a smaller group, and the staff is always smiling and joking :) Can't thank them enough for the perfect setting for our special day!
Makeup Artist: Ralph Daniels
Ralph is so gifted and so seasoned -- even though I was quite picky about makeup, with Ralph I had complete faith in his ability to make me look natural but also waaay more elegant than usual :P I had some strange requests, like replicating Danaerys Targaryen braids and curls from Game of Thrones for my Mehendi, and a bun instead of the traditional South indian braid for the wedding ceremony. His suggestions on what would work best based on my outfits was always on point, and he pulled off all my looks with aplomb. Will be forever grateful! The best part was he was genuinely excited about my final looks which was so nice to see!
Photographer: Sam & Ekta
Sam & Ekta became kind, patient, and trusted overall wedding advisors -- they answered so many questions for us through the journey. They make your family laugh and feel comfortable enough to get the right 'real' portraits. They made people who missed the COVID wedding feel like they were there by capturing every candid moment. More importantly, when those who attended saw the candids we relived the wedding from a new perspective -- we saw expressions of ourselves we didn't know we made, and saw moments of the wedding we missed or didn't know happened. It was incredible to see emotions captured in the time capsule of their images. Plus, of course, they made us look hotter than we ever have (or ever will) and took some technically flawless shots. They think deeply about what you want from wedding photos now, 5 years from now, and 10 years from now and strive to give you all of it. If you're looking for a team that has built a personal philosophy on what good wedding photography is and lives it every day, this is the team you want! We know we wouldn't have had it any other way :)
Decor: With Love Nilma
Decor isn't just about placing beautiful objects around a venue -- it's really about transforming a space to become magical and memorable that is true to the character of the couple. Nilma does this so well! The Mehendi was transported into a Victorian English inspired garden tea party, and the mandap had the enchanted forest rustic South Indian temple vibe I'd always wanted, complete with an unusual pastel colour palate to complement my Ocean blue saree. I'm calling it now, Nilma is going to rule the wedding decor industry in the next few years. Get her now while she still has dates!
Planner: Shilka Abraham (Amanati Events)
Shilka is the superwoman every couple needs to execute an ambitious wedding vision with great taste :) Her team is super thorough and professional -- if you tell them something once it gets done to a high standard, and per your budget. She's seasoned enough to gently help you distinguish your good from great ideas, but also gets excited right there with you as though it's her first wedding :) She's the reason everything got done on time, somehow juggled requests from endless family members, and slept less than anyone else to make sure everything went smoothly. Can't recommend her enough for couples who want to actually relax at their wedding, instead of stressing about too the details! Put simply, you can trust her with your hopes for the perfect wedding.
Wedding Invites: Rohan and Aparna Invitations
We asked them for a kanjeevaram saree inspired secret garden wedding invite, which was traditional and elegant but also quirky. They met and excelled the brief - all our guests loved the details of the invite and especially the laser folder that made it look like a gateway entrace :) They also gave us very practical advice on how to construct an invite opening experience for our guests within our budget. Sound, trusted team for invites!
Illustrations: Paper Loves Pixel
Asha Das is an illustrator and designer who we requested to do a cartoon image of us on one of our favourite memories -- zooming around the island of Capri in a yellow rented Vespa. Her illustration was on point and made everyone smile!
Vendors: Venue: Taj West End, Bangalore; Makeup Artist: Ralph Daniels★ 4.3 ; Photographer: Sam & Ekta - Sonder Frames★ 4.8 ; Decor: With Love Nilma★ 5 ; Planner: Shilka Abraham (Amanati★ 5 ); Bridal Outfits: Wedding Day Saree - Angadi Silks ★ 4.7 , Blouse & Veil - Shradha Ponnappa★ 5 , Christmas Eve Ball Gown - Kresha Bajaj Koesch ★ 5 , Houseparty Sangeet - Anita Dongre★ 4.9 , Mehendi - Gulabo, Haldi - Gray & Green Store; Bridal Jewellery: Wedding & Haldi - Mortantra★ 4.7 ; Mehendi Artist: Mehndi by Nazwa★ 4.9 ; Groom Wear: Wedding & Sangeet - 108 Bespoke★ 4.9 , Mehendi & Reception - Mohammed Omair★ 5 ; Wedding Invites: Rohan & Aparna Invitations★ 4.9 ; Illustrations: Paper Loves Pixel