Everything You Need To Know Before You Put A Ring On It! *Tips, Tricks & Ideas!
BY Apoorva | 20 Apr, 2017 | 371 views | 5 min read
Are you getting engaged or planning to pop the question soon? Do the 4 c's at every jeweller shop confuse you? Don't worry; you are not the only ones! That is why we bring you the ultimate ring buying guide so you can shop like a pro the next time you hit the stores. After all diamonds aren't cheap and not everyone can afford a 5-carat rock – so we have to shop smart.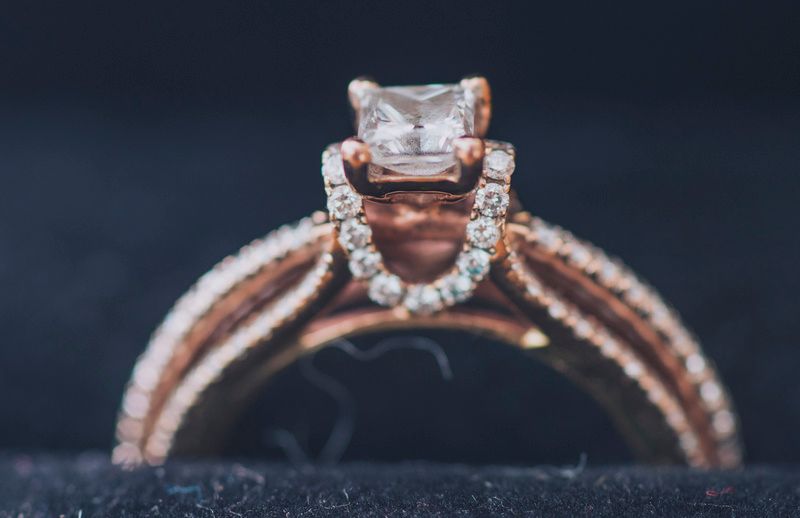 North Water Star★ 4.9
Find A Trusted Jeweler
– Got a cousin who recently got married? Ask for recommendations from her. A lot more is gained from recommendations than a Google search. Or go to a family jeweller and ask all the questions!
Study Up On the 4 Cs
– Yes, we know you are going to be like – here they go again on the dreaded 4 c's but we want to make sure that you are putting your money where your mouth is. After all we don't want you to be duped!
Cut – No, there isn't just a round and square diamond. The cuts of a diamond vary and these are the most well-known ones. Find out which ones suit you and you like, because this is one ring that you will wear forever!
This is how the pricing works: Round > Marquise > Heart > Pear > Oval > Princess > Cushion > Asscher > Radiant > Emerald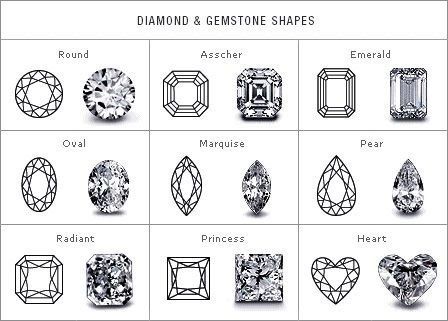 Carat – What is carat? It's basically the weight (and size) of the diamond. A one carat diamond starts around INR 80,000 and can go up depending on the other factors. Here is a quick chart for you to understand how a 1 carat diamond differs from a 5 carat one!
Clarity – As the name suggests, it defines the clarity of the stone. After all, no one likes a yellowish diamond! The clear-er the stone, the more expensive and flawless it is. Usually FL to VVS2 is what is preferred!
Colour – No, this isn't a whether its pink or blue. Its basically the colours of a clear diamond. The colours start from D, which is the best, and range upto Z, which is on the side of yellow. The preferred ones usually lie between D-H, though the difference is so minute that no one but a jeweller can tell!
Know Your Metals
– We know that yellow gold is so common but platinum is expensive – so what is the mid-way? White gold! Not all metals are created equal. Whether you opt for classic platinum or retro yellow gold, you should know how the metal you choose will affect your ring's durability and overall aesthetic.
Settings, settings and more settings?
– Halo, Prong, Tiffany and the list goes on! But the right type of setting is extremely important as that the one that decides the style of the ring. Want to know more? Find all the nitty gritty details
here
Don't shop alone
- If you are planning to propose, then take her sister or girlfriend along or maybe one of your friends who has already done the deal. This way you won't get overwhelmed and you will have someone to bounce your thoughts on! If you both plan to go pick rings together – make sure you communicate about the budget beforehand. We don't want an awkward situation in the store, do we?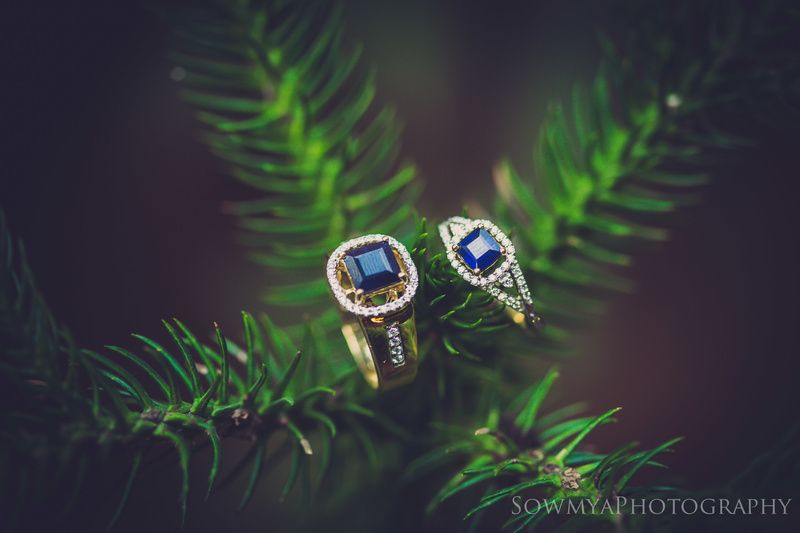 Image via SoumyaSowmya Photography★ 5
Customization
– Liked a stone and setting from two different rings? No problem. You can even customise your ring according to your specifications. Don't get scared of customization. Communicate with your jeweller and tell them exactly want you need.
Budget It
– This goes without saying. You don't want to repent buying your engagement ring, right? Set a budget before you go shopping. That way you won't give in to the drooling that happens when you swoon over rings! (We promise that it'll happen!) . On an average a decent 1 carat stone will set you back 1.5 lakh onwards and even a .10 increase in carat increases the price exponentially. So a good trick is to buy a 0.90 carat stone which can knockoff a ton of money but still look as big.
Time It Right!
– Dearest bride/groom to be, if you are planning to pop the question next week, the ideal time to pick the ring is atleast 2 months prior if you want it made. Or else you can always waltz into a jewellery showroom and pick up one! (You have to get it sized also, so pre-planning works!)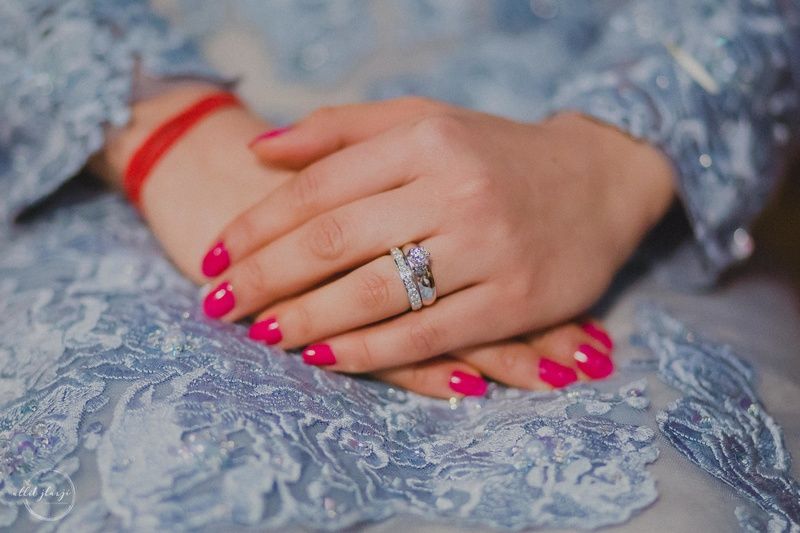 Shop Smart
– If you snooze, you lose! That's the motto on engagement ring shopping. Want to buy a diamond ring but don't have that huge a budget? Worry not! You can opt for a cluster setting ring which essentially is lots of tiny diamonds clustered together perfectly to look a solitaire! Sneaky smart right? You can also opt for a black diamond , which is less expensive, rather than white (white is flawless) and you might just get extra brownie points for a unique ring!
Know Your Trends -
For example, coloured stones are now on trend. Or stacked up rings. So read up on what's in trend + mix it up with your gurl's taste + add price = your awesome ring!!!!!