Experts Reveal: Key Tips To Keep In Mind While Planning An Intimate Wedding During COVID
BY Sakshi | 22 Jan, 2021 | 5781 views | 5 min read
Everyone thought it was temporary, we all thought it would come and go like a wave- but almost one year down the line, COVID is very much prevalent, with the only hope coming in the form of a vaccine. Weddings as they were have changed, with wedding planning getting altered right from the core. So we asked some of the leading wedding planners in the industry to let us know about some key tips to keep in mind while planning your intimate wedding during COVID.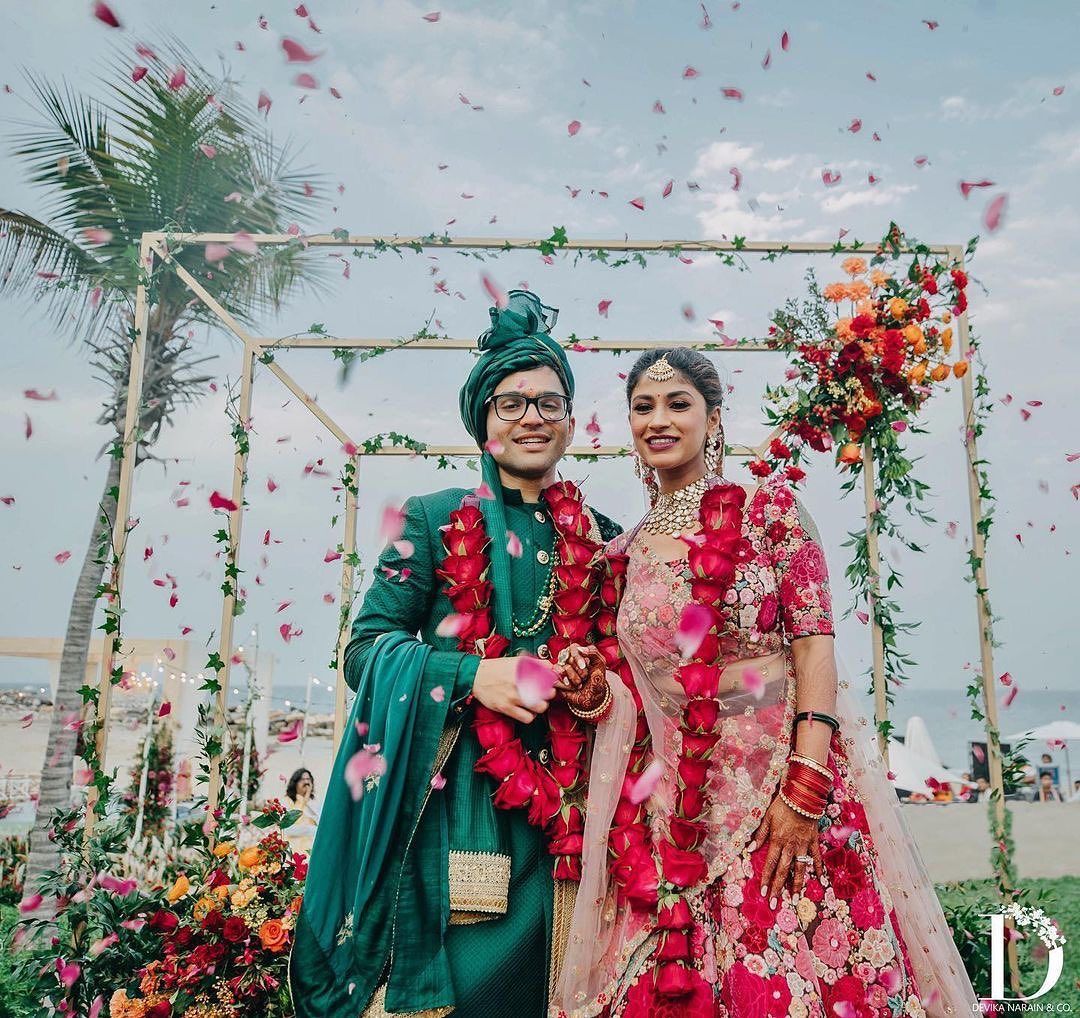 Image via Devika Narain and Company★ 4.5
So here are some expert inputs!
Sharon Immanuel from

BMP Weddings

says: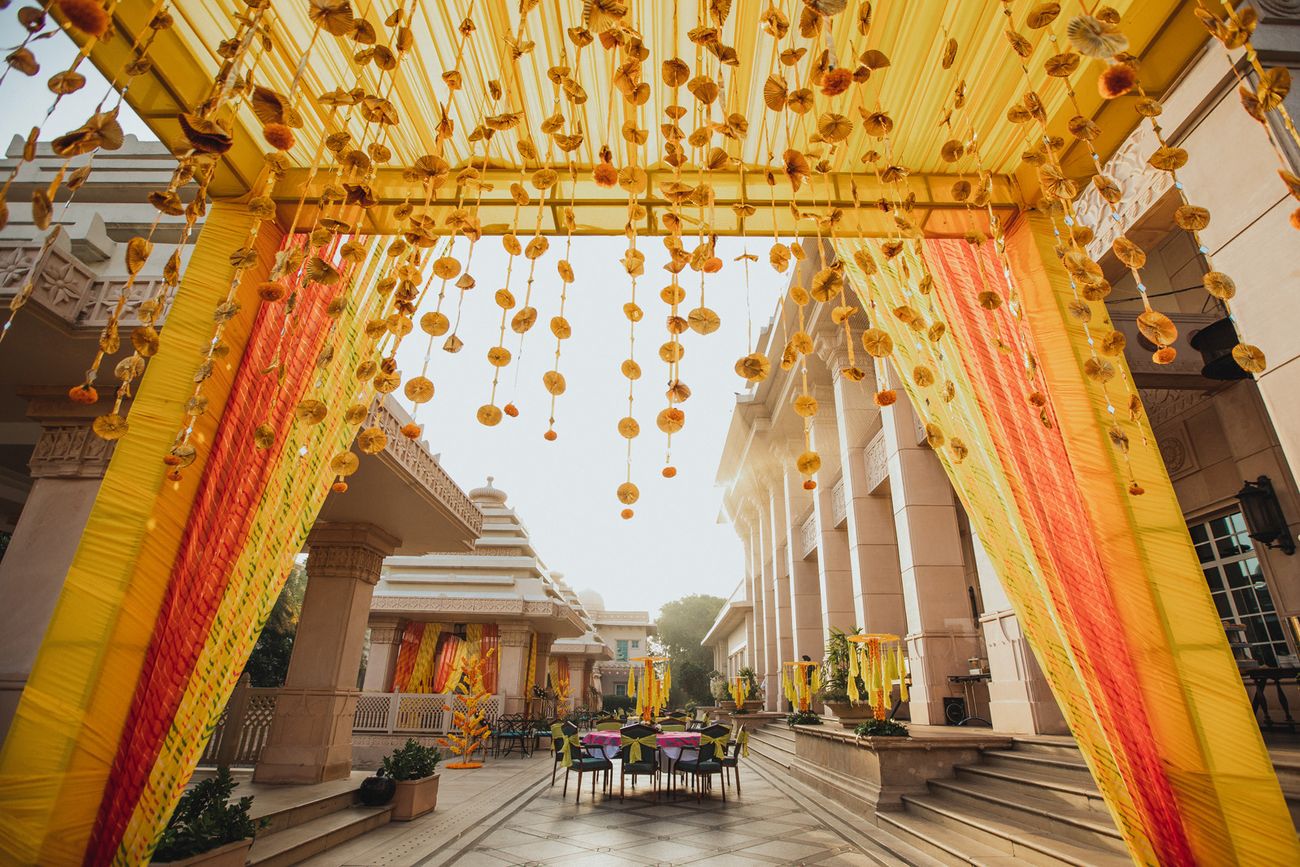 Hire a planner who is capable and equipped enough to handle situations with sensitivity and diligence towards the people attending the wedding.
Venue that plays an important role, now when its not about the extravagant its how intimate and cozy the place can be aesthetically. The venue should be spacious enough to cater adequate distance as well as not too spread apart where the void screams.
Above all the sanitation needs an extra attention, what is out of sight is out of mind, so sanitisers and precautions should be visible at eye level and different junctions, especially near the food or consumption area, having dedicated manpower to prompt people at the entrance would also give guests a sense of reminder of the sense of safety being followed in the premises.
Keep it outdoor as you can have a prettier and more decorated set up which aesthetically makes the venue look nicer as there is lots you can play with- from structures to themes to larger than life installations and extravagant furniture. At the same time social distancing can be maintained too, as people don't wear masks in weddings these days.
Plan physical distancing at each function properly. If there are dinner tables to be placed, make sure they don't seat 8-10 on a table which earlier would happen in normal times. Use larger diameter tables and don't seat more than 6 people at a time.
Tag everyone's glass- Place an easily identifiable tag on each glass so there's no confusion about which one belongs to whom. That way you minimise the chance of people drinking from someone else's and transferring the virus via contaminated glasses. It also makes the wedding event more personalised. And on the day, raise your glasses rather than clinking them.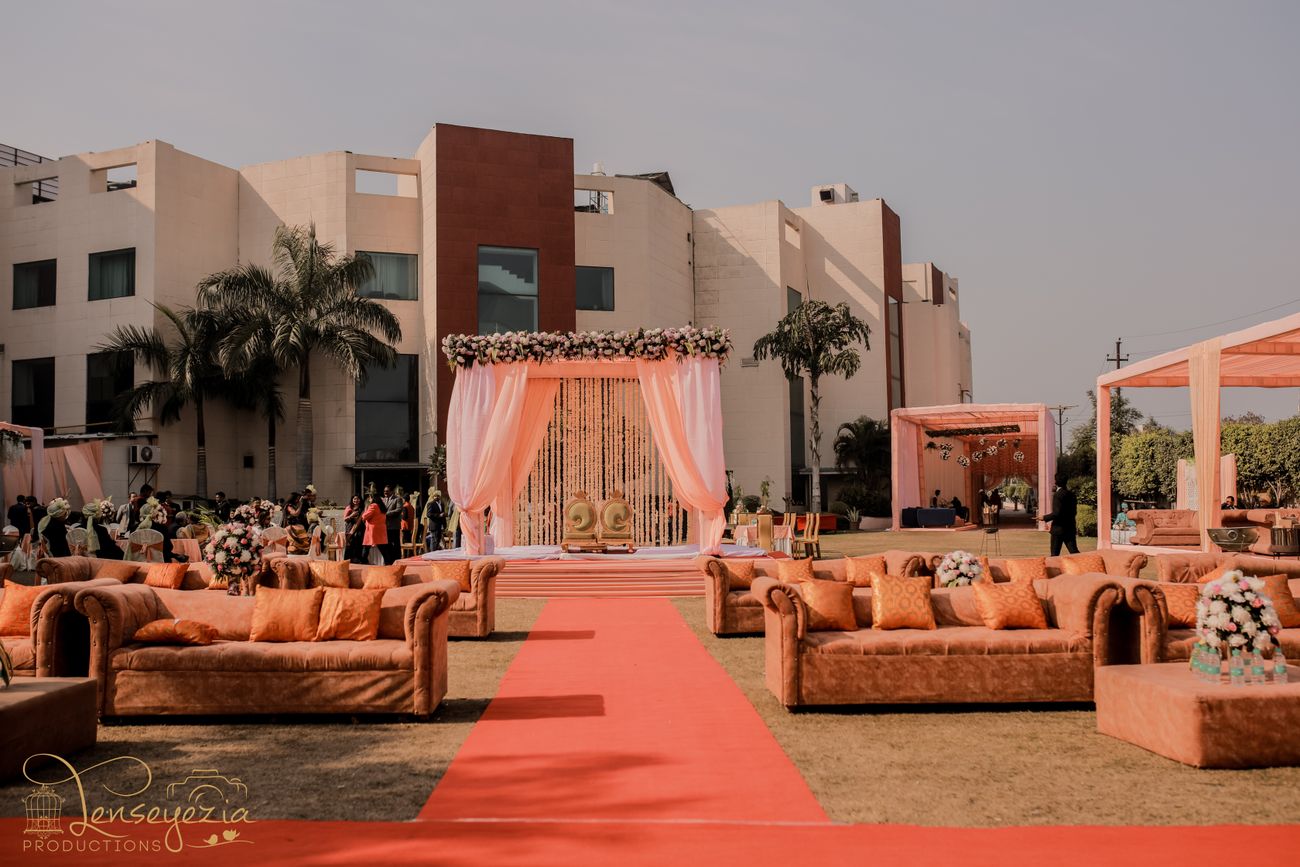 In a recent wedding, we kept a few trays of packed fresh decorated masks in different set of colours so that the guests are more than excited to keep the mask on while they move along in the party.
Ensuring sure the hotel is following the no contact policy with the guests. As the occasion picks up pace, things are expected to get lenient, so we keep an in charge from our team dedicated to ensure protocol is being followed throughout the party such as the frequent use of sanitisers, gloves on by the waiters and guards at the door to ensure nobody re enters the hall without following the necessary measures.
Request for a negative Corona test, not more than three days old, from all artists who get physically close to the guests or the bride and groom like MUAs, Mehndi Artists, the photography team etc!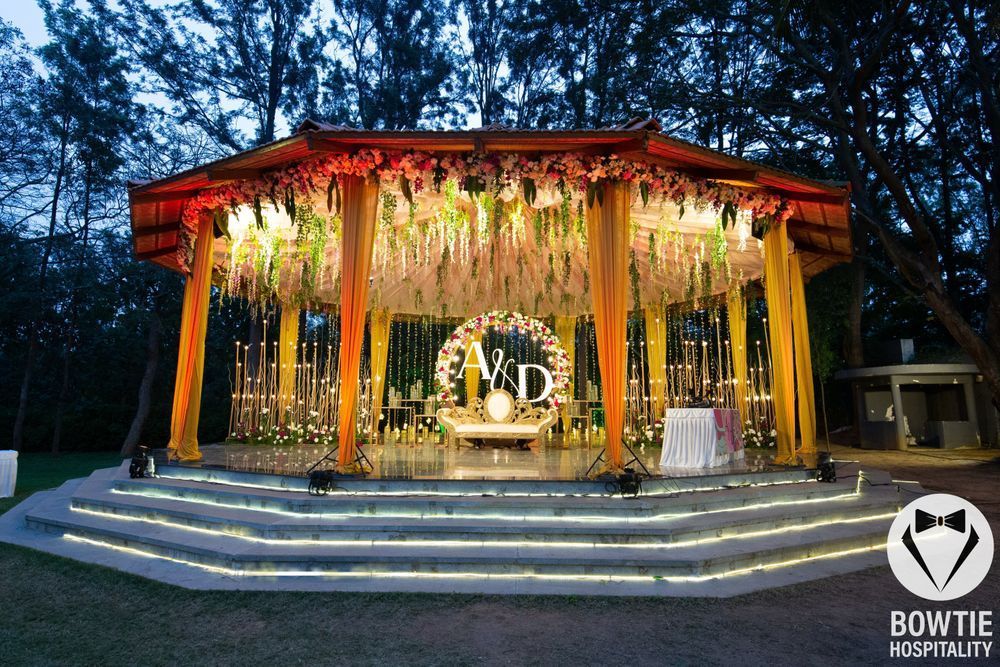 Allocate your budget as per priority. Something like an intimate can do without certain aspects like a professional emcee, any enthusiastic family member can cover that job and the good ups can be laughed among family members. 
Make sure to take a final guest confirmation for the wedding. Make sure the caterer is clear with the number of pax. Since a lot of people might back out at the last moment and you could end up spending more than needed plus waste food.
You can have more personalised invitations, gifts and dressing themes for both sides since most are close family members. The same detail can be extended to the decor as well with more personalised decor ideas can be brought to life and try out more eco friendly and sustainable decor ideas too.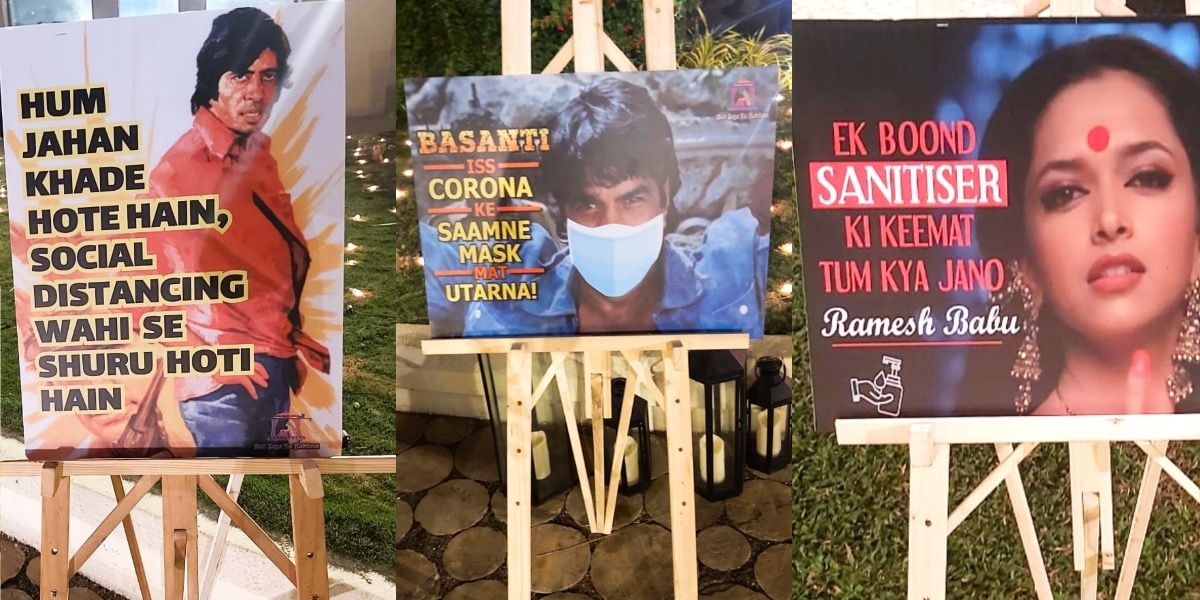 Try to make the decor interesting by putting creative and informative posters to remind your guests about the Covid Guidelines. In a recent wedding that we planned, we made the Covid Guideline Posters inspired from Iconic Bollywood Dialogues. 
For Mocktails & Cocktails, replace glasses with 100ml bottles of bio-degradable plastic so that the guests don't interchange their glasses. That way you minimise the chance of people drinking from someone else's glass and transferring the virus via contaminated glasses.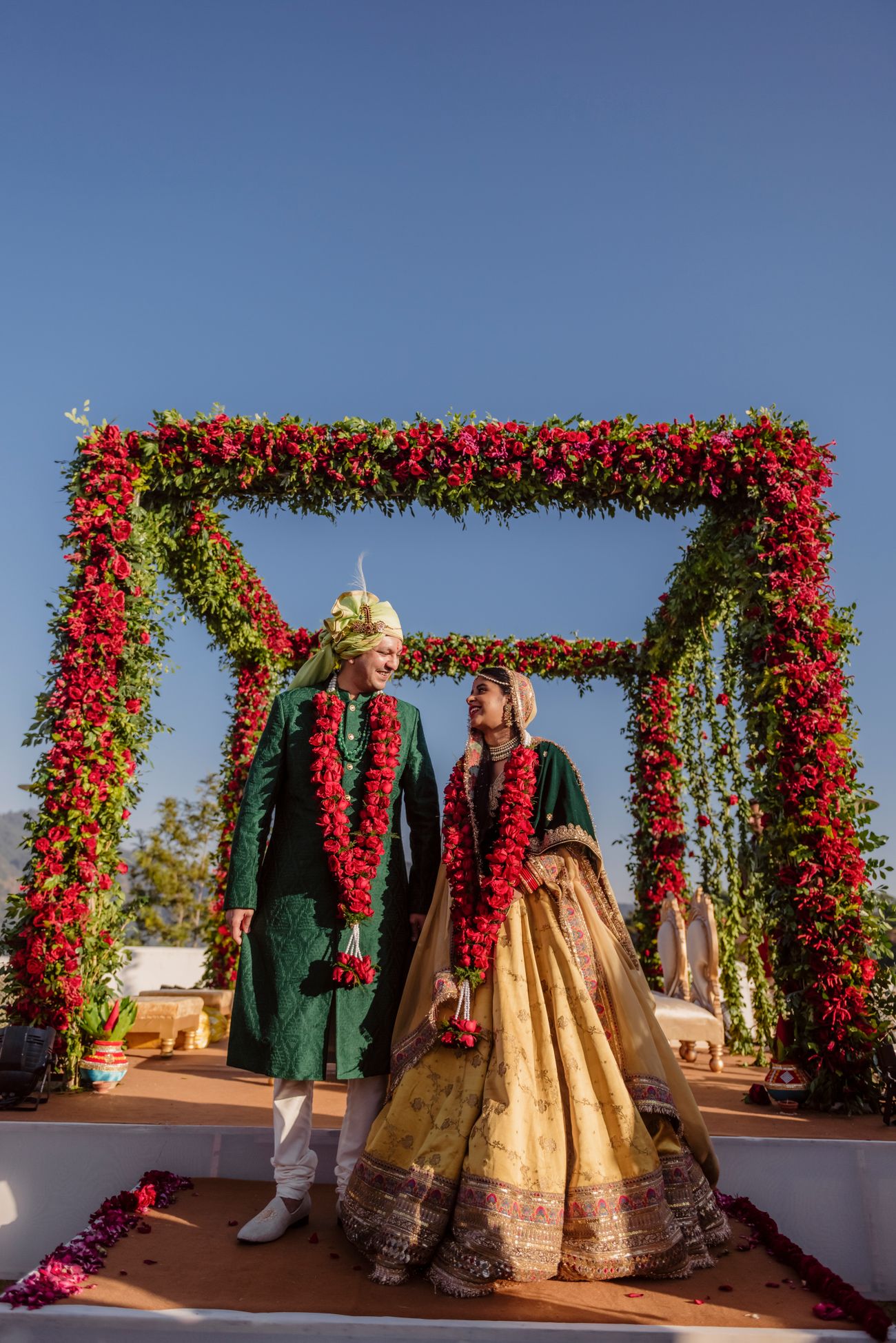 Image via Moving Pictures★ 5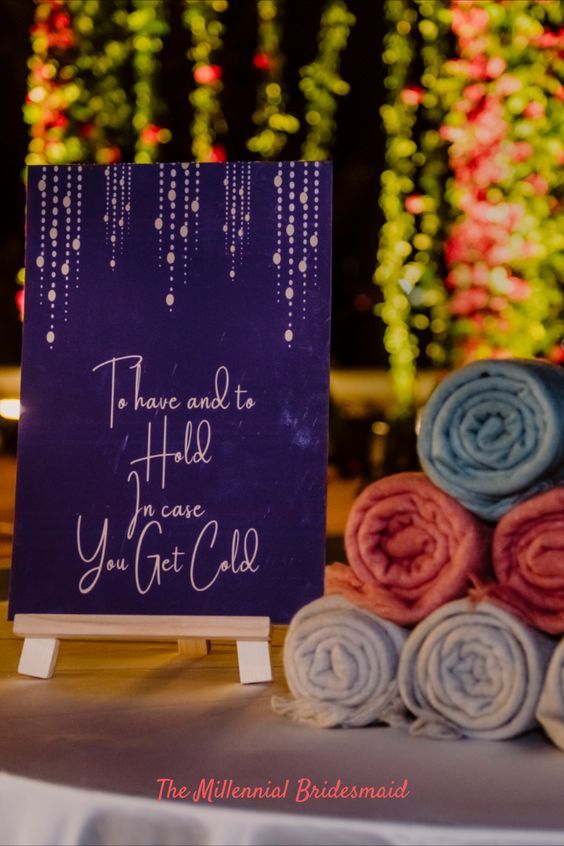 Focus on creating one photo-friendly spot instead of overspending on decor. For intimate home weddings, I recommend investing in one photo-friendly ceremony area instead of trying to make the whole house look done up. Add floral arrangements and lights wherever possible but don't go the traditional tenting route. You can even club some ceremonies here. For example - don't overspend on a separate jaimala stage. Do that in front of your already gorgeous mandap!
Pamper your guests with giveaways! Who doesn't like a good giveaway at a wedding. Don't get me wrong, I'm not suggesting extravagant hampers. But little things like pocket squares and potlis for the mehendi, or some warm stoles for a winter wedding at night show that you care about the people who're out there celebrating with you in these not-so-simple times.