#FirstPerson: "Here Is How I Planned My Poolside Mehendi"
BY Sakshi | 31 May, 2017 | 1463 views | 3 min read
Planning to have a poolside Mehendi, then hear out a bride who planned one all by herself! Sanchita made a pretty bride, and we especially loved her Mehendi look, which was perfect to the T. Photos by the poolside shot by Ankit Goel★ 5 made them even prettier! Over to Sanchita now, who shares her planning and vision for the event.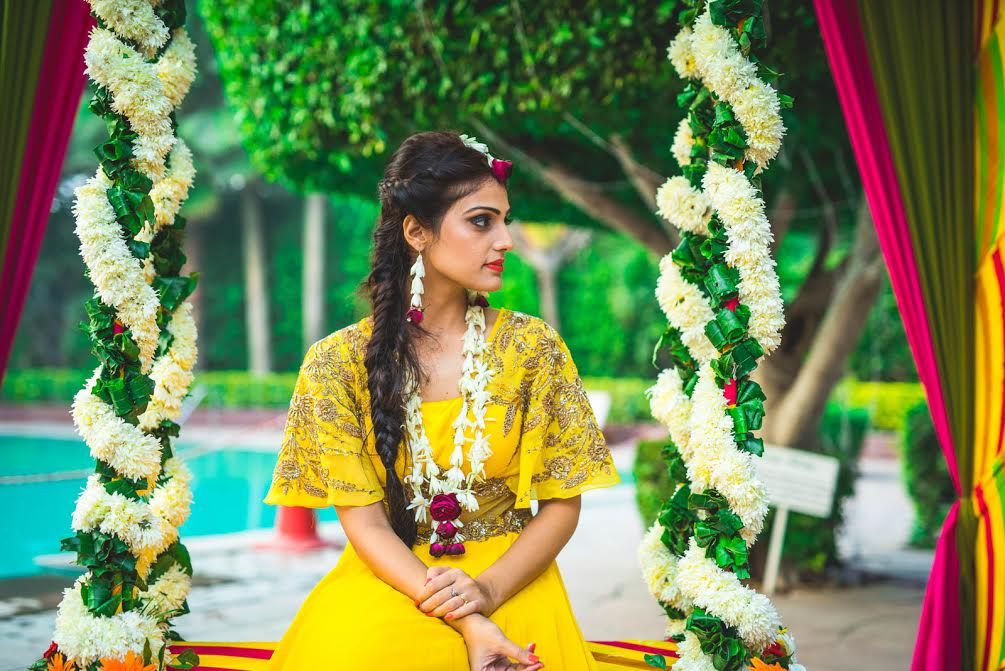 The planning process...
 My partner and I wished to celebrate with close family and friends only. When I started looking for venues, I knew I wanted all functions at one place and in open, with beautiful greens and blue sky. I finally decided for a pool side mehendi. The stunning venue The Uppal even had a garden next to the pool.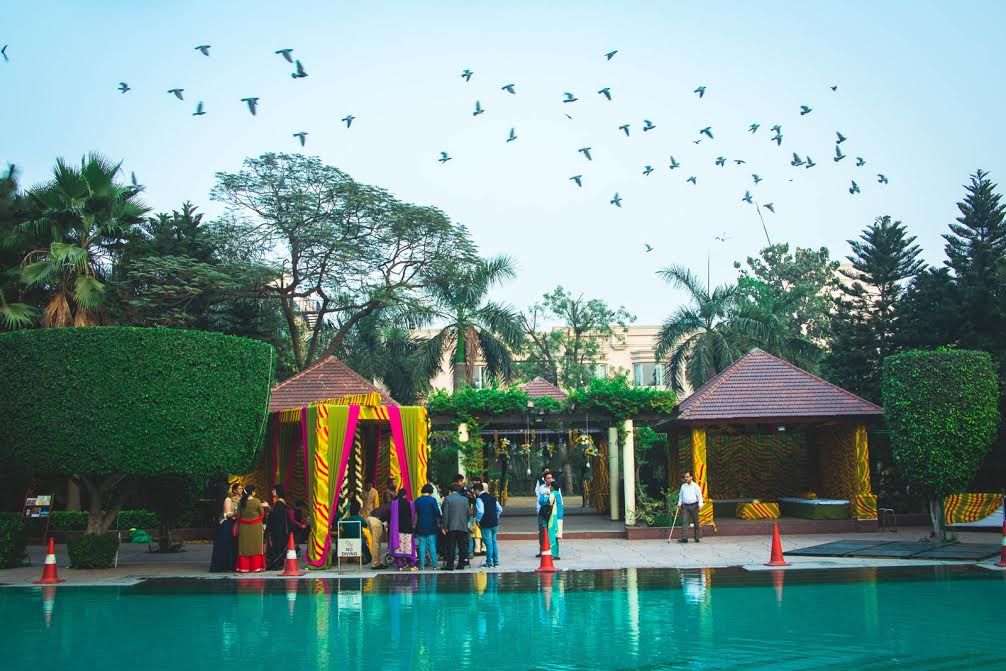 My outfit and look..
 As a bride, I was very particular about my outfit and my look. I knew I am going to dance a lot, so I decided on a simple yet flared long dress with sheer panels in a sunny yellow. Being an outdoor function, and that too near the pool its always better to have your hair neatly done up than left loose.
Price: My outfit costed under 50K from Asiana Couture - Chandni Chowk★ 4.2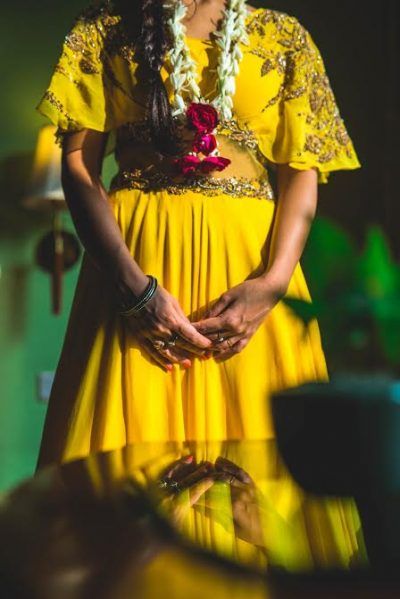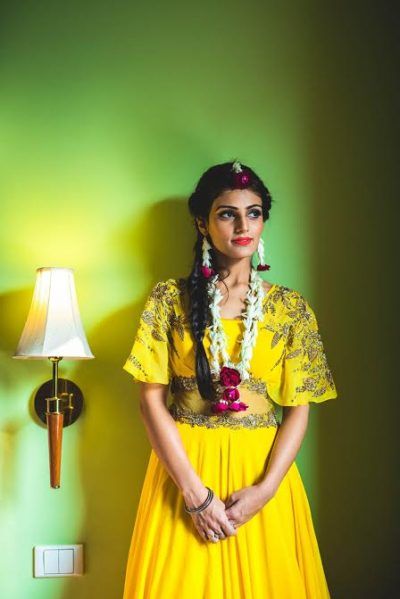 The other thing I was keen on was elegant floral jewellery. I even got a sample of my jewellery before the day. To complete my look, I had a simple messy braid and was really happy with the look.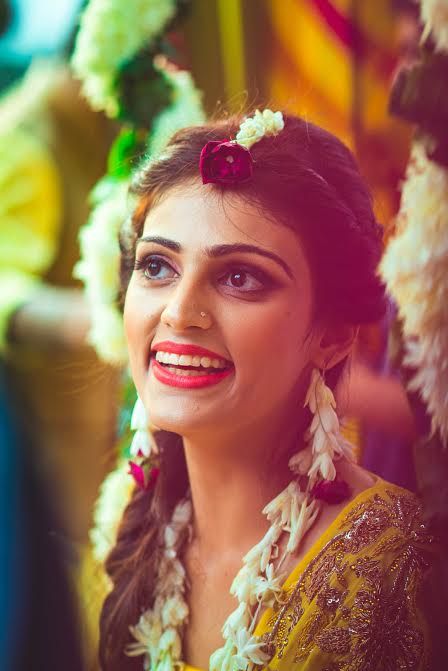 Picking the right decor...
The vision I had for mehendi, was to make it colourful and musical. . Since we weren't doing anything too extravagant for decor, we created the drama using printed fabrics. For example, instead of plain tenting we got Leheriya tenting- adding a pattern in the tenting instantly creating an illusion of a more full, more colorful decor without the use of additional elements. We also used Marigold, Roses, White carnations and Rajnigandha flower to create ambience.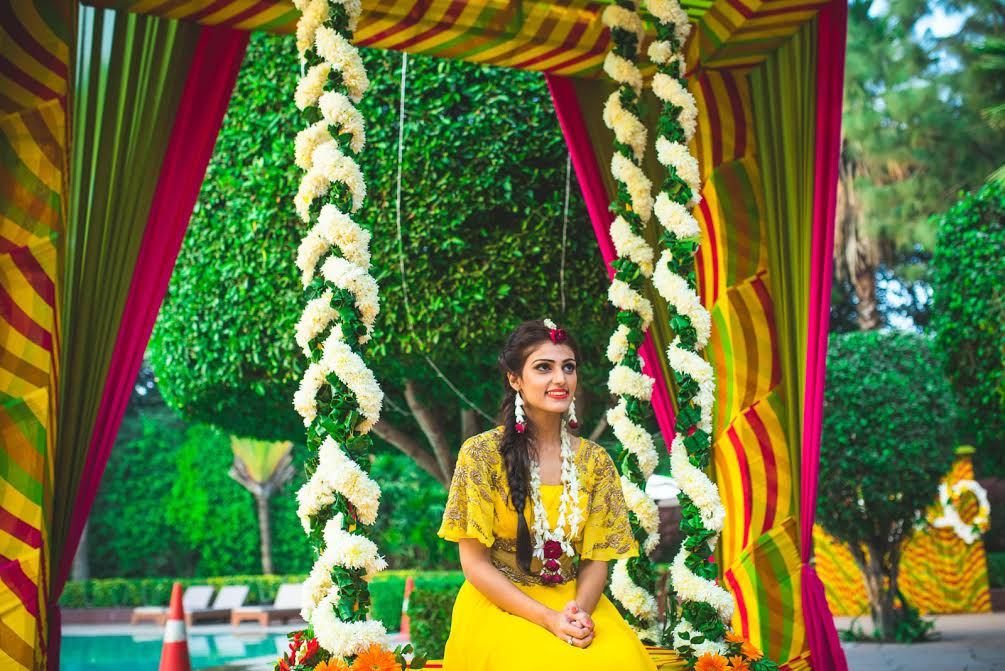 We had round tables and floor seating arrangements- something I recommend you should do for your mehendi. Even though floor seating is great there are many people who are uncomfortable with it. It was good idea to have both, the guests could make their own choice. For myself I had a bridal jhoola next to the pool under a beautiful tree. The jhoola was completely decorated with white carnations. 
The other thing about mehendis is that sometimes they extend into the evening , and you might have planned for decor only during the day. You can add lights along or in the pool which can come to life as the dusk sets.
Decor was done inhouse by Venue  and was around 1.5 lakh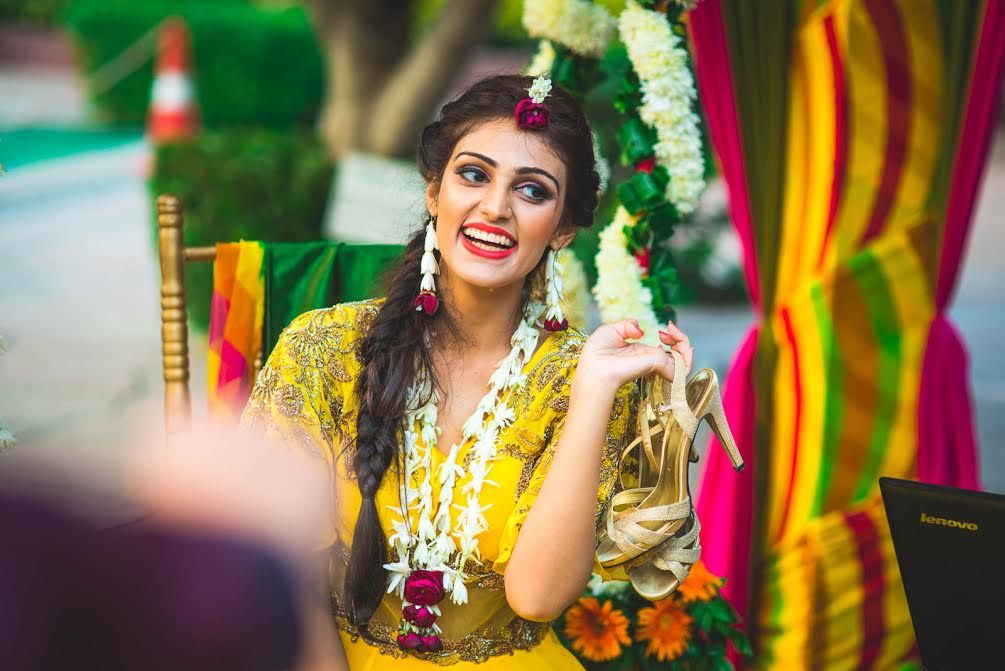 Tips for brides planning their own poolside Mehendi..
1) Consider the weather conditions before planning a pool side mehendi. We had a winter wedding, so adequate heating and lighting was required.
2) There is no also point putting in so much effort in planning a function, unless you have an amazing photographer to capture the right movements in the right frames. So do not compromise on that. Ankit Goel★ 5 did an amazing job for us.