#FirstPerson: "I DIY-ed Everything At My South-Indian Wedding Reception With A Personalised Wedding Journal...."
BY Sakshi | 22 Jun, 2017 | 808 views | 3 min read
Who doesn't love a simple and sweet budget wedding without all the fuss and fanfare? It's refreshing to see some brides choose this route over the usual to celebrate their love in a way which means the most to them. Meet Real Bride Aishwarya, who had a simple inter-religious wedding without any no religious ceremonies! She had a court marriage followed by a reception, and what was special was that she planned everything with her sister sitting Luxembourg over Skype! There was a lot of love, and a lot of cute little DIYs, so over to Aishwarya now, who tells us all about it!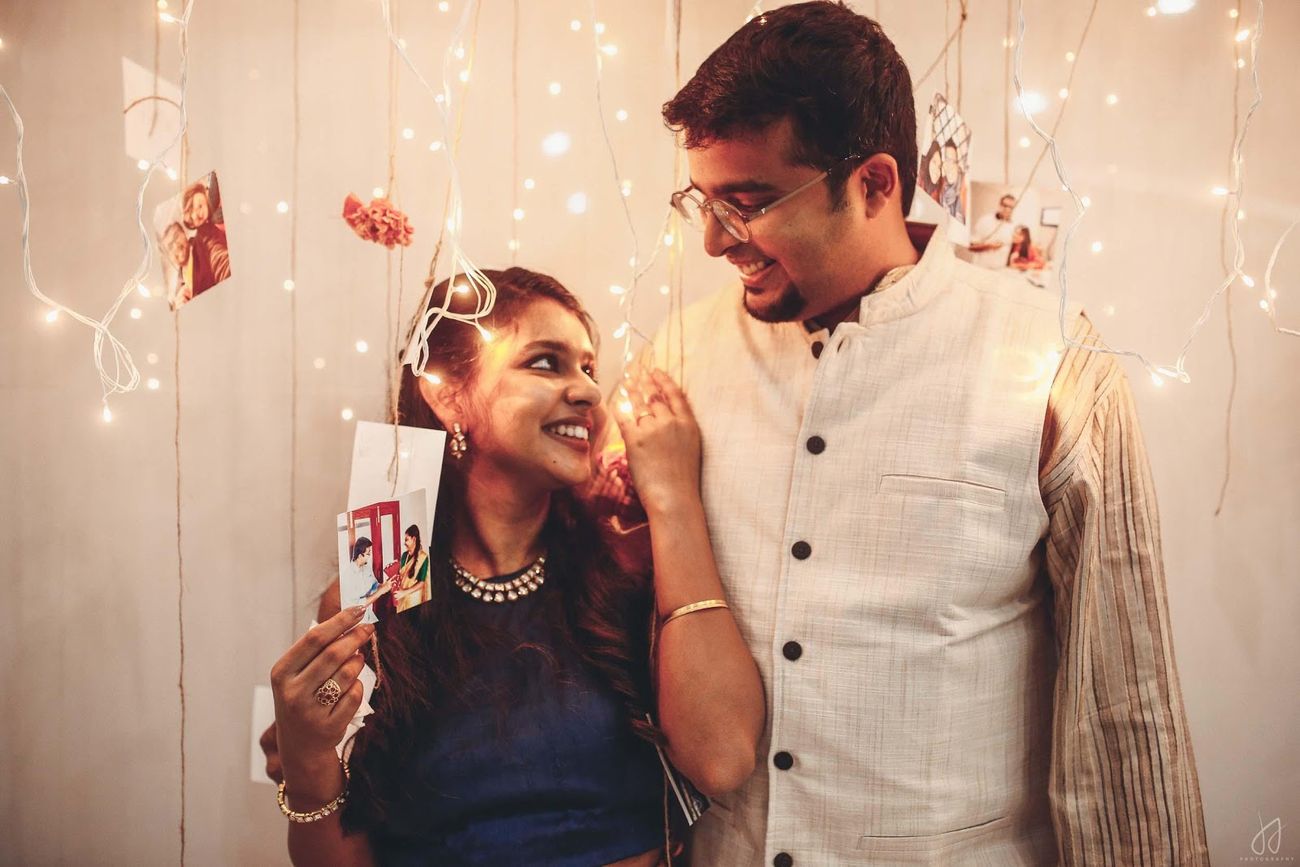 The Planning...
It was a Hindu-Christian wedding, we (Raman and I) decided to keep it neutral with no religious ceremonies. We wanted to keep it small, simple and elegant. There was love, personalization and details, a lot of DIY elements and of course long hours of Skype sessions. "Remember the colour of the saree Amma wore on your communion, it's a shade lighter than that". "Oops! But that's not what I meant!" "Trust me on this"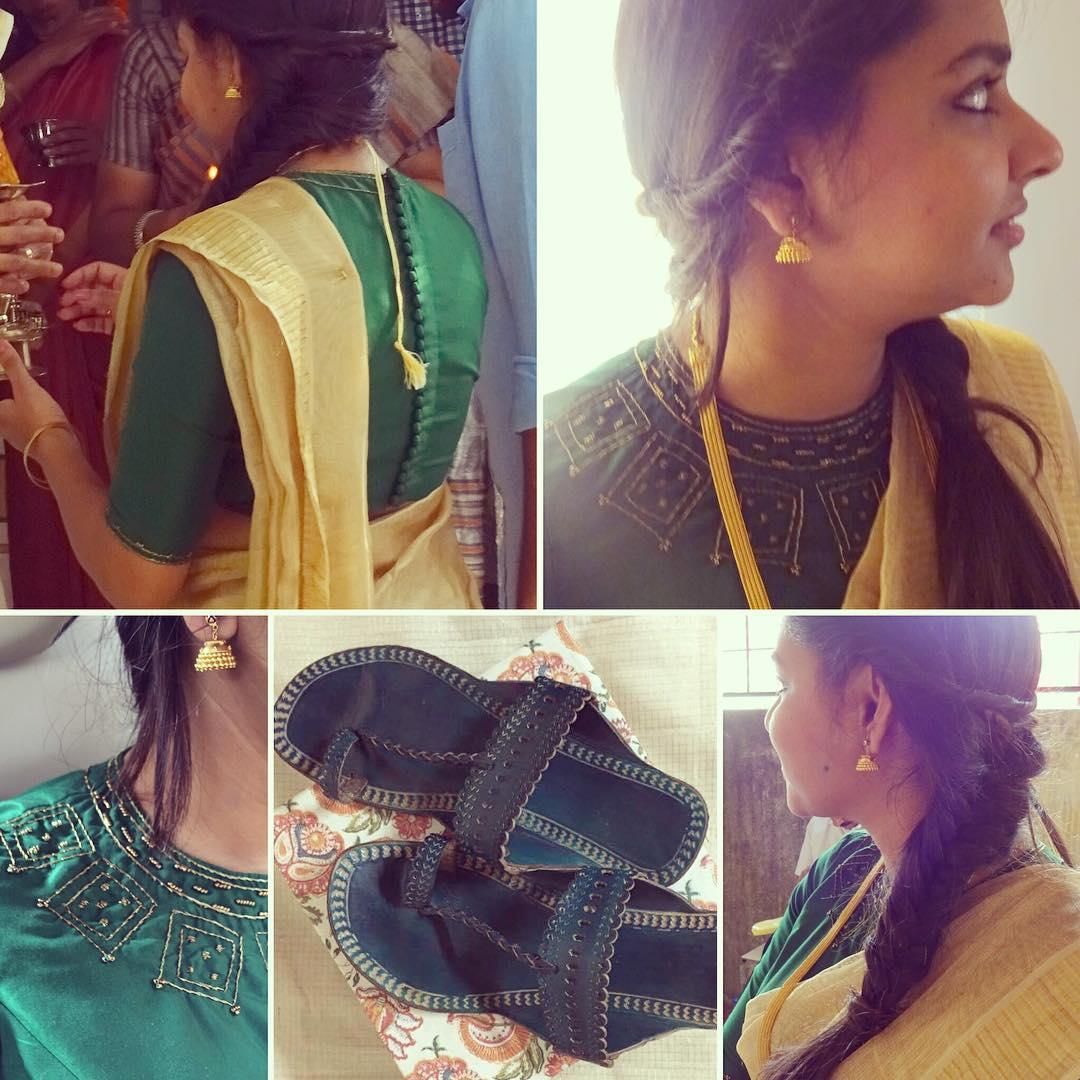 All the details, the planning, and everything executed by the in house stylist/decor expert and go to person for everything- my sister-Theresa. 
The Wedding...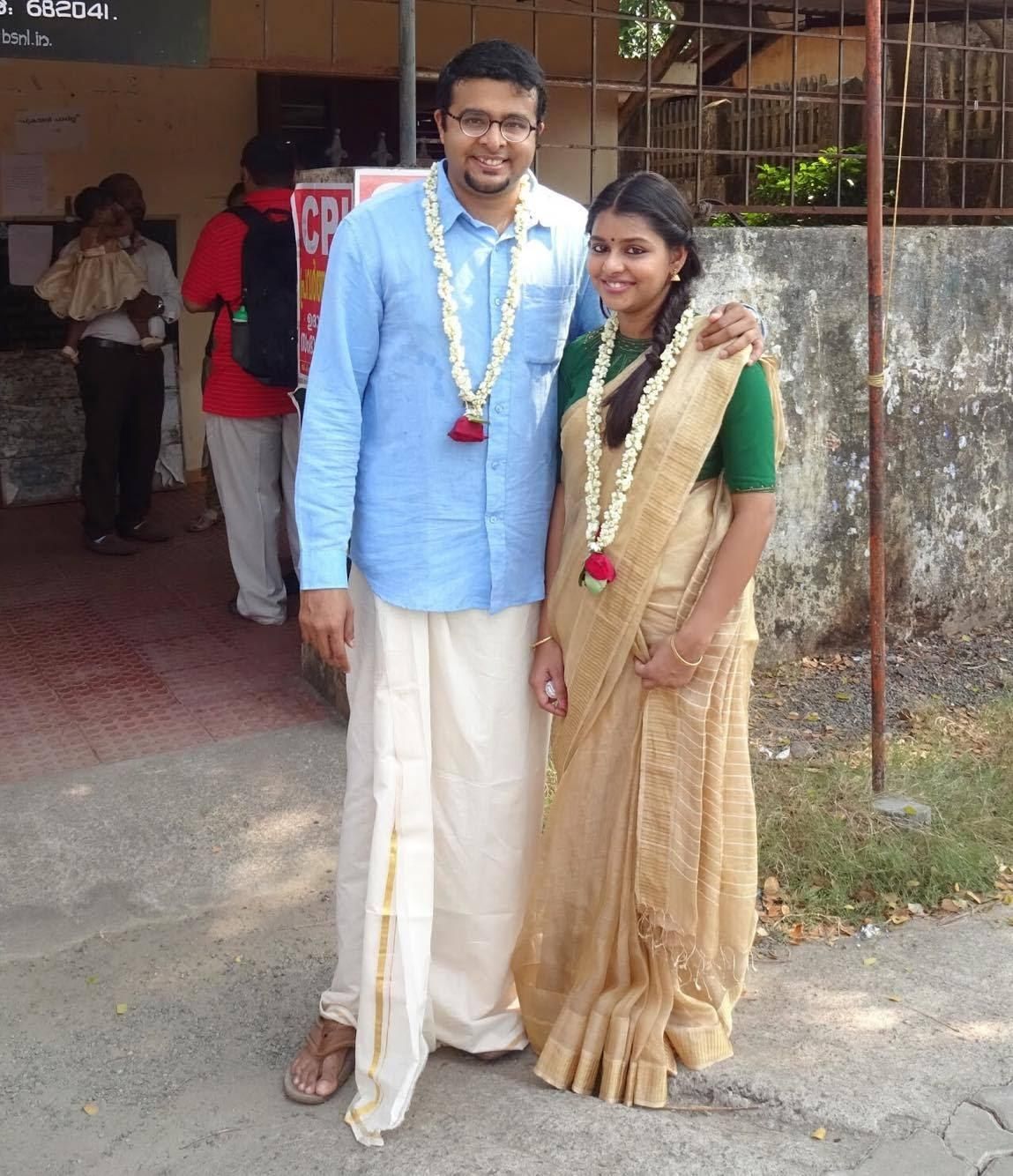 A simple registration function on the 19th of December with parents and siblings. I wore a golden tissue saree and a bottle green blouse with a jewellery inspired embroidery. Handpicked and stitched-embroidered by my sister. This was teamed with the traditional Kerala kasavu mala.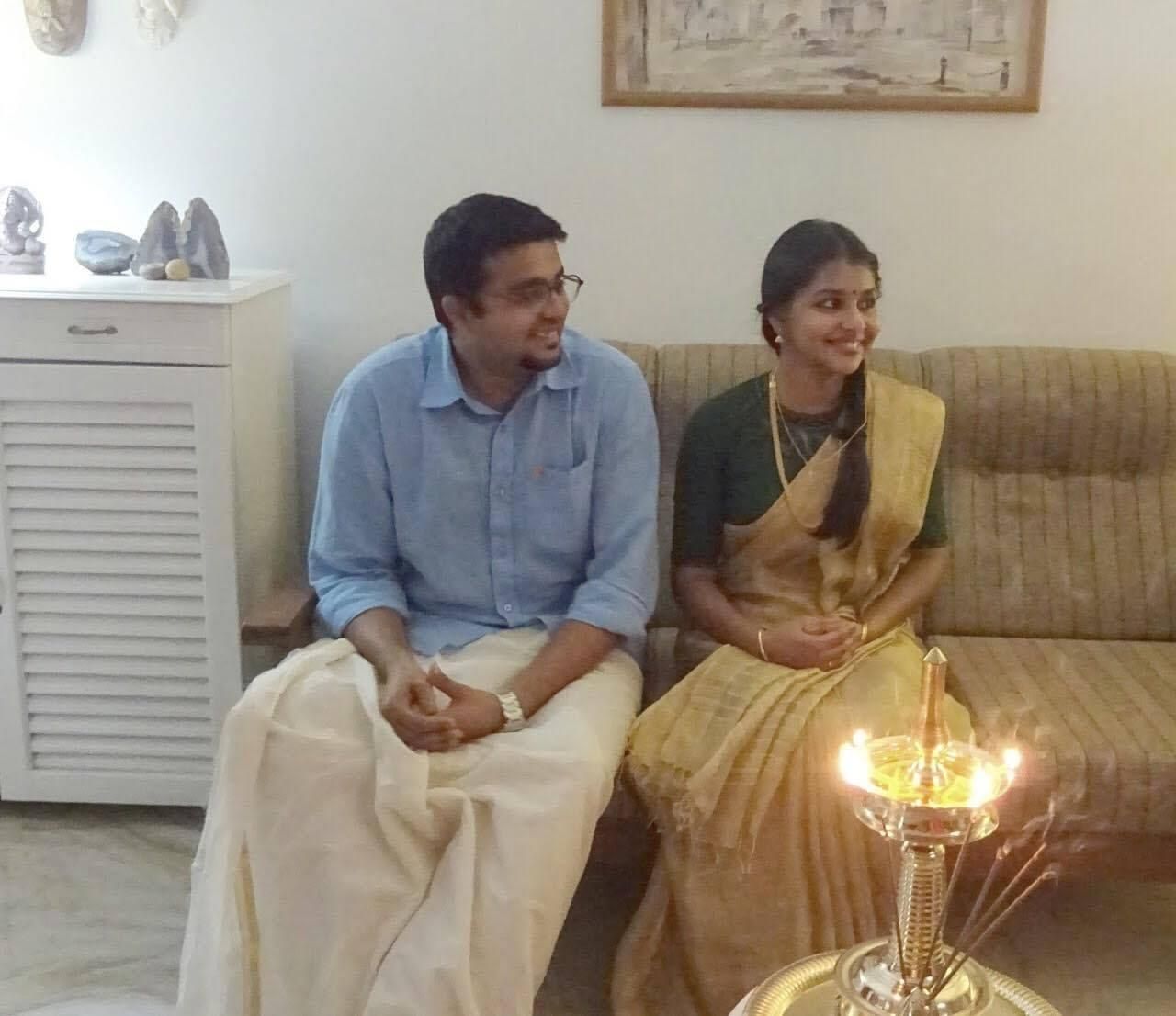 The First Reception...
Our family threw a reception at both hometowns for extended family and friends.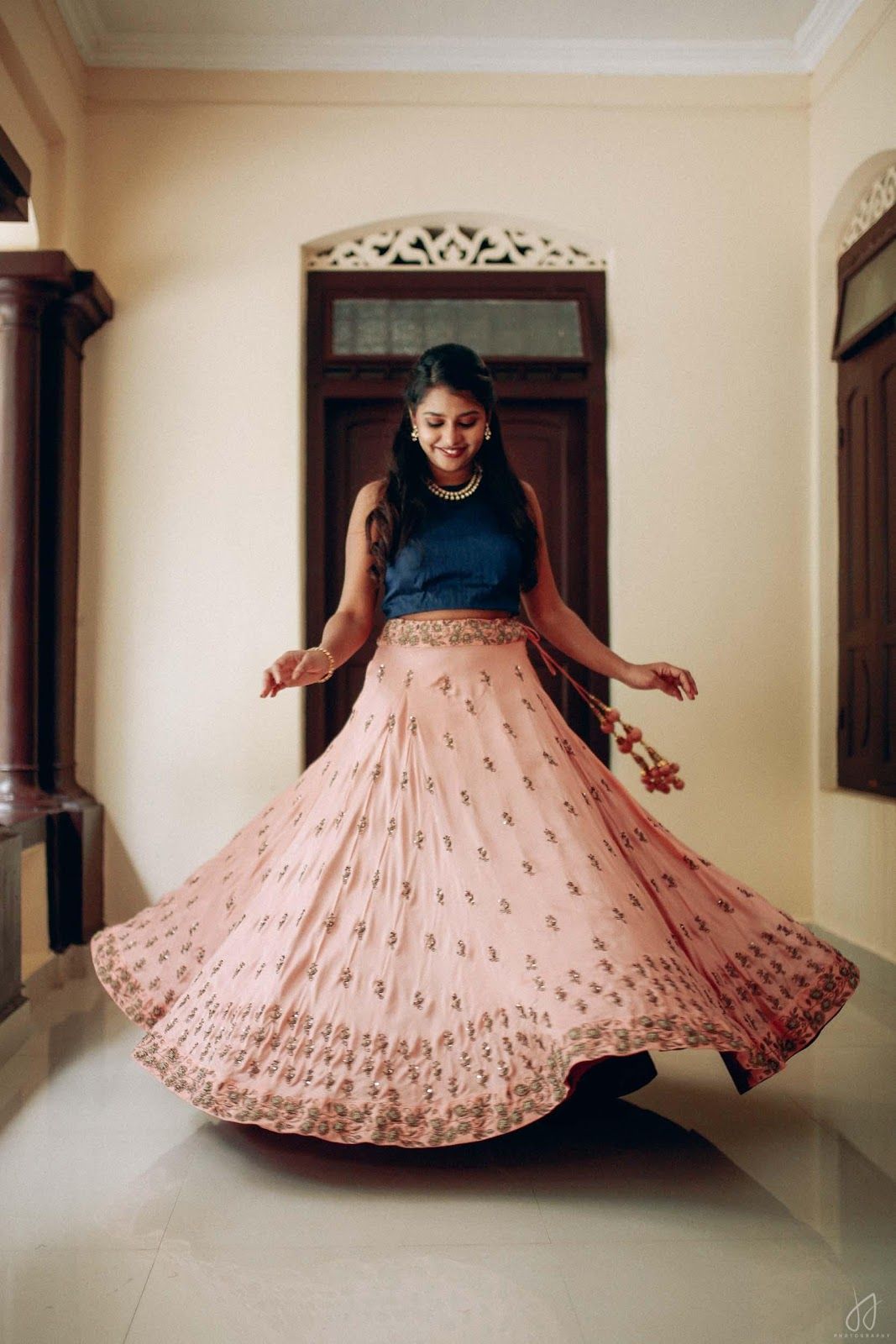 For the reception at my hometown (Pala), I wore a simple blue crop top with a hand embroidered pale pink skirt. We took care in picking the right material and to get the embroidery done from drawings! Kundan jewellery to go with the outfit and jutis from Pastels and Pop.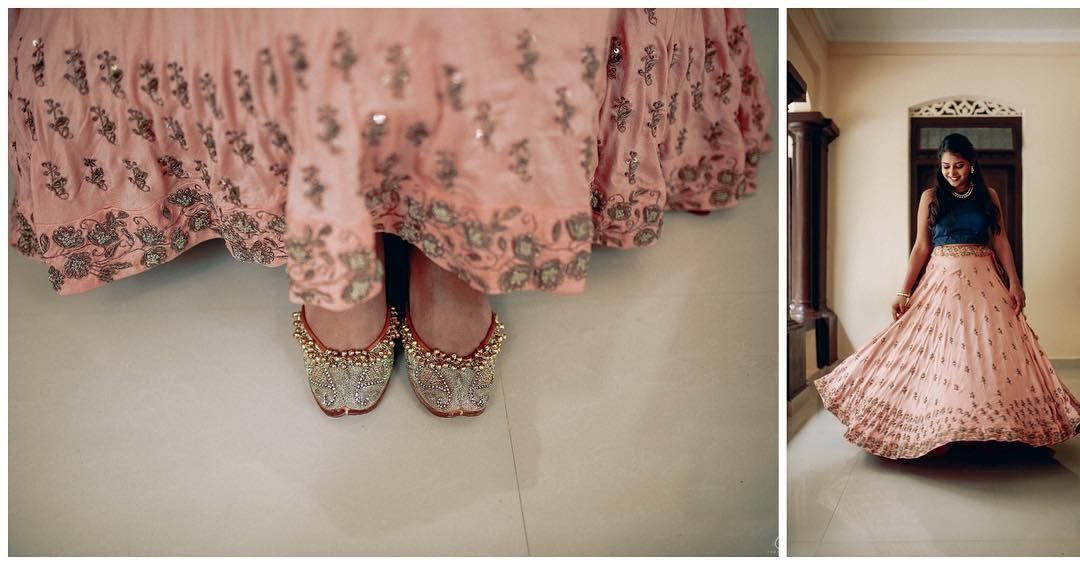 Our reception invite was simple with pink and orange umbrellas.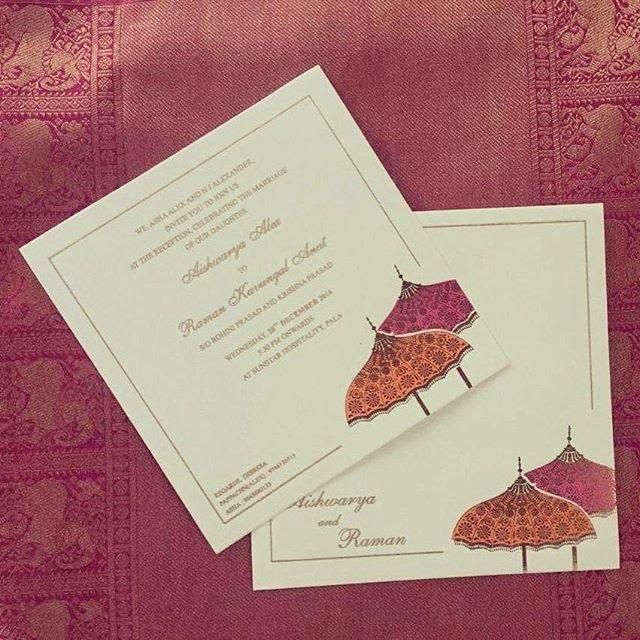 The stage was done by Niram events, who executed the design just as we wanted. With lot of warm lights/lanterns/bharanis, they managed to put together every little detail we mentioned.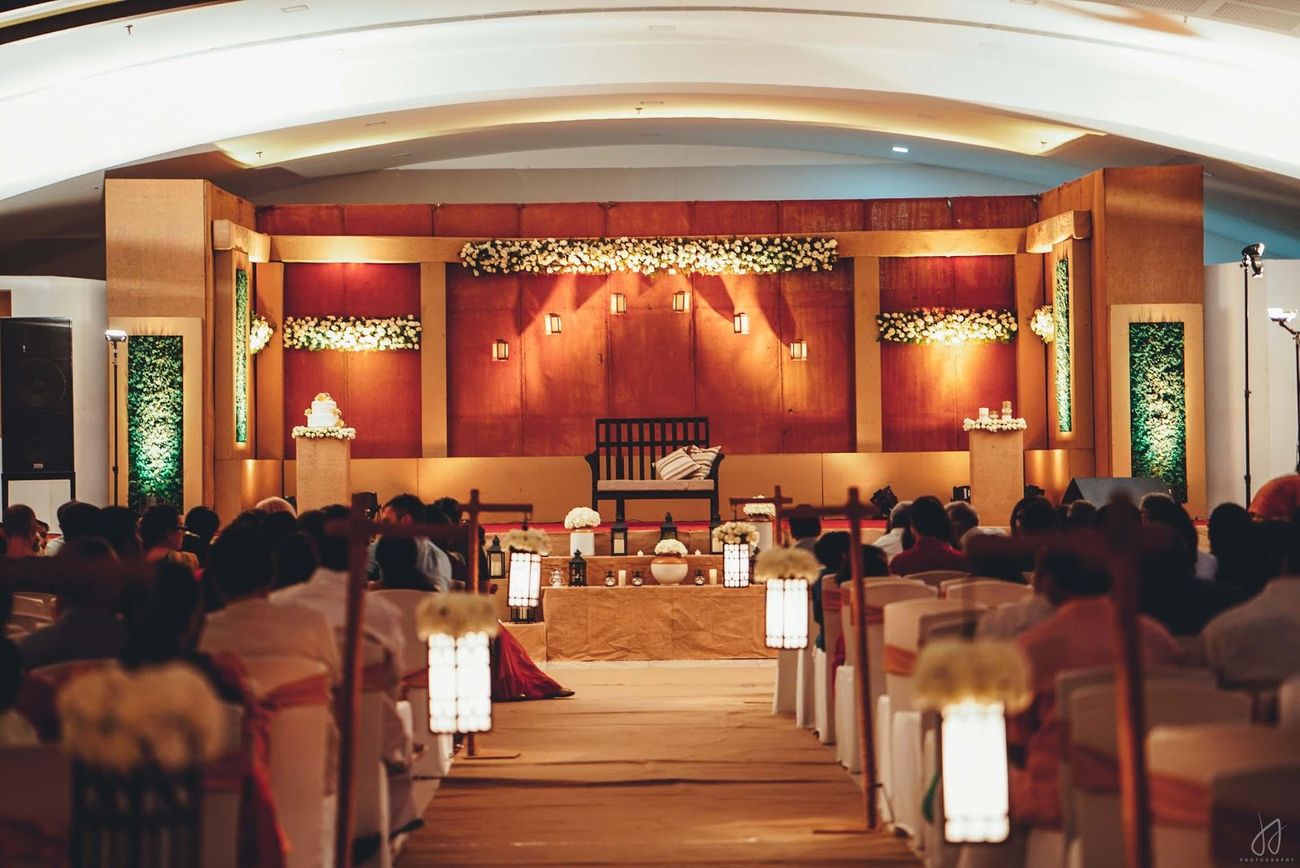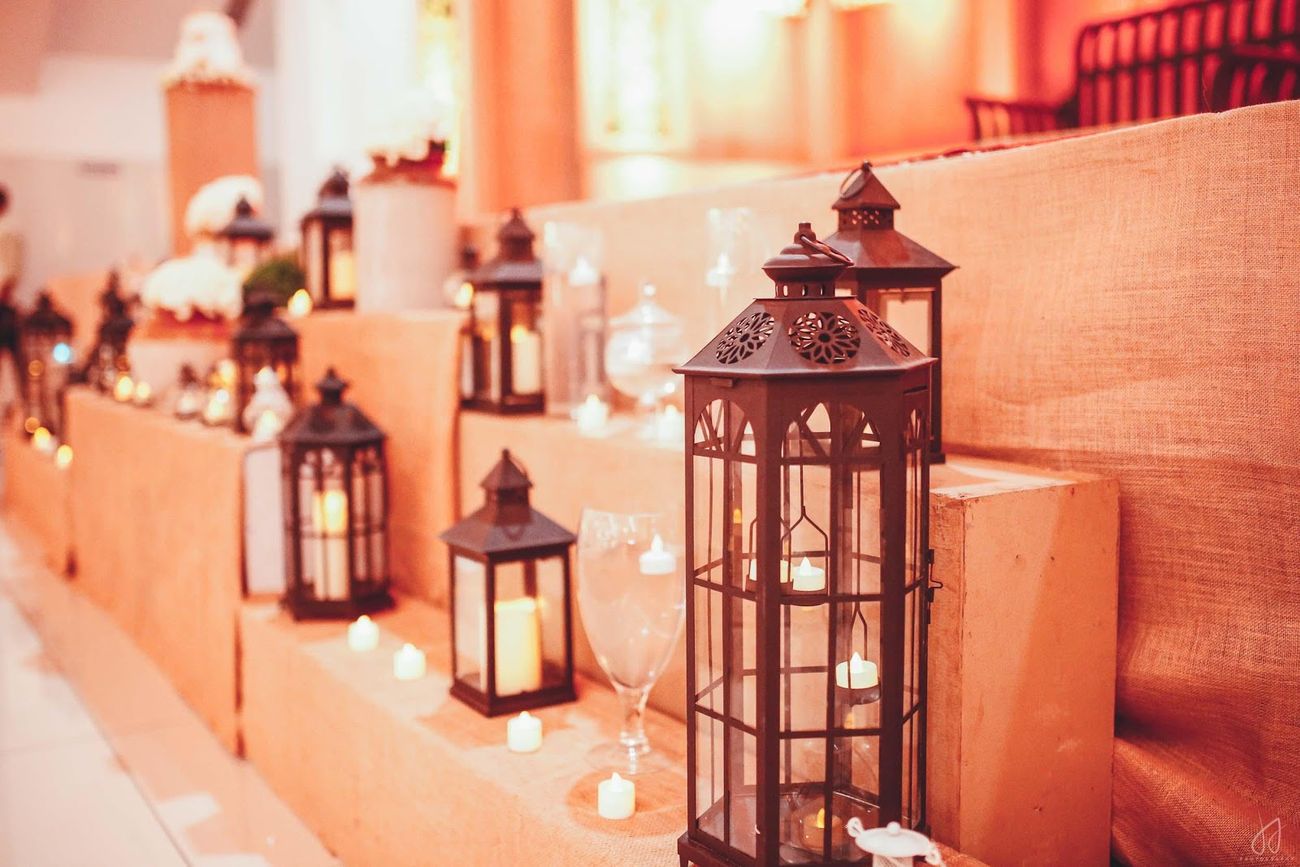 The cake was done by Anzz George -  A la cakes. This was the second time we were placing an order with her, she understands what you have in mind and it  was delicious!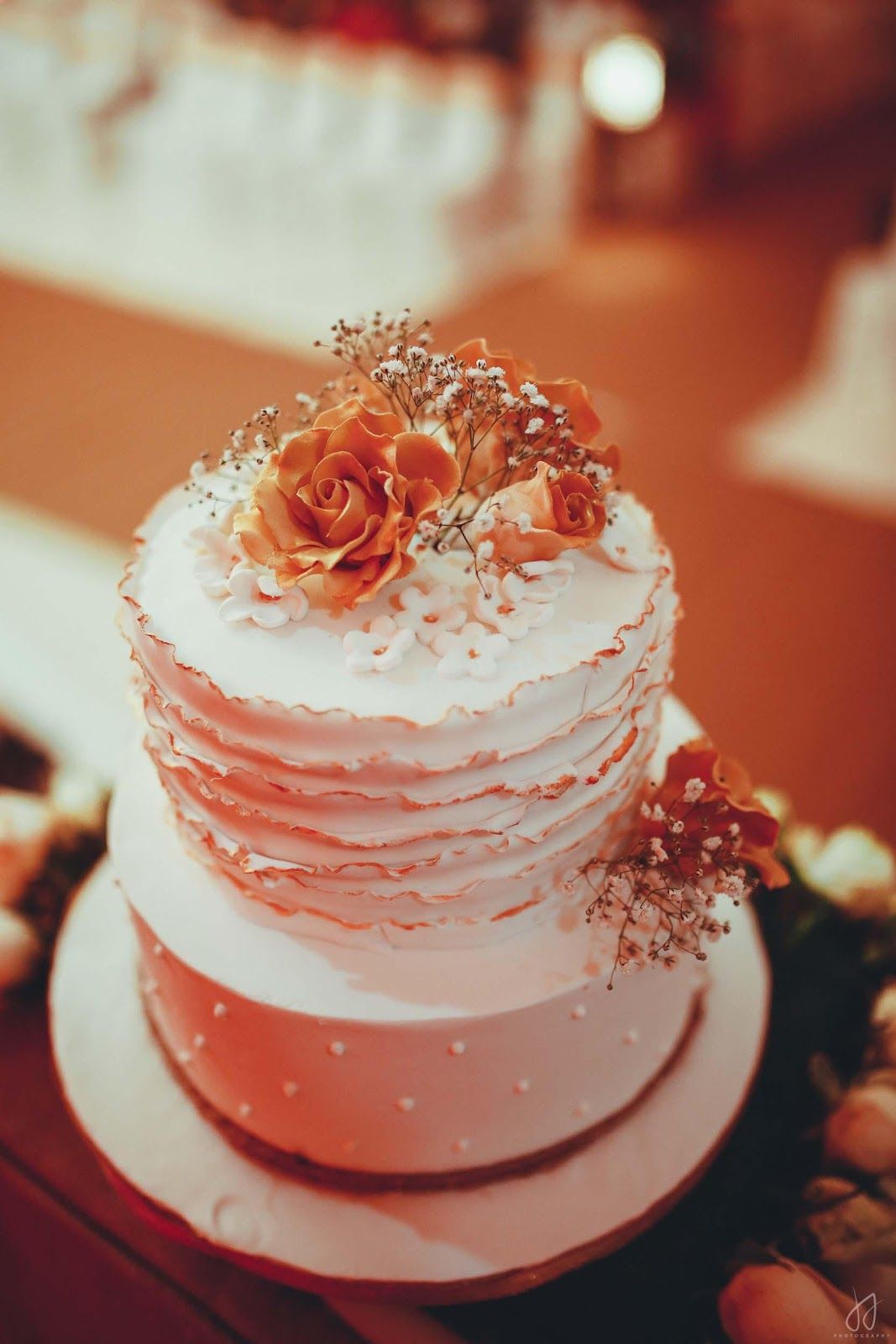 The DIY decor elements...
At the reception, my sister had hand-painted painted canvas to be placed at the entrance, decorated with fairy lights.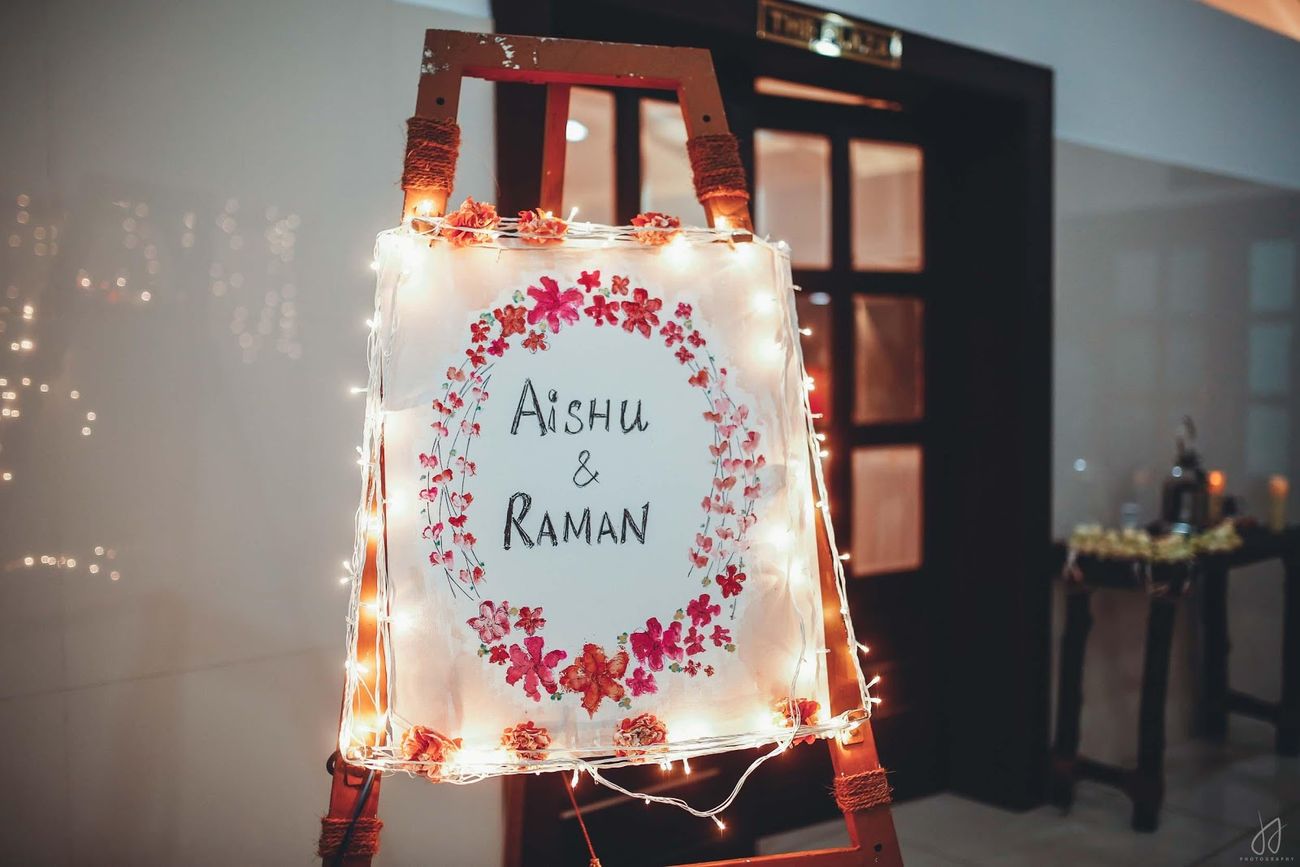 Another DIY element was the candle, spray painted and decorated by my sister.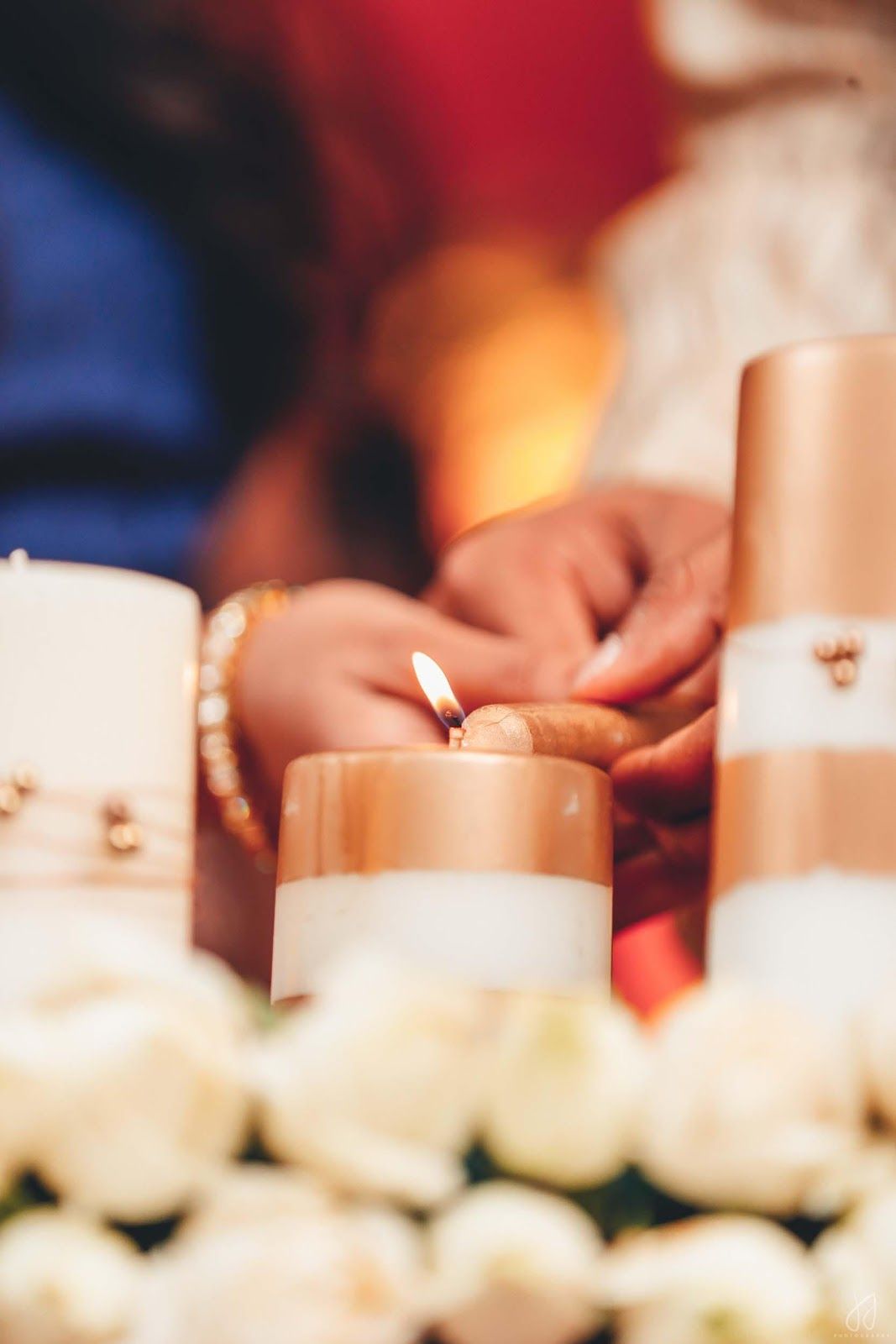 My personalised wedding journal was made by my sister, having everything details from the invite to the decor and even the playlist!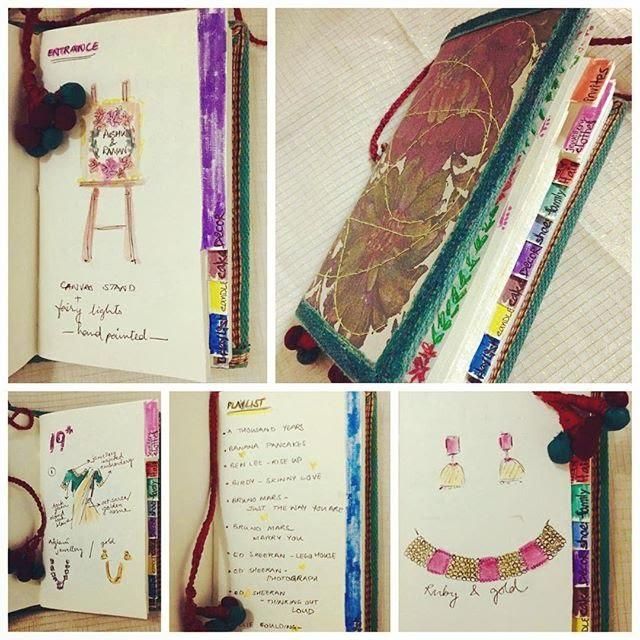 The Second Reception...
For the reception at Raman's hometown (Cochin), I wore a kanjivaram saree, from Kanakavalli, Chennai and a traditional hairdo - a low bun with jasmine flowers. The jewellery was from Sangeetha jewellery, Cochin and heels from Charles and Keith. The decor perfectly matched our traditional attire.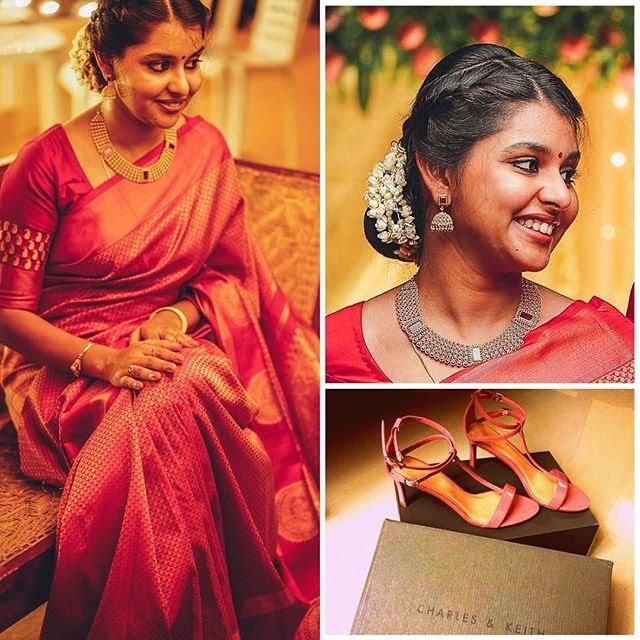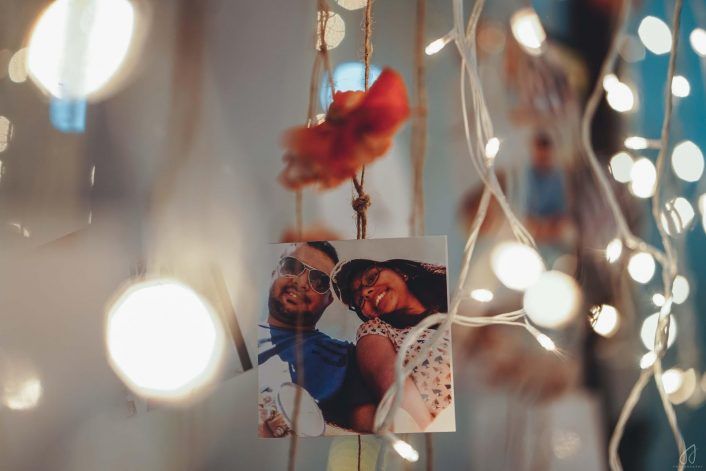 Hair and Makeup: Maya's Beauty Clinic, Kottayam. Photography: Jackson James Photography★ 4.4