#FirstPerson: "We Shot Our Own Pre-Wedding With A Go Pro"
BY Latha Sunadh | 03 Jul, 2017 | 986 views | 3 min read
It seems like just yesterday when we were talking about pre-wedding shoots getting cheesier these days, right? So well, we found a solution to that problem guys. Self-shot videos! Yep, these seem to be the new pre-wedding shoots, plus, they have more than just kissy-kissy (barf!) pictures - a whole load of new experiences that you two can cherish forever.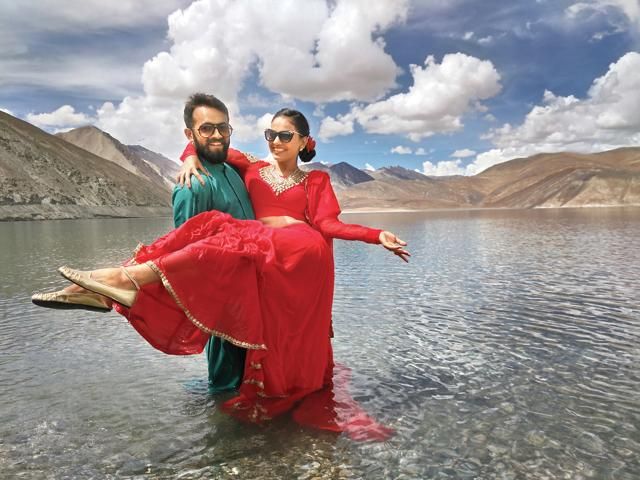 I know what you want to say, "This is all ok, but we are neither photographers nor videographers and we have no CLUE!" right? Wrong! We found a clue to this dilemma in the form of a couple who did it on their own and rocked it! Say hello to Delhi-based photographer Nitin Arora Photography★ 4.9 and his adventurous wife, Shanaya. Together, they did two videos - a pre-wedding one and a honeymoon one and they'd love to give you a few tips if you're interested! It's better than taking a million selfies, right? P.S Both their videos were BIG hits on the net! 
Take a look at this one, won't you? In ladakh, on a bike!
From Shanaya " Nitin and I love to explore the unexplored. We both believe in taking the road less travelled. We are both bike lovers, we are adventurous and together we want to discover places which vibe with our personality.
Why we shot it ourselves
It is not an easy task for a photographer to make someone else understand his own perspective and vision, so Nitin decided to shoot the pre-wedding video all by himself. So, for our pre wedding Nitin wanted me to explore mountains and snowfalls as I did not experience these beauties ever before in my life.
My love for travel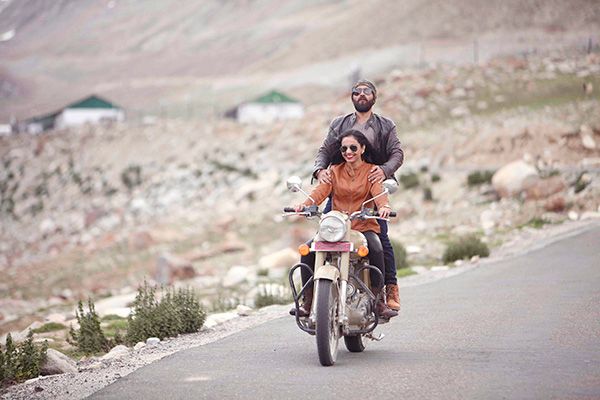 When I packed for my pre wedding, I carried all my bridal stuff along with my Lehenga but, when I reached Ladakh, we both preferred shooting in leather jackets, heavy boots and denims only. We found it more original, more us and this avatar described who we are in our everyday lives. We chose to be comfortable and authentic rather than being made up just to beautify our pre wedding pictures. In fact my husband, who is a photographer by profession and I would like to suggest the couples, to remain original and true to themselves which will eventually instill more life and meaning to their pictures and the beauty of their togetherness will pop out smoothly. Nothing is more attractive that something which is carefree and original at the same time.
Honeymoon & more
Nitin's idea of self shot videos and pictures came to full circle with the flow of time and even during our honeymoon and now we both enjoy it to the core.
Nitin believes that when passion becomes your career, one gets success in abundance. It helps one to grow beautifully only if you are always true to yourself and to the world at the same time.
He is my heart's twin and my soul's flame. Much blessed to have him in my life.
Follow Nitin's Youtube channel for more exciting stuff!
Image Courtesy:Shanaya Arora & Nitin Arora