Fresh Delhi Wedding Filled With Loads Of Bridal Inspiration!
BY Sakshi | 16 Jun, 2020 | 63001 views | 6 min read
We feature lots of weddings, and while each one of them is gorgeous in its own way, seldom do we come across weddings which are amazing without dropping big designer label names or with over the top details. Here is a wedding which was fresh and pretty, and what we loved about it most was that it was filled with amazing bridal inspiration- right from the outfits to the hairstyles! Palak and Paras had a fun filled wedding, which was captured beautifully by Beginnings For You★ 4.9 . 
Meet Palak & Paras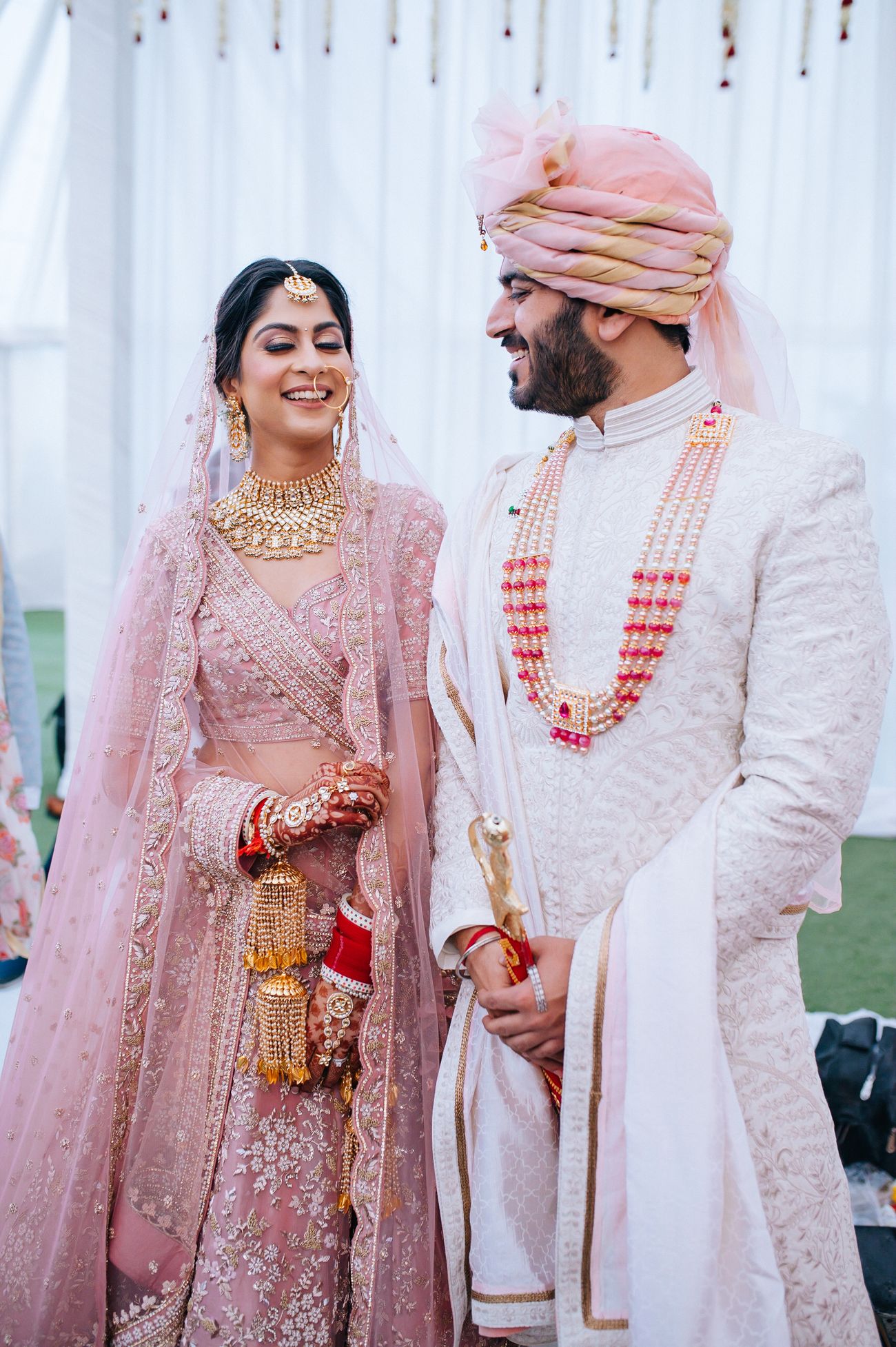 Paras and I have known each other since we were in high school, we have legit grown up together! Well we were (and continue to be) as different as chalk and cheese, but in almost 9 years of togetherness it is safe to say we have become each other's best friend.
The Engagement
For the Engagement Paras went for a classic tuxedo (with a hand embroidered waist coat) and I went for an indo-western sapphire blue lehenga with an attached dupatta (best decision ever – need your hands free for all the tunak-tunak tuns!)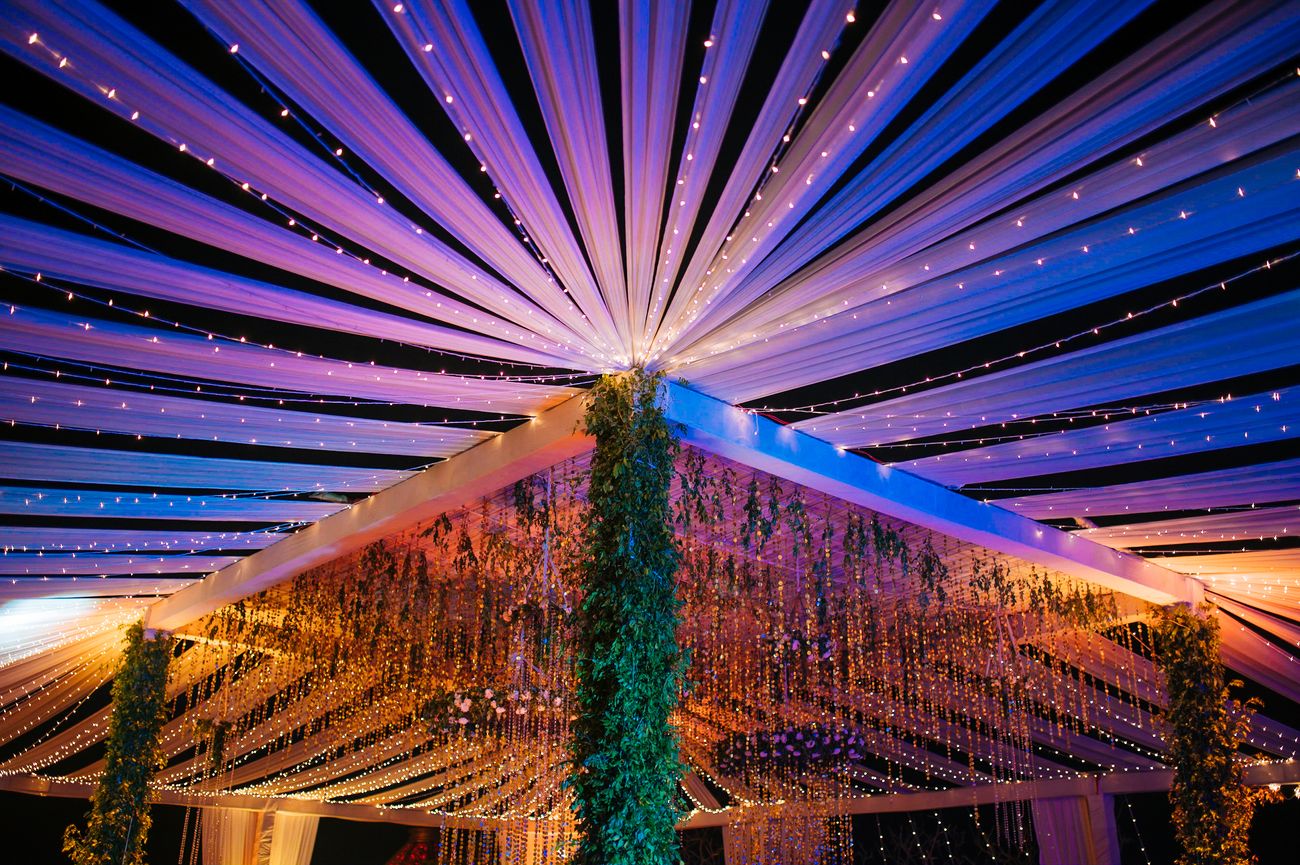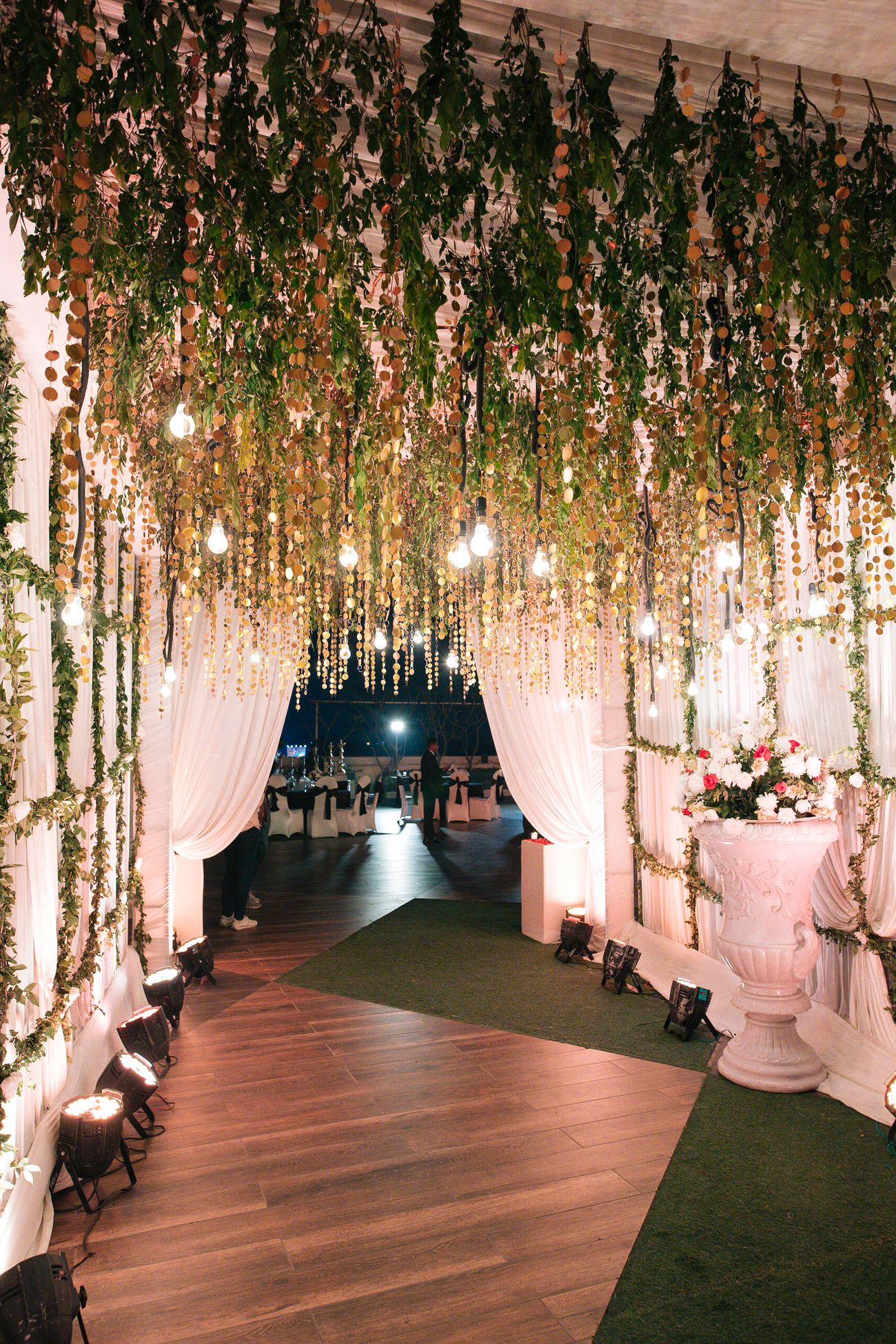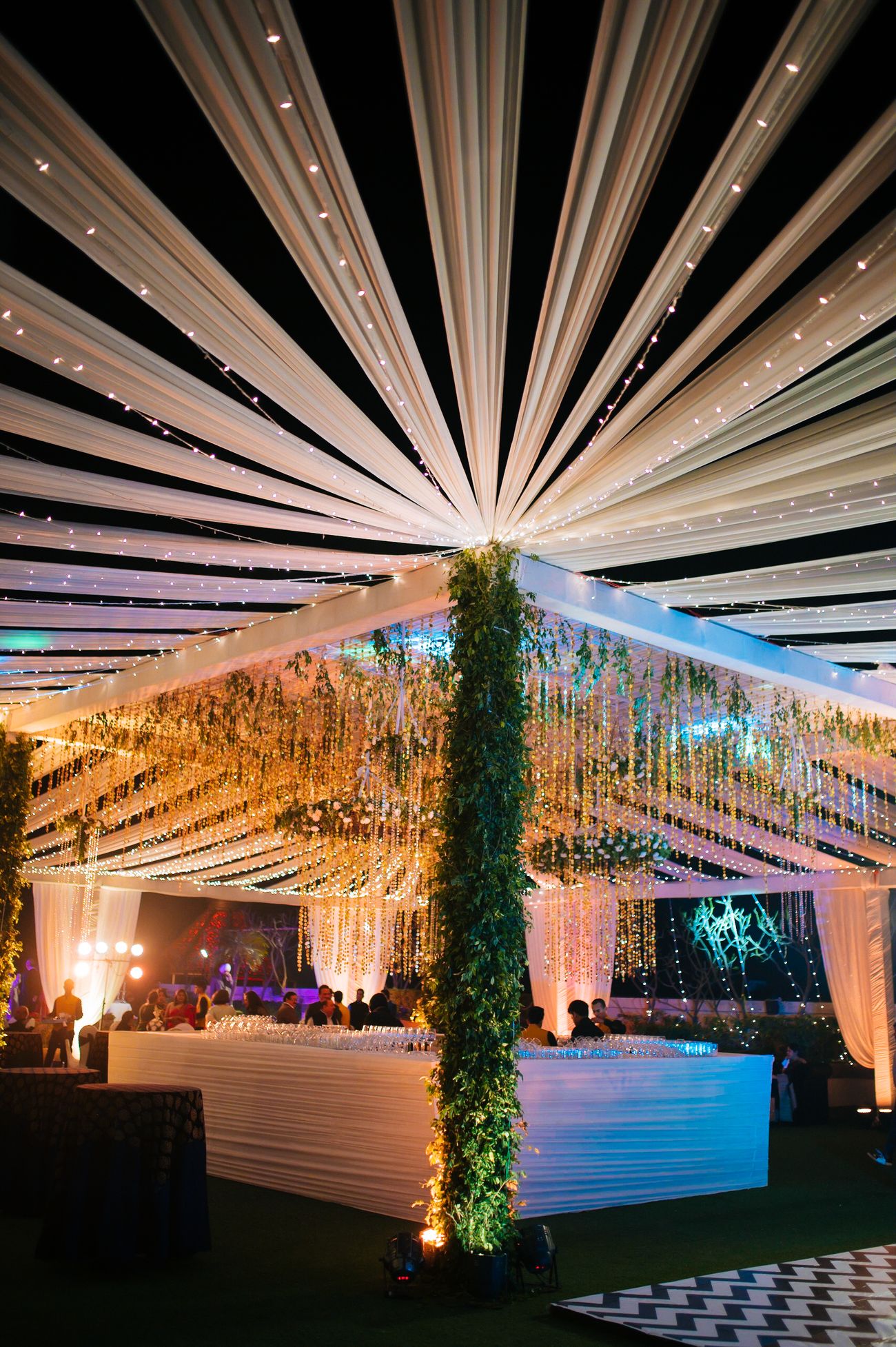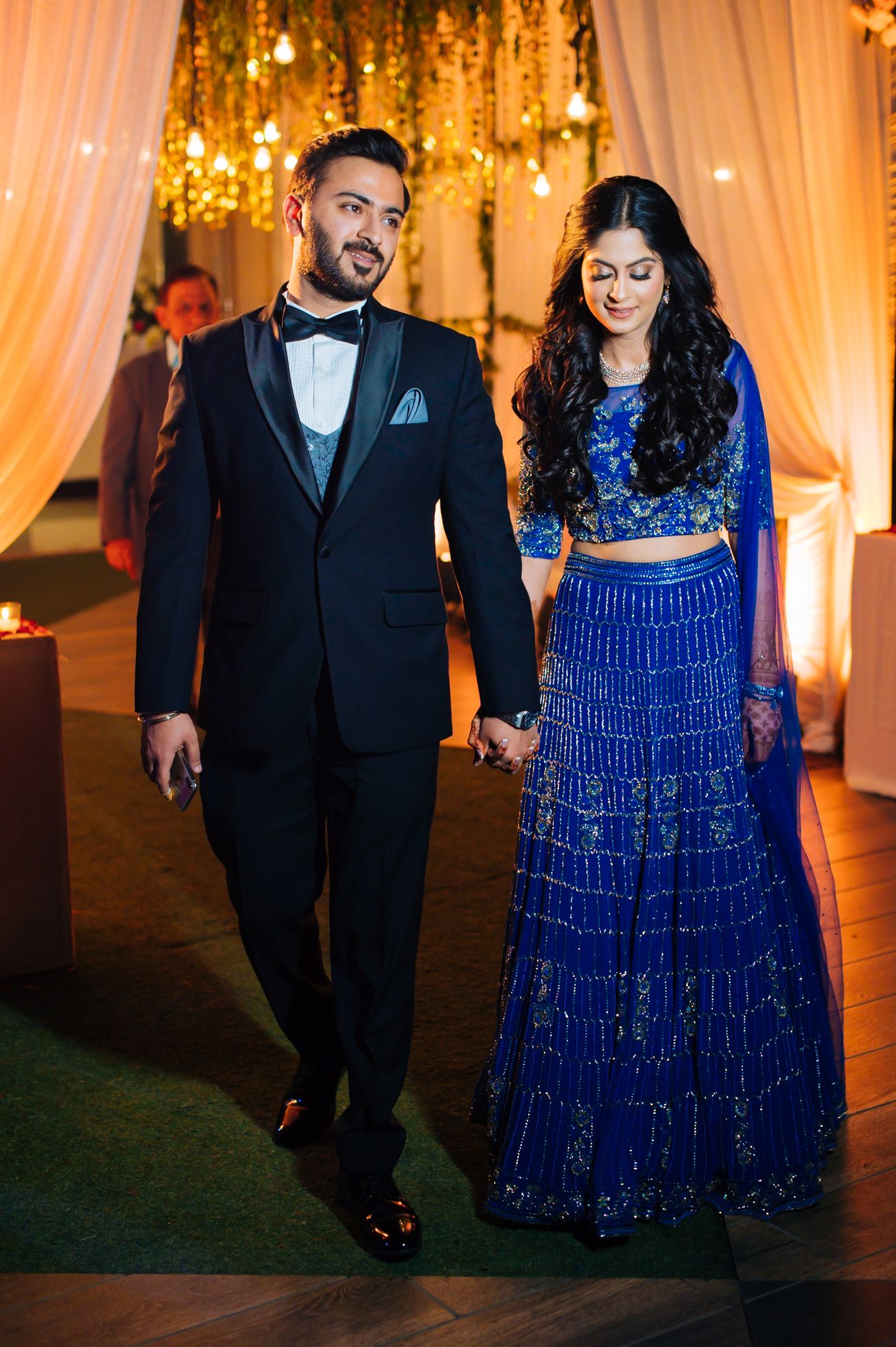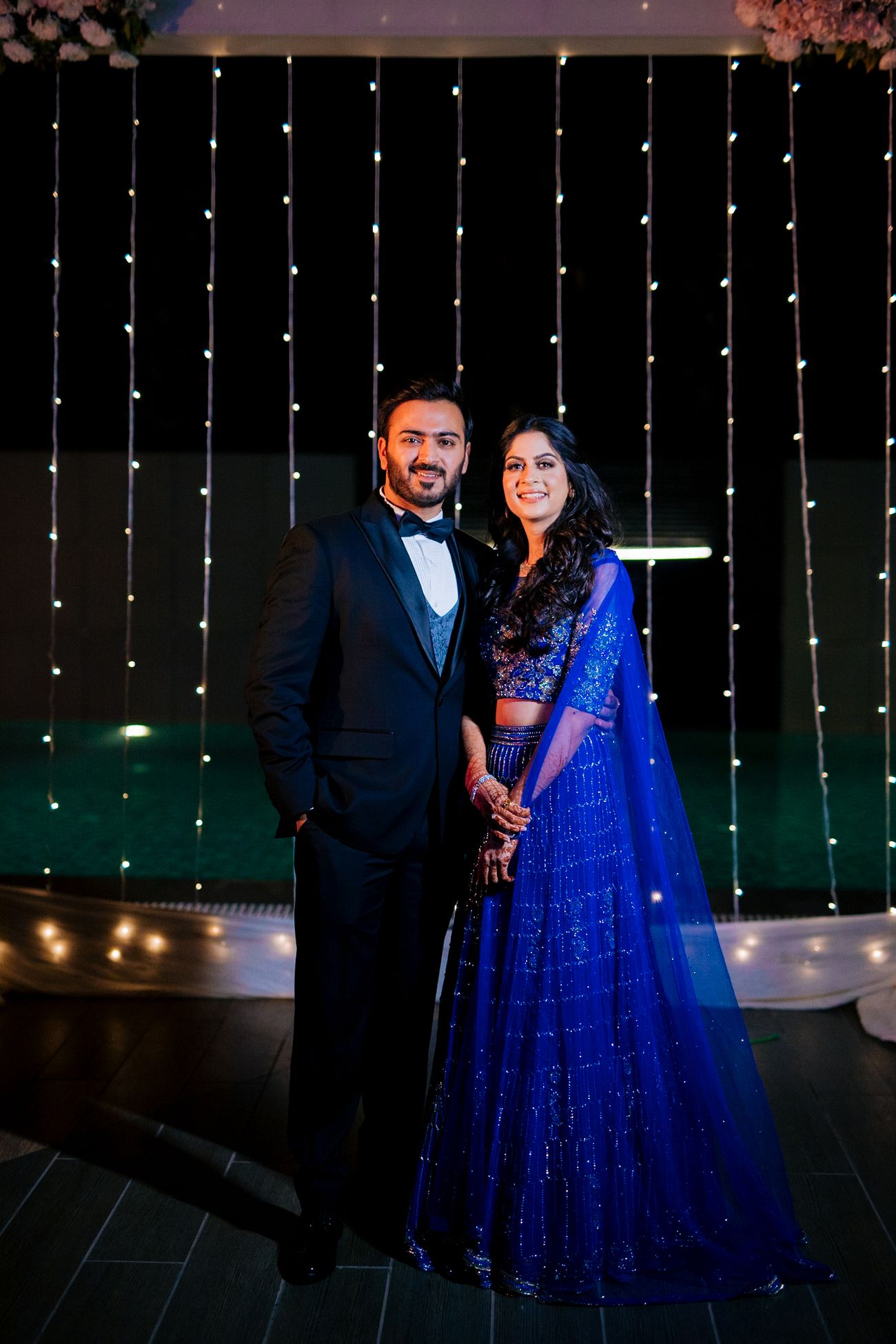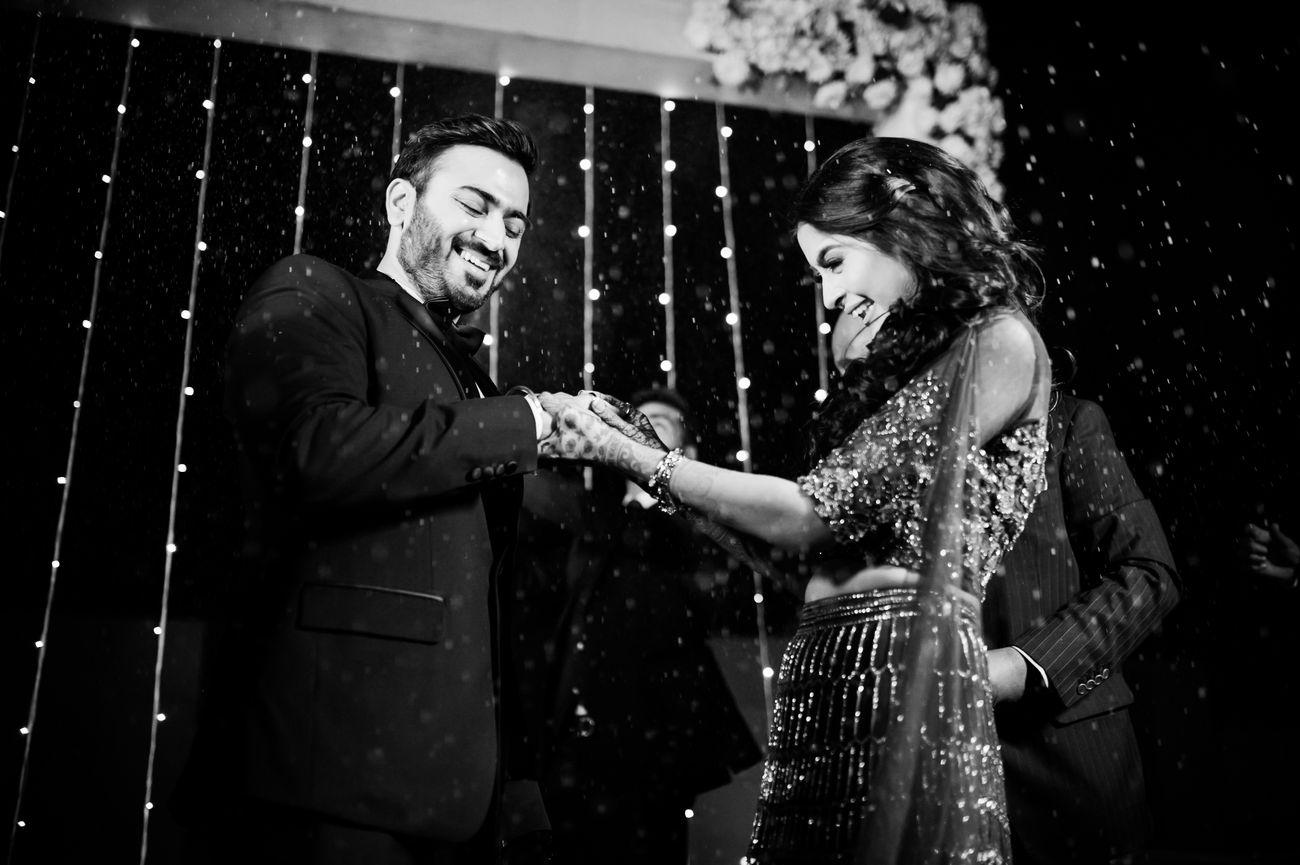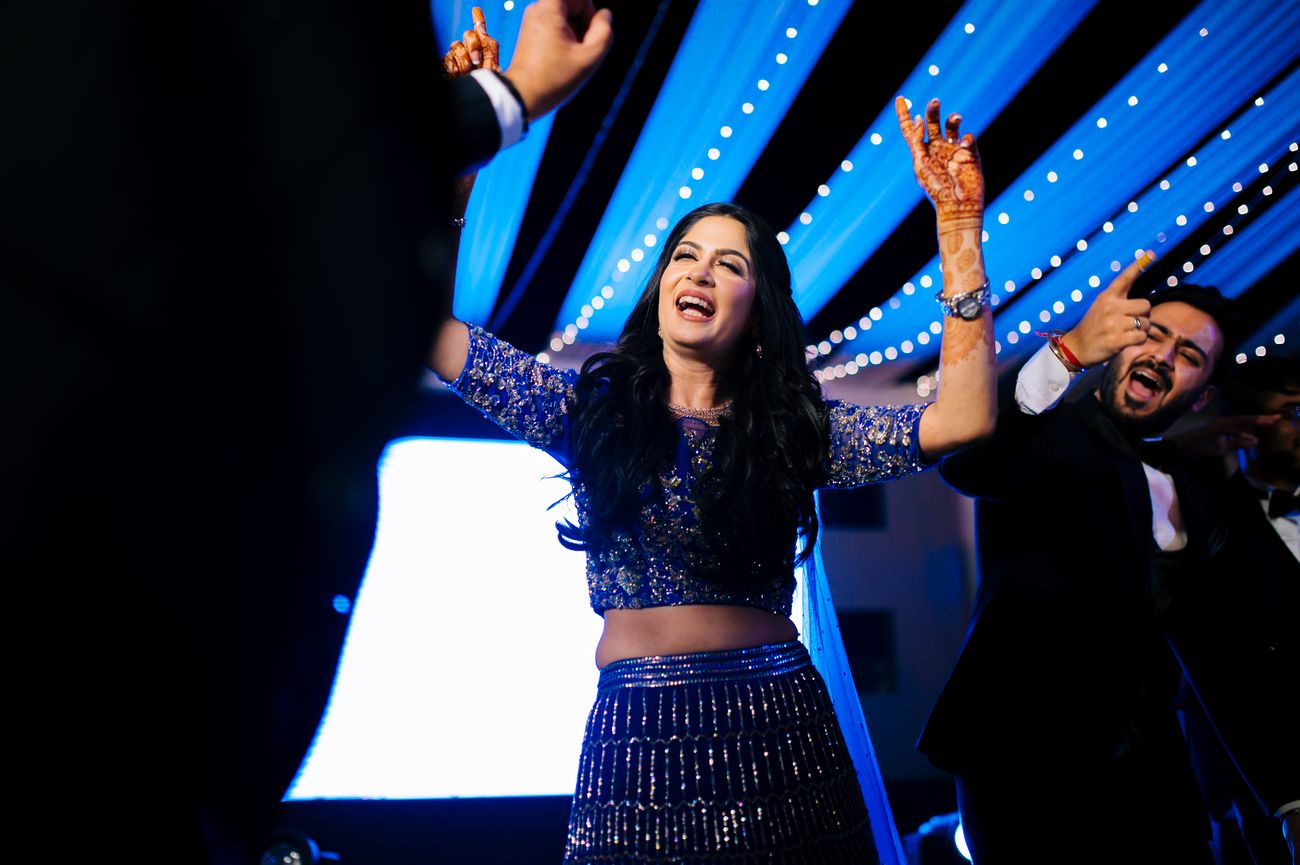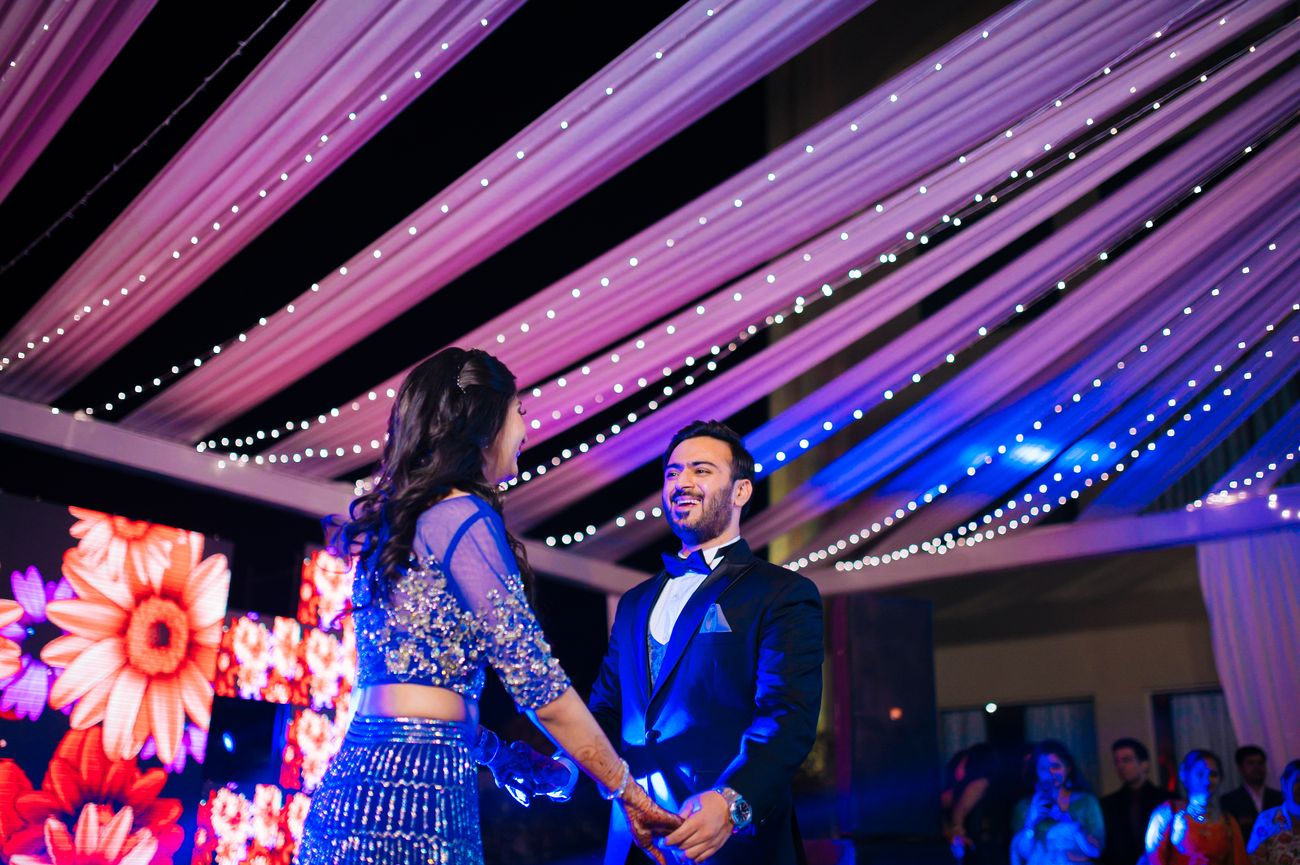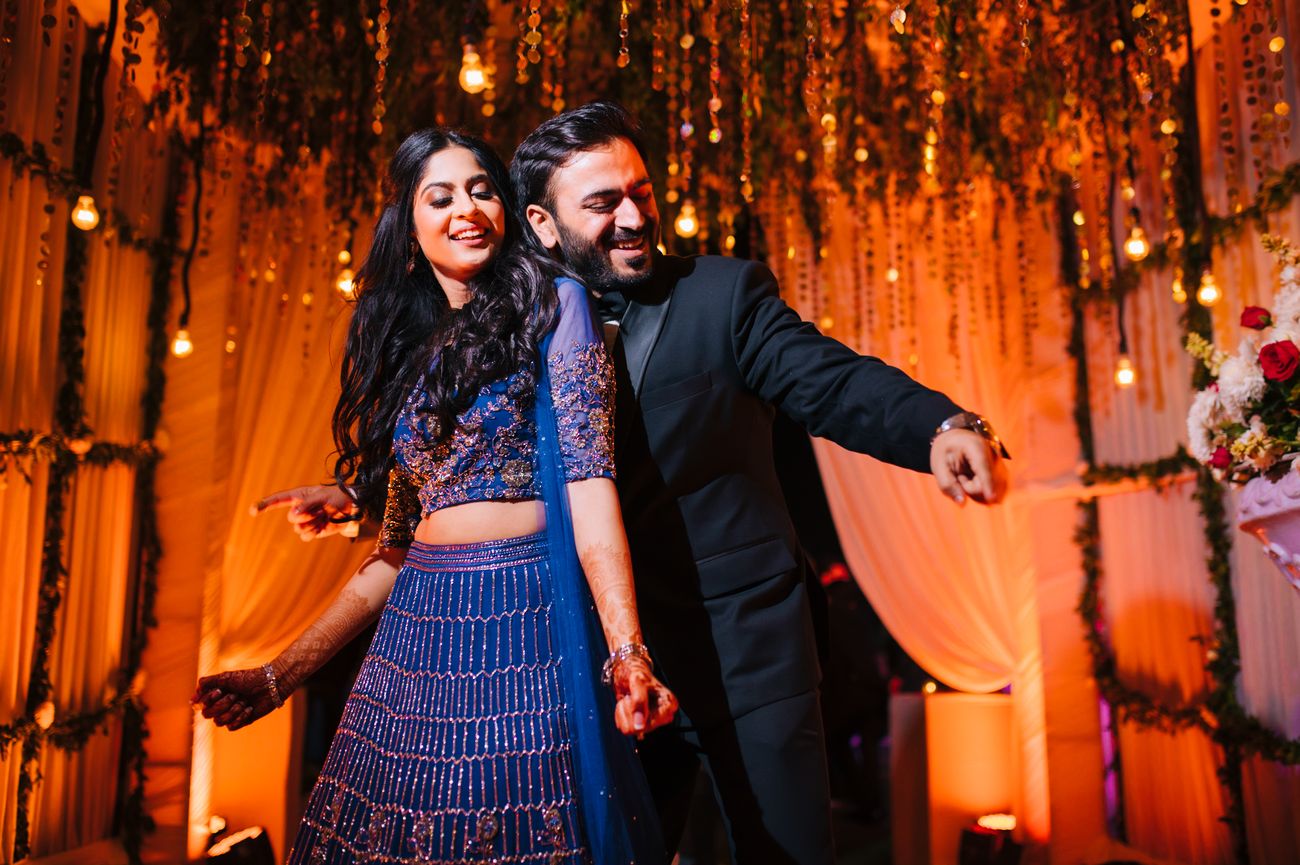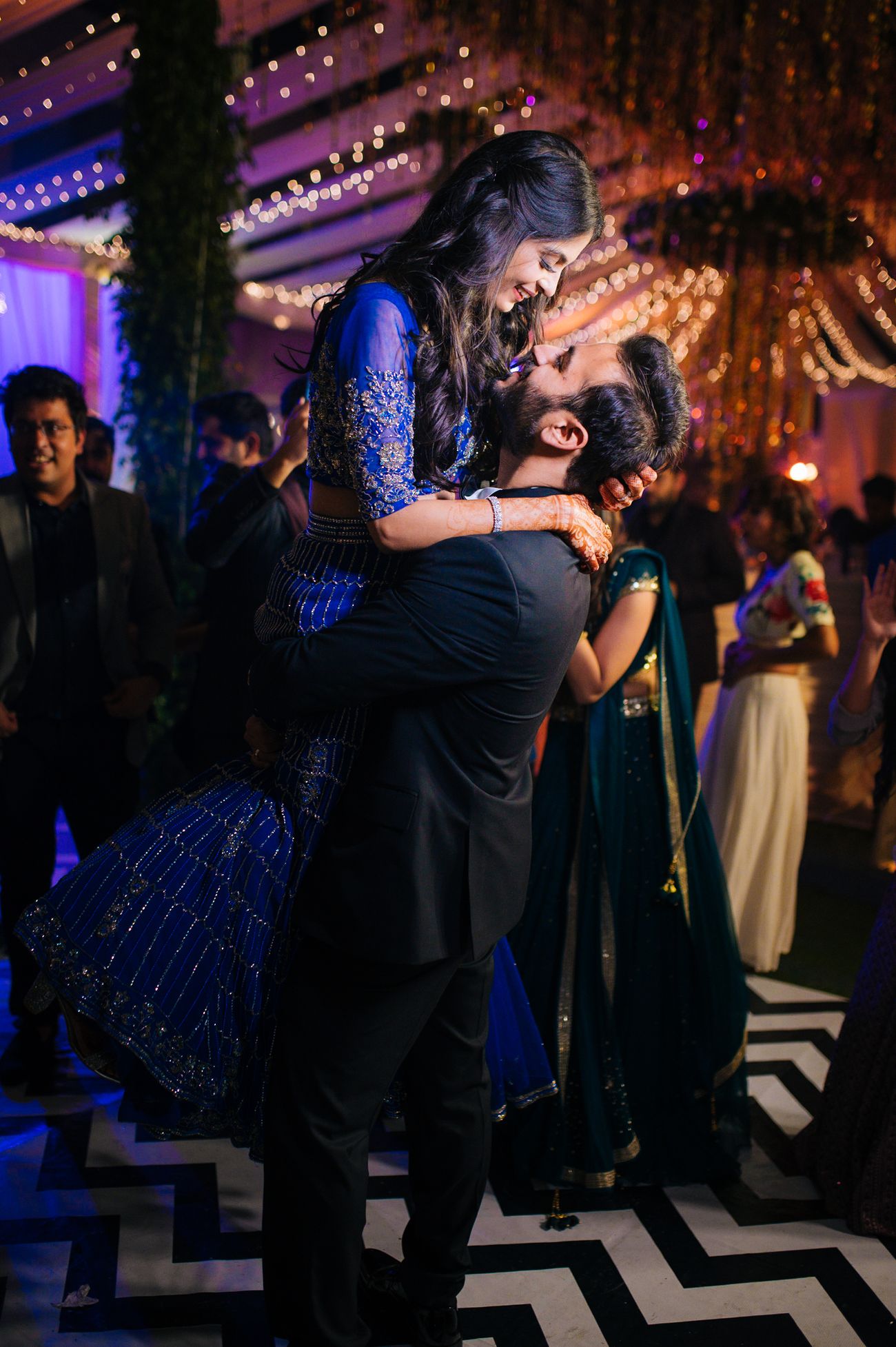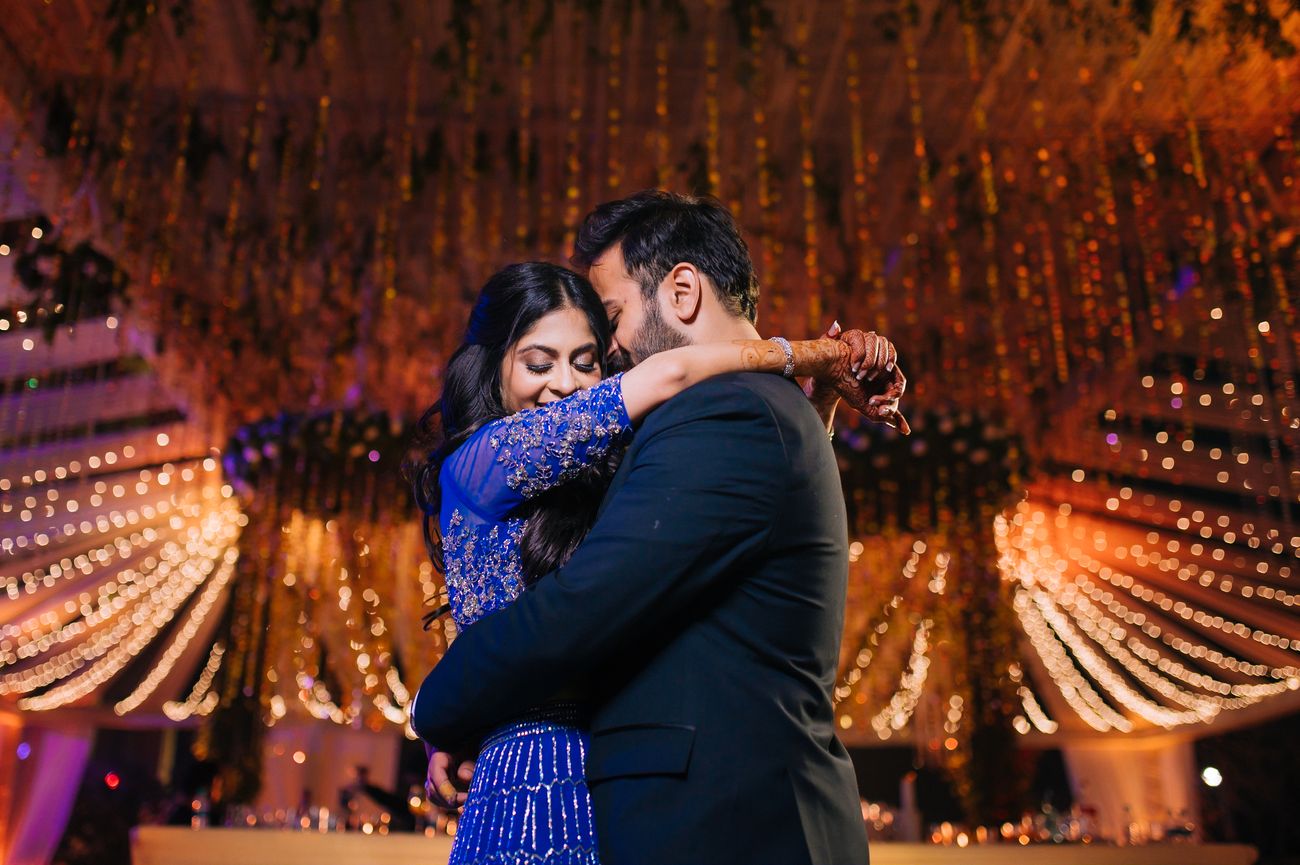 The Mehendi
For the Mehendi, we decided to play matchy-matchy and each picked up a an outfit in the ice blue and white tones (we desperately wanted a break from the rani pinks and the bright yellows).  I wore a lehenga by Vasansi Jaipur and Paras wore an achkan - both with white embroidery work.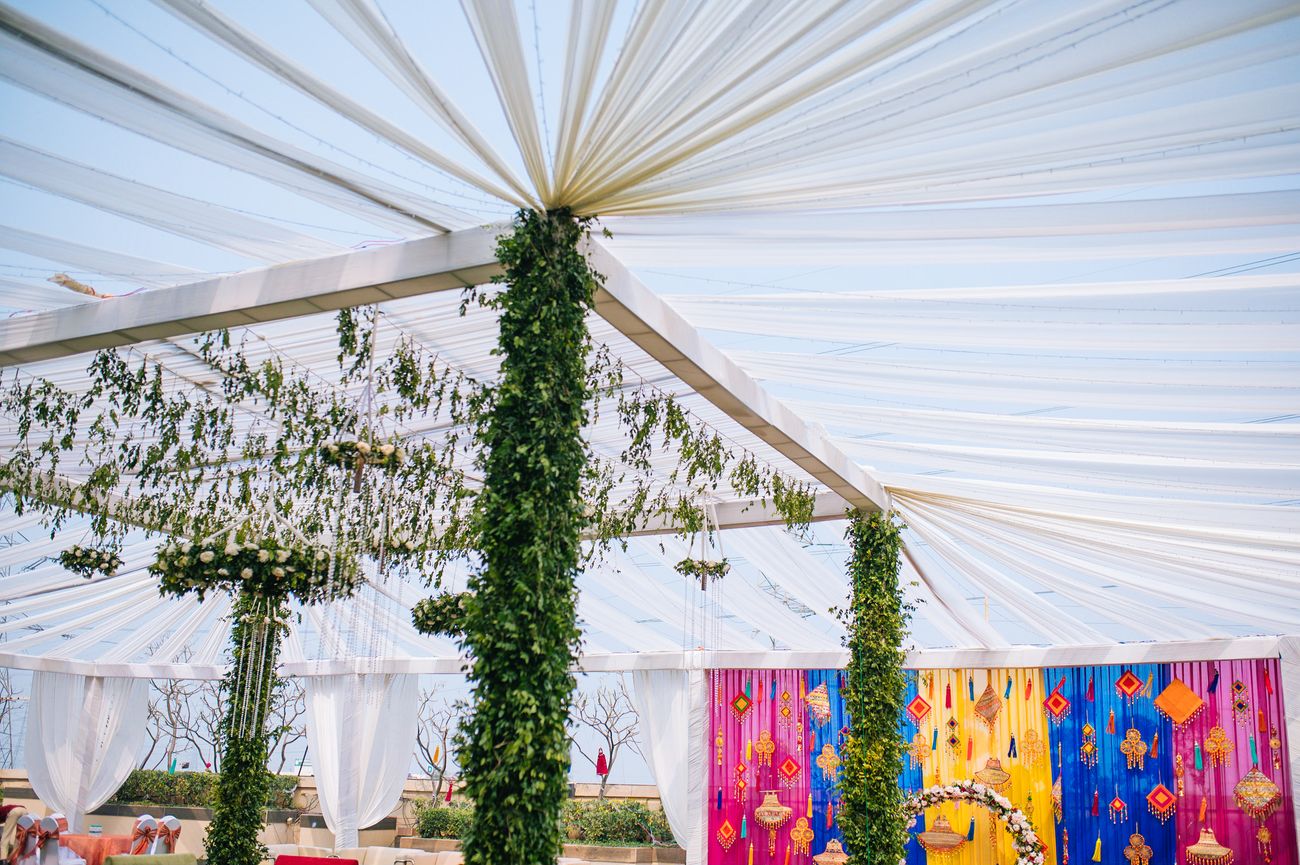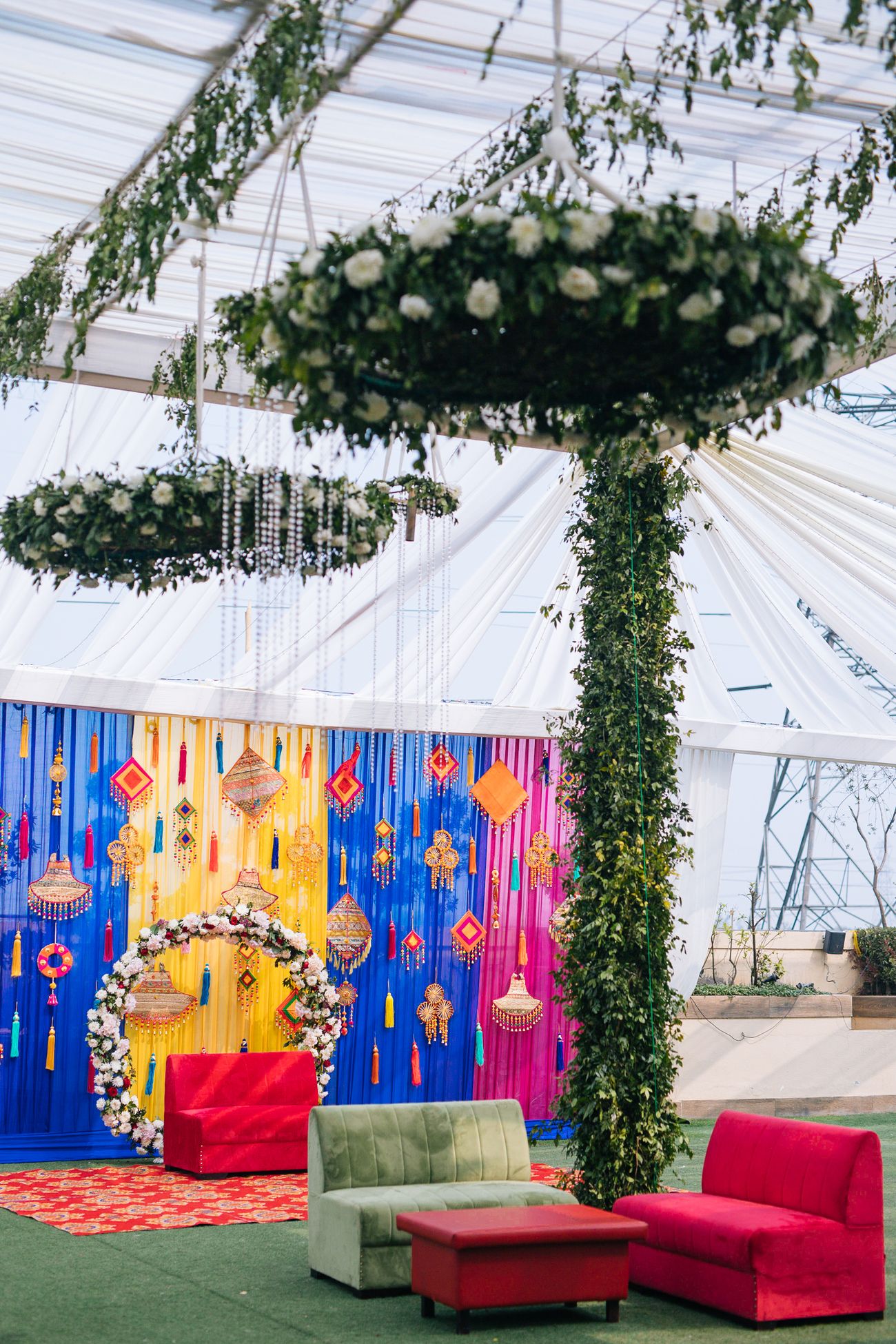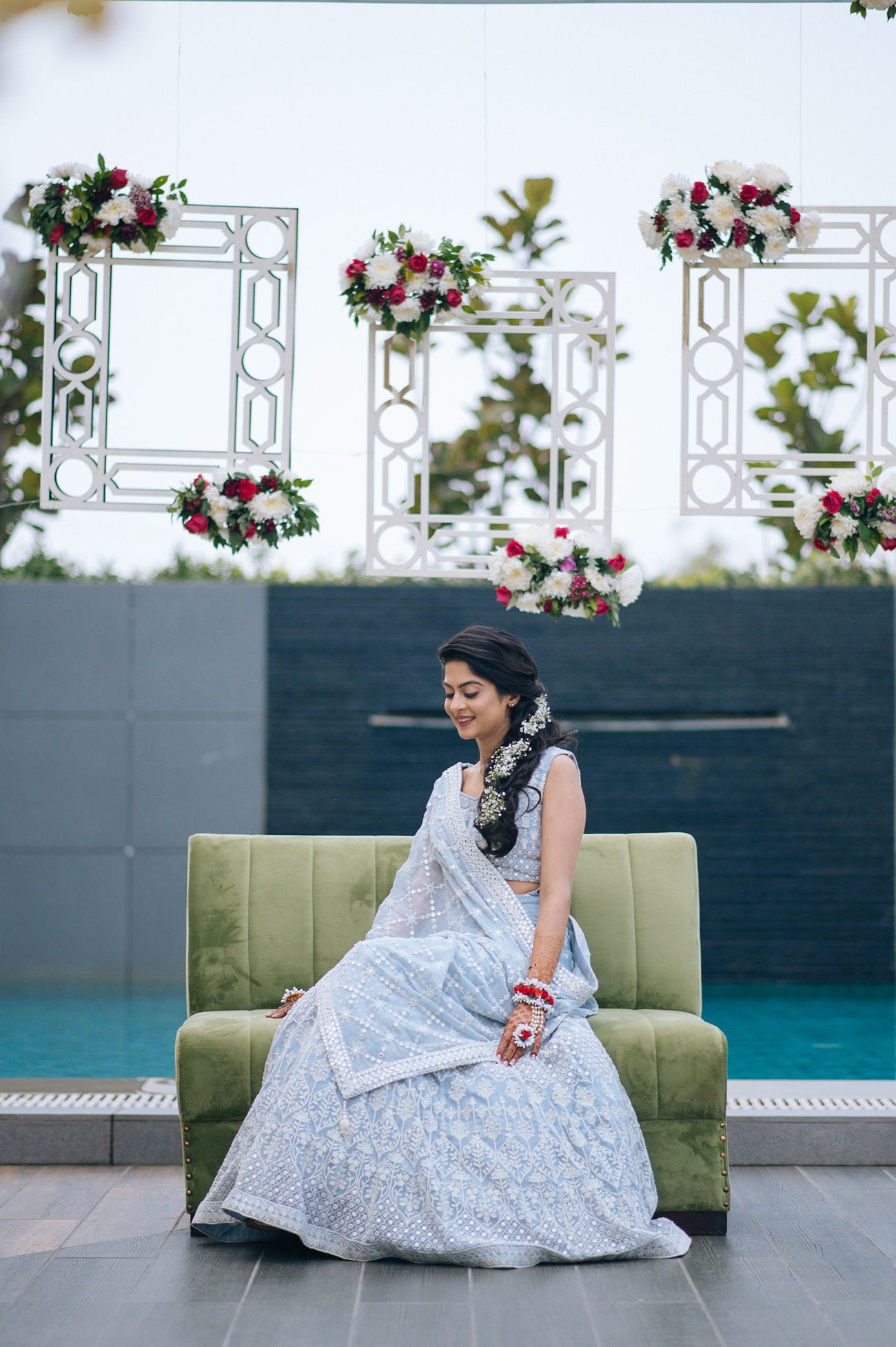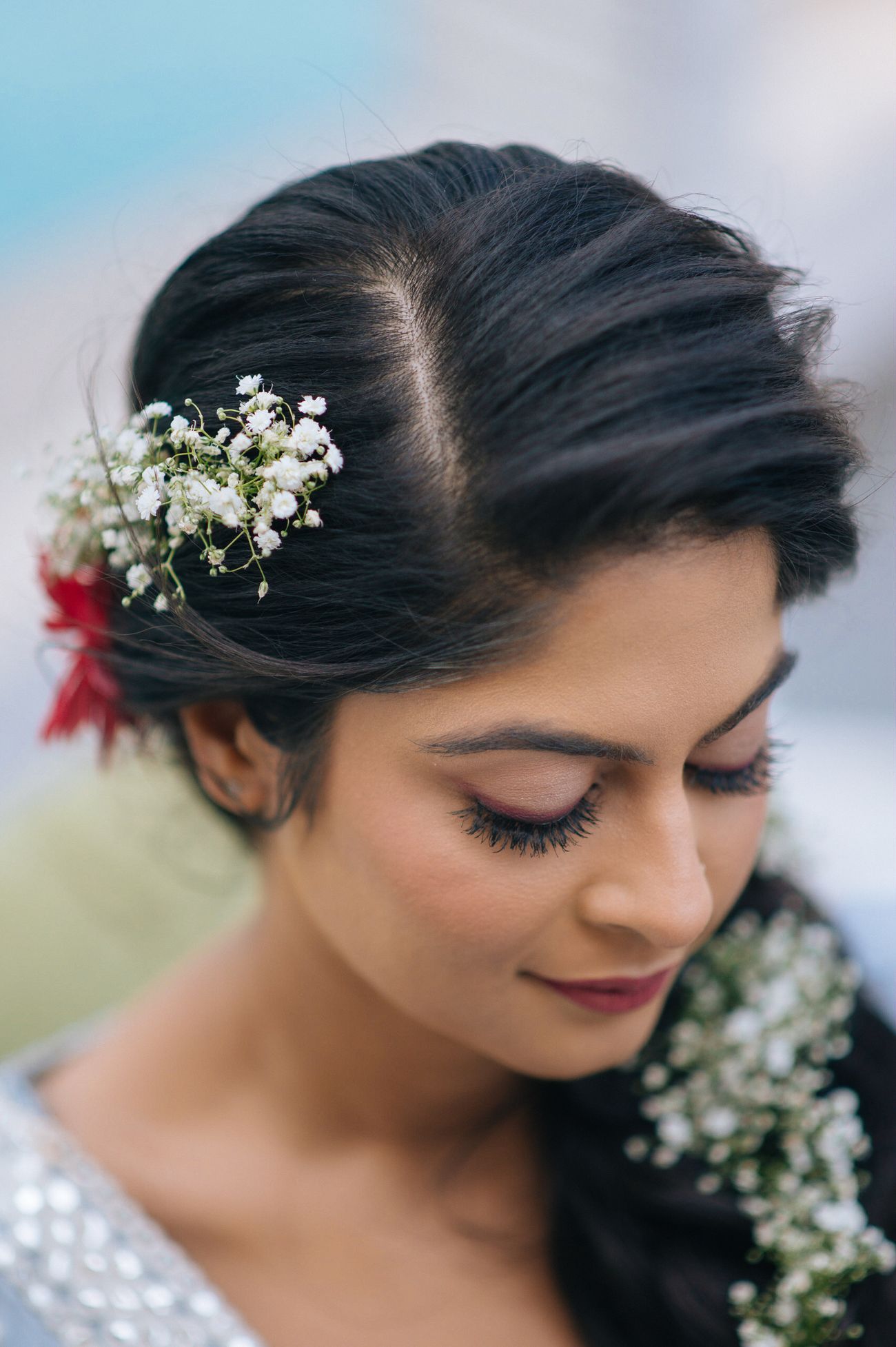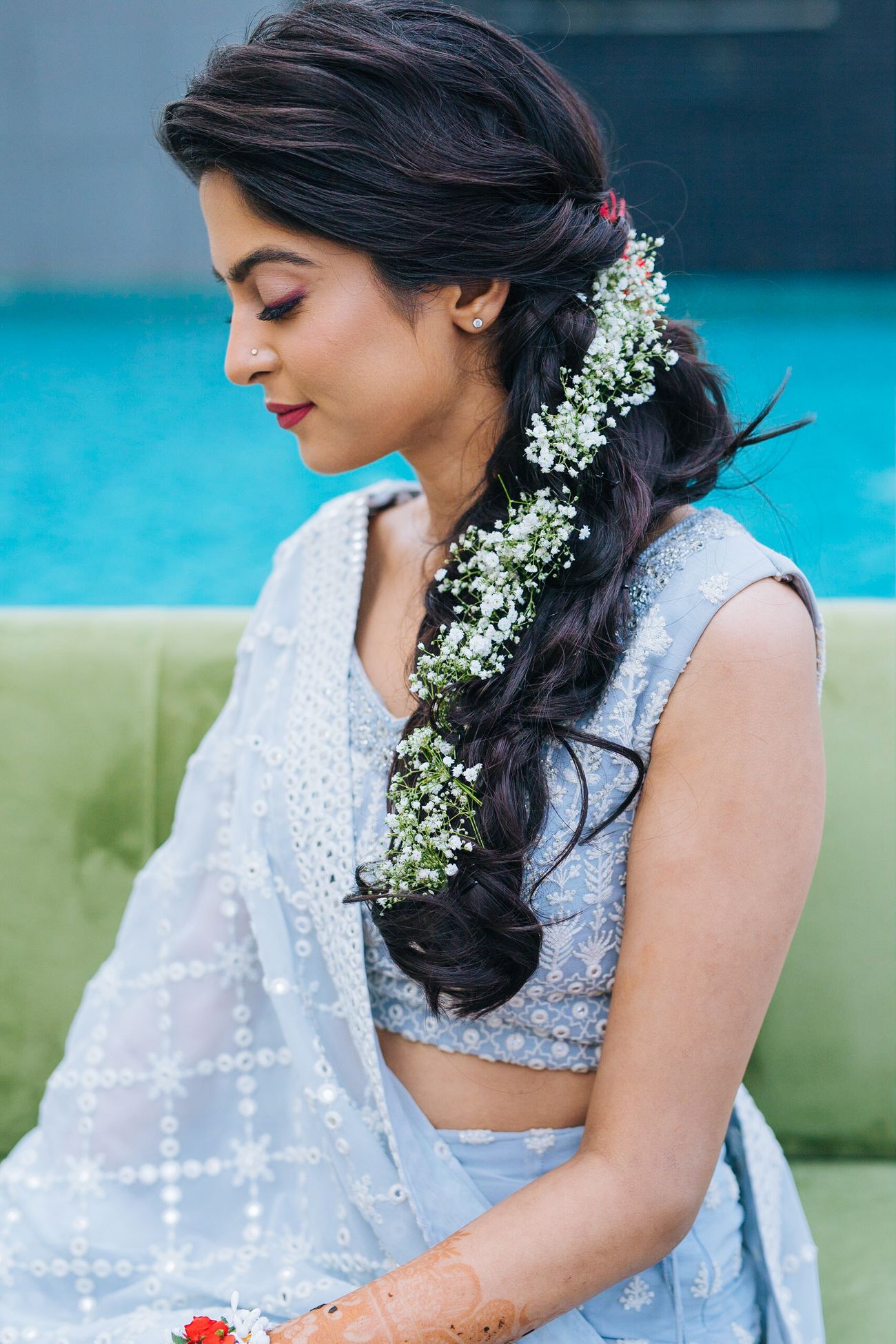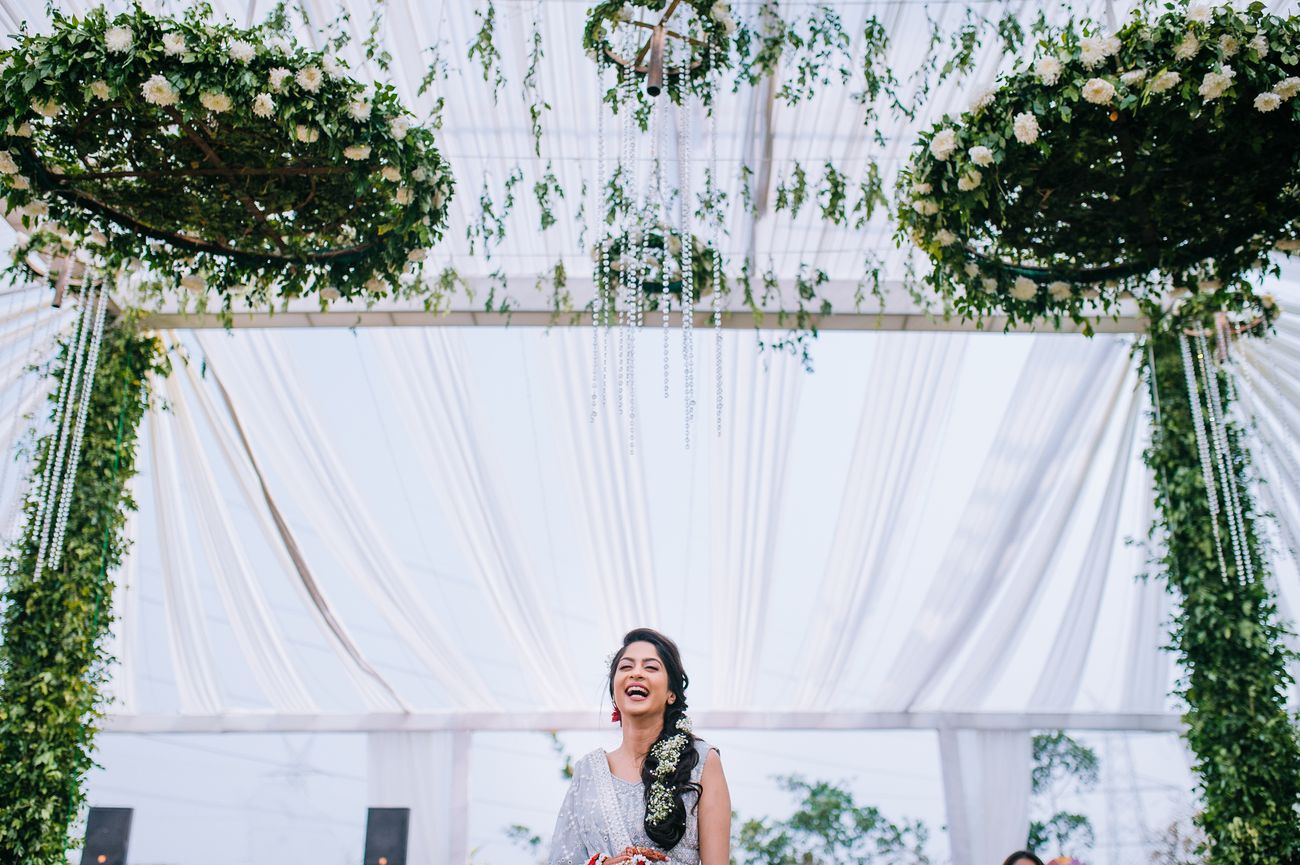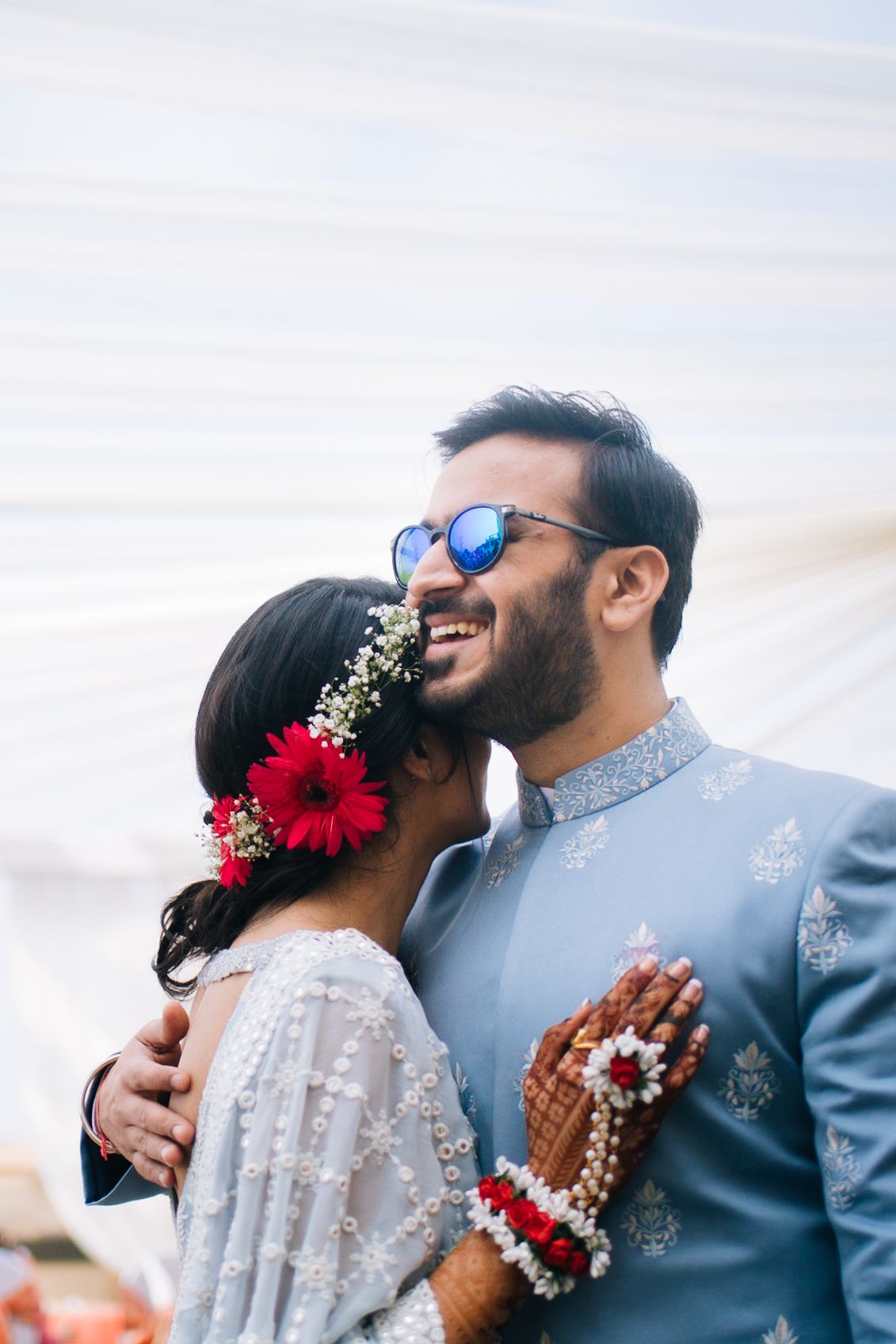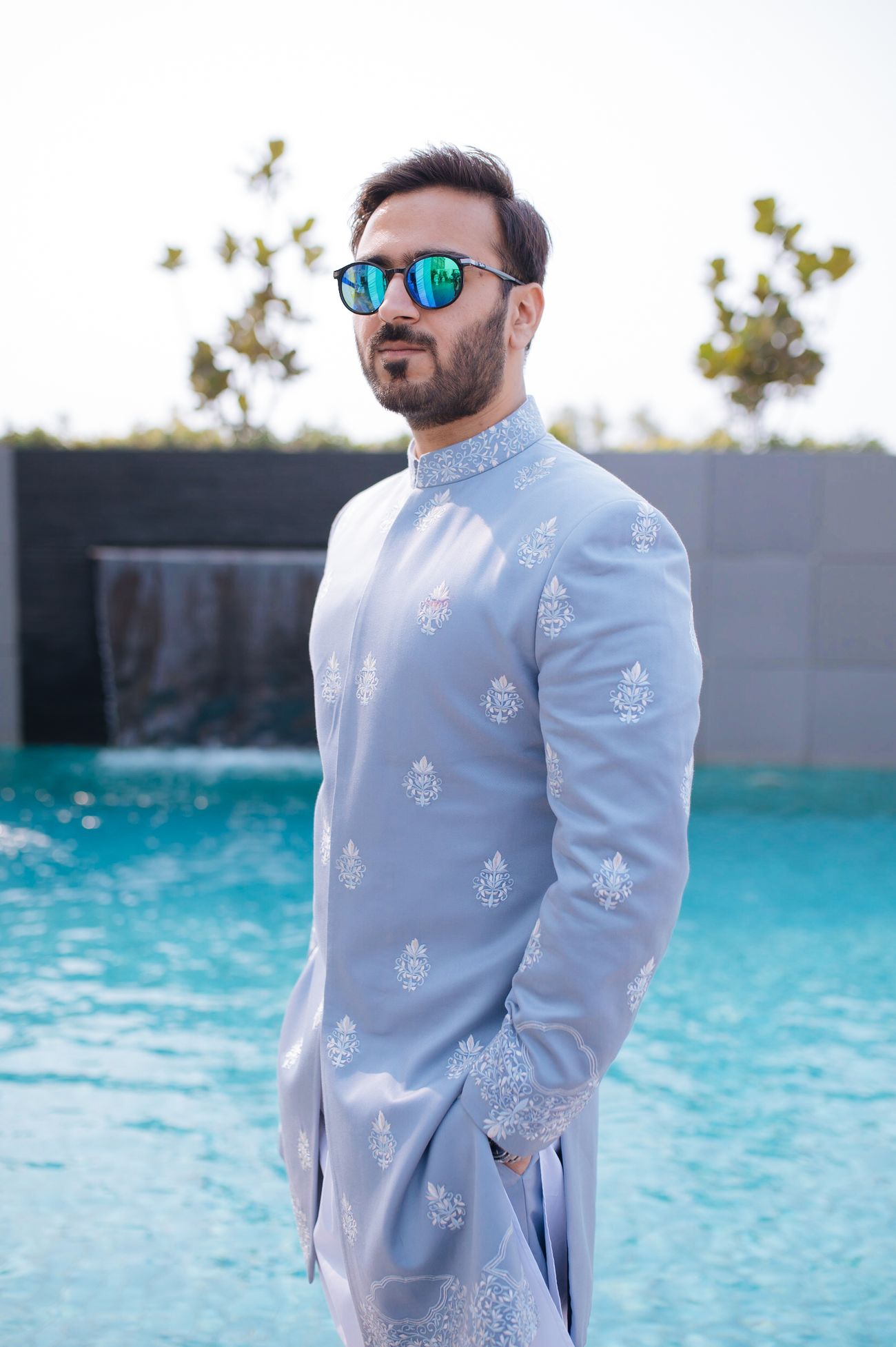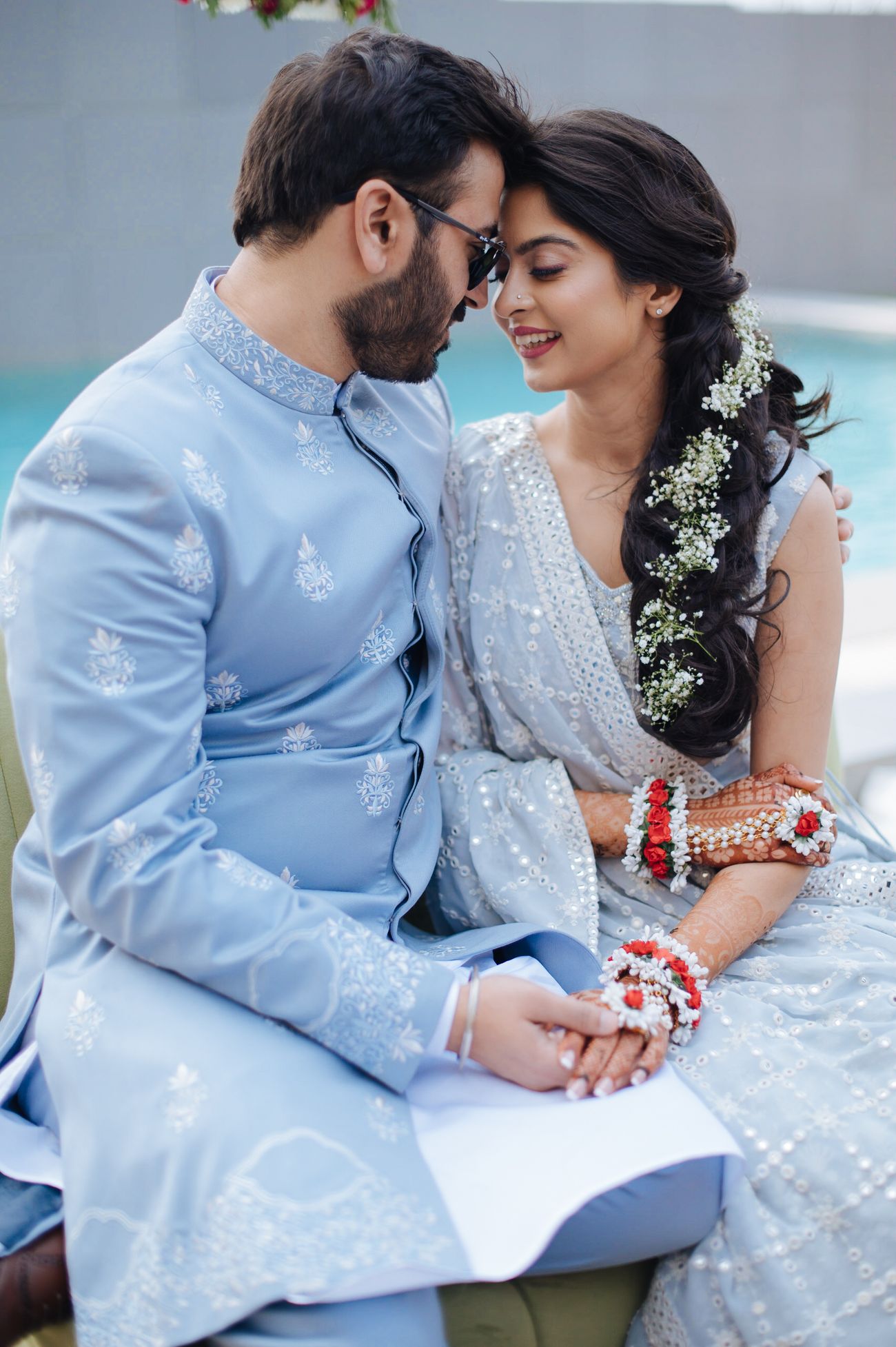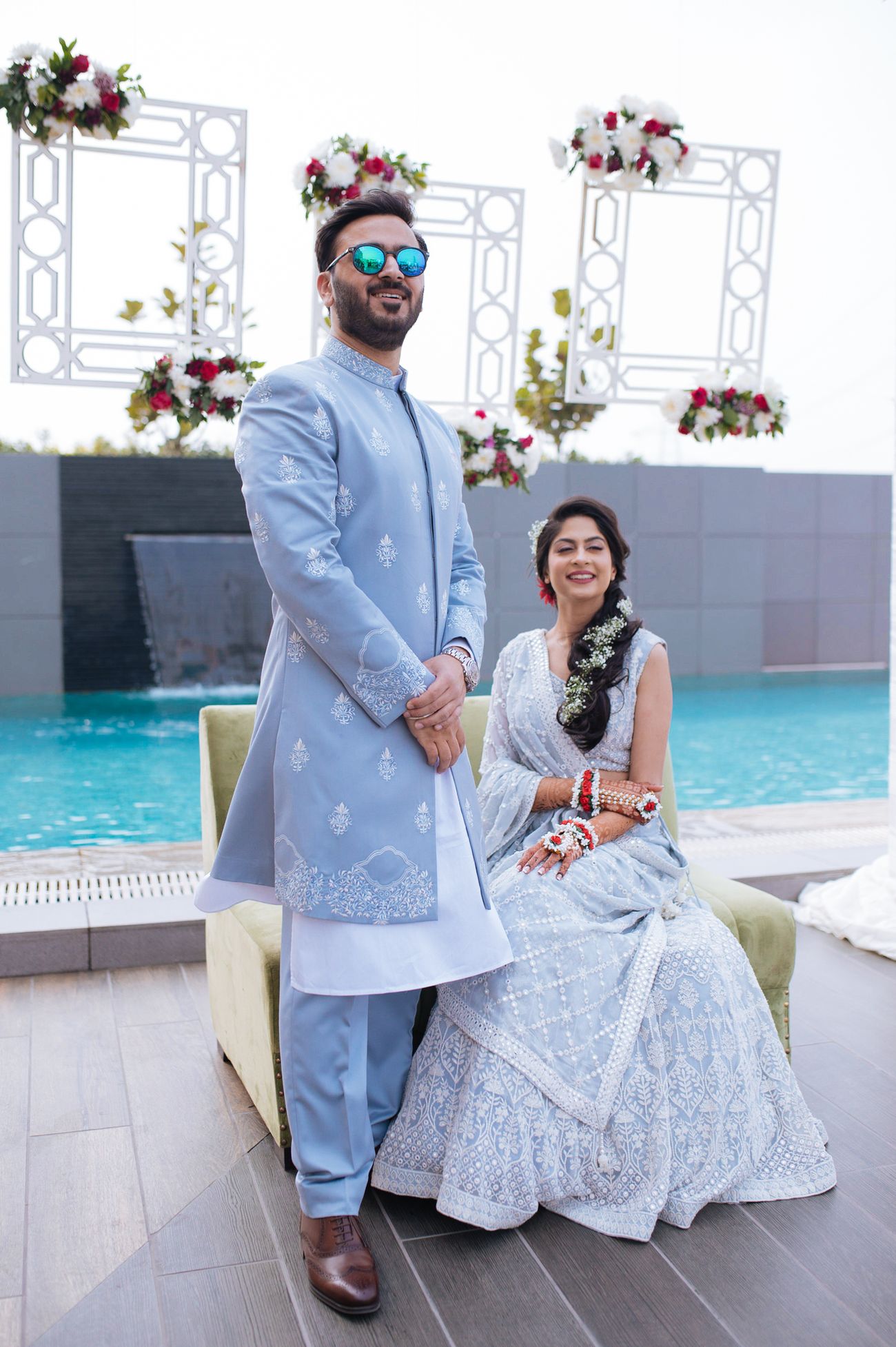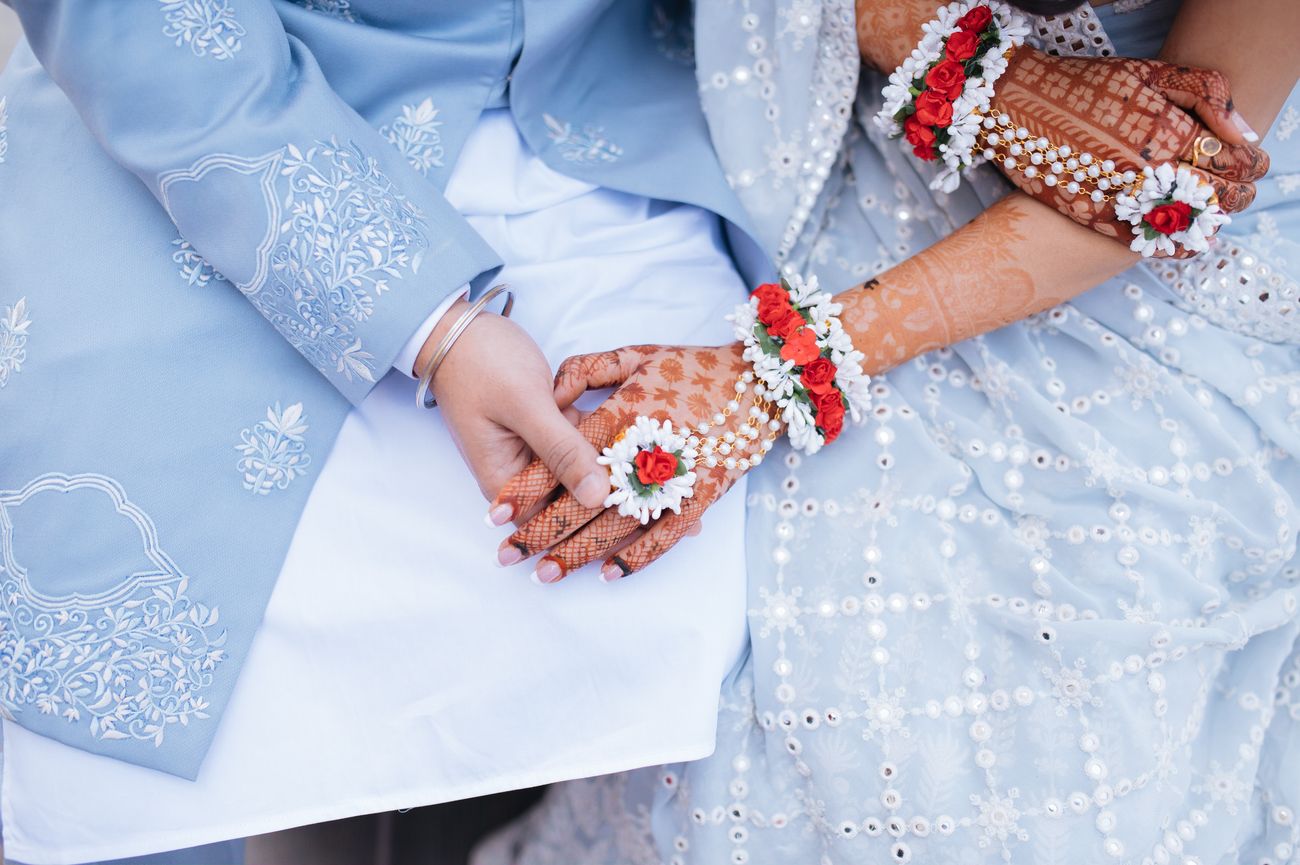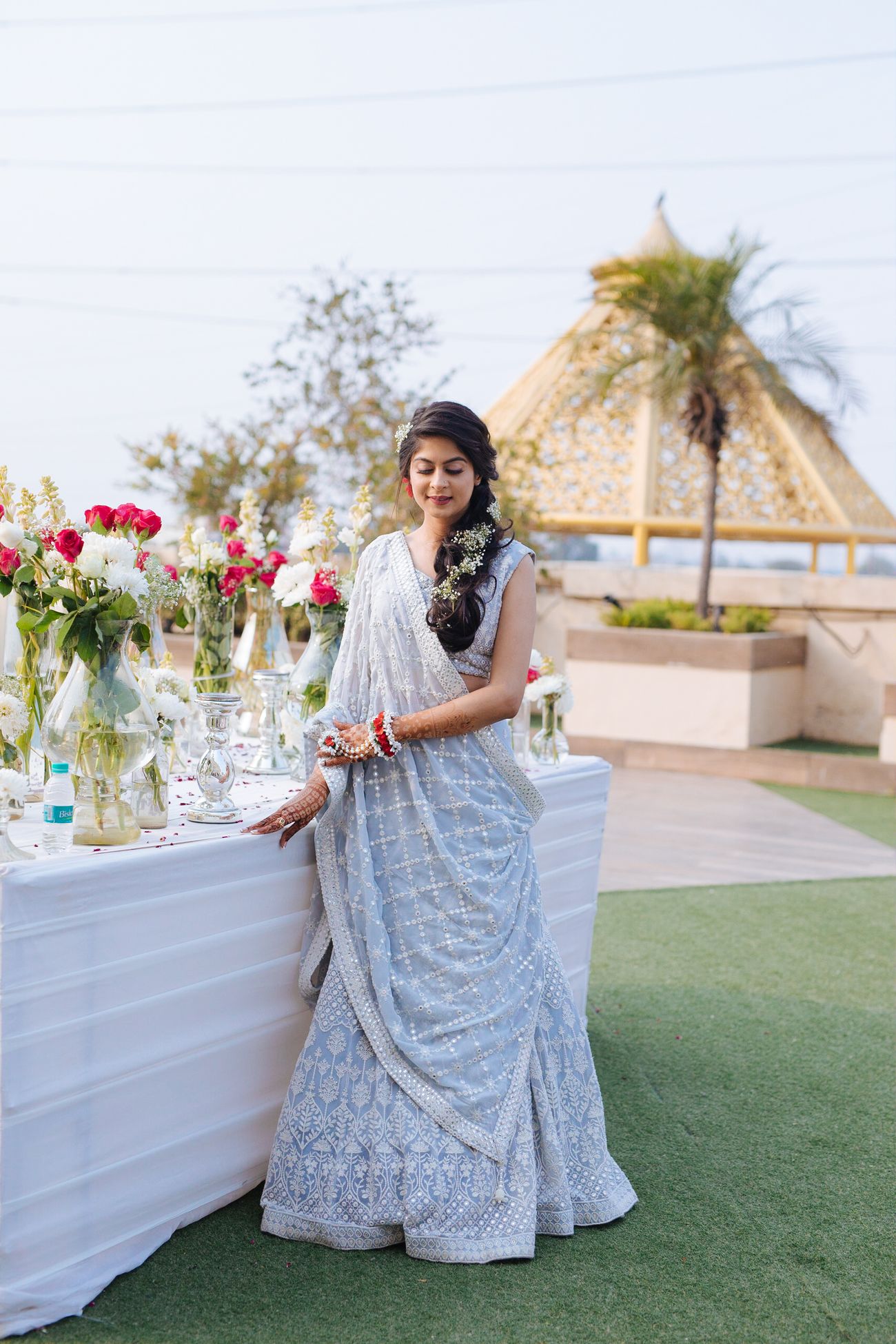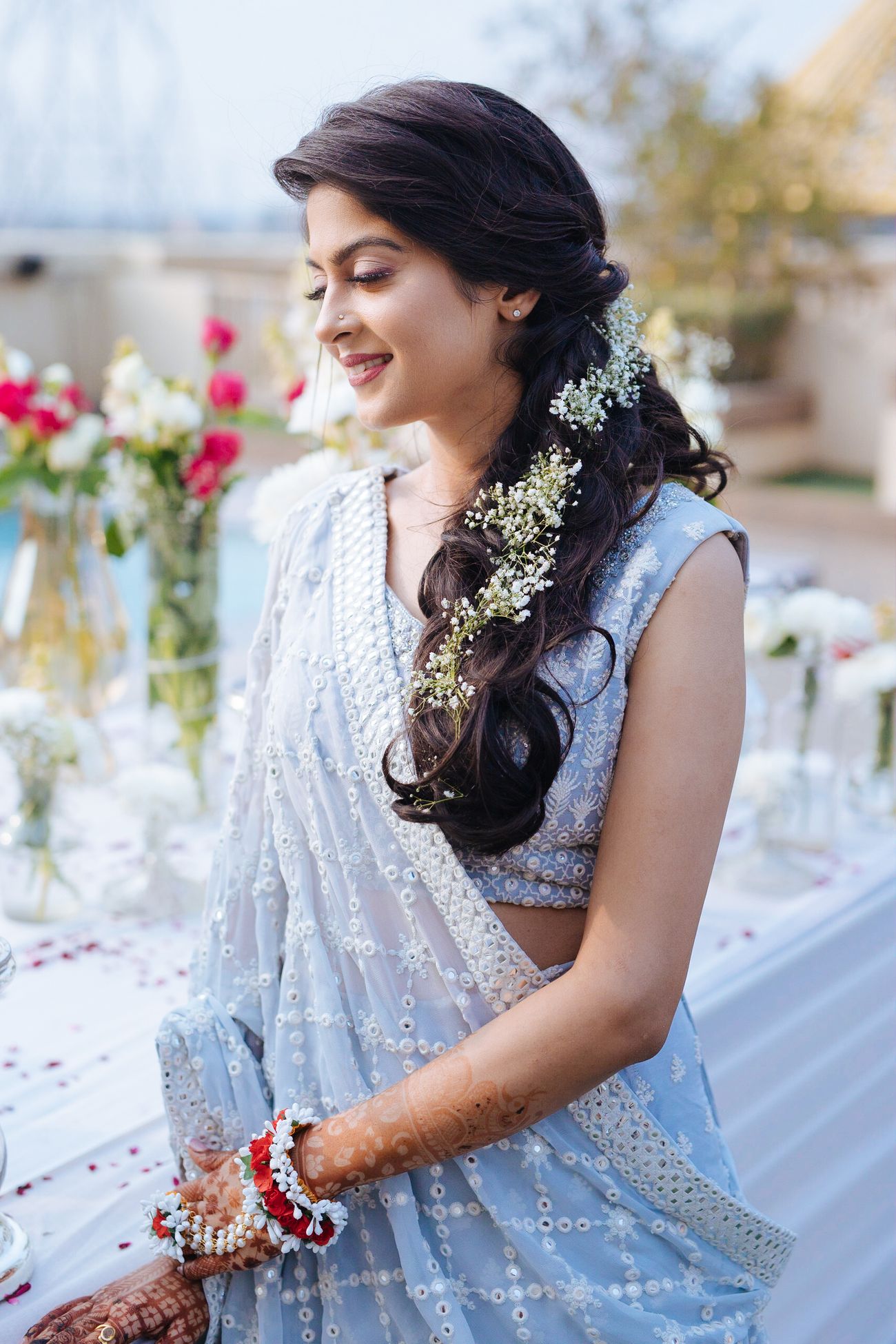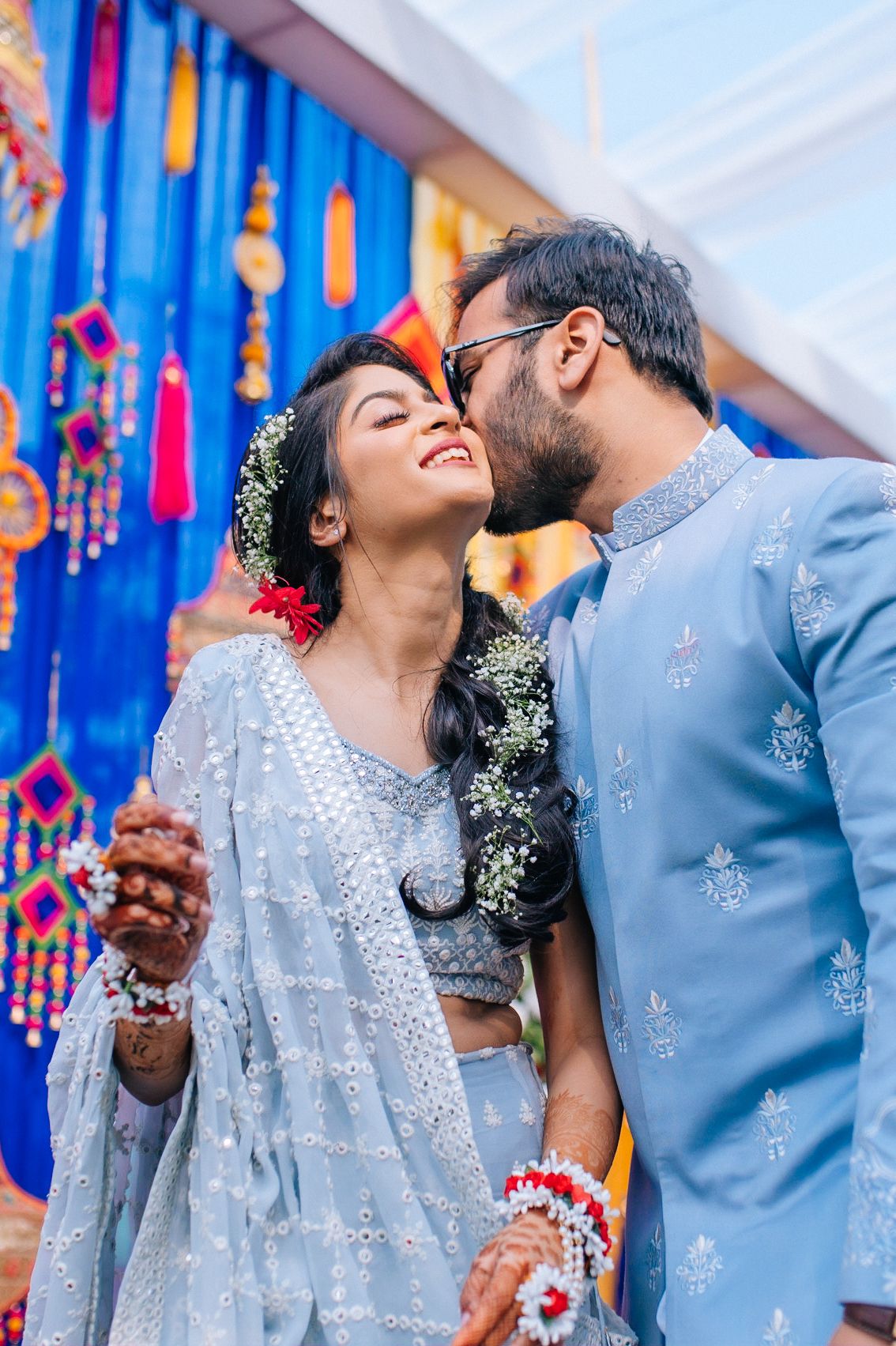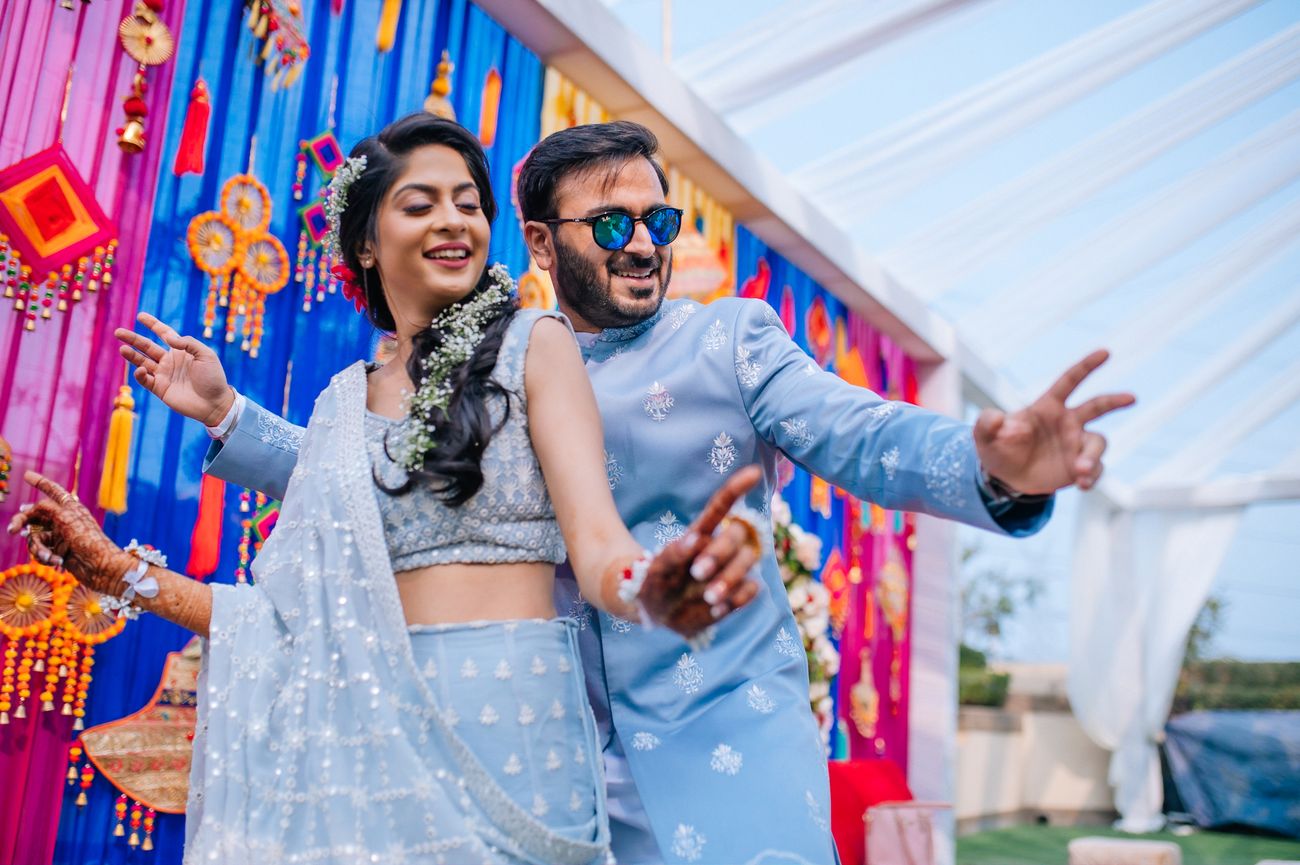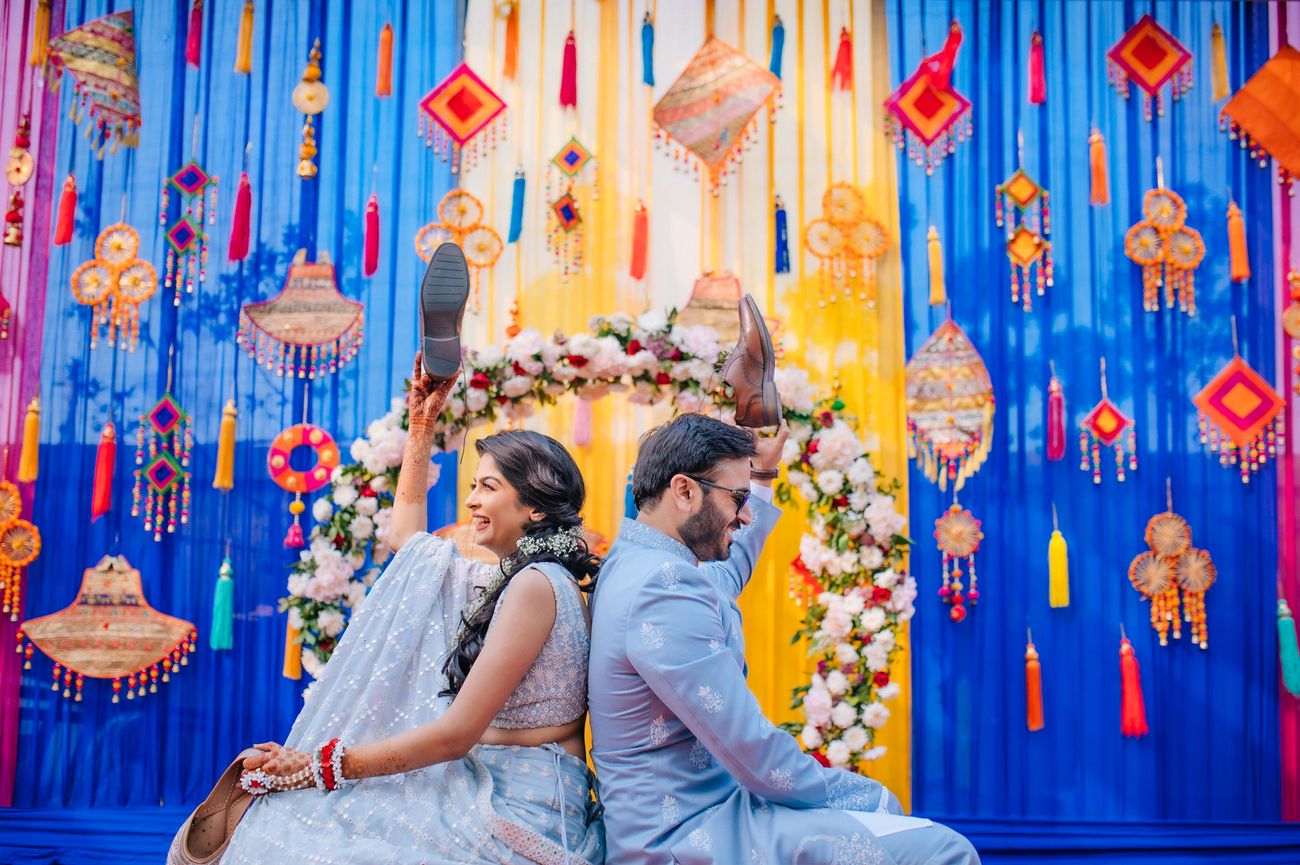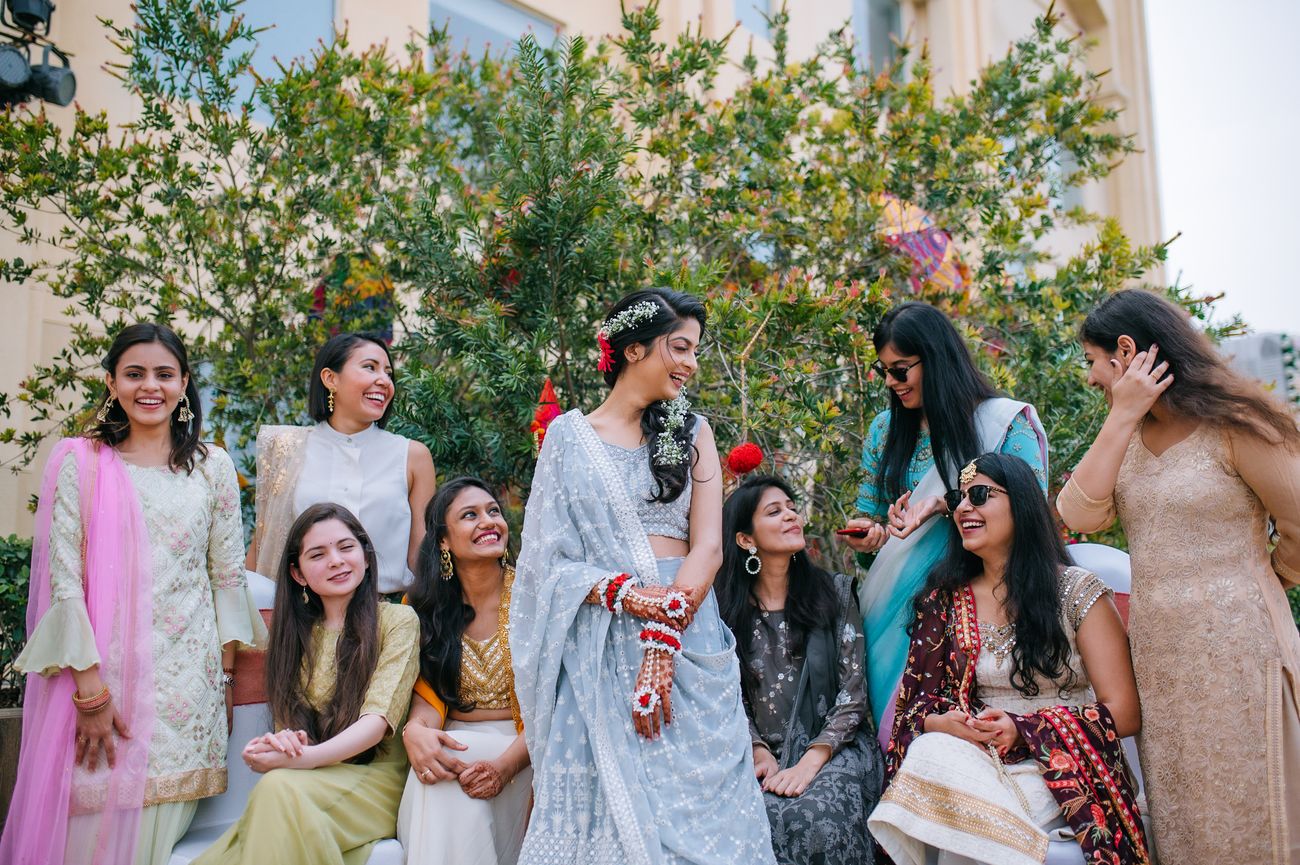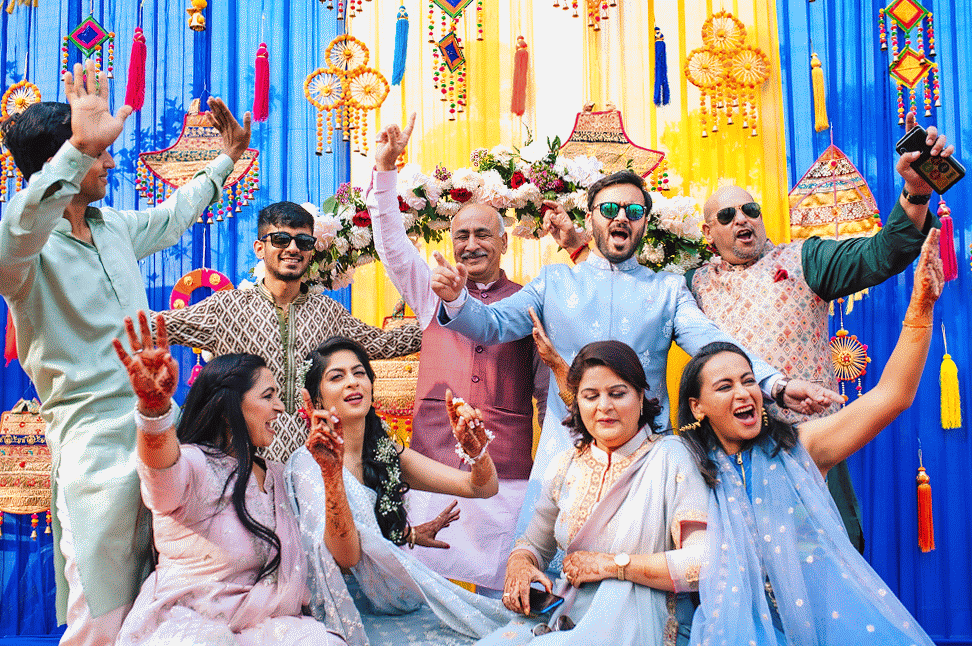 The Wedding
For our sunset pheraas, Paras went for an ivory shervaani with intricate embroidery and I went for a baby-pink hued organza lehenga with heavy mix of pearl and zardozi handwork. The decision to have Jeevan, a live flute player at the pheras is definitely something that we both pat ourselves on the back for! Be it my entry on the tunes of classical Indian music or our jaimaal on the flute rendition of our favourite retro song – the peaceful aura that Jeevan created was a much needed break from all the crazy madness that had just preceded the event!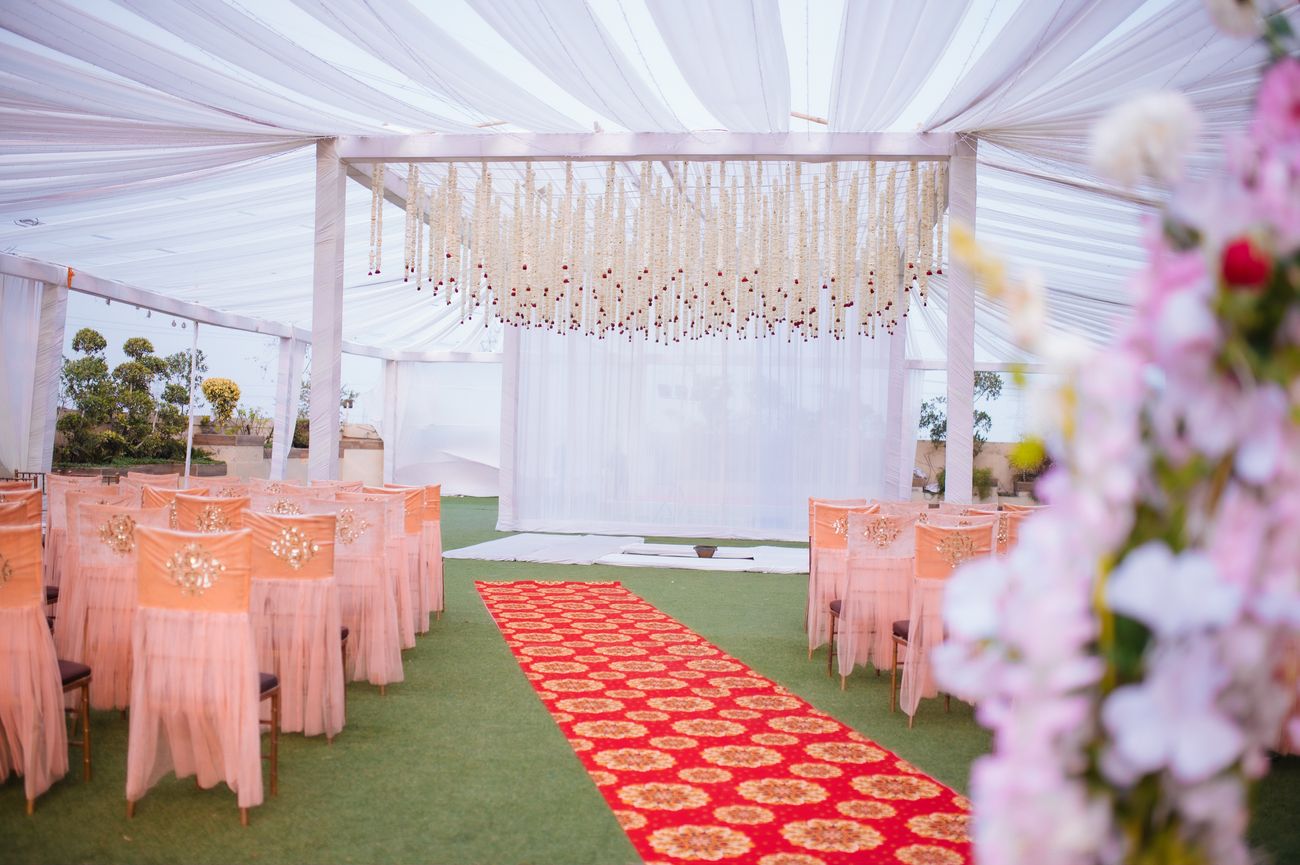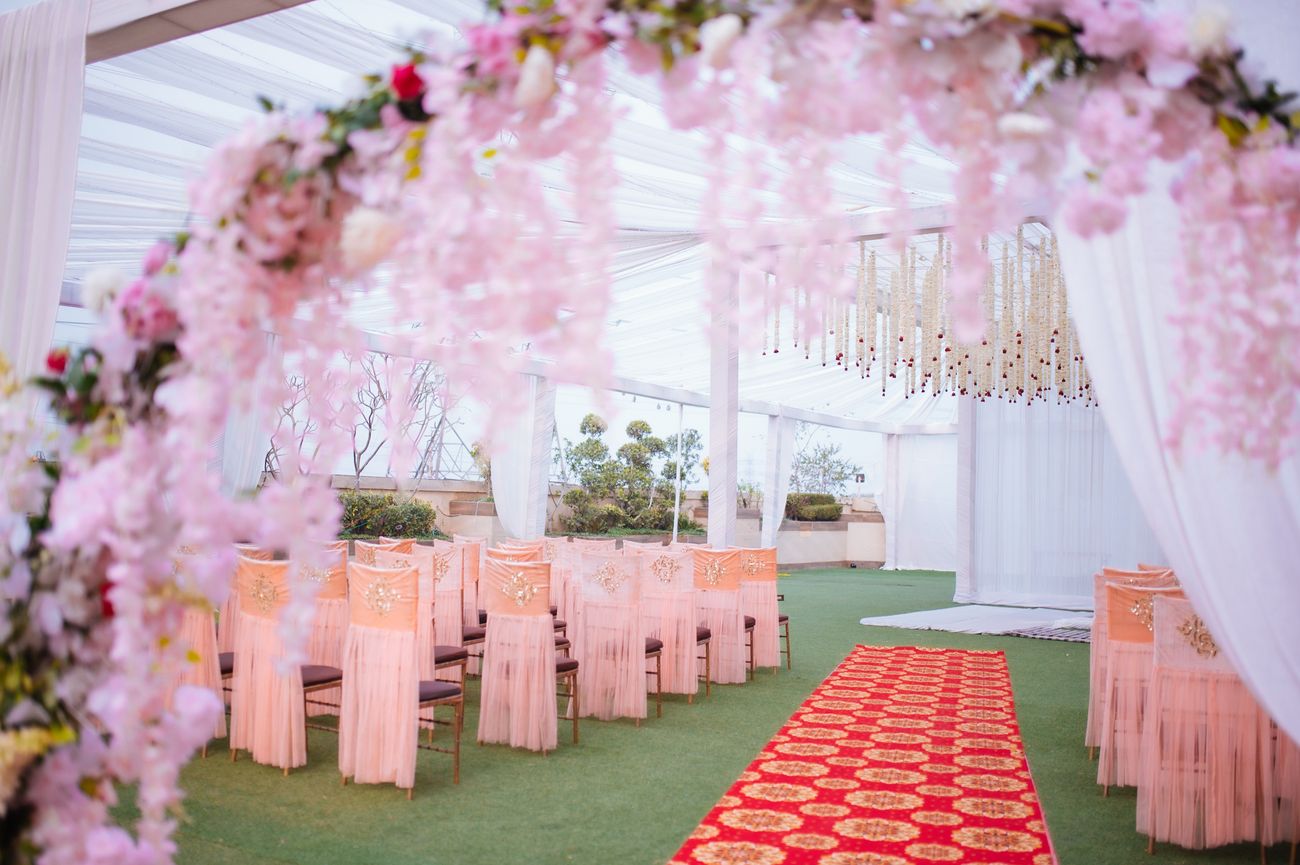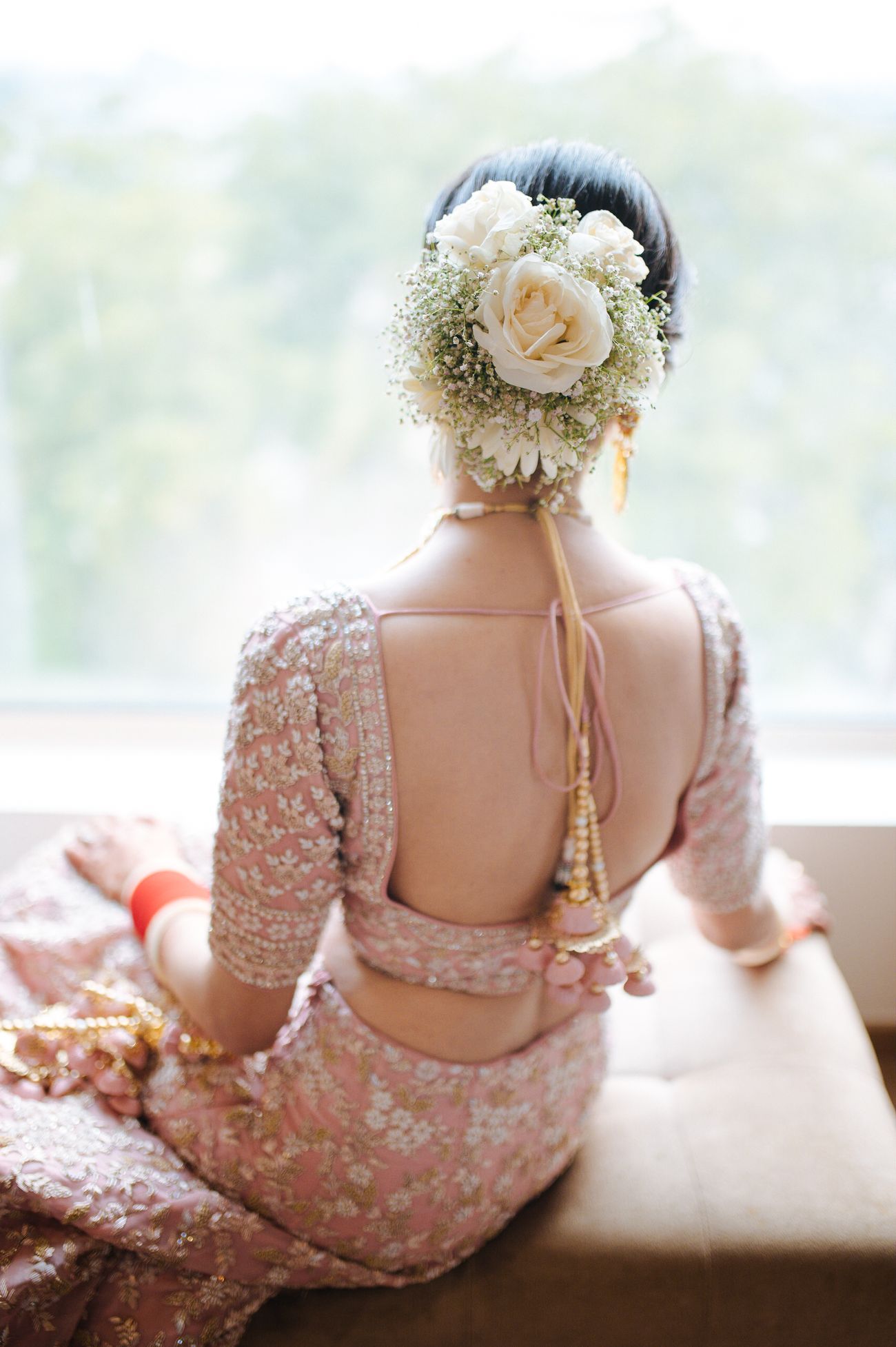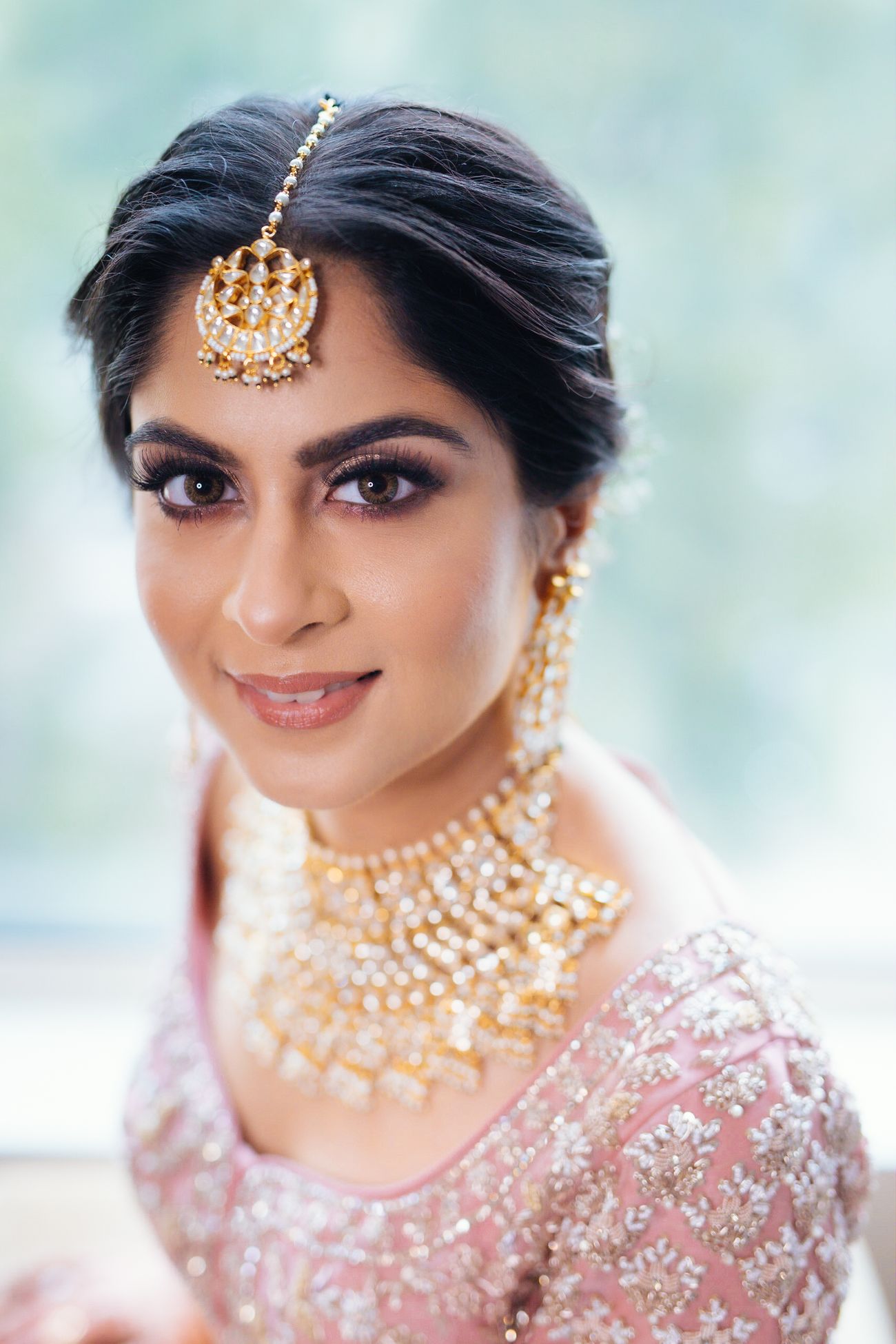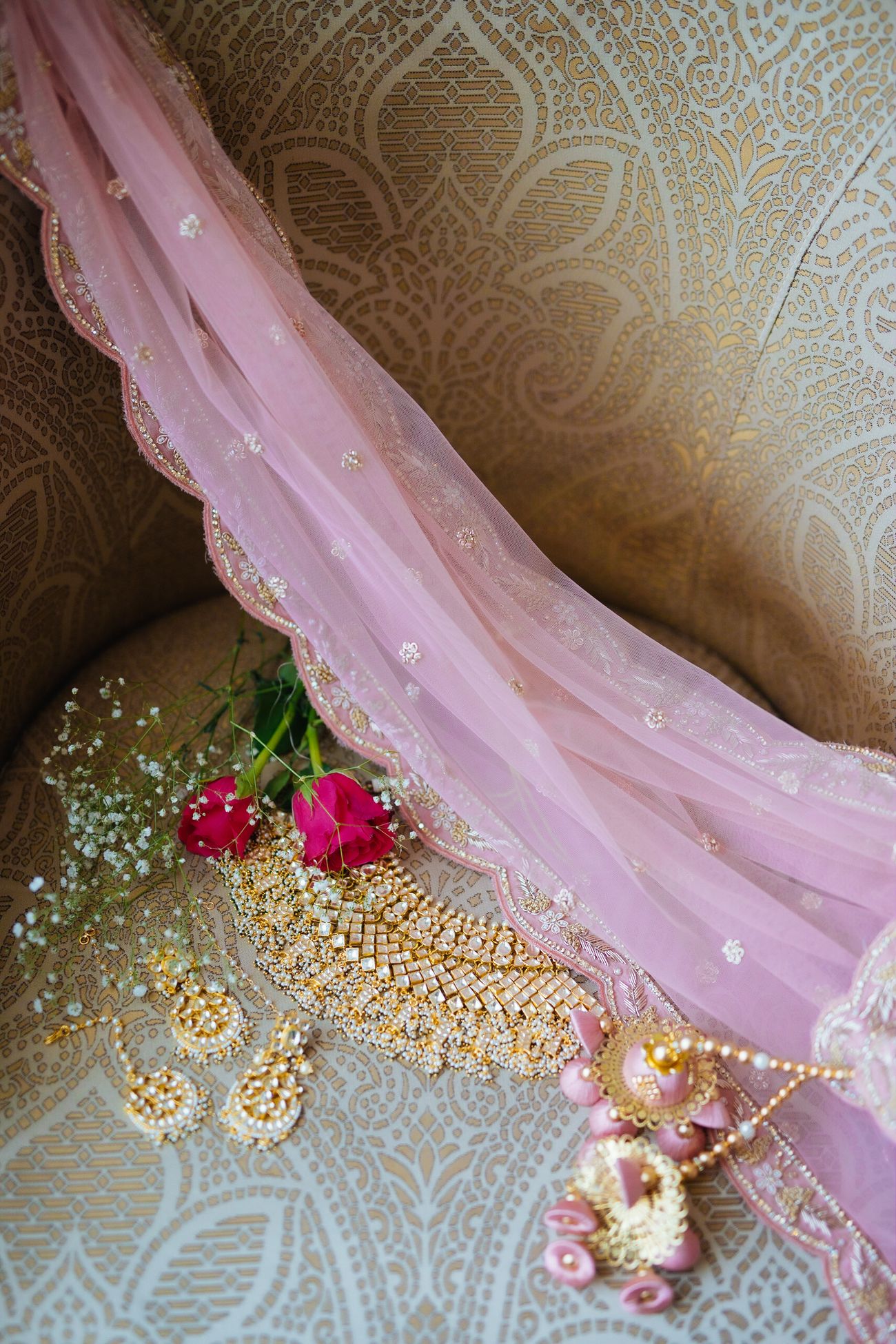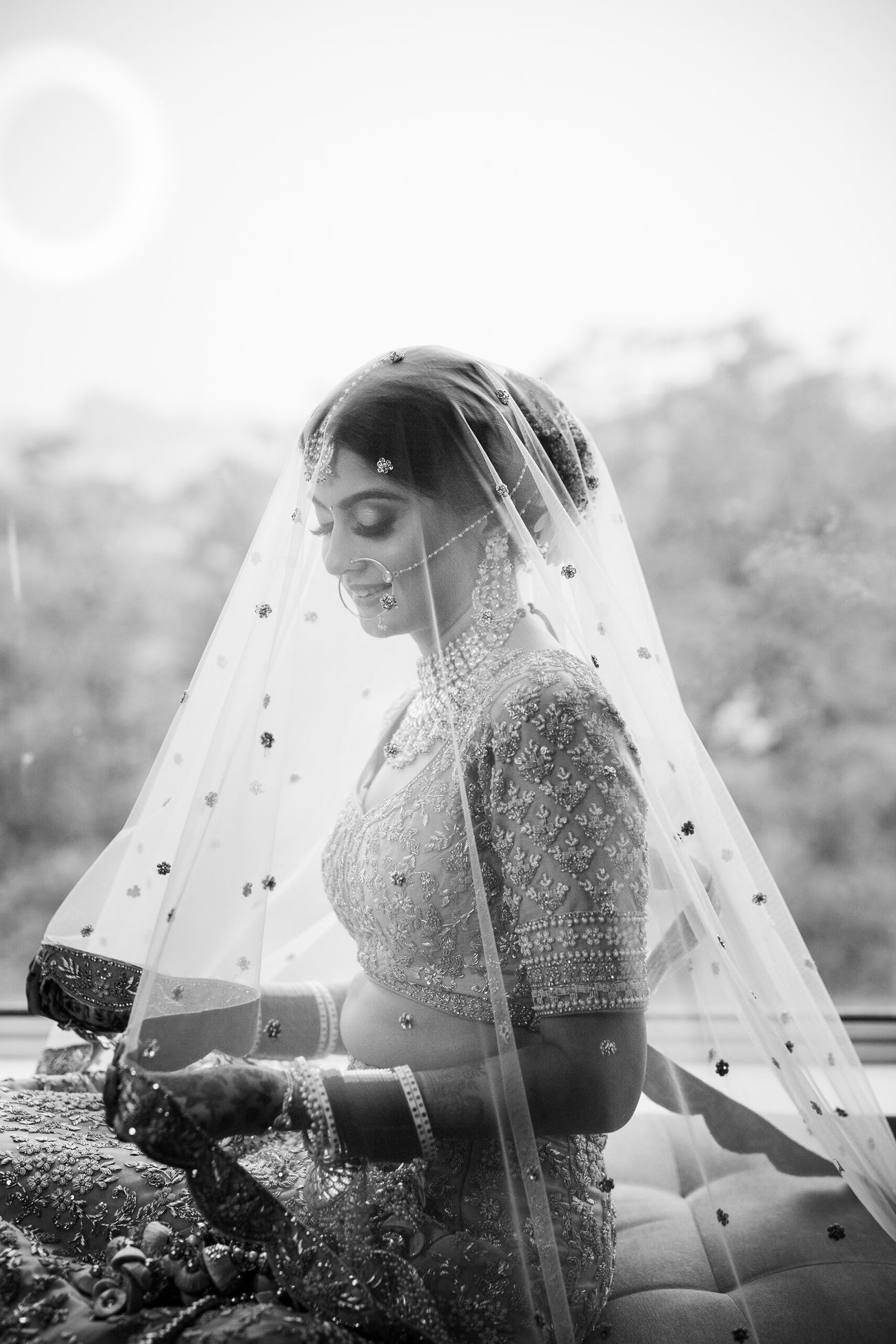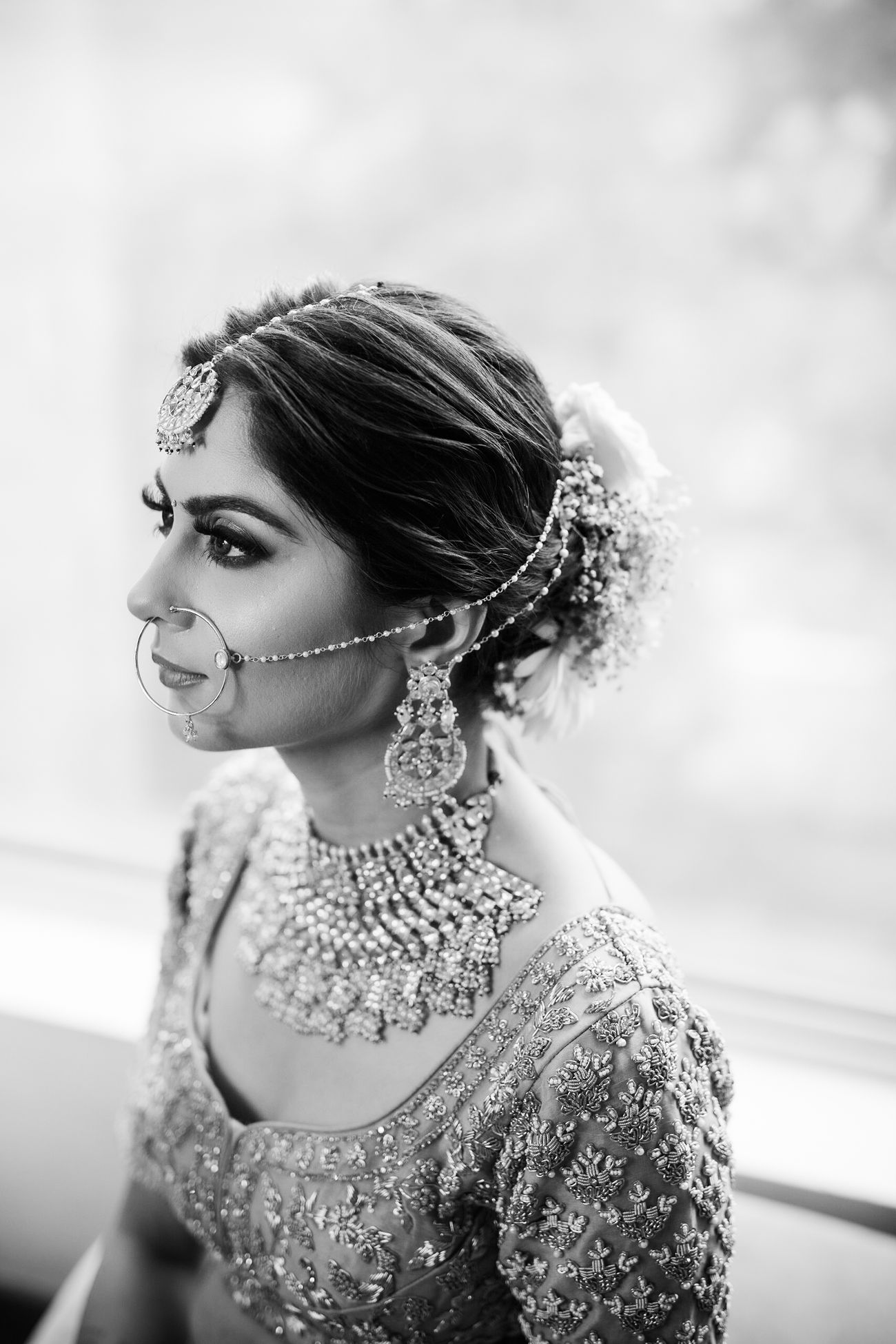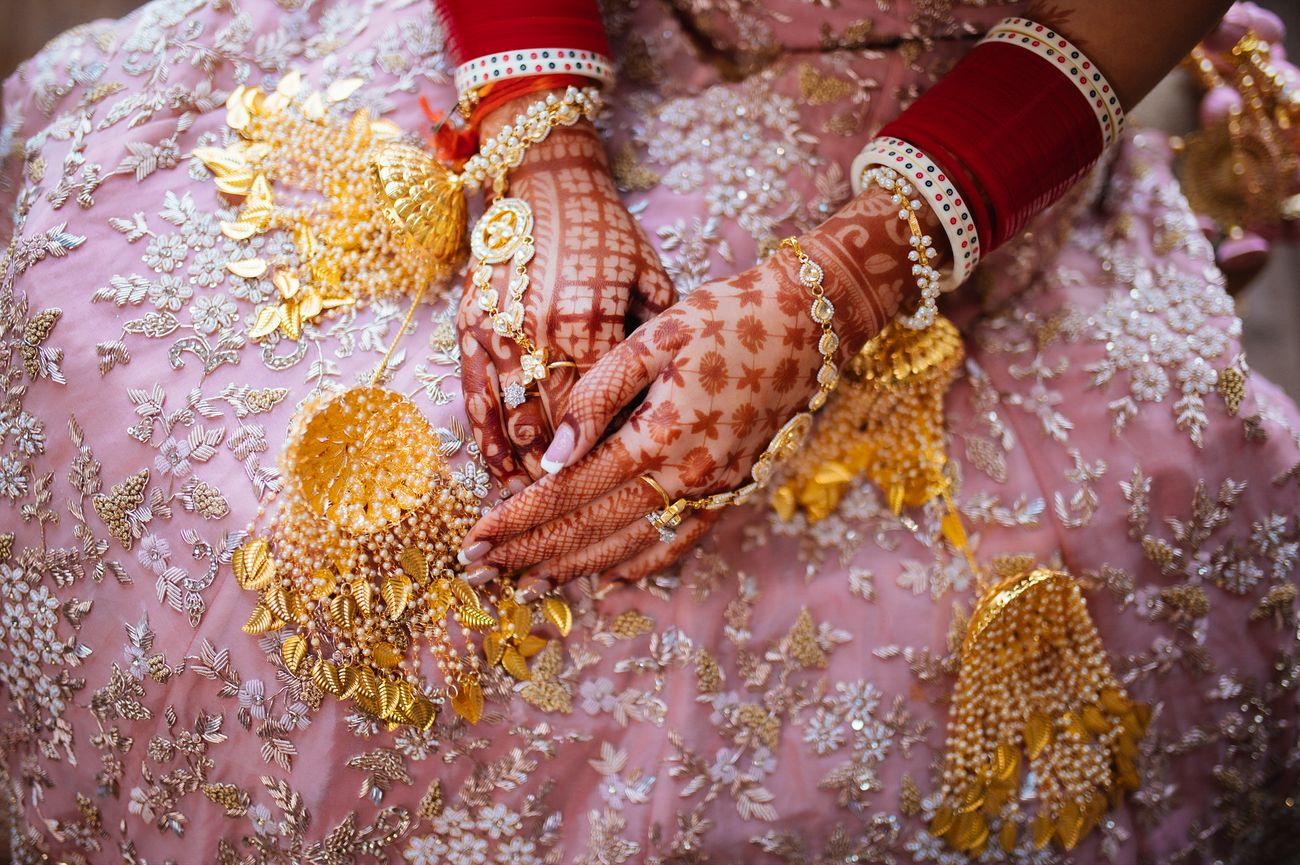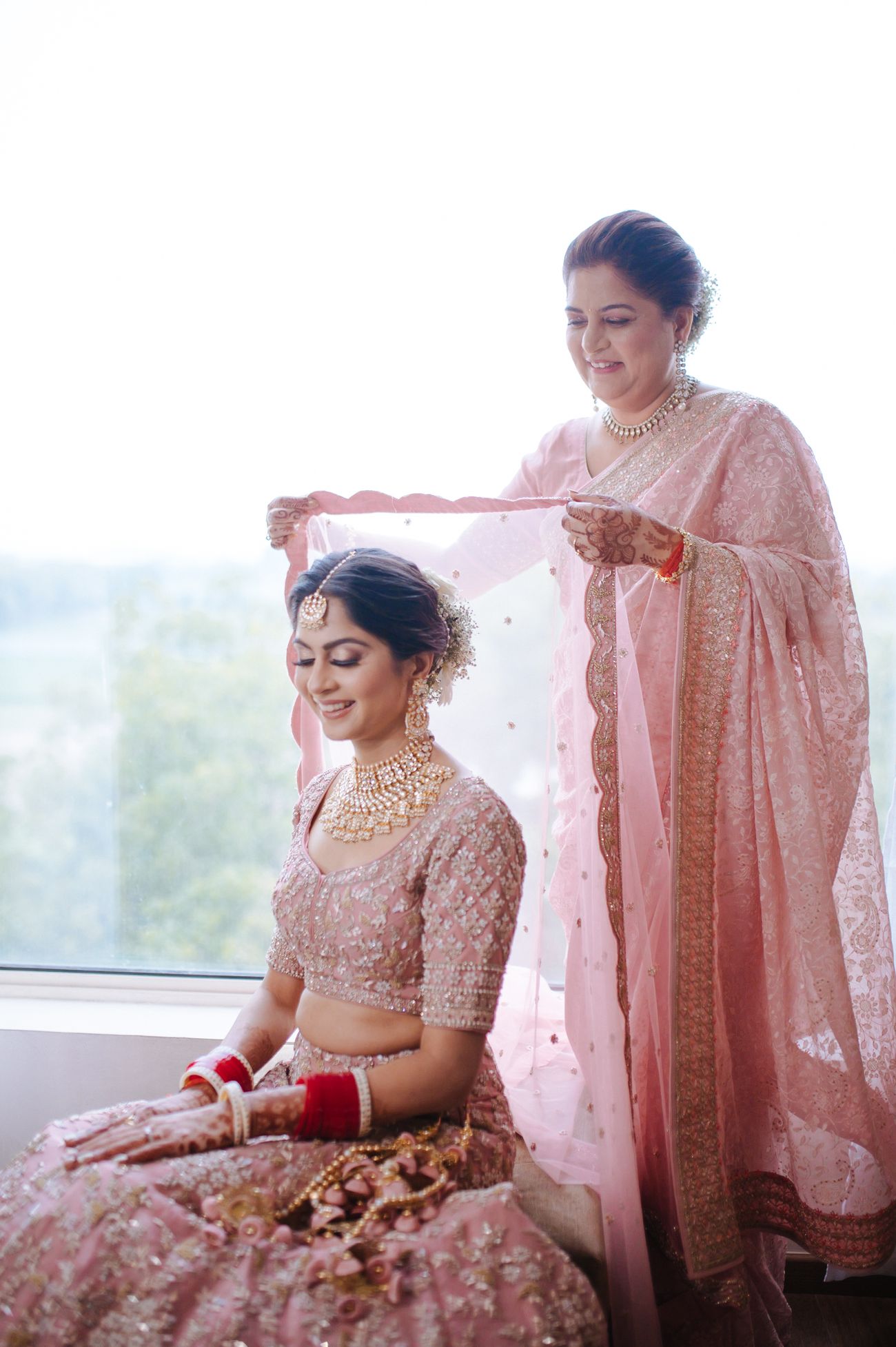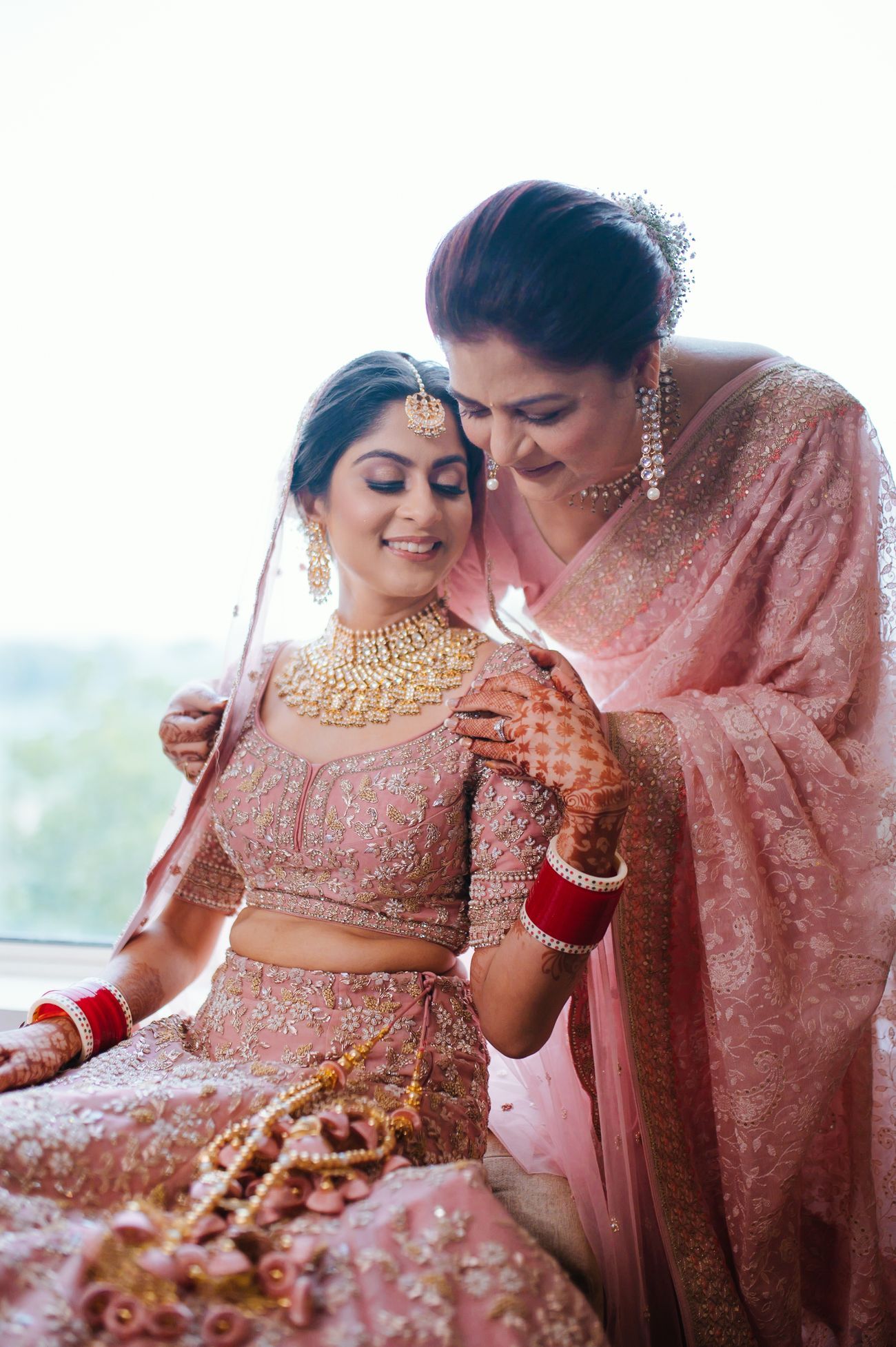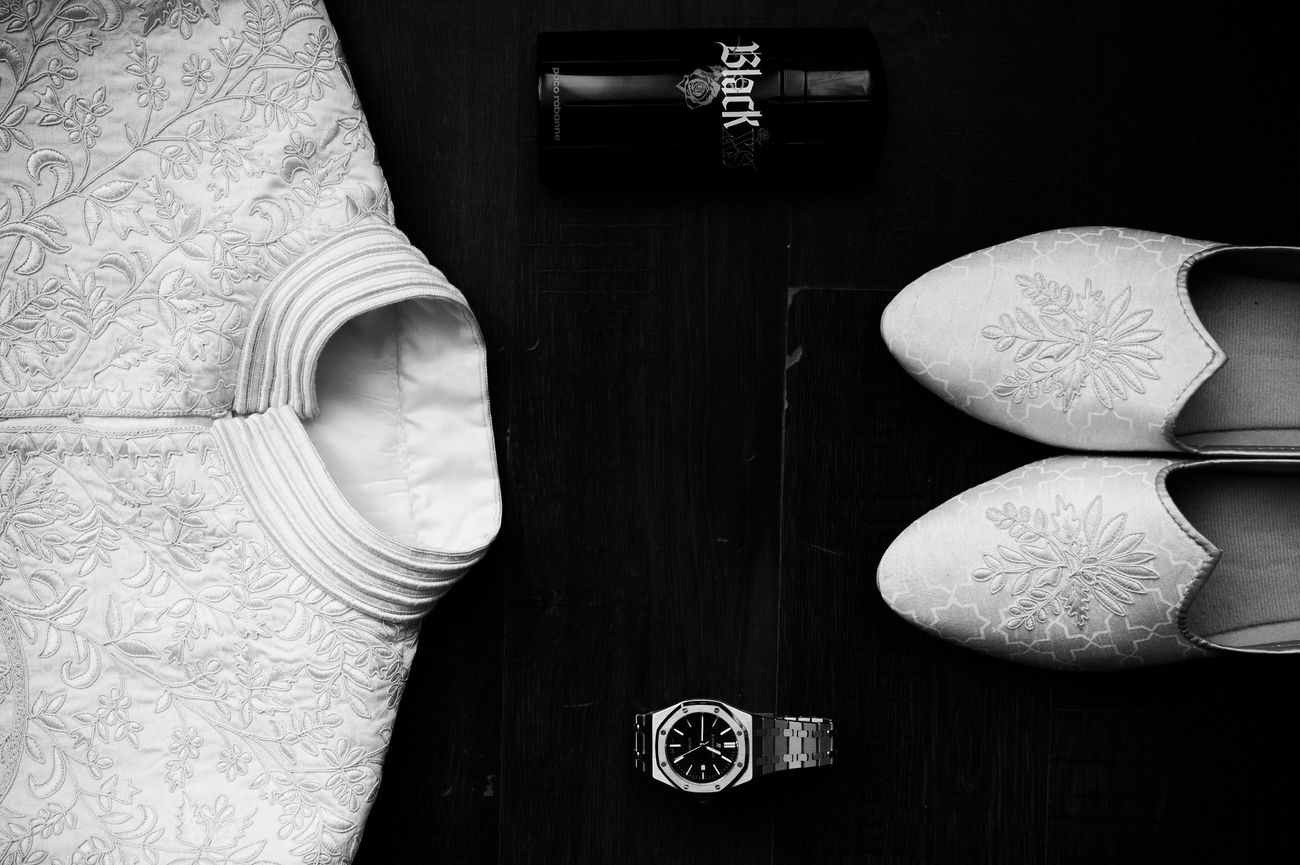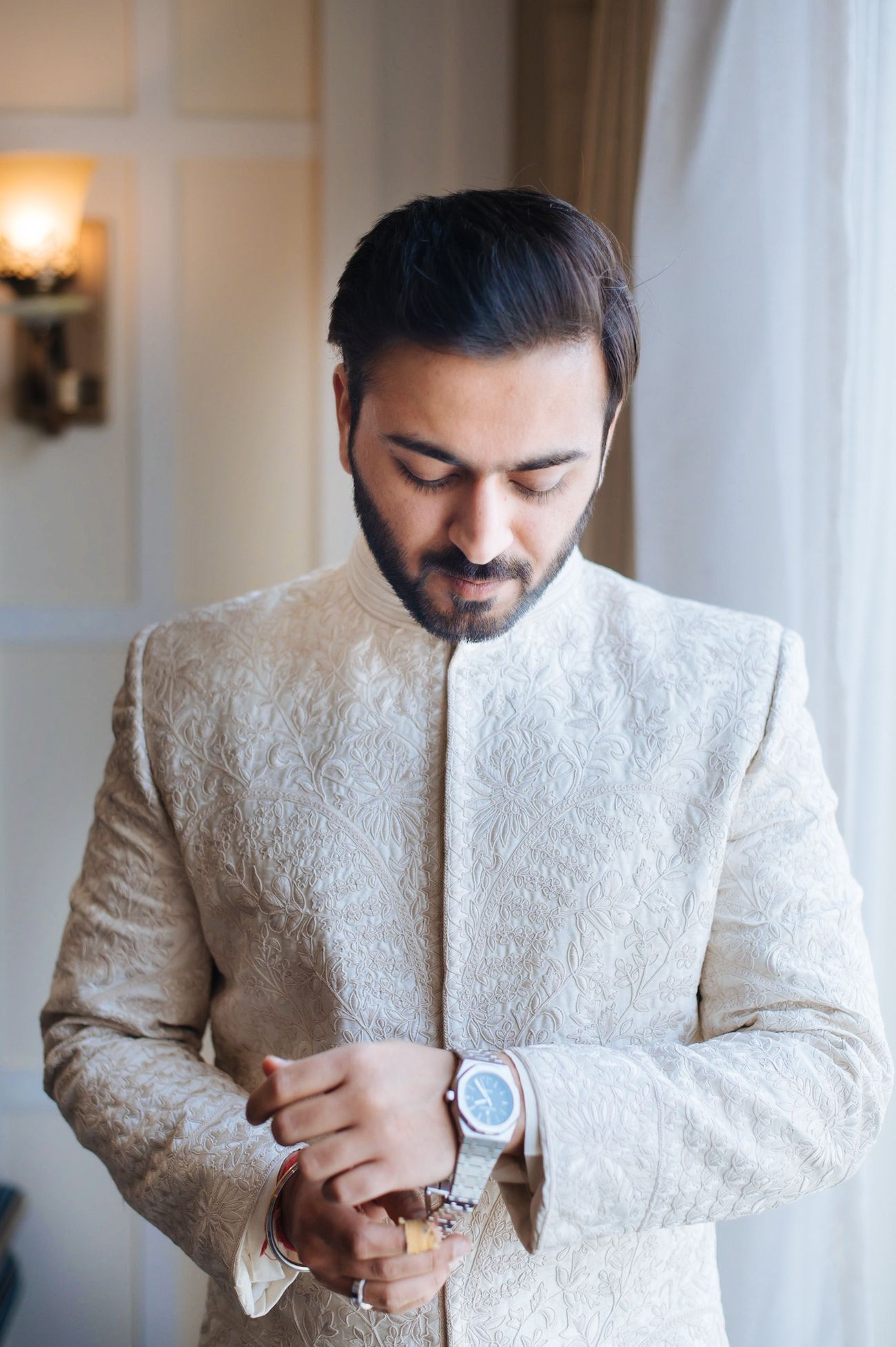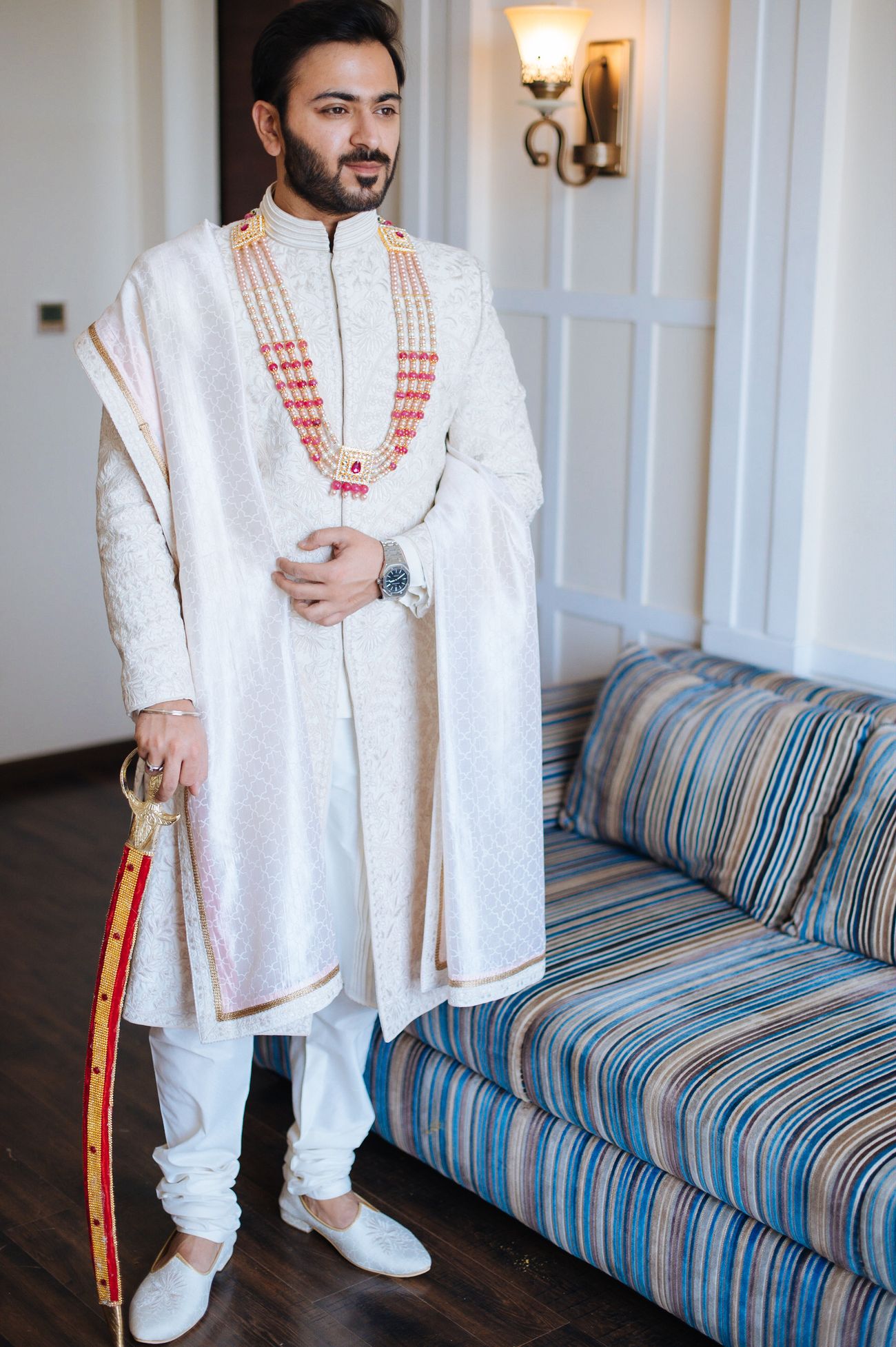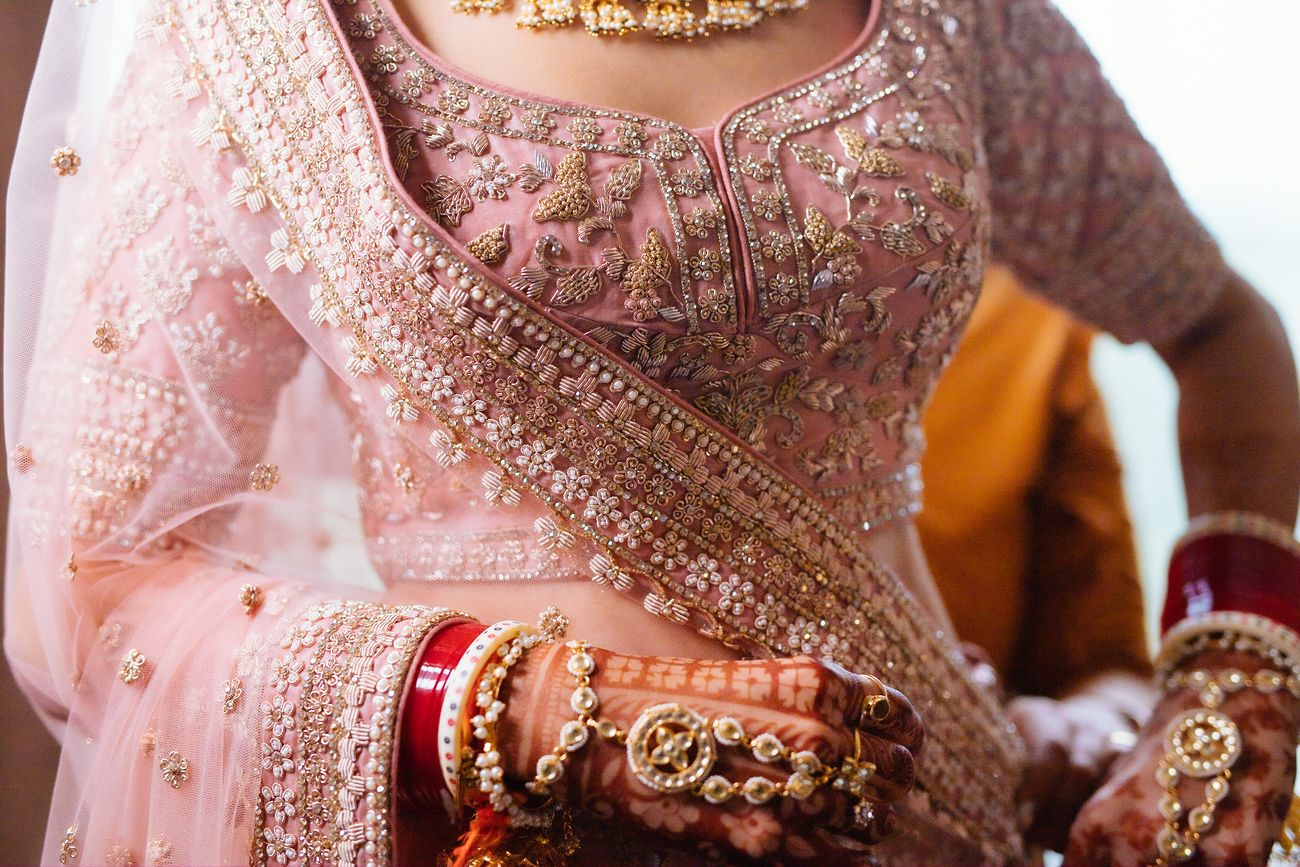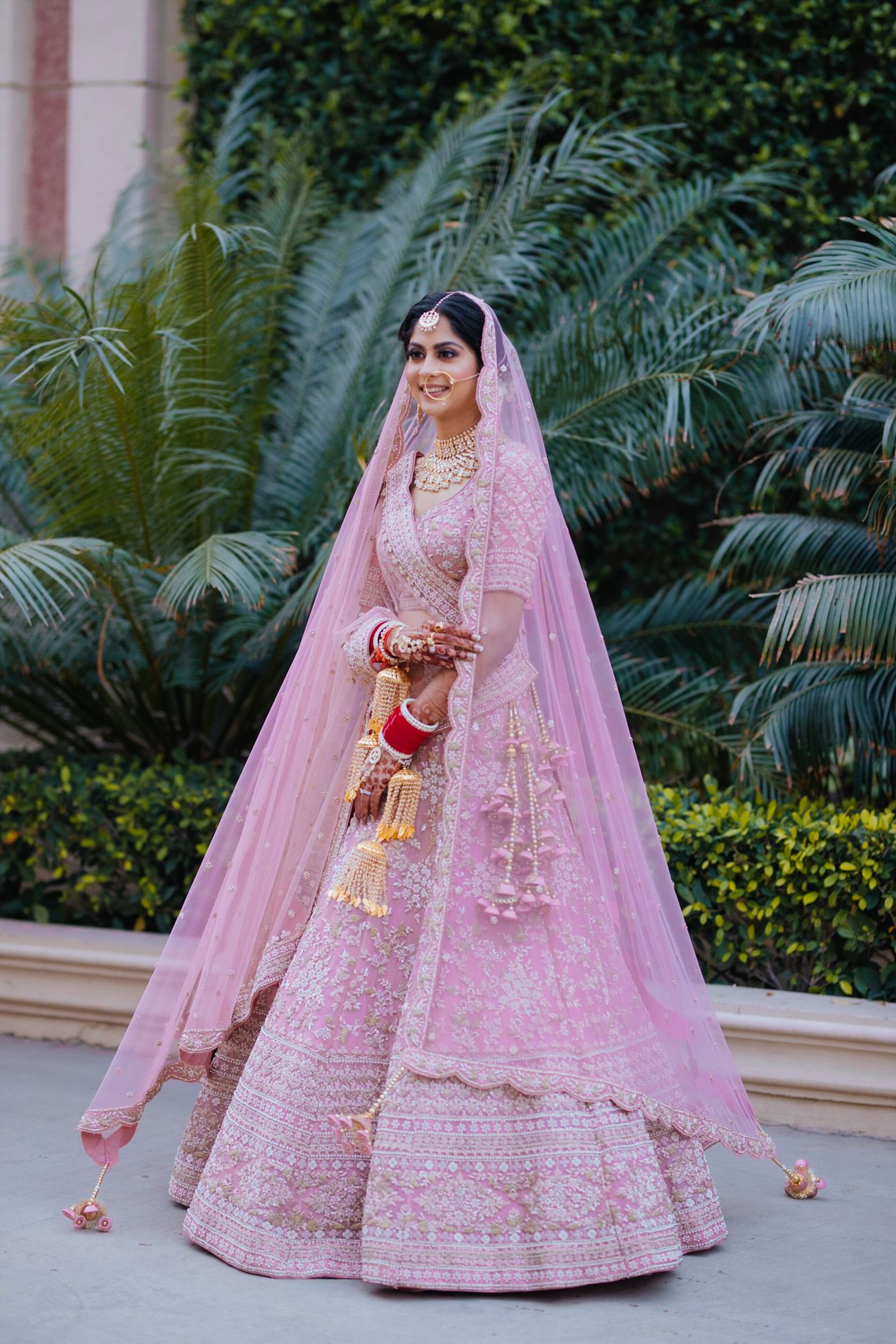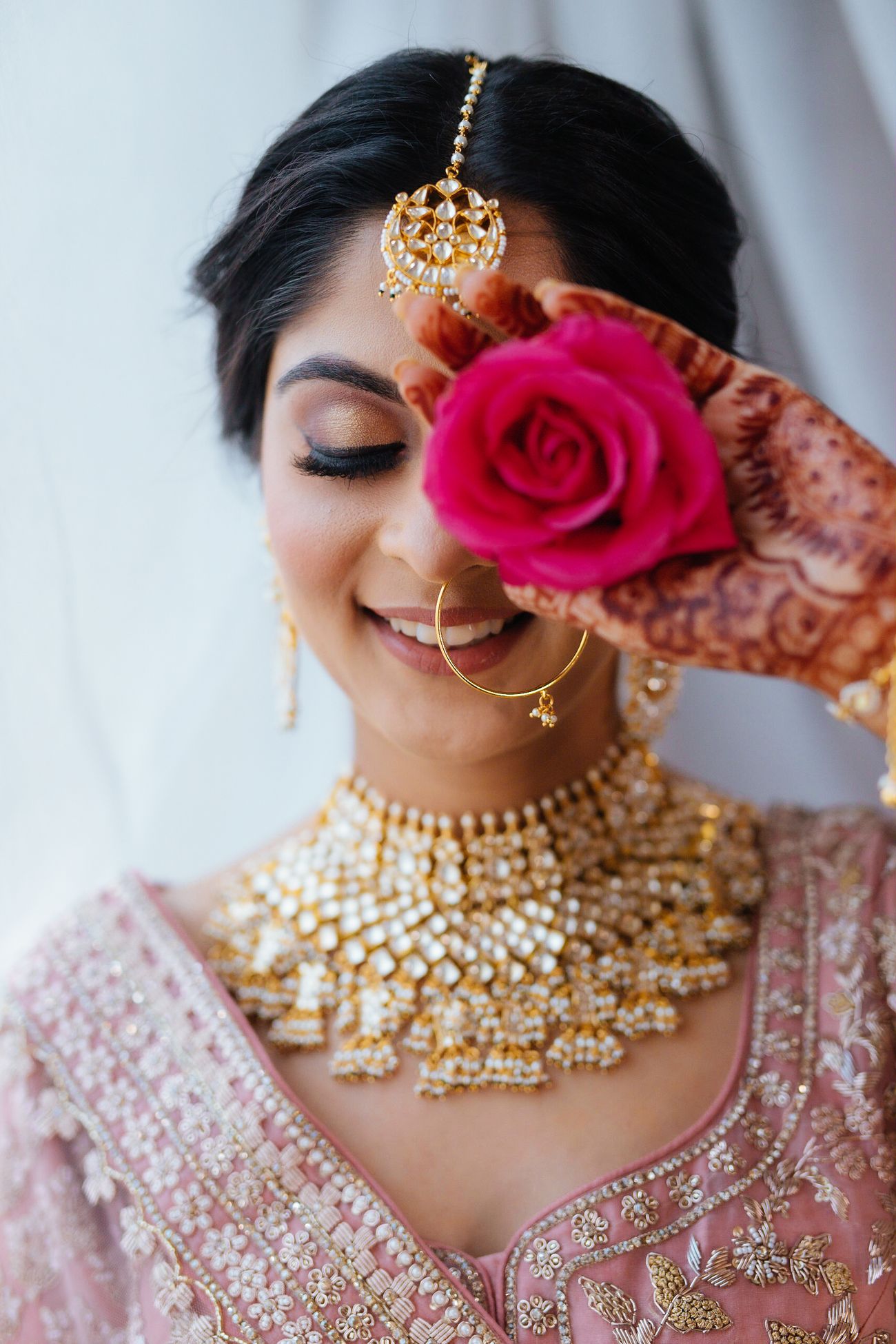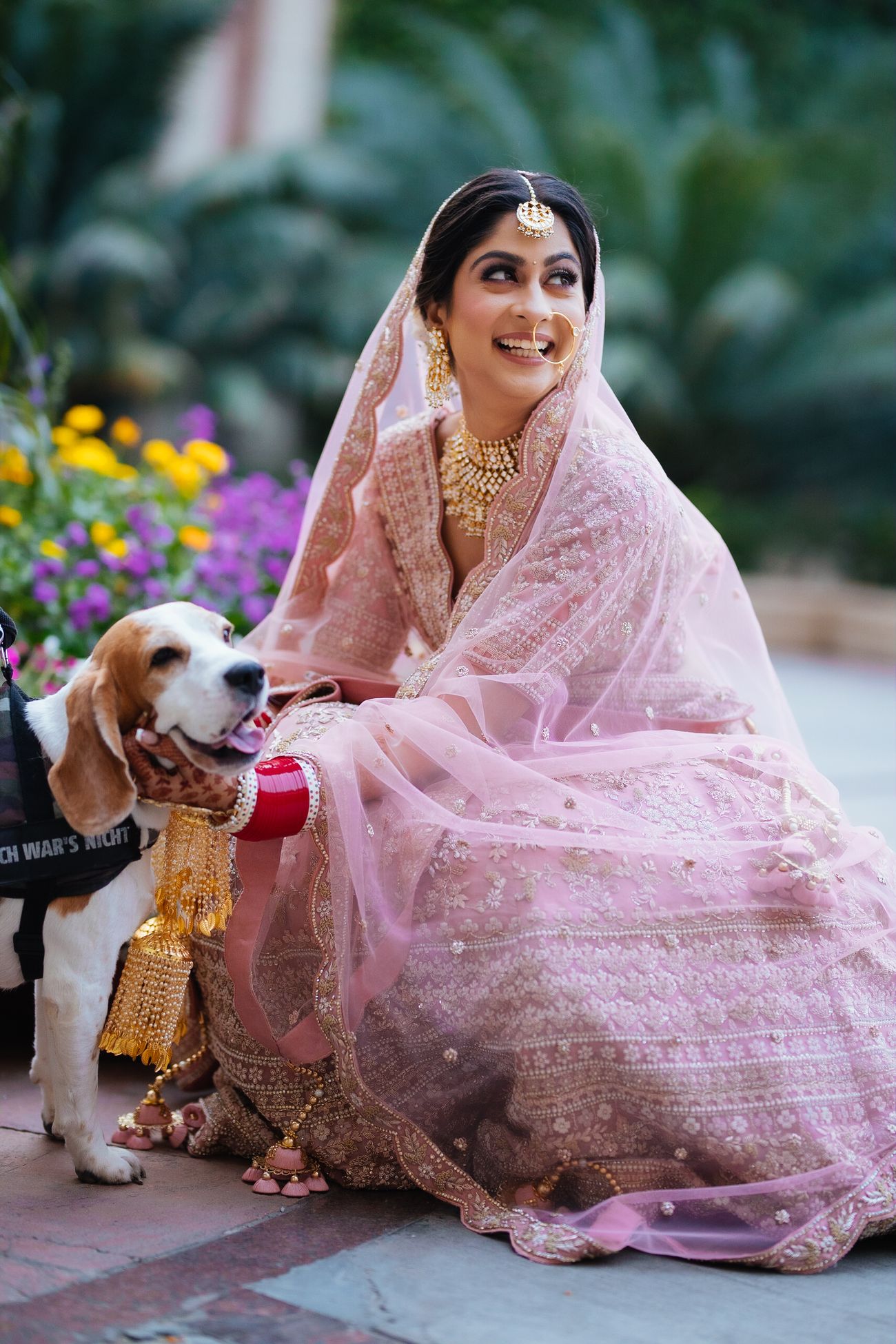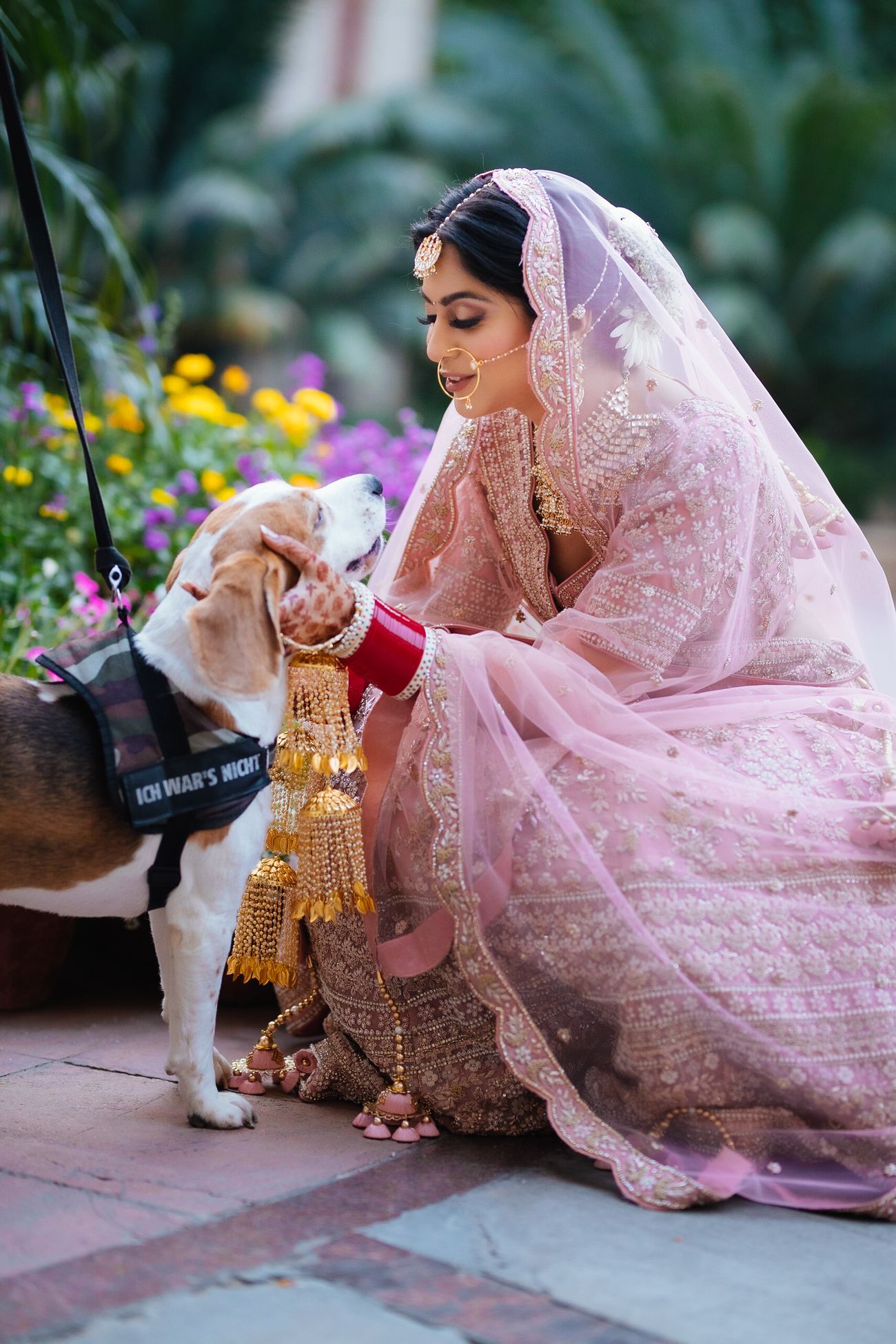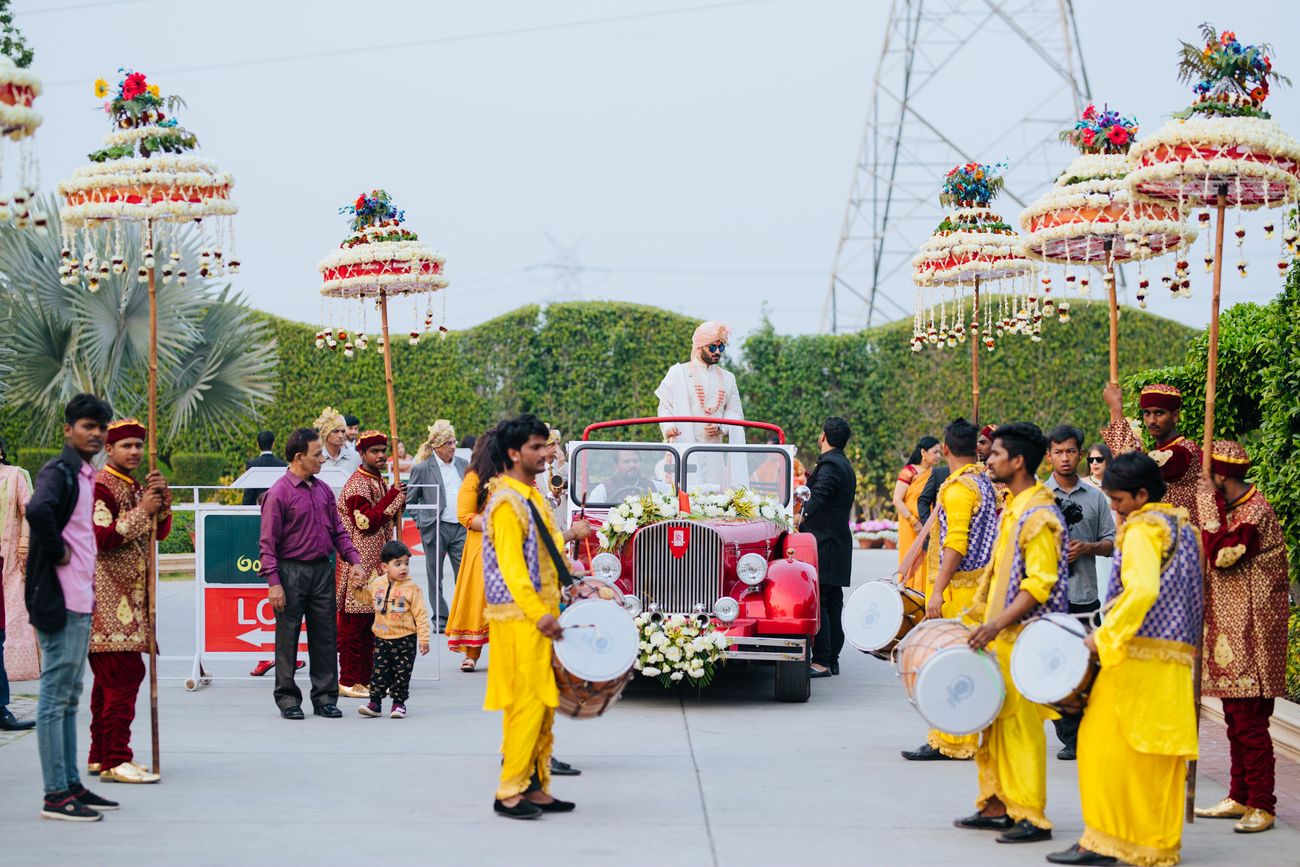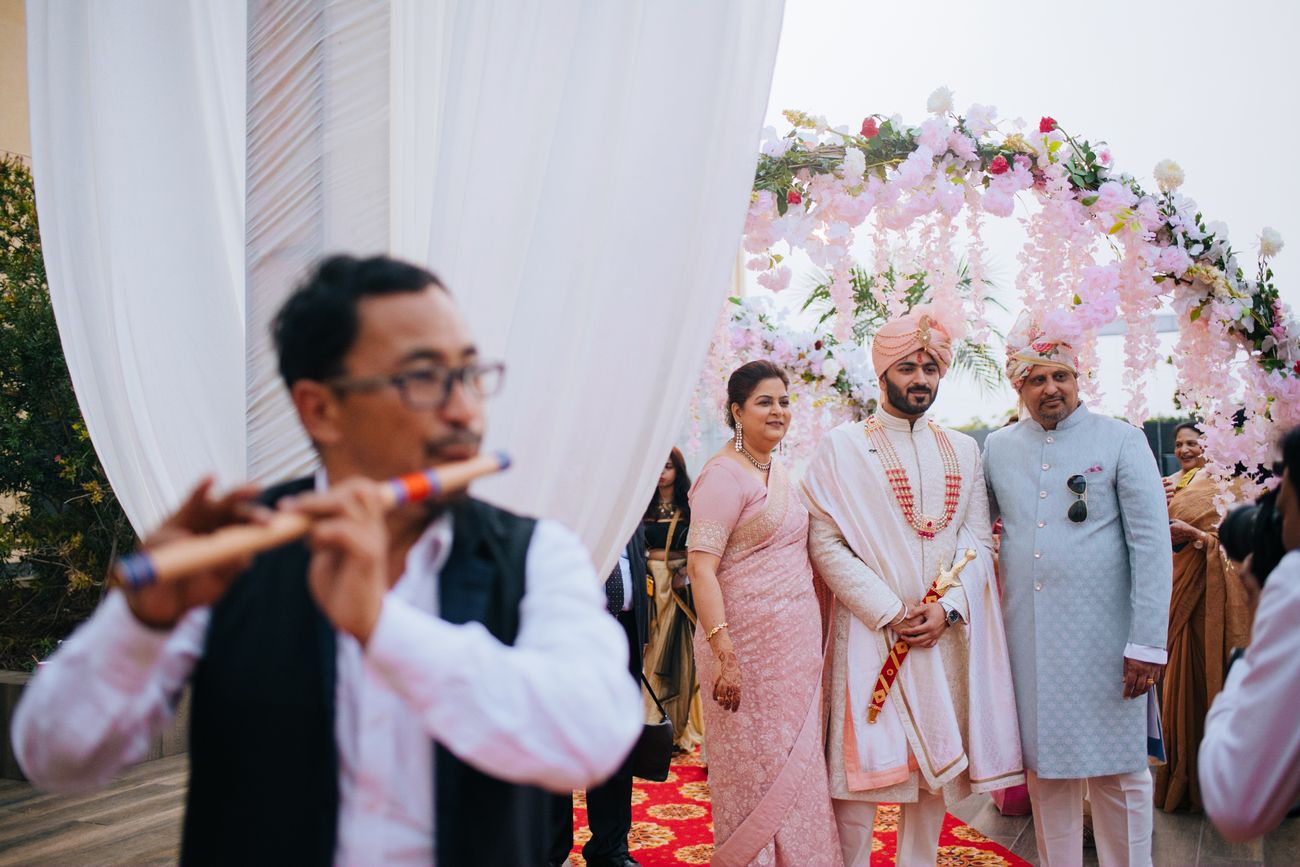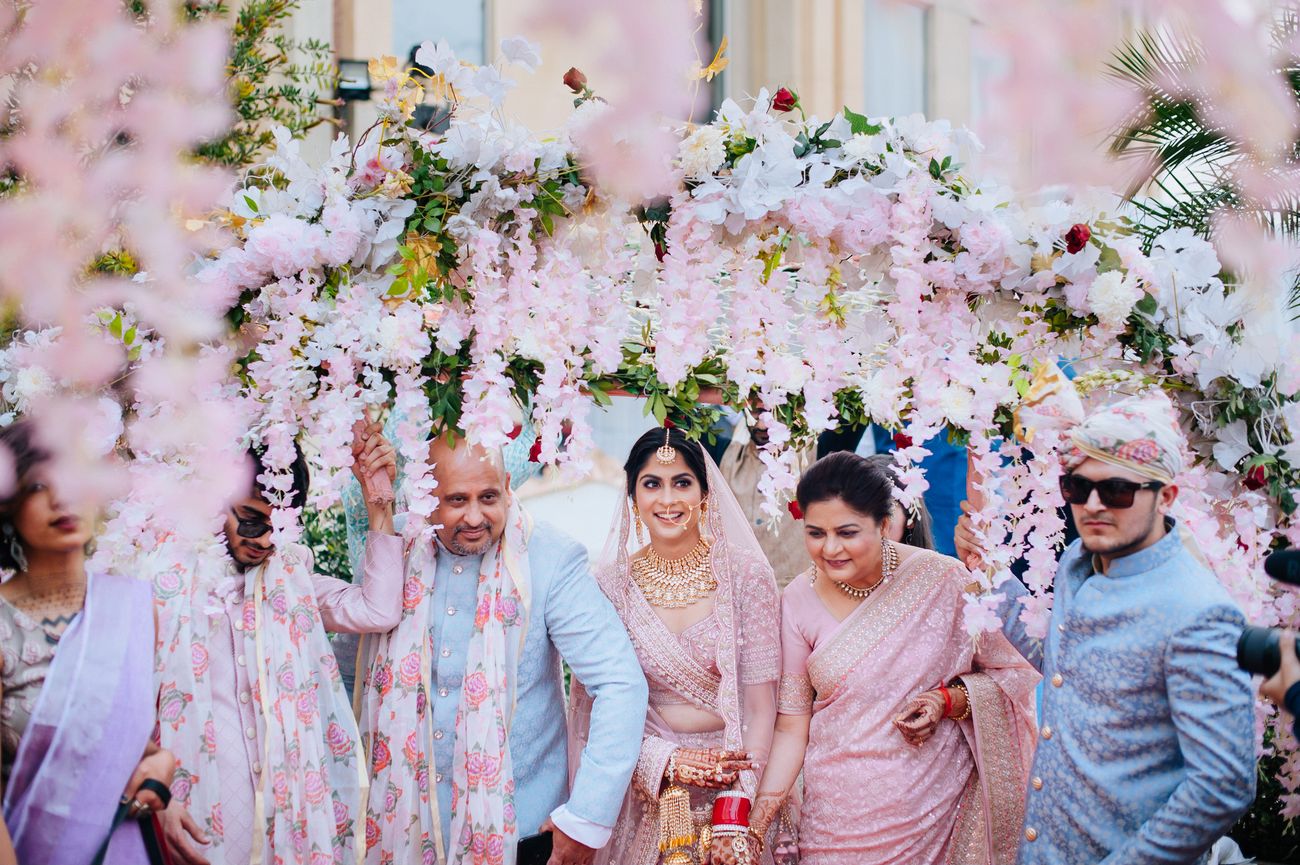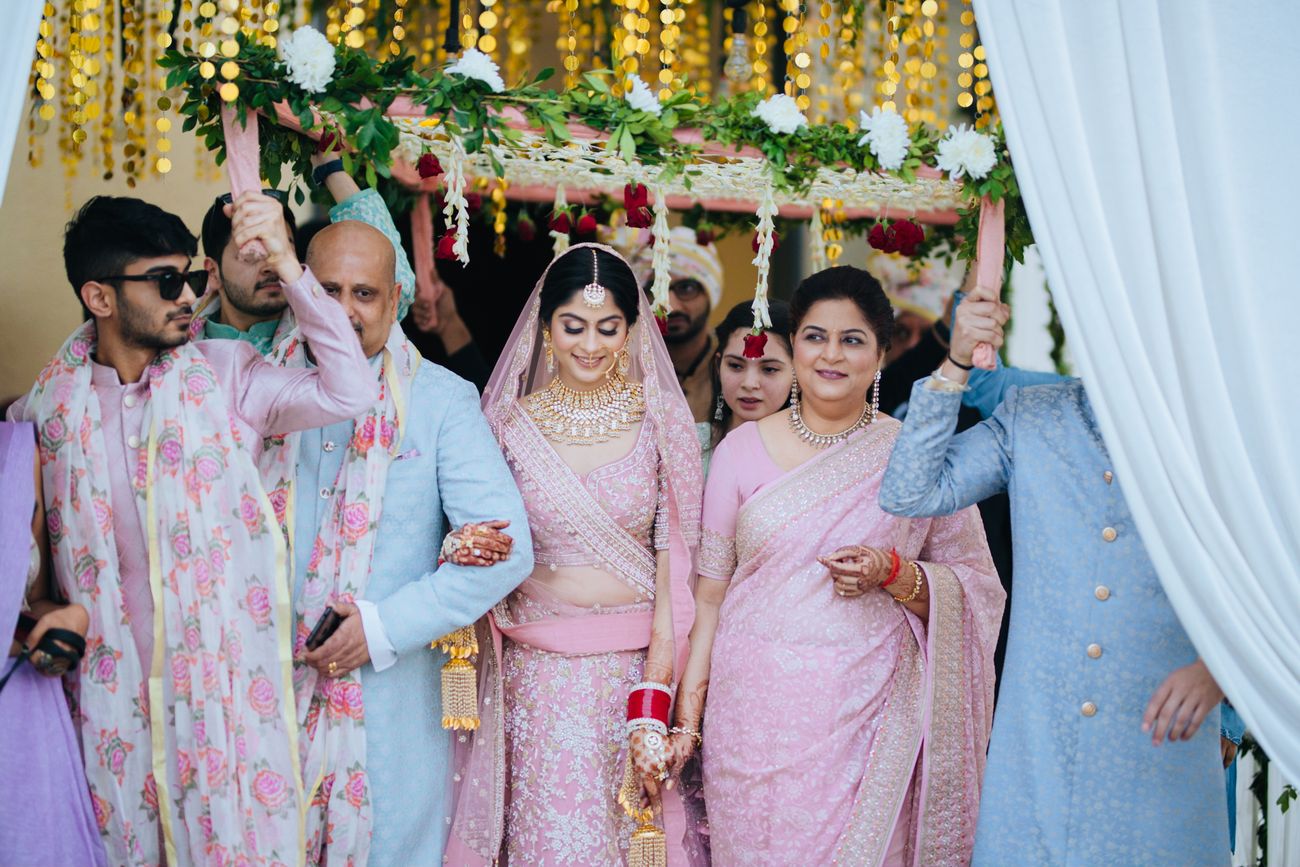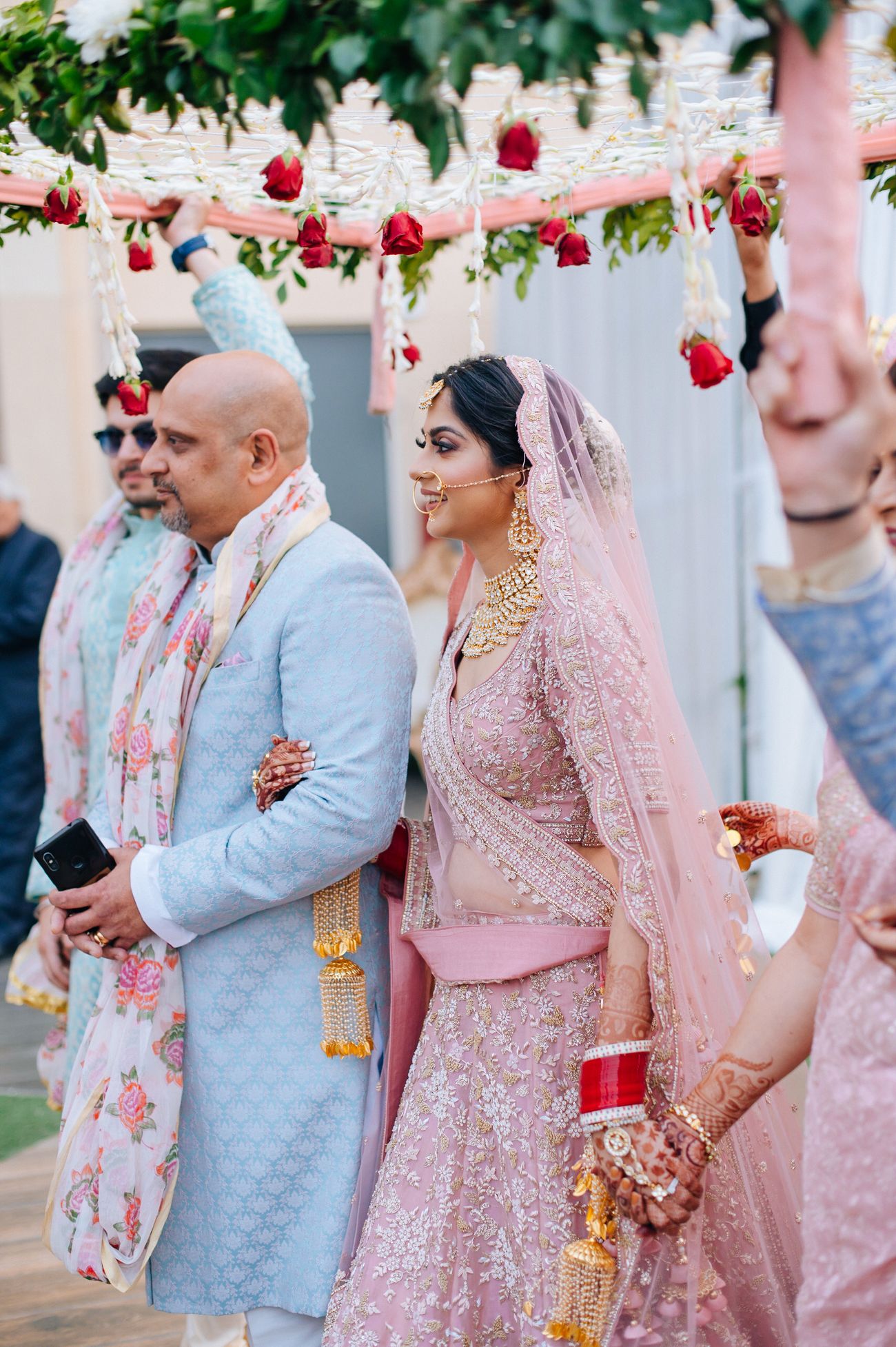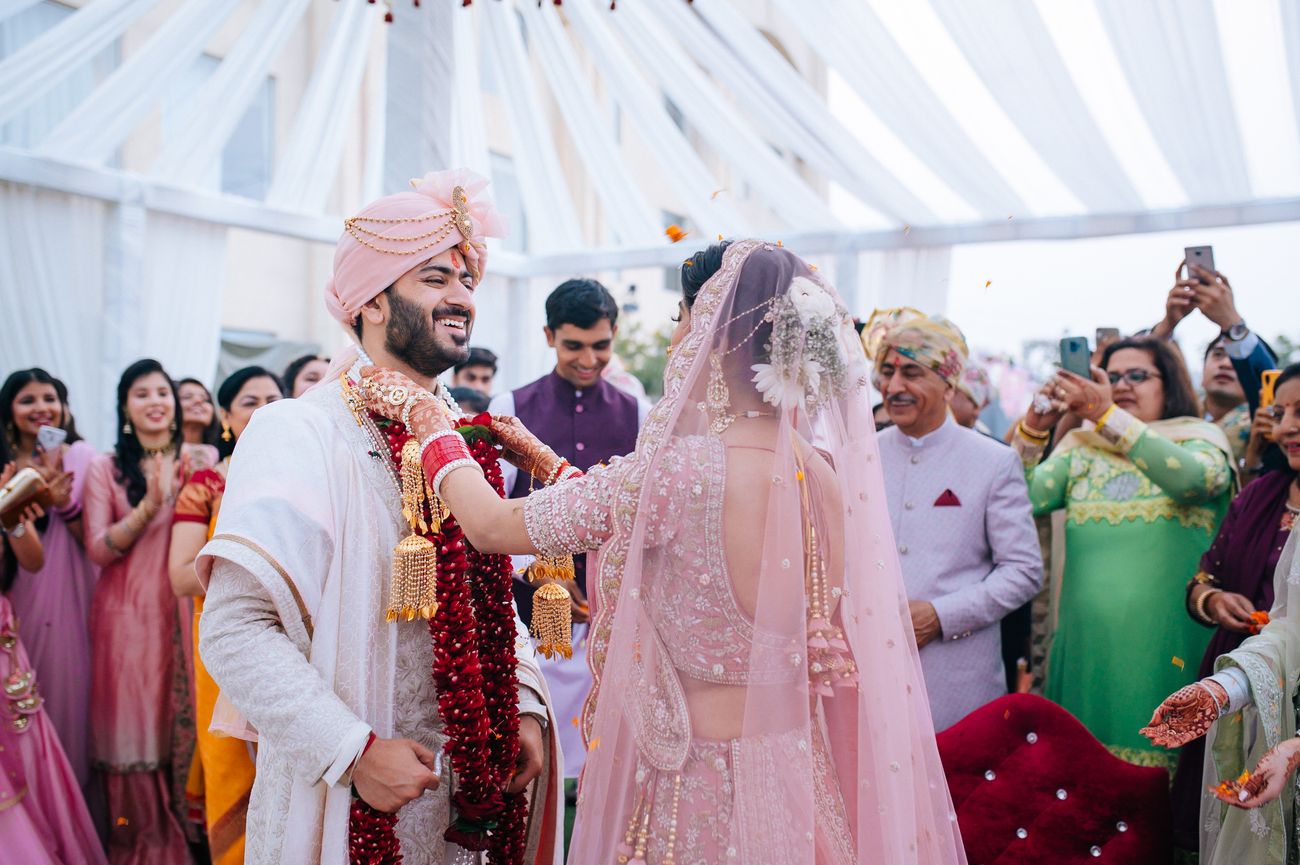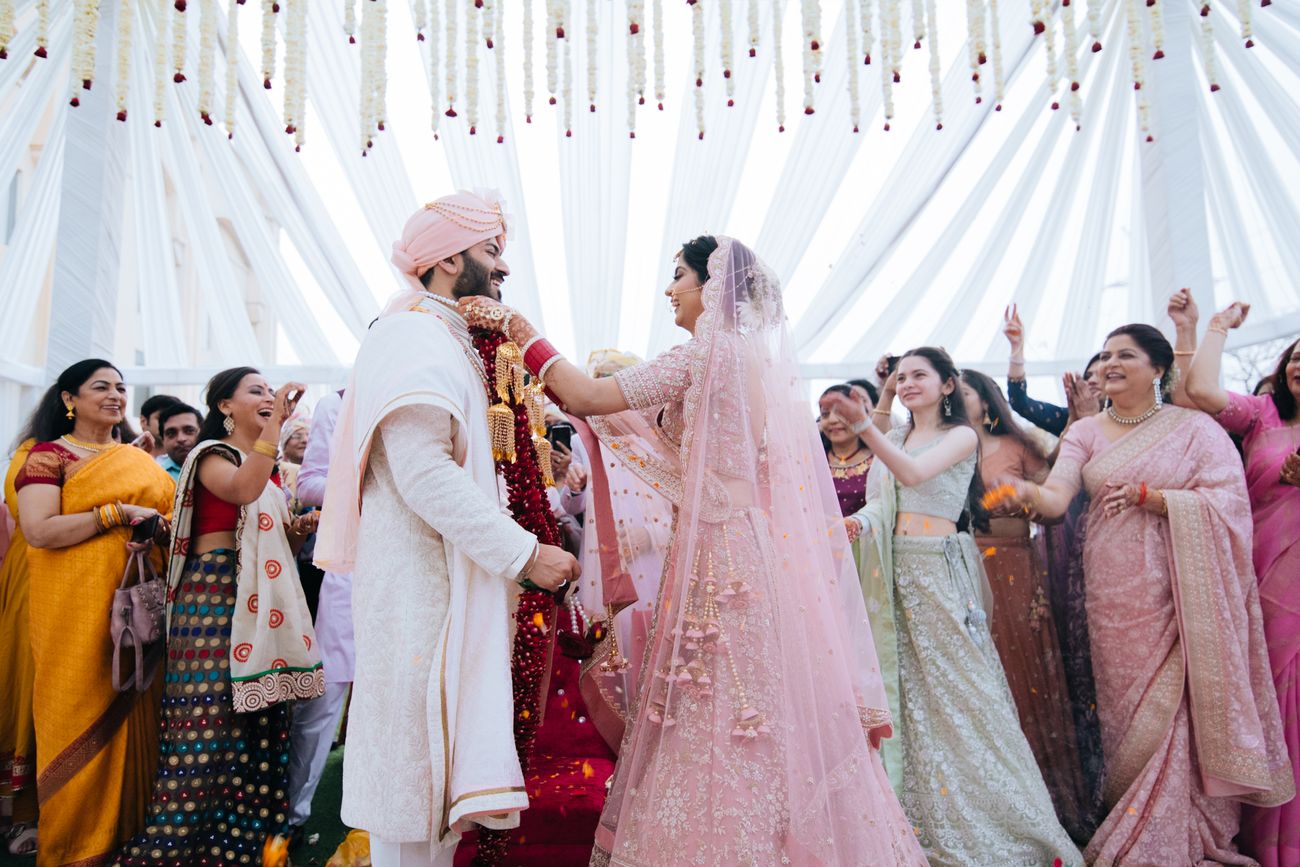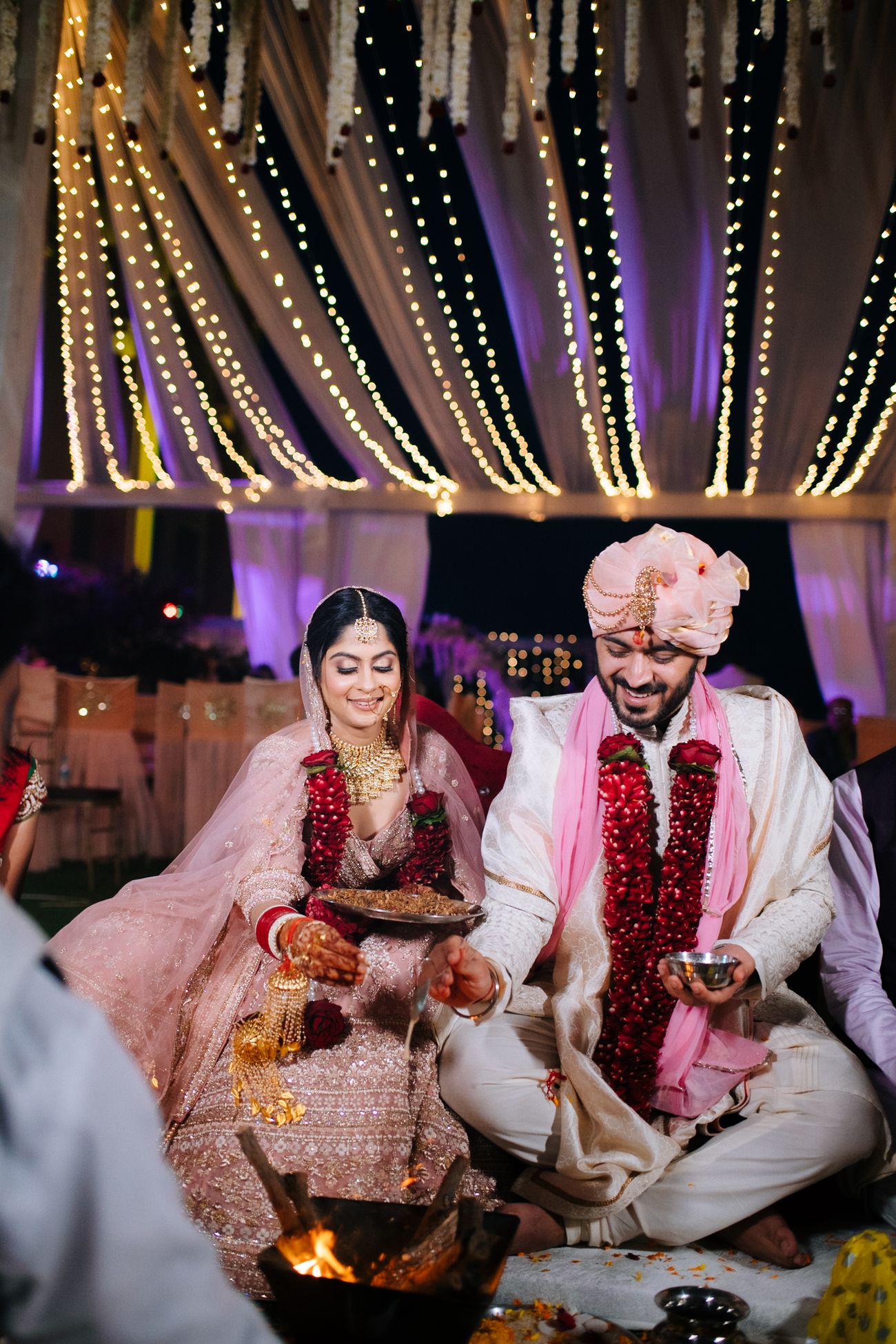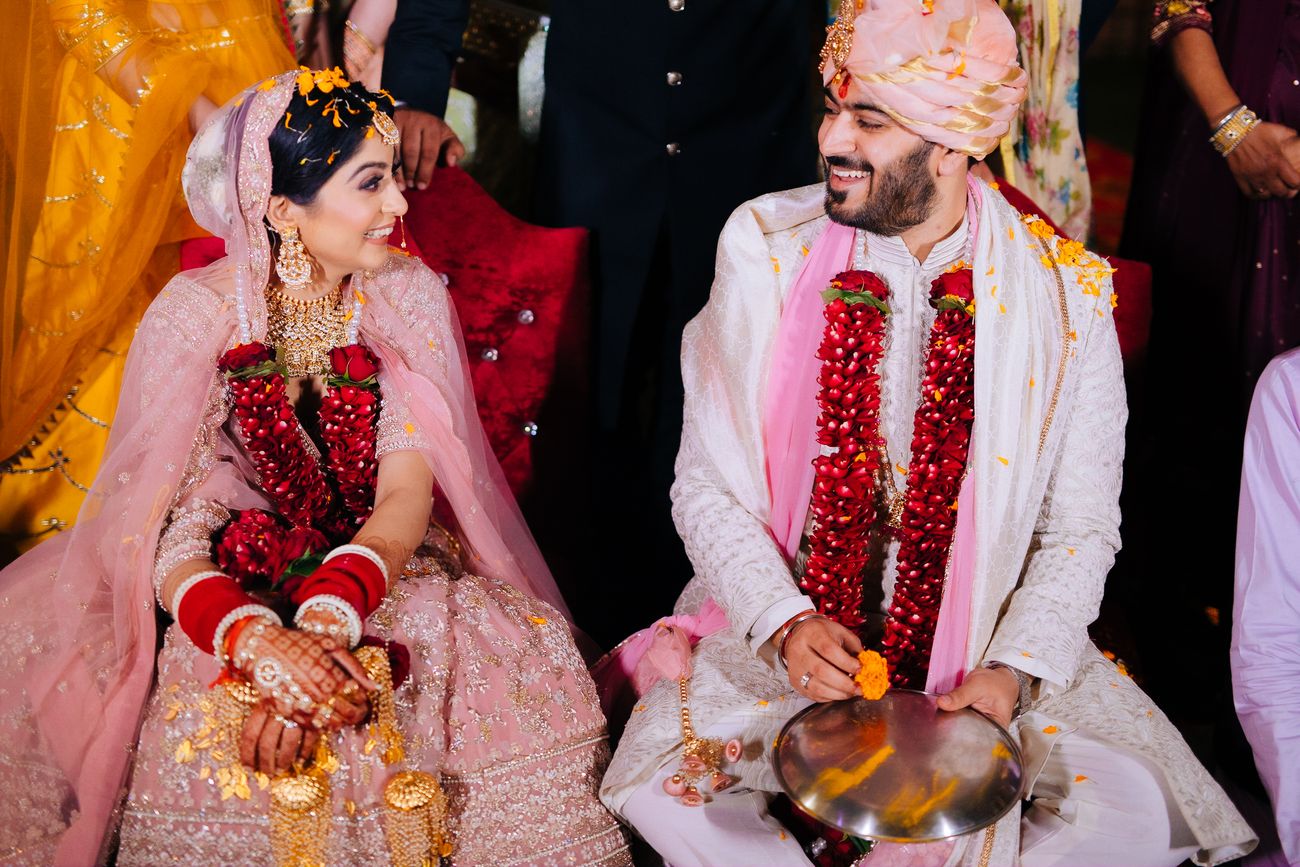 The Reception
Finally for the reception, I went for an oxblood Anarkali with a draped dupatta complete with a kundan choker-set. Paras went for a black achkan finishing the look with a kani shawl.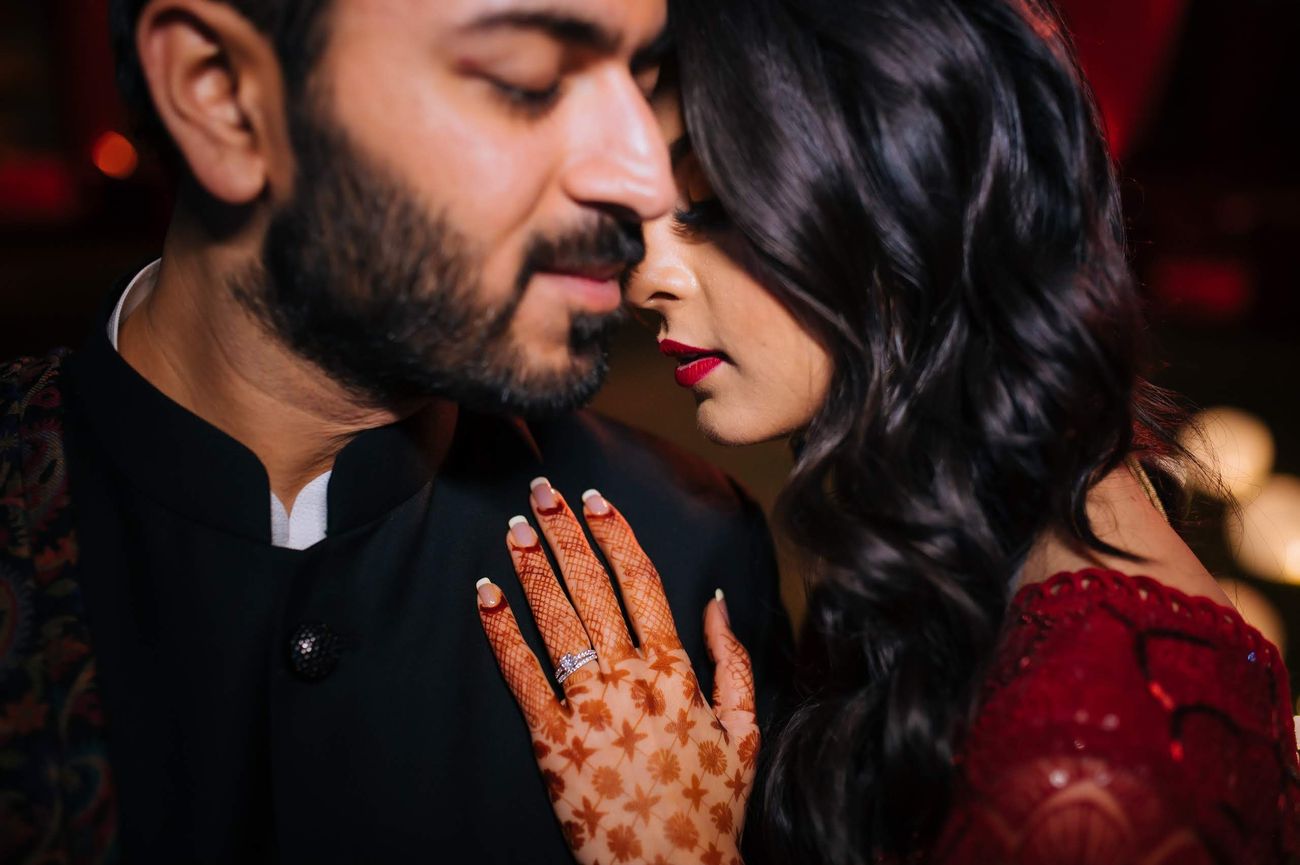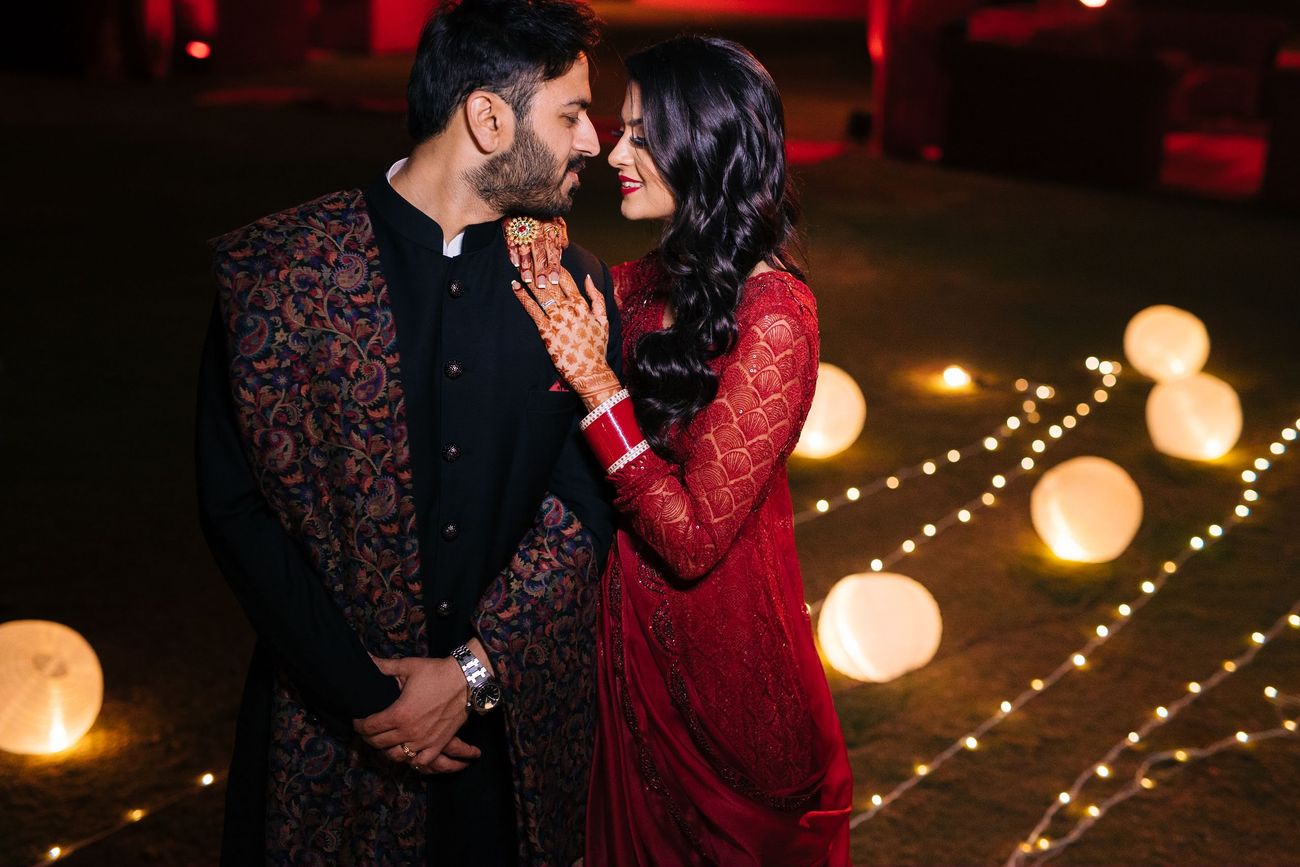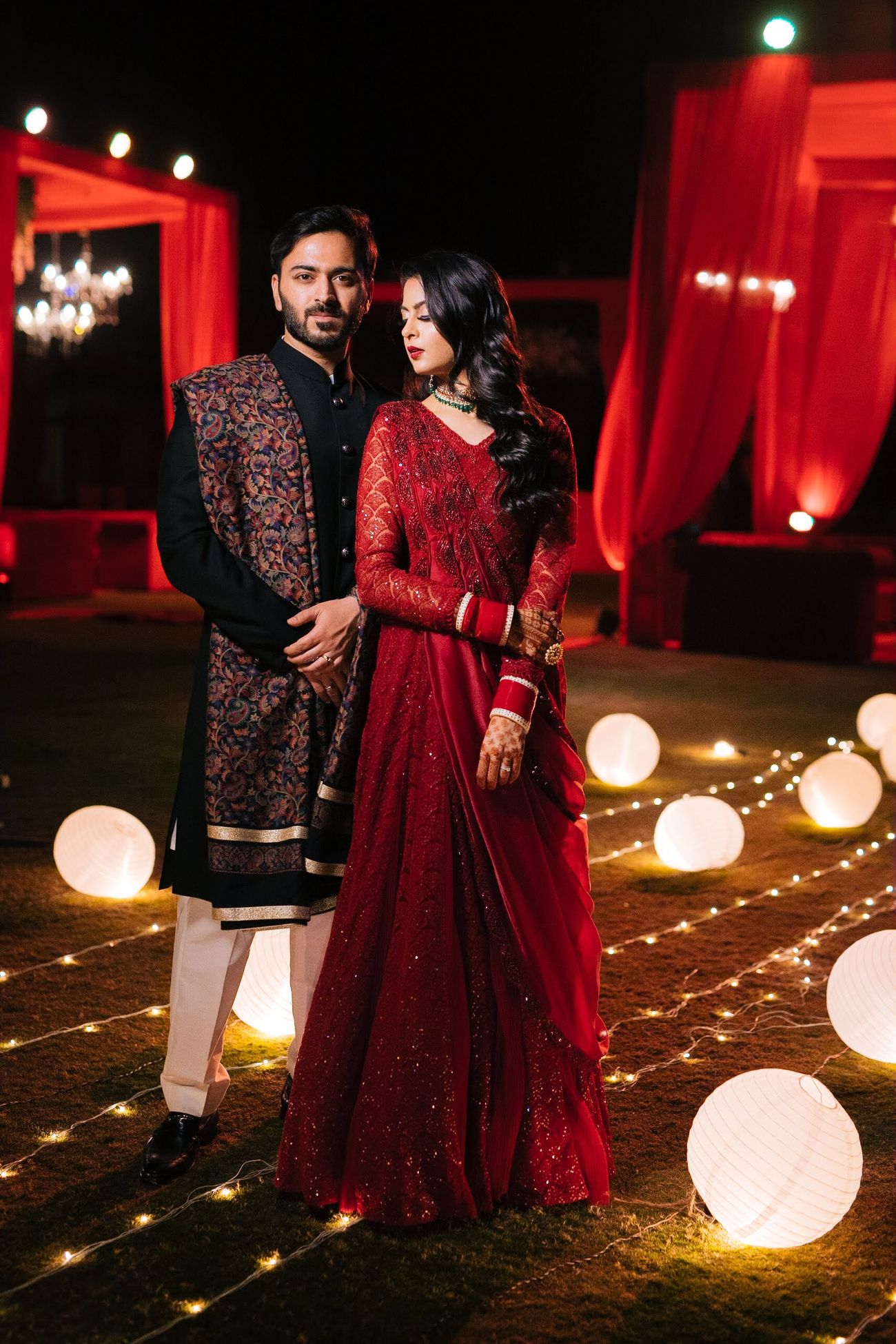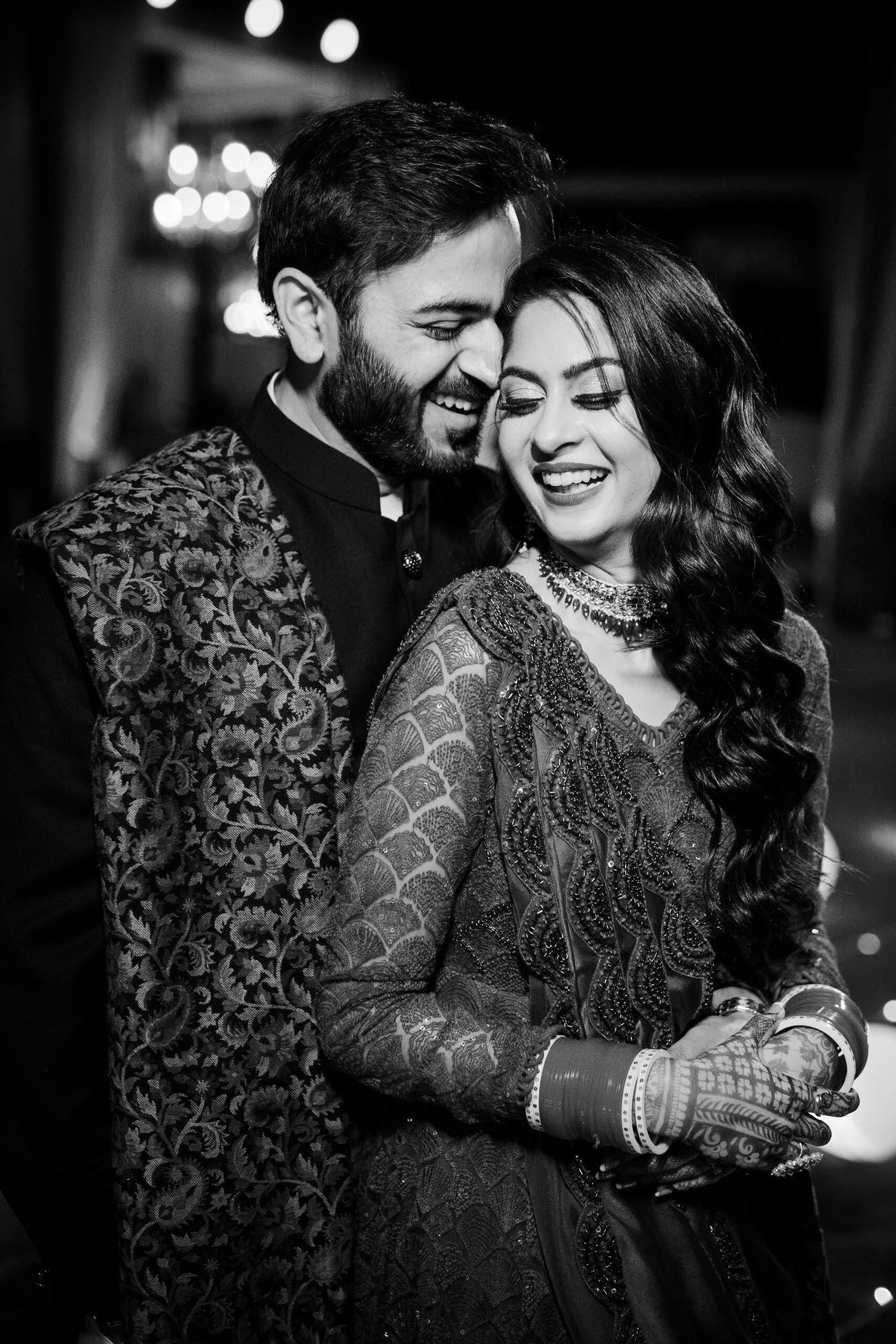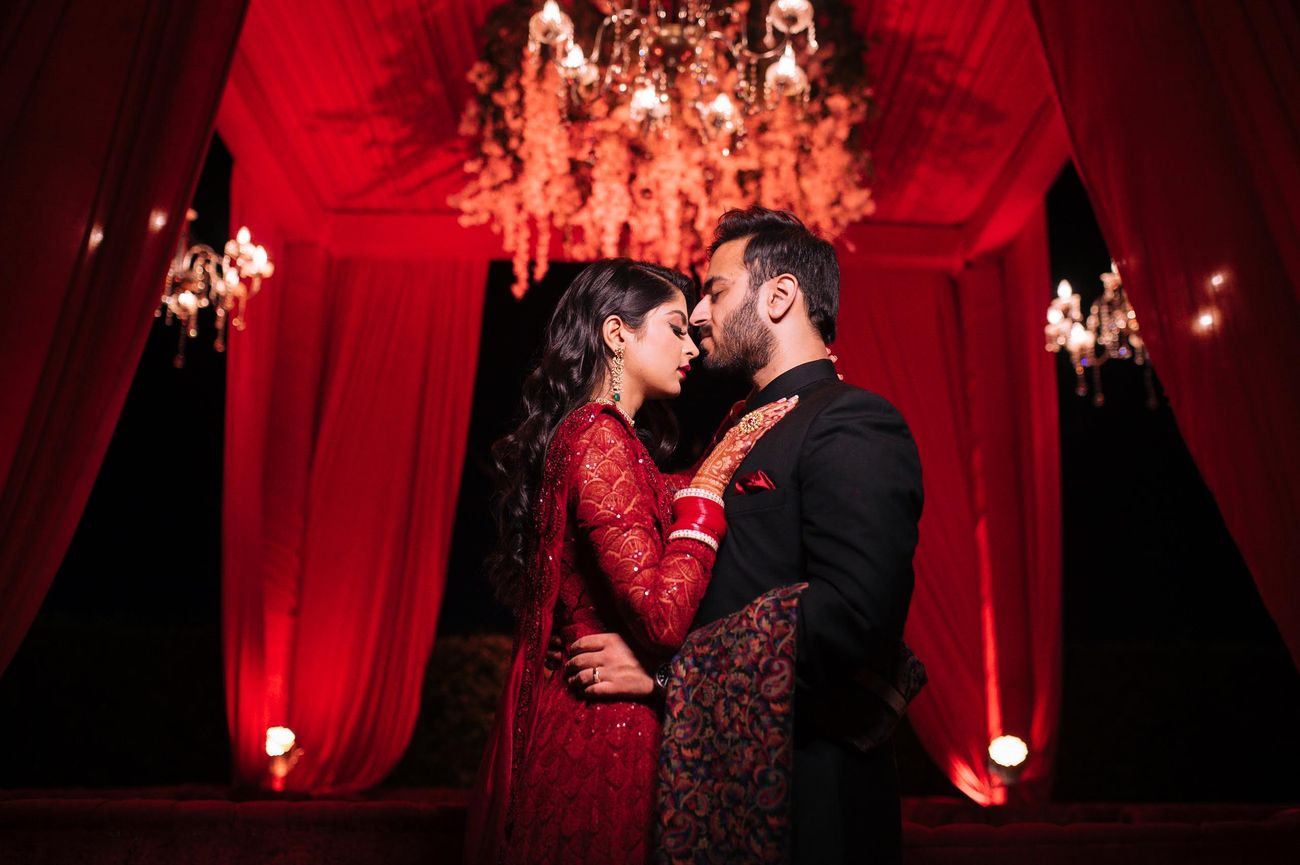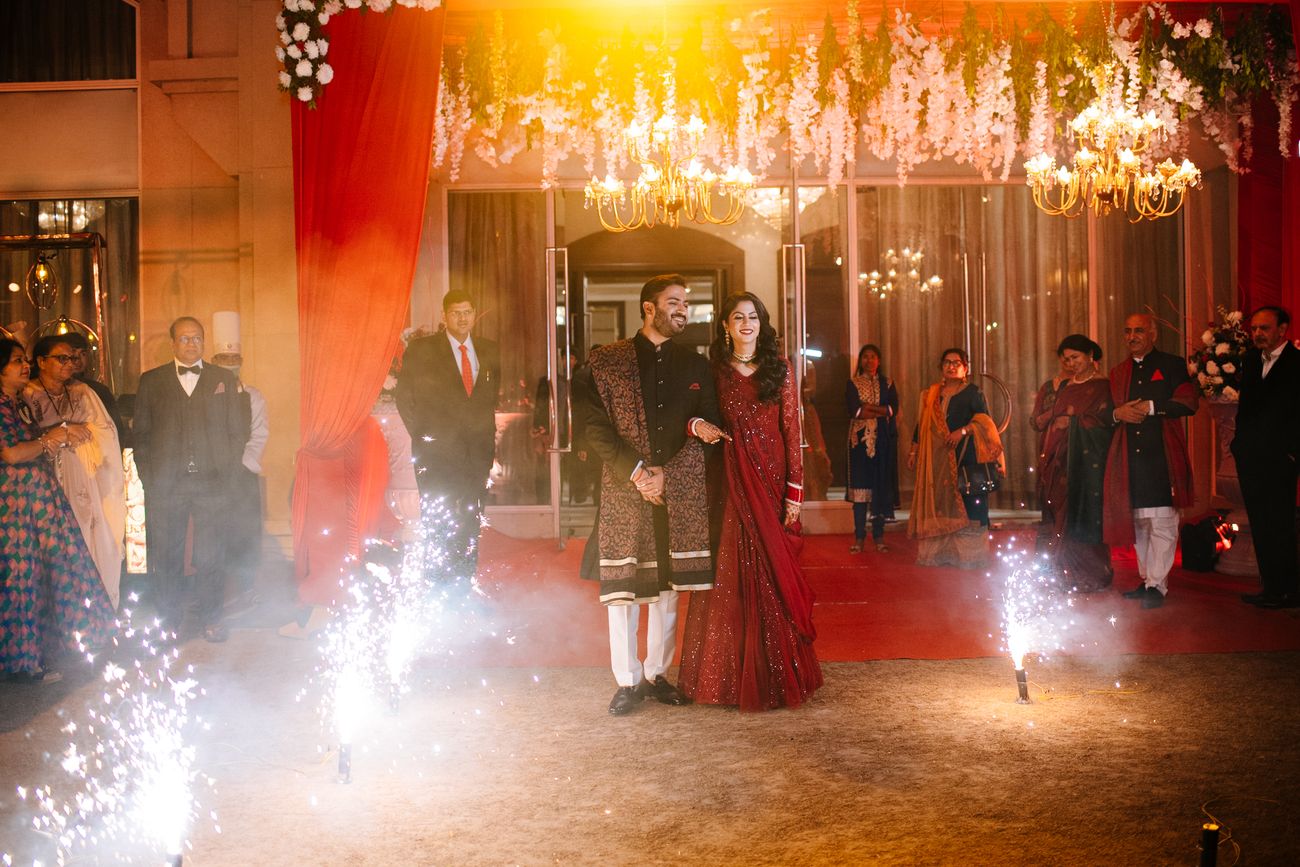 From The Couple
We both took on the mammoth task of planning everything on our own! Oh boy, was it a rollercoaster! It was the ultimate group project. We primarily followed one simple rule for all the major decision-making. We first sat down together, discussed at length what each of us wanted – got on to the same page and prepared our script before we presented it to the parents.  Fortunately, both of our families let us steer the boat and were happy to go with the flow. From the venue, décor and the clothes to the design on the DJ floor we pretty much did all of it together. It was intense and stressful at times (Paras will never forget when he had to calm me down in the middle of night (or was it nights?) when I was convinced that my wedding lehenga (which I had gotten heavily customised) is going to be a disaster!), but we both had fun doing it together. We both learnt a lot in the process – Paras can in a blink of an eyelid tell you what scalloping on a dupatta means! We also made it a point to take imposed breaks from all the shaadi plaaning – we made sure we went on a date to our favourite place three days before all the madness was set to begin!
We also did not have a stage at any of our events – we loved that we were not stuck in the same place for hours looking down at a party that we had hosted! Thankfully, our photographer was game for it and managed to capture the "traditional" shots as well.
In addition to the mood-board that we had thought about for each event, we had two broad "visions" if you might call them – one that everything be easy, breezy and fun for the guests and two (and more importantly) – that we were not forced to do something / anything that we both did not believe in. As everyone knows, Indian weddings have a robust dose of (without the lack of a better word) misogynistic rituals. And so began the family discussions on kanyadaan, bidaai and other such stuff – we were pleasantly surprised to hear our families' progressive views and their appetite for discussion on this. We did manage to "tweak" some of these rituals and the others we accepted with a pinch of salt and the fact that we and our families were on the same page with our thought processes aligned. My biggest takeaway was when my parents – especially my dad – was open to doing away with kanyadaan declaring his daughter was not something to "be given away".     
If your events are closely packed (like ours were) it is very important to have time schedule in mind and finally (the most difficult part) abide by it. A delay of even say half an hour can set you back sometimes. Like me and Paras couldn't make time for portraits after our pheras.
Vendor Reviews
Photographer: Beginnings For You
Simran is not only highly professional and amazing with her work - she is a great positive energy to have around on those intense days. She was very patient throughout the whole affair and remembered to tell me when to take those deep breaths! She delivered us snapshots of our most precious memories (and that too on time). Highly highly recommended!
Makeup Artist: Neha Grover
Not only is Neha excellent with her work, she is very calm and sweet as well! She is also very patient and pays attention to every detail. I had her for all my wedding functions and she managed to create different looks for all. Highly highly recommended!
Videography: Rock Paper Scissors
RPS did a fabulous job at capturing all the precious moments at our wedding and tying all of them beautifully together. We loved their "merging into the background" style of shooting. They are extremely professional, positive and a complete pleasure to have around. Highly highly recommended! 
Vendors: Bridal Outfits: Vasansi★ 4 (Mehendi), Asmairaa★ 5 – Mahima Batra (Engagement), Sangeeta Creations (Pheras), Ridhima Bhasin★ 4.3 (Reception); Groom Outfits: Study by Janak -Groom Wear★ 4 (Mehendi, Engagement), Deepak S Chhabra Couture (Pheras), Lakshay Nagpal (Reception); Photography: Beginnings For You★ 4.9 ; Videography: Rock Paper Scissors Films★ 4.8 ; Caterers: In-house at the venue; Décor: Shaadi Masala★ 5 ; Makeup Artist: Neha Grover - Makeup Artist ★ 4.8 ; Hairstylist: Rashid; Venue: Golden Galaxy Resort, Faridabad
Gorgeous hues and even prettier outfits. To have a blast on your wedding, check the WMG app to find the best bridal wear and jewellery stores, photographers, decorators and makeup artists in Delhi all through just a click.