Fun , floral sikh wedding in Mumbai
BY The WMG Bride | 11 Dec, 2015 | 566 views | 4 min read
We loved the Mehendi vibe at this wedding - the bride's pretty pink floral jewellery , the floral print lehenga, the cute cake with poetry written on it at the Sangeet  and the kaleere decor at the wedding venue. All this was captured quite expertly by the photographers at  Two Fireflies - One Camera.
Meet Ashmeet & Onkar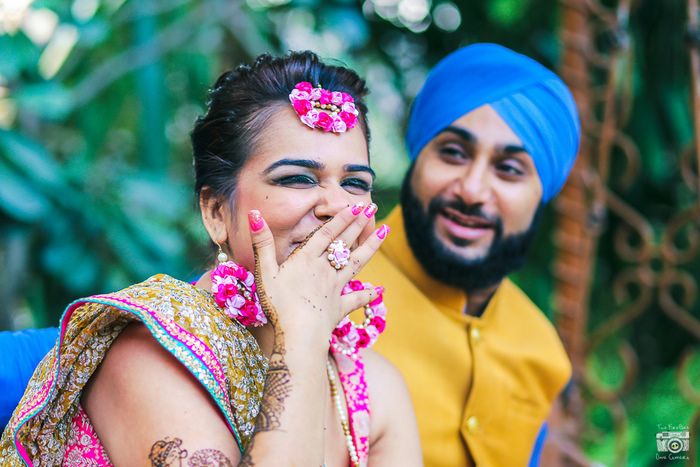 "Love across borders ain't easy by any means but everything in our relationship was exceptional and so was our beginning.  Being from Mumbai and Onkar based at Australia, the initial phase of our journey started through online chats and phone conversations . Then , when he was visiting India we finally met at lunch at Bandra.  I waited for nearly 45 minutes on our first date and while I was waiting I started reading and enjoying a glass of wine. Finally when he arrived, instead of judging me he ordered a glass of wine for himself too and that "click" made that "stranger" seem like the one I was always waiting for, it gave wings to the start of our relationship," says the very emotional and poetical Ashmeet.
The Mehendi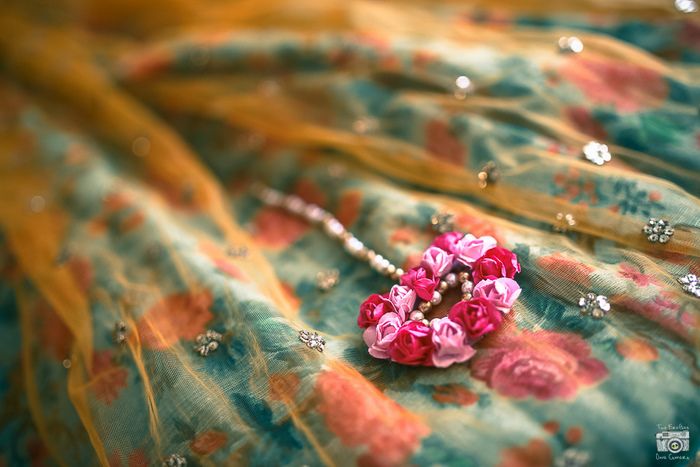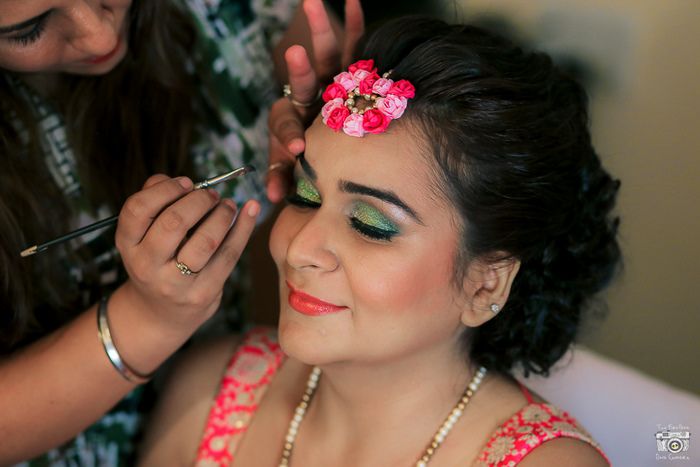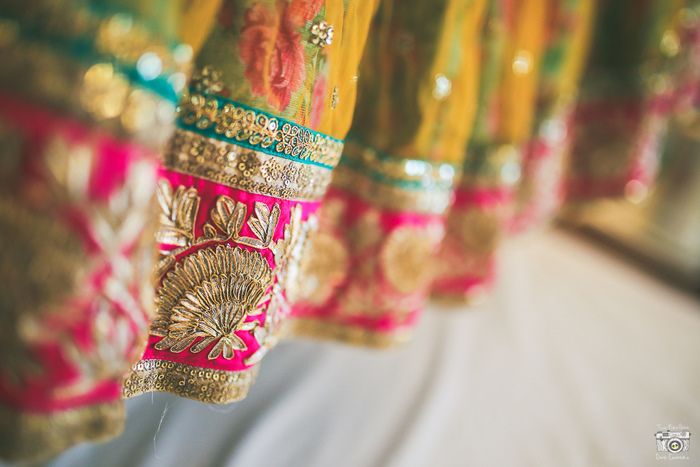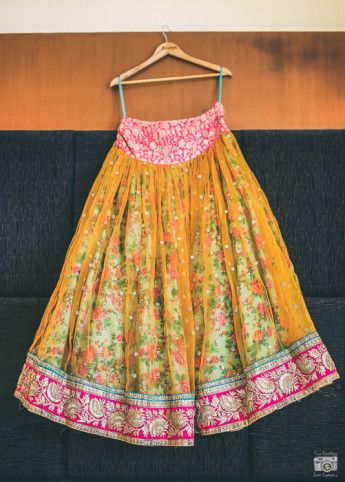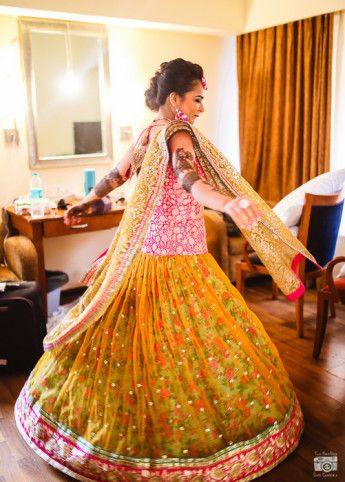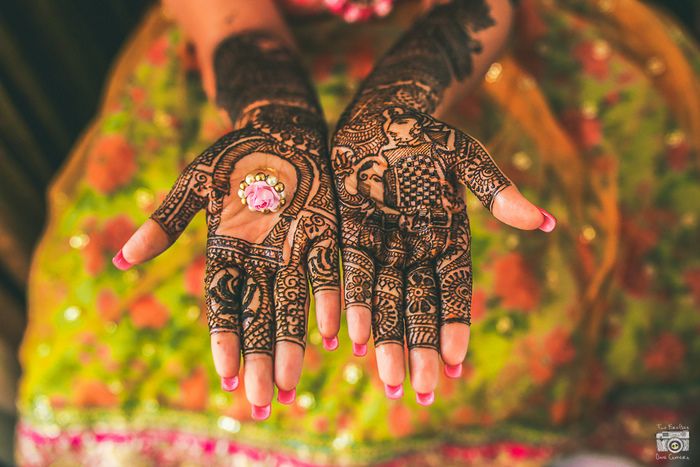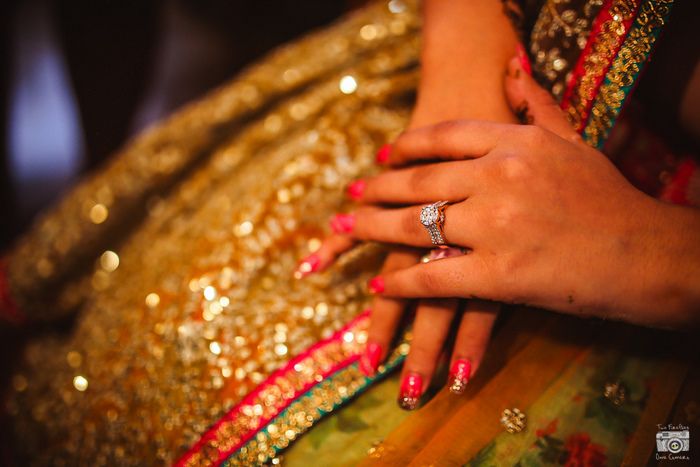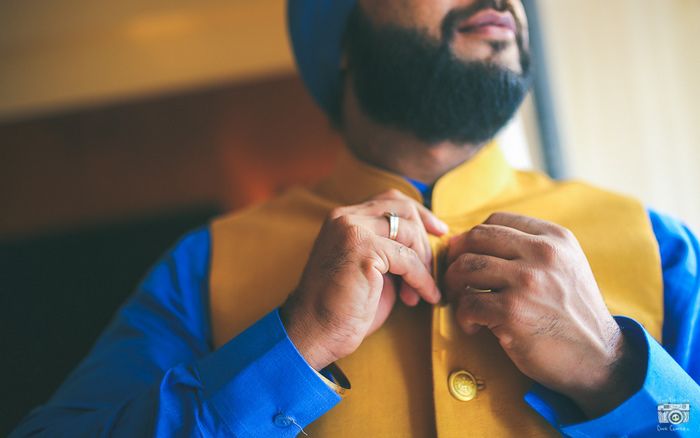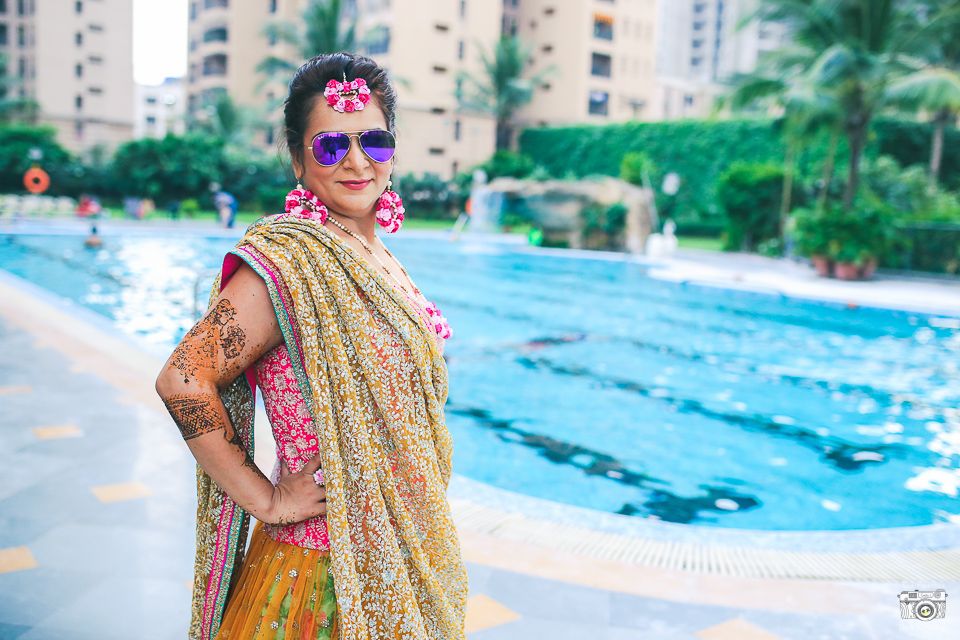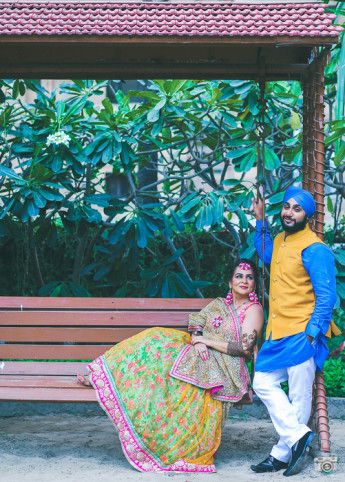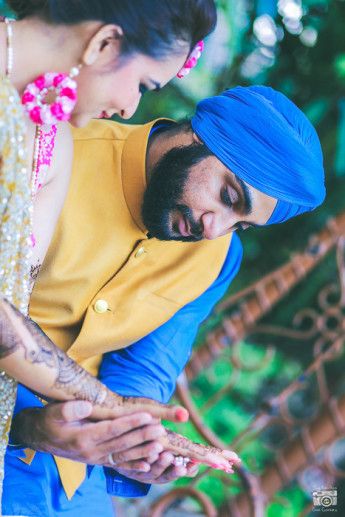 The Sangeet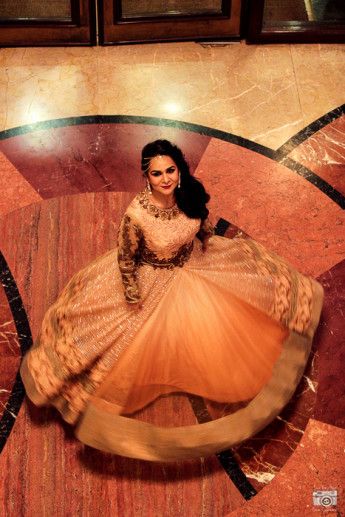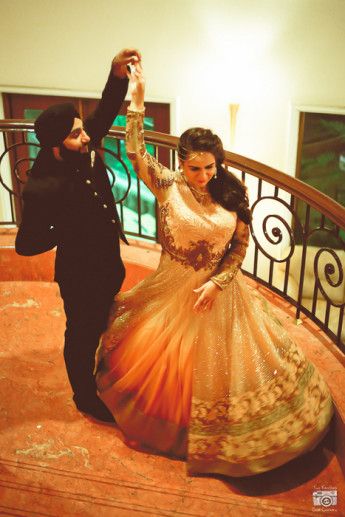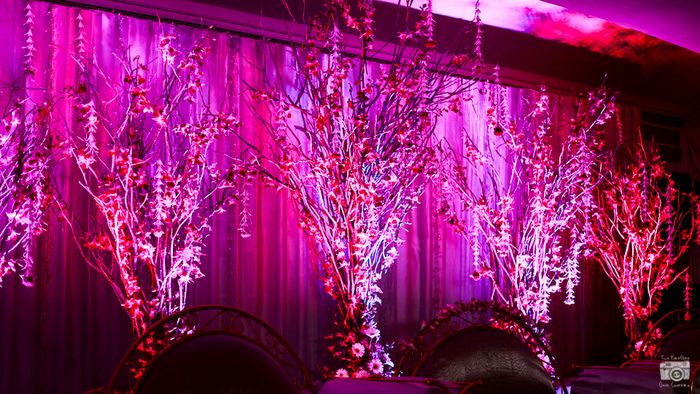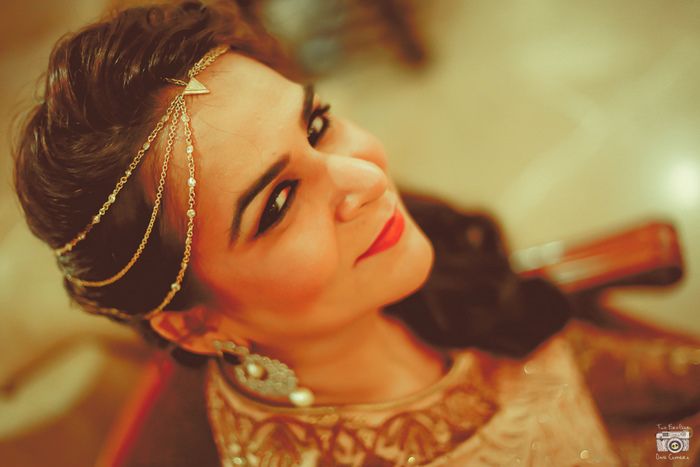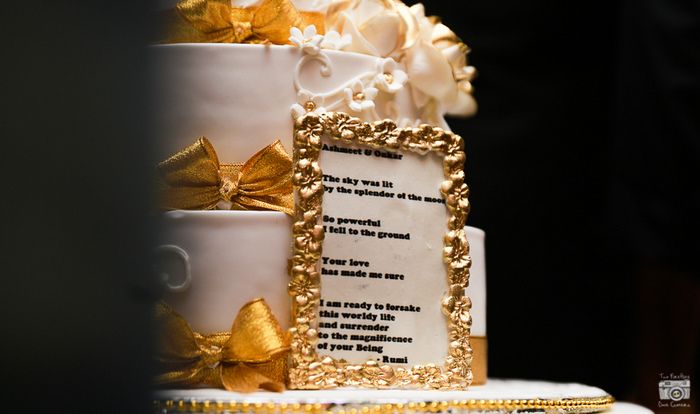 The Wedding 
From The Bride:
"Ours was a complete Sikh Wedding. As our story, our wedding also had to be exceptional and I was very clear about the functions from the start. 
"The  Mehendi Night was based on a  floral theme and that included floral giveaways to everyone. The ambience was decorated with different kinds of flowers along with a swing covered with flowers all over. The event highlighted the special bond between the bride and bridesmaids as they all were decked up based on the theme (same lehenga with different colours) wearing floral mangteekas to stand out of the crowd" she adds.  
"And then, it was our wedding day, which started with a Chuda ceremony early in the morning with a few family and friends present, it was a lot of fun and a little emotional . My wedding was based on a traditional theme and my love for kaleeres had made me incorporated them as part of the décor in all possible places I could think of.  I didn't want to follow the trend where  people generally wear a salwar kameez or a floor-length anarkali at the Gurudwara, I had set this aside and wore a lehenga with a trail which I got designed by myself. Being a tom Boy, I always wanted to go all girly for my wedding which I did and I enjoyed to the fullest" she says.
"From the inception of my ideas to their bit of execution, I thoroughly enjoyed having Vidhi Shah as my wedding planner. She brought in every little detail of the dream marriage I was looking for. More than my words, pictures would highlight her magnificent work and I really loved every bit of her work," says Ashmeet. 
 Sanjana, my makeup artist was an absolute gem. I met her at my best friend's wedding last year in Goa, and I really fell in love with her work. It's quite funny but even before I met my boy, I booked her for my wedding. She is very talented, friendly and amazing person with brilliant ideas. My photographers, Priyam and Saurabh are very talented. Their pictures are not common; they make them very interesting and beautiful adding different elements to it. I just loved how effortlessly they were capturing the moments without even making anyone feel their presence. They are very co-operative and captured every special moment of the day," she explains.
Vendors: Wedding Planner: Super Duper Weddings Company By Vidhi Shah | Bride's Outfits: Ring Ceremony: Aditya Khandelwal, Delhi; Mehendi dress: Saniya Dhyamija, Mumbai  Wedding lehenga: Mr. Gurdeep Singh Juneja (Ranjeet Sarees) Kanpur | Make-up Artist: Sanjana Kamlesh Kaur Bandesha 
Plan your Mumbai wedding with WedmeGood !! Here you can explore a plethora of beautiful AC banquet halls in and around Mumbai !!