Getting Married in 2018? Look At These 10+ Breathtaking Mandap Setups That Looked Straight Out of A Dream!
BY Chandni Kumar | 30 Aug, 2018 | 4556 views | 7 min read
Well, I must admit that the best part of writing pieces on WMG is that you curate, stalk and pick the best content for your brides-to-be. Always day-dreaming of how my marriage is going to be (kidding, not that I am getting married, now) but curating ideas wherein every second picture is my favourite. You must have seen and saved gazillion photos of wedding pictures and the decoration that makes it so dreamy. Be it DIY decor elements for mehendi or classy reception venue there is something, which makes them beautiful yet trending! DECOR. Whether you're having a beach side wedding or wanting to go for rustic one we picked the most prettiest mandap setups that looked straight out of a dream. Also, brides, if your mandap isn't done yet then, that's definitely a thing you need to look out for!
Stealing all the show, mandap with fantastic decoration, right setting and colour scheme can be a wow factor for your wedding. After all, this gorgeous backdrop will be a highlight on your wedding pictures. Curate through 500+ mandap decoration pictures, pick your wedding decorator today and get a dreamy mandap setup that you always wanted for your most special day of life. Oh! Yes, do share your mandap pictures with us cos who knows that your mandap idea could be the next trendsetter! 
Floral mandap to make it dreamy + give that fairy-tale look!
We all know that FLOWERS are something that are used for all kinds of occasions. Be it a pooja at your home or your mehendi function flowers are the best friends when you wish to get a dreamy decor. Having tons of varieties and colours mandap with floral have always looked classy + dreamy that will set a perfect backdrop for your wedding photographs. TIP: Ensure to have a wedding theme and pick a colour like (pastel pink, lemon, white) for summer wedding and (hot pink, blue, green) for winter wedding that will go well with all the elements. Or, else go out of the box and match it with your outfits too!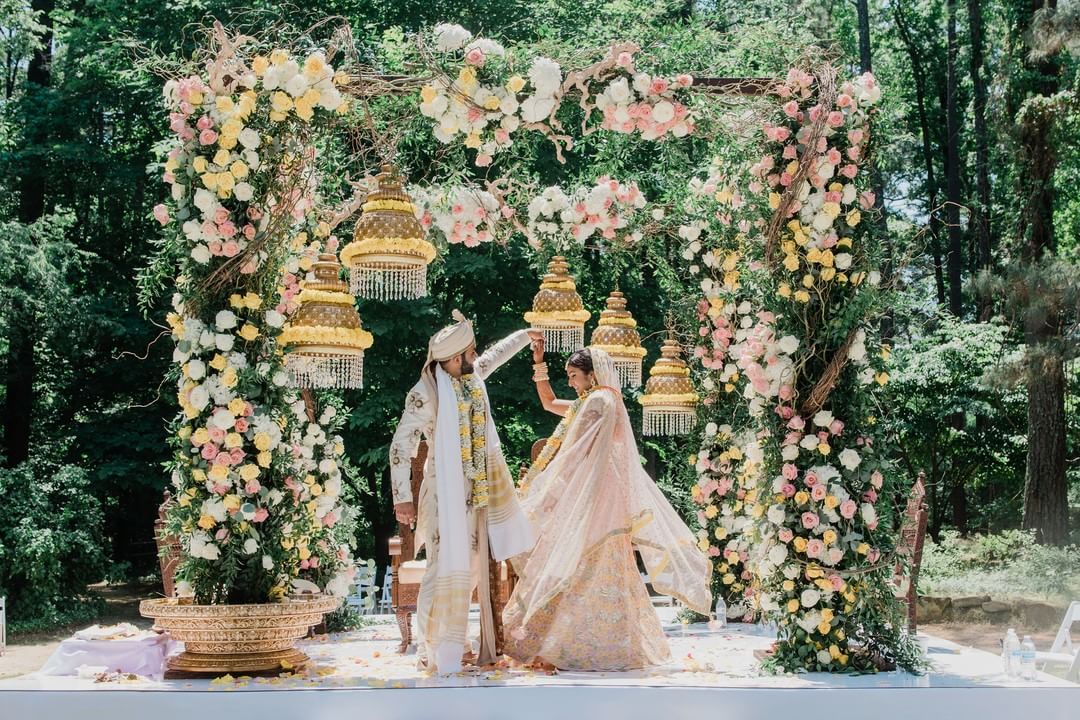 Image via: Peter Nguyen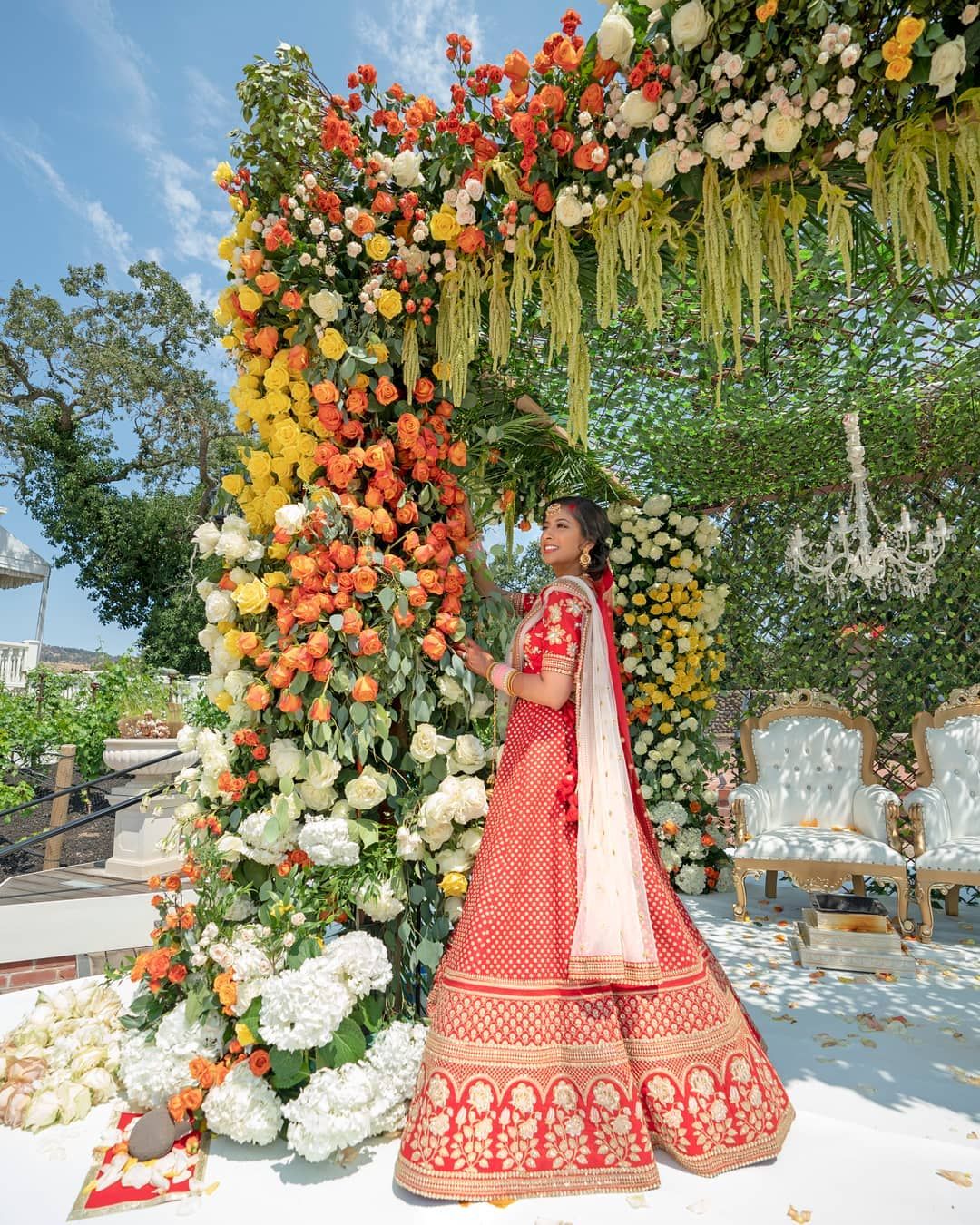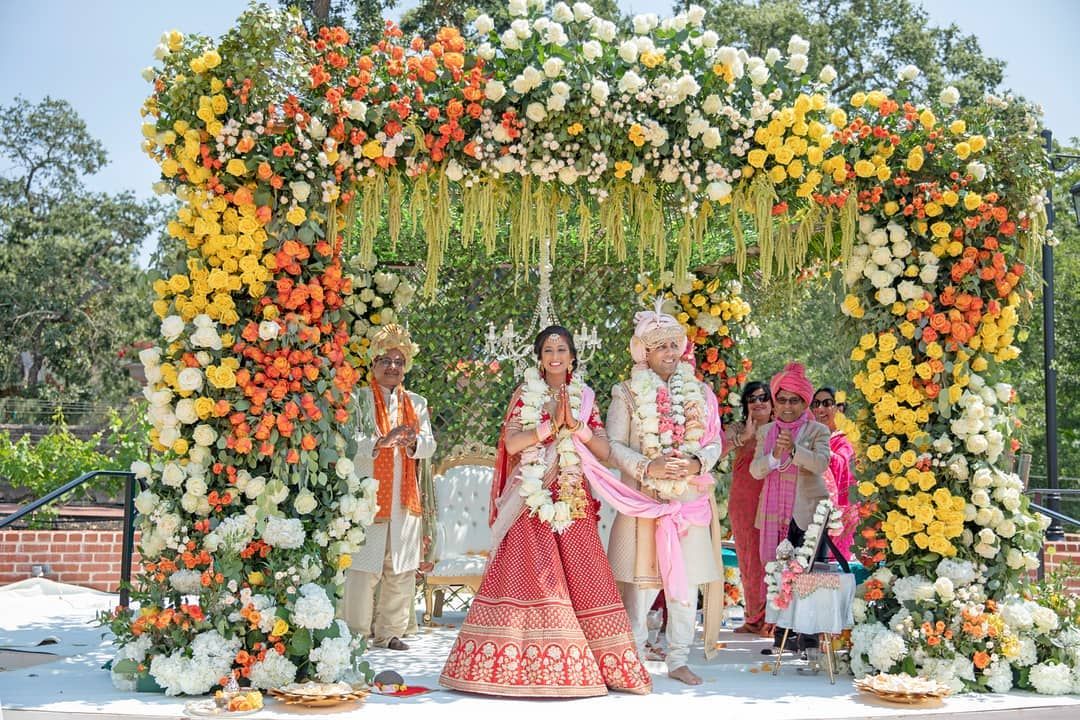 Decor By: Flowers By Edgar ; Image via: Wedding Documentary
Arc style mandap for an outdoor + rustic wedding!
Going all the way with pretty floral and non-floral decorations but having that boring mandap setup can totally destroy your mandap setting. Emma & Ravi's wedding had jaimalas in myriad hues that were spot-on the bride's wedding beige lehenga that too designed by her. They also had this GORGEOUS and never seen before arc style mandap that looked way too stunning for a destination wedding. And, those pastel flowers just took our heart away!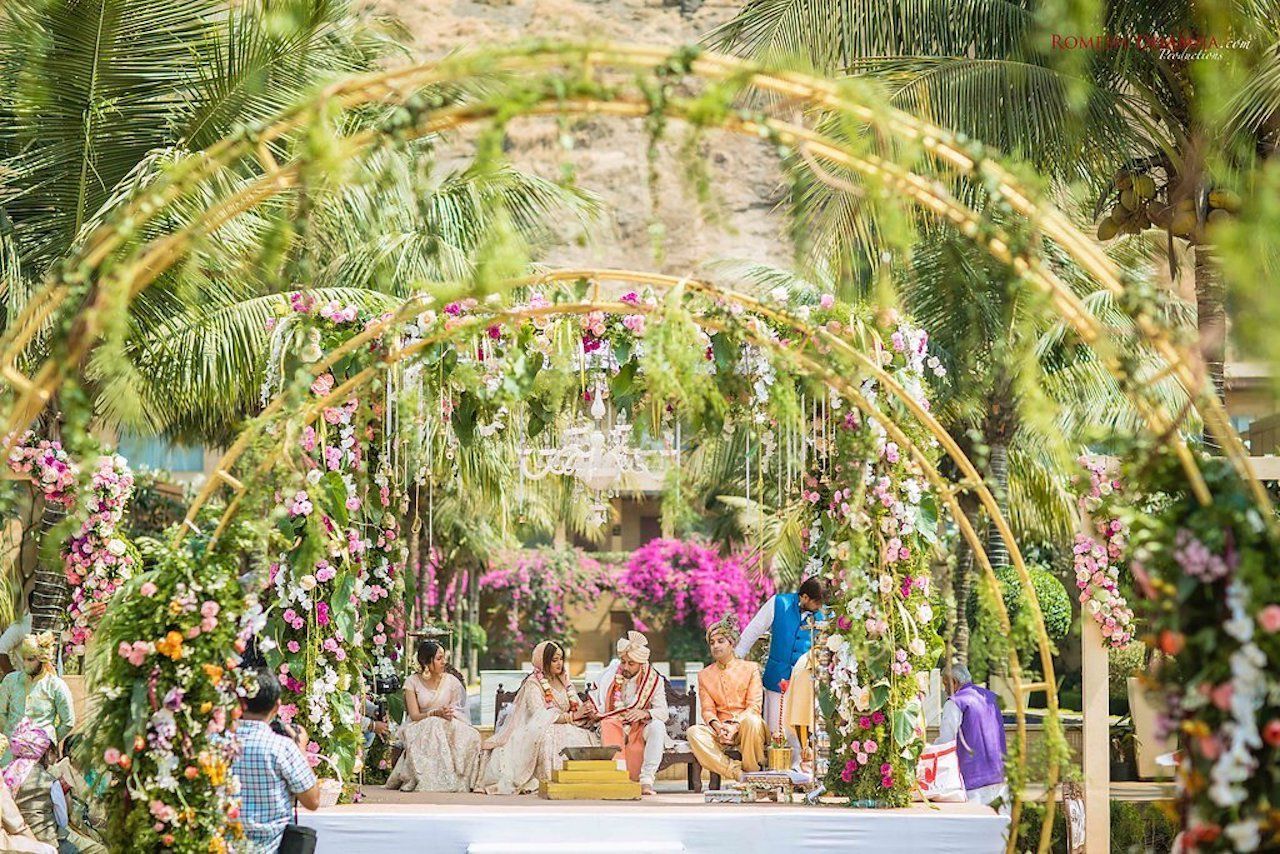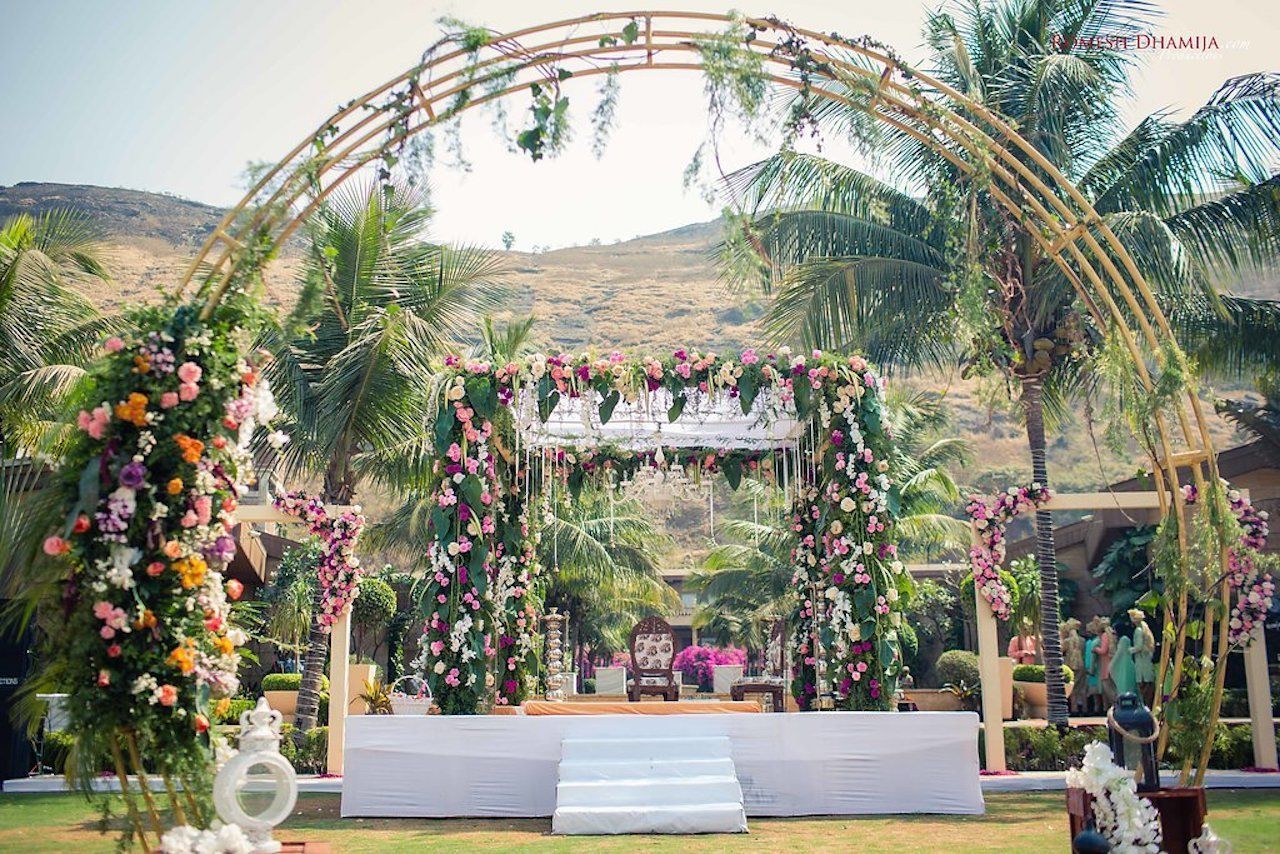 Decor By: Bhoomi Events & Planners★ 4.8
Adding tons of flowers, branches, trees to give that rustic feel at your mandap! 
Getting married under a forest or a farmhouse that is surrounded by lush green grass? We suggest that you add varieties of colorful flowers with branches, trees, chandelier that adds so much beauty to the whole setup with a rustic wedding setting. Or, how about adding crystal clear strings than, floral strings to make it look more elegant?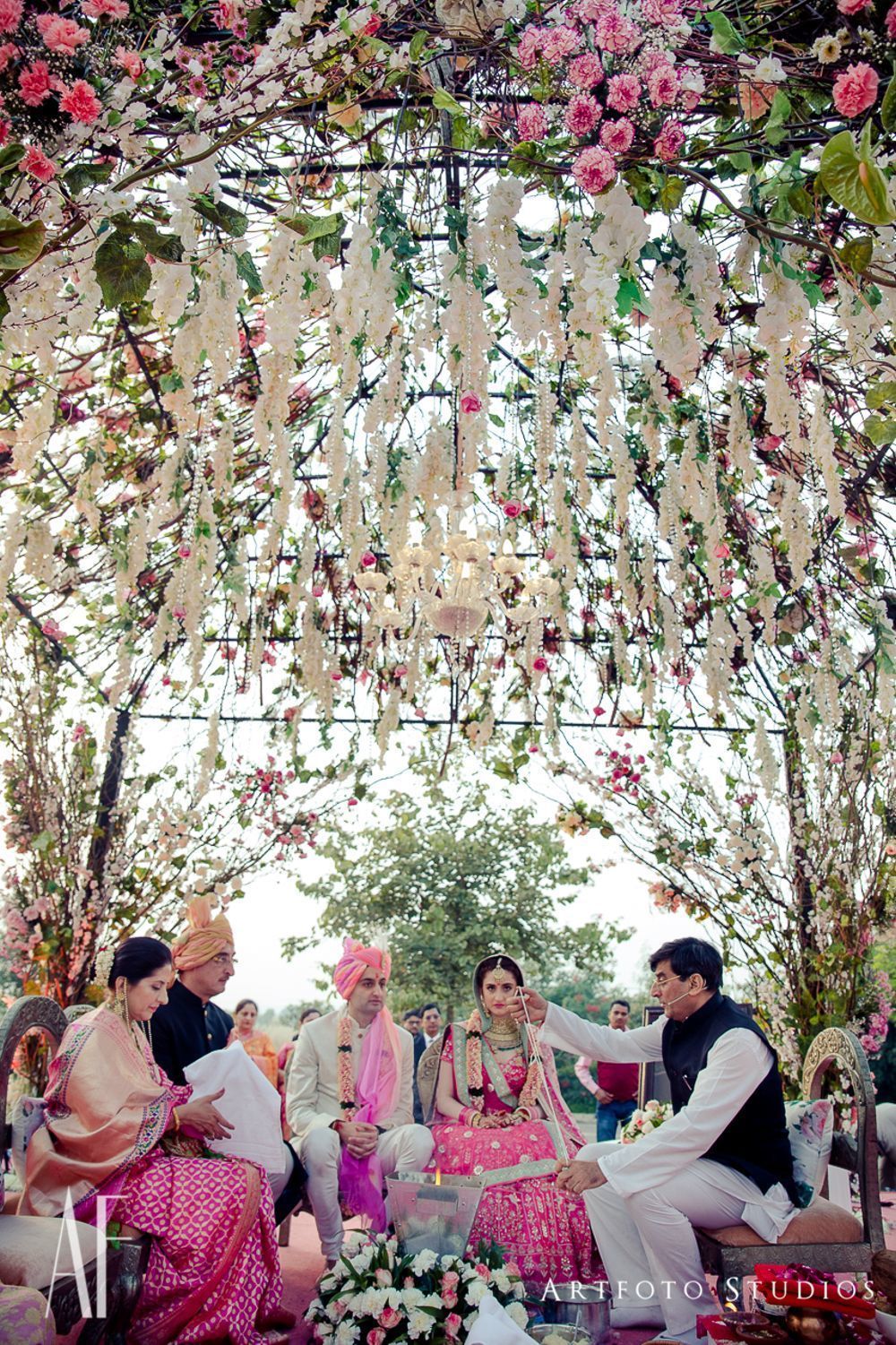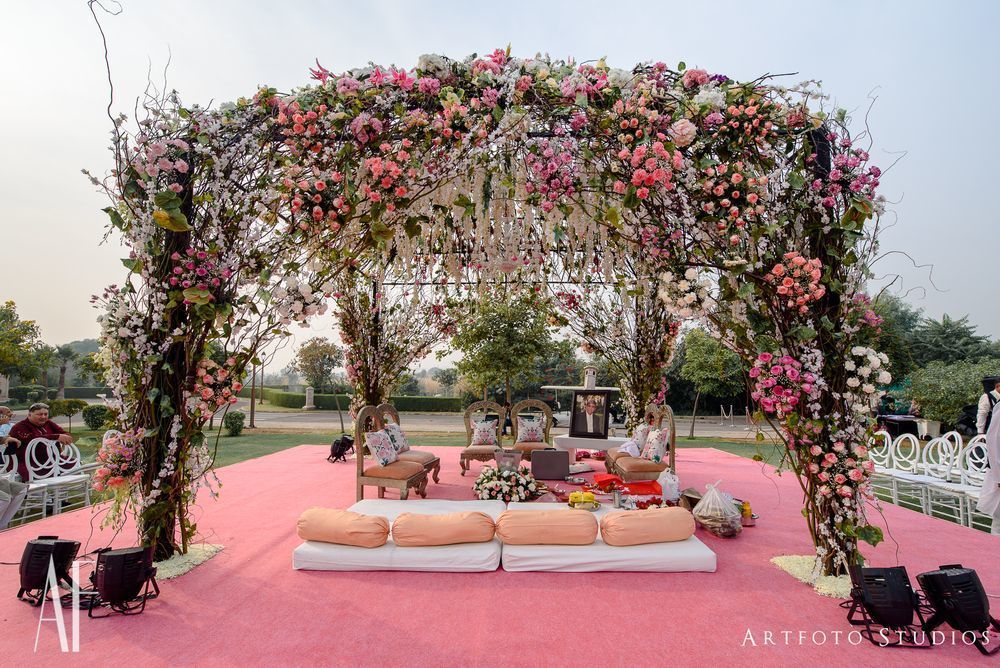 Decor By: Aura By Gautam Vedi ; Image via: Artfoto Studios
#Unique tent house mandap with floral! 
We bet that you haven't heard or seen this kind of mandap setup ever before! With floral chandeliers this unique tent house mandap is a classic example for the couples who are getting married closest to a forest or nature. With a natural setting the pastel drapes and flowers are a perfect way to set up your mandap with some extra fairy lights to add some spark to the wedding day.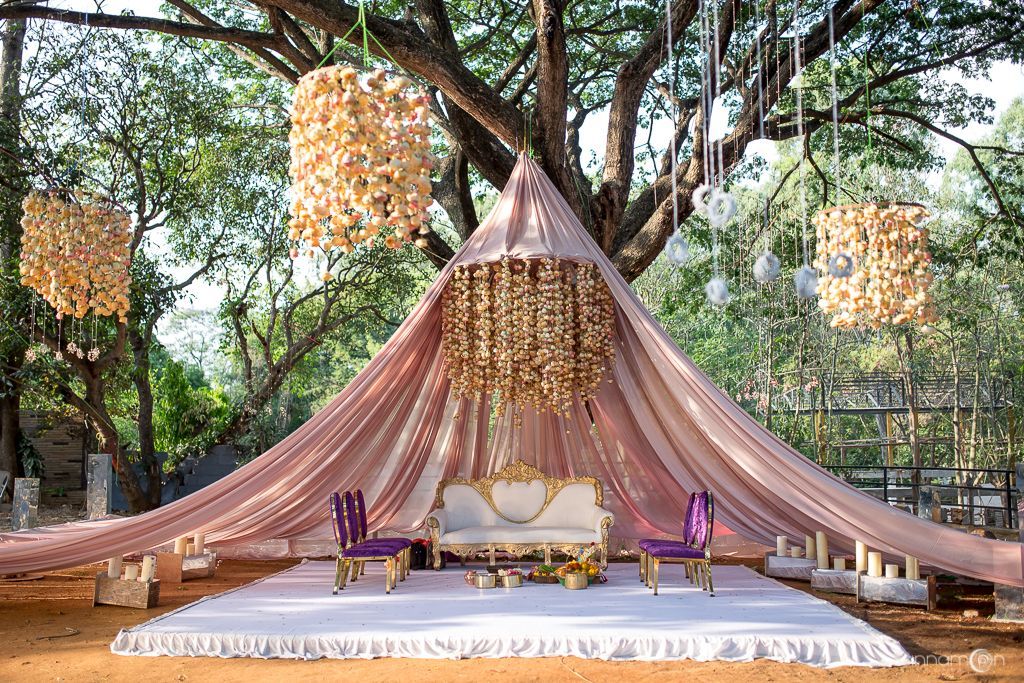 Image via: Cinnamon Pictures
Mandap with colorful drapes & flowers! 
If you have a restricted budget or don't want to go with too many flowers for your wedding mandap setup then, ensure to include colorful drapes like this couple - Malavika & Siddhant did on their wedding. Bright colored drapes like orange, hot pink, green are apt for summer weddings that makes it a stunning backdrop for your photographs. Also, did you spot the floral rings and flowers on the path way (for showering on to couples) that are paired beautifully with the mandap decoration.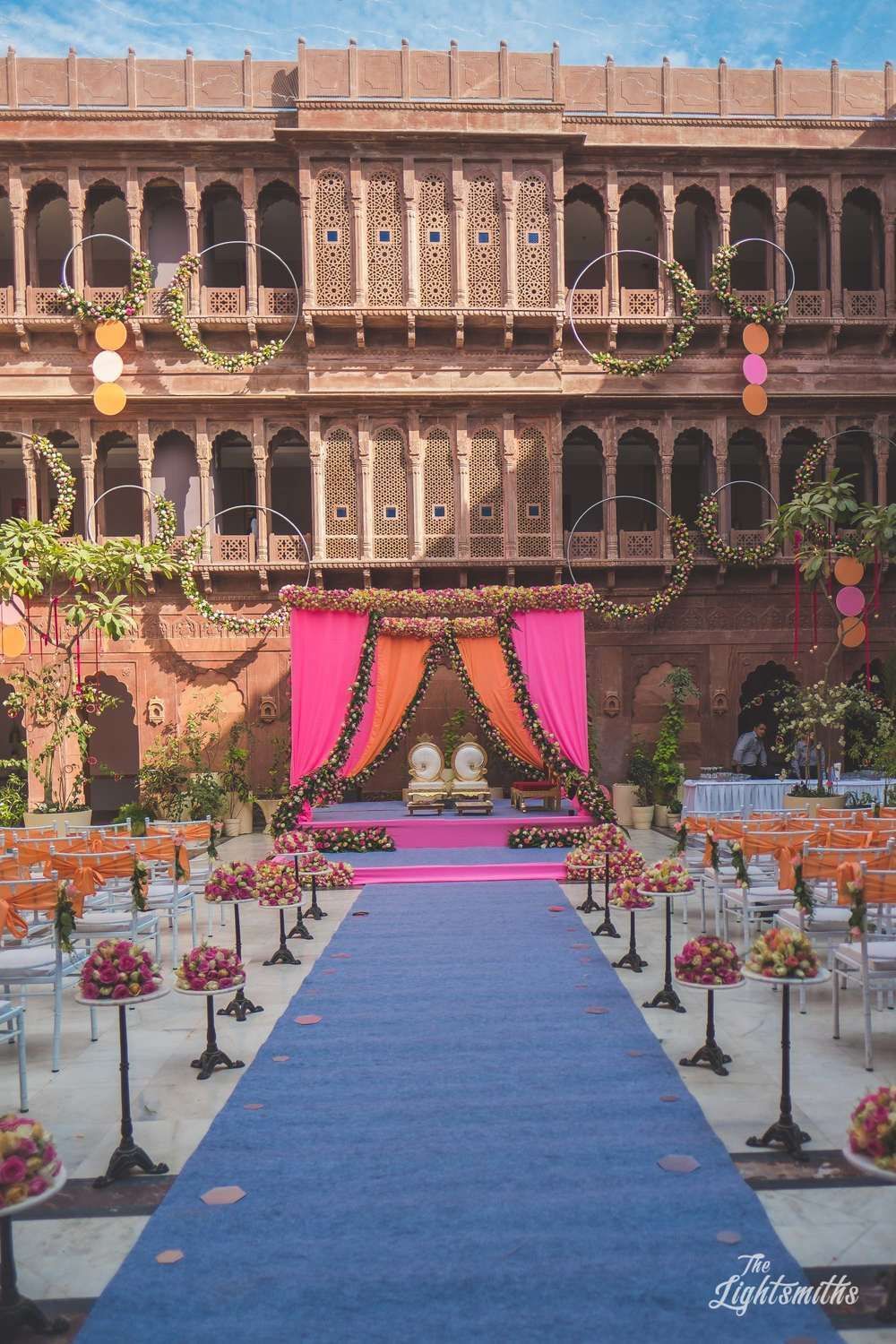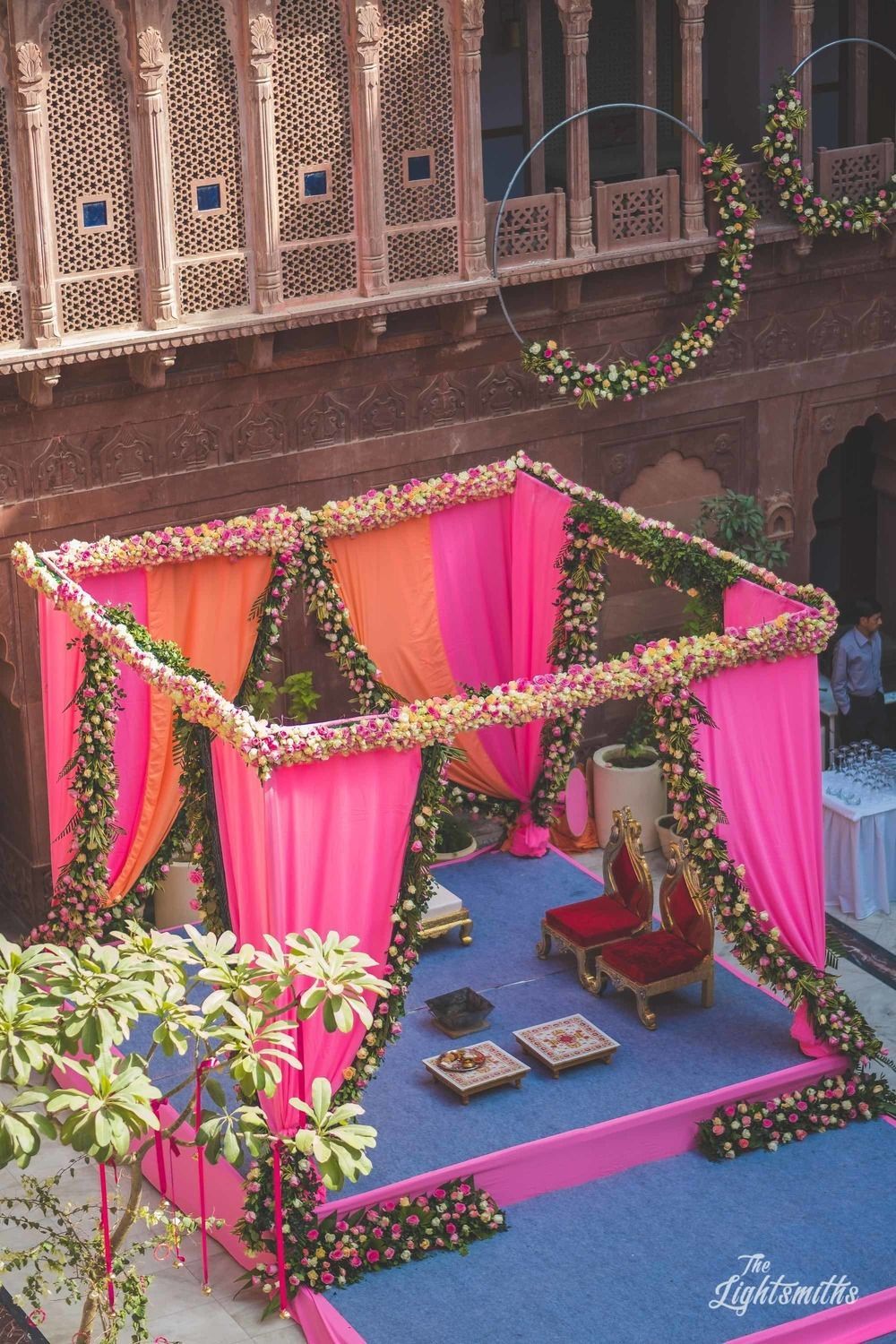 Decor By: Color Hopper ; Image via: The Lightsmiths
Mandap under a tree with hanging drapes!
For the couples who wish to go for minimal decoration here, is an interesting decorated tree with chandeliers and drapes that is surely becoming a trendsetter for mandap setup. With pretty pastel fabrics and colorful flowers surrounding the trunk this is a beautiful way to setup your mandap, which won't even burn your pocket too!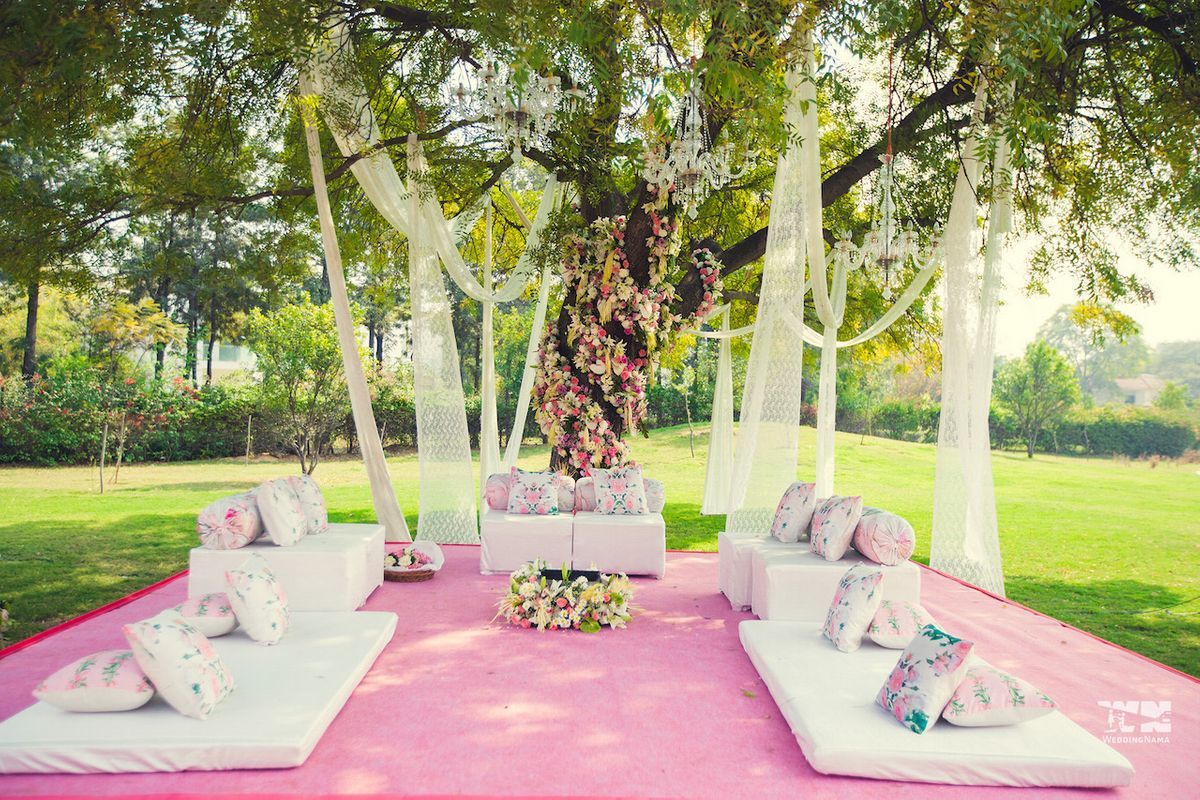 Decor By: Aura By Gautam Vedi ; Image via: Wedding Nama
A gorgeous floral backdrop to set-up your mandap! 
Did you love playing with lush green grass and flowers in your childhood days? How about including elements and incorporating the same to your mandap? Sounds fun, right? Add artificial dark green grass with pop of red and pastel roses to add the beauty of the setup. Bonus of this setup: You will get STUNNING backdrop pictures that too with minimal decoration.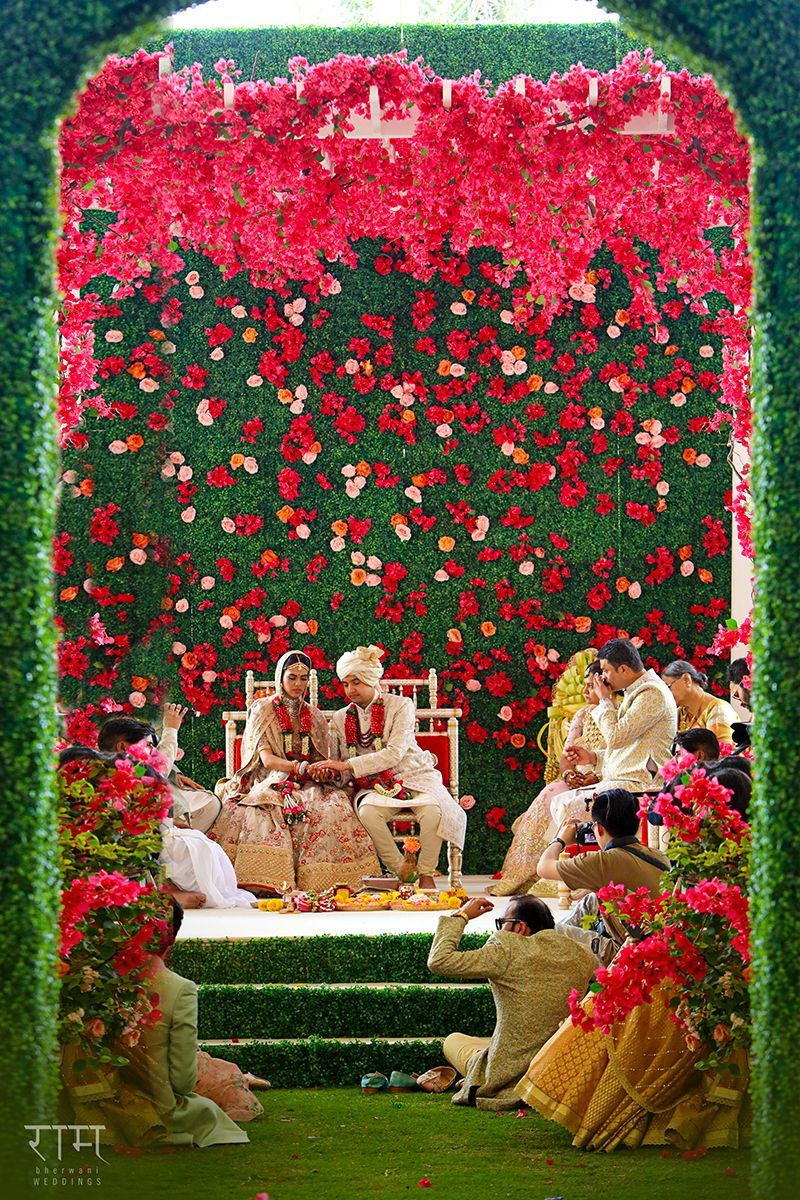 Image via: Ram Bherwani Weddings
Or, else go traditional with #gendaphool strings!
Well, it's rightly said that old is gold and similarly gendaphool (marigold flowers) are way too perfect for any kind of occasion. Creating that dramatic look + filling the space beautifully #gendaphool is something wherein you can play with them a lot. Be it twisting the strings or hanging them simply marigold flowers are always a YES! for a wedding mandap setup decoration.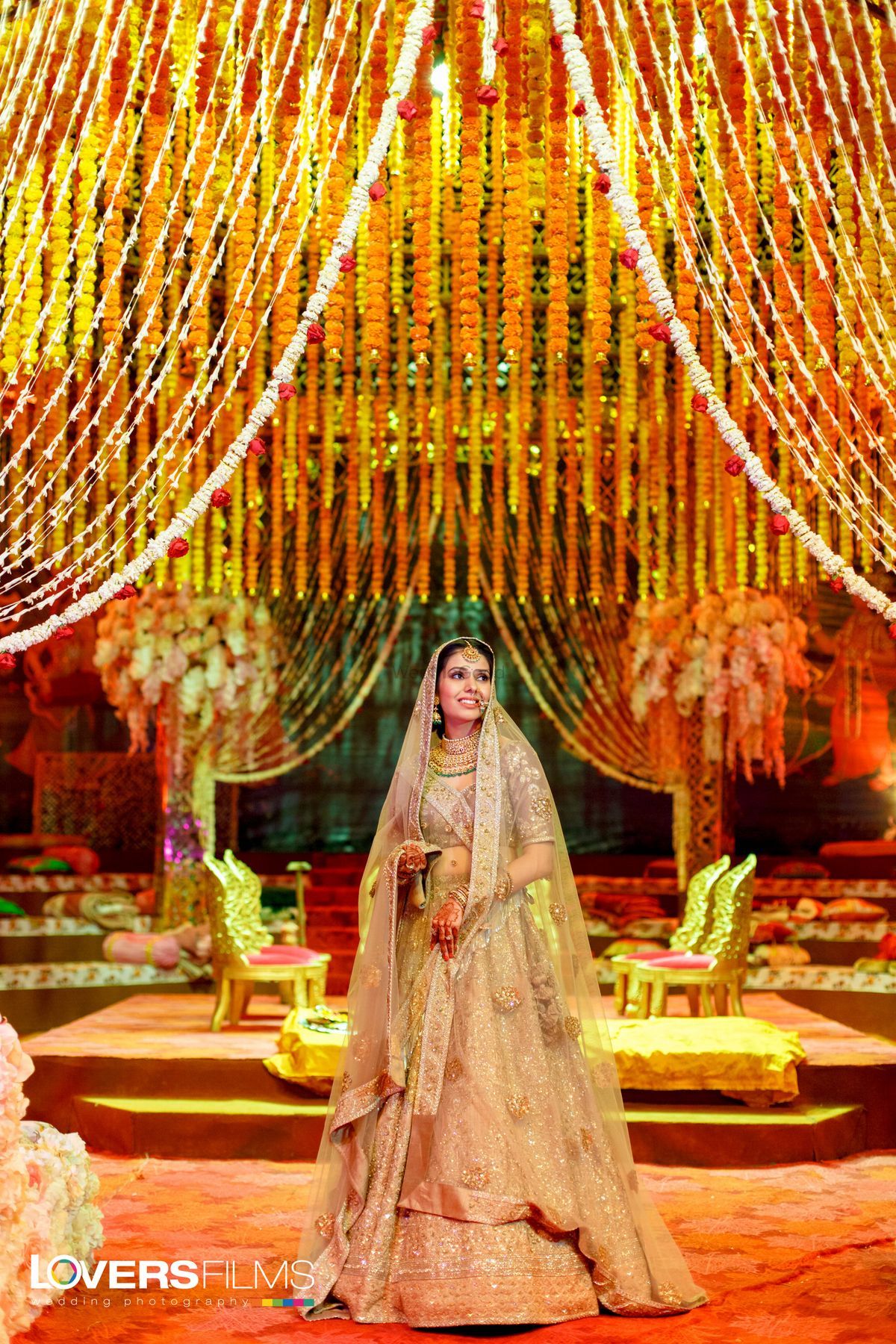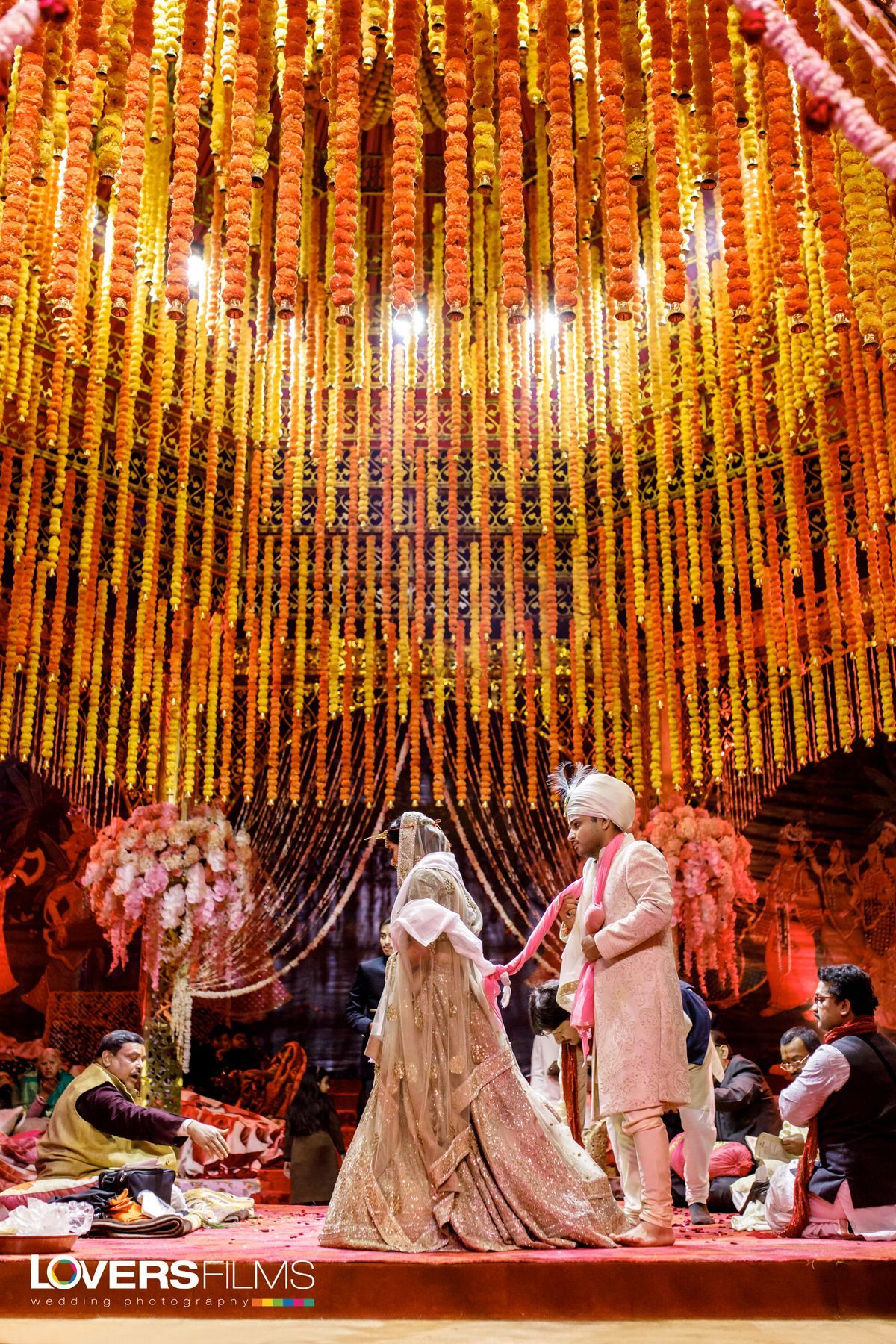 Image via: Lovers Films
Fairy tale Mandap
Who wouldn't like to get hitched and take their wedding vows beside a gorgeous beach with some chilling wind? We have our hearts to the beach wedding that looks so magnificent and dreamy. Gawd! Don't you wish to get married, now? Go all the way and get your mandap setup on the beach while picking color scheme of hot and bright pinks to give that refreshing look. Pairing up with matching pink and pastel flowers it will surely add bonus to your mandap setting.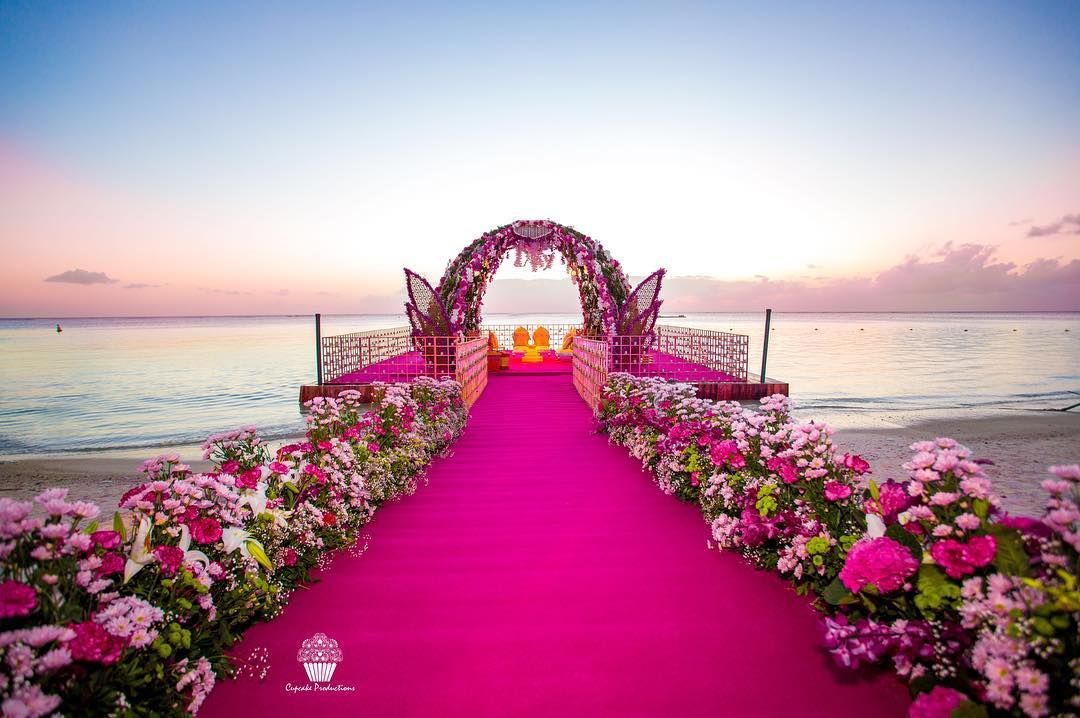 Image via: Cupcake Productions
Stunning lavender circular mandap added with pastel & purple floral! 
Well, we agree that lavender is the color of love & romance. Bored with those rectangular or squared-shaped mandap's? We surely are and thus, we picked this PERFECT circular lavender mandap setup that looks dreamy for taking wedding vows.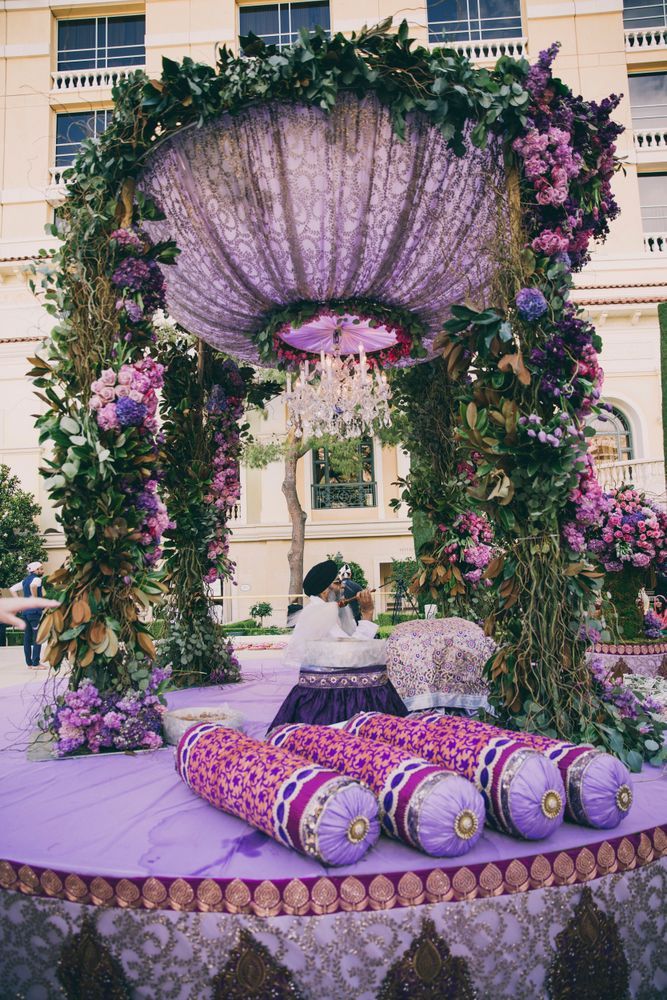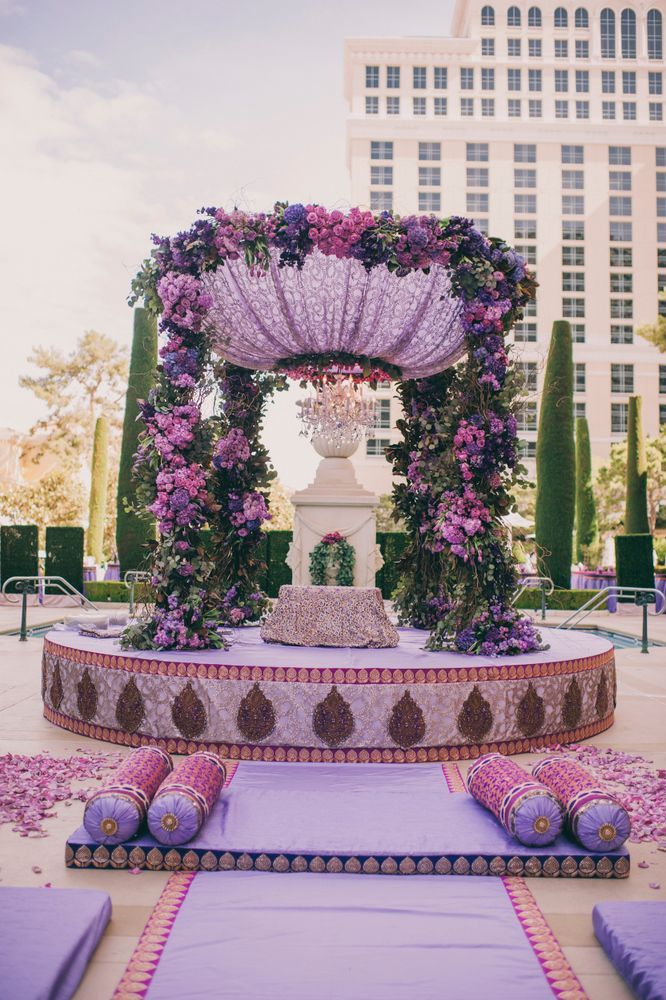 Decor By: Prashe ; Image via: Mili Ghosh Photography
Mandap with pastel flowers for a day-wedding or Anand Karaj!
Let's start? Flowers like pink roses, tulips, sunflower, baby breaths, etc. are way too pretty to include to your wedding decor and mandap. In, case if you are having a day-wedding or Anand Karaj then, ensure to keep the color scheme and tone very subtle and refreshing (pastels and pop of pink and yellow work wonders). To create that rustic feel tell your wedding decorator to include leaves and small branches that is no less than a dream.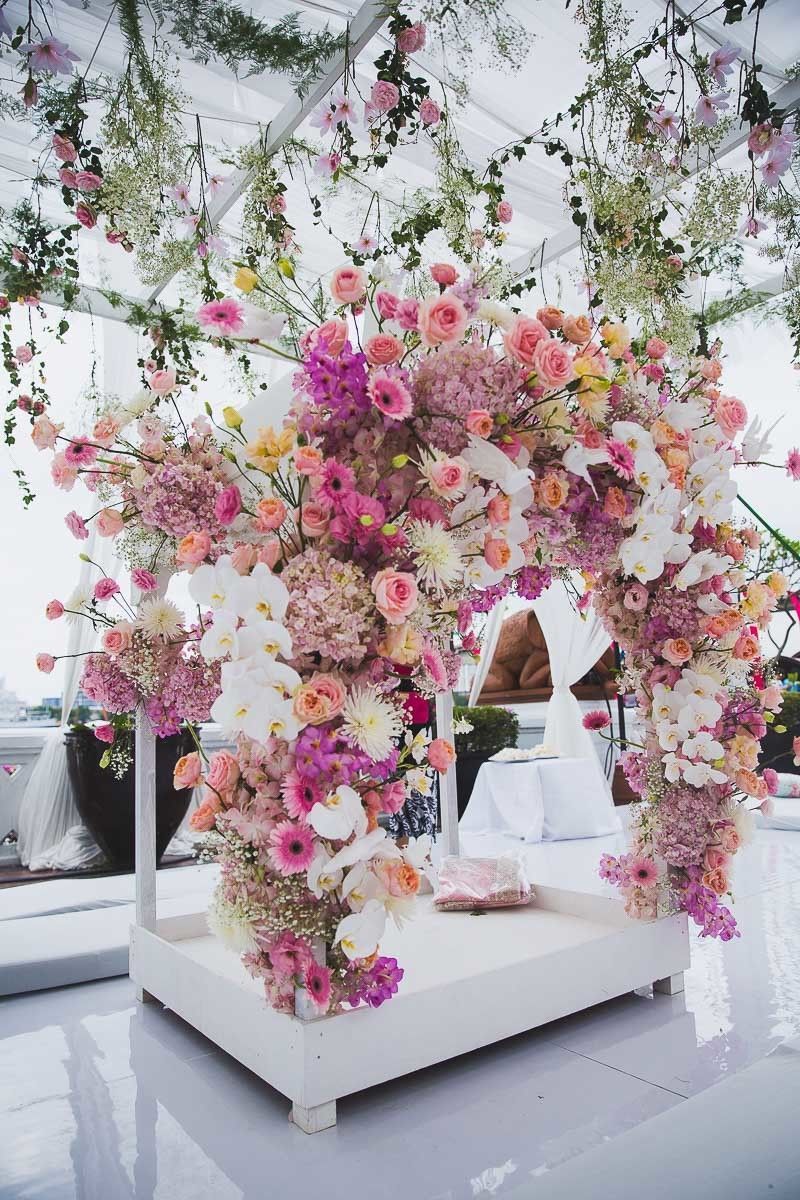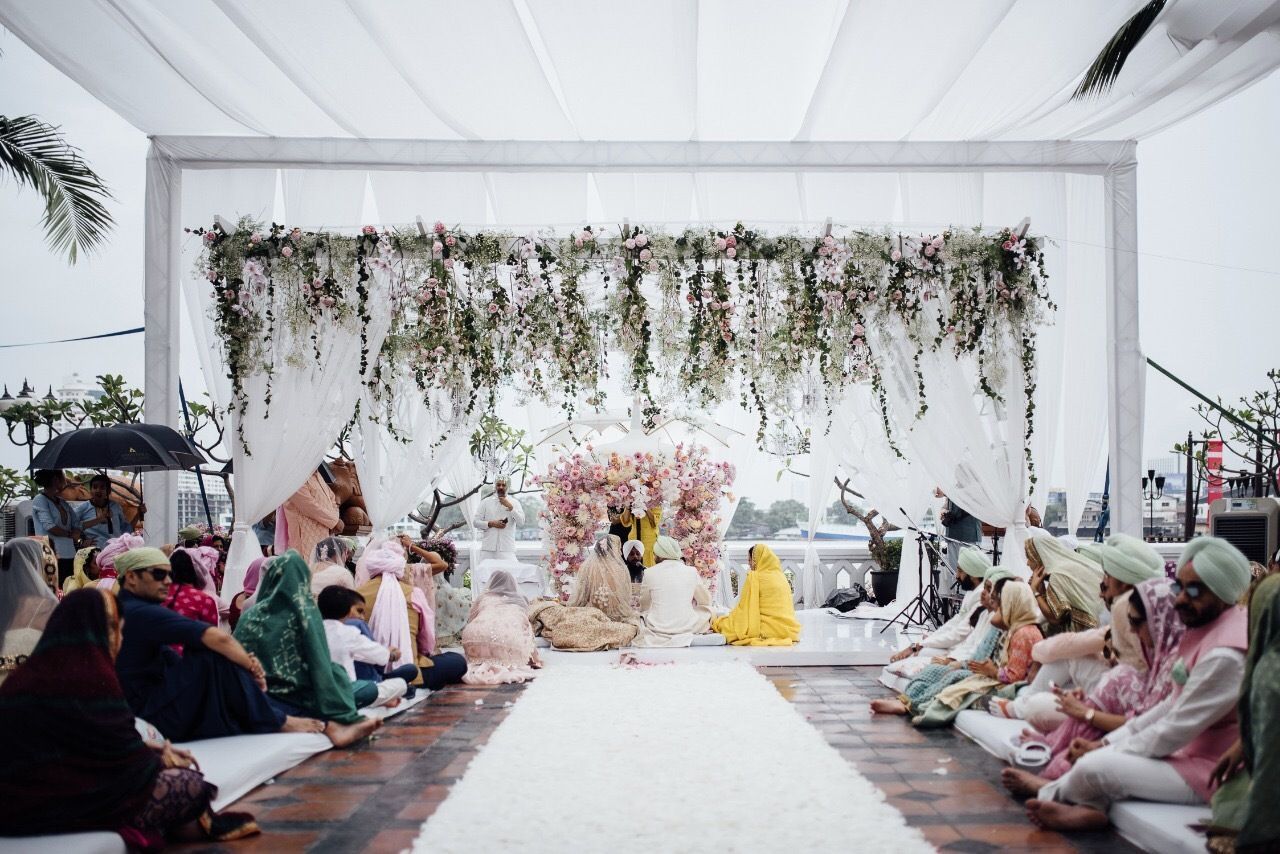 Image via: Ram Balmur Photography
For beach-side wedding, open air mandap with flowers all around is PERFECT! 
Hill station has become a top choice for the destination weddings. With a peaceful environment and beautiful landscape taking your wedding vows here, can surely be a life time experience. Tanya & Rajiv got hitched in Switzerland where they planned for this massive and pretty mandap setup that included a bed of colorful flowers on the pay way, round floral mandap with cute little pink floral elephants that added so much beauty to the whole mandap setup. TIP: You too can include a bed of flowers on the path way to your mandap that are #decorgoals!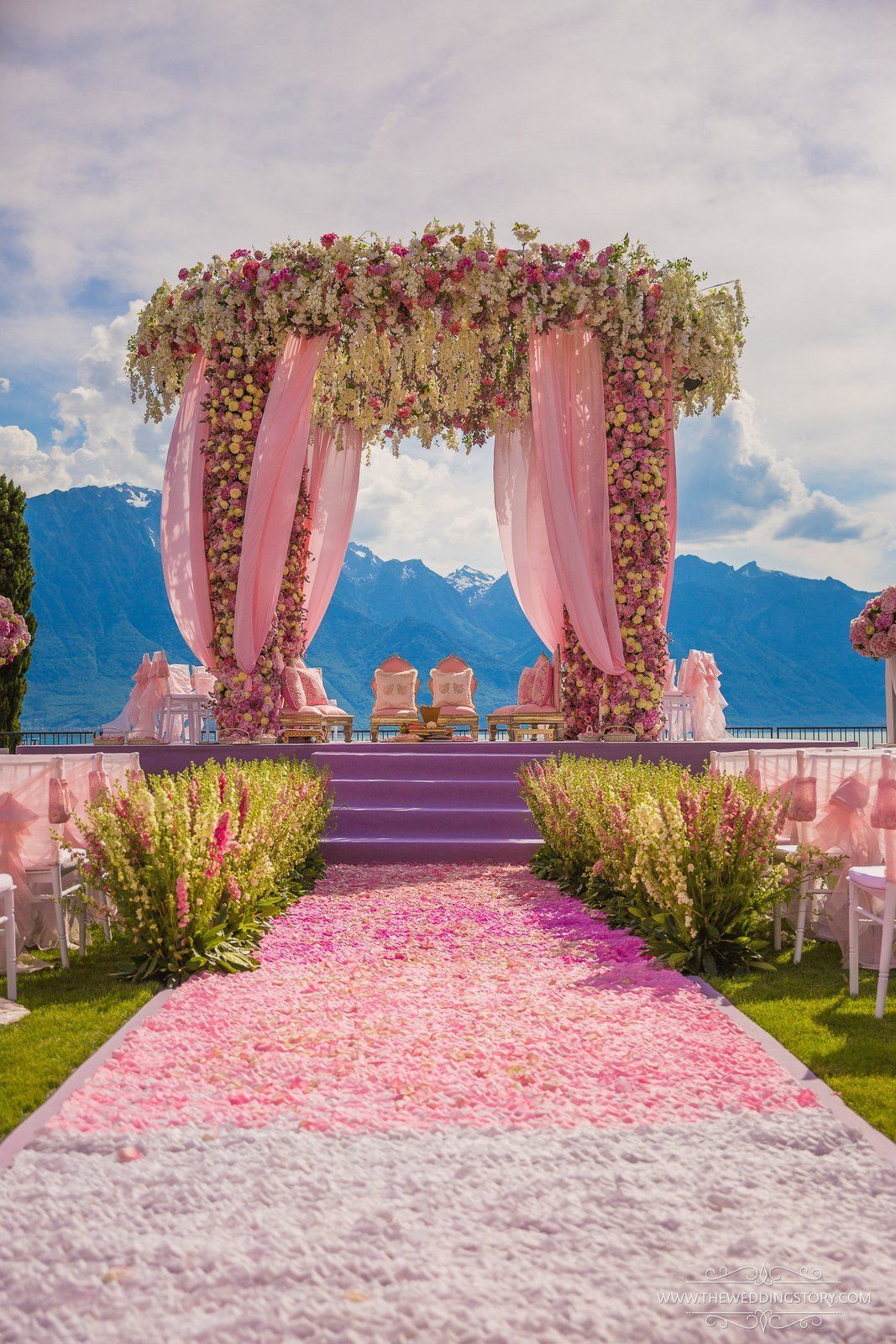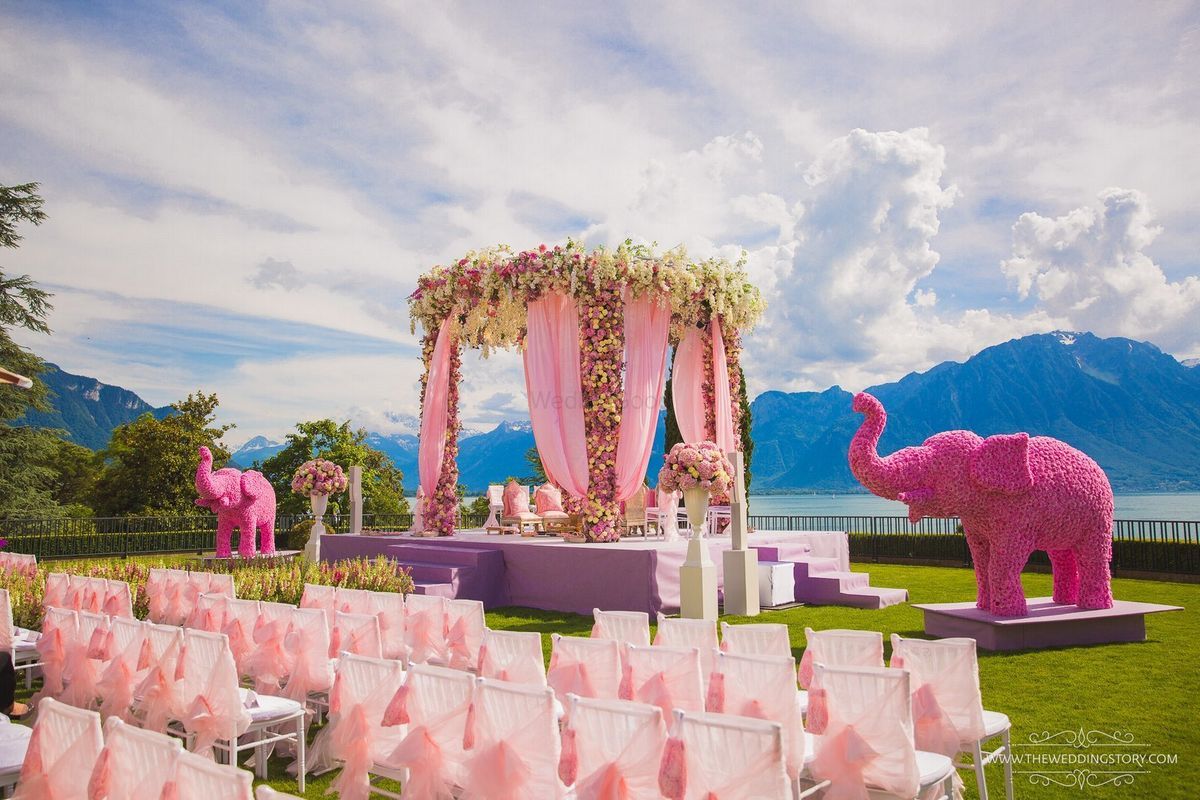 Image via: The Wedding Story ; Decor By: The Wedding Design Company
Stunning floral ceiling with gajra flowers to add that dramatic & fairy tale look!
There is no alternative when it comes to red and white flowers. Creating a peaceful and refreshing look this mandap with gajra flowers on floral ceiling is something that you would want for your mandap. We are definitely crushing on this decor that has cute little red roses attached to the strings.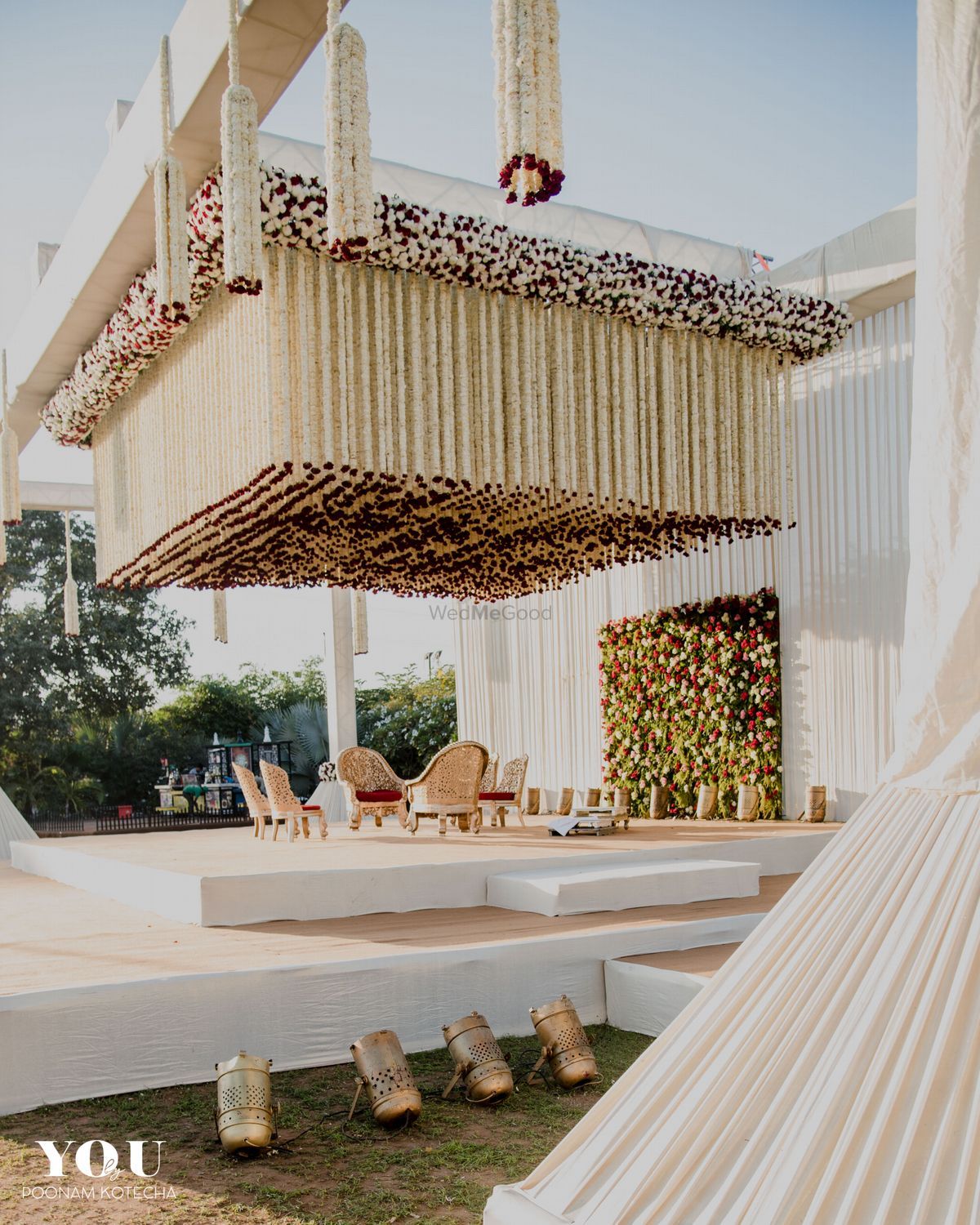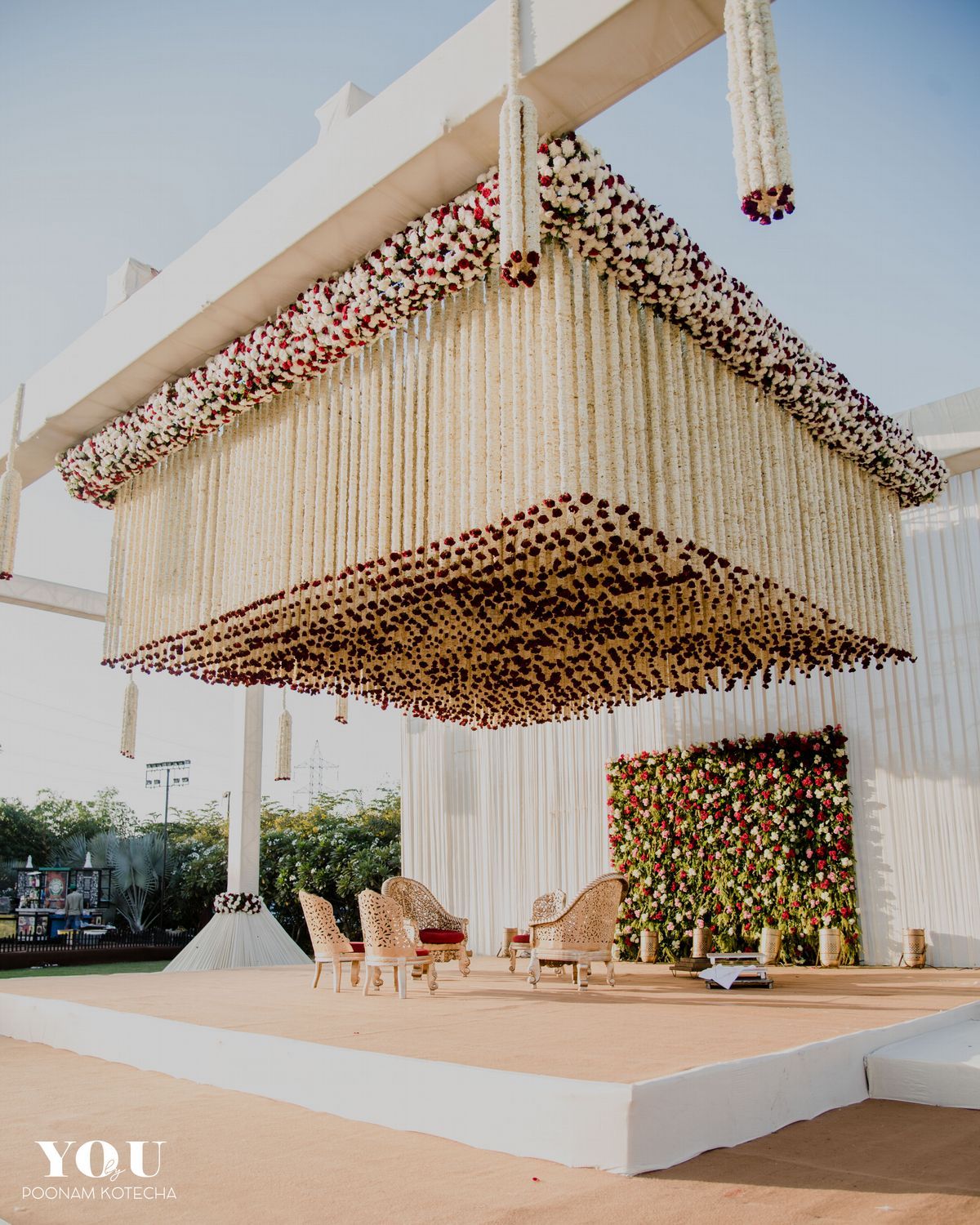 Image via: YOU by Poonam Kotecha
So, pretty mandap setup's, right? Which mandap decor will you pick for your wedding day?