Go Eco-Friendly! Gift Potted Plants As Wedding Favors From These Top 7 Stores That We Found Out On WMG!
BY Chandni Kumar | 13 Dec, 2018 | 17621 views | 6 min read
A man doesn't plant a tree for himself. He plants it for posterity. This popular quote by poet Alexander Smith has a deep insight that gives us a hint to protect our mother earth by planting more tress & plants for the upcoming generations! While, there will be tons of chocolates & sweets on your wedding celebrations, how about you going little hatke & ditching all these options & gifting your guests with saplings or plants as favors? Something totally unique, new & never thought of before, right?
Yes! Go for an Eco-friendly gifting option like potted plants on your mehendi ceremony or as thank you favors to create positive vibes, which won't only save you tons of money but is also a smart & wise gifting option for your guests. From working as antidepressants, to reducing carbon and helping in cleaning the air and reducing airborne dust levels, plants have mutliple uses! So go Eco-friendly with potted plants and help contribytw to the environment. So, brides, here, we are with top 7 WMG stores from where you can get your saplings and plants for wedding favors!
Natural Shoppe
Recently, what we spotted are beautiful & very Eco-friendly favors that couples are adopting on their weddings. Any guesses? It's potted plants as wedding favors that are going very trendy these days. One such wedding favor venture is located in Delhi NCR who specialises in gifting green plants to the wedding functions. Natural Shoppe has plant and garden products boutique that has exotic imported and Indian plants, handcrafted terrariums and unique pottery, which is a fantastic idea to gift to your wedding guests.
So, brides if you care a little bit of this mother earth, then ensure to gift the plants on your mehendi ceremony, bridal shower or the wedding day that will grow and bring positivity on this planet & of course there is no harm contributing into the ongoing Green Revolution, right?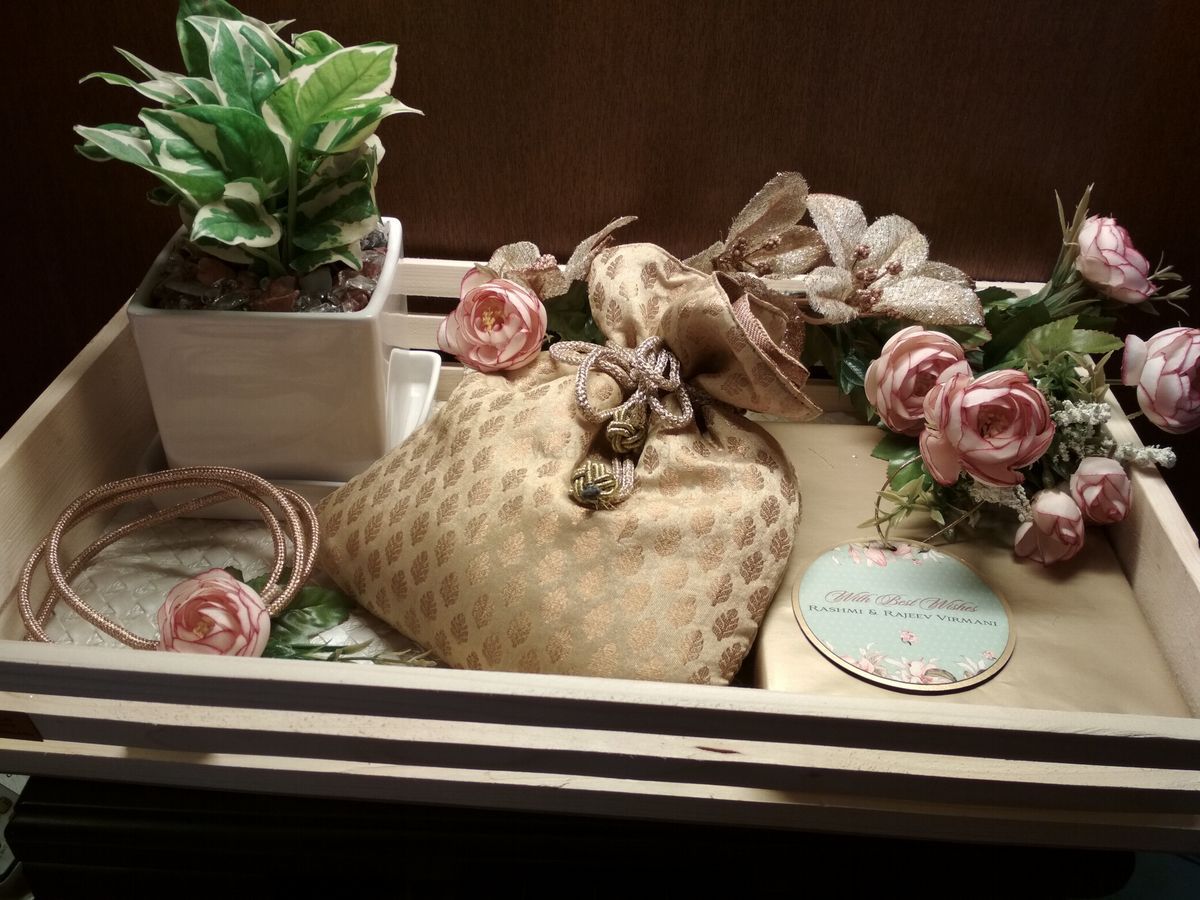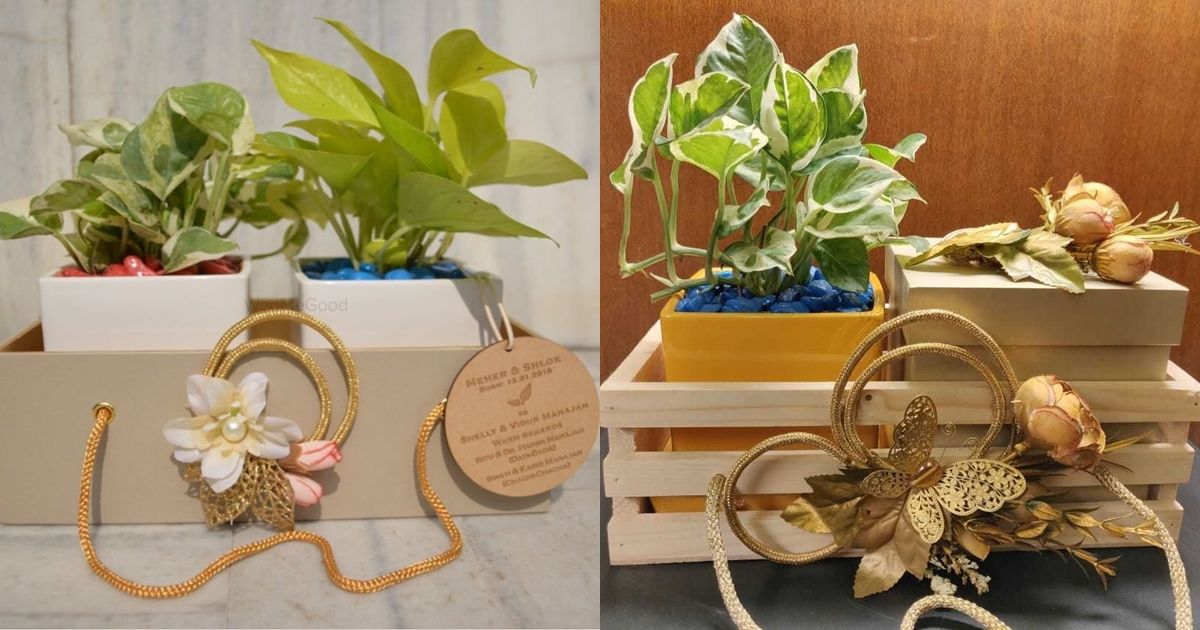 Photo Courtesy: Natural Shoppe
Peppy Plants
We might be very busy in our daily schedules and cribbing on the pollution almost every second day. But, if there is one thing that we all should ponder on & contribute towards the mother earth is simple planting more and more plants & trees so that we breath clean air and have a good health. Peppy Plants★ 4.5 is a renowned company based in Delhi NCR who offers various kinds of potted plants so that we all can create a healthy environment around.
So, brides if you're still in dilemma what to gift to your guests as wedding favors we highly recommend to buy plants for gifting that will be a great gesture from your side towards your wedding guests! Well, super-useful & Eco-friendly too! Whether gift the plants in a brown paper with customised message or get it packed them in a corrugated or customised boxes planst as favors is a thumbs up from our side!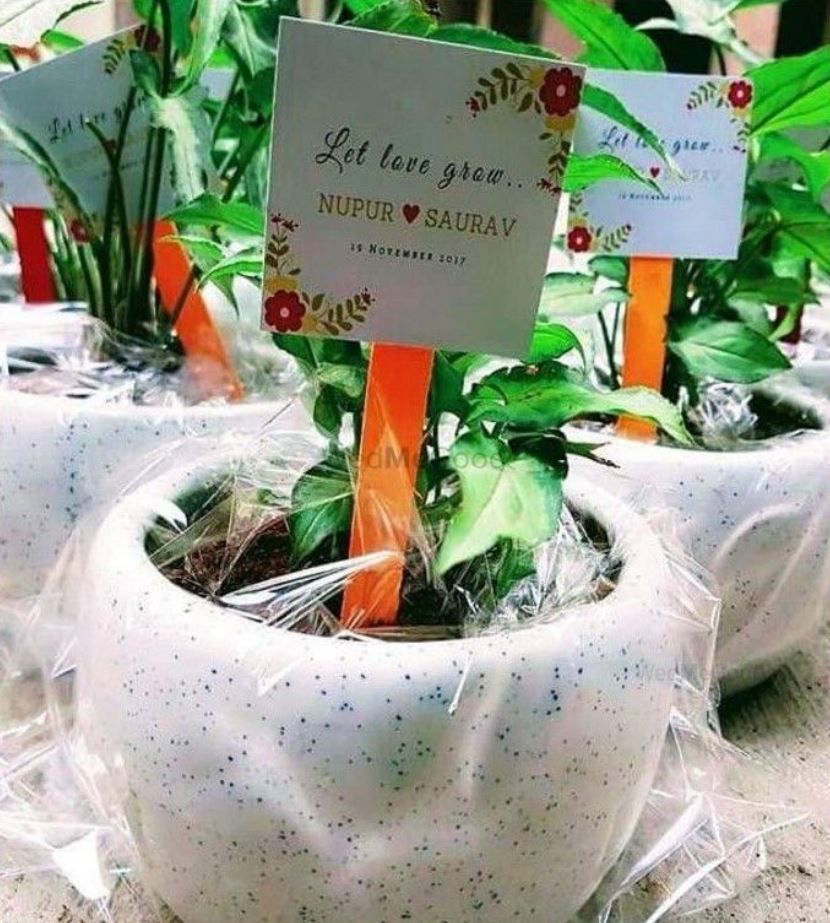 Photo Courtesy: Peppy Plants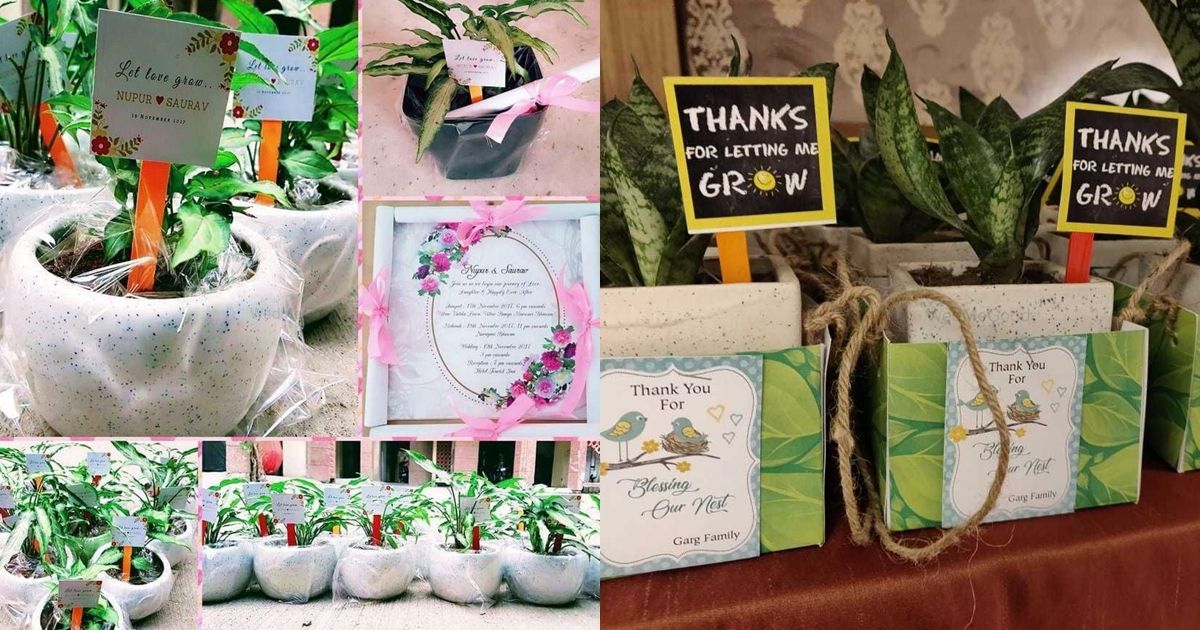 Photo Courtesy: Peppy Plants★ 4.5
Beejpaper
Started in Mumbai by like-minded people Beejpaper is a initiative who offers environmental friendly products at the weddings. Where the paper is embedded with flowers, vegetables and even herbs this venture encourages to send positive messages around the world via their potted plants. be it your mehendi ceremony, bridal shower or the wedding day you can gift your guests plants as favors that are packed very cutely and beautifully for your celebrations!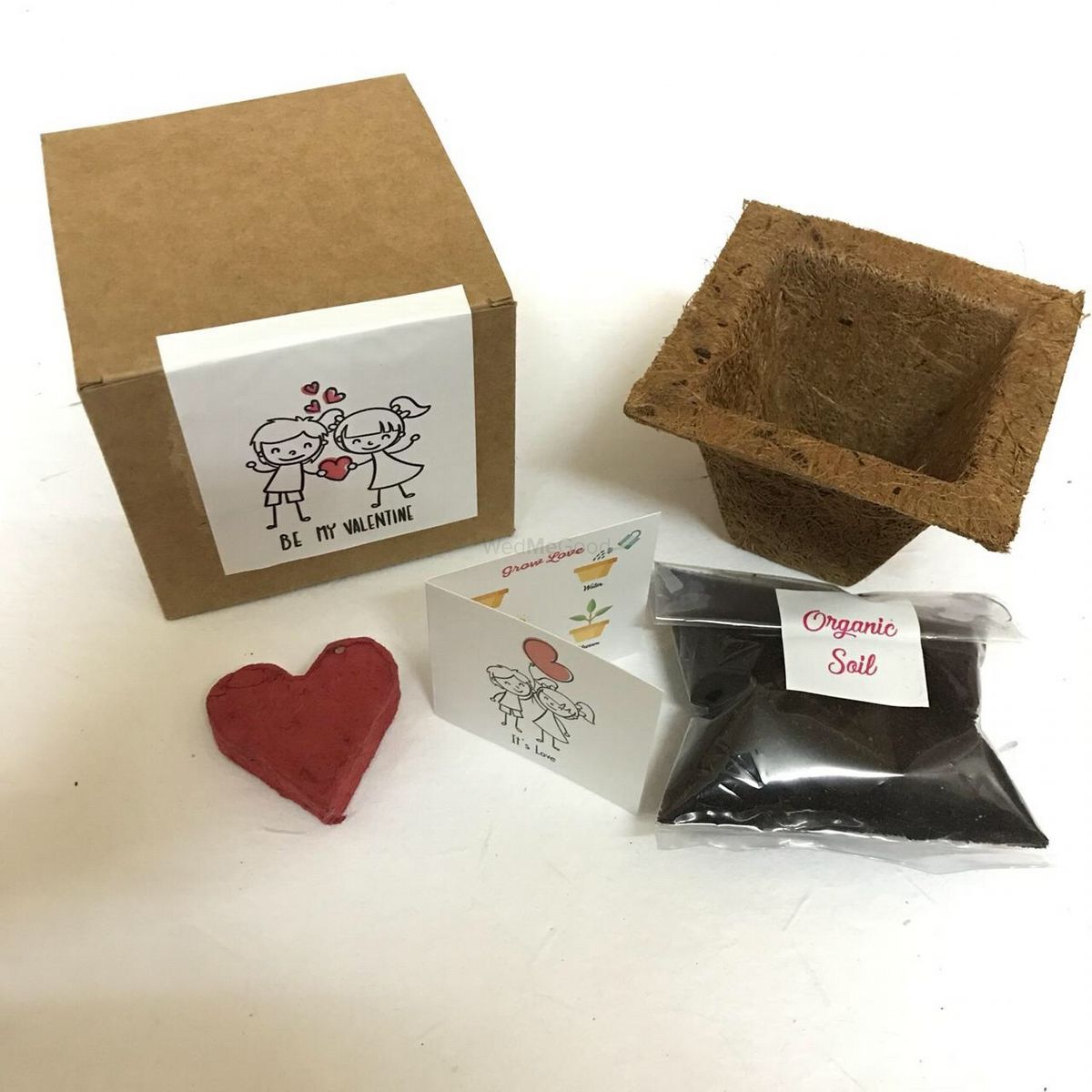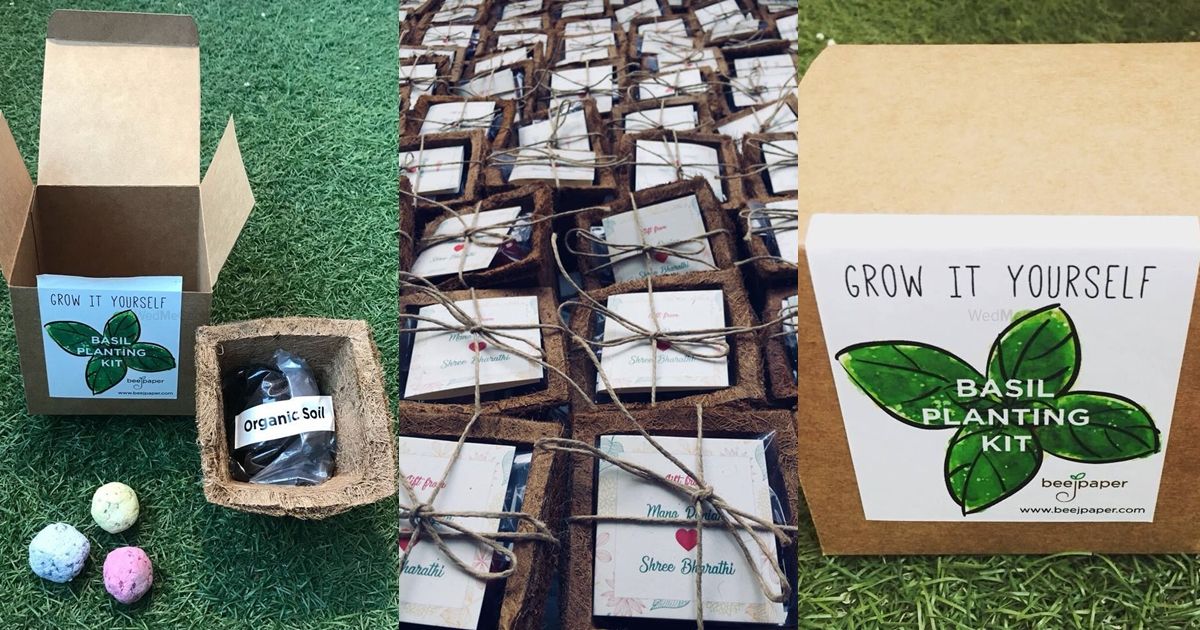 Photo Courtesy: Beejpaper
Mostly Handmade
Looking for plants as favors for your wedding? Based in Bangalore city Mostly Handmade★ 5 is a famous venture that offers non-edible gifts, mehendi favors, wedding invites, bespoke gifts and unqiue gifts for the wedding celebrations. Customising the products according to the needs and requirements of it's clients they pack the plants & seeds in cute jars, potlis and boxes that looks elegant a very thoughtful idea to gift to your loved ones!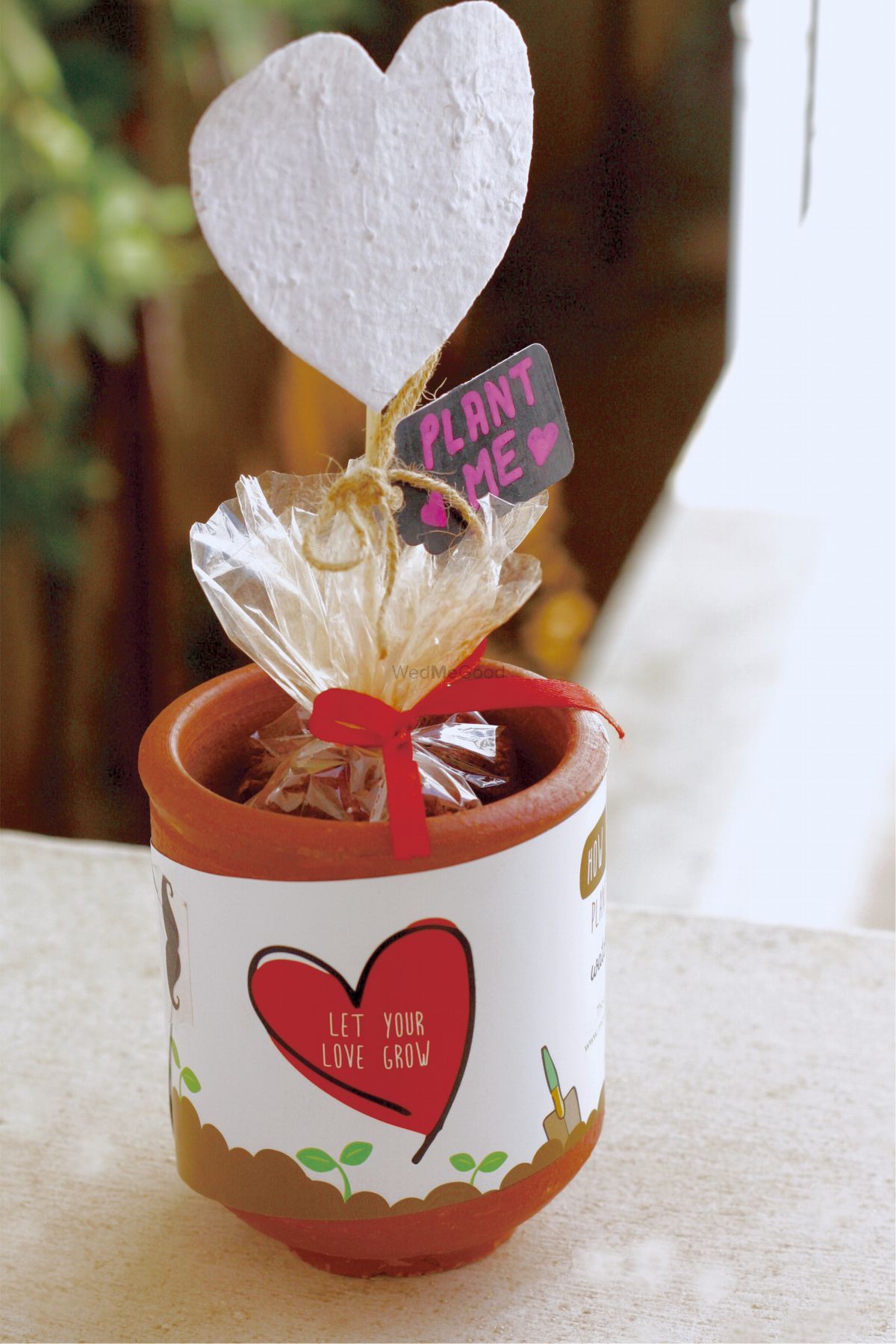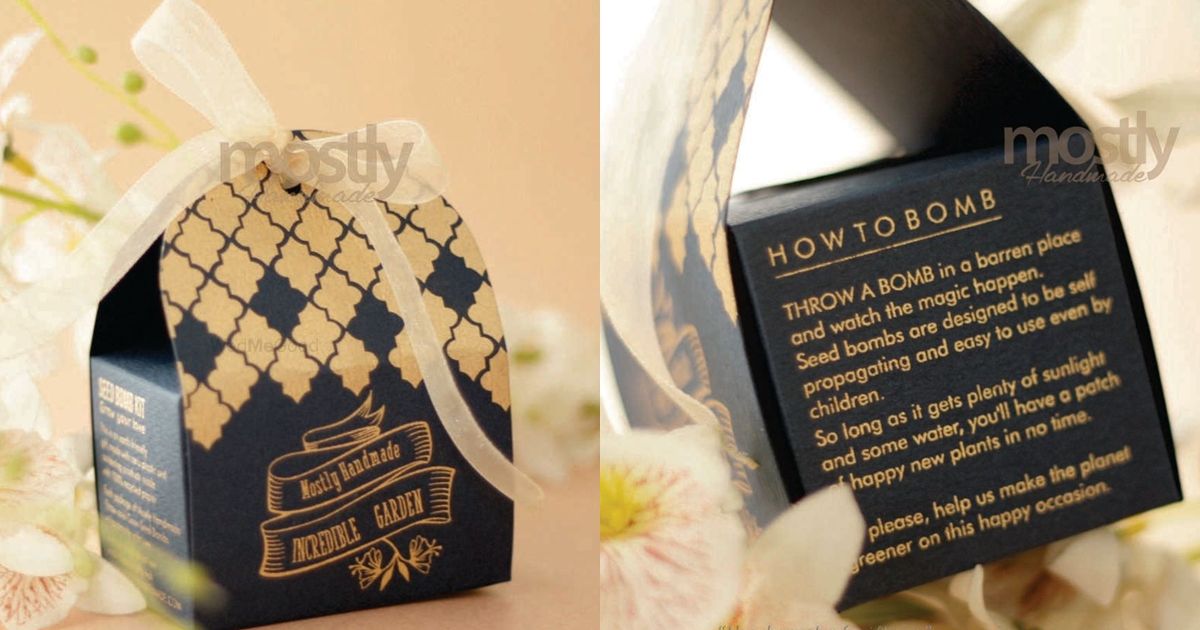 Photo Courtesy: Mostly Handmade★ 5
Best Day Ever by Deepika Shetty
If you're a bride and groom who loves nature & is very concerned on the same, then we have something very quirky, Eco-friendly and a useful favour to gift to your wedding guests. Best Day Ever by Deepika Shetty★ 4.9 is a popular brand in Bangalore city that specialises in wedding planning and wedding decoration. Having years of experience in this industry they have a great knowledge in this field and ensures to give only best to it's clients. Offering their services at a reasonable budget you can to get pretty plants or saplings for your wedding as favors that will be a great idea to include to your celebrations!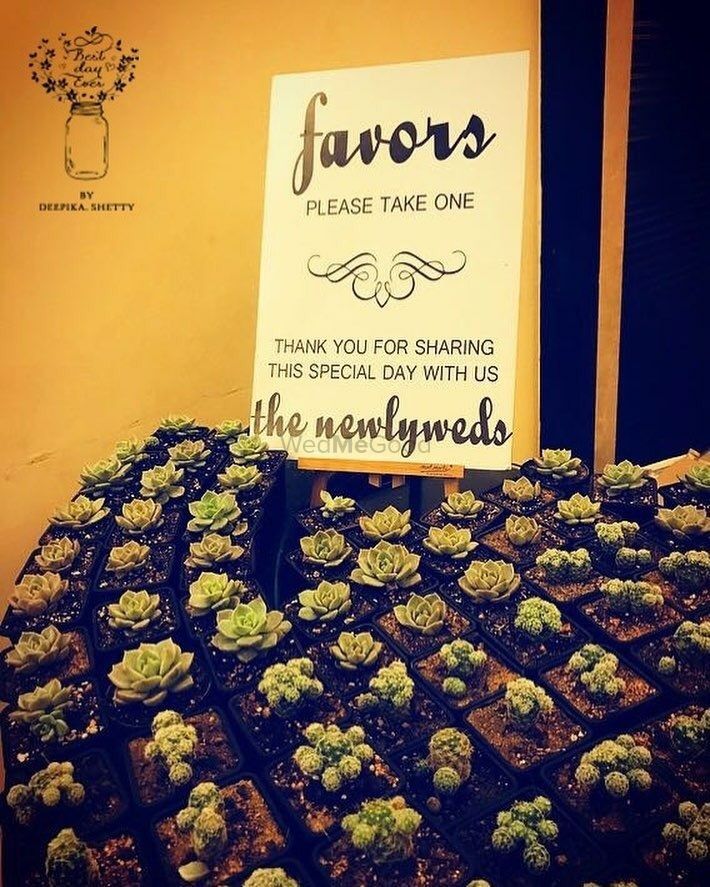 Photo Courtesy: Best Day Ever by Deepika Shetty★ 4.9
With Love Nilma
Hey! Are you looking for a wedding decorator for your south or noth indian wedding? With Love Nilma★ 5 is a very popular venture situated in Bangalore city that is your one-stop-shop for getting a gorgeous decoration for your celebrations. Whether you want a fairy tale floral aisle towards your mandap or wish to greet your guests with thank you favors with saplings they do every event with extra love and passion. Having years of experience you can get also get your wedding favors as plants from there and they will ensure to decorate in a quirky and creative manner on your mehendi ceremony or on your most special phase of your life.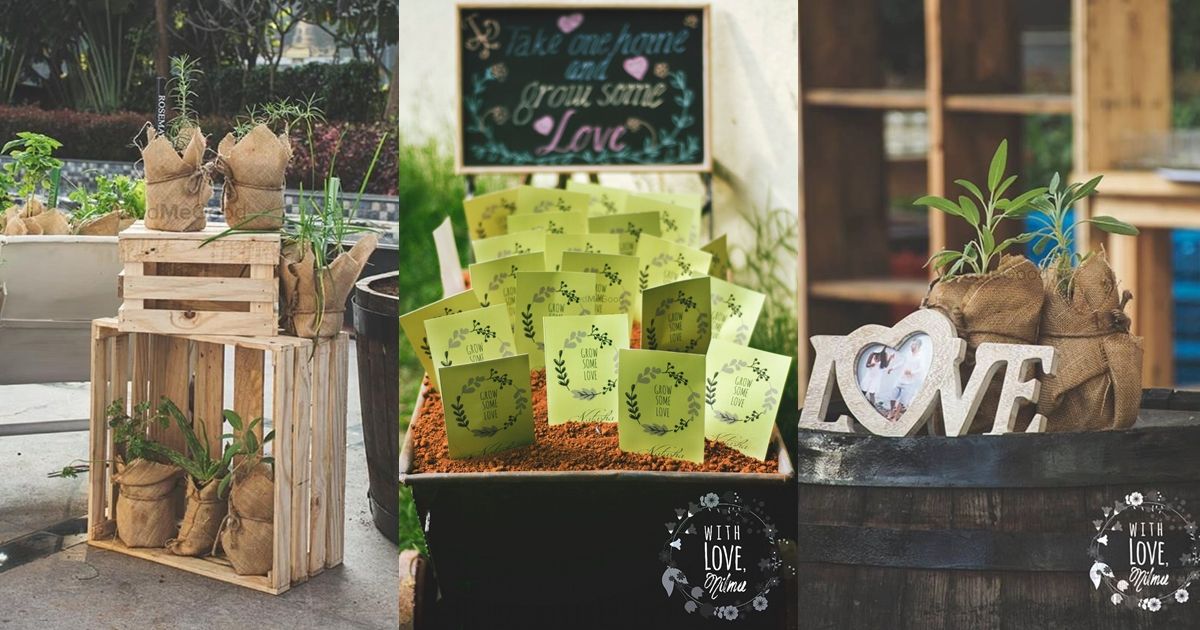 Photo Courtesy: With Love Nilma★ 5
Pink Parrots
Thinking to get a vintage, eclectic or rustic decor for your wedding day? Pink Parrots★ 5 located in Chennai are famous to cater their clients with fun, quirky, and colorful decoration that pops up the whole event like anything. Understanding the essence of wedding in the couple's life they also provide them with beautiful gift boxes like plants as favors that are just not cute to gift but also very useful for the planet. So, if you want to to ditch chocolates and sweets as favors pick these little potted plants for your wedding celebrations!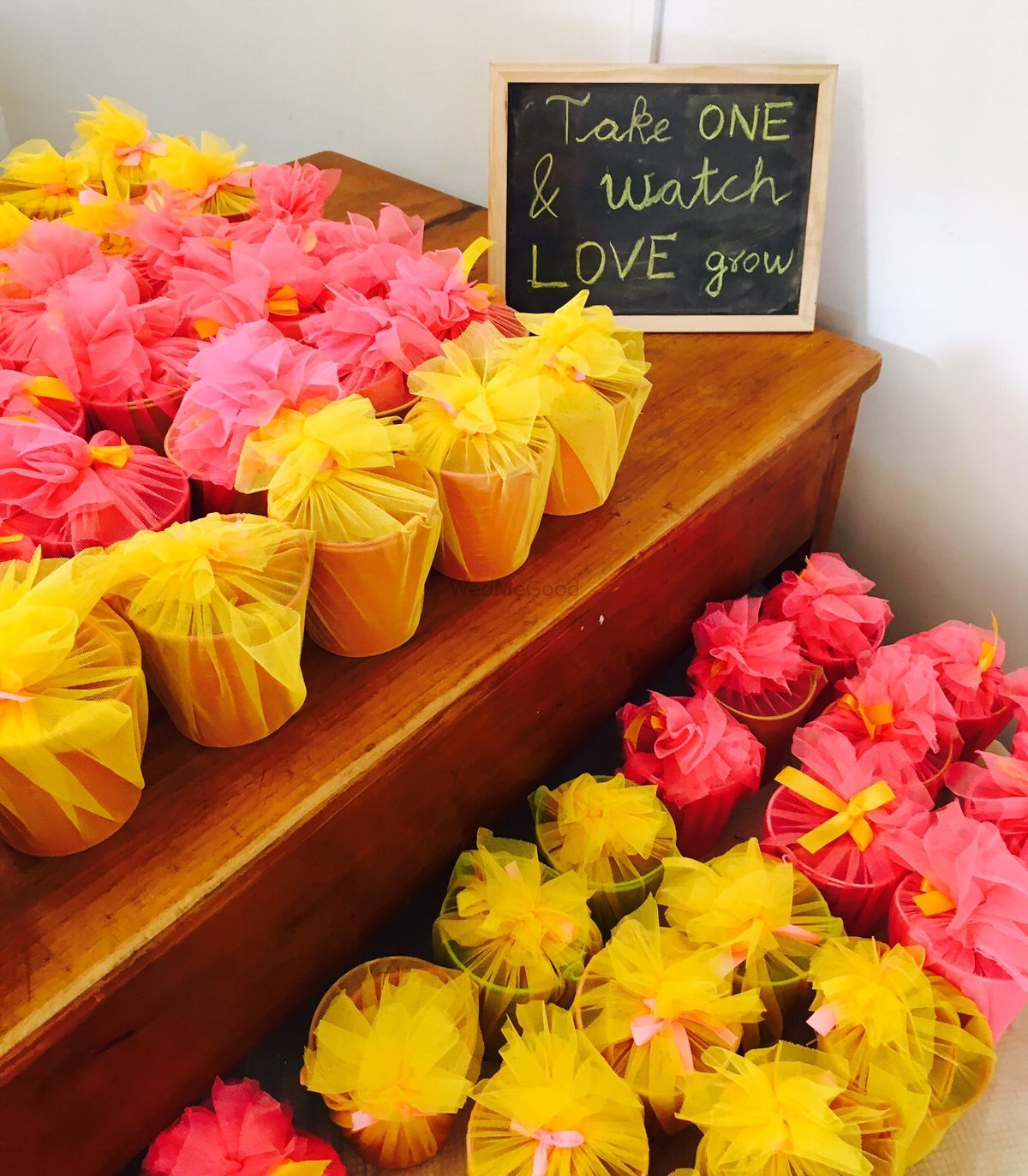 Photo Courtesy: Pink Parrots★ 5
Now that you have a list of vendors for wedding favors on WMG, get in touch with them to get cute I'll saplings for your D-day!